Bellroy Note Sleeve Review
The Bellroy Note Sleeve is a simple bi-fold wallet for when you want something small but not overly minimalistic. Just take care of the leather!
Our Verdict
Unlock the Pro Summary
Save time. Get access to brief summaries of our reviews so you can browse and make decisions more efficiently.
Pros
The size is great when you want a small but not overly minimalistic wallet
Top-notch craftsmanship
Slim profile, even when filled with cards
Cons
Leather is not as durable as some synthetic fabrics out there
While it can fit full-length bills, folded cash fits better
The coin sleeve can get bulky with too many coins in
Recent Pack Hacker Video
Technical Details
Dimensions

4 in x 3.5 in (10.2 x 8.9 cm)

Notable Materials

Leather

Manufacturing Country

India

Warranty Information
Full Review
It can be challenging to find a wallet that's smaller than a traditional billfold, but still has all of its functionality. Enter the Bellroy Note Sleeve. This wallet is slim and sleek, but will still hold all of your coins, cash, and cards.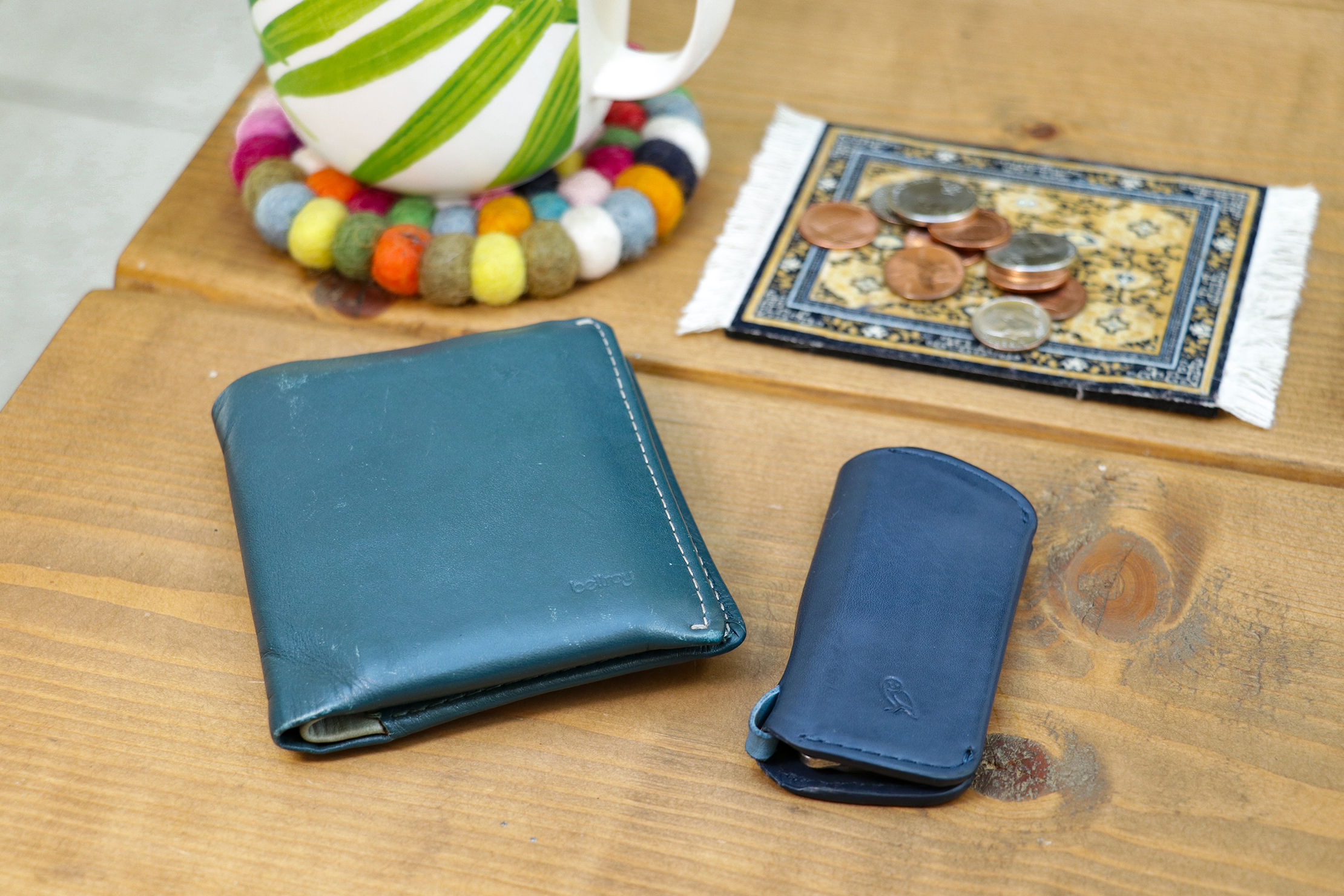 We've been testing the Bellroy Note Sleeve for over a year now and will probably continue testing it for years to come (yes, we like it that much). So let's check it out.
Materials & Aesthetic
Sometimes you can't beat the aesthetics of a nice leather wallet. And that's how we feel about the Bellroy Note Sleeve. It just looks good in that classy, leather way.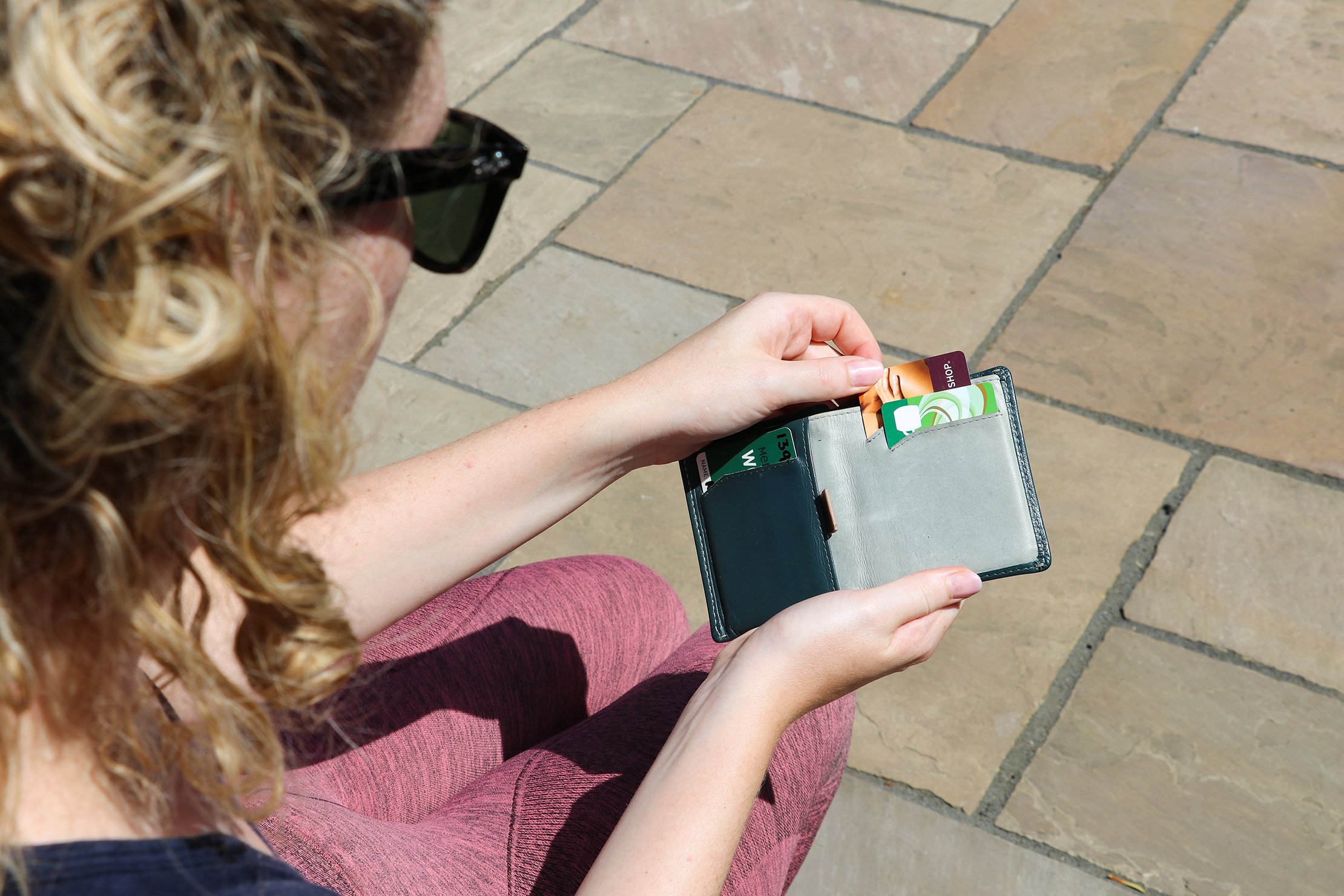 The Note Sleeve is available in a large variety of colorways and two different styles—regular and RFID blocking. If you're new to the travel-wallet game, then you may not know what RFID blocking is or why it's a big deal for travel. Let us explain: some credit cards have RFID chips that emit radio signals (RFID stands for Radio Frequency Identification) to allow for such conveniences as contactless credit cards payments. But hackers can also tap into those signals and procure your sensitive information for themselves.
There's not a lot of information out there on how many RFID crimes have been committed (knowing how credit card information is stolen is a tricky game), and it appears to be less of a threat than we initially thought. But still, if you want peace of mind, an RFID-blocking wallet may be for you. And there aren't really any downsides, as far as we're concerned.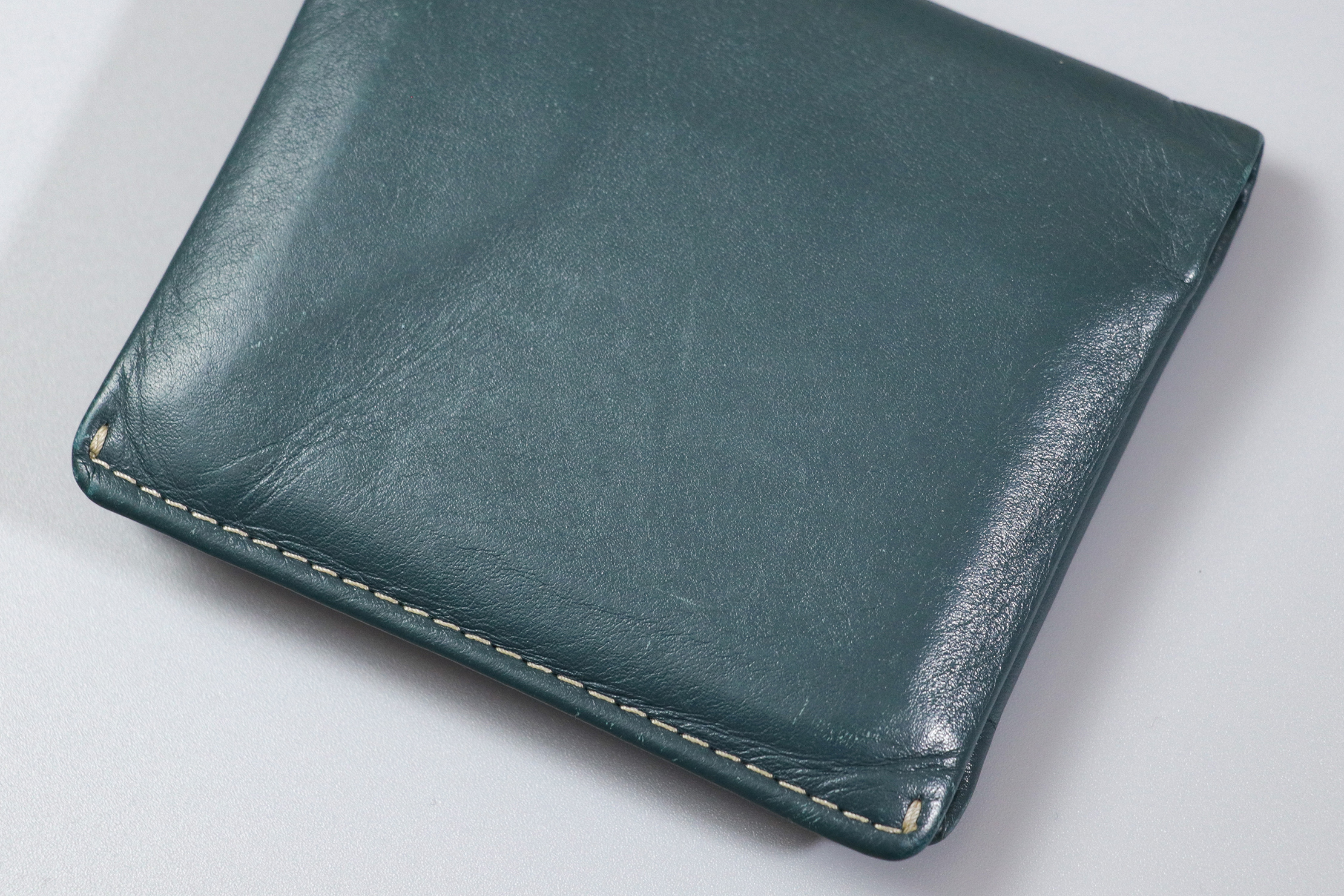 We've been testing the regular style Note Sleeve in the color "Teal." And, as we mentioned above, this wallet is leather, which isn't for everyone (hello, vegans). Although, as we've noted on our reviews of Bellroy products in the past, the company does source and tan their leather in an ethical and environmentally-friendly way.
The leather is exceptionally soft, and after a year of use it has worn in nicely. That said, leather is a bit more sensitive than some synthetic fabrics on the market. If you're caught in a rainstorm with the note sleeve in your back pocket, the leather will get wet, which could end up damaging the wallet in the long run. You'll need to take care of this leather if you want your wallet to last.
Inside the Wallet
The Bellroy Note Sleeve is a bi-fold wallet, meaning you open it up like a book. The first thing you'll see is the quick-access pockets—one on the left and two on the right for a total of three. All are designed to hold the cards you use most frequently.
There's an additional pocket on the left, situated behind the quick-grab one, to hold all of your other less-used cards. There's a pull-tab to help you access those cards, which we think is a nice touch by the Bellroy Design team. It works well and easily slides back into place when you put your cards away.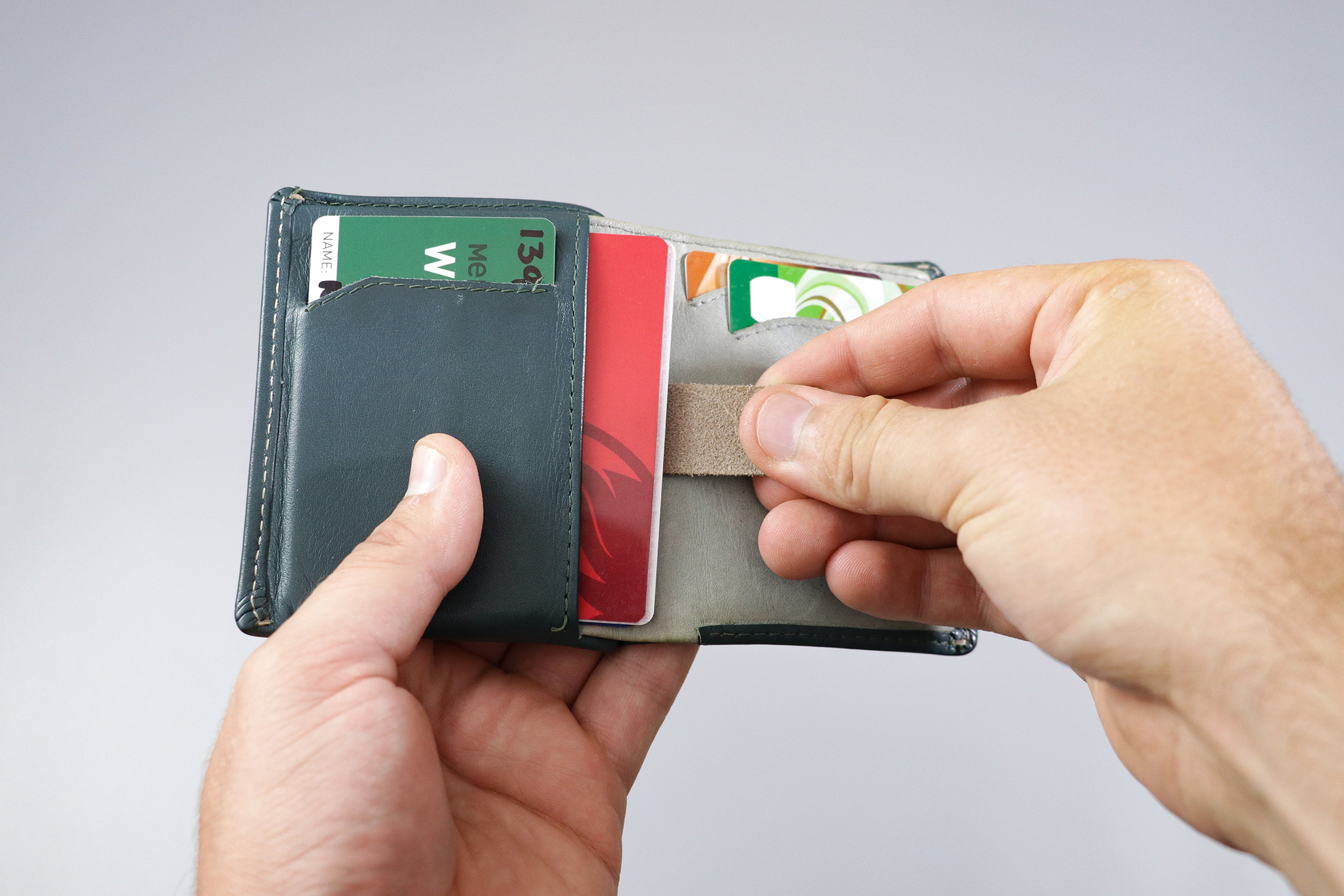 We've found the pocket works best with 4 to 6 cards inside, although you could squeeze in some more if needed (Bellroy claims the wallet can hold over 11 cards in total). The wallet stays slim even when full—although, in full disclosure, we've only tested it with 9 cards.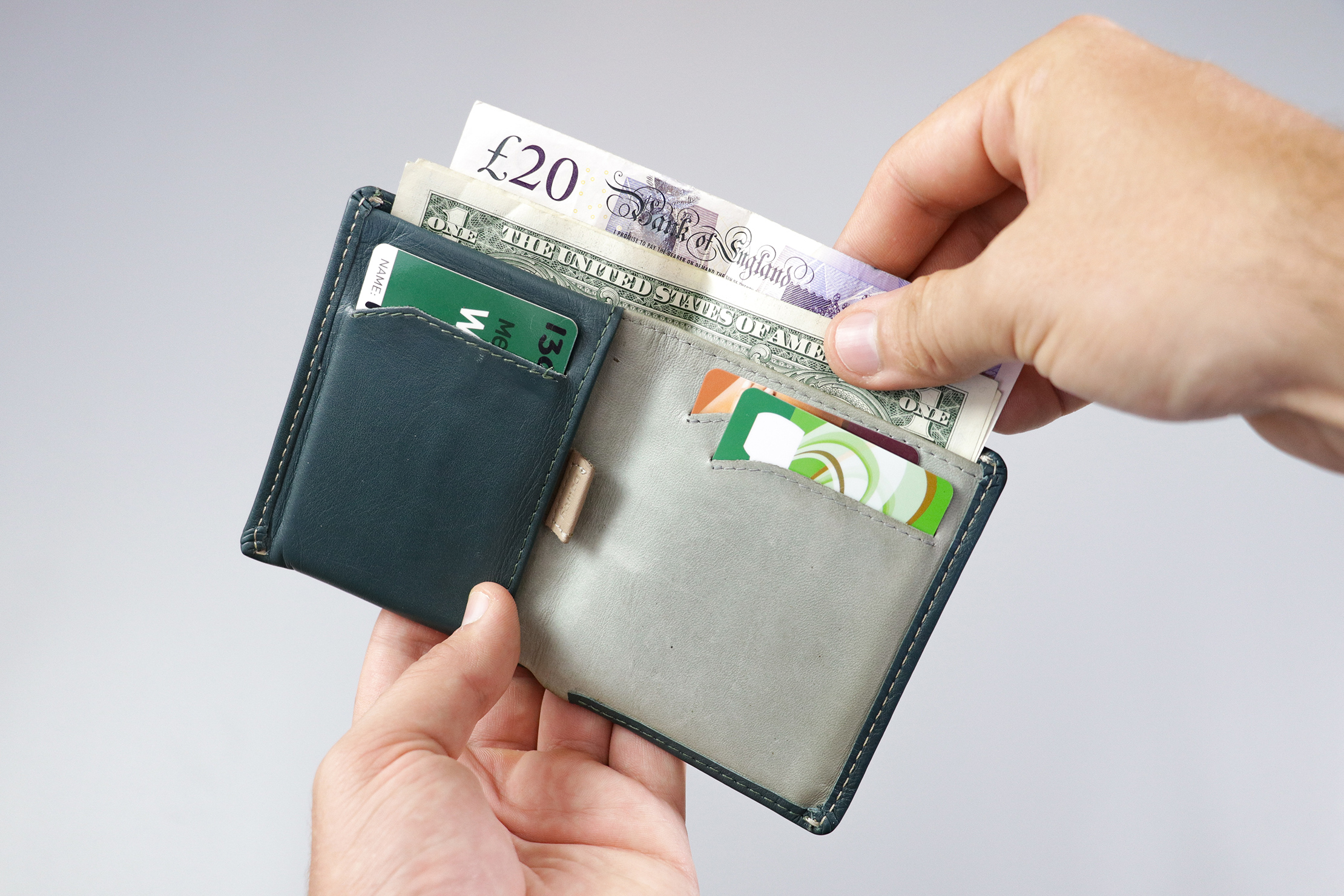 Behind the card pockets, you'll find the wallet's namesake, the note sleeve. (In this case, "note" means money—not love notes, although you could technically use the sleeve for those as well.) There's an elegant pattern on the interior fabric of this pocket that we think adds to the overall classy aesthetic. And, while bills do fit length-wise, we've typically folded ours in half and found it works better that way since the flat bills are a tight fit. But if you like your cash like you like your clothes (wrinkle-free) you can go ahead and do that.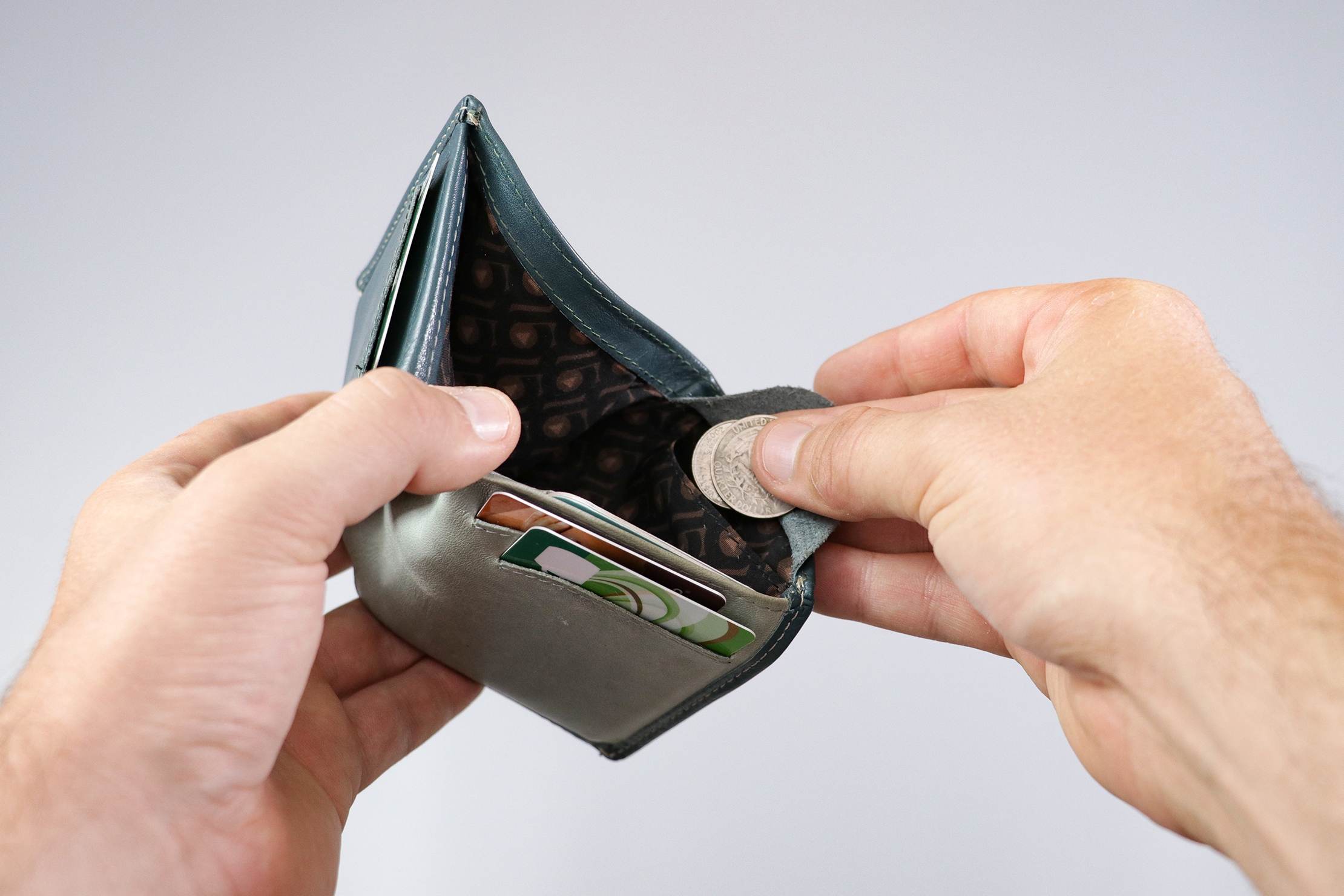 Within this pocket, you'll also find a coin sleeve and business card holder. The coin sleeve keeps your coins neatly tucked away, ensuring they won't fall out while still granting easy access. And the business card holder does fit business cards, but you can also store other cards here if you want. We initially put some business cards in this pocket, then promptly forgot about them until preparing for this review, which just goes to show how sleek this wallet truly is. (Apologies to everyone who gave us their business card. Don't worry, we haven't forgotten about you.)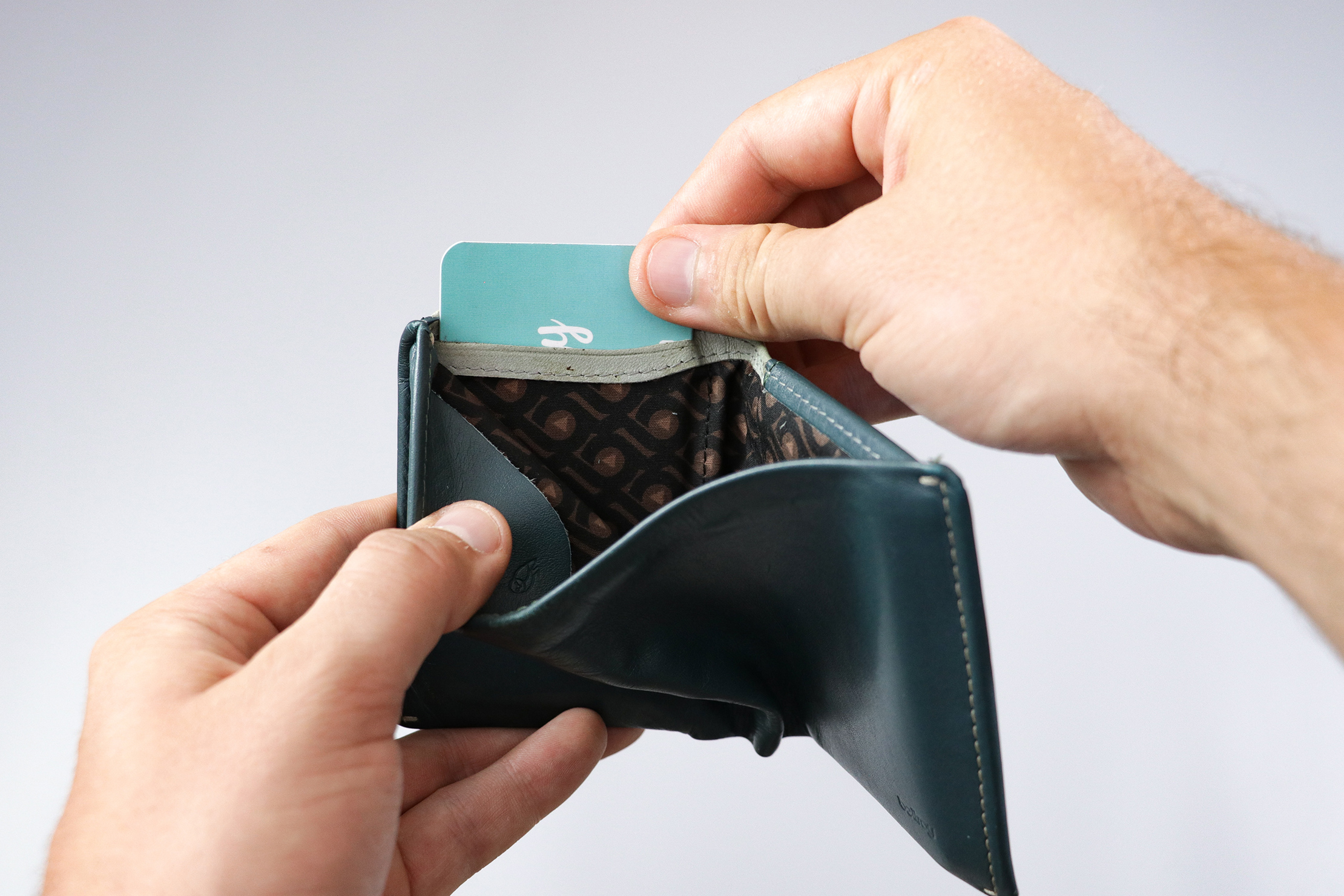 Durability & Testing
Our Bellroy Note Sleeve looks like it's seen the world…because it has. As we mentioned earlier, we've been testing this wallet for well over a year and taken it with us on multiple trips. The leather definitely looks worn, although that isn't a bad thing. Like wine, leather ages gracefully. And the stitching still looks beautiful, with no loose threads to report. We think that's pretty impressive for all this wallet has been through.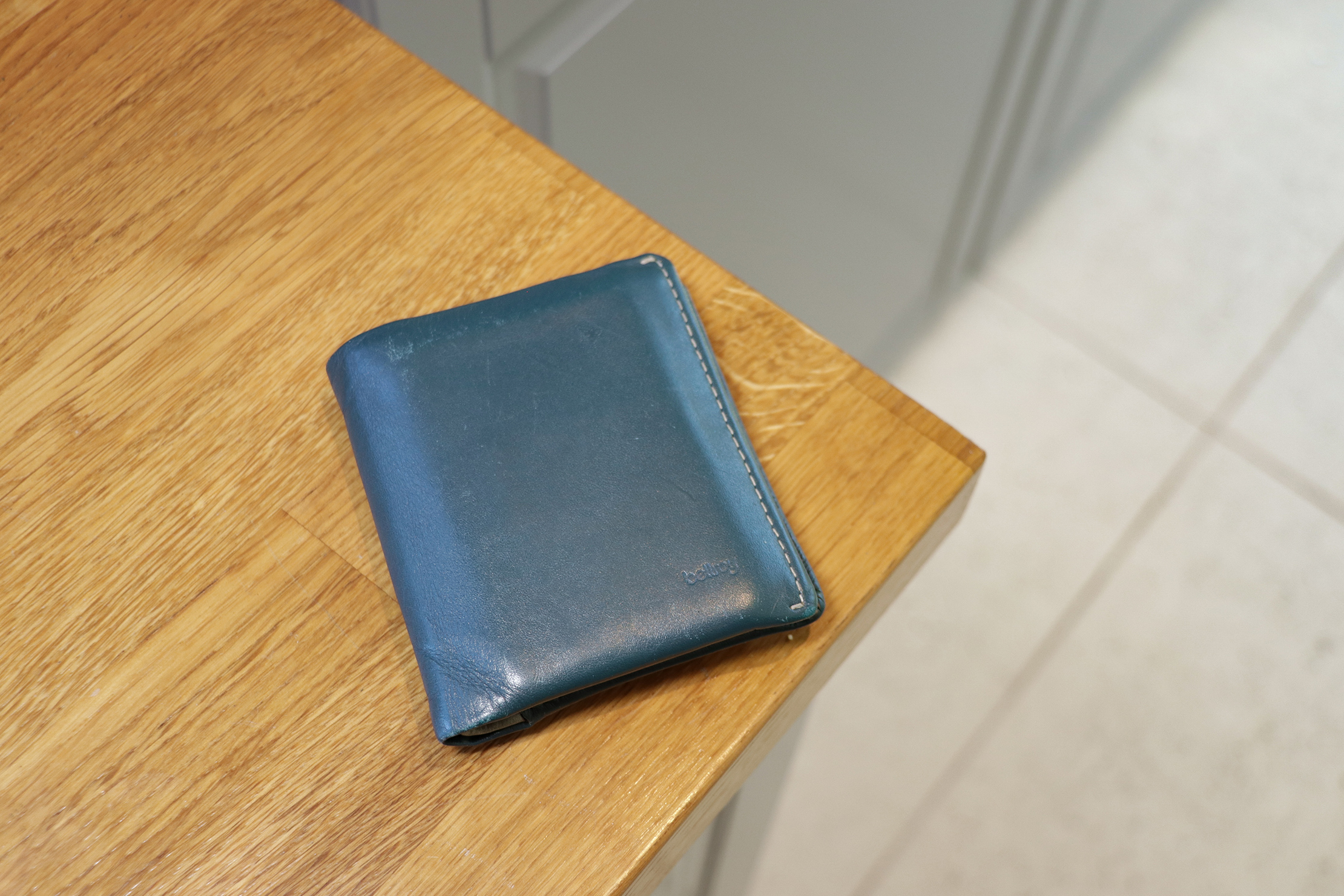 Usage Timeline
Initial Usage
Condition: Excellent
Different wallet organization to most, but we like it.
The leather is great to the touch and the stitching is top-notch.
Digging the color.
1 Month of Use
Condition: Excellent
Loving the size of this thing. And the quick-grab pockets are a nice touch.
2 Months of Use
Condition: Excellent
Found that folding cash is easier than laying bills flat.
3 Months of Use
Condition: Excellent
No complaints—everything is holding up nicely.
6 Months of Use
Condition: Good
The leather is starting to look a little worn.
9 Months of Use
Condition: Good
The leather has worn some more, but not in a bad way.
1 Year of Use
Condition: Good
Everything still looks great. Not a single loose thread to report.
1.5 Years of Use
Condition: Good
The wallet is still holding up really well, even after daily use for over a year and a half!
2 Years of Use
Condition: Good
It's still in good condition, but you can certainly tell this wallet has been used a fair bit—it has that worn leather patina going on. You could choose to pick up a new wallet if you don't like this aesthetic, but we're more than happy to keep on rocking it.
Access the Pro Community Discussion
Get your questions about the Bellroy Note Sleeve answered from our team and the Pro Community right here on the page. Plus, join discussions with other members about gear, guides, and more.
Other Organizers & Pouches Reviews