Osprey Daylite Sling (Shoulder Sling) Review
The Osprey Daylite Sling is ideal for quick excursions—on the trail or in the city—though it gets uncomfortable to carry on longer treks.
Our Verdict
Unlock the Pro Summary
Save time. Get access to brief summaries of our reviews so you can browse and make decisions more efficiently.
Pros
Great internal organization
Strap and back panel padding is soft and comfortable
Fits a good amount of stuff
Cons
Shoulder strap can only be worn on the right shoulder
Tends to bounce around on the back
Gets uncomfortable on long stretches
Recent Pack Hacker Video
Technical Details
Capacity

6l

Weight (lb)

0.5 lb (0.2 kg)

Dimensions

14.5 in x 8 in x 5 in (36.8 x 20.3 x 12.7 cm)

Notable Materials

Nylon, Packcloth, YKK Zippers

Manufacturing Country

Vietnam

Warranty Information
Full Review
Osprey advertises the Daylite Sling is ideal for most occasions—school, grocery shopping, farmers' markets, festivals, beaches, hikes, and so on.
Being the thorough gear testers that we are, we decided to test as many of those claims as possible in two weeks. We've taken the Daylite Sling to beaches, trails, shopping districts, grocery stores (one of which was similar enough to a farmers' market) and would've taken it to school if any of us were students. We plan to hit even more locales as we continue testing.

While it shined on a trip to Acadia National Park—no surprise as Osprey made its name in the outdoor realm—it's been pretty good everywhere else too. Being able to conveniently "sling" the bag forward for easy access has been particularly handy, especially when shopping.

That said—it's not ideal any time you need to wear it for more than a few hours.
So let's check it out.
Materials & Aesthetic
The Osprey Daylite Sling fits right in with the other packs in the Osprey Daylite Series. It has a similar look with the same hardy zipper pulls, front logo, and sleek exterior. At the time of this review, it's available in eight colorways. While we're usually partial to black, we went for the fun "Sagebrush Blue" this time because you gotta mix things up every once and a while (and because we've been testing this sling mostly in the great outdoors where it's less important to blend in with the crowd).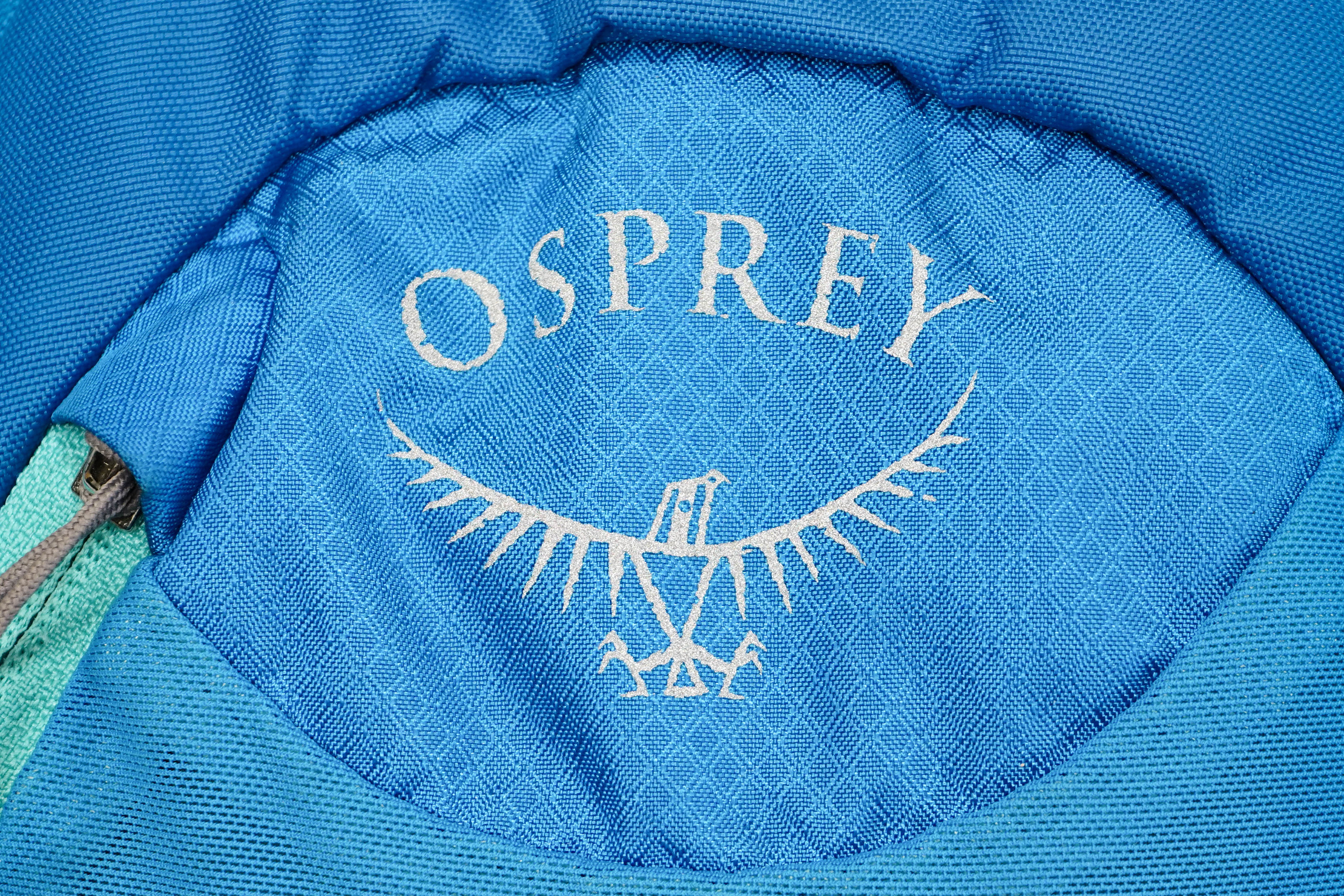 It definitely has an outdoorsy aesthetic so we wouldn't recommend wearing it to any nice restaurant (and, yes, we're speaking from experience).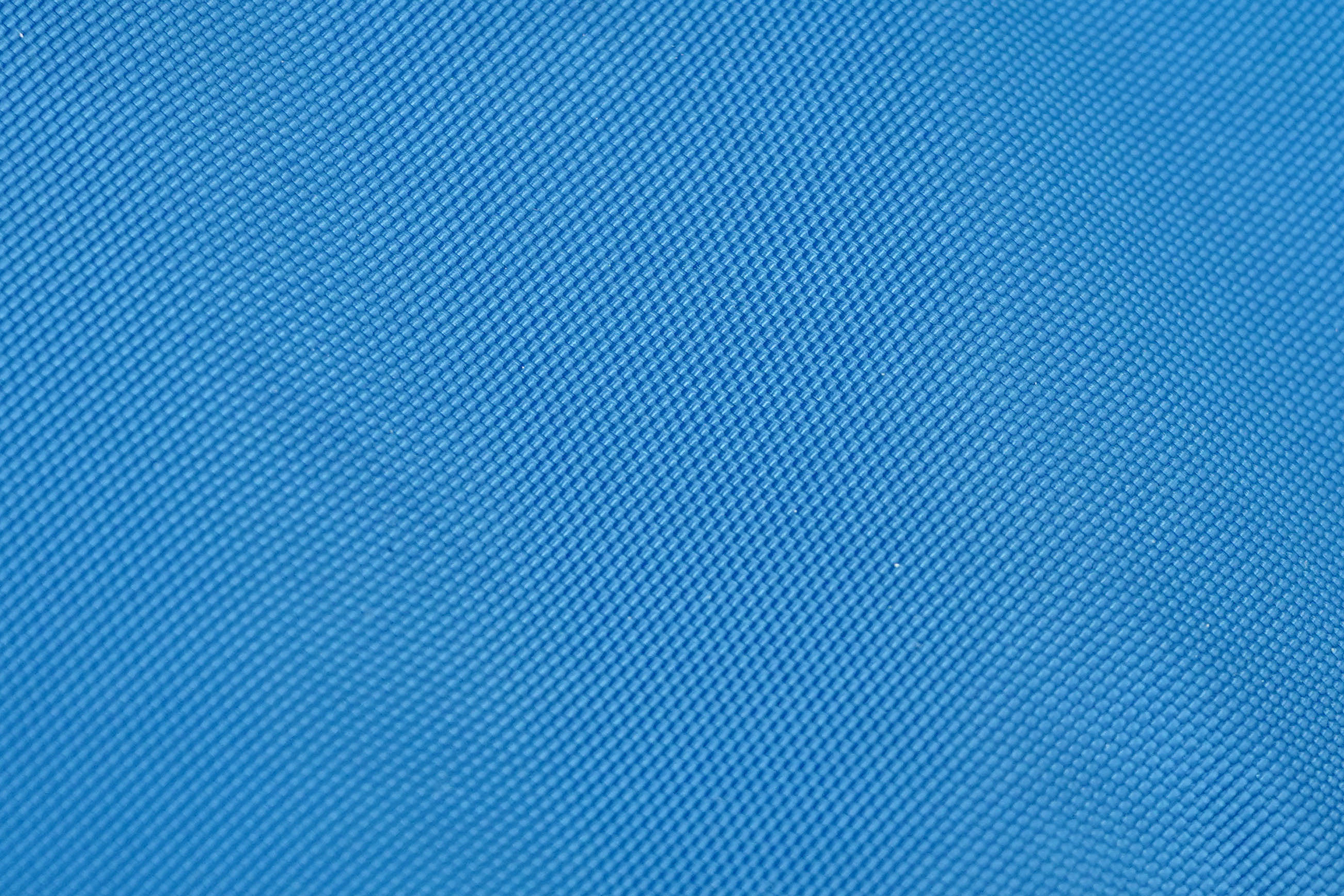 You're probably not surprised this sling is durable with top-notch craftsmanship—this bag is from Osprey, after all. The exterior is made from 210D Nylon Diamond Ripstop, which is a strong, lightweight fabric that stops rips in its tracks.
There's comfortable padding on the back panel and shoulder strap—more on that in a minute—made from NeoSpacer™mesh. And the zippers and buckle are from a reliable brand, YKK.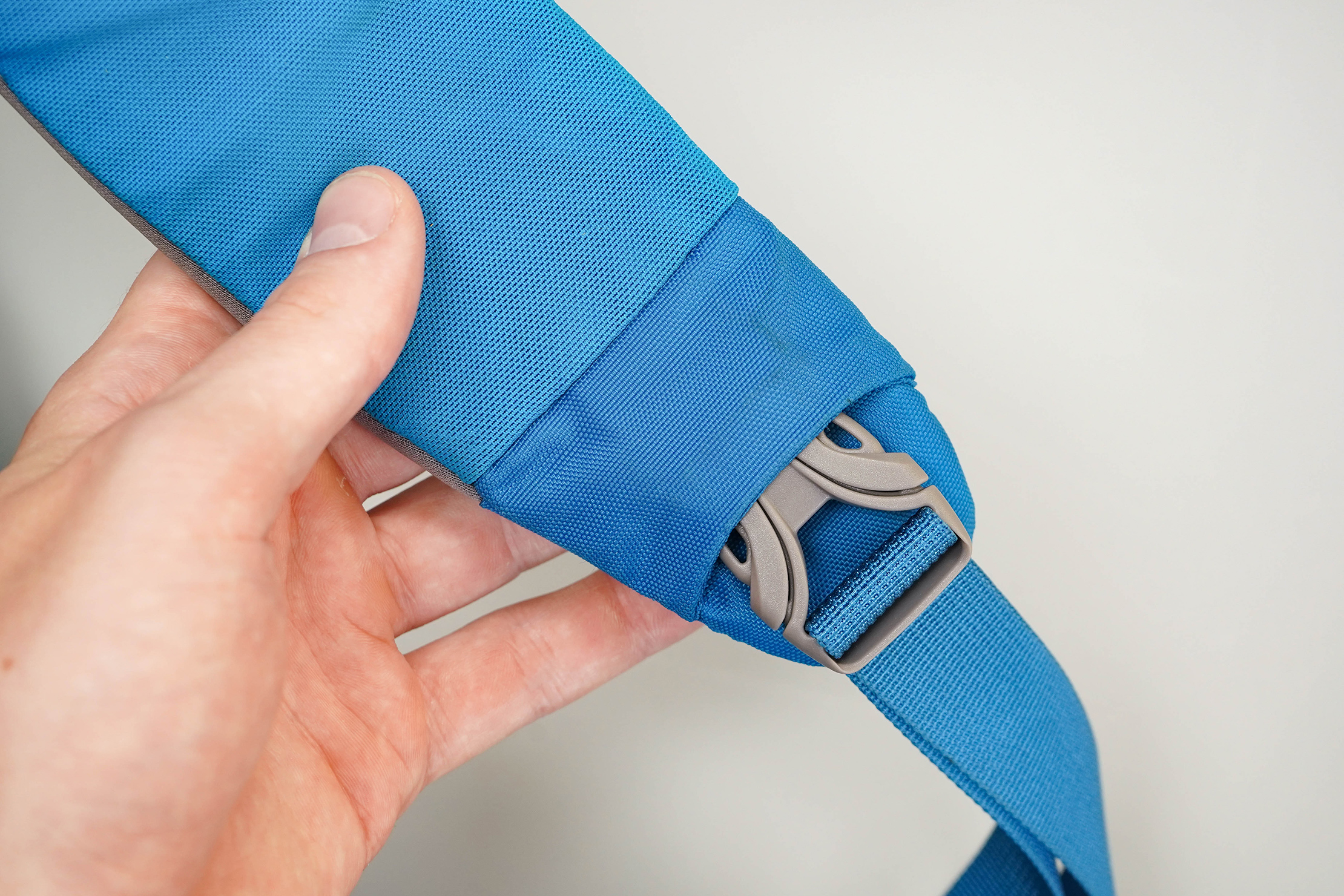 We like how the buckle is tucked away as it keeps things looking sleek. That sleekness is further helped by the elastic strap keeper that ensures you never have to deal with an unruly dangling strap (#danglefreeexperience).
External Components
The strap and back panel on the Osprey Daylite Shoulder Sling have a nice, comfortable layer of padding that's been much appreciated. That said, we've tested it on very hot, very humid days and it's gotten a little sweaty. We're not sure there's a sling bag out there where this wouldn't happen—but it's important to note. Especially because—unlike other sling bags—you can't adjust how you carry it.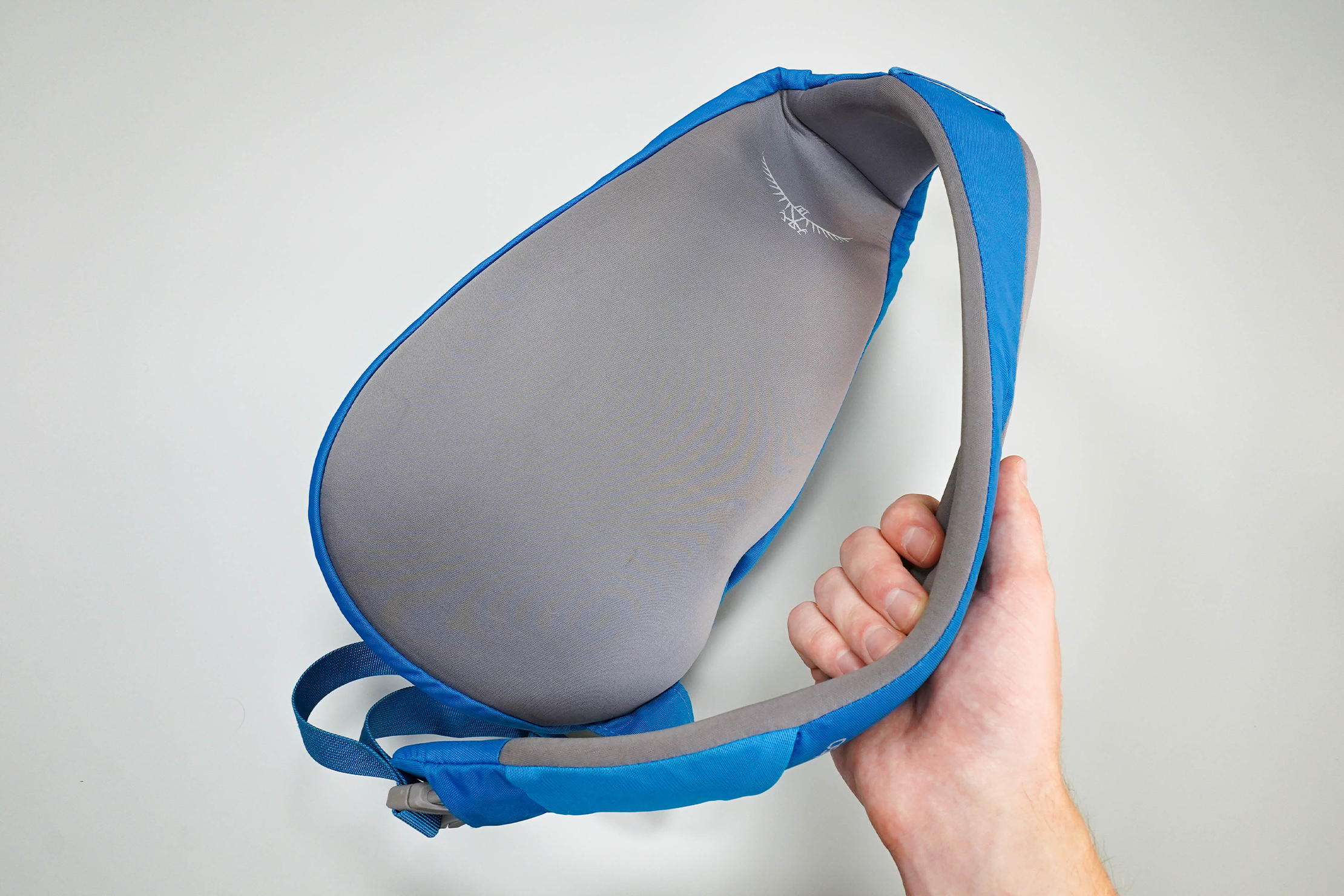 The strap is only able to sit on the right shoulder and will sling forward on the left side of your body. We would love to see a future iteration in which it's possible to be worn on either shoulder. Not only because it'd be helpful to lefties, but because the sling gets uncomfortable on long excursions with the weight dumping into one shoulder.
There's also a loop to attach some accessories. We've attached a water bottle with a carabiner. While you can fit a water bottle inside of the sling, it'll take up a good amount of space, so we've liked carrying it externally.

Now, this sling wears slightly looser than it looks. You can tighten the strap, but it'll still bounce around as you walk—especially if you're traversing uneven terrain (cobblestone streets, winding staircases—travel always seems to involve winding staircases—and trails).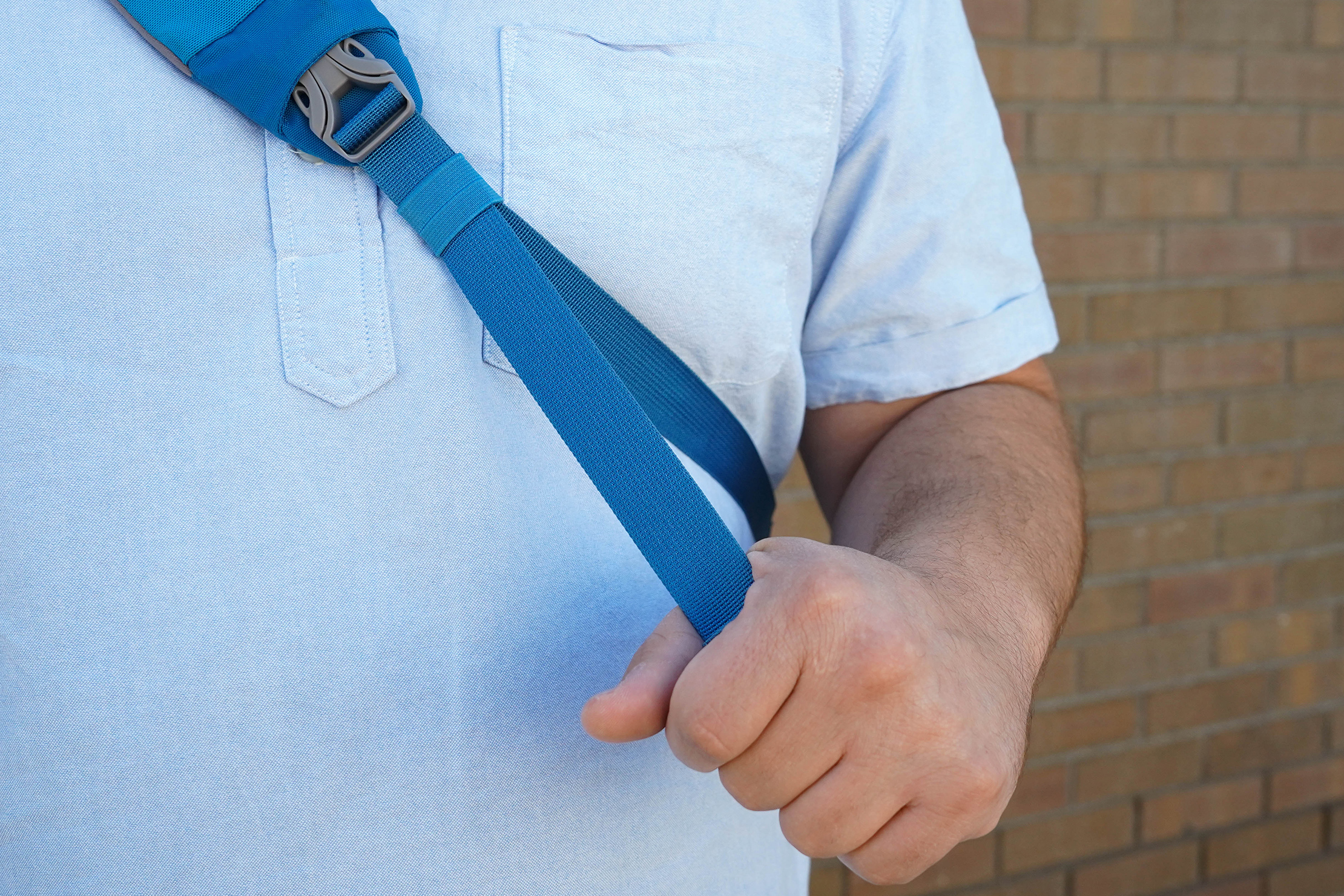 On a similar note, the Daylite Sling is not ideal for bike commuting. At least if your bike commute includes hills of any kind. As you peddle, the sling slips forward to either the side of your body or your chest—depending on whether or not you try to shove it back in place at any point. If your travels involve biking, we recommend starting the journey with the Daylite Sling on your chest. It'll save you from crying out in frustration (not that we're speaking from experience, of course).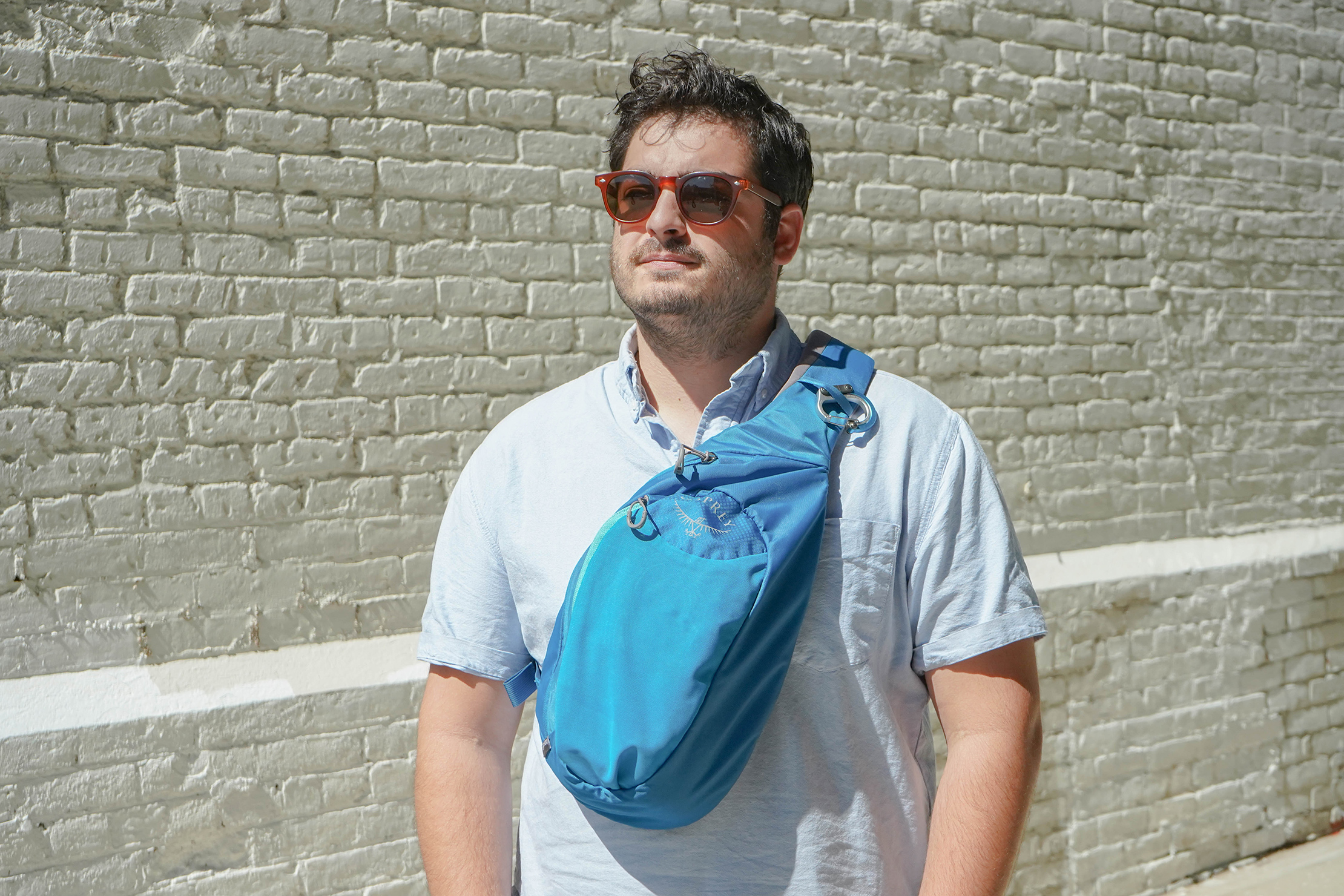 You can technically always wear this sling on your chest, although it's obvious it wasn't built for it. It's similar to how you can technically wear a backpack on your chest. It works—and sometimes it's necessary—but you won't exactly look hip.
Inside The Sling Bag
At 6L, this sling is a great size for smaller hikes and day trips. Plus, as per usual with sling bags, the Osprey Daylite Sling packs well. It lays flat and weighs only ½ lb. It's also compact enough to slide beneath the seat in front of you on planes without cutting into that precious legroom.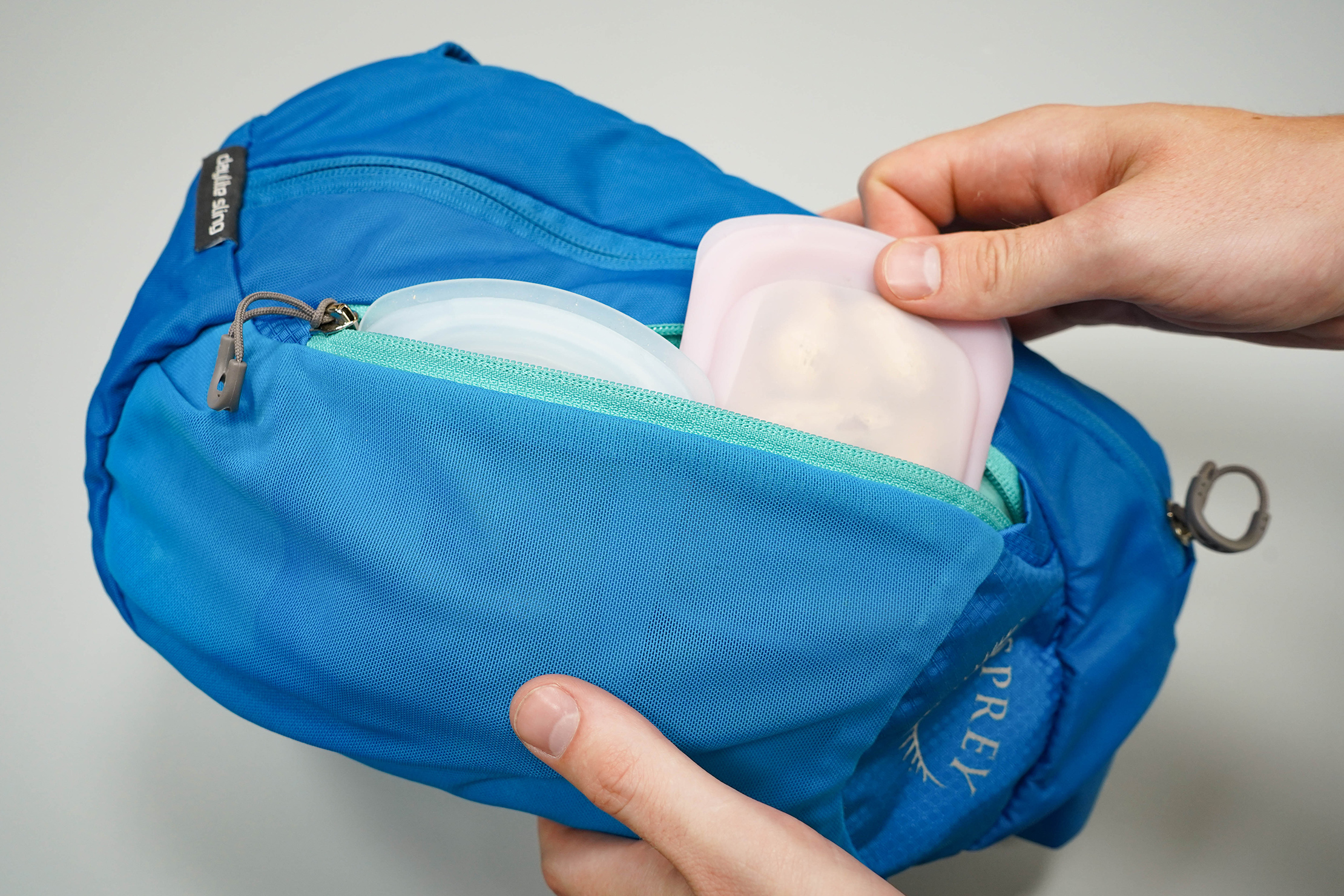 The front mesh compartment is a good spot to stash items you'll want to grab quickly—just ensure you're not keeping anything pointy in this pocket as the mesh isn't the hardiest of fabrics. We've found snacks fit here perfectly, but it's also a good spot for your phone or wallet.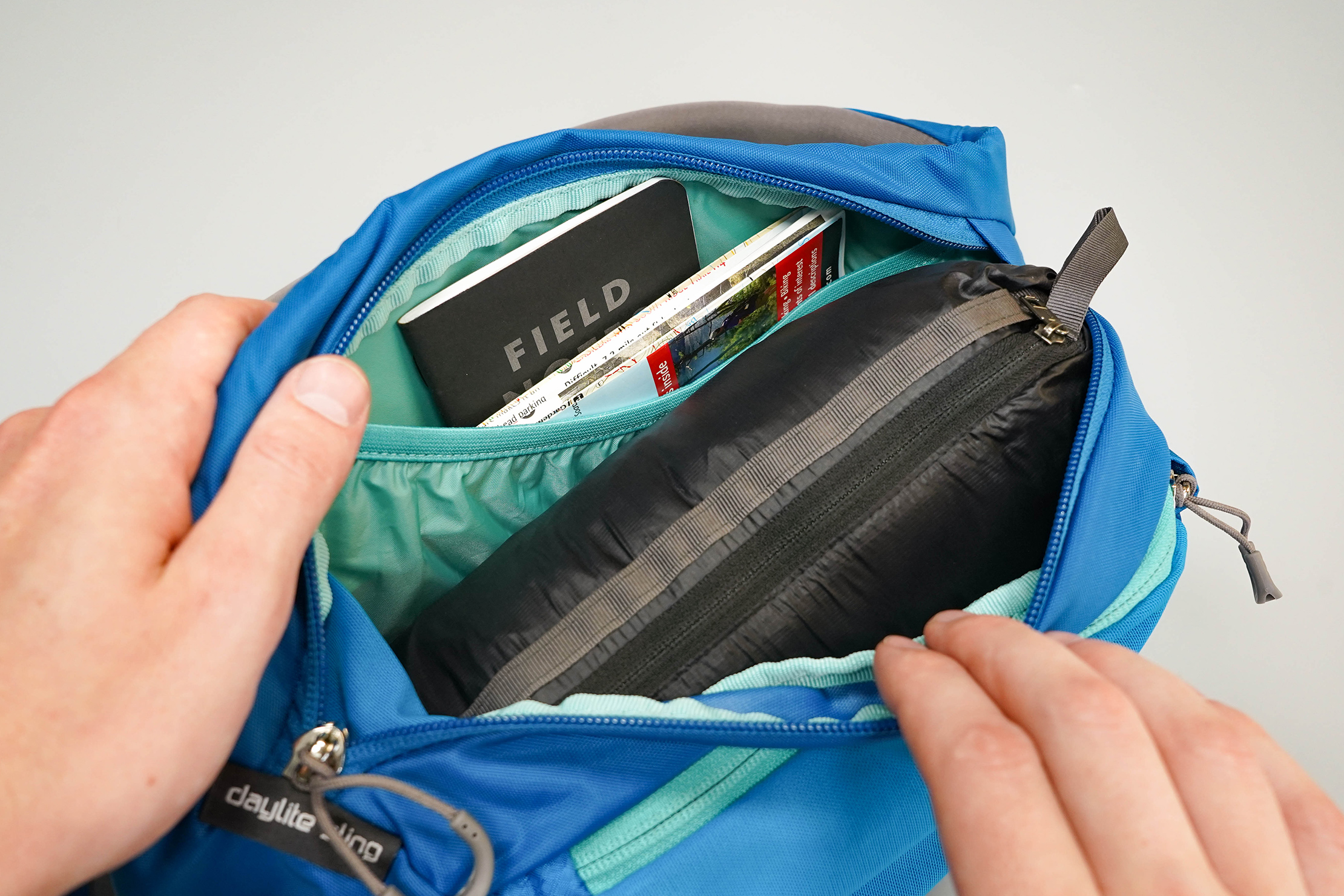 The main compartment has a sleeve and two mesh pockets, as well as a key leash. We think it's an ideal amount of organization for a bag of this size. It lets you organize your stuff, but doesn't eat into the open space of the compartment. We've kept sunscreen and a trail map in the sleeve and some ibuprofen, a smartphone, a reusable straw, and a wallet in the mesh pockets. And our keys, of course.
This compartment can hold a good amount of stuff—great for a small camera or an extra layer or two. On our beach excursions, we've been able to fit two bathing suits and two microfiber towels, as well as a small lunch. To be frank, though, it would've been handier to have a beach tote or backpack instead. (On top of the aforementioned beach-day essentials, a book doesn't fit. And what's a beach day without a book?)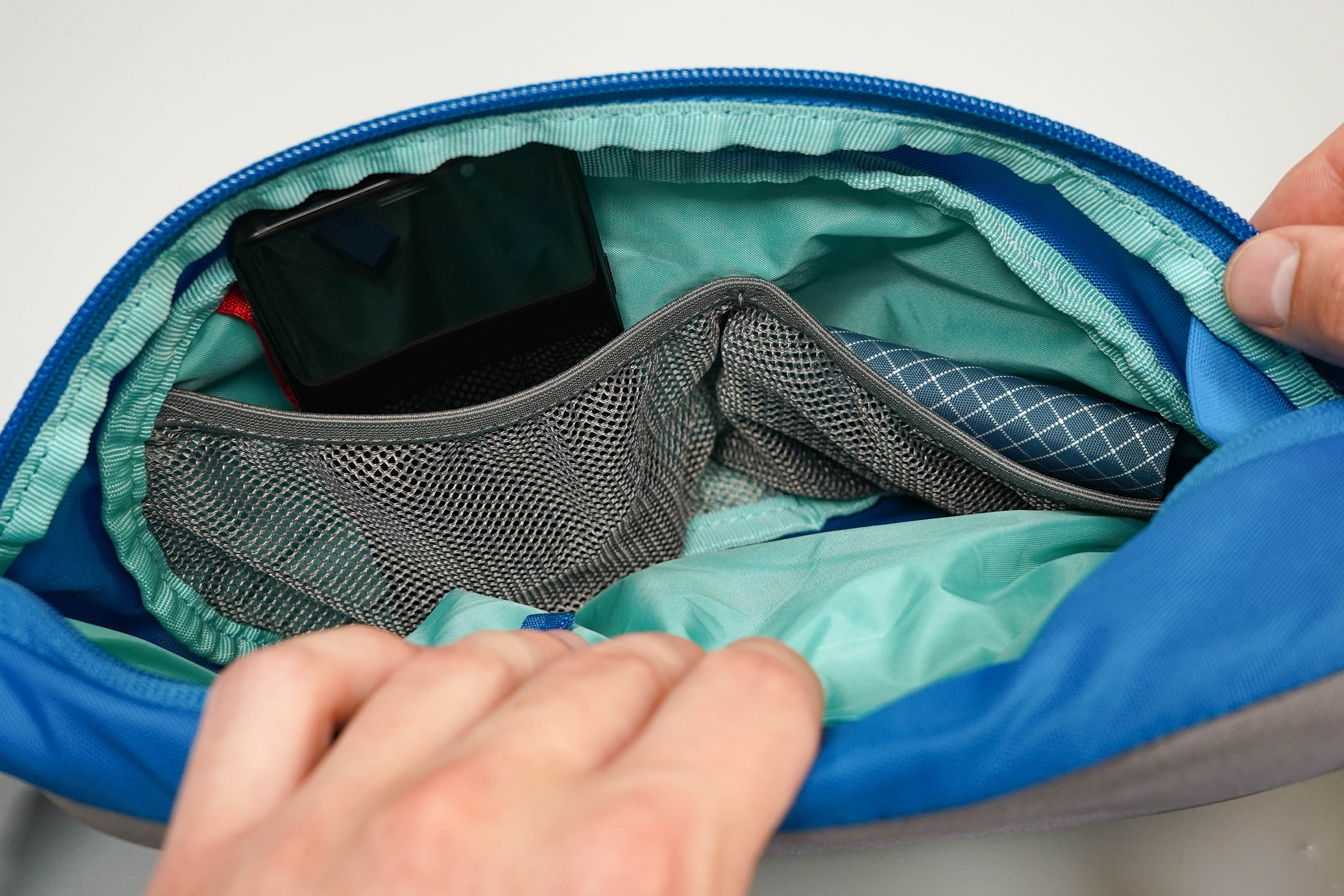 There's also a small mesh pocket on the strap itself. We haven't found it terribly useful—it's too small for basically any phone. But chapstick will slide right in, so if you're a person with chronically dry lips then you'll love this pocket. Small snacks will fit here as well.
Durability & Testing
All in all, we've enjoyed testing the Osprey Daylite Sling. Although, on longer hikes or day trips we usually end up wishing for a full-on daypack instead. Despite the padding on the strap of the Daylite Sling, it gets uncomfortable after a few hours (especially since its full weight dumps into your right shoulder). That said, it's great for those smaller excursions when you need to carry more than your pockets allow, but not enough to justify a backpack.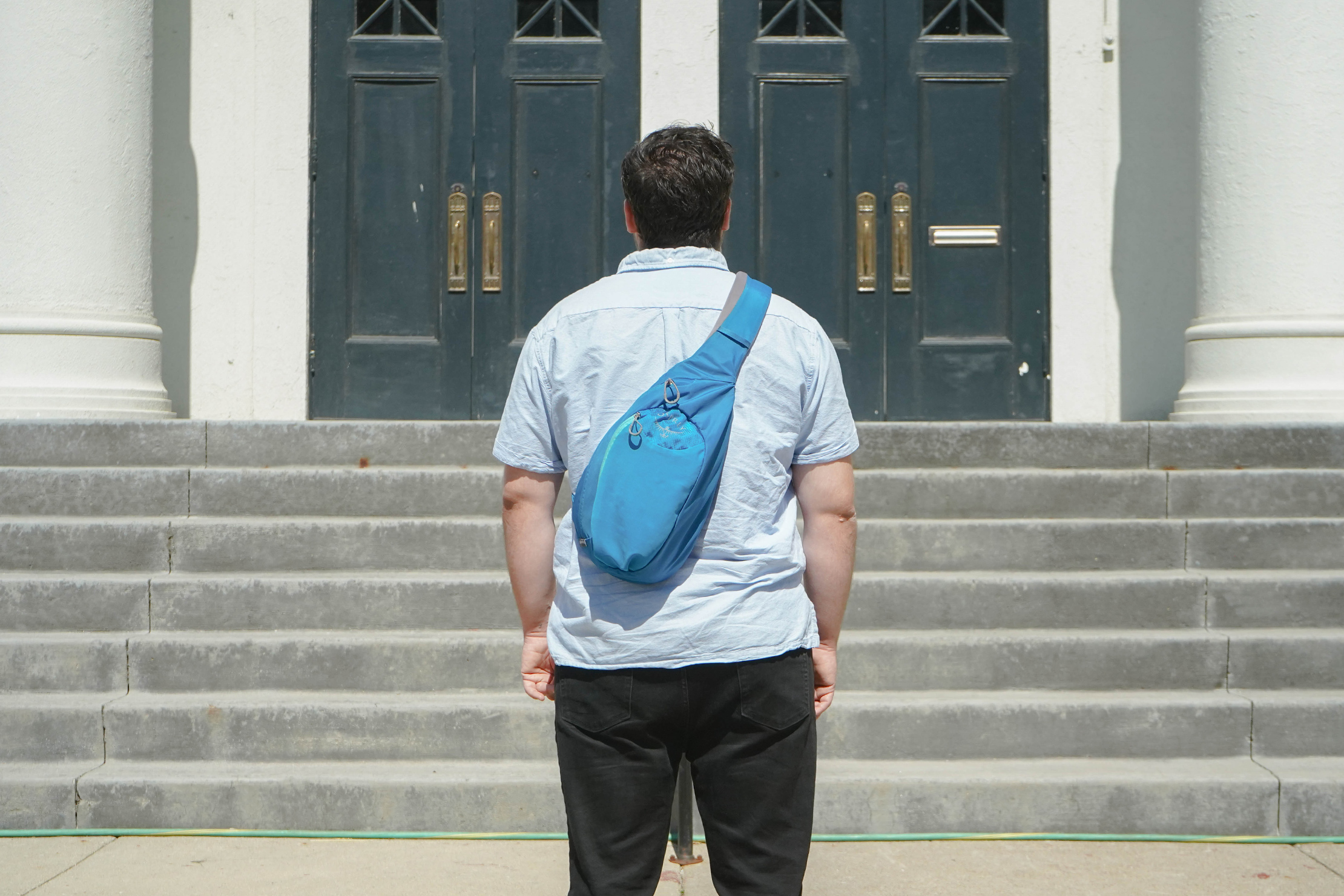 We haven't had any durability issues with this sling since we started testing it a few weeks ago. It's held up nicely against inclement weather, sweat, and being shoved full with a mountain of stuff.
Usage Timeline
Initial Usage
Condition: Excellent
The shoulder strap is very well padded and comfortable.
Good choice of colors available
Plenty of organization inside the sling.
2 Weeks of Use
Condition: Excellent
Access the Pro Community Discussion
Get your questions about the Osprey Daylite Sling (Shoulder Sling) answered from our team and the Pro Community right here on the page. Plus, join discussions with other members about gear, guides, and more.
Other Bags & Luggage Reviews