The travel tote bag formula is very simple. It's a large bag with two long handles, usually carried on one shoulder. This no-nonsense design makes it a very popular option for those just looking to haul a lot of gear around without having to deal with different compartments, lack of space, and fancy buckles and straps. Of course, this simplicity and lack of extra features can be a weakness. Fortunately, lots of brands have taken the concept of a travel tote and have spun off different and interesting designs. The question now is, which one is right for your needs?
We've teamed up with REI to bring you this roundup because it's a great place to start your search for new gear. From bags and travel accessories to clothing for your next trip, they can help you get ready for any adventure. You get even more perks when you become an REI Co-op member, including free shipping, a generous return policy, and rewards worth an average of 10% back annually. Members can also shop the Re/Supply Store for access to returned gear that's been thoroughly inspected and to trade in used items for other members to enjoy.
So, without further ado, let's jump into the world of travel tote bags!
1. Cotopaxi Taal Convertible Tote (Del Dia)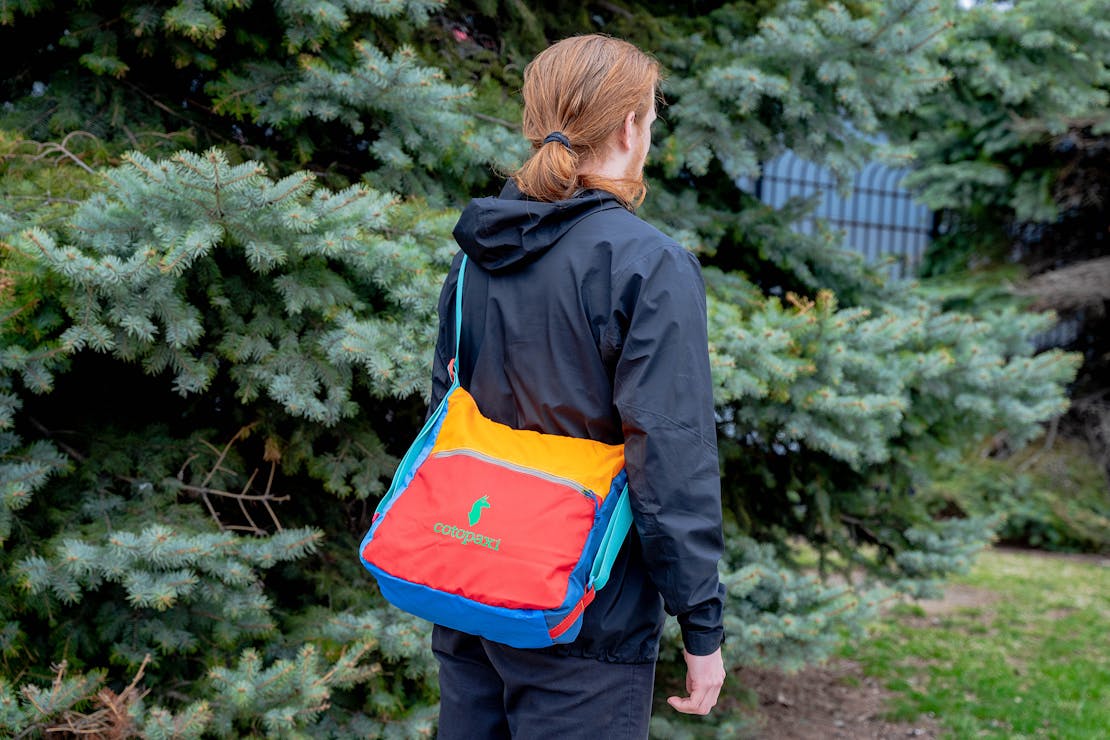 Why We Like It: It's made with unused materials from manufacturers that would otherwise be discarded.
What You Should Know: It's awkward to carry in backpack mode.

A travel tote bag is probably the most utilitarian kind of bag out there, but that doesn't mean it can't look fun. Cotopaxi's Taal Convertible Tote features a colorful design courtesy of recycled fabric and letting the employees choose which ones to use per bag. Don't mistake its environmental friendliness for lack of quality, either. Its zippers are from YKK, while the adjusters are from Woojin, both well-regarded for their quality hardware. Bonus points: those adjusters from Woojin are colored as well to match the tote's general vibe.

The basic tote formula still applies. You get a spacious main compartment and a front pocket, and you get a few nice extras. The former has a divider in the middle, a large water bottle pocket, and a small zippered pocket at the back. An underrated feature is its bright interior. It's easy to see, thanks to the colorful fabric, which is especially helpful if you carry a lot of dark-colored tech gear. We also welcome the backpack mode option, though the Taal's Tote's thin composition and lack of padding mean comfort is less than ideal.
See Full Review & Buying Options
2. REI Co-op Stuff Travel Pack (20L)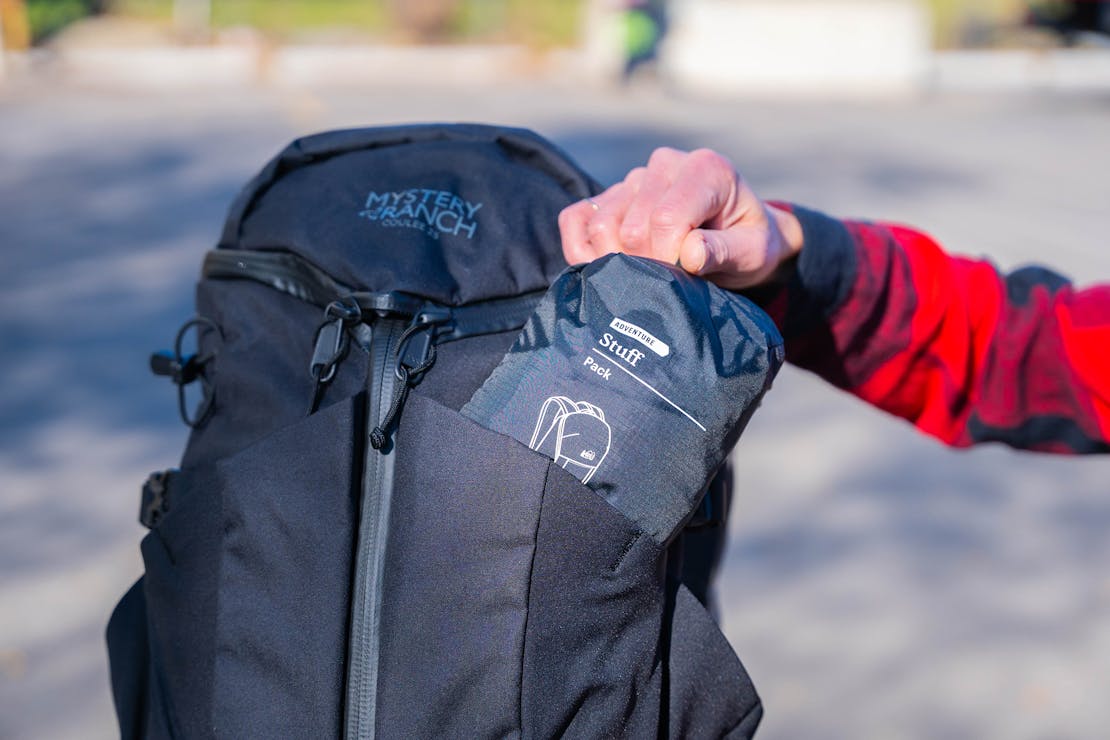 Why We Like It: It packs down to be smaller than your Nalgene water bottle.
What You Should Know: It looks a bit wrinkly when you unpack it.

Since totes have the luxury of a simple design at their core, they make for great compressible bags you can have in reserve. Case in point: REI Co-op's Stuff Travel Tote. Its key feature is the ability to compress from a 20-liter travel tote bag and down to a smartphone-sized pouch. To put that into perspective, that's smaller than the 32-ounce Nalgene bottle we like to travel with. Even in its uncompressed form, tight dimensions are a key focus, as REI keenly points out that its linear dimensions comply with airport requirements (though that's subject to change depending on the regulations).

As you can imagine, it doesn't have a ton of luxuries to keep the design simple. Inside the main compartment is the lone zippered pocket where the whole Stuff Travel Tote packs into, pulling double duty as a quick-stash pocket for small gear. Other caveats include the dark interior because of the all-black fabric and its relatively thin fabric wrinkles when you compress the bag.
See Details & Buying Options
3. Osprey Arcane Tote Pack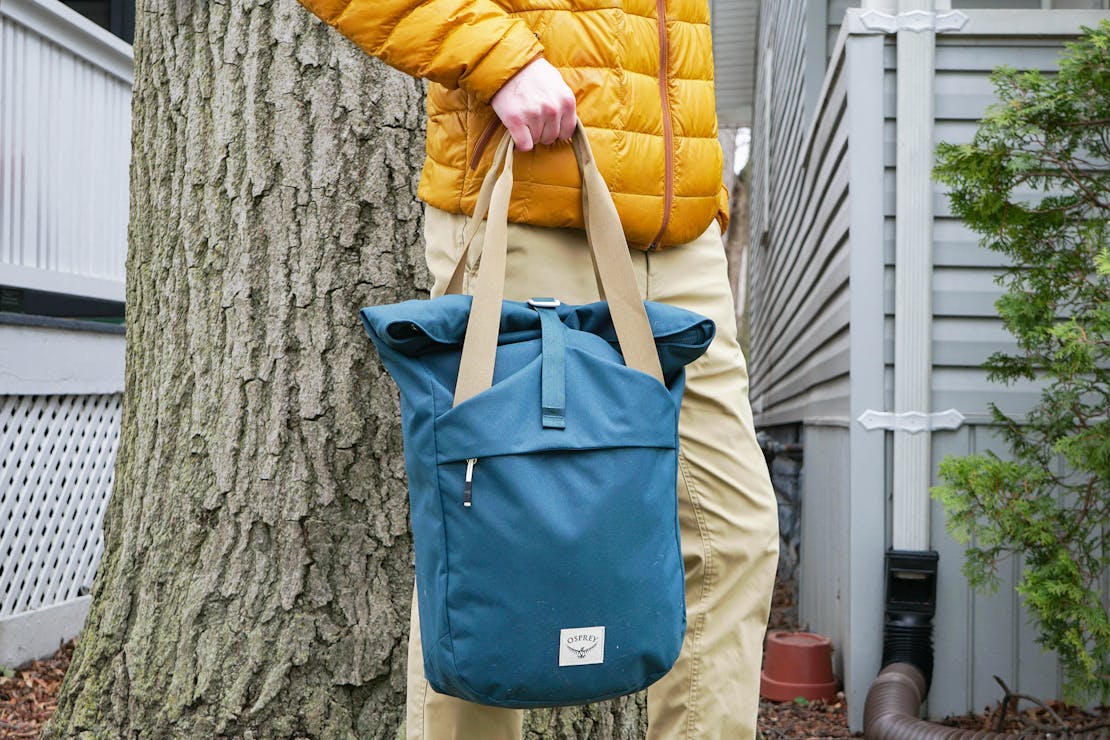 Why We Like It: This rolltop bag includes amply padded shoulder straps if you'd rather carry it as a backpack.
What You Should Know: It's inconvenient to access the key clip since it's in the main compartment.

The Arcane Tote Pack from Osprey is technically a tote, but it wouldn't be out of place in a backpack roundup, either. This one's for those looking for the grab-and-go convenience of travel tote handles on a backpack. The handles themselves are relatively short, so shouldering them can feel a bit tight for those with bigger builds. Fortunately, the backpack straps are well-padded in case you get tired of tote-style carrying.

Unlike open-top or zipped-up tote bags, the Arcane Tote Pack uses a rolltop closure and a zipper for its main compartment. It's not exactly fast access, but it is quite secure, which is great if that's a trade-off you're willing to make. Organization is well taken care of, too, with a padded laptop sleeve (with a false bottom) that can fit a 15-inch device, an additional sleeve for a smaller device, a key clip, plus smaller pen and mesh pockets.
See Full Review & Buying Options
4. Fjallraven Kanken Totepack
Why We Like It: It brings the Kanken style we like to a travel tote that can also be carried as a backpack.
What You Should Know: The material attracts lint and pet hair.

Fans of Fjallraven will be delighted to know that, yes, there is a travel tote in the Kanken style. The Kanken Totepack features the brand's signature G-1000 fabric that's coated with Greenland Wax for water resistance. The downside? Well, the fabric attracts pet hair quite effectively, and the boxy styling and large logo can be polarizing, depending on who you ask. Apart from the long travel tote bag handles, there are also the usual Kanken grab handles. Plus, you can convert one-half of the tote handles to a pair of shoulder straps, though they are relatively thin.

The interior is rather barren, lacking any dividers or pockets for organizing gear, save for a 13-inch laptop sleeve at the back. To make up for it, there is a water bottle pocket on the outside and a front pocket with a bit of independent volume. On the plus side, this leaves most of the 14-liter capacity unobstructed and, therefore, maximized. The biggest con here is the dark interior (at least, of the black colorway), which makes sorting through gear quite tricky under poor lighting.
See Full Review & Buying Options
5. The North Face Borealis Tote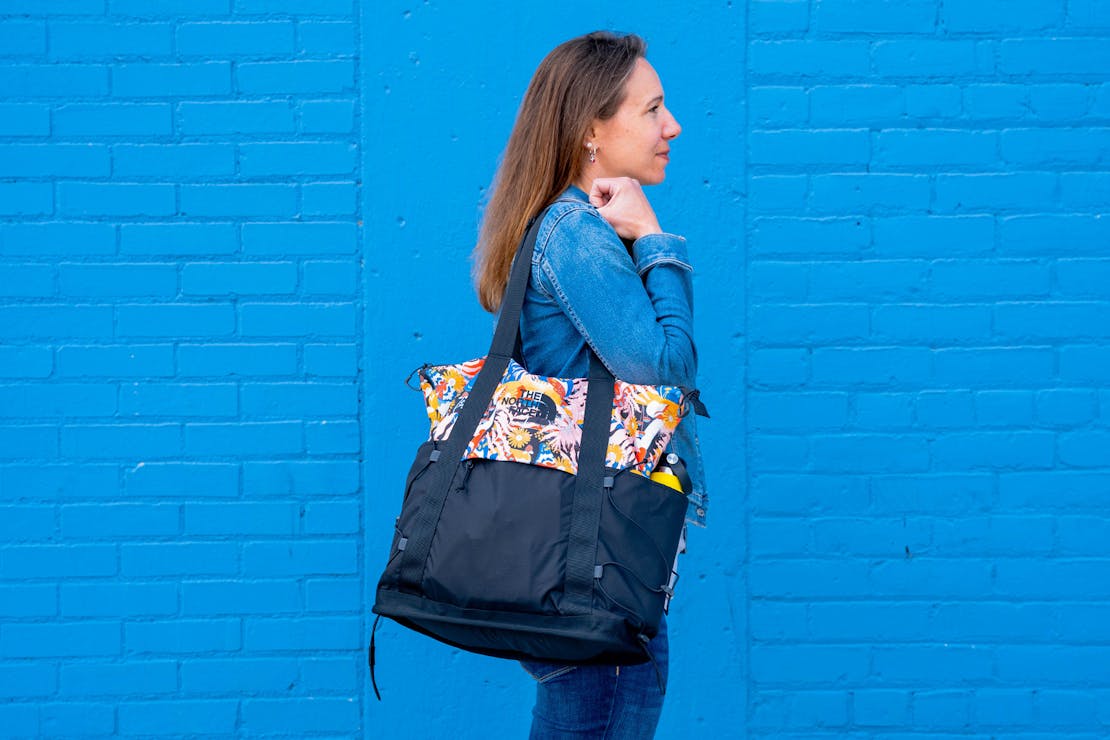 Why We Like It: It has external water bottle pockets and external bungees to carry extra gear.
What You Should Know: It can upend if you grab the rear handle on its own.

The North Face's Borealis Tote is just as versatile as the other Borealis bags. Much more than a plain travel tote, it's relatively well-kitted with a 13-inch laptop sleeve, an internal mesh pouch, and a pocket at the front for quick-grab items. It's also fairly robust, with 300-denier and 600-denier recycled polyester options, plus 210-denier ripstop nylon if you choose to go for a solid-color design. There's also a non-PFC durable water-repellent coating to keep water from soaking.

Oh, and have we mentioned that it could be used as a backpack as well? Yep, the tote handles, as thin-looking as they may seem, can be converted to a pair of shoulder straps, and they're surprisingly comfortable, too. That said, the conversion isn't perfect, as the back handle can catch against the back. Plus, be careful to avoid grabbing the handle with the main compartment open because that may cause the whole bag to tilt and spill your gear.
See Full Review & Buying Options
6. Patagonia Black Hole Gear Tote 61L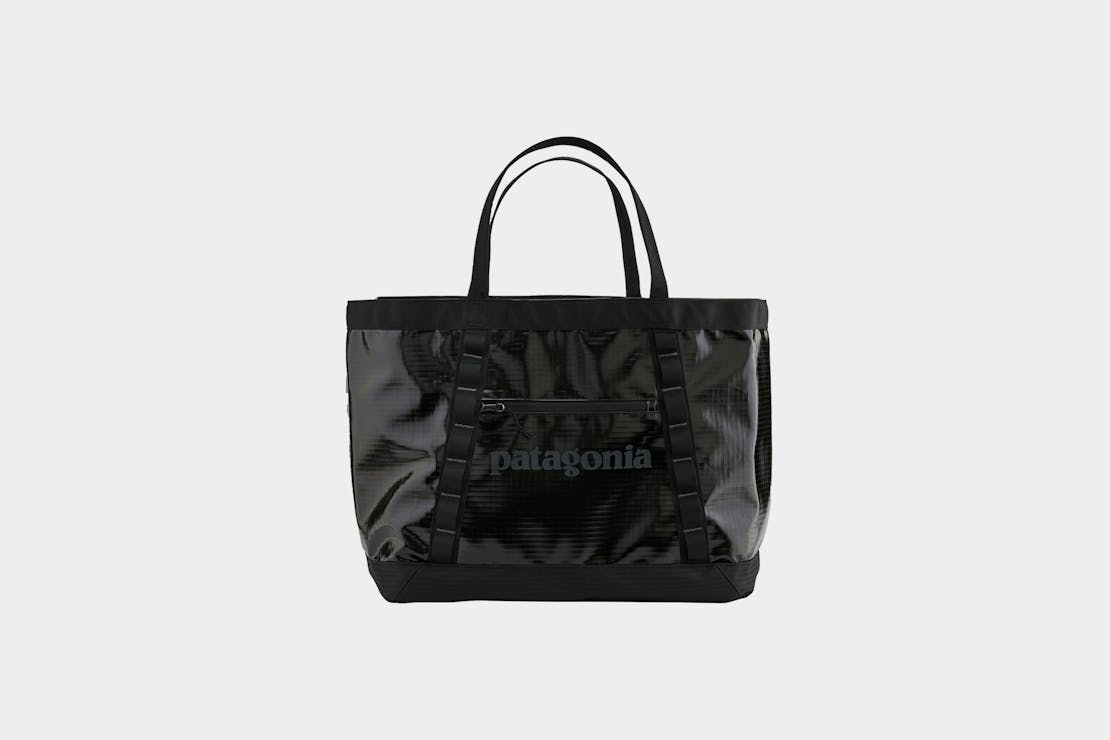 Why We Like It: The huge capacity will allow you to bring a ton or to use it for beach towels at the lake.
What You Should Know: Webbing handles could dig into your shoulders if you pack the 61L full of heavy gear.

Even though Patagonia hasn't stretched the limits of physics (yet), their Black Hole Gear Tote makes it seem like they're close. With a rated capacity of 61 liters, you'll have the freedom to fit just about anything that doesn't require a forklift—including those bulky beach towels after they've picked up sand. Although its capacity is impressive, take note that it's relatively bare bones, too. It has an open-top design secured only by two straps. The outside is lined with two daisy-chained loops, and there's also a small front pocket for your everyday carry items. Other than that, you get very few frills and more features that matter.

The main compartment is a big empty space, unobstructed by dividers or small pockets. It'll be up to you to use pouches or packing cubes to organize your gear—or don't if you don't feel like it. And, if you pack it to the max, there are two compression straps at the top to lock your gear in place. Regardless, the Black Hole Gear Tote is tough as nails despite its simple design. The thick handles are bartack-stitched to the recycled polyester ripstop body. We also dig the glossy finish the TPU-film laminate provides, as well as the weather resistance it gives.
See Details & Buying Options
7. YETI Camino 35 Carryall Tote Bag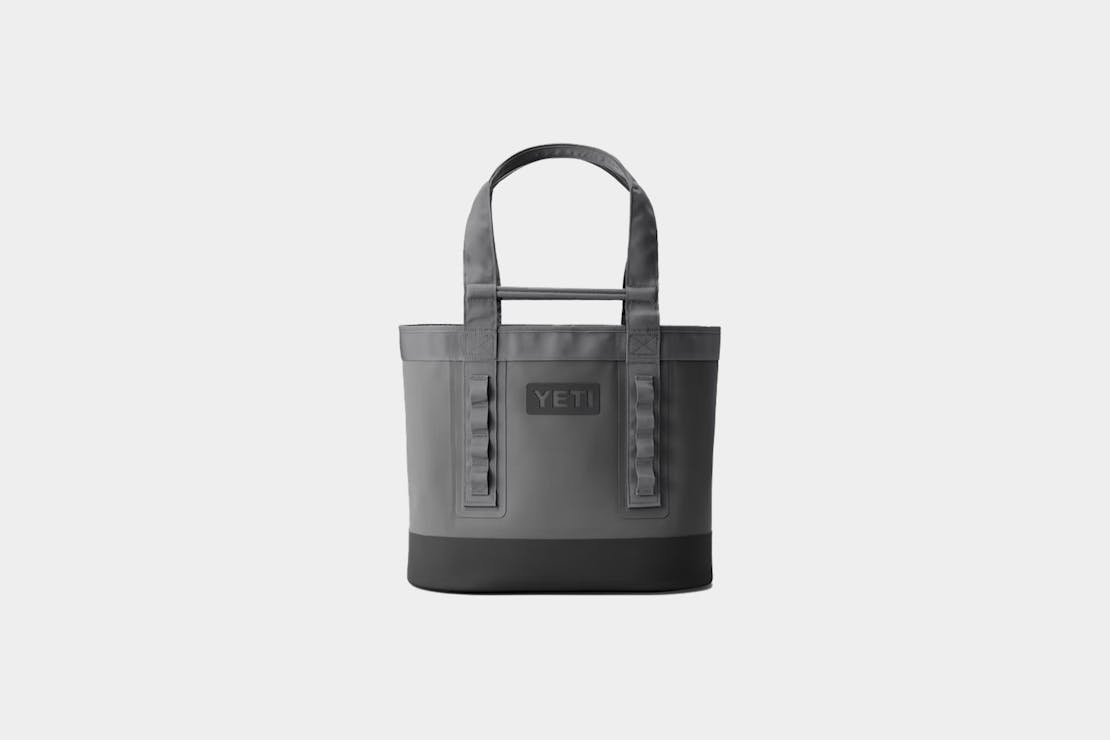 Why We Like It: Its waterproof and puncture-resistant ThickSkin™ Shell is very resilient against abrasions in outdoor use.
What You Should Know: Although it's a YETI, it's not a cooler.

If it's a tough travel tote you're looking for, then consider YETI's Camino 35 Carryall Tote Bag. From its ThickSkin Shell, which you can easily clean by hosing it down with water, to its molded EVA bottom, it's a tote that can take the rough and tumble of outdoor adventures. Because of its sturdy construction, the Camino also stands well on its own, making packing just that tiny bit easier. Other goodies include daisy-chained loops at the front, two zippered pockets in the main compartment, and collapsible dividers to keep gear organized.

The only let-down about the 35-liter Camino is that it's not a cooler bag. Despite its shared aesthetic with other YETI bags like the Hopper Flip 18 and Hopper M30, there is no insulation, nor is there a zippered closure for the main compartment. There's only a single strap to hold the opening together, and it's secured by a simple G-hook. Still, it's a tote that's spacious and well-appointed with features with toughness as its headlining feature.
See Details & Buying Options
8. Herschel Supply Co. Strand Duffle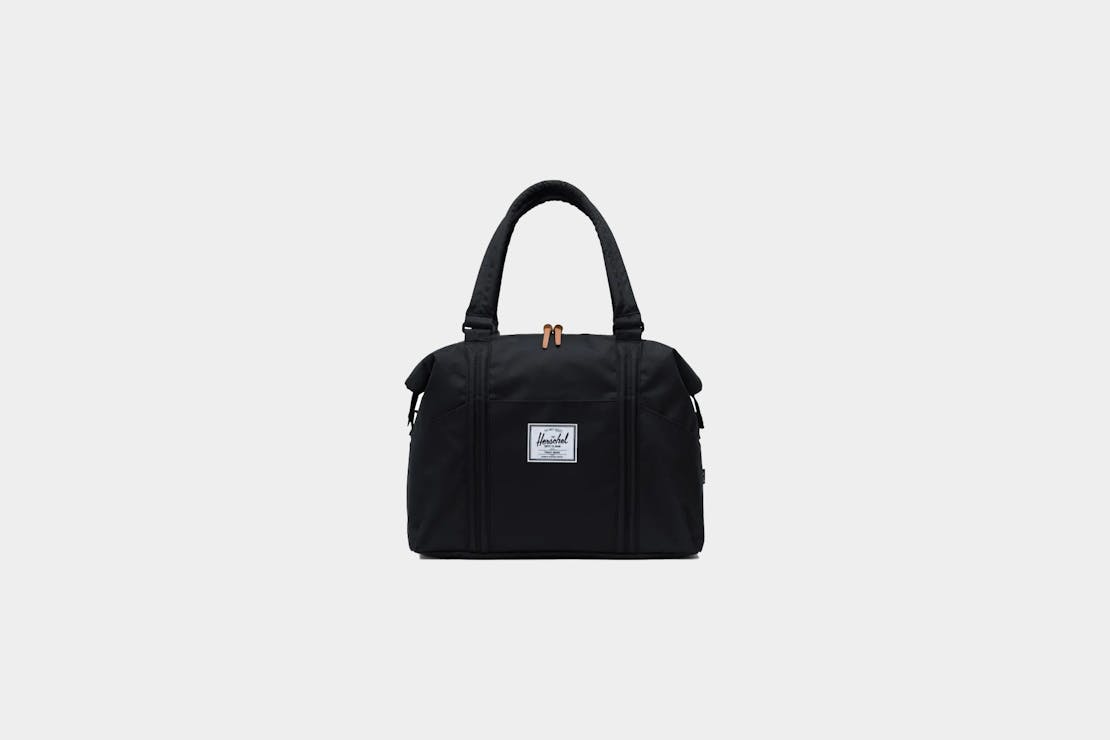 Why We Like It: It has nicely padded carry handles more reminiscent of a backpack than a travel tote bag.
What You Should Know: There are no pockets on the inside for small gear.

Herschel Supply Co.'s Strand Duffle may not strictly be a tote, but it has the hallmarks of one. We're particularly digging the padded tote handles. These are cushy enough that they remind us more of backpack shoulder straps than the minimalist strips other basic totes tout. Unfortunately, this isn't one of those sets of tote handles that magically convert to backpack straps, but at least we still get to enjoy them. However, it's worth noting that they're a little stiff at first and take some time to break in.

At 28.5 liters, space isn't an issue, especially when you unfasten the sides for expansion, but organization and interior visibility can still be tricky. Even though there are slip pockets on the outside for quick-grab items, we wish there were at least one zippered pocket in the main compartment for small valuables you don't want in an open exterior pocket. That said, our Ivy Green colorway has a red and white pinstripe pattern, so visibility is pretty solid. We can't vouch for other liner colors, though.
See Details & Buying Options
9. Aer Go Tote 2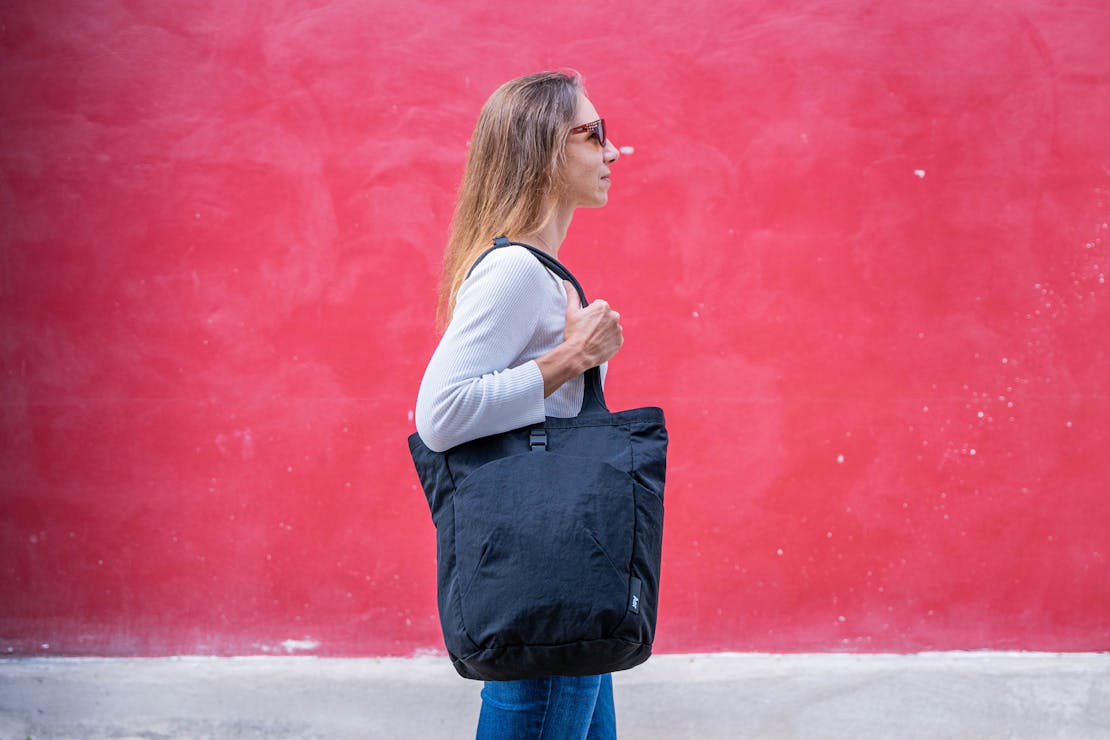 Why We Like It: The front pocket closes with a magnetic buckle you can open one-handed.
What You Should Know: It has a large footprint for a packable tote.

Despite being touted as a packable tote, Aer's Go Tote 2 doesn't feel all that compact. It folds flat or can be rolled to roughly the size of two t-shirts; quite the footprint when you're trying to be space-efficient with your travel bag. That said, it's a feature-packed tote, as expected of a bag from Aer. The most notable of these features is the magnetic buckle of the front pocket. It's fast and easy to use when you're trying to stuff museum brochures and maps while you're exploring a new city.

You get not one but two water bottle pockets on the Go Tote 2's sides. Mind you, occupying these takes away space from the main compartment. At the back, there's a small zippered pocket for valuables you'd want to keep close to you, such as your passport and wallet. The main compartment is guarded by a zippered closure that, unfortunately, has gaps on the side that can still let rain and dirt inside. In terms of organization, you get an unpadded laptop sleeve that can fit a 16-inch MacBook Pro. The size is impressive, but we'd suggest using a dedicated laptop sleeve if you're putting a device that large inside.
See Full Review & Buying Options
10. Peak Design Packable Tote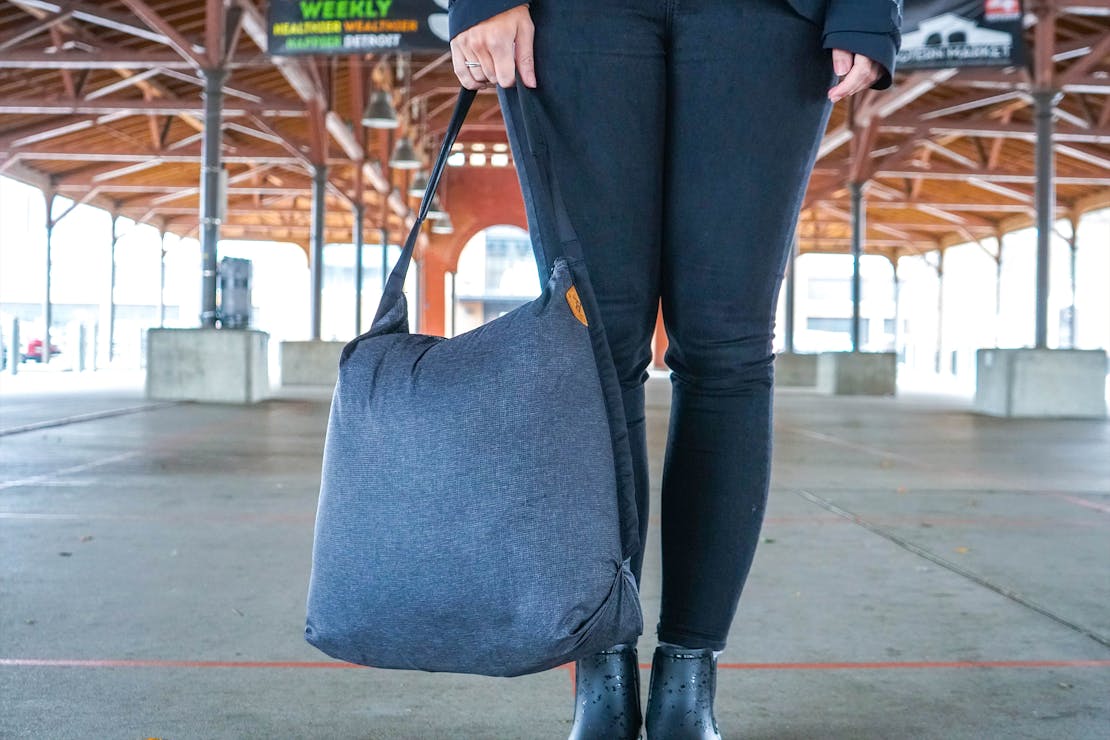 Why We Like It:The self-healing nylon takes care of light damage should it occur.
What You Should Know: There's no structure or liner material.

The Peak Design Packable Tote has two things going for it. Firstly, it's a lightweight and compressible travel tote bag that you can stash away in your travel bag. Who wants to carry a 40-liter backpack to the beach just to bring a few towels and sandwiches? No one and a tote like this will fill that role perfectly. Its lack of structure or liner does make it a bit too minimal for heavier duties, but for clothes, beach towels, and toiletries, it'll get the job done. But what if it snags on a seashell or—if you're really unlucky—a beach umbrella? Well, that's where its second headlining feature comes in.

Three words (and a hyphen): self-healing nylon. Although it won't survive getting torn to shreds, the fabric is able to heal small abrasions. Think of scratches from setting the travel tote on rough pavement or getting stepped on by careless beachgoers. It's worth noting that the handles are quite thin, and comfort is noticeably affected despite having light padding.
See Full Review & Buying Options
11. TOM BIHN Truckasana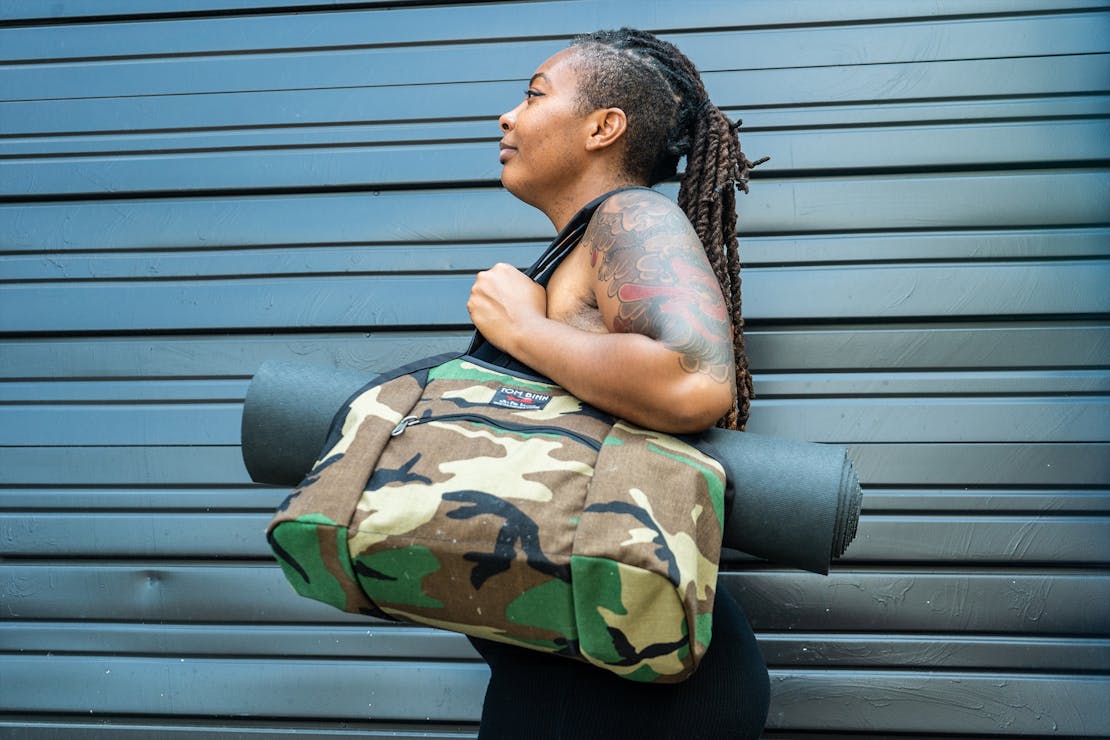 Why We Like It: It will carry your yoga mat, without slipping, to the studio.
What You Should Know: The travel tote will sag under the weight of your mat if you're not carrying anything else.

As much as we like to be efficient in all our daily activities, we'd rather save the exercising once we're actually at the gym. This is why TOM BIHN's Truckasana makes complete sense, at least for the yogis among you. It's a tote with a built-in yoga mat slot that's cleverly integrated into the bag's shape. Oh, and of course, you get a very spacious travel tote bag on top of that as well (or, rather, underneath it).

The catch? If all you're carrying is a yoga mat, or if the tote itself isn't full, the bag tends to sag under the mat's weight. On the other hand, once it's fully packed with gym clothes plus a yoga mat, the shoulder strap can really dig into the shoulder. Outside of the gym, though, you're getting a competent tote bag that you can take grocery shopping thanks to its three-segment main compartment—separating groceries will be a breeze.
See Full Review & Buying Options
12. BAGGU Standard Baggu Tote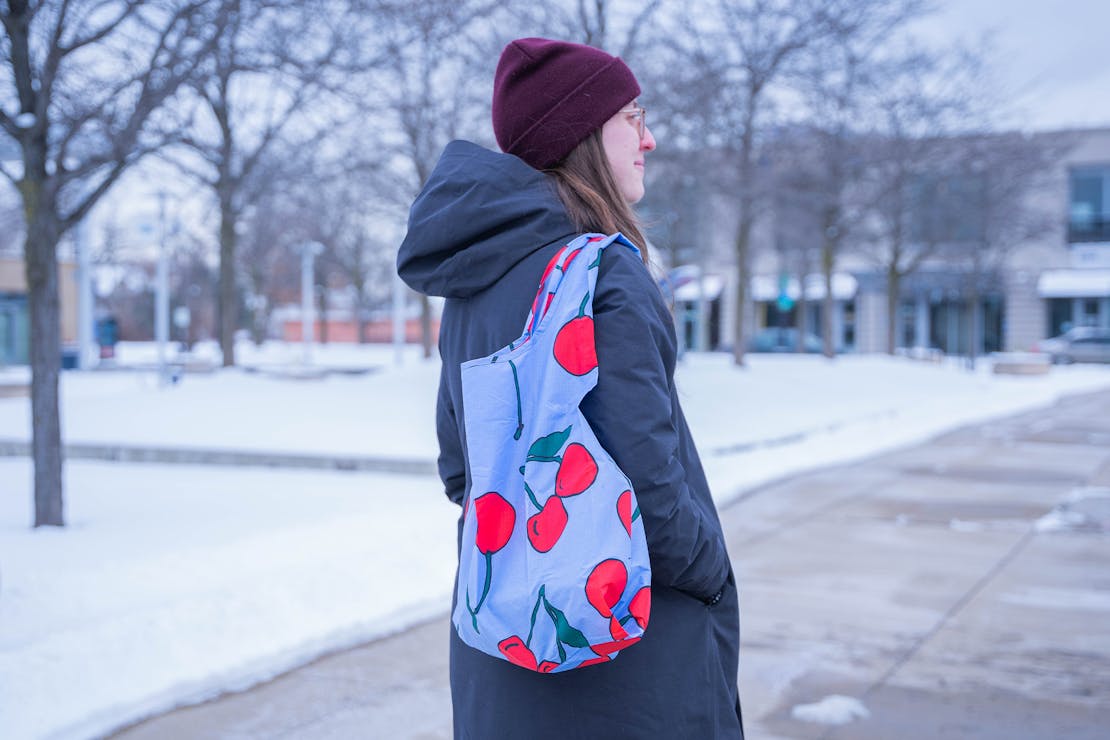 Why We Like It: A market tote that's lightweight and folds down small in case you need it.
What You Should Know: It's awkward to carry over your shoulder.

The Standard Baggu Tote is about as barebones as it gets, and that's not necessarily a bad thing. Its super lightweight and thin construction makes it super easy to slip between packing cubes or even in tight security pockets. Compressibility like this comes courtesy of its plain ripstop nylon construction, though that means you'll have to handle this quite gently. Ripstop nylon will stop small rips from deteriorating, but even those minor ones can happen easily.

However, our biggest gripe about the Standard Baggu Tote is the way it carries. Unlike typical totes, which sit perpendicular to your torso, this one sits parallel. This means you have to sling it over your shoulder or carry it like a shopping bag—which makes sense given their similar designs. That said, this raw simplicity is sometimes all you need. It's a reusable shopping bag you can easily take with you on trips.
See Full Review & Buying Options
13. Bellroy Market Tote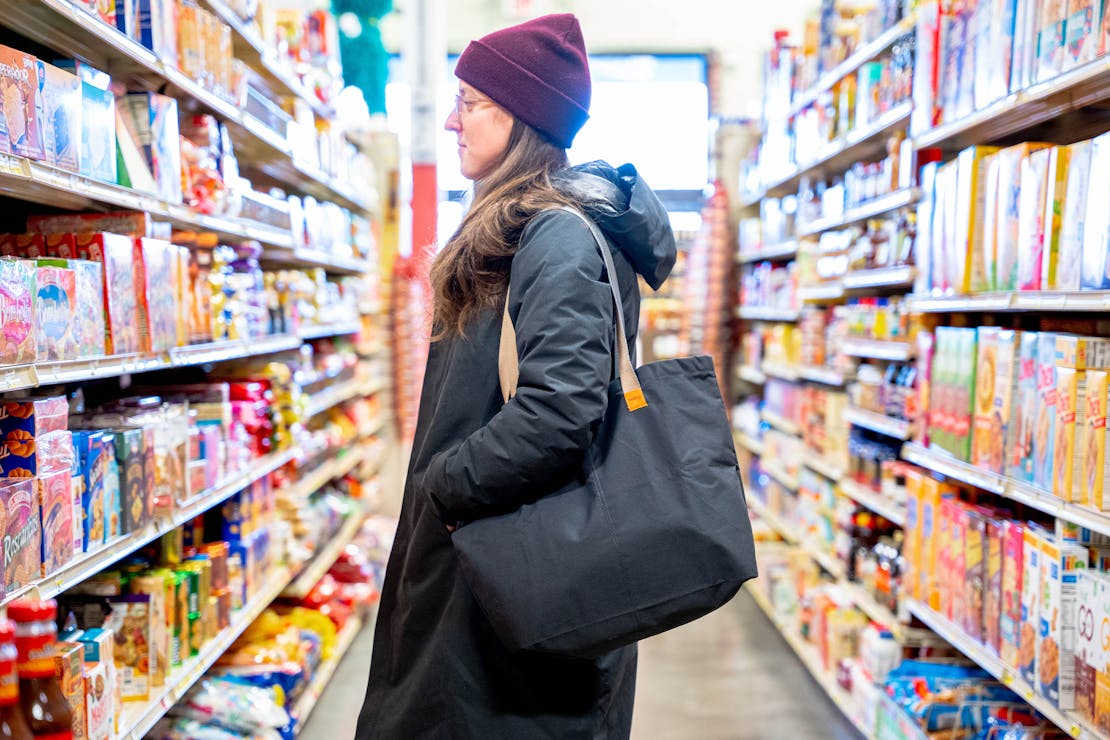 Why We Like It:A market tote with internal organization to keep items protected
What You Should Know:Pockets are designed for specific items, so you need to pack smart

Even though we like travel totes for how spacious and uncomplicated there are, sometimes some amenities are worth having. For totes that are designed for grocery runs, we're specifically looking for some organization, but not too much that it ruins the truckbed-like openness we like about them. That's what the Bellroy Market Tote feels like. It's lightweight, has three wine bottle-sized pockets, and is easy to clean in case produce juices leak inside. One subtle design choice we dig is the gusseted floor, which allows the tote to stand fairly well, provided it's sufficiently packed.

The pocket layout is a bit one-sided, however. With that in mind, packing strategically should be considered to avoid weight imbalance. The Market Tote's relatively thin handles don't have much in the way of cushioning (read: no padding), so you wouldn't want to put too much stress on them more than what's necessary.
See Full Review & Buying Options
14. Mission Workshop The Drift Tote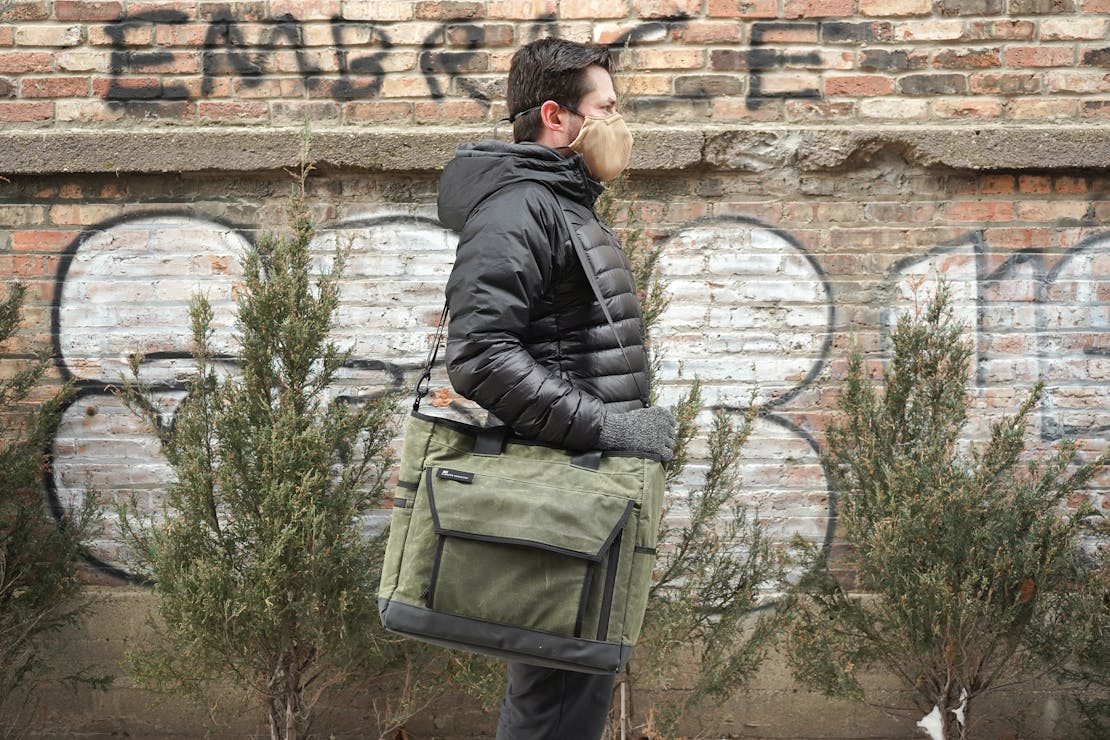 Why We Like It: Spacious enough to double as a daily driver and weekend bag
What You Should Know: Shoulder strap lacks padding for comfort during extended carry

Mission Workshop's take on a travel tote design is a bit more techy and urbanized. Don't think that's limited to its gray and black styling, though. There's a front pocket that's laden with smaller organization for everyday items ranging from battery banks to snacks. Plus, there's independent access to the laptop compartment, which, by the way, can fit a 16-inch laptop, is padded, and has a false bottom for added protection.

Apart from fitting a laptop in that compartment, you can still get a ton of gear in the main compartment. The 28-liter capacity is spacious enough for organizers and clothing, and you'll have an easy time packing them in because of the Drift Tote's structured body. Mind you, a fully packed out Drift Tote can get quite hefty, and, unfortunately, the thin shoulder strap lacks the padding for comfortable extended carrying.
See Details & Buying Options
In conclusion, you can haul a lot of gear with a tote, and it's just a matter of the extra features you want on top of that. Whether it's additional organization, being able to compress, or super sturdy construction, there's bound to be a flavor of tote to suit your needs. Did any of the totes above pique your interest? Let us know, and be sure to check out even more totes at REI.