BAGGU Standard Baggu Tote Review
The BAGGU Standard Baggu Tote is basic in many aspects, but its ripstop nylon construction certainly delivers on the durability front.
Our Verdict
Unlock the Pro Summary
Save time. Get access to brief summaries of our reviews so you can browse and make decisions more efficiently.
Pros
Lightweight and easy to fold away
Made of resilient ripstop nylon
Thin form factor
Cons
Storage pouch is separate, not built-in
Handle placement sits awkwardly when shouldered
Doesn't stand up on its own
Recent Pack Hacker Video
Technical Details
Weight (oz)

1.9 oz (53.9 g)

Dimensions

25.5 in x 15.5 in x 6 in (64.8 x 39.4 x 15.2 cm)

Notable Materials

Ripstop Nylon

Manufacturing Country

China

Warranty Information
Full Review
Sometimes keeping things simple works best, and this philosophy is arguably at the heart of every tote bag. Here's an equation to consider: two handles + big compartment = tote bag—and really, that's it. Extra garnishing like zippers, dividers, and pockets are all neat features to have but not necessarily important. If that equation resonates with your needs, check this tote out.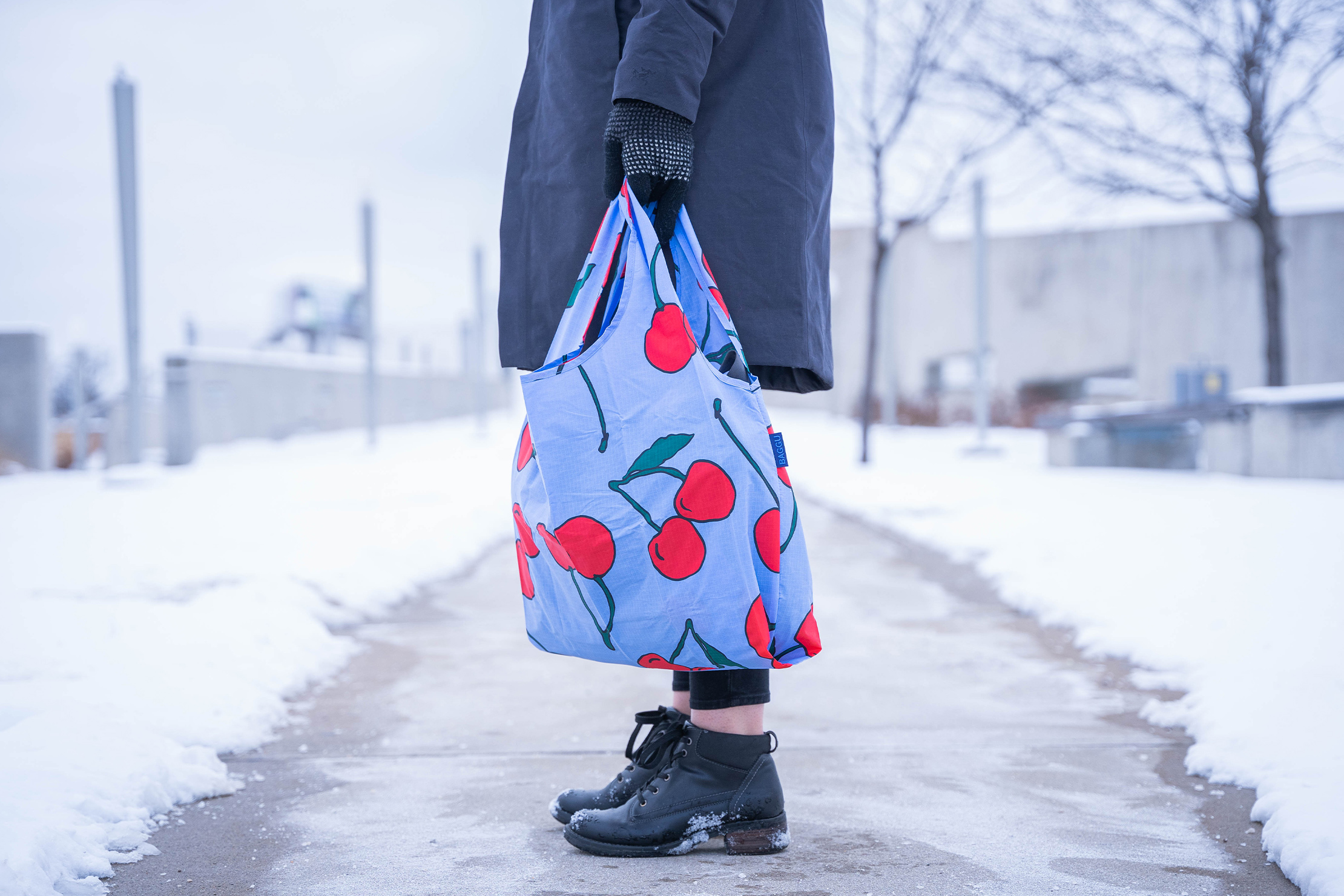 The Standard Baggu Tote from, well, BAGGU, is as simple as tote bags come. That's not to say it's cheaply made, though. The main fabric is ripstop nylon, and the capacity is rated for up to 50 lbs worth of gear. Oh, and did we mention it comes in a lot of fun designs as well? It's capable enough as a backup bag that you can leave stashed away somewhere. But as an everyday tote? Let's see delve deeper into the features to see if it can do that as well.
Materials & Aesthetic
The Standard Baggu's main attraction is the very colorful design. Or, rather, colorful designs, as in plural. Our cherry-laden Standard Baggu is just one of the many patterns available on their website at the time of writing. There's probably enough for each of your family members, including extended family. While we dig the red and purple color scheme of ours, we can't help but pay special attention to the Space Logo Silver colorway. If Neil Armstrong had to go grocery shopping on the moon, is there even a better choice?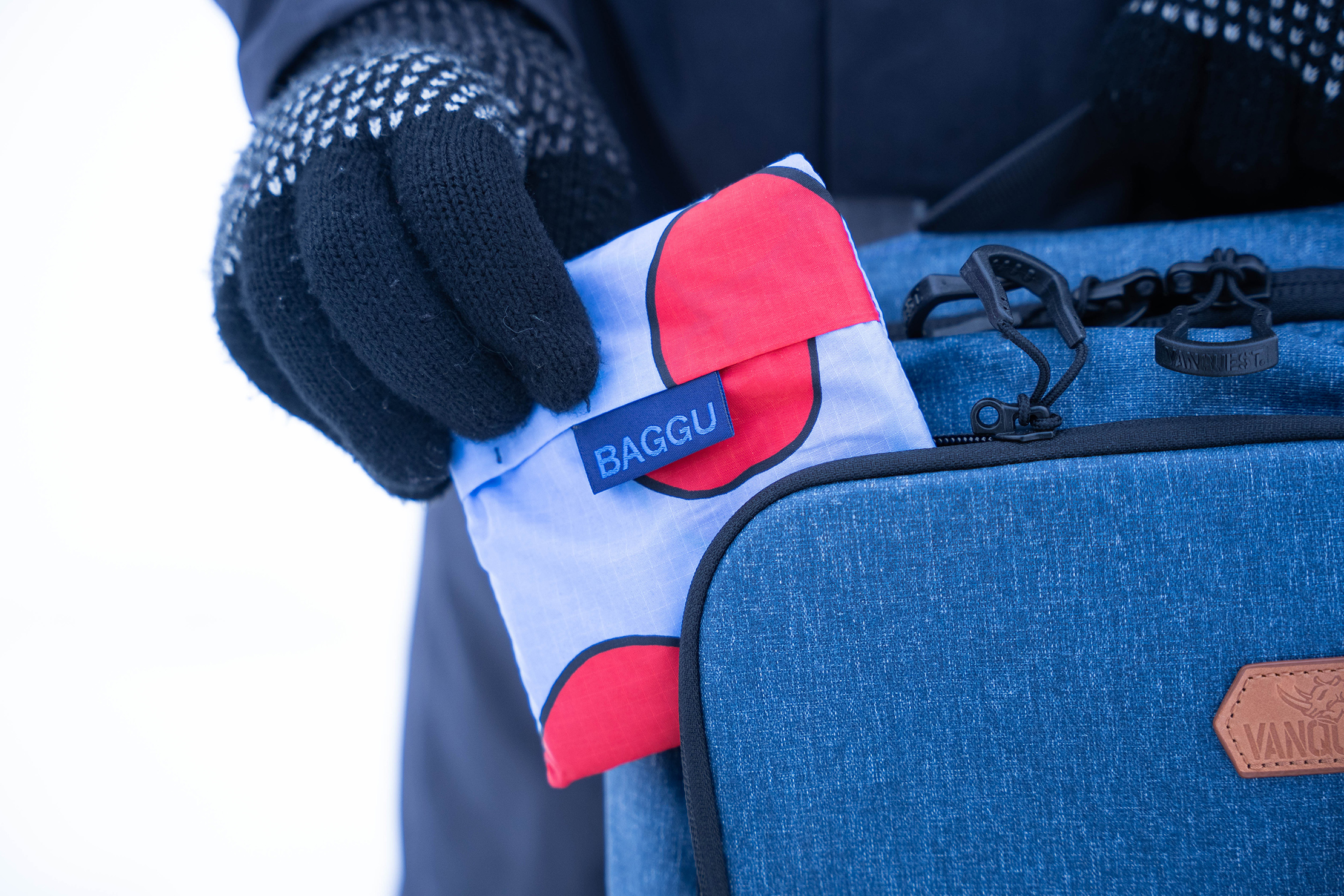 Long story short, the variety is great since and, at the end of the day, the Standard Baggu Tote is fairly simple even among tote bags. Make no mistake, though—it's a fairly durable bag in its own right.
The main material (well, the only material) is ripstop nylon (100% nylon, 30% recycled). For the uninitiated, ripstop nylon is arguably the defacto choice for lightweight, very compressible bags. Despite the material's thinness, it's quite durable. It has a reinforced grid pattern that helps stop rips from deteriorating further, hence the name ripstop. The material is fairly slick and resistant to stains as well. However, if it does get stained, the bag is machine washable, so you don't have to painstakingly scrub it by hand.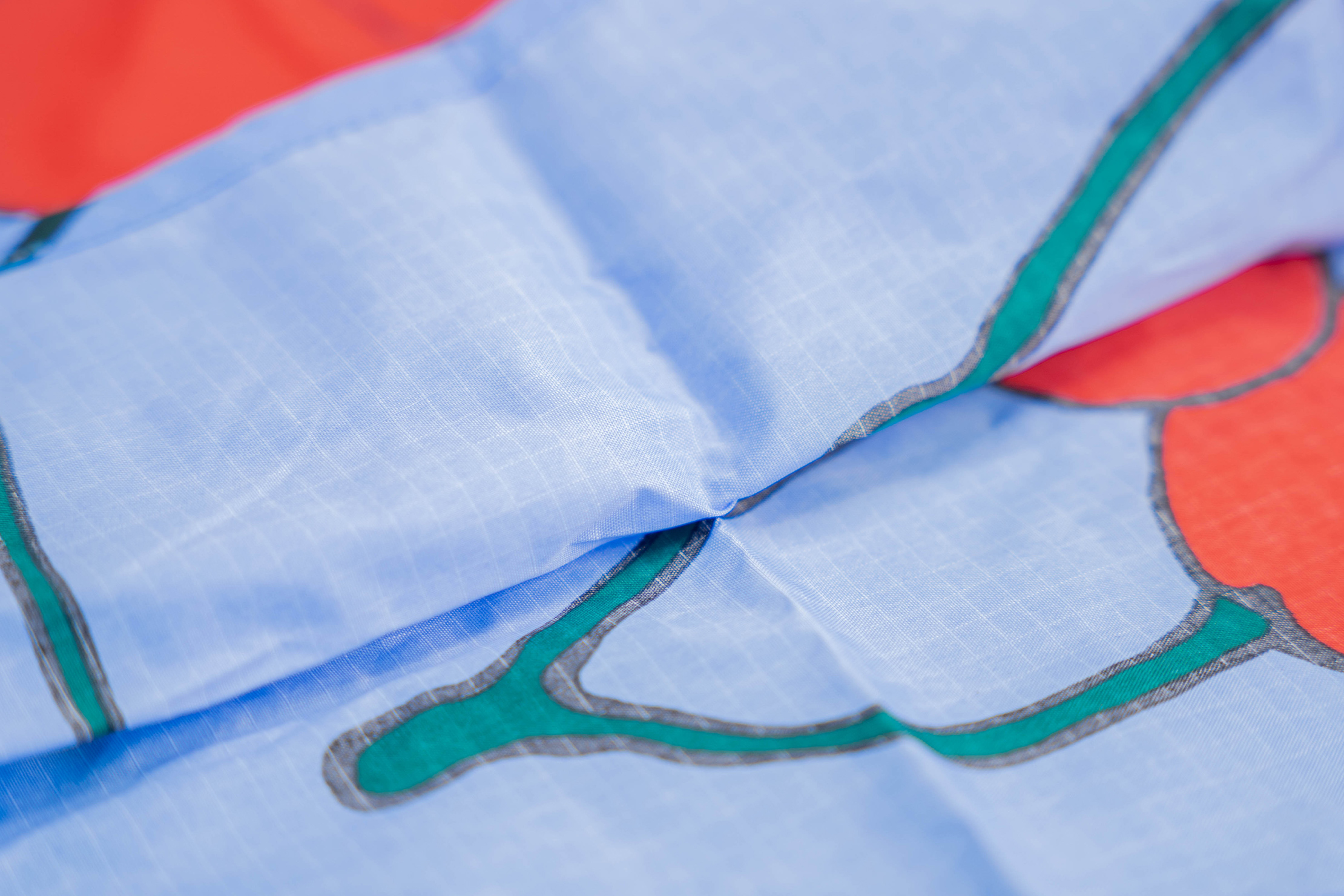 Unlike softer totes made of, say, hemp, the Standard Baggu Tote doesn't exhibit any kind of stretch or give. The good news is that this doesn't make it fragile or brittle. In fact, we've not seen any noticeable damage to our sample despite the frequent wear and tear by compressing and decompressing.
Usage & Features
In terms of capacity, it's close to something like the Bellroy Market Tote, making it suitable for groceries. The sides of the tote are gusseted, allowing it to expand and not just round out. Unfortunately, the bottom isn't gusseted. Instead, there's only a single seam, which doesn't form a floor that's distinct from the sides. The main effect is that the tote is tricky to prop up unless something heavy and flat inside anchors it down.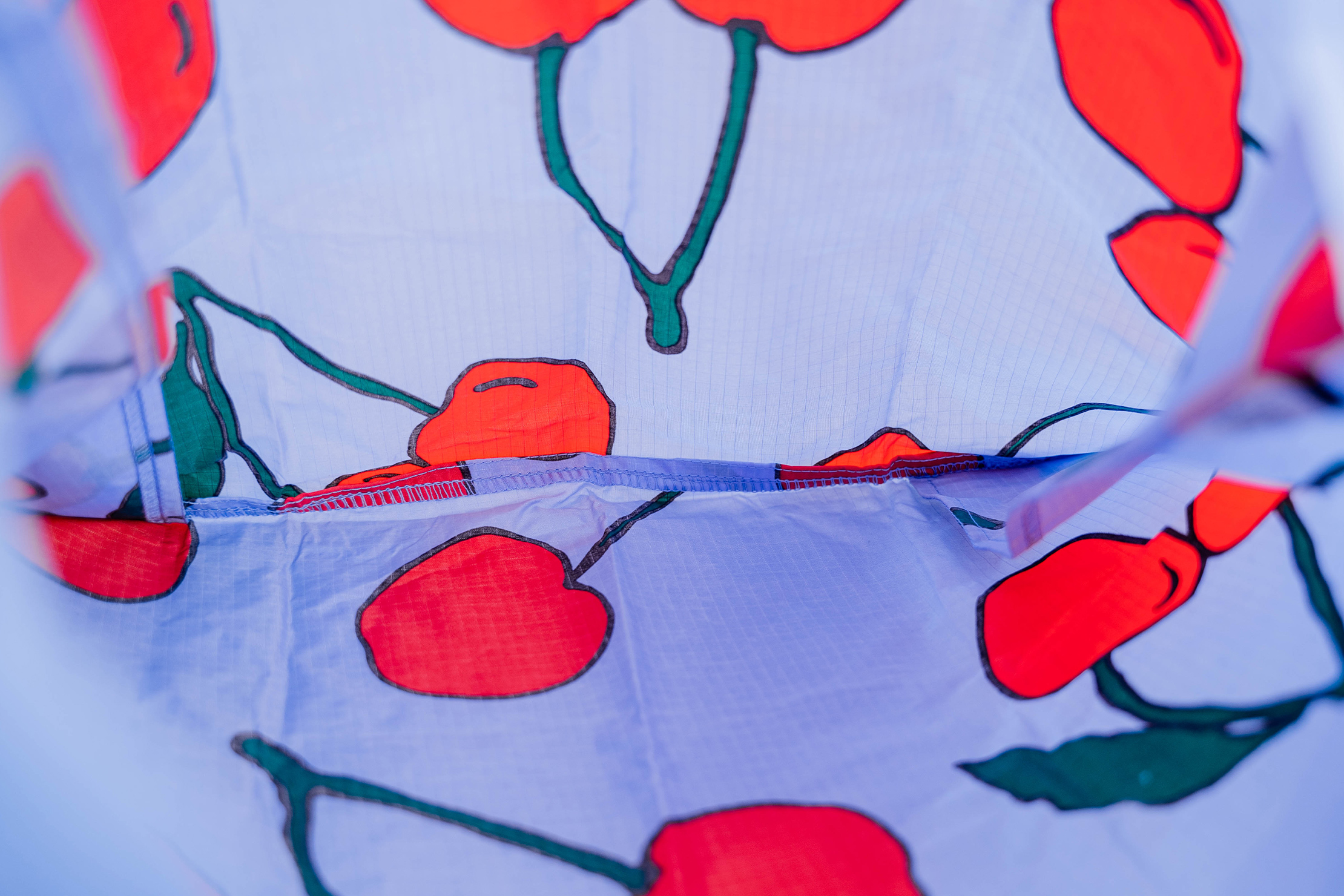 The good news is that Standard Baggu Tote is rated for up to 50 lbs of gear—we'd probably use a more padded bag before we'd reach that limit. It's more than enough for a week's worth of groceries for one or two people or a weekend-long worth of clothes. Since there are no further compartments or pockets inside the bag, we recommend packing cubes.
The biggest limitation to the Standard Baggu Tote is the way it carries. Whereas most tote bags position their handles in such a way that the bag sits perpendicular to you, the Baggu does the opposite. You can see this in the photo below. The handles are definitely long enough for a shoulder carry, but it does look a bit awkward. It's slung on the back at an angle like a sack. Otherwise, the sideways orientation juts out from the side, and that makes it equally awkward to walk on a narrow sidewalk. Despite the angled position, the side surface area of the handles evenly spreads the load, preventing the weight from digging in too badly.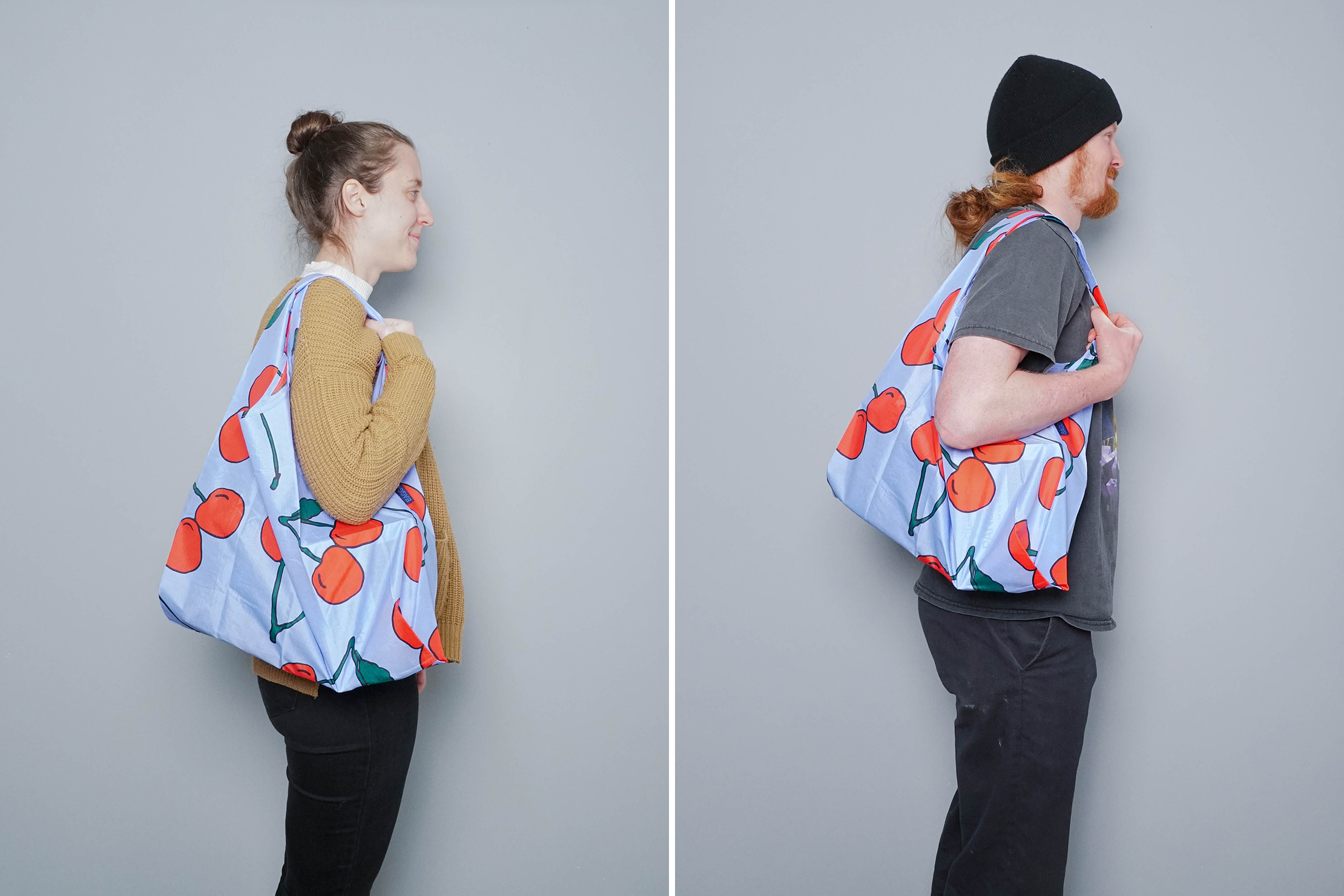 When it's time to put the Standard Baggu Tote away, it easily compresses and stuffs inside its own pouch. The downside is that this pouch is separate, not built-in. We often just toss this inside the bag alongside our groceries to avoid losing it. However, there have been one or two instances where we almost dumped it out along with the trash leftover inside.
Compressing the Standard Baggu Tote is a fairly simple process. Fold it lengthwise until it's the width of the pouch, then fold it further into a square until it's small enough to fit—as simple as folding a letter into an envelope. This is one advantage of going with relatively thin ripstop fabric combined with a basic tote design.
While there are fancier, more feature-rich tote bags out there, the Standard Baggu Tote's simplicity is its biggest strength. At its compressed size, it's an easy bag to stash away, ready to be used in case of an emergency. Packed flat, it can slip in between a packing cube and a toiletry bag, and you'll hardly notice a difference in your travel bag's total weight. However, as an everyday tote, it is a bit too basic in terms of carrying comfort.
Usage Timeline
Initial Usage
Condition: Excellent
The ripstop nylon is recycled (yay for Mother Earth!)
The opening's edges are stitched and reinforced
Fabric feels crinkly but durable
2 Weeks of Use
Condition: Excellent
Packs down to a super compact square, so it's easy to keep on hand "just in case"
Holds up to 50 lbs of gear, though there's no exact capacity listed
No noticeable damage to the fabric
Fabric doesn't have any stretch
Access the Pro Community Discussion
Get your questions about the BAGGU Standard Baggu Tote answered from our team and the Pro Community right here on the page. Plus, join discussions with other members about gear, guides, and more.
Other Bags & Luggage Reviews