Fjallraven Kanken Totepack Review
The Fjallraven Kanken Totepack falls short on organization and carry comfort, but uses some durable, weather-resistant materials.
Our Verdict
Unlock the Pro Summary
Save time. Get access to brief summaries of our reviews so you can browse and make decisions more efficiently.
Pros
Versatile carry options (although not the most comfortable)
Zippered closure for added security
False bottom in laptop sleeve
Cons
Not many organization options
Harness system isn't very comfortable & doesn't work well on larger frames
Material picks up fluff easily & looks dirty after a few uses
Recent Pack Hacker Video
Technical Details
Capacity

14l

Weight (lb)

.88 lb (0.4 kg)

Dimensions

14.17 in x 11.8 in x 5.9 in (36 x 30 x 15 cm)

Notable Materials

G-1000, Organic Cotton, Recycled Polyester, YKK Zippers, Wasa Hardware

Manufacturing Country

Vietnam

Laptop Compartment Size

13"

Warranty Information
Buying Options

Full Review
Some things just go together; bread & butter, salt & pepper, peanut butter & jelly—but what about backpacks and totes? Well, that's where the Fjallraven Kanken Totepack comes in.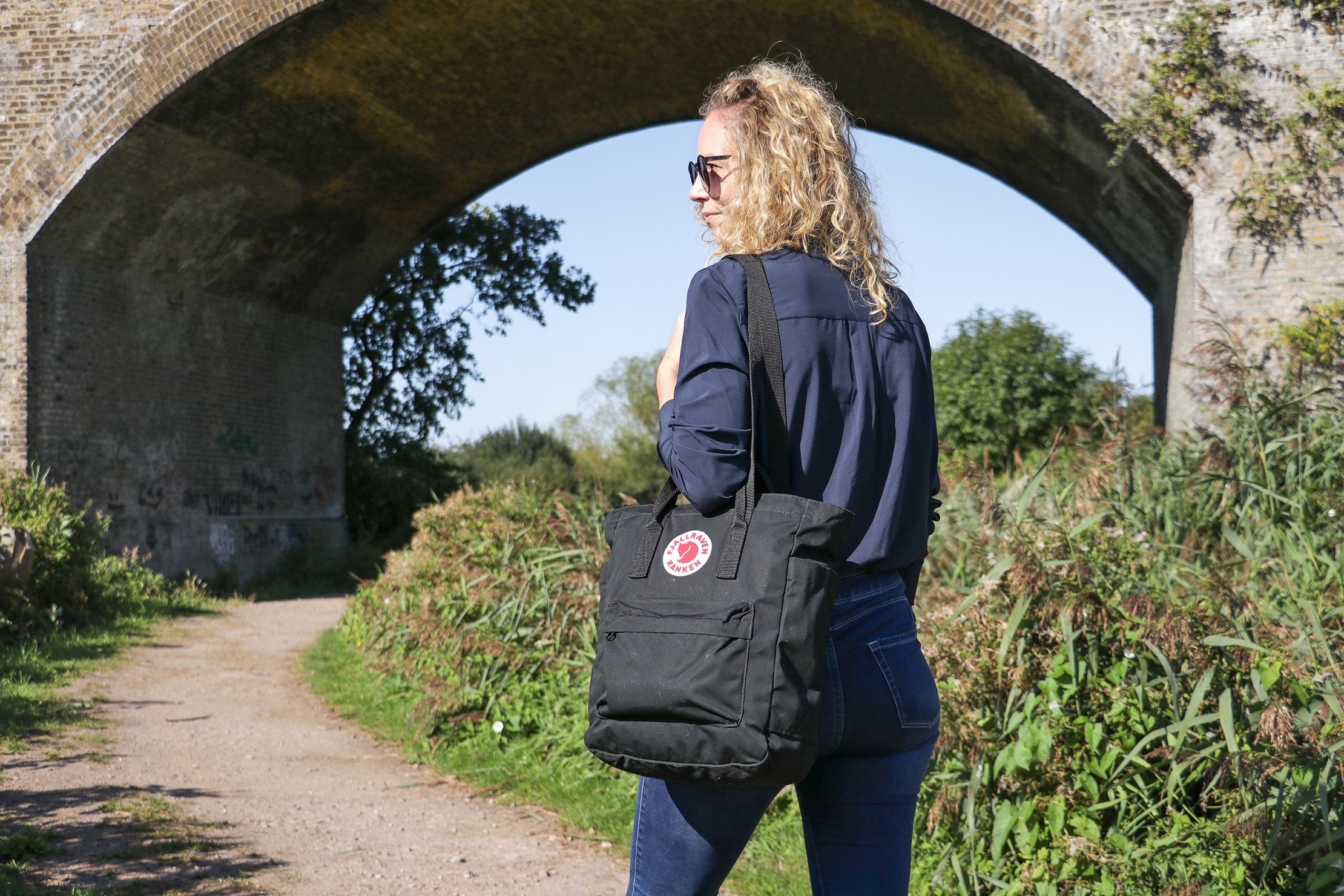 This tote pack combines different elements from both types of bags into its look, harness system, and overall functionality—for better or for worse.
If you're wondering what we mean by that, keep reading on.
Materials & Aesthetic
If you're a fan of the classic, boxy look of the standard Kanken pack, then you'll appreciate this tote pack's aesthetic. It looks at home in casual environments, whether you're walking through campus or commuting to the coworking space. Although, not many of you gave this bag's look the thumbs-up, as our Instagram poll reported only a 27% approval rating.
At the time of this review, you can pick up this pack in a lot of different colors—whether you're looking for something bright like Ochre that will stand out, or something muted like Graphite that blends into the crowd. We've been testing the Black colorway ourselves, and are fans of its low-profile look, but of course, your mileage may vary.
Like other versions of the Kanken we've tested, you'll find the Fjallraven logo smack dab in the middle of the bag. It's hard to miss, which you may not be a fan of if you prefer a more subtle approach to branding—but if you want everyone to know you've got Fjallraven Fever, this bag will do the trick.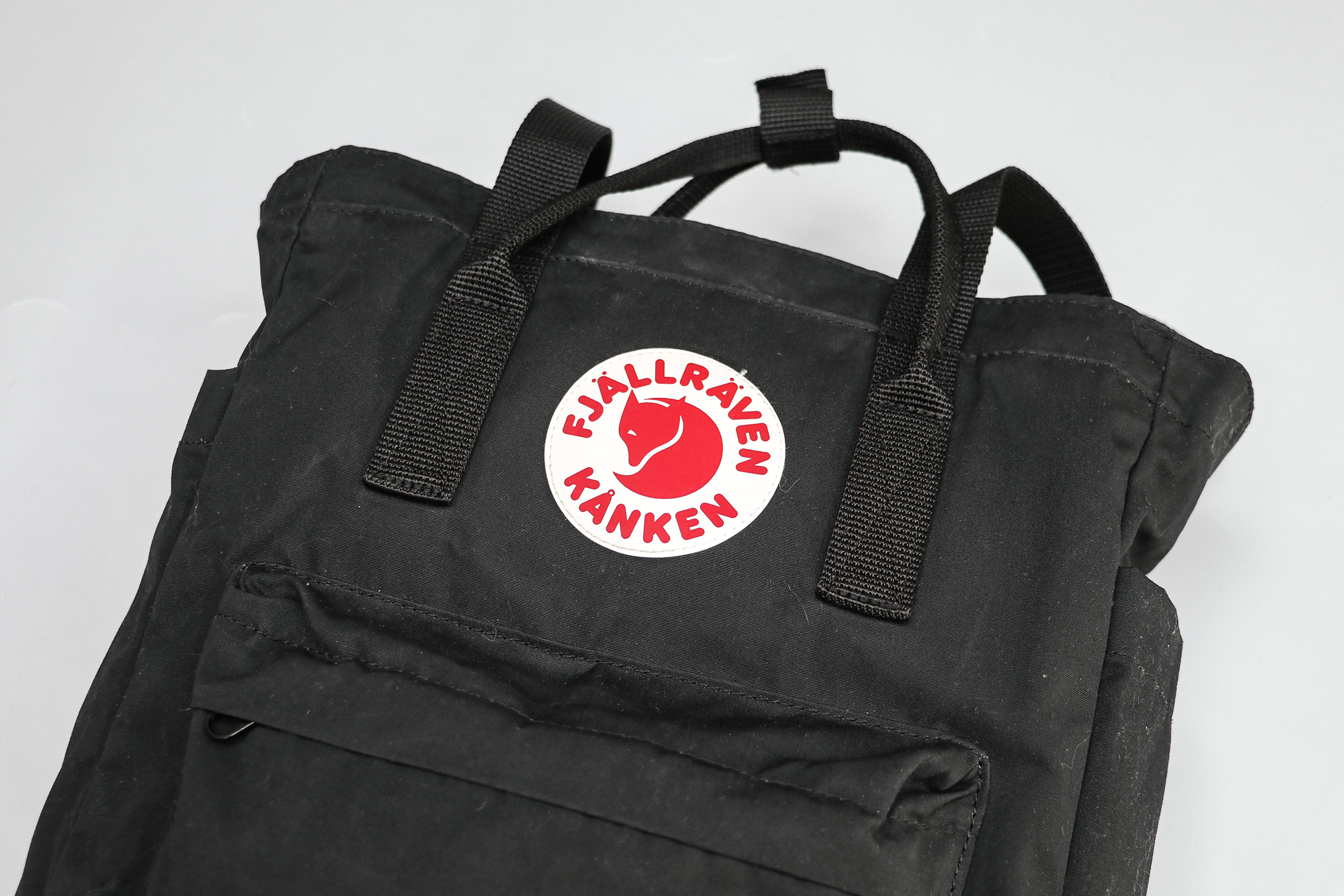 As for material, this tote pack is made with Fjallraven's G-1000 HeavyDuty Eco fabric, which a mix of 65% recycled polyester and 35% organic cotton and can be found on many of the brand's packs. We love seeing brands take a sustainable approach to their materials, and this is a great example.
There are several other iterations of this fabric, some of which include Original, Lite, and the HeavyDuty version you'll find on this pack. It's also impregnated with their Greenland Wax for some added durability and water-resistance, which has a smooth, waxy feel to it.
Perhaps the most unique aspect of this material is that you can pick up some extra Greenland Wax and give the outside of the pack another coating or two when you know you're going to be out in some rainy weather. The more wax you add, the more weather-resistant the material will be. We appreciate having the ability to customize this pack's protection to our needs!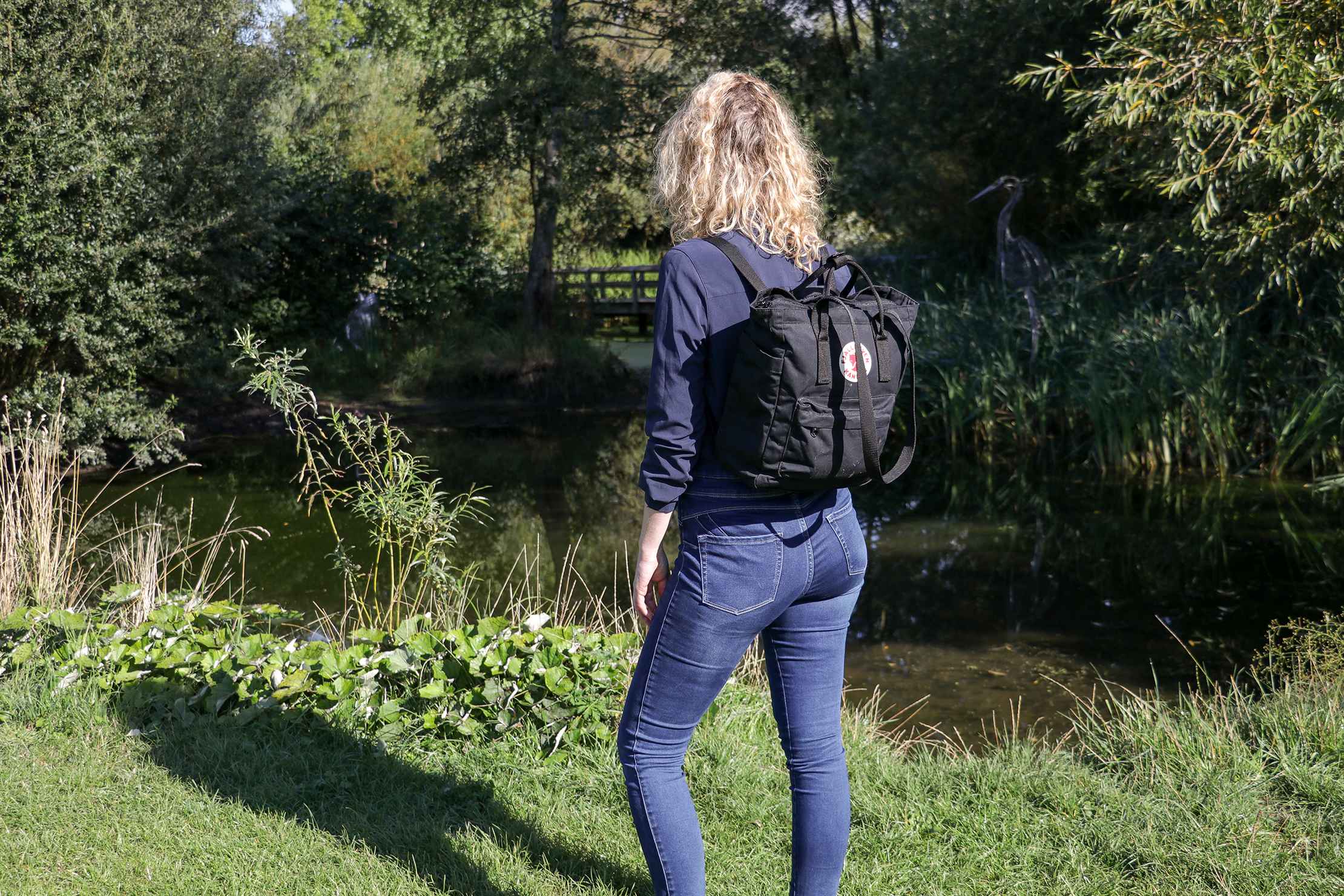 Our only complaint so far is that this fabric picks up fluff very easily, especially the Black colorway we've been testing. It'll look dirty after a few wears, so you may need to give it some attention ever so often. In which case, Fjallraven recommends cleaning with a soft brush and lukewarm water.
You'll spot some YKK zippers on the main compartment opening as well as the front quick-grab pocket, which we're always happy to see. They've been working pretty smoothly throughout our testing, and we expect nothing less from this brand.
To finish off the materials, there's also a #6 Wasa snap fastener on this bag that connects the two top handles for easy carrying. We haven't had any issues with it disengaging during testing, so nothing to report there.
External Components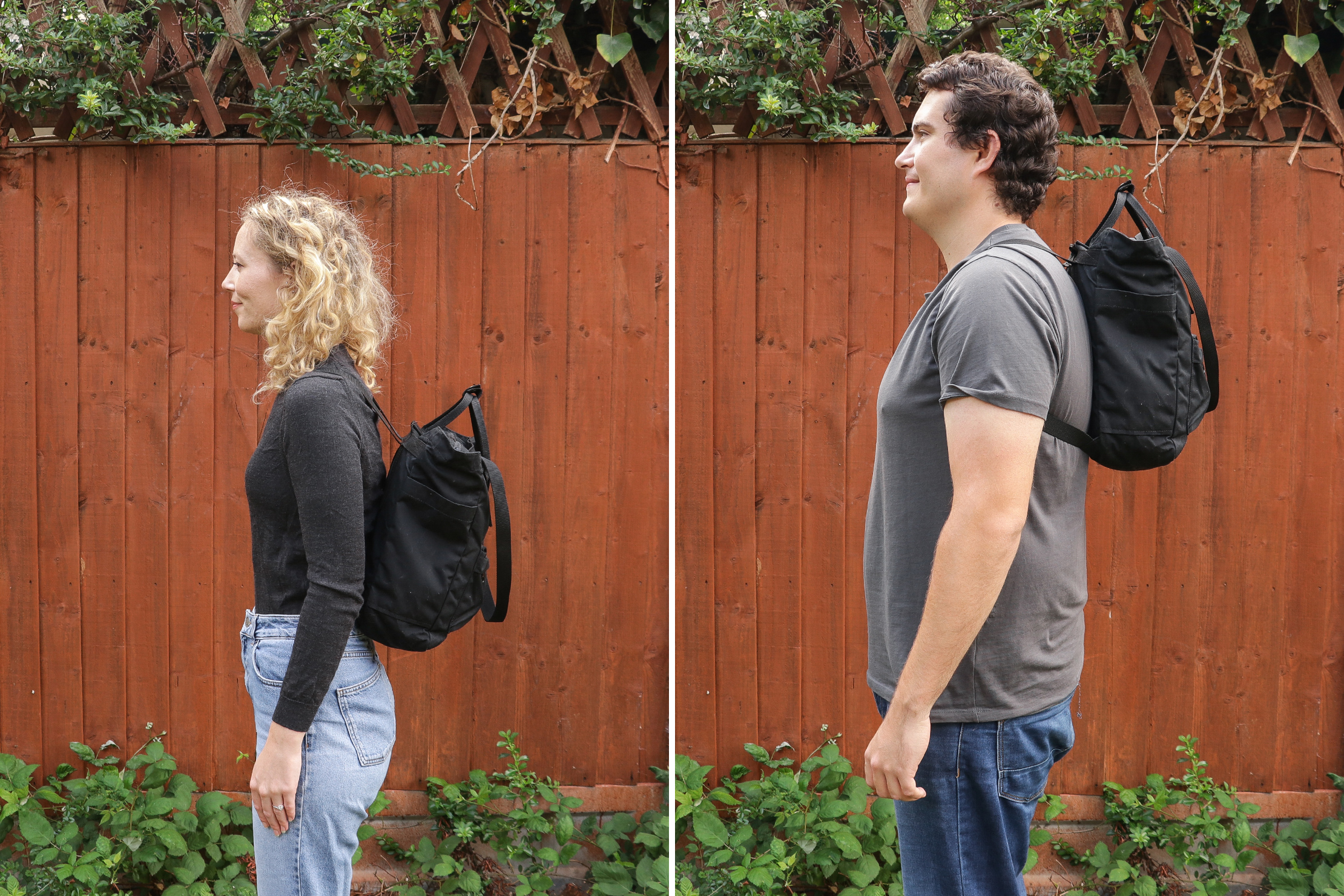 Let's take a closer look at all the straps on here that make up the bag's harness system. You can carry this bag both as a tote and as a backpack, though we haven't found it to be very comfortable when worn as the latter, and we'll explain why.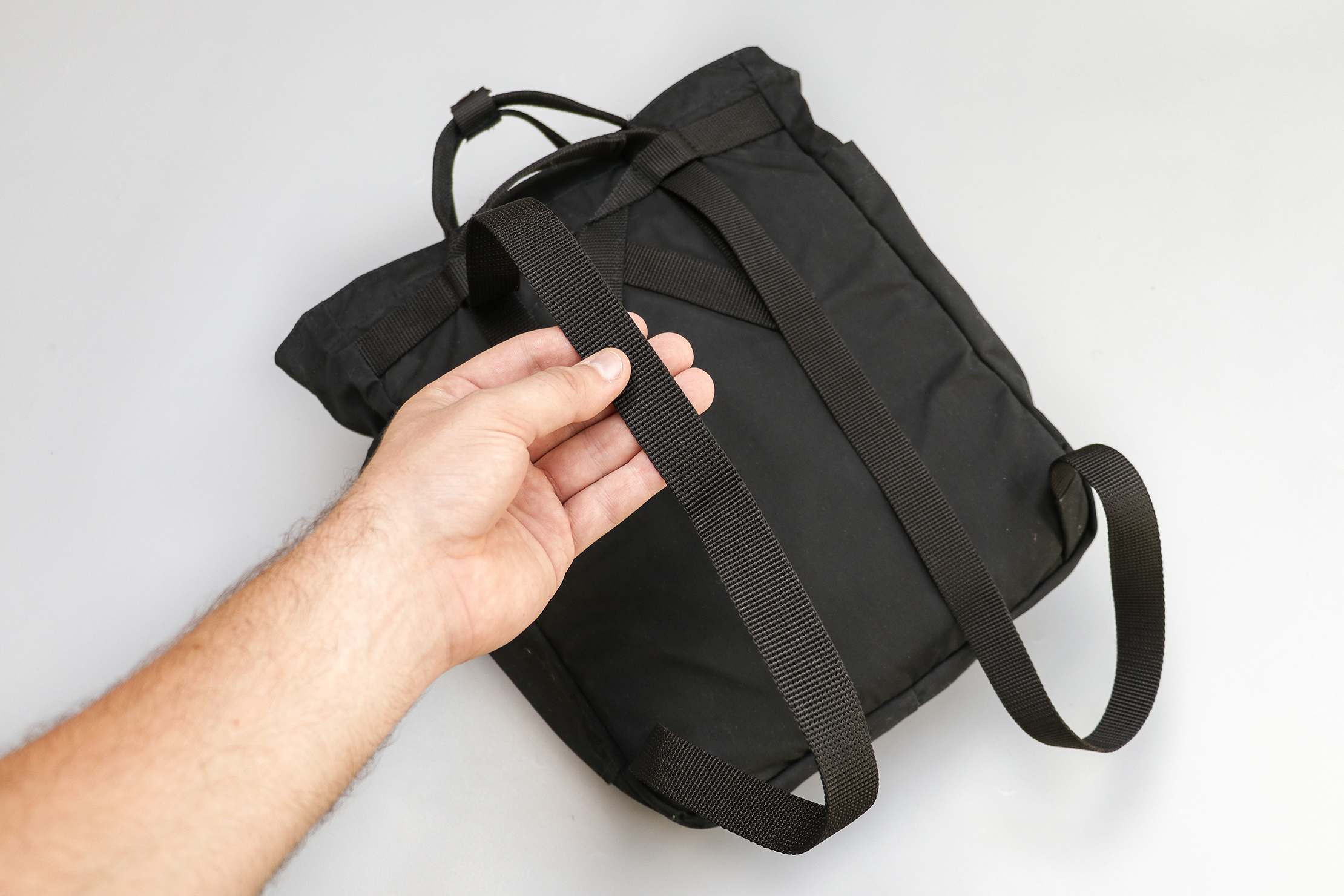 The shoulder straps on this pack are essentially just some nylon webbing, so you don't have any real padding to help with comfort or mesh for breathability. The bag sits pretty high up on the back, and since the straps aren't adjustable, there's no way to wear it lower. We can feel them dig into our shoulders after a bit when we've got the bag fully packed out, at which point we'll typically switch up our carry.
We've tested this bag on some of our taller team members and the lack of adjustability makes it difficult, and uncomfortable, to wear on a larger frame. Of course, this may not be as big of an issue for you depending on your height and frame. Overall, we've still found them to be helpful for when we're tired of carrying this thing by hand, and want to throw it on our backs to give them a rest.
Similar to the standard Kanken pack, you do have the option to pick up some attachable padded straps if you want that extra comfort when you're wearing it on your back. You won't be able to transition into the different modes of carry without removing the straps, but you may feel the added effort is worth it—it all depends on your preferences!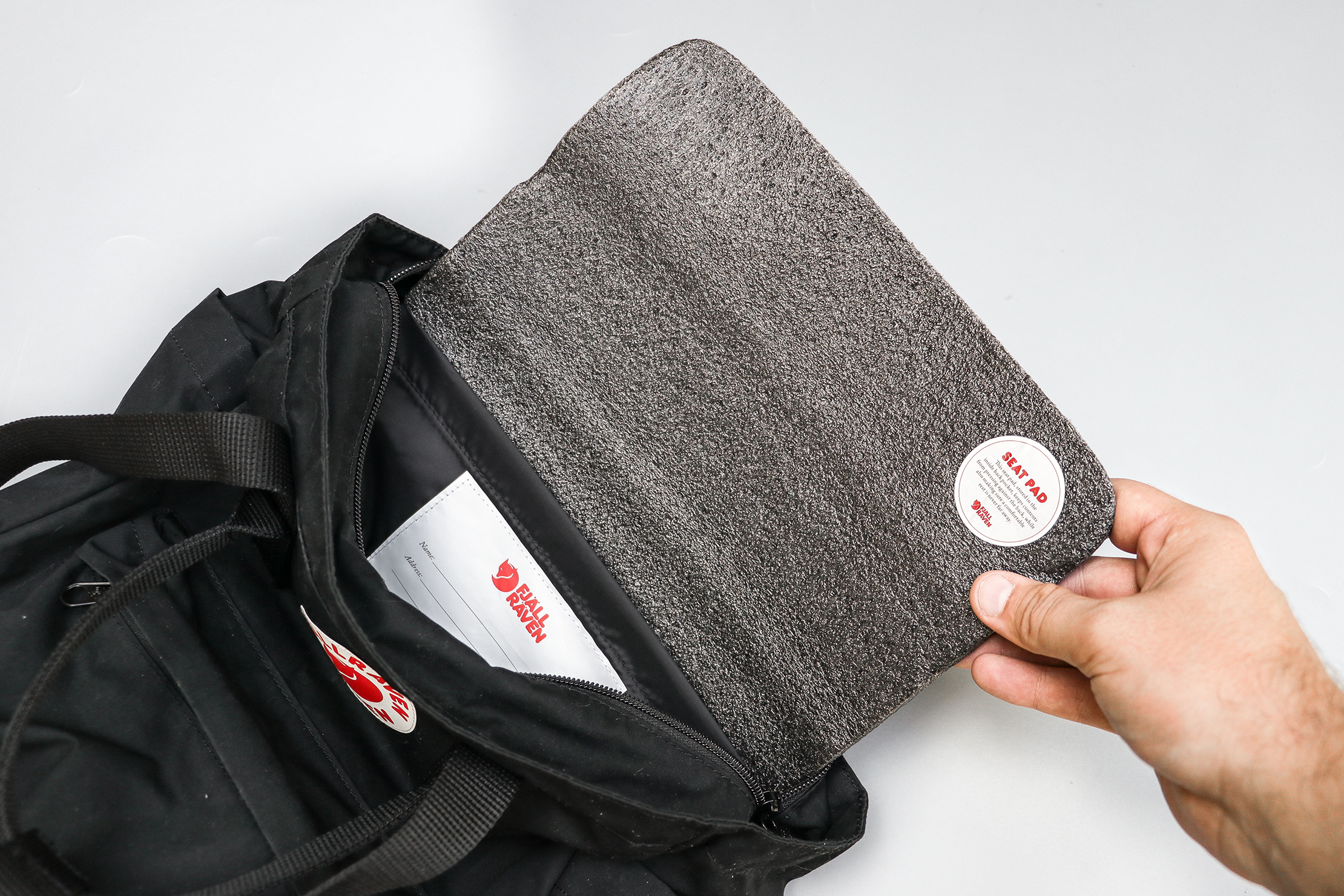 When you are wearing this thing as a backpack, there's a Seat Pad inside that acts as some padding on the back panel to offer some support. However, there isn't any mesh back here to keep you ventilated, so you'll have to deal with some sweat when you have the bag on for long periods of time, and especially when you're out in warmer weather.
You can also take this Seat Pad out and use it as intended, which is as a cushion to sit on when you're out and about. Set it on a bench so you have a comfortable spot to take a rest. Lay it down in the park when you can't find a comfy patch of grass. Set it in your lap and use it as a flat surface for your laptop when catching up on some work. It's a unique integration that we don't see with many other bags, and we appreciate the structure and comfort it offers both inside and outside of this tote pack.
The webbed handle on the back strap gives it some added structure, which makes converting the tote pack to a backpack and back again an easy and painless maneuver. It also ensures that the newly-formed backpack straps are always the same length, so one doesn't get longer or shorter while you're wearing the bag.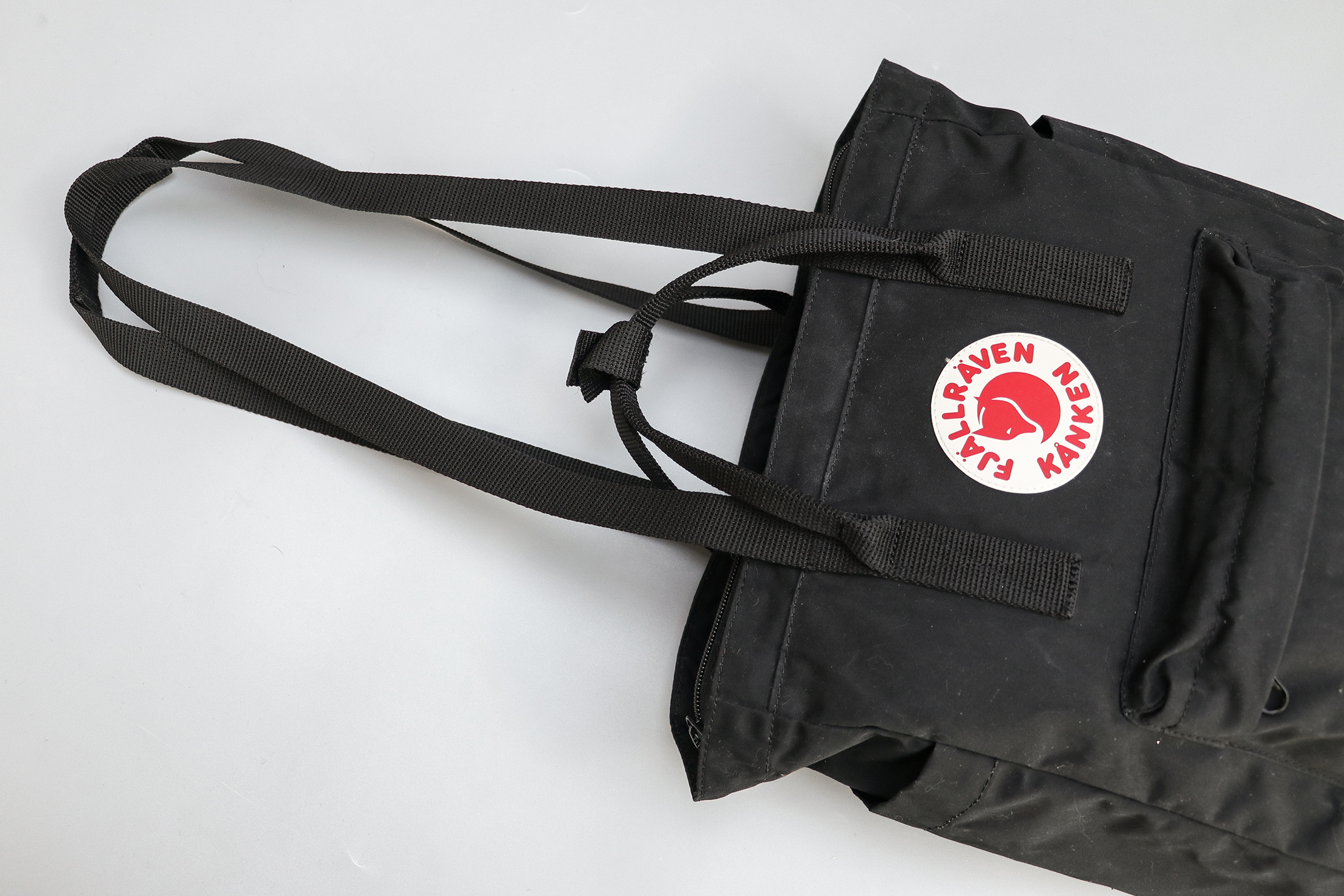 When you want to wear it as a standard tote, pull the strap up by this handle and use it along with the front strap to throw the bag over your shoulder. They're not comfortable for long, as again, they don't have any padding—but we've found them to be convenient for when we're just running into the store or—similar to the shoulder straps—when we want to give our hands a break.
Another small note we have regarding these handles is that the front longer handle doesn't hideaway. So when you're wearing this thing as a backpack or carrying from the grab handles, this longer handle is dangling on the front. It hasn't gotten in the way, but it also doesn't offer that #DangleFreeExperience we know and love.
Then at the top are two grab handles that connect via a fabric welt and snap fastener for when you're carrying this bag like a true tote. We've done most of our testing in this mode of carry as these handles are comfortable in hand and easy to grab. We haven't found them to be a big hassle to disconnect when we need to get inside the main compartment, although you may find it to be a nuisance to undo if you're looking for as quick and easy access as possible.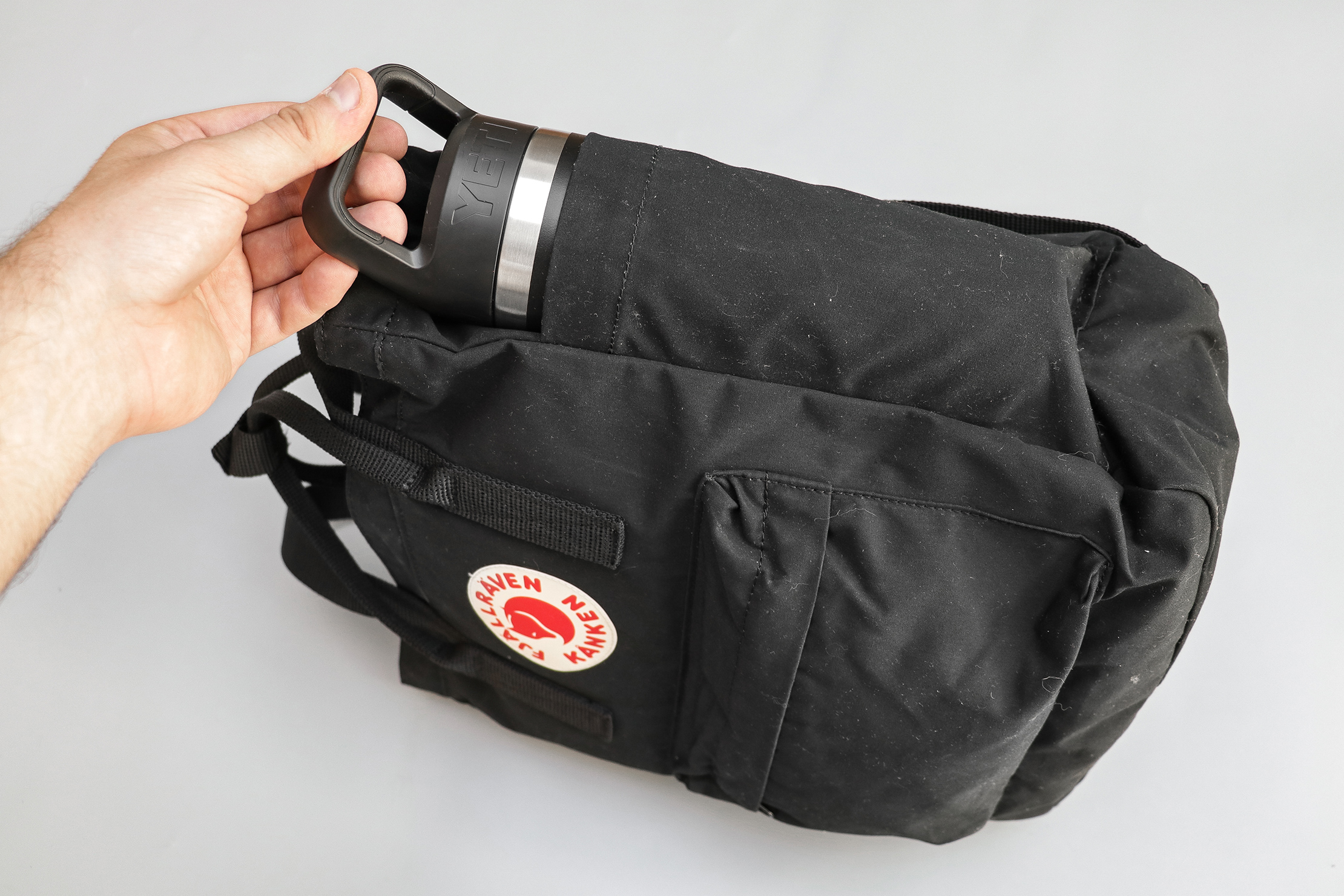 You also have a water bottle pocket on both sides of the bag if you carry one with you every day. When we tested the Fjallraven Kanken 13" Laptop Backpack we were unable to fit a YETI Rambler 18 oz Bottle in one of these but it fits just fine here, which we appreciate. We've been using the other pocket to keep an umbrella close by in case we run into any surprise showers.
If you are keeping a bottle in one of these, it can cut into the main compartment which can affect what you're able to pack inside. It hasn't been a huge issue during testing, but it's something to be aware of when you're packing it out.
Inside The Tote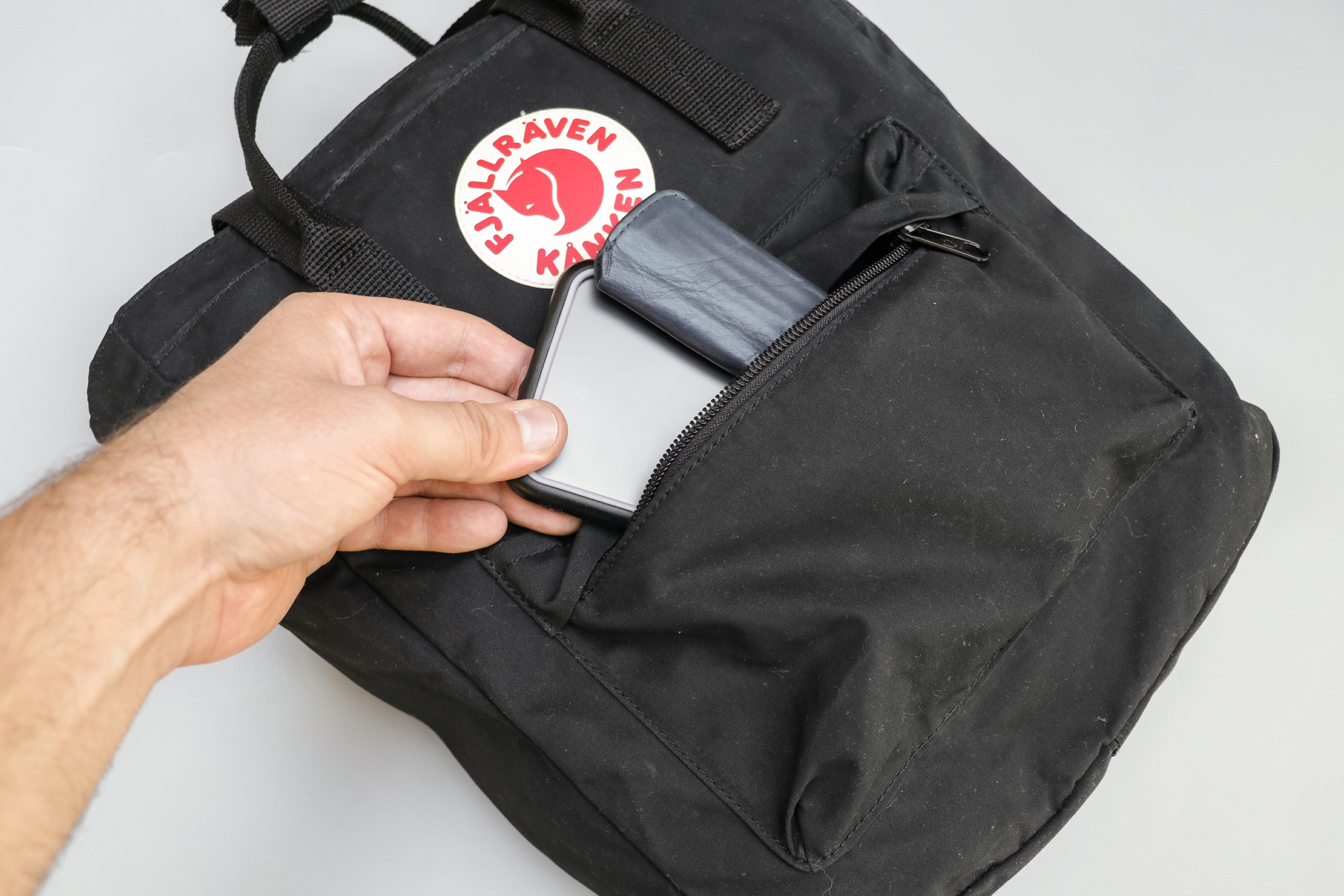 Pocket time! On the front, the bag is a small zippered pocket that works well for stashing your more frequently-used gear—your keys, a wallet, or your phone when you need to keep them handy. It offers some organization for your gear that you won't find in the main compartment, which we'll talk about next.
Don't let its slim profile fool you—this tote pack may only hold 14L, but the main compartment is pretty spacious. It's also secured by a zipper, which isn't always the case with tote bags, as many of them lack closure of any kind. That type of opening does offer the quickest kind of access, but it also makes it that much easier for stuff to spill out and get lost, so we're digging the added security that this zipper offers for our gear.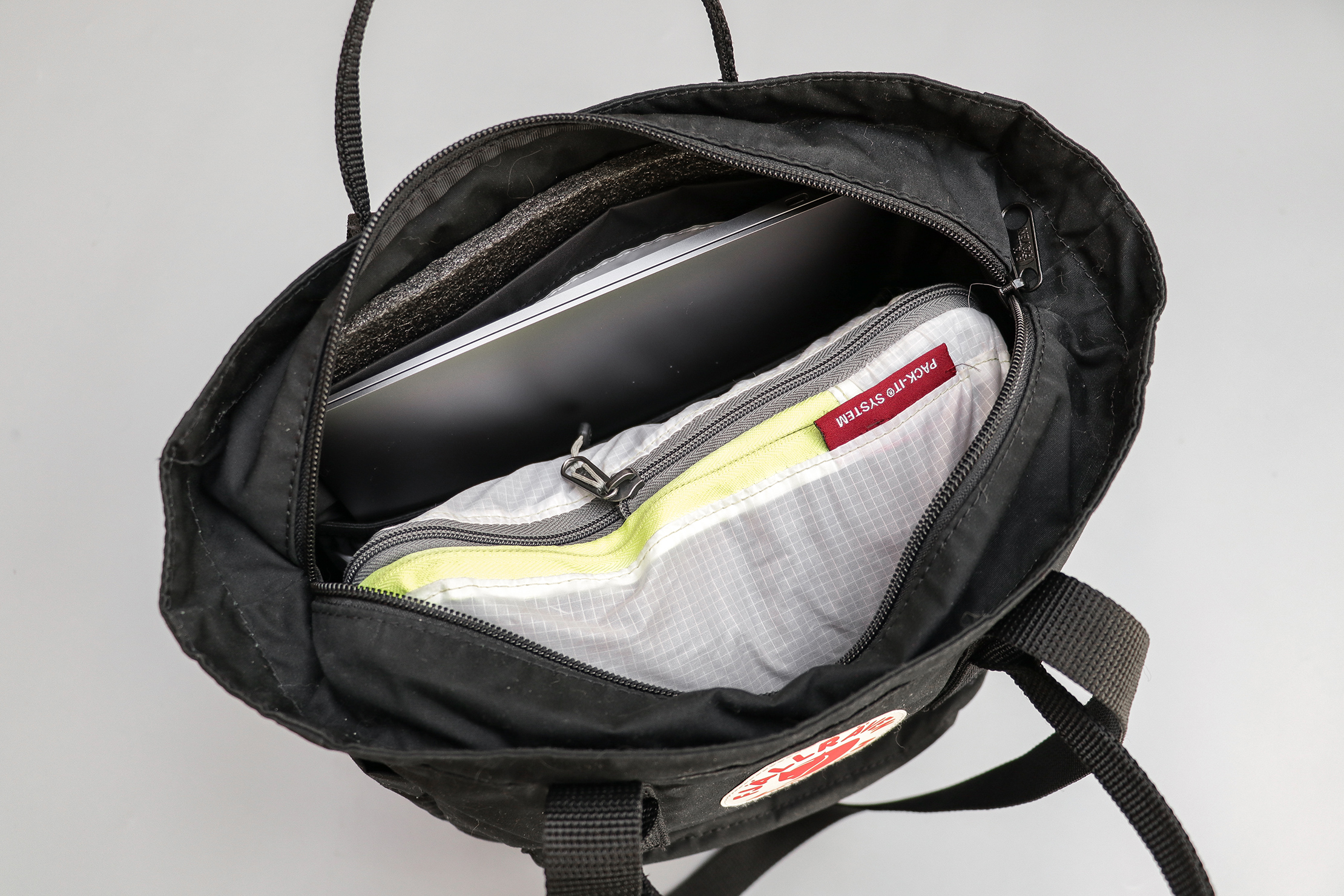 There's not a lot in the way of organization inside, so this bag is essentially one big dump pocket. The dark lining inside also doesn't offer much visibility, so we found ourselves rummaging around blindly for our gear at first. To help create some segmentation, we've been keeping our smaller accessories in pouches or packing cubes, which you also have the option to use. And the brighter they are, the easier they'll be to spot.
You do have an elasticated sleeve on the back wall where you can slip a 13" laptop, though it doesn't have much padding to cushion your tech from whatever you're keeping in the open space. While there is a false bottom to protect your gear when it gets jostled around or dropped, we still recommend keeping your tech in a protective case, especially if you have any sharper gear floating around in the rest of the compartment.
There's also another sleeve behind this one that you can use to organize any documents or books you may have with you. Plus, if you're not keeping a laptop in the elasticated sleeve, you could also use both of these to segment some of your smaller items if you don't have any pouches handy.
Usage Timeline
Initial Usage
Condition: Excellent
Can be carried as a tote, backpack, or by the top handles
Top zips closed for added security
Laptop padding is removable and can double as a seat cushion
2 Weeks of Use
Condition: Excellent
This fabric picks up a lot of dust and fluff
The backpack straps are not adjustable and are pretty short, so this harness system does not work well on larger frames
The side pockets are handy for a water bottle or slim items such as an umbrella
The main compartment lacks organization and visibility
It's great to be able to switch up the carry style when using this bag
There isn't any padding on the backpack straps so if you're carrying this for long periods of time, or with a full load it's not very comfortable
The front quick-access pocket is really handy for items you want to grab quickly
The handle on the totepack strap makes converting the totepack to a backpack really easy and ensures that both straps are always the same length
Access the Pro Community Discussion
Get your questions about the Fjallraven Kanken Totepack answered from our team and the Pro Community right here on the page. Plus, join discussions with other members about gear, guides, and more.
Other Bags & Luggage Reviews