Fjallraven Kanken Laptop Backpack Review
Despite some wear in the material and the dysfunctional side pockets, the Fjallraven Kanken 13" Laptop Backpack could be a great contender as your next travel daypack.
Our Verdict
Unlock the Pro Summary
Save time. Get access to brief summaries of our reviews so you can browse and make decisions more efficiently.
Pros
Comfortable shoulder straps
Laptop compartment is easily accessible
Quick grab handles at the top of the pack come in super handy
Cons
The material is starting to fade over time
The zipper covers move away from the zippers
Side pockets are pretty useless
Recent Pack Hacker Video
Technical Details
Capacity

13l

Weight (lb)

0.76 lb (0.3 kg)

Dimensions

13.8 in x 9.8 in x 6.3 in (35.1 x 24.9 x 16 cm)

Notable Materials

Vinylon F, Polypropylene, YKK Zippers

Manufacturing Country

Vietnam

Laptop Compartment Size

13"

Warranty Information
Full Review
When you hear the word Fjallraven, the first thing that comes to most minds is the Kanken range. If you haven't heard of the Kanken already, we'd be pretty surprised—it has become one of the most popular daypacks in the world with fashionistas wearing it everywhere, from the streets of Toyko to coffee shops in Paris and everywhere in between. (Okay, maybe not everywhere—but close to it!)
The Kanken was originally designed as a school bag for children in Sweden as a solution to carrying heavy books on their backs and with the Swedish mantra in mind: "Straight backs are happy backs." Fast-forward 40 years and Fjallraven has a range of over 10 different types of Kanken, various Kanken accessories, and stores around the world.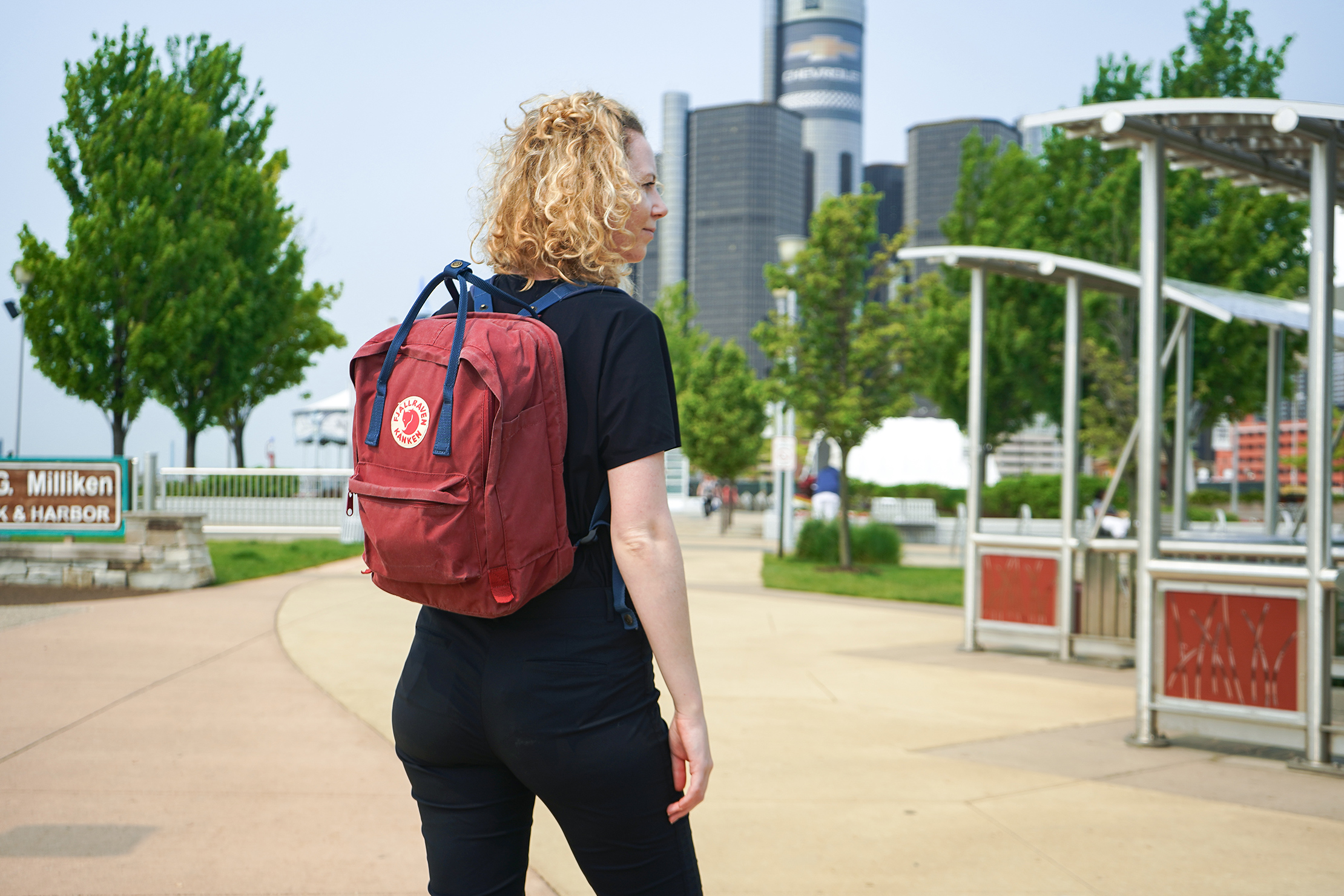 In this review, we'll be taking a look at the Fjallraven Kanken 13" Laptop Backpack, which we have been testing for over three years (yep—you heard that right!) in Hong Kong, Japan, Thailand, Malaysia, Spain, Paris, Portugal, and the USA.
With the Kanken's rising popularity, it begs the question, is this bag more than just a fashion statement? Let's jump into the full review and find out.
Materials & Aesthetic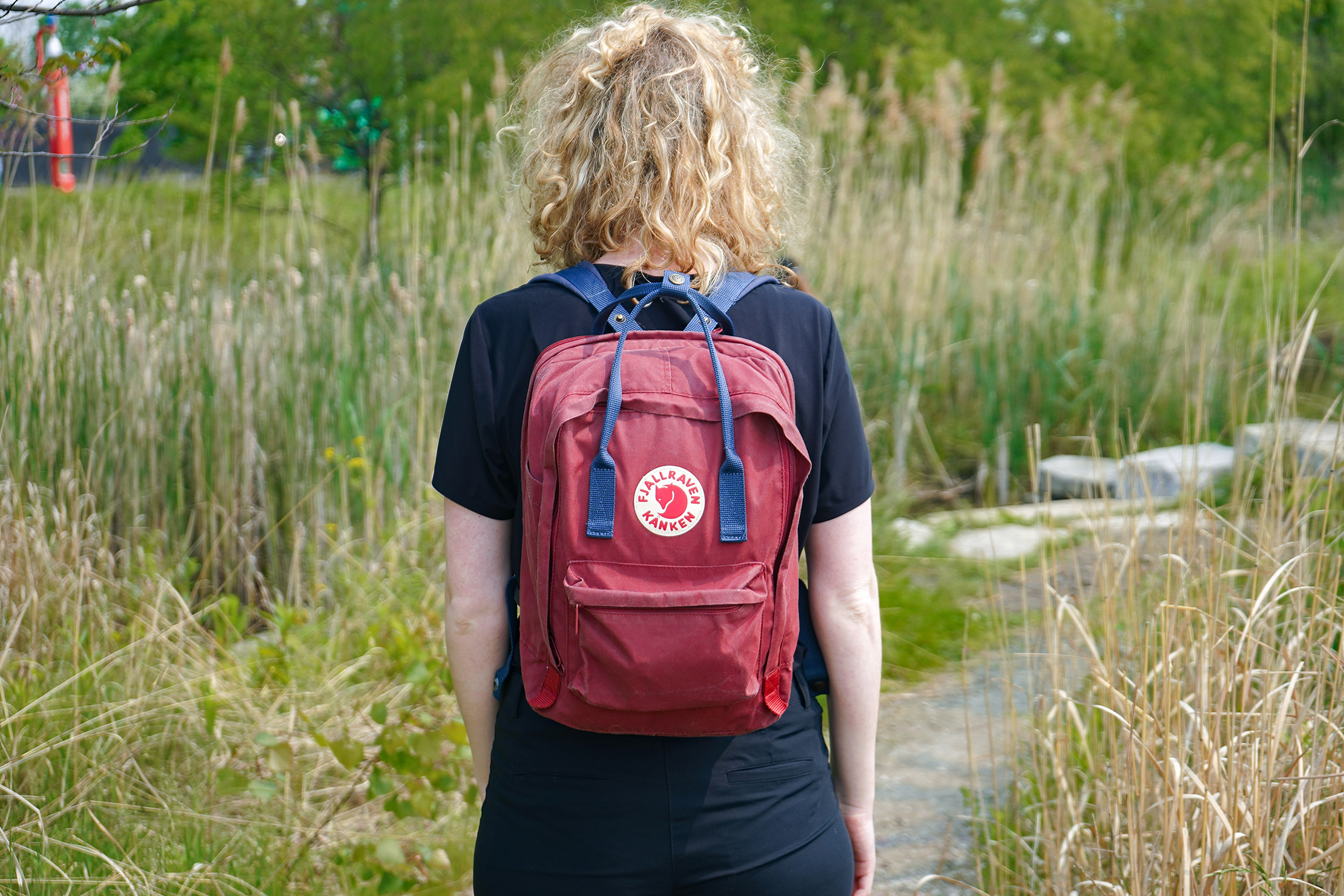 This 13-liter pack is a twist on the classic design which was first released in 1978 and is instantly recognizable from its boxy shape and large circular Arctic Fox logo on the front. When it comes to branding, let's be honest, you're not going to miss it! Despite the "look at me" logo on the front of the pack, the rest of the branding is pretty minimal. You can find the word Fjallraven on the zipper pulls and the arctic fox makes another appearance on the poppers as well. Inside the pack, you'll also find a label alluding to the Kanken's story and heritage, where you can add your name and contact details.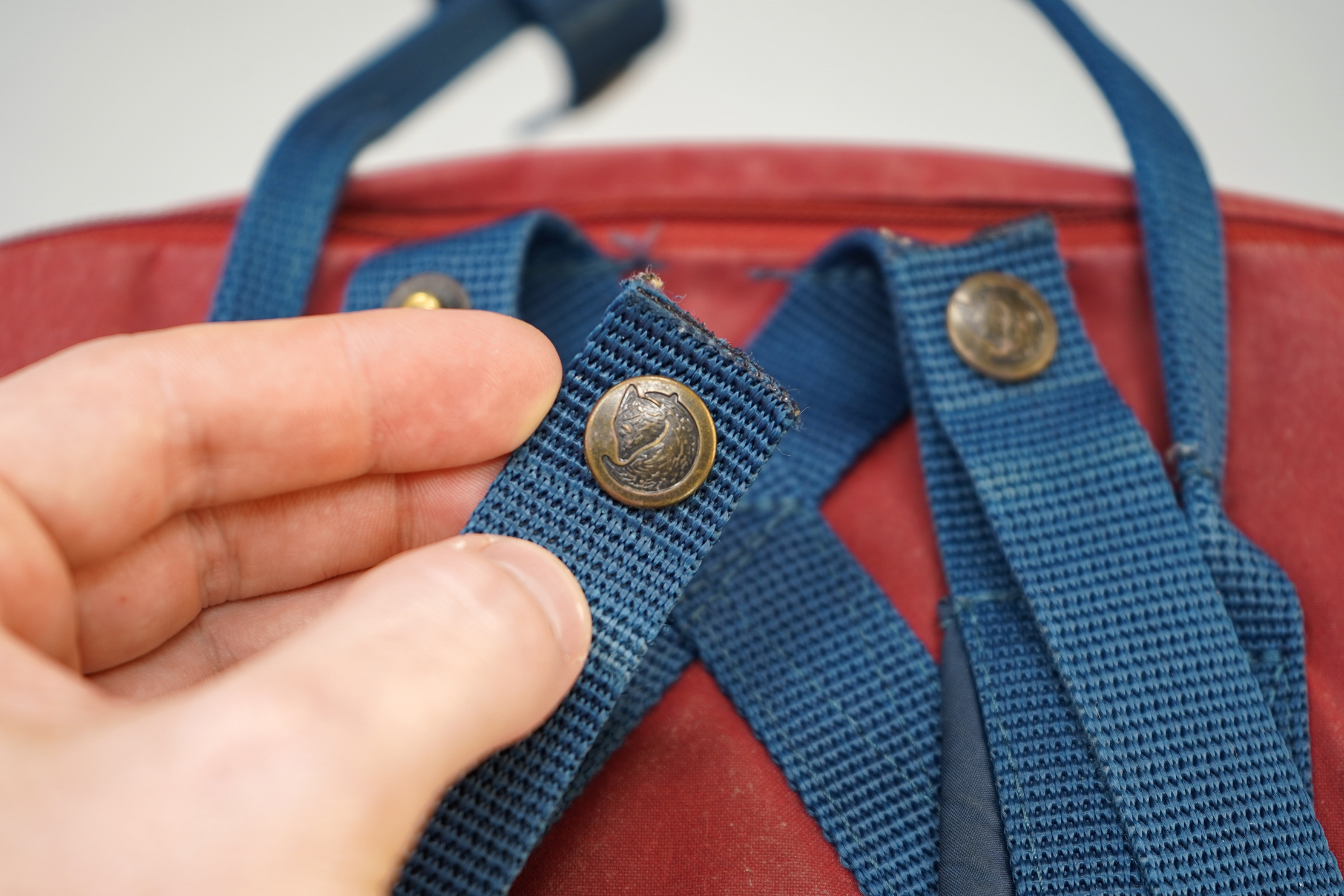 What makes this pack recognizable also makes this pack iconic. The padded laptop sleeve maintains the box-like shape on your back and the more you pack, the boxier it will get. While we're digging the overall aesthetics and "old school" style of this pack, beauty is in the eye of the beholder, so we put this to our Instagram audience to see what they think. Surprisingly enough, only 59% of you liked the look of this pack. Considering how massively popular these bags have become in recent years, we were expecting that percentage to be a bit higher. But hey, what do we know?
At the time of this review, the Kanken 13" Laptop Backpack is available in 15 different colors. We've noticed the colorways have been changing constantly over our three years of testing this bag—so if there isn't a color that takes your fancy now, you can check back later on.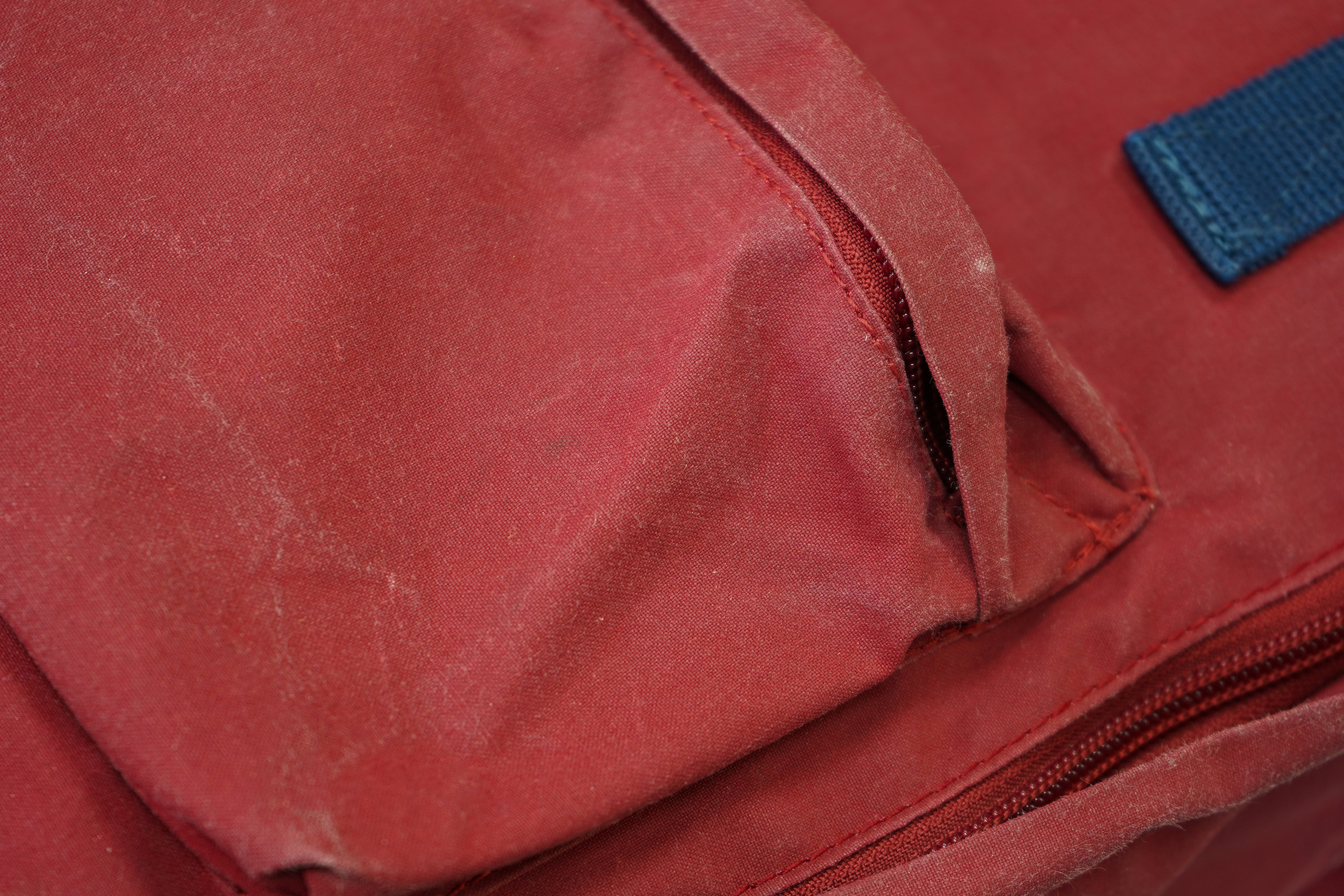 The main material of this pack is Vinylon F. This is a synthetic fabric that has been used to create the Kanken from the beginning. A great advantage of this material is that when it gets wet, the fibers swell, making it more water resistant. This will work well if you're caught in a quick shower or very light rain, but it's important to remember that this pack is not waterproof. After getting stuck in a snow shower for a few hours in the middle of Chicago, the pack did eventually soak through. So if you're planning on traveling to wetter climates, we recommend picking up a rain cover, which Fjallraven conveniently has available on their site. Despite the after effect of the snow storm, we've found this material to be super durable—although there has been some wear over time (more on this later on).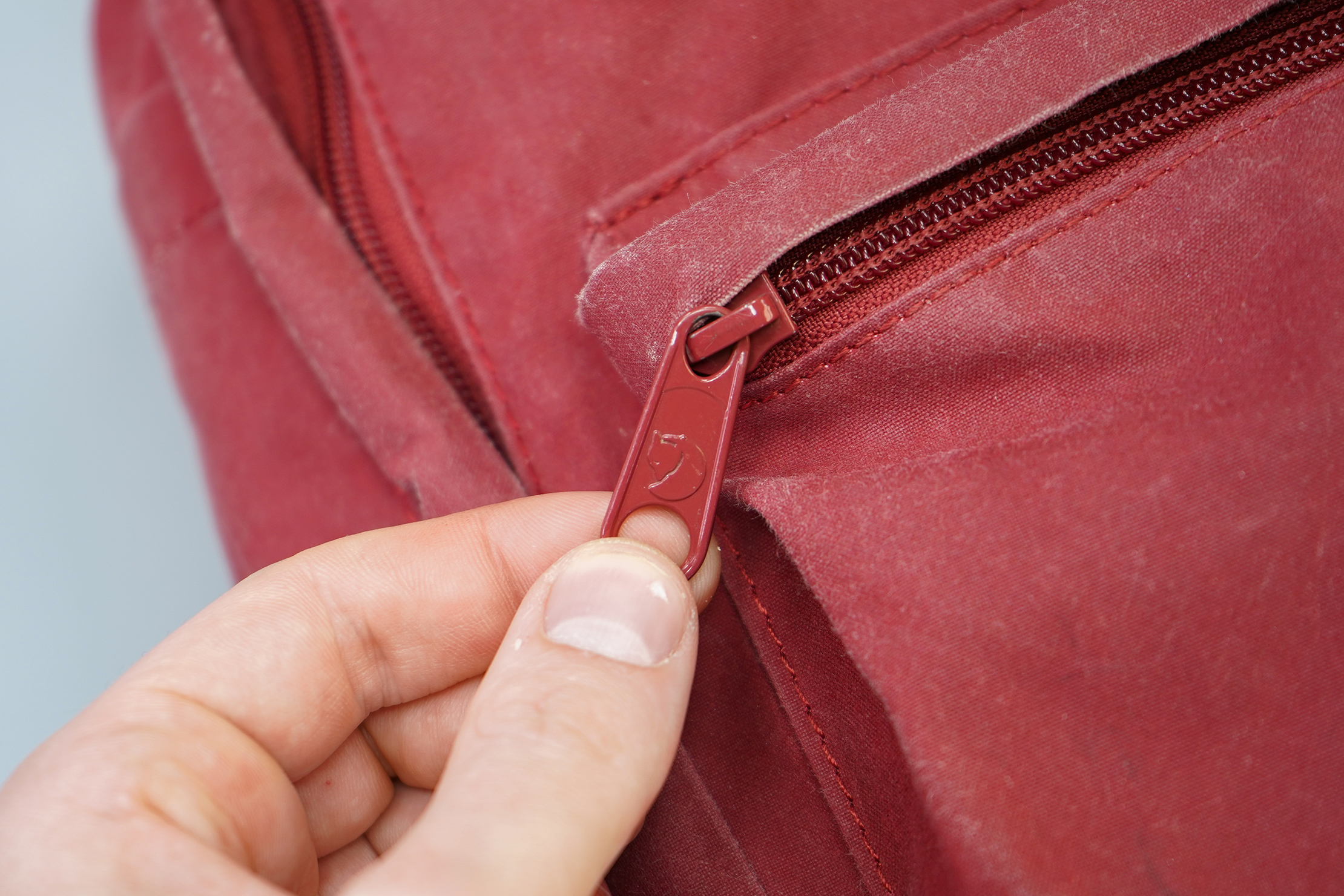 All of the zippers on this pack are YKK #5, making them strong, reliable and durable. We haven't had a single issue with them over three years, even when we've pushed them to the limit on countless occasions. That should speak for itself.
As Fjallraven has grown and developed, they've also created packs that are great for the environment. So, if you're looking for a more sustainable version, you should check out the Re-Kanken.
External Components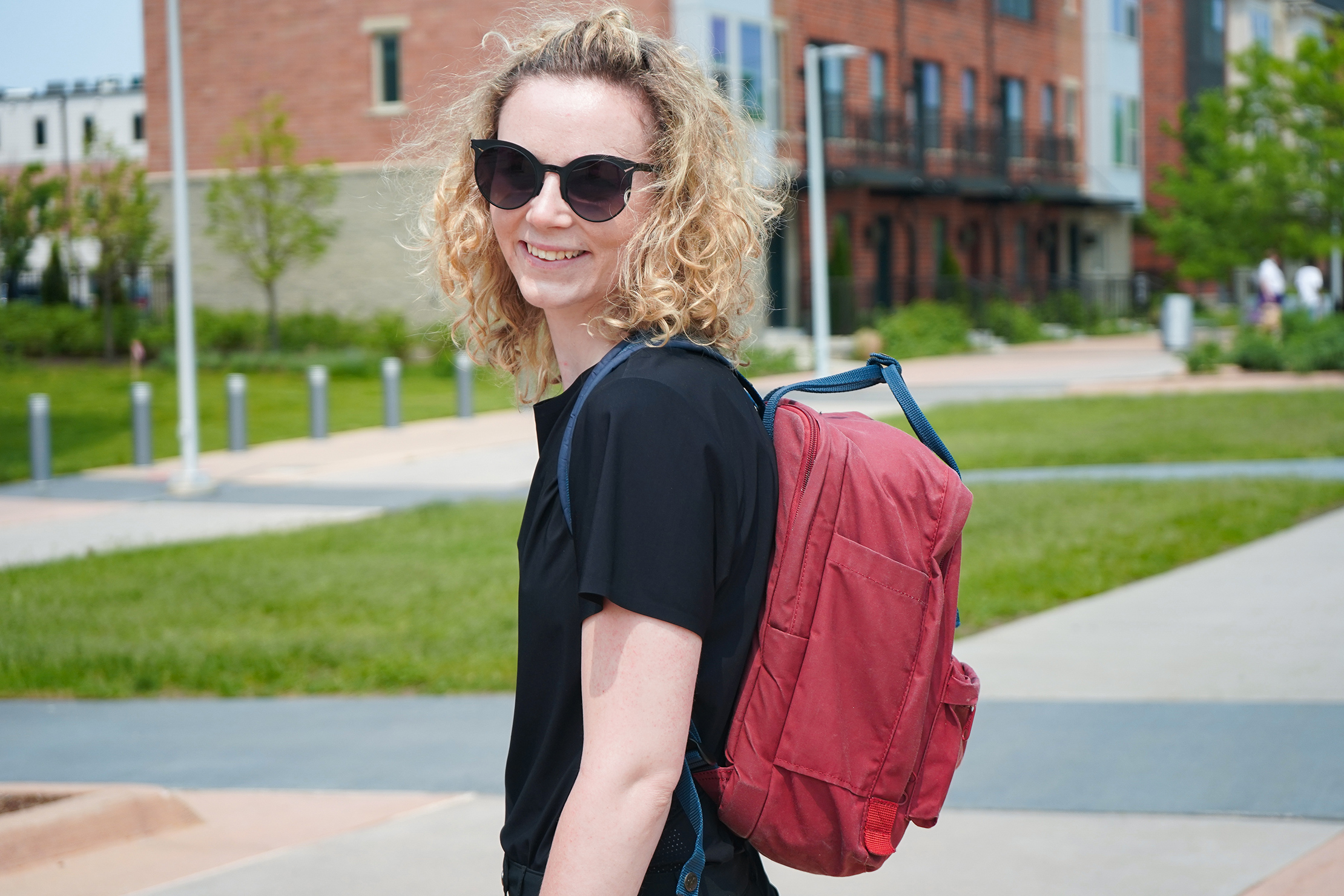 Moving on to the external components, let's start with the harness system. Being a 13" pack, it's pretty simple. The shoulder straps are adjustable and padded, which we've found to be comfortable even when the pack is at full capacity. It is important to note though, that the padded shoulder straps are only available on the laptop version. However, on the original Kanken, attachable shoulder pads are available. These straps are not going to add much ventilation, so if you're planning on doing outdoor activities, you're probably going to be better off with something like the Lowe Alpine Aeon 22. There's also a feature that lets you strap down the shoulder straps when they're not in use. We've found this feature pretty unnecessary for a daypack, so we didn't find ourselves using it very often. In fact, this feature actually became more frustrating as this snap fastener would have come in handy to keep the excess straps from dangling around.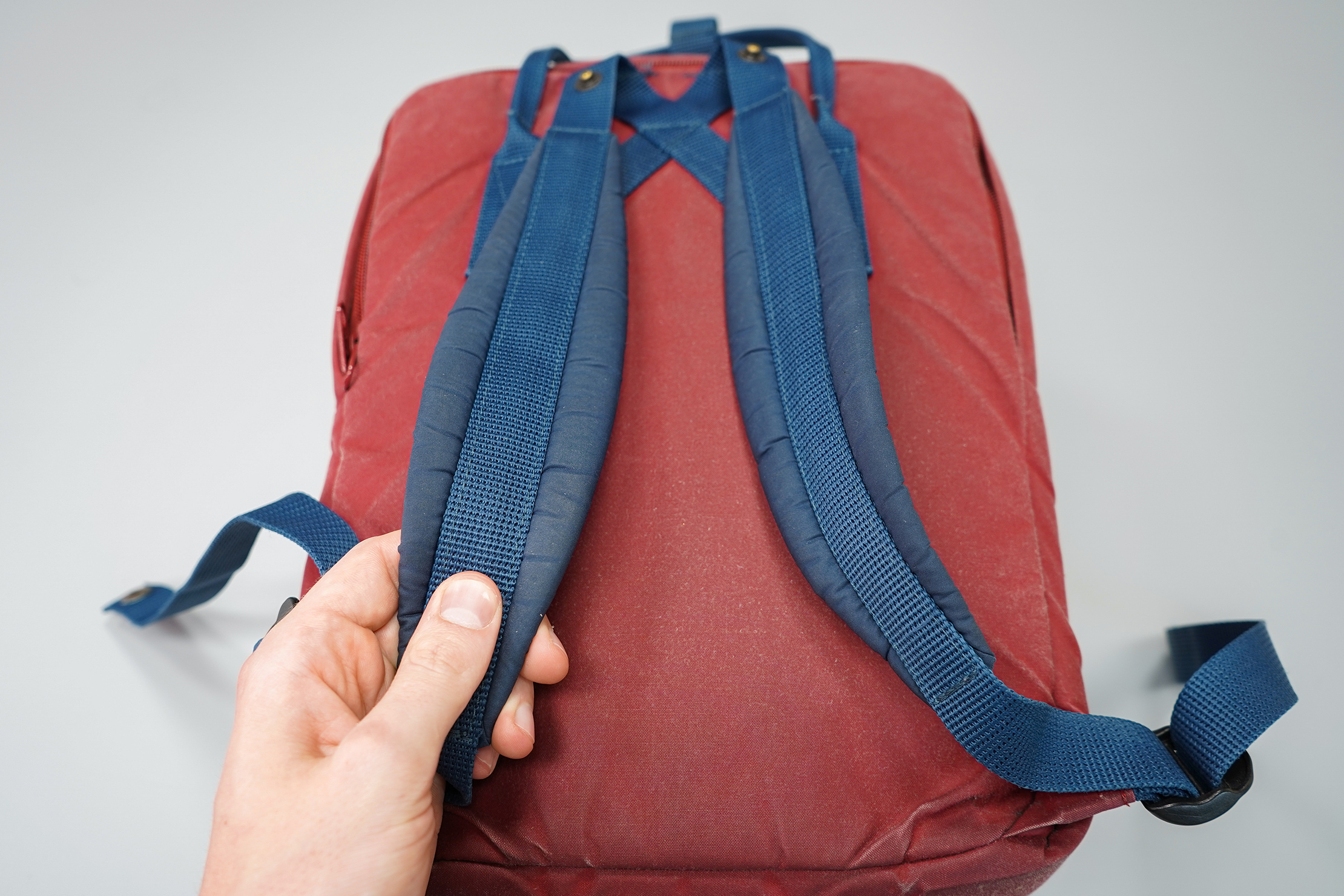 The comfortable carry is also improved by the back panel on this pack. The padded laptop sleeve works wonders and really is two for the price of one. Not only does it hold and protect your laptop, but it also provides a sturdy back panel that takes us back to Kanken's "Straight backs are happy backs" motto.
You've probably also noticed that there isn't a sternum strap or hip belt on this pack. While we never found ourselves in need of this—due to the size of the pack—Fjallraven does have detachable sternum straps available that you can clip onto your shoulder straps.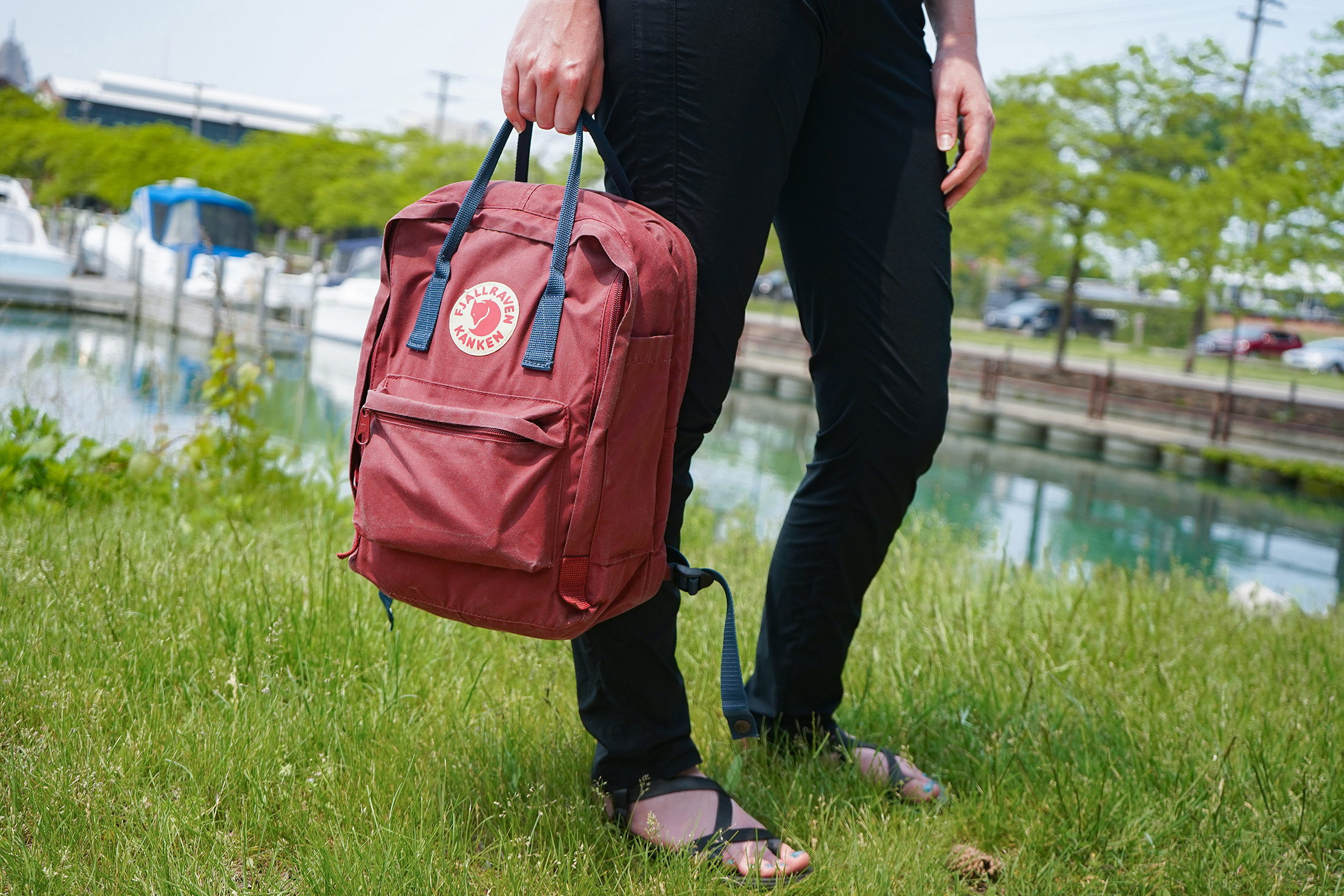 At the top of the pack, there are two quick-grab handles which can be attached with a loop that is already connected to the handle. As a daypack, we've found this to be a handy feature that can be useful for transport, quick trips, or when using the Kanken as an additional bag to our larger travel pack.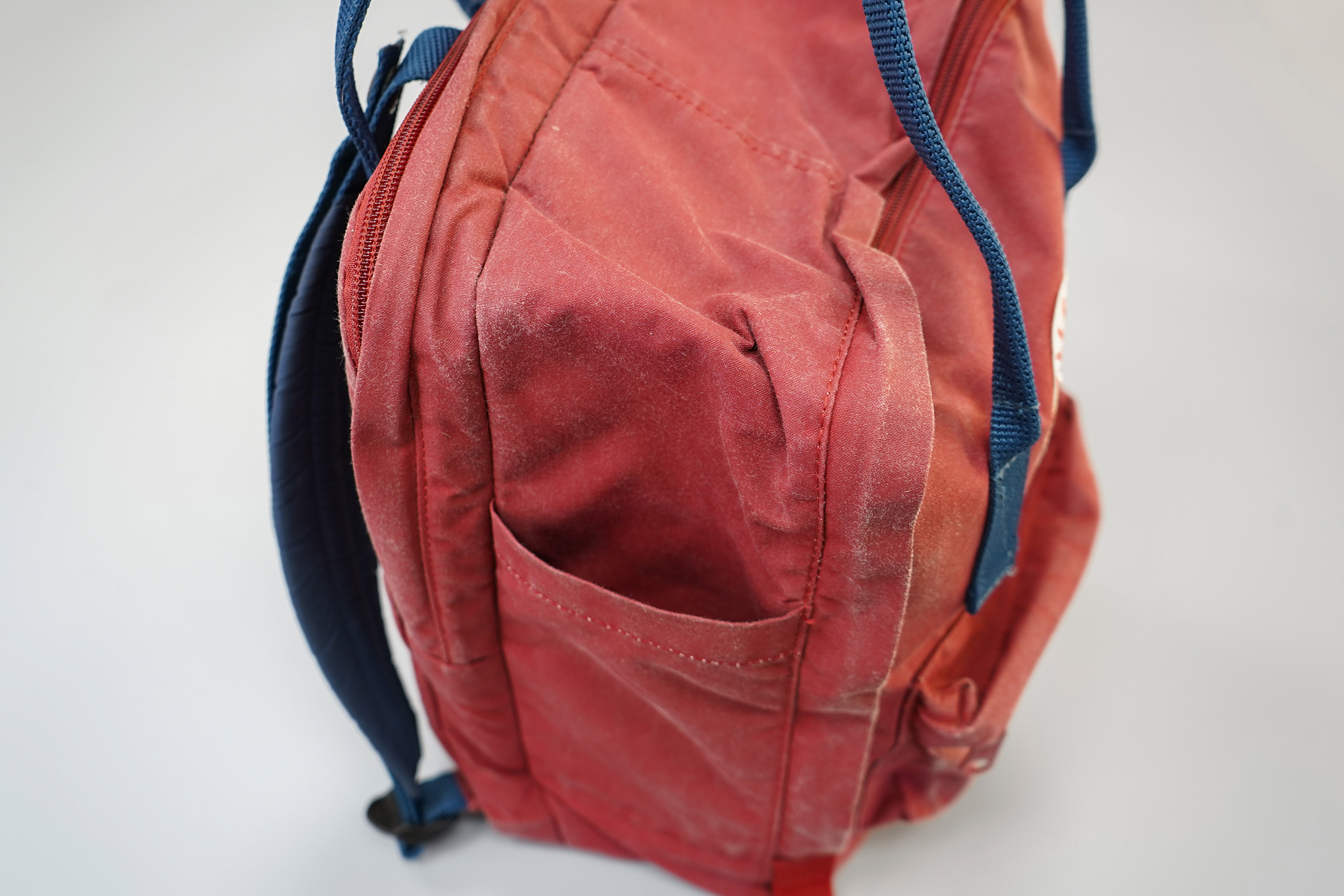 On either side of the pack are two pockets. Originally, we thought these would make for great water bottle pockets, but we have yet to find a bottle that fits—which is pretty disappointing. We've been struggling to find another use for these pockets as it's almost impossible to reach the bottom of them. Longer items are better and one item we have found that works well is the JOBY GorillaPod.
Inside The Pack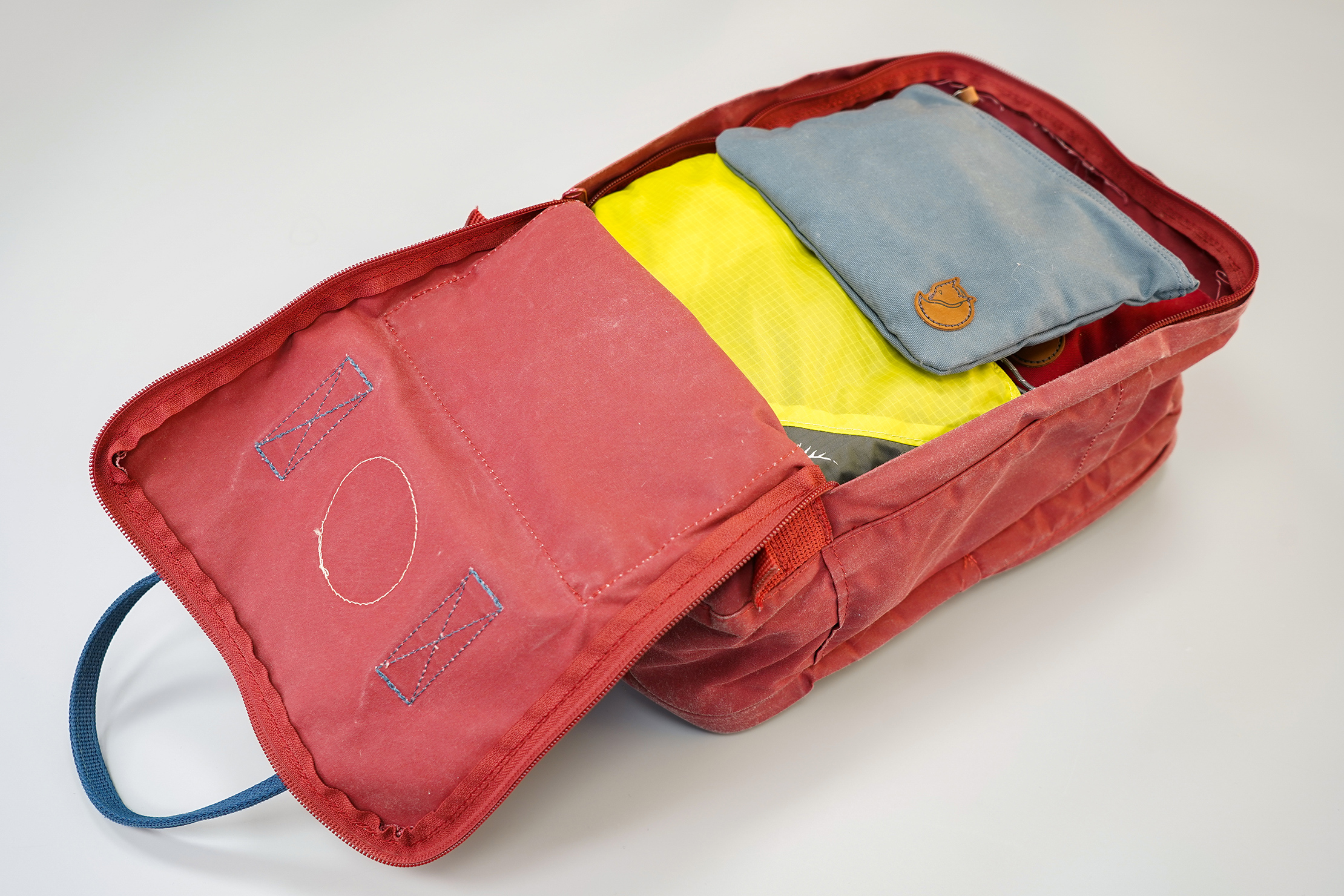 Now let's jump inside this pack. We'll start with the main compartment, which is basically a big bucket that you can throw your stuff into. We've found that, due to the limited internal organization, packing cubes and pouches come in super handy for keeping your items together and preventing them from getting lost within the pack. The clamshell style opening on this compartment comes in super handy. You can open it slightly at the top to grab something quickly, or you can open it all the way if you need something from the bottom.
We've found this compartment also works well with Fjallraven Kanken Photo Insert. If you're into photography, this cube can come in super handy for storing your camera gear on days out.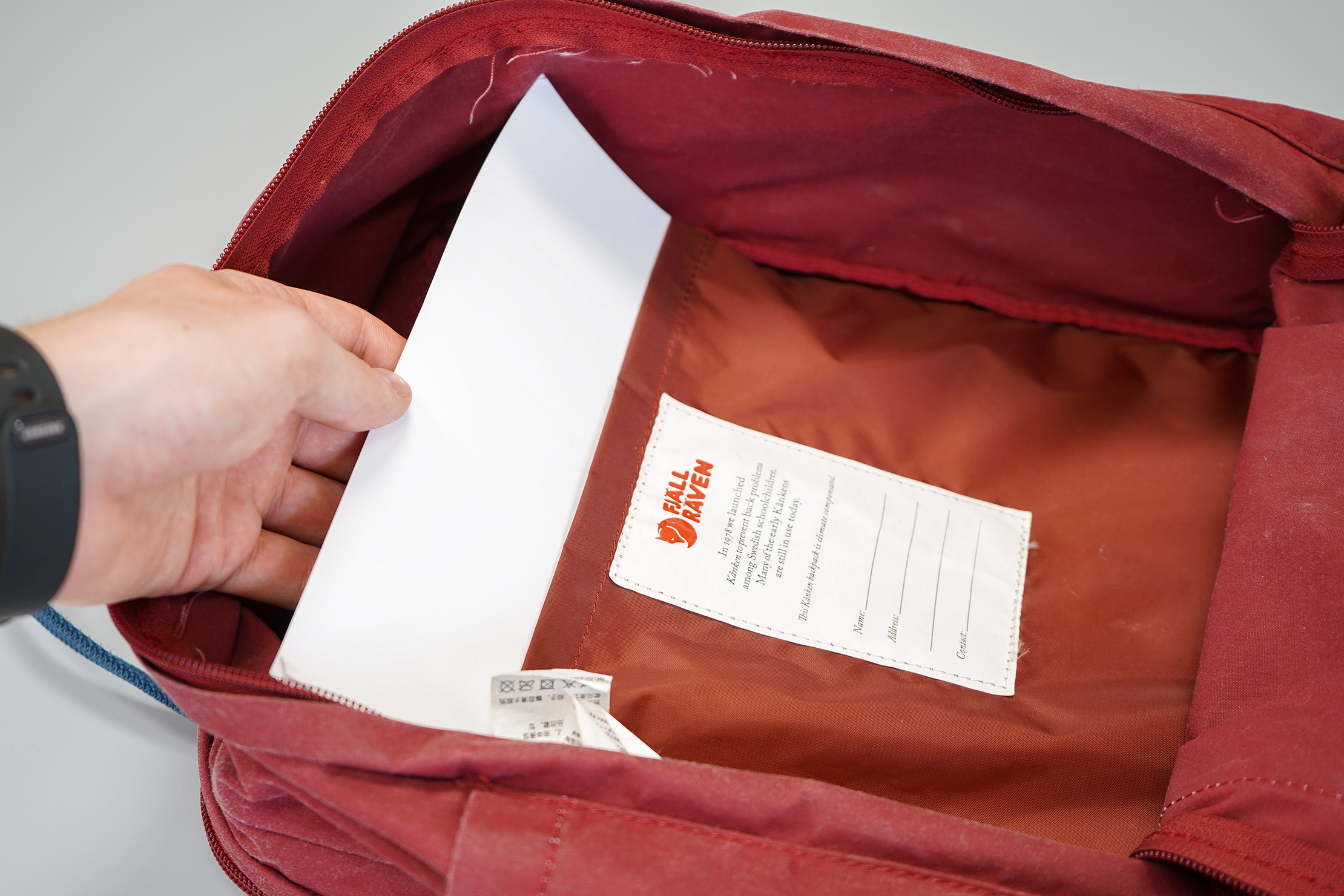 Inside the main compartment is a sleeve that stretches across the width of the pack. This sleeve is useful for storing documents and flatter items. We tend to use this pocket for items we want easy access to.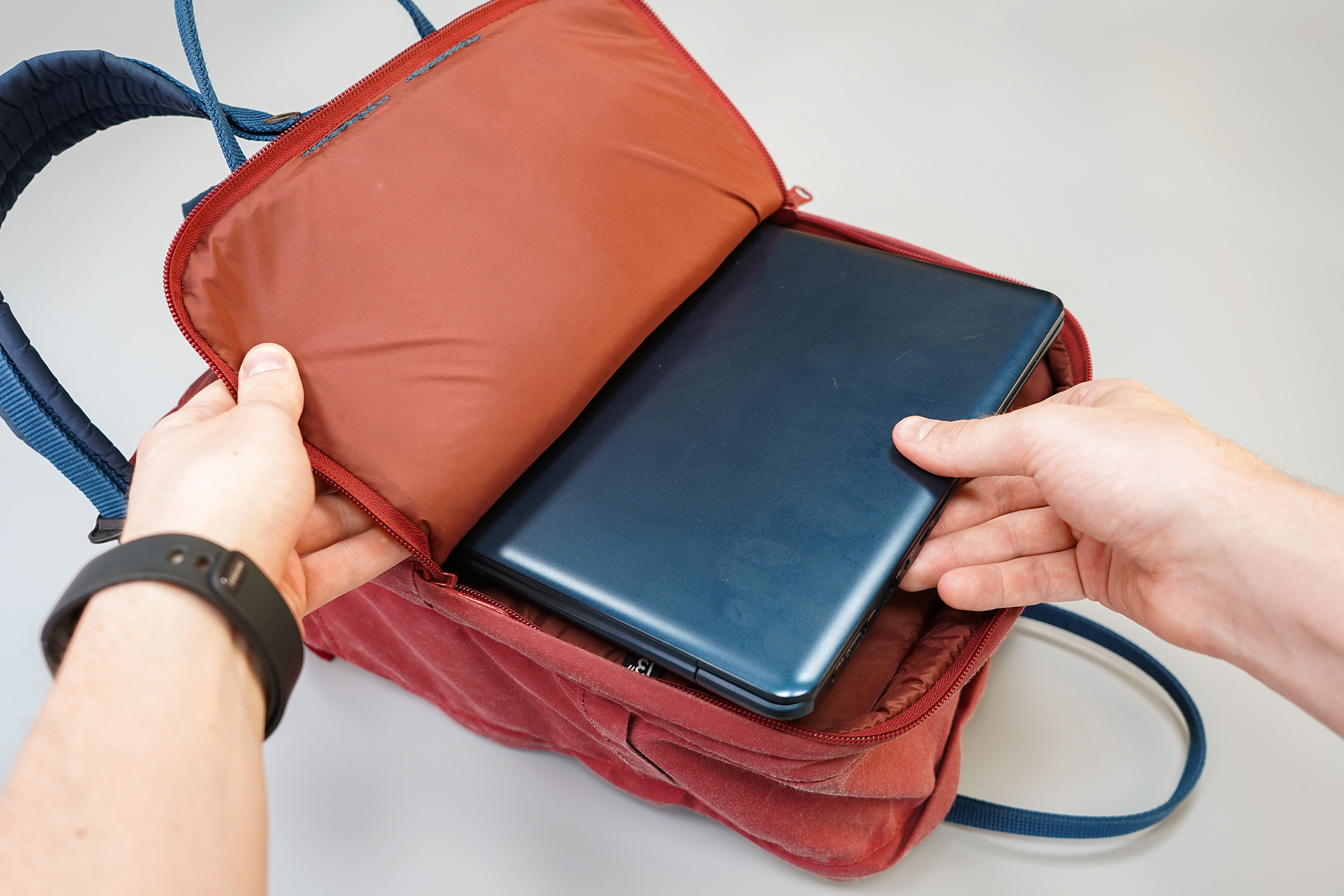 Moving on to the back of the pack, you'll find the laptop compartment. This is one of our favorite features on the Kanken. The accessibility here is a big advantage because the laptop compartment is separate to the rest of the pack, so there's no need to empty anything out or even open up the main compartment. Easy! You can also use this compartment for documents that you want to access quickly while on the go. It's important to note here that this laptop pocket will only hold a 13 inch laptop without the case on. Alternatives are available though, as Fjallraven also has a 15" and 17" Laptop Backpack.

Moving around to the front of the pack, you'll see a small quick-grab pocket. This is big enough to hold those items that you need to grab quickly like your phone and wallet (hence the name), but there isn't any additional security. We tend to go with our gut here—for those sketchier locations, we prefer to store our valuable items inside the main compartment. But for the lower risk areas, we're happy to keep our phone and wallet in this pocket. A less visible quick grab pocket would have been a useful addition in our eyes.
Durability & Testing

At the time of this review, we've been testing this pack for over three years, so it has seen its fair share of adventures—from Hong Kong to Tokyo, Thailand, Malaysia, city-hopping across Europe, and even exploring the USA.
Apart from some wear that only affects the aesthetics slightly, the Fjallraven Kanken has held up well and has impressed us with its durability and ongoing reliability—despite being pushed to the limits time and time again.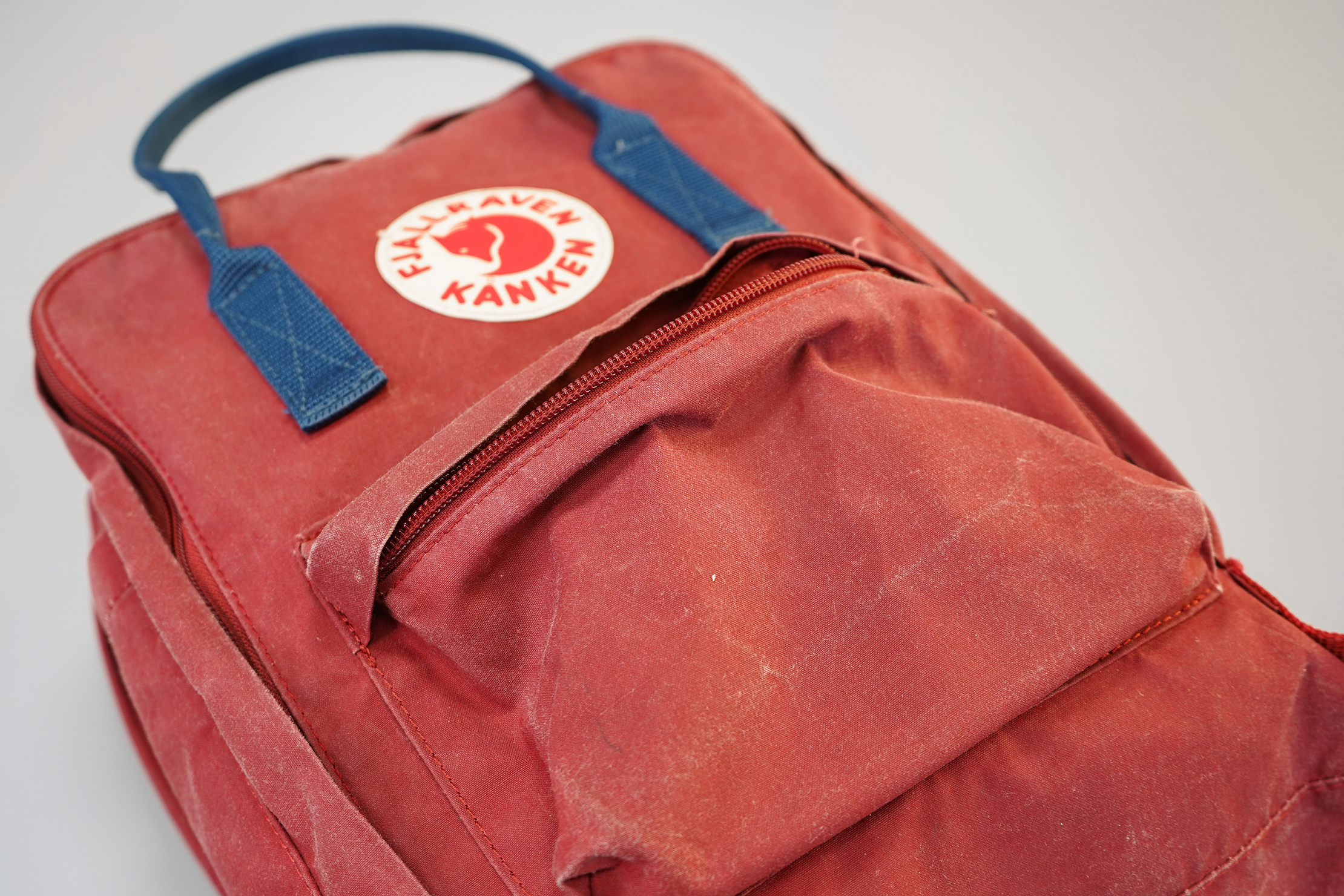 Over time, we've found the Vinylon-F—the exterior fabric—to be super durable. Having been thrown around and used continuously across the world, it has held up remarkably well. We did, however, notice a decent amount of fading. When looking into the care of the Kanken, they do mention that you shouldn't leave it in direct sunlight, but it's inevitably going to get some rays. While this does affect the overall look of the pack, we don't mind too much as it sort of adds to the rugged heritage vibe that's going on. We're interested to see if degradation continues as we use this pack for—hopefully—many more years to come.
As we mentioned earlier, the laptop compartment is big enough to hold a 13" laptop without the case. We prefer to have that extra protection for your tech gear (especially if you rely on it as much as we do) but we did find that, because the laptop sits against your back, it provides enough protection for a daypack.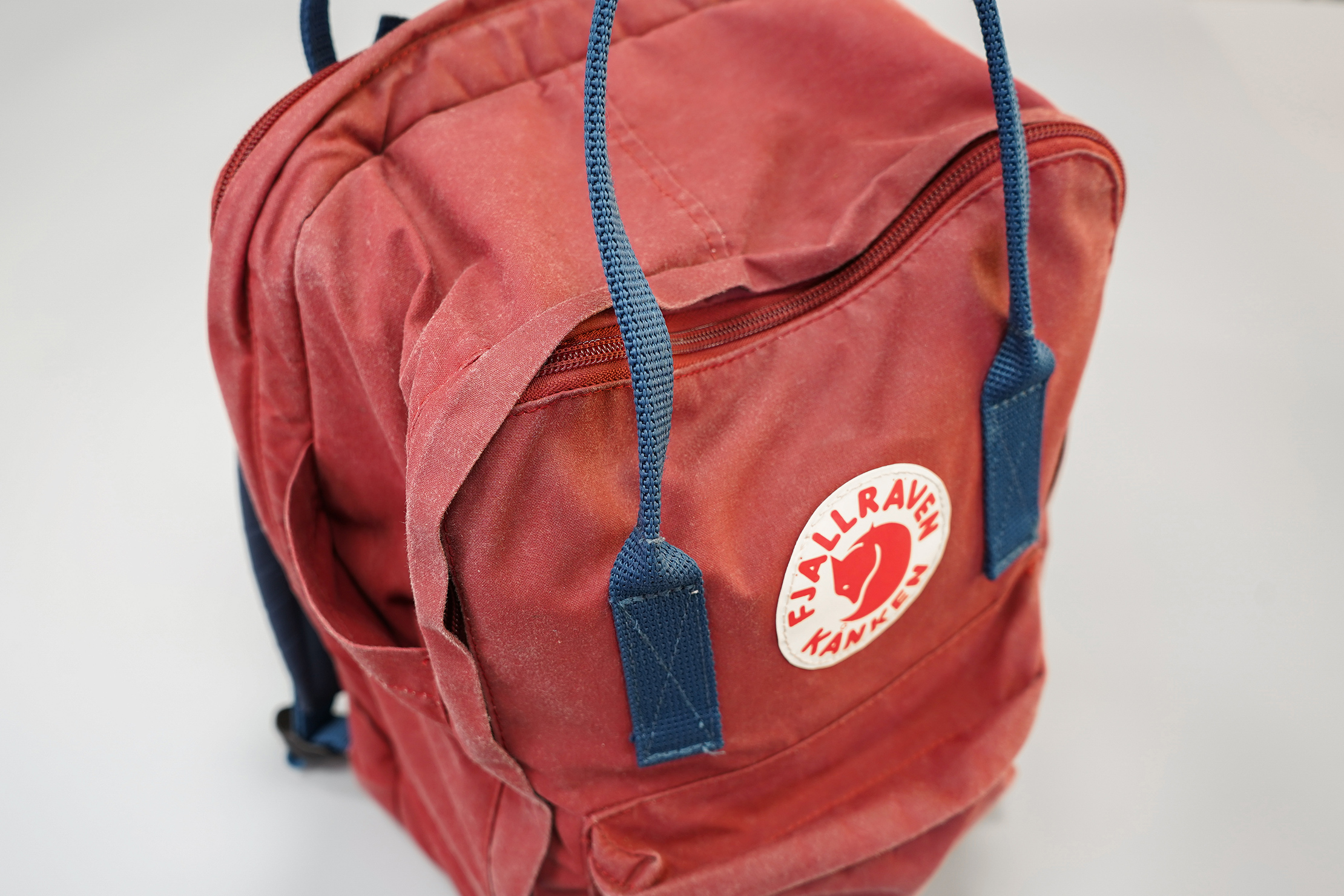 We do also have some complaints about the zipper covers, which are not as functional as we'd like. When the pack is at full capacity and is "boxed" out to the max, the covers stay over the zippers. However, when there's some sag to the pack, the covers instantly move and leave the zippers vulnerable to the elements. While this wasn't a big deal as we rarely found ourselves hiking through the rain, it wasn't ideal. This is something that's gotten worse over time—the more the material wears in and the less rigid everything is, the more the zipper covers move.
Over the past few years, we've found that this pack works well on its own as your everyday daypack or for longer day trips. Additionally, while this pack isn't the smallest or most compressible, it does pack flat—so it worked well in our larger one bag travel pack as well.
Usage Timeline
Initial Usage
Condition: Excellent
Digging the overall aesthetic of this pack.
1 Month of Use
Condition: Excellent
The carry is much more comfortable than we thought.
2 Months of Use
Condition: Excellent
Using this in more humid locations, the back panel and harness system doesn't have much ventilation.
9 Months of Use
Condition: Good
After a good amount of use, the material is beginning to soften and become less rigid.
1 Year of Use
Condition: Good
This pack is still going strong, no wear or tear yet!
1.5 Years of Use
Condition: Good
This has become our go-to day pack when we need to have a laptop.
2 Years of Use
Condition: Good
The zipper covers aren't offering much protection.
3 Years of Use
Condition: Good
The material is starting to fade.
Access the Pro Community Discussion
Get your questions about the Fjallraven Kanken Laptop Backpack answered from our team and the Pro Community right here on the page. Plus, join discussions with other members about gear, guides, and more.
Other Bags & Luggage Reviews