Fjallraven Kanken Photo Insert (Small) Review
The Fjallraven Kanken Photo Insert doesn't have anything innovative going on—it's simply a solid camera case to keep your gear safe and tidy on the road.
Our Verdict
Unlock the Pro Summary
Save time. Get access to brief summaries of our reviews so you can browse and make decisions more efficiently.
Pros
Dividers allow you to customize the interior to your unique set up
It's vegan-friendly (unlike a number of Fjallraven products)
Thick, soft padding will keep your expensive equipment safe
Cons
Exterior clings to dust far too easily
Exterior is difficult to clean
Takes up a huge chunk of space in most daypacks
Recent Pack Hacker Video
Technical Details
Weight (lb)

1.15 lb (0.5 kg)

Dimensions

10.5 in x 9 in x 4.75 in (26.7 x 22.9 x 12.1 cm)

Notable Materials

G-1000, Cotton, Polyester, Polyamide

Manufacturing Country

Vietnam

Warranty Information
Buying Options
$113.36
Full Review
Unless the idea of breaking your camera gives you an adrenaline rush, you're going to want a camera case as you traipse the globe with your camera. Enter the small Fjallraven Kanken Photo Insert.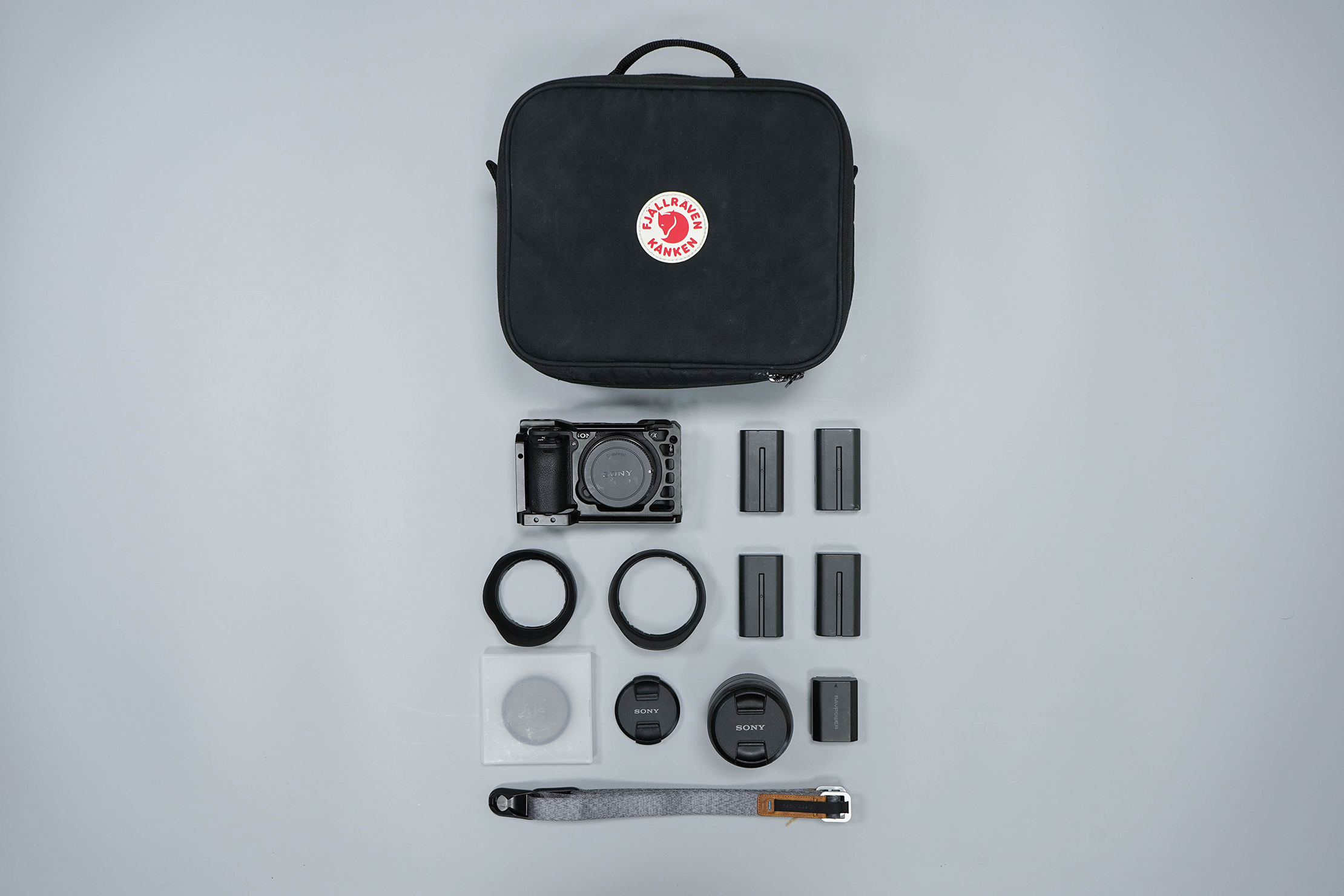 We're usually fans of Fjallraven—the company tends to make quality gear that's fun to use in the real world. Can the same be said for the Fjallraven Kanken Photo Insert? Read on.
Materials & Aesthetic
To us, the Fjallraven Kanken Photo Insert looks like a lunchbox. It's square with a small handle on top. Not that the lunchbox aesthetic is a bad thing. In fact, we're digging the simplicity. At the time of this review, it's only available in two colorways: Black and Frost Green. While we could do with more options, these choices are pretty sleek.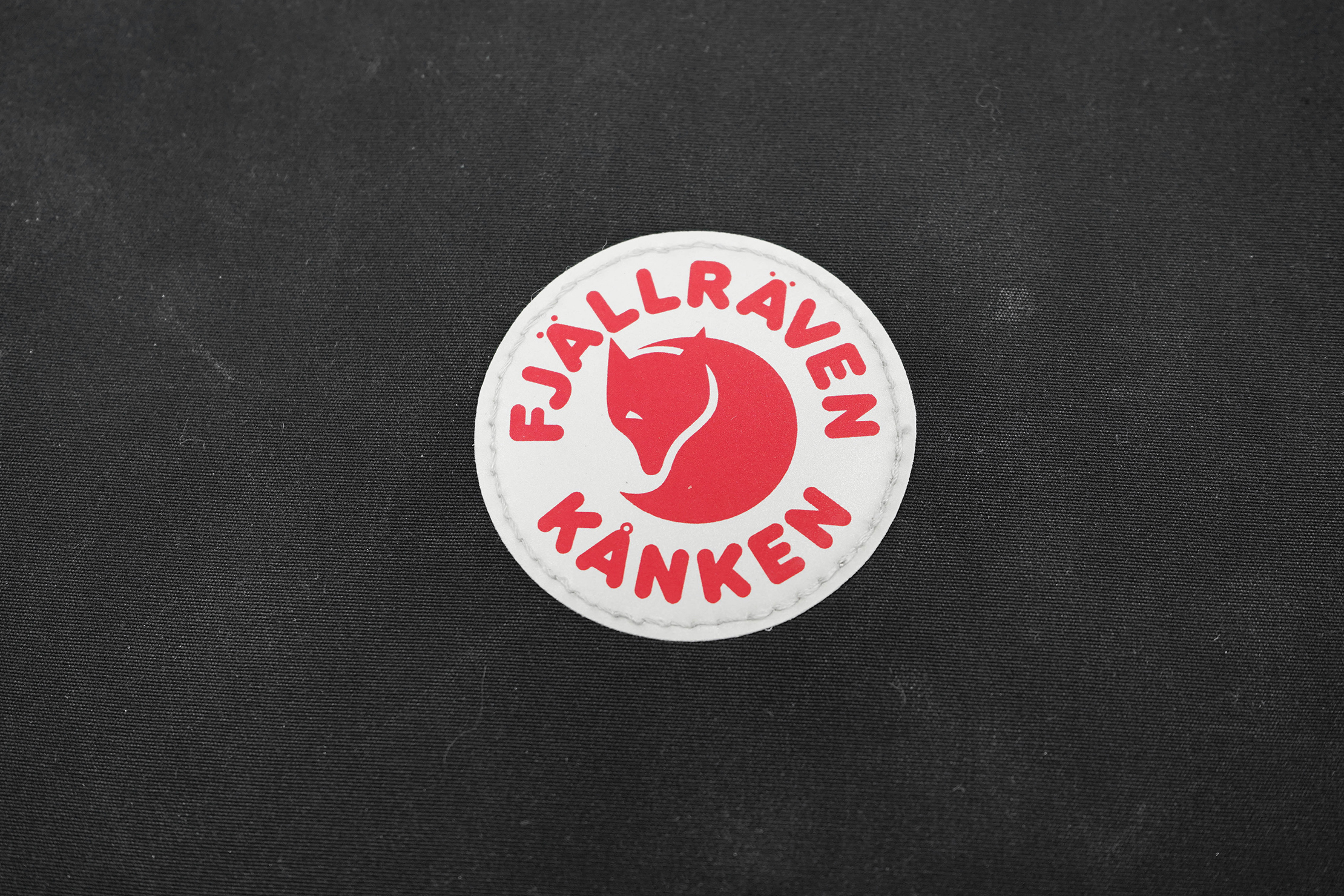 In typical Fjallraven fashion, you'll find the Fjallraven Arctic Fox logo front and center. But—instead of the usual leather tag—this one is synthetic and vegan. So all you Fjallraven-loving vegans out there, rejoice! You can finally be a part of the Fjallraven community.
The exterior is made from Fjallraven's double-waxed G-1000 HeavyDuty Eco S fabric. There are some awesome things about this fabric. First of all, it's durable and weather-resistant. You can also reproof it with the Fjallraven Greenland Wax to extend its life. And the "Eco" part of the name means the Kanken Photo Insert is made with recycled polyester and organic cotton, which is certainly something we can get behind.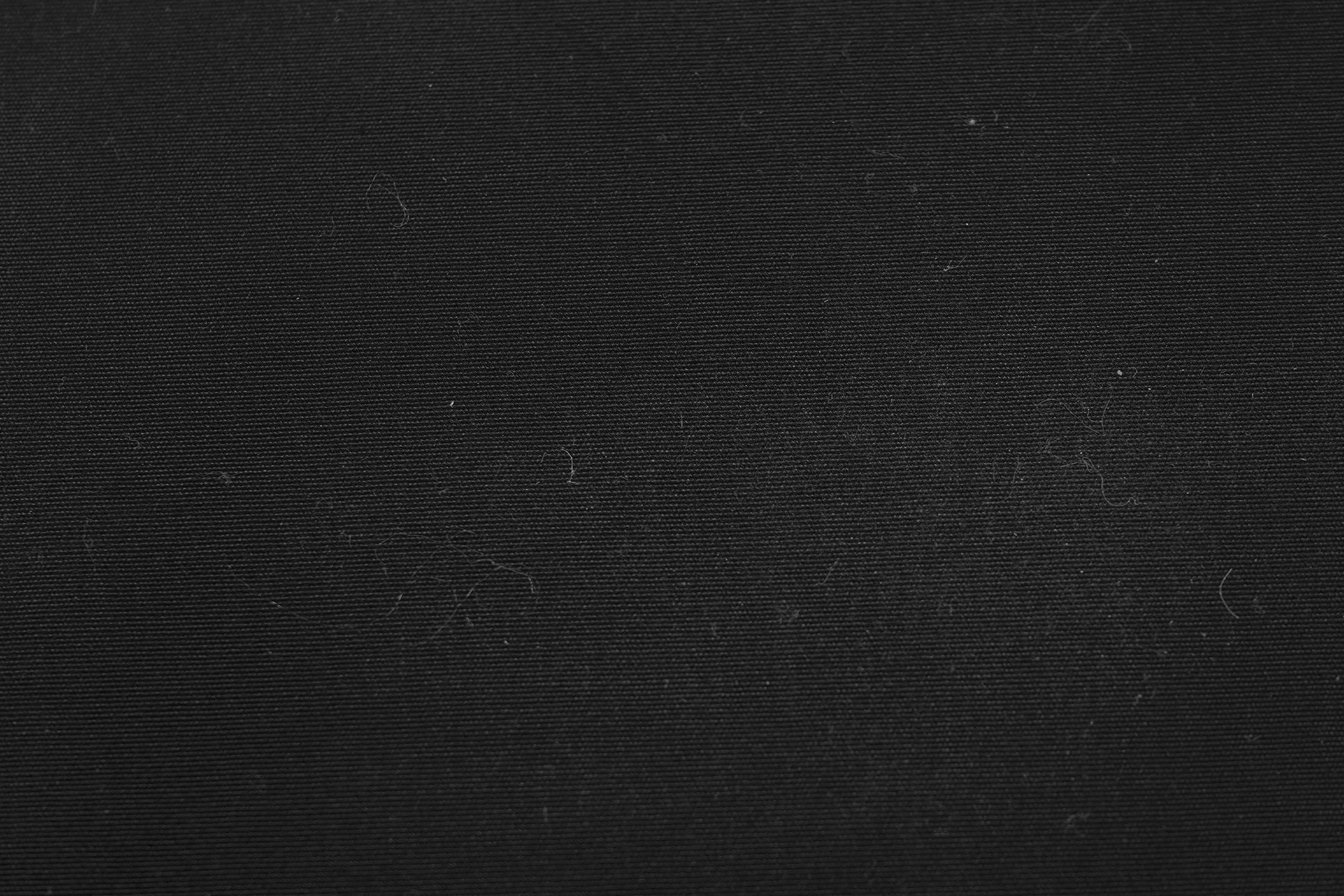 But it picks up dirt, hair, and dust better than a duster. Seriously, Swiffer® may want to lease out the rights to this fabric. We would certainly use it to clean our floors.
Jokes aside, this is frustrating as the photo insert starts to look dirty after only a few days, especially in the black colorway we've been testing. And it's surprisingly difficult to clean. You have to take a wet cloth to it, which isn't ideal for travel.
Features & Usage
The Fjallraven Kanken Photo Insert isn't full of features, which is fine by us. It does its job nicely and that's all we need and want in a camera case.

The interior is made from thick, soft padding. The dividers are secured with velcro, so you can make it work for whatever set up you've got. And you can ensure all of your equipment is tightly secured so they don't jostle or break in-transit.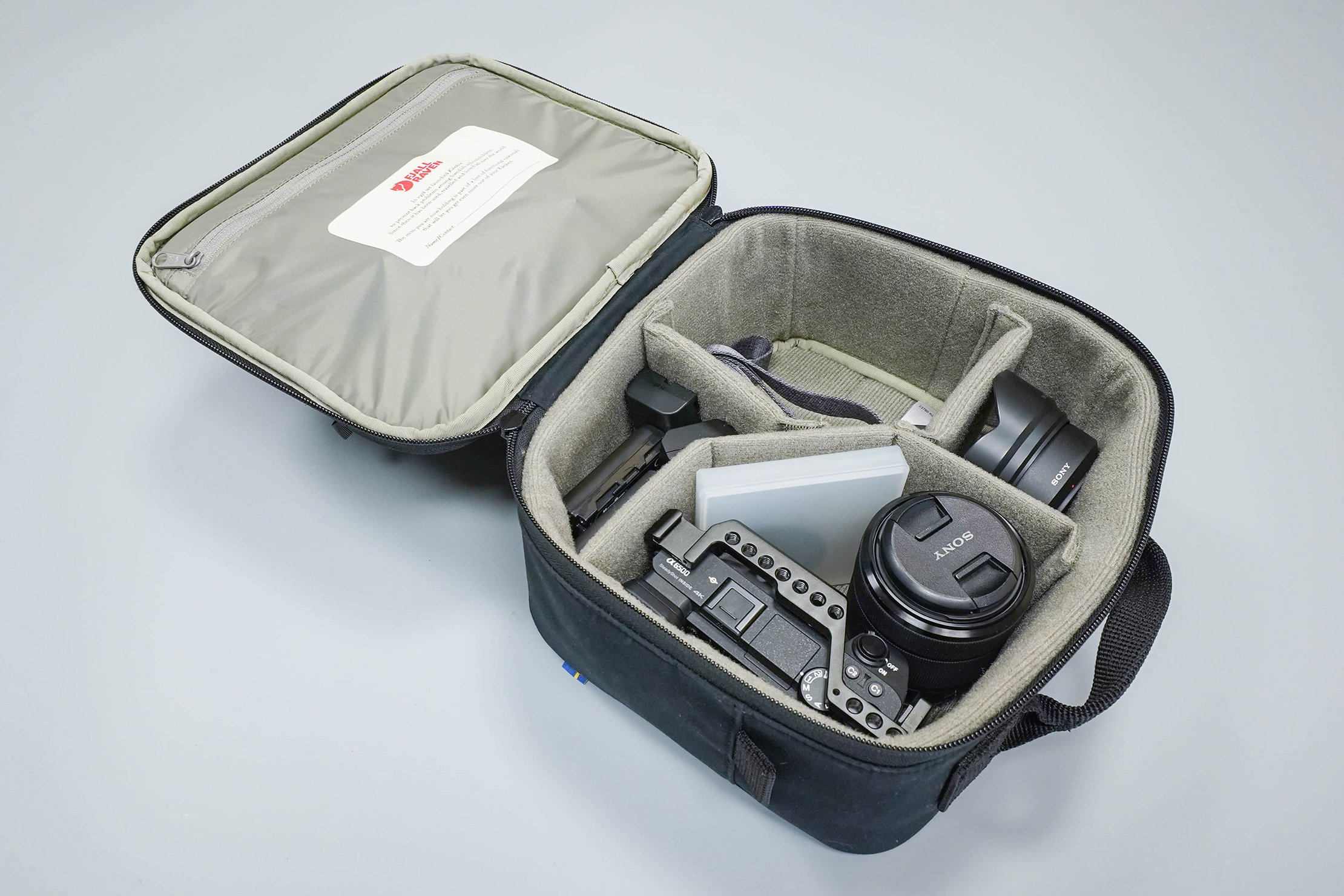 Currently, we have two mirrorless cameras inside the main bucket with some lens hoods and filters and extra batteries. In the zipper pocket on the interior of the lid, we have our smaller camera accessories, including SD cards and a wrist strap. We love that there's a spot for your smaller items without too many pockets or organizational features cutting into the usable space.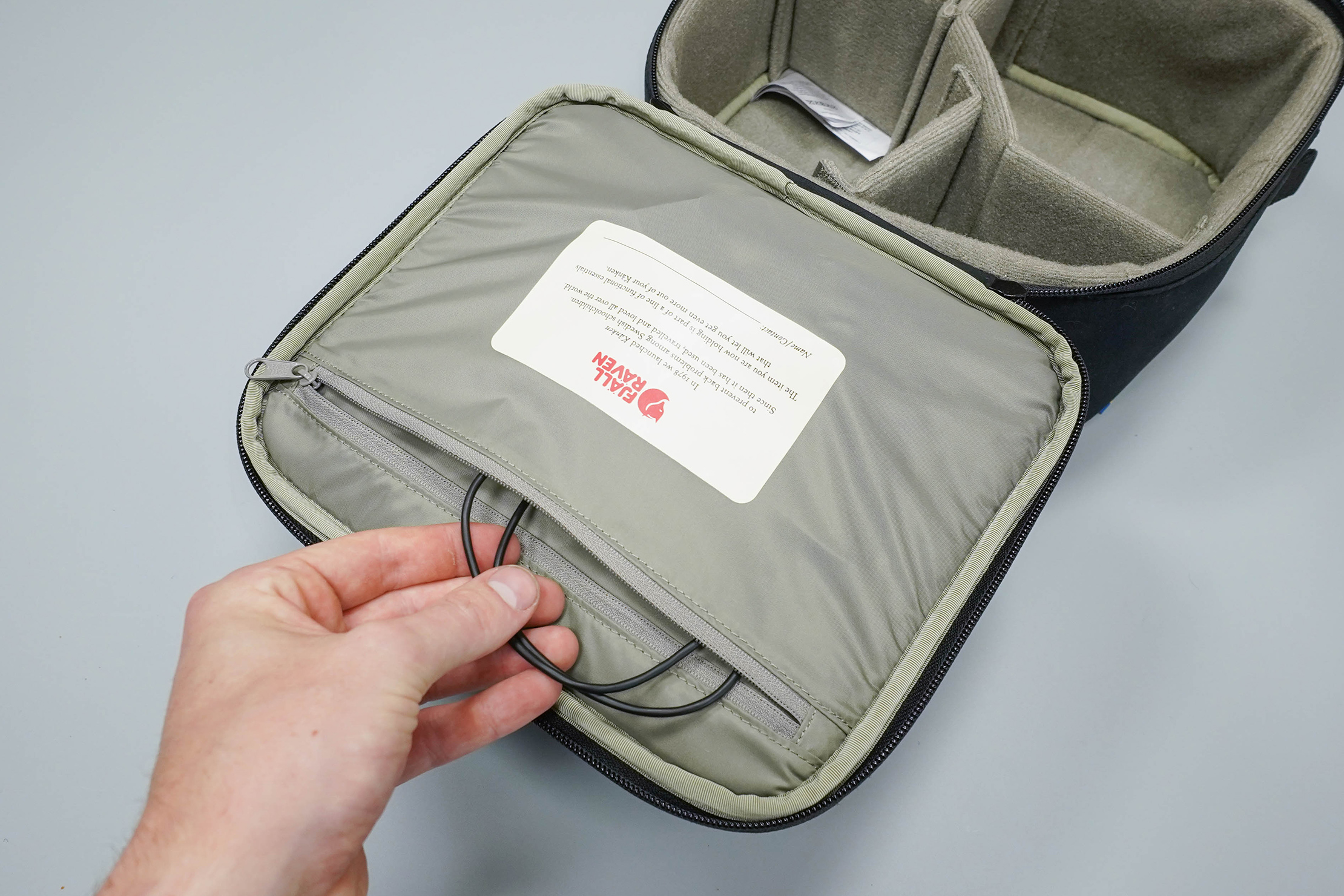 And again, you can make this insert work for you. It's extremely versatile, which is definitely a plus. After all, your photo setup is as unique as you are (everyone now, awww).
With the segmentation and thick padding, you never have to worry about your camera breaking. It goes without saying that this is an important quality for what's essentially a camera case.
Now, if you're astute you may have noticed that this photo insert shares a name with the popular Fjallraven Kanken Backpack. There's a reason for that—this insert has been specially designed to fit inside the Kanken.

But when you put this insert inside the backpack, it takes up about ⅔ of the useable interior space. At that point, your Kanken backpack is essentially a carrying case for your carrying case with a bit of extra room for a sweatshirt or something.
This isn't necessarily a bad thing, but it's something to note. We've preferred to use it with larger bags so we have space for our other stuff too. If we only wanted to carry a camera, we'd probably opt for a dedicated camera backpack or sling bag. But everyone is different.
Durability & Testing
We've been testing the small Fjallraven Kanken Photo Insert for the past few months in Detroit, Michigan. And we're happy to say that we have no durability issues to report.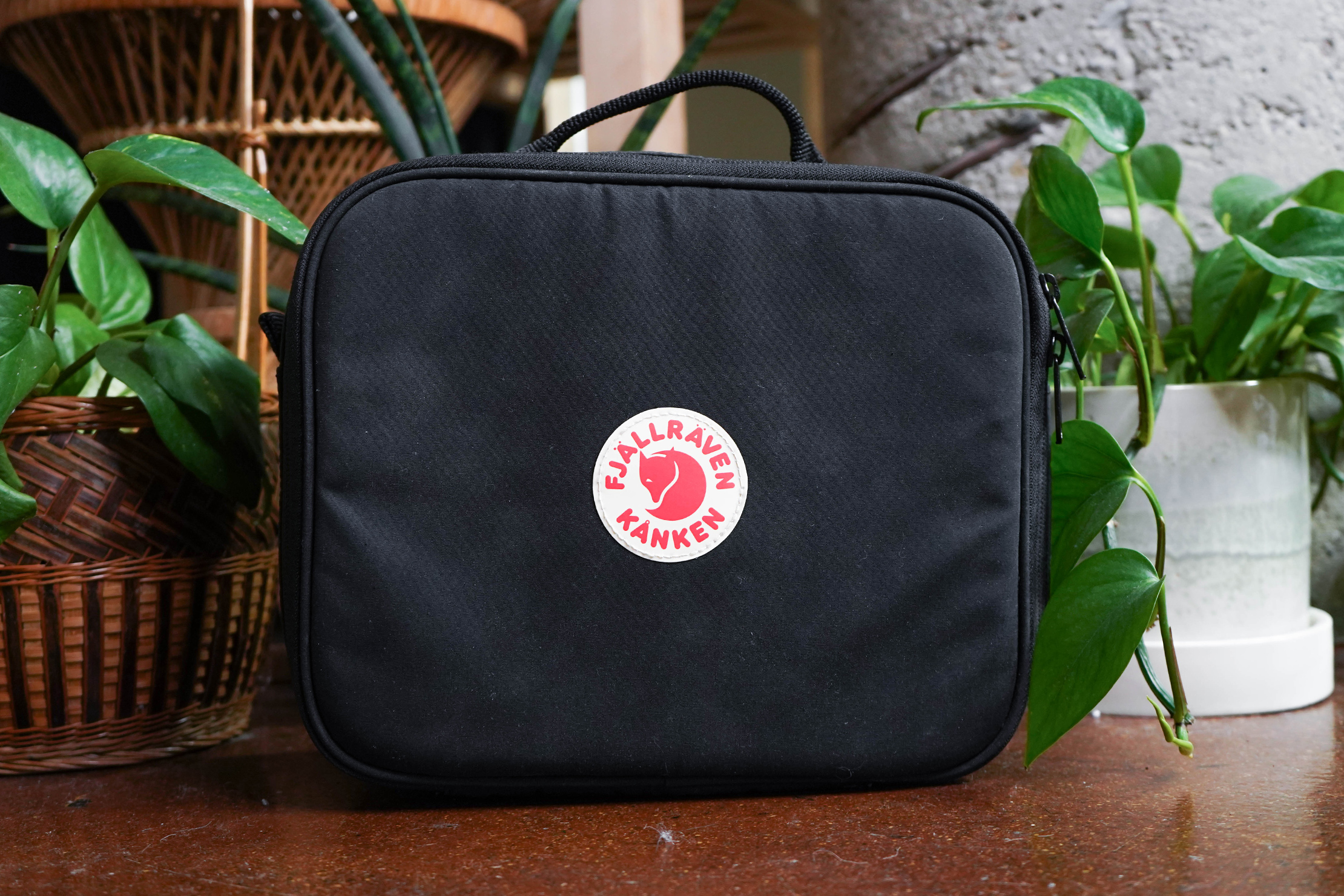 It's been a great camera case, keeping all of our expensive equipment safe and organized. While it takes up a little too much space inside smaller daypacks—and collects dust way too easily—it's a solid camera case from a solid company. We expect it'll hold up for years to come.
Usage Timeline
Initial Usage
Condition: Excellent
Thick padding is great for protecting your gear, but it does make it slightly bulky.
The G-1000 material attracts a bit more dust than we'd like.
Very versatile and will work with multiple camera kits in a wide range of backpacks.
1 Month of Use
Condition: Excellent
2 Months of Use
Condition: Good
This thing attracts so much dust/hair/dirt! It looks like we've tried cleaning our floors with it.
3 Months of Use
Condition: Good
Solid overall, but it's still attracting ALL of the dust and dirt.
Access the Pro Community Discussion
Get your questions about the Fjallraven Kanken Photo Insert (Small) answered from our team and the Pro Community right here on the page. Plus, join discussions with other members about gear, guides, and more.
Other Organizers & Pouches Reviews