Fjallraven Gear Pocket Review
Simple, durable, and effective, the Fjallraven Gear Pocket makes a great travel accessory—although it collects dust way too easily.
Our Verdict
Unlock the Pro Summary
Save time. Get access to brief summaries of our reviews so you can browse and make decisions more efficiently.
Pros
Made of durable materials
A simple place to keep small, miscellaneous items
Slim profile
Cons
Leather detailing means it's not suitable for vegans
Collects dust/dirt easily
Not ideal for toiletries (like Fjallraven advertises)
Recent Pack Hacker Video
Technical Details
Weight (oz)

1.6 oz (45.4 g)

Dimensions

6 in x 8.5 in x 0.8 in (15.2 x 21.6 x 2 cm)

Notable Materials

G-1000, YKK Zippers, Polyamide, Polyester, Cotton

Manufacturing Country

Vietnam

Warranty Information
Buying Options
$24.95
Full Review
Simple, but effective. That's the best way to describe the Fjallraven Gear Pocket: a durable, minimal pouch designed to carry whatever miscellaneous items you don't want bouncing around the bottom of your backpack (and getting lost to that mysterious, omnipresent Bottom-of-the-Backpack Black Hole).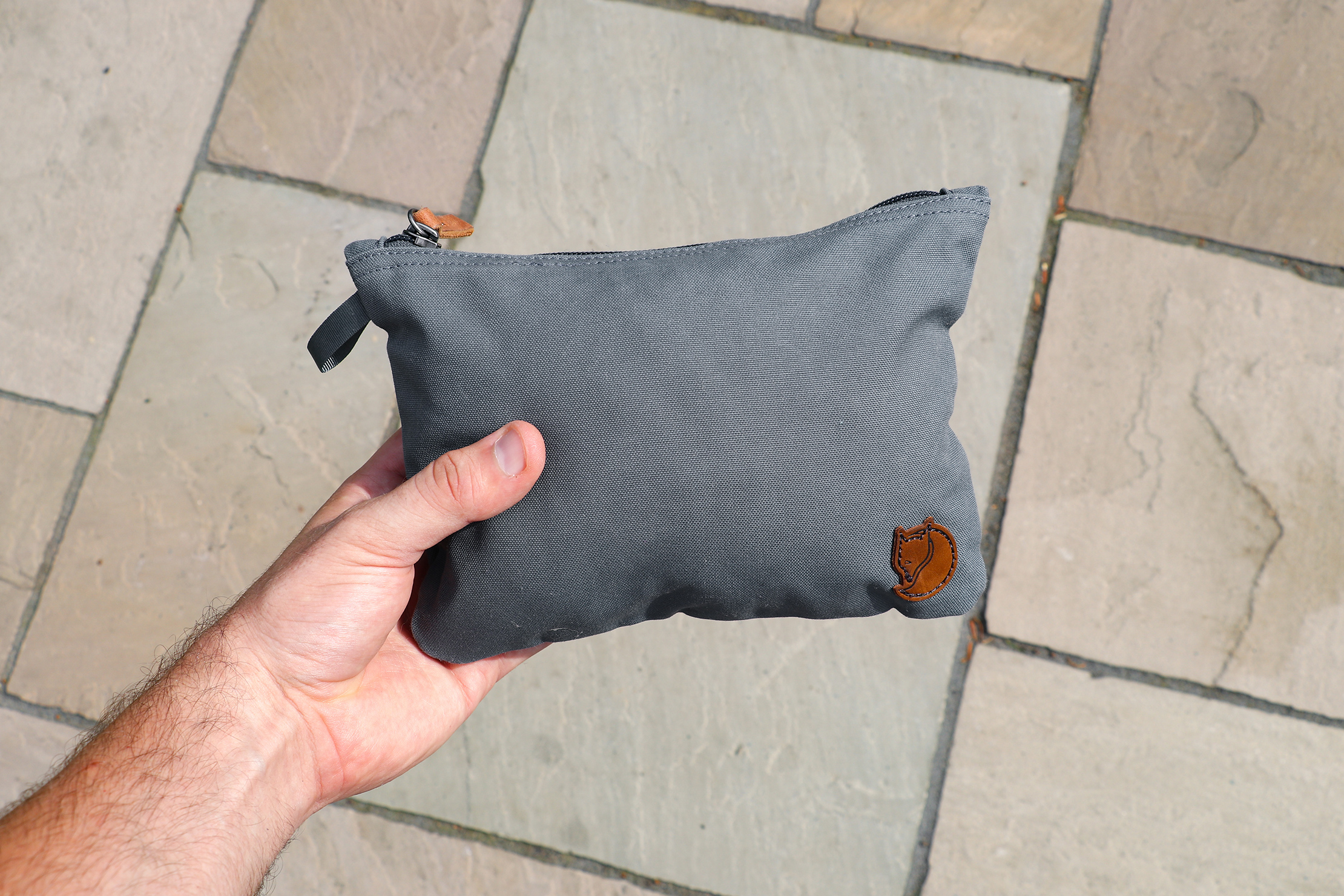 We've been testing the Fjallraven Gear Pocket for two months in Detroit, Michigan, Miami, Florida, Essex, England—and brought it with us on a holiday to Spain. All in all, it's another solid product from a company we trust. So let's check out all it has to offer.
Materials & Aesthetic
We've been testing the Fjallraven Gear Pocket in two colorways: a bright, cherry red and a muted gray. The red is no longer available, but at the time of this review, you can also pick this pouch up in a variety of subdued earth tones like dark gray, navy, green, and brown (a number of colorways are sold out at the time of this review, so you may have even more options by the time you're reading this in the future).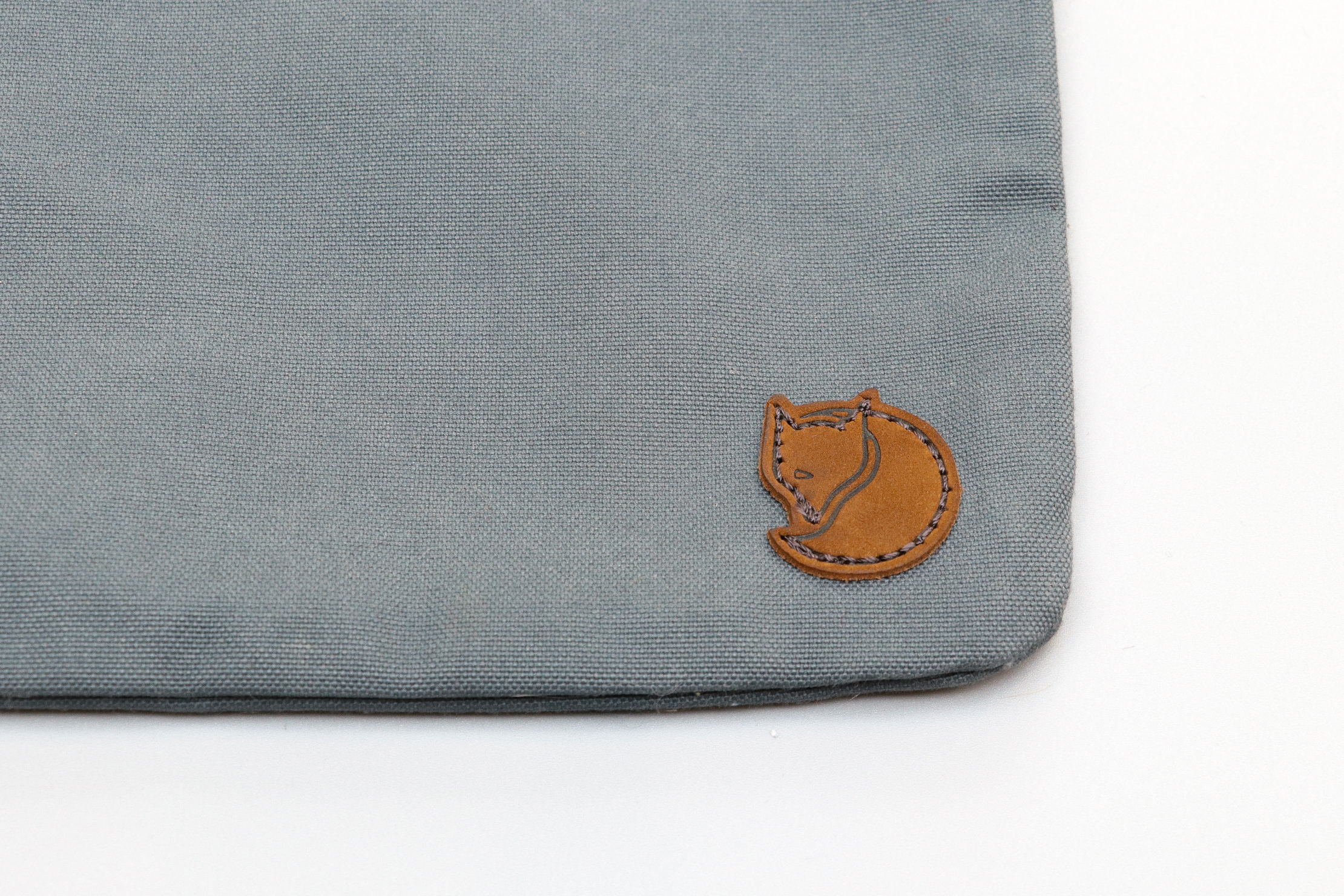 We're digging its simplicity. The Gear Pocket doesn't have much going on except for a few small details that mark it as a Fjallraven product. The Arctic Fox logo makes an appearance, as does a leather accent in the form of a zipper pull. (For those of you unfamiliar with Fjallraven, the company is known to put leather accents on a huge number of its bags/wallets/pouches.) Of course, this leather is not ideal for vegans or others avoiding animal products.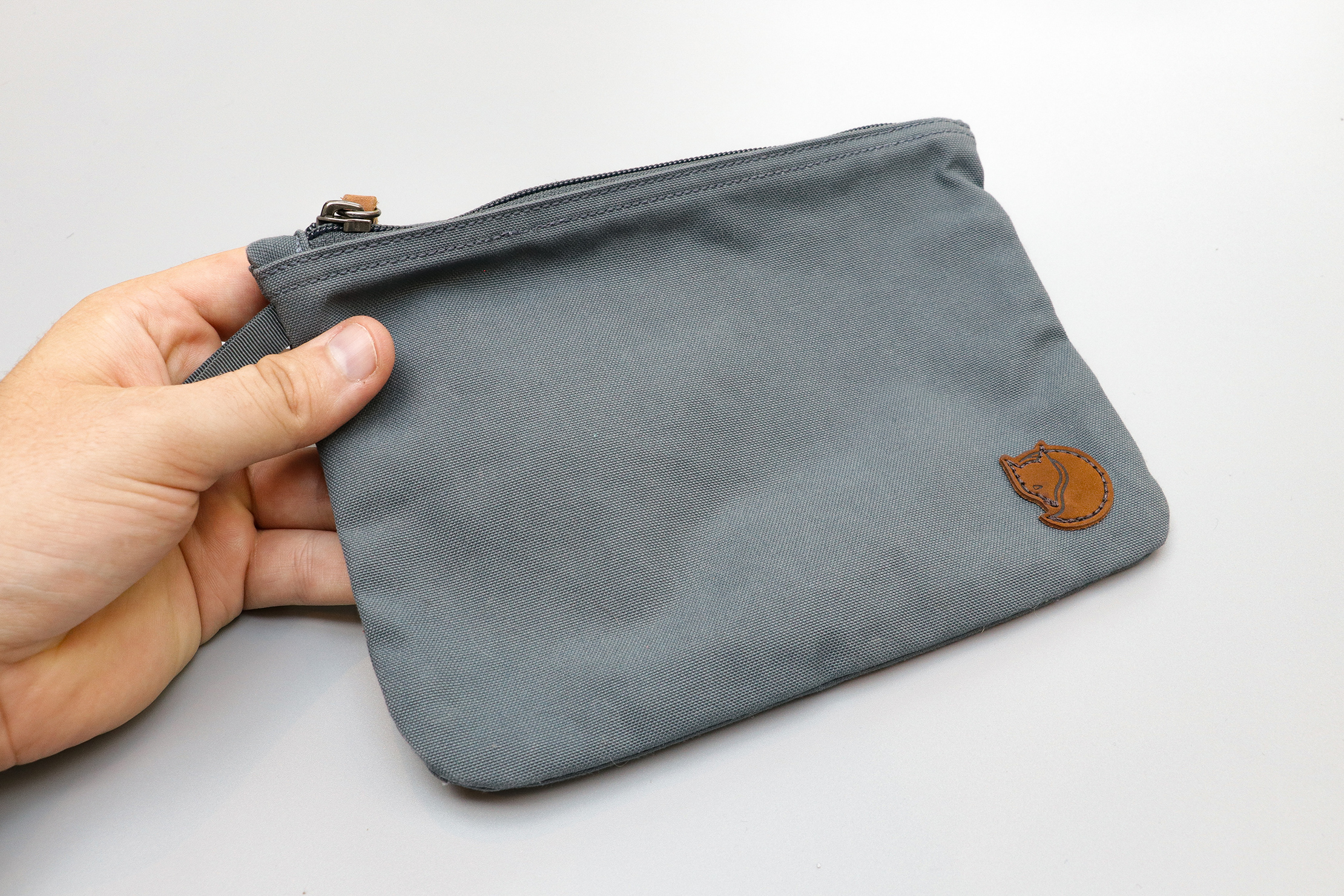 The pouch is made from Fjallraven's famous G-1000® HeavyDuty fabric. We've talked extensively about the G-1000® fabric in our review of the Fjallraven Travel Pack, so if you're looking to get into the nitty-gritty you may want to head over there and check that out.
Simply put, this fabric is extremely durable and weather-resistant. Better yet, it can be reproofed with the Fjallraven Greenland Wax for extended longevity. We always love a product that allows you to extend its life with a bit of care, instead of having to toss it whenever some coating wears off.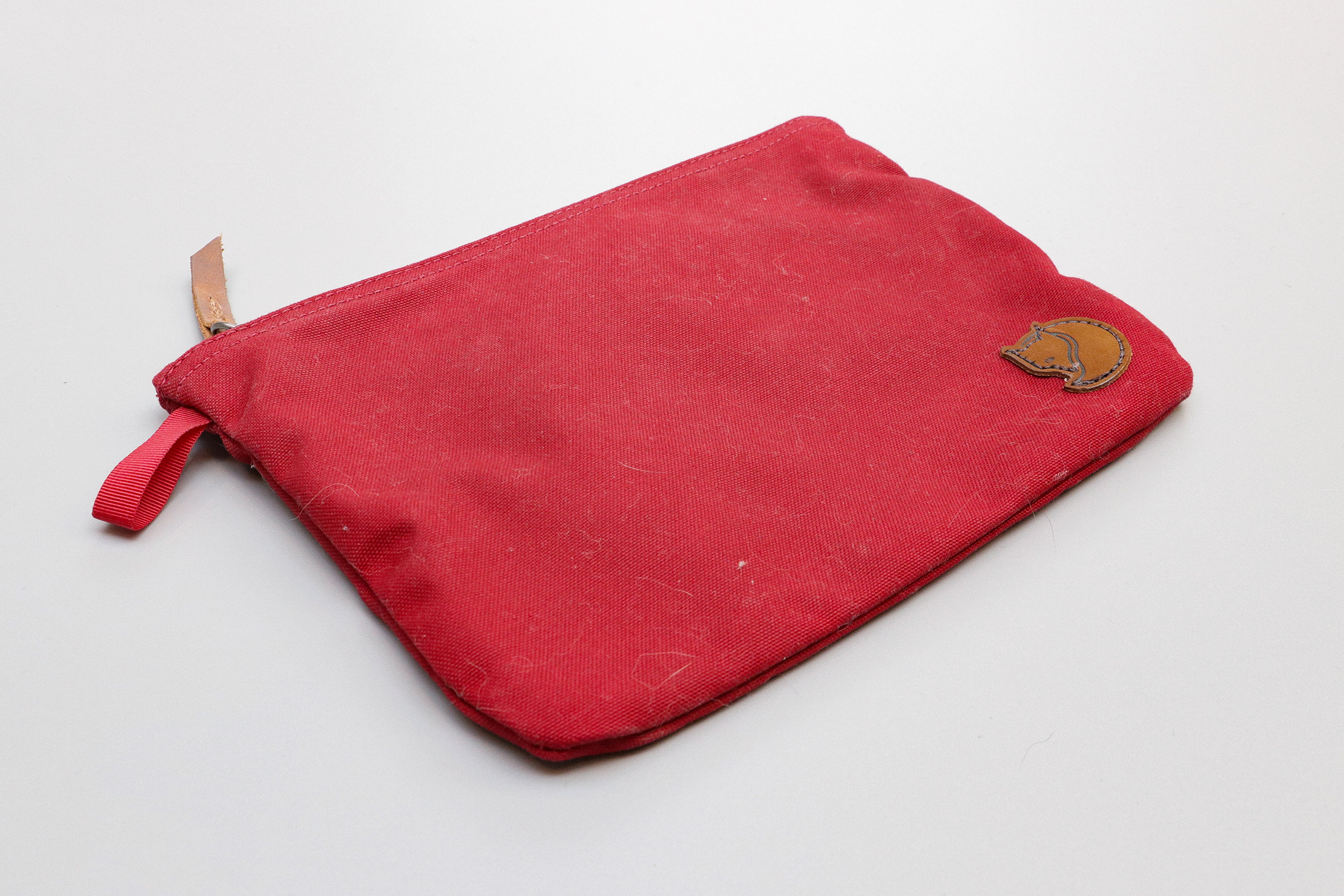 All that said, this fabric collects dust way too easily. It's like a magnet for the stuff. Depending on the colorway you have, it'll show better or worse. The red colorway we've been testing shows dust really well (really bad?), while the gray hides it for the most part. We've found this to be annoying, though not as much as on a bag—like the Greenland Pocket—mainly because it's not exposed to as much dust.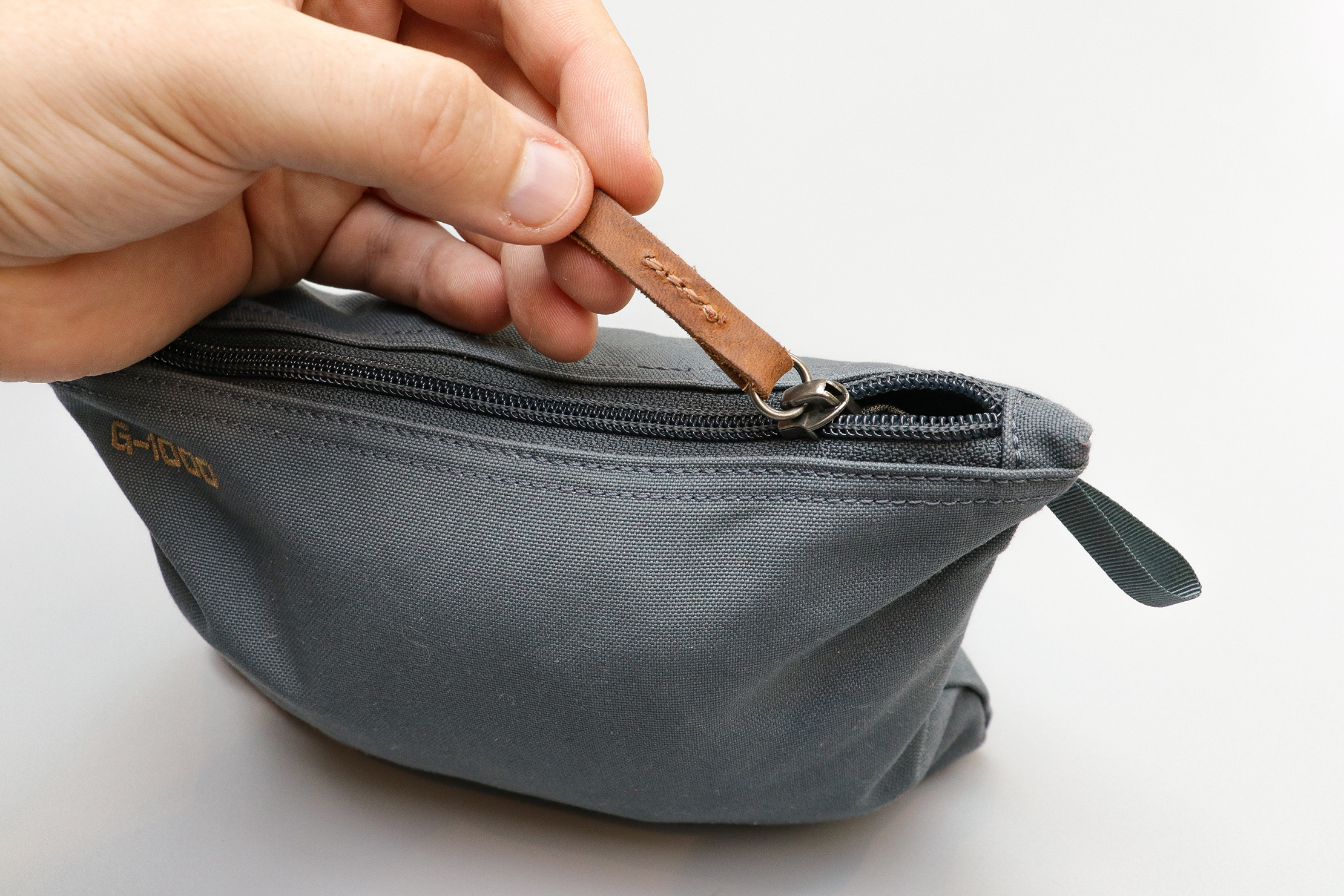 The zipper is from YKK, so no durability concerns there. It's stayed strong and smooth to zip, even when we've filled the pouch to the brim.
Features & Usage
When we first got our hands on this pouch, we were worried it would be too flat and thin to hold much of anything with substance. As it turns out, our concerns were unfounded…to an extent.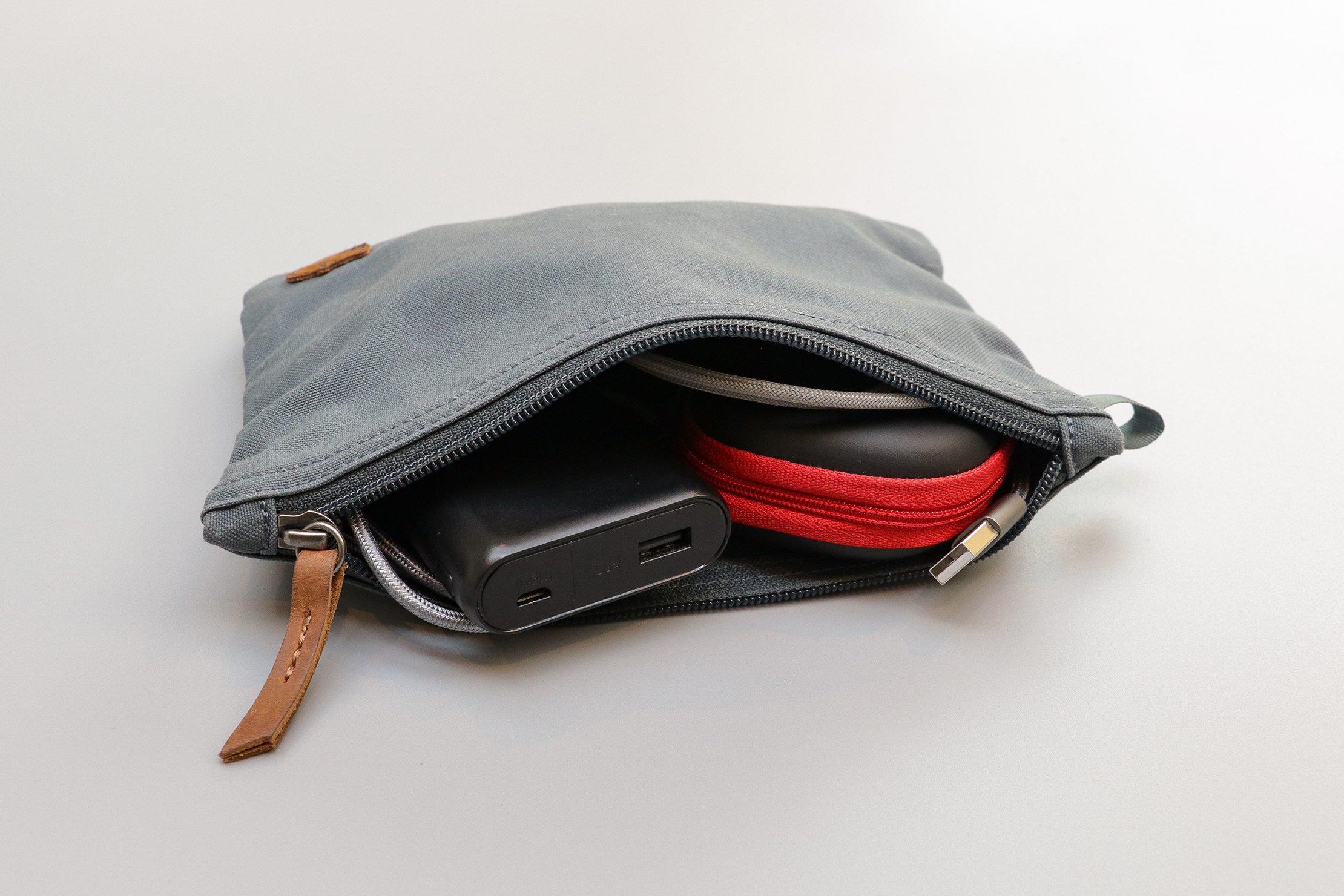 You won't be able to store your antique chess set inside this thing (comfortably, anyway) and tech chargers and adapters are basically its limit in terms of bulkiness. Even then, you can see the outline of said chargers and accessories in the fabric. Not a huge deal, but something to note.
We've found the Fjallraven Gear Pocket works best to organize all the little things you have while traveling. We've tested it on flights with our in-flight essentials—earplugs, eye mask, snacks, headphones—and it's worked great. Take the pouch out of your larger bag, stick it in the pocket of the seat in front of you, and voilà—you're set to make the best out of your flight.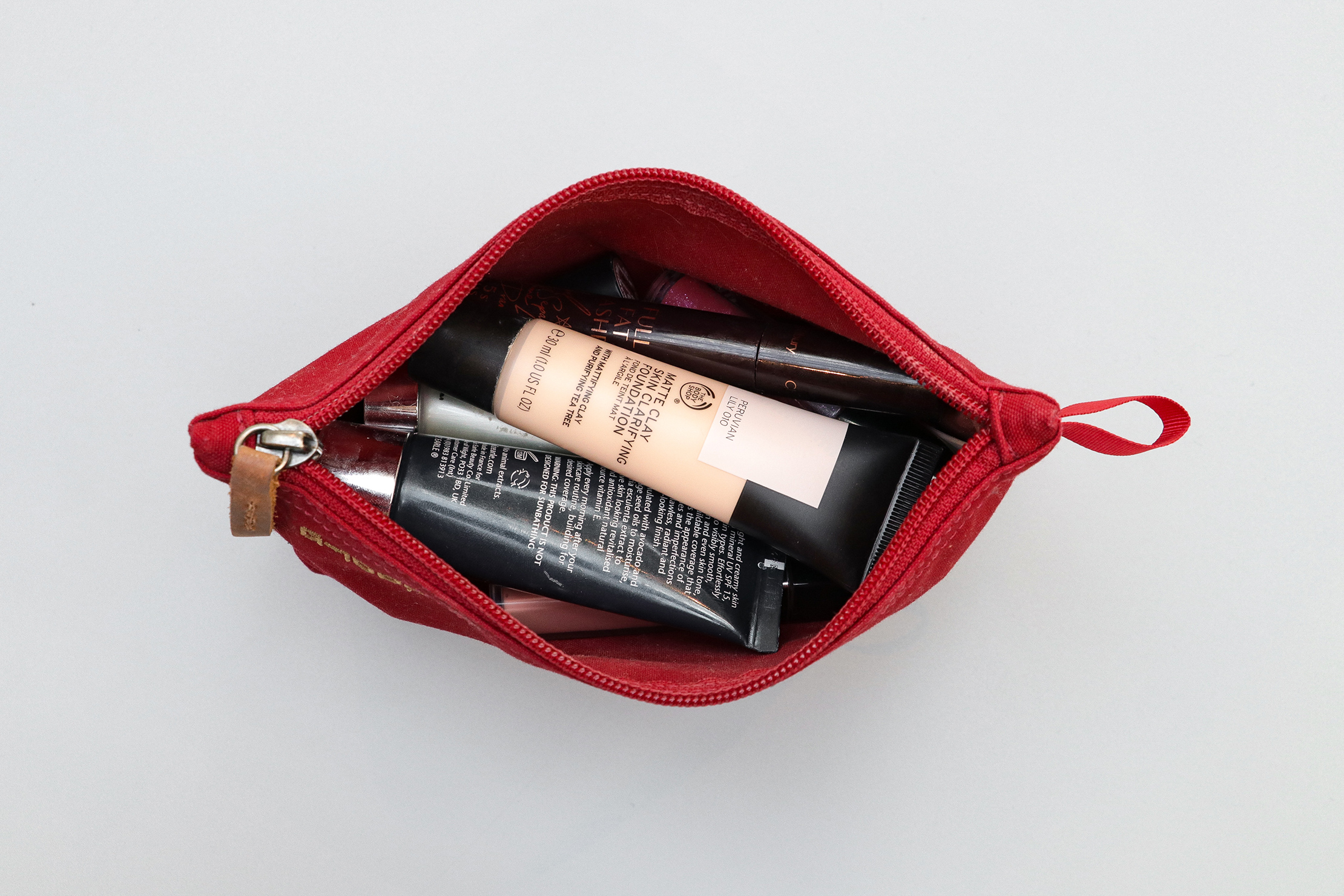 Fjallraven also says you can use this thing as a toiletry bag, so we've tested it with makeup. While it holds everything, the fabric doesn't stand up too well against oily substances. The oil in a makeup brush has rubbed against the interior and bled through, making a visible stain on the exterior. It's since faded, but it's still an important point to note. We can only imagine what it would've looked like if a bottle of something—hair product, shampoo, foundation—had spilled. We'd suggest grabbing a dedicated makeup or toiletry bag instead.
There is no internal organization inside of the Gear Pocket, which we've liked. You can toss your stuff inside, zip it up, and walk away. You don't have to decide what will go in which pocket. Of course, if you're all about the organization, you'll likely be annoyed by this.
We do wish that the interior fabric was a different color from the exterior. While we haven't had any issues finding our stuff, having a brightly colored interior fabric makes your gear pop, allowing you to see it in milliseconds (check out the Topo Designs Accessory Bags to see what we're talking about). Not a dealbreaker, especially with the lighter colorways, but just a note.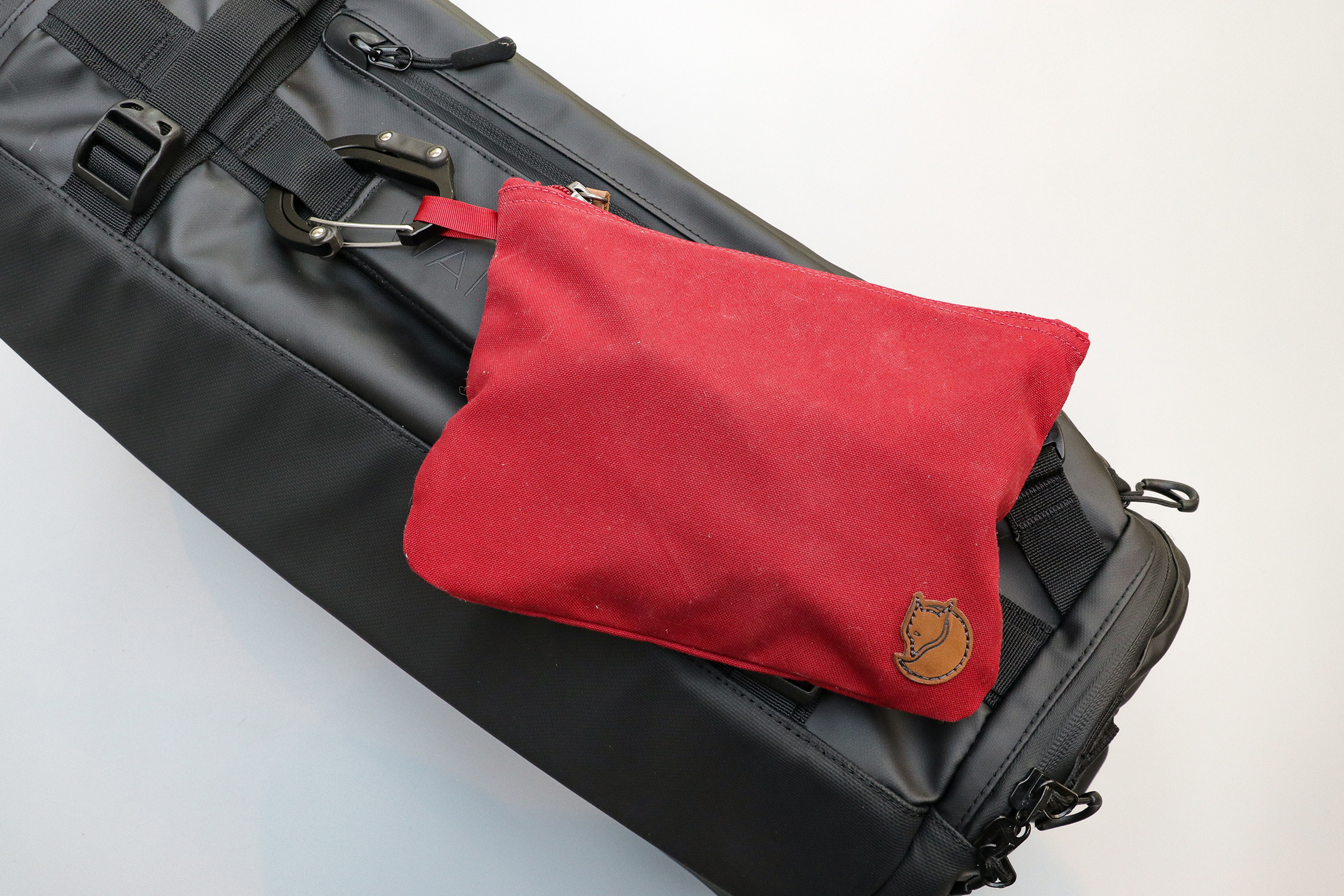 The Gear Pocket also has a small loop on the outside that you can use to attach it to the interior of your larger bag or even the seat in front of you on a flight, which is a nice touch.
Durability & Testing
As we mentioned earlier, we've been testing the Fjallraven Gear Pocket for two weeks now. It's a handy, simple pouch that's helped us stay organized on the road. We love that it's slim—and won't take up much space when not in use—but also that it will still hold a good amount of stuff. Like a miniature version of Mary Poppins's purse.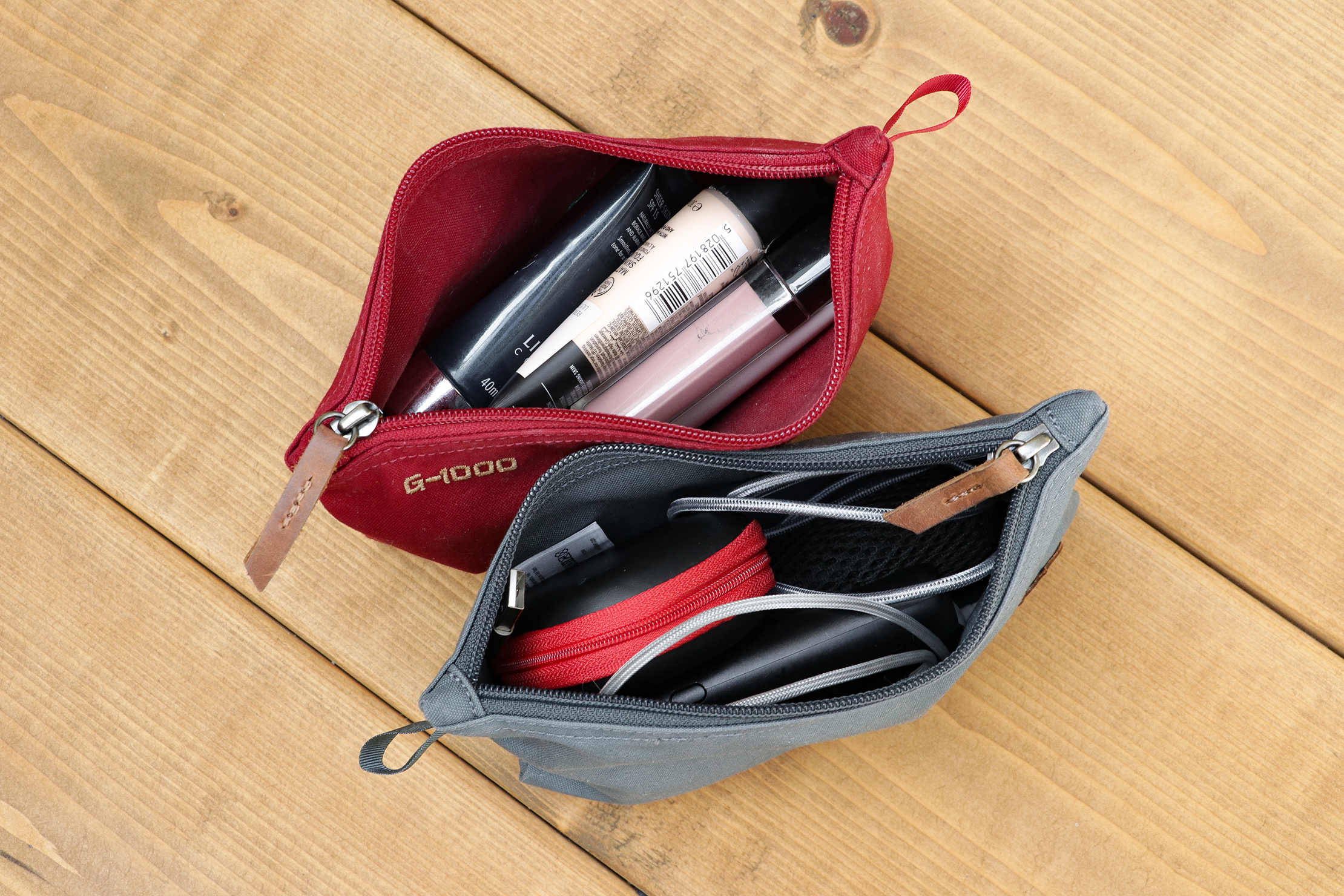 We've already said that the pouch has started to collect dust and that there was a small oil stain on the one we've used for makeup. Everything else is still looking nice. Despite the fact that we've thrown it around, it has no real signs of wear or tear. Knowing Fjallraven, that's unlikely to change anytime soon.
Usage Timeline
Initial Usage
Condition: Excellent
This slim pocket is going to work better with smaller and slimmer items.
Minimal design and it's available in a range of colors.
Durability can be increased with Greenland Wax.
2 Weeks of Use
Condition: Excellent
Craftsmanship is still looking good, but the fabric collects a good amount of dust.
1 Month of Use
Condition: Good
Our makeup brushes stained the interior of one of the pouches, which can be seen on the exterior. Not good!
2 Months of Use
Condition: Good
The oil stain faded, but we won't be using this thing for toiletries any more.
Access the Pro Community Discussion
Get your questions about the Fjallraven Gear Pocket answered from our team and the Pro Community right here on the page. Plus, join discussions with other members about gear, guides, and more.
Other Organizers & Pouches Reviews