Fjallraven Greenland Pocket Review
Due to its size and durability, The Fjallraven Greenland Pocket makes for a perfect personal item—we just wish it didn't collect dust so easily.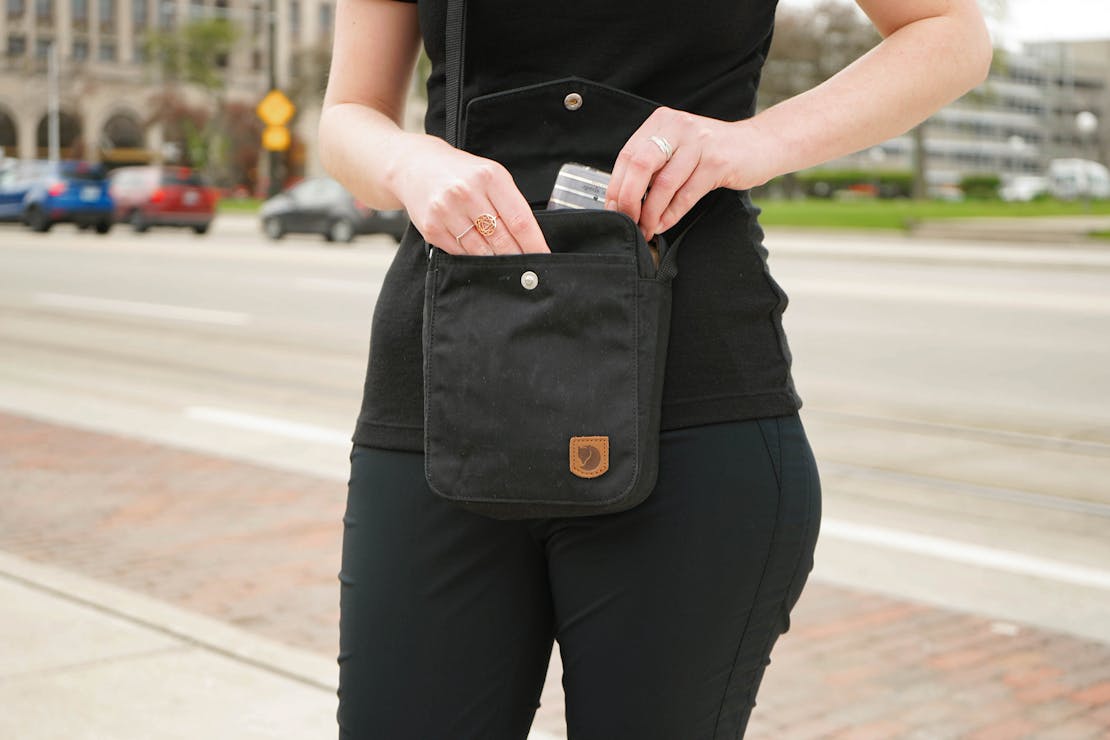 Our Verdict
Unlock the Pro Summary
Save time. Get access to brief summaries of our reviews so you can browse and make decisions more efficiently.
Pros
It's a great size with nice internal organization
Made of durable, weather-resistant materials
Looks sophisticated and sleek
Cons
Picks up dirt and fluff easily
The strap is rough and could damage delicate clothing
Due to the shape of the compartments, you may have to do some digging to find your stuff
Recent Pack Hacker Video
Technical Details
100 %
Carry-on Compliance
Weight (oz)

7.1 oz (201.3 g)

Dimensions

8.6 in x 6.2 in x 2 in (21.8 x 15.7 x 5.1 cm)

Notable Materials

G-1000, YKK Zippers, Recycled Polyester, Organic Cotton

Manufacturing Country

Vietnam

Warranty Information
Full Review
Essentially an external pocket with a strap and a little extra room, the Fjallraven Greenland Pocket is durable, minimal, and just the right size for urban adventures. This crossbody bag—which is just a larger iteration of Fjallraven's classic Pocket—wears nicely across the chest and is even adjustable to your style and use case.

We've been using this bag for daily carry, but it would be the perfect personal item too. So let's dive into the details and see where this sling bag shines (and where it doesn't)!
Materials & Aesthetic
We've opted for the black but, at the time of this review, Fjallraven offers 9 colorways—mostly in subdued earthy tones like Super Grey and Acorn. We think the black looks particularly sophisticated, but with such a minimalist design, they all look pretty sleek—simple enough to go with every outfit and stylish enough to take out to drinks.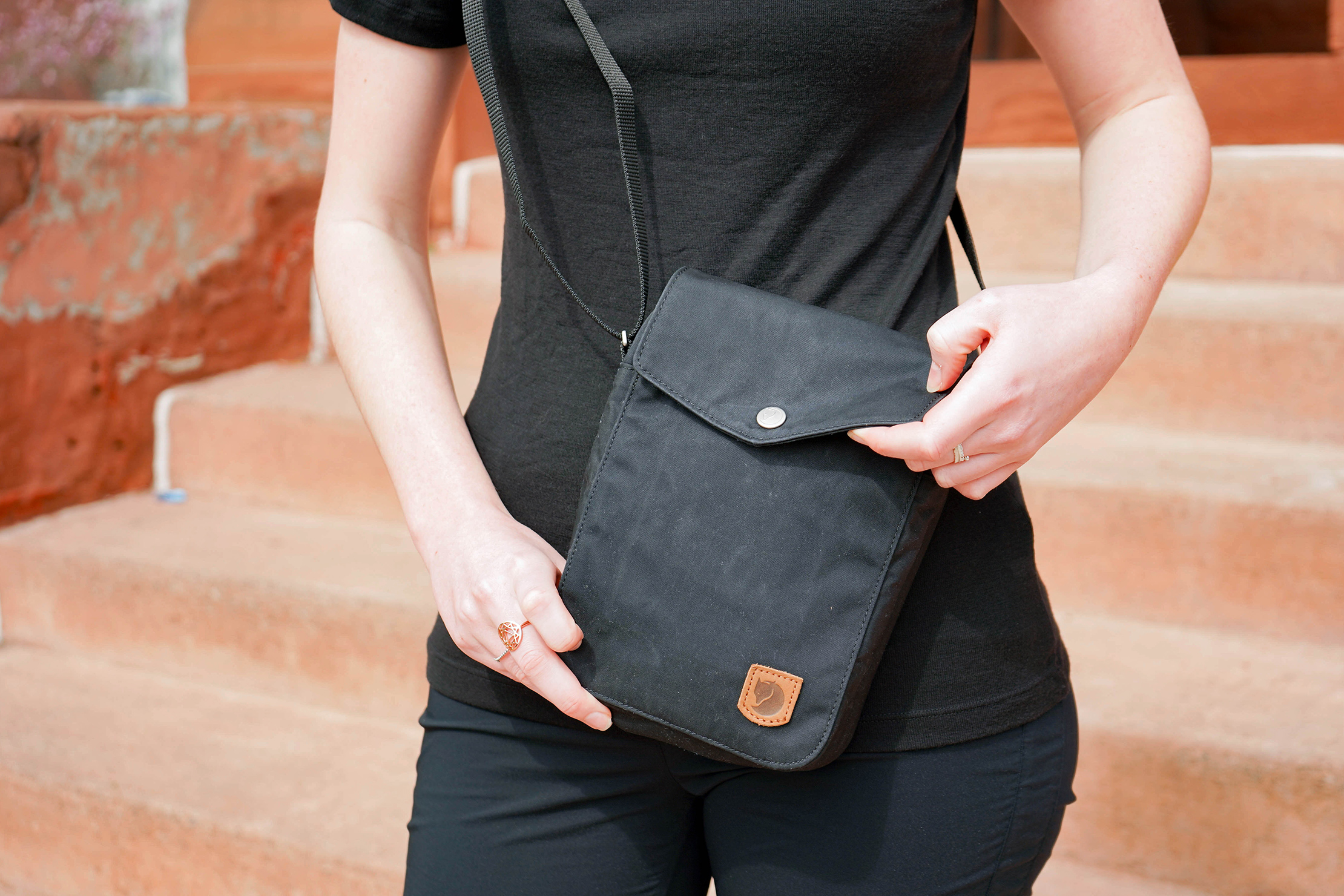 Sticking with that minimalist vibe, the branding here isn't anything too wild. You can definitely see Fjallraven made the bag—with their arctic fox logo stamped on the press button and a tag on the bottom right of the bag—but it doesn't take away from the overall aesthetic. It's important to note that this bottom tag is leather, so if you're not a fan of leather (or animal products in general) you may want to stay away.
The main fabric of the bag is the same G-1000 Heavy Duty Eco S Fjallraven uses on their larger bags, which is a unique canvas blend of 65% recycled polyester and 35% organic cotton (hence the "Eco"). We've discussed this fabric ad nauseam on our review of the Fjallraven Travel Pack, so check that out if you really want to get into the weeds.
But if you simply want the gist, just know that this Heavy Duty G-1000 fabric is tough and weather-resistant. The fabric has already been waxed with the Fjallraven Greenland wax, but for added durability and longevity you can rub more wax into the canvas as you use the bag.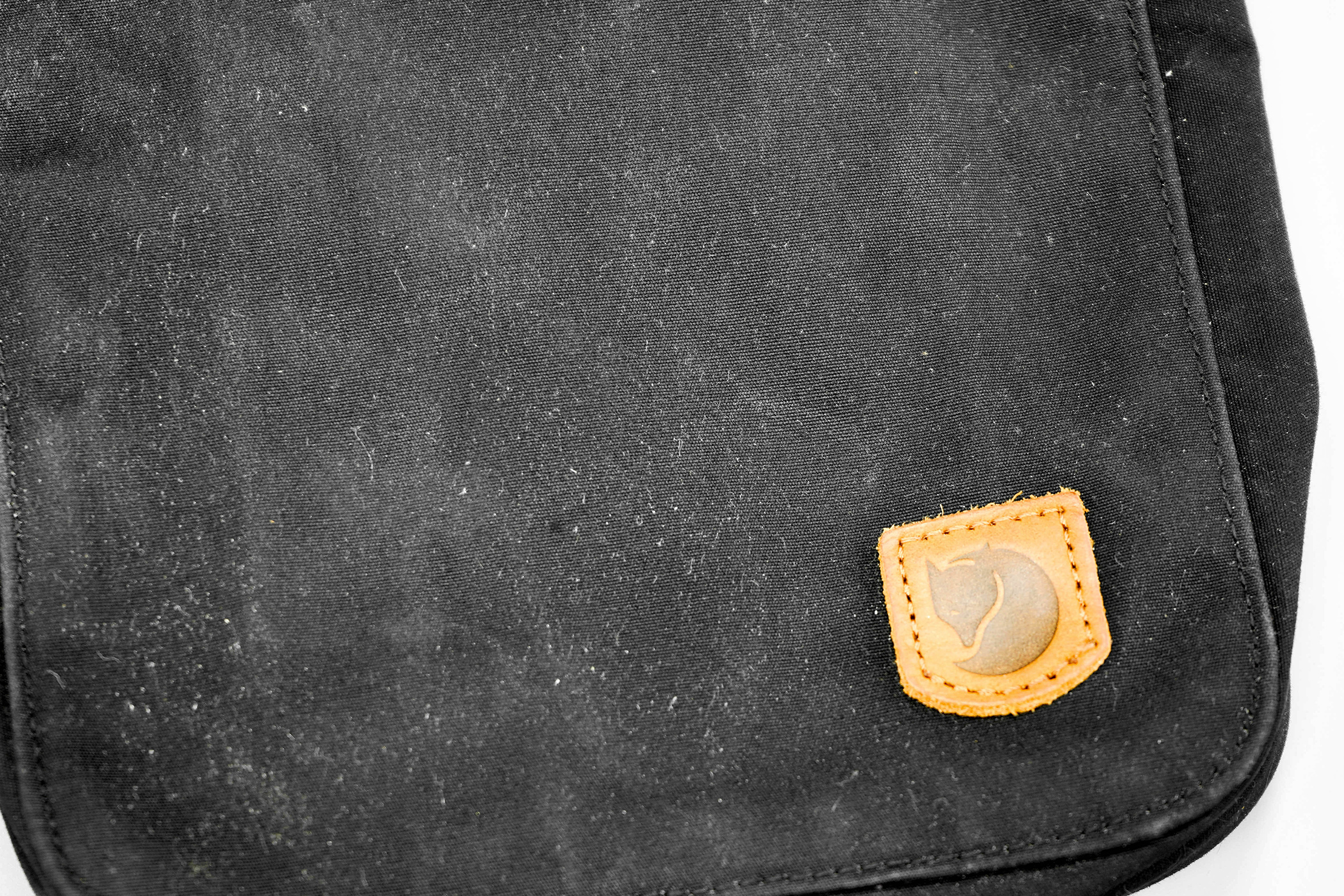 The bag features YKK #5 Reverse Coil zippers, which are not only durable, but the reverse coil—meaning the zipper teeth are internally rather than externally facing—adds extra weather-resistance and a touch of classiness in our eyes.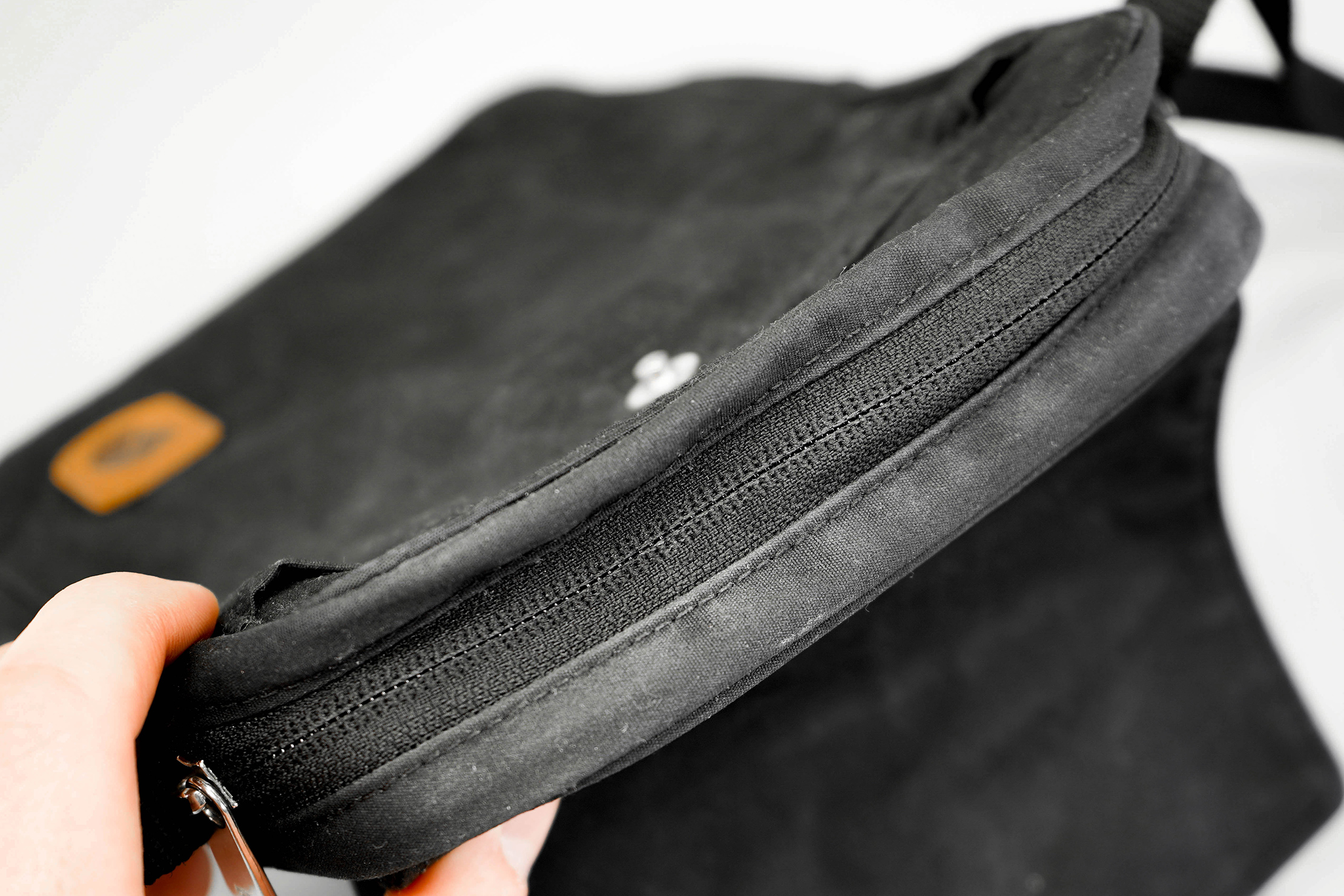 And finally, the press button is from Wasa, a Swedish company known for its high-quality products. In theory, it's not going to fall apart on you.
External Components
Honestly, there's not much going on externally, which we like to think of as a feature (but we're always a fan of minimalist styles).
The bag has a comfortable fit that you can adjust to your liking. It's super simple to tighten or loosen the crossbody strap—you can wear it close to your chest or let it hang, depending on your style and mood. We've found in more crowded areas, like markets or airports, keeping it nice and close adds an extra feeling of security.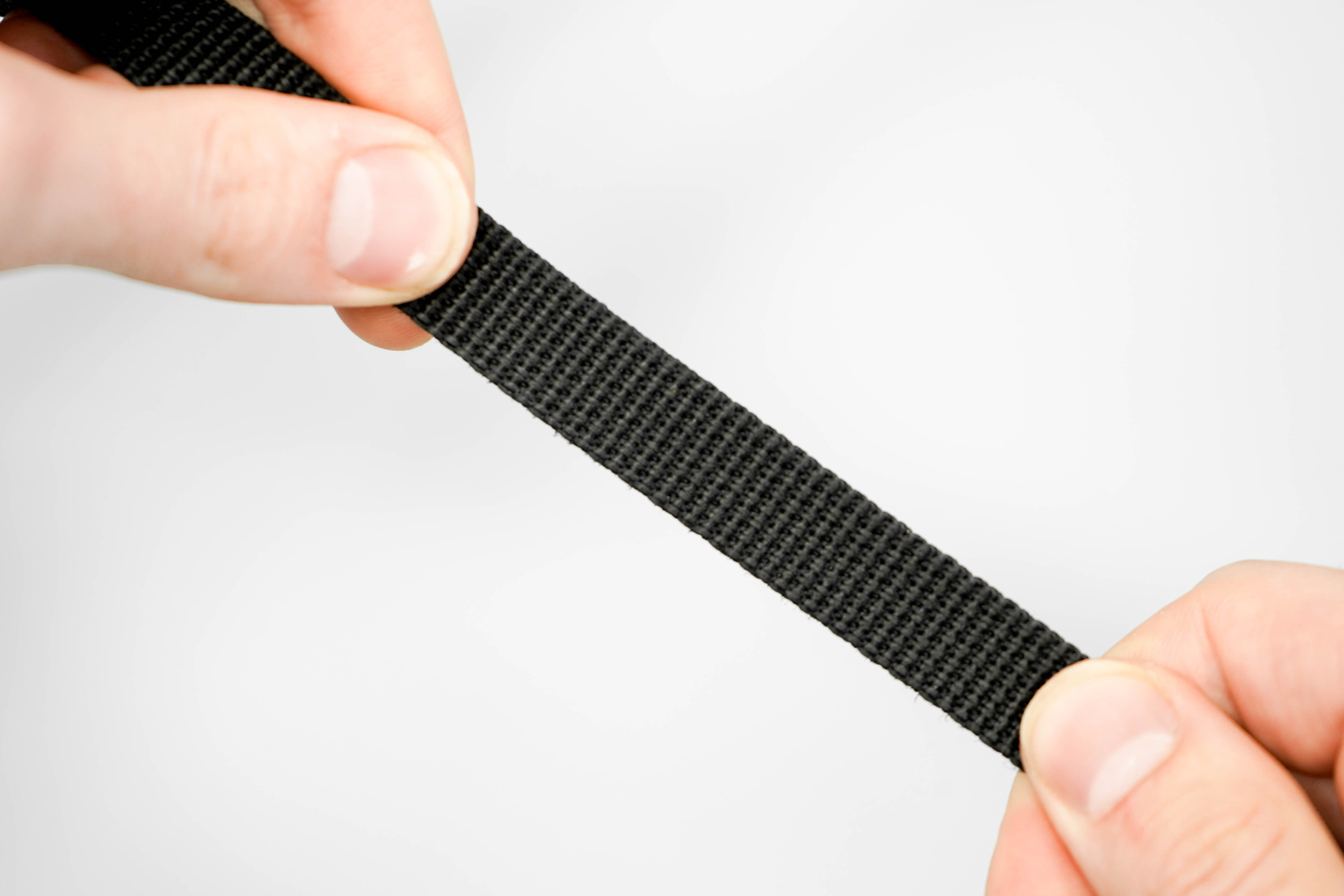 While the strap is easy to adjust and feels durable, it is on the rougher side. We wouldn't suggest wearing the bag with delicate fabrics as the friction between the strap and fabric could do some damage to your clothing.
And that brings us to the press button. It snaps open and closed easily, yet is secure enough to keep your stuff inside protected. A win-win. We've been loving this feature.
Inside the Pack
Moving to the inside, there's a surprising amount of internal organization in this thing for such a little bag.
Let's start with the front pocket. Inside, there's a small quick-grab pocket for additional organization. This is a great spot for your phone, some cash, or other items that you'll want to access quickly—we've been stashing our ROAV travel sunglasses here. The larger pocket works well for keys or some snacks (f you're anything like us, this is crucial). There is no zipper here, but it's deep enough that the button secures it nicely. We've never had to worry about our items falling out.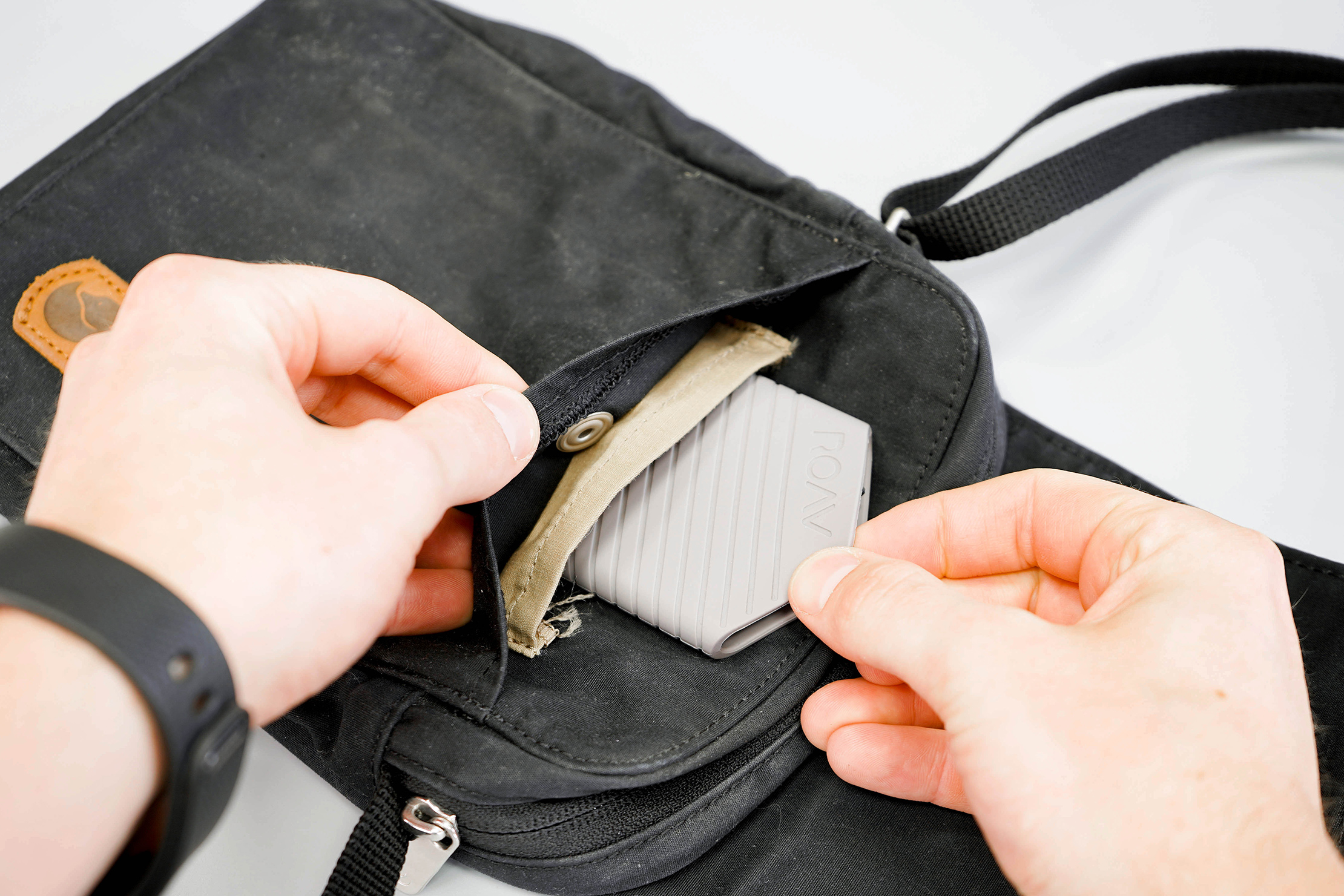 Moving on to the back pocket. While it's not exactly hidden, it's not super obvious either. It's ideal for flatter items like your passport or other travel documents. It's also the most secure part of the pack because it's zippered and sits directly against your body—which we are happy to see on a bag built with travel in mind.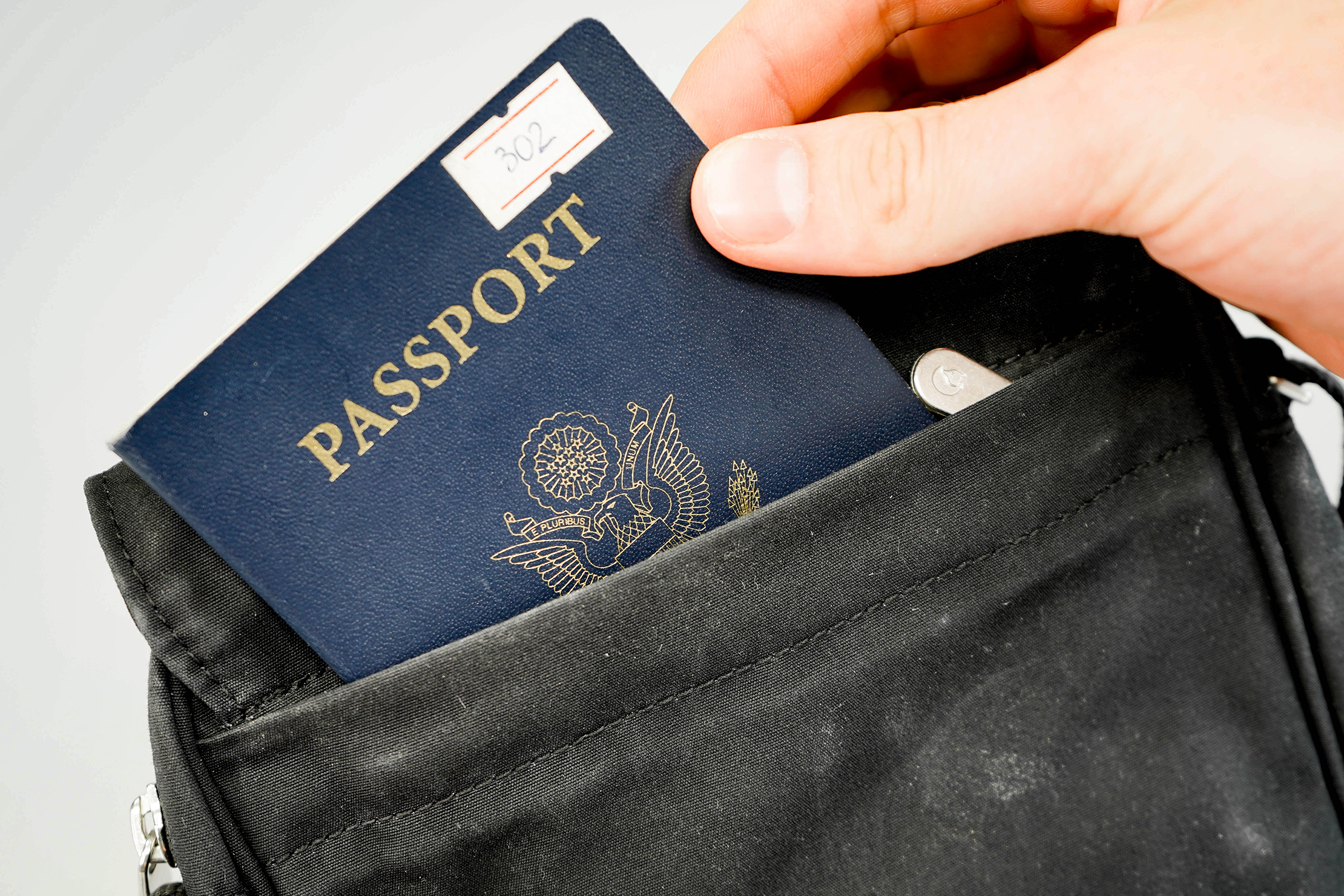 And finally, we've got the main compartment, which opens with a zipper across the top. Inside, you'll find an additional pocket sewn into the back, which is thinner but just as deep as the main one. You can toss change, some headphones, even your phone or wallet here.
The main compartment is a roomy spot to keep your bigger items. It's even large enough to hold jackets like the Arc'teryx Zeta SL Jacket. And while tossing a jacket in there obviously adds a bit of bulk, it still doesn't look bulky, which we think is a great touch. You can also easily fit a small notebook, e-reader or, if you're old-fashioned, an actual book here.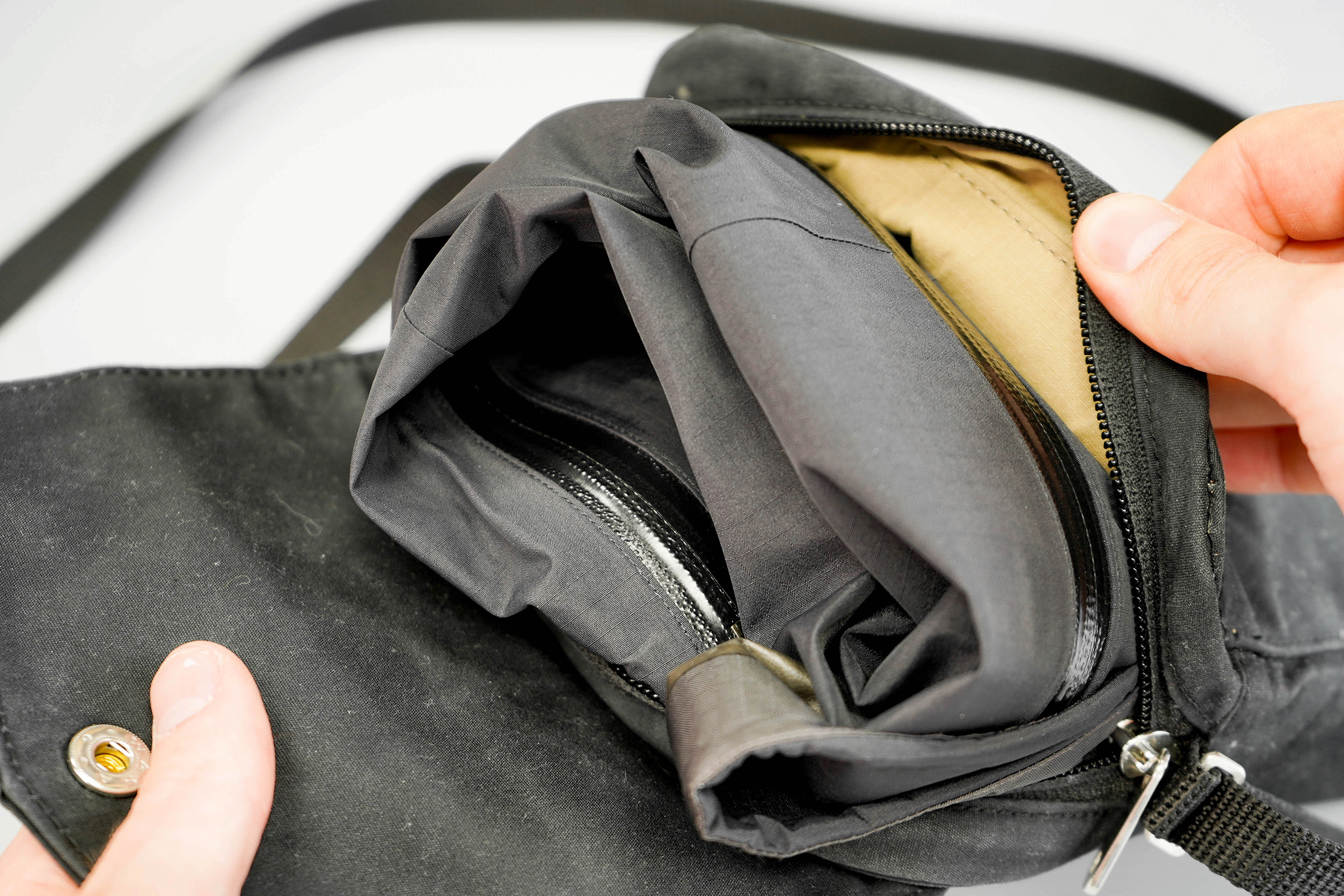 As an added bonus, the interior fabric is a bright-ish beige color (except in the front pocket). While the color isn't as bright as some of the high-visibility interiors we've seen in other bags—neon isn't exactly Fjallraven's style—it's still light enough that you'll be able to spot your stuff pretty quickly.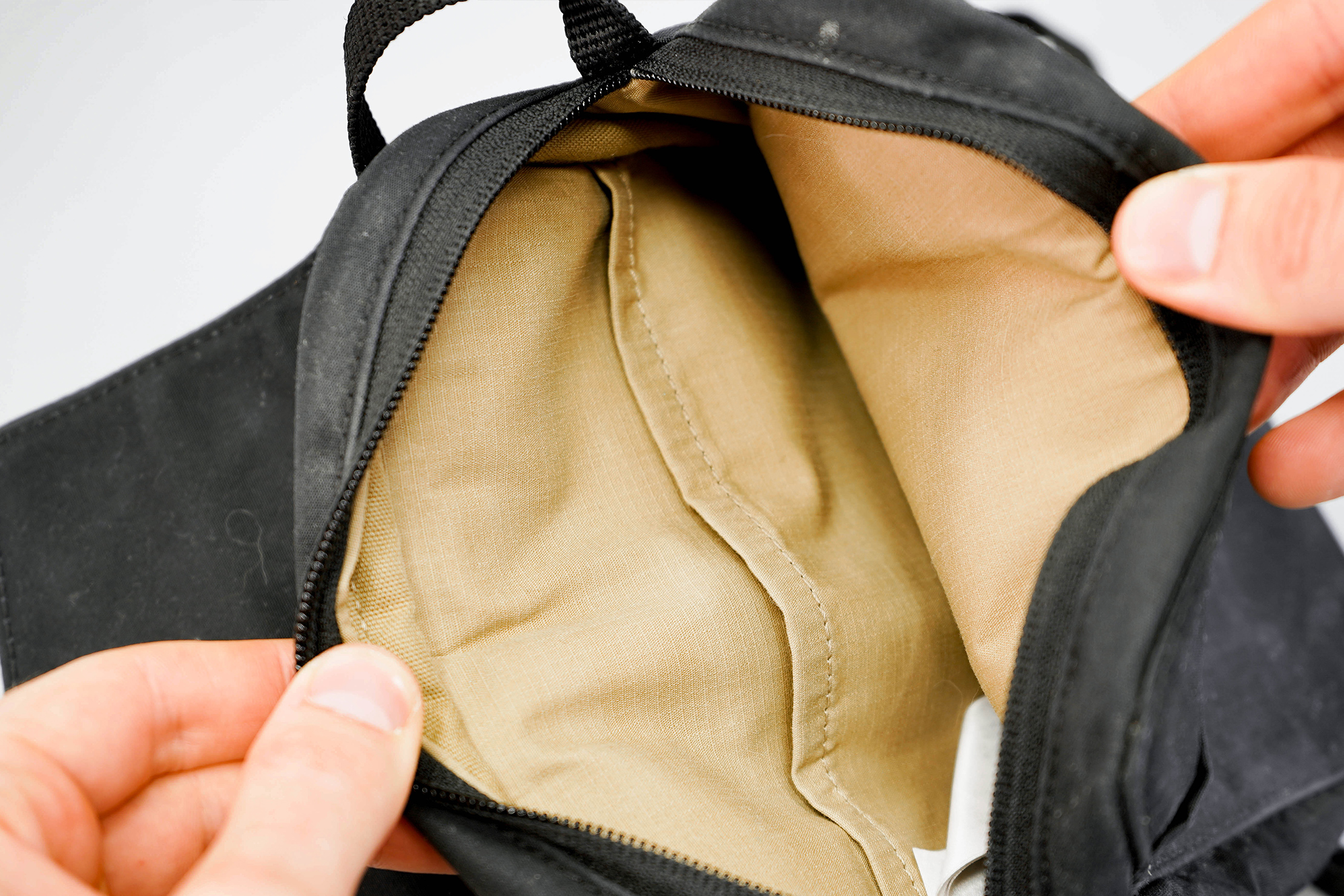 No promises, however, that you won't have to go digging through your bag in search of those keys you-just-know-are-in-there-somewhere. The openings are pretty narrow and the pockets themselves are deep, meaning it can be hard to find things at the bottom of the bag. We don't think this is a dealbreaker by any means, but it is something to note, especially when compared to another bag we'd recommend as a personal item—the Eagle Creek Wayfinder Waist Pack, which has pockets that allow you to easily see what you have in them.
Durability & Testing
We've been testing the Fjallraven Greenland Pocket for about a month now for daily carry, but, like we said, it's also the perfect personal item for flying.
You can fit all your flight essentials inside and keep them organized for a peaceful state of mind, yet it's not oversized or bulky. It's seriously such a great size. Plus, it's flat enough to stick into a larger pack and forget about whenever you don't want or need to carry it on its own.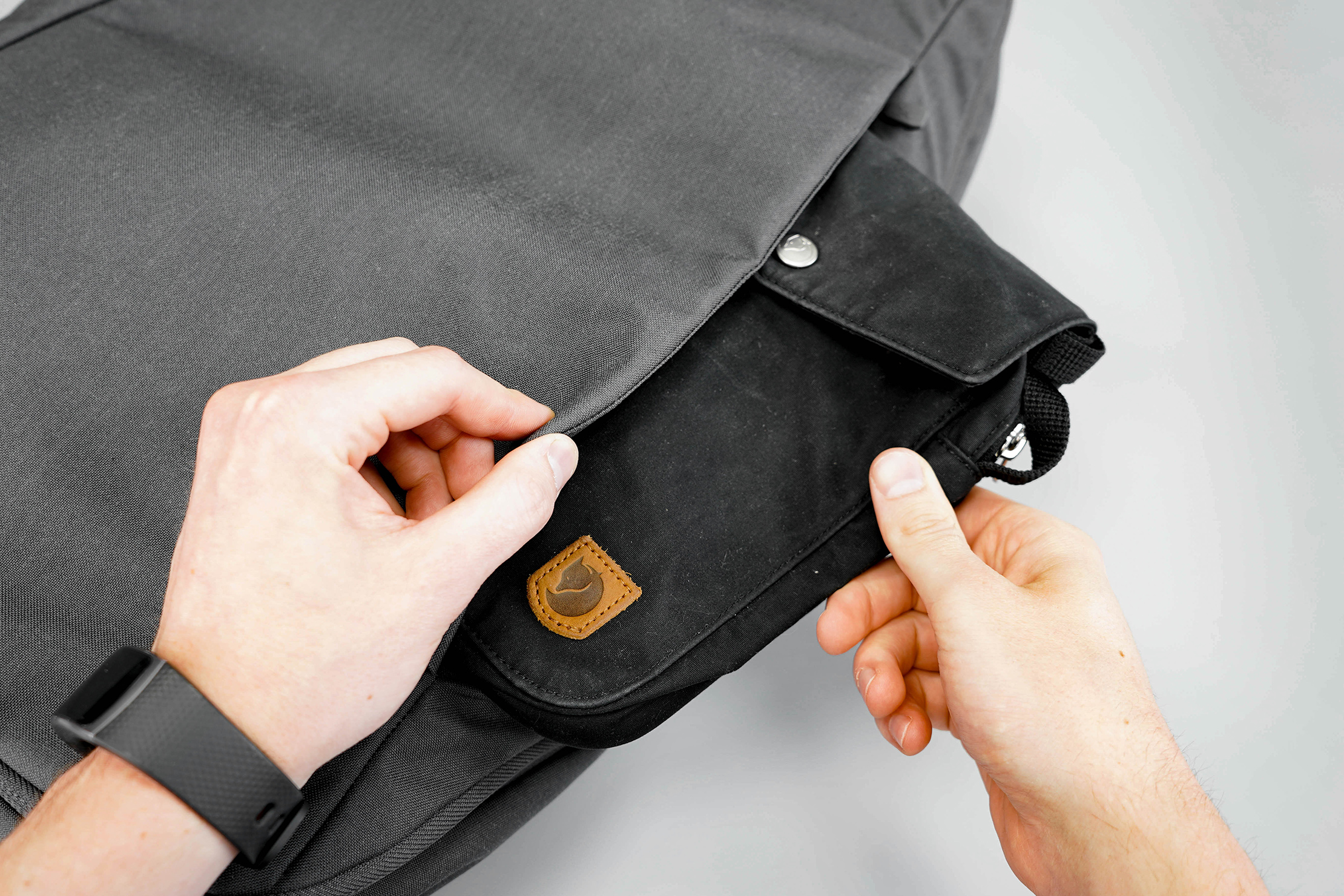 Additionally, once you're at your destination, it's a nice bag to take on daily excursions, with enough space for the essentials and a light or compressible jacket. And, again, with an easy-to-adjust strap you can keep the bag close to your chest for added security. Better yet, it's sophisticated enough to go from day-to-night (coffee shop to five-star-restaurant, if you will).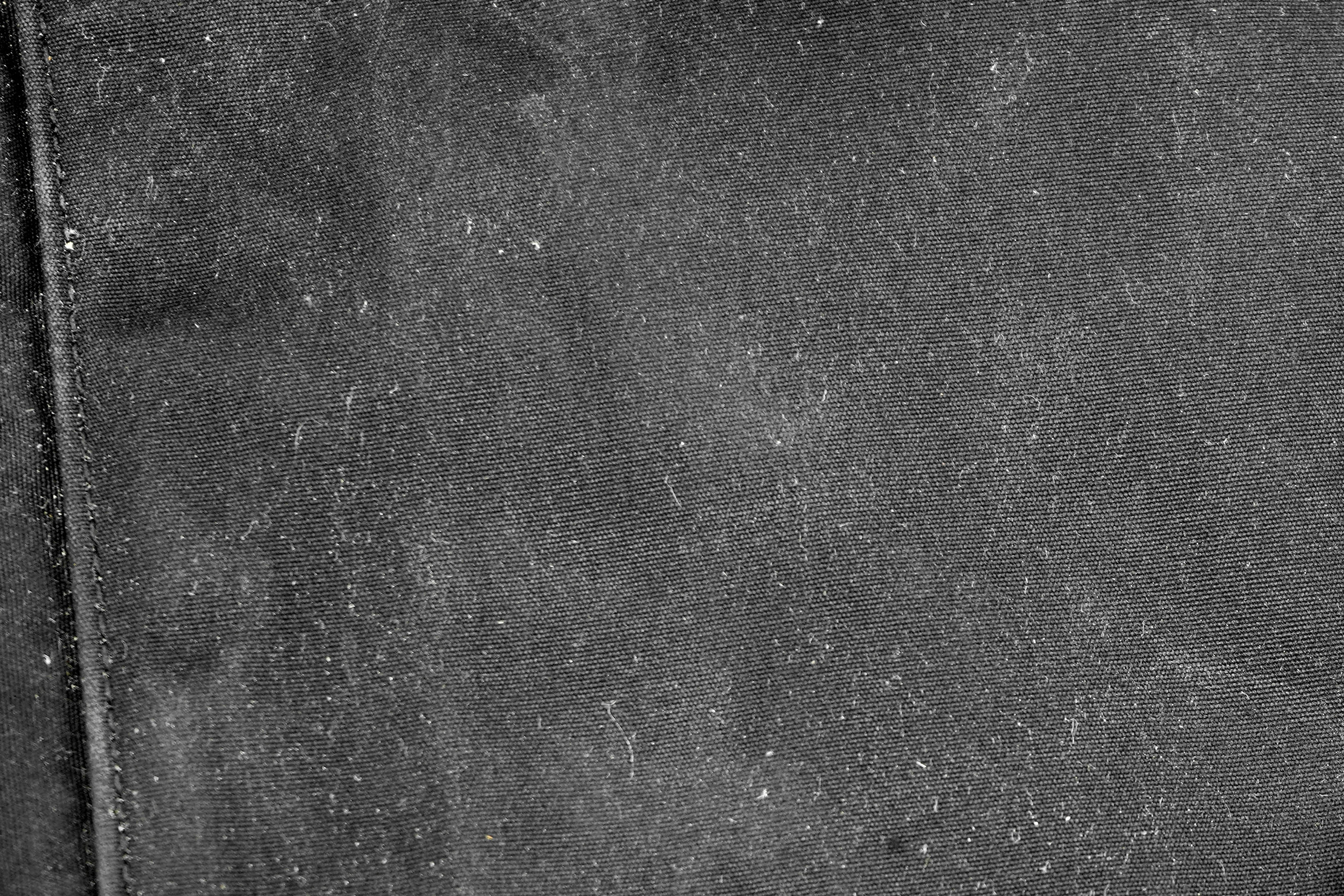 Our biggest gripe is how readily the exterior fabric picks up dirt and fluff. We've noticed this with the other Fjallraven bags, but the black color specifically shows them really well. And the dirt doesn't rub off easily either—we've found you have to take a wet cloth to it, which is not ideal for travel. We're curious how the other, lighter colors fare as dust and fluff likely won't show as well.
But that's only an aesthetic blemish. We haven't noticed any more substantial issues durability-wise. And, overall, we're really digging this bag!
Usage Timeline
Initial Usage
Condition: Excellent
Sleek and minimal design.
Adjustable strap so that you can choose a fit that works for you.
Lots of internal organization and different zippered compartments.
2 Weeks of Use
Condition: Excellent
It's been picking up dirt and lint really easily, but no major issues durability wise.
1 Month of Use
Condition: Excellent
Access the Pro Community Discussion
Get your questions about the Fjallraven Greenland Pocket answered from our team and the Pro Community right here on the page. Plus, join discussions with other members about gear, guides, and more.
Other Bags & Luggage Reviews