Eagle Creek Wayfinder Waist Pack Review
The Eagle Creek Wayfinder Waist Pack isn't your dad's fanny pack. It's comfortable and has some great organization, but it's not ideal for nice occasions.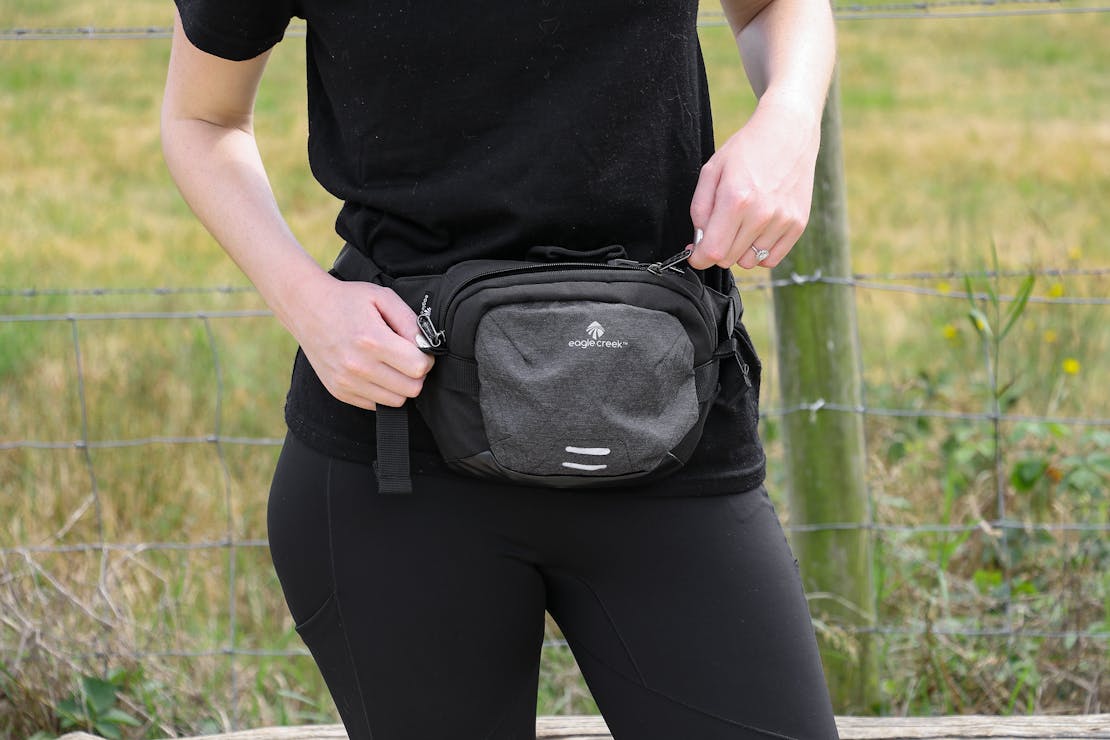 Our Verdict
Unlock the Pro Summary
Save time. Get access to brief summaries of our reviews so you can browse and make decisions more efficiently.
Pros
Extremely comfortable
Made of high-quality, durable materials
Great internal organization
Cons
Can be difficult to see inside the interior mesh pocket
The key leash doesn't seem very durable
Isn't ideal for fancier outings
Recent Pack Hacker Video
Technical Details
100 %
Carry-on Compliance
Capacity

3l

Weight (oz)

7 oz (198.4 g)

Denier

500D

Notable Materials

Ripstop, Polyester, Duraflex Hardware

Manufacturing Country

China

Warranty Information
Full Review
Get up to 20% off Eagle Creek • Join Pack Hacker Pro
"Even if your dad is the absolute coolest," a representative from Eagle Creek says in a promotional video for the company's Wayfinder Waist Pack, "these are not your dad's fanny packs."
And we'd have to agree (even though Pack Hacker team members have the coolest dads).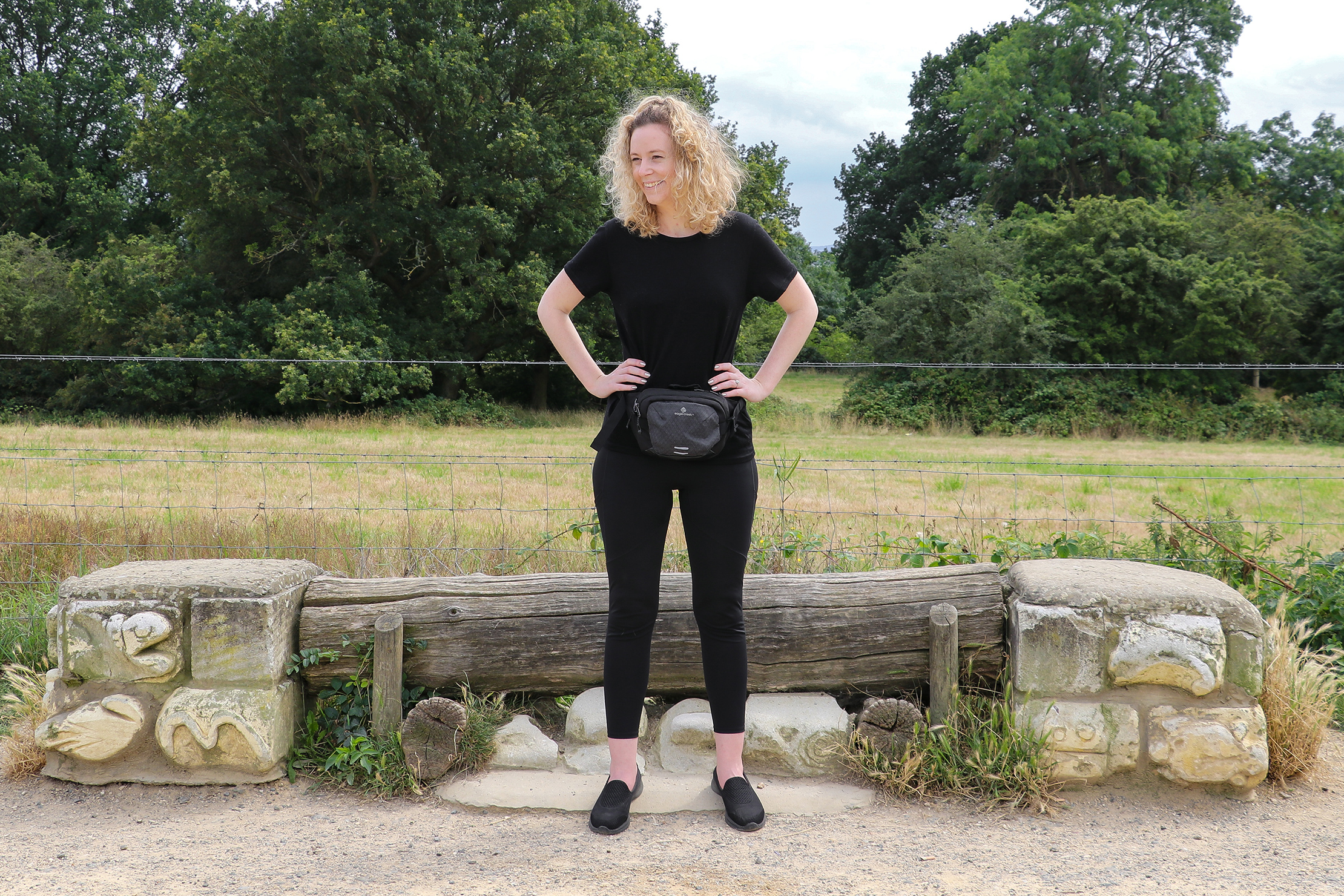 We've been testing the Eagle Creek Wayfinder Waist Pack in the small size for about a month in Detroit, Michigan and Essex, England. This pack has seen bustling markets, crowded airports at ungodly hours, and the mundane moments of everyday life.
So, what makes the Wayfinder Waist Pack better than the fanny packs of yesteryear? Read on to find out!
Our Experience
We've been testing the waist pack in the chic black colorway—not much of a surprise to those of you that follow us—but it's available in seven colorways and patterns at the time of this review, including a California-themed print that is covered in bears and trees, with bright orange accents. While we're going to stick with something less in-your-face, it's nice to know that the bear-lovers of the world can find a waist pack that suits their style (and their soul).
Waist packs usually have a more casual vibe about them (unless you go for brands like Gucci), and the Wayfinder Waist Pack is no exception. So we've felt uncomfortable wearing it anywhere even remotely formal (like a nice restaurant). This hasn't been a massive deal for us, but if your travels require a good amount of wining-and-dining you may want to opt for a more sophisticated bag like the Fjallraven Greenland Pocket.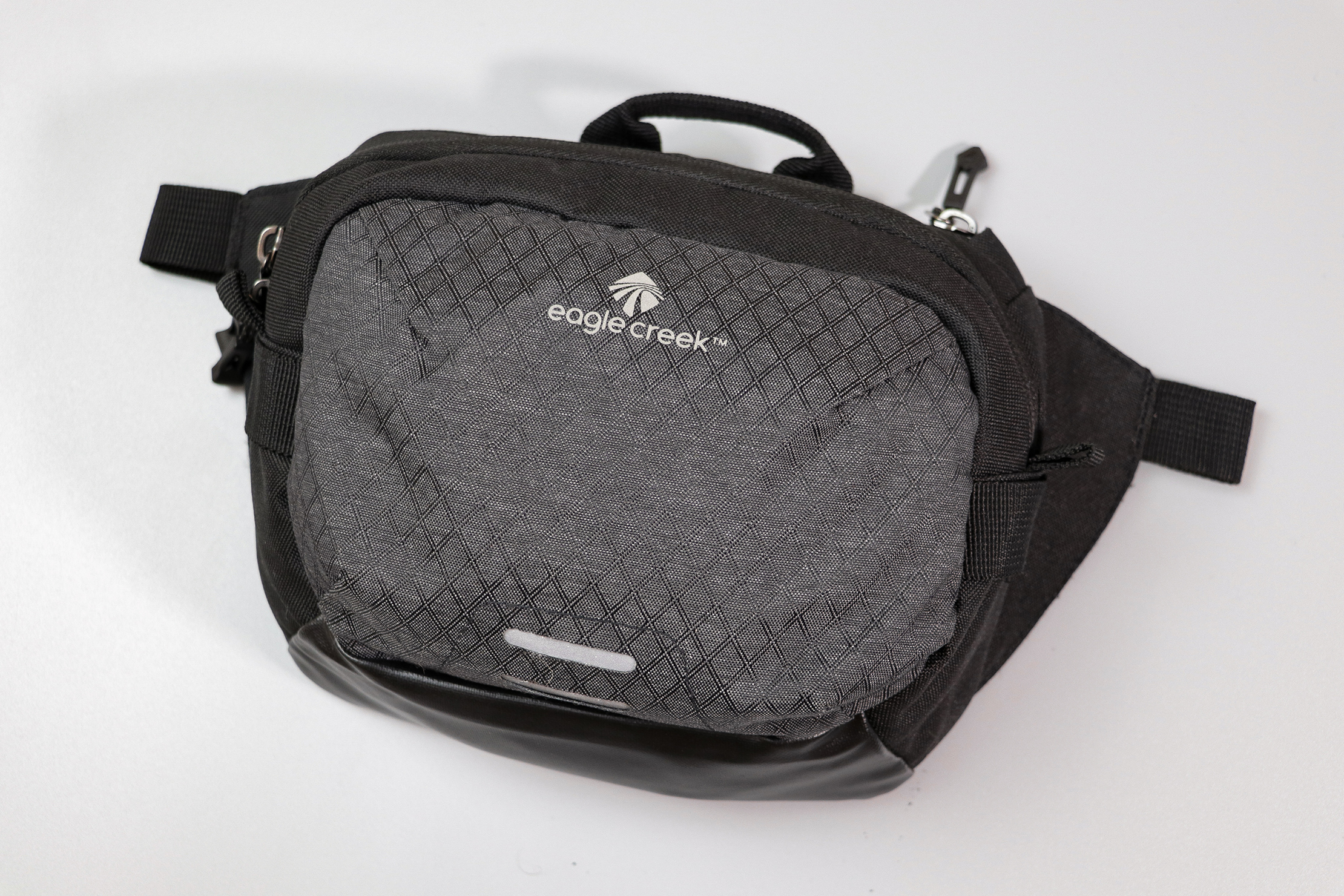 As far as branding goes, the Eagle Creek logo is stamped front and center on this thing. There will be no mistaking where you've picked it up, but we don't think the logo is too flashy, and it certainly doesn't detract from the overall minimalist aesthetic.
This pack is also available in two sizes: small and medium. If your adventures require a lot of stuff, you may prefer the medium size, but we've been loving the small. It holds all of the essentials—wallet, keys, phone—and then some. Plus, the organization is designed in such a way that everything has a spot.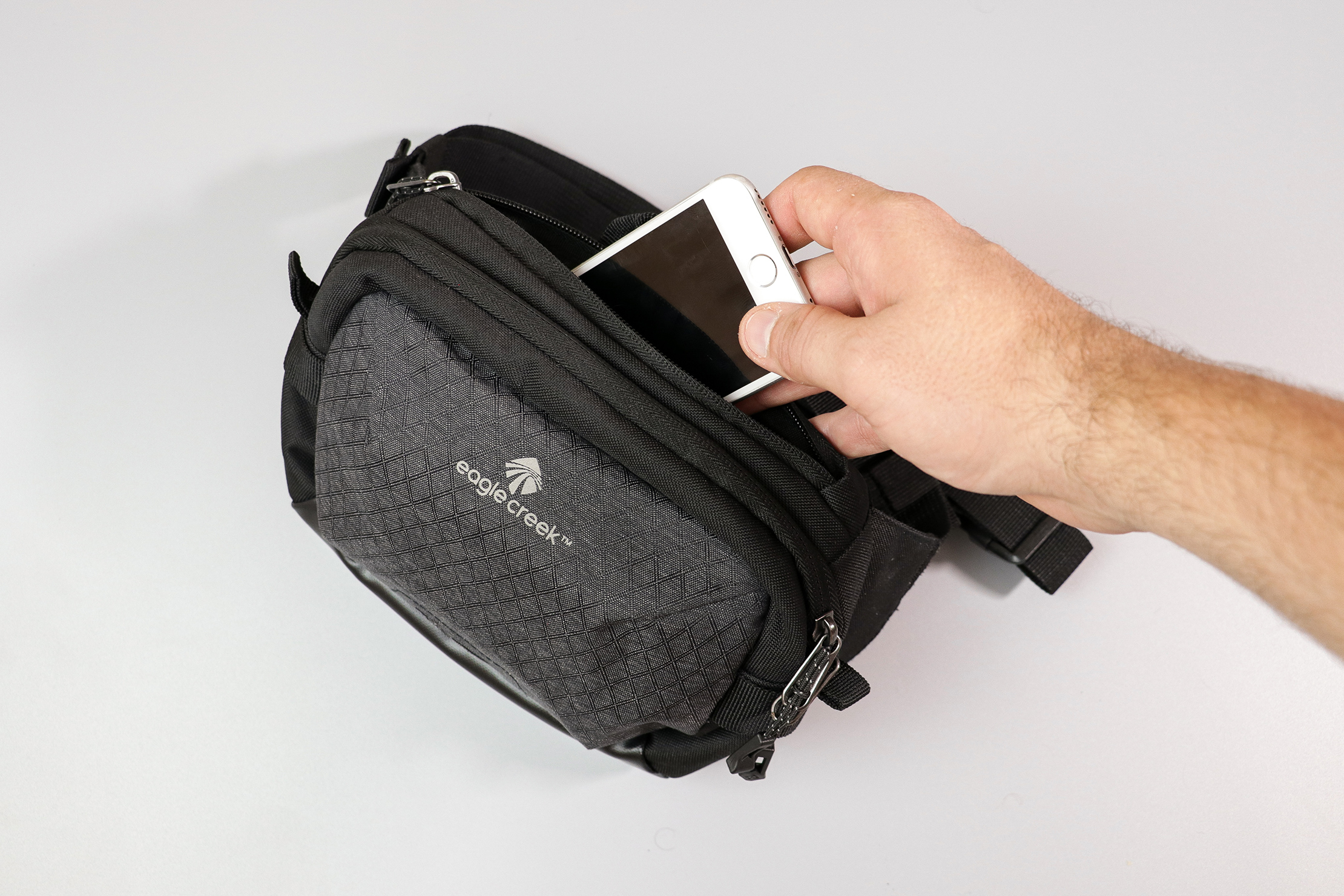 The back pocket is fleece-lined, making it the perfect spot for fragile electronics. We've been using it for our phone, which allows you to grab it in a matter of seconds. But anything bulky here will cut into the space of the main compartment. Your best bet is to stick with flat items.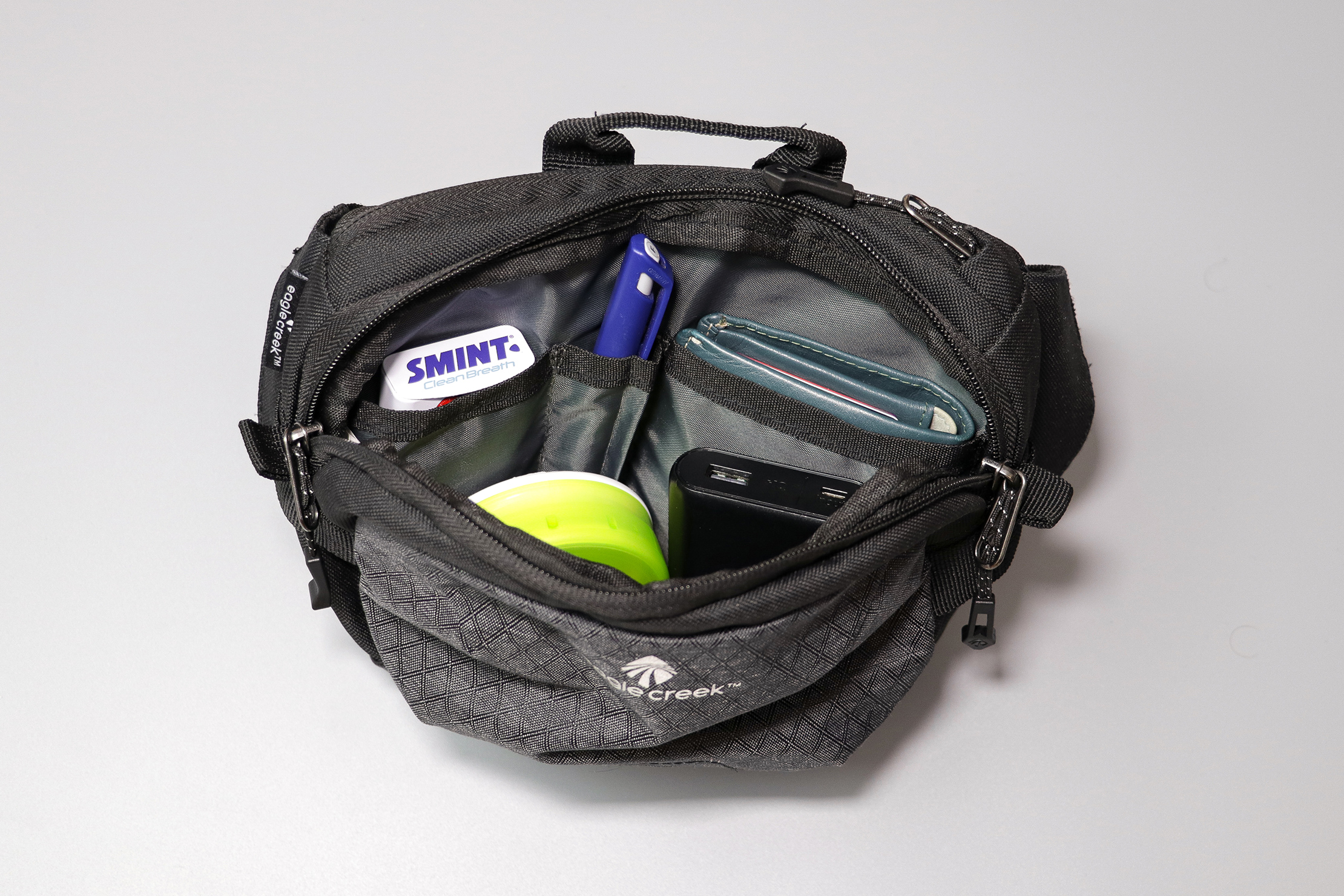 Now, the main compartment has a lot of organization going on—there are two slip pockets, a zippered mesh pocket, and a pen sleeve (you know your dad's fanny pack didn't have a pen sleeve). We've utilized all three of these pockets and found they make accessing your stuff super quick since you know where everything is located.
We've been keeping our headphones on the left-hand side of the pack, and our wallet on the right side (the Bellroy Card Pocket, to be specific).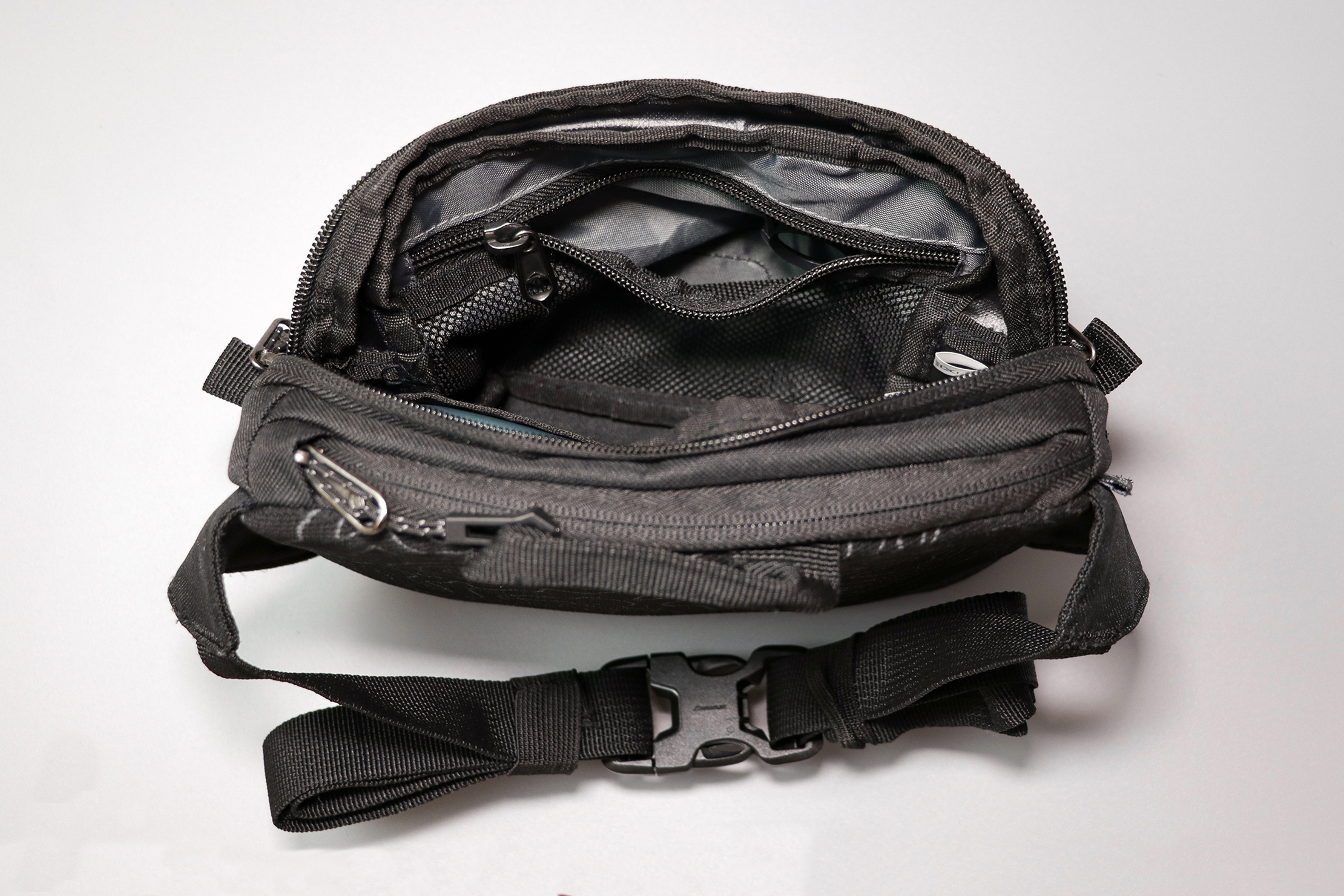 We can't say we've utilized the mesh pocket very much. While you would think the mesh would make it easy to see inside, the lip of the waist pack folds over it in such a way that it's actually quite difficult to see what you've got in there. Part of the problem is how dark the pocket gets—we think a bright fabric on the interior liner would help our stuff "pop." This is a simple technique we've seen on many bags, and it works well.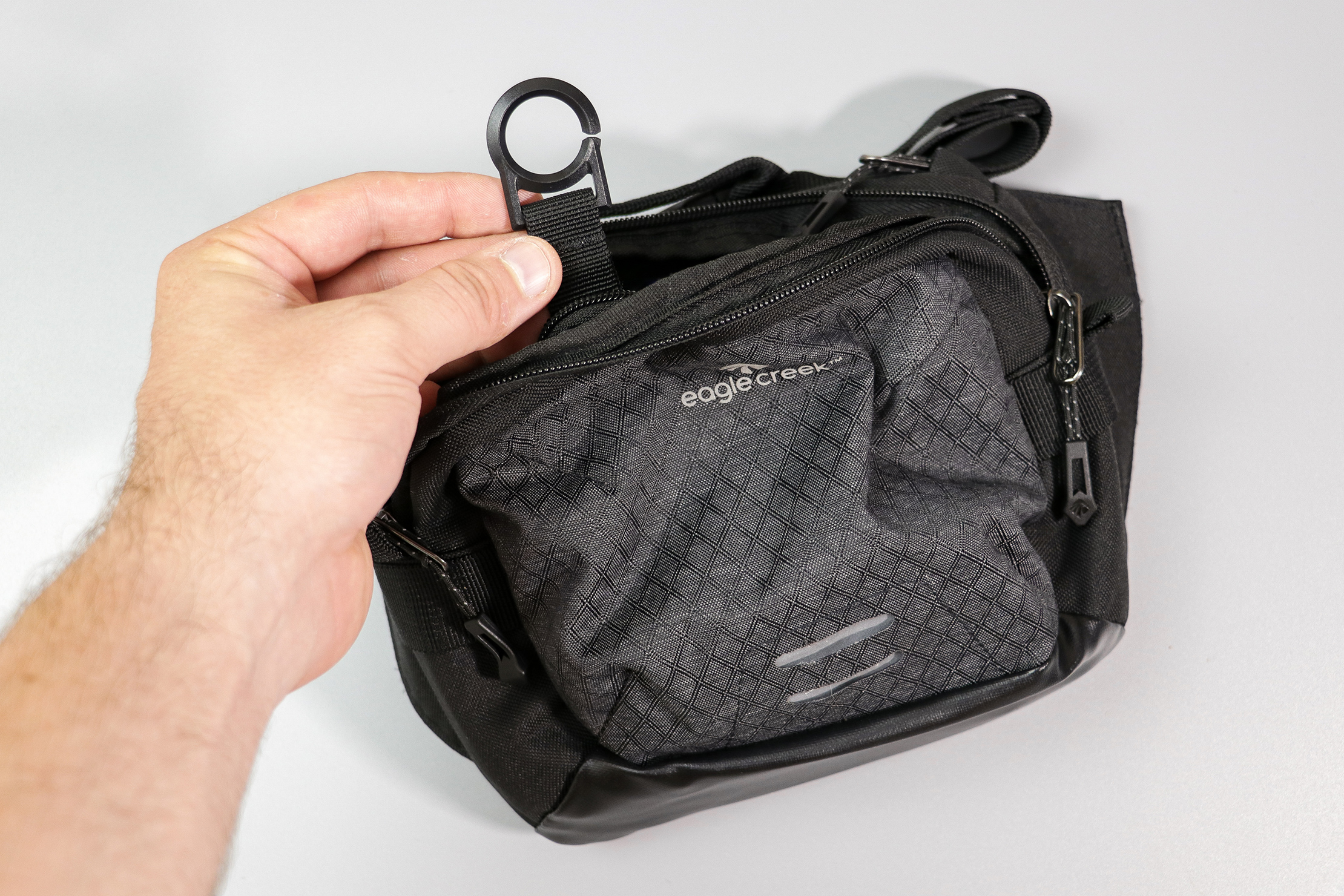 Inside the mesh pocket, you'll find a small, plastic key leash. We've been using it as intended—for our keys—and while it's held up fine so far, we are worried about its longevity. The plastic clip feels like it could snap with only the slightest bit of pressure. Suffice to say, we've been extra careful when clipping and unclipping our keys.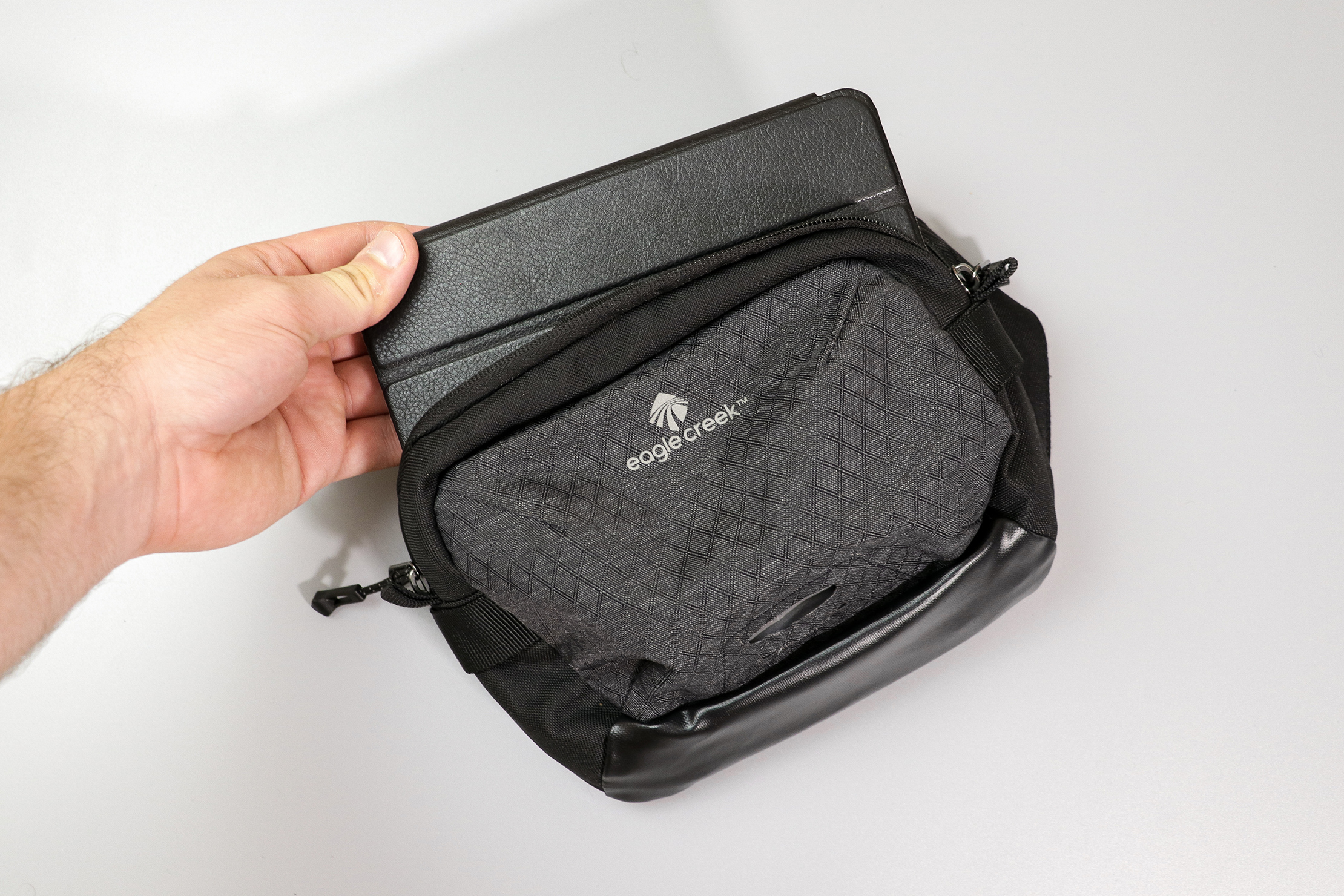 Now, the main compartment itself is large enough to hold a good amount of stuff. We've carried a whole bunch of goodies here, including books, notebooks, makeup, as well as computer and phone chargers (not all at once, of course). Whatever you put here will kind of take over the pack, though, and if it's full it will make accessing your stuff in the slip pockets a bit more difficult.
So, you'll want to think carefully about what you need. Your thesaurus and the Charlotte Tilbury Palette might be overkill.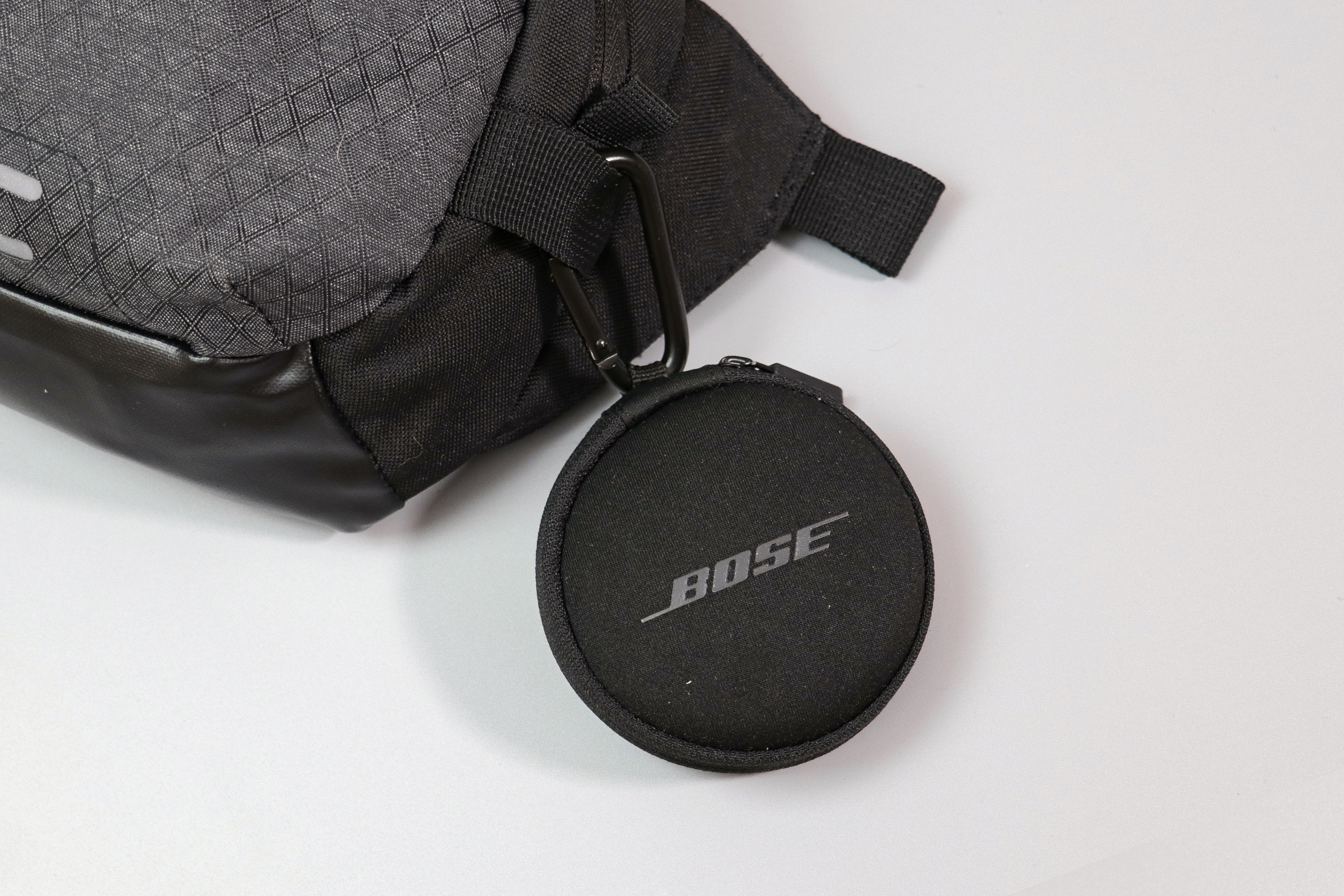 Finally, there are two webbing loops on the exterior of the pack where you can clip more stuff (water bottles, wet clothing, etc.). We haven't utilized them much since it makes carrying the waist pack fairly awkward, but we can see the benefit for outdoorsy pursuits.
There's also an attachment point on the center of the pack that includes a slice of reflective material. This attachment point is meant for lighter items—the folks at Eagle Creek suggest a bike light—as heavier things will probably break it. The bike light/reflective fabric is to help you remain visible while walking about in the evening, but if you're riding a bike, you'll probably want lights on the bike itself (#safety).
Noteworthy Features
The Eagle Creek Wayfinder Waist Pack is a part of Eagle Creek's Wayfinder family. So one of the main selling points is the materials from which it's made. We get into it in our review of the Eagle Creek Wayfinder Backpack, so if you want to learn the nitty-gritty, you can head over there.
We'll keep it brief here.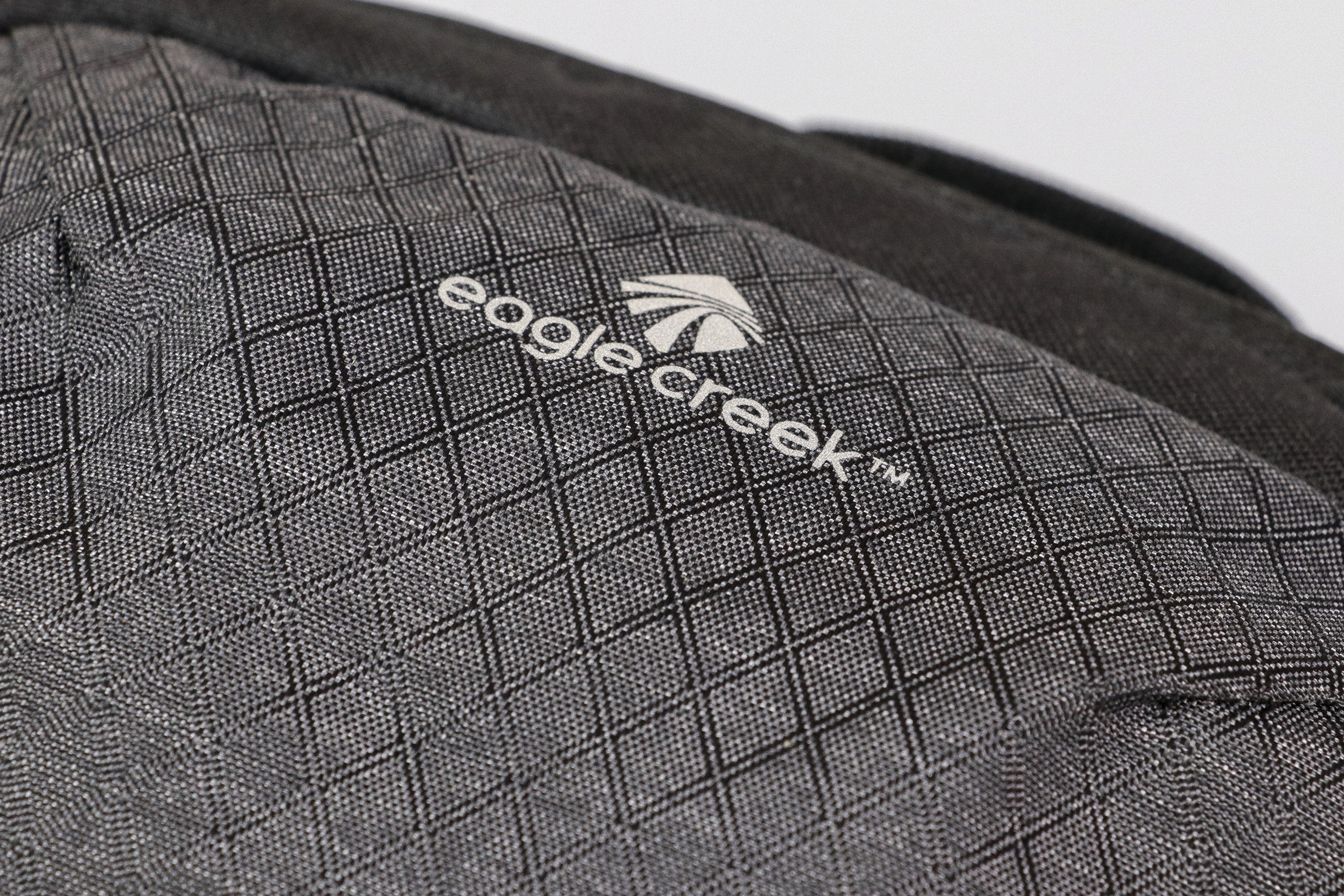 The front of the pack is made from a 300D Dual-Diamond Heather Ripstop, which sounds more complicated than it is. Ripstop fabric, as the name implies, stops rips from spreading if one occurs. The rest of the pack is made from a 500D Polyester, with some parts having an additional RPVB Coating.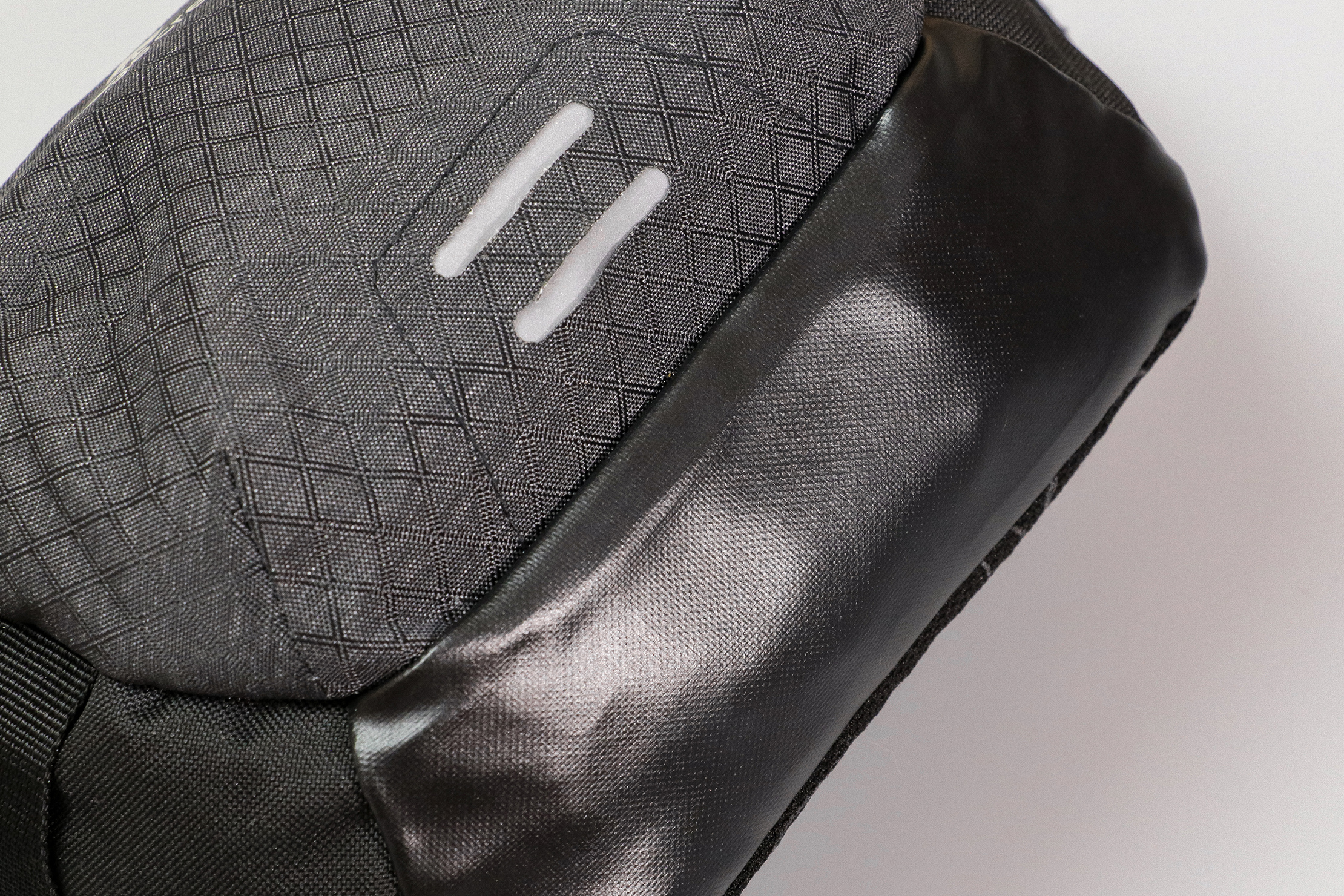 The RPVB coating is made from the plastic of shatter-proof glass harvested from landfills, which not only is a solid environmental win but makes for a great weather-resistant coating. It's also totally badass—you're wearing a fanny pack made of shatter-proof glass, people! #NotYourDadsFannyPack
Okay, let's talk about how comfortable this waist pack is to wear (and, yes, we consider comfort a feature). We were initially wary, especially since the strap isn't padded, but that wariness faded on day one. We're pretty sure if you were to weigh this pack down with rocks it would dig into your skin, but we've had no complaints when it's at a reasonable weight.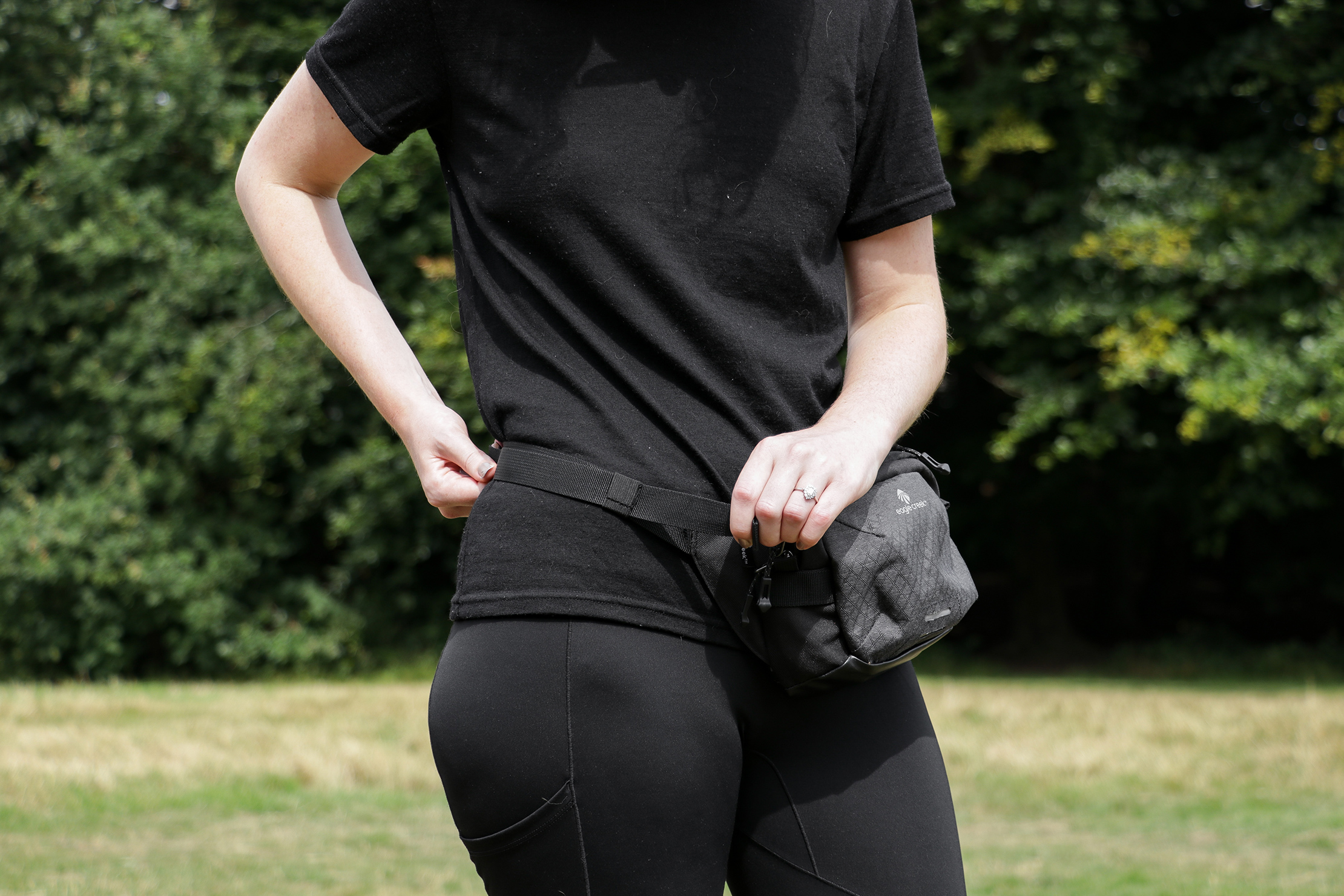 We love how the pack contours to your waist and doesn't stick out. Plus, the waistband—which is adjustable up to 56 inches—ensures a good fit around your waist. There are some strap keepers to help keep everything tidy, but the strap can still get messy if you have a smaller waistline. If that's the case, the folks at Eagle Creek suggest cutting the strap and sealing the end with a lighter.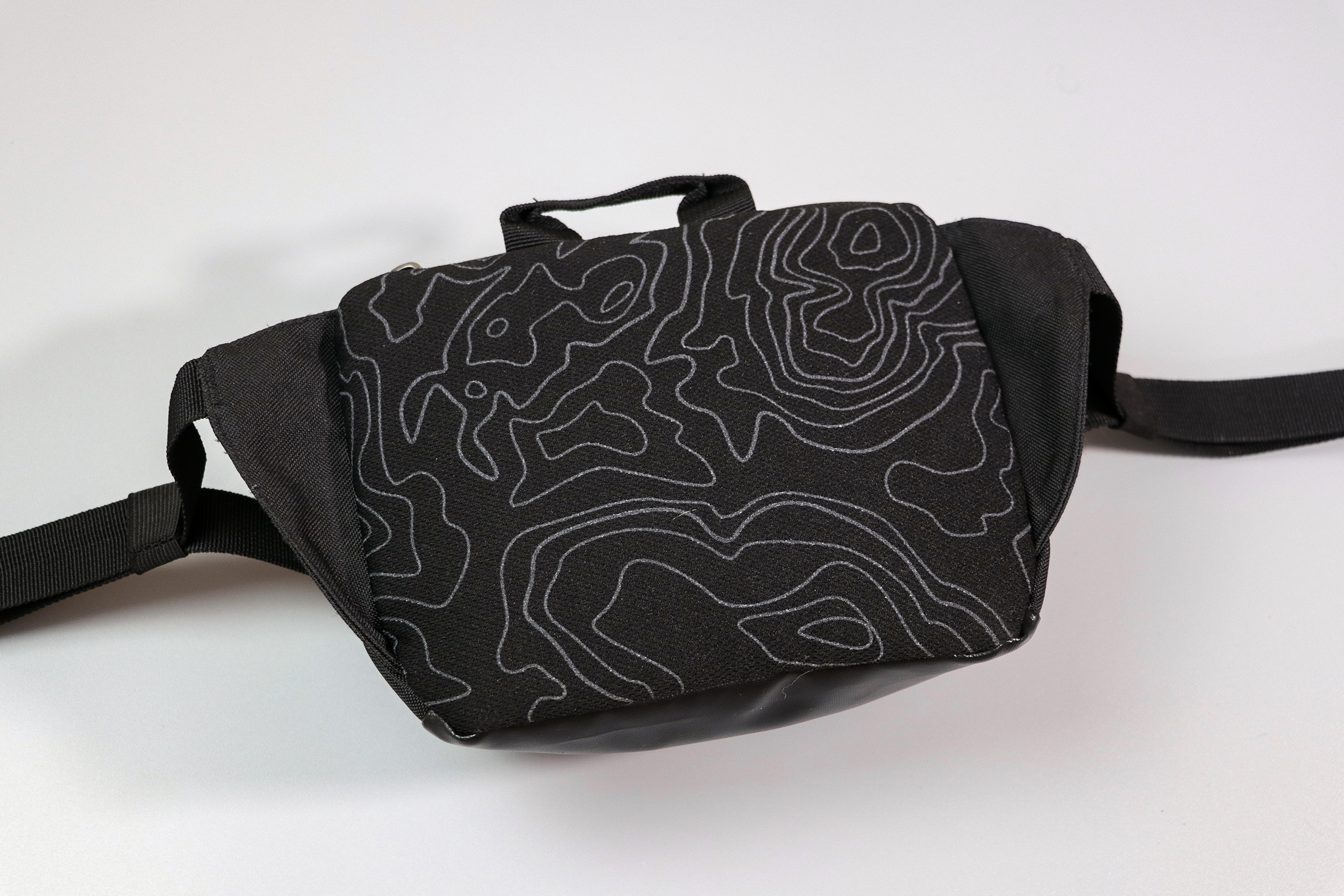 Besides the strap, the back panel is perfectly padded. And moisture-wicking! Of course, it'll still get sweaty on those hot days, but nothing as bad as it could be. In fact, this waist pack is so comfortable we've never used the top handle to hang it up. We just keep it on. All the time. Even while we're sleeping. (Are we joking or not? Who knows…)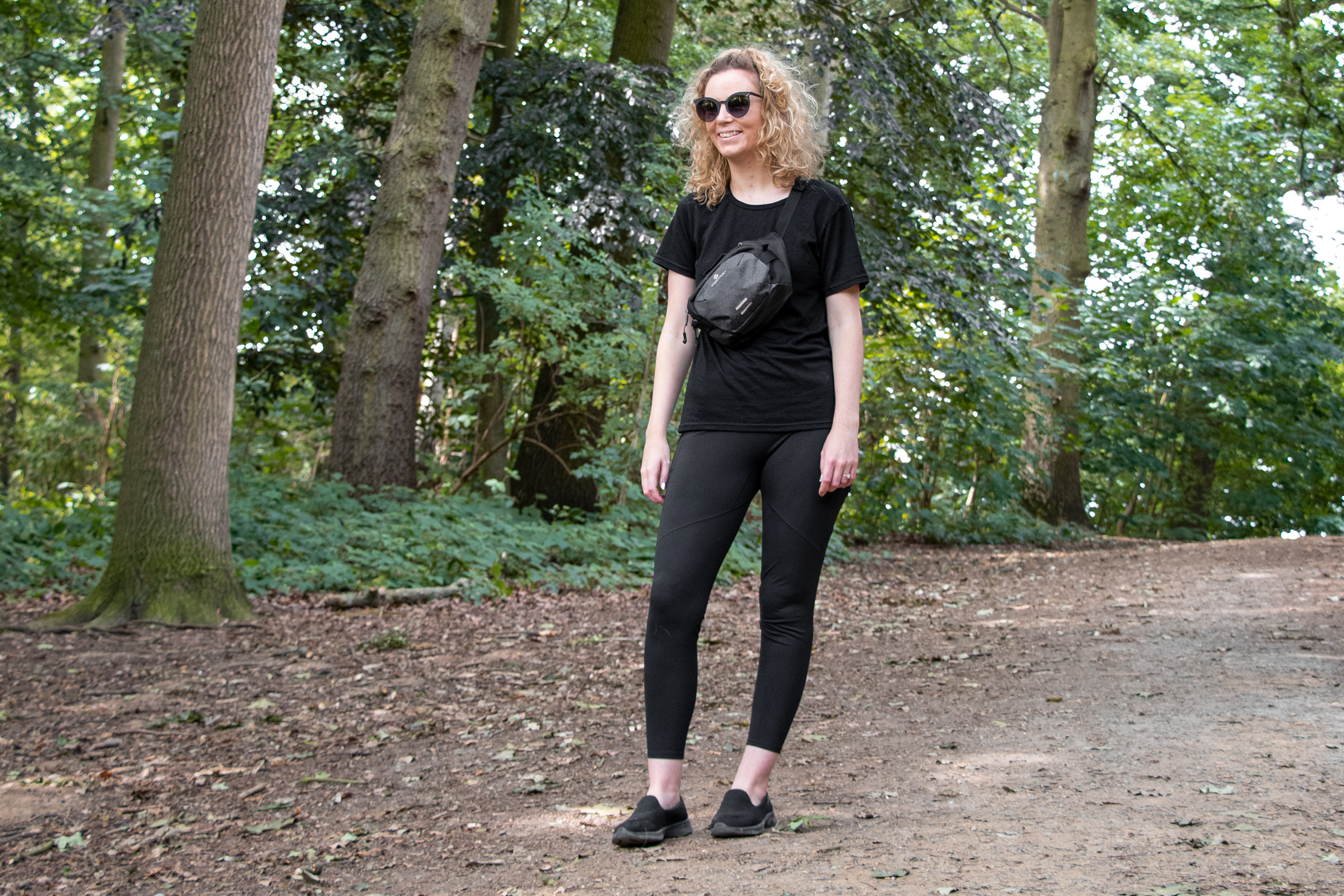 You can also wear the waist pack across your body as a sling bag, but we're not huge fans of this method since the buckle clips in the middle. But hey, it's nice to have options.
Final Thoughts
Overall, we've been loving the Eagle Creek Wayfinder Waist Pack throughout our month of testing. It's ideal for travel with great internal organization that'll hold the essentials and then some. It also shines when it comes to air travel, as it can be worn with a larger backpack.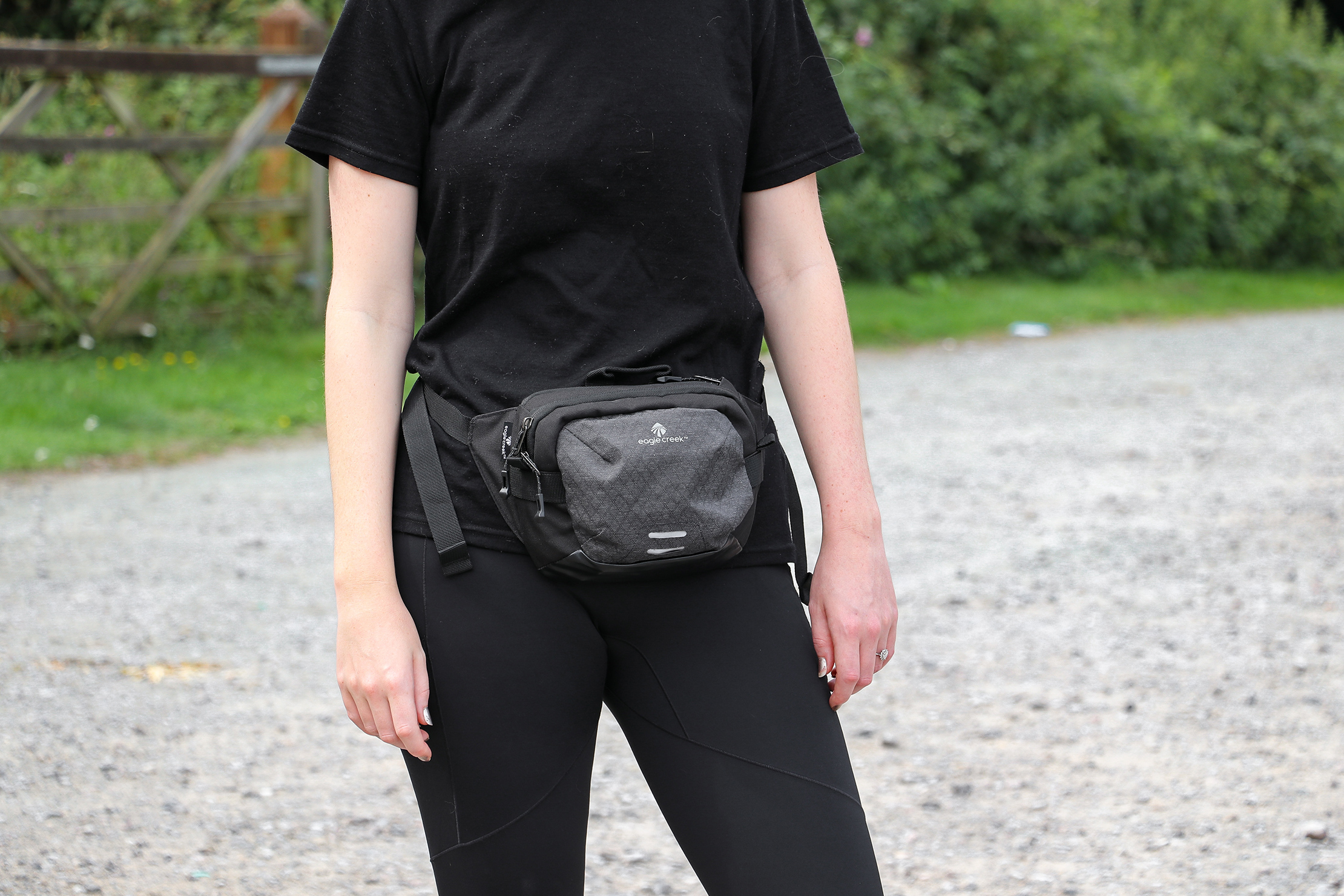 We have nothing to report as far as durability is concerned. Eagle Creek takes its craftsmanship seriously, and the pack still looks as good as new!
Usage Timeline
Initial Usage
Condition: Excellent
The fleece-lined compartment is great for your smartphone or sunglasses.
Great internal organization.
The front of the pack seems to sag when it's not at full capacity.
2 Weeks of Use
Condition: Excellent
It's much more comfortable to wear than we expected.
1 Month of Use
Condition: Excellent
Everything looks great—no complaints.
Access the Pro Community Discussion
Get your questions about the Eagle Creek Wayfinder Waist Pack answered from our team and the Pro Community right here on the page. Plus, join discussions with other members about gear, guides, and more.
Other Bags & Luggage Reviews