Eagle Creek Wayfinder Backpack 40L Review
The Eagle Creek Wayfinder Backpack 40L is a great choice for one bag travel. The internal organization is a bit intense, but there is a place for everything!
Our Verdict
Unlock the Pro Summary
Save time. Get access to brief summaries of our reviews so you can browse and make decisions more efficiently.
Pros
Comfortable harness system
Lots of quick grab pockets
A LOT of internal organization
Cons
Unbranded zippers (potential durability issues in the future)
Sagging in front compartment when not in use
Back panel lacks ventilation
Recent Pack Hacker Video
Technical Details
Capacity

40l

Weight (lb)

2.6 lb (1.2 kg)

Denier

500D

Dimensions

21 in x 14 in x 8.25 in (53.3 x 35.6 x 21 cm)

Notable Materials

Ripstop Nylon, Polyester, ITW Hardware, Duraflex Hardware

Manufacturing Country

China

Laptop Compartment Size

17"

Warranty Information
Full Review
Get up to 20% off Eagle Creek • Join Pack Hacker Pro
In this review, we're taking at a look at the Eagle Creek Wayfinder Backpack 40L. Despite being categorized as an "Everyday Backpack" on the Eagle Creek site, this carry-on compliant 40L pack has all the marks of a one bag travel backpack, and that's exactly how we'll be reviewing it.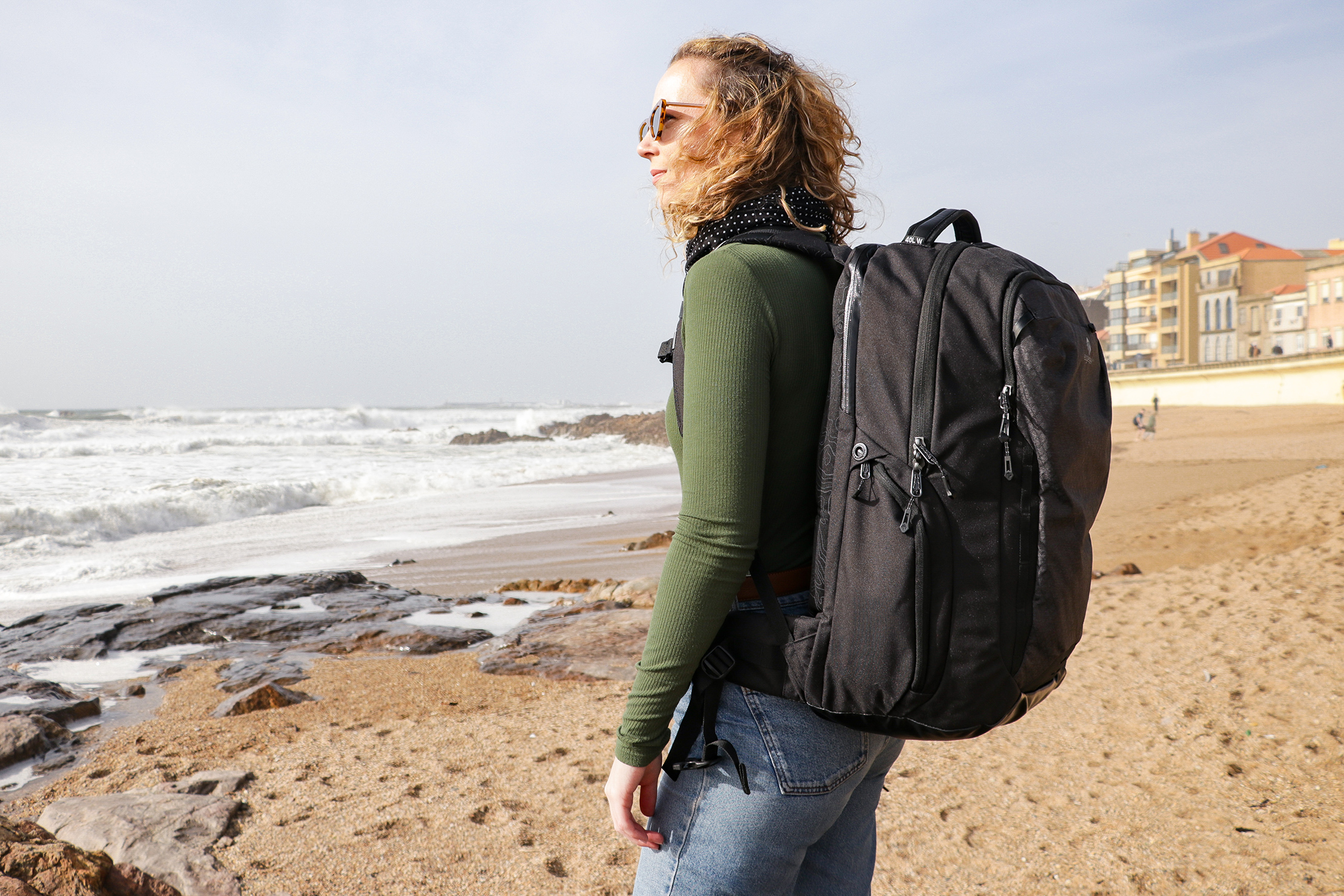 Having already reviewed the Global Companion 40L and their packing cubes (which we love), we were excited to get our hands on this pack. The Wayfinder 40L is available in both a unisex and women's fit, the difference being some small adjustments to the harness system—but we'll dive deeper into that later on.
We've been testing the women's fit version of the Wayfinder 40L for just over two months in the UK and on a month-long trip to Portugal, so let's get into the review and see how it fared.
Material & Aesthetic
Our first impression of the Wayfinder 40L is that it is a BIG pack. The liter capacity is the same on the unisex and women's fit, so if you have a smaller frame, this pack will look pretty big on your back.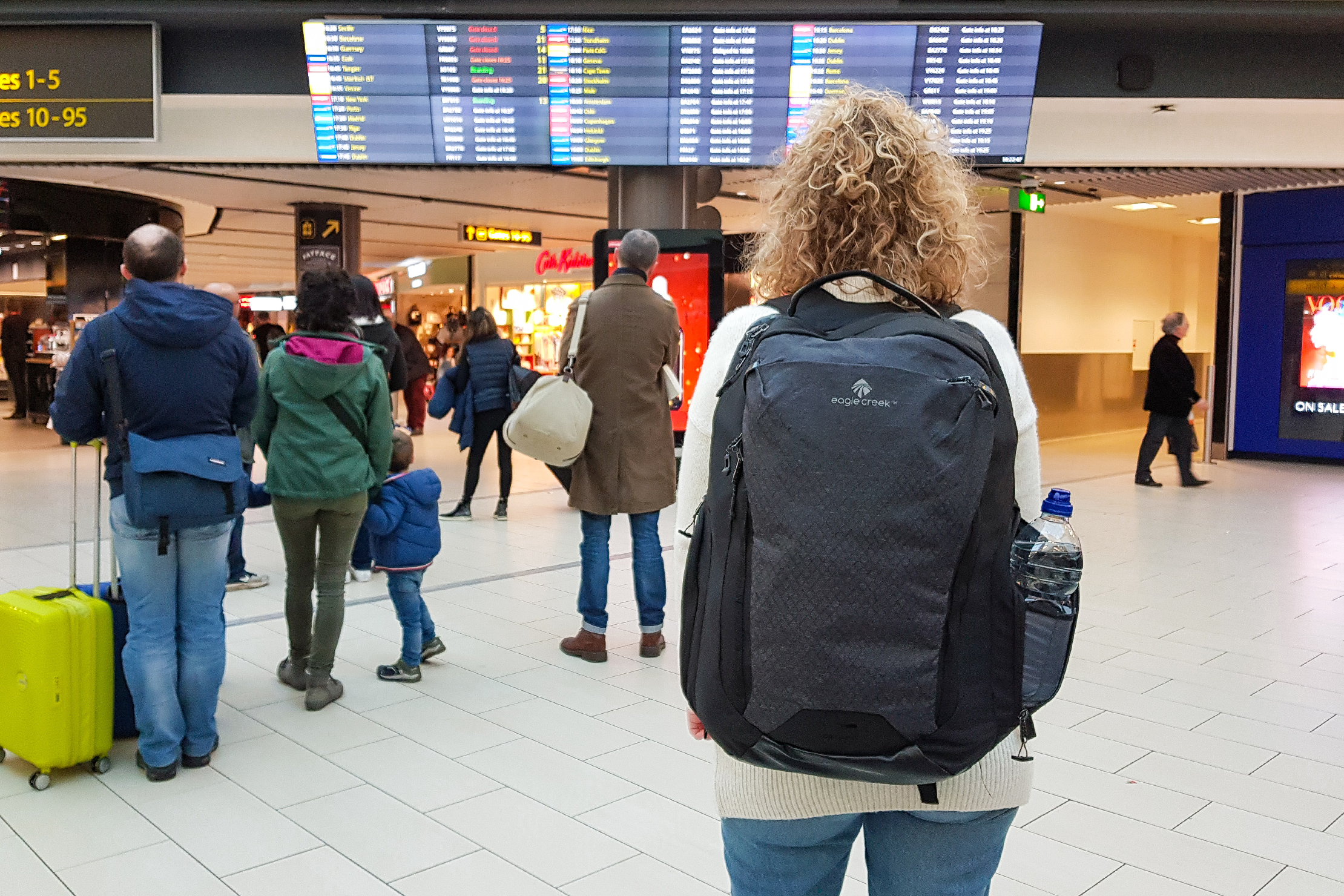 We're really digging the overall aesthetic of the pack and we think it looks particularly sleek in the Black/Charcoal color. This version shows fewer marks, meaning it's the safest bet for keeping your pack looking fresh when you're on the road. If you're looking for a pop of color, you'll find a few other color options available, including Night Blue/Indigo, Cypress/Highland Green in the unisex fit and Graphite/Amethyst, Night Blue/Indigo for the women's fit. These are great color choices, but they do make your pack look more like a typical "travel backpack." (Which isn't necessarily a bad thing!).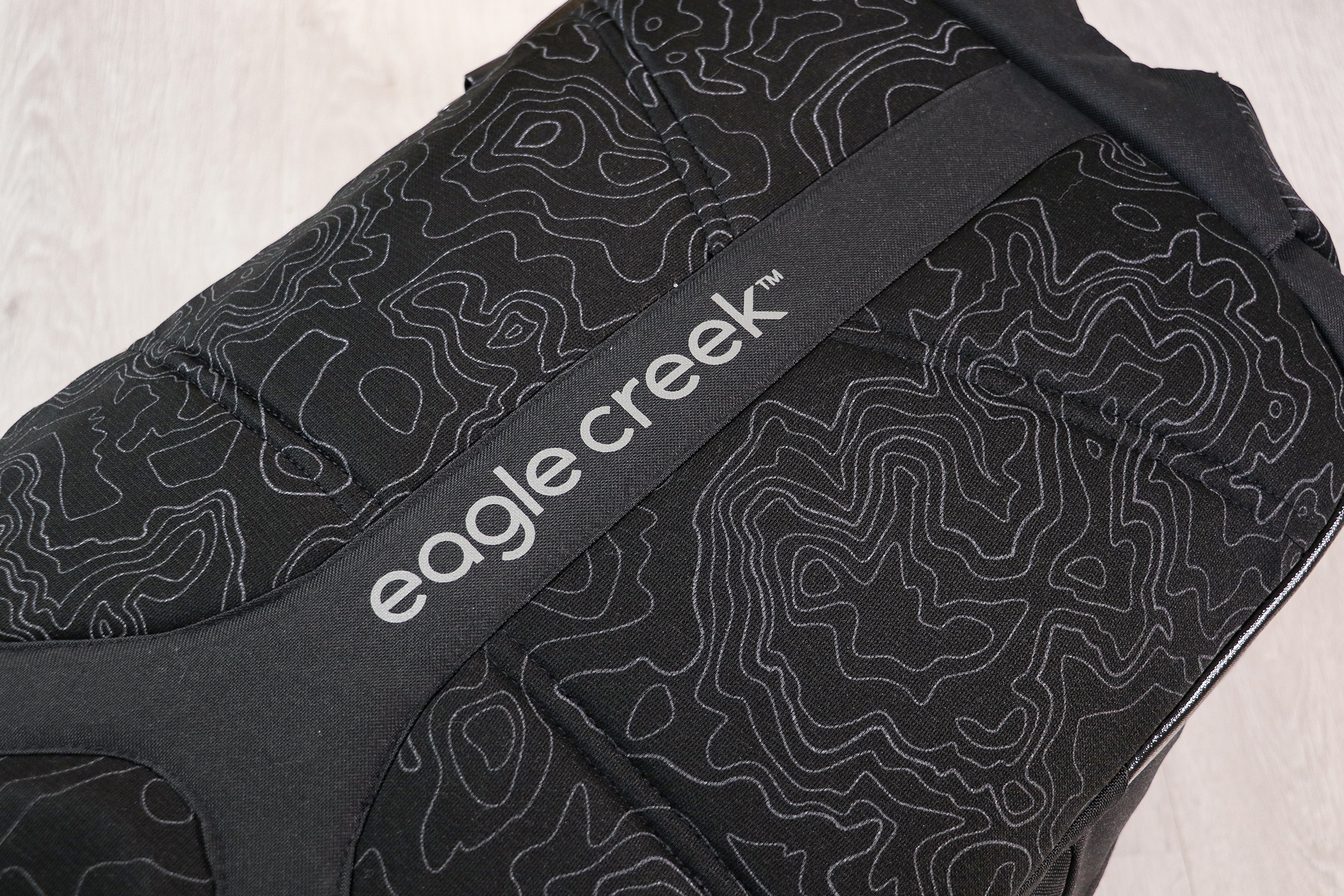 There's also a pattern on the back panel, which adds a bit of "flair" to the pack. It doesn't stand out too much, because the pattern is usually against your back, but we're digging the extra touches here.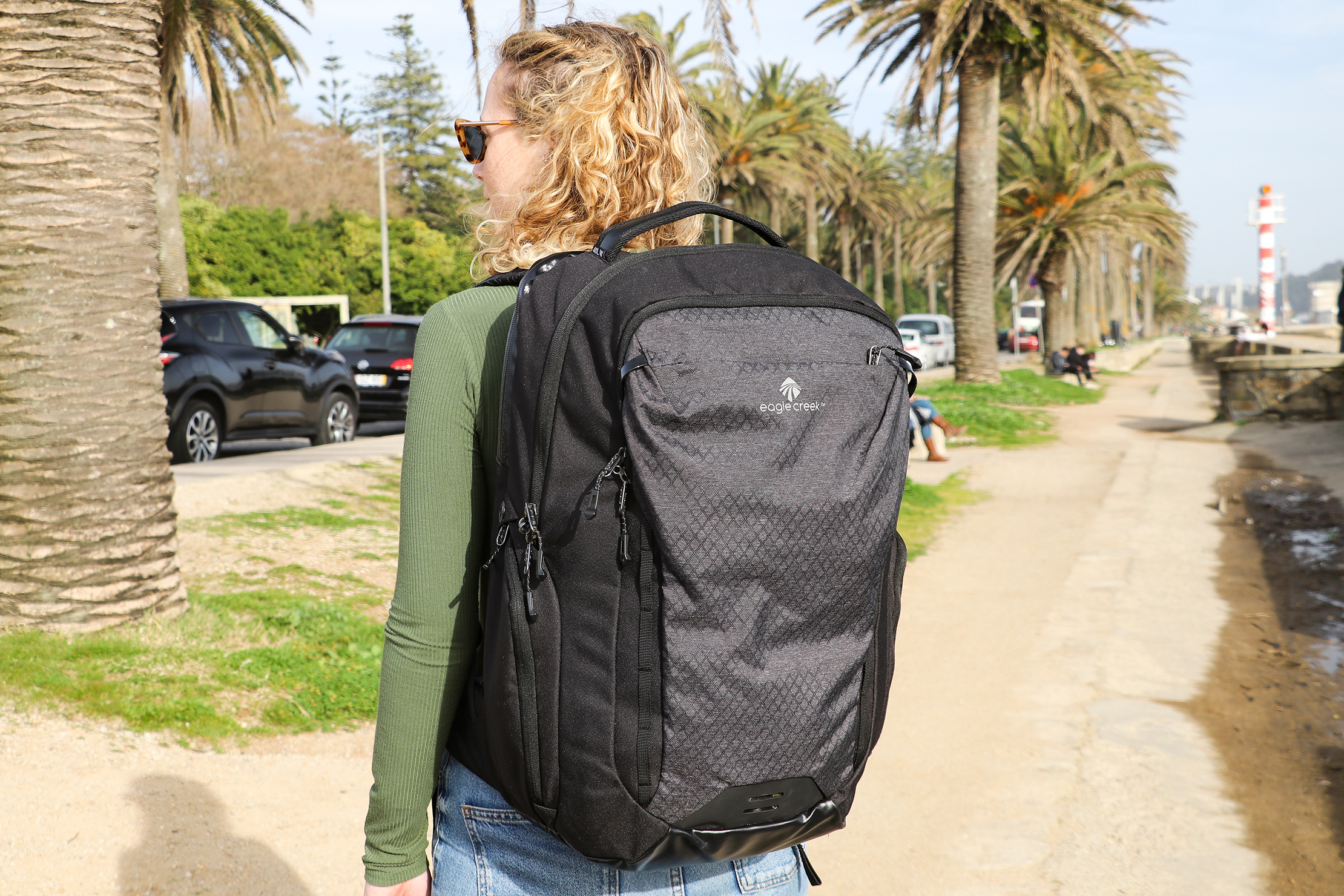 Despite the main logo on the front, the branding has been strategically placed around the pack, which we like. The other logos can be found on the back panel, shoulder straps and zipper pulls.
All of these aesthetic components come together to create what we think is a solid looking pack. We also polled our Instagram audience, and the results were that 53% liked the look of this bag.
Moving on to the materials, there is a ton of stuff going on here.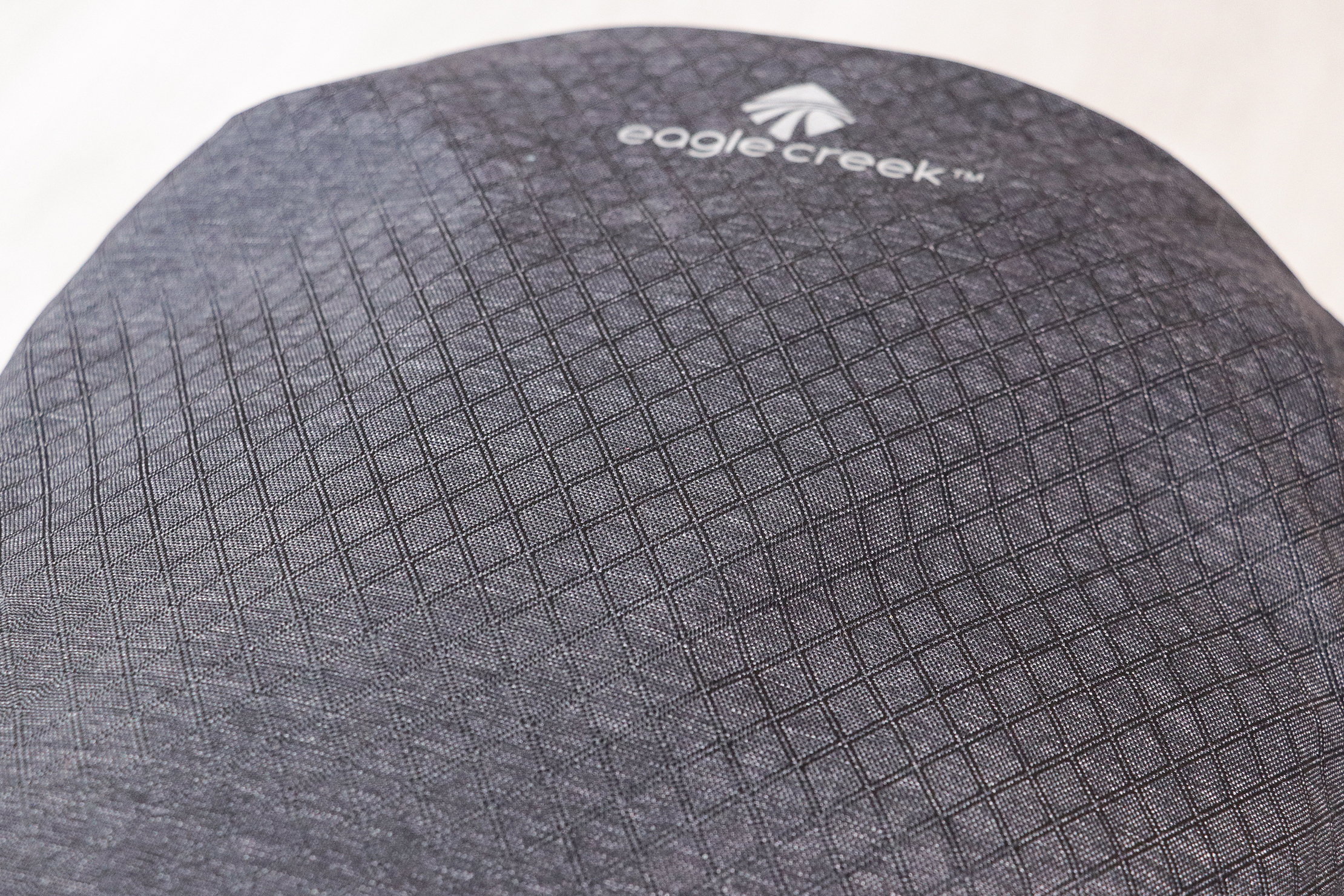 Starting with the front of the pack, there is a 300D Dual-Diamond Heather Ripstop Nylon. That might sound complicated, but it's just a nylon material with ripstop—so if any rips do occur, they won't get any bigger.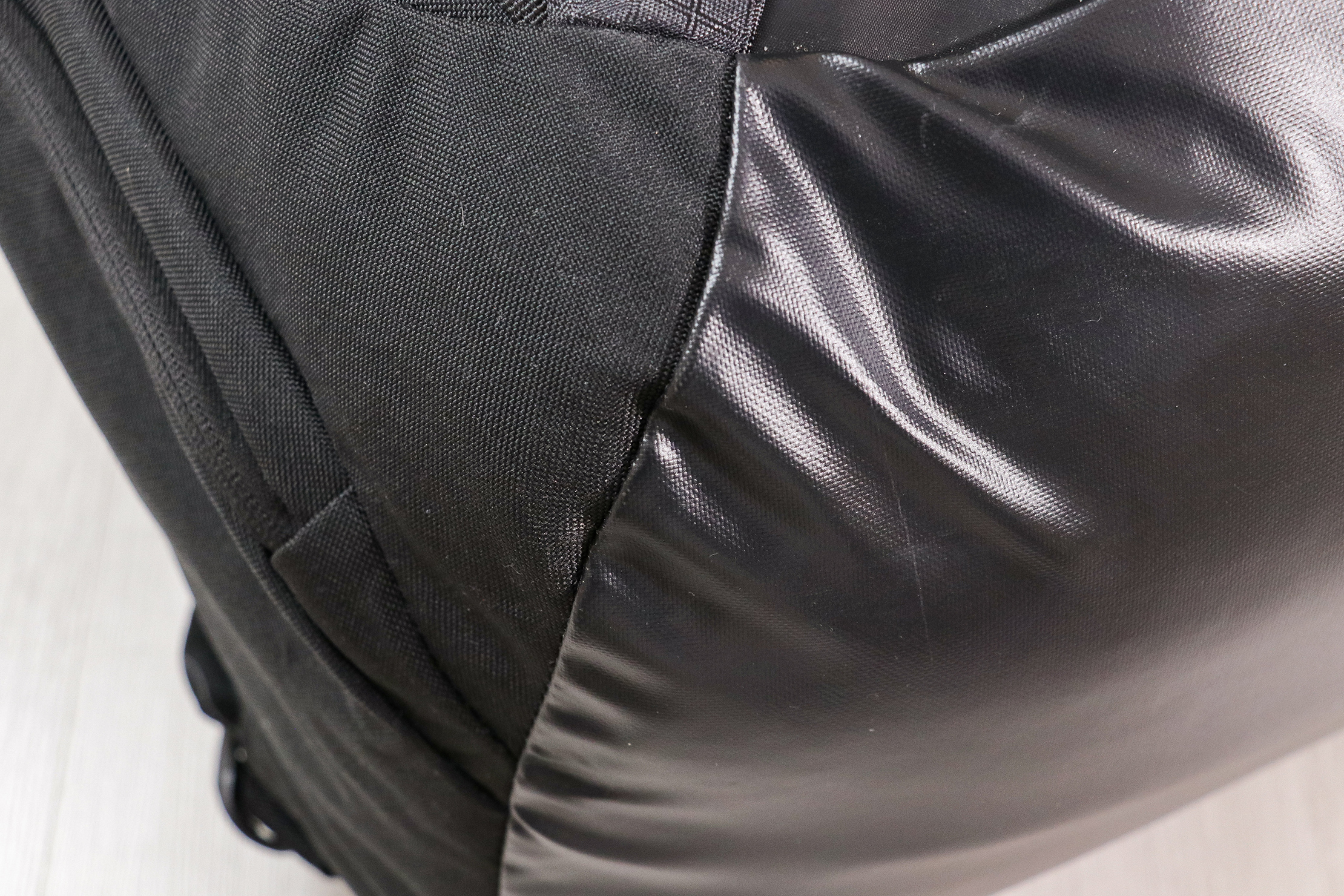 The rest of the pack is made from a 500D Polyester, with some parts having an additional weather-resistant RPVB coating. You'll find this coating on the interior of the pack, as well as on the exterior at the bottom, part of the shoulder straps, and the top quick-grab handle. We've been pretty impressed with the practicality of the RPVB coating as it doesn't crease like other weather-resistant coating can.
Plus, we've got a FUN FACT: this material is made from broken car windshields harvested from landfills, making it great for the environment! Who knew?! (We didn't. Now we do.)
On another note, all of the materials on this pack are bluesign® approved. This means that the "Textile supply chain process ensures fabric is safe for the environment, workers and end customers" which gets a big thumbs up from us.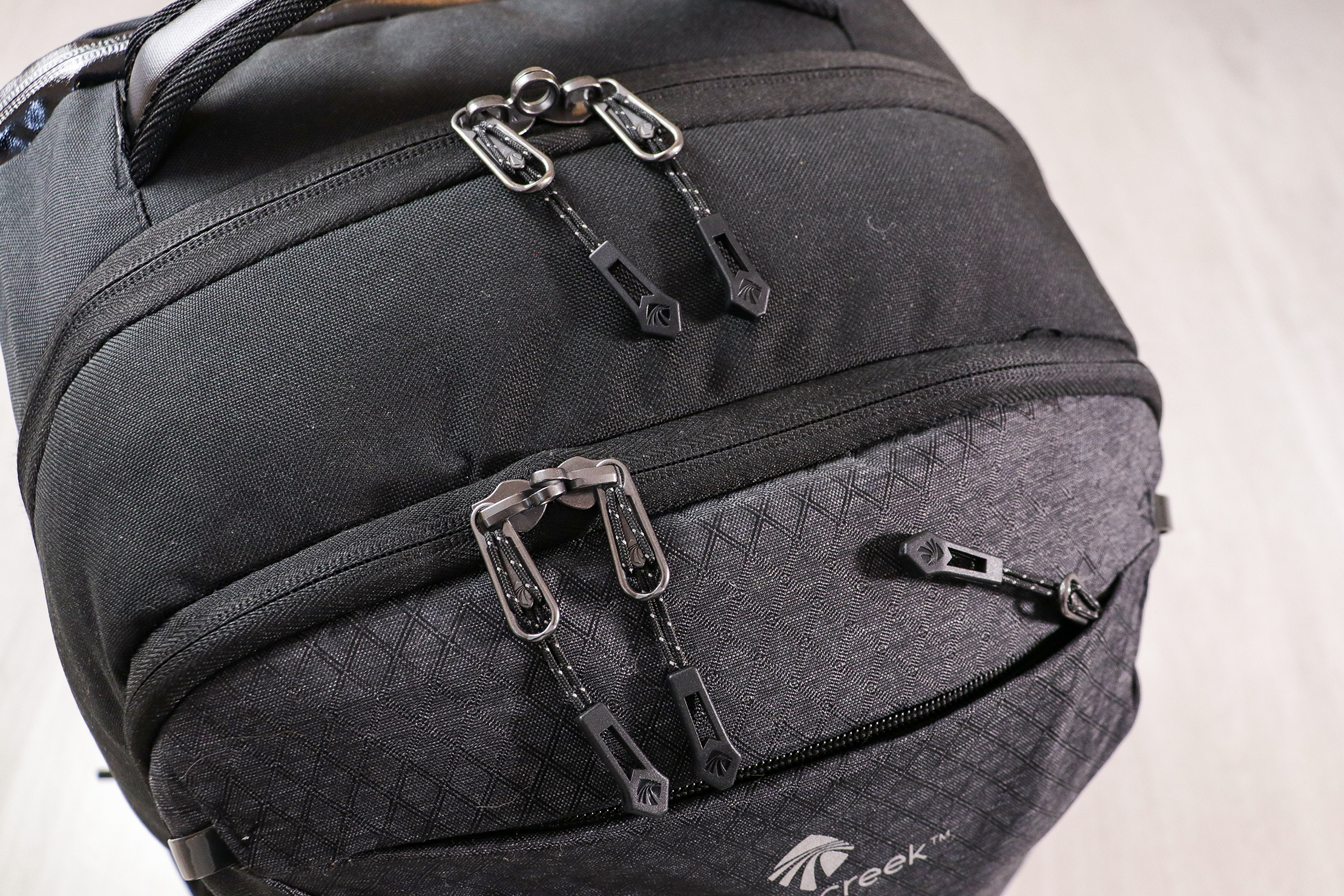 Now, let's talk about zippers. All of the zippers on this pack are unbranded. While we've had no problems in testing and they've been working well for us, we do have concerns about their durability over time—so make sure to keep an eye out on the usage timeline below to see how well they hold up.
The zipper pulls on this pack were a joy to use and made the zippers easy to operate even when the pack was at full capacity. So that's a nice touch.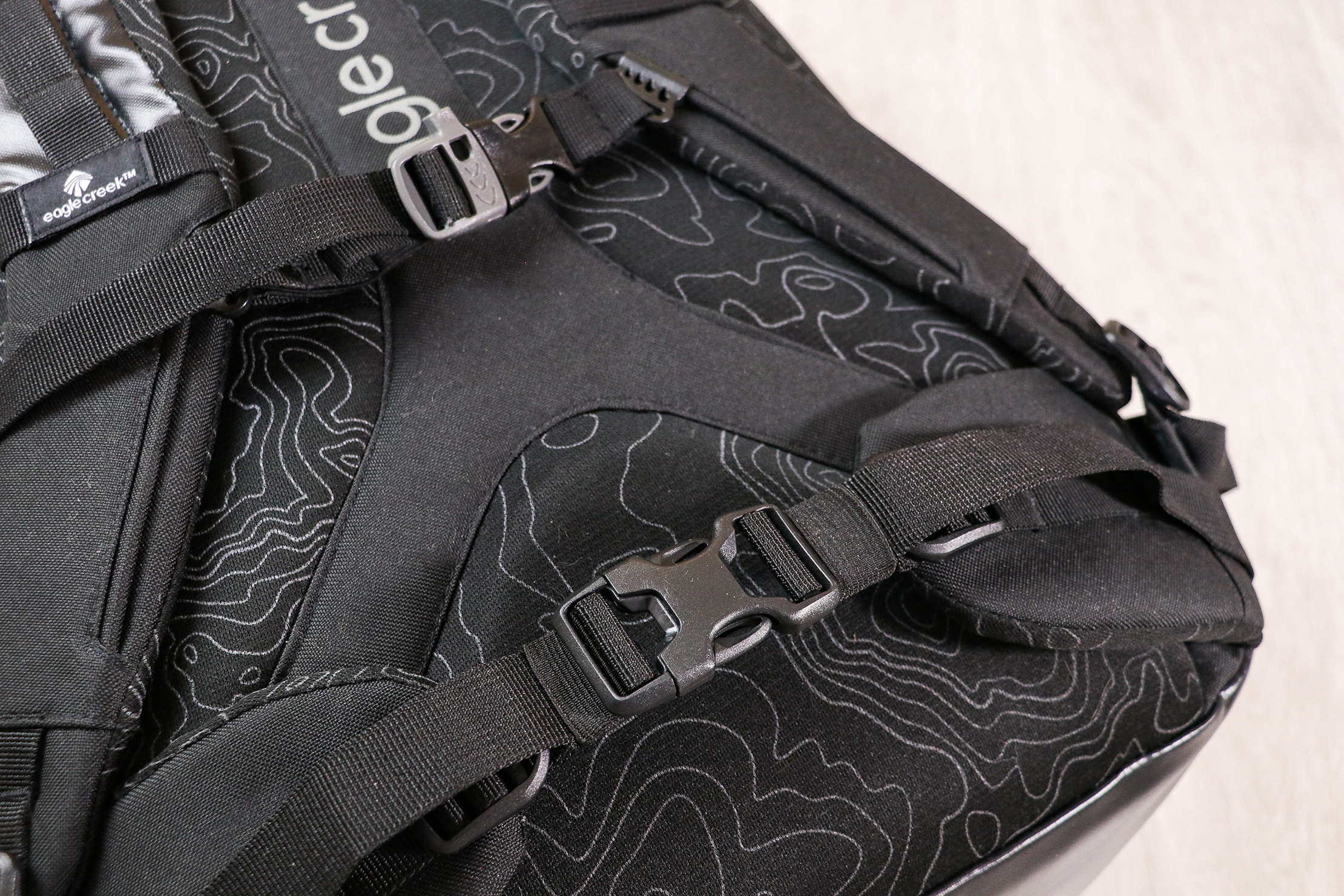 When it comes to the buckles and hardware, they are all ITW and Duraflex. These are reliable brands that have worked well for us in testing, and they're generally known for being very durable. This does, however, makes us wonder why Eagle Creek chose to use unbranded zippers. They sprung for the hardware, but not the zips… Peculiar…
External Components
Moving on to the external components, there's no better place to start than with the harness system. This is a backpack, after all!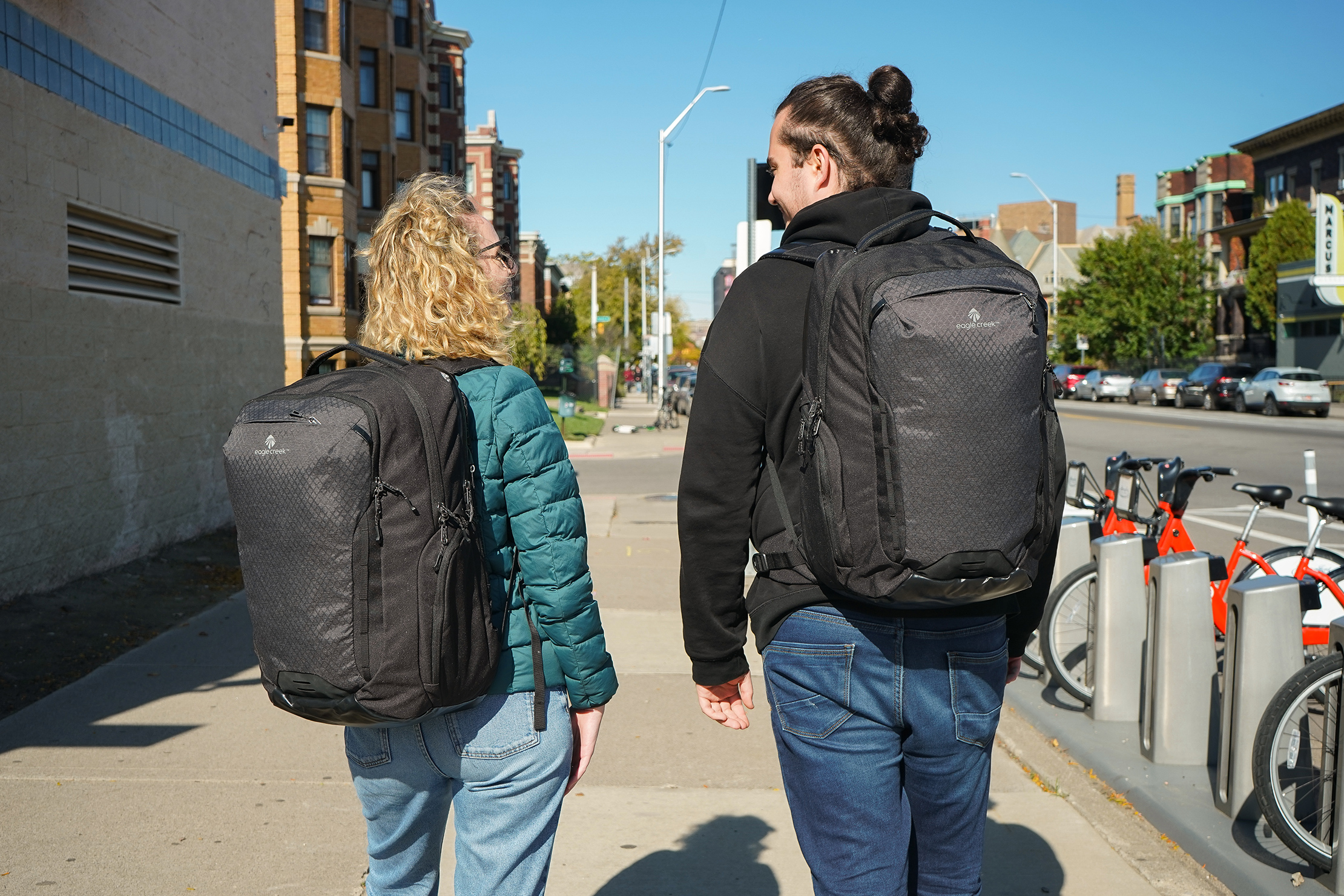 As previously mentioned, this pack is available in a unisex and women's fit, with the difference being some small changes in the harness system. On the women's version, the shoulder straps are slightly thinner and shorter, providing a higher carry on your back. The hip belt is also slightly curved. These changes all come together to make the pack work well for smaller frames and to fit the curves of a woman's body, making the overall carry much more comfortable.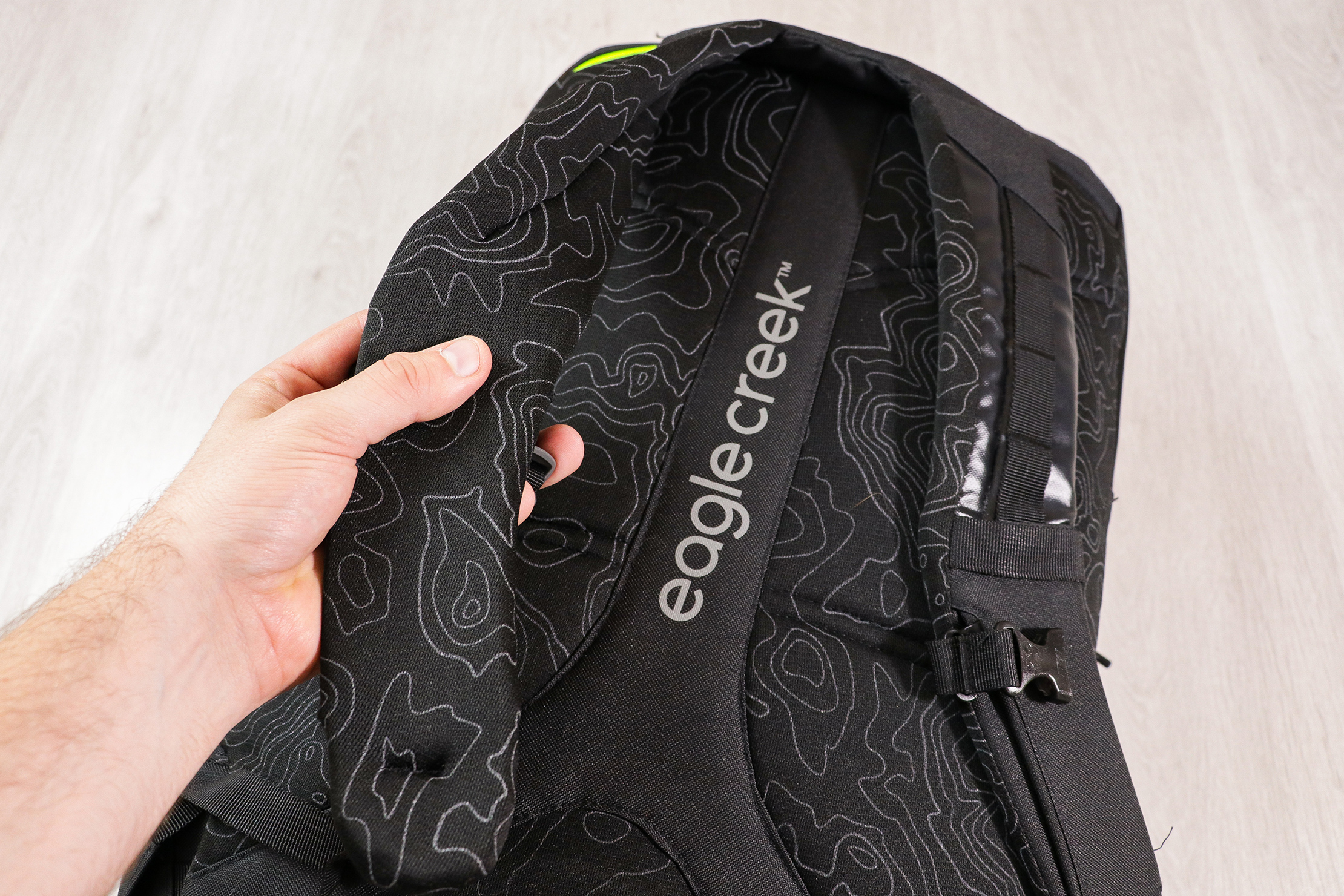 The shoulder straps on this pack are adjustable with plenty of padding, which makes for a comfortable carry even at full capacity. There are no load lifters here, but to be honest, we haven't been missing them.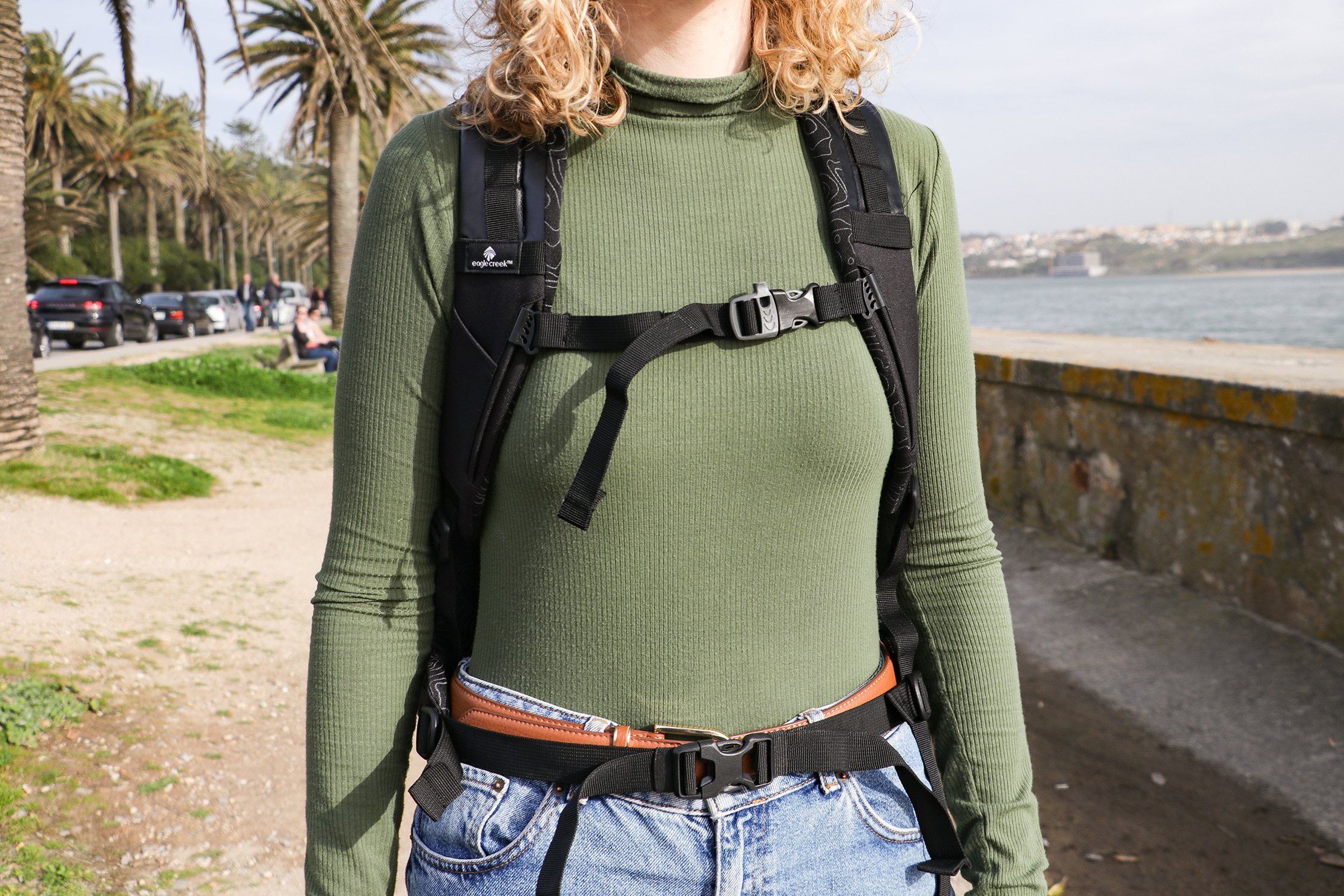 We've found the sternum strap on this pack to be a great addition. We don't use it too often, but we do love how the adjustable strap has an elasticated section that flexes slightly when you're walking. This small amount of flexibility makes the bag way more comfortable to carry. Plus, there's even a little pouch to pop the right part of the sternum strap in (to prevent dangling) which is a great design touch.
A lot is going on here, but it doesn't stop there—there is also a whistle incorporated into the sternum strap too, because, well…. why not? Everyone loves a good whistle. (Right?)
On this pack, the hip belt does exactly what it should do. It shifts the weight from your shoulders to your hips (brilliant). It's super comfortable and it can be tucked away easily when not in use, making it a win-win in our books.
The back panel is very padded and comfortable, just like the shoulder straps. However, the ventilation isn't excellent. While this wasn't a problem for us, if you're looking to take this bag on more outdoorsy adventures, it may become an issue.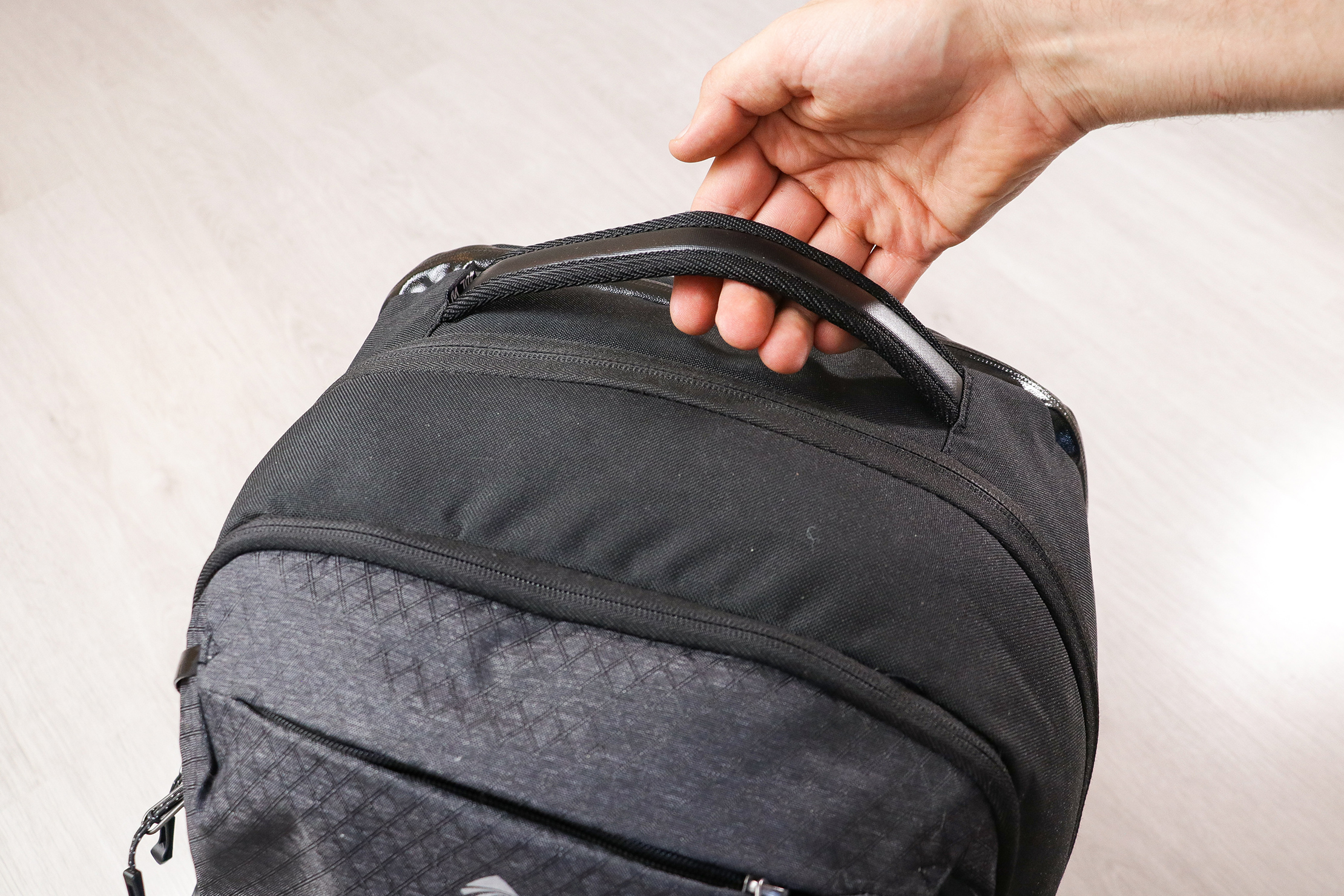 On top of the pack is a quick grab handle. This handle is large and comfortable to use, so we found ourselves utilizing this pretty often.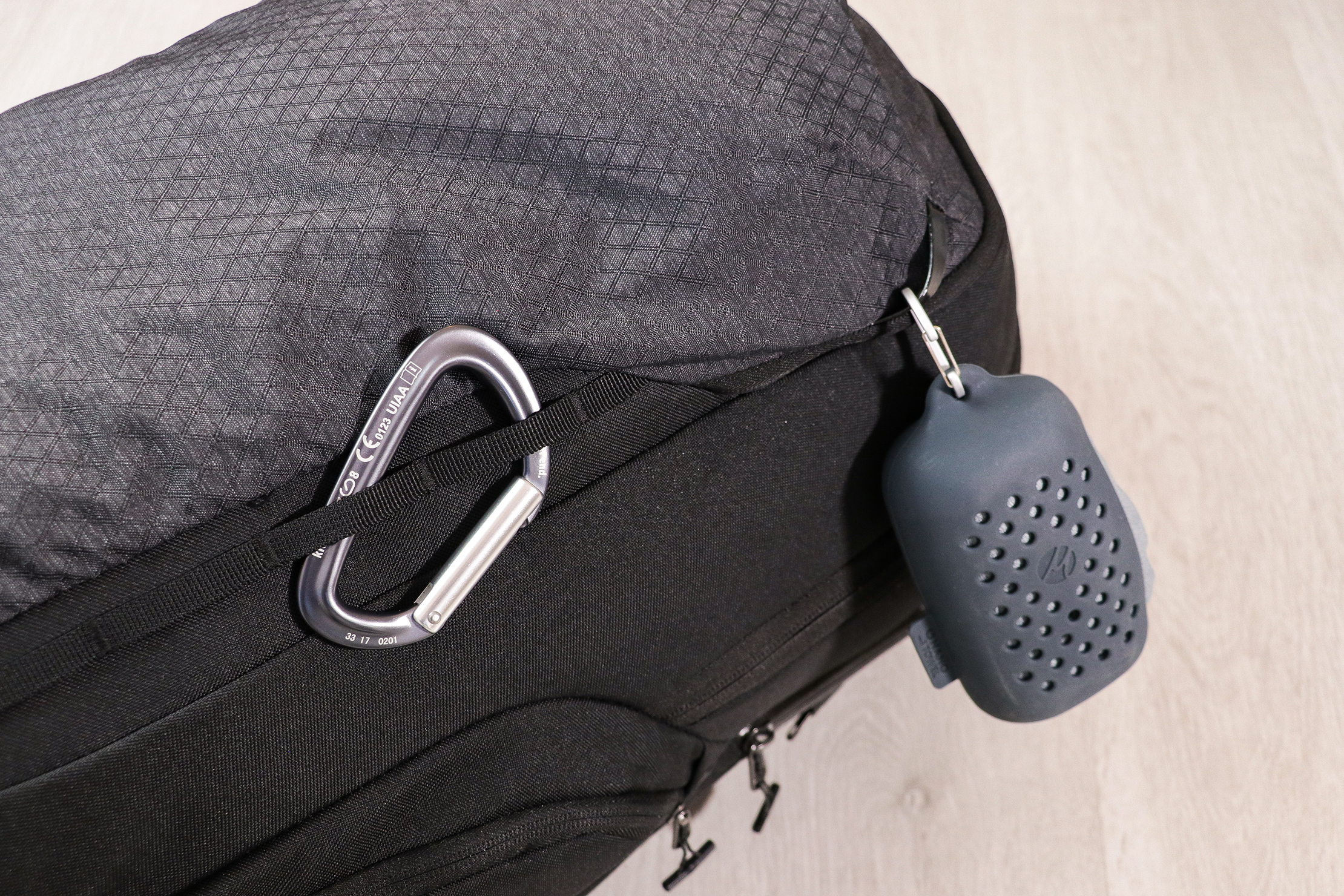 Moving on to the front of the pack, and at first glance it looks pretty minimal. Take a closer look and you will find two plastic lash points at the top, two rows of daisy-chains down the front, and even an attachment point at the bottom. While we never found ourselves using these—the bag is big enough already without hanging stuff on the outside too—it's good to know this stuff is there if you need it. If you're a fan of attaching stuff to your pack with a carabiner or you prefer to clip accessories to your pack for easy access, then this is the place to do it.
Inside The Pack
There is a LOT going on inside this pack, including some brilliant organization. So get comfortable, and let's get into it!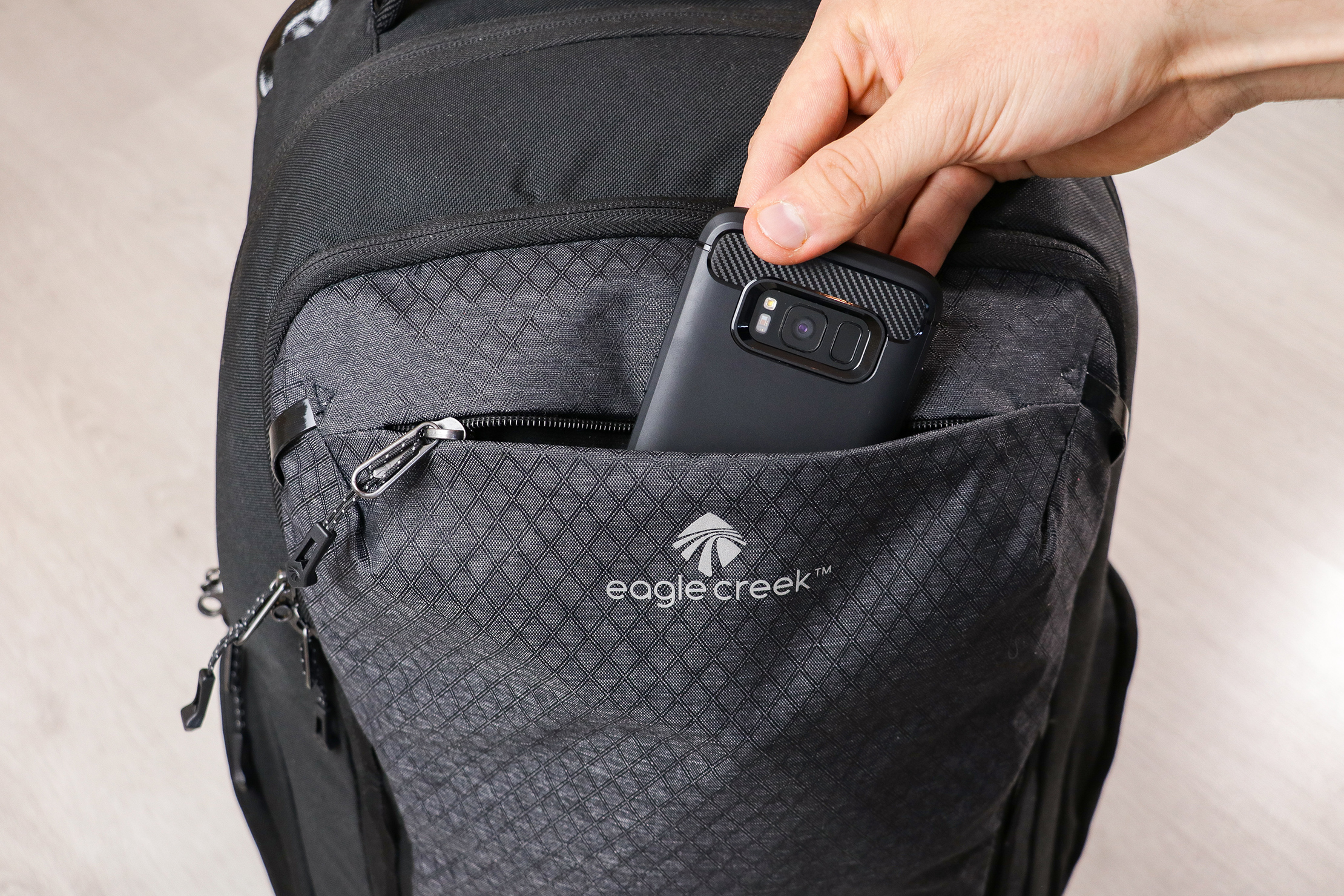 Let's start with the quick grab pocket at the front. This is a great size for all of your travel essentials that you want to have easy access to. The fleece lining inside also means you can keep items in here that you don't want to get scratched, like your sunglasses or phone.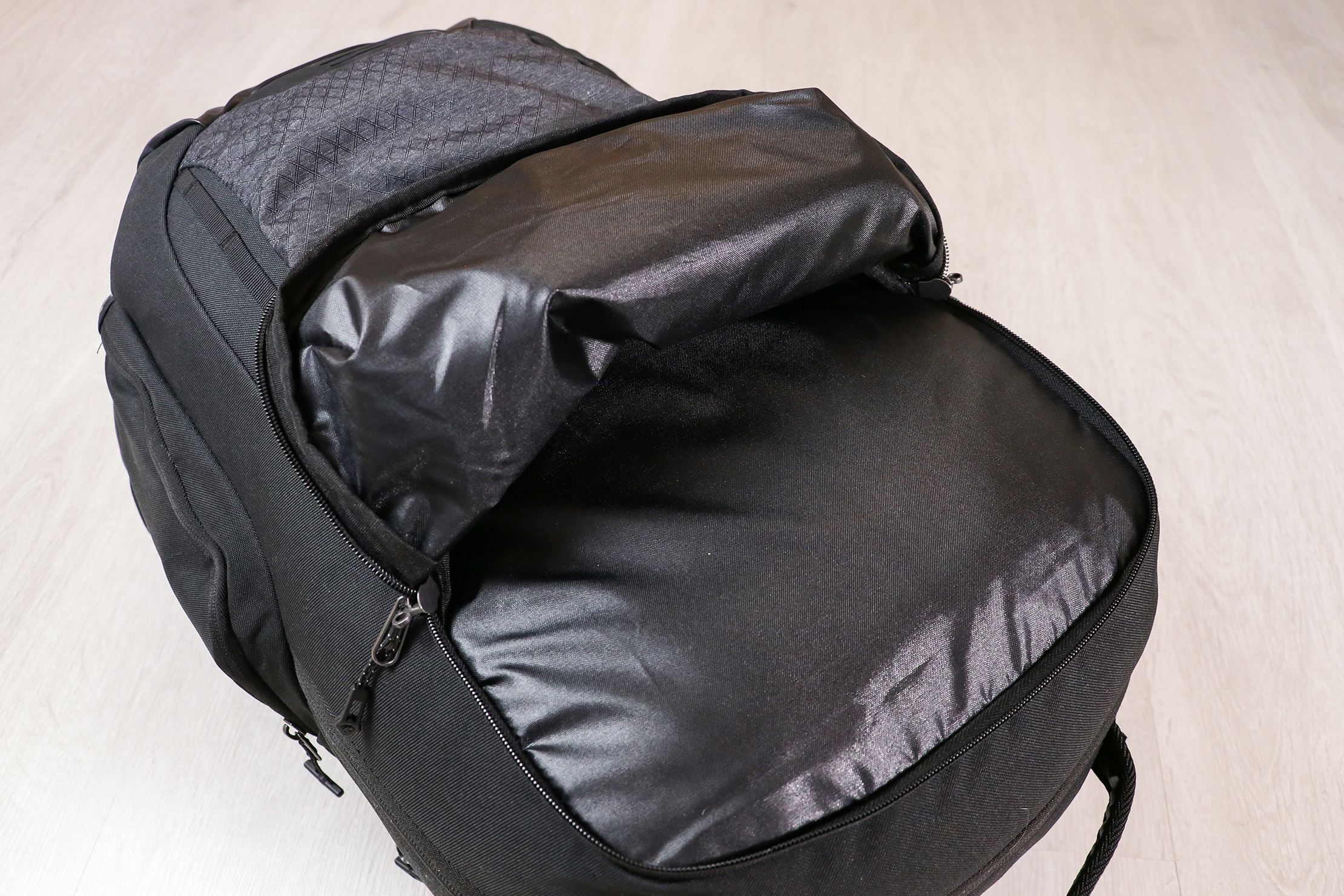 Behind the front quick grab pocket, there's a larger zipped compartment. We've found this to be the perfect place to store a rain jacket or any wet or damp clothes. It's lined with a water-resistant material and has a drain duct at the bottom. This pocket can come in super handy when you need it, however, when not in use we've found that it makes the material on the front of the pack sag, which doesn't look great.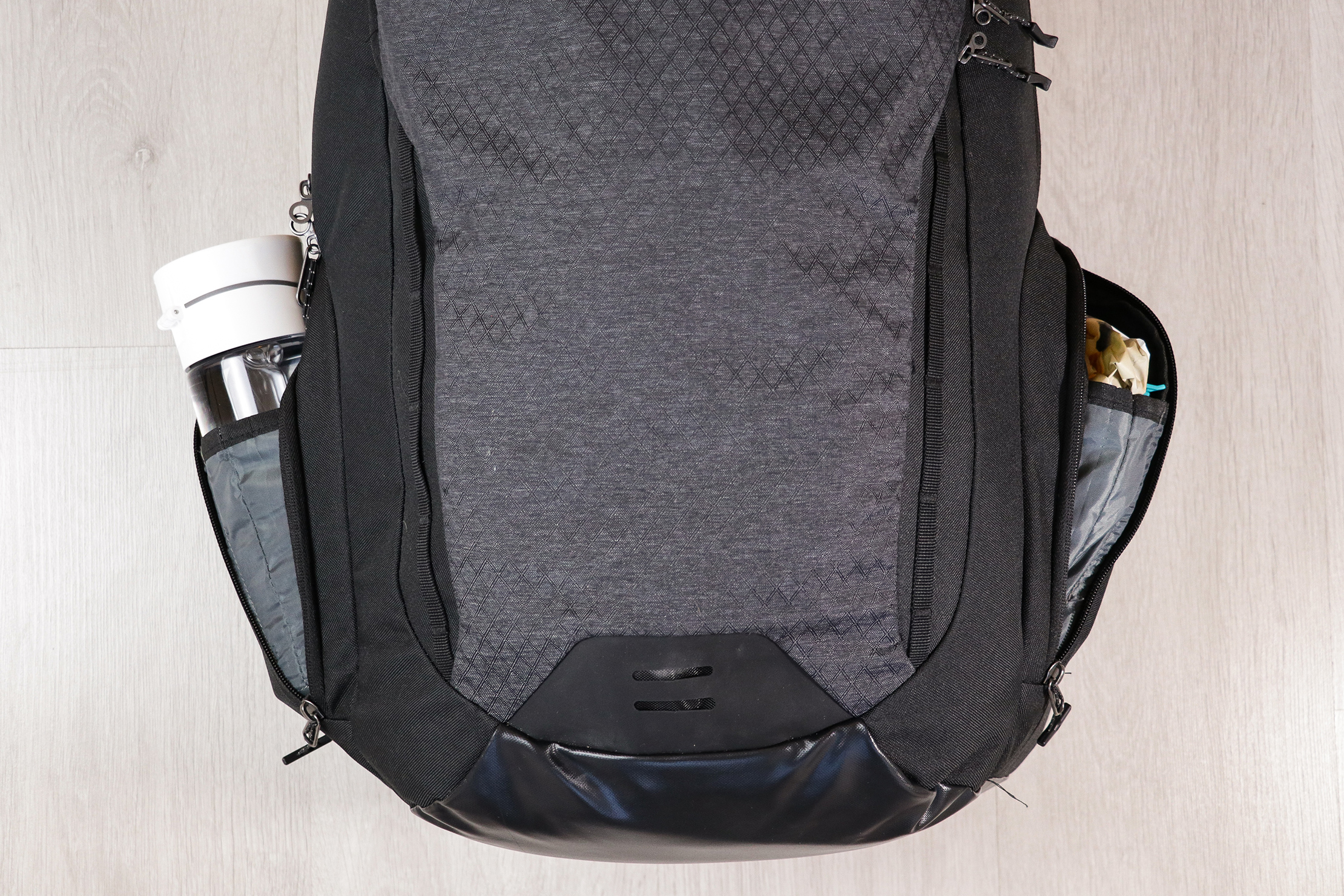 On either side of the pack, there are zippered water bottle pockets that can be used for water bottles or pretty much anything else. We've typically been using one side for a bottle, and the other for snacks. (Got to keep up those energy levels up.) There's also a loop at the top to secure these pockets for additional security, which we like.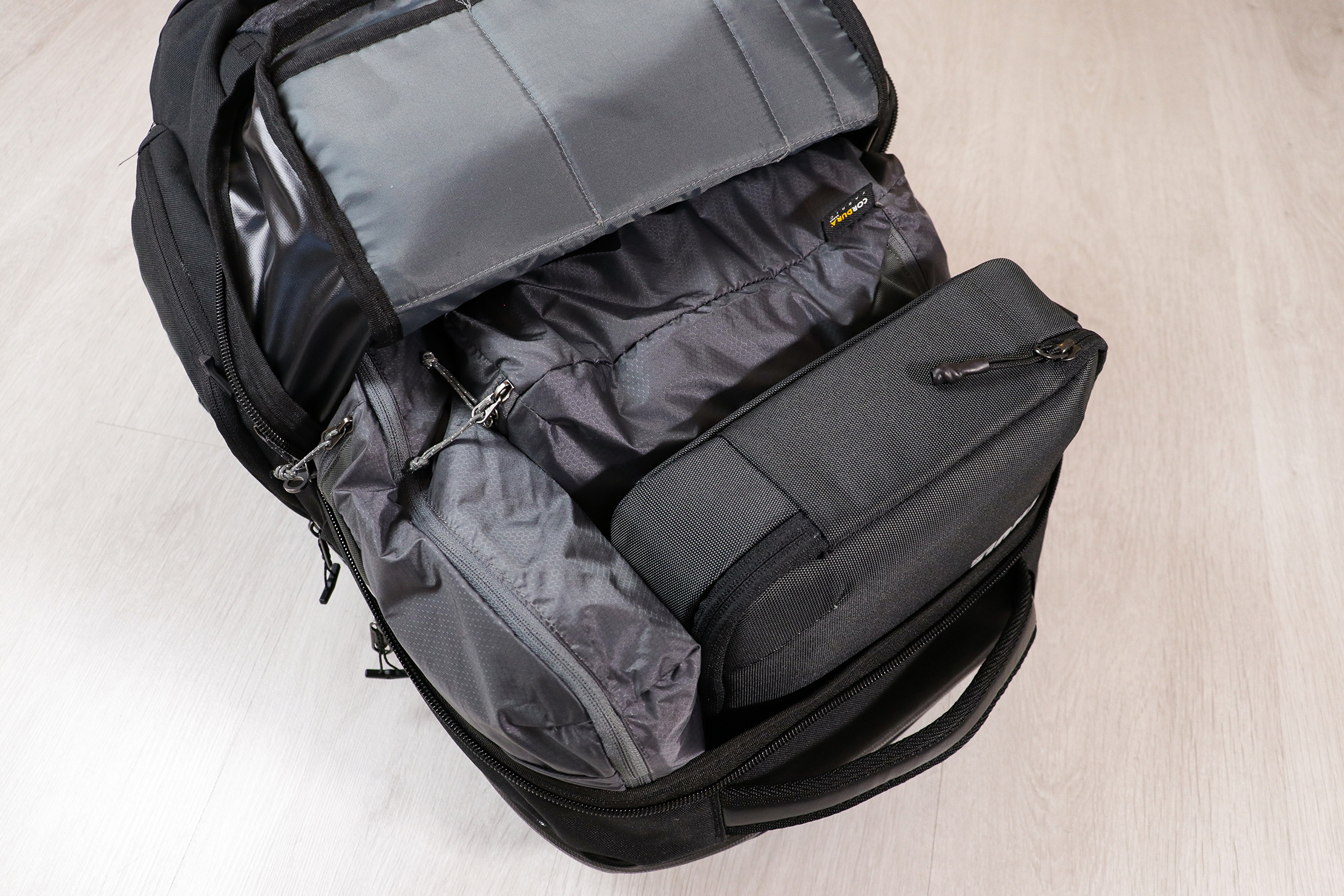 Moving on to the main compartment, you'll find a horseshoe opening here. For this design, we recommend using packing cubes to utilize space and make it easier to reach items at the bottom of the pack.
There's a lot of interesting organization going on inside the main compartment. This may seem overwhelming at first, but it all lays flat when not in use, if that's not your style. This gives you the opportunity to find out what works best for you—whether that's having all of your items in accessory pouches or organized in separate pockets around the pack.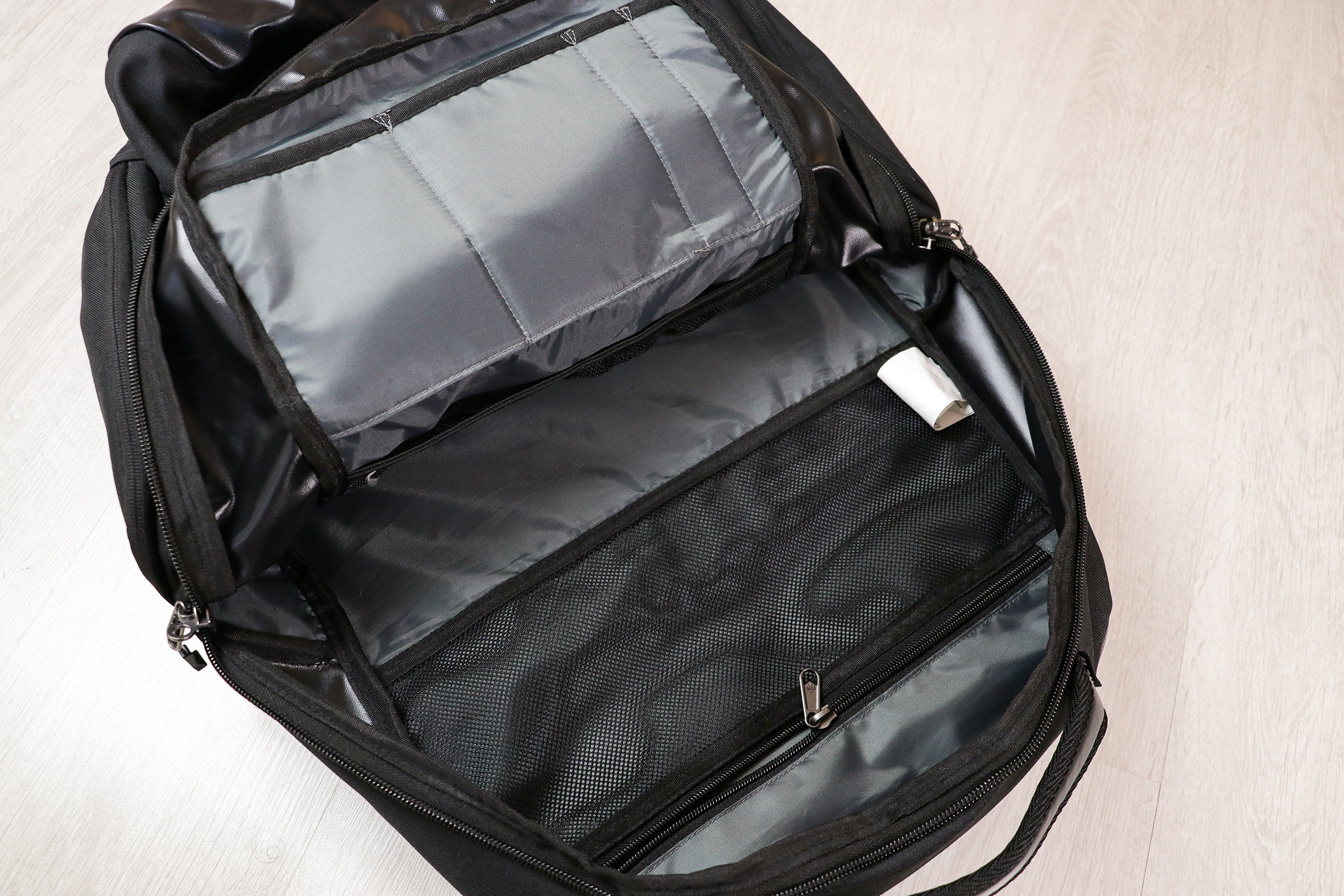 At the back of the main compartment there is a zippered pocket which is ideal for smaller, thinner items you'd prefer to keep secure. On the other side of the compartment there are two pockets that would fit a small notepad or deck of playing cards inside. Next to these are two pen pockets which can be grabbed quickly by opening the main compartment, although we haven't found ourselves using them that often.
Below this, there are two mesh pockets which are elasticated at the top and stretch down to the bottom of the pack. These are pretty roomy, but take note that items in here will compromise the space you have in the main compartment.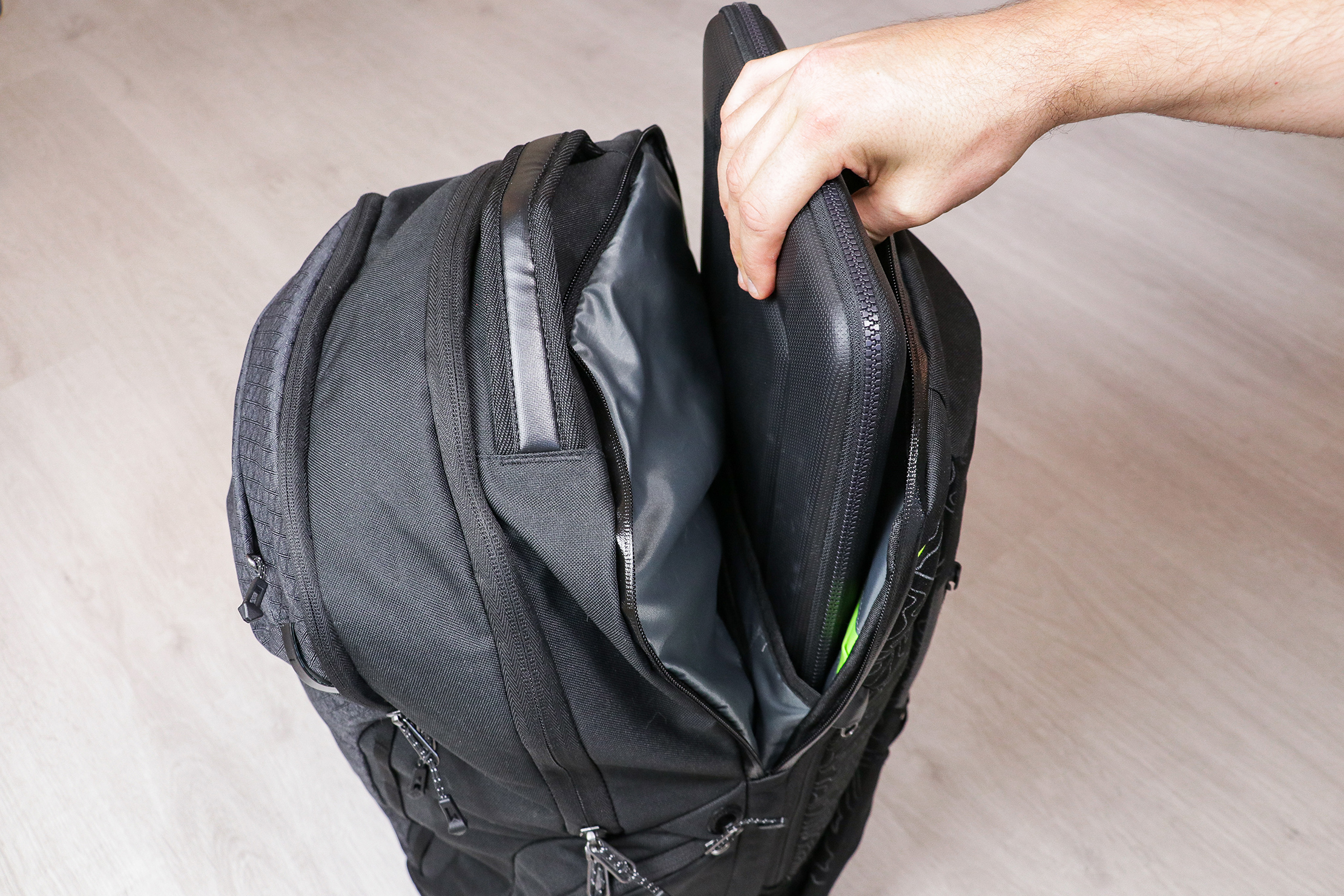 Behind this is a large laptop compartment. The zipper here is weather-resistant too, which is great when you have expensive electronics inside. The padded laptop sleeve in this compartment is large enough for most 17" laptops, and there's a smaller sleeve in front for a tablet. There's even more room for other stuff here too, but just note, anything in here will eat up space in the main compartment, so we recommend reserving this area for flatter items and documents.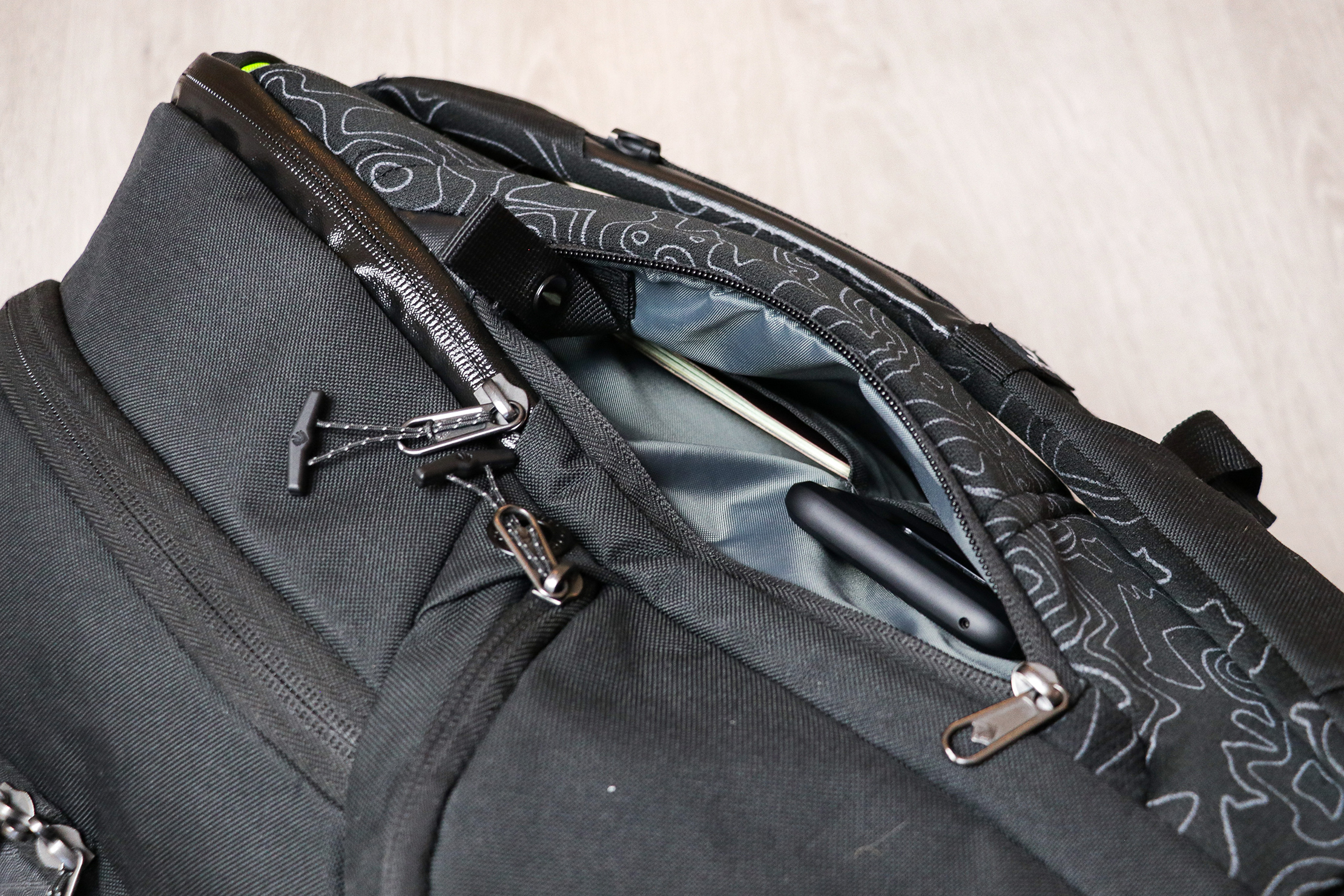 Finally, (yes we're almost there) there is a hidden tech pouch at the back of the pack. This compartment is designed specifically for your passport, phone and power bank. Inside the compartment are two pockets and a key clip.
The rest of the space here actually stretches across the whole of the back panel, which we have to say, feels a bit too large. We recommend taking advantage of the pockets and key clip to hold your items in place if you want to use this pouch, as it will prevent the items moving around and falling to the bottom of the bag, which can be pretty damn annoying! (If you couldn't tell, we know this from experience.)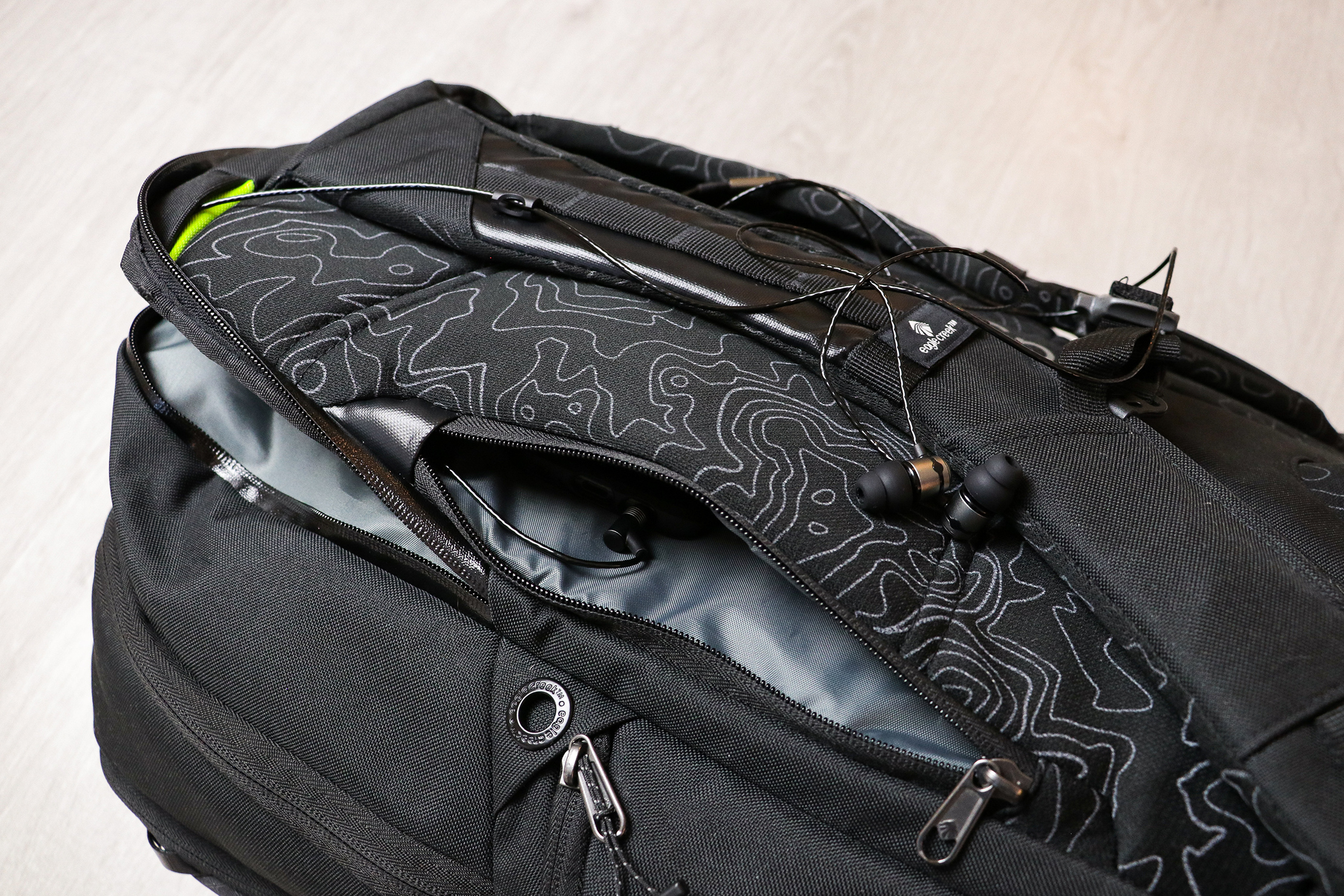 The tech pouch is also connected to the laptop compartment by small pass-through holes. You can use this to pass a charging cable or headphones out to the top of the pack, and then the cable can be secured to a clip on the shoulder strap. In our opinion, this just isn't practical, especially with wireless headphones, which are so common nowadays. The good thing is that it's barely noticeable when not in use.
Durability & Testing
At the time of this review, we've been testing this pack for two months around the UK and on a month long trip to Porto where we used it as a one bag travel pack. This bag has held up very well so far and there are no signs of wear and tear whatsoever.
In testing, we've thoroughly enjoyed using this backpack and we think it makes a great carry-on compliant travel companion. The harness system is incredibly comfortable and we love having the option to pick this pack up in a unisex or a women's specific fit!
Usage Timeline
Initial Usage
Condition: Excellent
Looks smart in the Black/Charcoal color.
It takes a little while to figure out how to utilize all the internal organization
1 Month of Use
Condition: Excellent
Comfortable fit and harness system. Plus, it's easy to use and there's a place for everything.
2 Months of Use
Condition: Excellent
Brought this thing along on a one month trip to Porto, Portugal. It's still holding up perfectly, and served us well as a one bag travel pack.
Access the Pro Community Discussion
Get your questions about the Eagle Creek Wayfinder Backpack 40L answered from our team and the Pro Community right here on the page. Plus, join discussions with other members about gear, guides, and more.
Other Bags & Luggage Reviews