Osprey Arcane Tote Pack Review
We're digging the versatility and comfortable carry of the Osprey Arcane Tote Pack (a tote/backpack hybrid). We only wish it had water bottle pockets.
Our Verdict
Unlock the Pro Summary
Save time. Get access to brief summaries of our reviews so you can browse and make decisions more efficiently.
Pros
Simple, minimal aesthetic
Works well as a tote and backpack
Simple, effective organization
Cons
Lacks water bottle pockets
Key clip is in the main compartment, which is inconvenient to access
The tote handles could use some padding
Recent Pack Hacker Video
Technical Details
Capacity

20l

Weight (lb)

1.76 lb (0.8 kg)

Denier

500D

Dimensions

18.111 in x 14.96 in x 9.06 in (46 x 38 x 23 cm)

Notable Materials

Recycled Polyester, Packcloth, YKK Zippers

Manufacturing Country

Vietnam

Laptop Compartment Size

15"

Warranty Information
Full Review
It's a tote bag…It's a backpack…No, it's the Osprey Arcane Tote Pack—an everyday carry bag that combines the classiness of a tote with the convenience of a backpack.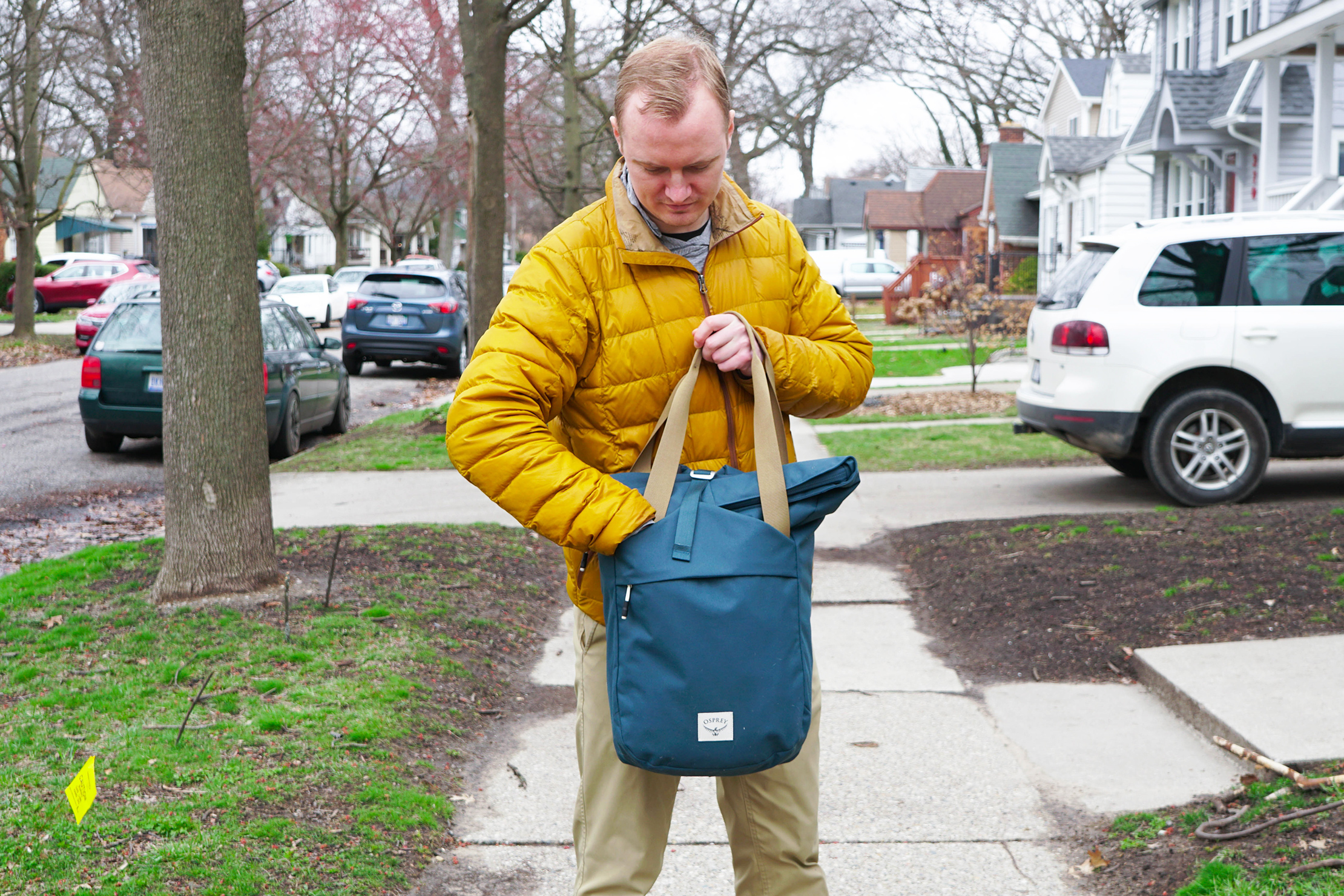 We've been putting the Arcane Tote Pack to the test for two weeks in good ole Detroit, Michigan as well on a short trip to the northern part of the state. So how has it performed? Read on.
Materials & Aesthetic
The Osprey Arcane Tote Pack is far more urban than you usually see with Osprey gear (the exception being the rest of the Arcane line, including the Arcane Day Pack). While sleek and modern, the pack also manages to possess a classy, almost heritage vibe. Overall, we're digging it. But, of course, beauty is in the eye of the beholder and all that.
You can usually count on Osprey for creative colorway names—and they haven't disappointed this time around. At the time of this review, the Tote Pack is available in Stonewash Black, Stargazer Blue, Honeybee Yellow, Haybale Green, and Mud Red. (We've been testing the Stargazer Blue.) They're more earthy and subdued than the bright colorways Osprey usually offers.
But the pack's quality is classic Osprey. The craftsmanship feels solid, as does the 500D Recycled Polyester Packcloth exterior. Osprey claims 13.5 plastic bottles go into making every Tote Pack, which is definitely a win for our planet.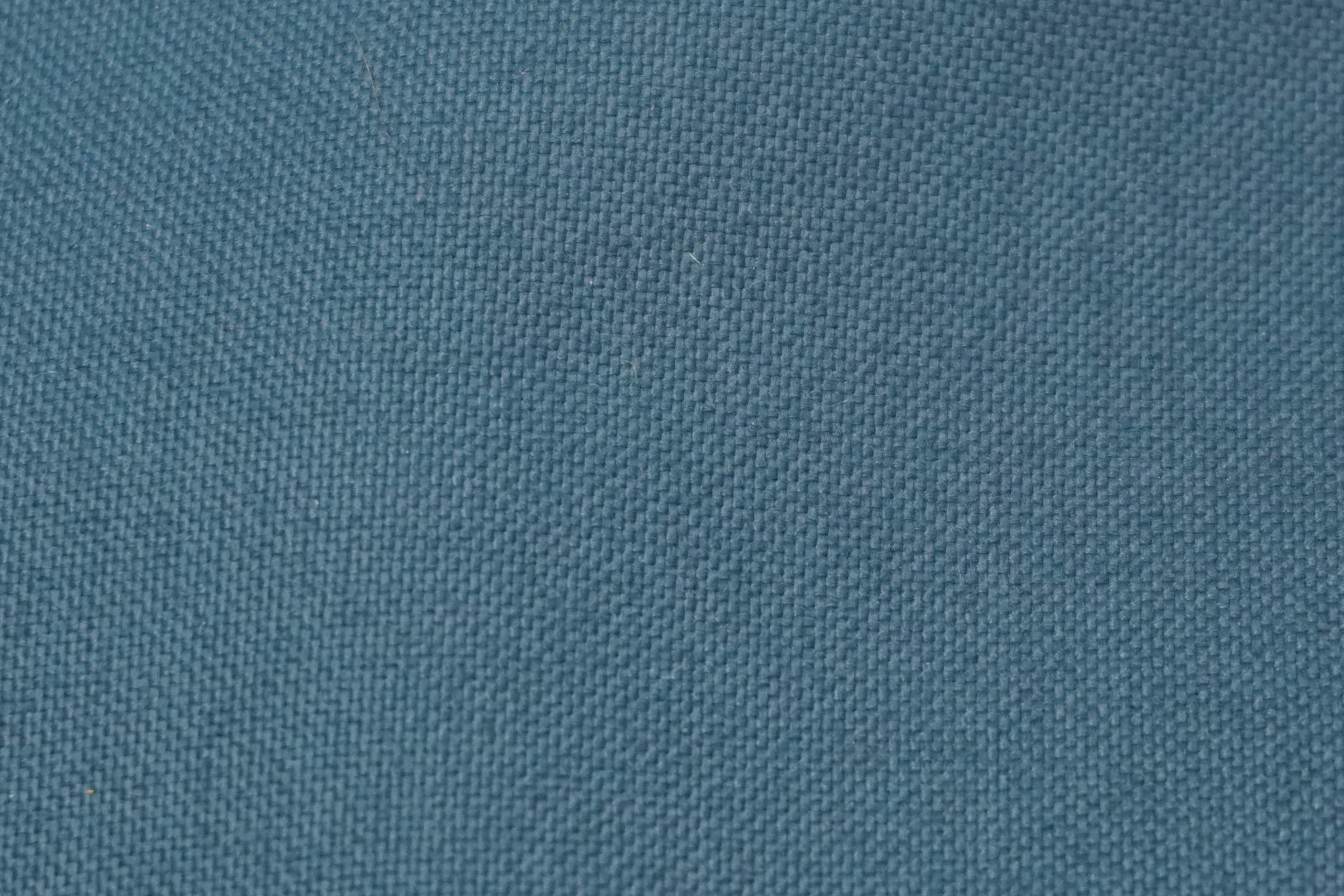 The pack also features a PFC-free DWR coating for some water-resistance, which means your stuff should stay safe if you get caught in the rain.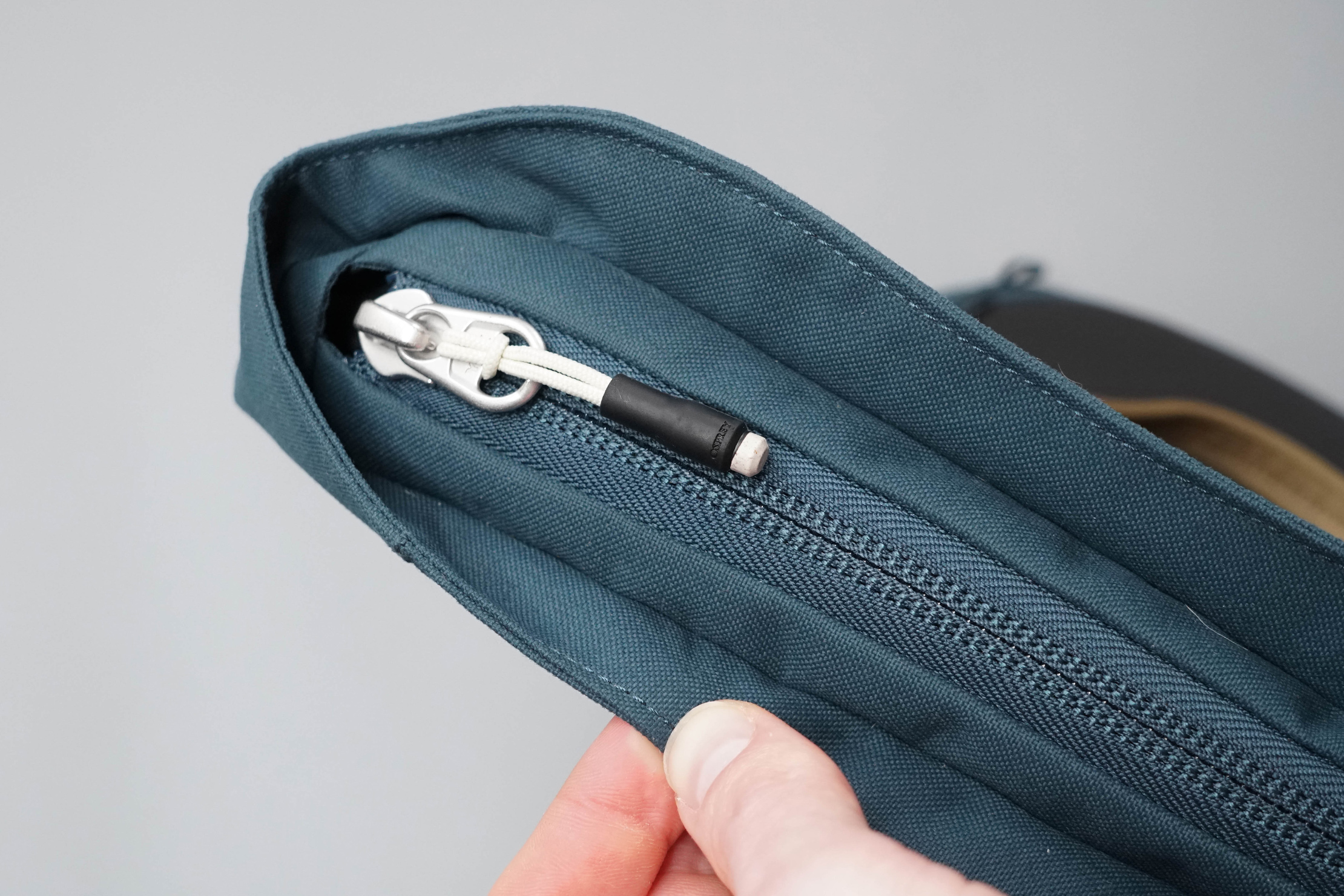 Finishing off the materials, you'll find aluminum hardware and YKK zippers. At this point, we've had a lot of experience with YKK and limited problems…so you should be all set here.
External Components
Let's start with the handles, which account for the "tote" part of the Tote Pack. They're designed to be held in the hands, but they're long enough you can also throw the bag over one shoulder if you so choose. It may get tight underneath your armpit, depending on your body, but it works well enough.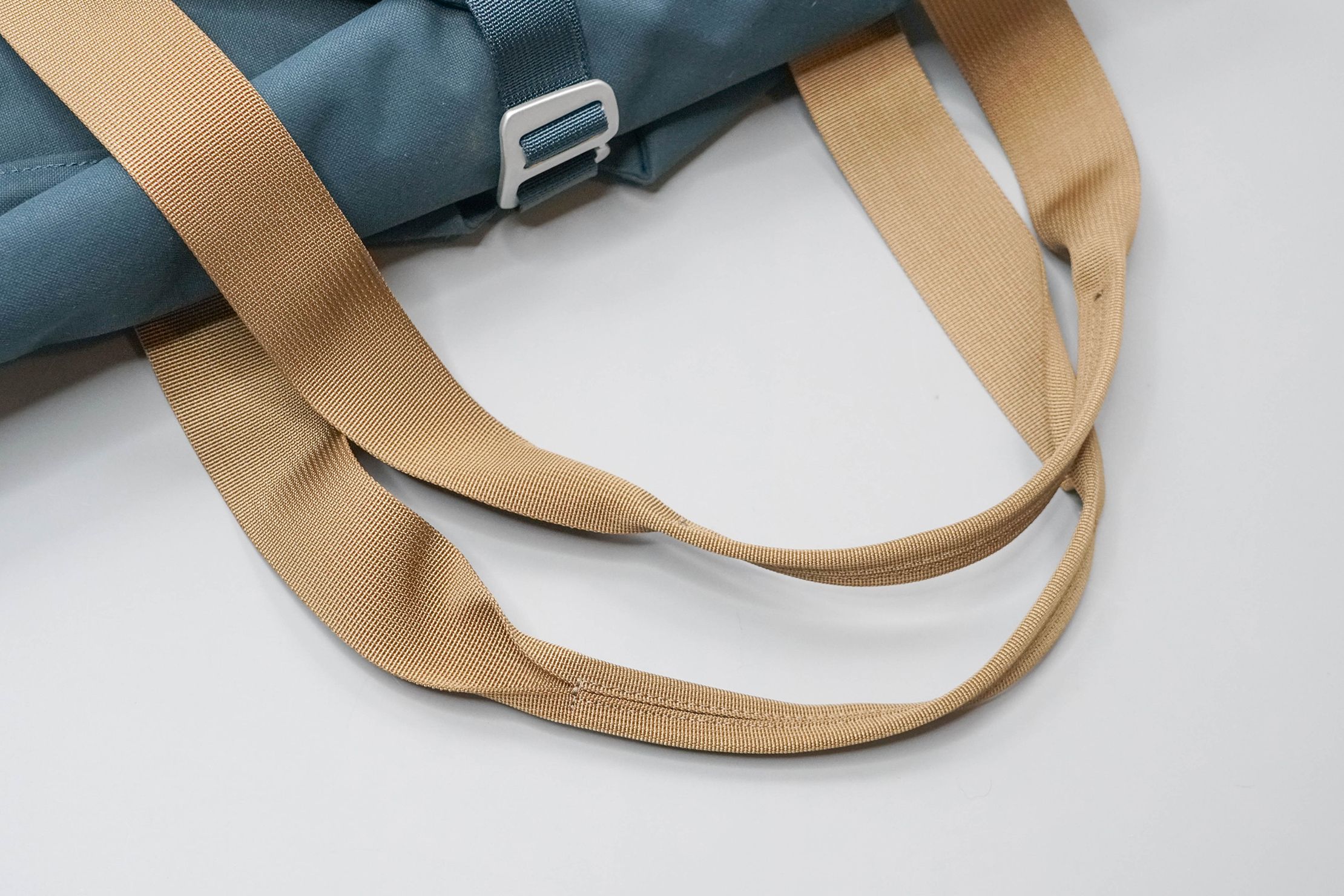 The top of each handle is folded over and sewn together, which provides some comfort. But there's no real padding, which is, frankly, disappointing. Padded handles would make the tote carry more comfortable when the pack's fully loaded out (this thing can get heavy).
That said, it's not the end-of-the-world since you can always switch to backpack mode when the tote carry gets old. To make the switch, simply take the straps out of the sleeve where they're stowed and clip them into the loops at the bottom of the pack. Note that the sleeve the straps tuck into doesn't zip or close with velcro, so (in theory) the straps could fall out while you're carrying the pack in tote mode. We haven't experienced this yet, but we wanted to point out the possibility.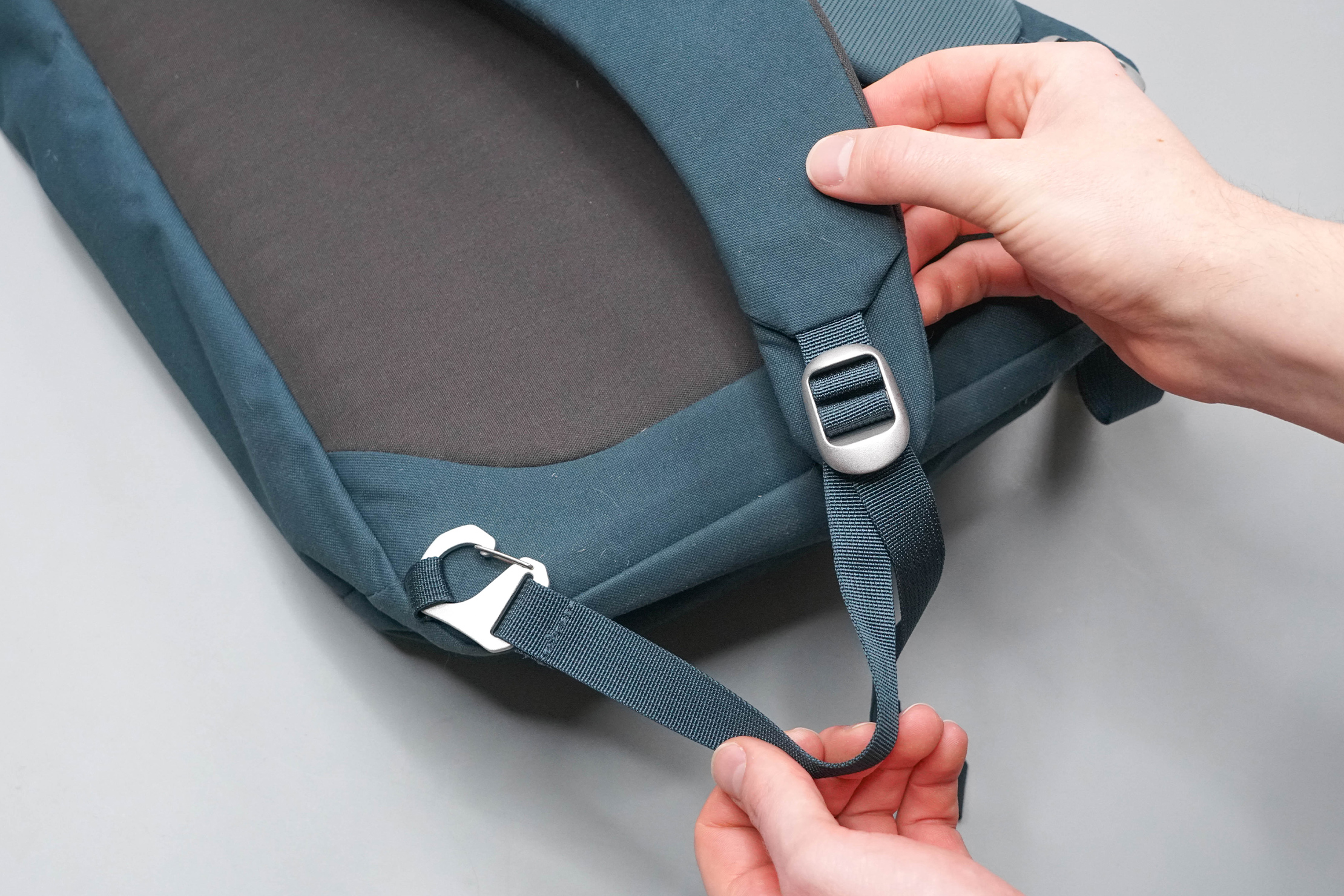 Converting the pack into a backpack is a relatively smooth process, although not seamless. We've found that detaching the backpack straps takes longer attaching them, which could be more of a positive than a negative. We've tested other packs with stowable backpack straps and experienced the clips randomly disengaging. Luckily, we haven't had that issue with the Tote Pack.
As an added bonus, since the straps are detachable you can also use them for security purposes (a feature we also saw on the Osprey Arcane Day Pack). Unclip one of the shoulder straps, or pull it out of the storage sleeve, wrap it around a table leg, your chair, park bench, etc and clip it back to the bag. Of course, someone could simply unhook the strap and steal your pack, but it's still a good deterrent.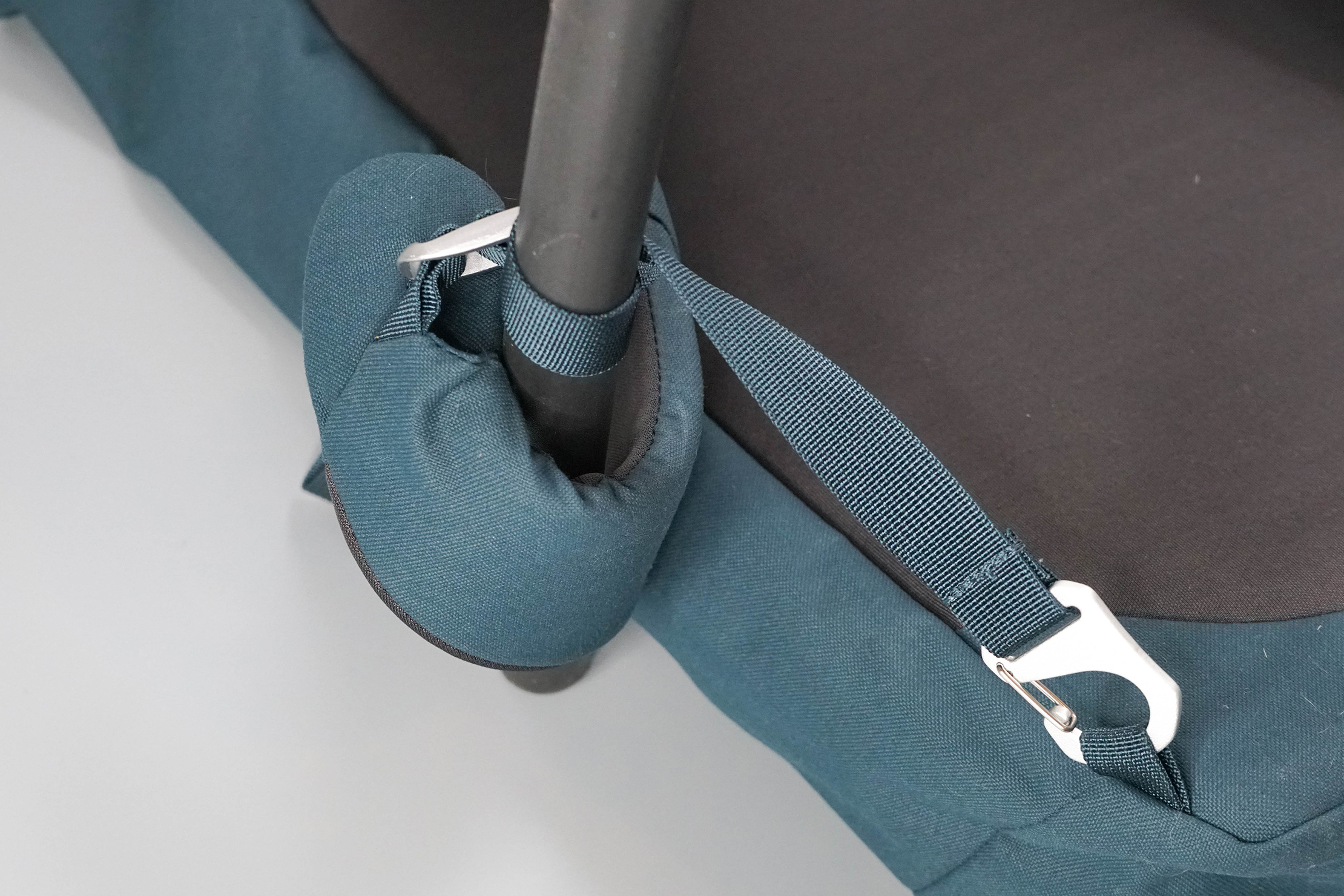 We've been pleasantly surprised by the backpack straps themselves. They're dense and well-padded, making for a comfortable carry. There isn't a sternum strap, but the pack is small enough that it doesn't need it. There is a small mesh pocket on the left strap (when you're wearing the pack) to stash smaller items. Say a granola bar, lip balm, etc.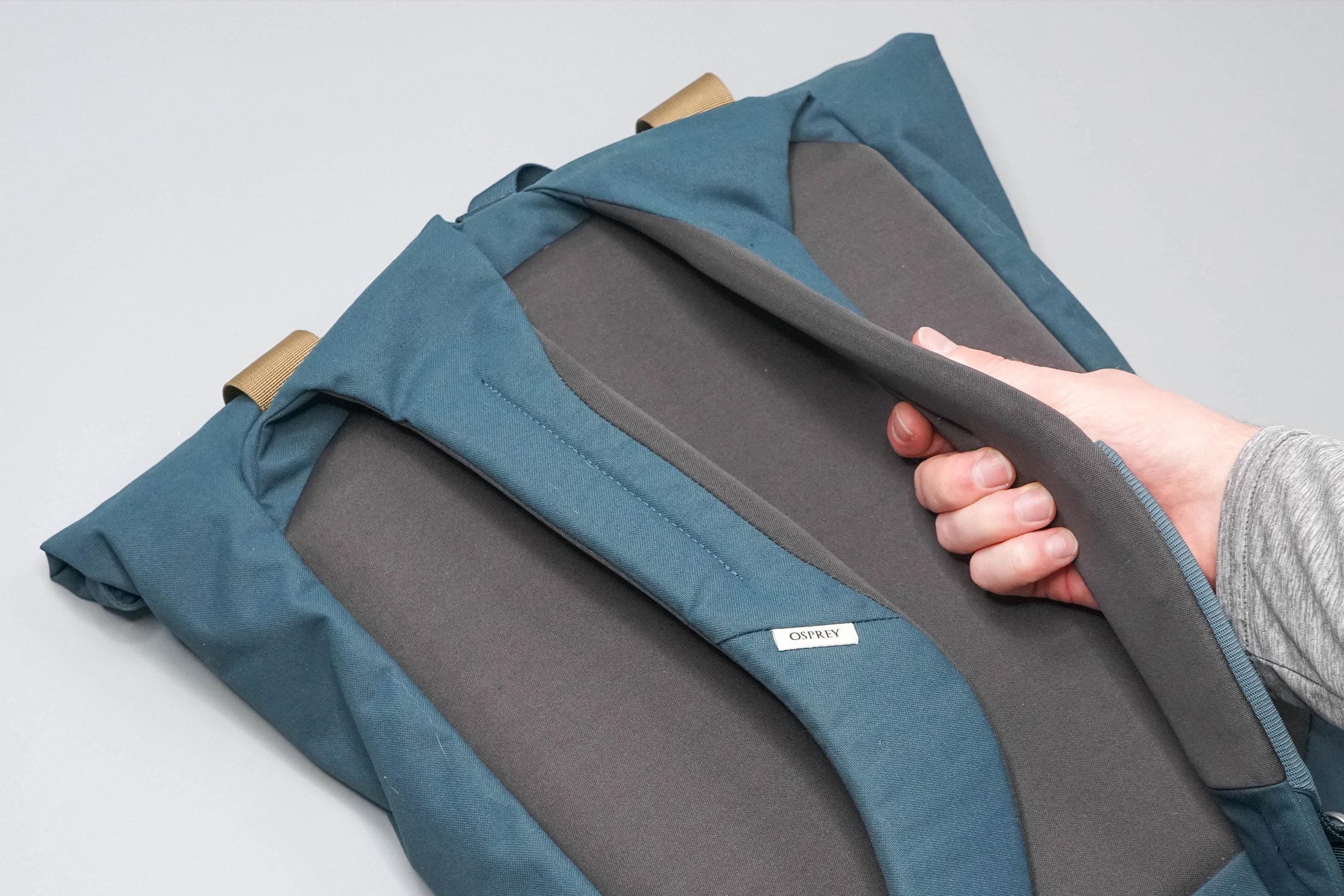 The back panel is quite nice, featuring padding and soft mesh-like material to help with breathability. There are no real air channels, although the panel has a ribbed texture beneath the mesh that helps with ventilation.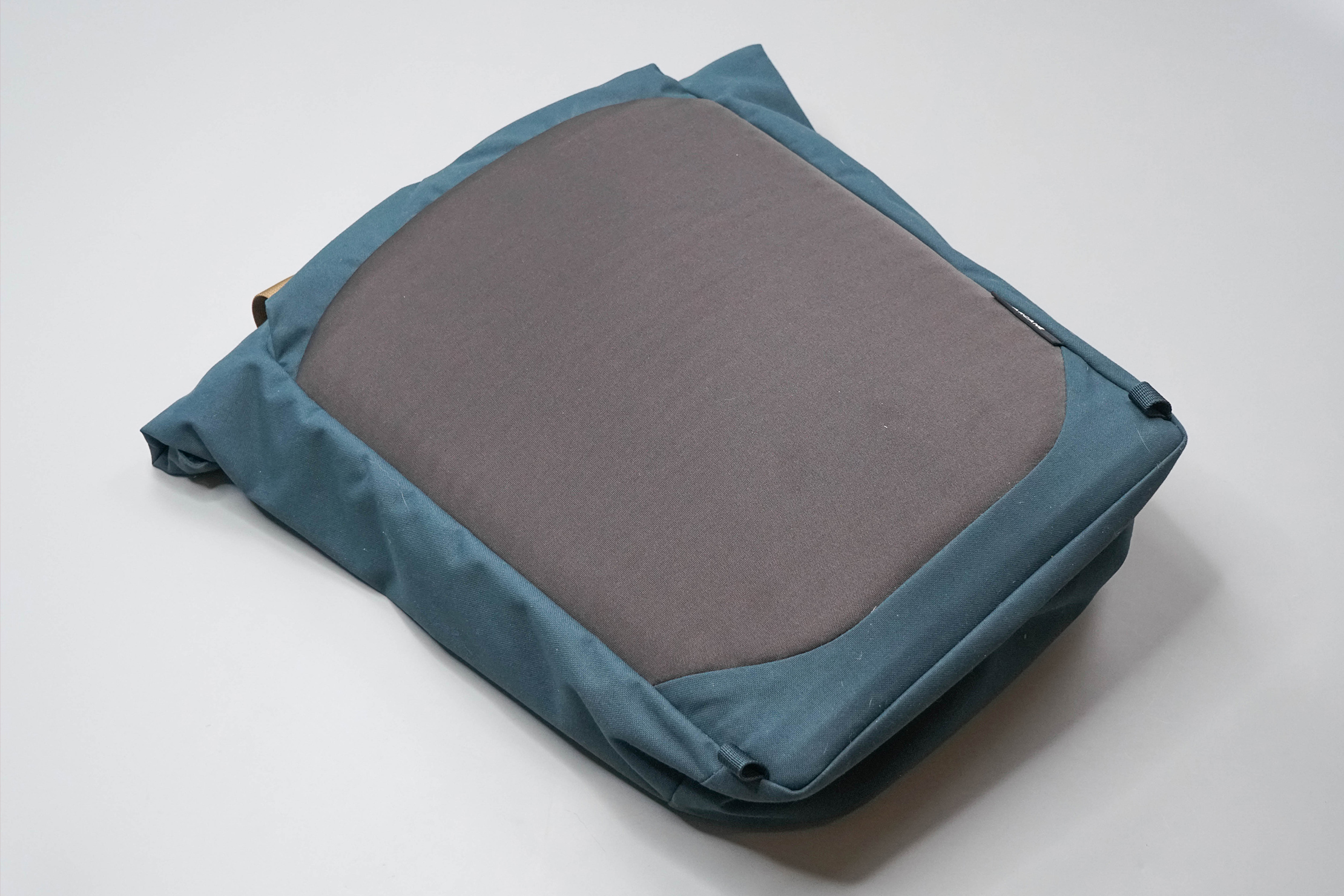 However, because there's not a lot of structure to this pack, you may feel your stuff against your back when it's fully packed out. Especially items like a laptop, for example, which can feel stiff if you prefer to wear the bag higher/tighter on your back. It's not uncomfortable, but something to keep in mind.
Before we unzip this thing, we want to point out that the Tote Pack doesn't have side water bottle pockets. While that's not a problem for everyone, it's a bit of a bummer if you usually carry water bottles or coffee thermoses with you. We've tossed a water bottle into the main compartment, but it's slow to access if you're on the go. You may be able to fit a bottle in the front pocket, depending on its size and how full you have the bag (the 32oz Hydro Flask we've been testing is a bit too big to fit comfortably).
Inside the Pack
While the Osprey Tote Pack has a relatively slim profile, it has enough space to hold all of your everyday items (you know, within reason).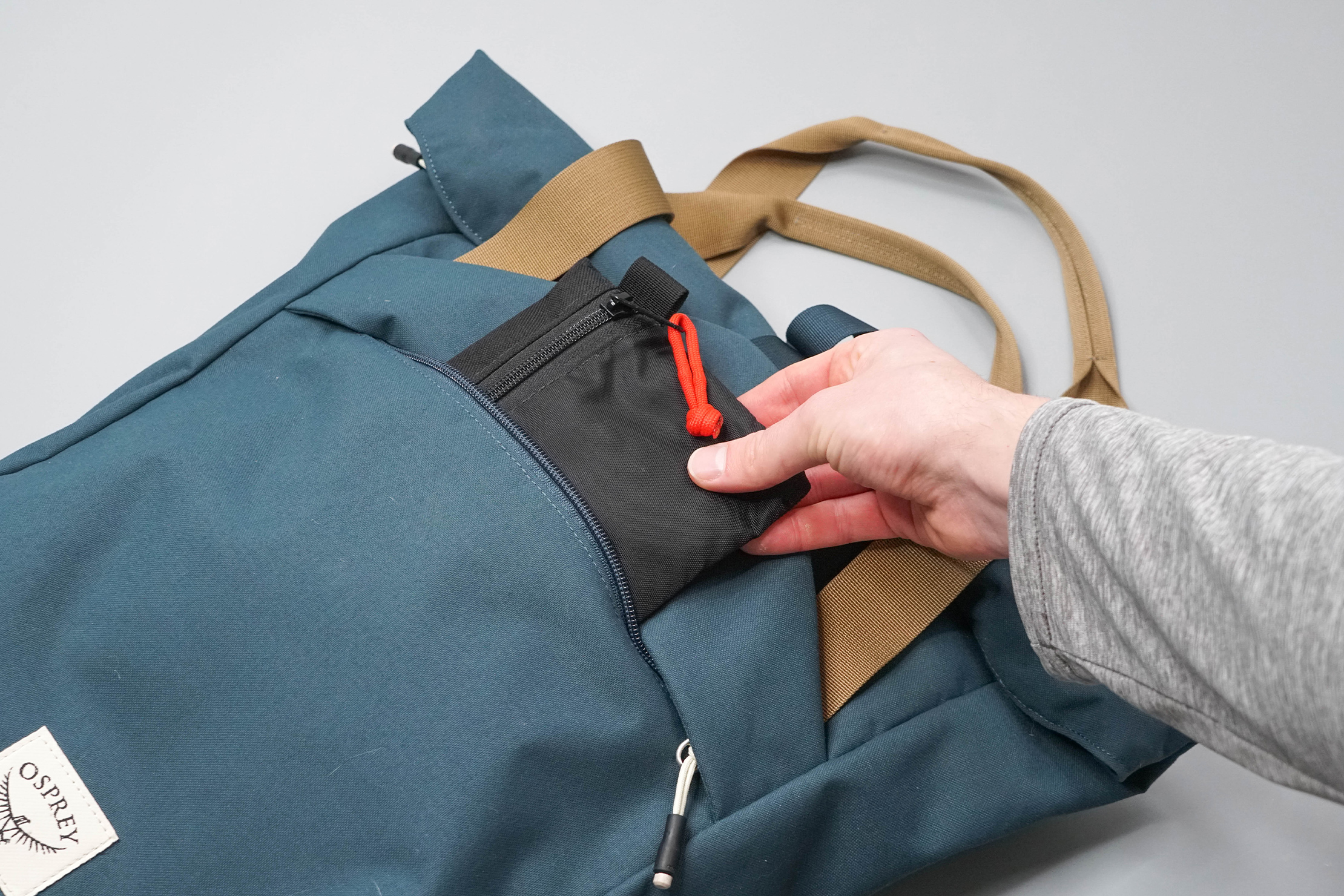 The front pocket is the perfect spot for your quick-grab items. And, as it takes up the whole front area of the bag, it's roomy enough for bigger items too. That said, the space and lack of interior organization means you may have to go digging for smaller stuff. To skirt this issue, we've been using accessory pouches.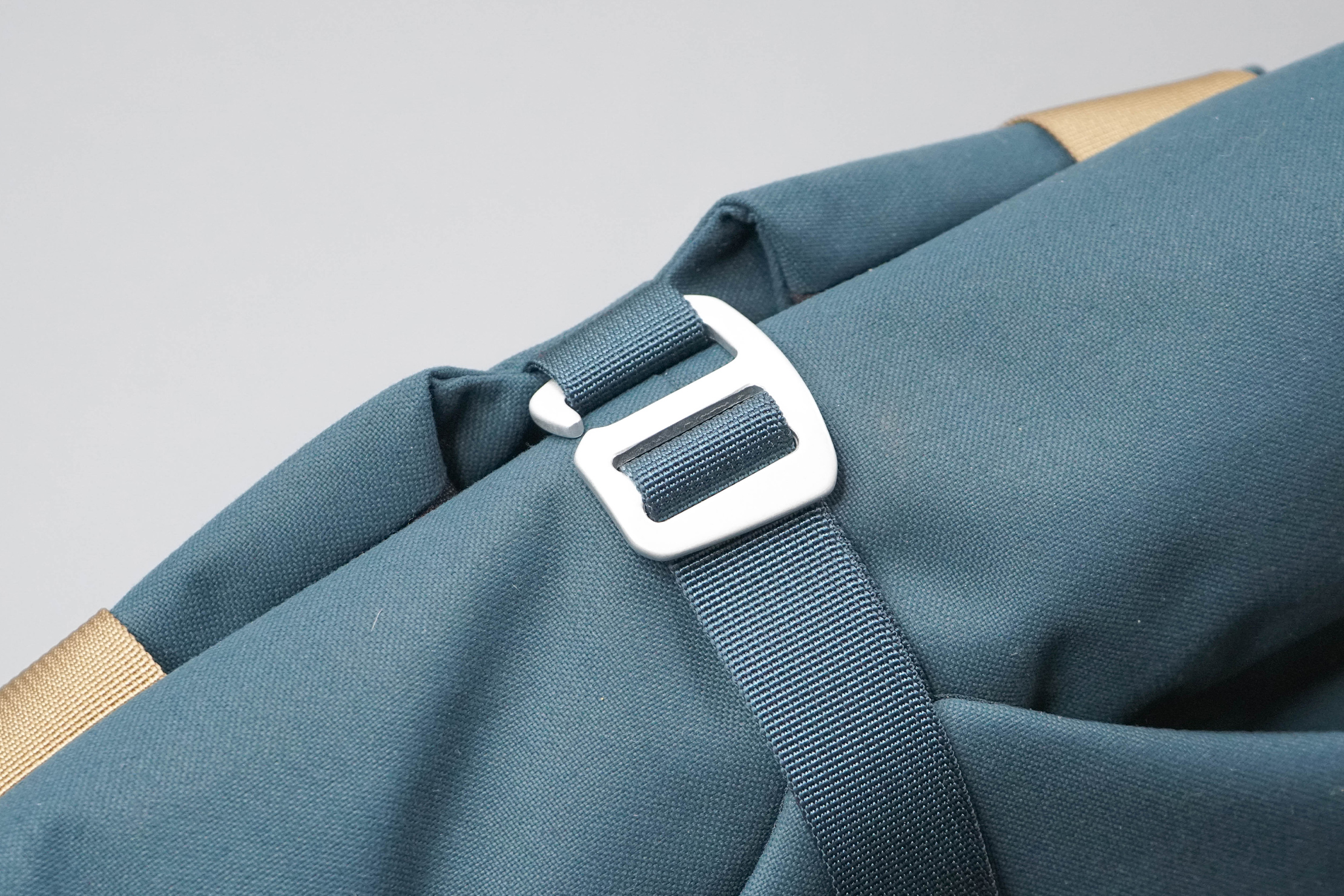 The other two pockets on this thing are secured by what Osprey calls a "fold-and-hook closure." Essentially, it's a G-hook attached to a strap. You can tighten the strap to really secure these pockets.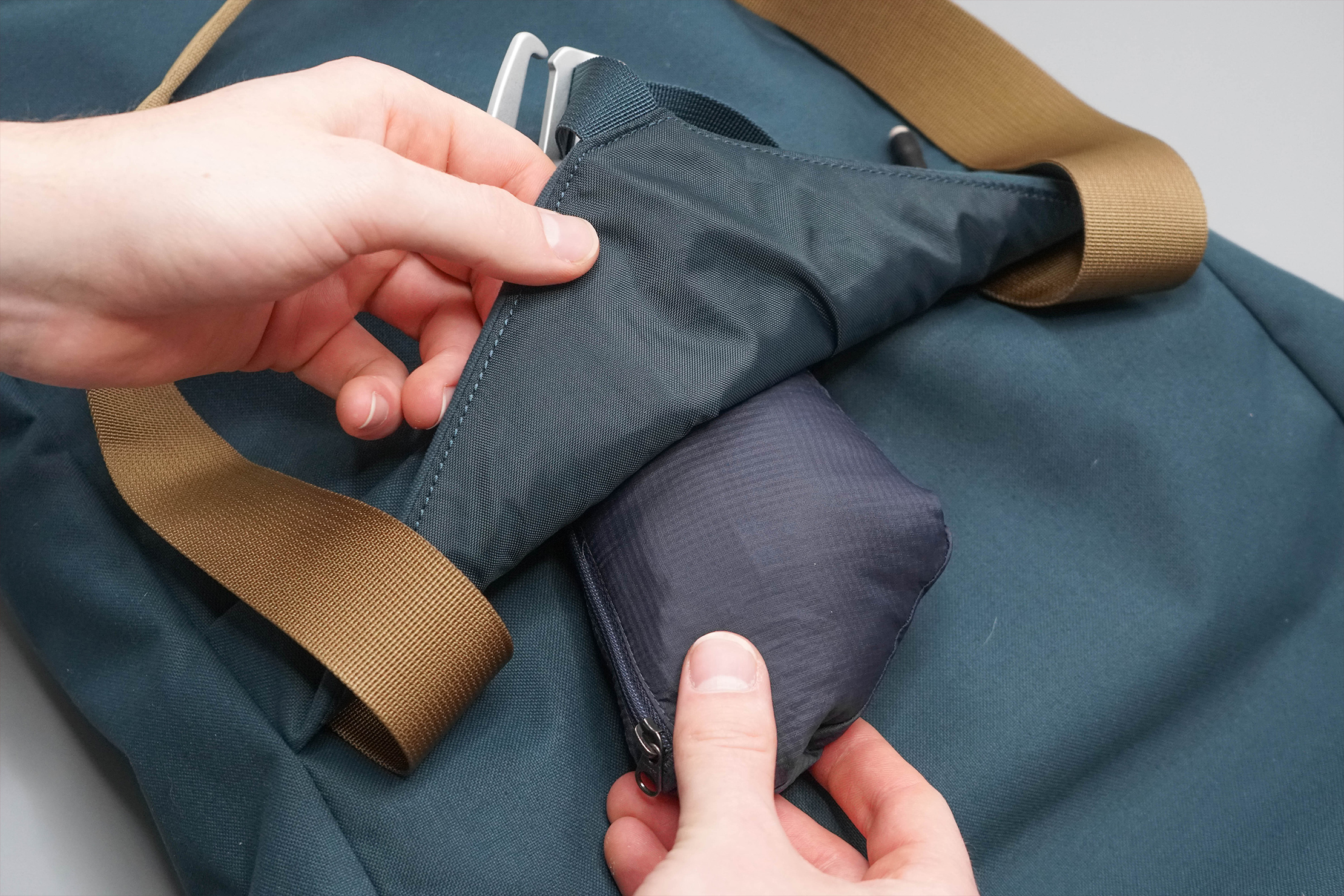 There's no other way to keep the stash pocket—or the shove-it pocket, as Osprey says—closed. It's a good spot to stash a packable jacket or for those random items that you may not carry around every day. Say a lunch, umbrella, juggling balls, etc. Just note that anything bulky will eat into the capacity of the main compartment. You can also use this stash pocket to tuck away the tote straps, ensuring a clean profile in backpack mode.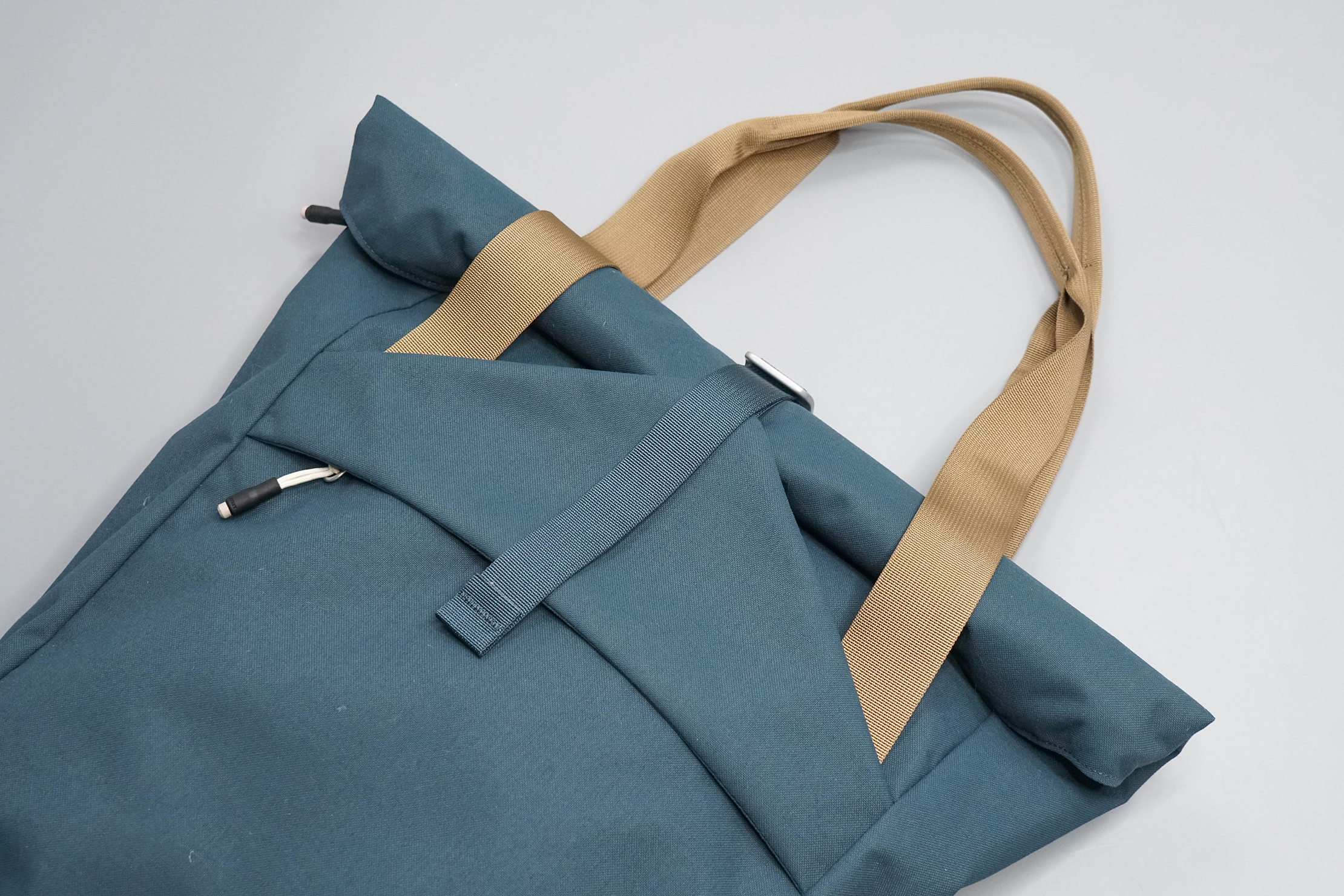 The main compartment is a roll-top, which is one of those controversial things you'll either love or hate. We've enjoyed it as it allows you to slightly expand the capacity of this compartment when need-be (say for short trips) or cinch it down when you have a lighter load.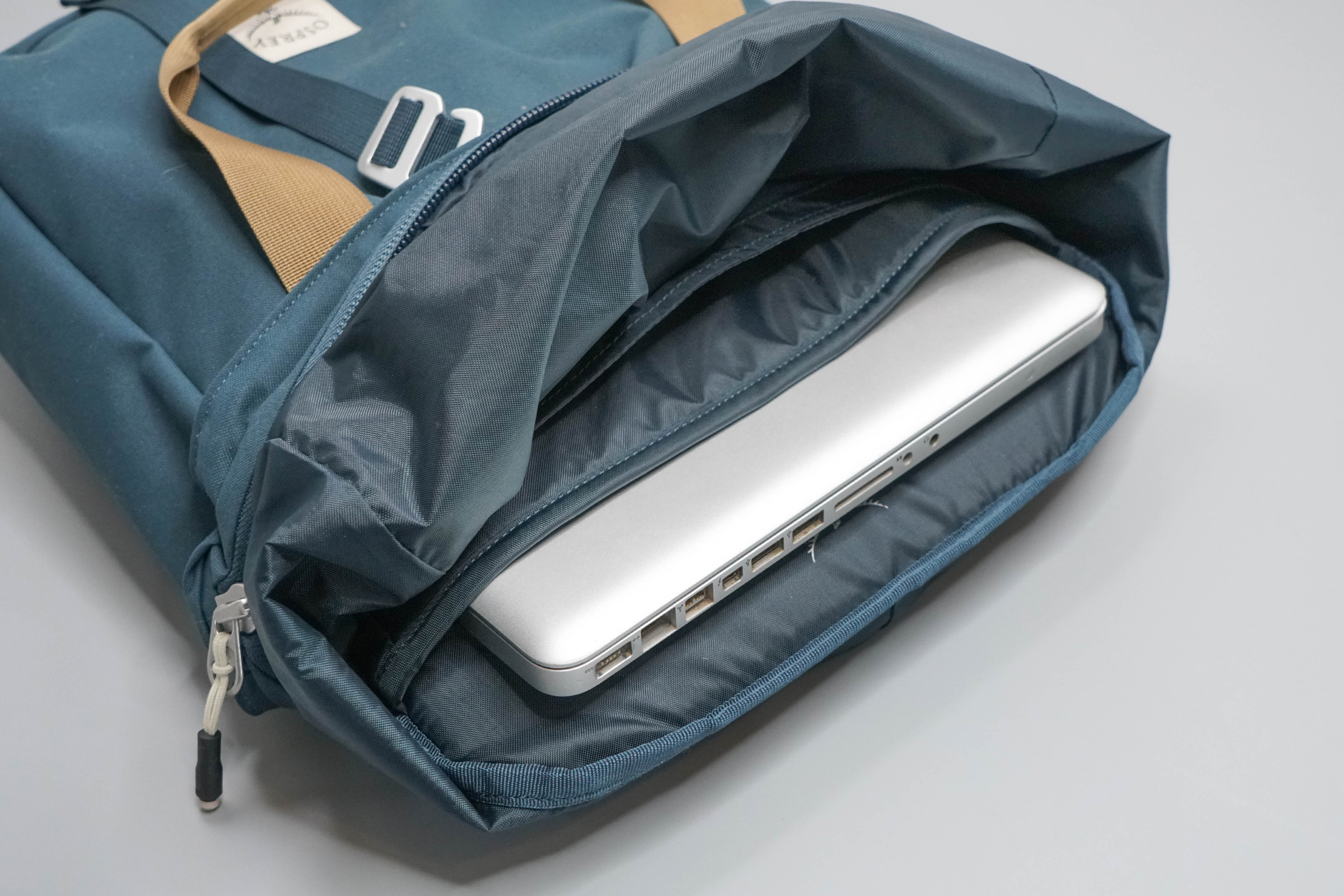 In addition to the fold-and-hook closure, the main compartment is also secured with a zipper.
When you open it up, you'll be greeted with a relatively simple interior. Against the back, there's a laptop sleeve designed to fit up to 15'' laptops. It's decently padded and has a false bottom, which we certainly appreciate. If you're not familiar, a false bottom suspends your laptop off of the bottom of the pack, protecting it in the case of unexpected drops.

In front of the laptop sleeve, there's an additional sleeve for documents, notebooks, tablets, etc. In front of that, there's a long zippered pocket with some stretch to it. It's a great place to keep little things—say headphones—so they don't disappear into the Bottom of the Backpack Black Hole (you know, the place where pens, bobby pins, and socks get sucked into). There are also two small liner pockets for pens and other similar items.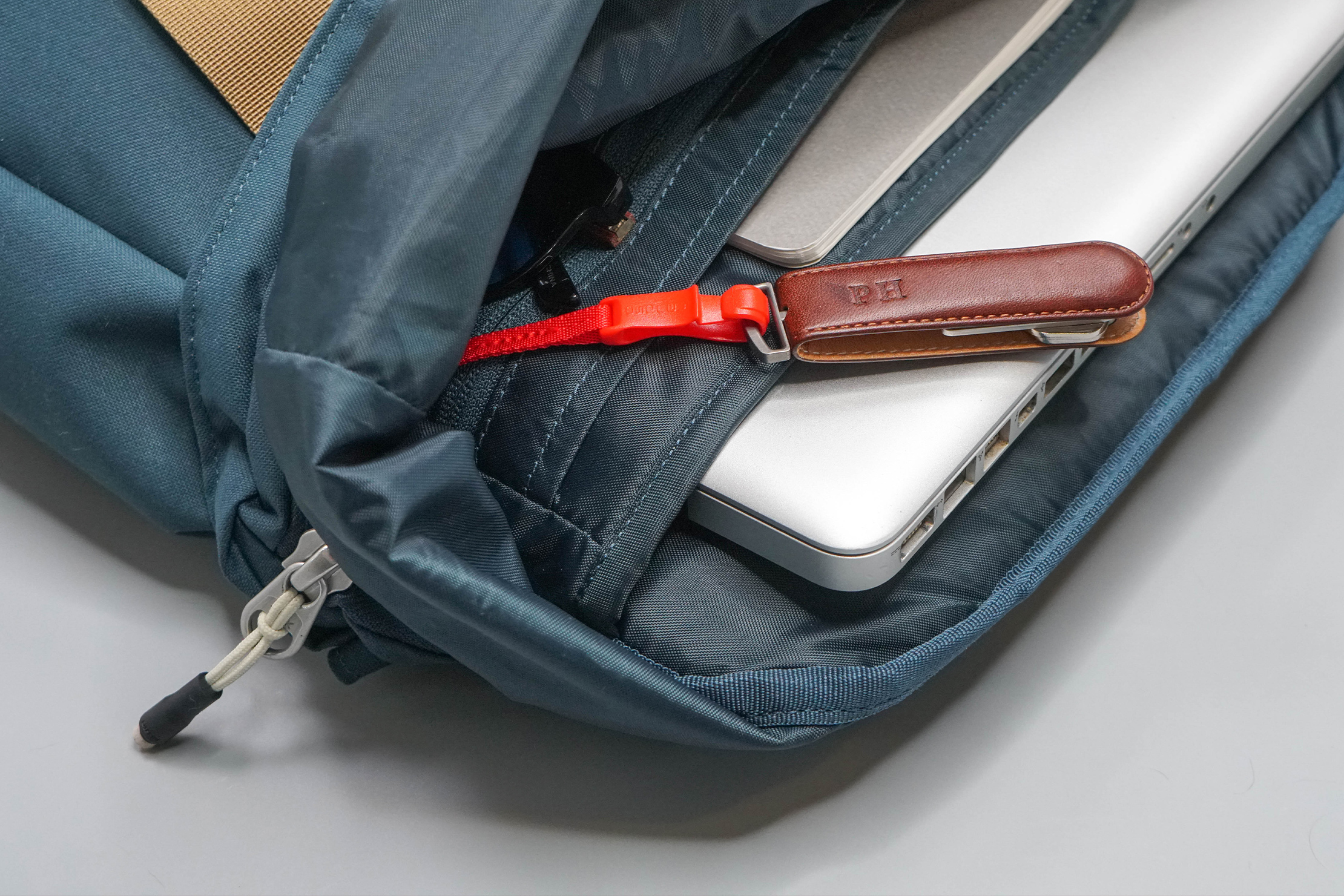 Finally, there's a small key leash. We're not sure why the folks at Osprey opted to put the key leash here. We feel like it would make more sense to have it in the quick-access pocket, so you don't have to open up the whole bag to get to your keys. During testing, we only clipped our keys to the key leash for a few days before we got too annoyed. It's just an inconvenient spot for it.
The rest of the compartment is empty space for the rest of your stuff. We've put a laptop stand here, as well as a tech pouch and water bottle.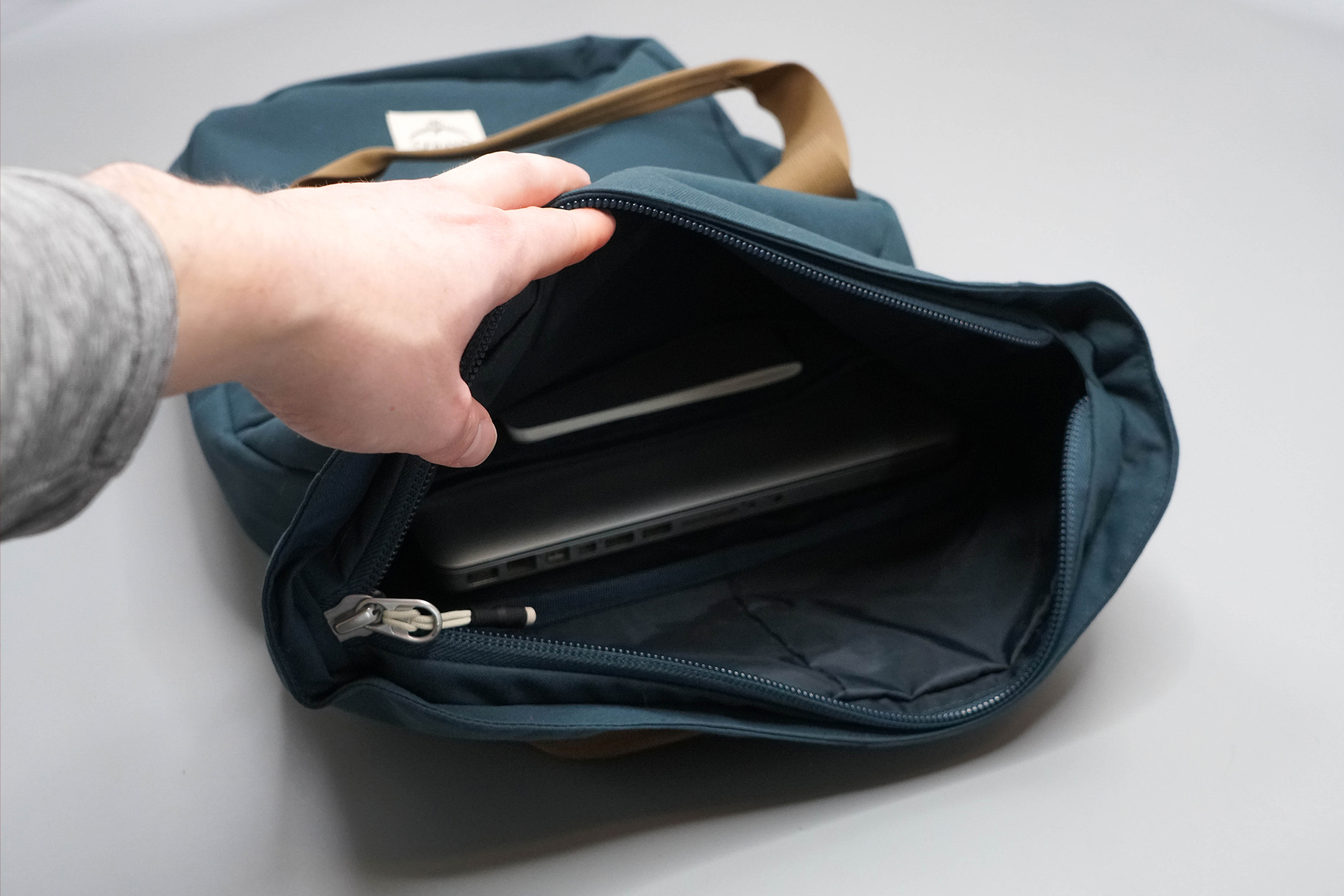 Now, the roll-top/top-loader design can make it difficult to see your stuff inside the pack. Plus, because it's a roll-top/top-loader, you have to go digging around to find your stuff. That's less of a critique of the Arcane Tote Pack and more of a critique of top-loader designs in general. It's also not a huge deal, but something to keep in mind. A workaround is to use accessory pouches to organize smaller gear, ensuring they don't succumb to that aforementioned Bottom of the Backpack (Tote Pack) Black Hole.
Durability & Testing
We've been testing the Osprey Arcane Tote Pack around Detroit, Michigan for two weeks and have taken it with us on a weekend trip to Northern Michigan. It has just enough space to fit all of our usual tech stuff, an extra change of clothes, and a Dopp kit. The roll-top helped here because you can unroll it a bit to make space for the Dopp kit.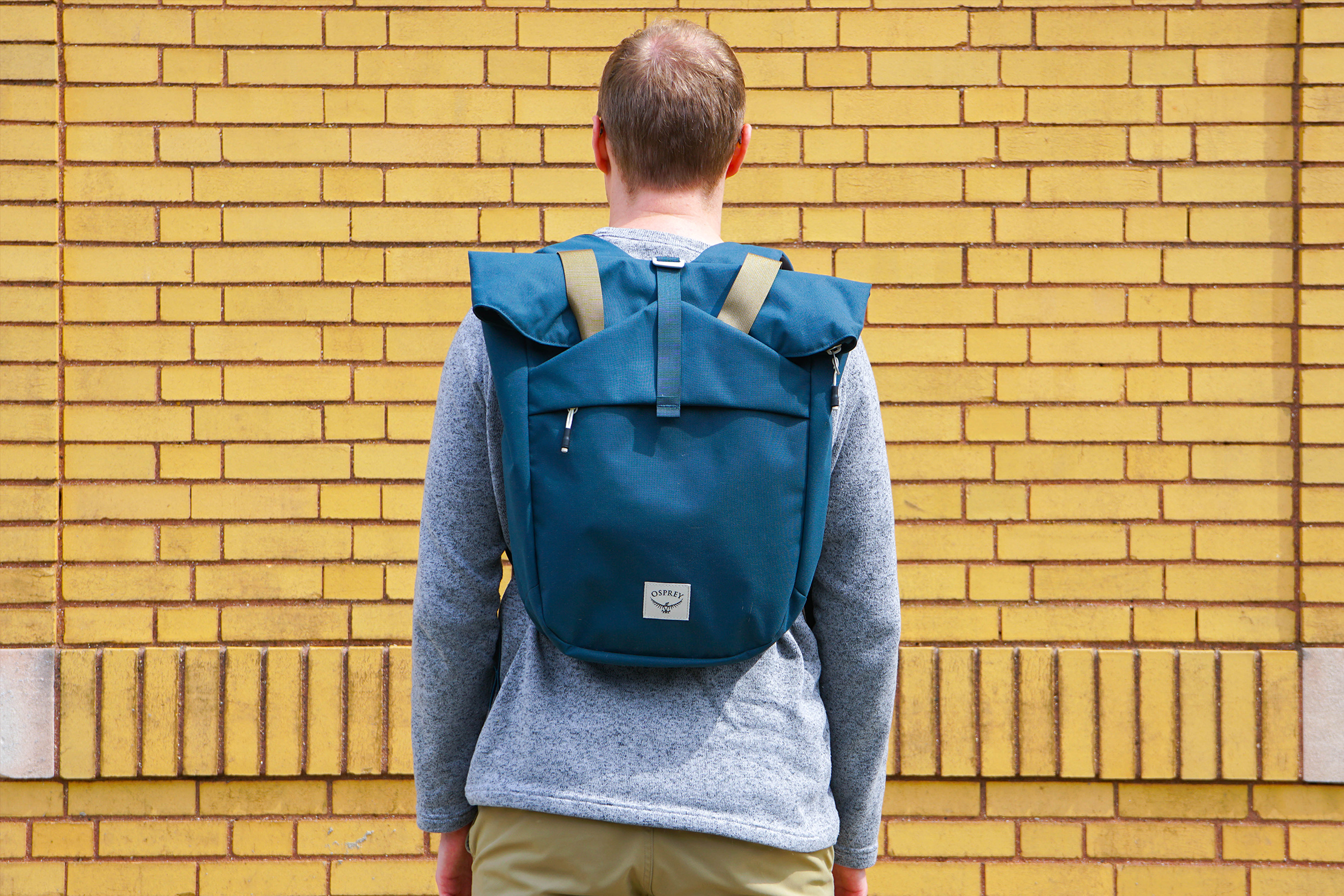 As far as durability is concerned, the Tote Pack still looks brand new at the time of this review. We have nothing major or minor to report.
Usage Timeline
Initial Usage
Condition: Excellent
Can be carried as a backpack or the shoulder straps can be packed away for tote carry
Great organization for all your EDC items including laptop
Back panel and shoulder straps have dense and comfortable padding
2 Weeks of Use
Condition: Excellent
Digging the versatility of this bag. It works well as both a tote and a backpack. As a tote, it's easy to grab and go—although the handles could use some padding (especially on longer walks to the co-working space). As a backpack, it's quite comfortable—even when loaded up with our daily kit.
Access the Pro Community Discussion
Get your questions about the Osprey Arcane Tote Pack answered from our team and the Pro Community right here on the page. Plus, join discussions with other members about gear, guides, and more.
Other Bags & Luggage Reviews