Osprey Arcane Large Day Pack Review
The Osprey Arcane Large Day Pack may look different from their usual aesthetic—but its quality, organization, and comfortable carry are classic Osprey.
Our Verdict
Unlock the Pro Summary
Save time. Get access to brief summaries of our reviews so you can browse and make decisions more efficiently.
Pros
Quality, luxurious materials used throughout
Comfortable carry
Left shoulder strap detaches and can be secured around fixed objects for additional security
Cons
Picks up dust, dirt, hair, etc
Lacks water bottle pockets
The plastic key clip is a much lower caliber than the other materials
Recent Pack Hacker Video
Technical Details
Capacity

20l

Weight (lb)

1.6 lb (0.7 kg)

Dimensions

18.5 in x 12 in x 7.5 in (47 x 30.5 x 19.1 cm)

Notable Materials

Polyester, Cotton, Canvas, Nylon, Packcloth, YKK Zippers, Duraflex Hardware

Manufacturing Country

Vietnam

Laptop Compartment Size

15"

Warranty Information
Full Review
If you're familiar with Osprey then you'll notice straight away that the Osprey Arcane Day Pack looks a little—okay a lot—different from the company's other packs.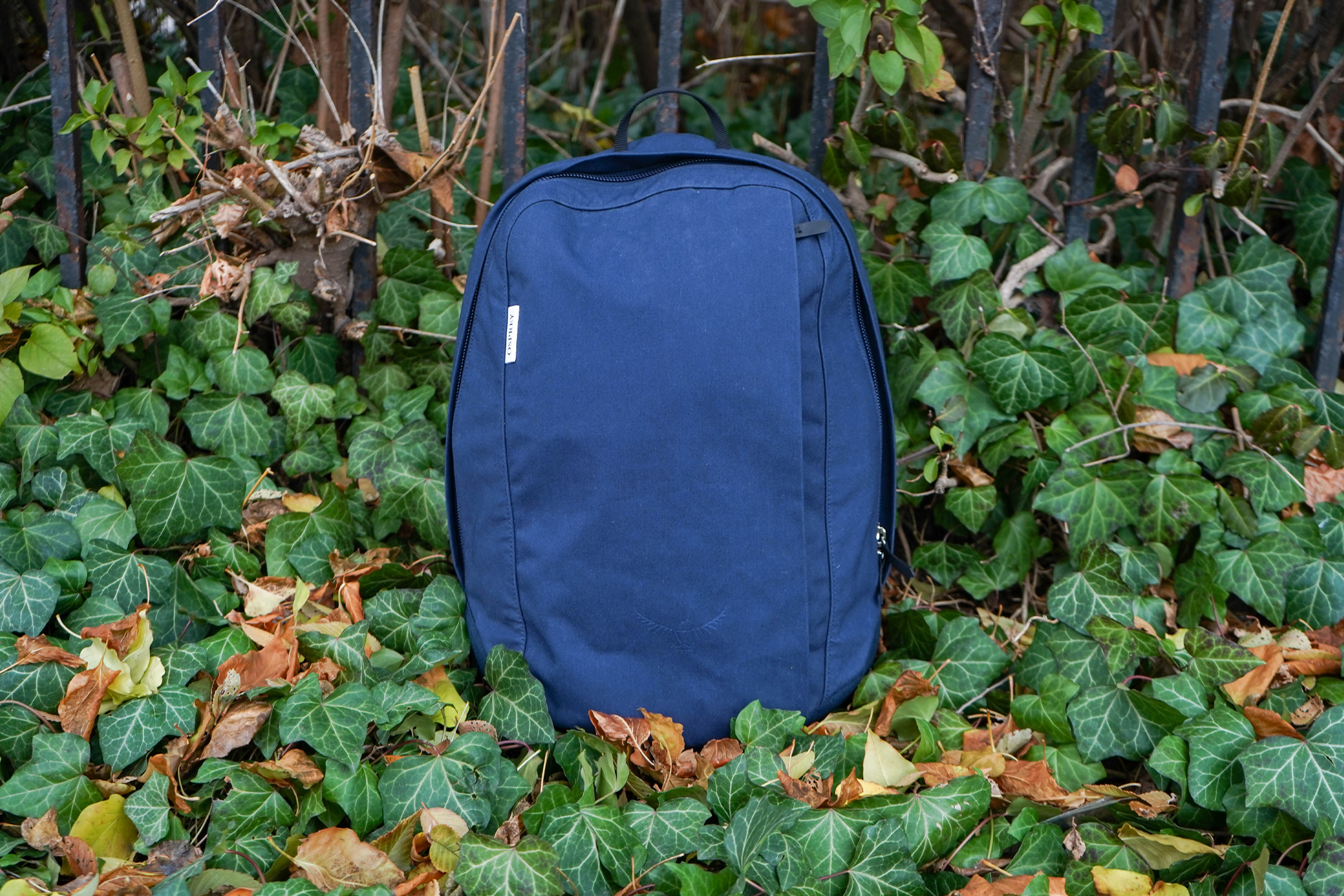 That's right, folks. Osprey has gone urban. Gone are the bright colorways, multitude of straps, and giant logos. (For this pack, anyway.)
And—to the surprise of nobody who knows us here at Pack Hacker—we're digging it. Especially since Osprey has only changed the superficial stuff. The quality we've come to expect from their packs is still here.
The Arcane is available in both a large 20L and a small 10L day pack, as well as a Large Top Zip Pack. While we've specifically been testing the Large Day Pack, a lot of the features overlap in all three versions.
So let's check it out.
Materials & Aesthetic
As we've already mentioned, the biggest thing worth noting looks-wise is how much of a departure this bag is from Osprey's usual aesthetic. Otherwise, it looks like a simple backpack. At home in coffee shops, classrooms, or downtowns. You definitely won't stand out while exploring the metropolises of the world, which is a huge plus in our books.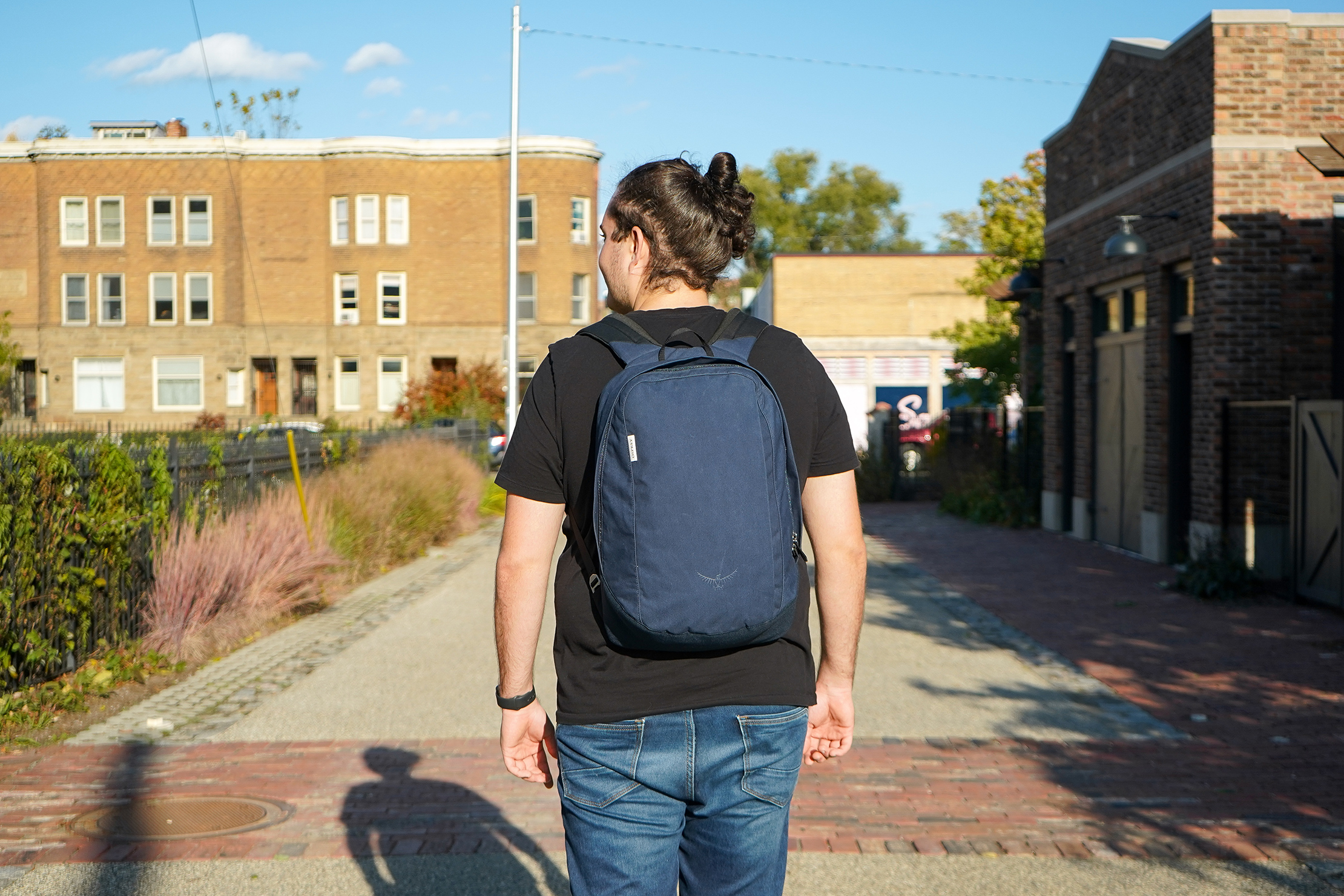 The branding is super minimal, which, again, is not typical for Osprey. It's like the folks over there designed the Arcane Day Pack to be everything the Daylite Pack is not.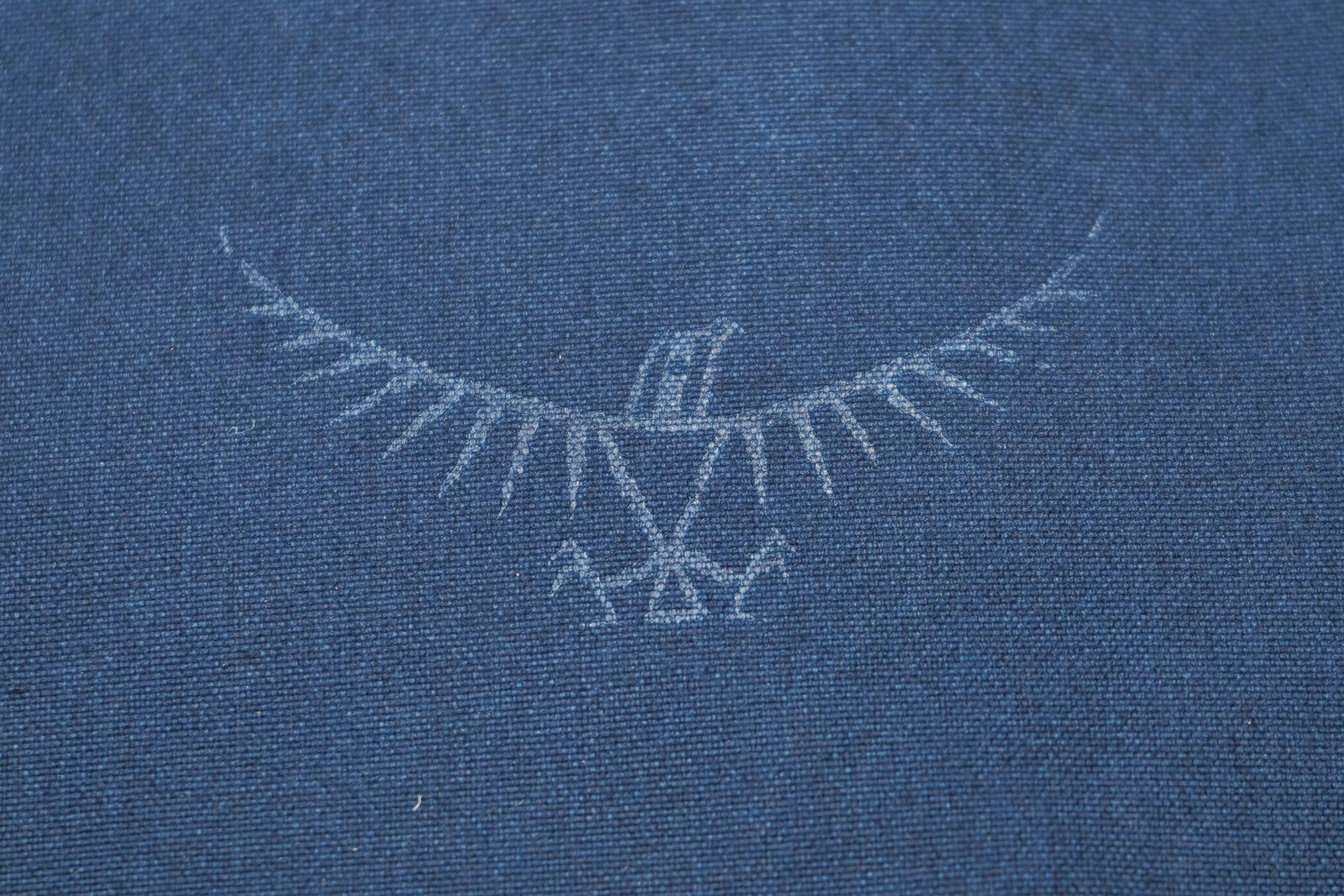 In the same vein, it's only available in four colorways at the time of this review. Tan, Black, Dark Grey, and Dark Blue. Definitely a departure from a company that often offers such fun colorways as "Sagebrush Blue" or "Granny Smith Green." We're partial to darker, subdued colors as 1) they don't stand out and 2) they hide dirt and wear better, so we're happy with what Osprey is offering here. But if you're all about Osprey's "Magma Orange-Real Red" you'll be disappointed.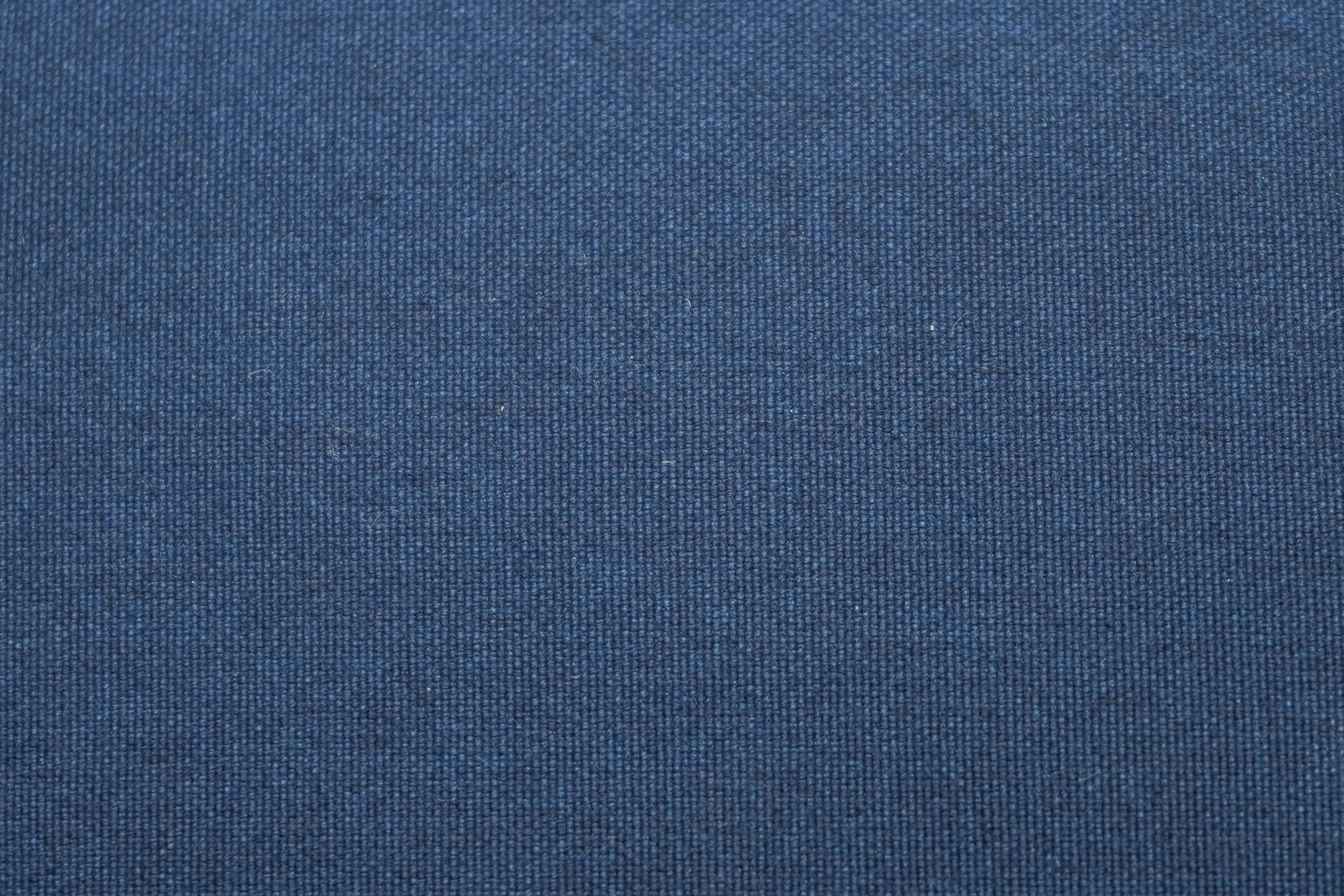 The exterior is made from a Waxed Poly Cotton Blend Canvas, which is also a new choice for Osprey (is it just us or is there a theme emerging…?) It feels similar to a Trakke backpack, which is high praise. It does pick up some fluff here and there—probably not a great choice if you live with a bunch of cats—but that's to be expected for this type of fabric.
The bottom is made from 1000D Nylon Packcloth—a solid choice as the bottoms of packs often take a beating. (Be honest—you know how carelessly you slam your backpack onto the ground at coffee shops, in your car, at your house, pretty much everywhere…)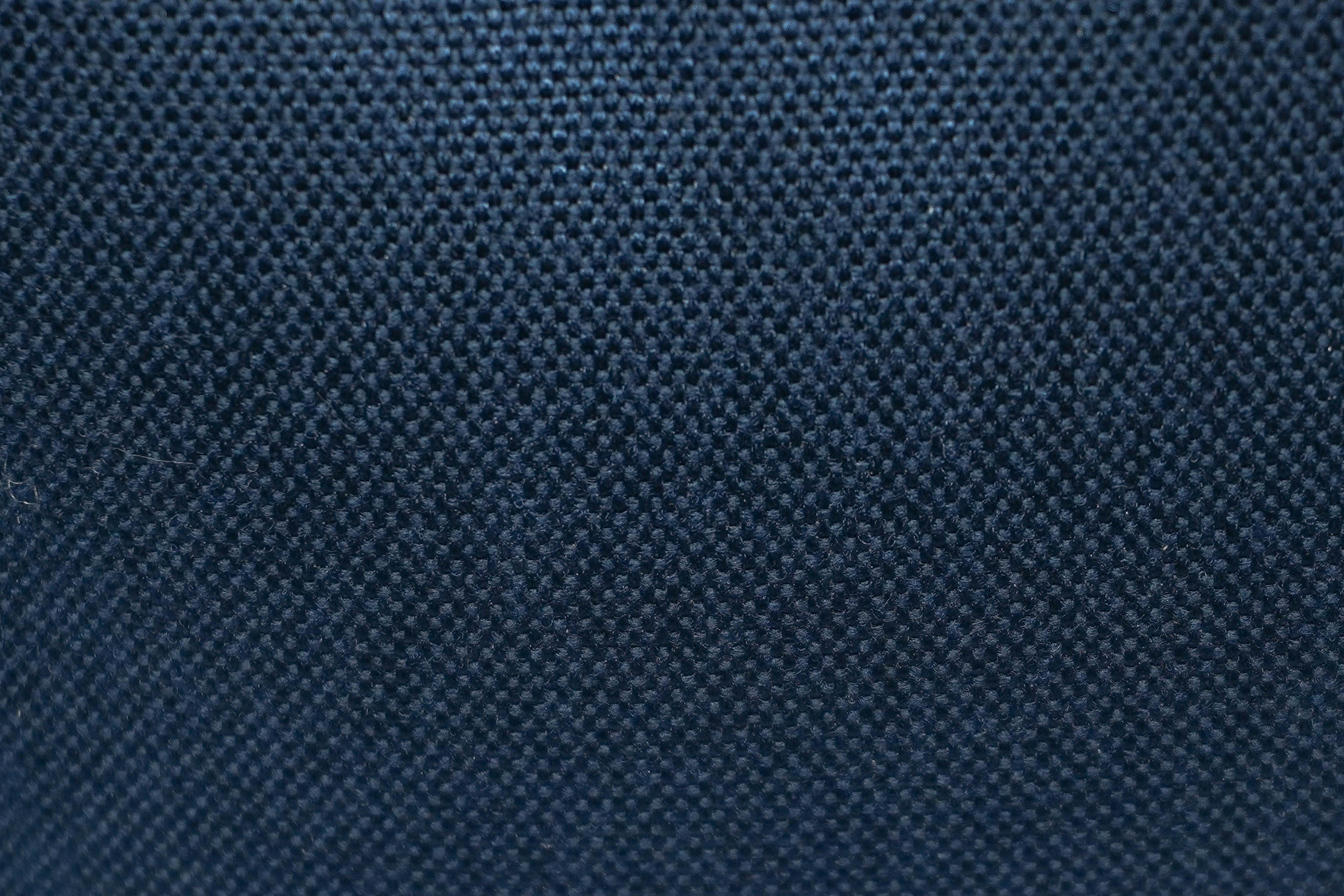 Overall, we're digging the fabric as it's equally durable as it is soft. Think baby sheep wrapped in a fuzzy blanket kind of soft.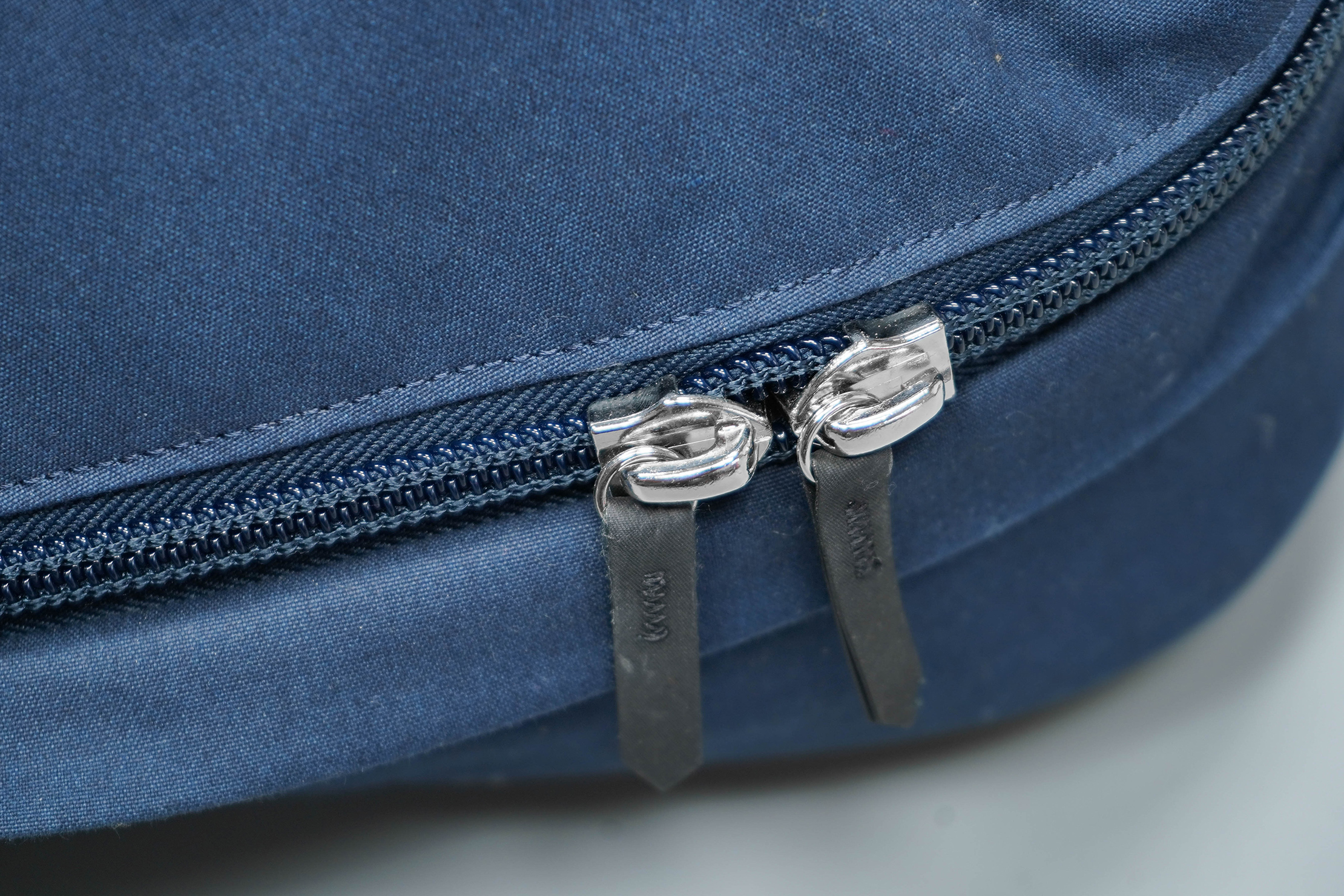 Finishing off the materials, this bag features metal Duraflex buckles that we love, and super chunky YKK zippers that we also love. Seriously, these zippers are luxurious. Actually, pretty much all of the materials used on this pack are luxurious.
External Components
As this bag only has an interior capacity of 20L there's not much going on externally. And before we take a look at what it does have, let's discuss what it doesn't.
The Arcane day pack doesn't have a sternum strap, which isn't a huge deal but is worth pointing out. A slightly bigger deal—at least for some of us—is that this pack also doesn't have any water bottle pockets.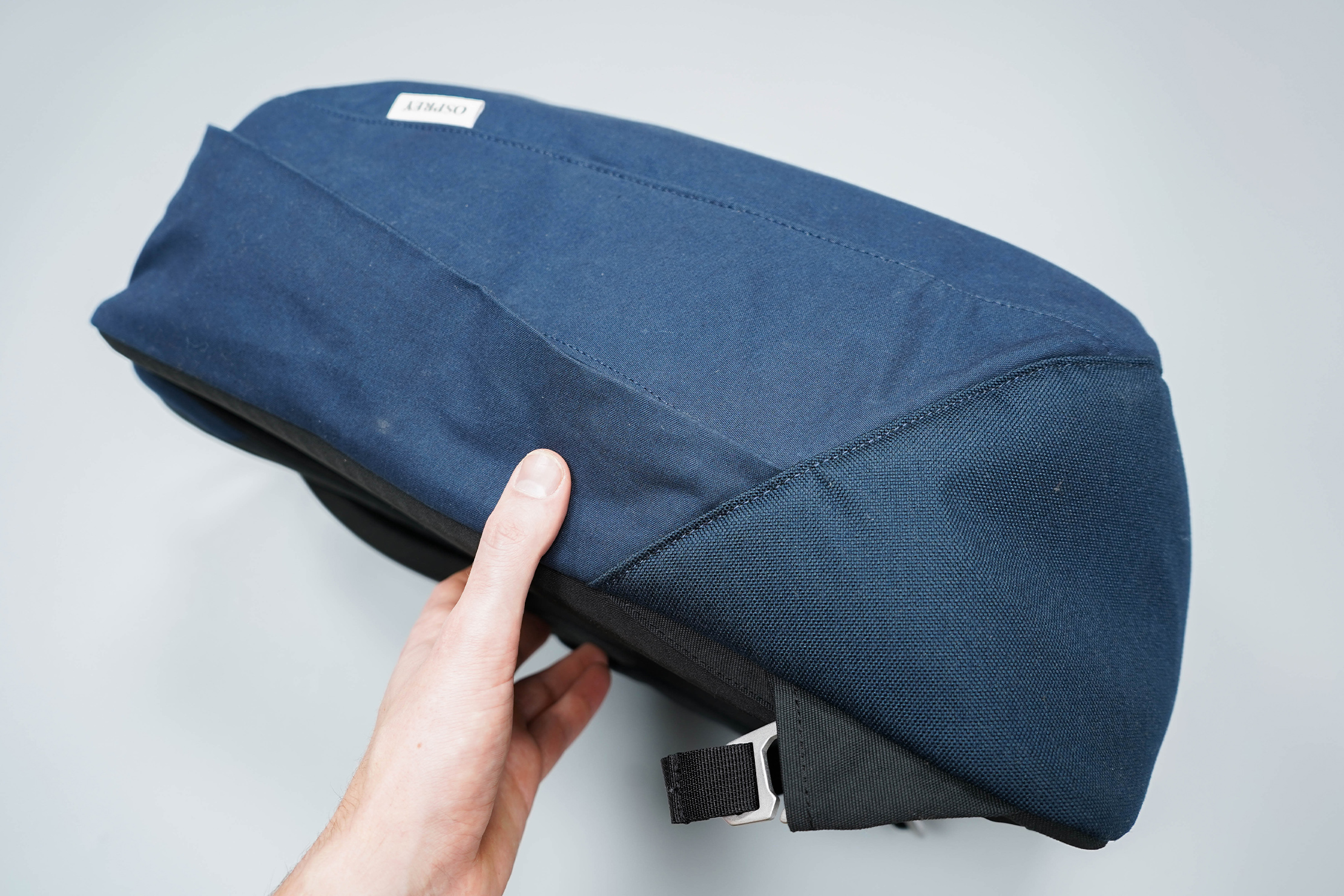 Now, this is one of those you either love it or hate it situations. The lack of water bottle pockets makes the exterior of this pack that much sleeker. And you can always toss a bottle inside of the vertical front pocket. But if you usually carry a reusable water bottle or coffee mug, you may be disappointed not to have a dedicated space to quickly stash it.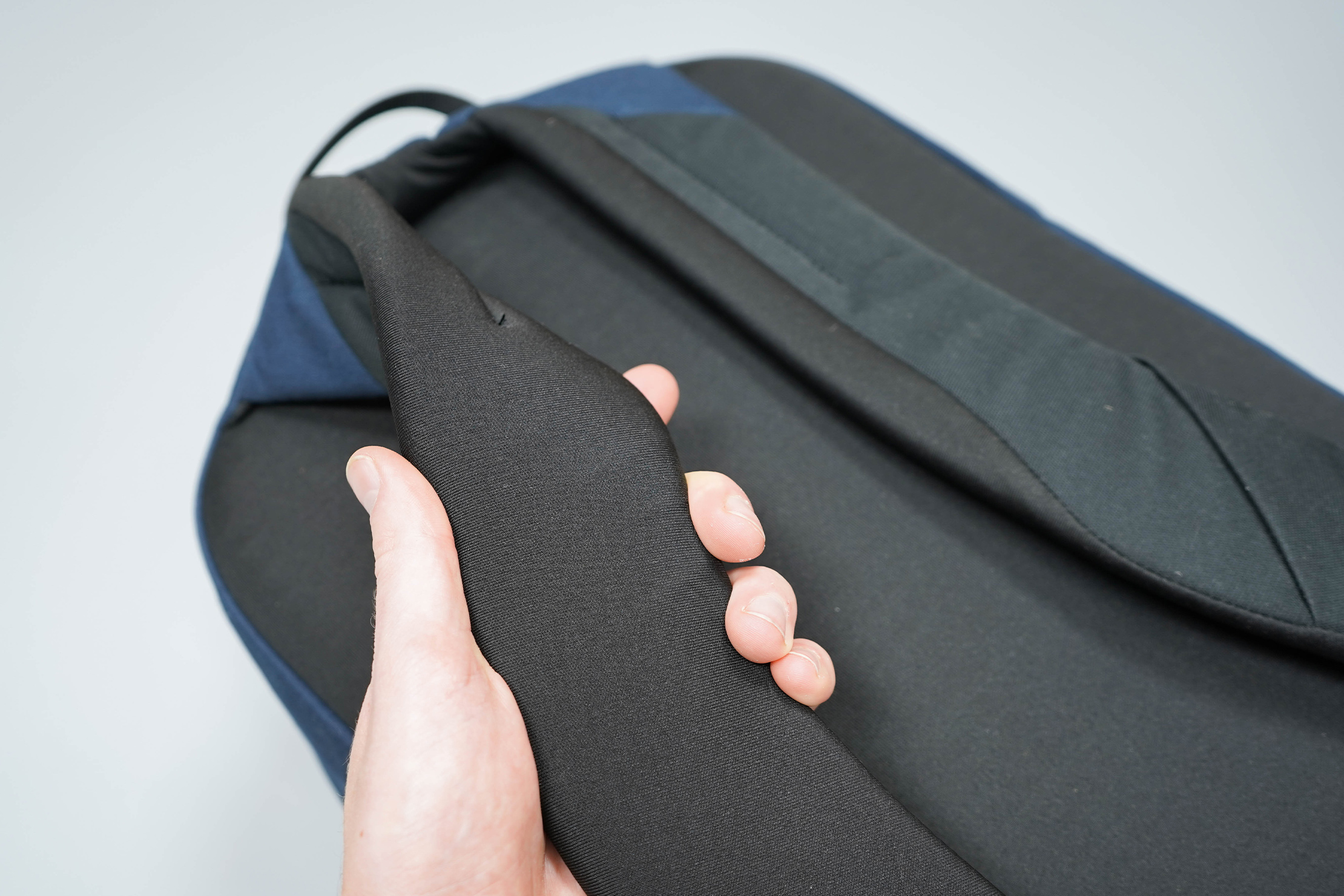 Moving on to what this pack does have: shoulder straps. These shoulder straps are amazing. Seriously. The dense foam makes them exceptionally comfortable to wear for long periods of time.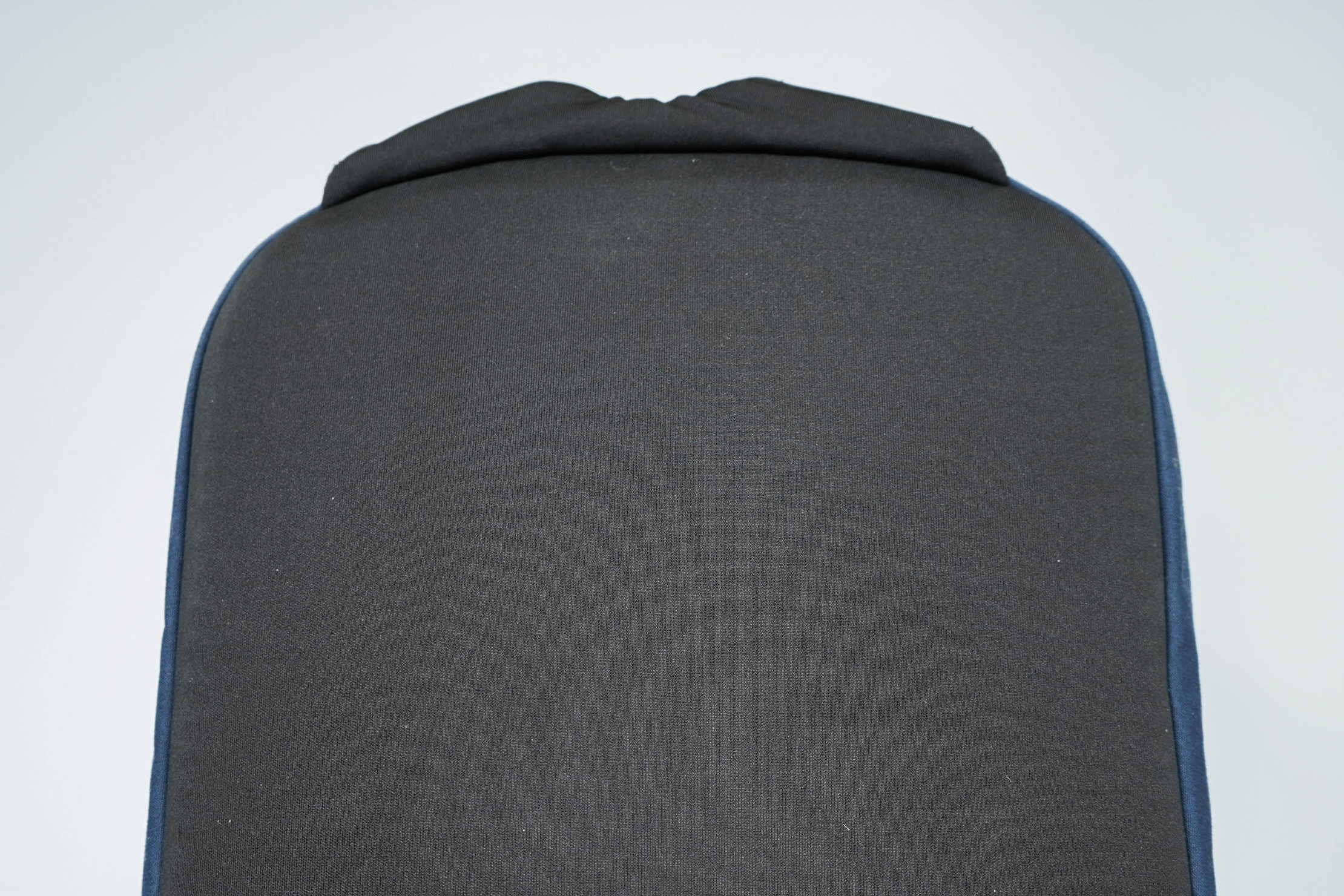 The back panel is also really well done. It's constructed of a ribbed foam tucked beneath a layer of NeoSpacer Mesh. And the combination is great. The foam gives it shape and breathability, and the mesh makes it soft and flexible. There also seems to be a slight curve that follows the line of your back. It's a pleasure to wear—as strange as that sounds.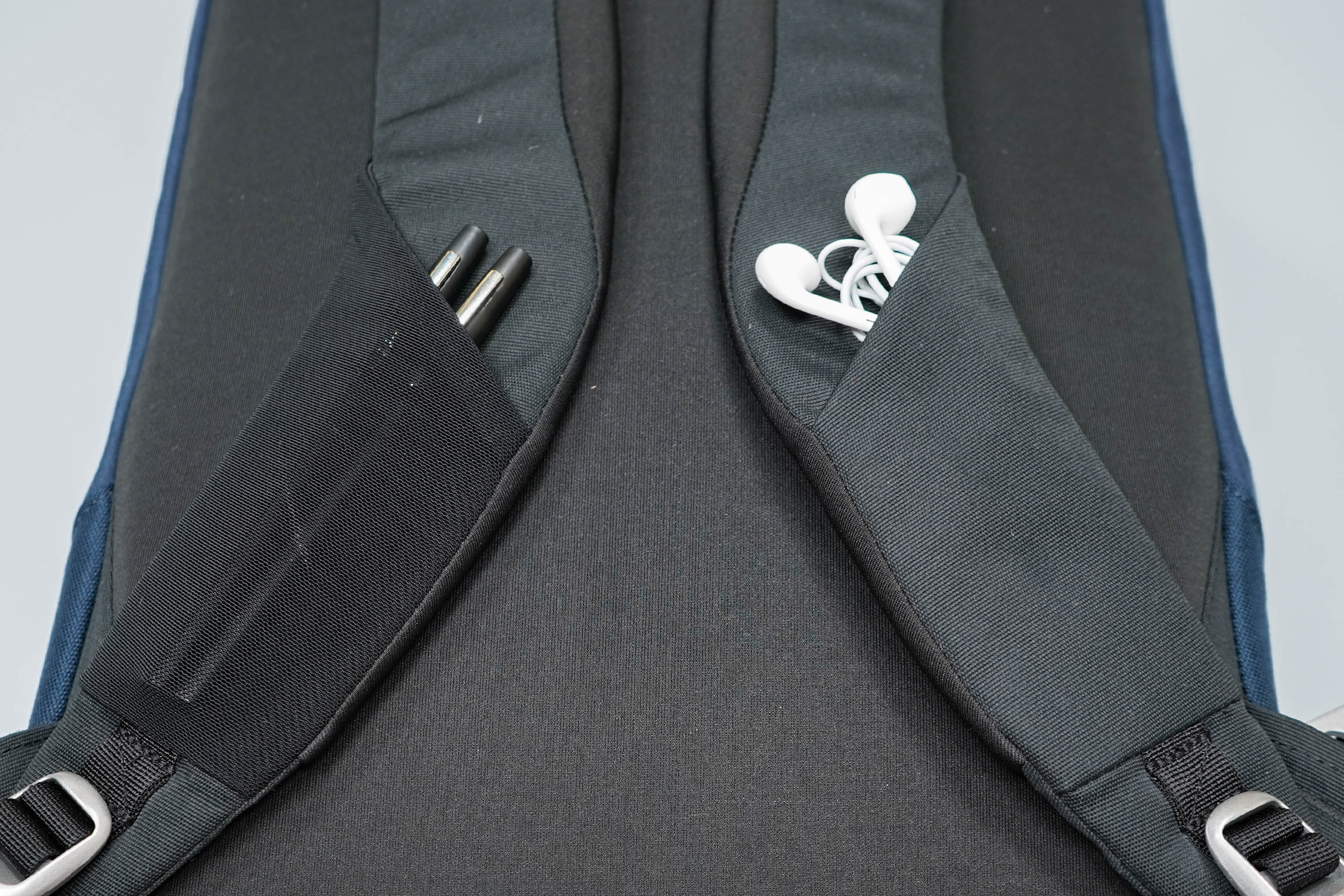 You'll find a small pocket on each shoulder strap. We haven't really used them much, but you could use it to store lip balm or an extra hair tie—tiny things you'll want to be able to access quickly.
One super neat thing about the straps is the fact that the left one detaches with a metal G-hook.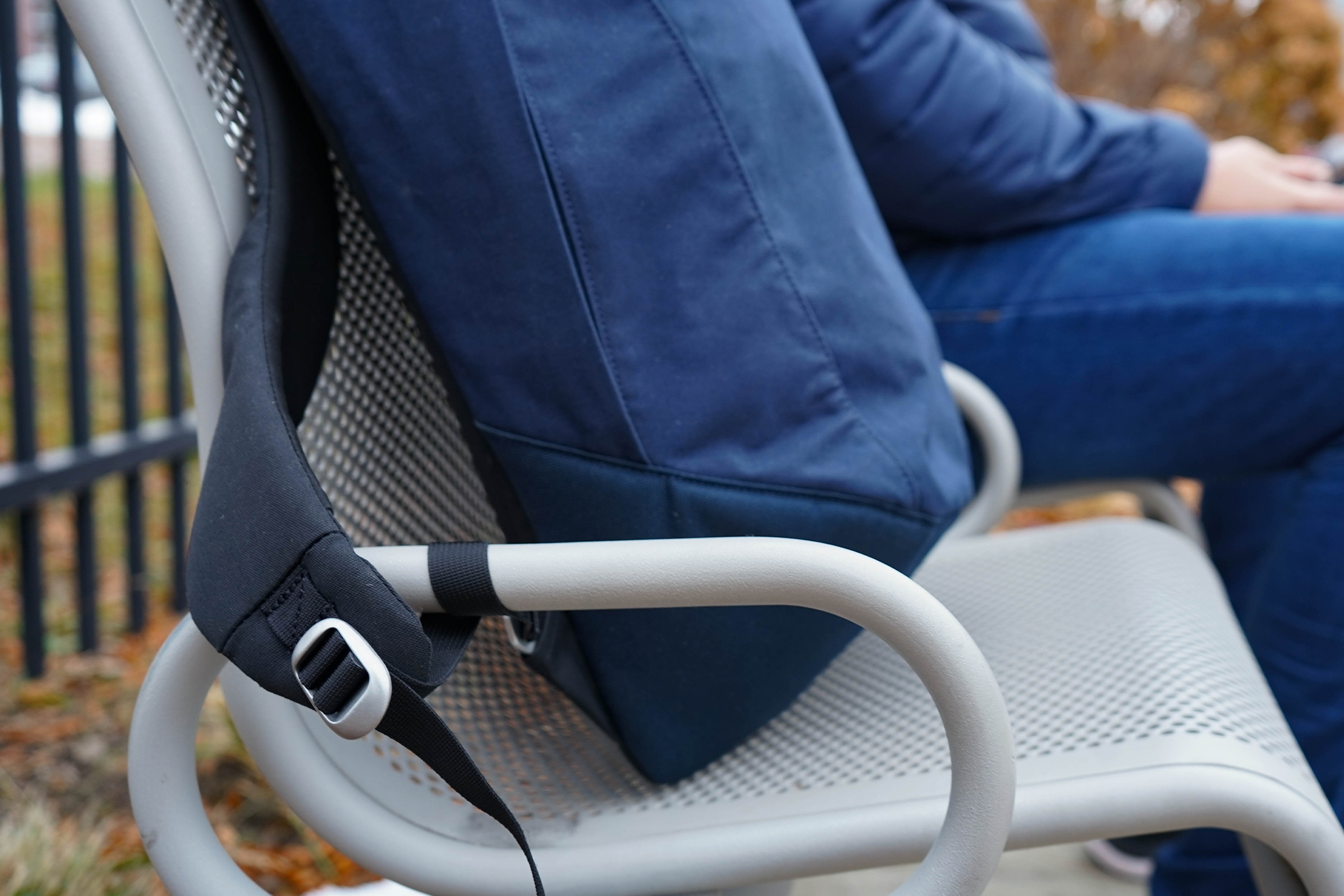 It's designed so you can secure the strap around a park bench or a table at the coffee shop for some added security. Of course, a wrongdoer can simply unhook the strap, but it still acts as a deterrent. Plus, it doesn't get in your way if you don't use it.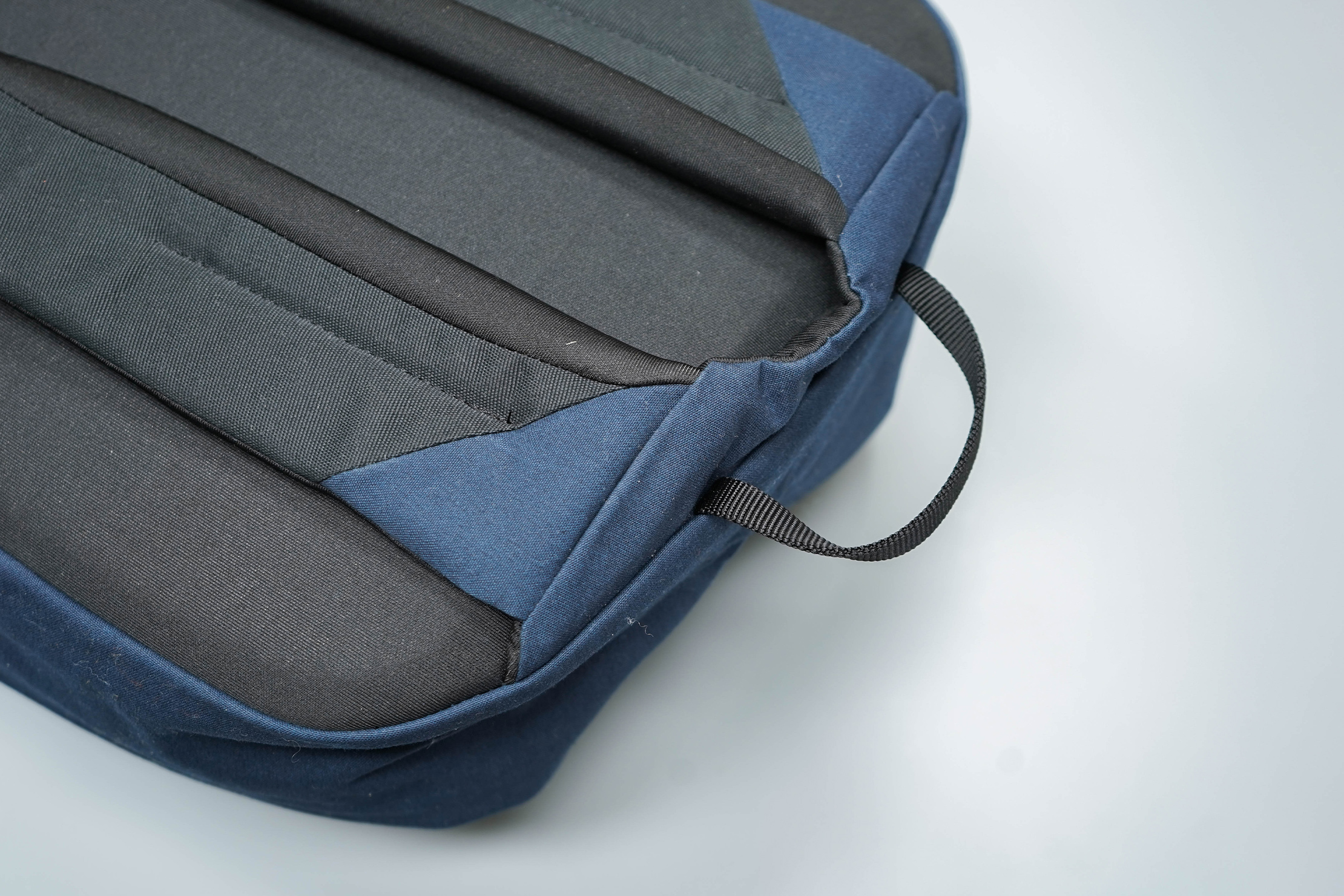 Finally, there's a thin loop at the top of this bag. While you can use it as a handle, it's so small we've used it more as a hook to hang this thing up in bathrooms, closets, etc.
Inside the Pack
Alright, it's time to open this sucker up.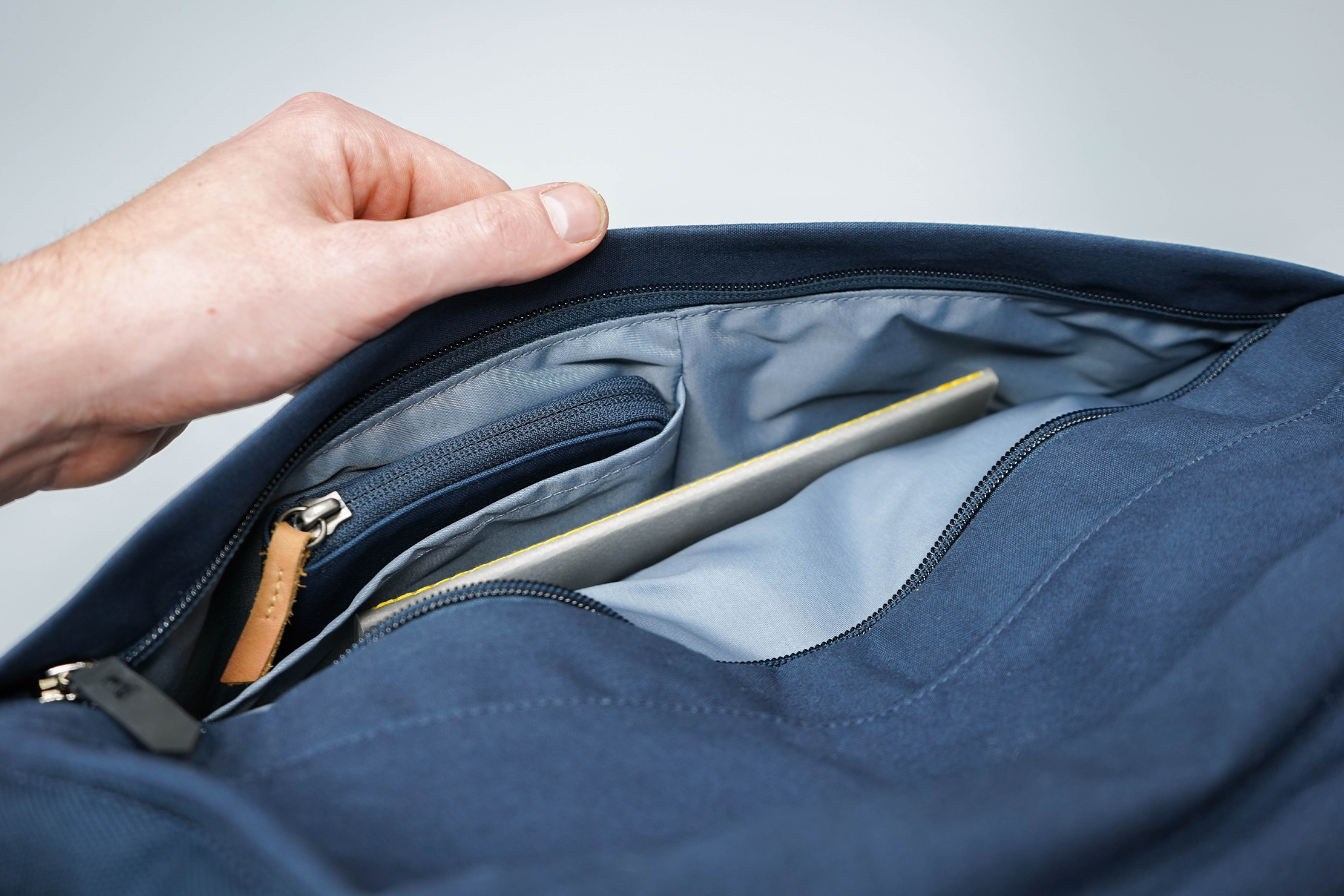 Let's start with the front vertical compartment, which acts as the quick-grab pocket on this pack. Inside of this compartment, you'll find a small pocket you can use to stash your wallet or phone. This interior pocket doesn't have a zipper or anything like that, so as you're bouncing along some cobblestone streets, your stuff will probably spill out of the pocket into the larger compartment. Not a huge deal, but something to be aware of. It's not a great spot for anything fragile.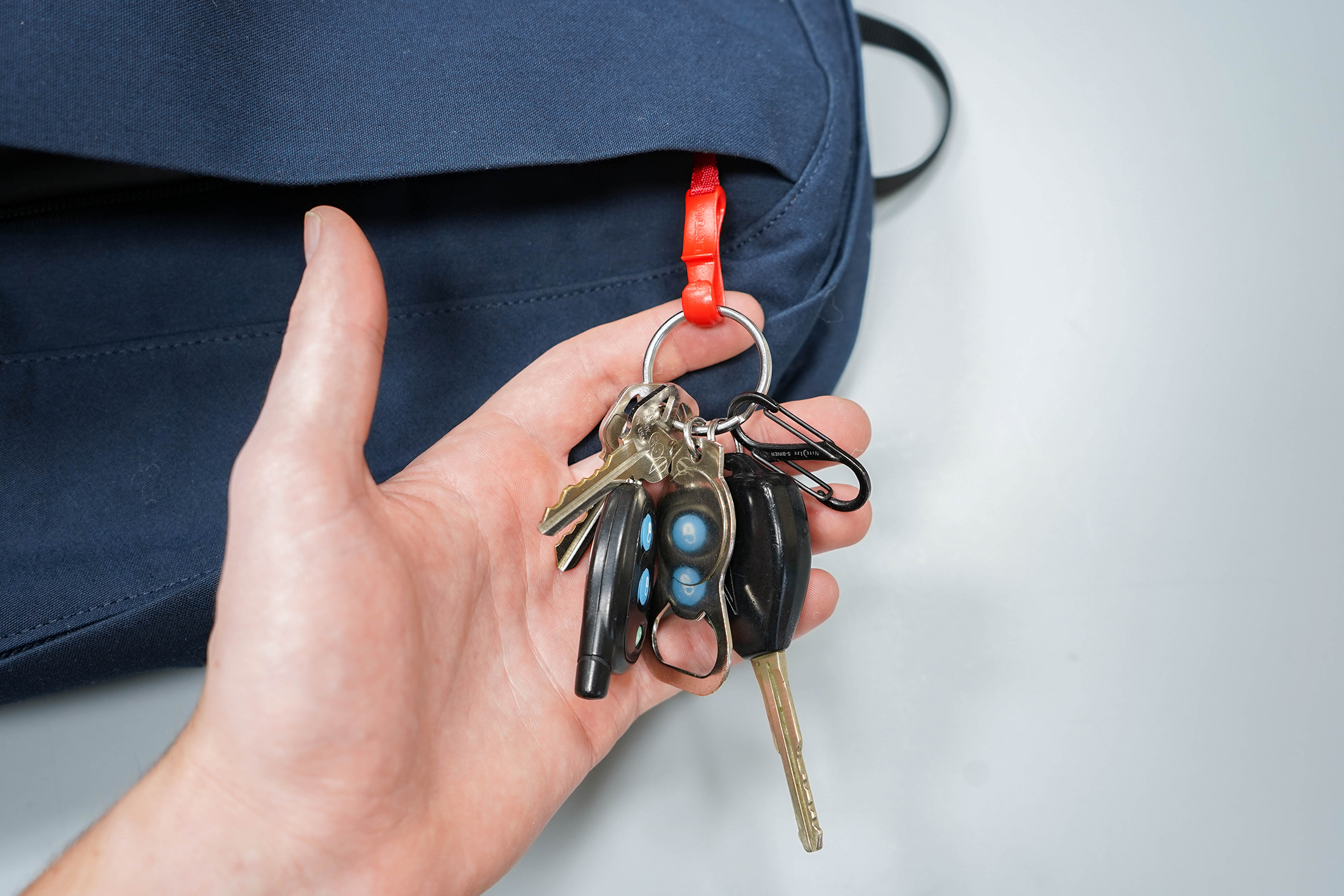 One remnant of the traditional Osprey packs you'll find on this one is the bright red plastic key clip. Oh, you guys—we really dislike this key clip. It looks out of place on a pack this luxurious and feels like it'll break after a couple months of use. We're not sure why the designers over there decided that this key clip was the one element they were going to carry over from their outdoorsy packs…This is the stuff we lose sleep over.
Anyway, the rest of this front compartment is just a load of open space. Use it for notebooks and things of that nature.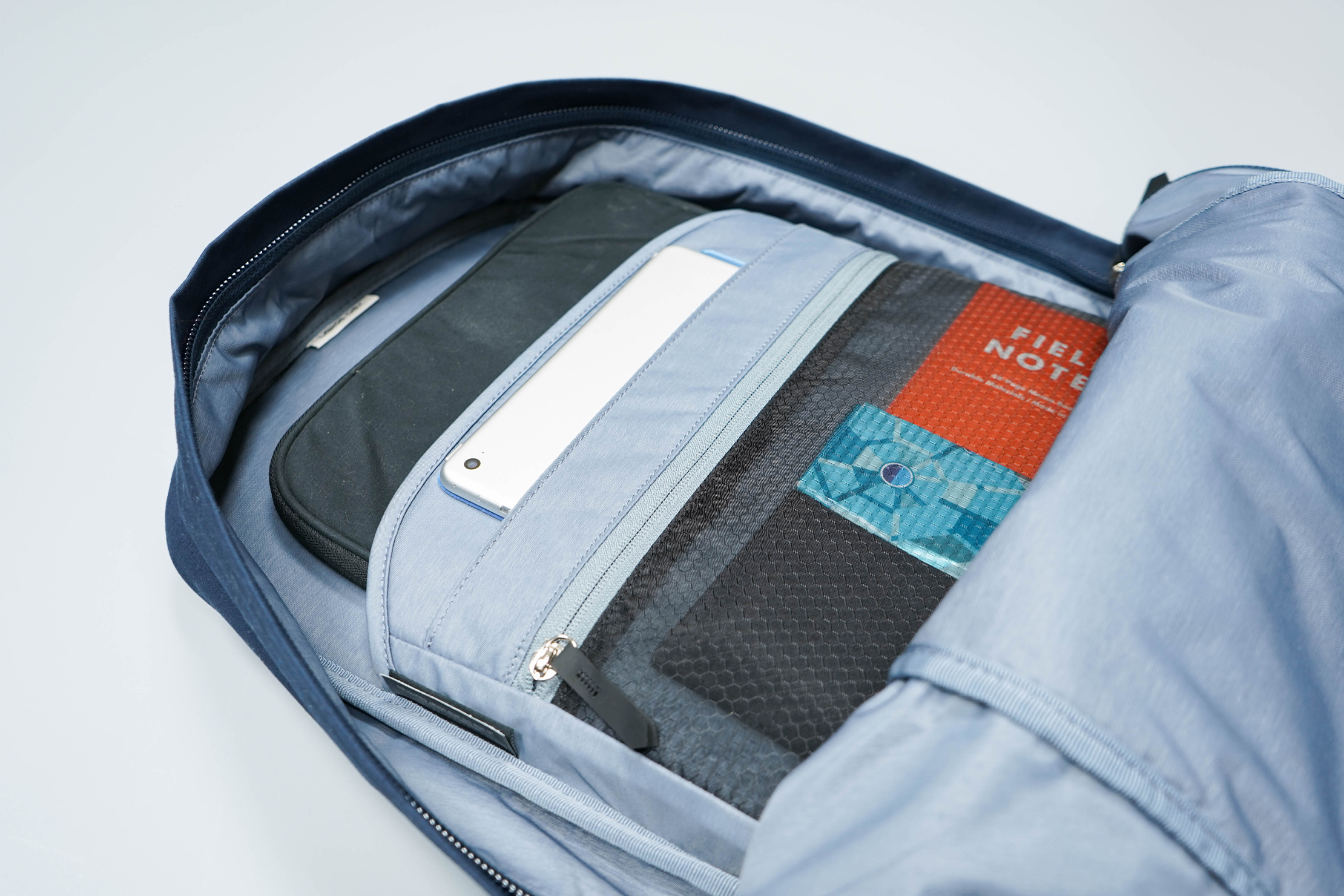 The main compartment has that traditional backpack horseshoe style of opening. Against the back, there's a laptop sleeve that's really-well padded on both the front and back with a soft finish. We don't say this often, but we would trust carrying a laptop without a case here.
In front of the laptop sleeve is what Osprey calls a document sleeve. We've used it for our laptop stand and portable keyboard.
Finally, there's the zippered mesh pocket. We haven't used it much, but it's there if you need it. One thing to note is that if you fill this pack up, it may be difficult to get in and out of this pocket.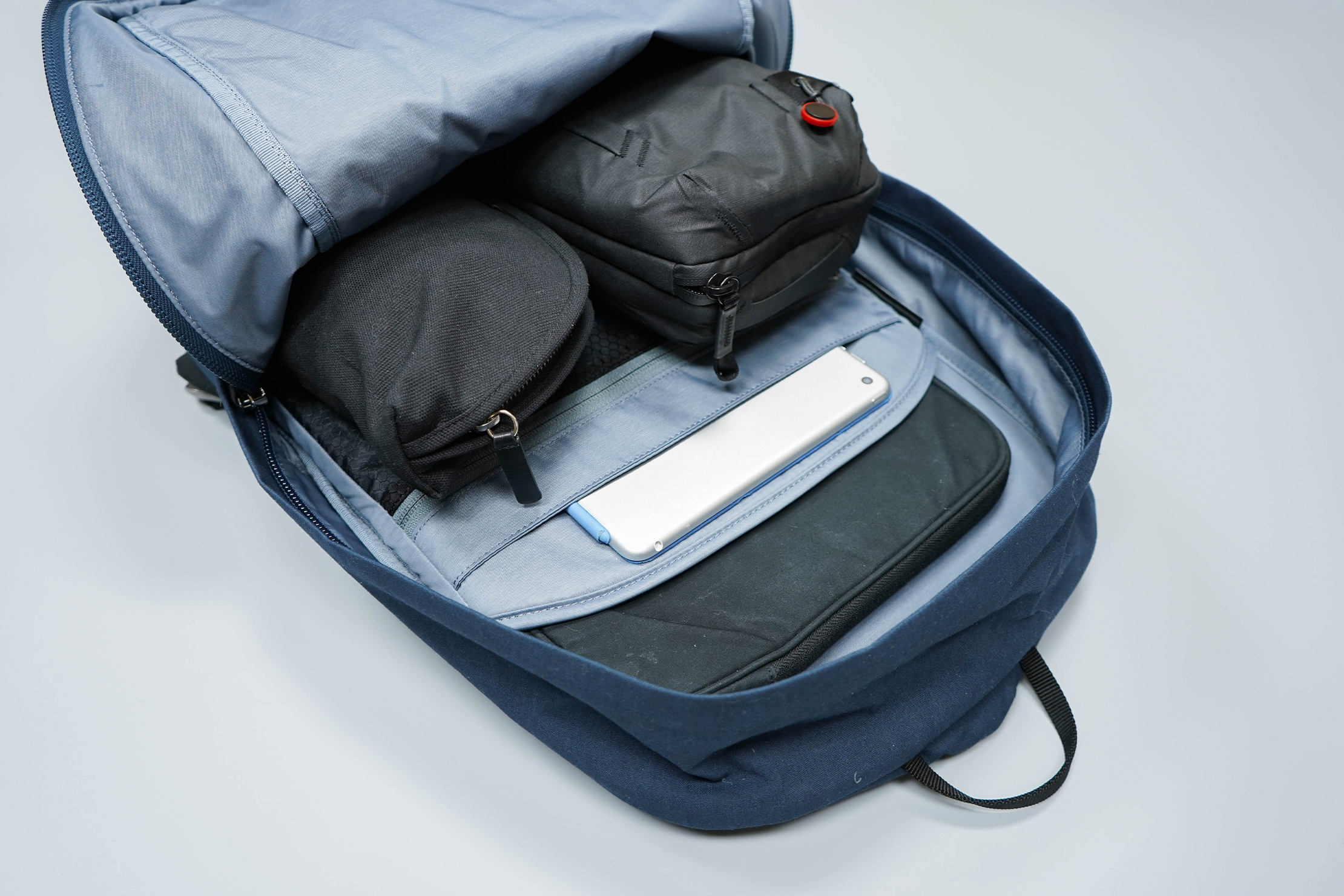 The rest of this compartment is open to do with what you will. We're partial to using accessory pouches to keep all of our smaller items organized, but you do you.
Durability & Testing
We've been testing the Osprey Arcane Large day pack as a daily driver in Detroit, Michigan for two weeks. And we've been loving it. Of course, it being from Osprey, it's been holding up really nicely—even against some brutally cold days. And we don't expect that to change any time soon.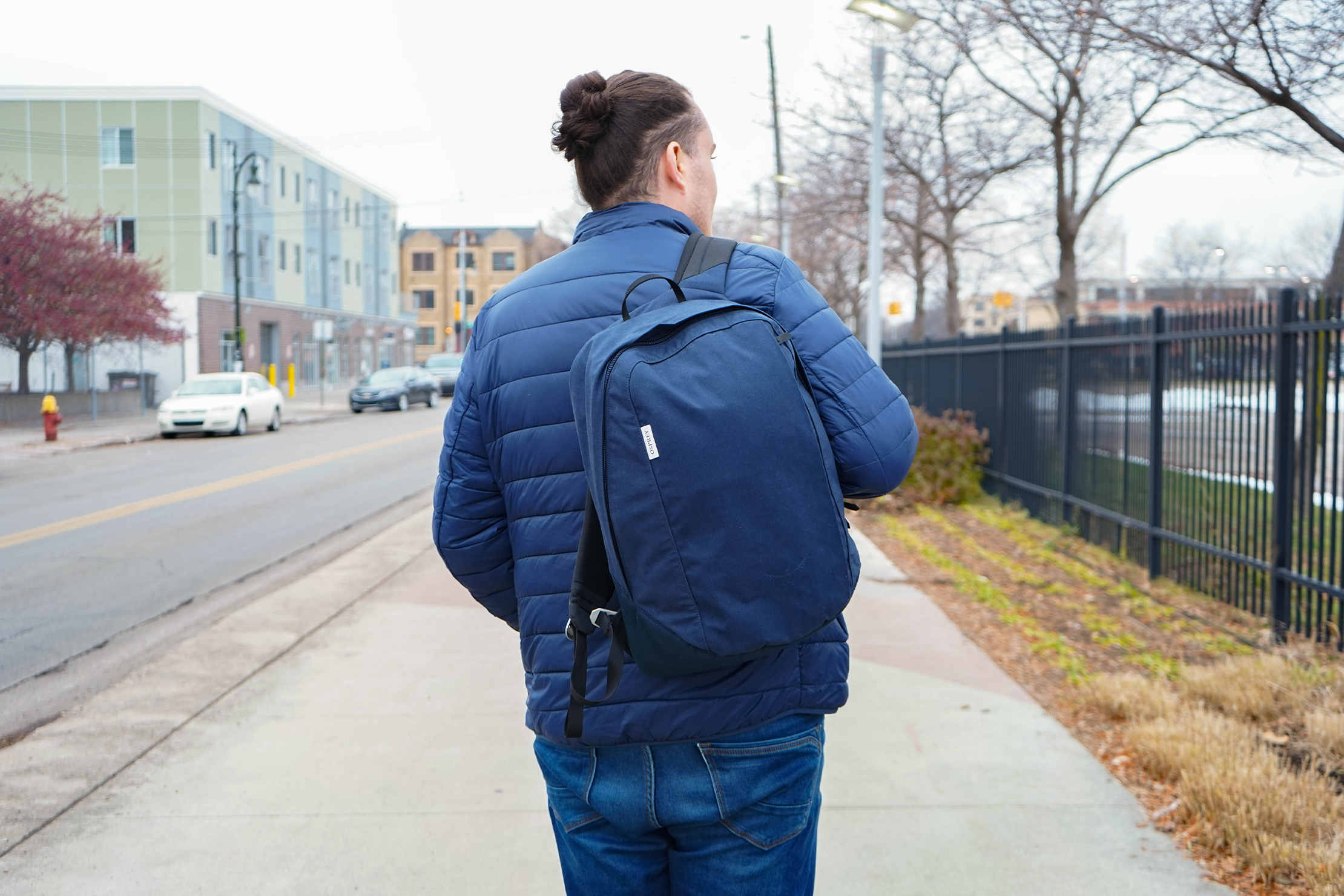 Overall, if you're looking for a day pack that'll look at home in the city, and hold up against the daily grind, the Osprey Arcane is a solid choice.
Usage Timeline
Initial Usage
Condition: Excellent
Materials have a quality feel
Sleek and stylish design
Back panel is very comfortable
2 Weeks of Use
Condition: Excellent
No surprise—everything is looking great.
Access the Pro Community Discussion
Get your questions about the Osprey Arcane Large Day Pack answered from our team and the Pro Community right here on the page. Plus, join discussions with other members about gear, guides, and more.
Other Bags & Luggage Reviews