North St. Bags Pittock Travel Pouches Review
The North St. Pittock Travel Pouches are a great way to stay organized on the road—there's even a water-resistant version available.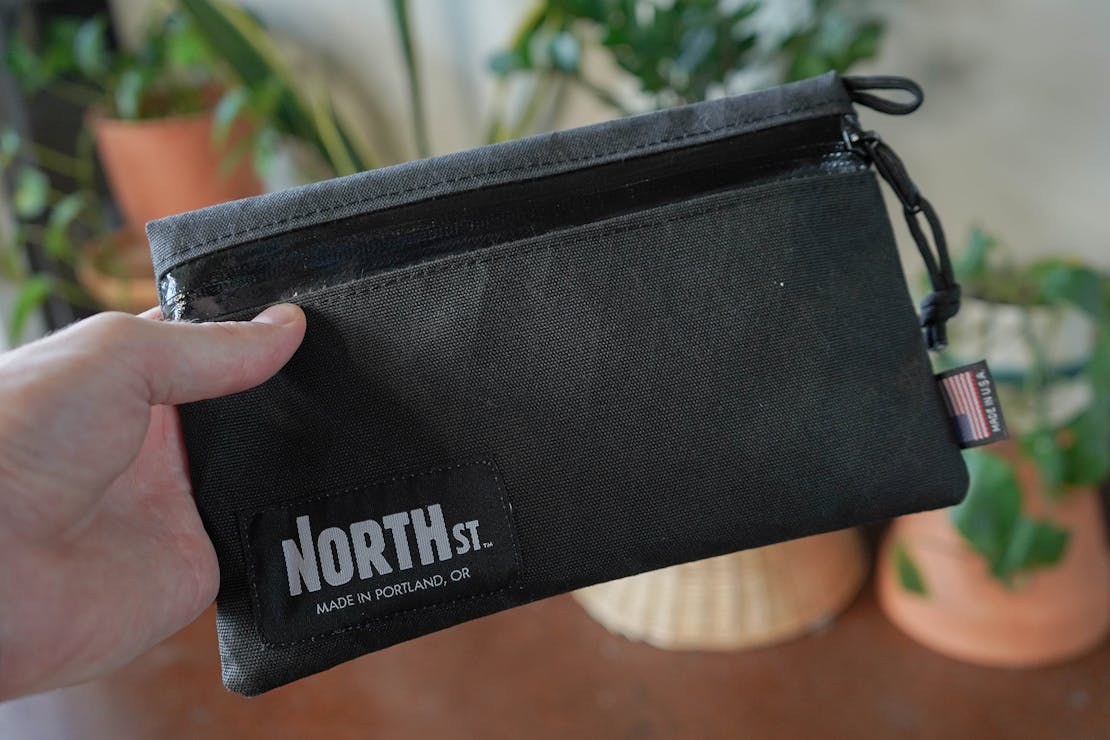 Our Verdict
Unlock the Pro Summary
Save time. Get access to brief summaries of our reviews so you can browse and make decisions more efficiently.
Pros
Three sizes hold a wide variety of gear
Water-resistant models available
Durable and quality materials
Cons
No high-visibility interior
X-PAC version feels stiff
American Flag detracts from the overall look
Recent Pack Hacker Video
Technical Details
Denier

1000D

Weight (oz)

2.10 oz (59.5 g)

Dimensions

11 in x 9 in (27.9 x 22.9 cm)

For the "Large" size

Notable Materials

CORDURA®, Lenzip Zippers

Manufacturing Country

United States

Warranty Information
Full Review
Get up to 25% off North St. Bags • Join Pack Hacker Pro
When you're jumping from country to country, staying organized is the key to staying sane. Enter the North St. Pittock Travel Pouches.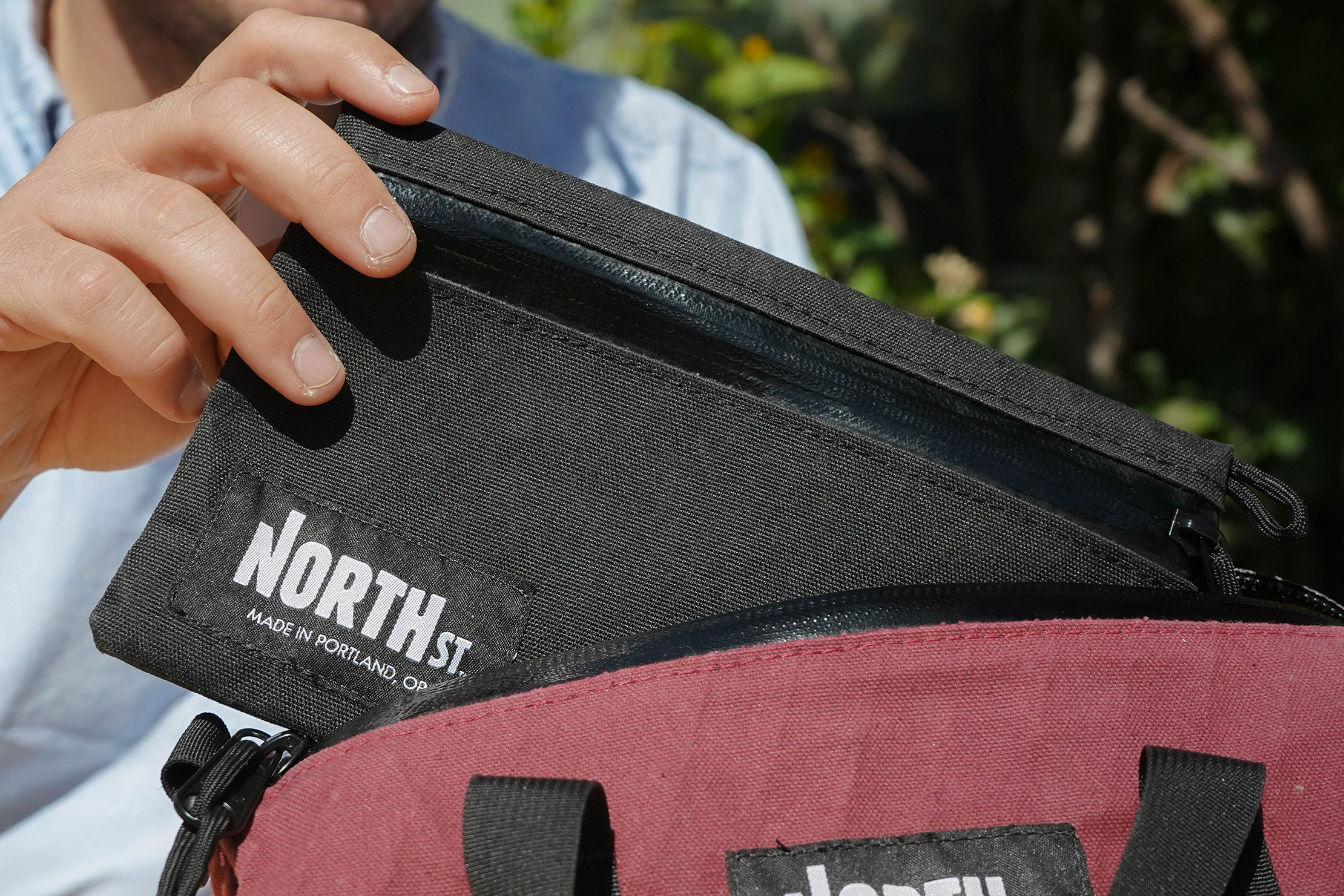 Named after Portland, Oregon's "infamously organized newspaper baron, Henry Pittock," North St. says these pouches are perfect for keeping your tech accessories, toiletries, or collection of muffin recipes tidy (only the important things, of course).
Available in three different sizes, you can fit a wide variety of gear. And they easily slide inside one another or larger bags.
So let's check them out.
Materials & Aesthetic
The North St. Pittock Travel Pouches look like pouches (mind-blowing, right?). Truly, there's not much to say about them aesthetic-wise. They have a simple design without anything extraneous. We're all about simplicity here at Pack Hacker, so this is exactly what we like to see.

At the time of this review, they're available in five different colorways. If that's not enough for you, you can also make your own colorway! We've talked about how fun it is to waste time explore the custom colorways you can create on the North St. website in our review of the North St. Scout 6L Duffle. Channel your inner designer and play away (but don't blame us when your next deadline comes and goes).

There are two different fabrics available. You can get a pouch made of 1000D CORDURA® nylon or the waterproof VX51 X-PAC (X-PAC is a blend of a few different types of synthetic fabrics). We've been testing the latter in the Black colorway.
Both fabrics are durable, lightweight, and super strong. The difference is that the waterproof X-PAC is waterproof (go figure, right?). The CORDURA® nylon not-so-much. Now, an important note here is, just because the X-PAC material is waterproof, it does not make the pouch waterproof. (As in, if you submerge it completely, your things will probably get wet.)
We'd recommend the X-PAC if you're planning on carrying fragile items you'd like to keep safe from any leakage—like tech stuff. Or if you're planning on carrying leaky items you'd like to keep separate from your other stuff—like toiletries. Otherwise, you can stick with the regular ol' nylon. While the X-PAC pouches are water-resistant, they're also a lot stiffer and cost more.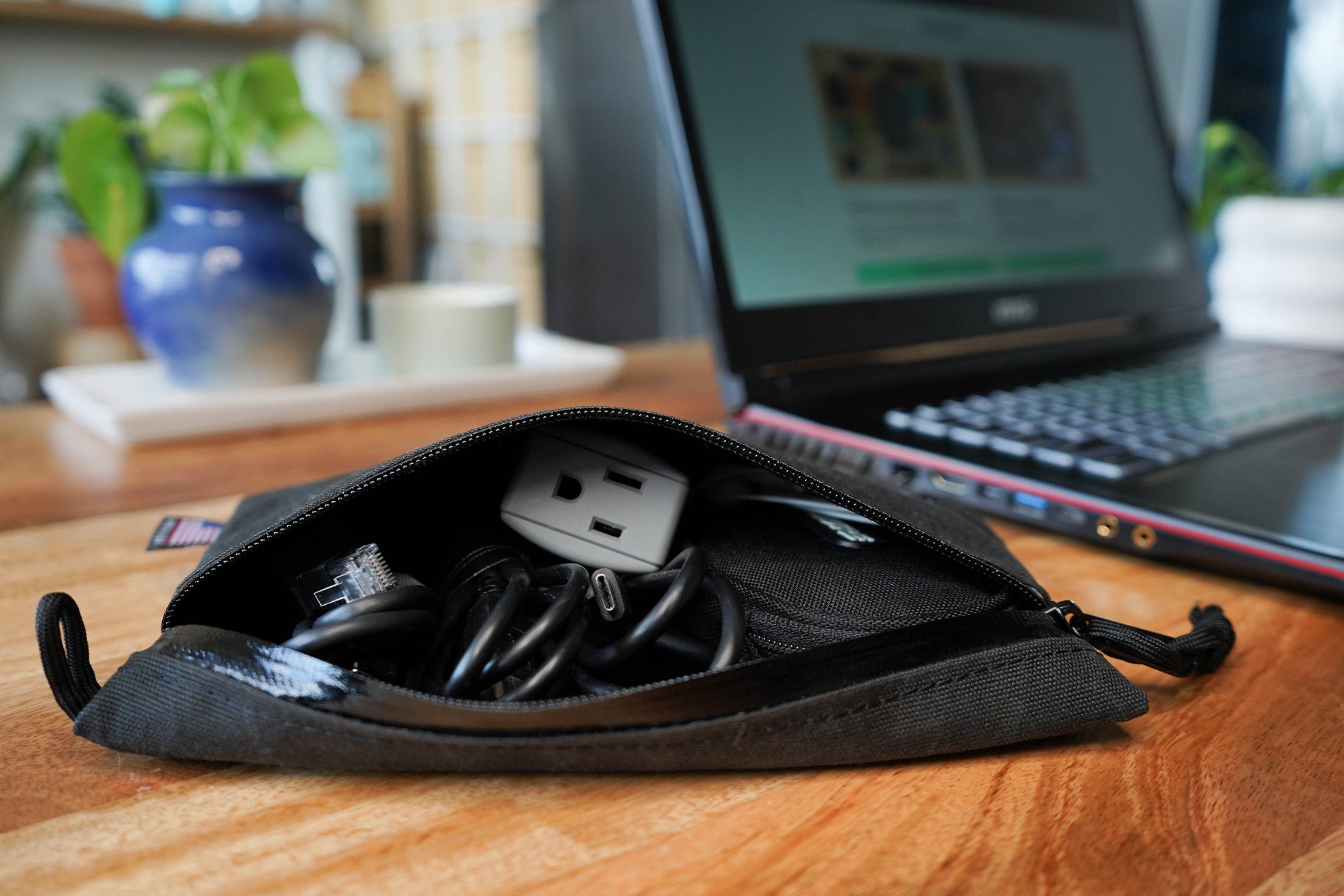 These pouches are available in three different sizes: small, medium, and large (if you buy all three together, you'll get a small discount). The small size works well for headphones, multi-tools, small cables, and the like. The medium holds smaller notebooks, pens and pencils, or larger chargers. And the large has enough space for large journals, tablets, e-readers, and things of that nature.
The zippers are from Lenzip Manufacturing Corp. Surprisingly, we haven't had much experience with this American zipper manufacturer. But the zippers feel strong and durable (we'll be sure to update the Usage Timeline down below if our opinion changes). If you opt for the X-PAC version of the pouch, the zipper has a thin coating of polyurethane that repels water.
External Components
Since the North St. Bags Pittock Travel Pouch is a simple pouch, there's not much going on externally (thankfully!). You've got the zipper and beefy zipper pull. While the pull looks a little too big for the pouch, it's been nice to have, allowing you quick and easy access to your stuff.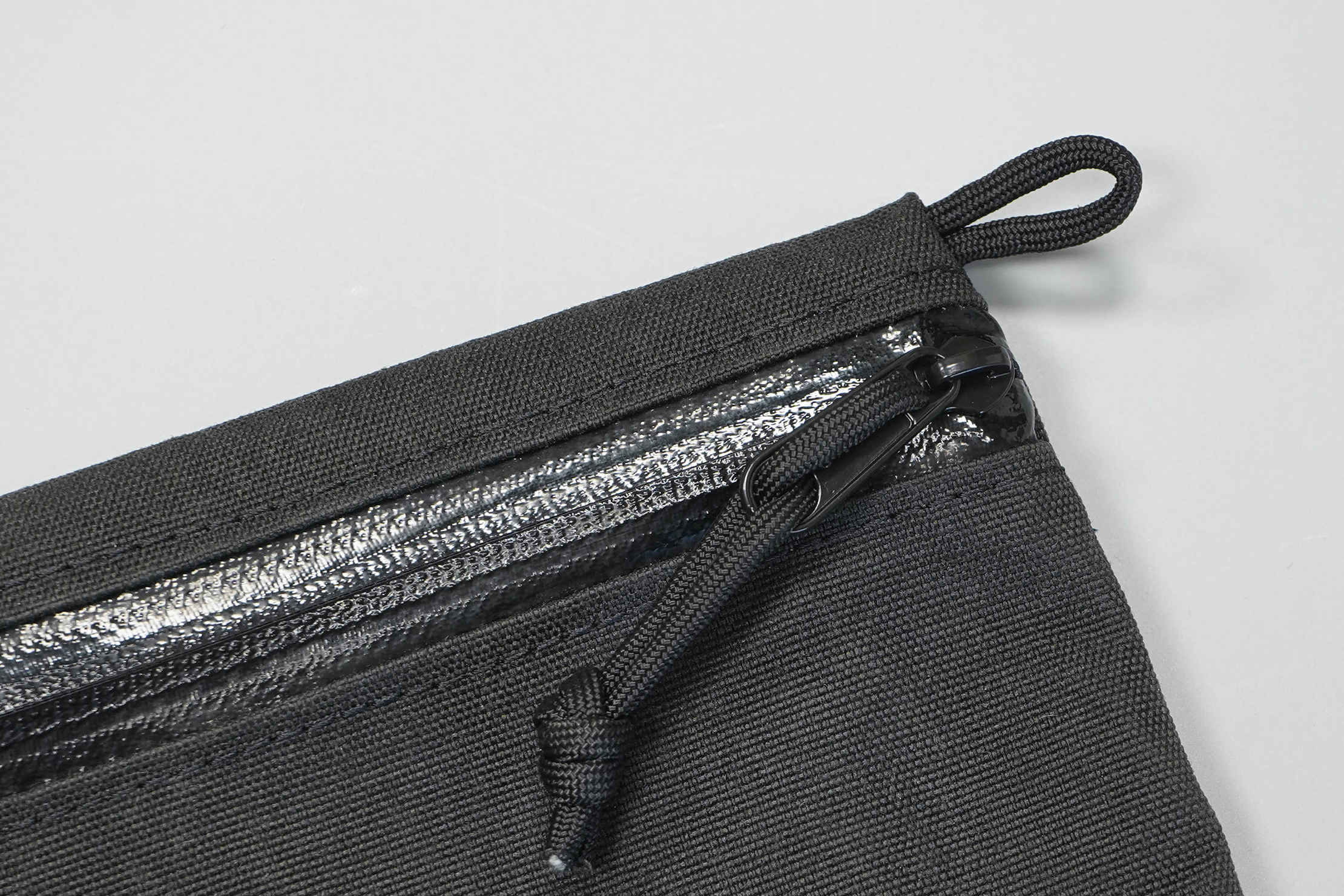 There's also a small pull tab to hold while zipping or unzipping, which is surprisingly effective. And you can use this tab to hook the pouch to the inside of your backpack or your belt loop for extra organization and style points respectively.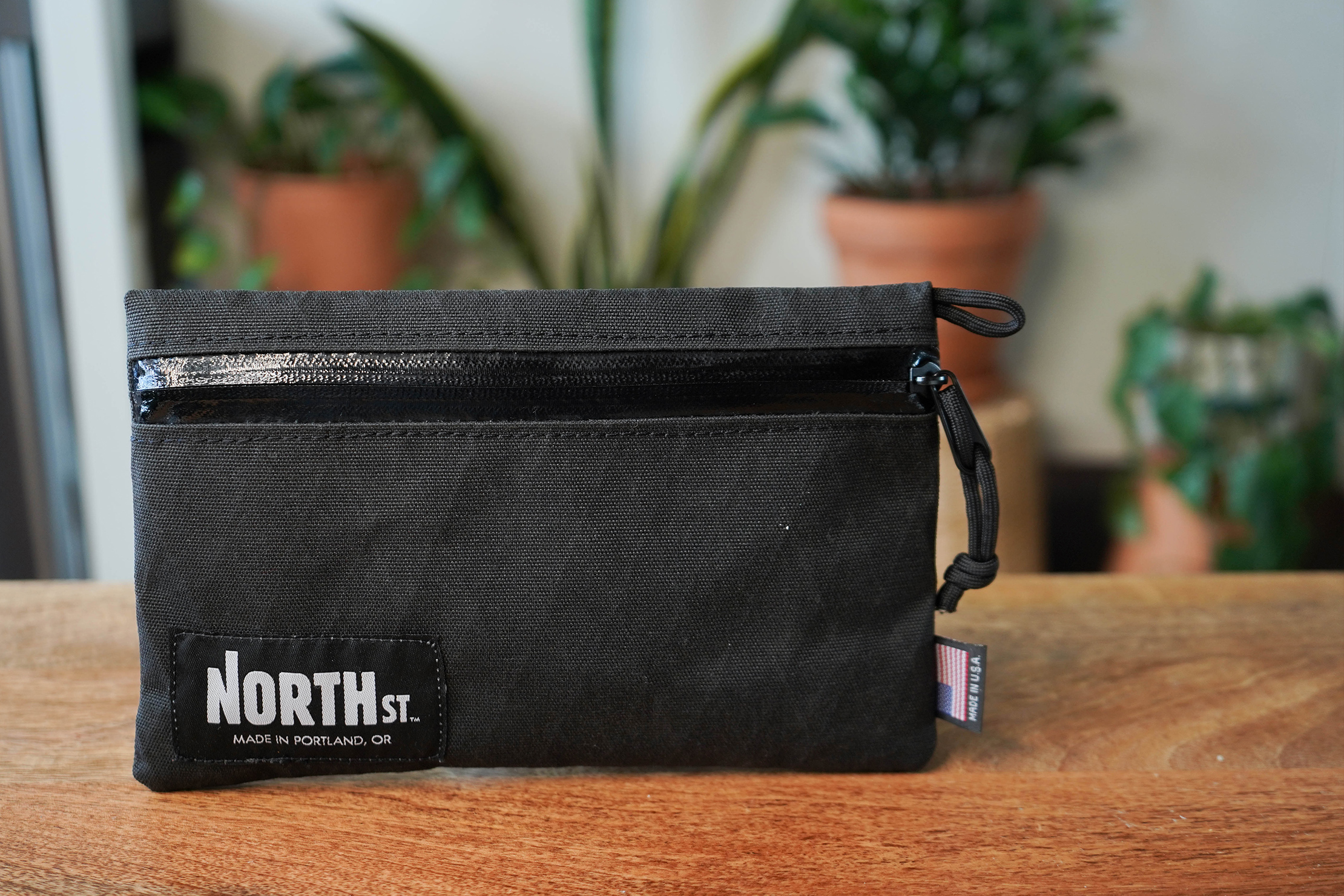 You'll also find a tag on the bottom right of the pouch with the American Flag on it, announcing that this thing is made in the U.S.A. We think this tag detracts from the overall minimalist style of the pouch, but it doesn't get in the way as far as usage goes.
Inside the Pouch
Things take a turn for the even simpler as soon as you open up one of these pouches. There's nothing but open space, which is exactly what we like to see. Any further organization would chop up the useable space.

We wish that the interior was a different, brighter color from the exterior to help you to easily spot your gear. This is an effective technique we've seen on several bags and pouches. A black charger against a black background can be difficult to see. A black charger against a neon yellow background can be spotted in a quarter of a second. It's a small, but important note.
Durability & Testing
We've been testing the North St. Bags Pittock Travel Pouches in the medium and large sizes for two weeks in Detroit, Michigan. We've mostly been using them for carrying writing accessories—pens and notebooks specifically—as well as tech accessories, including chargers and headphones.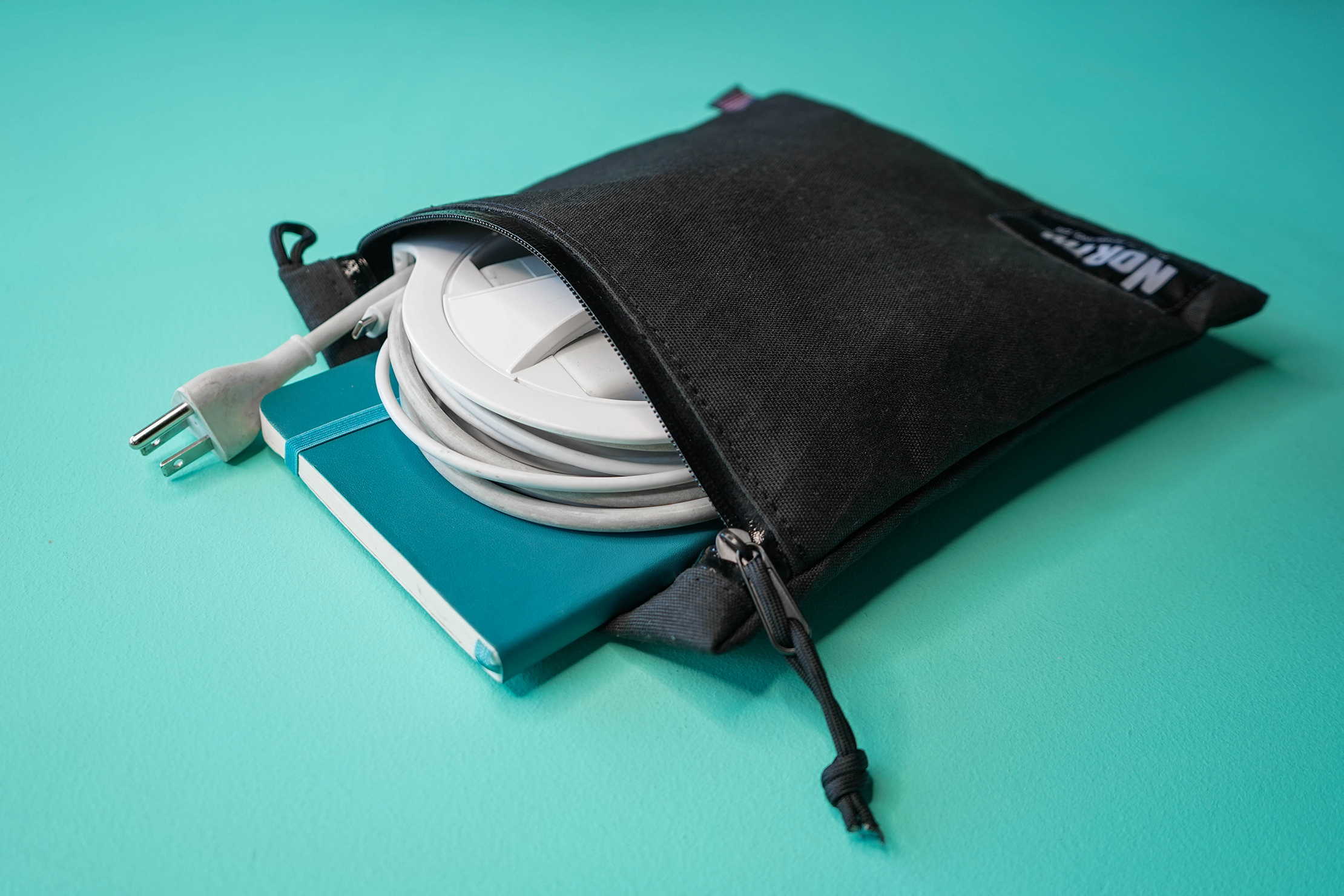 The waterproof material is too stiff for our liking—we'd probably opt for the 1000D nylon if we were to pick these up again. But we're not worried about our stuff getting wet as we always carry these pouches in backpacks that have their own water-resistance. Your use-case may be different, so we're glad North St. has the X-PAC option available.
We have nothing to note as far as durability is concerned. Everything is holding up nicely!
Usage Timeline
Initial Usage
Condition: Excellent
Three sizes will fit a nice variety of gear
Feels quite durable
Wish the interior was a different color for higher visibility
2 Weeks of Use
Condition: Excellent
A little stiff, but everything still looks great.
Access the Pro Community Discussion
Get your questions about the North St. Bags Pittock Travel Pouches answered from our team and the Pro Community right here on the page. Plus, join discussions with other members about gear, guides, and more.
Other Organizers & Pouches Reviews