Trakke Vorlich Backpack Review
The Vorlich is a 32-liter rolltop backpack that continues the Trakke tradition of making high-quality, handmade, super-durable gear.
Our Verdict
Unlock the Pro Summary
Save time. Get access to brief summaries of our reviews so you can browse and make decisions more efficiently.
Pros
High durability and craftsmanship throughout
The dry-finish waxed canvas is a great fabric
Modular attachments are a nice touch, improving versatility and functionality
Cons
The top of the bag sits far away from your back, which isn't great for the carry
No false bottom in the laptop compartment
The back panel lacks any ventilation, and it can get hot and sweaty pretty fast
Recent Pack Hacker Video
Technical Details
Capacity

32l

Weight (lb)

2.20 lb (1 kg)

Dimensions

22.05 in x 11.81 in x 8.66 in (56 x 30 x 22 cm)

Notable Materials

YKK Zippers, Canvas, Stainless Steel, Cotton

Manufacturing Country

United Kingdom

Laptop Compartment Size

15"

Warranty Information
Full Review
Get up to 15% off Trakke • Join Pack Hacker Pro
Trakke is a Scottish outdoor travel brand known for its handmade and durable gear that has developed quite the cult following. People who like Trakke gear tend to really like Trakke gear, and we get it—they've been putting out high-quality heritage-style travel and outdoorsy gear that is equal parts functional and unique for some time now. What's not to like?
The Vorlich is the latest addition to their backpack lineup—a 32-liter waxed canvas backpack with a rolltop design that allows the bag to be used at different capacities.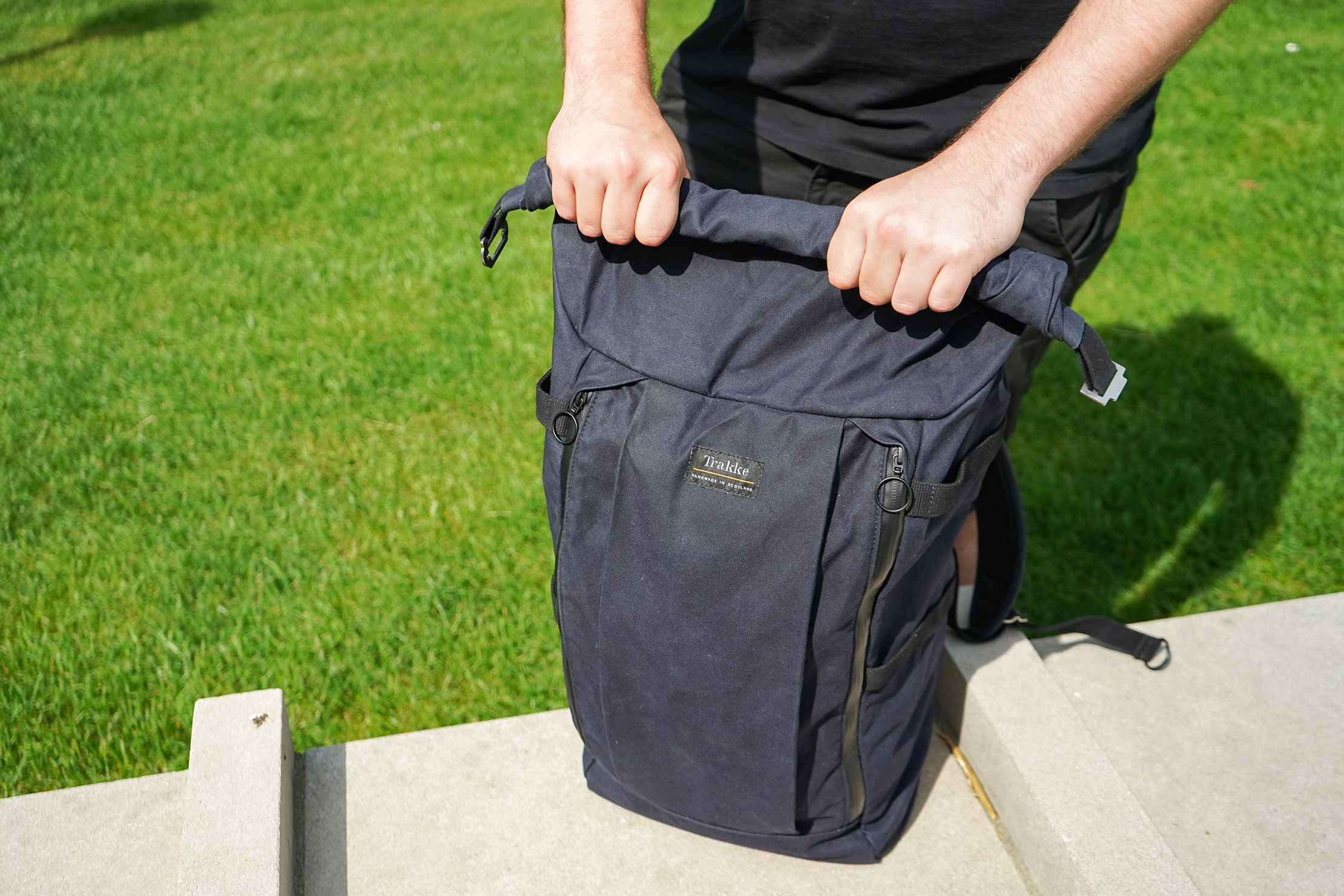 Generally speaking, Trakke products feel good to use and make you feel good about yourself when you're using them. We appreciate this about Trakke, and we were excited to get our hands on the Vorlich, which the company describes as "built for outdoor adventures."
We've been testing this pack for around three weeks now in Detroit, and we've got a solid feel for how it functions around the city. So, without further ado, let's get into the review. (Did you like that rhyme? We did.)
Materials & Aesthetic
The aesthetics of the Trakke Vorlich have left us a bit divided here at Pack Hacker HQ. Not everyone is a fan of the heritage look, and the way the rolltop handle sticks out at times can look a bit odd. And the results on Instagram weren't exactly pretty—with only 32% saying they liked the look of this bag.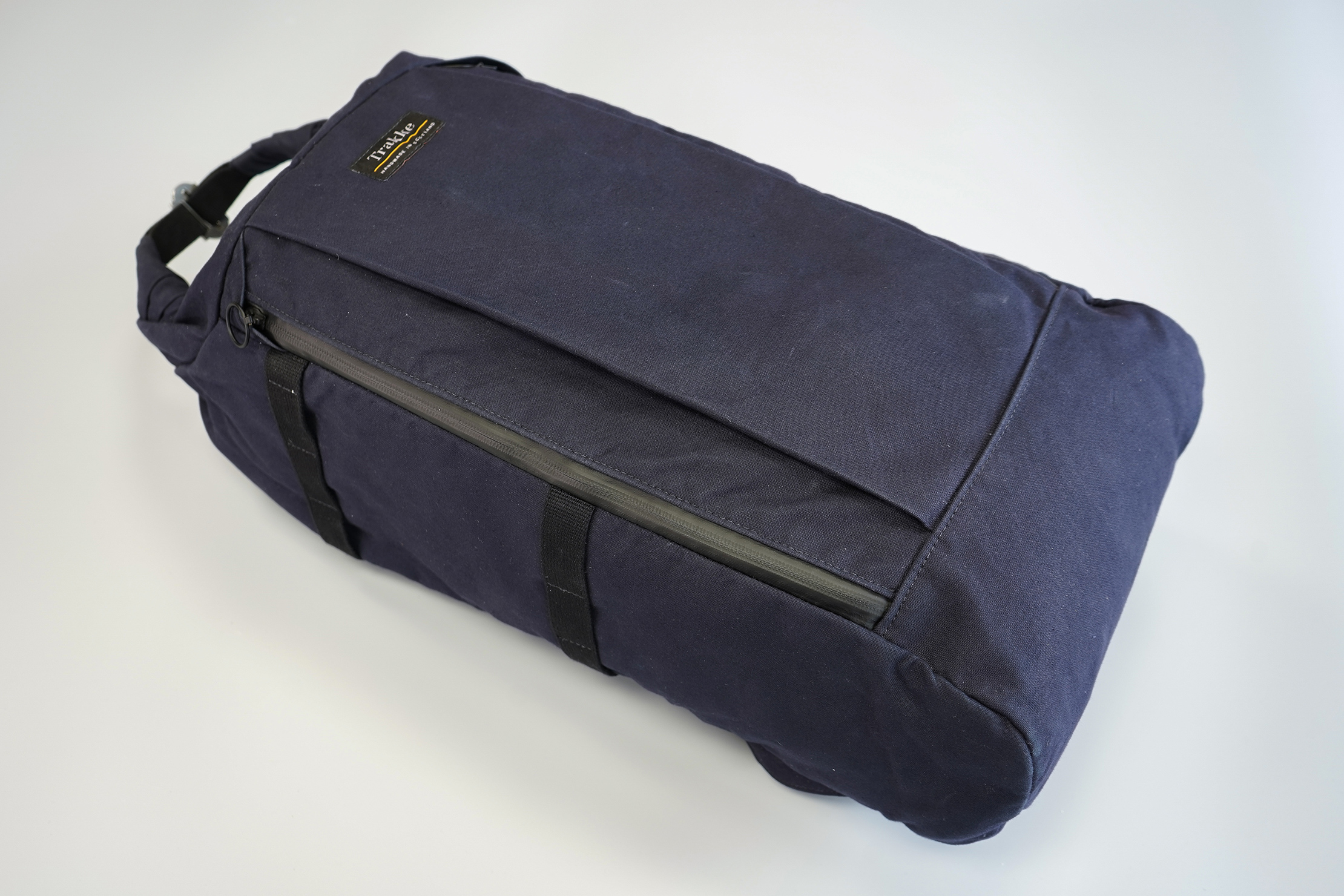 As for colors, the Trakke Vorlich is available in olive, black, navy and one rotating "guest" color. We think the darker, muted tones look great, and you can't go wrong with any of the main three. The guest color is a fun switch-up, and we like that it allows Trakke to create some new, interesting colorways.
Branding on the Vorlich is minimal, which is pretty standard for Trakke. There's just one small black logo on this bag located right on the front.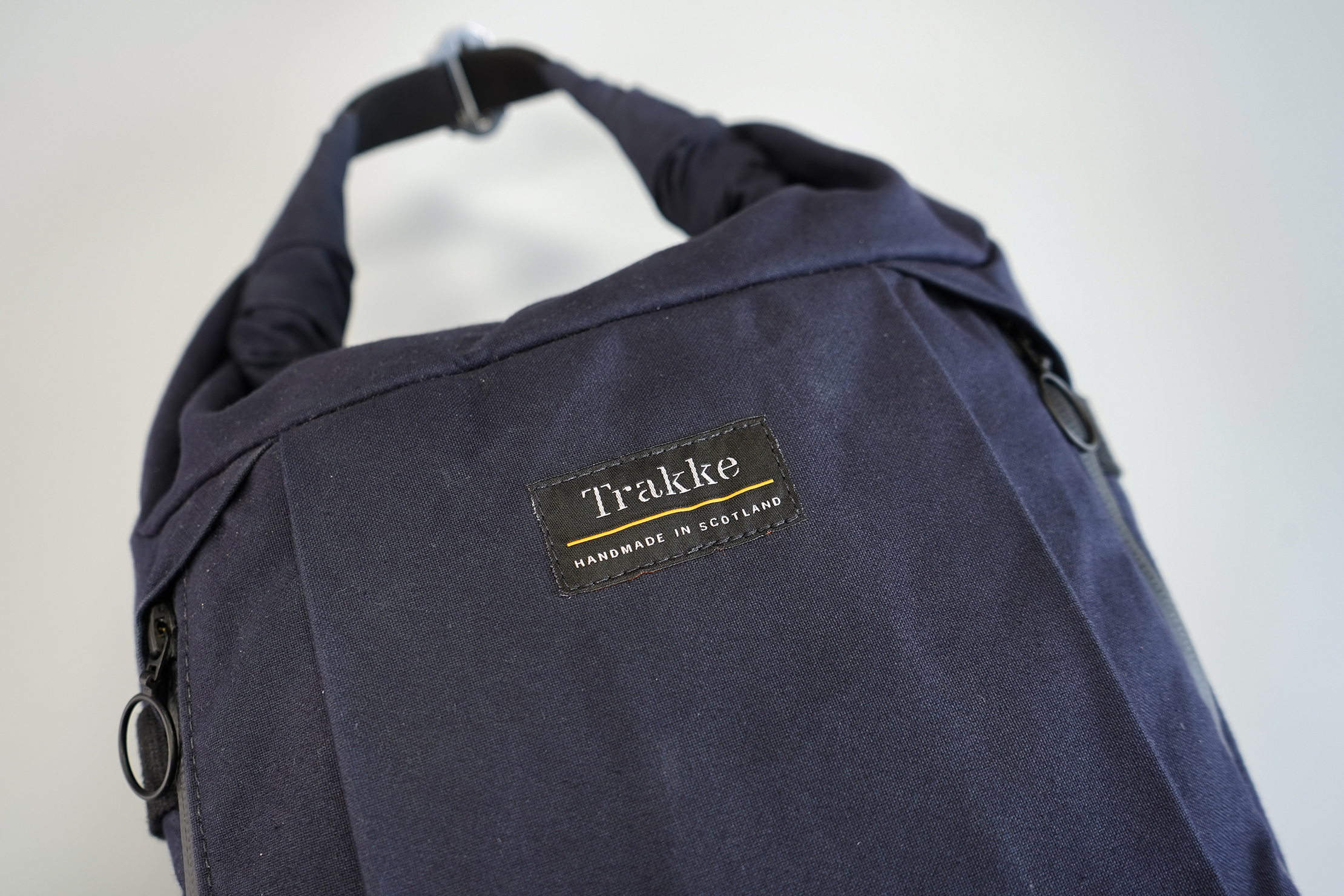 Diving into the materials, the main fabric on the outside of the pack is Trakke's new 400 GSM dry-finish waxed canvas. It's highly durable, very weather-resistant, and feels great to the touch. Seriously, we love the way this thing feels. Plus, the dry-finish waxed canvas looks a little sleeker than the waxier, more heritage-looking fabric that Trakke previously used. While we like both of them, we have to say that Trakke absolutely hit the ball out of the park with this new dry-finish waxed canvas. Did we mention we love how it feels? We love how it feels.
Moving onto the hardware, Trakke has overspent here—like always—and we're not complaining. All of the buckles on this bag are stainless steel. We know not everyone loves these since they aren't the quickest buckles to use, but we've found you get the hang of it after a little while. And, of course, the stainless steel adds a ton of durability.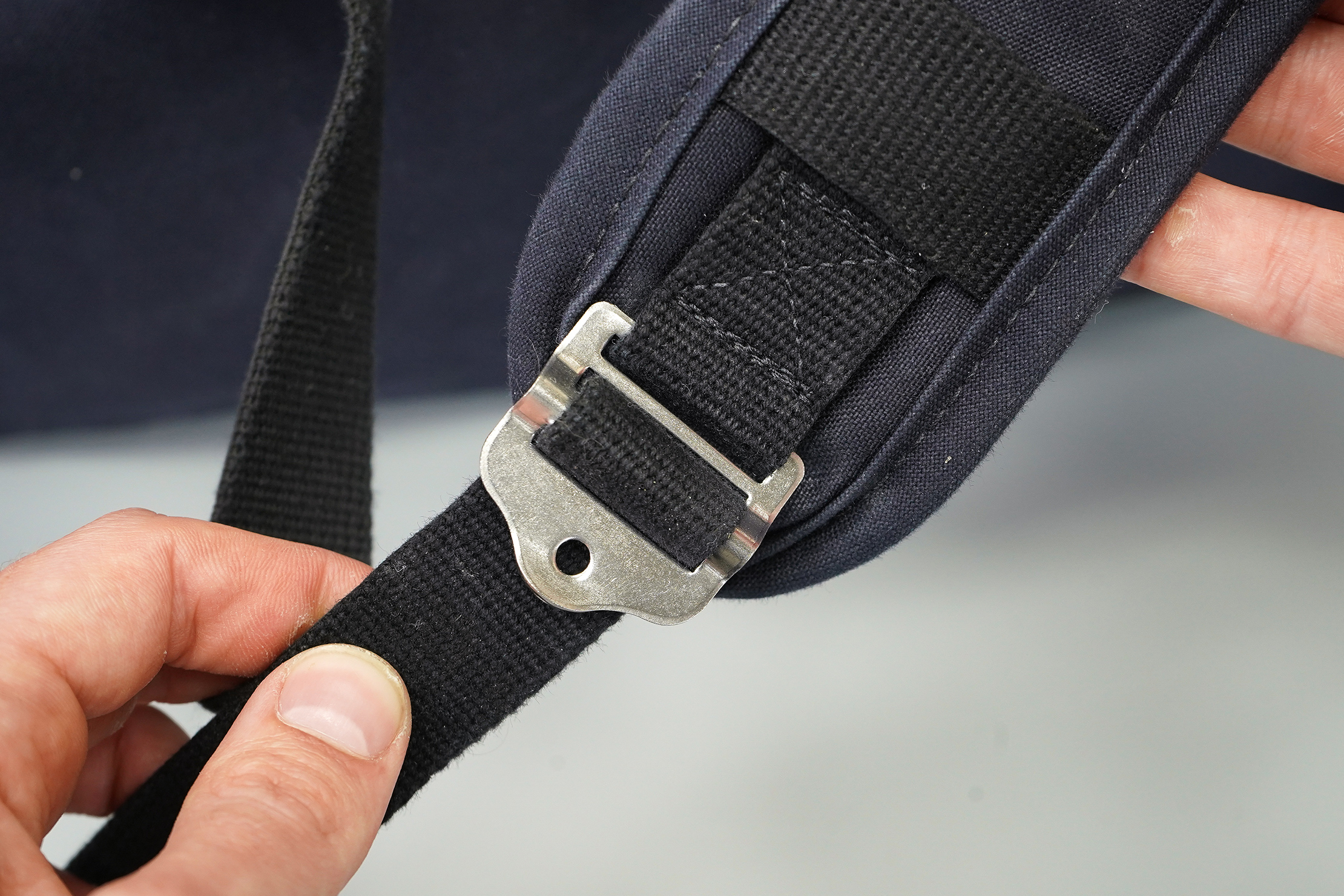 All of the zippers on the Vorlich are YKK AquaGuard, which are not only super durable but also feature a weather-resistant guard over the zipper to stop rain from getting through. We're big fans of the circular pulls on these zippers, too. They're easy to use, quick to grab and make unzipping and zipping the bag an absolute pleasure. Yes, we get pleasure from these things. And the fabric. Did we mention the fabric?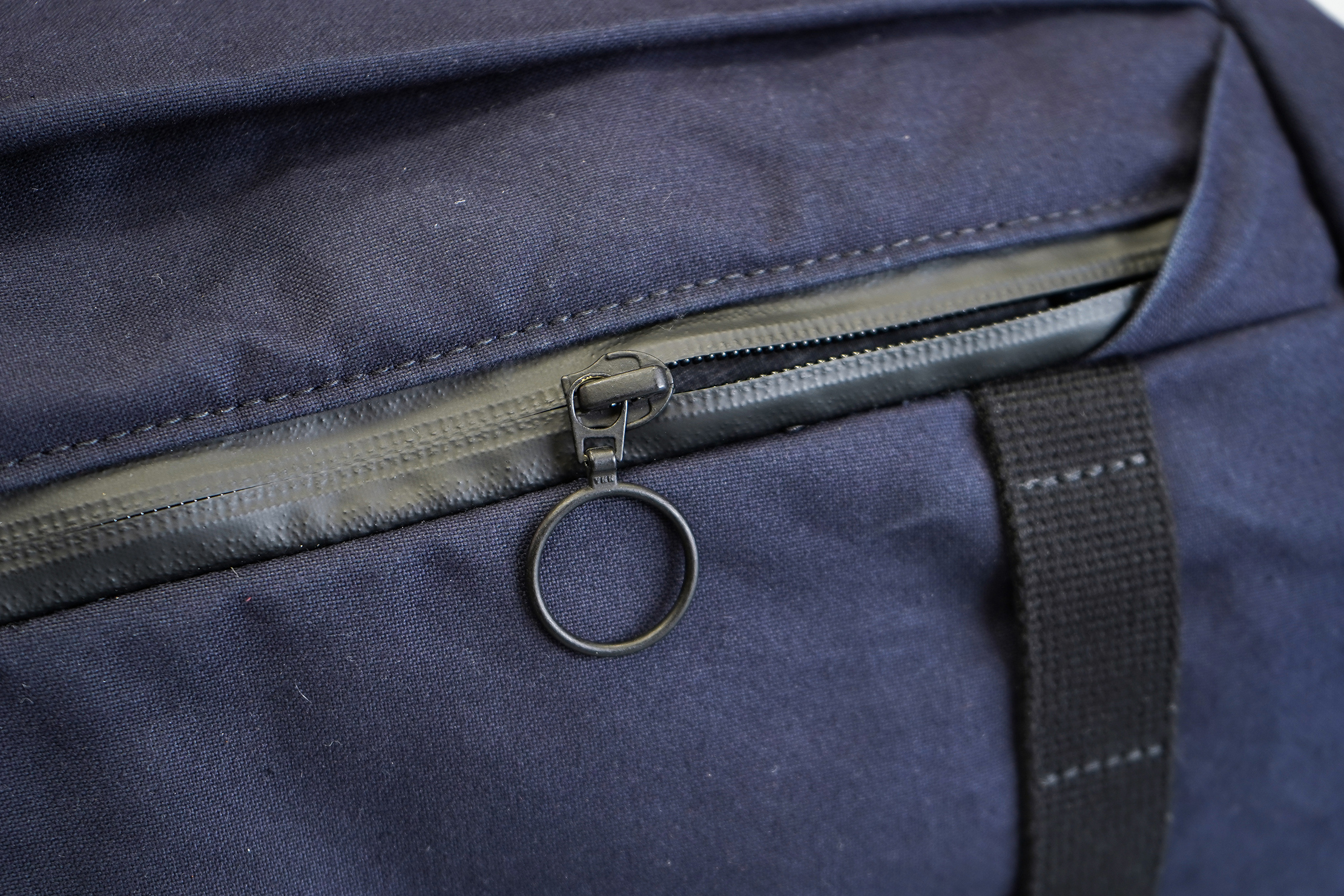 External Components
Starting with the harness system, the Trakke Vorlich features adjustable shoulder straps that are thin but densely padded. They sit comfortably on your shoulders without digging in, which we like. The back panel is padded, too, but there's no ventilation here to speak of—so things can get sweaty quickly if it's hot out and you've just got a T-shirt on.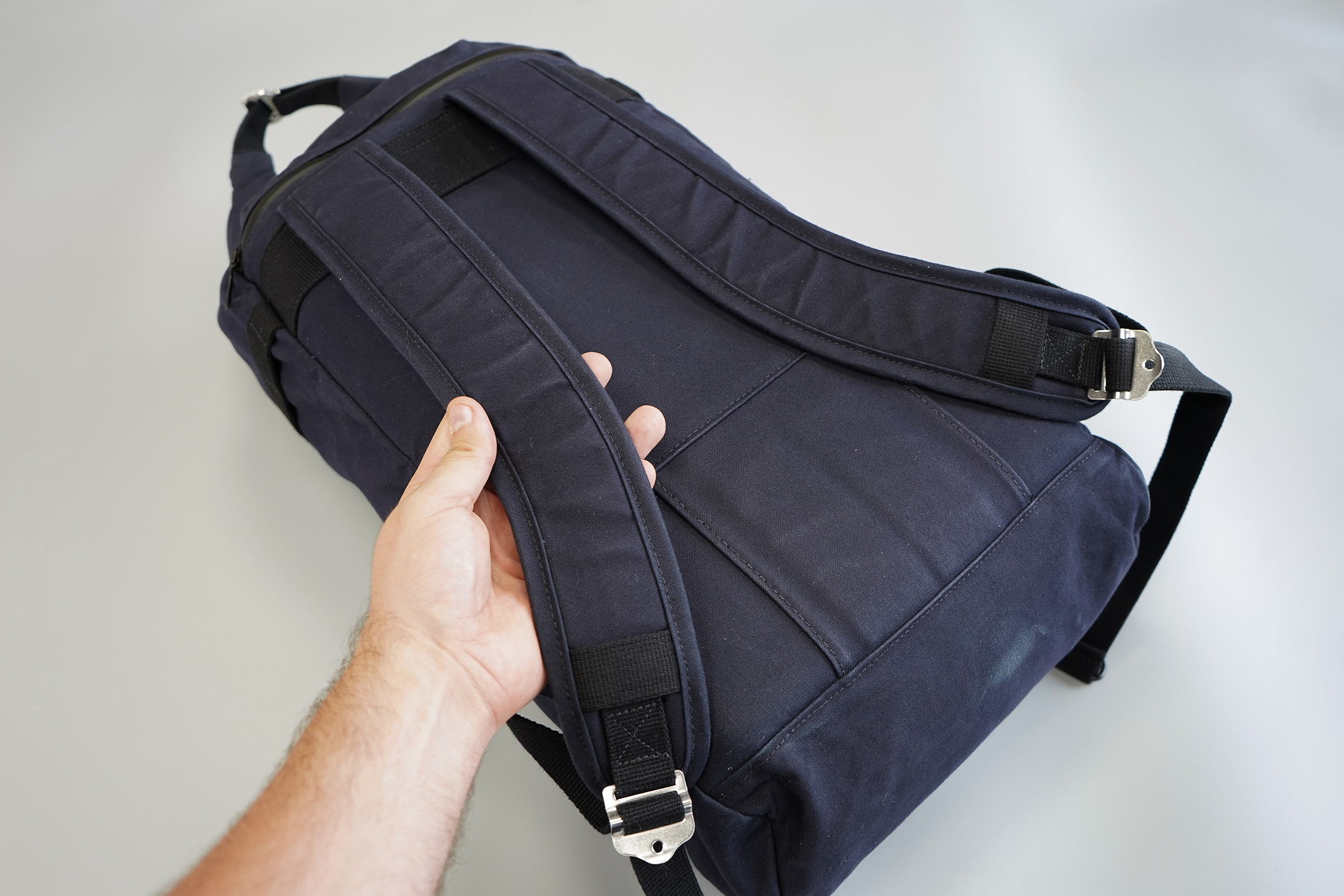 The overall carry of the Trakke Vorlich leaves a bit to be desired since the top of the bag can sit pretty far away from your back. The severity of this issue depends on how much is inside and how heavy it is, but either way—it's not ideal. Honestly, we expected that Trakke would have updated and tweaked this issue in the newer versions of its packs, but they haven't at all. To improve the carry, Trakke does sell a hip belt and a sternum strap. We didn't opt for these since, at only 32 liters, it's not overly necessary on a larger frame—but we appreciate them giving us the option.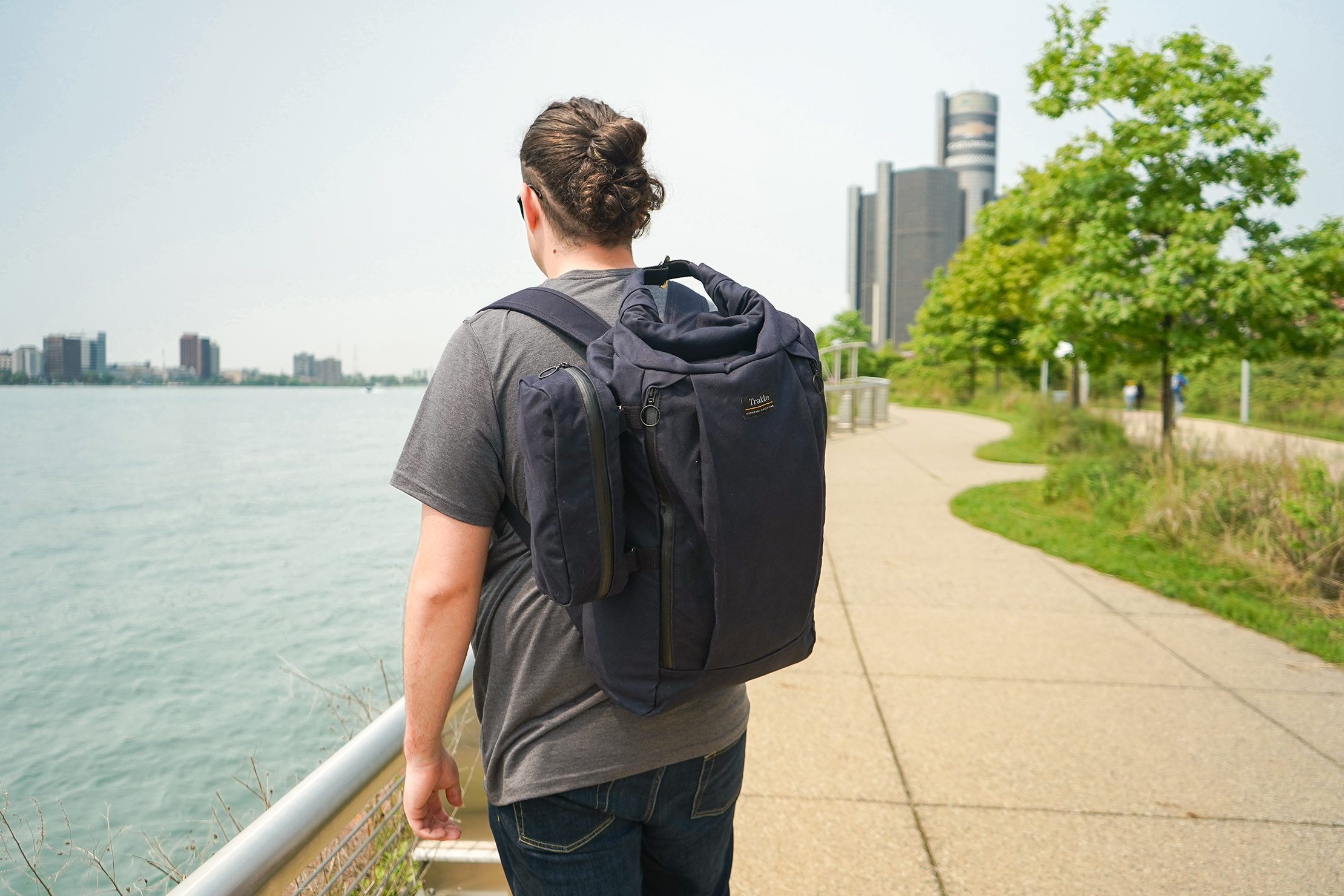 When it comes to attachments, you do have the option of attaching one or two of Trakke's Laggan travel accessory pouches to the side of the pack. It takes a little while to get them on—and it's a bit fiddly because you'll have to put the stainless steel buckles on the pouch around the attachment points on the side of the bag—but once they're attached properly, they won't be going anywhere.
This is a nice feature, and we like the modular approach from Trakke. It's also an excellent place to put things like a small water bottle.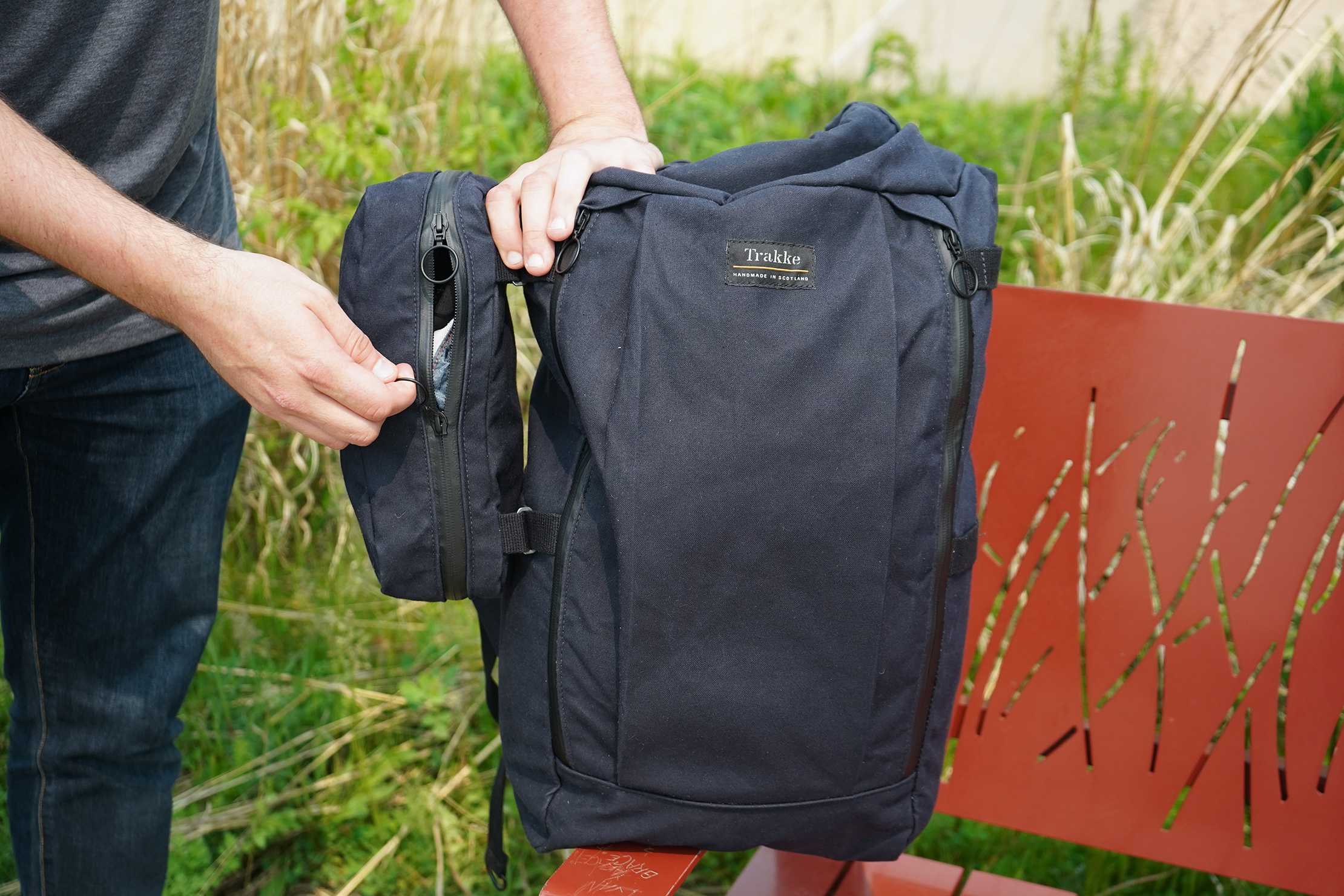 Did someone say water bottle? Because unfortunately, we have to point out that the Vorlich doesn't have a specific water bottle pocket. We know some people won't buy a bag without one, while others don't find this feature necessary. We'll leave that one up to you and your specific travel needs.
The other option, of course, is that you can skip the Trakke pouches altogether and clip whatever you like onto the attachment points with a carabiner like the Heroclip.

And finally, the Vorlich has one grab handle, which is basically just the big rolltop buckle. This obviously isn't designed to be used for long periods, but it's pretty good if you're in a rush or need to hang the bag on something. We've actually found ourselves using it a lot more than we thought we would.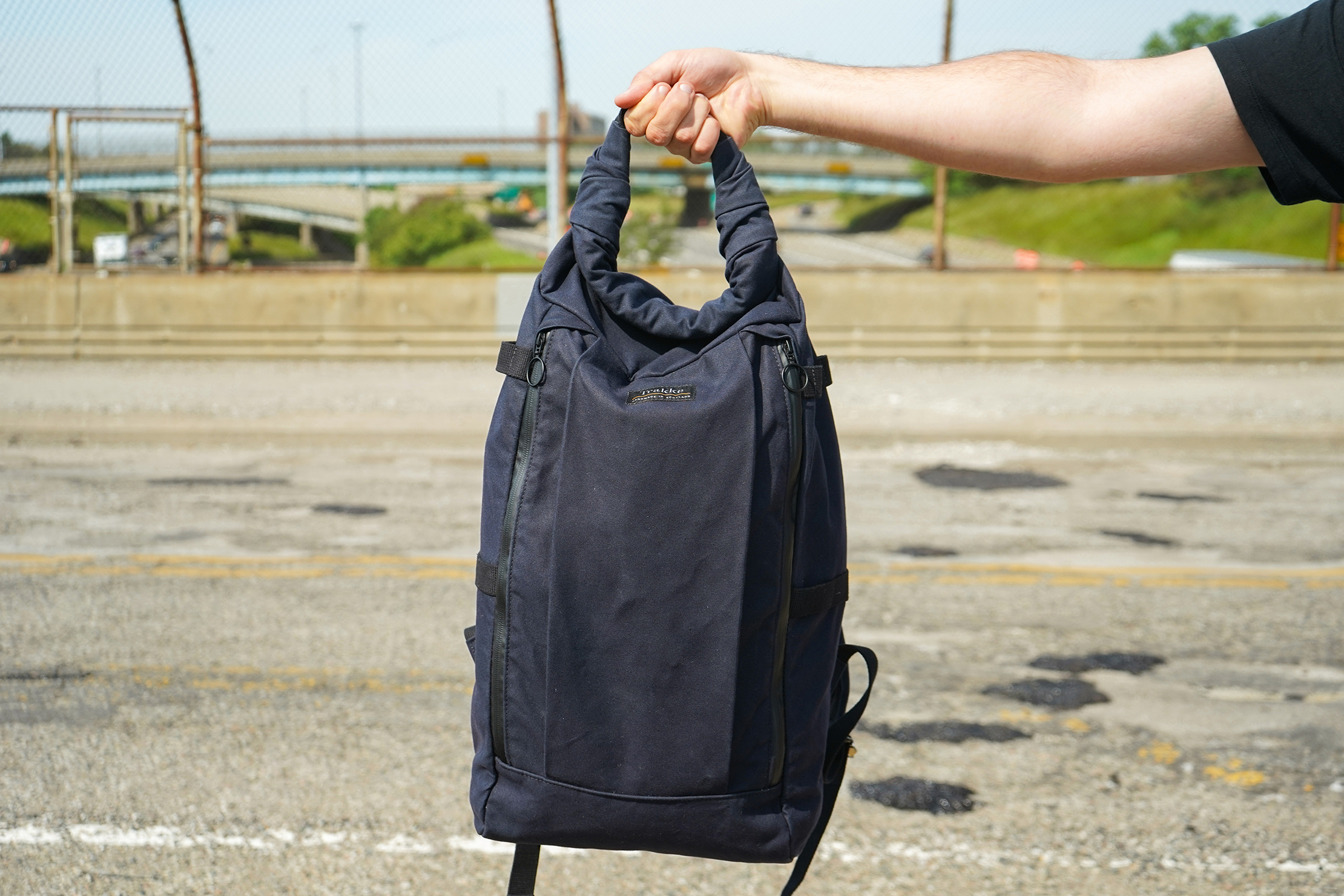 Inside The Pack
The front pocket of the Trakke Vorlich is accessed via the zip on the front left of the pack. Inside, you'll find that signature Trakke orange lining along with a liner pocket at the top, which is great for quick-grab items like sunglasses and a wallet.
The rest of this pocket has a ton of room for other stuff as well. On the outside of the pocket, the front material has folds on either side, allowing it to expand when the pocket is full or sit closer to the pack when it's not—and that's a feature we really like.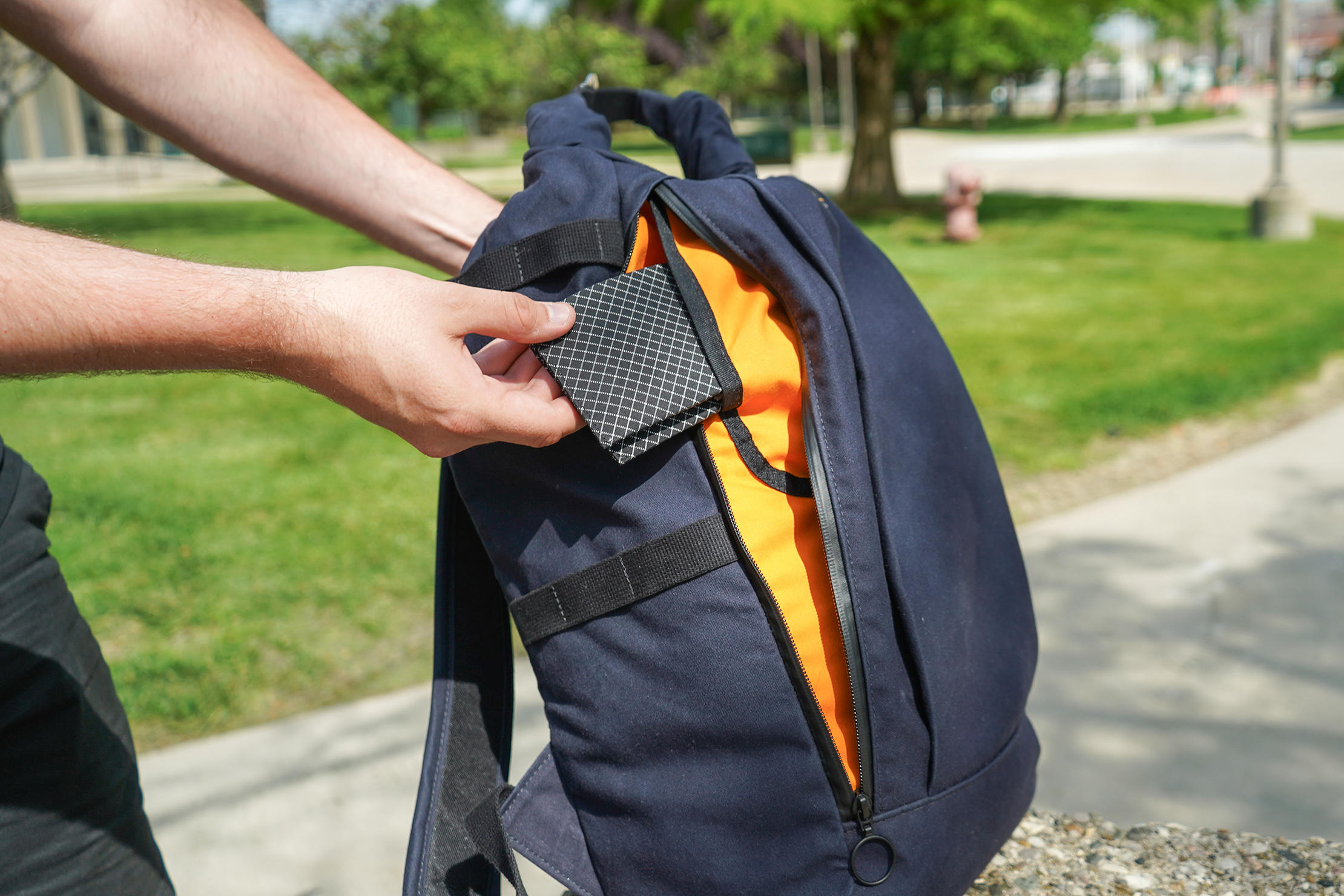 On the other side of the pack, there's a similar-looking zipper, but this one will grant you access to the main compartment, which is essentially a large bucket. Having this external access is great, as it means you can quickly get something out without having to unzip the main rolltop.
The main entry point of this bag, of course, is the rolltop. Once you undo the buckle, you simply unroll the fabric and you'll have access to the main compartment.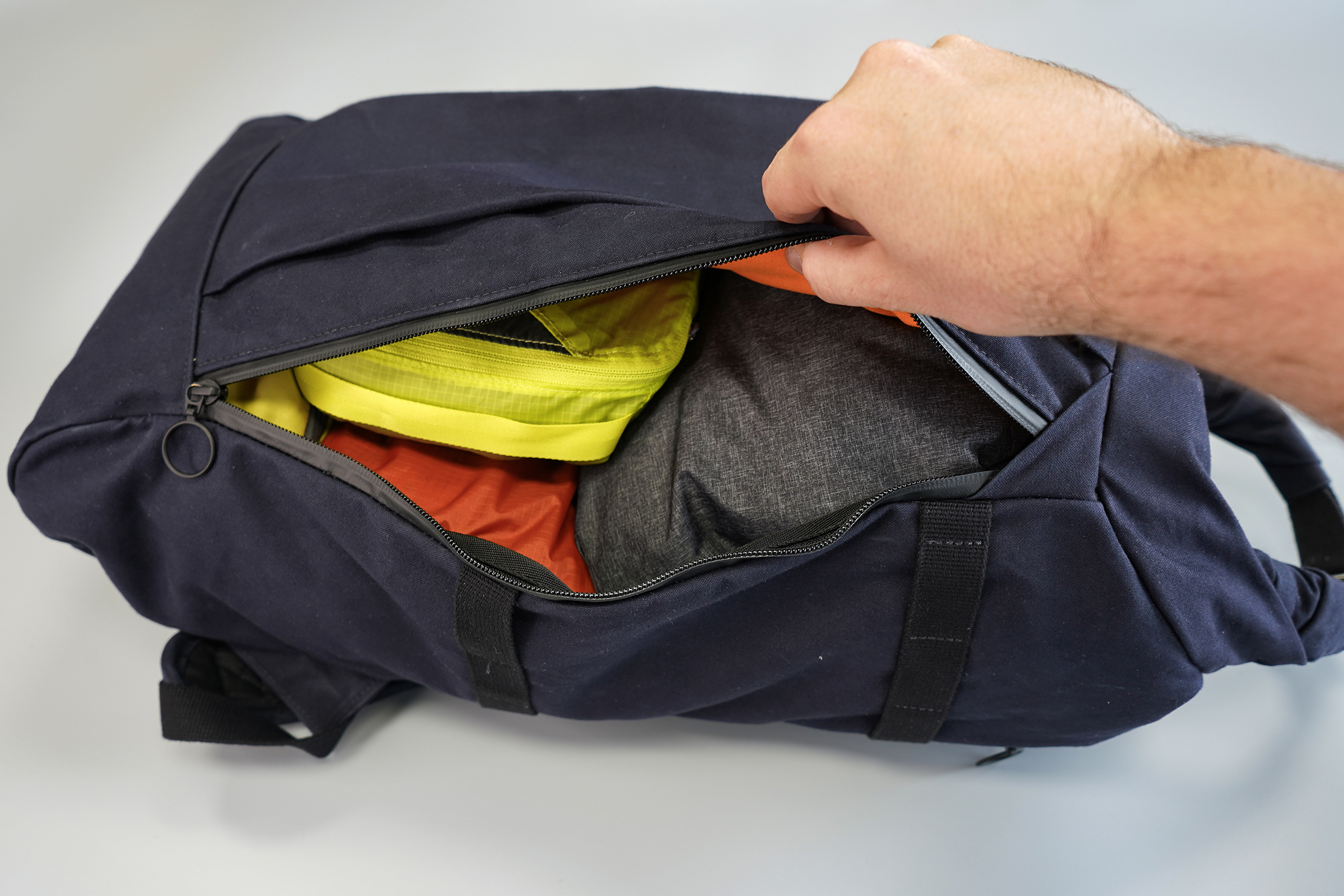 One thing we love about this rolltop design is that you can roll it down to the length of your choosing depending on what's inside. That means you can use the Vorlich as a tech daypack or even a larger one-bag travel backpack. This is an awesome feature that really cannot be understated.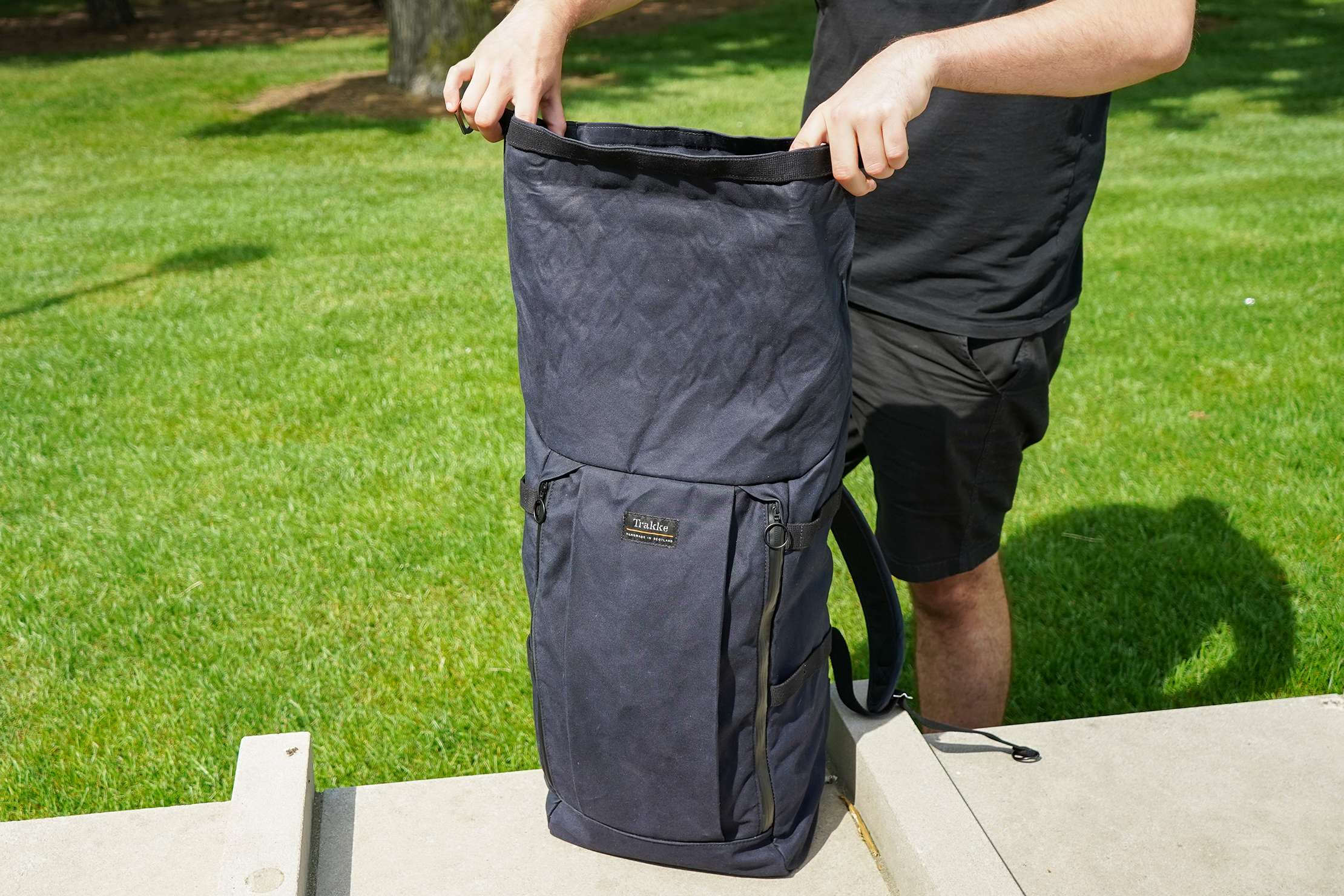 Finally, there's a padded laptop compartment at the back that can hold a 15-inch laptop. We think this is a great addition, and it's also an ideal place to put flatter or slimmer objects. That said, there's no false bottom. If you've been following us for any length of time, you probably know that we're huge fans of false bottoms on laptop compartments. This is when the laptop compartment doesn't actually extend to the bottom of the bag, but instead, there's a small gap at the bottom meaning your laptop won't hit the ground if you drop your bag.
We would have preferred to see Trakke use a false bottom in this space, but oh well. It's also a little bit tight to get the laptop through the zipper.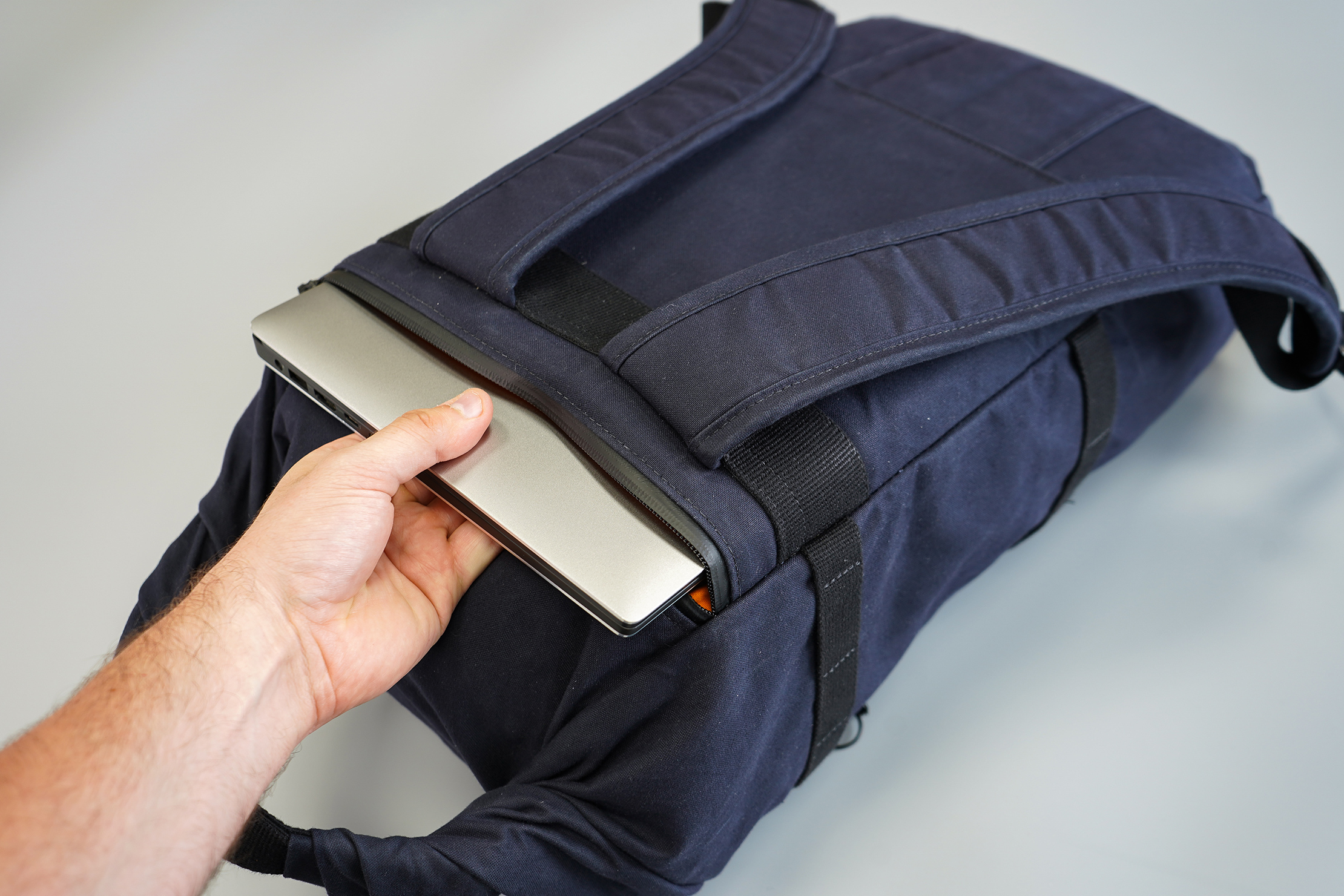 Durability & Testing
At the time of this review, we've been testing the Trakke Vorlich for around three weeks in Detroit, Michigan. As expected, it's holding up really well. You might recall our review of the Trakke Storr—a carry-on bag we tested for two months across Spain and the U.K.—which had similarly excellent results. The fabric and stainless steel hardware ensure Trakke bags are built to last, and we expect this one to last for a very long time to come.

In testing, we couldn't help but enjoy using this bag. Our gripes were relatively minor: the laptop compartment entry is a little tighter than we'd like, there's no designated water bottle pocket, and the top of the pack can sit a bit further away from our shoulders than it should. But the bottom line is that Trakke hit a lot more than they missed with this backpack, and products by this brand have a feel-good quality that's hard to deny.
We'll also point out that the new dry-finish waxed canvas on this pack doesn't pick up marks like Trakke's previous waxier fabric did, which is a nice improvement overall.
Usage Timeline
Initial Usage
Condition: Excellent
The rolltop is a bit hard to roll and unroll in practice.
The material feels really great in the hand.
Our team is divided on the ring zipper pulls. Half of us like them, the other half doesn't.
We're curious to see how pack access feels during the testing phase.
2 Weeks of Use
Condition: Excellent
Rolltop design and zippered access are both working out great; no durability issues so far.
1 Year of Use
Condition: Good
Bag is still in great shape, but one of the ring zipper pulls broke off.
Access the Pro Community Discussion
Get your questions about the Trakke Vorlich Backpack answered from our team and the Pro Community right here on the page. Plus, join discussions with other members about gear, guides, and more.
Other Bags & Luggage Reviews