Trakke Laggan Travel Accessory Pouch (2019) Review
Durable and minimal, Trakke's Laggan Travel Accessory Pouch is a great way to stay organized on the road, although its oblong shape isn't super versatile.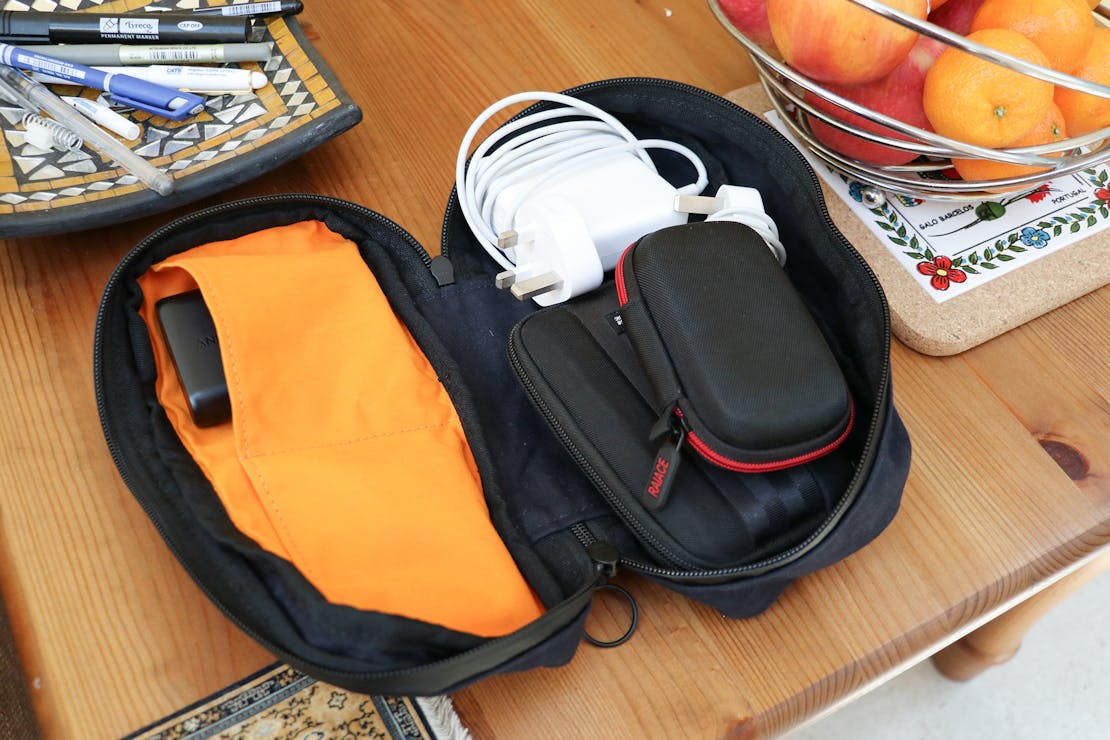 Our Verdict
Unlock the Pro Summary
Save time. Get access to brief summaries of our reviews so you can browse and make decisions more efficiently.
Pros
Highly durable and made of quality materials
Affixes nicely to Trakke's range of travel backpacks
Liner pockets add a nice amount of internal organization
Cons
Oblong shape is less versatile than square-shaped pouches
Less of a heritage vibe than on previous Trakke products
Clamshell style of opening can be difficult to pack
Recent Pack Hacker Video
Technical Details
Capacity

1.4l

Weight (lb)

.4 lb (0.2 kg)

Dimensions

4.33 in x 9.45 in x 3.54 in (11 x 24 x 9 cm)

Notable Materials

Cotton, Canvas, Stainless Steel, YKK Zippers

Manufacturing Country

United Kingdom

Warranty Information
Full Review
Get up to 12% off Trakke • Join Pack Hacker Pro
We've been excited to start testing the newest iteration of Trakke's Laggan Travel Accessory Pouch ever since the company launched the collection in April of 2019. We're fans of the original Laggan Travel Accessory Pouch since its durability, craftsmanship, and heritage aesthetic are all top-notch, so we wanted to find out if the updated pouch is better.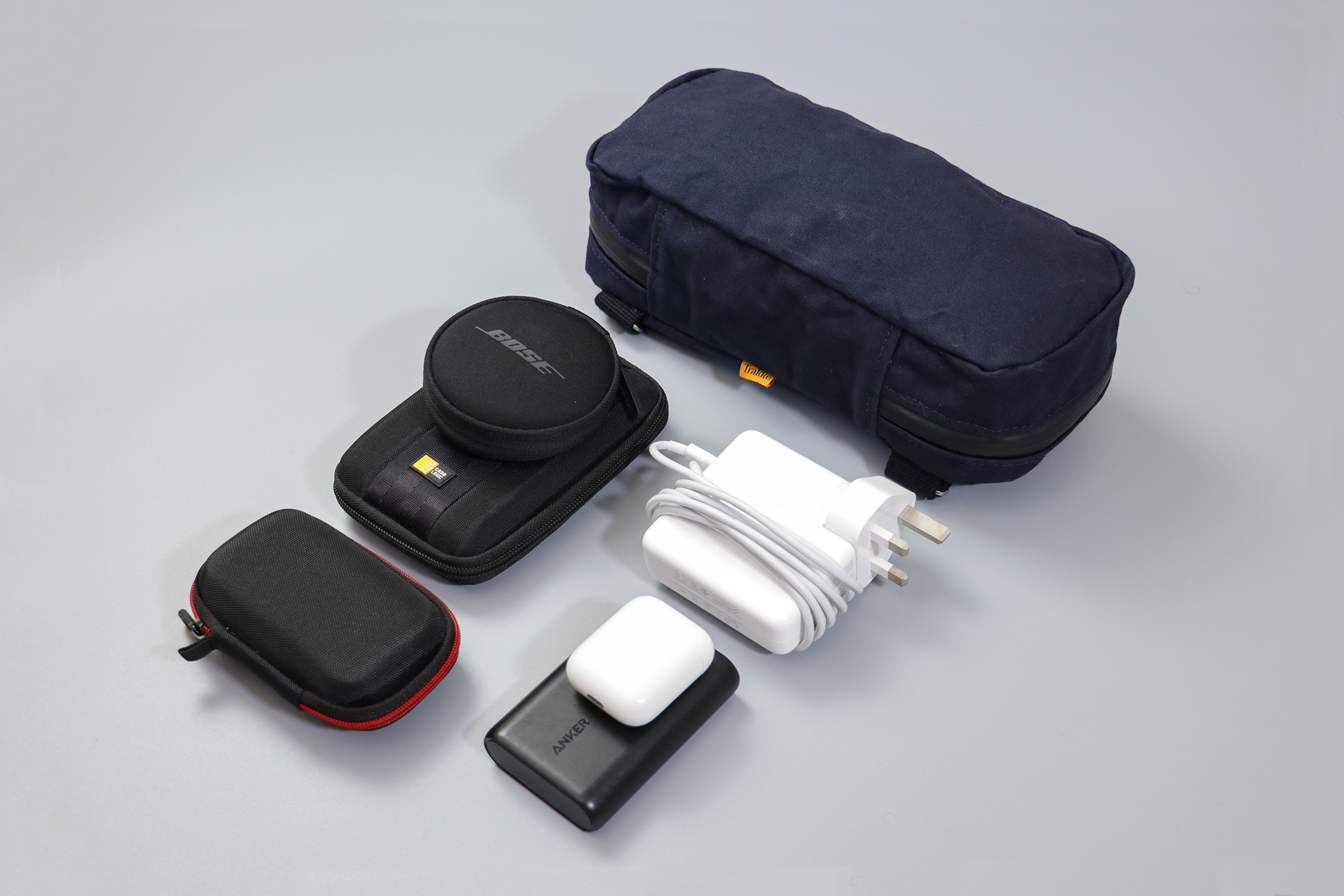 After a month of testing, we've discovered the answer to that question is both yes and no, depending on your use-case. The main differences between the two versions are:
The materials
The overall look and shape
The internal organization
We'll make sure to touch on all of the differences in this review, although we'll be primarily focused on the 2019 version since the older iteration is no longer available. Read on for the full breakdown.
Materials & Aesthetic
The 2019 Laggan pouch has an oblong shape and minimal branding with a small logo tag sewn into the stitching on one side. Both are departures from the previous iteration, which was square-shaped with a bigger logo tag sewn on the front.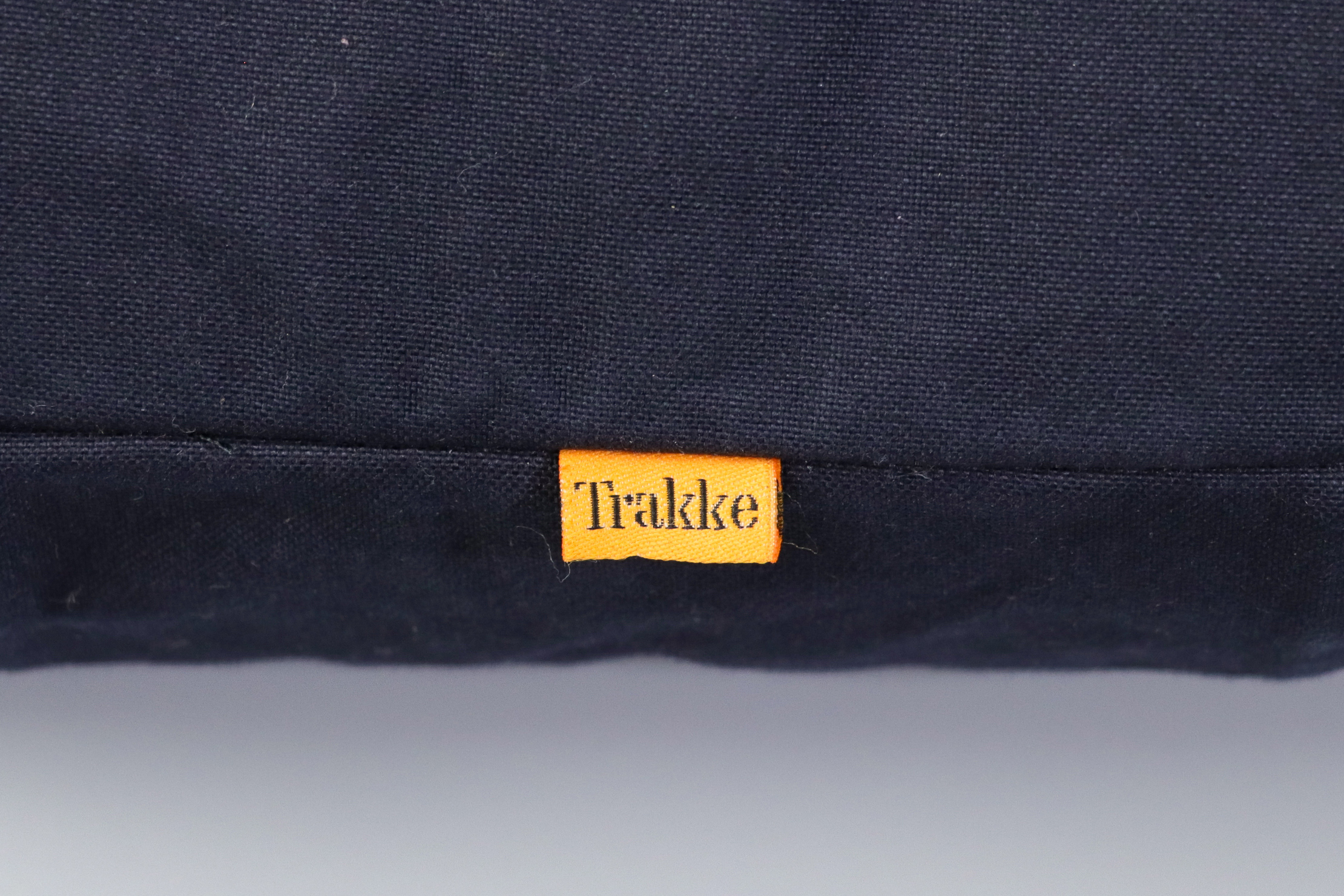 Like the original, the pouch is available in multiple colorways, including olive, black, and navy at the time of this review (we've been testing the navy colorway). There's also a fourth color that changes out frequently, called a "Guest Color," which we think is a fun idea that Trakke uses across their full range of products.
The classic Trakke heritage vibe, while still there, has been taken down a notch on this iteration due to the materials. The pouch is made of a 400GSM Dry-Finish Waxed Canvas, which looks noticeably drier than the waxed canvas Trakke used on the previous version. With the dry-finish, you can hardly tell the 2019 version is waxed at all.
We're not sure we like this update looks-wise. We can't quite put our finger on it, but there's something about that wet wax that we really like. Similar to how a leather wallet feels after years of use—the wax, like leather, ends up looking perfectly worn. But, the new Dry-Finish does look more professional, which we can appreciate (all those business meetings, you know?).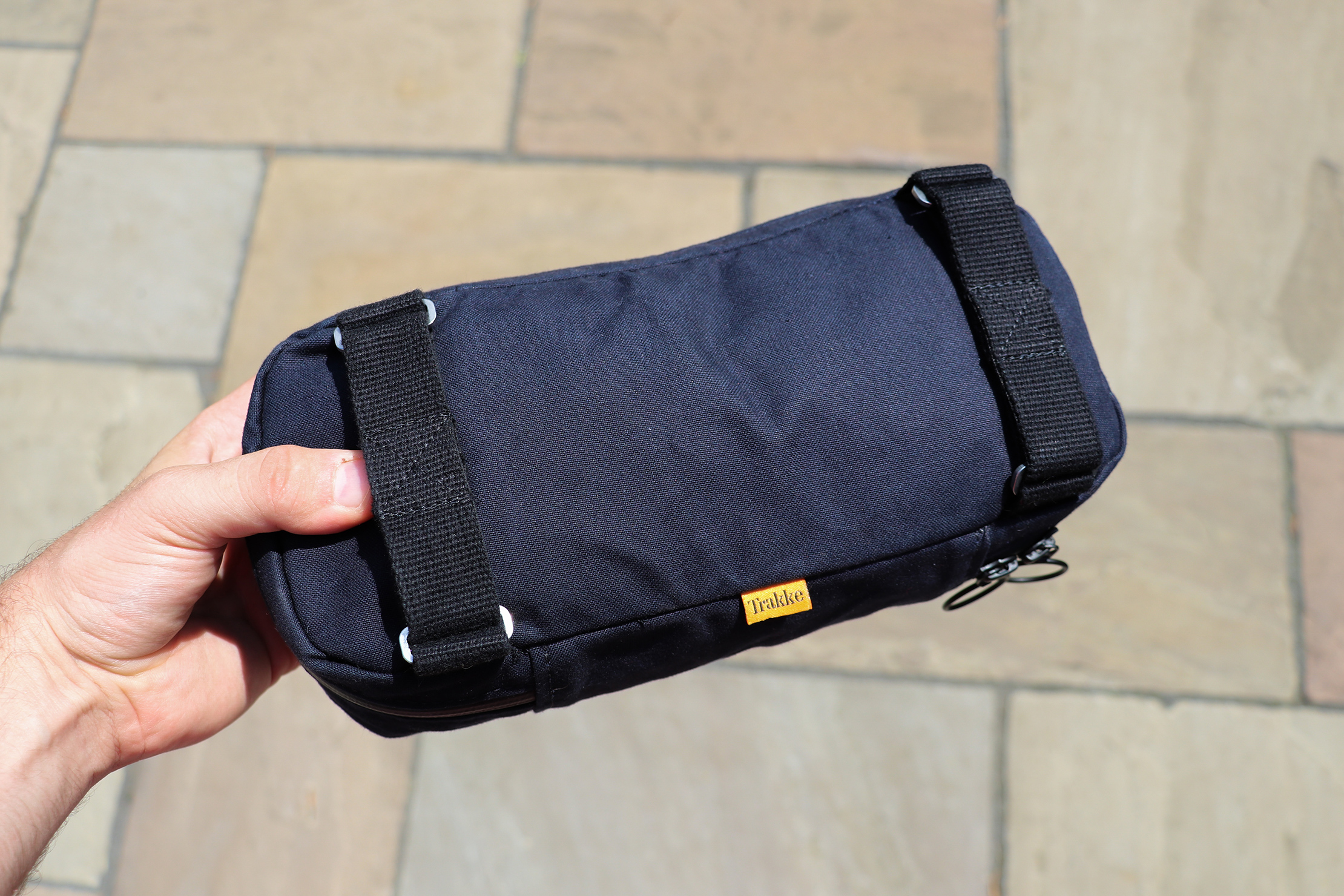 Most importantly, there are some noticeable benefits to this new Dry-Finish Waxed Canvas. First of all, at 400 GSM, the canvas is slightly heavier than the previous one, although you won't notice the weight. You will notice that the pouch retains its shape a little better, though. Trakke also reports that the Dry-Finish wax won't rub off on your clothing, which was always a possibility with the wetter wax, and we're simply delighted to hear that.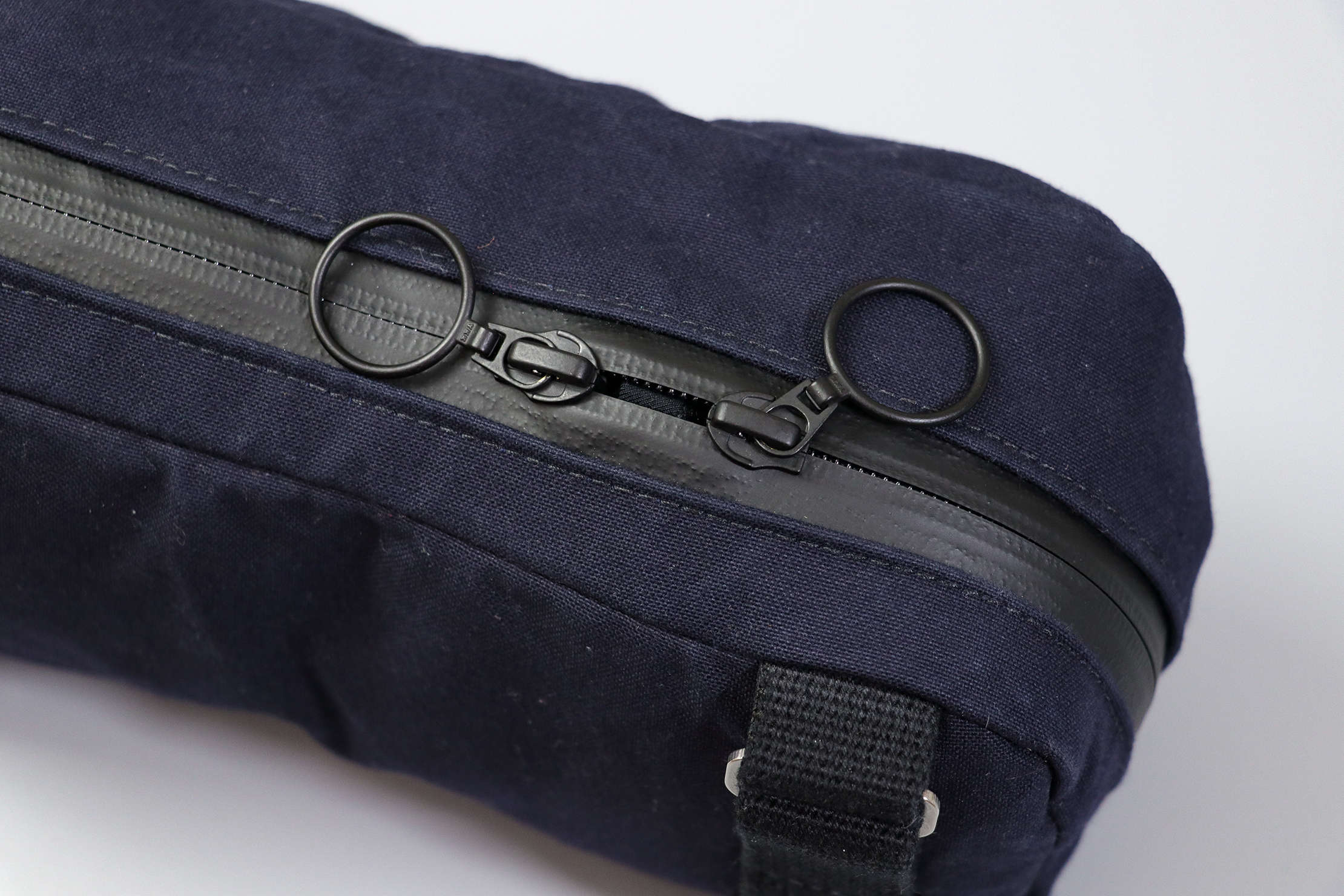 The benefits don't stop there, though—this pouch is durable, soft, and weatherproof. The latter is taken to the next level with YKK Aquaguard® zippers, which we always love to see. Typically, we don't care too much about weatherproofing on pouches and packing cubes—seeing as they'll be inside your backpack most of the time—but in this case, it makes sense.
It makes sense because you can attach this pouch to the exterior of most Trakke bags (which we'll discuss below), so this weatherproofing is both a nice and necessary touch. And even if you never carry the pouch externally, you'll have some peace of mind knowing your gear is protected from any leaking liquids within your pack.
We should also note that waxed canvas is an eco-groovy way to weatherproof, especially when compared to things like fluorocarbon treatments that are commonly used. Better yet, the canvas is easily reproofed with Trakke's reproofing spray, so you can keep this pouch alive and looking fresh far into the future.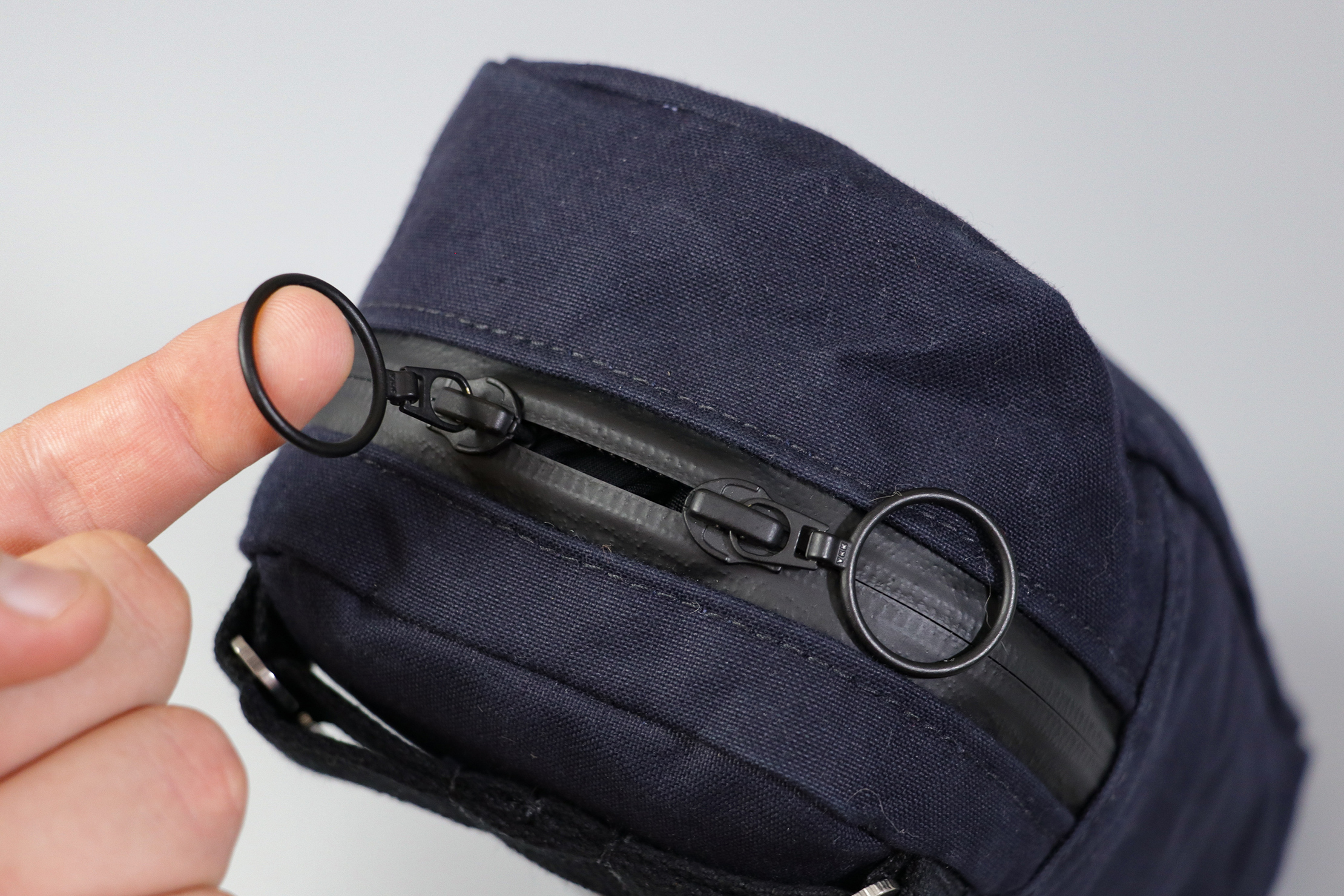 The Laggan Accessory Pouch utilizes ringed metal zipper pulls, which is yet another difference from the last iteration. We like these new pulls as they make getting in and out of the pouch a cinch, although the old one isn't hard to get in and out of either. We like that there are two zippers so you can make them work for you as you pack and unpack the pouch.
Finishing off the materials, you'll find detachable cotton webbed straps and stainless steel buckles. Both are high-quality and will (likely) last quite a while.
External Components
Moving to the outside, the only external components on this pouch are the stainless steel buckles and straps. Like we've mentioned, this thing has been purposefully designed to work within the Trakke ecosystem and it is easy to affix to Trakke's Storr, Vorlich, and Assynt backpacks.
To attach, remove the straps and hook the stainless steel buckles to the straps on whatever bag you're attaching it to. You can position the pouches vertically or horizontally depending on what you'll be carrying, and you can attach more than one pouch if you so choose.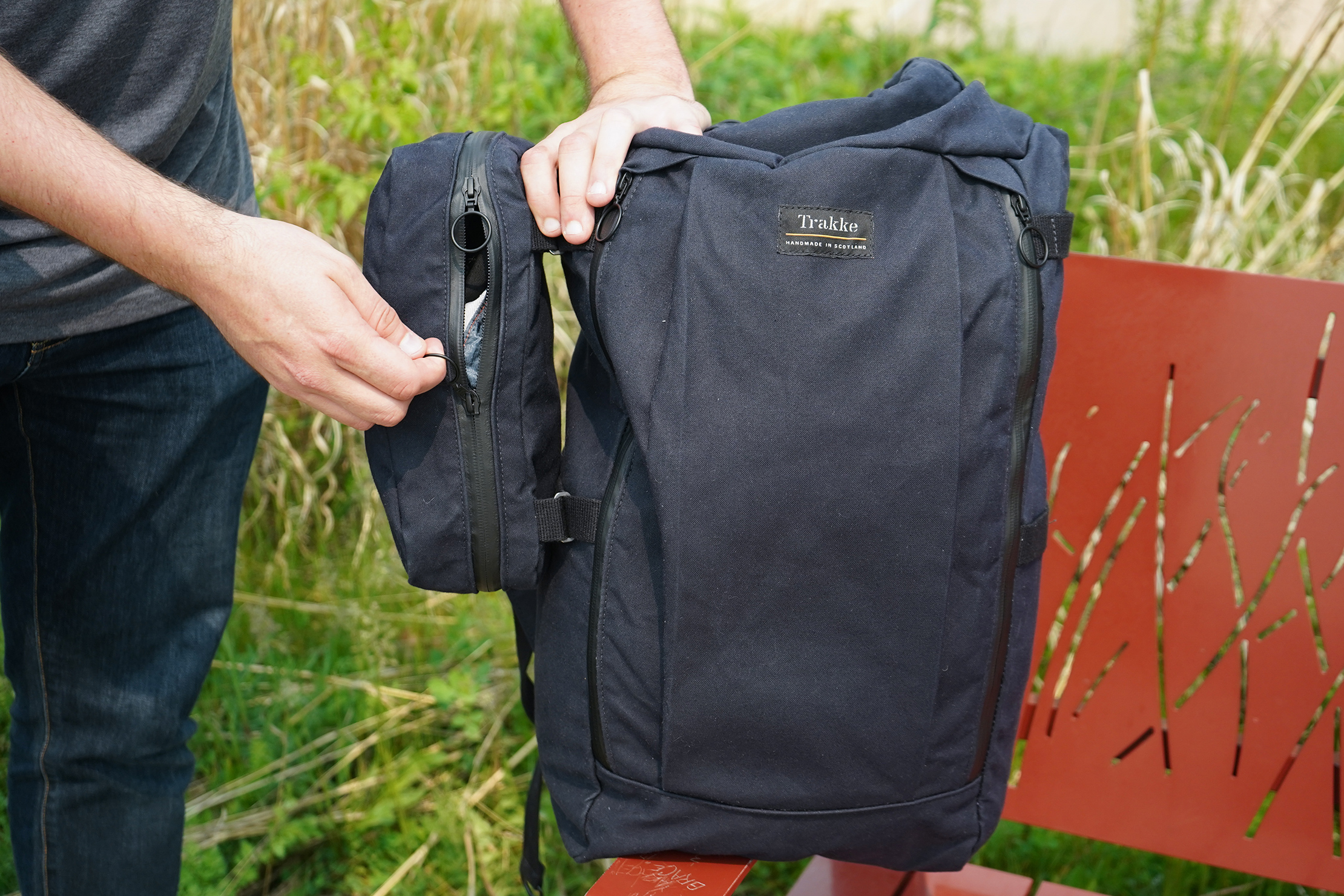 Attaching the pouch is easier said than done, as the stainless steel buckles are hard to work with. But once attached, the pouch feels secure—you won't have to worry about it falling off on your journey.
When using the pouch by itself, you can use the straps to connect it to the handlebars on your bike or, with the help of a carabiner, other luggage, backpacks, and maybe even your belt. All in all, this is a convenient little feature that you may or may not use—but if you don't need to use it, it shouldn't get in your way. Which is just how we like it.
Inside the Pouch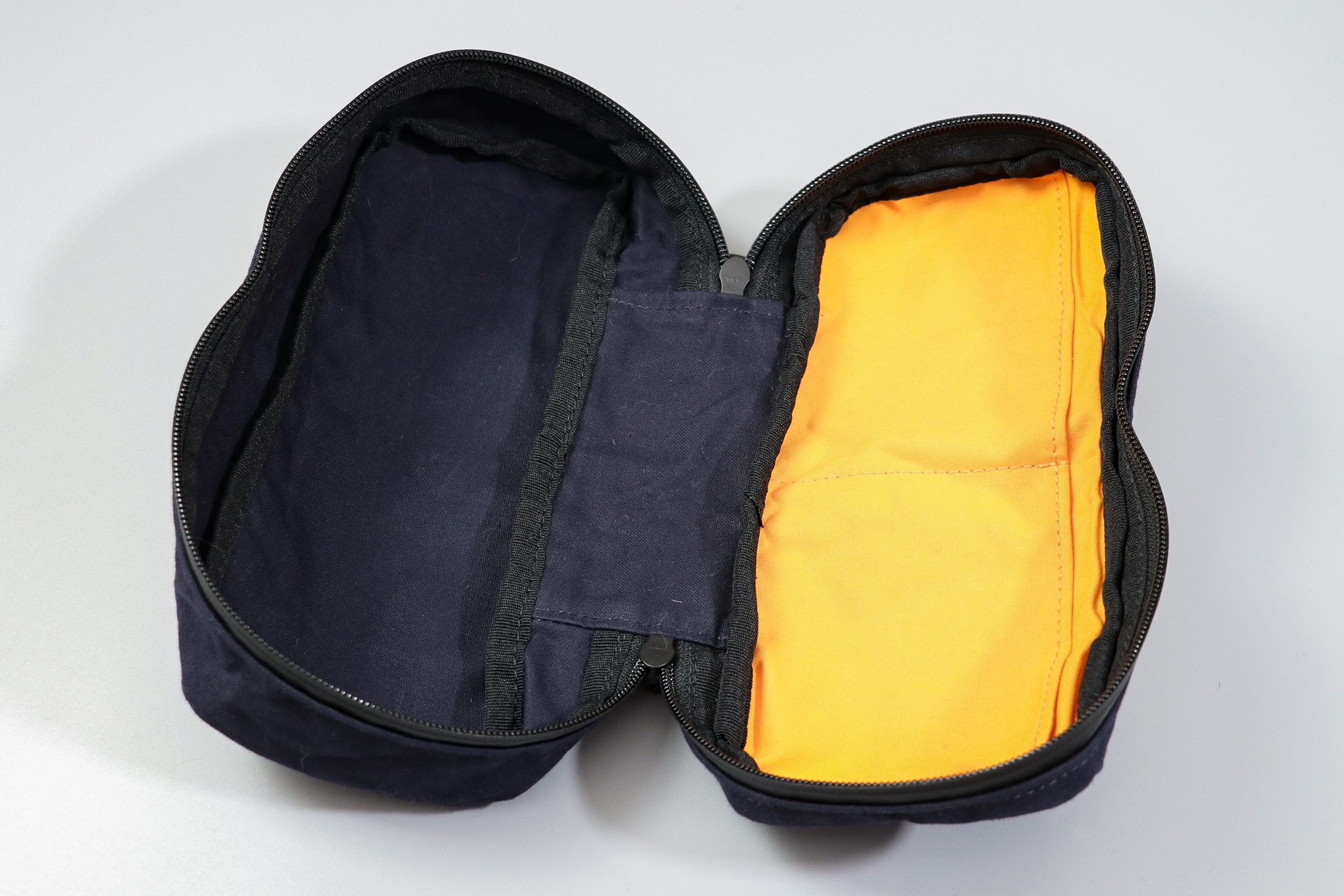 The pouch opens in a clamshell-style, which is equal parts convenient and annoying. It's nice to be able to see everything inside the pouch, and the clamshell-style allows you to connect the pouch both vertically and horizontally to Trakke bags. But filling this thing up can be difficult since it's not as easy as shove-and-zip, like on the previous iteration. You either have to lay your stuff down on one side and then zip everything up, or keep the pouch partially zipped as you fill it.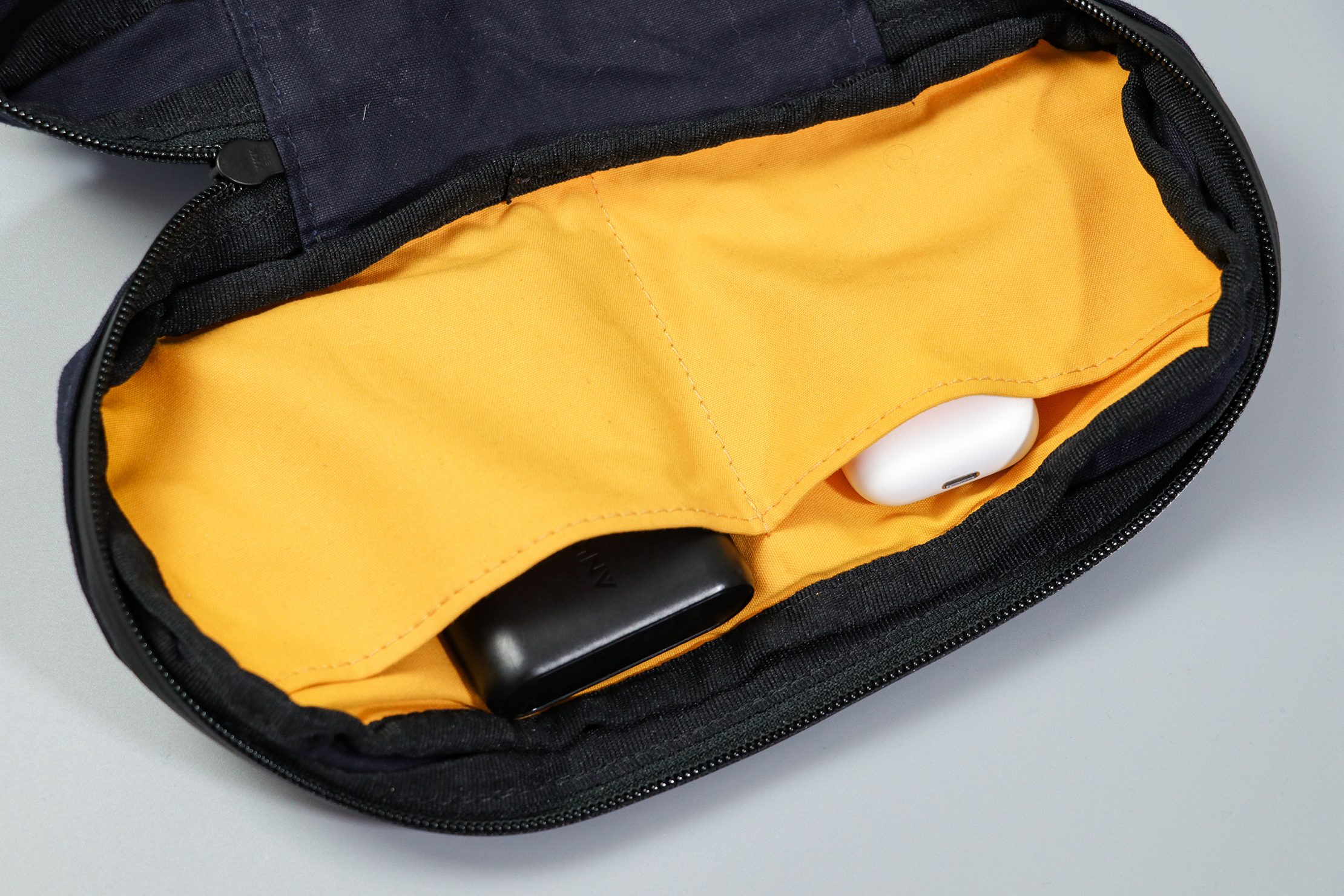 With two liner pockets, the 2019 version only has slightly more organization than the original version (which has zero organization). We really like the addition of these pockets as they're a great place to store smaller and more delicate items.
Durability & Testing
Like we mentioned earlier, we've been testing the Trakke Laggan Travel Accessory Pouch for two months now. We've used it both on its own and affixed to the Trakke Vorlich. We did like having the extra storage and organization the pouch provided while attached to our bag.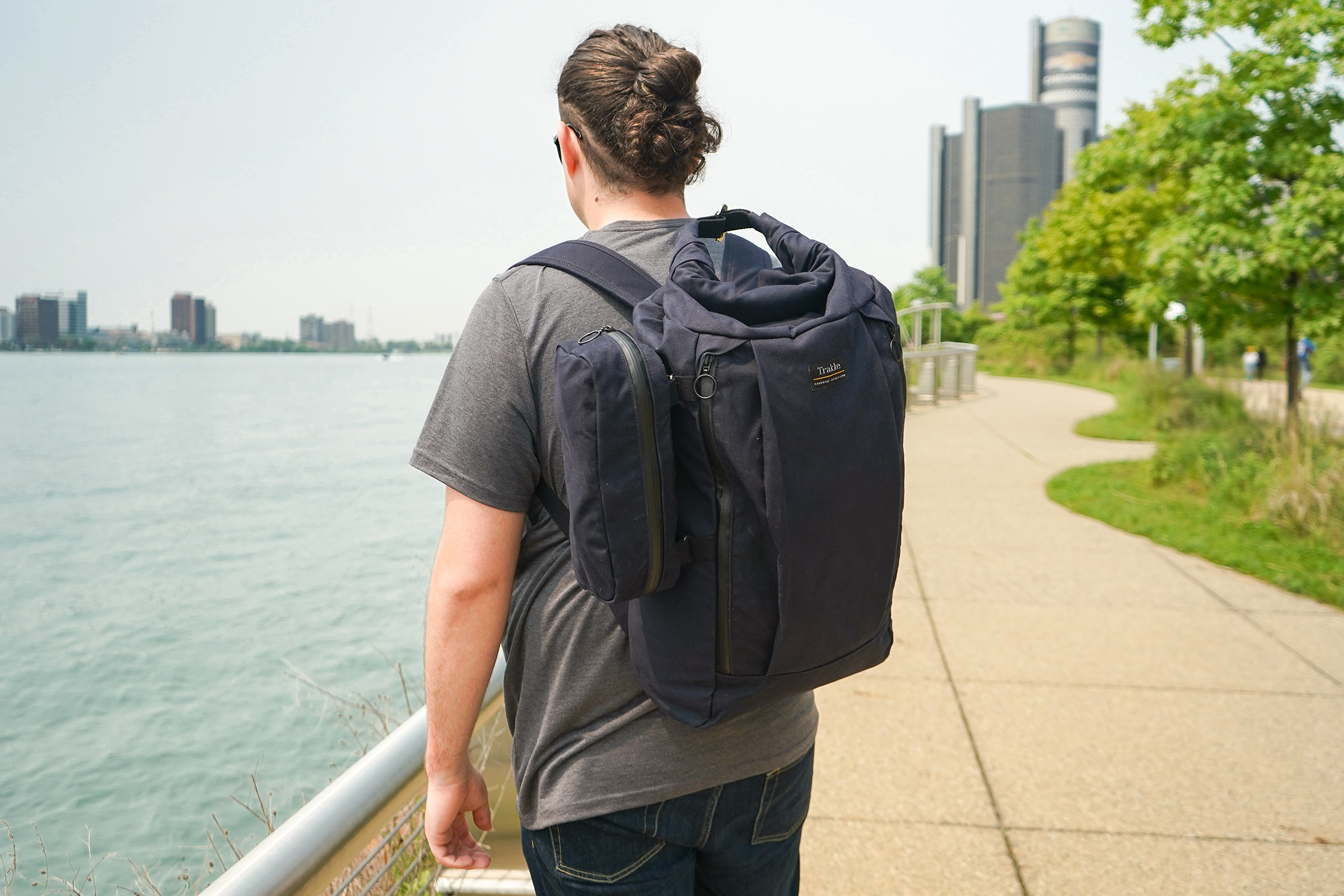 We've primarily used this pouch to hold our electronics, including chargers, a mouse, extra camera batteries and the like. We've also stashed headphones and a SIM card or two in the small liner pockets, which is convenient for things that will otherwise get lost or tangled. But there are no rules when it comes to pouches! You can keep whatever you want inside this thing—toiletries, makeup, whatever.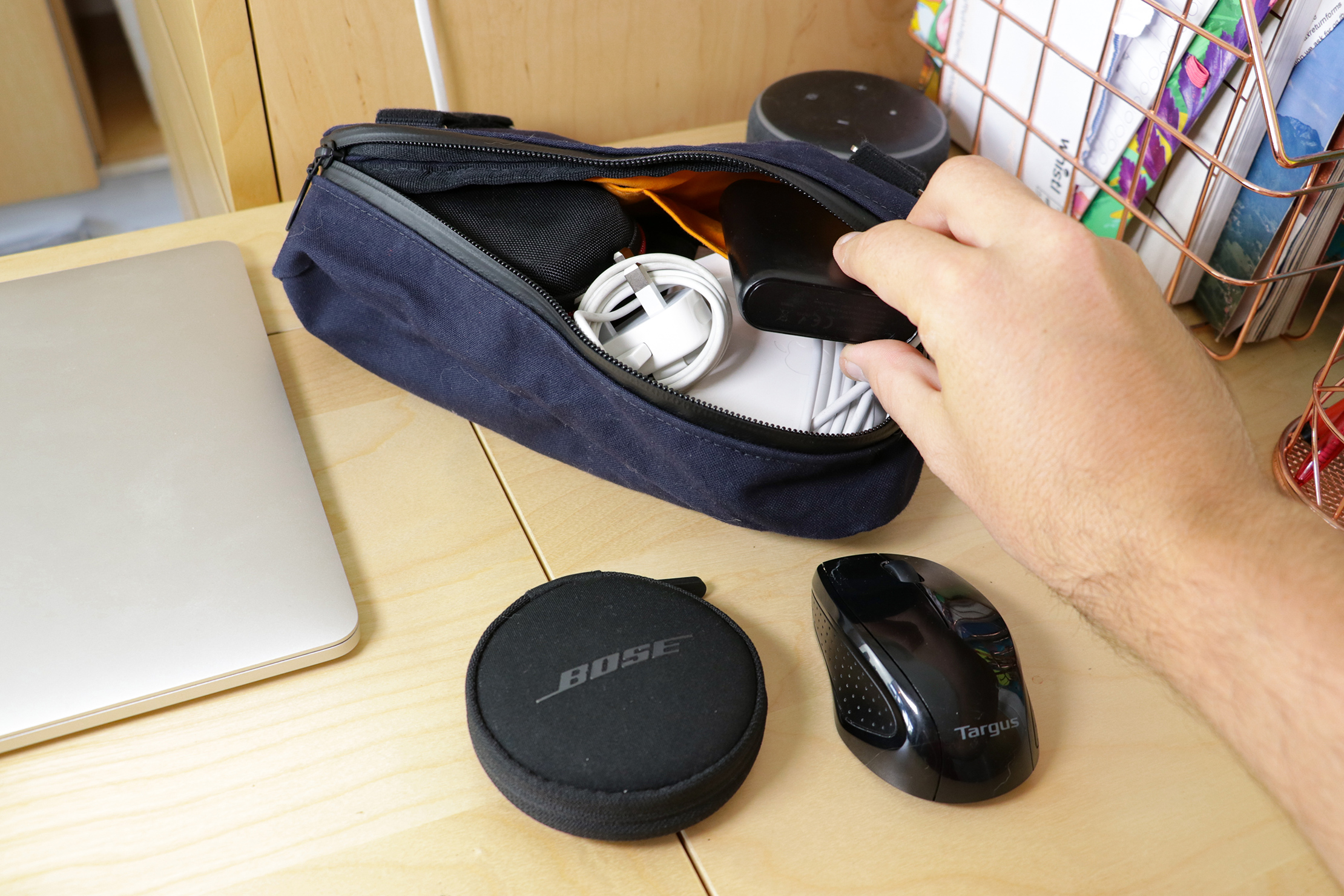 That said, we're not huge fans of the oblong shape. Squares are just a better shape in general because they give you more volume—you can fit more stuff into the corners, as opposed to this where the corners are effectively cut off. But if you carry oblong-shaped things (water bottles, pens, wands) then you may like it.
Everything—the stitching, canvas, and zipper—still look impeccable, though we're not surprised since Trakke usually makes quality stuff.
Usage Timeline
Initial Usage
Condition: Excellent
Loving the feel of the fabric.
It's a bit of a pain to clip and unclip the attachment loops.
We're digging the organization going on inside.
Curious as to why the orange liner isn't around the entirety of the pouch.
2 Weeks of Use
Condition: Excellent
Difficult to attach to the Vorlich, but secure and handy once on.
1 Month of Use
Condition: Excellent
Everything still looks as good as new.
2 Months of Use
Condition: Excellent
Access the Pro Community Discussion
Get your questions about the Trakke Laggan Travel Accessory Pouch (2019) answered from our team and the Pro Community right here on the page. Plus, join discussions with other members about gear, guides, and more.
Other Organizers & Pouches Reviews