Trakke Storr Carry-On Backpack 30L Review
Handmade in Scotland from quality materials sourced within the UK, the Trakke Storr is a super durable 30L pack that's perfect for one bag travel.
Our Verdict
Unlock the Pro Summary
Save time. Get access to brief summaries of our reviews so you can browse and make decisions more efficiently.
Pros
Super durable and made with high quality materials.
Perfect for minimal one bag travel.
Hideaway harness system works flawlessly.
Cons
Front pocket is hard to access when the pack is full.
Load lifters would improve the overall carry.
Not the comfiest handles to hold for any length of time.
Recent Pack Hacker Video
Technical Details
Capacity

30l

Weight (lb)

3.1 lb (1.4 kg)

Dimensions

19 in x 13 in x 7 in (48.3 x 33 x 17.8 cm)

Notable Materials

Canvas, Cotton, DWR Coating, Stainless Steel, Polyester, YKK Zippers

Manufacturing Country

United Kingdom

Scotland

Laptop Compartment Size

15"

Warranty Information
Full Review
Get up to 15% off Trakke • Join Pack Hacker Pro
Scotland is the birthplace of whiskey, the telephone, and penicillin… and in 2010, the backpack/travel accessory company, Trakke! Okay, so maybe Trakke doesn't quite belong alongside those three just yet, but it's a bag company on the up that's really making a name for itself.
The Storr backpack—like all of Trakke's products—is handmade in Scotland from durable materials sourced within the UK. And if that isn't good enough, it also comes with free repairs forever. Like, forever forever.
And we haven't even gotten to the good part yet. This 30L backpack is designed specifically for one bag travel!
Here at Pack Hacker, we're pretty big on one bag travel—quite possibly the understatement of the year—so you can imagine we were super excited to put the Trakke Storr to the test. And put it to the test we did! Over the last two months, this pack has seen use in mountains of Spain and the hills surrounding Stonehenge in the West Country of England. Our expectations ran pretty high for this bag, so let's dive right in and find out how this thing worked in the real world.
Material & Aesthetic
The Trakke Storr carry-on backpack features a minimalistic design and simple aesthetic that we think looks stunning. Trakke has somehow managed to design a bag that looks not only beautiful, but also rugged and ready for adventure—which is some achievement. The style of the pack will work with most outfits and environments too, which is a bonus for traveling.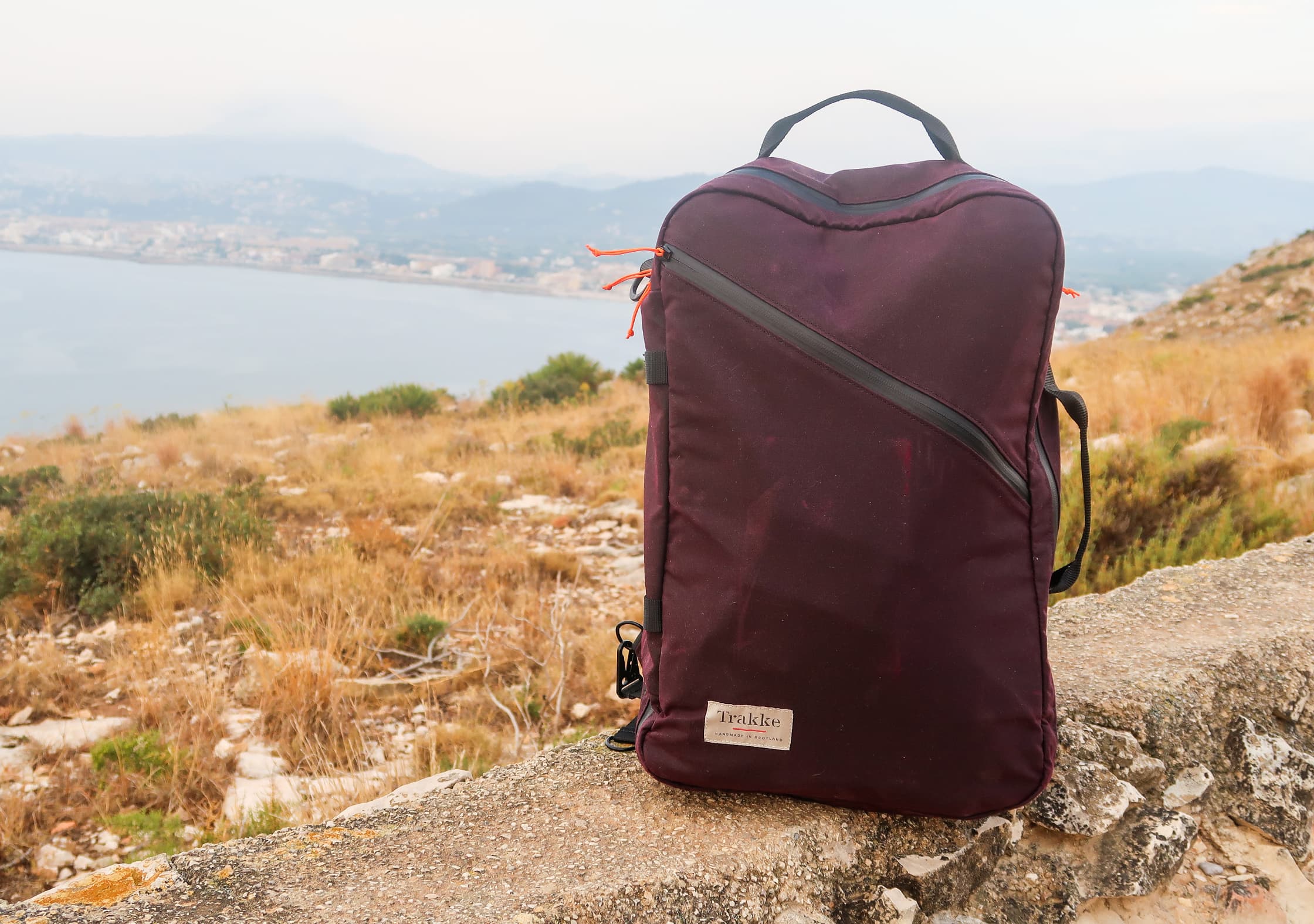 The branding on the Storr is subtle and discreet. You'll only find one logo on this pack—a delightful "Trakke" wordmark with "handmade in Scotland" proudly emblazoned underneath, which is sewn onto the front of the bag near the bottom left corner. We're not huge fans of companies that plaster their logo everywhere with any given opportunity, so the branding here was nice to see.
The Trakke Storr is available in five colors—olive, black, navy, plum, and crottle (red). In truth, we'd be happy rocking any color option, but we went with plum for this review—and we're thrilled that we did. When do you get the chance to wear a purple backpack that actually looks good? Purple is a bold color for a backpack, but we're happy to report that this particular shade works really well in practice—it's a nicely subdued, dark and moody purple, much like all of their other colors. We think the look and texture of the waxed cotton canvas exterior helps to keep things subdued as well.
When it comes to materials, Trakke hasn't cut any corners—and in fact, materials are something they treat very seriously. We like to see this, especially for a company that places its products near the higher end of the market. Back in 2011 they were using CORDURA® but came to the conclusion that "it's boring" and "it doesn't have much soul," so they went searching for something else.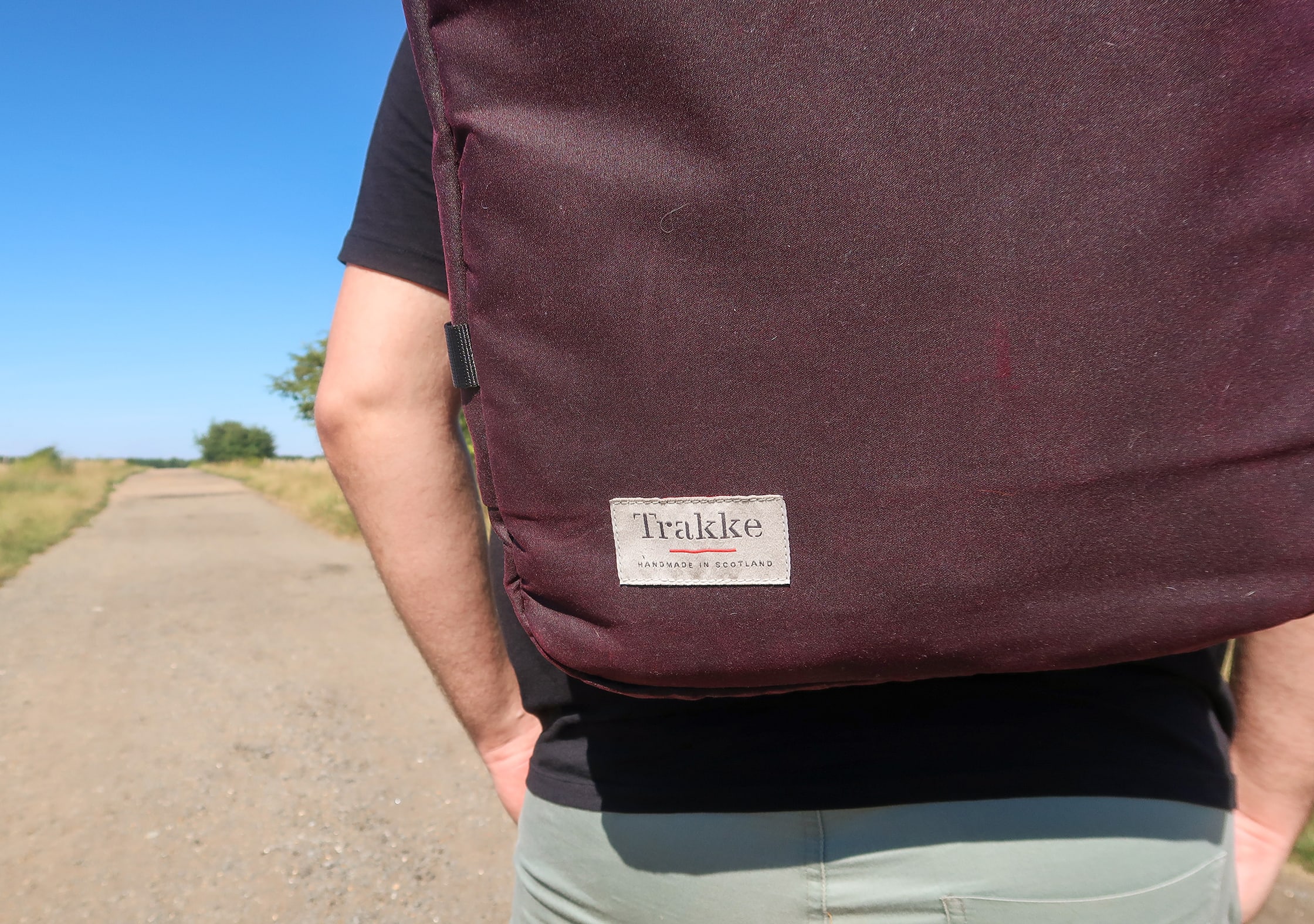 Over on the Trakke website they sum up their quest beautifully, by saying:
"We always knew that we wanted to make our bags in the UK – so it seemed crazy to import materials from overseas. Instead, we looked closer to home. We were searching for materials that were strong, durable and timeless. Materials that had a track record. A history. Some heritage. And we found them. We discovered waxed canvas – a cloth that was developed by Scottish Fishermen in the 1800's."
At this point, we would usually chalk this up as marketing spiel, but we're feeling Trakke on this one, and we dig the thought process behind this decision and brand ethos. As much as we like CORDURA® for it's durability, we too have been getting tired of seeing it on bag after bag. Kudos to Trakke for thinking outside the box!
Canvas is typically heavier than other popular bag materials like nylon and polyester, so it would be easy to think that the waxed cotton canvas used on the Trakke Storr would make this pack heavier than other carry-on backpacks available. Surprisingly, the Storr weighs in at only 3.1lbs (1.4kg)—a pretty average weight for a pack this size.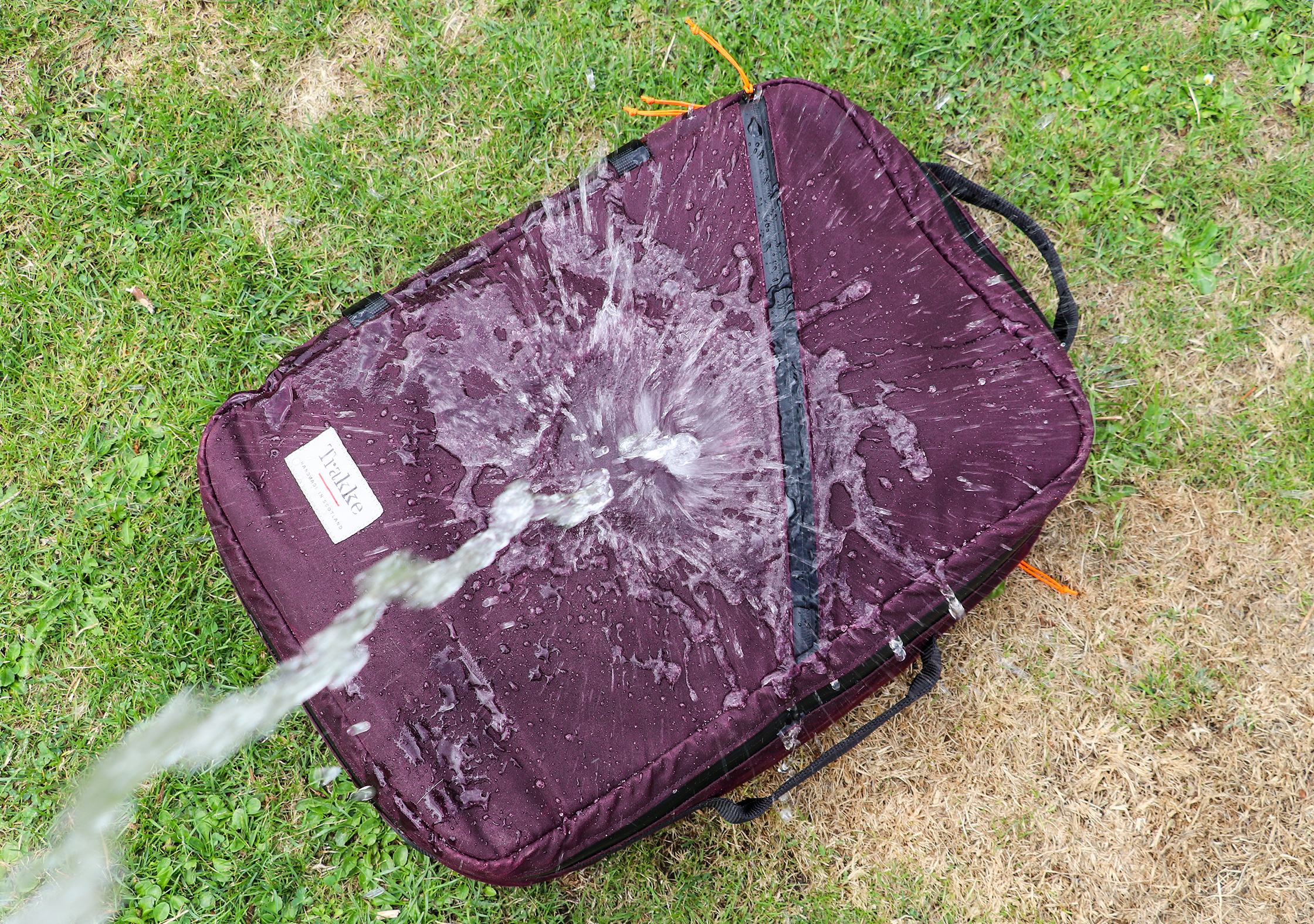 The waxed cotton canvas is also highly water resistant—water glides off this pack like it does off a duck's back!—which is always helpful if you're caught in a downpour. But the water resistance doesn't stop there, because every zip on this thing is a YKK Aquaguard® 5CN—even the ones inside the pack! Trakke set out with a desire to "over-spec" the Storr, creating an environment within the bag where even if there was a spill in one compartment, it would be isolated from the rest.
That's right, this thing is waterproofed from the inside as well as the outside! Mind blown. At the end of the day, these features make the Trakke Storr one of the most water-resistant carry-on packs we've tested to date.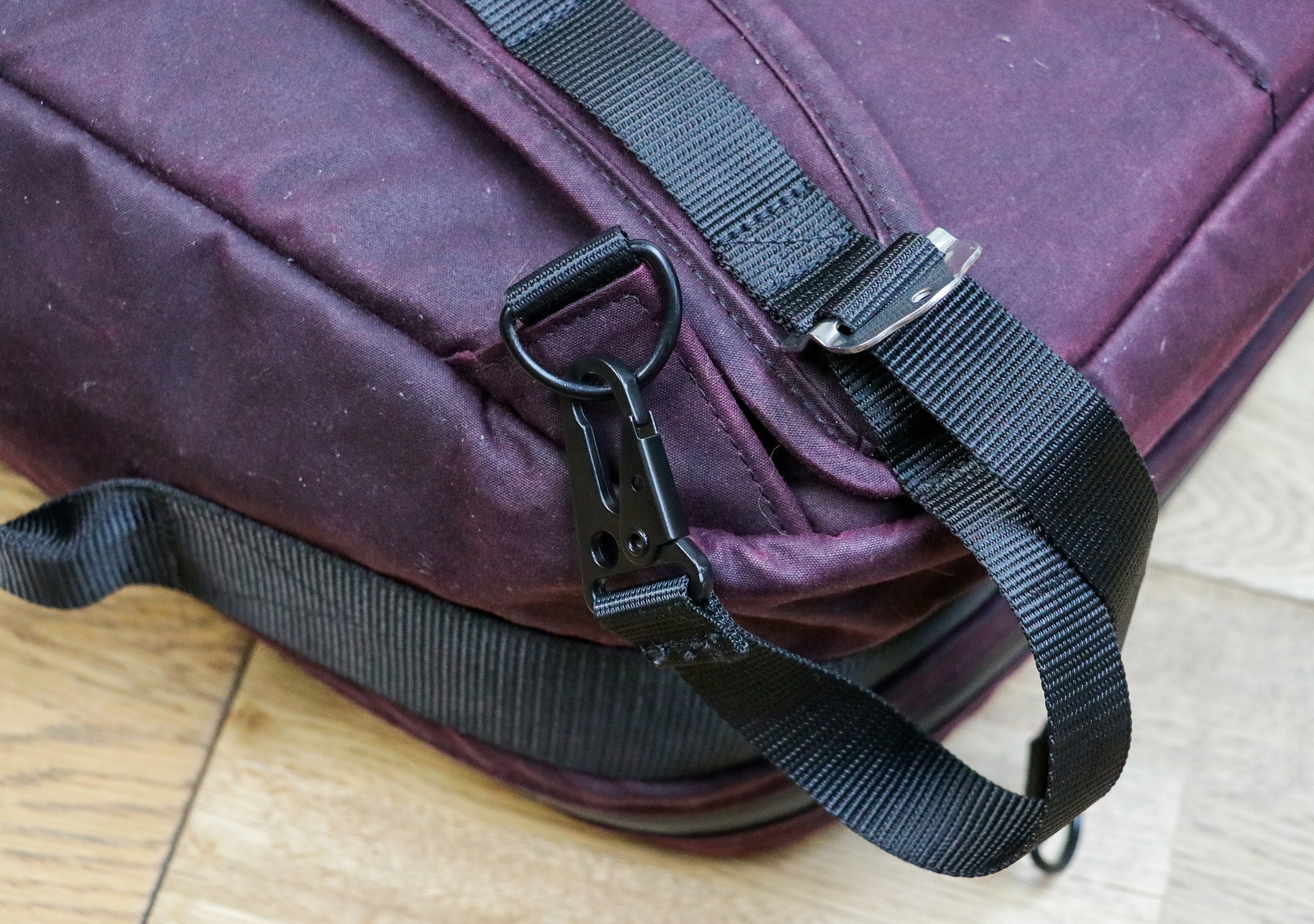 Rounding off the materials used on the Trakke Storr, you'll find stainless steel clash hooks on the shoulder straps, which are sourced from within the UK and forged from 70% recycled steel. There's some polyester webbing that's expertly sewn around the pack to create the handles and MOLLE on the left-hand side. Finally, inside the bag, you'll find that waxed cotton canvas again, but this time it's bright orange—so it's easy to see what's going on inside the pack—and features a delightful-to-touch dry finish.
External Components
The Trakke Storr is designed for simplicity, and therefore doesn't have too much going on externally. Trakke has only included external components that they believe will stand the test of time and won't compromise the pack's integrity.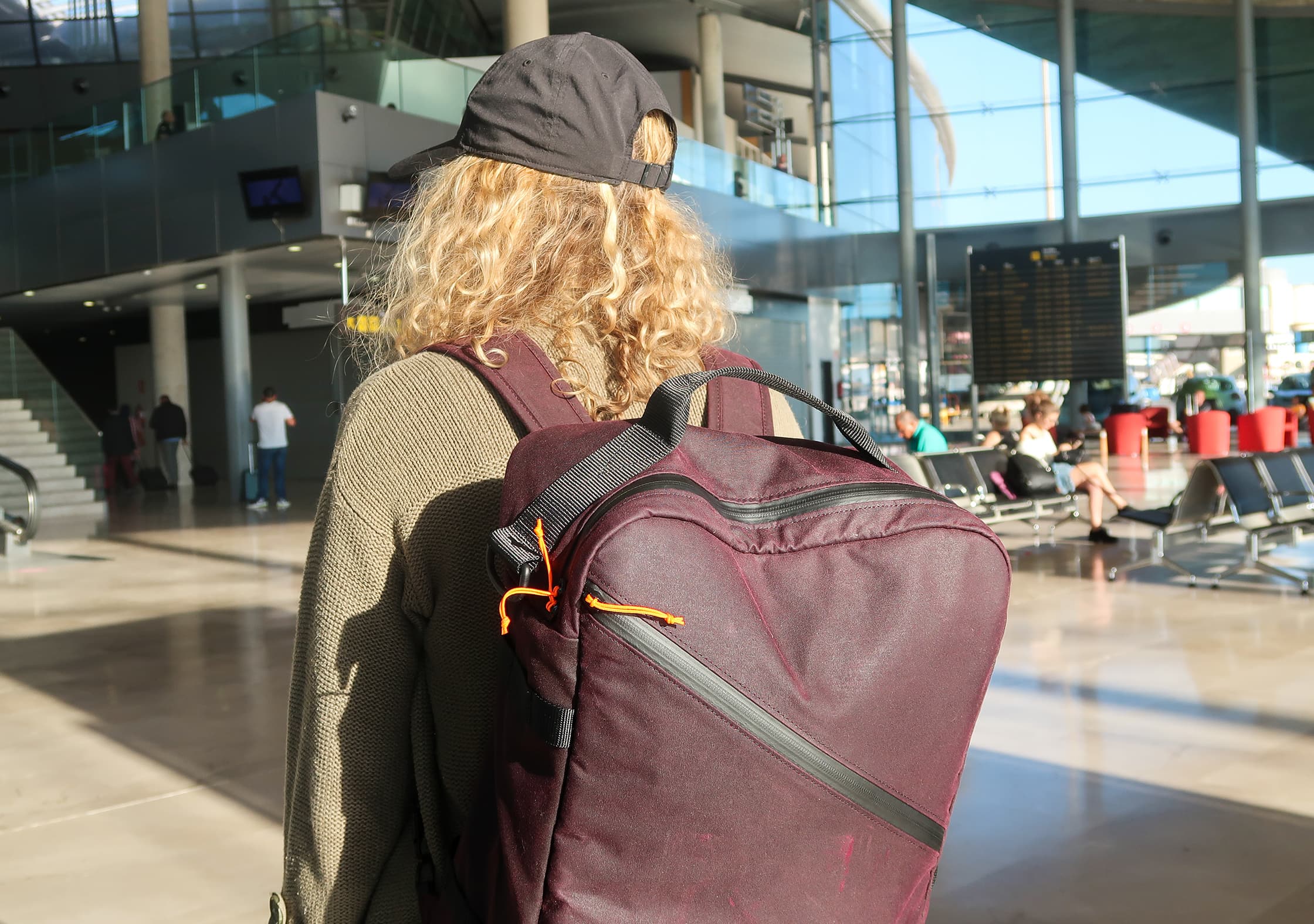 Starting with the harness system, the shoulder straps feature some pretty dense foam padding, which will provide you with an overall comfortable carry. There a few things to note though—you won't find any load-lifters, hip belt, or sternum strap on the harness system. Considering this bag is only 30 liters, the inclusion of a hip belt and sternum strap isn't a necessity, and in testing, we didn't miss them. When it comes to load-lifters, however, we did find that this bag can sit quite far away from your back, especially if you have a smaller frame. Load-lifters would help a fair bit with improving the carry, bringing the top of the pack closer to your back and shoulders.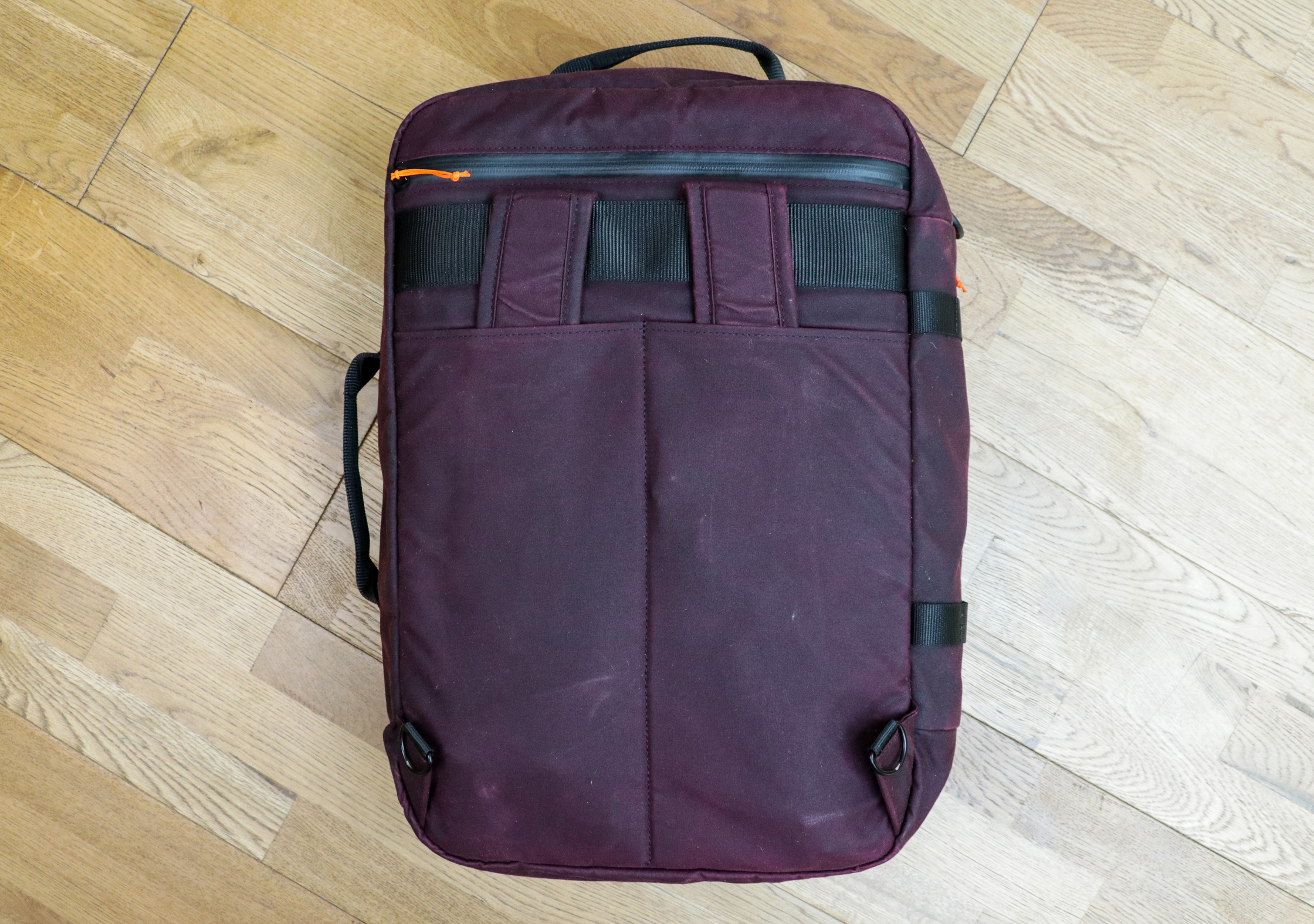 Hideaway harness systems tend to be hotly debated—you either think it's unnecessary or a vital inclusion—but Trakke has been able to create a system that works seamlessly without being a hindrance if you don't want to use it. If you didn't know about it in the first place, you might never even realize it's there.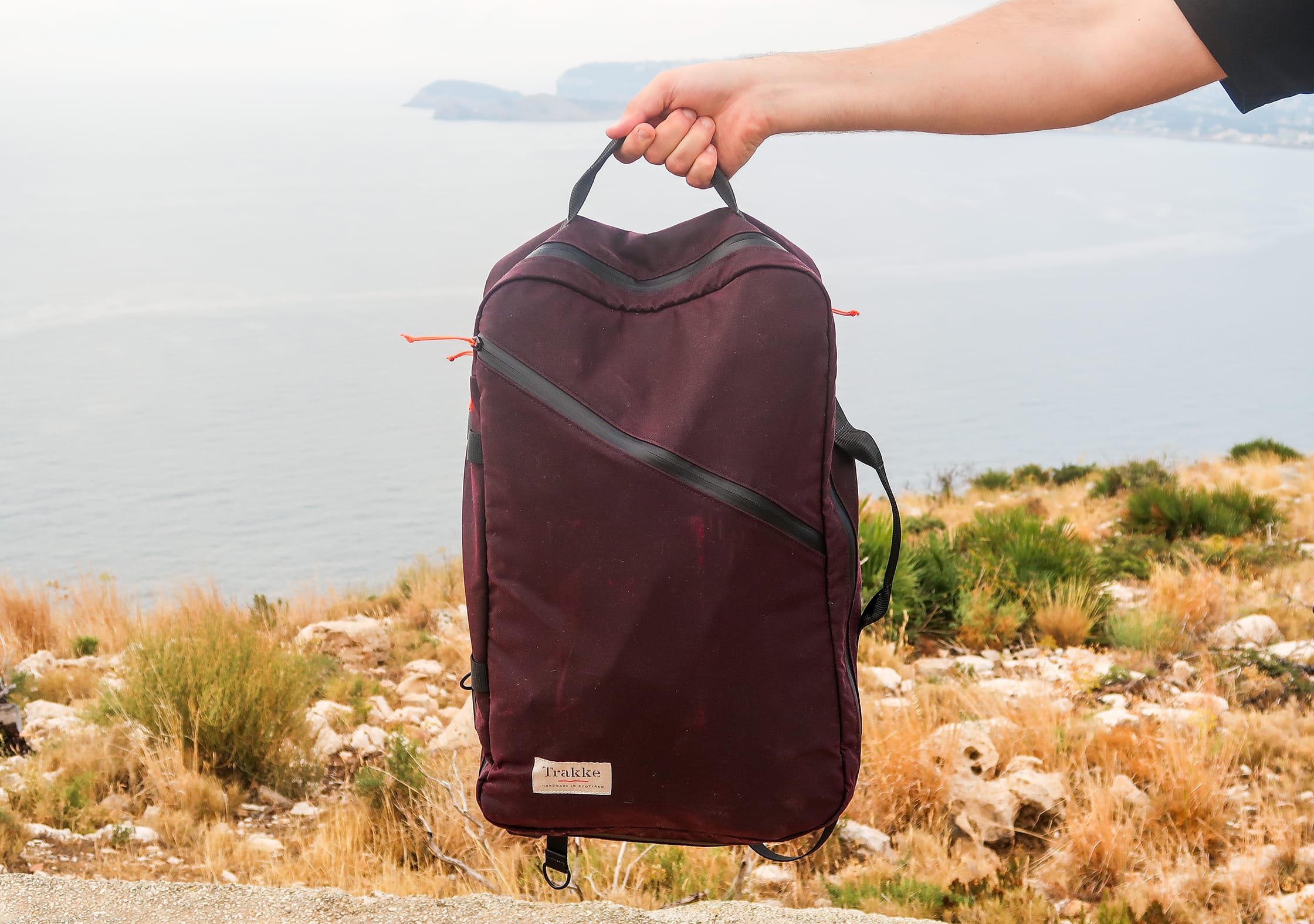 The Trakke Storr features two handles—one on the top, and one on the right-hand side. These look and feel like they're going to last a lifetime—and while this is great, you do lose a bit of comfort due to the lack of any padding. We would have liked a bit of padding to create a more comfortable carry, but the bottom line is you're not going to be holding this bag by the handles for too long—it is a backpack designed to be on your back, after all.
There are also a few accessory attachment points around the exterior of the pack. First up, there is a D-ring located on the top left of the pack which is designed for your luggage tags or anything else you want to clip on—perhaps a Matador NanoDry Towel?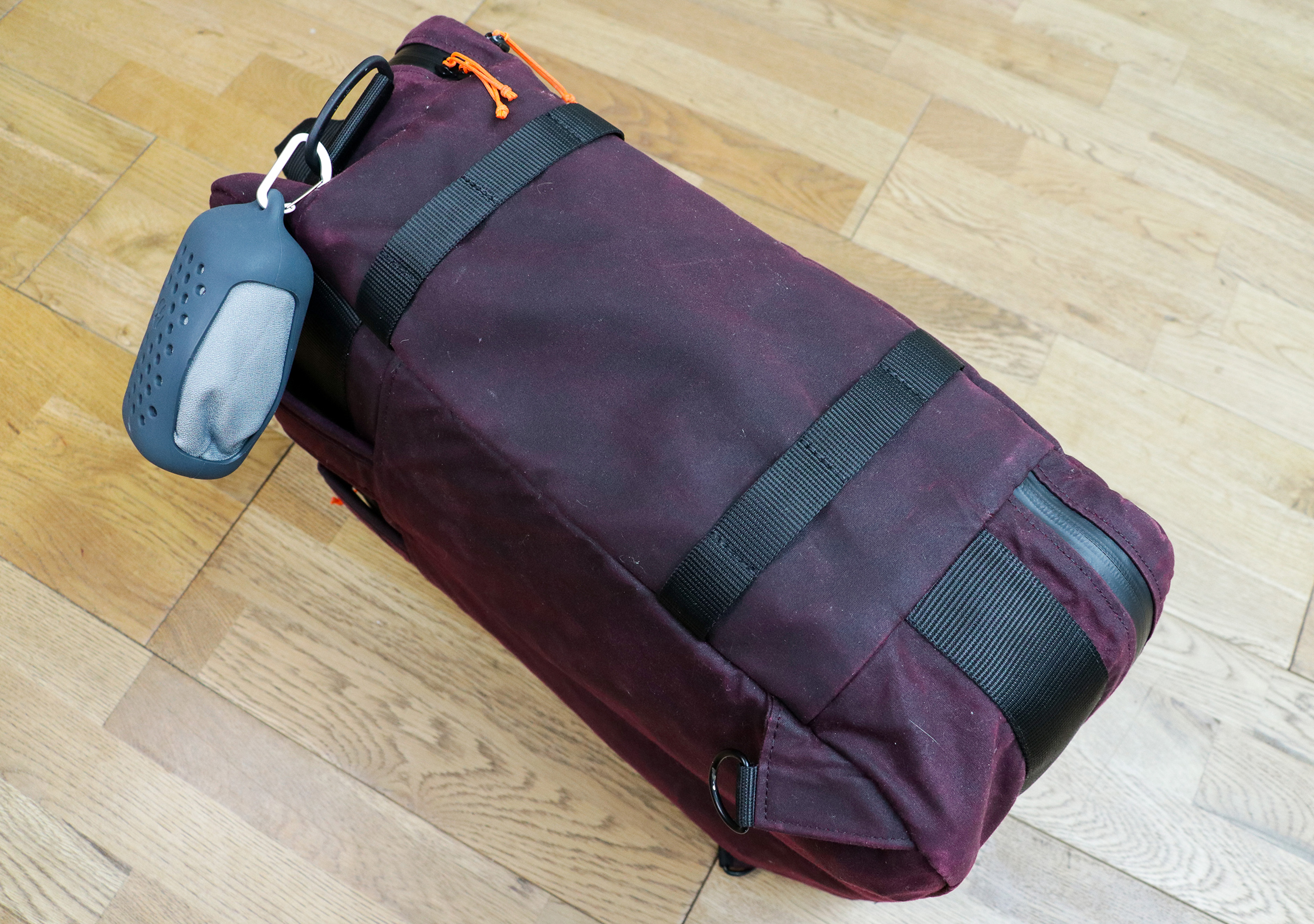 Next up, you'll find some MOLLE on the left-hand side. This MOLLE can be used in conjunction with their MOLLE Lashing Straps, which provides a system through which you can attach certain accessories—like the Laggan Travel Accessory Pouch—to the side of the pack.
However, you do not have to limit yourself to Trakke's Molle products here. The molle is primarily designed to make the side of the Storr a versatile tool that you can attach whatever you'd like to— whether that's a bottle, a pouch, an axe, or any other item. Some people might love this versatility, and we suspect others will complain about the lack of a standardized side water bottle pocket—we'll leave this up to you and your use case.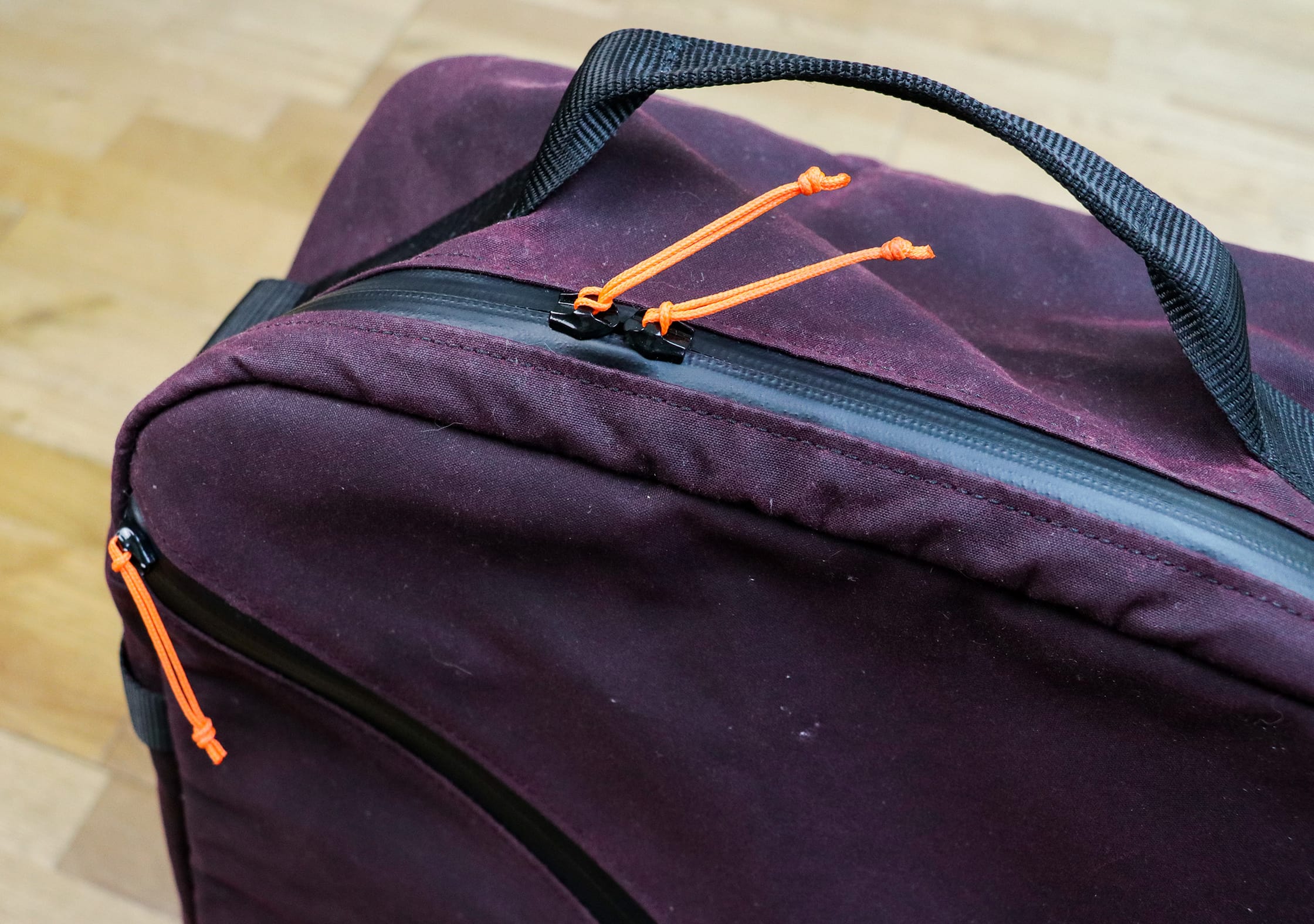 Finally, as we've previously mentioned, every zip on the Trakke Storr is a YKK Aquaguard® 5CN. We love the decision here from Trakke, choosing one of the most water resistant zips on the market. Each zip features a bright orange zipper pull that we think looks pretty cool and will help you easily and efficiently rip said zipper open.
Inside the Pack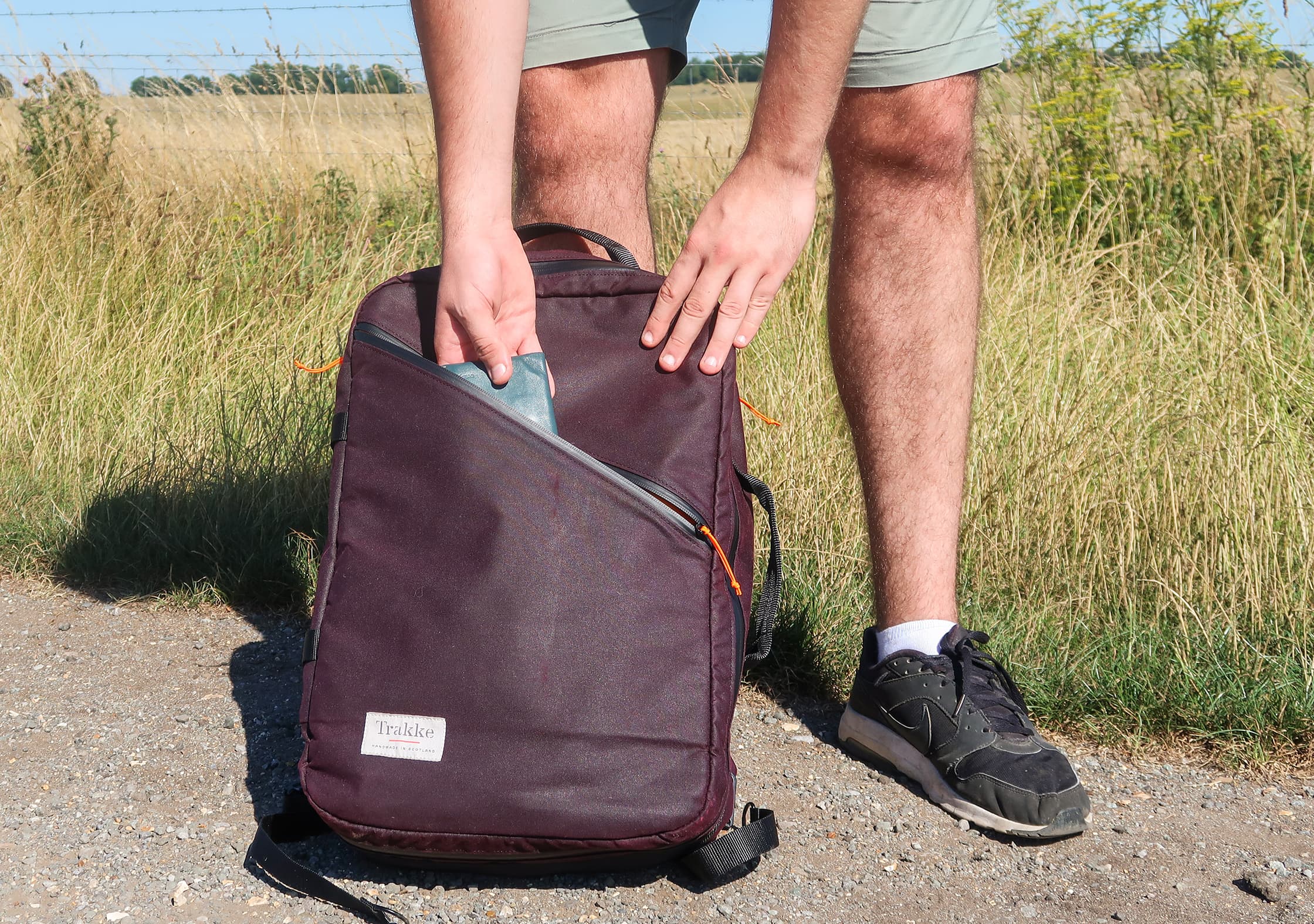 The Trakke Storr features a large diagonal zippered pocket on the front of the pack, to be used for quick-grab items like passports, documents, chargers, etc. This pocket is enormous, and stretches nearly all the way down to the bottom of the bag—which you may think is great, but in practice, we found to be a tad problematic. If you want to store small quick-grab items like your passport in this pocket, you're going to be fishing around to find it—made worse if you've got any other items floating about in there as well. We would love to see an additional smaller quick-grab pocket somewhere on this bag—maybe something like the slim top pocket on the Aer Travel Pack 2—but your mileage may vary.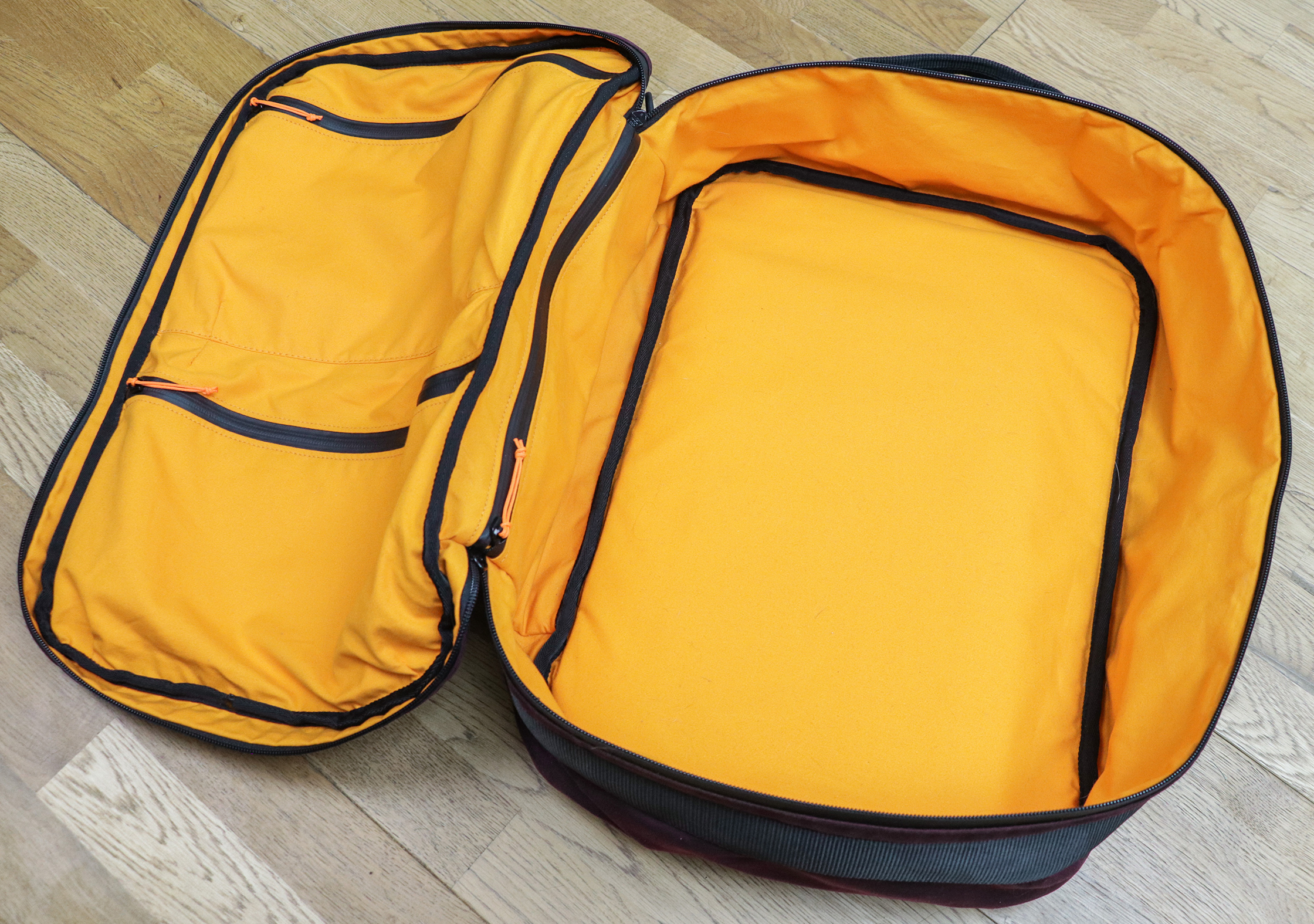 Okay, now it's time to open up this pack all the way—via its full clamshell opening—and check out the main compartment. You'll be struck straight away by Trakke's signature vivid orange interior, which we really dig. This is not too dissimilar to the neon green interior that can be found in the Thule Subterra 34l. Although it might be off-putting at first, a light and bright interior "turns the lights on" inside a bag and comes in handy when you're looking for something specific.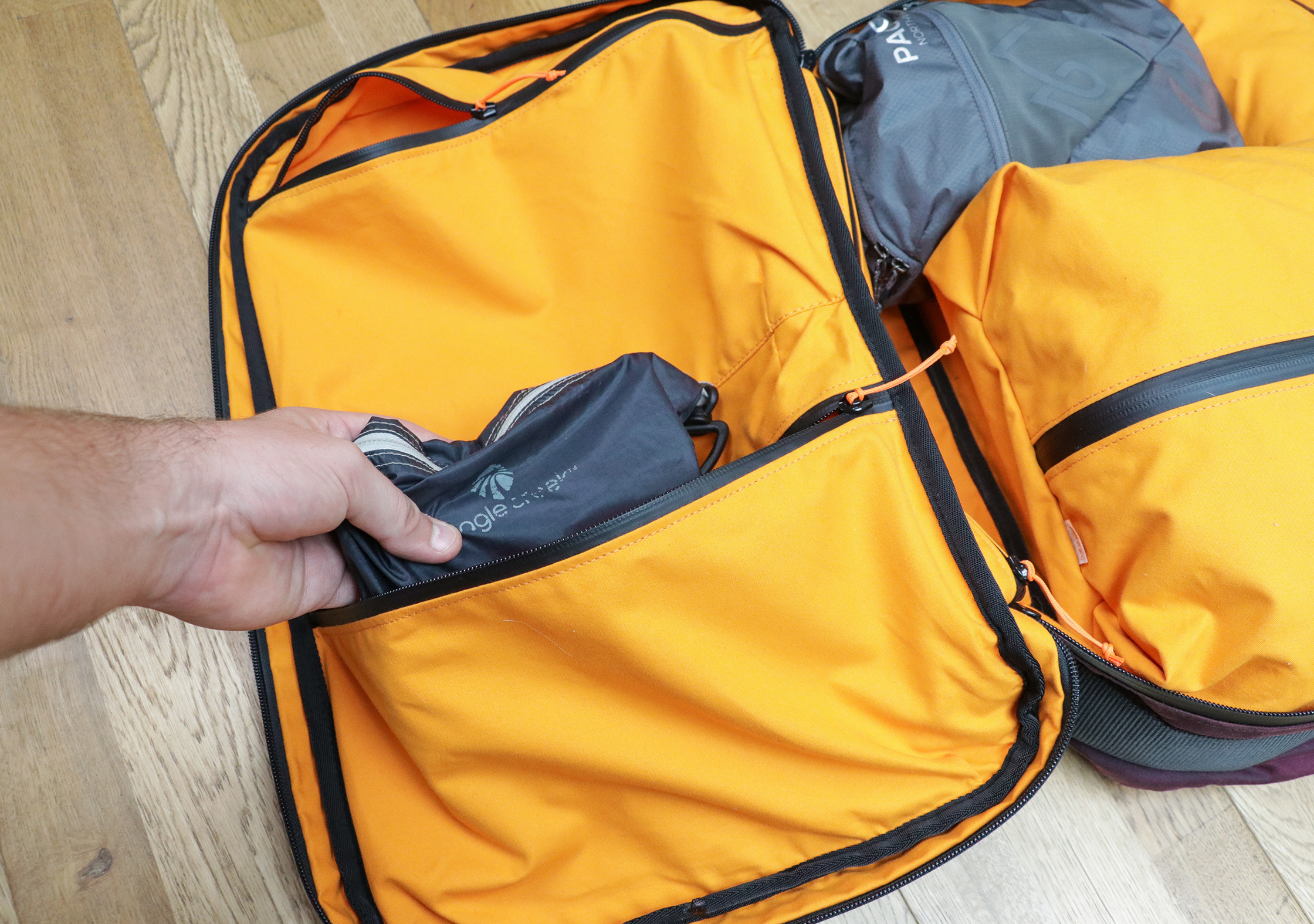 The interior of the main compartment in the Trakke Storr is similar to the outside—simple, minimal, and straight to the point. On the left-hand side are two zippered compartments for smaller items that would otherwise get lost in a larger compartment, but can also be used for general organizing. We've found them to be very useful and think they're a great addition to this compartment!

On the right hand side there is essentially a large bucket that is ideal for packing cubes. As with every bag, packing cubes are never essential, but we always like to utilize them with large clamshell compartments, and would recommend you do too!
Trakke does have their own "Foulden Packing Cubes" that are made of the same orange dry-finish waxed cotton canvas as the interior of the bag, which could be a good option here. The Foulden Packing Cubes aren't the most compressible cubes on the market, but they do work really well and are incredibly water resistant. If you're in the market for some packing cubes, we'd also recommend checking out our reviews of the Eagle Creek Pack-It Specter Cubes, and the more budget-friendly AmazonBasics Packing Cubes.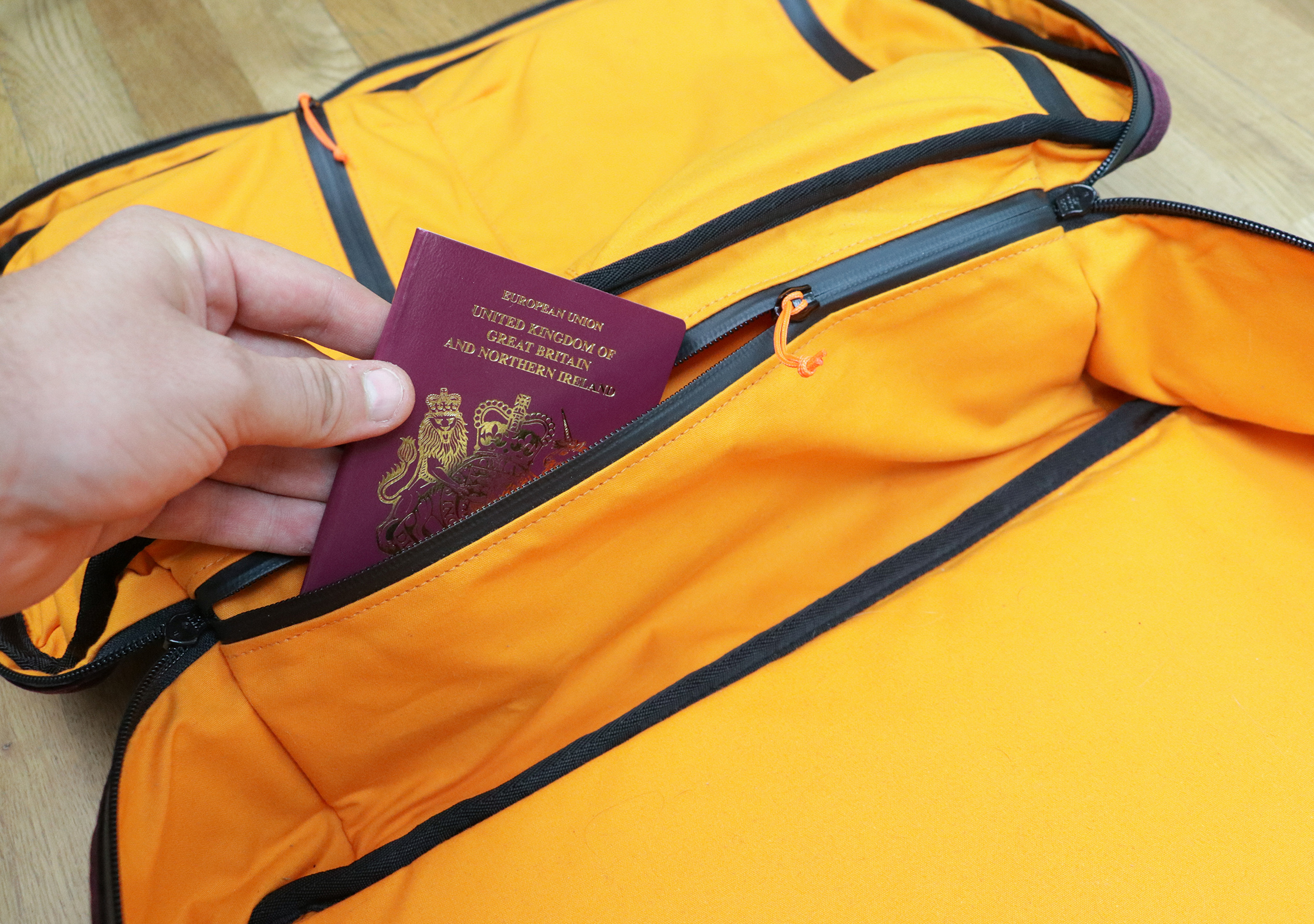 So that covers the main compartment… but hold up, what's that in the middle? It's another pocket! Cleverly tucked away along the middle seam of the pack is a long and thin zippered pocket that is perfect for any valuables that you'd like securely hidden away.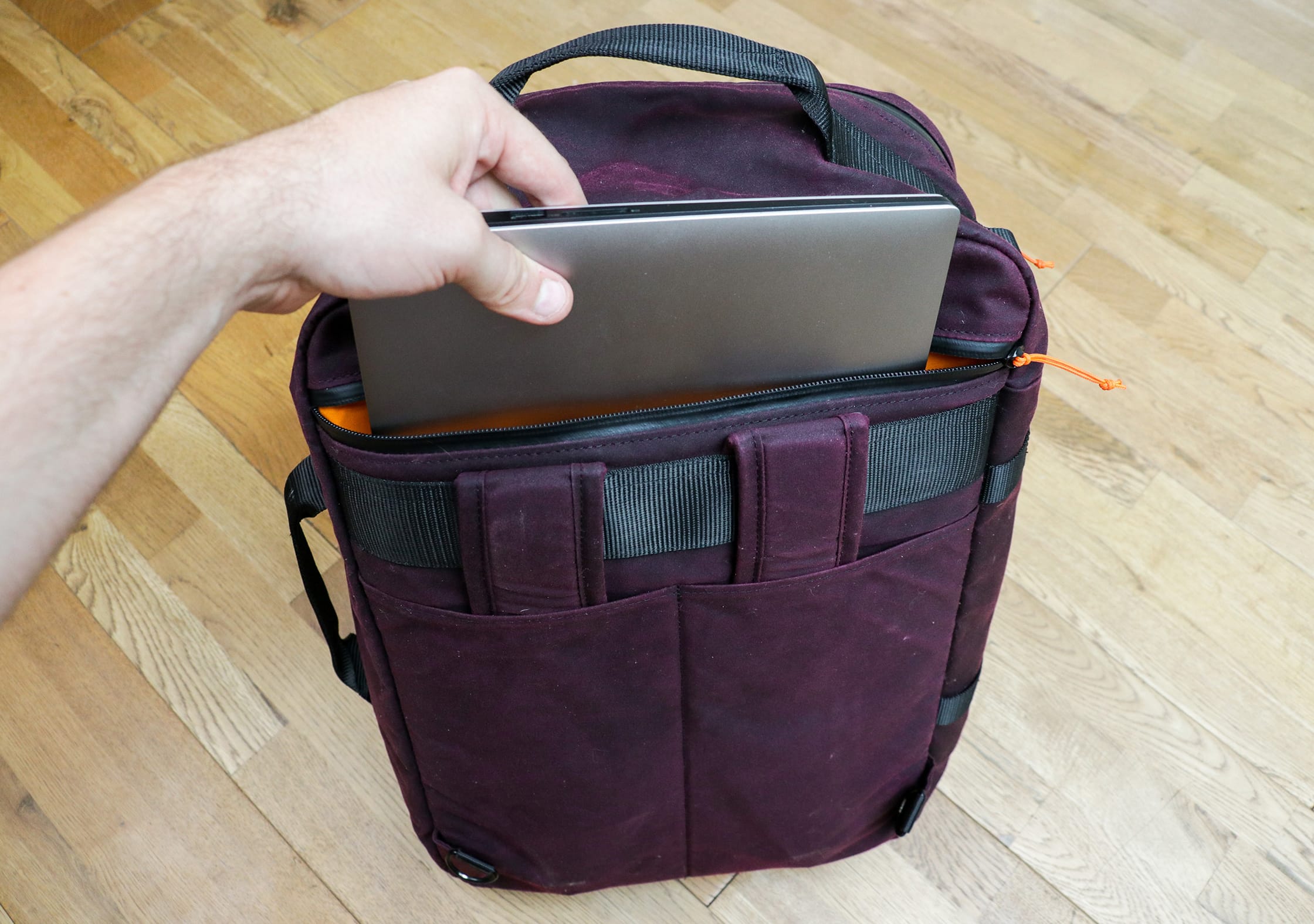 Every good one bag travel pack needs a laptop compartment, and just like the hideaway harness system, Trakke has nailed this. Located at the back of the pack, just above the shoulder straps, the opening is again complete with a trusty YKK Aguaguard® 5CN zipper. (Because you REALLY don't want any water getting inside this compartment!) The compartment will fit a 15" laptop with ease, and with dense padding on the outside, you can be assured your laptop is going to be protected.
Durability and Testing
We've been testing the Trakke Storr for the last two months, and it's seen use in Spain and South-West England. When we first got our hands on this pack, we could tell we were going to enjoy putting this thing to the test, and it didn't disappoint. It's tough to put into words, but the waxed cotton canvas and quality materials creates a bag that just feels great, and so far it has been an absolute pleasure to use.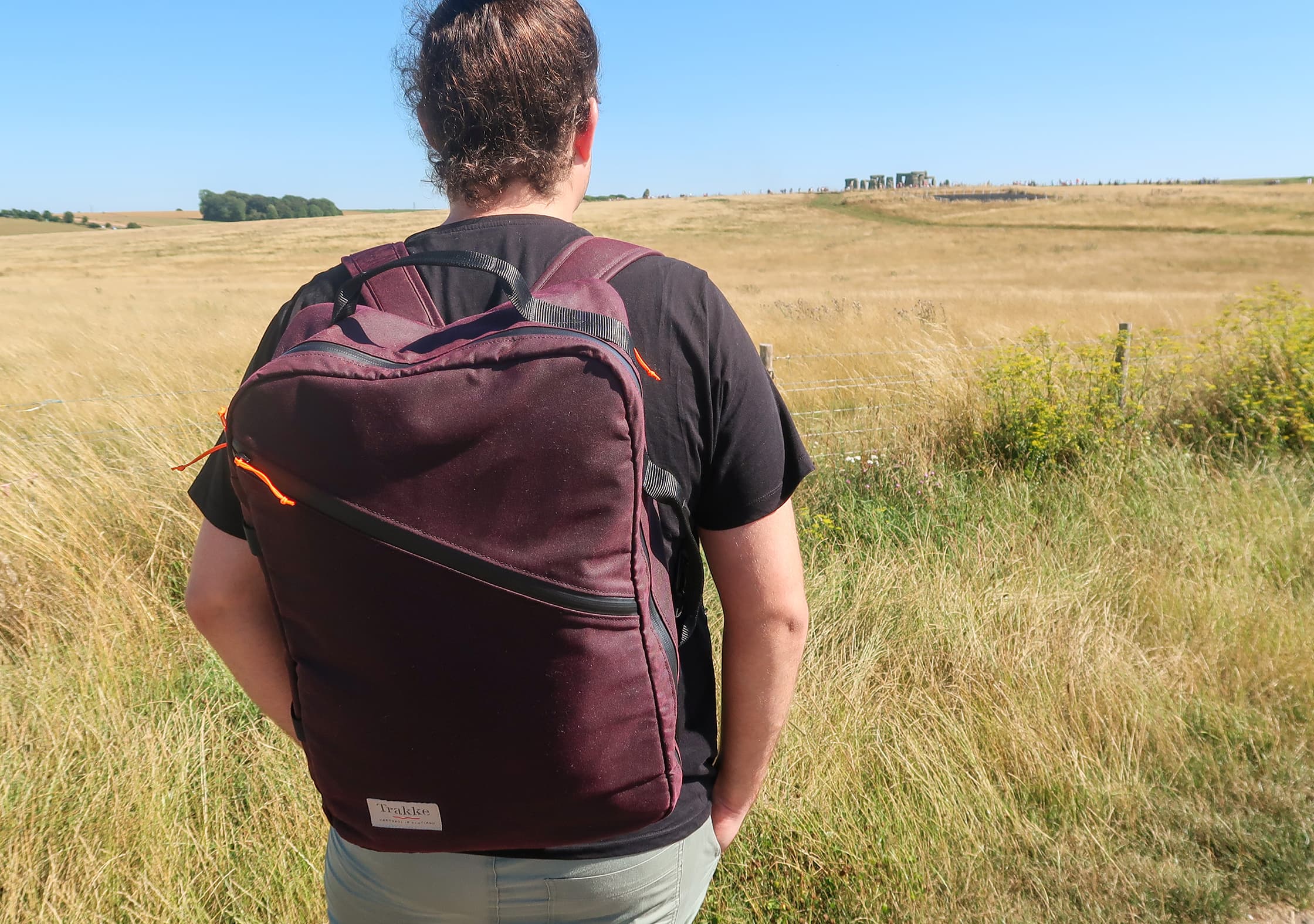 With the Storr, Trakke has created a bag that looks just as good in the Scottish Highlands as it does in an office environment—which is quite the achievement—and with a clamshell design and 30L capacity, it's ideal for minimal one bag travel.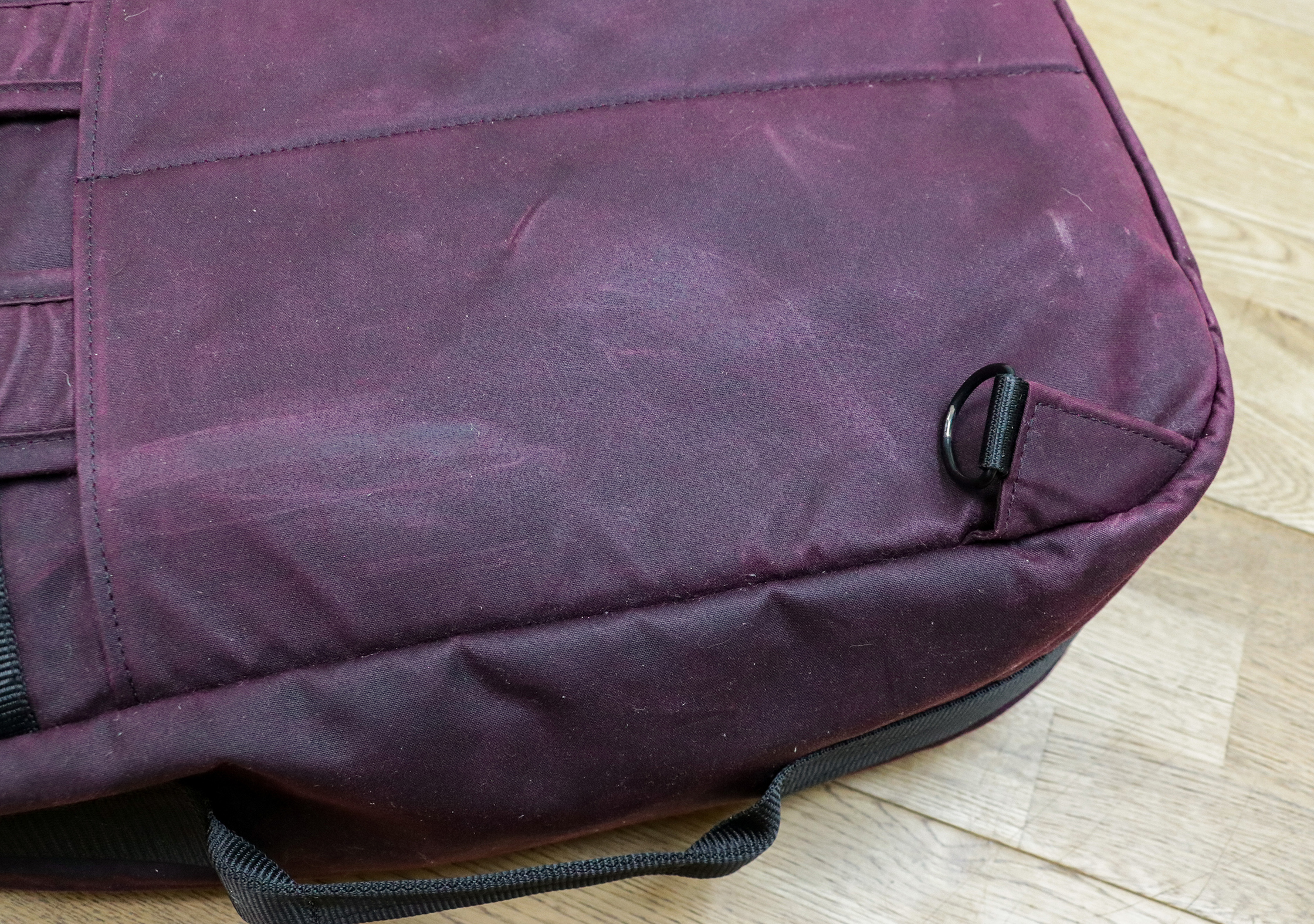 Because of the waxed canvas exterior, marks can appear when something rubs or catches on the outside of the pack. It's important to remember that these aren't actual "marks" on the material though, it's just the wax—and because of the bags style, we think it actually improves the overall look. Trakke does sell "Reproofing Wax" if you ever need to layer up the outside of the bag again, which will improve its water resistance and durability. Might not be a bad idea to do this after a year or so of use.
In testing, the only real cons we found were the lack of side water bottle pocket and the fact that when we had this bag full to the brim, the space available in the front zippered pocket was pretty tight and not super accessible. These cons will vary in severity depending on your use case, but just a couple things to be aware of.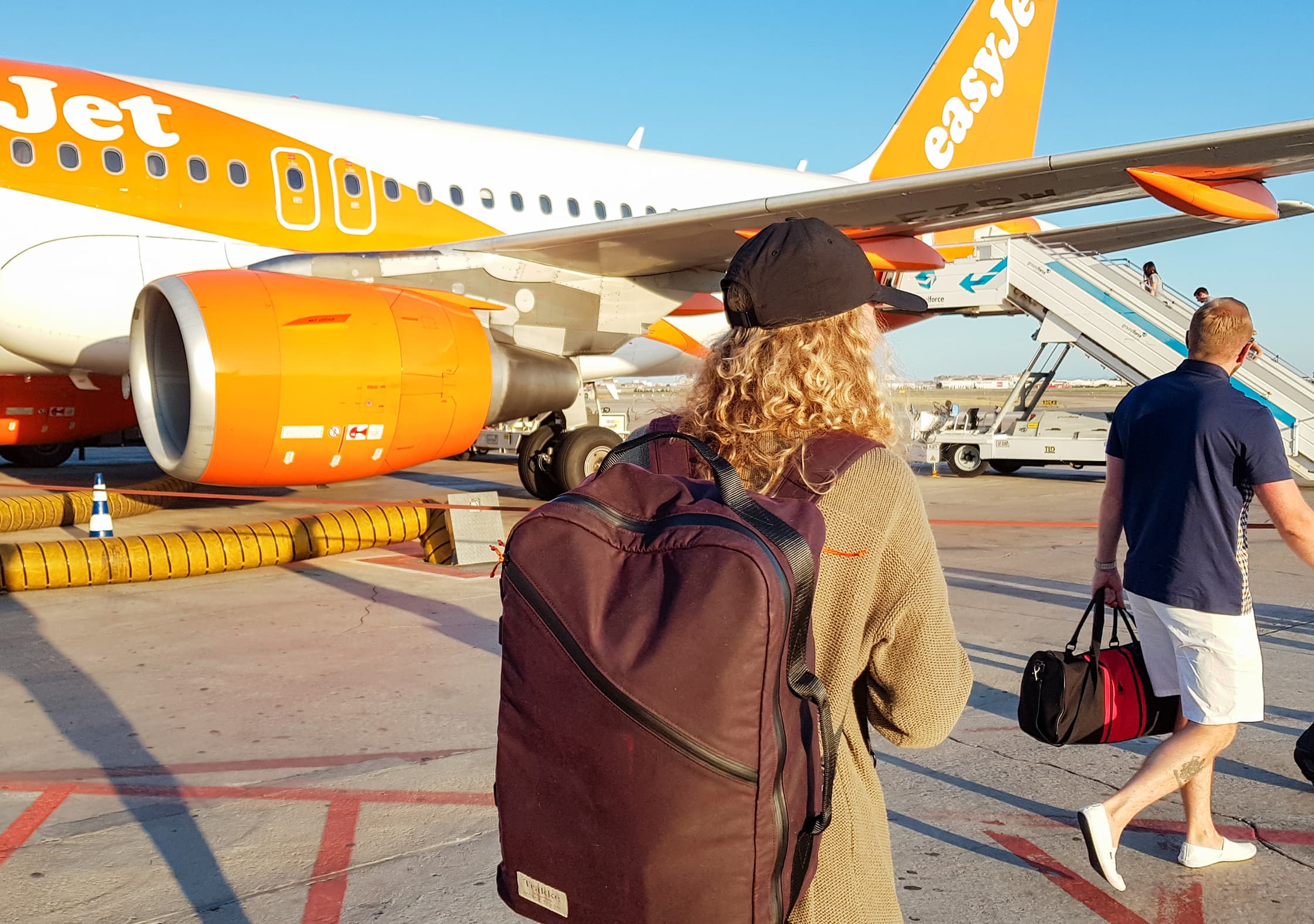 When it comes to durability, the Trakke Storr doesn't mess around. The waxed cotton canvas, YKK zips, stainless steel, and simplistic design all come together to create a bag that is, quite literally, made to last a lifetime. Trakke strives to make sure their bags "live as long as you do," which is quite the target, and they're certainly giving it their best shot!
Even though we've only been testing this pack for two months, we're confident that it's going to hold up, and Trakke has put their money where their mouth is by offering free repairs forever. Any company that stands behind their product with a warranty like this is commendable, and we're happy to see the Trakke has gone this route.
Trakke X Carryology Storr SP—Limited Edition
Our friends over at Carryology teamed up with Trakke to create 100 Limited Editions of the Storr SP. It's all in the details, and here are a couple of the main additions:
Now 35L—they've included an extra 5L.
The main fabric is a Salt and Pepper canvas created with a blend of cotton and stinging nettles.
Dyneema liner – a bright orange, lightweight, weather-resistant liner ln the interior of the pack.
Three grab handles (instead of two) for more easily pulling the pack out of that overhead bin on the plane.
Enclosed exterior water bottle pocket in place of the 4 MOLLE attachment points.
Additional diagonal front 'easy access' zip for more convenient storage.
Two thoughtfully positioned internal pockets that can be accessed without opening the entire main compartment.
Optional waist-belt attachment point on the pack.
Felt-lined straps to keep everything in line with that blend of tech & tradition.
False bottom on the laptop compartment for added protection from drops.
Usage Timeline
Initial Usage
Condition: Excellent
This bag feels great! Loving the quality materials.
1 Month of Use
Condition: Excellent
First test in the rain… nothing is getting wet in this near-waterproof pack!
2 Months of Use
Condition: Excellent
Working great as a minimal one bag travel pack in practice.
Access the Pro Community Discussion
Get your questions about the Trakke Storr Carry-On Backpack 30L answered from our team and the Pro Community right here on the page. Plus, join discussions with other members about gear, guides, and more.
Other Bags & Luggage Reviews