No matter where you're traveling, you'll need a way to get your gear there. This could be anything: a small personal item backpack, a travel backpack, a duffle bag, or carry on rolling luggage. In this post, we'll be focusing on carry-on sized luggage.
Pairing rolling luggage with packing light might seem counterintuitive (cue movie scenes that show someone sitting on an overflowing suitcase while trying to zip it shut), but it's an excellent way to keep your carry sleek. While we're big fans of travel backpacks, we like that a roller bag allows us to be more selective about the personal item we carry. Instead of a packable bag, we can choose something with more structure and focus on carry comfort for the bag we'll be wearing every day.
Carry on luggage comes in many variations, whether it's made with a hard-sided or soft-sided shell or has spinner or roller wheels. Luckily, we've included a few of each in this post so you can better determine what you need.
Don't worry—if you look at every bag we've listed and still can't decide, we've included an FAQ section at the bottom of this post with loads of information on how to choose the best carry on luggage for you. After all, this is a big decision, so you might as well spend some time on it!
Let's dive in.
1. Travelpro Maxlite 5 21″ Carry-On Expandable Spinner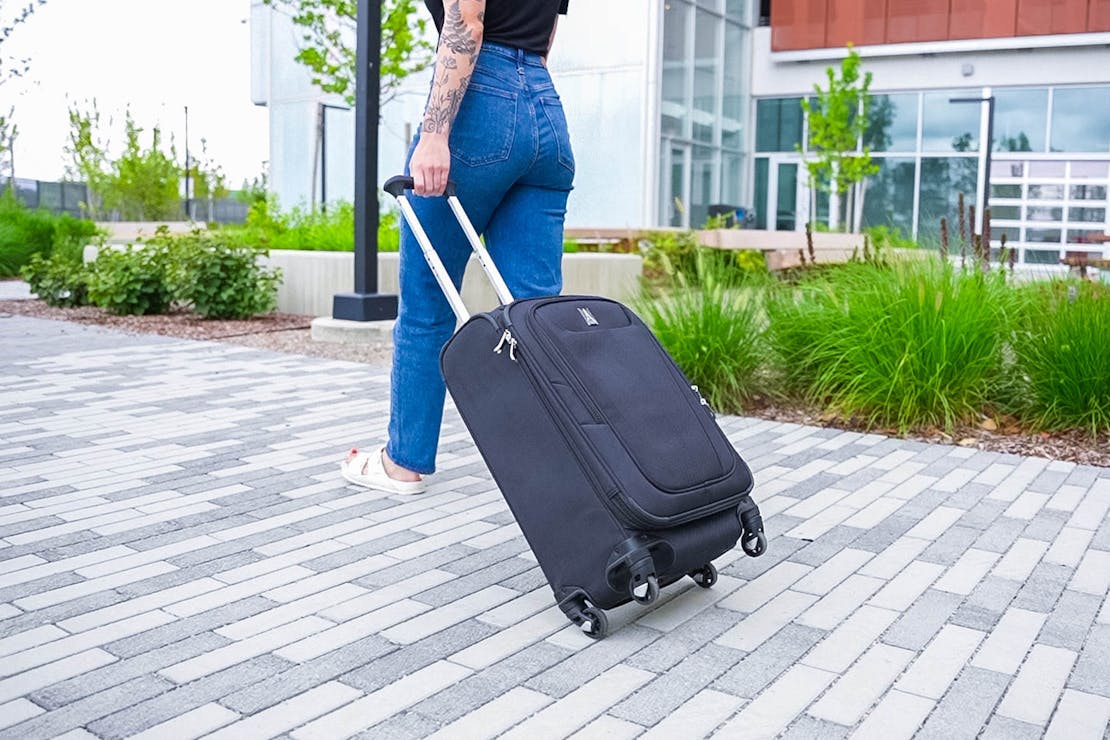 There's a reason you often see pilots and flight attendants using Travelpro luggage. It's built well, lasts, and comes at a fair price! The Maxlite 5 21″ Carry-On Expandable Spinner has durable wheels, a smooth ride, and a comfortable handle for hustling through the airport when you're late because you stayed up late the night before your early morning flight.
This bag has a zippered organizer lid and a large dump pocket that's great for packing cubes and other organizers. Plus, there are two external pockets for quick-grab items, and the handle has two heights to keep your arm comfortable. We also dig the ergonomic handle, which is comfy to grip and one of our favorite designs we've tested here at Pack Hacker HQ.
This model isn't the most stylish spinner luggage on the market; however, it gets your gear from point A to point B, which is the most crucial part. After all, how often will people look at your bags, anyway? For those who need something smooth, reliable, and simple, this might be the best carry on luggage for you!
Why We Like It
The wheels are smooth and feel durable
Handle is comfortable to grip for long periods
What You Should Know
It isn't the most stylish option we've seen
May be easy to confuse your bag with someone else's since it's so popular
See Full Review & Buying Options
If you're still unsure about what rolling luggage is the best fit for you, we've compiled a list of frequently asked questions to help you make an informed decision.
Is rolling luggage the best carry-on bag?
Some trips require extra space, which makes larger bags more appealing. Or, if you're traveling with formal clothing, more space typically means fewer folds and less wrinkles (plus, some carry on luggage comes with built-in garment bags). Parents hitting the skies with kids will undoubtedly enjoy extra space. And, if you're a chronic over-packer, rolling luggage will ensure you have space for all your gear, even if you know you're packing too much.
Typically, carry-on-sized rolling luggage has a larger capacity than a travel backpack because it maximizes space with an empty, rectangular bucket shape. While a travel backpack typically ranges between 35 and 45 liters, rolling luggage is usually around 45 liters and can even be more.

Now picture the rectangular bins at the airport that airlines use to test the size of your carry-on. Rolling luggage is optimized to fit inside the rectangular, whereas travel backpacks are often more oval-shaped, possibly leading to wasted space. For example, at the time of writing, Delta's carry on size is 22 by 14 by 9 inches, which comes out to roughly 45.42 liters. Not all 45-liter backpacks will fit that bill because of their dimensions, but many 45-liter suitcases will.
Rolling carry on luggage has a space in the Digital Nomad world, too. If you're one bag traveling with a backpack, you'll have to empty it before using it as a daypack and it still might be too large for what you'd typically use it for. Or, you've got to use a packable bag, which likely isn't as comfortable as what you're used to. If you bring rolling luggage and a personal item-sized daypack, you can leave your larger bag at the hotel or Airbnb and use your smaller bag to explore the world when you aren't working.
On the down side, unlike a travel backpack, you'll always need to have one hand on the—well—handle. This makes it more difficult to quickly pull out your ID at security, grab your card for last-minute snack purchases, or multitask while carrying a coffee. This is a fairly small (and expected) inconvenience, though we think it's worth mentioning.
What capacity should my rolling luggage be?
This depends on quite a few factors.
Are you planning on checking your bag? If yes, you have more freedom in your size options because your luggage is going in the cargo hold. If you want to stick with carry on luggage, it's important to check the sizing of the airline you fly with most to ensure you're always carry-on compliant.
Next, how long is your trip going to be? The longer the trip, the more space you'll need for clothing, and the larger your suitcase should be. However, you'll run into the laundromat paradox once a trip spans longer than a week or two. The solution to this puzzle is determining how long you can go without washing your clothing (or pack items made with Merino wool and similar moisture-wicking, odor-resistant fabrics). Once you've figured that out, you can pack light and do laundry as needed.

It's not just about what you wear, though. Some users opt for rolling carry on luggage to bring larger items, like a CPAP machine, while traveling. If this is the case, it's worth taking the machine and going to a store selling rolling luggage in person. That way, you can see what size you need for your device and move forward from there. Luckily, most baggage companies will put detailed measurements of their rolling luggage online, so you can compare the size of your machine to the interior specs of the bag. Regardless, it's always good to leave enough time to find a replacement bag if the one you purchase is too small!
Some luggage is expandable, so you can get a few liters of extra space if you buy extra goodies on your trip. Whereas this feature is helpful, it can compromise the look of a bag. This is especially true for some hard-sided luggage, as the zipper isn't strong enough to hold the two sides together without them moving independently. And, if you plan to use the expansion, check the size of the pack against how large your carry on can be for the airline you're flying! A lot of luggage will be sized to fit within carry-on restrictions without expansion, so giving yourself more space may compromise the compatibility.
Lastly, thinking about things you might purchase on your journey is important. If you're obsessed with stroopwafels from Holland or prawn cocktail crisps from the UK, you'll need to save some extra space for souvenirs on the way back.
How big should my rolling luggage be?
What size rolling luggage you should get is determined less by you and more by airlines. Before purchasing rolling luggage, it's a good idea to check the companies you fly with most often to see their size restrictions. Budget airlines are typically more strict and have smaller size requirements than large companies.

Another aspect to consider is where you'll be storing your luggage at your destination and after a trip is over. We recommend unpacking once you arrive because it allows you to move your bag out of the way (kicking a wheel at 2 AM en route to the bathroom is not ideal). However, this means the suitcase needs to be tucked away somewhere.
Check before you book to see if your hotel, Airbnb, or hostel has dedicated closet or storage space. For example, if you're staying in a pod hotel in Japan, you don't want a ton of your room taken up by a large carry on. And, once you return home, you'll need to find closet or basement space to store your suitcase, as the hard sides don't compress for easier storage (unlike travel backpacks). Even soft-sided luggage has structure along the edges that keep it from fully collapsing down—a great feature while you're flying, but less convenient when you're not on a trip.
What kind of luggage handle is best?
Like most gear, this will depend on your specific needs. However, a handle should be comfortable when you hold onto it tightly. Not many handles will cause discomfort when you're meandering through the airport for a pre-flight snack, though a few might when you're sprinting across the terminal because you're late for your flight.

You also don't want your handle to wobble or make too much noise. Some models flex so that the bars won't snap when stowed, but there's a happy medium—that's where luggage reviews come in! We also recommend looking for handles with multiple height options because they allow you to find the most comfortable resting position (usually at the hip). It's also handy if you plan on sharing with your partner, kids, or family members of varying heights. If you're taller, look for one that extends further for a more comfortable experience. Most brands will list the maximum height of their handles on their website.
How many wheels should rolling luggage have?
Ah, the age-old question: two or four wheels? By definition, two-wheeled bags with stationary wheels are rolling luggage, and four-wheeled models with 360-degree spinning wheels are (appropriately named) spinning luggage. Generally speaking, rolling luggage can be used to describe either model and spinning is only for bags with four wheels.
So what are the benefits of each?
Spinning luggage allows you to push the suitcase without transitioning from a 90-degree angle to 45-degrees. However, adding two more wheels will increase the weight and size of your bag, as they hang below the main compartment versus being set in. A major benefit is that if one of the wheels breaks, you can use it as regular two-wheeled rolling luggage until you're able to get a replacement.

On the other hand, some travelers prefer two-wheeled luggage because it's often lighter, smaller, and can be less expensive. This might be a good option if you're looking for something that's easier to lug around (weight-wise).
In general, we've found that four-wheeled spinning luggage models are more comfortable and versatile. They feel more natural to push beside you compared to always pulling, and we think personal items feel more balanced when sitting on top since they're upright and supported by the luggage itself and not fully by the handle. Plus, if you're moving fast enough, it can feel like your spinner is pulling you through the airport toward your gate. Who doesn't want that in a last-call boarding emergency?
That doesn't mean they're perfect, though. We dig 360-spinning wheels for their versatility; however, when set the wrong way, they can cause problems when you start moving quickly because they take a moment or two to snap into position. However, in most situations, they work well.
Regardless of the style you choose, you want capable wheels that can handle a range of terrain, from bumpy airport jet bridges to cobblestone streets across Europe. It's important to be mindful of the surfaces you're rolling over—worst-case scenario, just pick the bag up for a bit until you're back on dependable ground.
What features should my rolling luggage have?
The usefulness of suitcase features will depend on what you plan to bring with you.

Some rolling luggage will have a device to store formal clothing in transit. If you're bringing a suit or dress for business or a formal event, this is excellent. However, if you're a more casual traveler, the added hardware is just wasting space, so we recommend looking for an option without those features or where they're easily removable.
Similarly, some suitcases will have built-in packing cubes and other organizers like toiletry bags. This is ideal for somebody starting fresh, but you might already have pouches thatwork with your gear. If this is the case, look for roller bag with big open space so you can continue using the organization you like. And, if your suitcase does have a toiletry bag, ensure it's removable for passing through TSA. If not, you'll need to get a separate 3-1-1 bag or check your bag.
Other suitcases will have unique features, such as a hook to hold a purse, varying types of expansion systems to give you more capacity, or secret pockets to hold your identification or a tracking device. Some features may be superfluous, but if you're someone who likes a little guidance in how to carry your gear, there are tons of options out there.
Should I get hard-sided or soft-sided rolling luggage?
If you're packing items worth a lot of money, are vital to your health or job, or have sentimental value, hard-sided luggage offers extra protection from damage while traveling. However, not all luggage is built the same. In some cases, multiple thick layers of high-denier fabric are better than a thin sheet of plastic.
While a soft material is at risk of ripping or developing holes, it can often be repaired with patches and still maintain most of its structural integrity. Meanwhile, hard shells can dent or crack when tossed around by airport staff, which may result in needing a full luggage replacement versus a quick repair.
That said, some of our Pack Hacker Pro Members (and Pack Hacker Team) have shared stories of their soft-sided luggage getting ruined on a trip while in transit. Whether it's treated roughly when being loaded onto the plane, gets caught on the belt at baggage claim, or sees a few too many rodeos, you want your luggage to stand up to the test.

However, your gear may be the deciding factor. Items that might warrant bringing hard-sided luggage include expensive electronics like a computer or camera, medical equpment like a CPAP machine, or gifts you're taking across the country to a family member.
Soft-sided luggage typically has external pockets, which is essential if you want a place to stow quick-grab items like a phone, wallet, or passport. However, hard-sided luggage might be your best bet if you don't need external pockets.
In terms of materials, aluminum is the most durable option for hard-sided luggage. However, it's also the most expensive and weighs more than some alternatives. Polycarbonate materials (e.g. plastic) are common because they're lightweight but remain pretty stable. It's hard to beat aluminum for rugged adventures, but be ready to carry that extra weight!
Depending on the style you're going with, you might find that hard-sided luggage is better suited for your vibes. If that's the case, roll with it!
What are the best rolling luggage brands?
Hundreds of brands on the market make carry on luggage. This can make choosing your next bag stressful; however, there are a few to look out for. It's essential to remember that just because you've heard of a company doesn't mean that the product will be quality. McDonald's might release a travel backpack, but that doesn't mean that it'll be a good option for you. If it comes with fries, it might be worth it, though! To start, here are a few you'll see around often:

TravelPro is commonly recommended by flight attendants and pilots. They're reliable bags that might not have many bells and whistles or look very premium, but they'll get your gear where it needs to go without costing an arm and a leg.
For a good reason, Samsonite is one of the most widely recognized rolling luggage brands. They offer carry ons, checked bags, hard-sided, soft-sided, and duffel bags on wheels. They utilize durable materials, so you can find something that will last and works for you and your needs.
At the time of writing, TUMI is owned by Samsonite and operates at a higher level, both stylistically and price-wise. The materials are high-end, the features are a step-above others we've tested, and you can customize everything. If luxury is what you're after, you've found it!
Rimowa is another brand to look at if you're looking for the best carry on luggage for your next trip. Though we think most of their bags look similar, that means you can find a style that suits you and ensure everything matches. Many of their suitcases are crafted from aluminum, which is durable enough to handle the stresses of travel.
So there you have it; some great carry on luggage options for your next trip. Happy rolling!