How To Choose The
Best Duffle Bag
The minimalist's guide to selecting a travel duffle bag that works for you—from long-term travel to weekend adventures to everyday carry.
Table of Contents
Updated:
November 29, 2023
01

Introduction
There's more to the modest duffle bag than you may think.
Save during the REI sale
Gear up for your next trip during the REI Cyber Week Sale, now through Dec. 4. Check it out →
Best Duffle Bags
How to Choose the Best Duffle Bag for Travel and Beyond
Ahh, the modest duffle bag. Evoking images of business folks walking down cobblestone streets discussing literature and debating the ideal level of tannins in wine… Or, maybe, gym rats, military personnel, and rugged outdoor enthusiasts.
Whatever image duffle bags bring to mind, there's no question that they're a staple of the travel world. Their versatility, packability, and overall simplicity have endured the test of time. Seriously, some say duffles have been used since the 17th century!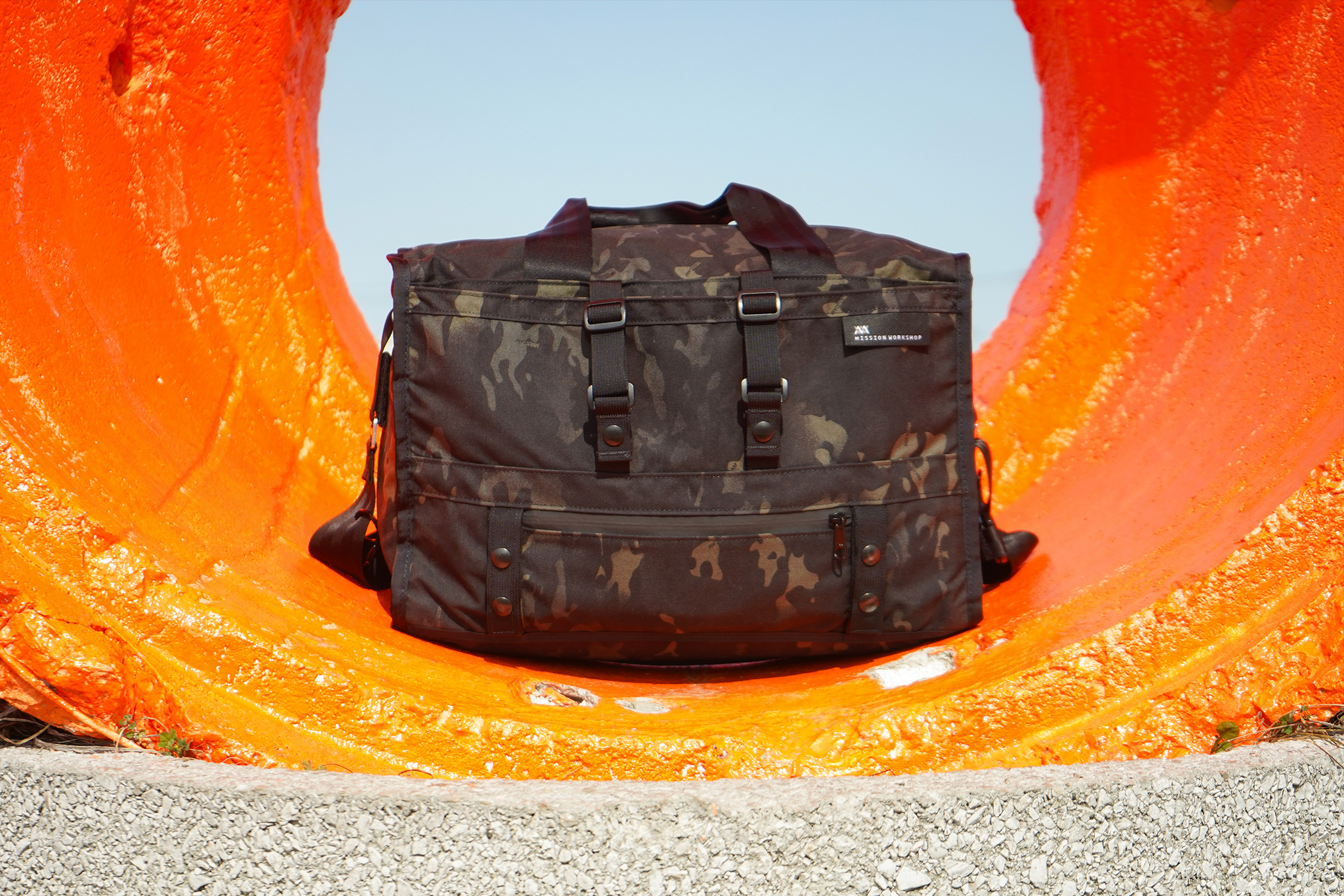 But the duffle (also spelled duffel) is so much more than it used to be. Today, you can choose from massive duffles, waterproof duffles, duffles with wheels, duffles with backpack straps, laptop duffles, weekender duffles—the list goes on! In a world with so many options, how are you supposed to choose the right one? It's easy to get lost in the duffle shuffle.
First of all, take a deep breath. That's right. And another one.
Now read this guide.
We firmly believe that no one duffle will work for everyone. That's why we've taken the time to write this entire guide—so you can find the duffle bag that works for you.
What You Can Expect From This Guide
Testing and reviewing gear is our modus operandi here at Pack Hacker. Our team of world travelers and gearheads has gotten their hands on hundreds of different types of travel-focused gear.
For this guide, we tested over 50 different duffle bags for months. We used them for the daily grind and travel—some on domestic and transatlantic flights.
Video Overview: How To Choose The Best Duffle Bag for Travel
Feel free to watch this guide overview in video format. We'll go more in-depth in the written content and keep this page up to date.
Be sure to subscribe to Pack Hacker on YouTube and never miss a video.
And now, we're going to help you choose the best duffle bag for your situation. This guide breaks down the most popular styles of duffel, their pros and cons, and what to look for and avoid. We'll also discuss the considerations you should make before you buy and recommend solid options for each category (tried and tested, by us, of course).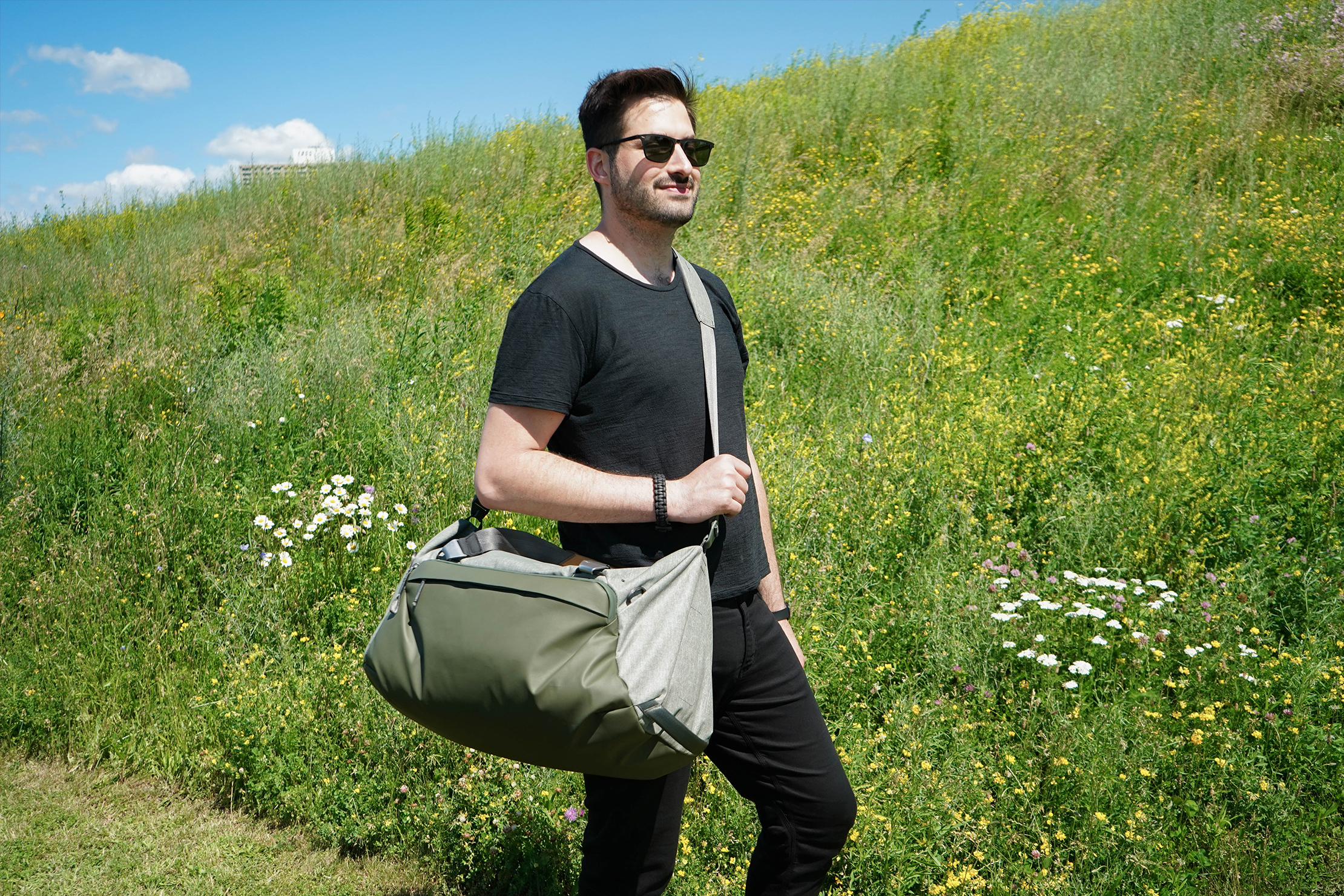 Remember, what works well for some people will be not-so-great for others. Who knows, maybe your future favorite duffle bag hasn't cracked our top ten. So, if you have the time, we highly suggest reading on (and not only because there are some hilarious jokes ahead of you).
Why a Duffle Bag?

These days, there are so many ways to haul your stuff—roller luggage, backpacks, messenger bags, duffles, and bags that are some combination of all of the above. So why choose a duffle bag?
Duffles Are Ideal For Two Bag Travel
As you may have guessed, two bag travel is traveling with two bags. It can play out in a few different ways—a backpack and duffle, duffle and roller luggage, or duffle and duffle. (Really, it doesn't need to involve a duffle at all, but this is a duffle bag guide so we're going to ignore all those other possibilities.)
Essentially, you shove your clothes and other gear into the larger bag (usually the duffle) and your laptop and other "daily essential" items into the smaller one (like a daypack or laptop bag).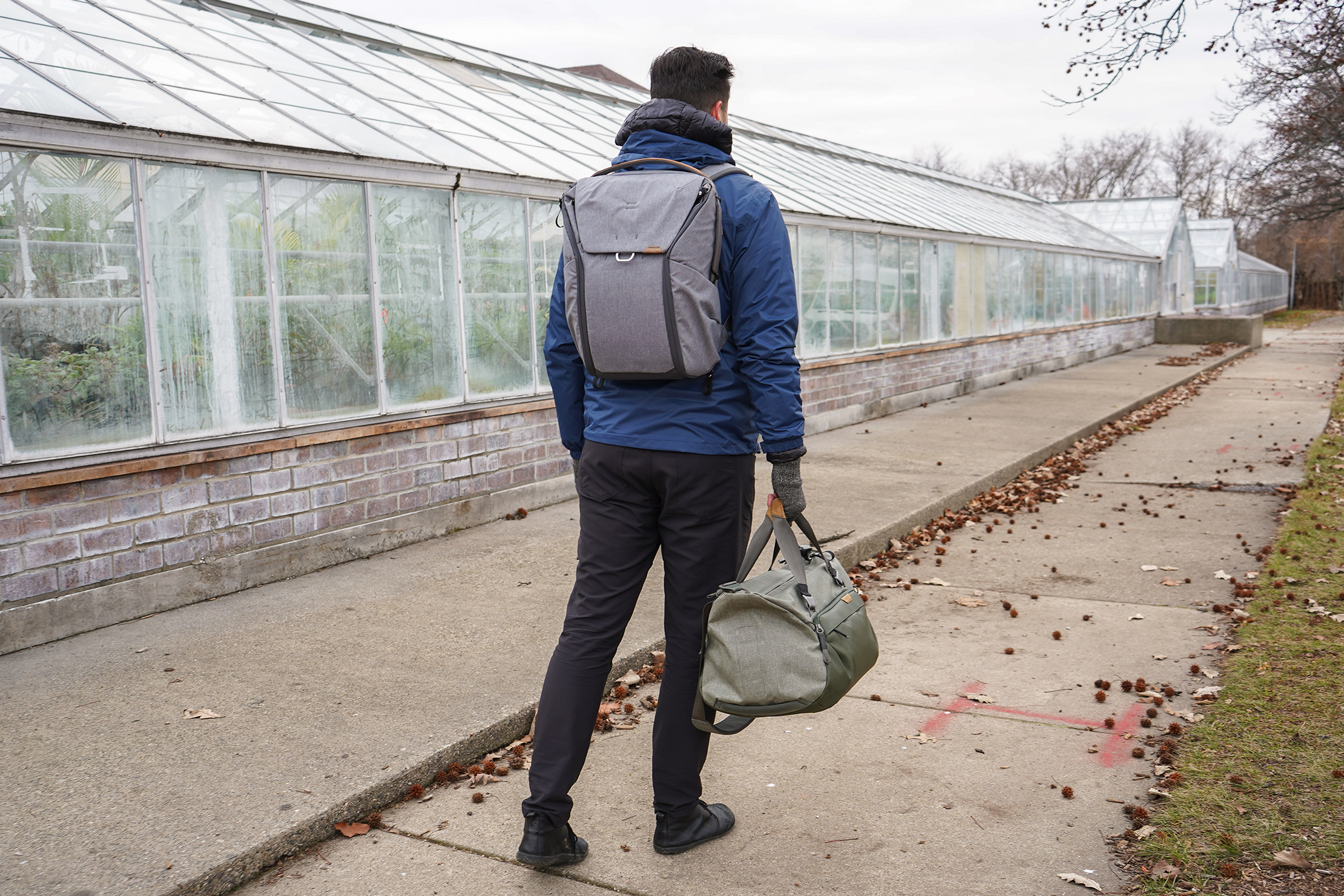 Some companies have designed their bags with the two bag travel system in mind, so you can pick up a duffle and backpack that complement one another. For example, you can use the Peak Design Travel Duffel as your carry on and the Peak Design Everyday Backpack Zip as your personal item. Once you get to your destination, leave the duffle behind and carry that Everyday Backpack, well, every day.
Duffles Make Great Road Trip Bags
Duffle bags—most of them, anyway—are good at squishing. That means they're pretty dang good at squeezing into the random nooks and crannies left over when you've packed your car full of everything you'll need for an epic, worthy-of-the-big-screen road trip. You can throw them on top of each other pretty easily too. Plus, duffles can hold a lot without much fuss, so you can worry less about optimal packing and enjoy the wind in your hair (metaphorically or literally).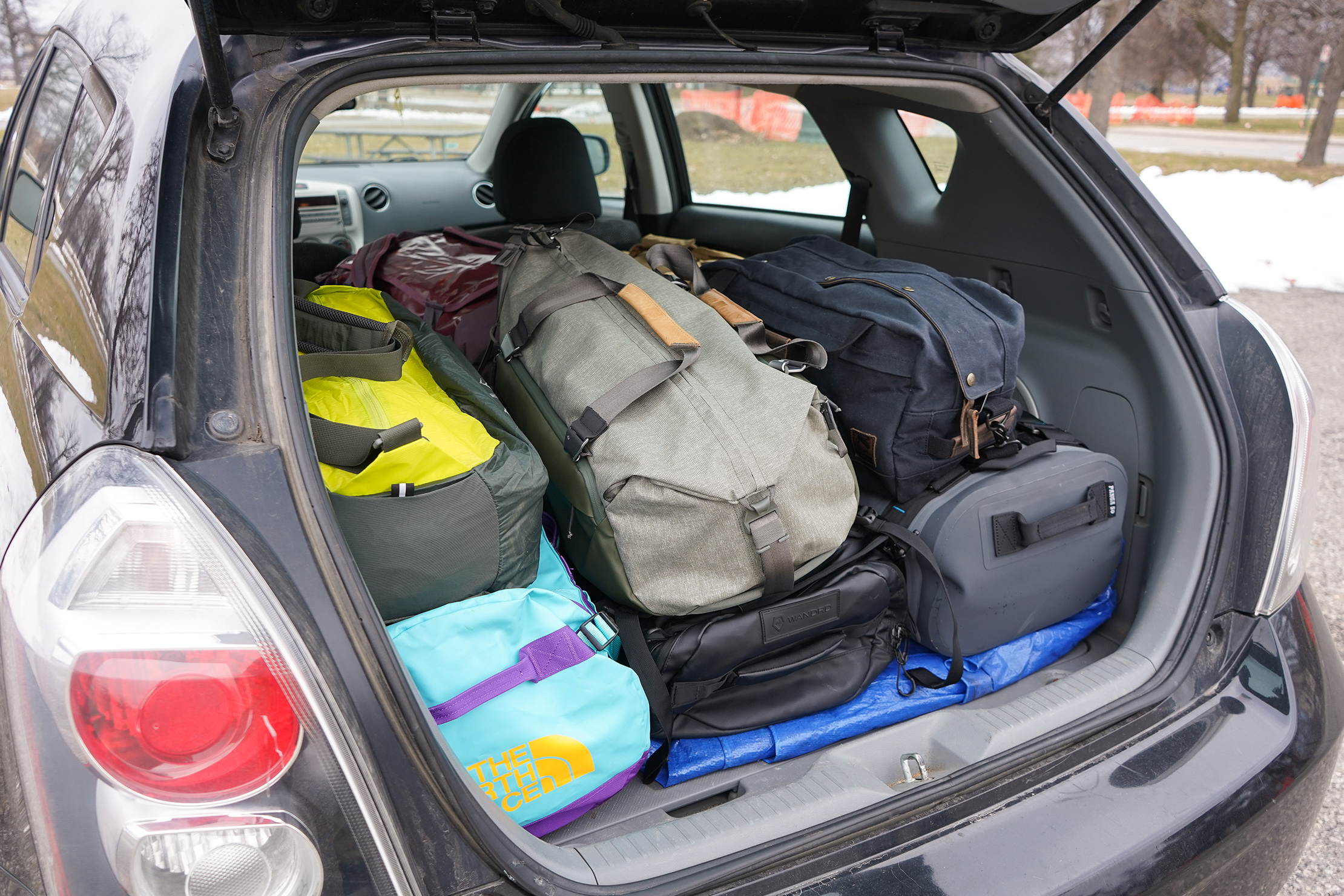 Duffles are Easy
If you have a lot of stuff and zero patience to organize said stuff, you will love a duffle bag. Simply throw all of your unfolded clothes into the main bucket, zip it all up, and you'll be good to go.
Duffles Can Look Professional
It can feel awkward to stroll into a business meeting dressed in professional garb…wearing a backpack. Duffle bags tend to look a little more polished.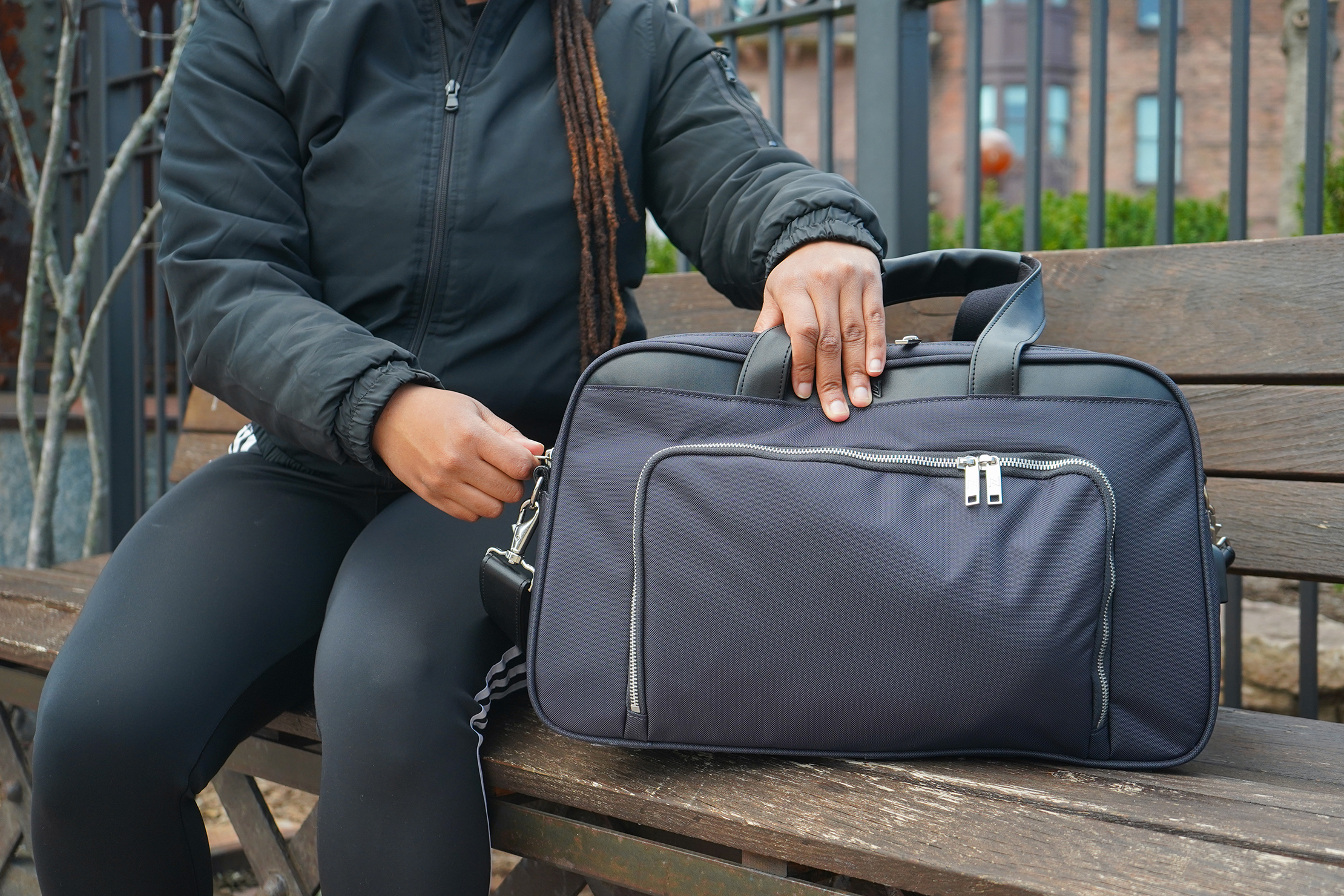 Of course, this isn't always the case. Some duffle bags look way less sophisticated than some backpacks. But head-to-head—professional backpack versus professional duffle—the duffle usually wins.
Duffles Are Budget-Friendly
There are many, many exceptions to this (looking at you, Gucci), but often you can find quality, spacious duffle bags at affordable price-points.
Because You Like Duffles
You don't have to have a specific reason for liking duffles, maybe you just like them. If so, go for it.
02

Our Picks
Let's start with some of our top-rated duffles.
Save during the REI sale
Gear up for your next trip during the REI Cyber Week Sale, now through Dec. 4. Check it out →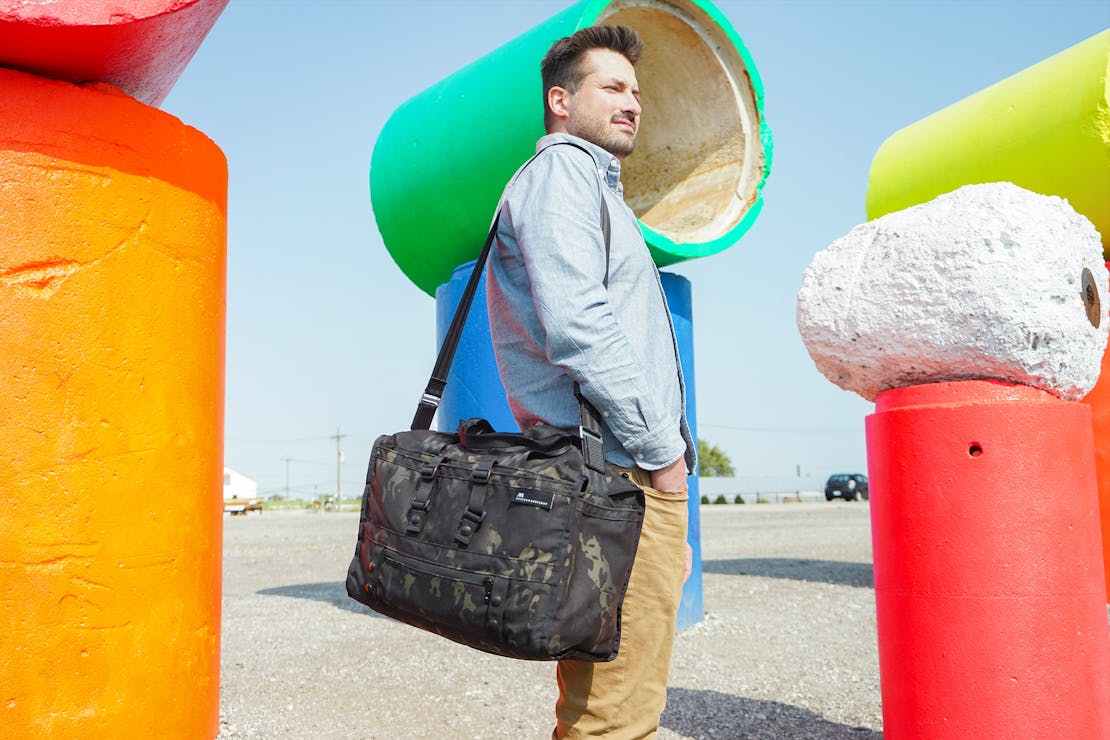 Mission Workshop
Transit Duffle
If you're looking for the best travel duffle bag with ample gear storage space, look no further than the Mission Workshop Transit Duffle. As the name implies, this thing was built to be on the move. We don't usually see organization like this in a duffle, and it's a welcomed feature when we do. A lot of duffles lack any segmentation in the main compartment, but that isn't the case here. It has various pockets on either side to help you give every piece of equipment a home. Plus, the exterior is durable and water-resistant, and we haven't had any issues with water seeping through and getting our gear wet.
The shoulder strap doesn't have any padding, which is downright uncomfortable at times. That said, even when you've got 31 liters worth of gear stowed inside, you can switch up the carry methods between crossbody, single shoulder, and the carry handle to stay comfortable. We like crossbody mode most because it distributes the weight well, but your comfort preference might be different. The interior fabric is slightly crinkly, which may annoy the heck out of you. However, channeling it into travel gear ASMR is a little treat every time you grab your tech pouch! Considering the durable materials, ample main compartment space, and thoughtful organization, we think this bag is one of the best travel duffle bag models on the market.
Why We Like It
The materials are durable and water-resistant, and none of our gear has gotten wet when it rains
There's ample space inside the main compartment, which isn't something we often see in duffles
What You Should Know
The shoulder strap isn't super well padded and can get uncomfortable after a while
Internal fabric is crinkly and noisy, which draws attention to you in quiet spaces, like an airport terminal during red-eye flight hours

Aer
Travel Weekender
Similar to Aer's travel backpacks and daypacks, their duffles are some of the best in the business. Using durable and water-resistant CORDURA® nylon, this pack handles rugged adventures with ease and is built to last. We like that it's structured enough to stand up on its own because it's easier to load, but it also means our gear doesn't jostle around as much when we set the bag down. The main compartment is capably sized and has a wide opening, which also makes it easier to stow larger items inside.
Just because we think you'll like this bag doesn't mean we haven't found drawbacks, too. The strap is comfortable but gets a little sweaty due to its thick size and the weight of the duffle, which is a tradeoff. We also have experience with a water bottle falling out while riding a bike through the city, though this can be avoided by orienting the bag in a level position or removing the bottle before doing any vigorous activity (like running to catch your train before it leaves the station). Even with those aspects considered, we think the good outweighs the bad, and we stand by the fact that this is one of the best duffle bags on the market.
Why We Like It
The materials have plenty of structure, so the bag doesn't collapse when we load our gear
The well-organized main compartment makes it easy to segment our belongings
What You Should Know
The strap is a bit wide and stiff, which can get hot after a long time of wearing it
Water bottles can fall out of the side pocket when the bag is oriented in a diagonal position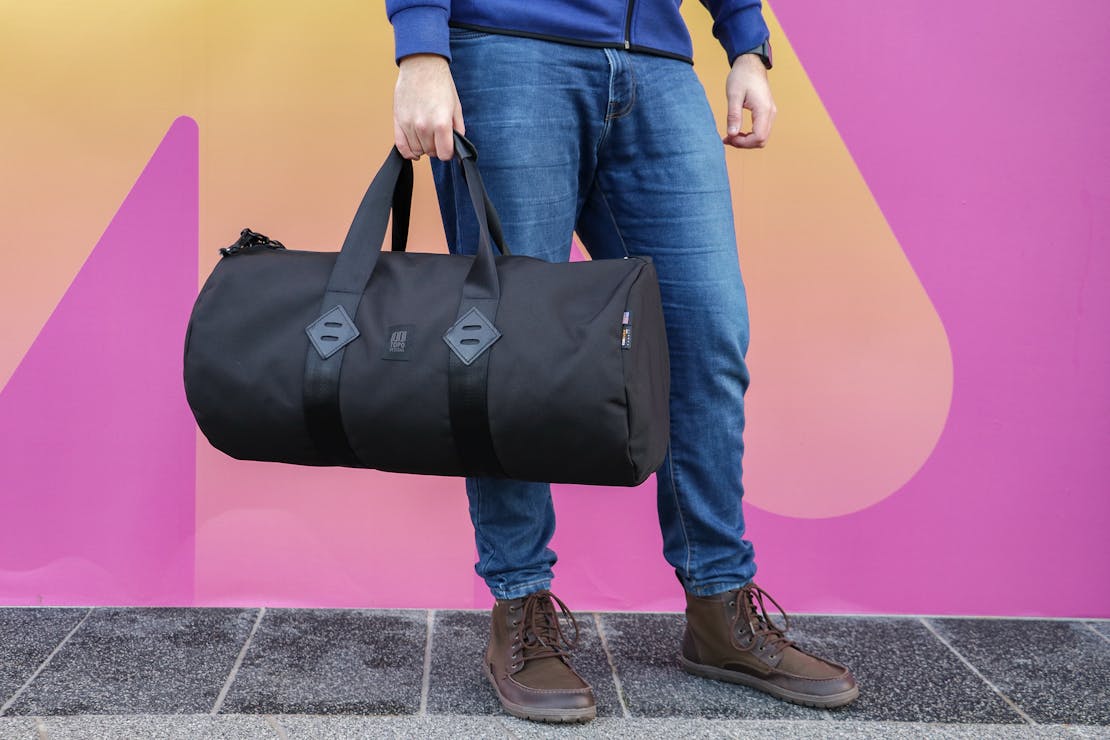 Topo Designs
Classic Duffel
When you want a duffle that's just a duffle, you'll want something like this bag from Topo Designs. Seriously, it's as simple as the freebie you get from the gym, only you'll actually want to use this one. The 1680D ballistic nylon feels (and is) super durable, and the sturdy materials continue with beefy YKK #10 zippers, complete with paracord woven through the pulls that make it easy to open. Since there's only one opening, we're happy to see that the zipper such good quality, and having two pulls makes it easier to wiggle them over bulky items while closing the bag. That's great when we're trying to cram as much inside as possible. The 40L duffle offers nothing but space to fill, meaning there are no internal pockets to be found. That's a bonus if you like to use packing cubes as we do or need room for ski pants and a parka for your Colorado adventure, though we recommend using something to keep your gear organized.
We really like the smooth, seat belt-like shoulder strap because it has a large piece of dense padding with a mesh underside where it rests on your shoulder. It attaches with 360-degree clips, so it moves with us as we walk, although it also has a tendency to twist when we pick it up. There are two carry handles, and they snap together to form one big handle wrapped in a smooth leather cover that is comfortable to hold.
Why We Like It
The handles are super comfortable to hold considering how bare-bones they are
It lacks organization, so you're not bogged down by pockets that you don't intend to use
What You Should Know
The handle wrap is leather, so vegan travelers will want to avoid it
There are no exterior pockets to store your phone or wallet, which means everything has to go into the main compartment (which also has no pockets … are you seeing the issue here?)

EVERGOODS
Transit Duffel 35L
If you're looking for a duffle that can handle work, play, and everything in between, look no further than the EVERGOODS Transit Duffel 35L. Thanks to the 840D ballistic nylon exterior, it looks sleek enough for the board room and is durable enough to take on a road trip. The side clips make the bag look subdued even when it's overstuffed, and the main compartment opens wide so we're able to fit large items inside without a problem. Plus, it has a dedicated laptop compartment, which we don't often see on duffle bags. Whether traveling for business or pleasure, you can count on the Transit Duffel to get your gear there in one piece and look good doing it.
There's minimal internal organization, which won't be what every traveler is looking for, though we think the two side pockets are great for a water bottle or other small essentials. Otherwise, you'll mostly have to rely on packing cubes and pouches to keep your gear from falling all over the place. If you're worried about pinpointing it in a crowd of bags on an airport shuttle, you can customize it with any patch you want using the hook-and-loop fastener logo in the bottom right corner
Why We Like It
A dedicated laptop compartment is accessible from the outside of the bag, so it's great for travelers who work on the go
The main compartment has a wide opening, which makes organization of larger gear, like shoes, easy
What You Should Know
There's isn't much padding on the strap or handle, and we've noticed it can get uncomfortable on long journeys
Spacious main compartment is great for large gear, though you'll have to rely on packing cubes and pouches to keep things organized since there are few pockets for small items

Osprey
Arcane Duffel
Have you ever wanted your duffle bag to be a backpack and vice versa? Enter: the Osprey Arcane Duffel. In addition to carrying it crossbody, on your shoulder, and with the side handles, you can go full backpack mode for a hands-free experience. We've found that backpack mode isn't super comfortable because it can rub against the back of the neck, though your mileage may vary.
The quick grab pocket on the top of the pack is large enough to stow all your daily essentials, the backpack shoulder straps can be tucked away so they don't get in your way when you're in duffle mode, and the 500D recycled polyester is durable enough that we don't worry about tossing this thing around. It utilizes YKK zippers, too, which are super reliable—a worthy addition to an already worthy duffle bag.
The straps are pretty lightweight with dense padding; however, that can lead to some discomfort around the neck, depending on how you wear them. On the inside, there isn't any organization apart from one mesh pocket, which is helpful if you're a packing cube fan but not so much if you aren't.
No matter where you're going, the Osprey Arcane Duffel is a solid choice as the best duffle bag for your next trip if you like versatility. Because the design isn't tailored towards one use, you can modify it to be for almost anything.
Why We Like It
Three different ways to carry, so we can switch it up on a longer trips
The top secondary compartment is large enough to fit most of the items we usually store in pants pockets, so we don't need to carry an additional bag
What You Should Know
Pack Hacker team members with wide shoulders find the shoulder straps a bit uncomfortable, which makes carrying the pack for a long time problematic
No wholesale organizational features, which may deter users who like law and order in their pack

Aer
Gym Duffel 3
The Aer Gym Duffel 3 isn't only good for the gym. It works well for stopping there on the way to or from the office or if you plan to work out before checking out of your hotel. That's because it keeps your workout gear and daily essentials separated quite nicely, and we appreciate the fact that stinky clothing isn't sitting right next to a laptop. Instead, there are separate spaces for your device, workout gear, and daily essentials, including a front pocket with organization for all your tech accessories. Two exterior travel water bottle pockets give you space for both coffee and a protein shake—or, you know, for extra water—and there's a quick-grab pocket for your phone and wallet on the back of the bag, providing a little extra security from pickpockets.
We like that there's ventilation on the shoe compartment to let sweaty duds air out, and we've been able to fit men's size 13s inside, though it does eat into the main compartment space. Still, there's enough room here for several packing cubes, plus a pocket that buckles closed for small travel accessories or things like yoga socks, elastic bands, and bike gloves for spin class. The laptop compartment fits up to a 16-inch device, and there's even space for us to store a keyboard and laptop stand, so we can easily pack for a weekend yoga trip without scrambling to finish all our tasks before leaving town.
Why We Like It
Outer and inner bottle pockets let us keep one drink easily accessible and still bring a spare
The mesh ventilation lets our funky exercise clothing and gear get some air
What You Should Know
We find it hard to access the quick-grab pocket while carrying the duffle
The zippers get sticky around the corners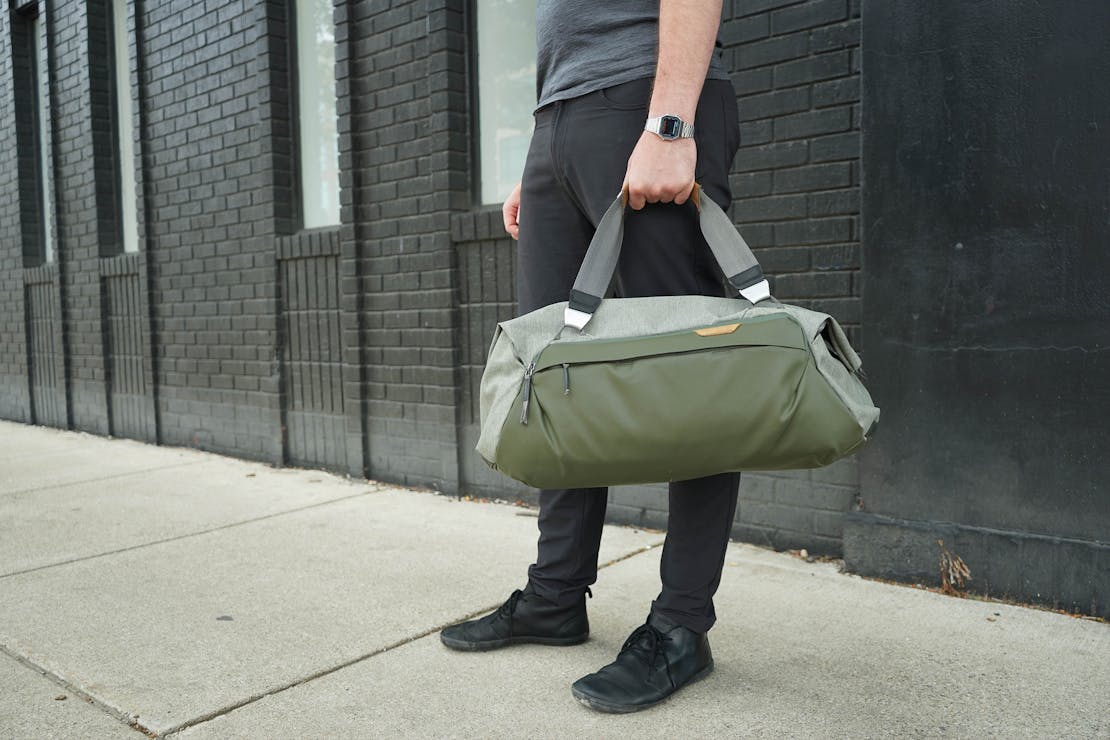 Peak Design
Travel Duffel 35L
If you're a fan of stellar internal organization and a sleek exterior, we've found the best duffle bag for you and your vibes. Meet the Peak Design Travel Duffel 35L! We think the design is well thought out and offers unique organizational features for a duffle bag, including multiple external pockets, internal mesh organizers, and the ability to wear the pack in backpack mode if you choose. It isn't the most comfortable way to carry your gear; however, it works in a pinch and is a worthy addition that doesn't get in your way if you don't want to utilize it. What's not to like about that?
This pack utilizes magnets in multiple areas to close pockets, which we dig; however, sometimes, they don't feel strong enough for the job that they're tasked with. They can pop open when the pack is full, as it causes the footprint to expand farther than the magnets can handle. Small issues aside, we like that this pack works in tandem with other Peak Design gear, both visually and physically, to make for a more dynamic carry. If you've already jumped onto the Peak Design bandwagon (we'll see you there), this is the best duffle bag for your next trip!
Why We Like It
The design is thoughtful, inside and out, making organization easier
It matches Peak Design gear you might already own, so your entire kit will look intentional and professional
What You Should Know
The magnets aren't as strong as we'd like and have found that they pop open occasionally
Backpack carry mode isn't comfortable long-term, so you'll have to switch things up

TOM BIHN
Old School Carry All
Travelers who like to keep things organized will appreciate the segmentation in the Old School Carry All. Separate compartments include a space for shoes and dirty clothing, the main area, and a front section—all of which have independent volumes, so the front pocket doesn't eat up main compartment space, and vice versa. It's a revamp of a popular style TOM BIHN sold in the 1990s, and we're here for it. If it ain't broke, don't fix it, right? The layout is easy to understand. A front compartment includes the ubiquitous O-rings for TOM BIHN's modular gear; the bottom compartment has a mesh opening that we dig because it lets us air out stinky clothing and shoes; and we find that the main compartment has room for a few packing cubes and bulkier clothing. However, it's not always big enough, and we sometimes have to get creative and stow gear in other less-ideal compartments when we run out of room.
On the other hand, the bag is well-structured, solid, and ready to take on the wear and tear of daily use. Materials like 1050D ballistic nylon, YKK zippers, and hardware from Duraflex, Nexus, and Woojin mean that we expect this bag to last for decades, or at least until TOM BIHN decides to revamp it once again.
Why We Like It
The handles stand upright at all times instead of falling to either side of the bag, so you can truly grab this thing and go without breaking stride
Its structure and wide base make it easy to pack with whatever gear we need for our workout
What You Should Know
There's no crossbody strap included, and the base is so wide that it hangs awkwardly if we add one
It lacks built-in pockets for small accessories, so we have to use additional pouches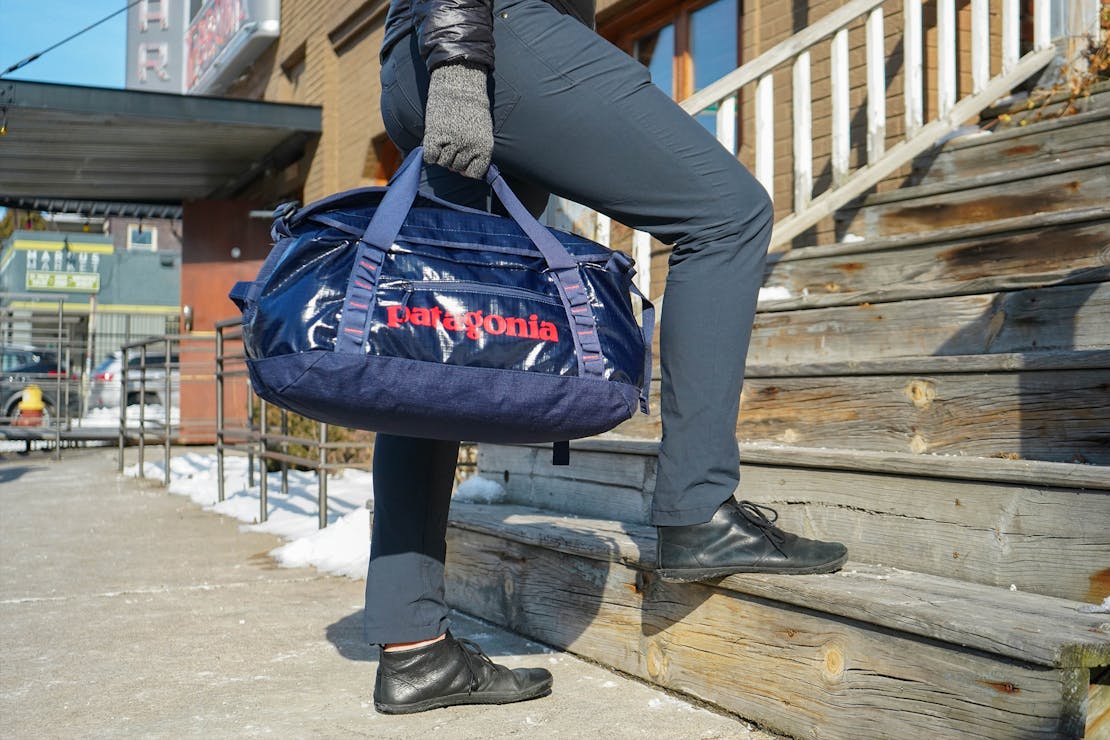 Patagonia
Black Hole Duffel Bag 40L
The Patagonia Black Hole Duffel Bag 40L has great materials and ample space, which, of course, is what you're looking for in a bag this large. We've tested it for weeks on cross-country flights, and the TPU hasn't sustained any scratches or scuffs, which is much better than we've seen on other bags using the same material. Of course, the fabric also buckles easily, making it a bit hard to get at your gear unless you really pack it out, so save it for trips when you need to carry a lot. Stuffing it full of packing cubes, travel shoes, and other essentials makes the best use of this duffle and keeps your gear from shifting during flight. We think that also makes it more comfortable to carry, whether you want to use the handles or thin backpack straps.
To pack it up, there's a quick-grab pocket for your phone, wallet, and keys—there's even a key leash that's long enough to reach a lock without much effort. The remaining area is dedicated to the main compartment, a large rectangular space designed to be easy to pack. There's a zippered mesh pocket on the lid, too, that we find ideal for things like socks and underwear, or anything softer and flatter that you want to keep separate.
Why We Like It
A front pocket is great for quick-grab gear and to pack the bag away
The materials are super durable, yet also recycled, making this a sustainable choice that will last
What You Should Know
When you put your arms through backpack shoulder straps, it's easy to put your arm through the carry handles instead, which can be annoying
It takes effort to repack it into the pocket

TOM BIHN
Aeronaut 45
If you're looking for a versatile bag, take a look at TOM BIHN. The 45L Aeronaut has three carry modes to accommodate nearly any situation you find yourself in, and it's all wrapped up in durable ballistic nylon to protect it when you toss it in the trunk of your car or carry it on a cross-country flight. This maximum legal carry on size bag has large carry handles for toting it like a briefcase, attachment points where you can connect TOM BIHN's Absolute Shoulder Strap (sold separately), and a densely-padded harness system. Backpack mode includes a sternum strap, which we like in a bag of this size because it better supports the weight of the bag and makes it more comfortable to carry when fully packed, taking the load off your back. On the other hand, the straps are so close together at the top that we can feel it pulling at the neck. When we're not using it, we stow the entire harness system away behind a curved zipper compartment, so nothing dangles as we make our way down the airplane aisle.
You can quickly access smaller gear in two diagonal pockets, though tinier things will slip to the bottom. Two side pockets are large enough for a pair of shoes or additional TOM BIHN organizer pouches and key leashes, which can hang from the included O-ring, and the main compartment is a giant tub that includes tie-down straps to hold your gear in place if you don't want to use packing cubes.
Why We Like It
You can carry it as a duffle, briefcase, or backpack, which adds a ton of versatility
The materials feel high-quality and very durable
What You Should Know
Zippers are stiff and can be tough to get around the rounded corners
The backpack straps dig in, impacting carry comfort during long days in transit

GORUCK
Kit Bag 2.0 (32L)
Oh, you like durable materials? Why didn't you say something; we've got the perfect duffle for you! Let's talk about the GORUCK Kit Bag 2.0. This pack features 1000D CORDURA® exterior fabric, which is highly rugged and can withstand the elements, too, so you don't have to worry about your gear getting soaked. The zippers are from YKK, the best brand in the business. The materials and hardware give the duffle a structured look and feel, which is ideal for when it isn't stuffed to the gills because it keeps it from looking too saggy.
We've found that the internal organization doesn't get in the way, as there are only a few zippered pockets to choose from, leaving us to do most of the segmentation as we please. However, we have no problem finding a place for things like a water bottle and phone in the external pockets. While we're a fan of the durable materials, the military-like look of this pack isn't for everyone. That said, it's more on the subtle side for a GORUCK bag, so we think you'll still fly pretty under the radar (if you ignore the big logo, that is).
Why We Like It
It's crafted from durable 1000D CORDURA®, one of our favorite materials for its long-lasting durability
It stands up on its own, which prevents it from sagging when the bag isn't super full
What You Should Know
We found that the shoulder strap can get warm during extended use and cause us to sweat
The GORUCK logo is large and isn't a removable patch, so it's not going anywhere; not a huge deal if you like the look

The North Face
Base Camp Voyager 32L
While it looks like a typical duffle bag, The North Face Base Camp Voyager has a few surprises up its sleeve, like a dedicated laptop compartment in the lid to the main compartment (the back panel if you're carrying it as a backpack). It has a refined harness system that we like for carrying it as a backpack, and we can easily shorten or lengthen the well-padded shoulder straps or tuck them away behind the back panel if we prefer to use the side handles. Those are also well-padded, so we find them comfortable enough to hold when standing in an interminable queue at the airport. There's a water bottle pocket on the right side, and a large pocket that's accessible from the bag's exterior. The duffle compresses into this pocket when you want to store it away, but we also use it as a shoe compartment when we're heading to the gym. It also includes a mesh pocket and key clip for the gear you need to access quickly, and while we don't usually want to store our phone next to stinky shoes, you can pick and choose what works best for you.
It's wrapped up in durable tarpaulin material that gives it a matte-like sheen we like while protecting your gear. There's additional durability on the bottom side with a ballistic polyester standing between your clothing and anything on the ground where you set the bag.
Why We Like It
There's an included divider for the main compartment, which makes its large capacity more manageable to sift through even if we're using packing cubes
Our gear is well-protected from rain and snow with weather-resistant tarpaulin material
What You Should Know
The divider toggles come undone frequently, which means you can lose that handy gear segmentation without noticing
Shoulder straps get in the way of accessing the main compartment
03

Considerations
Don't marry the first duffle you meet.
Save during the REI sale
Gear up for your next trip during the REI Cyber Week Sale, now through Dec. 4. Check it out →
What to Consider Before You Buy
As we said earlier, we firmly believe there is no such thing as the Perfect Travel Duffle. However, there are a few key considerations you should keep in mind to find the perfect travel duffle for you, which we discuss below. We'll keep coming back to these considerations throughout the guide, so pay attention! (There may or may not be a quiz.)
Your Use Case
Obviously, your use case will have a massive impact on what duffle you should choose. Ask yourself why you want a duffle bag and what you plan to do with it before looking at any other factors. All of the other considerations play into this one.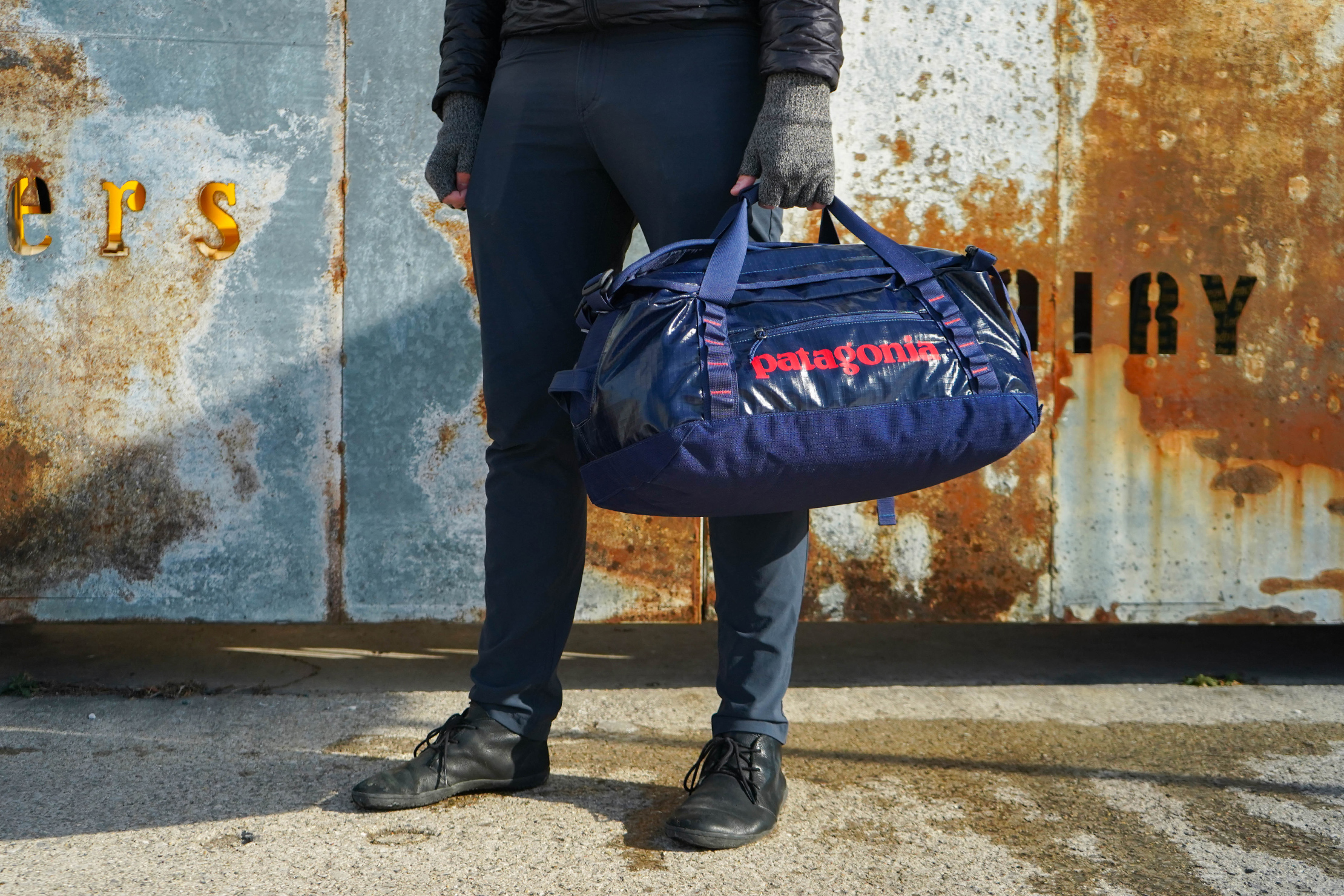 Examples of common use cases:
Weekend trips
Long term travel
Business travel
Beach tote
Gym bag
Everyday carry bag
Materials & Durability
Duffles tend to get thrown around a lot. Airline workers have time restrictions, so you can be sure they're tossed around in the bottoms of planes and—be honest with yourself—you're probably not so gentle with them either. So make sure you purchase something that'll last.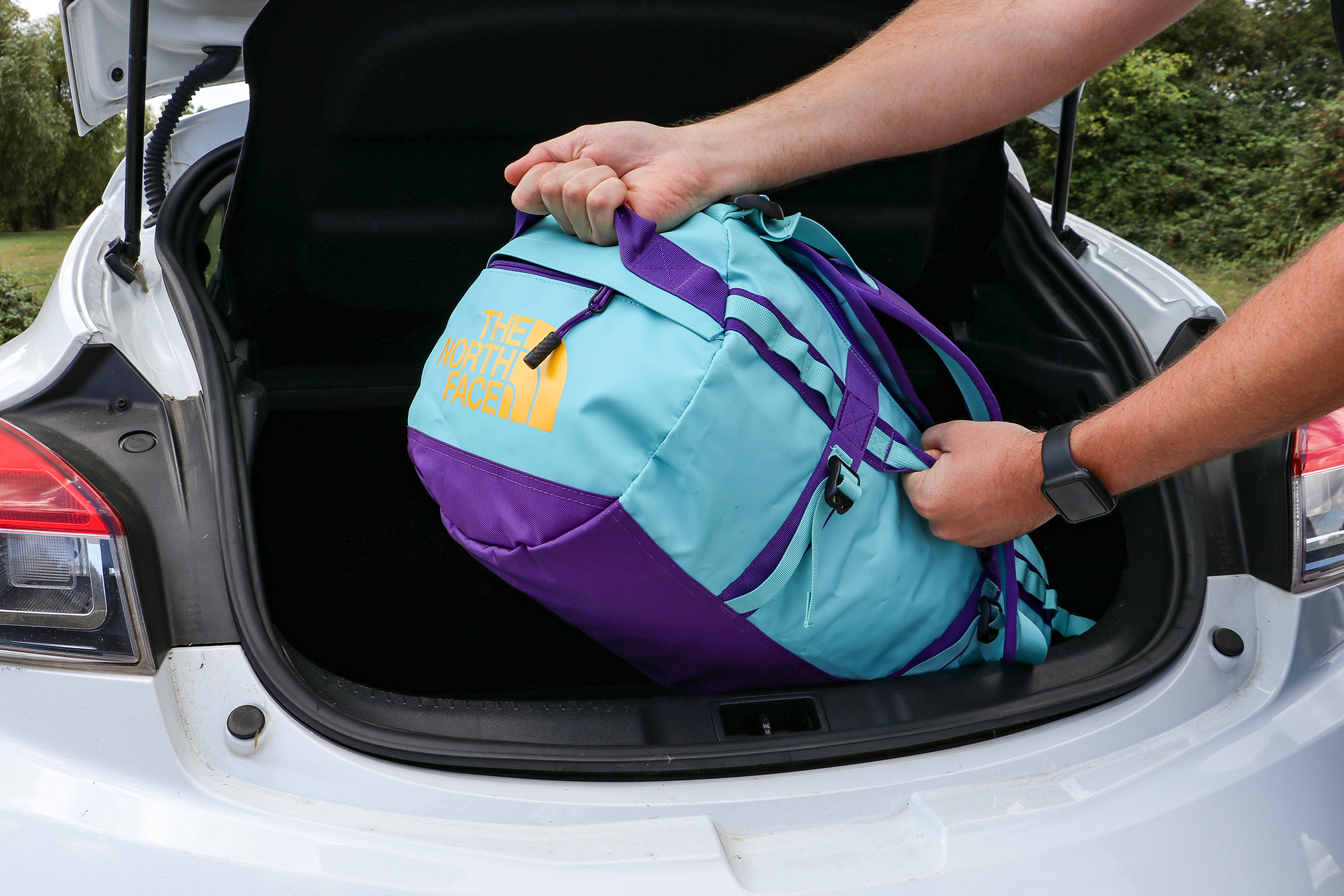 Likewise, you will need a more durable duffle if you're an outdoorsy/adventurous person. Durability is not as big of a concern if you just plan to take your duffle on weekend excursions to the city a few hours driving distance away.
To choose a duffle bag that can handle whatever you plan on throwing at it, consider the following features and how they come together.
The Fabric
When looking at fabrics, you'll often see a number followed by the letter D (50D, 250D, 1000D, etc). The D stands for denier, which measures the thickness and weight of fabric (okay, truth be told it's a little more complicated than that, but that's the gist of what you need to know).
The higher the denier within the same fabric family, usually the more durable, but also the heavier the fabric. Note that denier won't help you much when comparing two different types of fabrics, which all have inherent strengths (nylon is stronger than polyester, for example). But it works well as a benchmark.
Nylon


Nylon is one of the most common synthetic fabrics—and for good reason. It manages to be soft, durable, and lightweight. These days, nylon is almost an umbrella term. Various weaves, sewing patterns, and deniers play into nylon's overall strength, weight, abrasion-resistance, and weather-resistance.


Within the nylon family, you'll commonly see Ballistic Nylon and Ripstop Nylon. Ballistic Nylon is basically the Superman of the fabric world (The Fabric of Steel, coming soon to a theater near you). Originally developed for military body armor, it's durable and resistant to pilling and water. But it is heavier, which is not ideal for a duffle bag since they tend to get uncomfortable at lower weights than backpacks. The tradeoff may be worth it if you have an adventurous travel style or want your duffle to last long enough to pass down to the next generation.


Ripstop Nylon, on the other hand, is also a great fabric that prevents punctures from spreading into full-on tears—something exceptionally handy to have for a duffle bag. Duffles are often tossed around, jammed into random nooks and crannies, and/or dragged across floors, meaning there's a good chance of them getting ripped. Having a fabric that prevents those punctures from ruining your bag is key. Plus, Ripstop Nylon is lightweight.
That said, it's not always as robust as higher denier fabrics like 1680D Ballistic Nylon. If it's a lower denier, it may develop holes more quickly. If so, the ripstop will save those holes from spreading and ruining the duffle, but the fabric will still have holes in it. Also, it's usually swishy, which may or may not be a deal-breaker for you.
Polyester


Another popular synthetic fabric, polyester, tends to be a little less durable, a little bit heavier, and a little bit cheaper than its cousin nylon. All that to say, you'll usually find polyester on budget duffle bags. It's not a bad fabric, but it's not our favorite for duffles, especially if your travels involve asking a lot of your bag.
CORDURA® Grade Fabrics (Nylon & Polyester)


CORDURA® is a brand, not a fabric, but it's worth discussing since you'll probably see it a few times. Plus, casually mentioning CORDURA® fabrics at a party will let everyone know just how cool you are (it's worked for us!).
Essentially, the CORDURA® label is a stamp of quality assurance that says that the nylon or polyester has come from a CORDURA®-approved mill and production line. Anything CORDURA® will have excellent abrasion resistance and strength-to-weight ratio.
Canvas


Historically canvas is made from cotton, linen, or hemp and then coated in wax for waterproofing. You can currently also find nylon and polyester canvas, too. These days, canvas isn't super common because it tends to be heavy and susceptible to aesthetic wear and tear (like scuffing).
That said, there's something so classic about a canvas duffle. If you're into that heritage, historical vibe, it may be worth sacrificing some comfort.
Leather


And that brings us to leather—another fabric that evokes a sense of nostalgia and sophistication. You don't often see pure leather duffles for obvious reasons (weight, sensitivity to the elements, maintenance required), but several duffle bags have leather accents— think zipper pulls, straps, and logo tags.
Leather tends to go hand-in-hand with canvas and may be your fabric of choice if you love that heritage look. If you try to avoid animal products, you can also find duffle bags made with vegan leather to mimic that same bespoke feel.
Duffel Fabric
Okay, you're not going to find duffel duffle bags pretty much anywhere, but we wanted to mention it because this coarse woolen fabric is the OG duffle bag fabric. Duffel fabric originated in Duffel, Belgium, giving the duffel (which we now commonly spell duffle) its name. Mind-blowing, right?


You may also run into Tarpaulin or TPE Fabric Laminate, which are swishy fabrics that tend to be coated in a layer of Polyurethane. While both can have a crinkly, plasticy feel, they're also very weather-resistant and durable. Water resistance is really nice to have on duffles since you tend to set them down on the ground more than backpacks, and the ground could be wet. For that reason, we're usually big fans of duffle bags made with these fabrics.
This isn't a comprehensive list of all of the fabrics you'll run into while searching for The One (by which we mean your perfect duffle, obviously), but a majority of duffle bags will be made with one or multiple of the materials mentioned above.
The Zippers
Okay, it's time for some #ZipperTalk. For being so small, zippers are super important. Imagine throwing your stuff in your duffle minutes before you need to leave for the airport when—suddenly—thunder booms and the main compartment's zipper breaks. A broken zipper on a duffle bag isn't as heartbreaking as on a backpack because you can still use a duffle with a broken zipper due to its placement on the top of the bag. That said, it's still sad and inconvenient.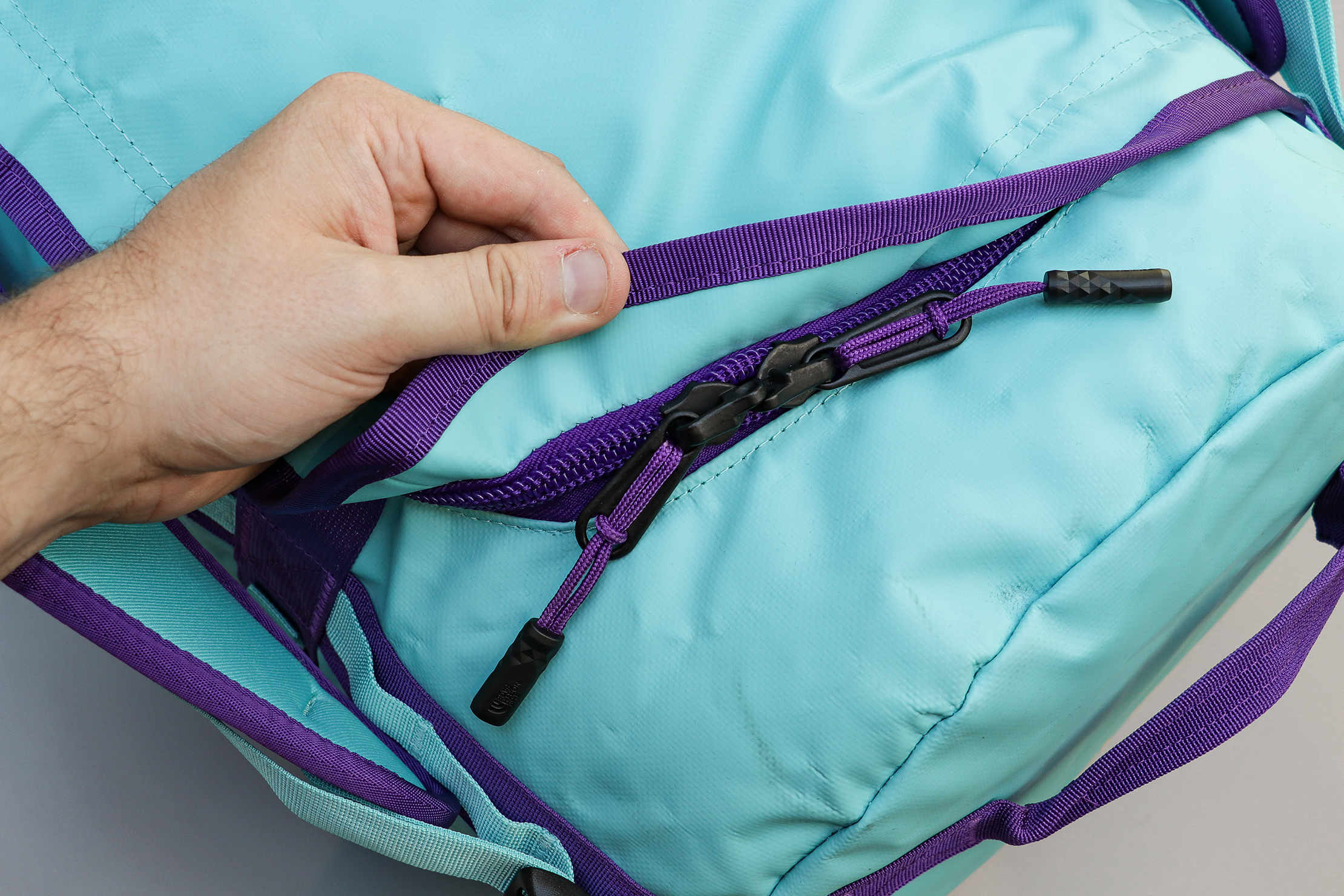 Look for YKK, SBS, Zoom, and Riri zippers, which are the most common and reputable brands (we're particularly fond of YKK zippers, which have rarely let us down over years and years of testing). And be wary of unbranded zippers—we've had some not-so-great experiences with them.
Also, pay attention to size. Zippers are measured on a scale of one (small) to ten (large). You should be alright with #5 zippers and greater for exterior pockets on smaller duffles, while you probably want something slightly more robust on larger duffles. Smaller sizes are okay for internal pockets or less frequented ones.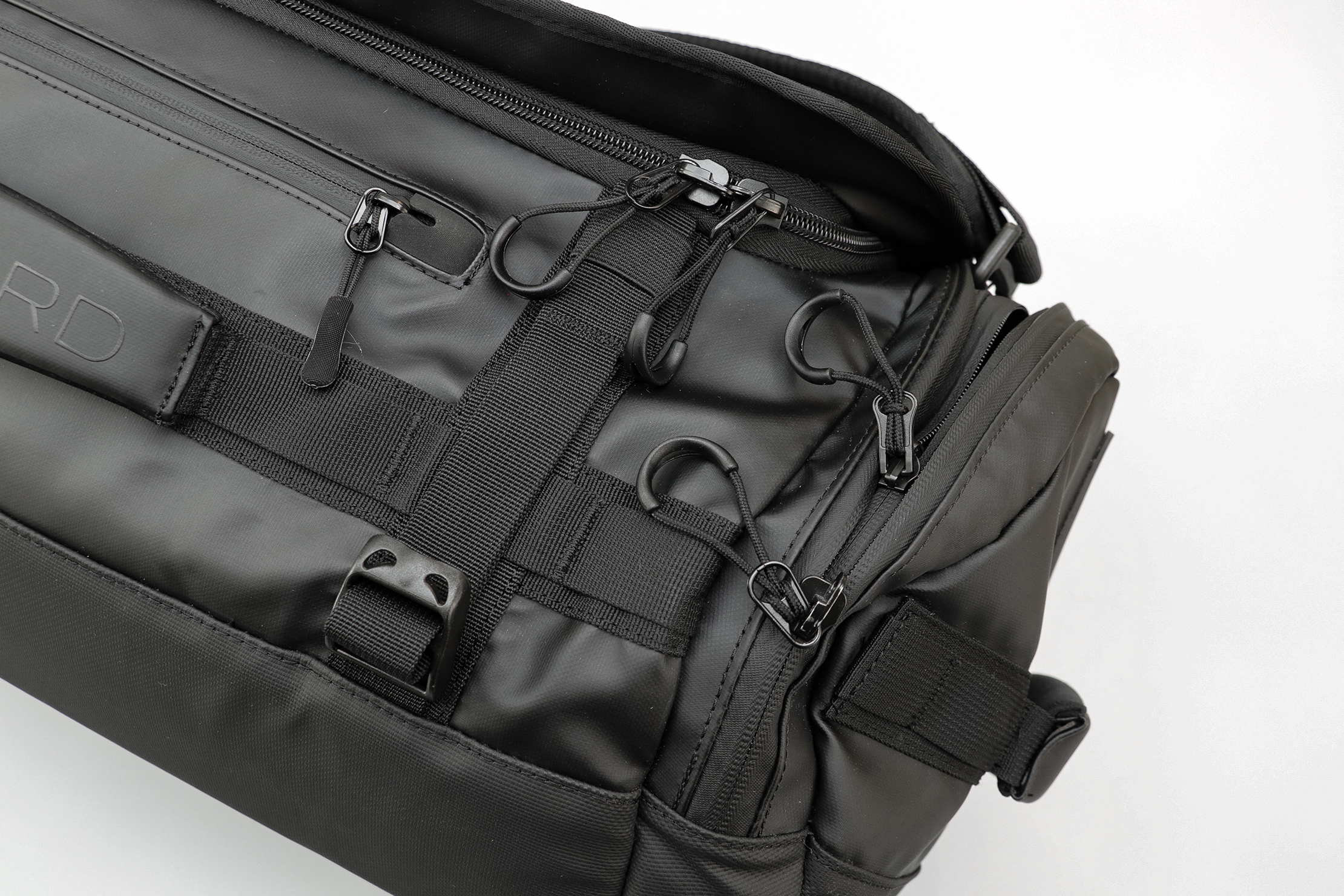 For extra weather-protection, there are water-repellent zippers—like YKK AquaGuard® zippers—which repel water due to a polyurethane coating. You don't need to worry about highly water-resistant zippers unless your use case (#callback) involves traveling to places known for inclement weather, boats, and/or beaches. Note that water-repellent zippers tend to be harder/stickier to zip, so if your travels don't involve copious amounts of water, we suggest avoiding these zips. (We will discuss weather-resistant duffles in more detail in the Alternate section of this guide.)
The Hardware
Similar to zippers, you'll be pretty disappointed if any of the hardware on your duffle bag breaks while you're out of the country.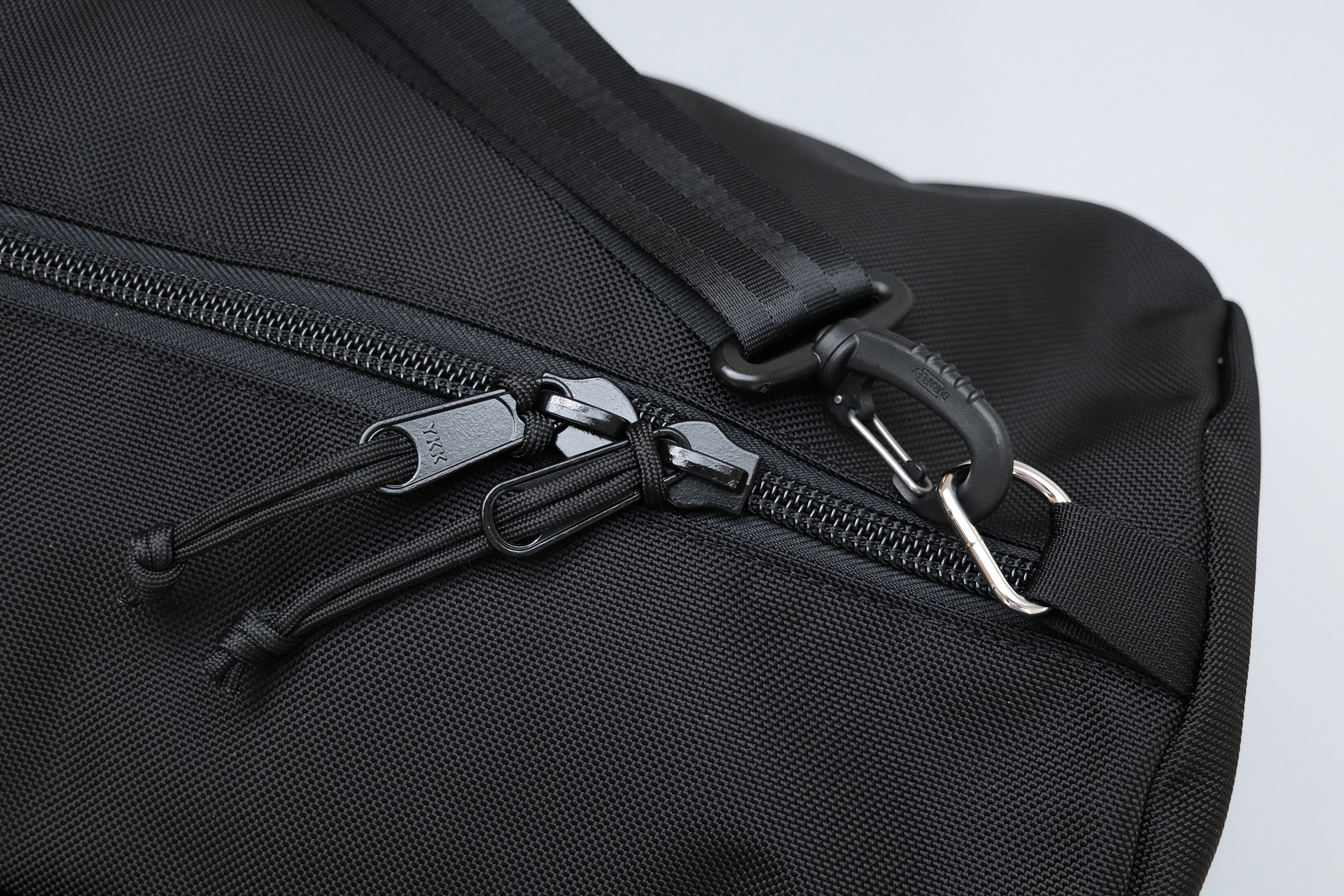 Again, do your best to avoid unbranded hardware. Duraflex, YKK, Woojin, Nifco, and ITW are all good brands that should treat you well. And, when it comes to metal versus plastic hardware, we're partial to the former. Particularly from a durability perspective. Although if you're trying to cut ounces, plastic may be the way to go.
Interior Organization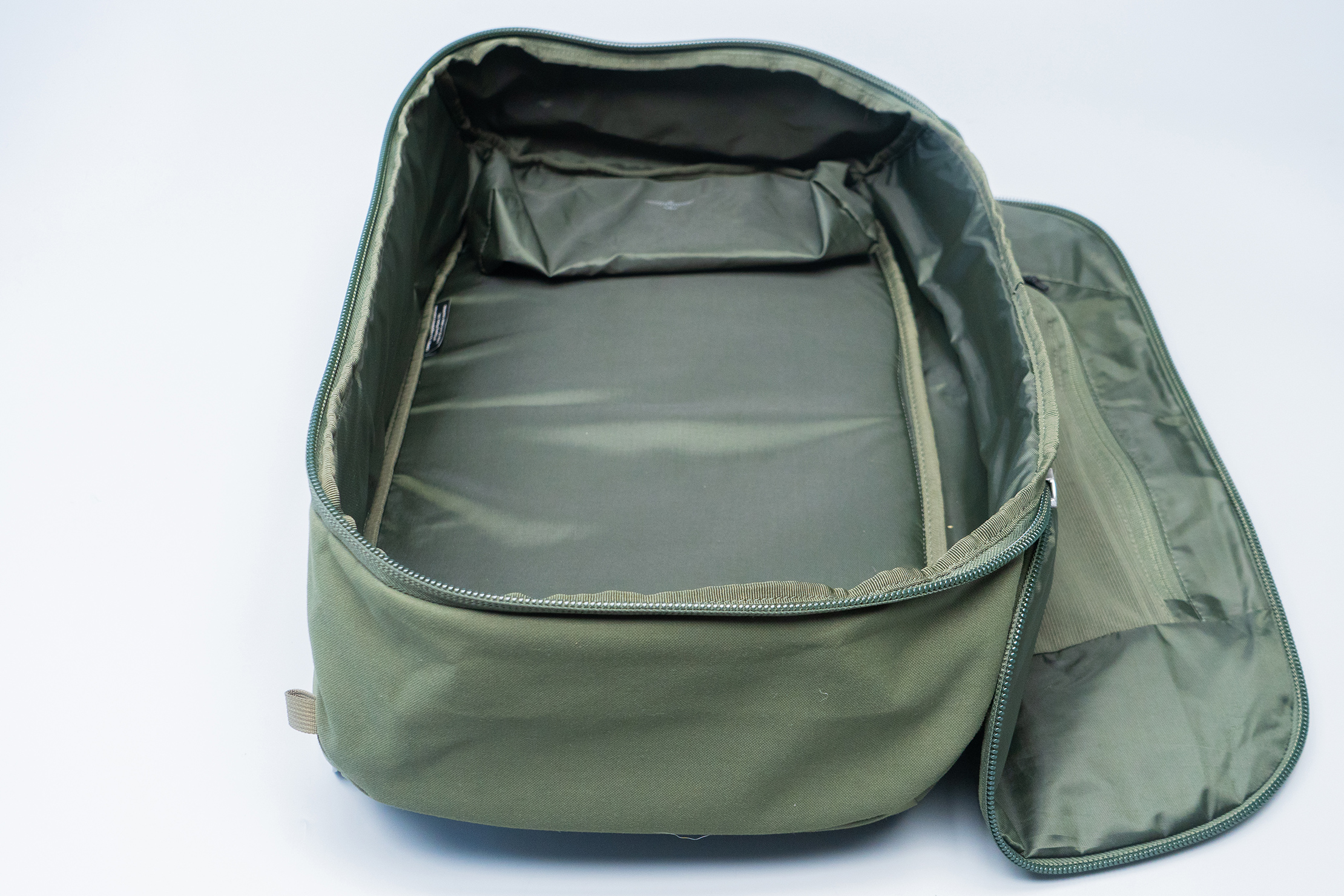 Duffle bags run the gamut of organization. Some have zero organization, while others have a ton of pockets and compartments. Are you planning to use your duffle as more of a gear hauler, throwing your clothes and toiletries in it while organizing everything else in a backpack? Or do you want your duffle to be the only bag you need? Your answers to those questions will tell you how much organization you'll want.
Mode of Carry

Traditionally, duffle bags tend to have two modes of carry: briefcase style via top handles and crossbody via a shoulder strap. But some duffles only have handles. If your use case involves any amount of walking—or even standing while carrying your duffle for prolonged periods of time—you're probably going to want a shoulder strap.

But not all crossbody straps are created equal. While a simple, seatbelt style of strap is okay for smaller duffle bags, padded straps are preferable. Our favorite type of shoulder strap has thick padding that spans the entire length—or at least most of the length—of the strap. Again, how much you'll walk with your duffle plays a big factor here.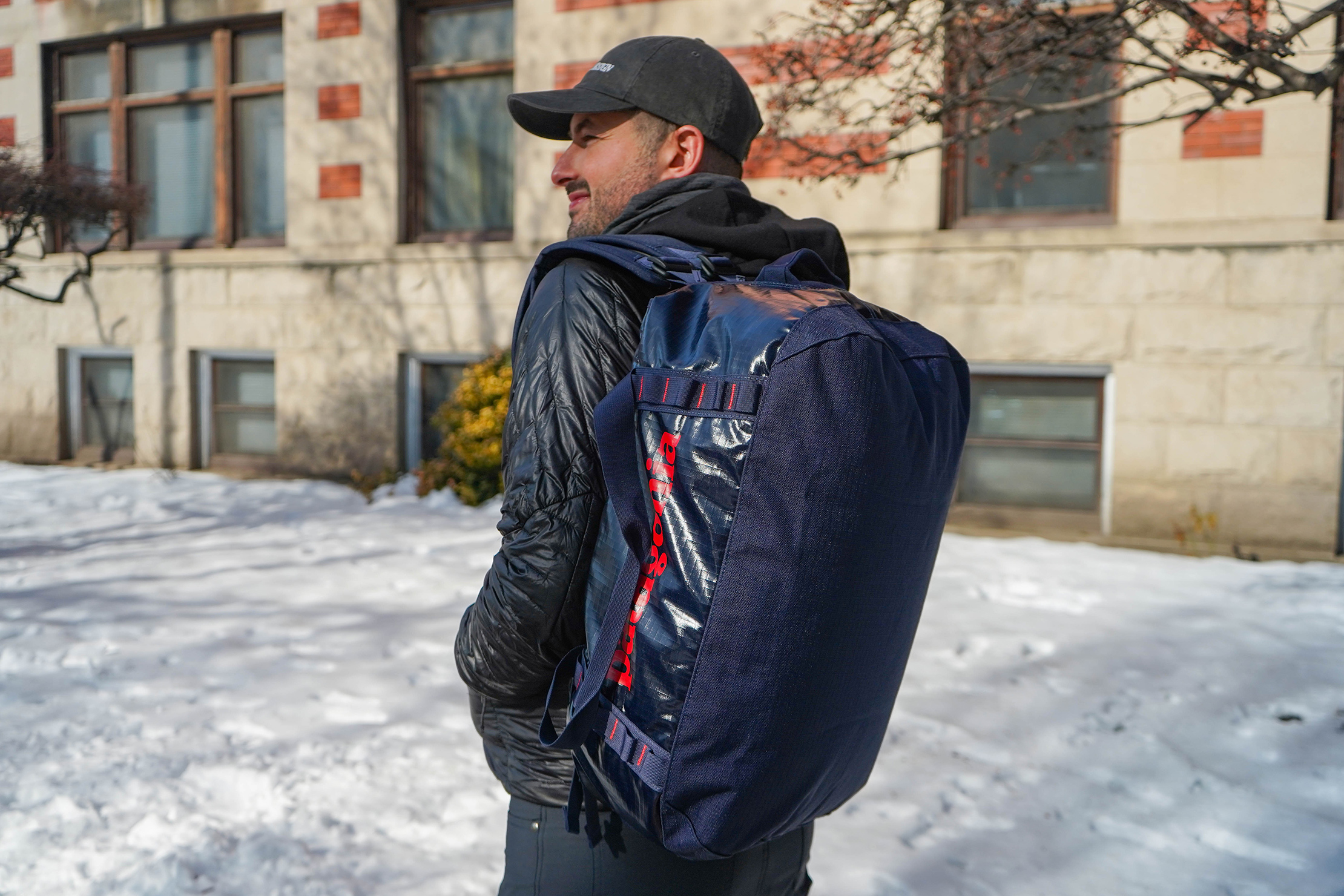 Some duffles have backpack straps. Although these straps tend not to be as comfortable as backpack straps on an actual backpack (go figure, right?). They may be your duffle of choice if you are dead set on owning a duffle but want more versatile carry options. We'll discuss these duffle backpack hybrids later on in this guide and their potential downsides.
Finally, you have the option of a rolling duffle. Once again, we'll go into detail about rolling duffles later on. For now, just know they're a great option if you are unable, or simply don't want to bear the weight of your luggage on your shoulder(s).
Size & Weight
In nearly all of the categories below, you can find duffle bags that span a huge range of sizes from 6L to 150L+. You're not going to want to take a 6L duffle on a three week trip to Egypt (or anywhere for that matter) unless you're extremely minimalistic. To put that in perspective, we've tested a 6L duffle as a lunchbox. You're also not going to need a 150L duffle unless you're looking for a massive, massive, massive gear hauler.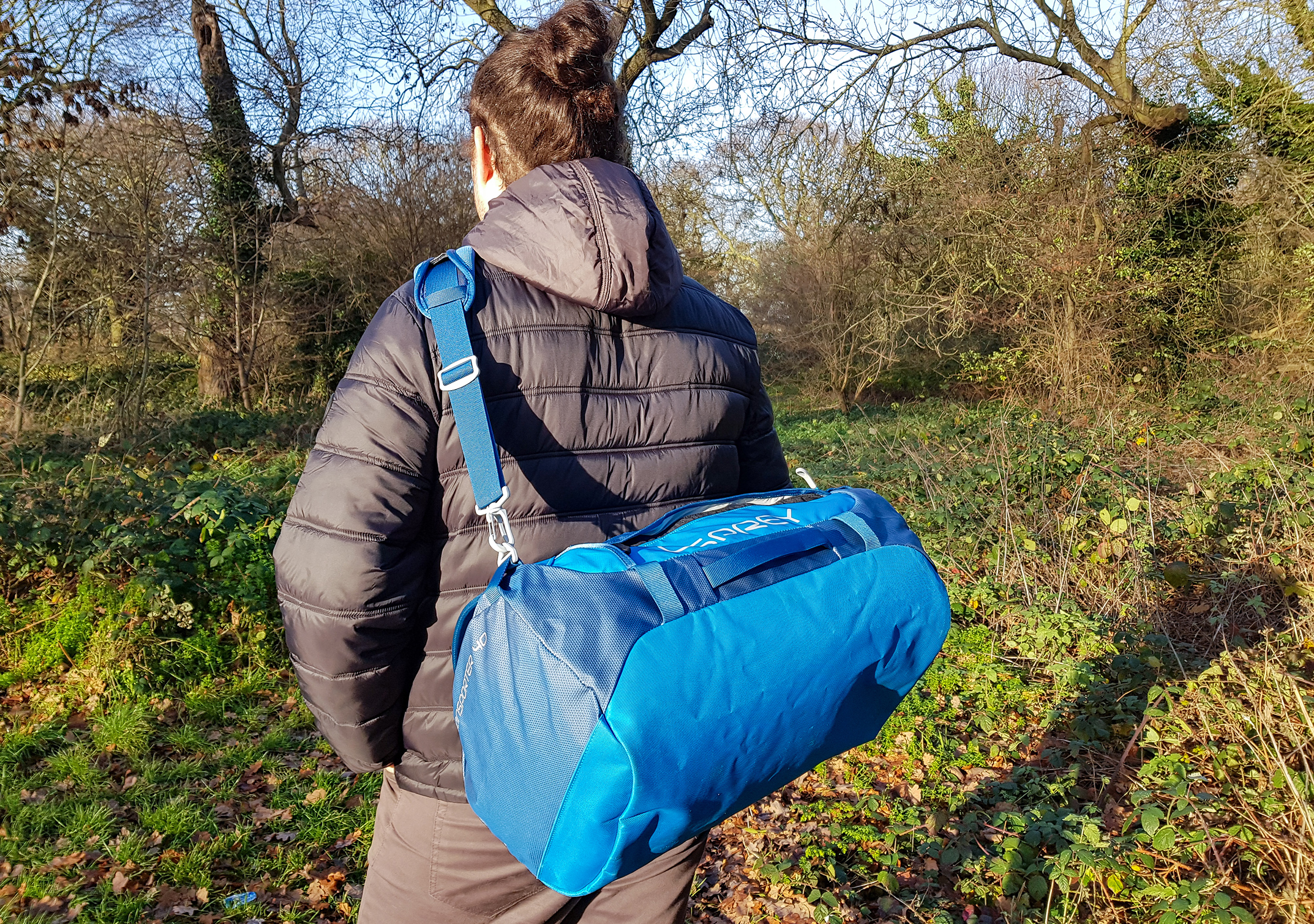 For travel, we tend to use duffle bags between 30L and 45L with the occasional 50L or 55L thrown in there when we need a bag to hold a lot of gear. Just note that around 45L, you start to get out of the carry-on compliance range for domestic flights in the U.S. Of course, your mileage may vary. We've heard stories of folks carrying on much larger bags. And, on the flip side, international airlines often have smaller allowances and stricter regulations (for both size and weight).
As far as weight is concerned—we tend to prefer the lightest duffle bag possible that doesn't sacrifice durability. Duffles get uncomfortable to carry at a lot lower weights than backpacks since they don't distribute the load between both of your shoulders and hips. (That is unless you have a duffle backpack hybrid, which we'll get into later).

At the same time, you don't want them to be flimsy since duffles get thrown around a lot. It can be a tricky thing to balance but don't panic. We'll be giving you a ton of duffle bag recommendations throughout this guide that manage to walk that line.
Some questions to ask yourself:
Do you want to use your duffle as a carry-on? If so it'll need to be appropriately sized.
How much space do you need for your stuff?
Will you be traveling with a duffle and a backpack, or do you need a duffle large enough to hold all of your gear?
How much weight can you carry?
What's your body type?
How much will you be walking?
Are aliens already among us?
What do plants crave?
Your Budget
This goes without saying, but you should consider how much money you're willing to spend. Here at Pack Hacker, we generally believe in the "buy nice or buy twice" motto. In the long run, it may make more financial sense to invest in a duffle that will last you a decade instead of continually needing to replace a cheaper one (if you have the money available, of course).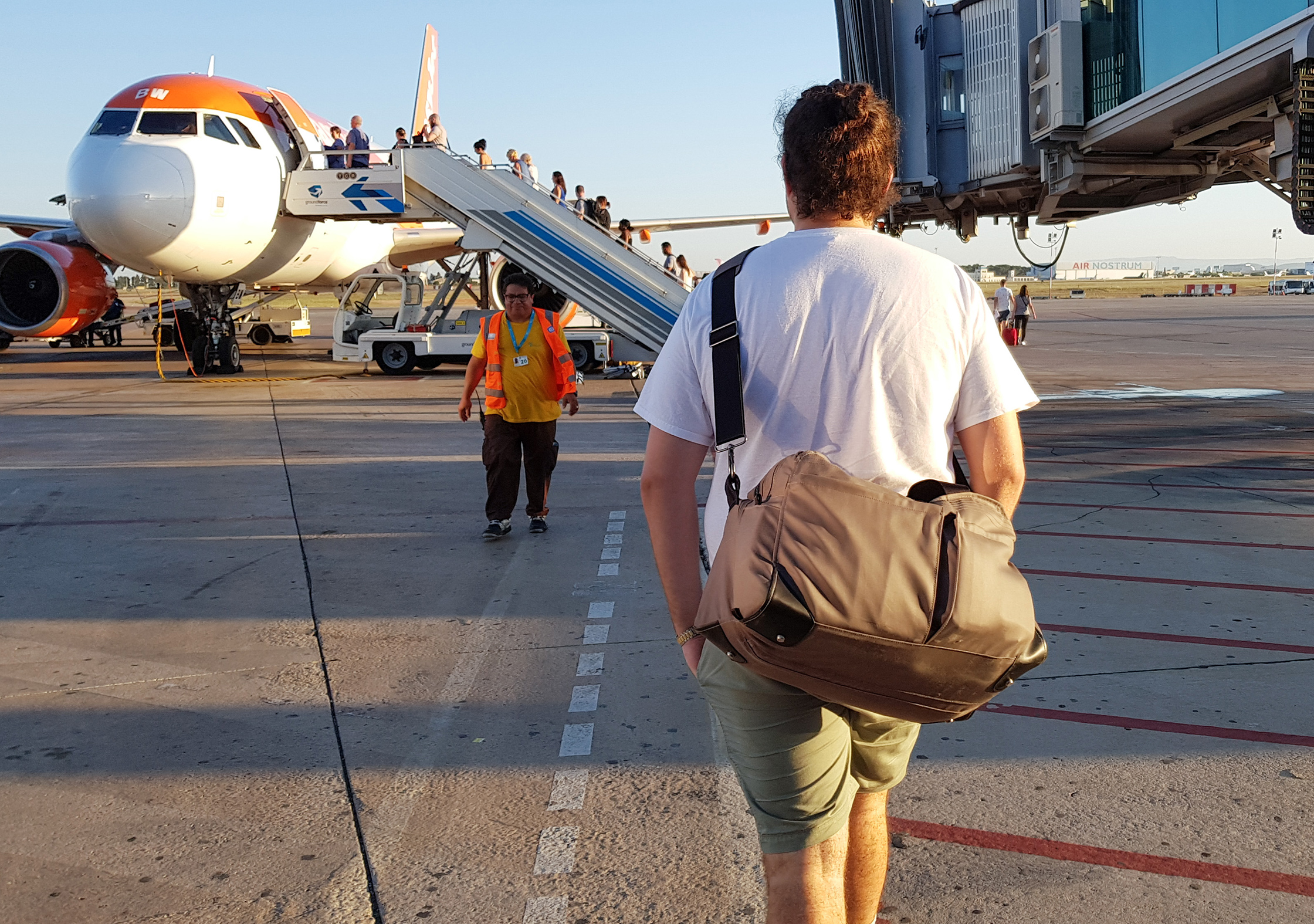 That said, high cost doesn't always mean high quality. Sometimes you're paying for brand name or style. That's what our reviews are for—to help you know if a duffle is worth the money.
How much you're planning to use your duffle also comes into play here. If you're planning to travel with your duffle bag once every other year, you won't need to spend as much as you would if you're planning to use your duffle every single day.
04

Classic
The duffle that started it all.
Save during the REI sale
Gear up for your next trip during the REI Cyber Week Sale, now through Dec. 4. Check it out →
What is a Classic Duffle?
A Classic Duffle is a duffle in its simplest form. It's the image that comes to mind when you think of a duffle—a soft-sided bag with a zippered opening down its length. The bag can be cylindrical or square, fat or skinny, or anywhere in between. And—as we alluded to earlier—these duffles come in a huge array of sizes. We suggest between 20L and 45L for carry-on travel.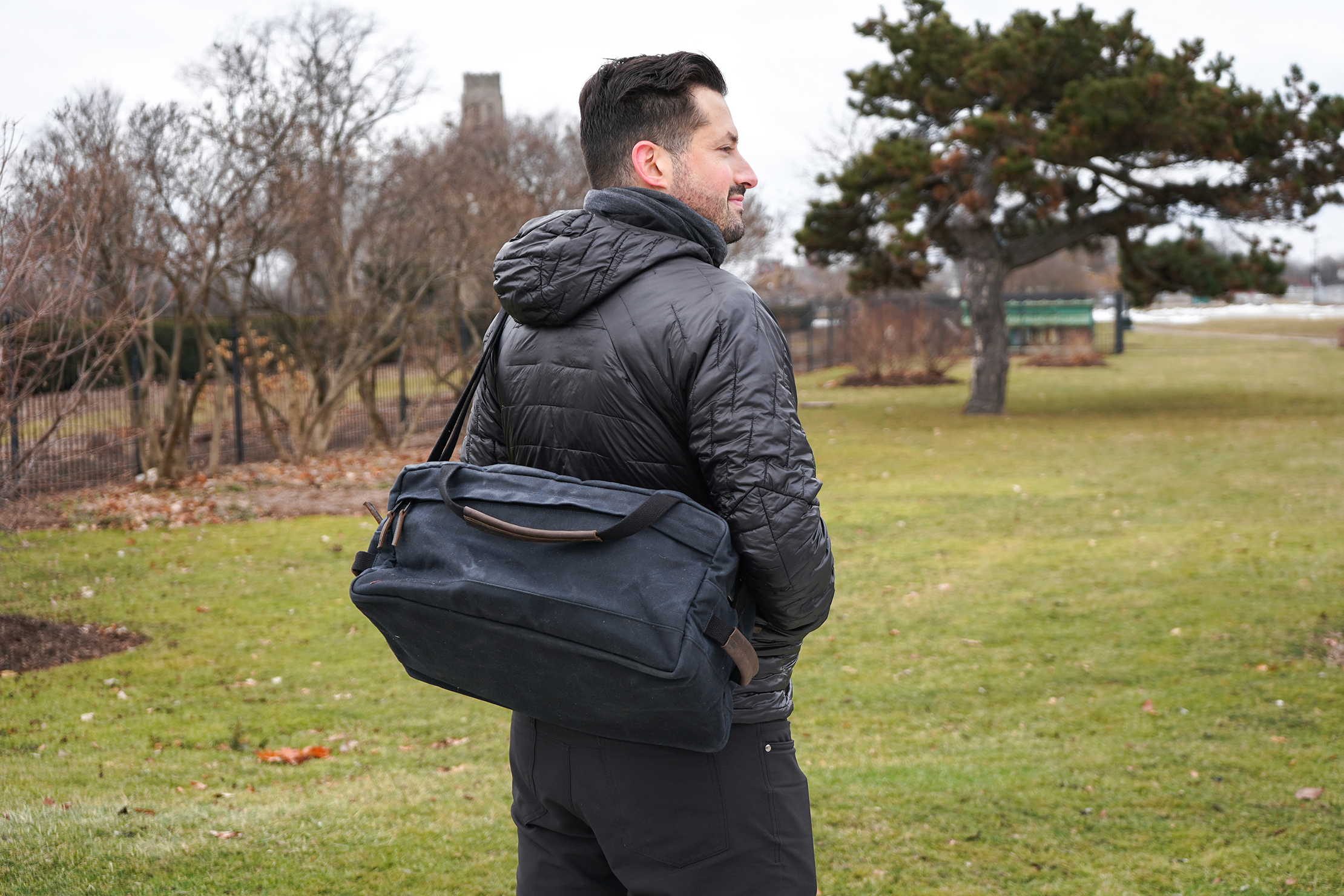 Why Classic Duffles?
There's something so nice about the simplicity of a Classic Duffle. You don't have to stress about optimizing how you pack, matching the proper gear to the proper pockets for the easiest access or most comfortable carry. You toss your stuff inside the bag, tug the zipper closed, and voila—you're packed. And if you crave organization, you can always create your own system with packing cubes and accessory pouches, not limited by the organization built into the bag.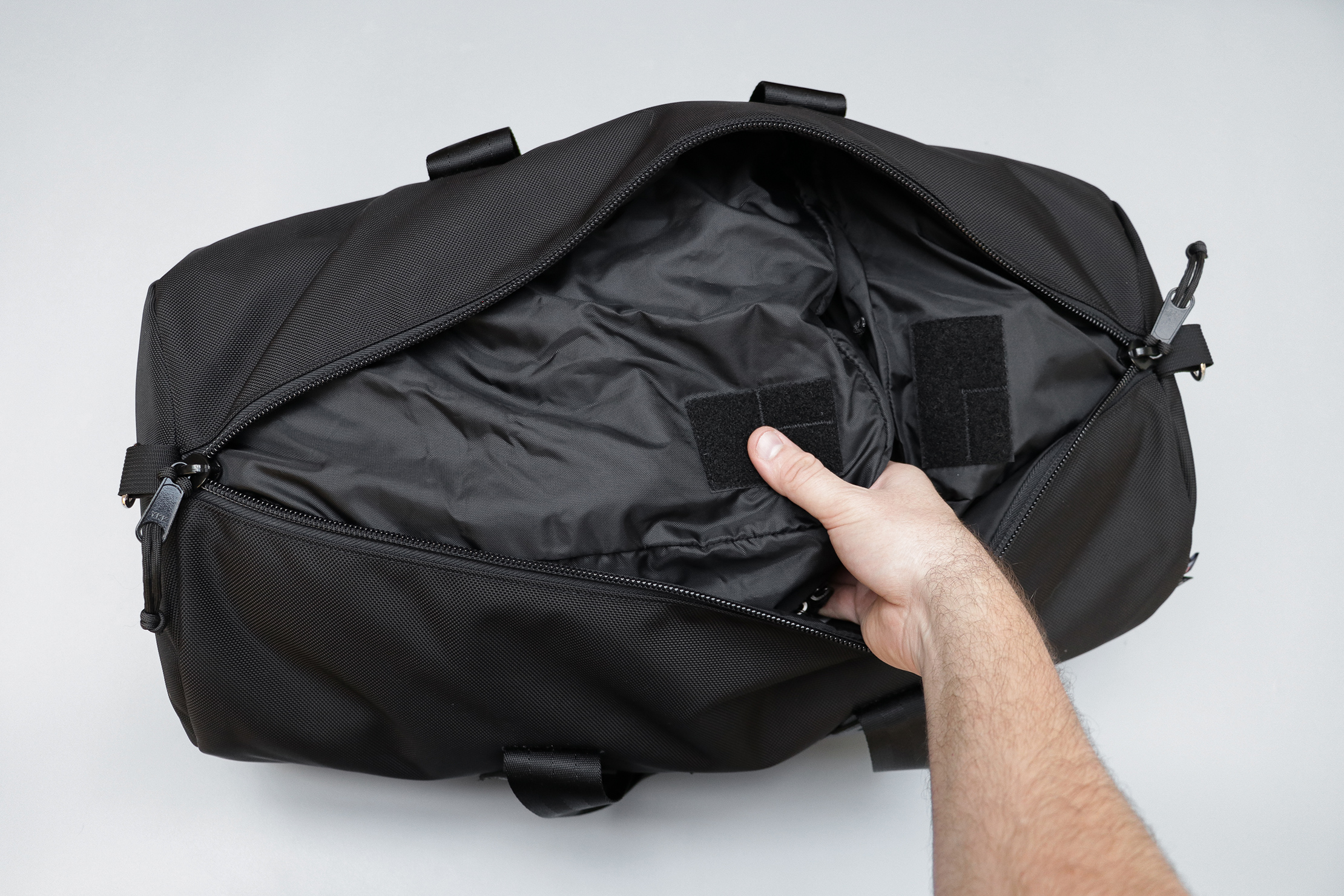 More often than not, Classic Duffles can hold a lot of stuff. We think it has something to do with the viscosity of the fabric divided by the sum of the pockets. Or it might have to do with the fact that there's usually a big ole bucket of space in the main compartment.
Simplicity also means versatility. A Classic Duffle works for road trips, beach outings, and leg days at the gym (any day at the gym, really). Of course, it also works for air travel.
You can easily use a Classic Duffle in conjunction with a backpack—organize your tech gear in your backpack and jam your duffle bag full of clothes. In the states or on longer flights, you can bring your duffle as a carry-on and backpack as a personal item. If that won't work, you can check your duffle and bring your backpack with you on the plane.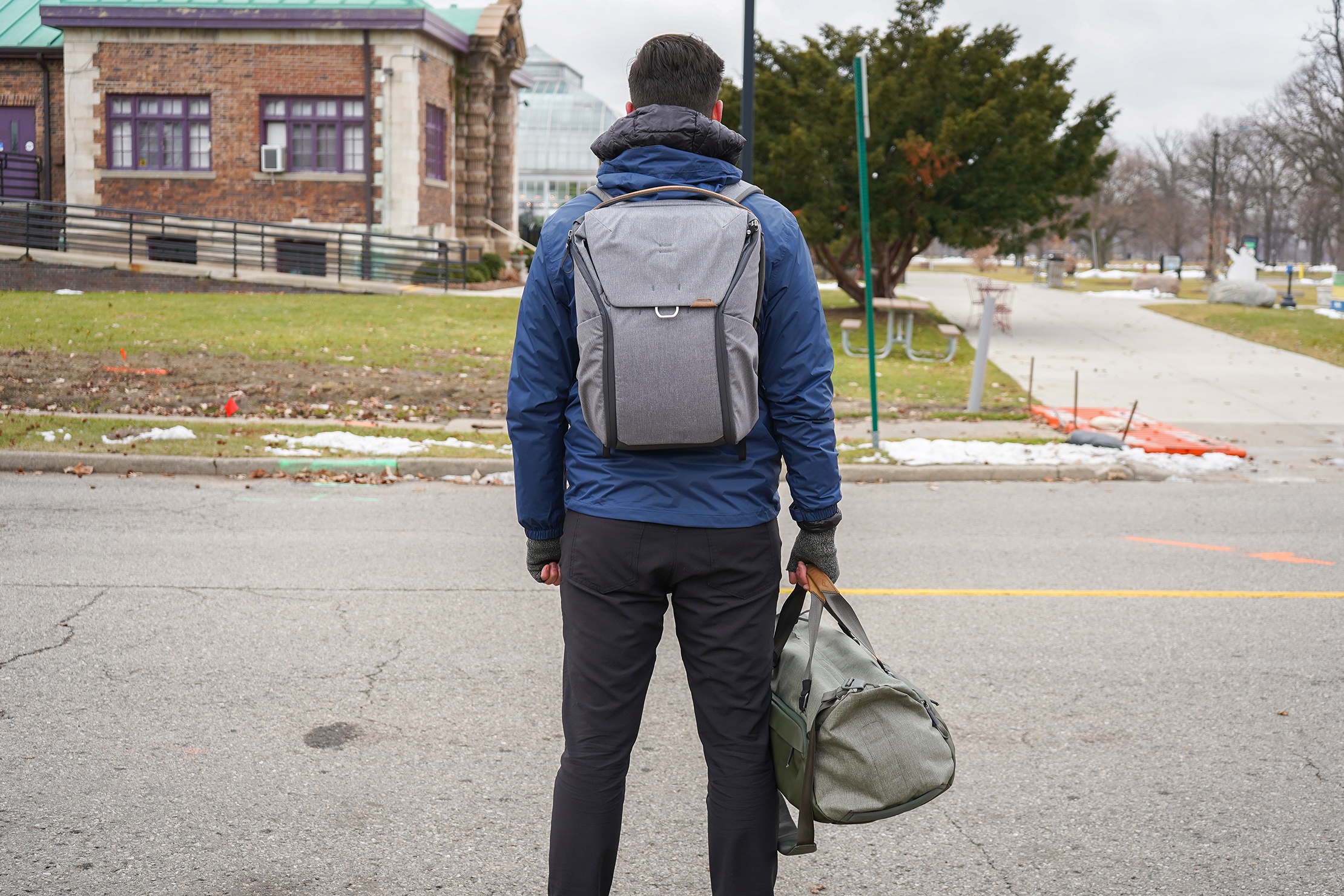 And Classic Duffles do pretty well sitting in the underbelly of a plane—unlike backpacks they don't usually have a ton of straps and buckles sticking out that can get caught on things. Plus, stacking them with roller luggage isn't exactly secure, so airline workers tend to put them on top of hard-sided luggage—meaning they'll be the first out of the plane (we have an inside source who has worked as an airline baggage handler).
How to Pick the Perfect Classic Duffle
Now that you know why you may like a Classic Duffle, we'll walk you through how to find one that will meet your needs. Before we dive in, remember that, ultimately, you need to reflect on all those considerations we mentioned in the previous section. We can tell you what's worked for us after months of testing, but you're the expert on your situation.
Profile
We prefer Classic Duffles that have more of an oblong shape than a square one. A wider, square top isn't very comfortable to carry because it sits farther away from your body when you hold it by its handles. That makes for an arm workout and an awkward shuffle. The carry handles also sit further apart from one another on a wider bag, making them difficult to grab quickly.

Your best bet is to look for a Classic Duffle that has a circular and/or slimmer profile—and this is especially true if you have smaller hands or a smaller frame.
Straps & Handles
The best carry handles attach in the center with a snap button or velcro, forming one mega-handle that's easy to grab and pleasant to hold. A mega-handle means you can pick up your duffle and go without any seconds lost to floppy handles that keep falling to opposite sides. Is it just us or do floppy handles seem to be taunting you on purpose? Really, just us…?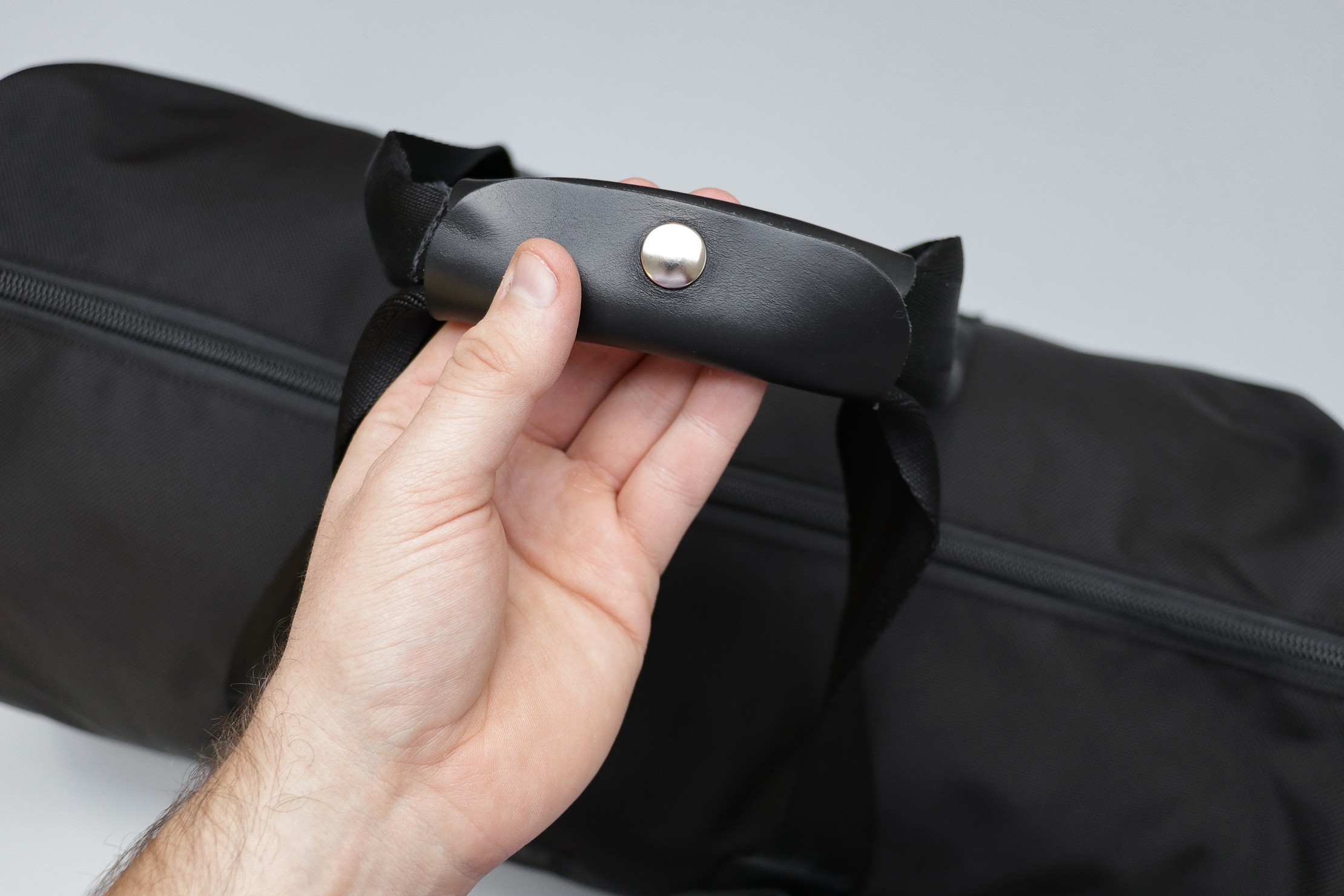 Not all Classic Duffles have an additional crossbody-style strap, but we like the ones that do. Being able to carry the bag across your body or over your shoulder while waiting to board your flight or walking to the train station is invaluable. (We've found that most crossbody straps on duffle bags are detachable, so you can take them off when you don't need them. No commitment necessary.)
As we said in the Considerations section, look for crossbody straps with thick padding that spans, if not the entire length, then most of the length of the strap. A thin nylon strap becomes uncomfortable to wear when the bag is fully loaded or you have to carry it for long stretches.

Internal Organization
We like Classic Duffles that embrace their simplicity with organization that has been designed specifically for clothes and toiletries (as opposed to tech/daily essentials). Usually, that means a couple of pockets—maybe even a couple of exterior end pockets—but nothing that majorly cuts into the space of the main compartment. If your travels involve going to the gym or hiking along dirty trails, you'll probably appreciate a duffle with a shoe compartment.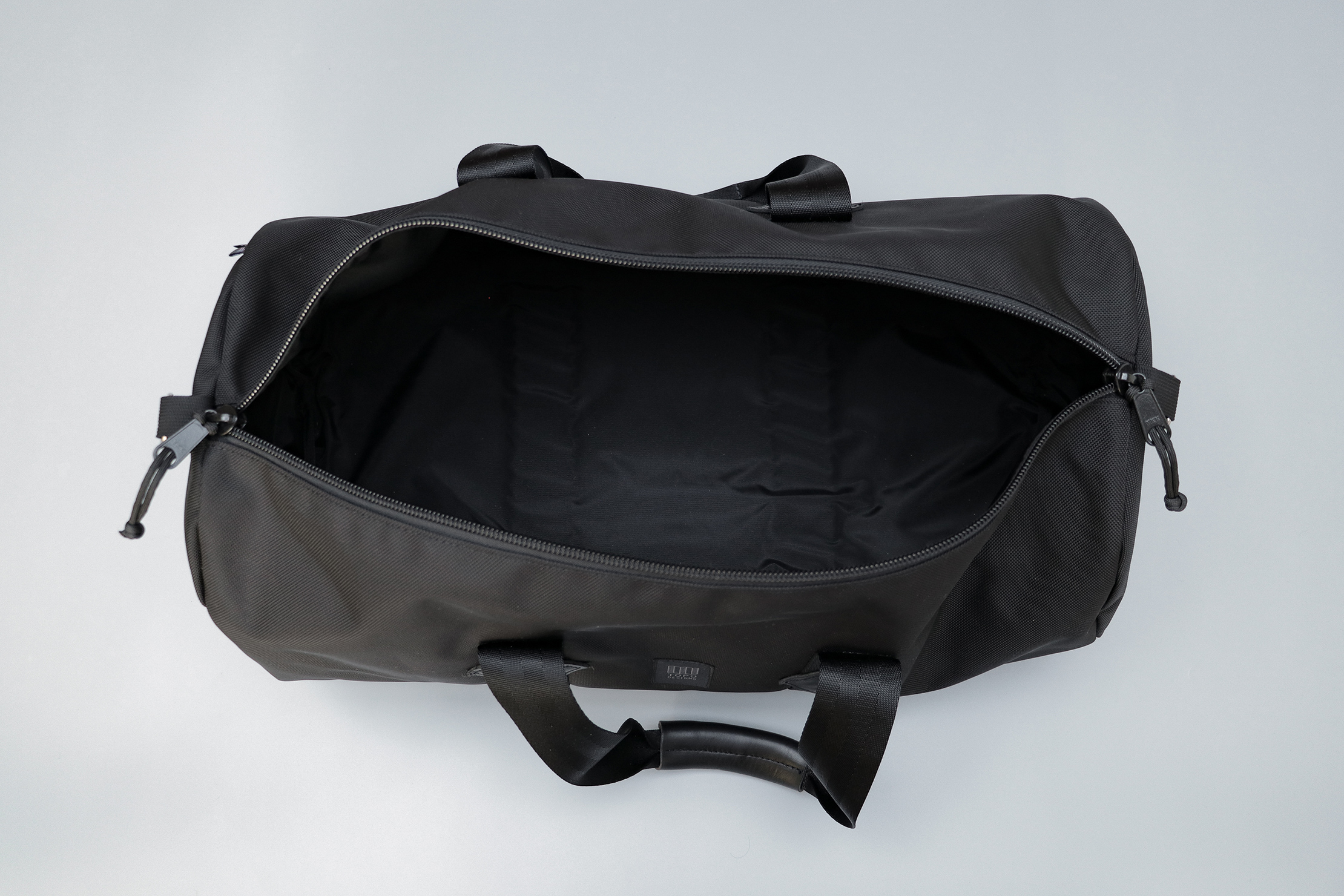 The Good
What you see is what you get (in terms of size)
Easy to pack and go
Holds a lot of stuff
Works well in conjunction with a backpack for two bag travel
The Bad
Can get uncomfortable to carry for any extended periods (especially if it's fully packed out)
You'll likely need to travel with an additional bag if you plan to bring any tech with you, including a laptop, tablet, camera, etc
Doesn't protect your stuff super well—you have to be careful what you pack
Recommendations
05

Hybrid
Is it a backpack? A duffle? No, it's a buffle!
Save during the REI sale
Gear up for your next trip during the REI Cyber Week Sale, now through Dec. 4. Check it out →
What is a Duffle Backpack Hybrid?
A Duffle Backpack—or Hybrid Duffle, as we call them around HQ—is a pack that's attempting to be both a backpack and a duffle (buffle? duffpack?…Definitely buffle). Most of the time, buffles skew one way or another—they're either a backpack first or a duffle first. You can get an idea by looking at the shape of the pack and the orientation of its organization. In this guide, we'll be focused on packs that are primarily duffle bags with backpack straps.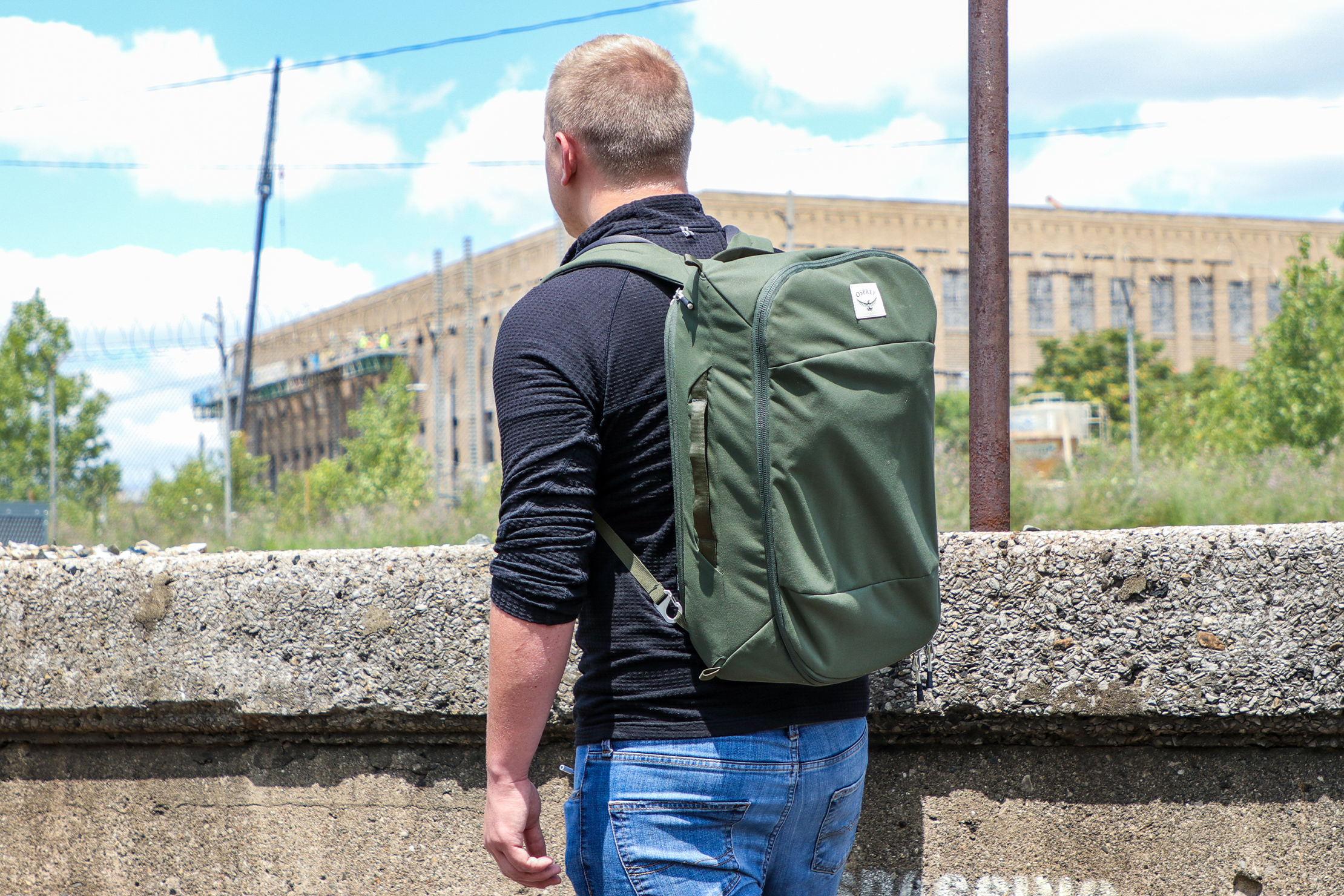 Why Duffle Backpacks?
We like the idea of buffles because they're versatile. You get the benefits of a duffle—simplicity, durability, space—while being able to carry it as a backpack when you find yourself having to walk far. This comes in handy when you're going from the airport to your hostel or just walking across the terminal. But, we're going to be straight with you—while buffles are increasing in popularity, we find they're extremely difficult to do right.
Usually, these packs end up being mediocre as both a backpack and a duffle, instead of excelling at one or the other. In general, we prefer to have an exceptional backpack or an exceptional duffle bag.

One day a company may crack the elusive buffle. We live in a time with fancy canned wine, so anything's possible. Until then, we recommend picking either a duffle bag or a backpack. We have a guide to help you out with that one too.
That all said, if you understand the risks and are still dying to have a Hybrid Duffle because you hate backpacks, but walk enough you would appreciate a backpack style of carry every once in a while, we'll walk you through what you should look for.
How to Pick the Perfect Hybrid Duffle:
Profile
Similar to a Classic Duffle, a slimmer profile is better for Hybrid Duffles. Not only because the handles are closer together for an easier carry in duffle mode, but a slimmer pack will also sit nicely against your back when converted to backpack mode.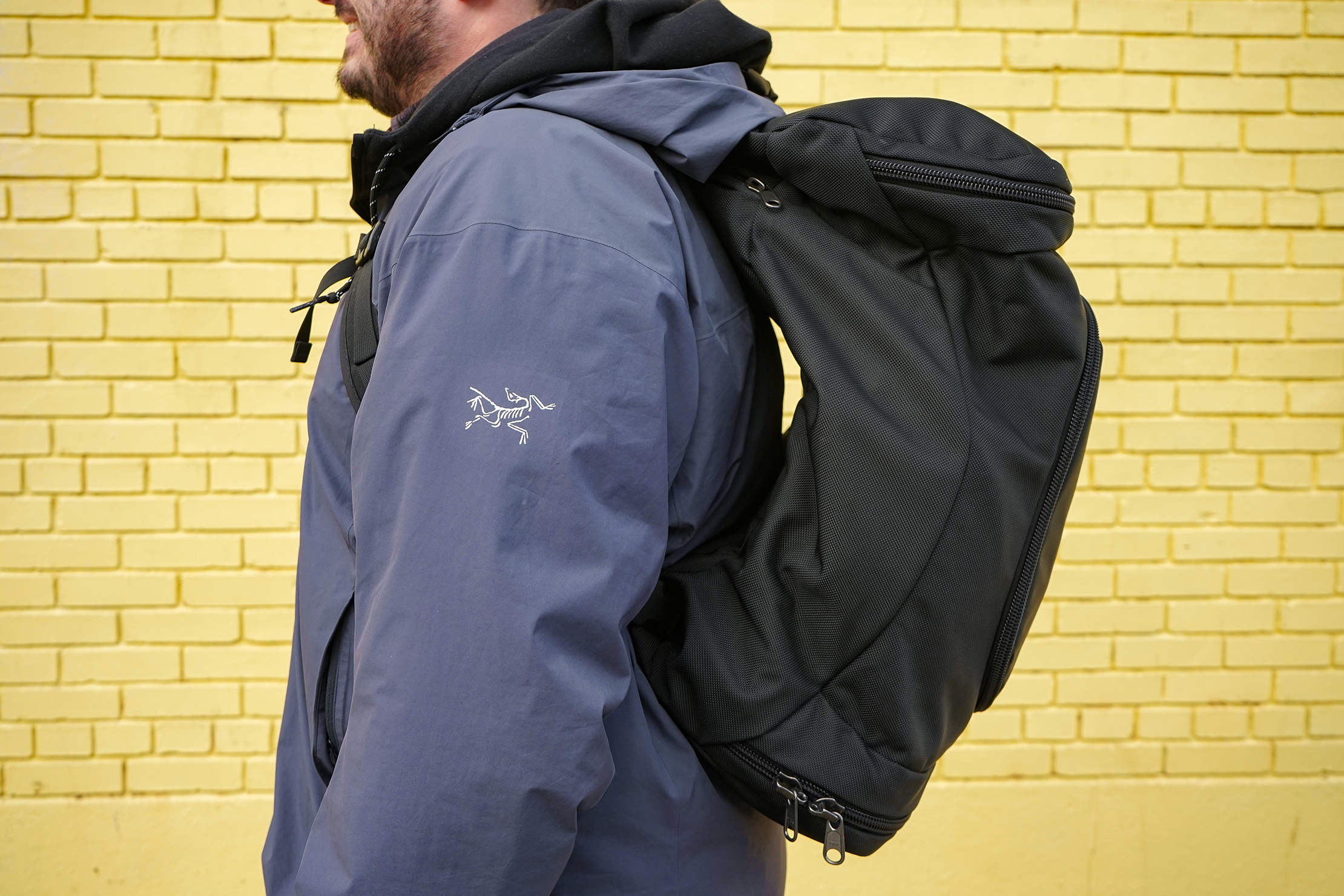 Since duffle bags usually lack the structure typical for backpacks, buffles tend to slouch against your back in backpack mode. Some more so than others. If you're planning to use your buffle in backpack mode semi-frequently, look for a pack with a bit more structure.
You can also add structure by packing strategically. We're going to assume that you'll be packing the bag when it's in duffle mode (which will usually be the case for a Hybrid), but think about where your gear will end up when you wear your bag as a backpack. Pack the heavier stuff so it's as close to your back as possible. Also, put flat items against your back to prevent anything poking into you—packing cubes are a great way to flatten out traditionally un-flat items like clothes—and keep the bag fully packed out so it retains its shape.
Straps & Handles
Buffle handles are where things can get weird. Often, the handles are supposed to work as both carry handles and backpack straps. And, often, these two-for-one handles fail at both.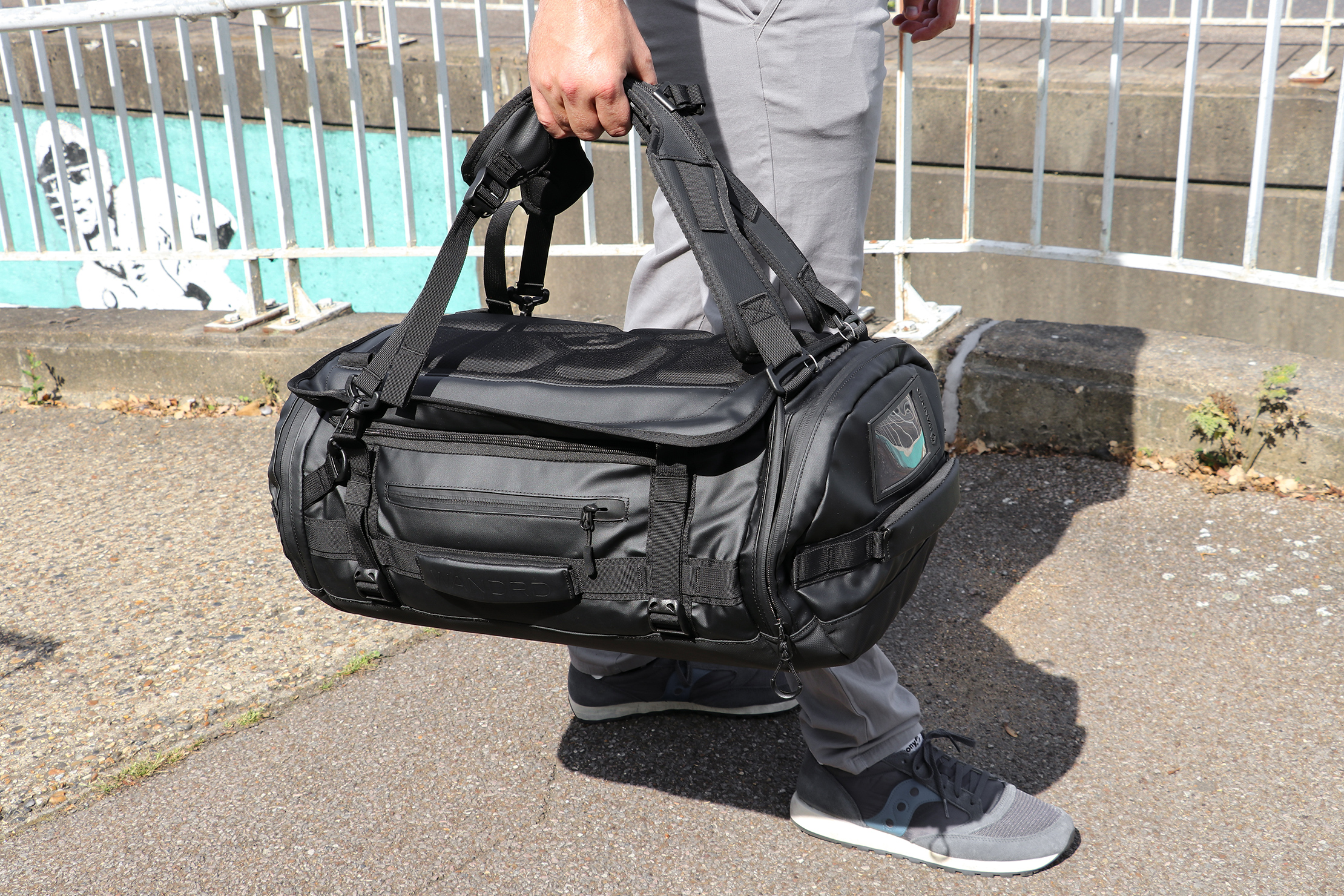 Look for handles that taper in at their center—this will make them easier to grab and hold. If they're not tapered, the experience of holding the handles will be akin to carrying a backpack by its shoulder straps, which is pretty unpleasant (unless you have massive hands). You'll also want a little bit of padding for a comfortable backpack carry.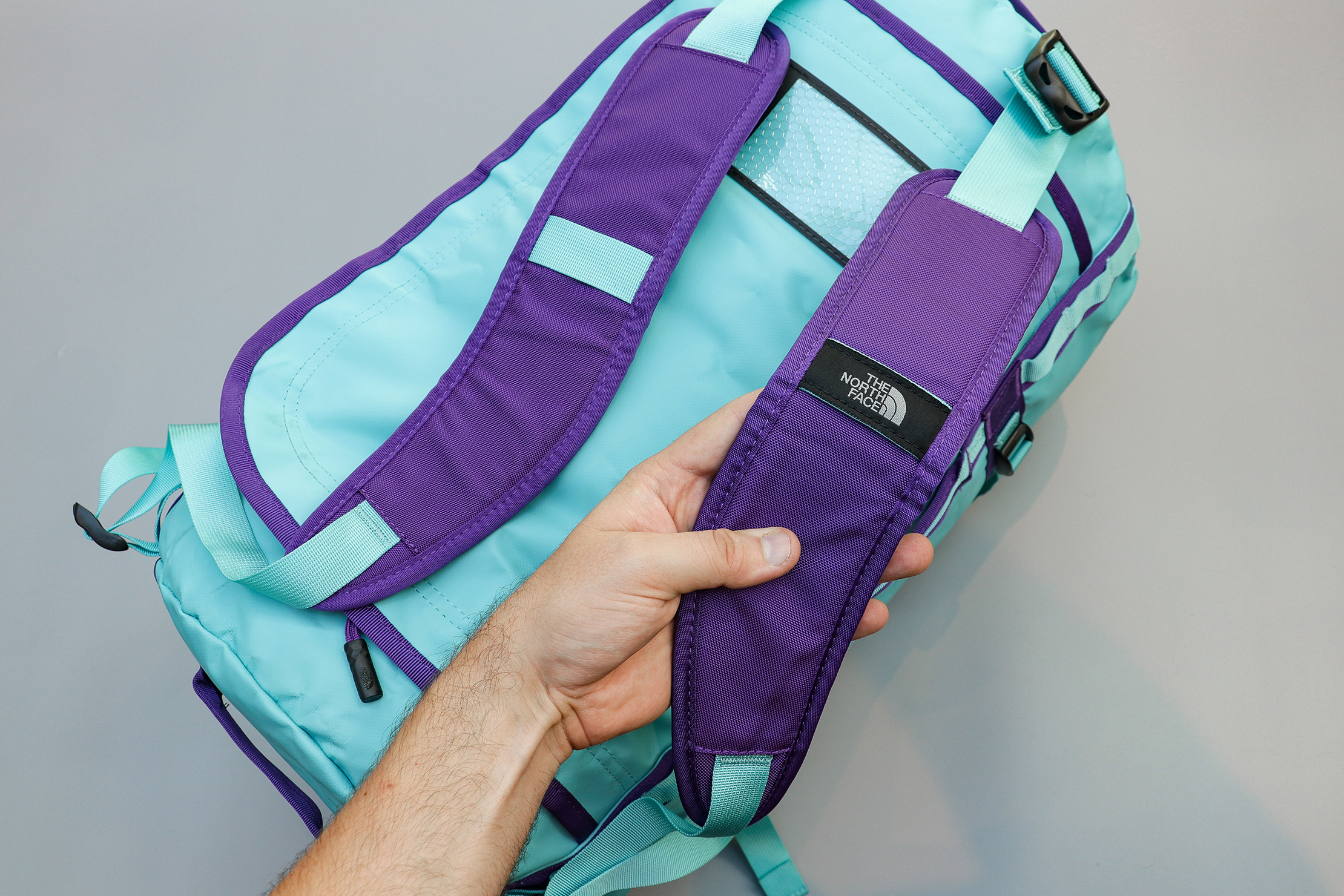 There are some Hybrid Duffles out there that, instead of having carry handles that also act as backpack straps, have separate backpack straps that either detach or tuck into the back panel when not in use. Usually, this means that the quality of the backpack straps and handles are better. But it takes time to switch between duffle mode and backpack mode. You can't just throw the buffle on your shoulders when the handles start to get uncomfortable.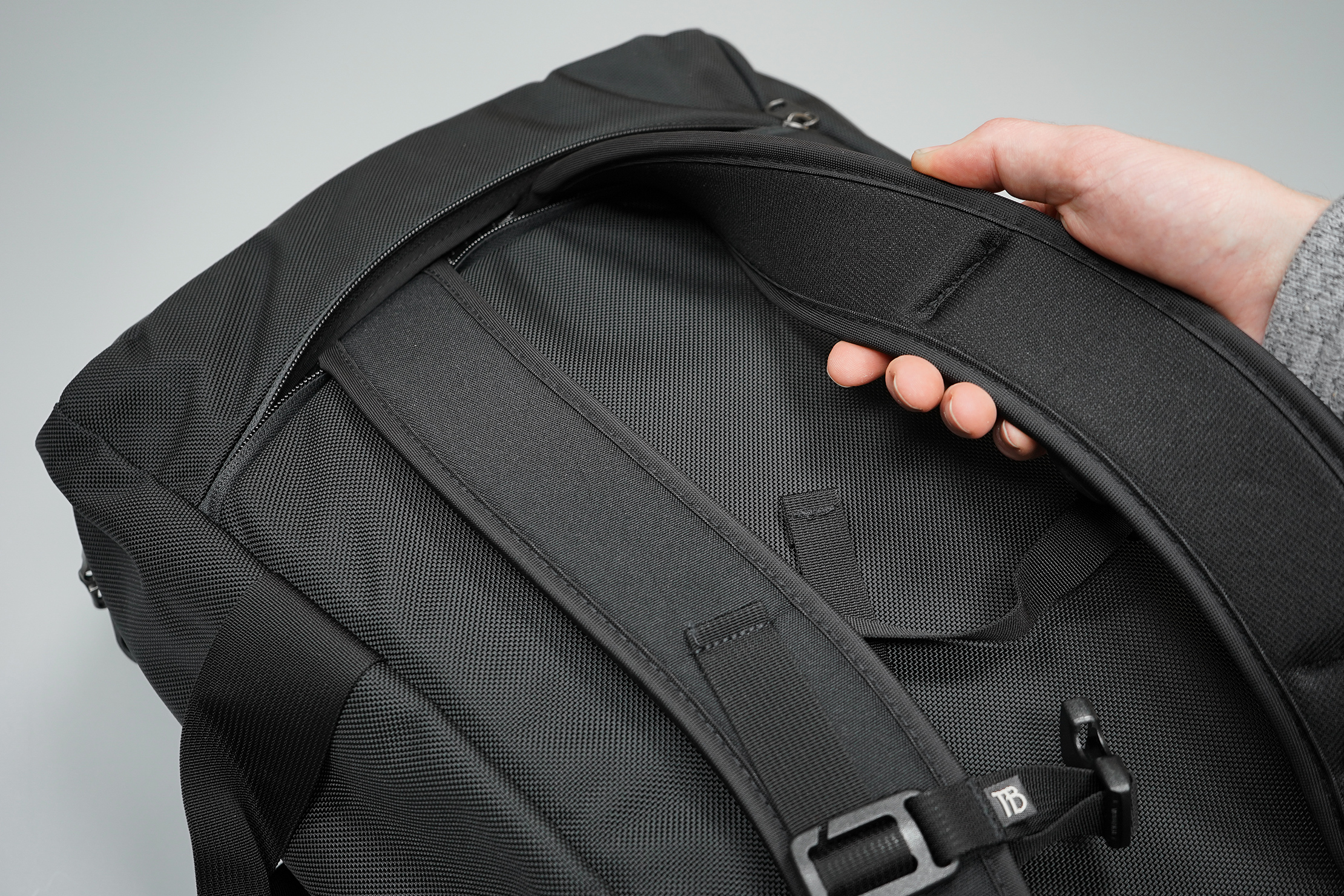 What you'll prefer comes down to your use case. If you think you'll be continually switching between backpack and duffle mode, you'll want handles that pull double-duty. If you think you'll primarily be using your buffle as a duffle—with an occasional need for backpack straps—you'll want to look for detachable/stowaway backpack straps.
One final note here is that you won't frequently find a crossbody strap on a buffle. This can get annoying, particularly on those buffles with separate backpack straps. Carrying a duffle by its handles for more than five to ten minutes (depending on your hand strength and size, as well as the weight of the bag) tends to get unpleasant. And, sometimes, you don't have the time to stop what you're doing and switch it into backpack mode. You've got flights to catch, legs to work out, and beaches to lay upon, after all.
Interior Organization
First of all, look at the orientation of the pockets. Some buffles have vertical pockets that work best in backpack mode, but most have horizontal pockets designed with the duffle carry in mind.

Problems arise when the pockets don't have secure openings—with a zipper, buckle, velcro, or, at the very least, some elasticity. If the pockets are open, your stuff will likely fall all over the place when you're swapping carry modes. If you thrive in chaos then this may be a plus. Otherwise, it gets old pretty quick.
Backpack-specific Considerations
It's rare to find a Hybrid Duffle with a decent back panel. In fact, it appears that most companies don't put much thought into it at all—which makes us appreciate those that do. If you're planning to use your buffle as a backpack frequently, definitely pay attention to the back panel and look for one that has padding and air channels.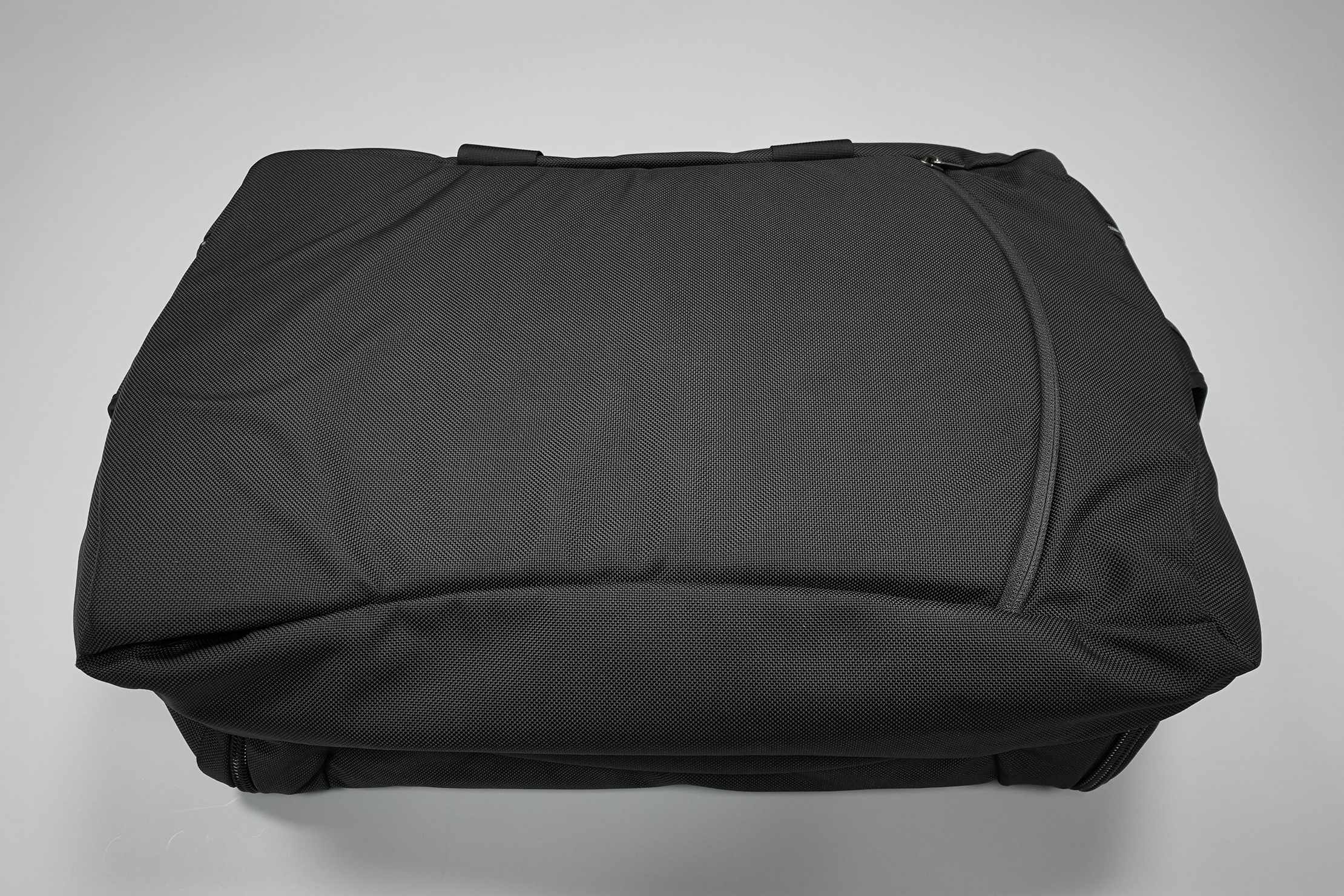 Also, any pack with an interior capacity of 30L or greater should have an option for a hip belt, so all the weight doesn't have to dump into your shoulders.
The Good
The spacious interior of a duffle with a backpack's comfortable carry (at least in theory)
Versatile mode of carry
More affordable than buying both a quality backpack and a duffle
The Bad
Difficult to pull off—usually ends up being a mediocre backpack and a mediocre duffle bag
Typically, the back panel is not well-thought-out
The straps tend to either be good backpack straps or good carry handles, but rarely excel at both (and sometimes fail at both)
Recommendations
06

Digital
Redefining the Classic Duffle for a tech-hungry world.
Save during the REI sale
Gear up for your next trip during the REI Cyber Week Sale, now through Dec. 4. Check it out →
What is a Digital Duffle?
We're going to pull back the curtain for a second and let you inside the Pack Hacker headquarters. Oh-so-long ago when the team sat down with dozens of duffles, separating them into what later became the categories you've been reading about, we struggled with naming the style of duffle bag designed to hold your tech—laptops, tablets, camera equipment, dongles, cords, chargers, keyboards, batteries, headphones, etc.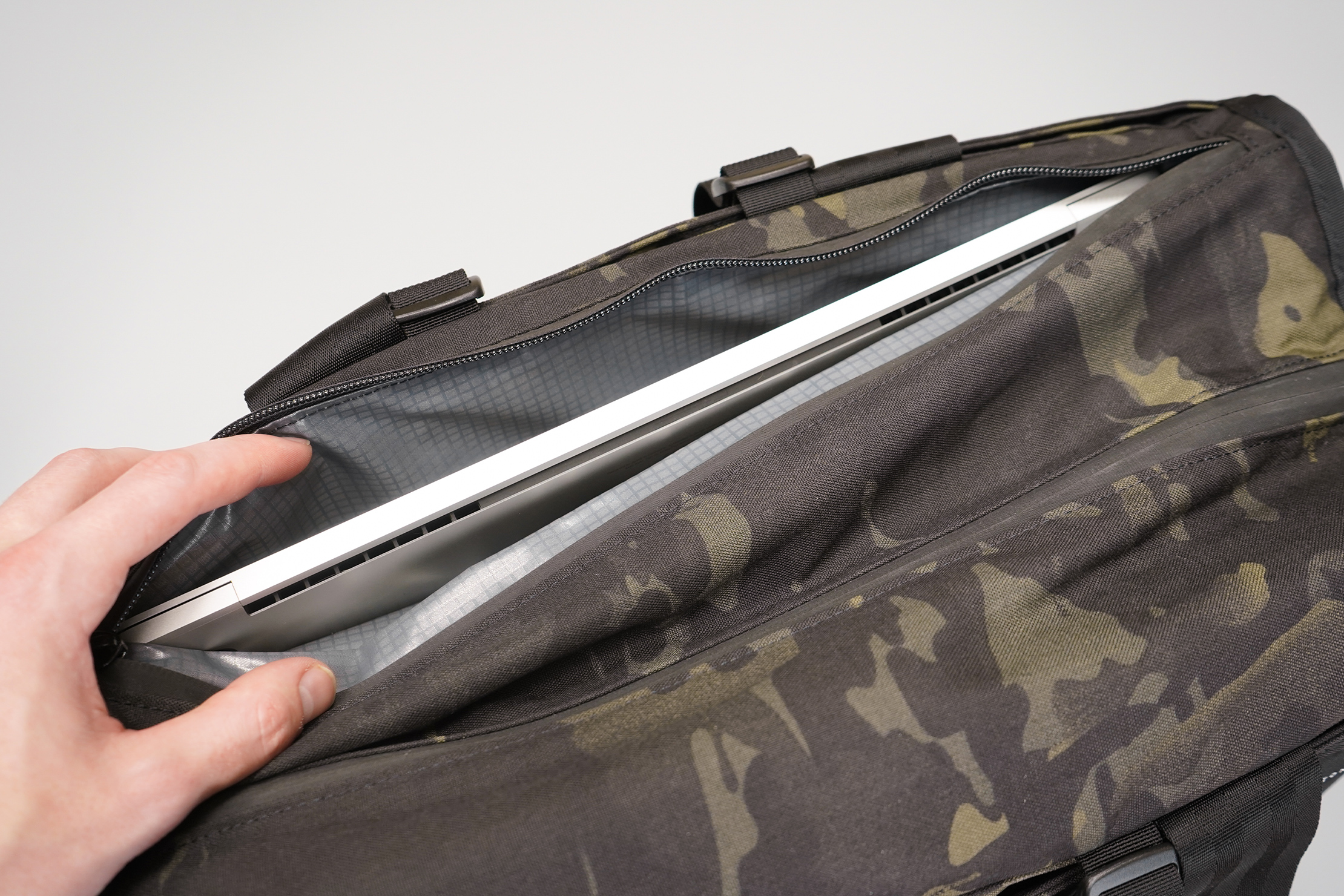 We threw around Tech Duffle but decided that described a technical duffle—you know, one with high-tech materials that looks like it belongs in the Matrix universe. Laptop Duffle seems to be the accepted term, but it feels too limiting. Classic Duffle 2.0 was also a contender at one point but wasn't limiting enough.
So we invented the term "Digital Duffle" because these duffle bags are designed to hold all of your tech gear (not just your laptop) and because alliteration (duh).

A Digital Duffle has a ton of organization going on, including a compartment for your laptop. And these duffles tend to skew smaller—think carry-on sized.
They also tend to have a sophisticated aesthetic, looking almost messenger bag-esque.
Why Digital Duffles?
We're (obviously) huge fans of backpacks here, but we're aware of how they can come across in a business meeting. Especially one that you've flown halfway across the country (or world) for! A sharp messenger bag would probably work better than a duffle for business purposes, but sometimes you have to walk off the plane and into the office which means bringing your travel bag with you.

But aesthetic isn't the only reason to choose a Digital Duffle. You'll want to opt for one if you're using a duffle bag as the only luggage you're traveling with—and you travel with tech. (A Classic Duffle would work for one-bag travel if you only need to pack clothes and toiletries.)
A Digital Duffle also works for two-bag travel. Use it in conjunction with rolling luggage—using the rolling luggage for your clothes and toiletries—or with a backpack, leaving your duffle and laptop in the hotel and using your backpack while out exploring the world.
How to Pick the Perfect Digital Duffle:
Profile
As always, we recommend going for a slimmer profile to achieve a comfortable carry. This can be particularly important for a Digital Duffle since you'll likely carry it in briefcase mode semi-frequently.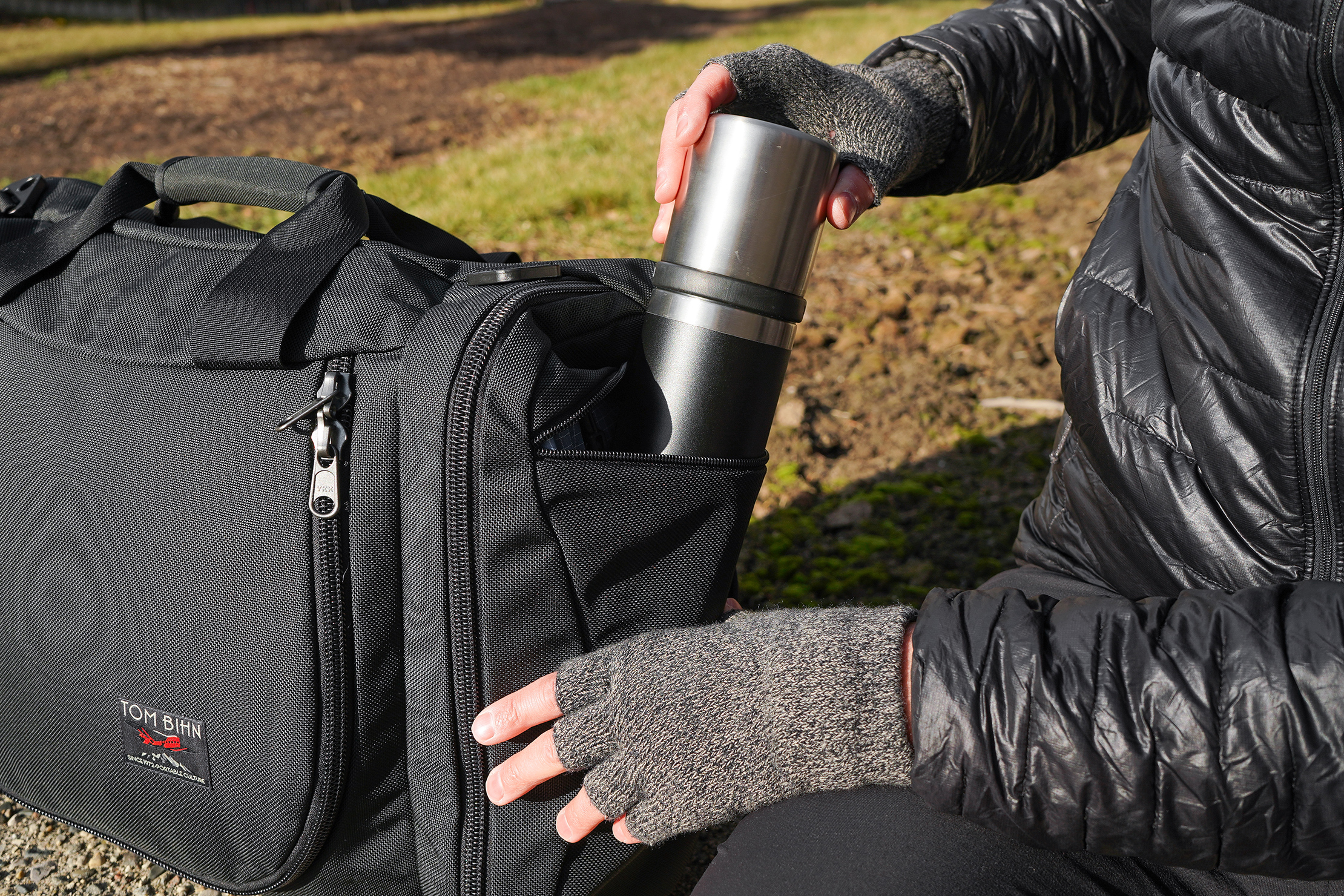 Also, look for structure. Rigidity will help to keep your expensive tech safe and organized.
Straps & Handles
The ideal straps and handles on a Digital Duffle are the same as the ideal straps and handles on a Classic Duffle. Look for carry handles that attach in the center with a snap button or velcro, and a crossbody strap that has plenty of padding.
Some Digital Duffles have a single, centered grab handle, which also works just fine.
Interior Organization
You're trusting this duffle bag to hold expensive, valuable equipment, so make sure it's worthy of that trust. Any pockets that are specifically designed for tech—like a laptop or tablet sleeve—should have plenty of padding. And a false bottom on a laptop compartment is always appreciated. (A false bottom suspends your laptop, so it won't crash against the ground if you accidentally drop your duffle bag a little too hard.)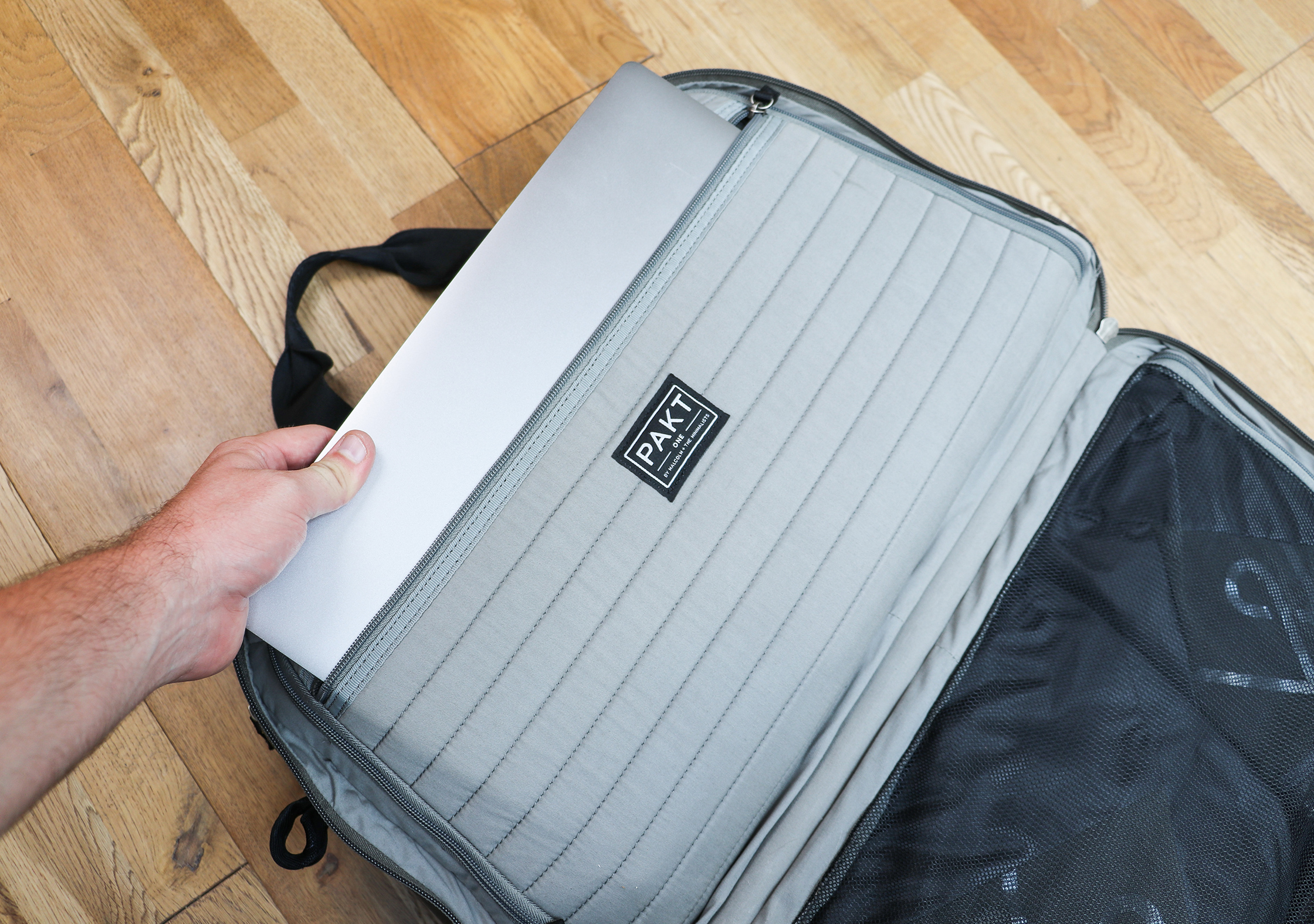 Also, look for lots of pockets that will hold all those random bits and bobs—dongles, chargers, or pens if you're a little more old-fashioned.
While not technically "interior organization"—although related to it—we want to note that lockable zippers can add some great peace-of-mind, allowing you to completely secure your duffle and the valuable stuff inside of it.
The Good
Sophisticated aesthetic
Walk from the plane into a business meeting
Great organization if you need more than offered on a Classic Duffle
The Bad
Not as convenient as a backpack
Can get uncomfortable to carry
Not always available in larger sizes
Recommendations
07

Roller
If rolling luggage and a duffle bag had a baby.
Save during the REI sale
Gear up for your next trip during the REI Cyber Week Sale, now through Dec. 4. Check it out →
What Is A Rolling Duffle?
A Rolling Duffle is easy to define—it's a duffle bag with wheels…so we're done here. Let's jump on into the next section.
Kidding, kidding. Of course, we have plenty more to say.
Almost all of the well-known duffle bag makers—Patagonia, Osprey, The North Face, Arc'teryx, and so on—offer a rolling version of their duffles. They tend to skew large, but you can find some that are carry-on approved.
Why Rolling Duffles?
Like hard-sided rolling luggage, rolling duffles are great when you can't or don't want to bear weight on your shoulders. At the same time, you still have all the benefits of duffle bags—a spacious interior, flexible frame, and squishability. This squishability means that, unlike hard-sided luggage, you can squish roller duffles into overhead bins, your tiny Airbnb closet, or the trunk of your rental car. They also tend to take up less space in your house whenever you're not traveling.

The soft sides are also forgiving, allowing you to cram a ton of stuff or awkwardly shaped items inside the compartments.
Usually, they still have the option for duffle carry with handles, a crossbody strap, and sometimes even backpack straps. That means you can carry or maneuver the bags over uneven/difficult terrain. You won't have to be that person huffing and puffing as you attempt to drag your suitcase across sandy beaches or cobblestone streets. No one wants to be that person.
How to Pick the Perfect Rolling Duffle:
Profile
We've said it three times and we'll say it again—a duffle with a streamlined body will treat you better. The bulkier the duffle the more it tends to flop about, twisting around or slumping forward as you walk. Structure helps here too, particularly on the bottom side of the bag (look for one with a frame sheet).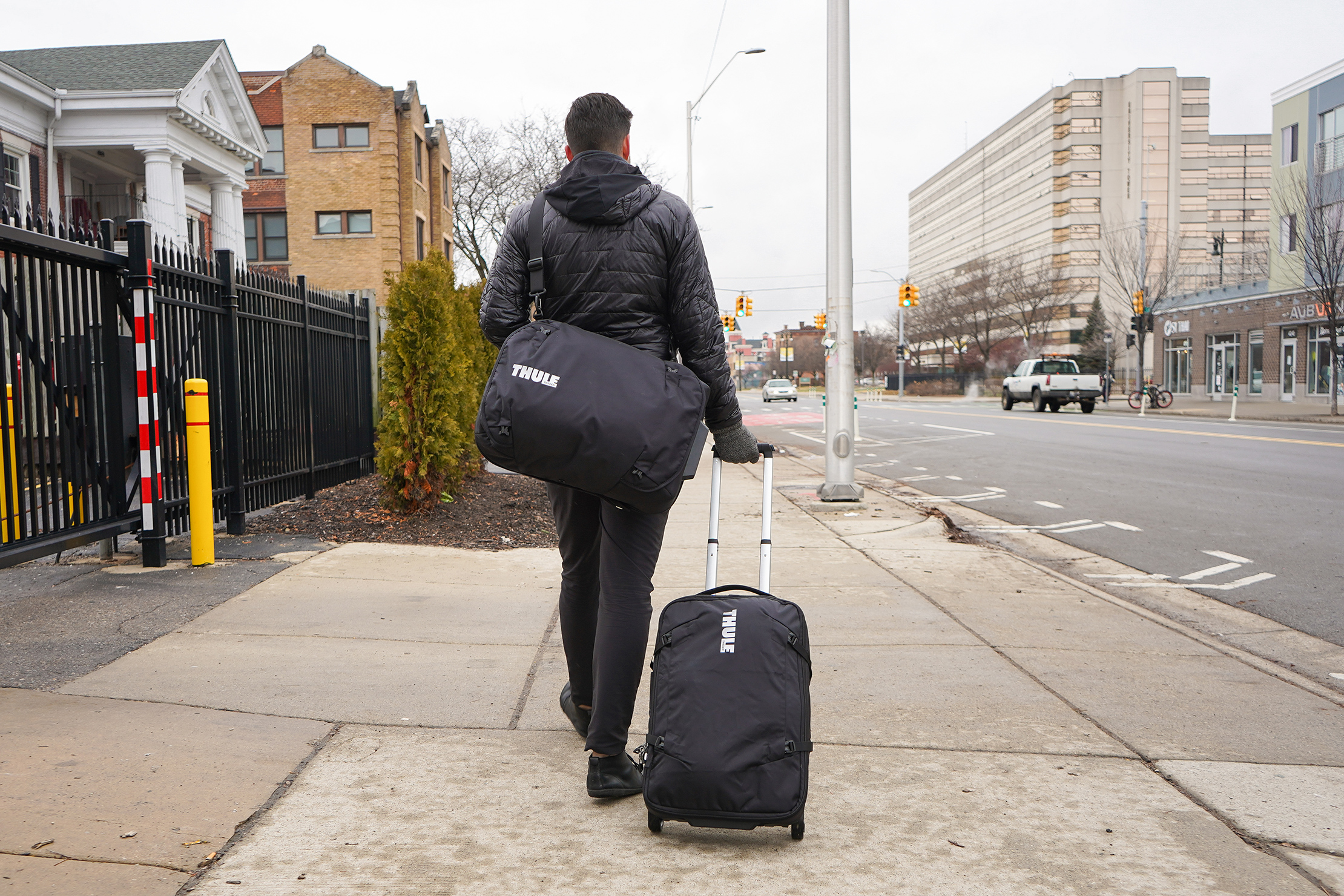 More than with other duffle styles, it's important to consider your height here. If you're short, you're not going to want a duffle with a tall body, which may feel awkward or be difficult for you to maneuver. If you're tall, you're not going to want a duffle with a short body, which will destroy your back and ankles.
Straps & Handles
Look for a telescopic handle (those hard, elongate-able—not a word, but you know what we mean—handles you see on hard-sided rolling luggage). Wheeling around a Rolling Duffle with a handle that's sewn to the bag is not great for everyone and basically impossible if you're tall—the body of the bag will twist and the wheels will bite your ankles.

And, once again, consider your height. Your goal is to find a handle that hits at your waist. The more adjustable the telescopic handle, the better it will be for people of all heights.
A Rolling Duffle with those traditional duffle straps or handles is a bonus, as it allows you to carry the pack in duffle-mode those times when having wheels is not ideal—stairs, snow, sand, soil, snake sanctuaries (just trying to stick with the "s" theme).
Interior organization
This purely comes down to personal preference. You can find Rolling Duffles with a ton of organization—in the style of a Digital Duffle—or ones that are essentially one big bucket a la Classic Duffles.
Wheels
Make sure you pay attention to the quality and size of the wheels. Your use case matters here too. If you're planning on using a Rolling Duffle camping or during outdoor adventures, the wheels need to be hardy enough to go over mud/dirt/trails. When we say hardy we're talking about toughness, but also size. Larger wheels tend to do better over different types of terrain. If you'll primarily be wheeling your duffle through the airport and from your Uber to your hotel, you don't have to go so robust.
The Good
A great choice if you can't carry weight on your shoulders
Easy to roll through the airport
Stores better than hard-sided suitcases
The Bad
The wheels and telescopic handle add bulk/weight
More difficult to navigate uneven terrain than a backpack or regular duffle—although typically easier than roller luggage to carry
Certain models can be difficult to wheel, particularly when not packed out, as they twist around or slump forward as you're walking
Recommendations
08

Alternate
But wait, there's more.
Save during the REI sale
Gear up for your next trip during the REI Cyber Week Sale, now through Dec. 4. Check it out →
What Other Styles of Duffle are There?
So there you have it—the four most popular styles of duffle bags. But we live in an era where there are 30+ flavors of Pop-Tarts, so you know there are duffle styles that go even deeper. Styles that fill specific niches in the market.
Let's check some of them out.
Packable
You can probably guess what a Packable Duffle is from its name. Yes, it's packable (we knew you could guess it, you genius you). To get more specific, Packable Duffles are built with thin and lightweight materials, allowing you to compress them into tiny packages. We're talking approximately the size of a soda can. They typically either pack into their pocket or a separate pouch.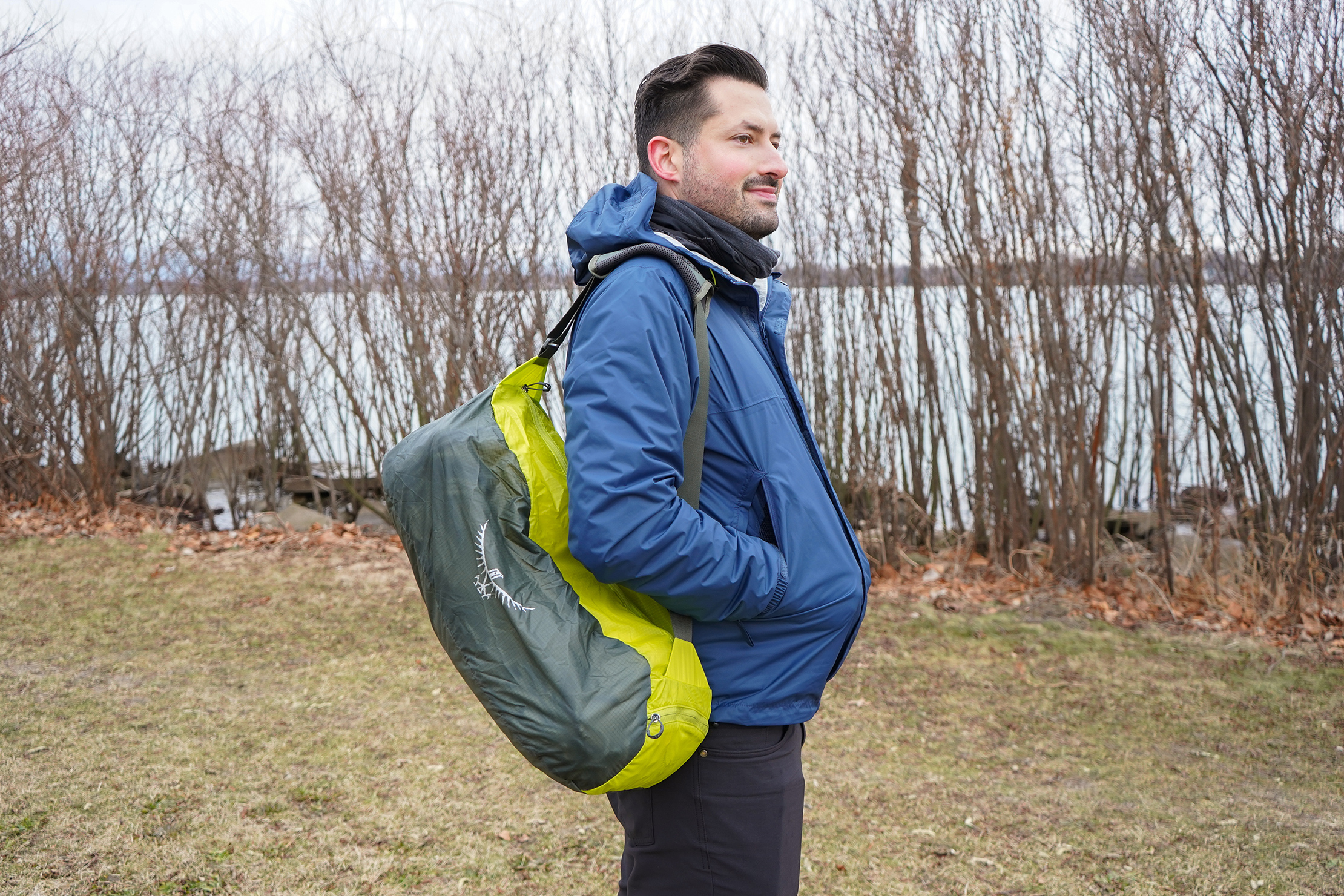 Usually, there's not much else going on with Packable Duffles. No fancy carry modes or organization—their primary purpose is to compress as small as possible.
Now, you'll find that some companies advertise a duffle as packable because it has a carrying case—but if it will take up a significant amount of space in your luggage we don't consider it a Packable Duffle.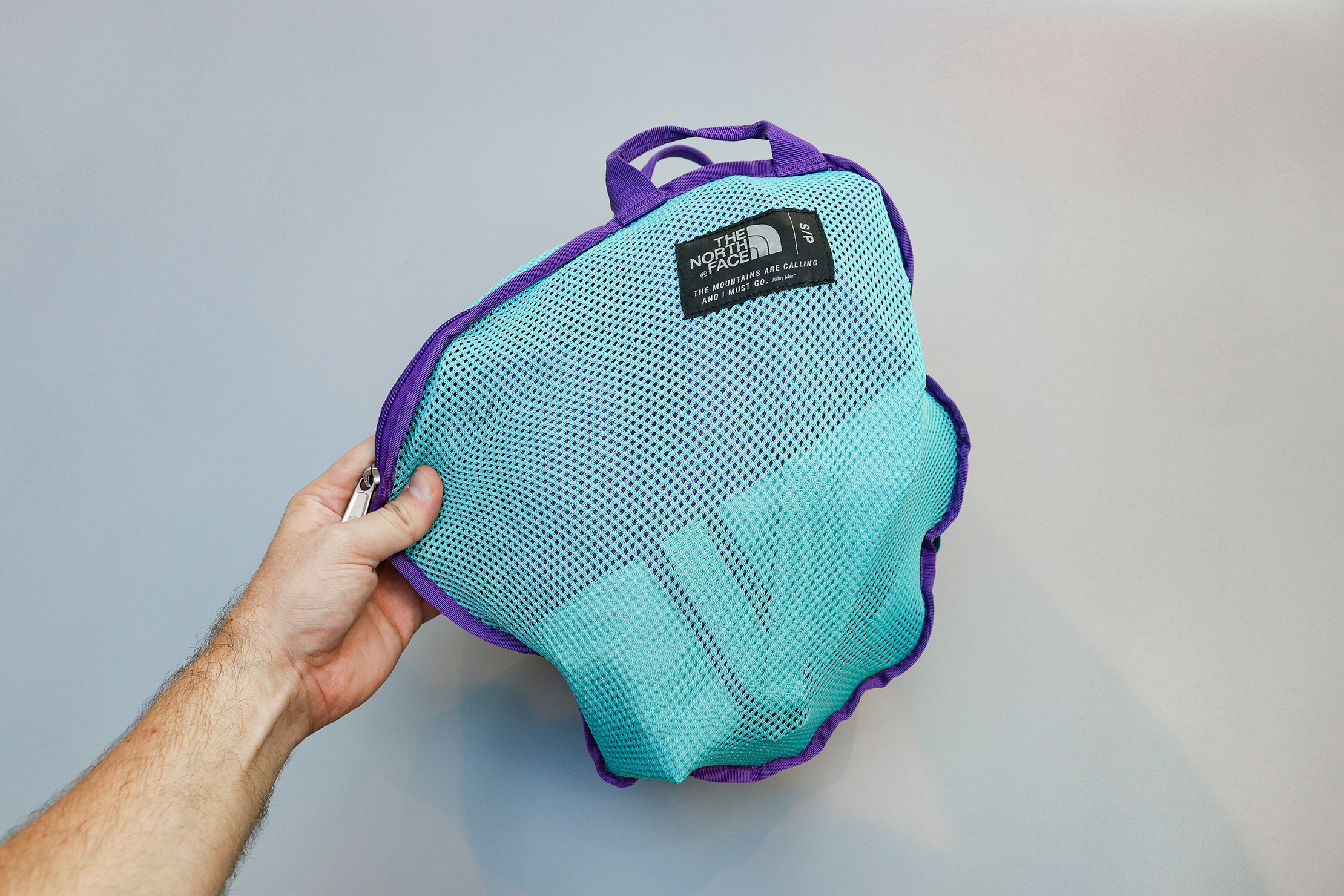 Why Packable Duffles?
The primary function of a Packable Duffle is to be able to pack it into your main bag and use it when you need the extra space. Say you're going on a week-long trip out of the country and you fill your main suitcase with all the clothes, toiletries, and accessories you'll need. You can bring a Packable Duffle as a way to bring home any souvenirs you may pick up.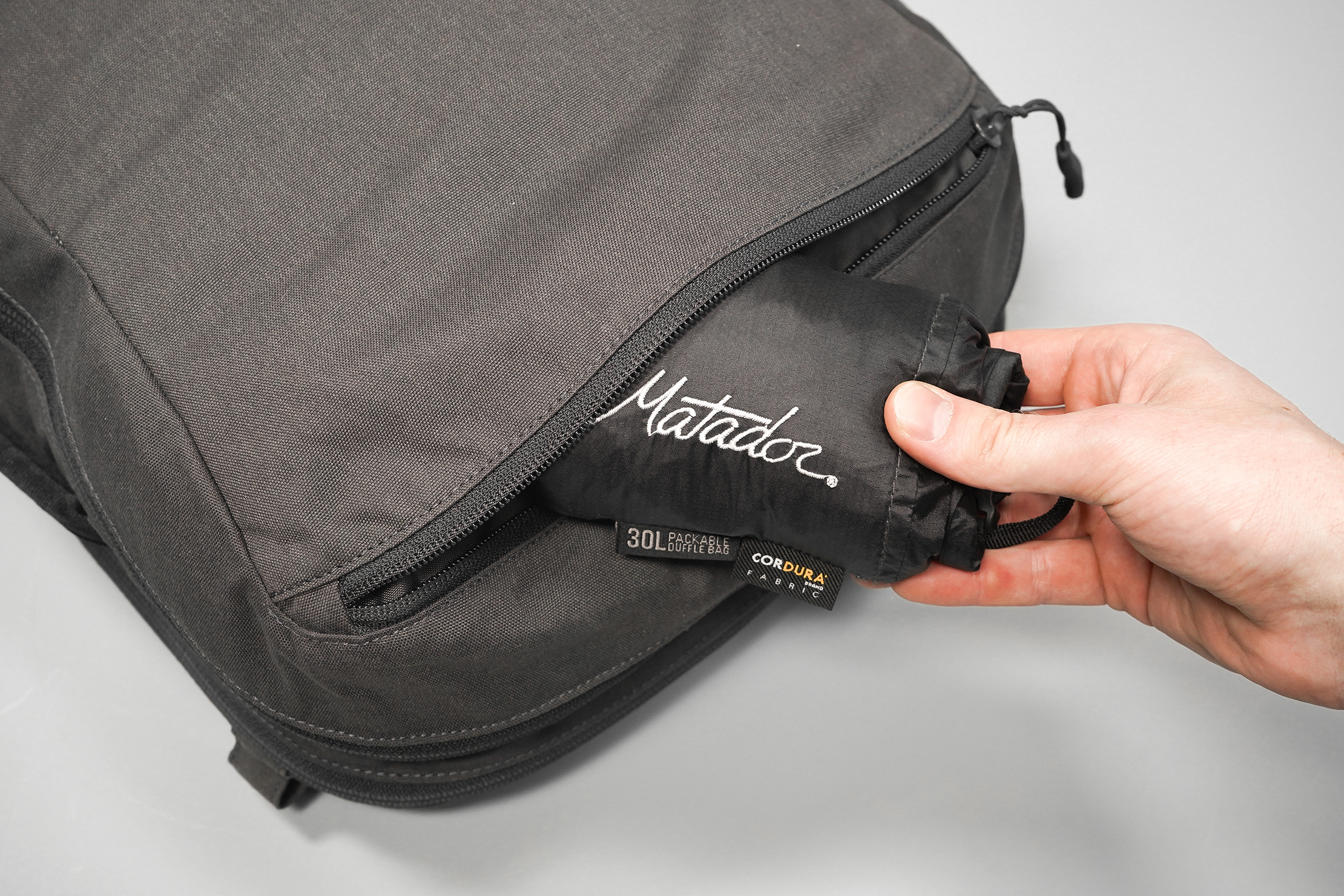 You can also use a Packable Duffle as a smaller bag to take with you on day trips or short excursions, while you leave your larger bag back at the hotel. (But you may find that Packable Backpacks work better for this specific use case.)
Weather-Resistant
Another aptly-named style of duffle bag. These bags have been built with inclement weather in mind and will hold strong against wind, water, snow, sleet, and so on. For a duffle to be considered weather-resistant, the materials and zippers must be resistant to water. You'll see that a lot of companies forget the latter. But zippers are important! It's all well and good that water will roll off the fabric, but if it leaks through the zipper track your clothes/tech/whatever will still get wet.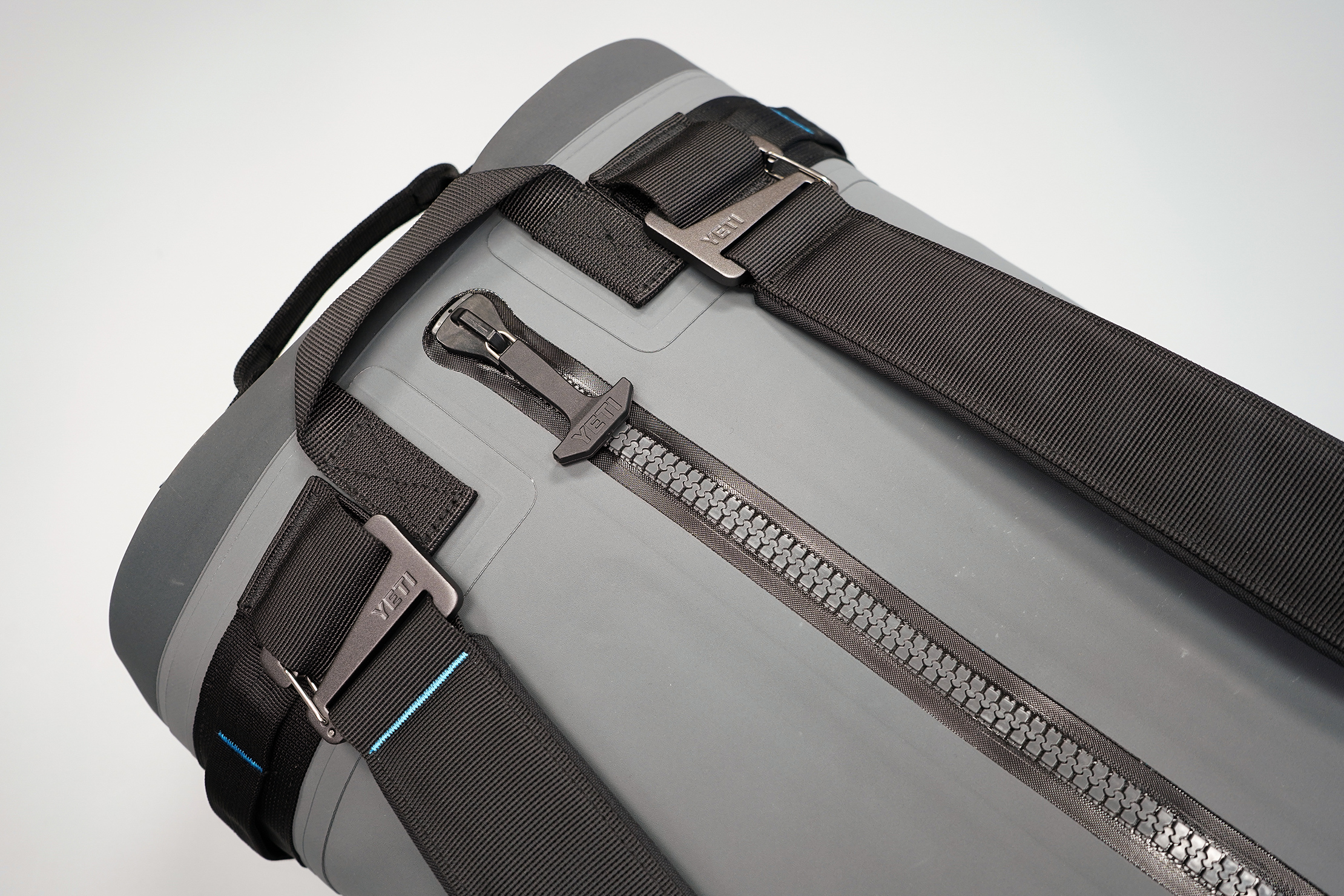 Some duffles are partially weather-resistant with water-resistant fabric and one compartment that features a water-resistant zipper (commonly a laptop compartment). This is a solid design as water-resistant zippers can be sticky and cumbersome to use.
To be clear, so far we have been discussing Weather-Resistant Duffles. Not Weatherproof Duffles. And there is a huge difference. Weatherproof Duffles, which are truly impervious to water (so much so, they're submersible), are hard to come by. Usually, Weatherproof Duffles are made with nylon and some sort of coating or laminate.
Why Weather-Resistant Duffles?
Weather-resistance adds some great peace-of-mind because, let's face it, the weather isn't predictable 100% of the time. This is doubly true if your travels involve backpacking through notoriously rainy countries or you live in a place that's in a near-constant state of drizzly.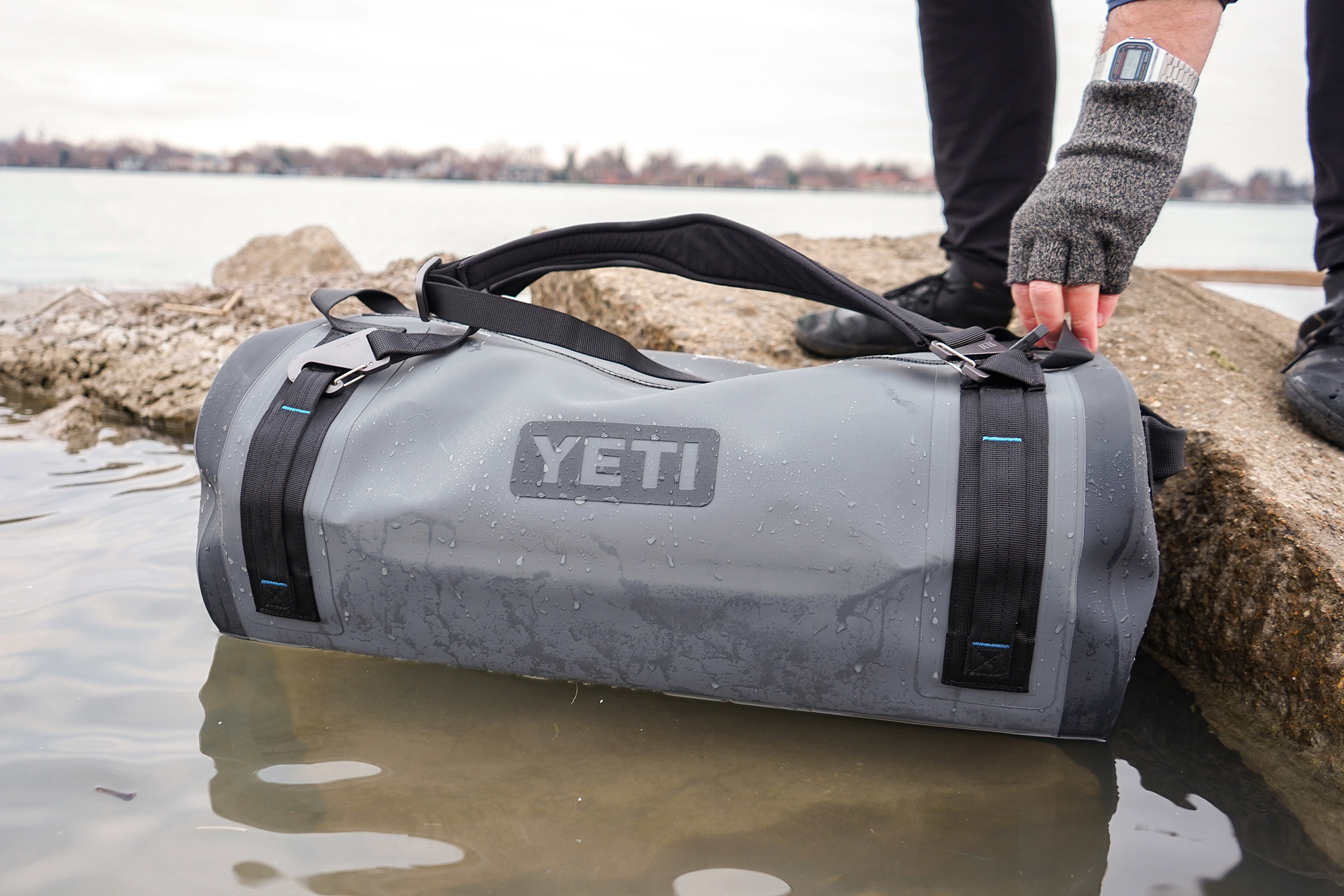 Weatherproof Duffles, on the other hand, are likely overkill for most people. Unless you go on wild adventures that involve heavy precipitation, boats, backcountry fly fishing, waterfalls, etc, you probably don't need a Weatherproof Duffle. That said, you may decide to go for it anyway. Usually, these duffles are super durable as well, so they may be a good choice if you crave that robustness.
Gear Haulers
A Gear Hauler is essentially a Classic Duffle, only gigantic. There's no exact definition for "gigantic" at least in terms of liter capacity—what some people may be able to use for years of travel, others will only be able to use for a weekend. Still, we start to think of a duffle bag as a Gear Hauler when it can't be used as a carry-on. And because Gear Haulers do tend to be larger, you will find a number of them with wheels.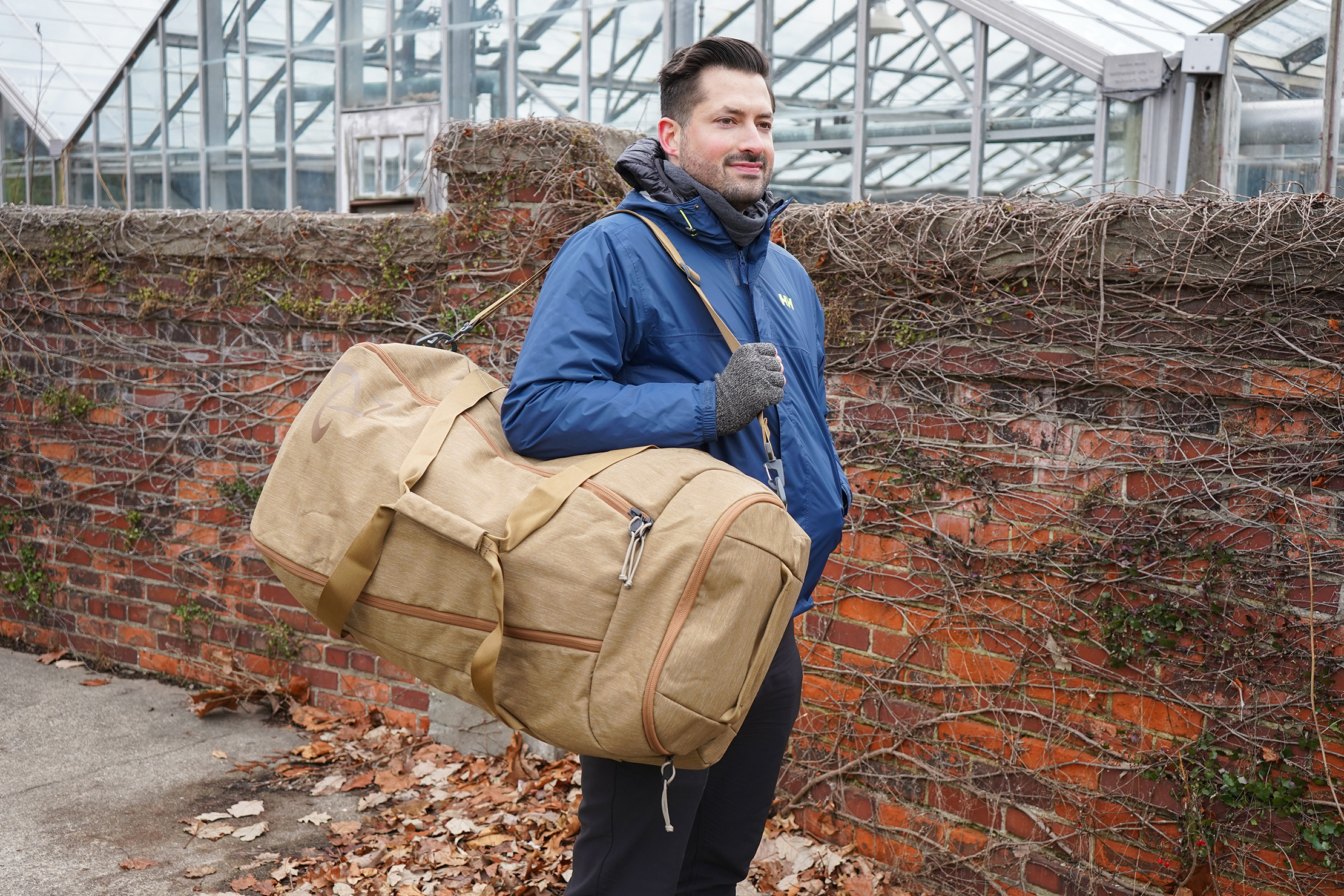 More so than their size, Gear Haulers are defined by their job—and that's to haul your gear. Usually, you won't see anything fancy. You won't find a robust harness system or smart internal organization. Just a massive bucket to throw all your clothes, toiletries, books, rock collection, or whatever in.
Why Gear Haulers?
A Gear Hauler is great to use when you're traveling to one place for a long time. Say you're going to Au Pair in France of six months or study abroad in Spain for a school year. Since you're semi-moving to that place, you don't need the convenience of a backpack, you just need a big ole spot to throw your stuff.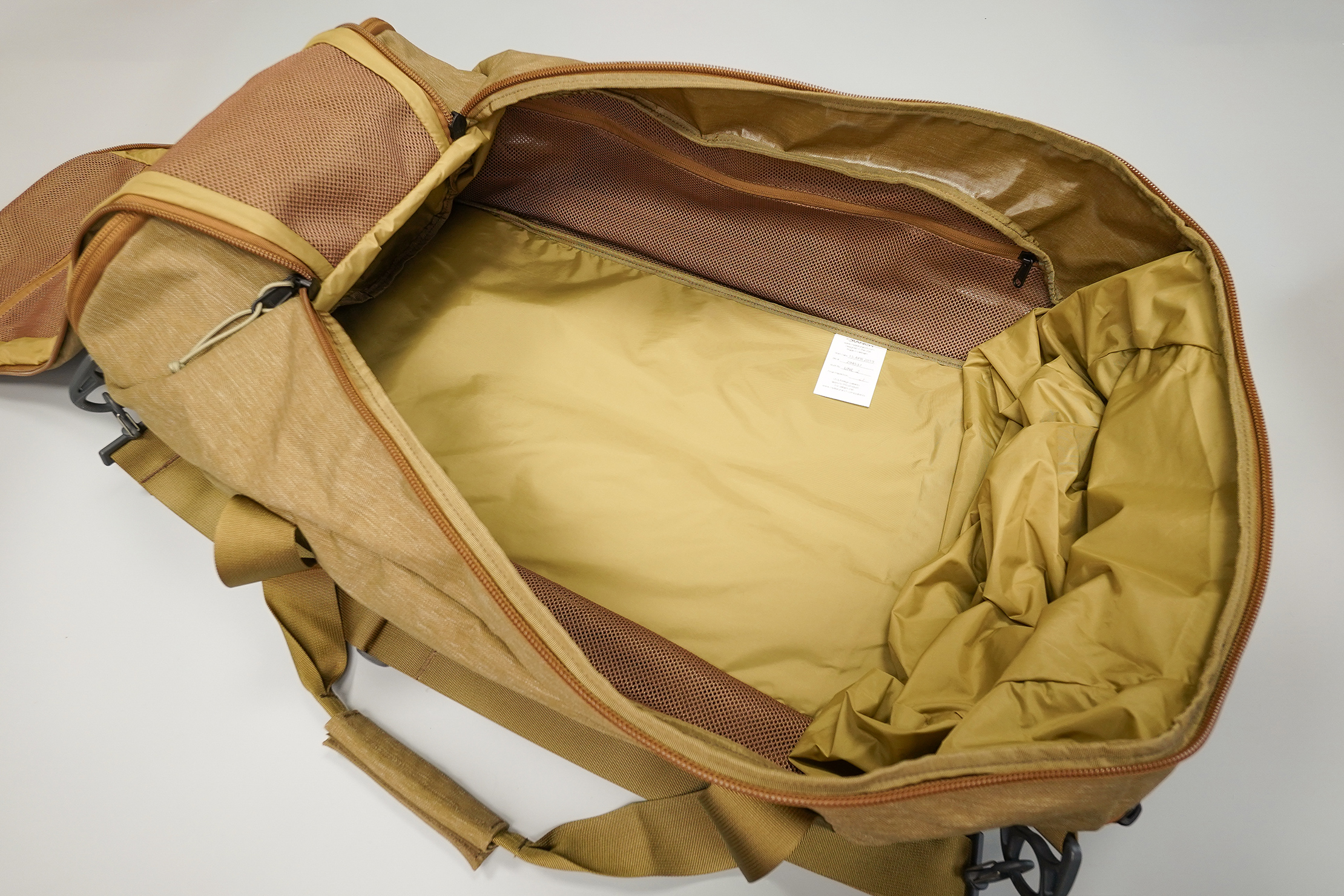 They're also great if you have no interest in packing light or only traveling with the essentials. If you need the space, go for it. But, remember, these duffles will get heavy. And you will have to pay for a checked bag.
Weekender
On the other end of the duffle bag spectrum from the Gear Hauler is the Weekender. Essentially a Classic Duffle—maybe with a few more pockets—but designed to work for short excursions. We would describe the aesthetic as tote-adjacent.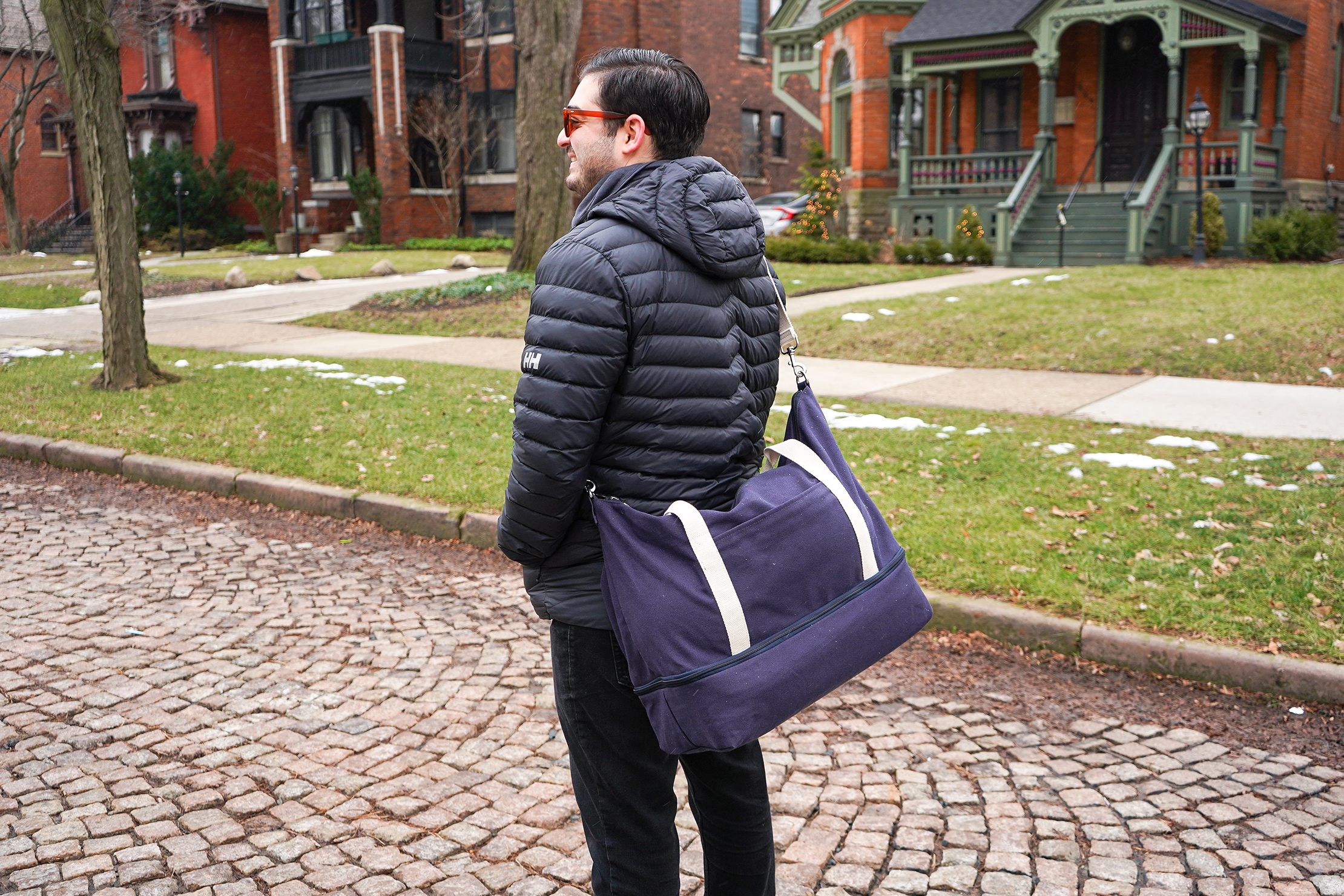 Why Weekenders?
If you prefer to travel with a backpack or hard-sided luggage for longer excursions, you may consider a Weekender for those short, weekend trips. A Weekender is also great for travel in conjunction with a suitcase.
You'll also run into several Weekenders that emphasize style—managing to be both luggage and a fashion accessory.
Luxury
Luxury Duffles are, first and foremost, designed to impress. You'll make a statement with these polished bags from high-end fashion brands like Gucci, Louis Vuitton, and Prada.
While these duffles look polished and well-made, they're not always adventure-ready. Think about your use case and whether or not you'd rather spend your money on a pack that'll keep up with all you throw at it. But if you'd rather choose fashion, you have plenty of options—and not all of them will break the bank. Of course, you can spend 1,000-some dollars on a Gucci bag, but you can also find quality, stylish duffles from lesser-known brands that we would also consider luxury. Brands like Ted Baker, Tumi, Longchamp, and so on.
Why Luxury Duffles?
There's not much to say here—Luxury Duffles are usually an aesthetic choice.
09

Conclusion
Congratulations, you're hereby pronounced a duffle bag expert.
Save during the REI sale
Gear up for your next trip during the REI Cyber Week Sale, now through Dec. 4. Check it out →
It's Time To Choose The Right Duffle Bag For You
So here we are—the end (anyone else kind of sad? No, just us?). We hope that during this time you've spent with us journeying through the world of duffles, you've learned enough about these humble little bags that choosing the right one for you isn't so overwhelming any more (and maybe you had a few laughs too).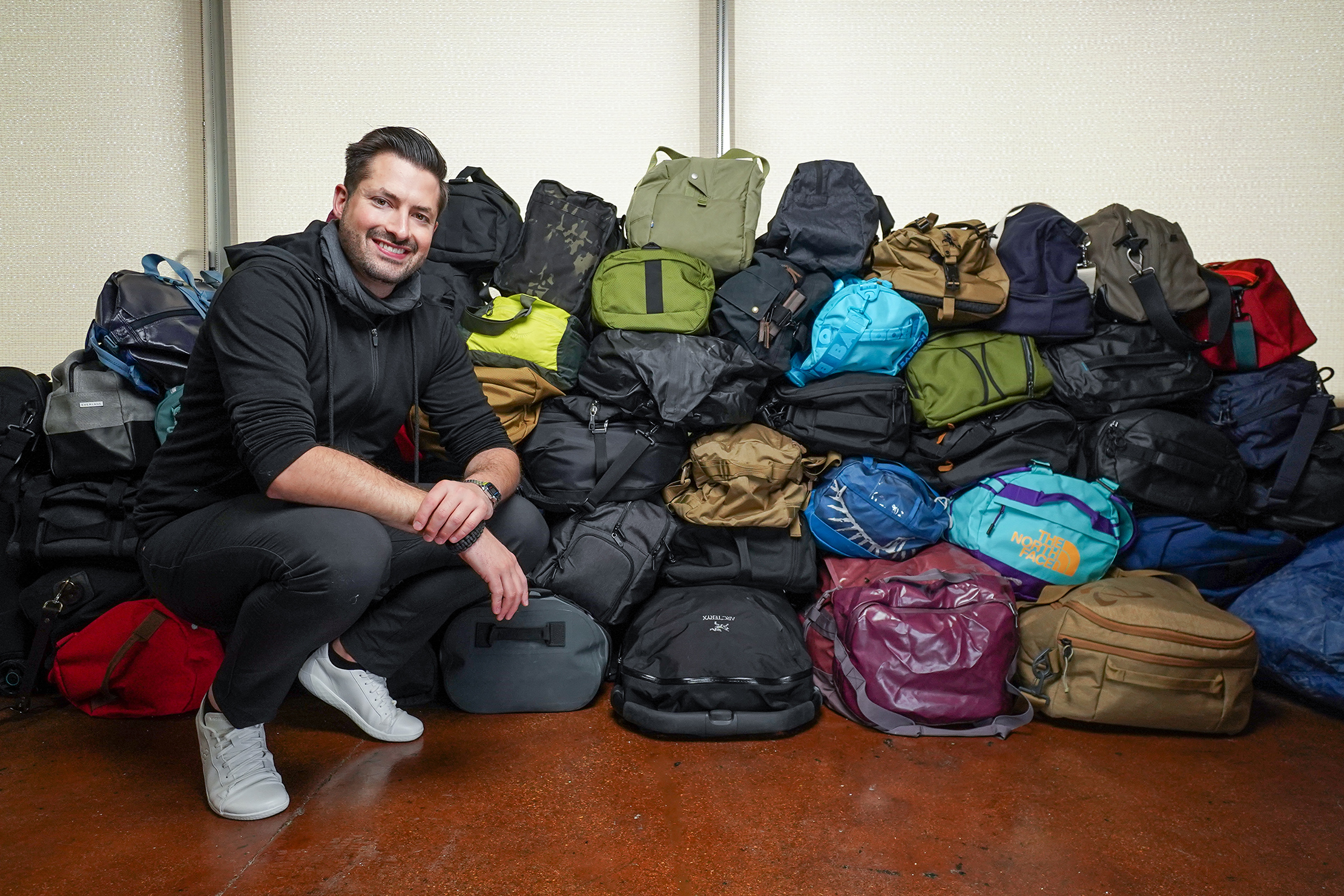 Before you spread your wings and fly, remember there is no such thing as THE perfect duffle. Consider your use case, assess the quality and primary purpose of the duffle bag, and then pick one you like the look of. It's as simple as that.
We'd wish you good luck, but if you'd made it this far, you honestly don't need it.