Osprey Arcane Duffel Review
The Osprey Arcane Duffel offers minimal organization, but the 30 liters of available space is prime real estate for pouches and packing cubes.
Our Verdict
Unlock the Pro Summary
Save time. Get access to brief summaries of our reviews so you can browse and make decisions more efficiently.
Pros
Three different ways to carry
Spacious quick-grab pocket
Aluminum hardware feels solid
Cons
Backpack straps can be uncomfortable against neck
Minimal organization options built-in
Contents shift around if not fully packed
Recent Pack Hacker Video
Technical Details
Capacity

30l

Weight (lb)

1.89 lb (0.9 kg)

Denier

500D

Dimensions

18.5 in x 12.2 in x 10.63 in (47 x 31 x 27 cm)

Notable Materials

Recycled Polyester, Packcloth, DWR Coating, YKK Zippers, Aluminum

Manufacturing Country

Vietnam

Laptop Compartment Size

15"

Warranty Information
Full Review
Osprey's Arcane series is a diverse one that includes the Arcane Large Day Pack (V2), the Arcane Brief, and the Arcane Tote Pack—all of which we have tested for two weeks. In this review, we add yet another to our collection: the Arcane Duffel. As the name suggests, this is a duffel bag first and foremost, but spoiler alert: it can be carried like a backpack as well.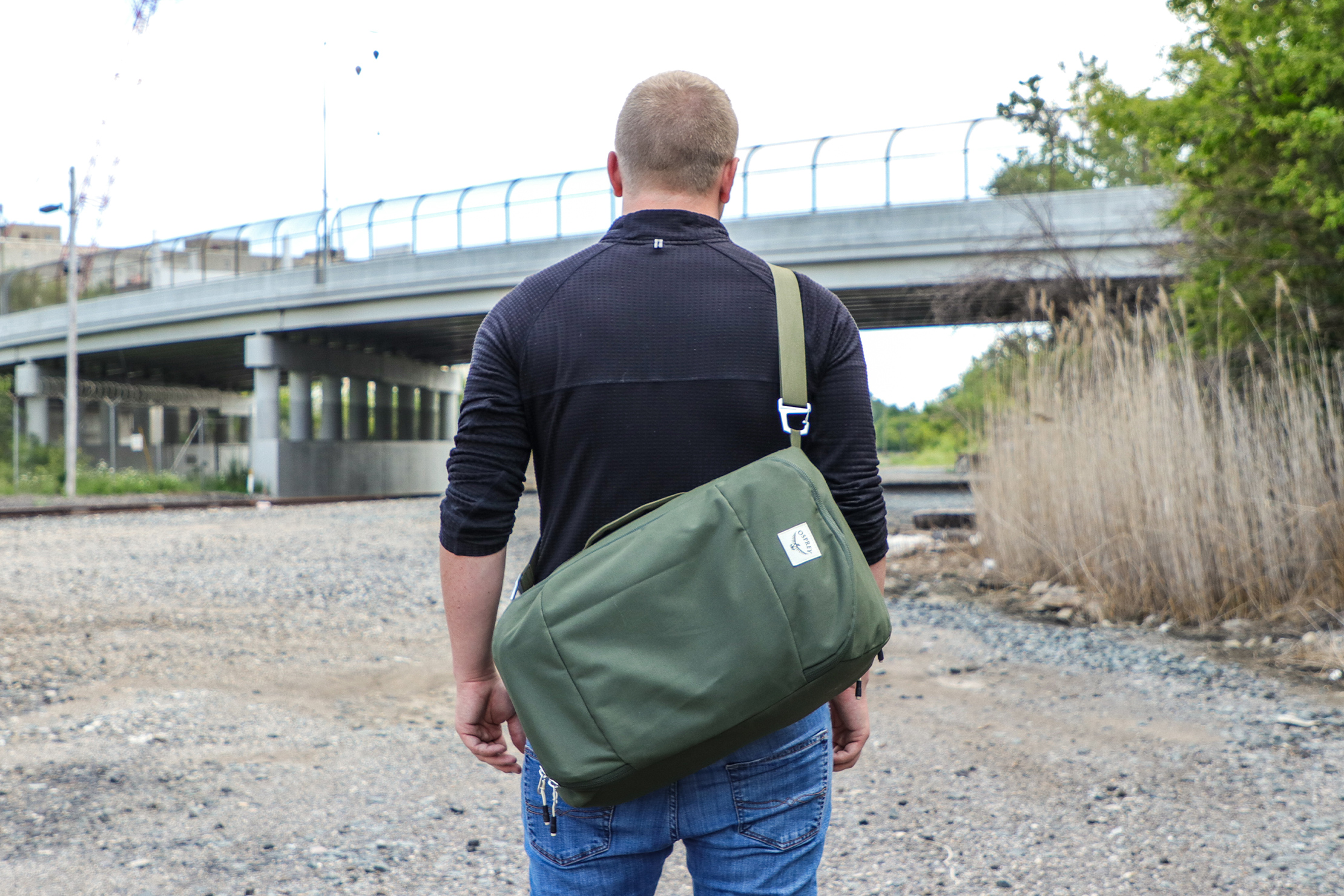 There are some hits and misses across the Arcane series. For instance, the Arcane Tote Pack lacks a water bottle pocket, but its organization, on the whole, is effective. The Arcane Brief also features good organization but isn't very comfortable to carry when fully packed. In the case of the Arcane Duffel, the bad news is that it's fairly minimal when it comes to organization, and it lacks a water bottle pocket. There are two ways to look at the former, though, one that's worth considering, especially if you're a fan of packing cubes, camera cubes, tech pouches, and Dopp kits.
Materials & Aesthetic
The Arcane Duffel doesn't really shake any of its duffel bag-ness in terms of looks. The overall shape is rounded and bean-like—and we say bean-like because the Haybale Green colorway we have here does actually make it look like a giant bean. In our eyes, it's not the prettiest duffel out there, but the green is a respectable shade that accentuates its more utilitarian side. Apart from the white patches of logo on the shoulder strap and the bag itself, there's no stand-out feature against the sea of green fabric. At the very least, the Arcane Duffel doesn't draw unwanted attention with punchy colors.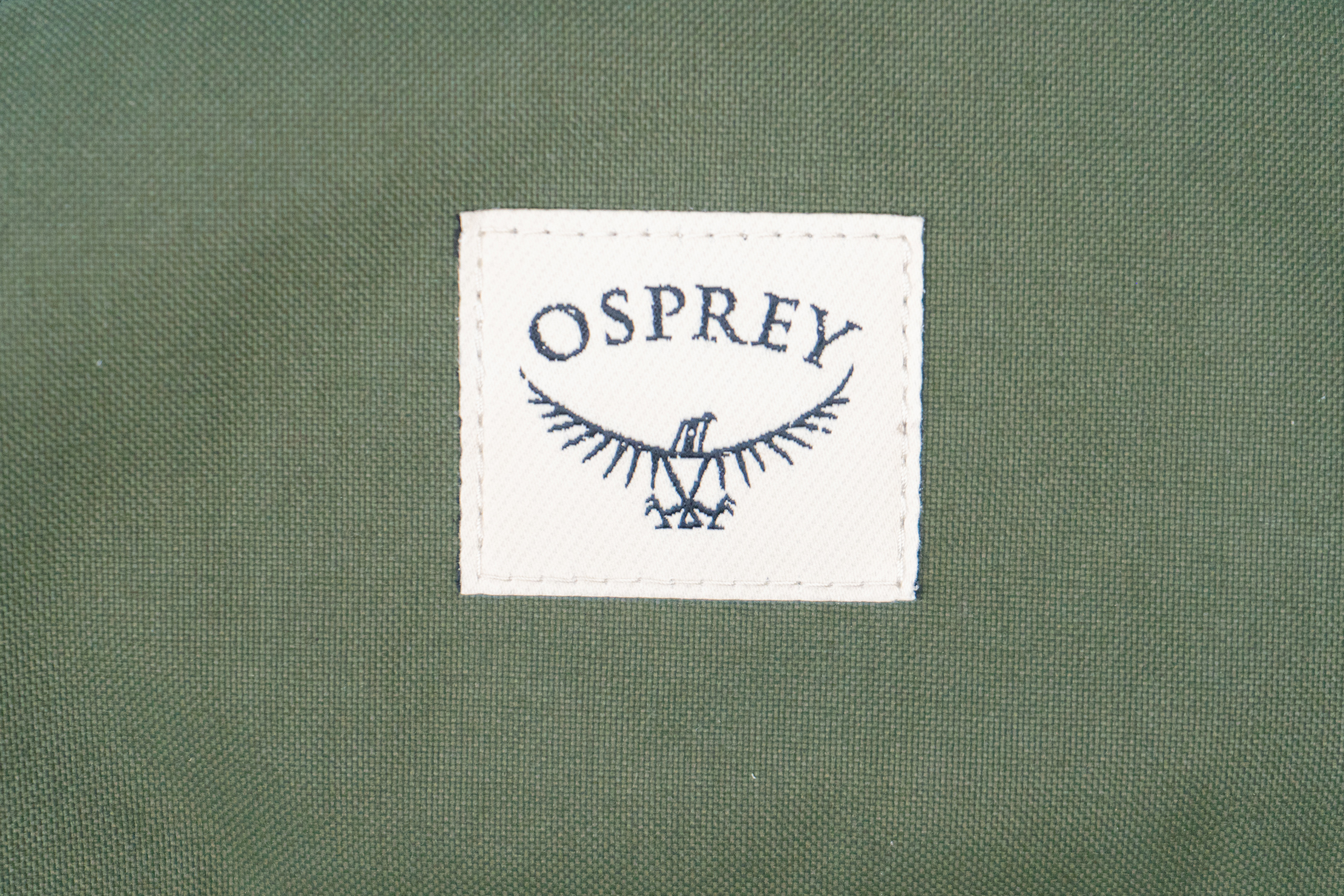 At the time of writing, there are two other available colorways: Stargazer Blue, which looks like the blue pill Morpheus offers in the movie The Matrix, and Stonewash Black, which resembles its smaller cousin, the METRON. Regardless of which you choose, you get the same soft-feeling 500D Recycled Polyester Packcloth. We're used to seeing nylon material for exterior shells because they're generally more durable than polyester. That said, the fabric on the Arcane Duffel feels sufficiently durable, and we haven't noticed any tears or holes. Dirt and grime do eventually stain the fabric, but a quick wipe with a damp cloth clears them easily. That's thanks to the DWR coating that keeps dirt from seeping in too deeply.
YKK zippers also make an appearance here—complete with white zipper pulls—and we're not ones to take them for granted given how tried and tested they are. Combined with the duffel's rounded shape, the zippers don't meet any notable snags or resistance as they slide along on any of the elements.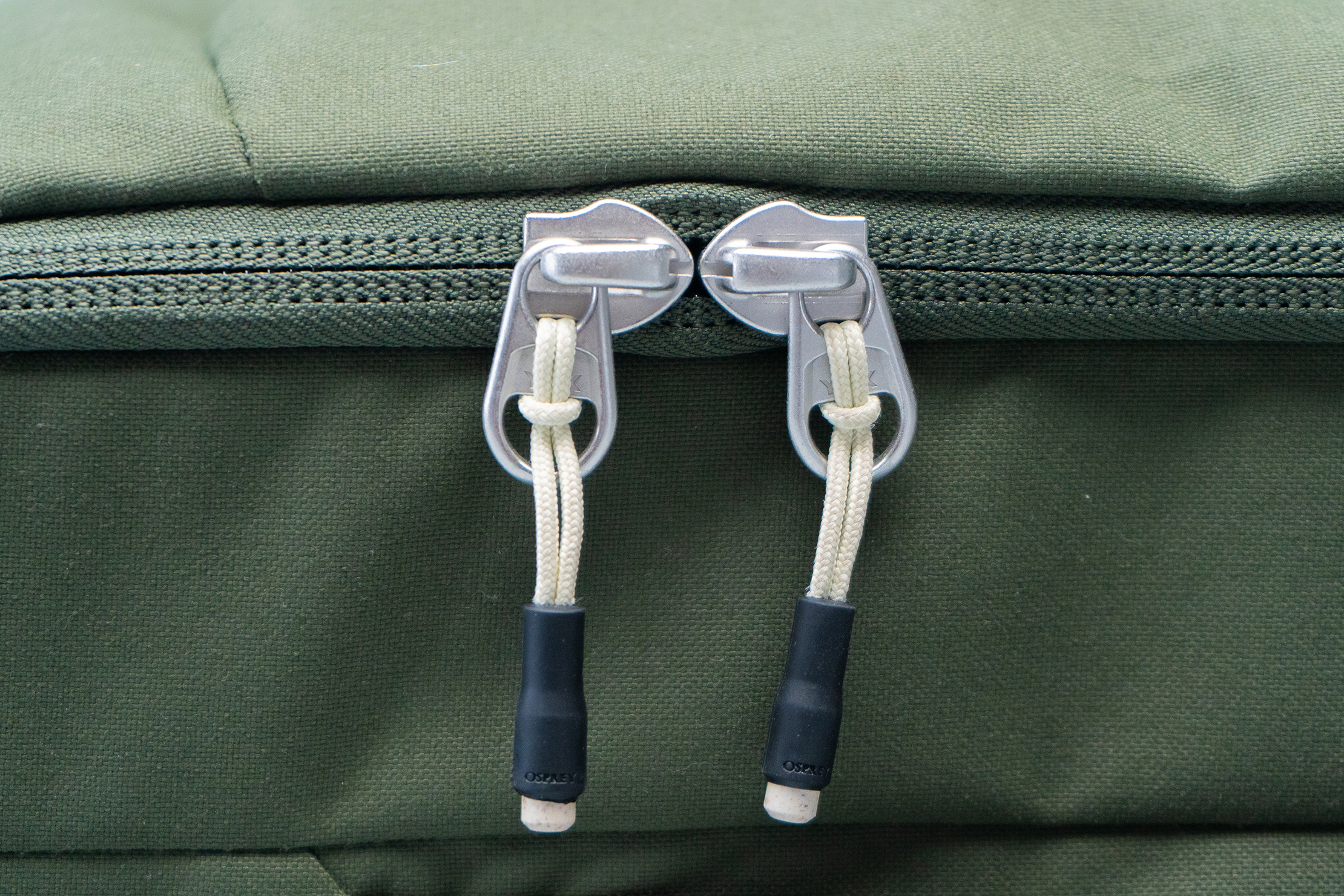 While we did say that there are no stand-out aesthetic features on the Arcane Duffel, there is a faint glint from the shiny aluminum gatekeeper clips on the shoulder straps and the sling strap. They are rather shiny, though we suspect Osprey didn't employ these for the bling factor, but rather for how durable they are—the clip on the sling strap is particularly beefy-looking.
External Components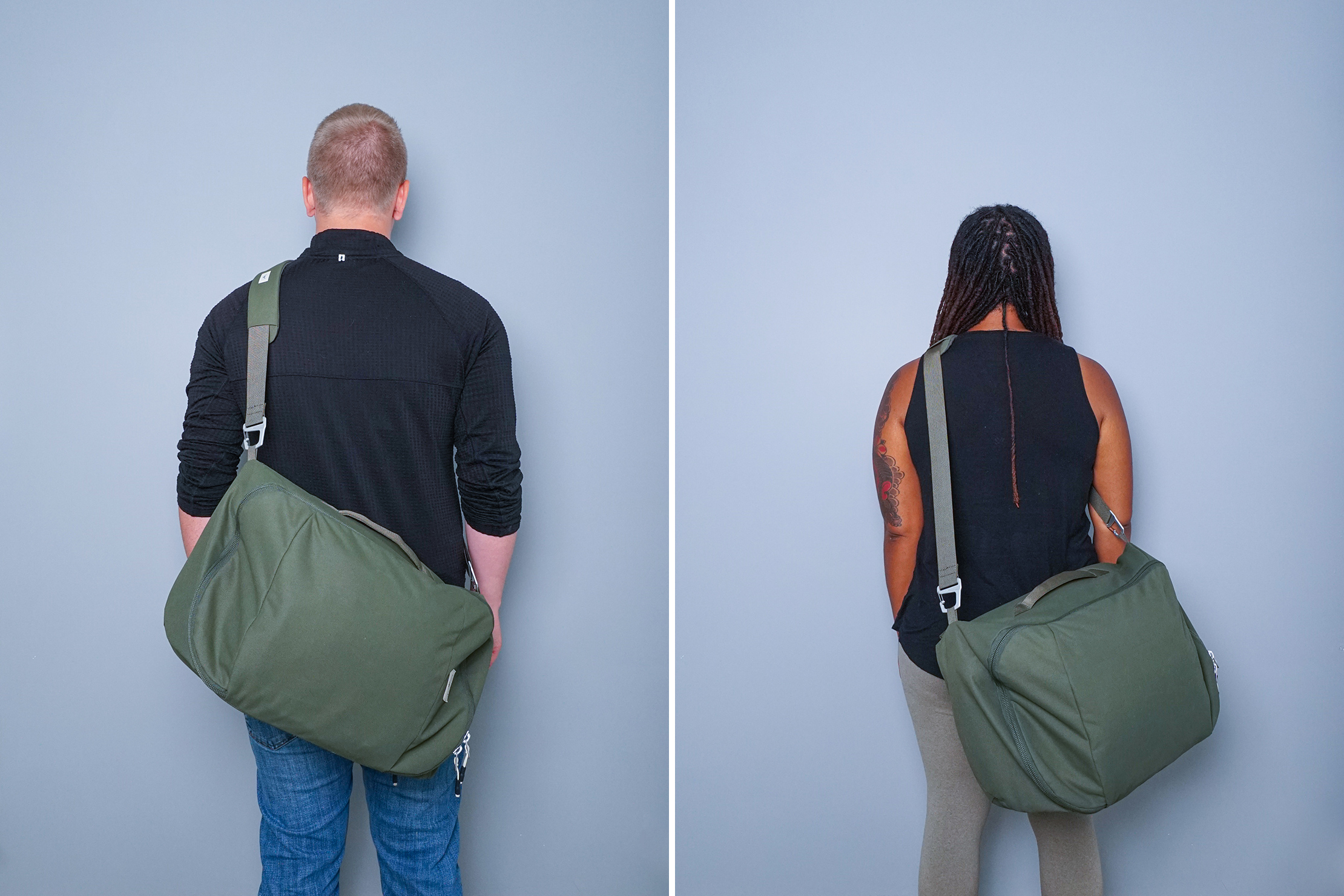 We'll get into the sling strap soon enough, but for now, we're more interested in the built-in shoulder straps. Yes, much like The North Face Base Camp Voyager 32L, this is a duffel-backpack 2-in-1 combo. That's great versatility right off the bat, and these aren't just some straps Osprey has thrown in for the sake of ticking off another box in the features column. For the most part, these straps are comfortable to wear; they're well-padded and breathable, and so too is the ribbed back panel that contours easily against the back. There's no sternum strap, but one neat little bonus is a slim mesh pocket on the left strap, which is handy for transit cards or a small gadget like a flashlight you want to keep close by.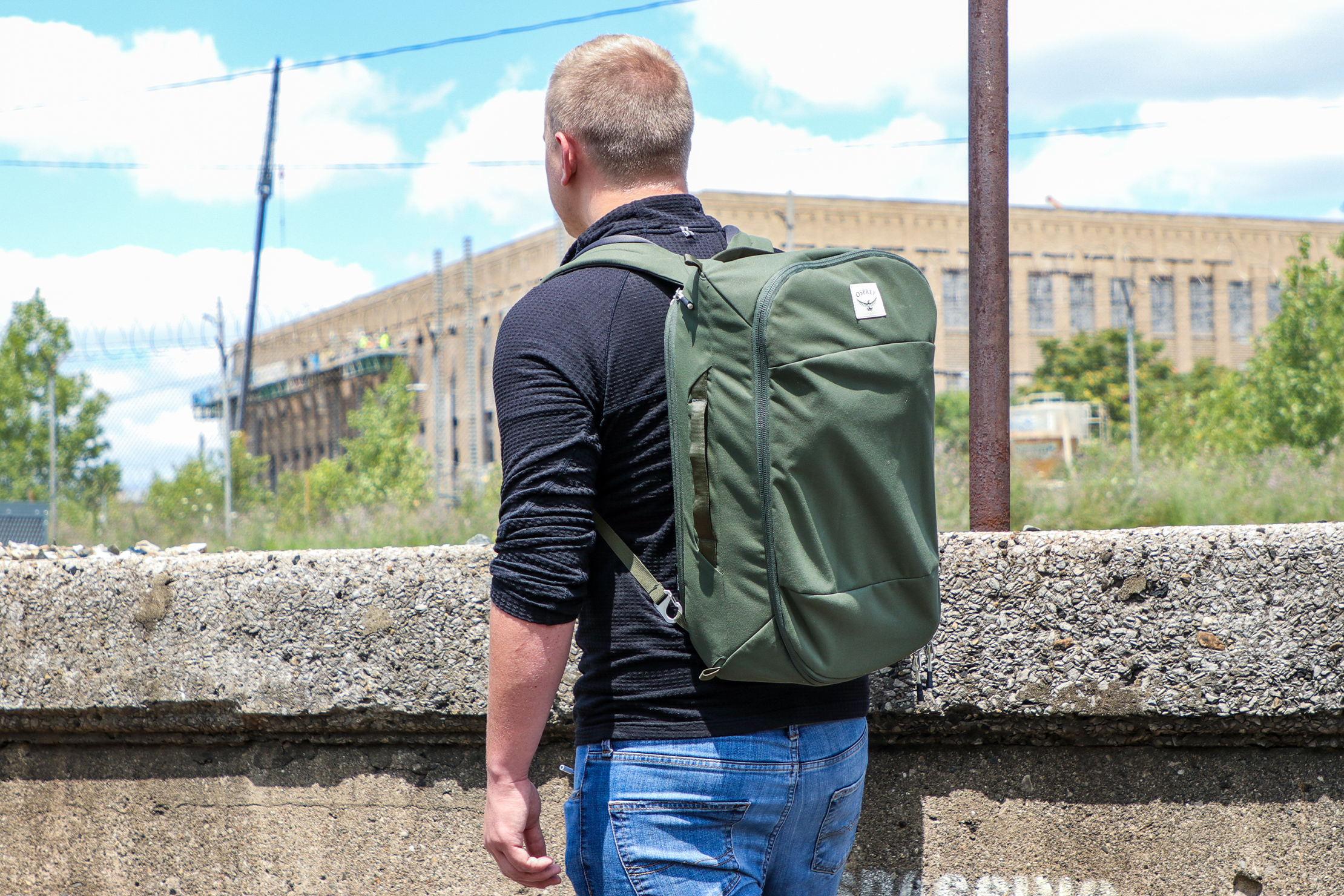 However, the shoulder straps are not completely perfect (though nothing ever is). One source of annoyance is the bit of fabric around the top of these straps. Due to how buff some of us are here at Pack Hacker, a few team members experienced scuffing around the back of the neck in backpack mode. Unfortunately, this was a noticeably uncomfortable sensation. We wish Osprey would shave a few centimeters off the fabric, but the good news is that those of us with smaller builds didn't encounter this issue.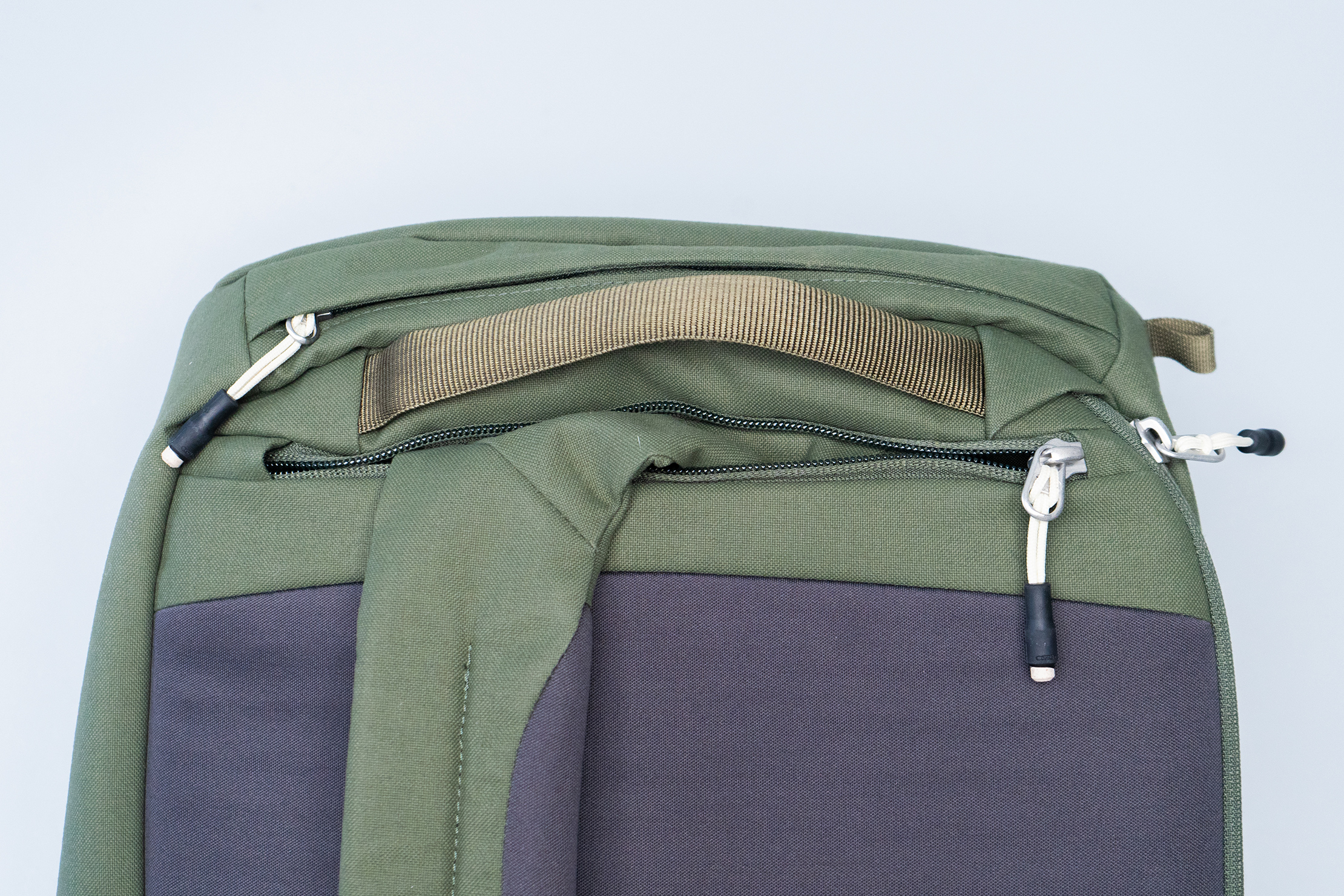 Fortunately, there's more than one carry style option, so you can always stow the backpack straps within the back panel and carry it as a duffel. The opening for this is along the top where the straps are attached to the bag. Undo the aluminum gatekeeper clips to set the straps loose and stow 'em inside the compartment. Placing them takes some straightening out so that they don't sit at an awkward angle inside, but it's an otherwise easy process. Conversely, the sling strap also stores inside the back panel compartment when you're in backpack mode.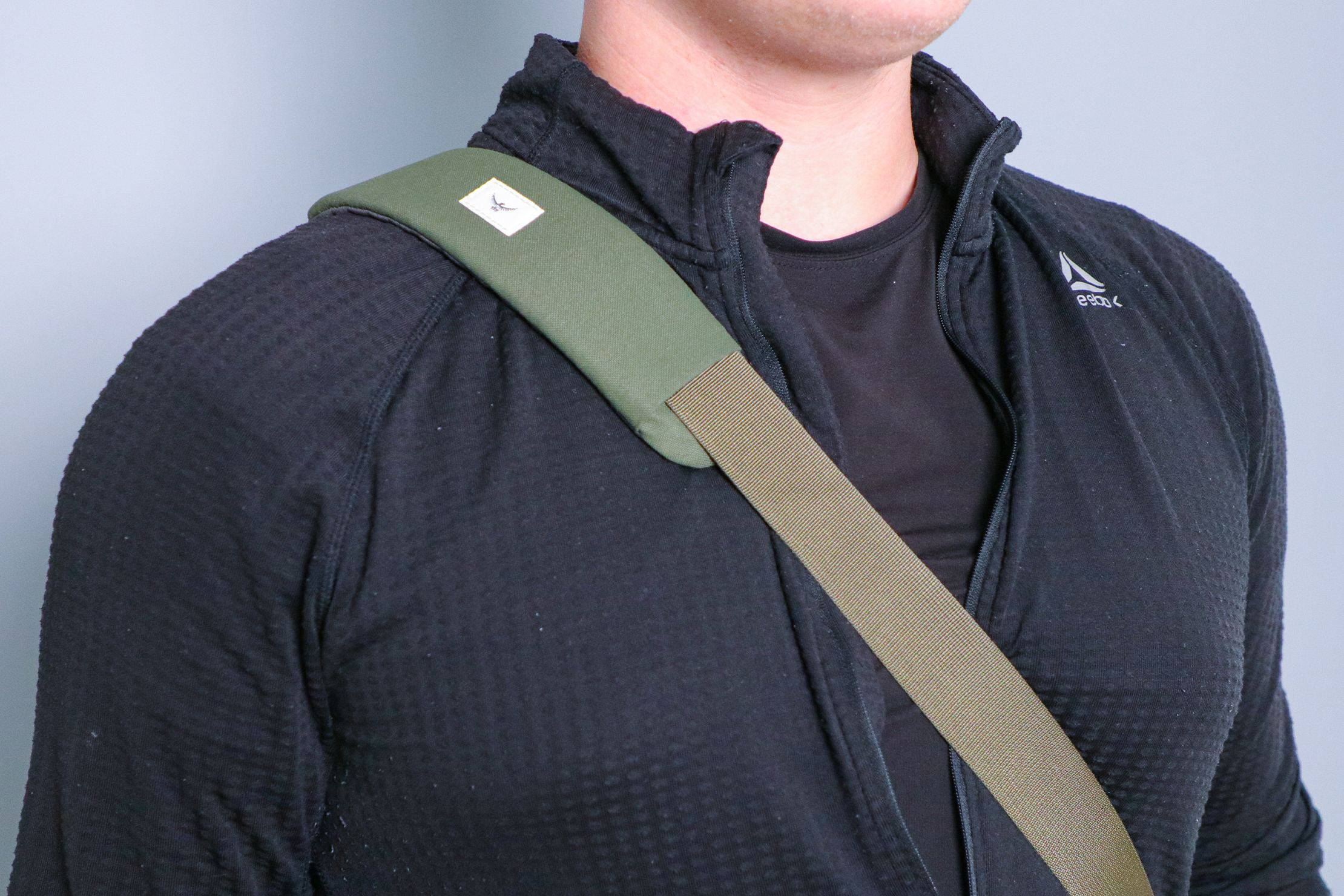 Something to note about those small gatekeeper clips is that they have a tiny lip that tends to get caught on the nylon loops to which they mount. It's not a huge deal, just something to watch out for when you're switching between backpack and duffel mode in a hurry.
The sling strap has its own mounting loops located more towards the center of the right-hand side of the Arcane Duffel. As a side note, these two loops can stuff inside small pockets just beneath them when they're not in use—it helps keep a more streamlined and symmetrical look. Since the strap's shoulder pad is one-sided and the clips do not swivel, there is a correct orientation for clipping it on. Alternatively, you can also twist the shoulder pad itself along the strap—the choice is up to you.
The rather thin-looking padding on the sling strap can be off-putting. In our experience, though, it was more than enough for a comfortable carrying experience. Your mileage may vary depending on how heavy your load is. For our testing, we carried a fully kitted out WANDRD Essential Camera Cube, a packing cube of extra clothes, plus a collapsible umbrella in case of a drizzle.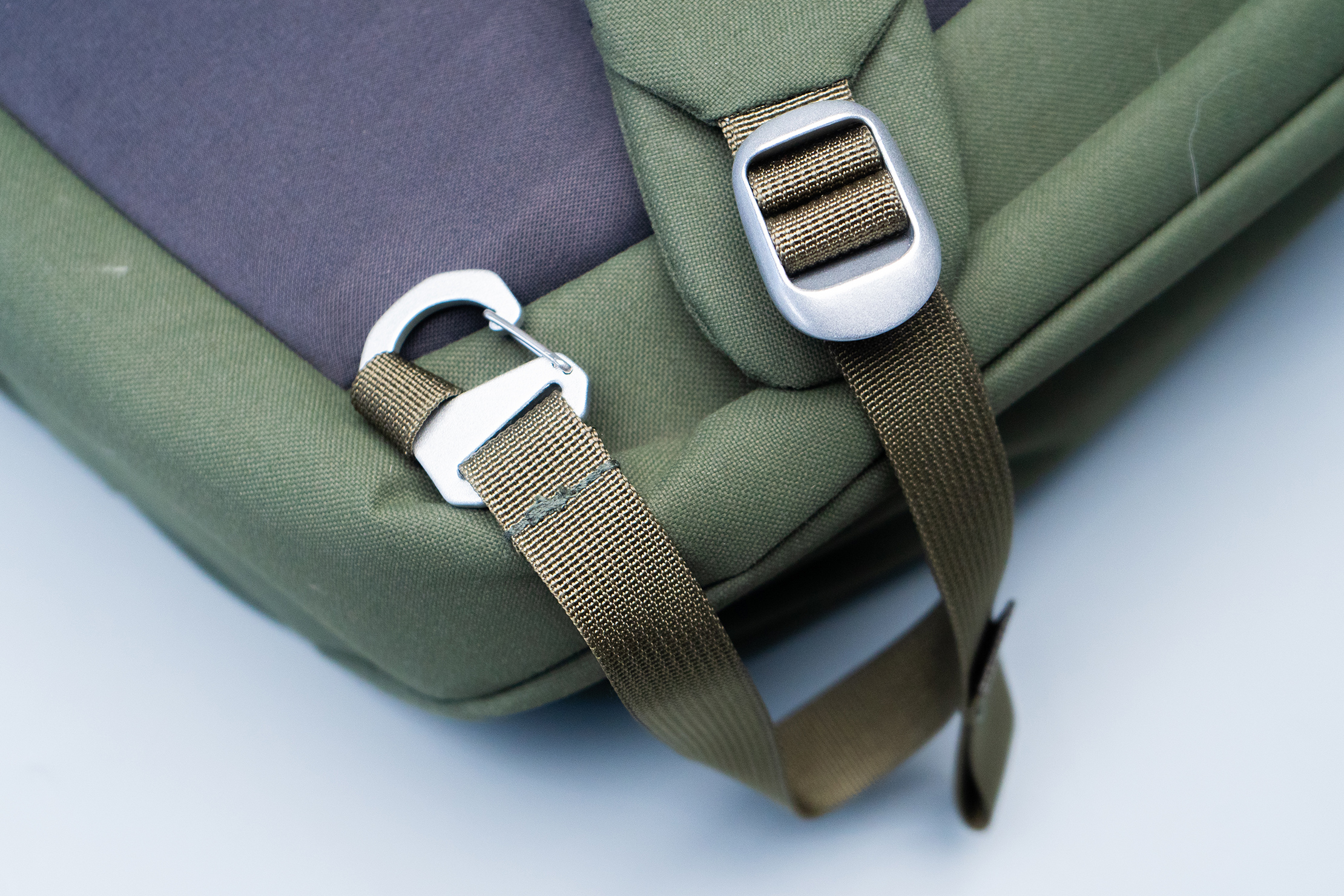 Last but not least, there's also a top and left-side handle for carrying the Arcane Duffel by hand. They're folded nylon handles with some padding in between. They work well enough for quickly lugging the Arcane Duffel across a room, but they're not the most comfortable handles to use for extended periods of time.
One notable thing missing from the Arcane Duffel is a water bottle pocket. There are no cup holder-style pockets on the sides, nor are there slits indicating built-in ones. There isn't one inside the main compartment either. Quite the bummer if you're like us and prefer to keep a bottle of good 'ol H2O on you. No rule says you can't keep a bottle in the main compartment itself, but it's a box left unticked nevertheless.
Inside The Pack
Up at the top of the Arcane Duffel is one spacious quick-grab pocket. We were able to fit in our Apple Magic Mouse, a camera battery charger with two batteries inserted, an Apple iPhone charger with a Lightning cable attached, and a travel towel. There's even some room left to spare, so we could also throw in our wallet and smartphone in there if we wanted to vacate our pockets a bit more.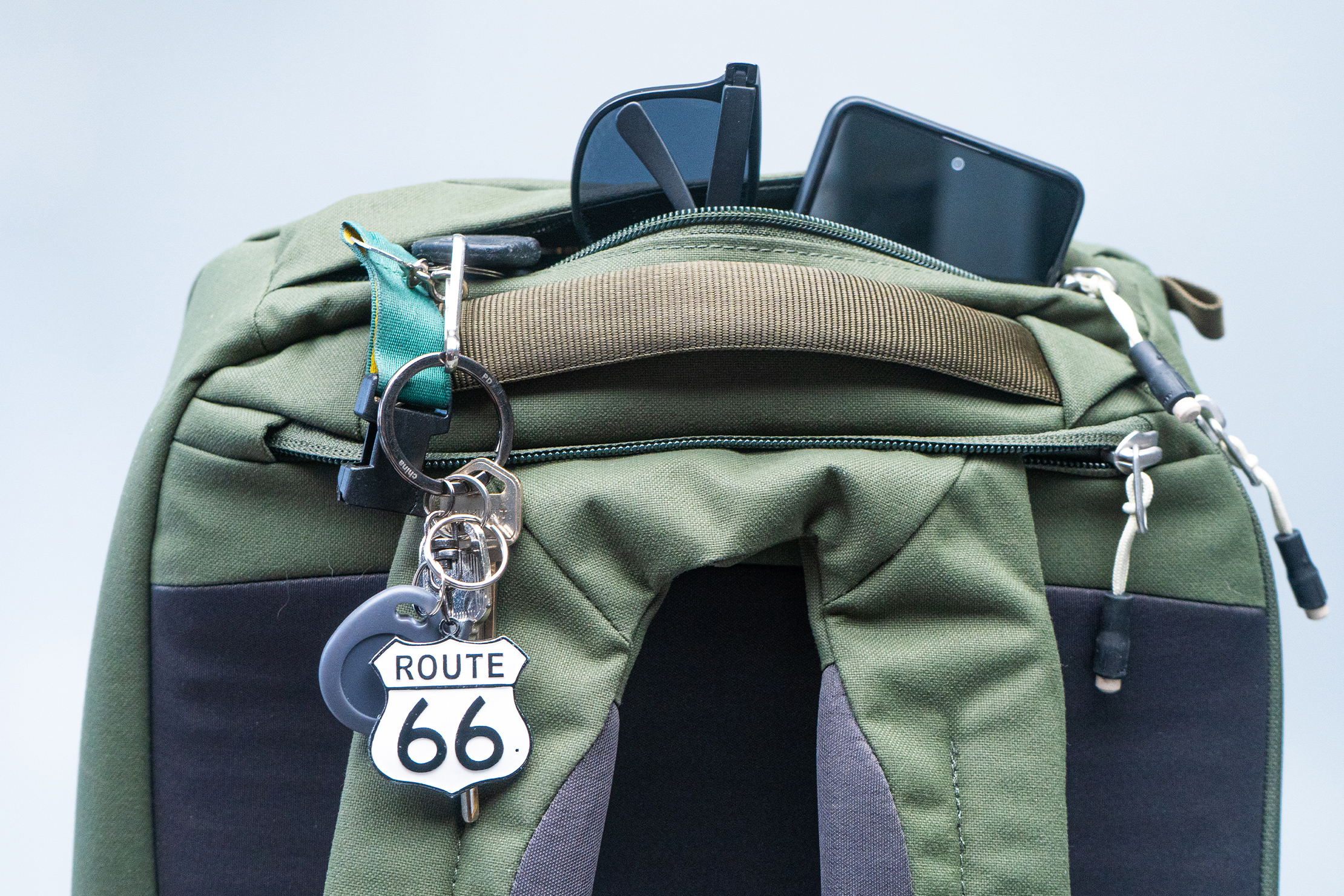 The volume does come at a cost, though: it eats away some space from the main compartment. It's a compromise between having a spacious quick-grab compartment and keeping that extra room to accommodate large gear. In this case, we think that compromise isn't too bad, as you'll see later on.
On the left-hand side of the back panel is a zipper running almost the entire length of the bag. It's the laptop compartment, and although it's only rated for up to 15-inch laptops, we were able to get our 16-inch MacBook Pro in there, no problem. The available space isn't too tight either, as our iPad Pro also fits alongside our laptop. However, there's no separation inside, so stacking a laptop and a tablet together may not be the best idea unless they both have protectors on. When it comes to protection from the outside, though, there's ample padding for cushioning and false bottoms along the sides to absorb light bumps.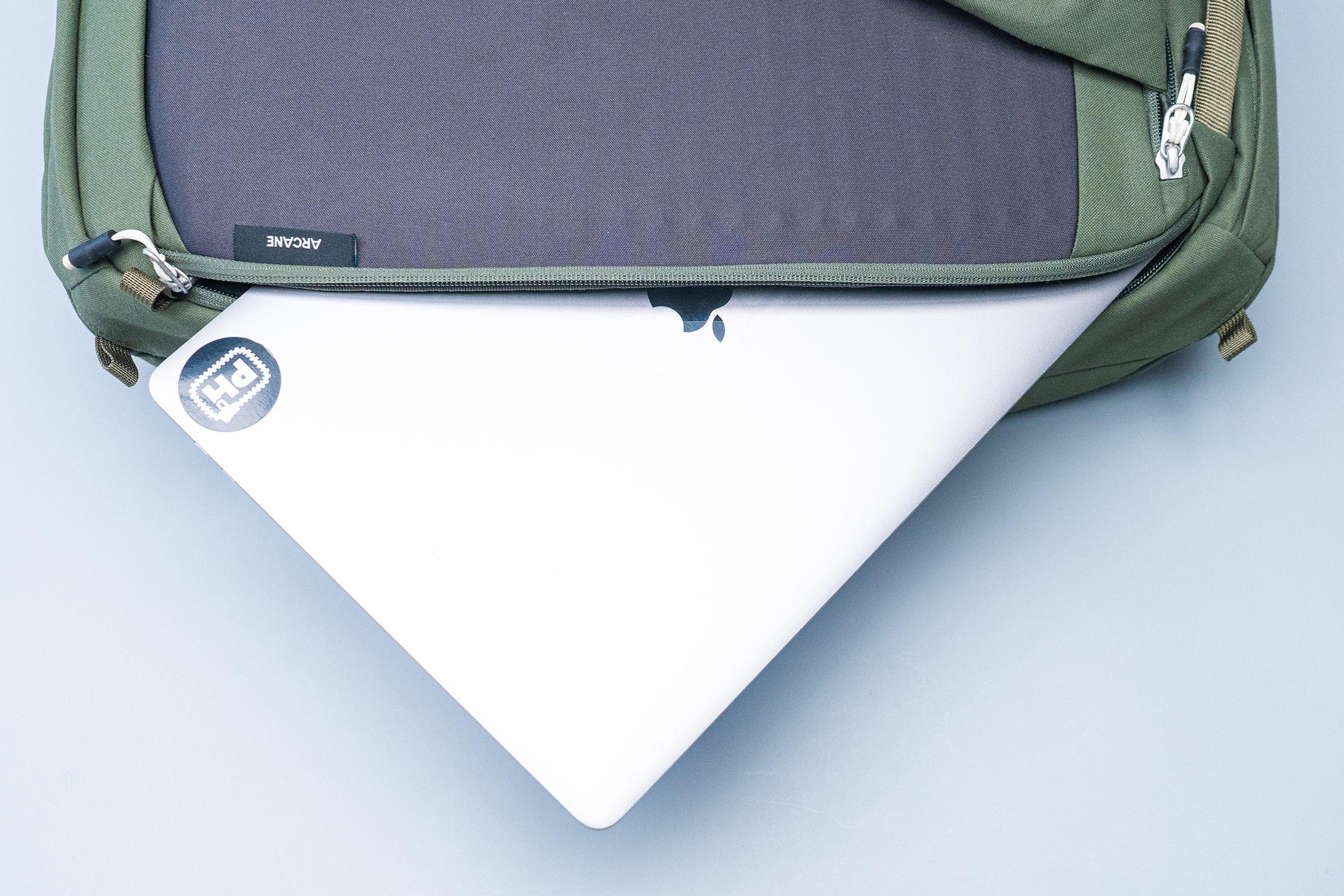 The main compartment opens up fully clamshell-style, with the flap folding over to the right side.
The flap itself has a sizable zippered mesh pocket that covers about half the surface area. It also has a good amount of depth thanks to the mesh material, and it's usable for spare clothes, a pair of slim flip flops, or sandals. Alternatively, this can also be a used clothing compartment to keep things separated.
Apart from that mesh pocket, there are no other pockets inside the main compartment. There's no rear sleeve, no side pockets, and no hidden compartments—just a cavernous and open space ready to receive packing cubes, Dopp kits, and tech pouches as means of organization. Packing the Arcane Duffel is relatively easy as the shell does stay upright once the bag is open. That's a relief since our initial impression of the polyester was how soft and smooth it is, so structure was a concern at first. That's not the case, and we're happy to report that packing is hassle-free once you've worked your way around the bulging quick-grab pocket.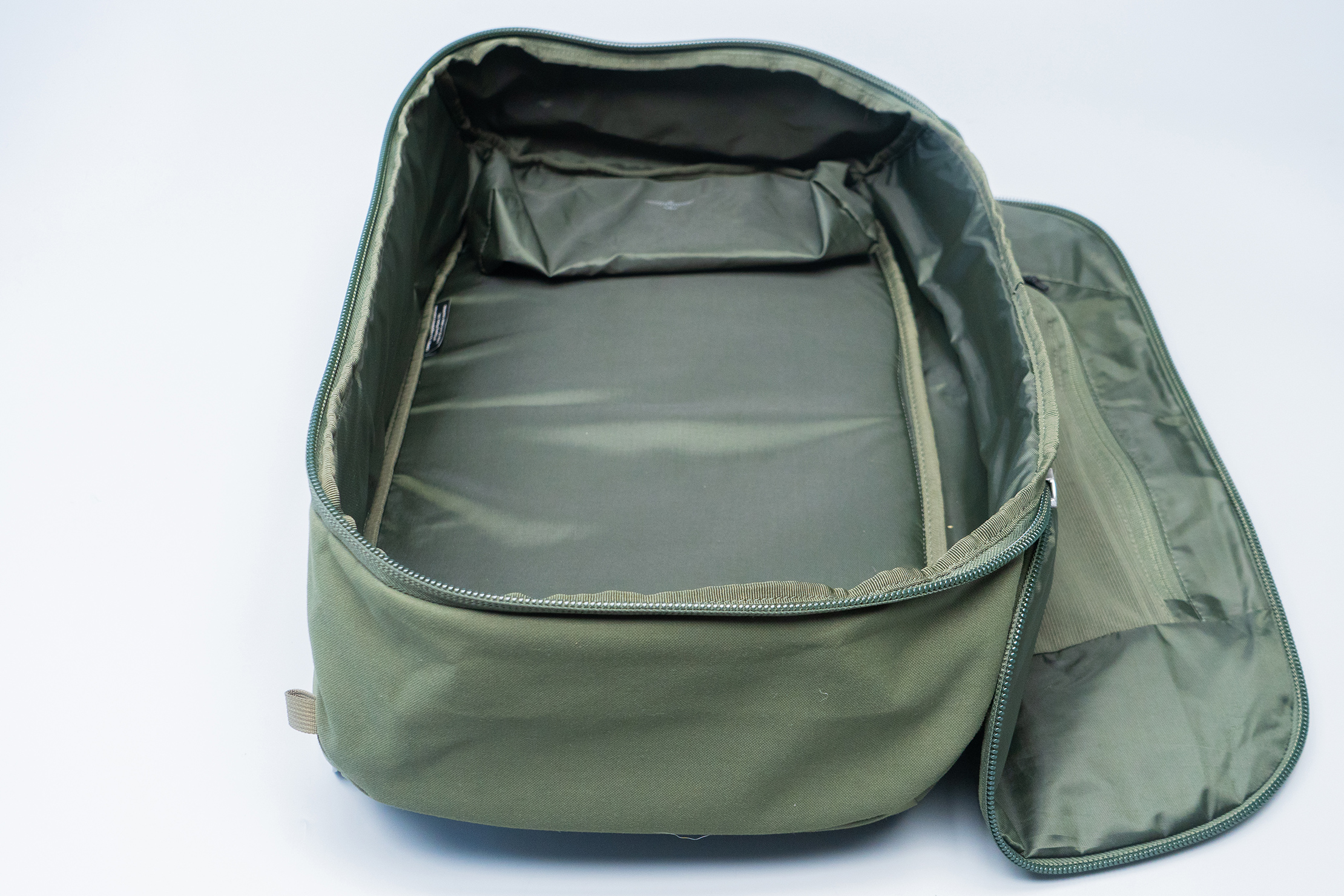 In terms of volume, the Arcane Duffel makes the most out of its 30-liter capacity due to the minimal organization and exterior pockets. In other words, it's going to be up to the individual user to maximize the available space. As previously mentioned, the Arcane Duffel is a good match for a big camera cube like the WANDRD Essential Camera Cube, plus other handy pouches like a packing cube and a tech pouch. The organization may be minimal, but at least space isn't wasted.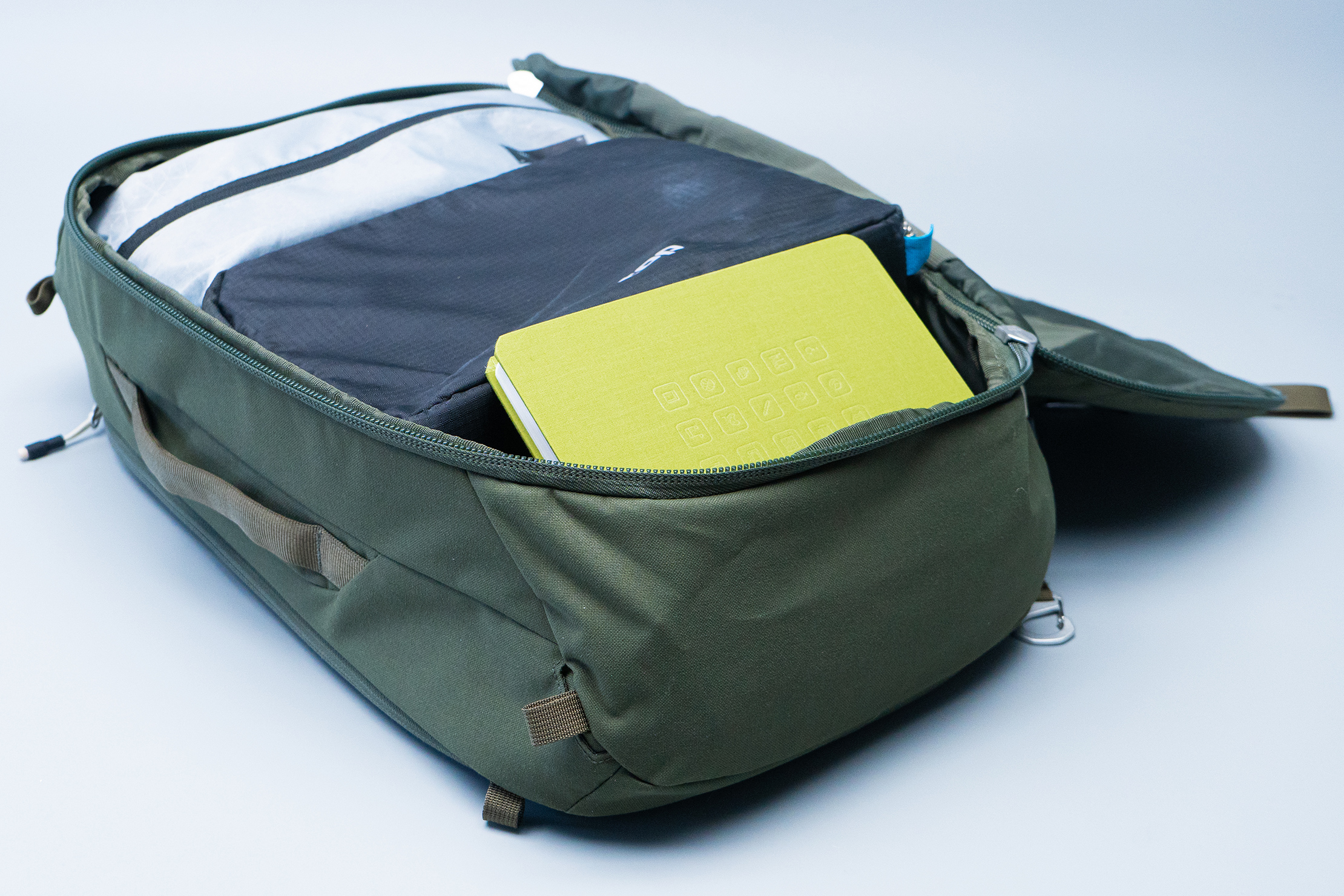 The lack of a water bottle pocket and more compartments in general for better organization is difficult to get away from when considering the Arcane Duffel. Those looking for more built-in exterior and interior pockets will have to look elsewhere or consider investing in a tech pouch, a Dopp kit, and packing cubes to maximize the 30-liter volume. If there was one word to describe a duffel bag with a big open space to play around with, it would be "sandbox." If you're looking for such a sandbox that you can kit out with your own means of organization—or no organization if that's your style—then the Arcane Duffel is a good candidate.
Usage Timeline
Initial Usage
Condition: Excellent
Can be carried either backpack-style or duffle bag-style
Has a dedicated 15″ laptop compartment
Good structure for easy packing
2 Weeks of Use
Condition: Good
Dirt and grime is noticeable but wipes off pretty easily with a wet cloth
Lack of a water bottle pocket can be inconvenient given the size of the duffel
Ample padding makes for a comfortable carry
Fabric itself feels really nice and smooth to the touch
1 Month of Use
Condition: Fine
Wax was spilled on backpack, was able to get it off but Polyester is stained
Held up well as a camping backpack. Interior mesh pocket held a few days worth of dirty clothes
Padded laptop sleeve worked well in keeping electronics safe
Padded straps held up well with no discomfort on long hikes
Access the Pro Community Discussion
Get your questions about the Osprey Arcane Duffel answered from our team and the Pro Community right here on the page. Plus, join discussions with other members about gear, guides, and more.
Other Bags & Luggage Reviews