Osprey Arcane Large Day Pack (V2) Review
The Osprey Arcane Large Day Pack (V2) introduces some helpful organizational and aesthetic upgrades, but its material marks up more easily than others.
Our Verdict
Unlock the Pro Summary
Save time. Get access to brief summaries of our reviews so you can browse and make decisions more efficiently.
Pros
Easy-to-access, thoughtful organization
Minimal water bottle pocket that promotes a clean look
Suspended laptop and tablet sleeves for added protection
Cons
Packcloth can mark up easier than other materials
No elastic keepers to manage excess straps
Key clip's location makes access cumbersome
Recent Pack Hacker Video
Technical Details
Capacity

20l

Weight (lb)

1.41 lb (0.6 kg)

Denier

500D

Dimensions

17.72 in x 11.81 in x 8.66 in (45 x 30 x 22 cm)

Notable Materials

Recycled Polyester, Packcloth, Duraflex Hardware, YKK Zippers

Manufacturing Country

Vietnam

Laptop Compartment Size

15"

Warranty Information
Full Review
The word Arcane is defined as "understood by few; mysterious or secret," which is a fitting term for the Osprey Arcane Large Day Pack (V2)'s slim profile and smart features.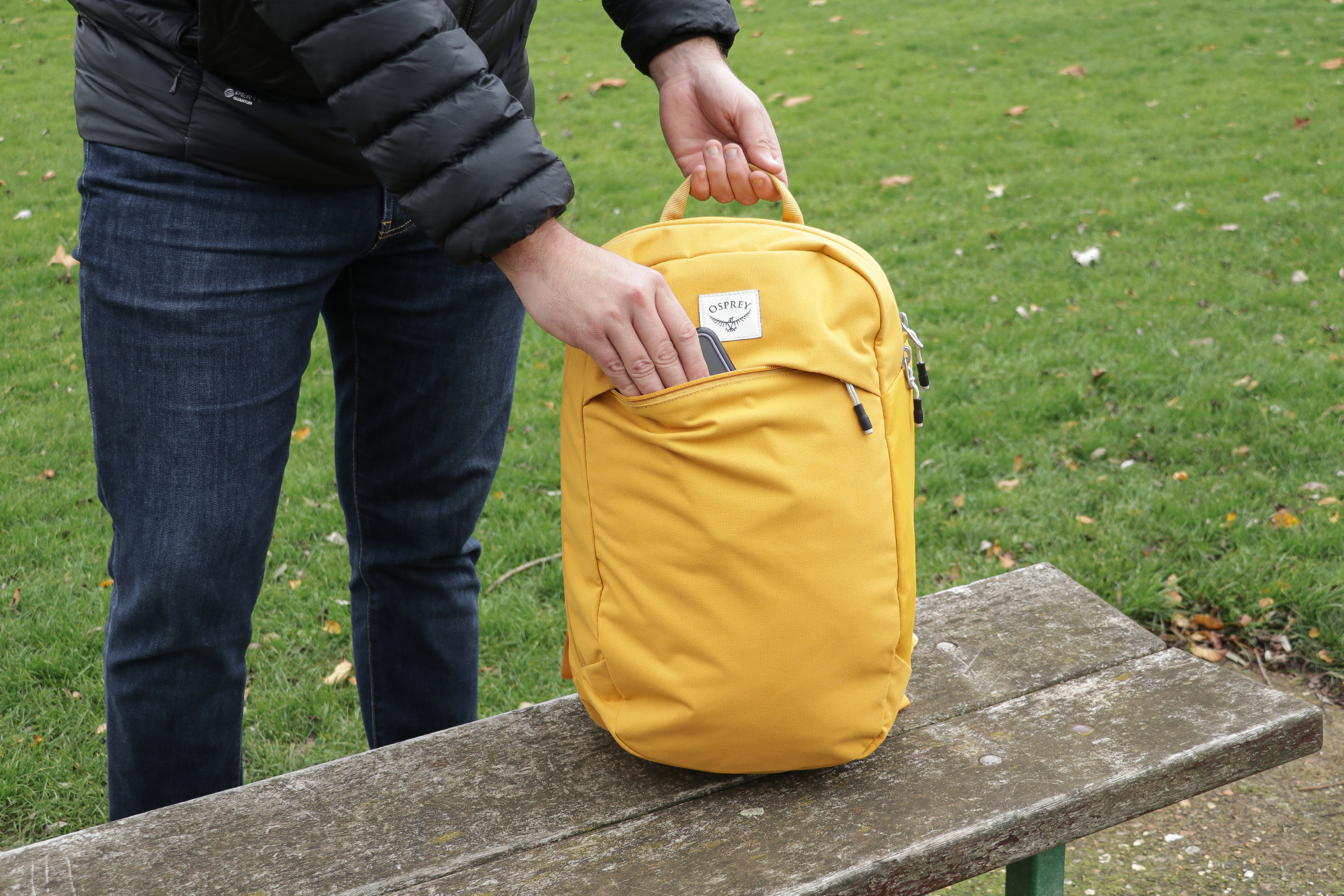 This bag follows the original Osprey Arcane Large Day Pack, which we've tested in the past. It shares some similarities, like a comfortable harness while offering an upgrade in areas like organization. While our focus will mostly be on V2 in this review, we'll also take a look at what we feel Osprey improved on and what we think could still use some work with this pack.
With two weeks of testing completed, we're eager to share our thoughts—all of our experience is packed into the review below!
Materials & Aesthetic
Aesthetically speaking, this daypack's streamlined design lends itself well to urban environments, making a great option for your commute around the city. It scored relatively similar in our Instagram poll on its looks to V1, coming in at a 78% approval rating. It's safe to say that most of our followers are fans of its citified vibe.
One difference you'll spot right away between the two versions of this bag is the branding. Both iterations have logos on their front, though the V1's is positioned along one side while the V2's is more centered and sits at the top. It's more noticeable, but even so, we feel that it adds to the bag's overarching muted design—of course, your mileage may vary.

The Arcane Large Day Pack (V2) features a 100%-recycled 500D polyester packcloth that's produced with a Bluesign-certified production process. What does this mean? This bag is not only repurposing prior materials but is constructed in a way that creates less of a negative impact on the earth—we're digging the sustainable approach, Osprey.
Concerning its durability, this fabric has been performing up to par during testing. The only damage we've noticed so far is a small, dark mark on the front of the bag. It's merely aesthetic, but it's also stubborn, as we haven't been able to get rid of it.
This is one downside to opting for a brighter shade like the Honeybee Yellow colorway we've been testing—stains stand out more so than on darker colorways. If this is a big concern for you, or if you're just not a fan of yellow, you're in luck. There are four other colorways available at the time of this review, such as Starblazer Blue and Stonewash Black.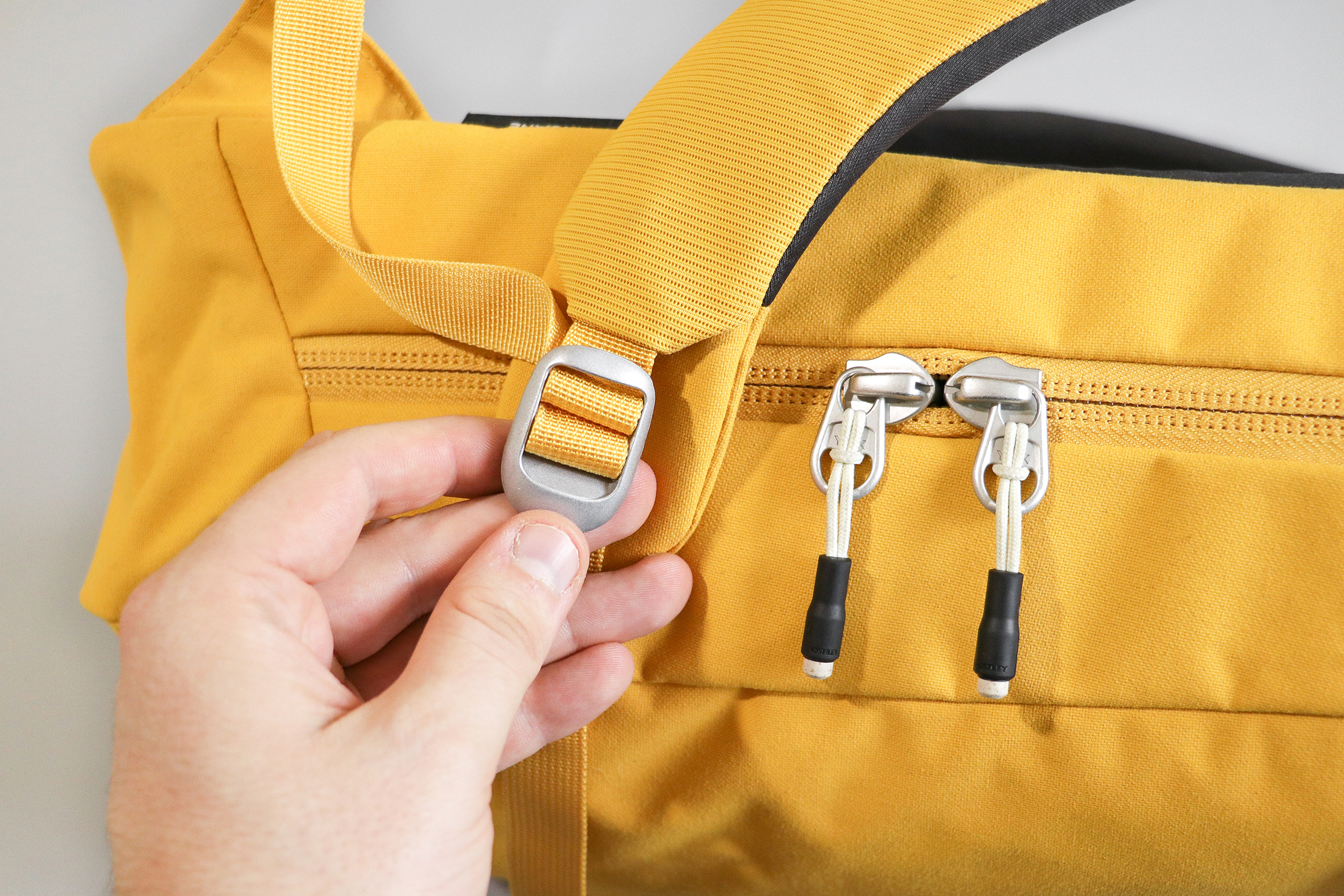 As always, we're glad that YKK zippers are making an appearance on this pack. They have a similar look to the other hardware around the bag (which we'll talk about next) and have been zipping and unzipping each pocket and compartment with ease. Bonus: the zipper pulls are super satisfying to fidget with, and look just like pencil erasers (although they don't function as such).
Duraflex is to thank for this pack's metal hardware, and while it's small, it adds an extra premium look and feel. We're not the biggest fan of the bag's key clip (which we'll talk about later), but the strap adjusters have all been working well and don't show any signs of damage thus far—we don't foresee any significant issues in this department in the future.
External Components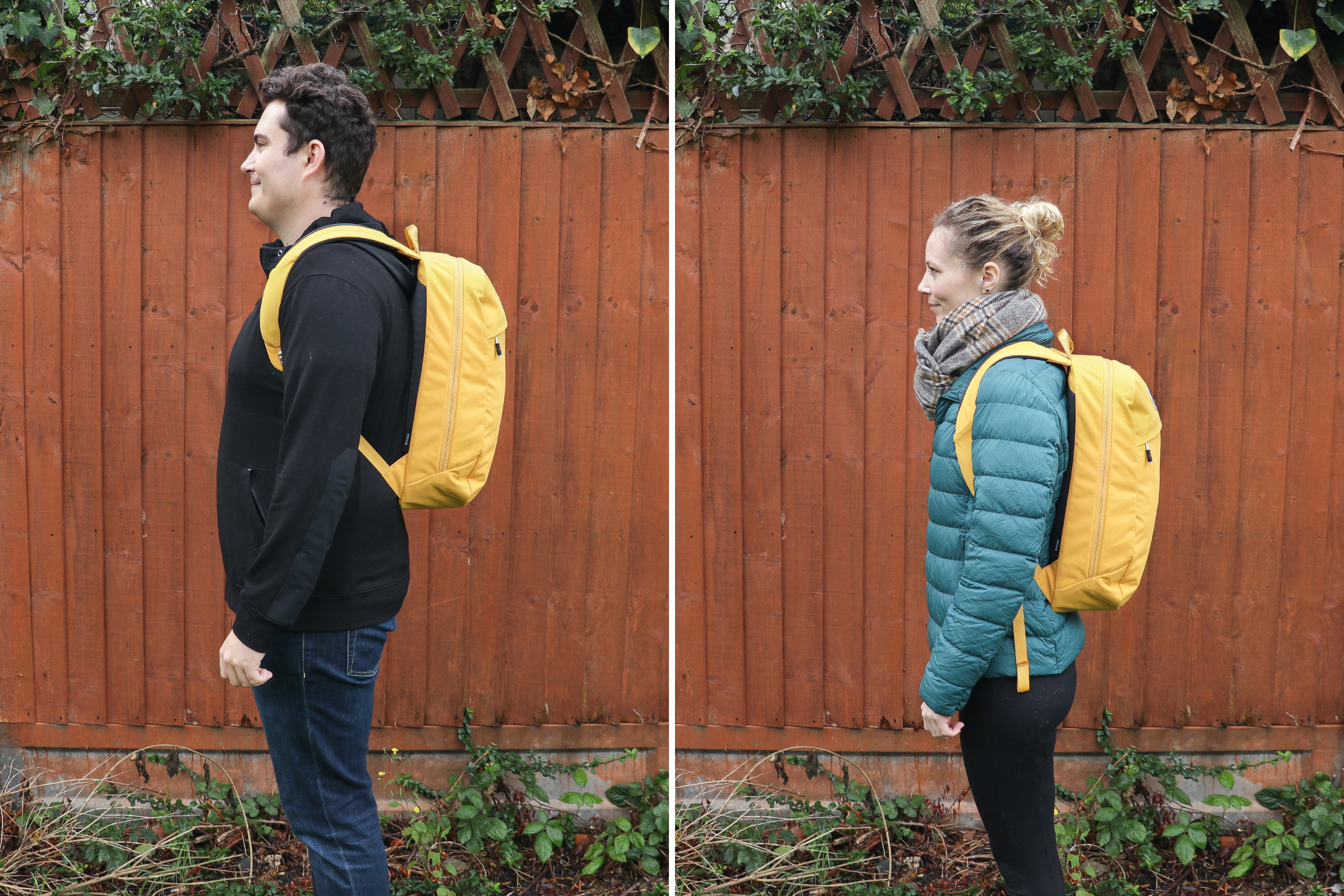 The shoulder straps are comfortably padded for the load you're likely carrying every day. They're not under or overbuilt—instead, we've found them to be the just-right level of support for a bag of this size. They also feature a micro-mesh material that aids in keeping your shoulders ventilated, which is much appreciated when we're out in the heat or have a particularly long commute.
These straps have some other neat additions, too, like a g-hook at the end of one of the straps you can use to attach the bag to your chair or a rail on the subway for added security. This is just one example of the small, thoughtful functionalities this bag employs—you can take advantage of this on those sketchier commutes to make for some much-appreciated peace of mind.
You'll also notice a mesh pocket along the opposite strap where you can keep pens or possibly some smaller personal care items like chapstick so that they're always close by. We didn't get a lot of use out of it in testing, but it's an option for the things mentioned above or anything else you feel would work well inside.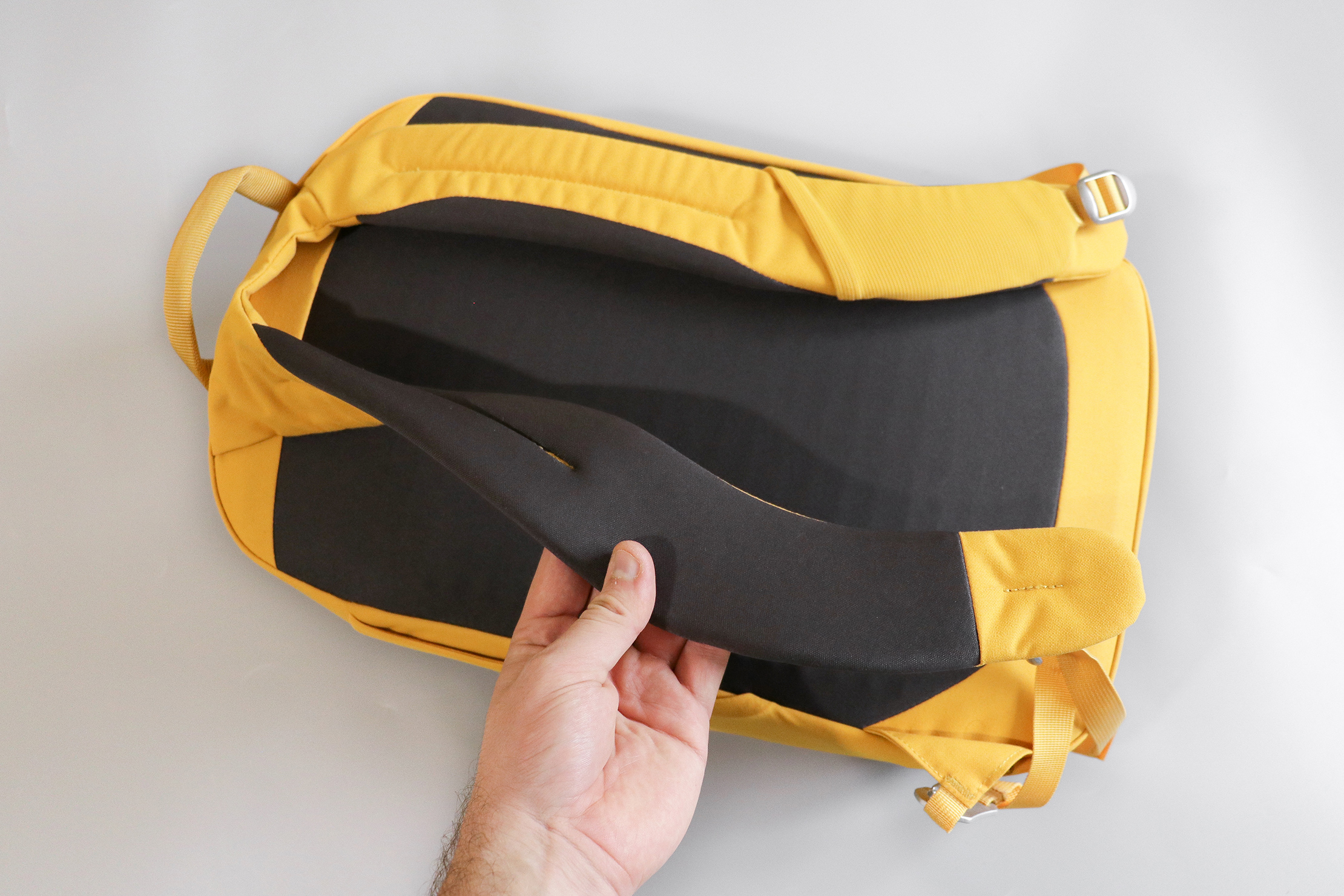 You won't find a sternum strap or a spot to attach one on this pack, though we haven't felt the need for it during testing. You might miss it if you typically take advantage of one for extra stability, which is why we wanted to make a note of this; what's not a big deal for us may be a deal-breaker for you.
The back panel is like the shoulder straps in that it's built comfortably enough for the gear you're most likely taking with you every day. It dawns the same stretchy, micro-mesh-like lining that's done a relatively okay job at keeping us ventilated on longer and warmer wears. As always, some amount of sweat is inevitable, but it's been performing decently throughout our testing.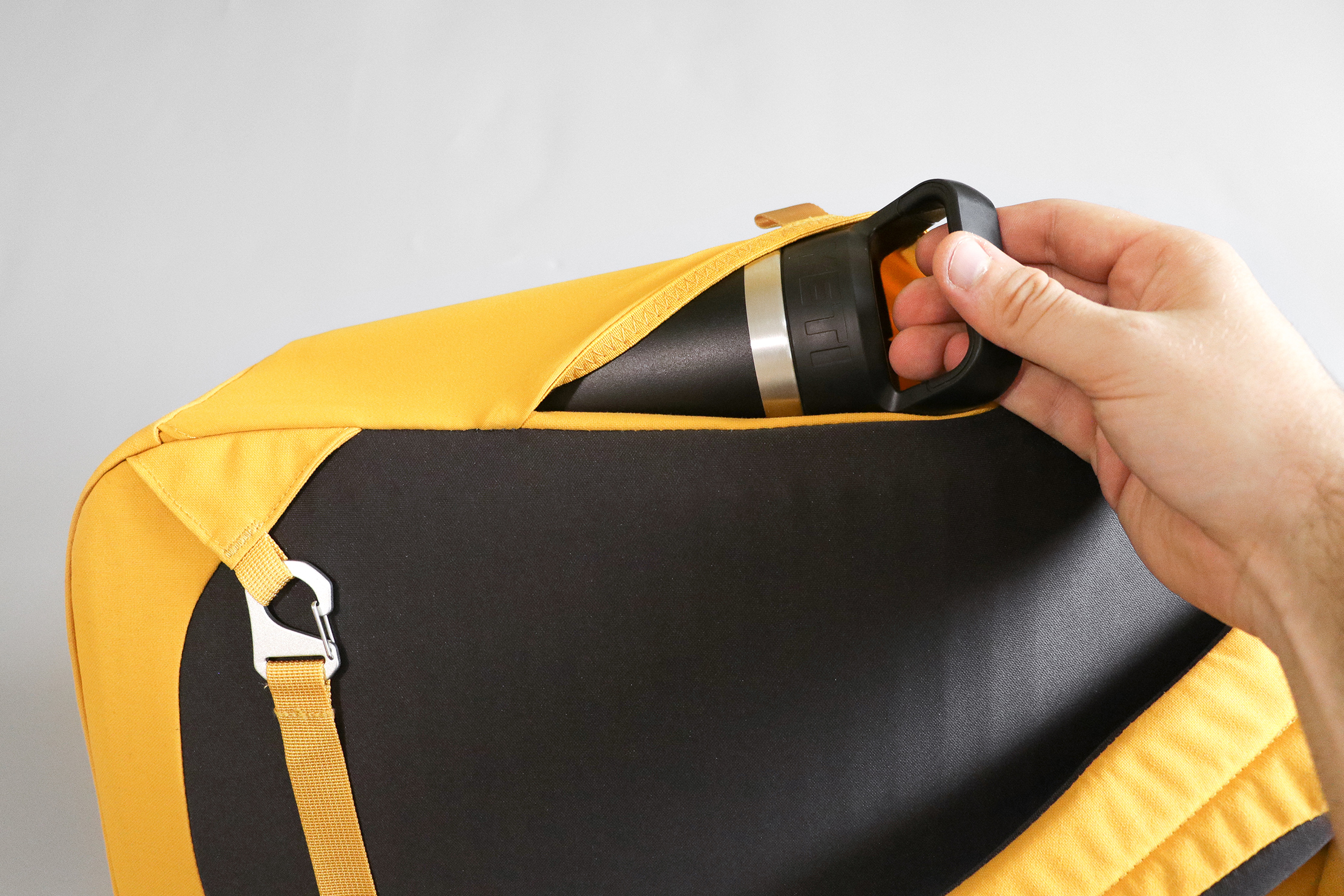 There's also a standard backpack handle at the top that's helpful for when you need to quickly move the bag around or for when you have the ability and desire to hang it up. It does have a small amount of padding but nothing crazy—it's more than comfortable enough for its intended function as is.
We're going to end this section with one of our favorite features on this bag: the water bottle pocket. Its stretchy mesh accommodates 18 oz bottles perfectly, and it lies completely flat against the bag when not in use. You can hardly tell that it's there at all, unlike other bulkier pockets we've seen on certain other packs.
Inside The Pack
Now, we'll be getting inside this pack to go over the convenient storage and organization available to you—what's different, what's the same, and how we feel about it. The front pocket, which we'll cover first, is the biggest change from V1 of this bag.
For starters, this pocket is horizontal rather than vertical, and we've found it to work much better this way. With the vertical version, the liner pocket inside didn't have any closure, so our gear would slip out when the bag got jostled around (limiting us from packing anything too fragile). We don't have to worry about this with its horizontal counterpart, as it's more catered to a standard backpack carry.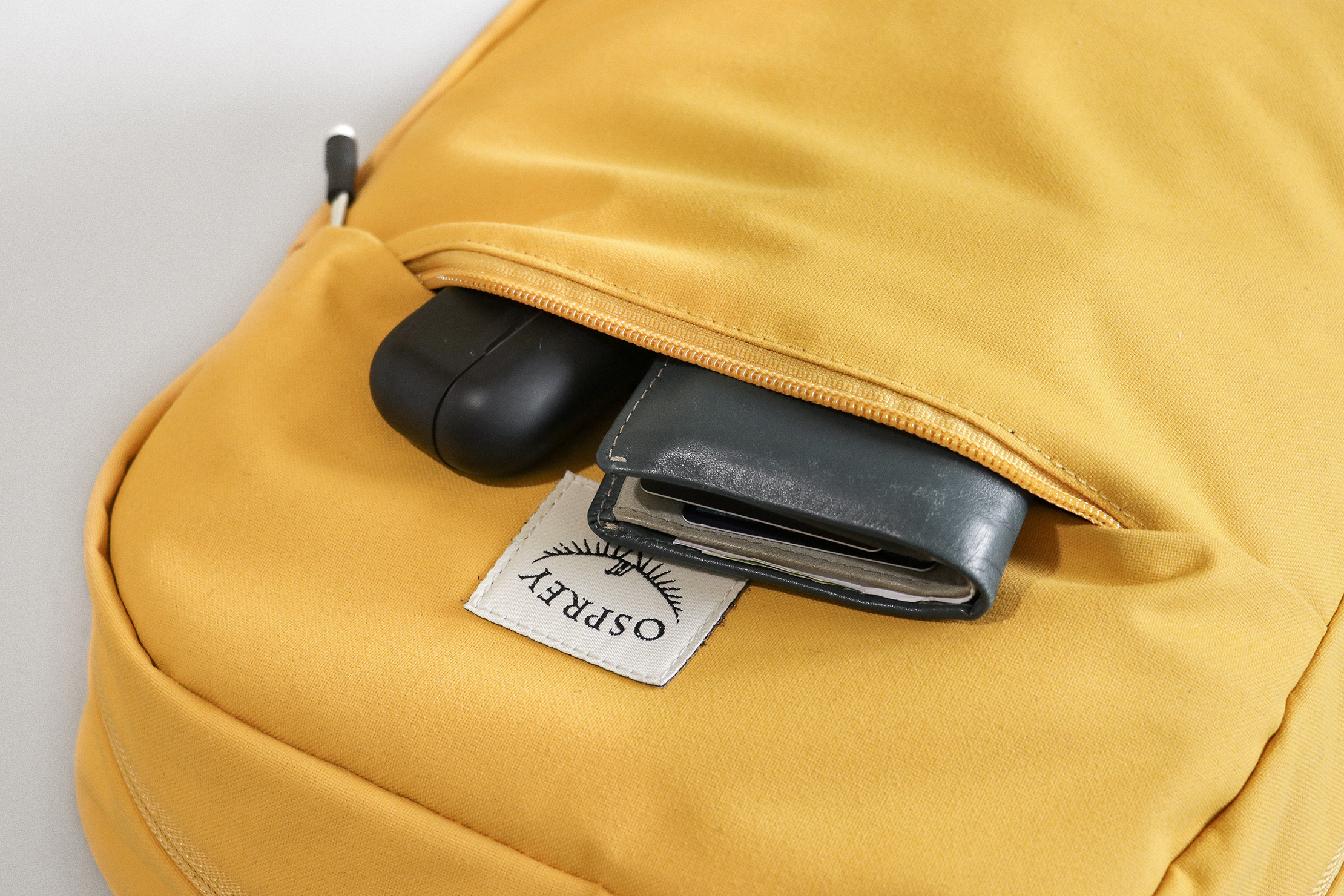 A fabric welt covers this front pocket's zipper to help it blend in and keep the bag looking clean without slowing down our access. Plus, it offers some extra water resistance as the zipper is concealed from moisture—we love little additions like this that aid in look and functionality. Then, on the inside, you have a fair amount of room to hold multiple quick-grab items—for us, that's consisted of Apple AirPods, a wallet, and keys.
Because this is the only pocket like this on the pack's exterior, you'll want to take advantage of the convenience it offers. You don't want to have to go in and out of the main compartment each time you need your keys or whenever you need to get a card out to pay for something.
Since we're on the subject, we should also look a little closer at this main compartment. Rather than a clamshell or horseshoe-style set up, it's secured by zippers that sit on the top-left of the pack, so you can easily access the compartment from both the top and along one side.
We were skeptical of this at first but found that when we used this as a laptop bag, this opening was really convenient—the positioning of the zippers makes it easy to reach inside and grab our tech out without having to fumble around to find them.

This compartment's actual inside holds around 20L of gear, meaning you have a fair amount of room for your everyday essentials. Even if you stuff it to the brim, the bag won't look overly bulky on your back—it keeps a nice, slim profile instead.
Organization-wise, you have a sleeve against the back wall that can carry up to a 15″ laptop inside, with or without a protective case. It's suspended pretty high up from the bottom of the compartment and has a decent level of padding that will help cushion your laptop from accidental drops and when it gets shuffled around as you're walking. Our tech is crucial in our daily work lives, so we're happy it's getting the protection it deserves.
In front of this sleeve is another that shares the same padding and is a great spot to store your tablet or e-reader when you have them with you. You don't have to worry about any damage from dropping the bag here either, as it's also suspended for added protection. Again, it's always nice to know your most important (and likely most expensive) gear is safe from harm.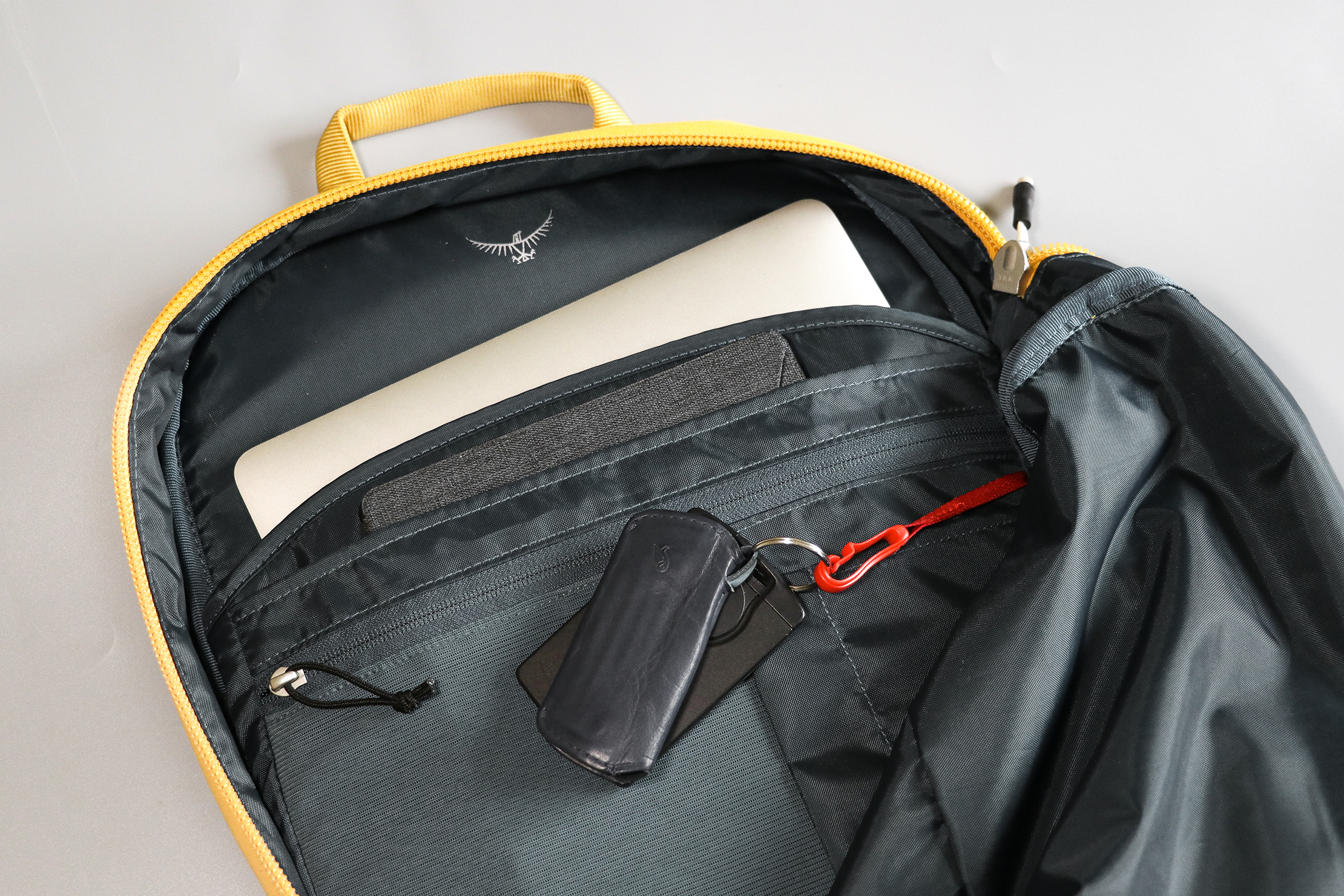 Then, you also have some bonus organization beneath these sleeves, including a medium-sized partially-mesh zippered pocket that can hold some tech items like chargers, adaptors, and other accessories. If this isn't enough room, you can do as we have and incorporate a separate tech pouch (like the Thule Subterra PowerShuttle) to create more segmented space.
A pen sleeve and a small liner pocket sit to the side of this mesh pocket as well that we haven't filled with anything during our testing. When we pack out the pockets and sleeves behind them, they can be a little tight to access anyway. However, if you want a place for your pen or a smaller, flatter piece of gear (maybe a flash drive or SD card of some kind), this is one spot to try.
Additionally, this compartment also houses a dedicated key clip. It's not the most convenient spot for it, considering we have to go all the way inside and shuffle around gear to grab it when we're unlocking a door. Because of this, we've opted to keep our keys in the front pocket, where they're much easier to get to.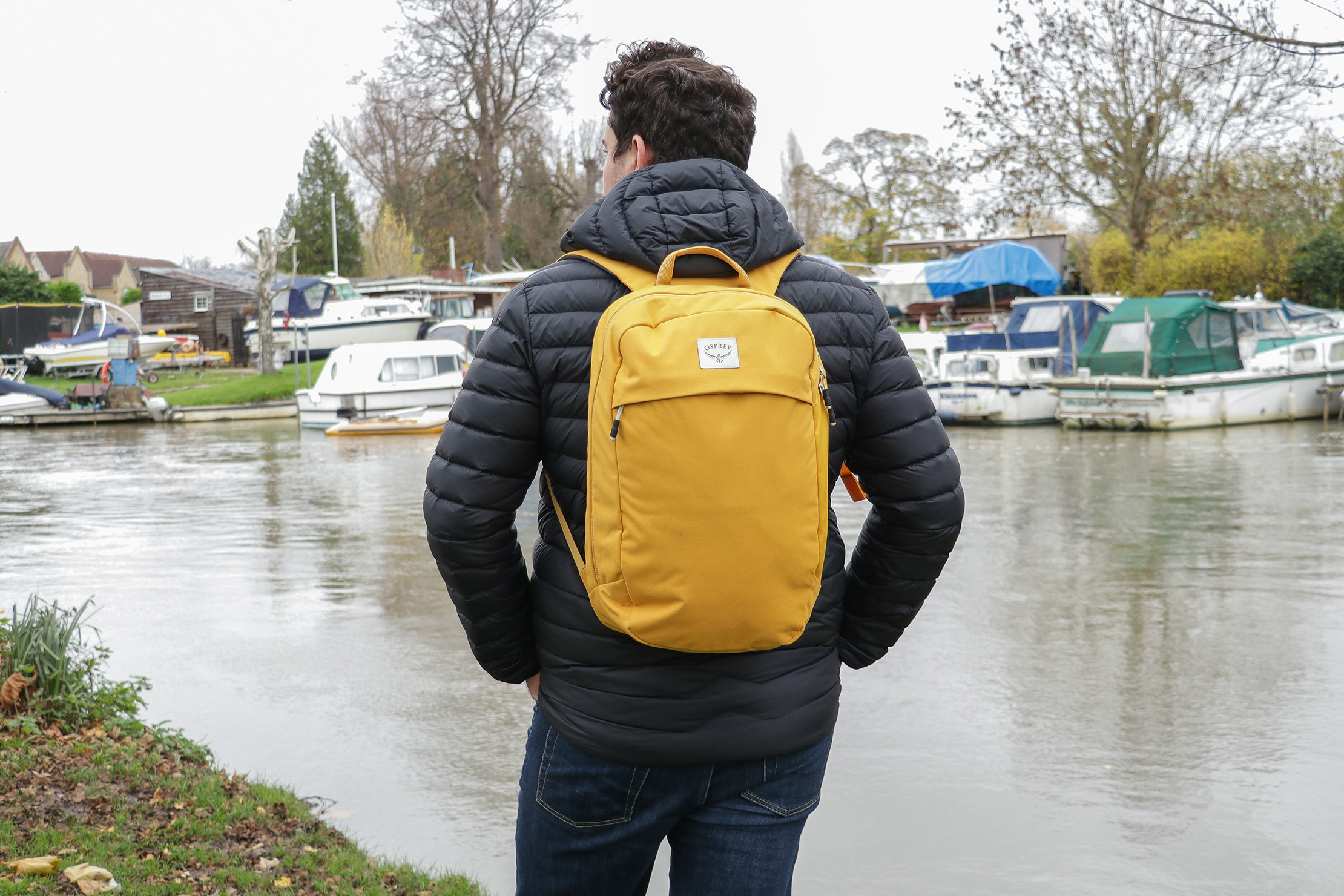 If you plan on carrying a ton of tech accessories in this pack, we recommend integrating some tech pouches for additional compartmentalization. You could also comfortably fit a singular packing cube if your gear isn't tech-specific, but it's a little small and slim for multiple (at least for us). At the end of the day, it's about cultivating the combination of gear and organization that works best for you.
All told, we've enjoyed testing the Arcane Large Day Pack (V2) these last two weeks. It's simple in its design, but its organization and comfortable harness system perform incredibly well for everyday commuting. Not to mention, you're picking up this pack for a reasonable price (around 100 bucks) from a respected brand.
Usage Timeline
Initial Usage
Condition: Excellent
Still has a well-padded and comfortable harness system
More segmented organization panel than the original
Main compartment opens half-horseshoe instead of fully horseshoe
2 Weeks of Use
Condition: Good
We've been digging the super comfortable & padded harness system
The water bottle pocket on the side is really intuitive, it hides away brilliantly and stays hidden when not in use
There are plenty of colors available, but we have to admit we have a soft spot for the eye-catching yellow version we've been testing
We've found the internal organization to be 'just-right' for most use cases and the spacious front quick-grab pocket comes in really handy
A small mark has appeared on the front of the bag, we're not sure where it came from but it's proving tricky to get rid of, it likely wouldn't show on a darker colorway

Osprey Arcane Large Day Pack (V2) Fabric Mark
Access the Pro Community Discussion
Get your questions about the Osprey Arcane Large Day Pack (V2) answered from our team and the Pro Community right here on the page. Plus, join discussions with other members about gear, guides, and more.
Other Bags & Luggage Reviews