Osprey METRON Review
The Osprey METRON has an aerodynamic design and helmet strap, making it a solid choice for bikers. However, the lack of strap keepers was obvious while cycling.
Our Verdict
Unlock the Pro Summary
Save time. Get access to brief summaries of our reviews so you can browse and make decisions more efficiently.
Pros
Aerodynamic, bike-focused design
Plenty of pockets for organization
Comprehensive harness system
Cons
Could use some strap keepers
Straightjacket compression limits main compartment access
Small items may get lost in the deep front compartment
Recent Pack Hacker Video
Technical Details
Capacity

26l

Weight (lb)

2.6 lb (1.2 kg)

Denier

500D

Dimensions

18.91 in x 13.79 in x 10.24 in (48 x 35 x 26 cm)

Notable Materials

Packcloth, YKK Zippers, ITW Hardware, Woojin Hardware

Manufacturing Country

Vietnam

Laptop Compartment Size

15"

Warranty Information
Full Review
Carrying gear while riding a bike can be a tricky activity. You have to consider the weight of every piece of gear and understand how it will impact your balance. In some cases, it even takes away any fun you'd been looking forward to on a bike ride—it becomes less of a joyride and more of a tight-rope balancing act. Good thing there are bags designed with biking in mind.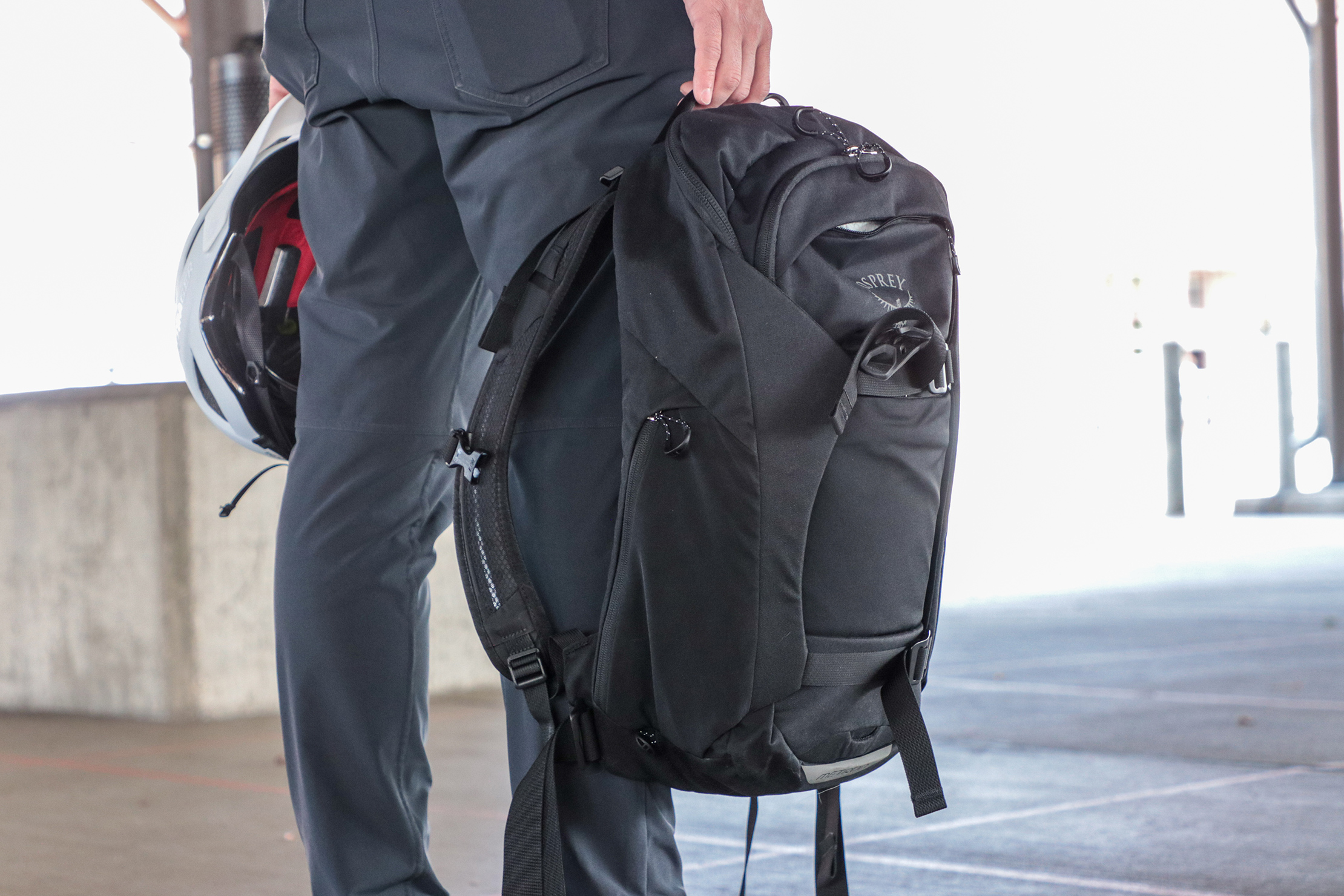 We've seen a lot of ways to make bags more bike-friendly. They usually put an extra strap or two and call it a day—not so with the Osprey METRON. They've gone the whole nine yards to design the METRON as a backpack meant not to get in the way of you enjoying your time in the saddle. Compression straps, load lifters, a waist belt, and somewhere to hang your helmet once you reach your destination are only some of the features that make the METRON a good backpack for biking. There's a lot more to uncover, so let's get started.
Materials & Aesthetic
Over the course of testing the METRON, one word kept popping into our heads: aerodynamic. Now, before anyone gets ideas of this bag looking like a fighter jet or a space shuttle, we mean that in a more technical sense. The METRON may look like a typical backpack, but a closer look suggests it's actually streamlined and low-profile to fit its bike-focused nature.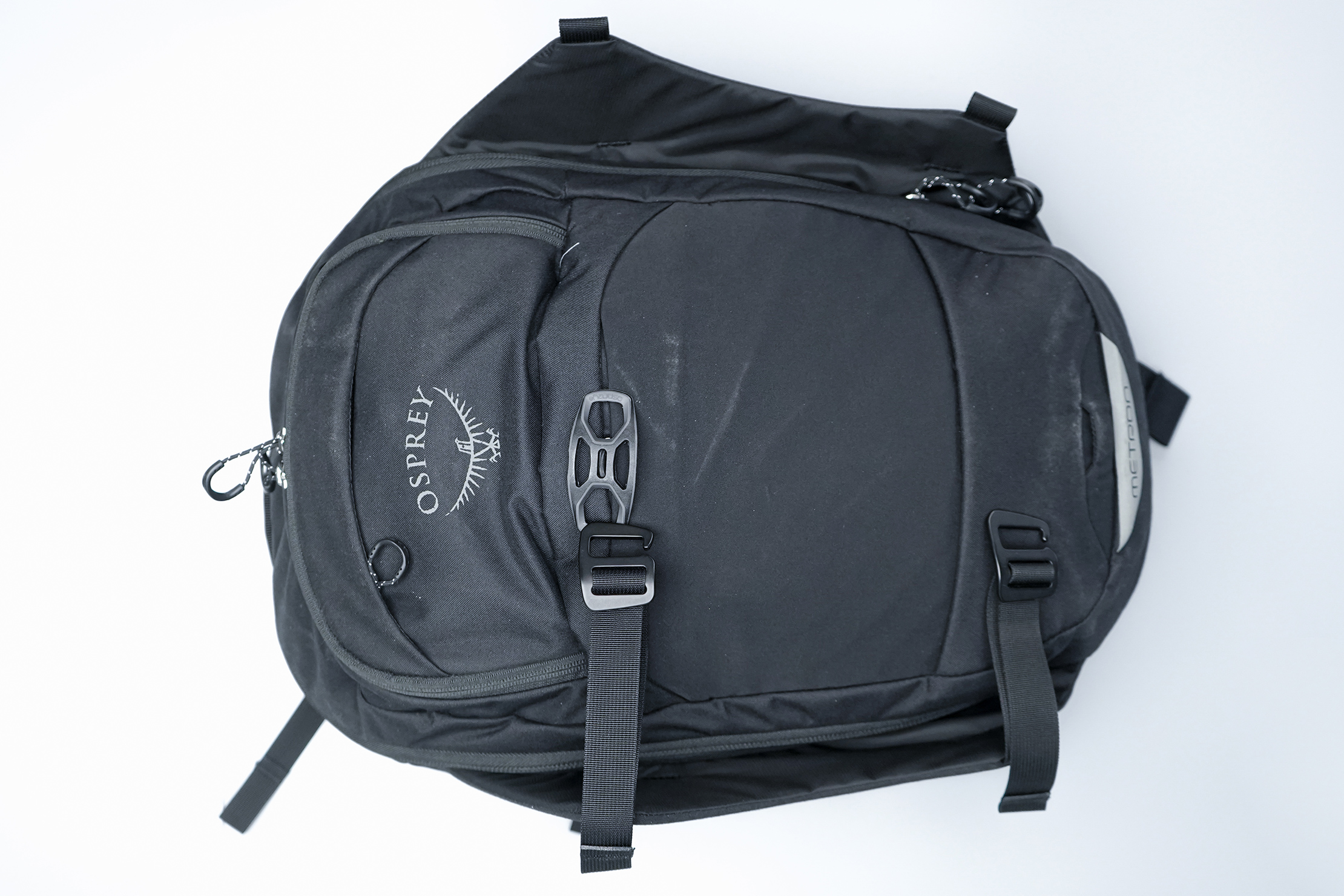 The first hint toward this design is these side-hugging flaps which tighten up and compress the bag as much as possible. Rather amusingly, if you release these flaps—collectively called a "straightjacket compression" system—they look like bat wings. If Batman ever needs a backpack, he'll know which to go for.
With the straightjacket compression fully engaged, the rest of the METRON gives off a clean aesthetic. The 500D Nylon Packcloth has a smooth-like finish, while the lines and creases make it look like a futuristic knight's armor because of how each broken-up section fits together. That last bit might be somewhat of an overstatement, but it all boils back down to being aerodynamic—which we dig.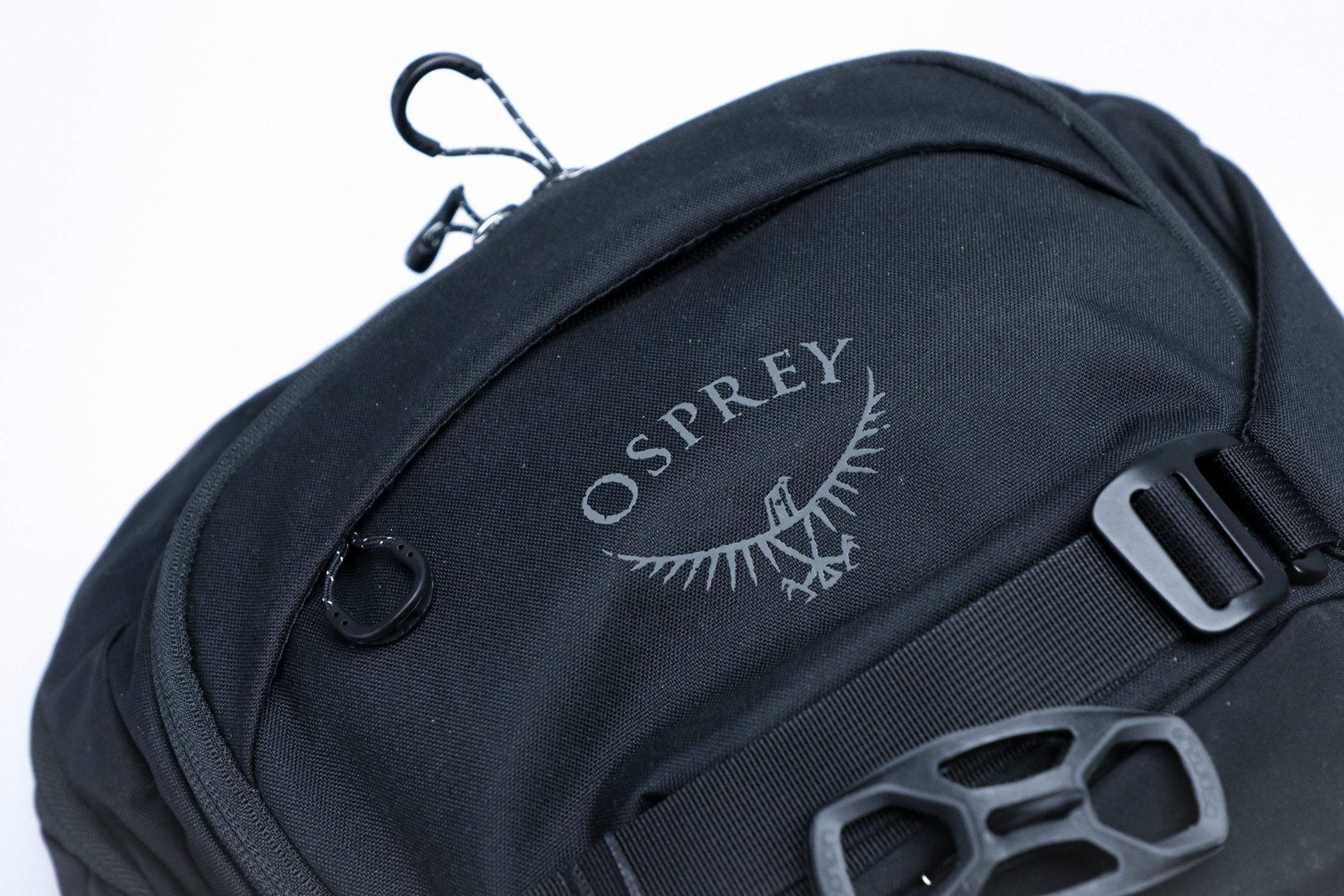 At the time of writing, there are only two colorways available: Black, which is what we have here, and Crimson Red. Not the most eye-grabbing colors ever, but there's a bright green rainfly included for low-visibility situations, which we'll discuss later. Osprey's logo rests top and center where it's very noticeable, especially under bright lighting conditions.
Moving onto more practical aspects of the METRON, the 500D Nylon Packcloth has a fine texture that feels durable enough to withstand frequent bike trips. We should know since it has yet to show a single loose thread or a tear anywhere. The zippers are tried-and-tested YKK with easily grabbable circular pulls. For hardware, there's a mix of ITW and Woojin among the buckles and adjusters. In short, the METRON has the chops for even the toughest bike rides.
External Components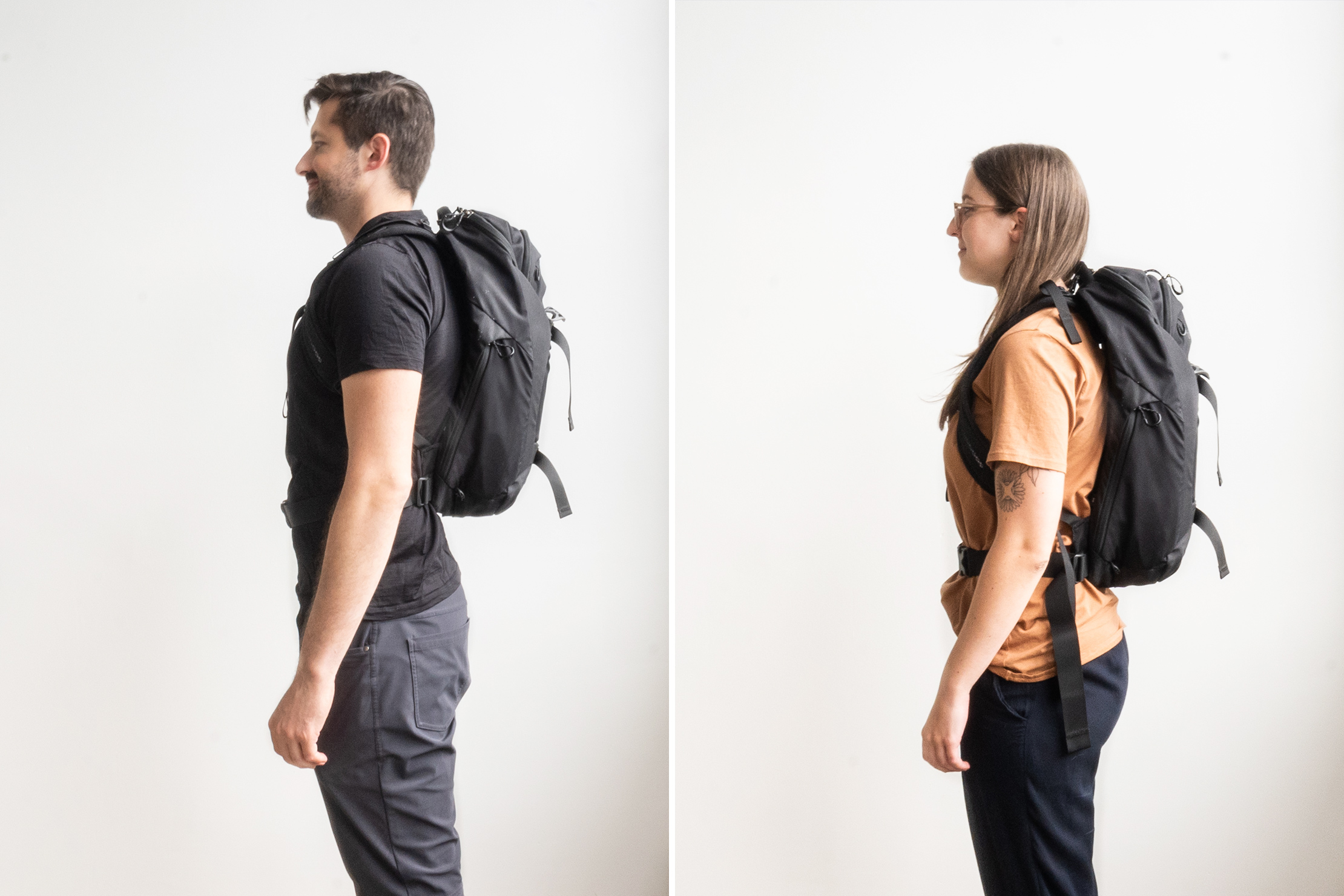 Since the METRON was designed from the ground up as a backpack for biking, you expect a harness system that can keep up. Flip over the METRON, and you're greeted with just that. It's just a sea of straps, padding, mesh material, and a back panel ready to hug you tightly for the ride ahead.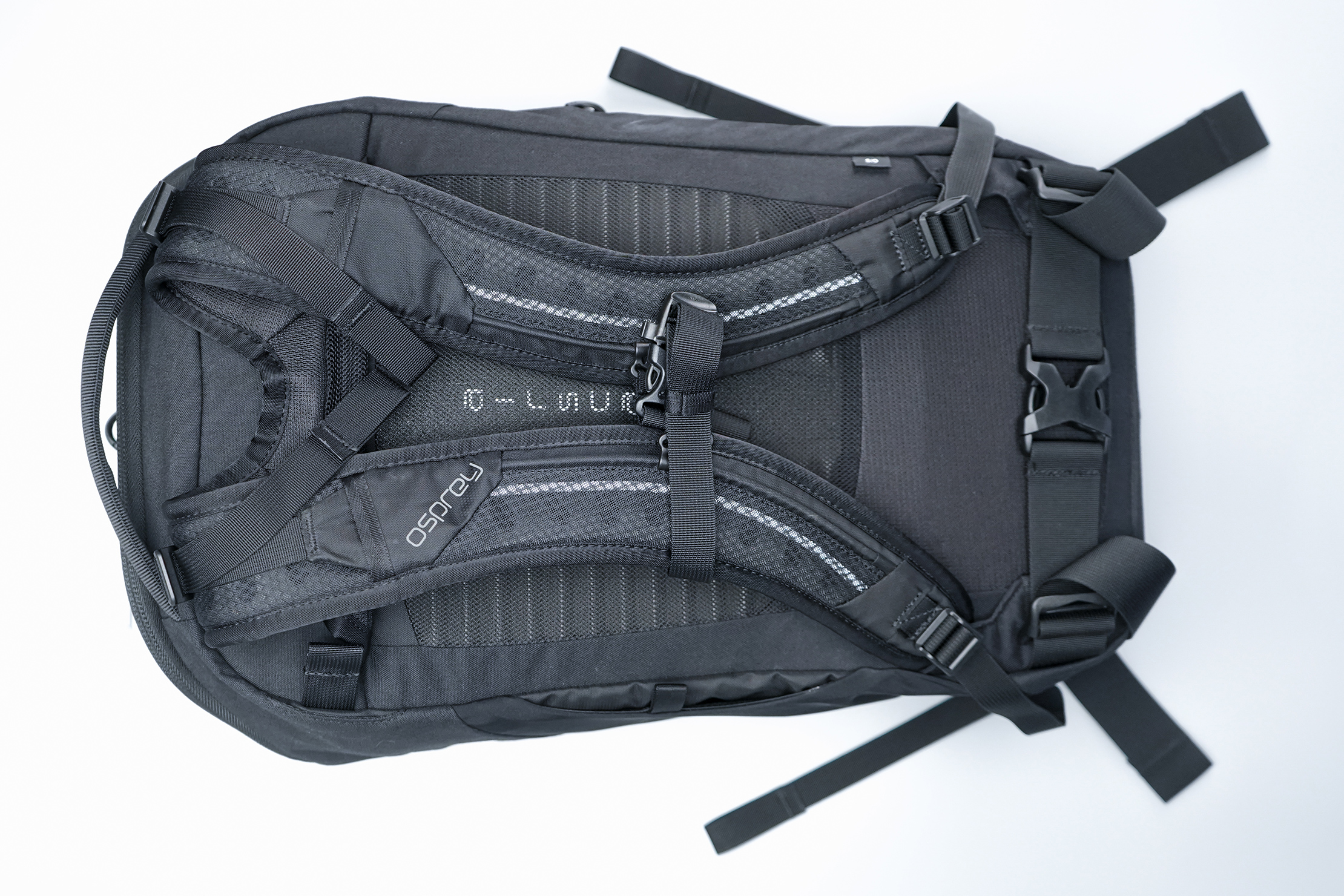 The shoulder straps are well-padded for comfort and have an above-average amount of mesh material that keeps things nice and breathable even when things get sweaty. While typical backpacks that employ mesh material would be satisfied with having it on the underside of the shoulder straps, the METRON has some of it on top too, which adds more breathability.
You get two nylon loops—one on each shoulder strap—for attaching accessories like carabiners for your keys or mini Bluetooth speakers. Above those are some super handy load-lifters, often but not always found on more active-focused backpacks. These help tune the weight distribution to where you're most comfortable. Of course, you get the usual length adjustment for the shoulder straps themselves. Working in tandem, both the load-lifters and the shoulder strap adjusters give you the flexibility to adjust the harness system from the top and the bottom.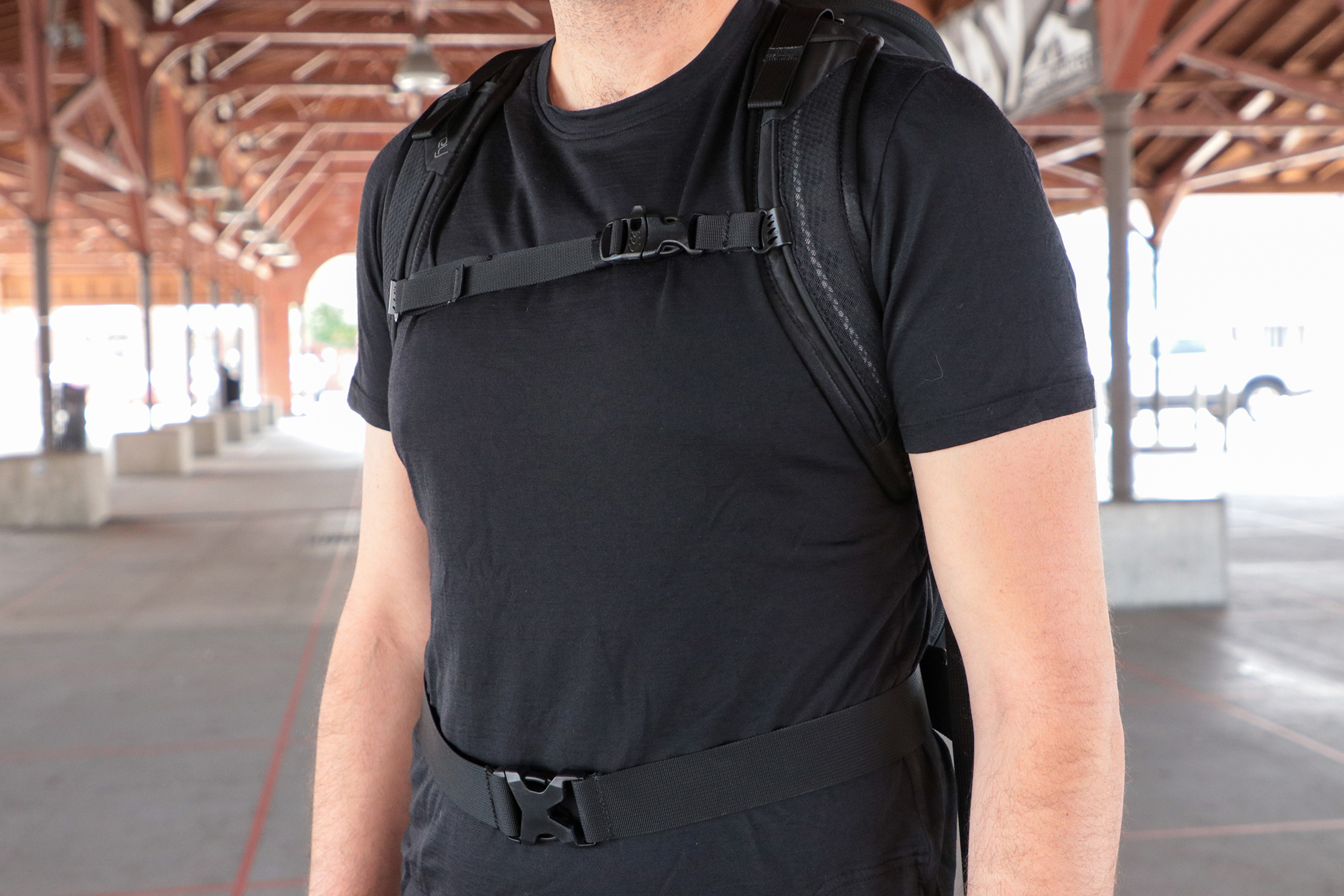 More good news: the sternum strap is mounted on a sliding rail system. This is our favorite kind of sternum strap system because it's easy to use and offers a very fine degree of adjustability along the rail. It even comes with a built-in whistle on the buckle in case you need to call someone's attention. Topping it all off is the adjustable waist belt, which is just a simple nylon strap that clips via buckles, the same as the sternum strap.
Pressing against your back is Osprey's "Airscape" design. Marketing buzzword aside, the back panel features a ribbed design that bends and contours around your posture easily. The upper two-thirds of the surface area has a mesh material, while the lower parts near the lumbar area trade it in for a bit of extra padding. It all works, too—the METRON sits comfortably on our backs when we're leaning over while riding.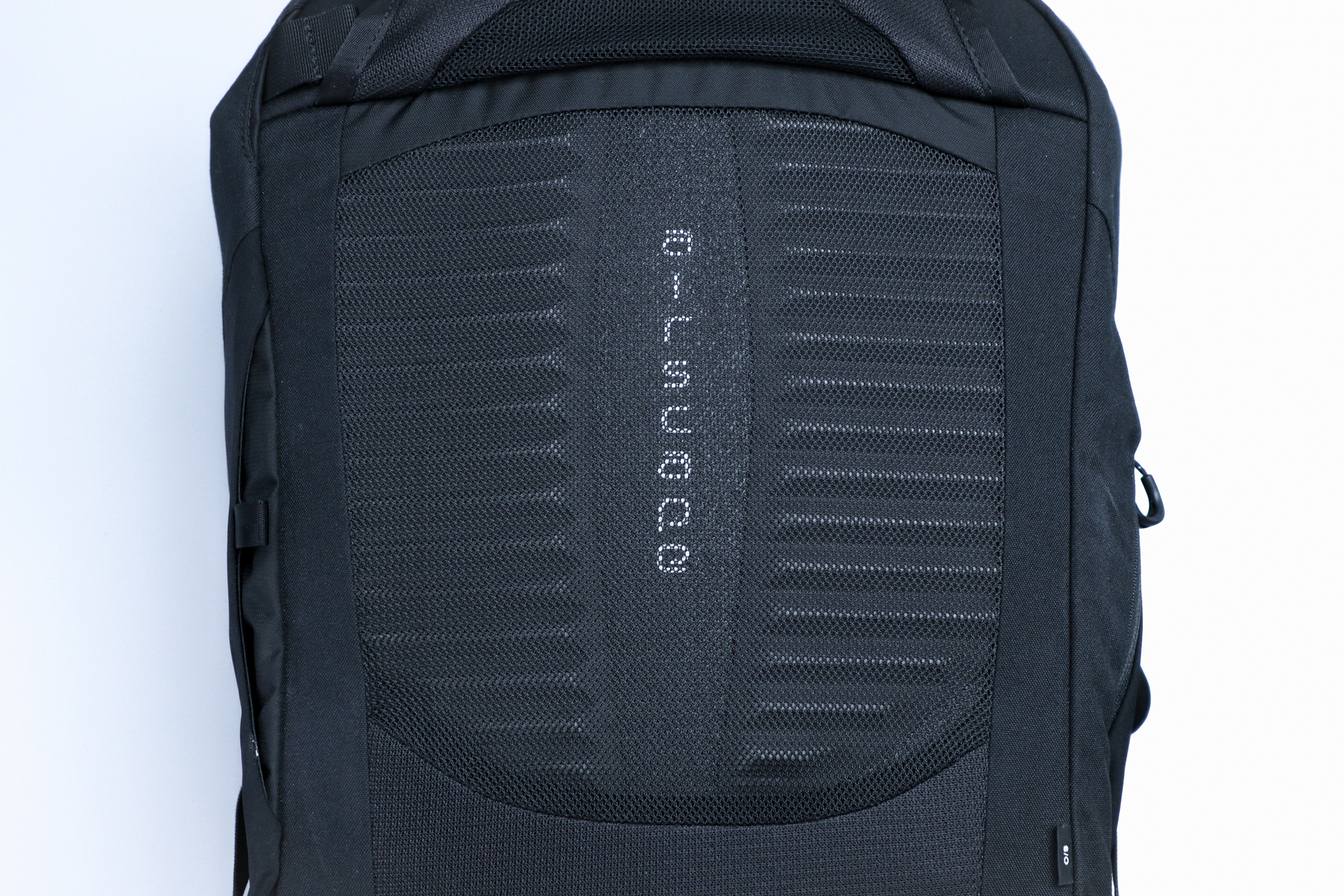 Let's do a quick roll call: shoulder straps, load-lifters, sternum strap, and waist belt—all adjustable for the best fit possible. It can be a tad intimidating at first, like being presented with a bunch of knobs and dials on a newly bought paper copier. The upshot is that this degree of adjustability is really useful when you're trying to get the most comfortable fit. We like to carry a lot of gear when we're biking, and the last thing we want is it sloshing around our back like a sack of potatoes. Taking the time to dial everything in paid dividends in the end, however, as we thoroughly enjoyed taking this backpack on our biking trips.
We already touched on the METRON's straightjacket compression system earlier. To reiterate, the pair of flaps connect in the middle using a pair of straps, which in turn hooks to the right flap via G-hooks. Like the rest of the straps, they tighten up, compress, and work to keep the METRON as aerodynamic as possible.
Unfortunately, there's one noteworthy feature Osprey almost completely overlooked. Apart from the one on the sternum strap, there are no strap keepers for any of the METRON's many straps. It's a fairly major feature to miss out on since having the straps not flap around and cause any distractions while you're cruising downhill could be the difference between an enjoyable bike ride and an annoying one. We did notice some unruliness on the straps on ours, though it's far from a deal-breaker. That said, taming the slack on these straps is one area we wish Osprey would fix in a future version.
Just like the many straps that zig-zag across the METRON, we don't take the top handle for granted. Osprey seems to share this sentiment because the one here is more than just an afterthought. It's still just a folded piece of nylon, but there is a bit of padding going on. Furthermore, it has a wide stance that doesn't make the handle dig into the sides of your hand too badly. In short, it's perfectly usable for lugging the METRON by hand across a reasonable distance.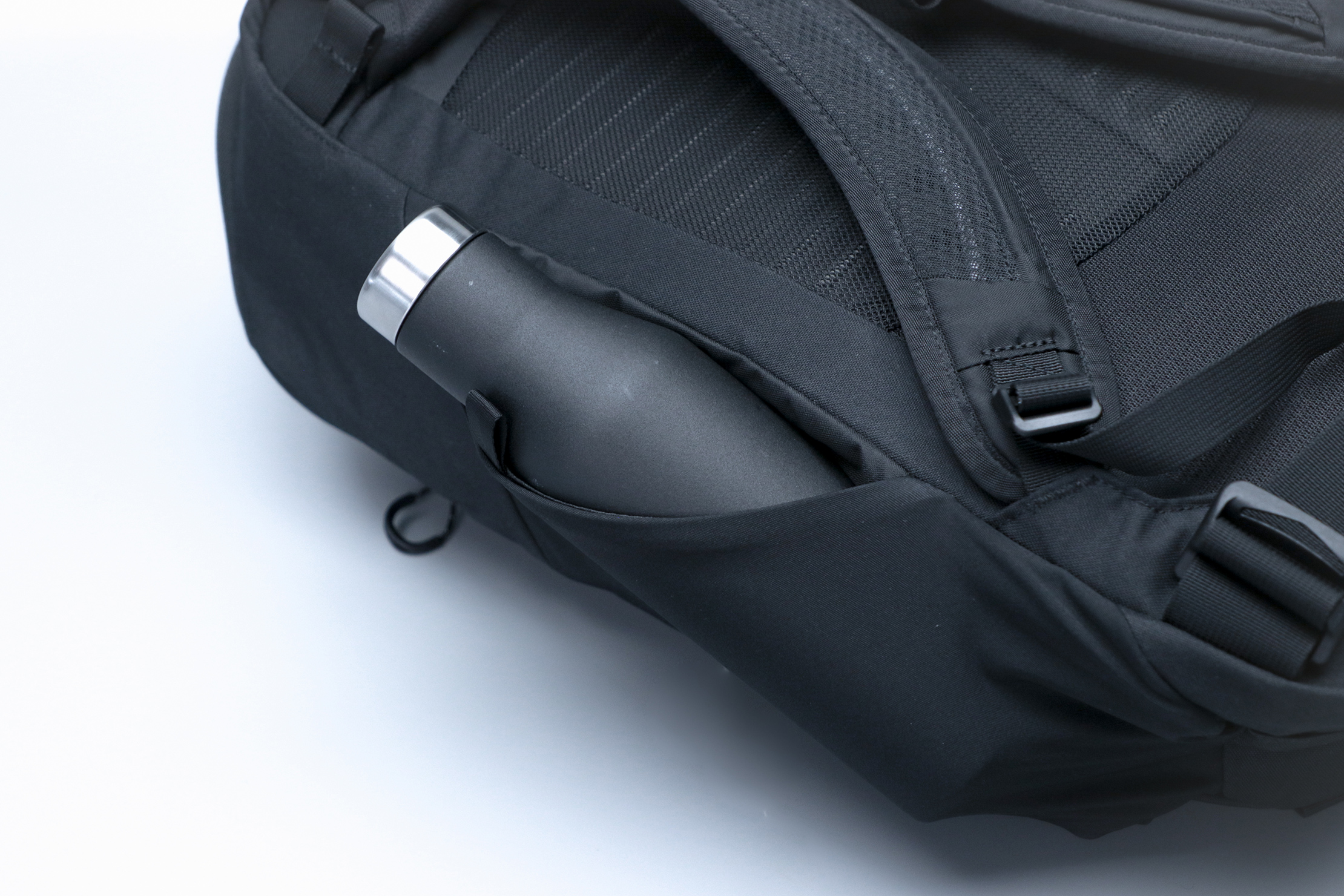 The METRON has a pair of side pockets, one on each side of the bag. They're well-hidden and low-profile until you put something inside them. The left-side pocket is for your water bottle, and Osprey thoughtfully kept the opening towards the back. Say you're biking along on a hot day and you wanted to stop for a quick top-up on your fluids; having the slit nearer to you ensures that you can reach in and grab your bottle easily without having to undo any straps and swinging the entire bag around.
Last but certainly not least are two features that make the METRON a good bike-focused backpack: a blinker light attachment loop and a LidLock helmet attachment. The former is self-explanatory; it's a loop for attaching a reflector or a blinker light. The latter is a feature found on a lot of Osprey's backpacks that allow you to secure your helmet when you're not using it. Just thread the anchor through your helmet's ventilation hole, put it in the horizontal position, and lock it into place by stretching the bungee cord. Bonus points, it retracts into the front pocket when it's not in use. Unfortunately, if you have a helmet without minimal ventilation, it may require a bit of creativity to secure the helmet.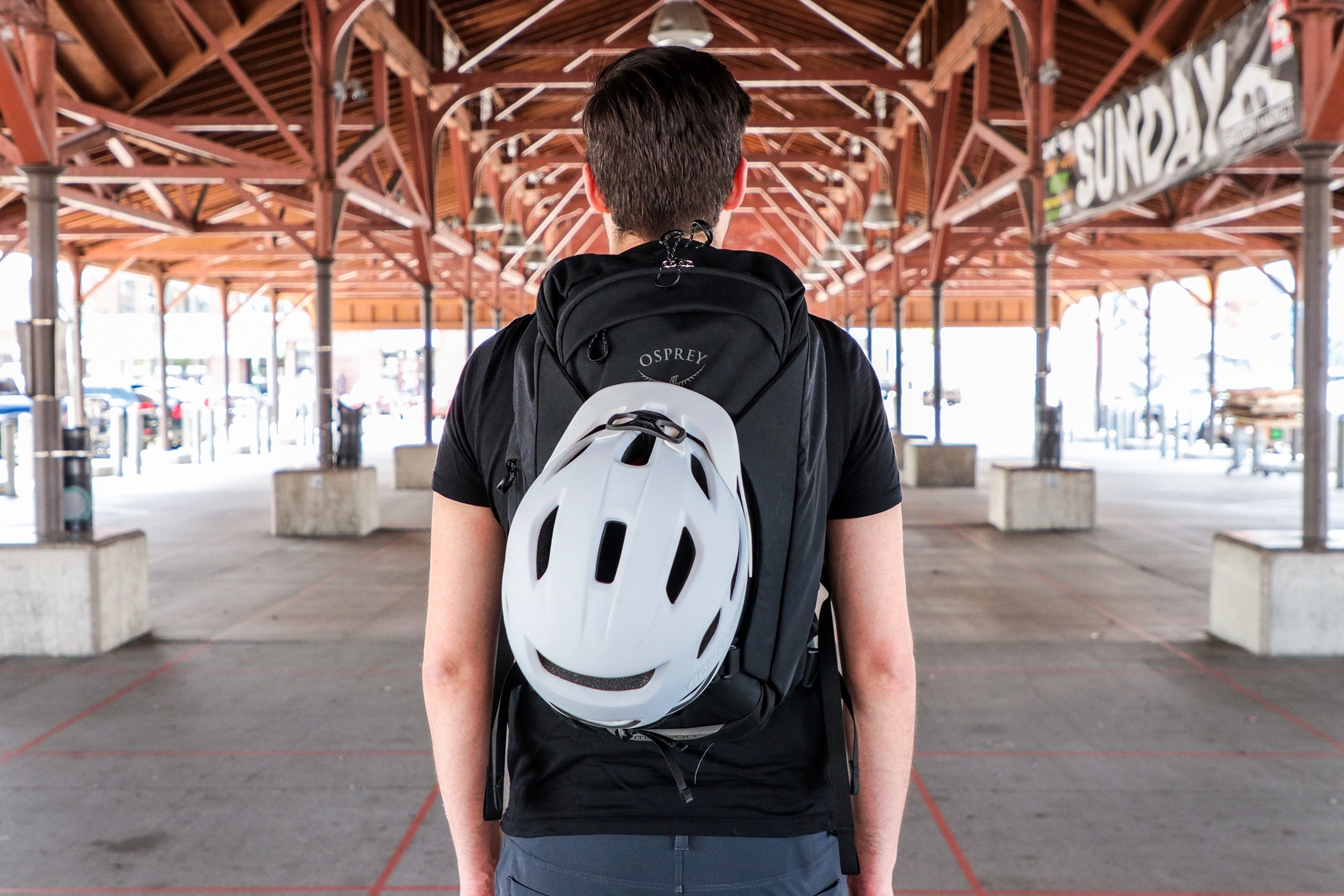 Inside The Pack
The METRON has many secondary pockets, and the one that holds the LidLock attachment is but one of them. This pocket features an open-top design, making it ideal for holding a U-lock since the bulky top will need to poke out. However, if you don't use it for a U-lock, there's a fair amount of space for it to be used as a quick-grab pocket for a small face towel or some granola bars. The material used even has some stretchiness that grants you flexibility as to what you can fit inside.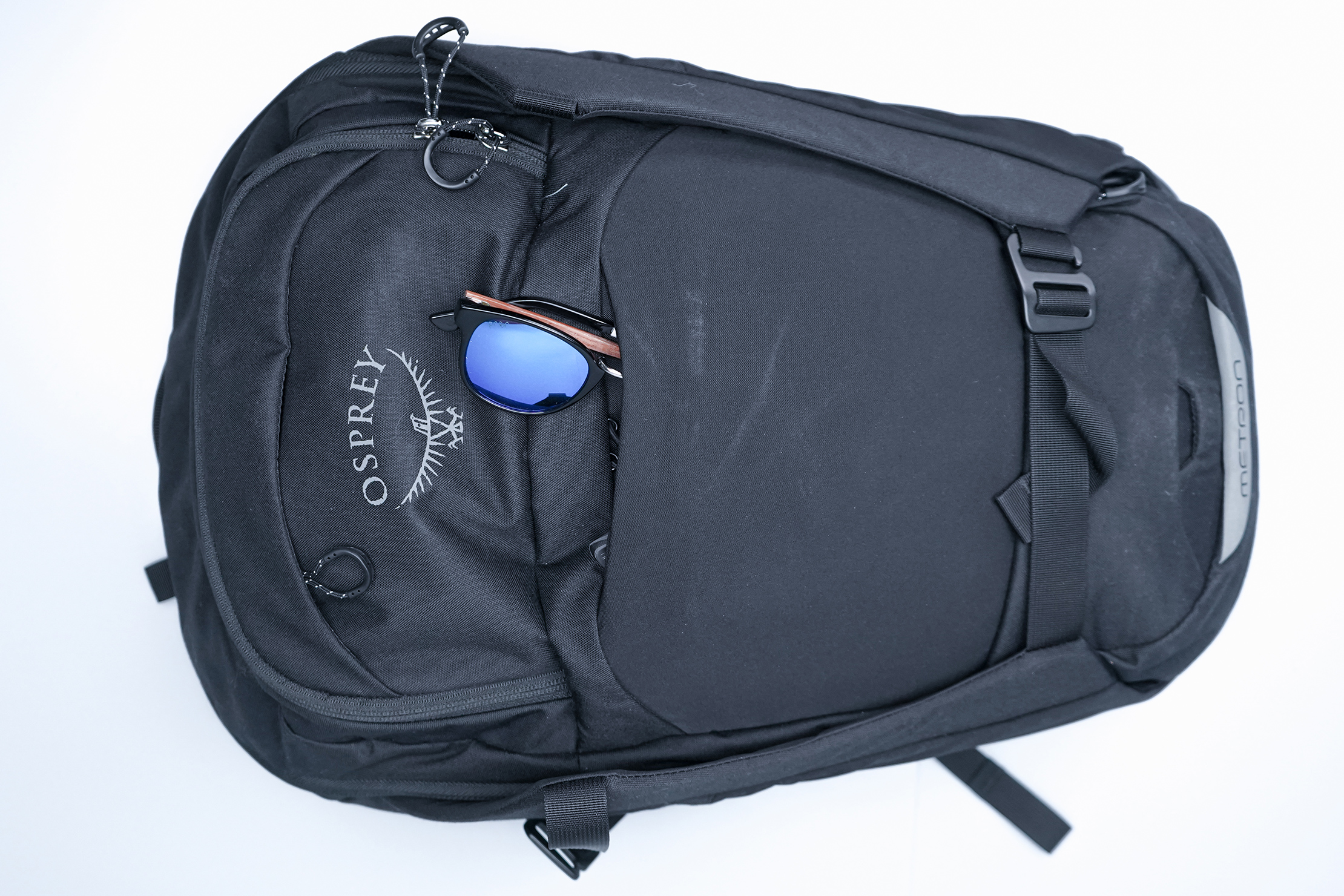 Above that pocket is a small top quick-access pocket for everyday carry items. The interior liner is a soft, scratch-free fabric that should prevent unwanted scuffing on your smartphone or sunglasses. However, this soft fabric won't stop your keys from making contact with anything fragile, so be mindful of what items you decide to mix inside. If you're unsure what items should go in here, small pockets like these are a good temporary home for stuff you usually keep in your pants' pockets.
Behind the scratch-free quick-grab pocket is a sort of front pouch compartment. Inside is a set of mesh pockets for gear like slim power banks and a wireless earphones case. Behind those are two pen silos and another liner pocket. This stacked approach means careful planning of which items will go where. However, it's not that this compartment is lacking in space. In fact, this front compartment is deep enough that there's a good chance that it'll take a genuine effort to fish something out if it falls from one of the mesh pockets. Fortunately, house keys will probably stay in place since they get their own built-in orange key clip anchored near the top right corner.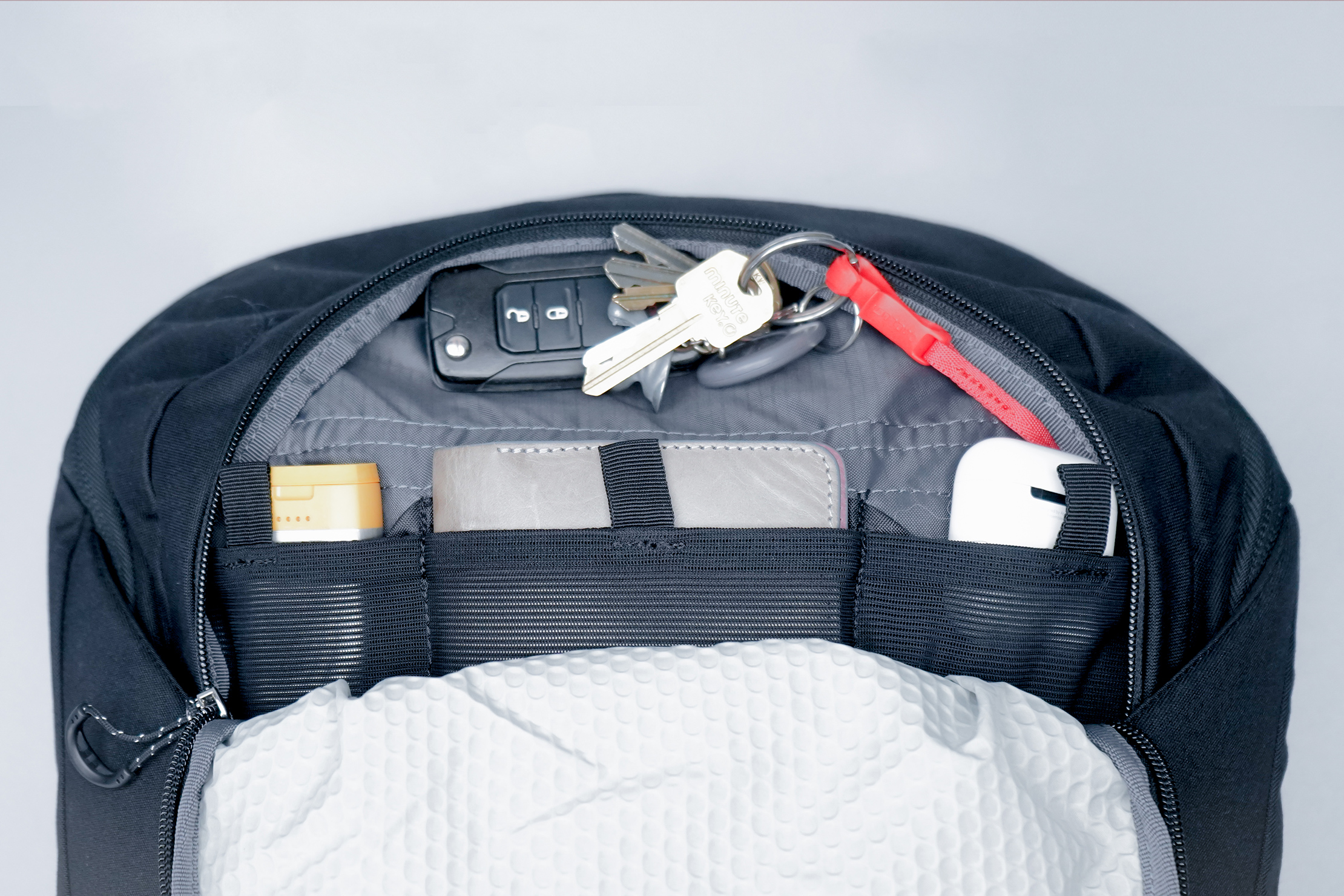 When the going gets tough, bust out the METRON's built-in rainfly. It's located inside a helpfully labeled bottom compartment, complete with a drainage and ventilation hole. As mentioned earlier, it comes in a shade of green that helps drivers notice you in low-visibility environments like at night or during a heavy downpour. The rainfly is also removable if you need to wash it, use it for something else entirely, or leave it at home if you've mastered the art of predicting the weather. The rainfly's bulk does take away a little room from the main compartment. Thus, removing the rainfly is a viable option if you absolutely need to squeeze every ounce of space from the METRON.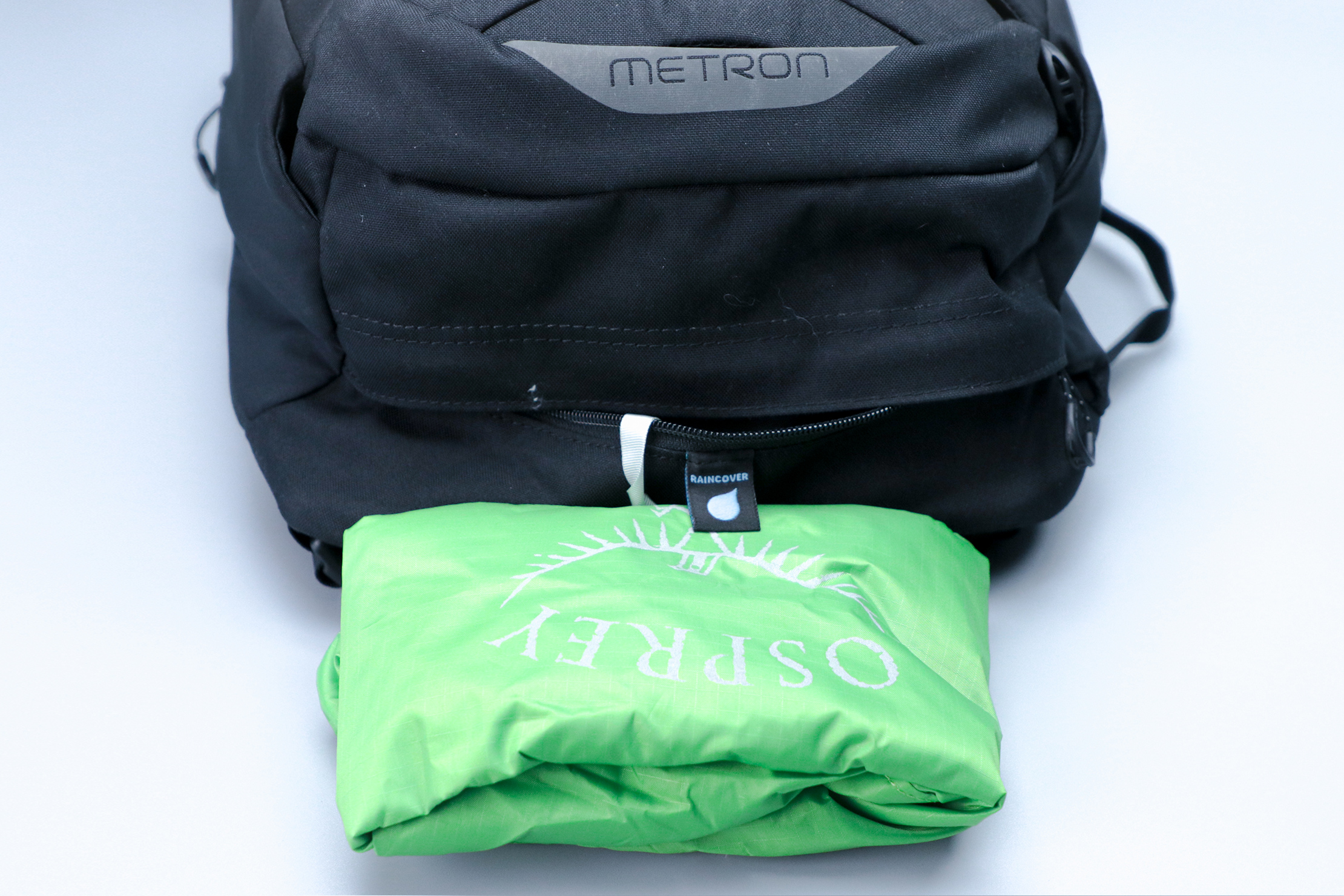 Remember the water bottle pocket we mentioned earlier? It has a twin pocket on the opposite side of the METRON. Unlike the water bottle pocket, this one has a zippered opening, making it more of a quick-grab side pocket. There's even a small gusset near the bottom edge of the pocket to prevent small items like coins from spilling out. But much like the water bottle pocket, it's accessible without taking off the backpack. A few items we can think of that you may want to consider putting inside a pocket like this would be some cash, IDs, or transit cards—really anything you'd want within easy reach without having to swing your bag around.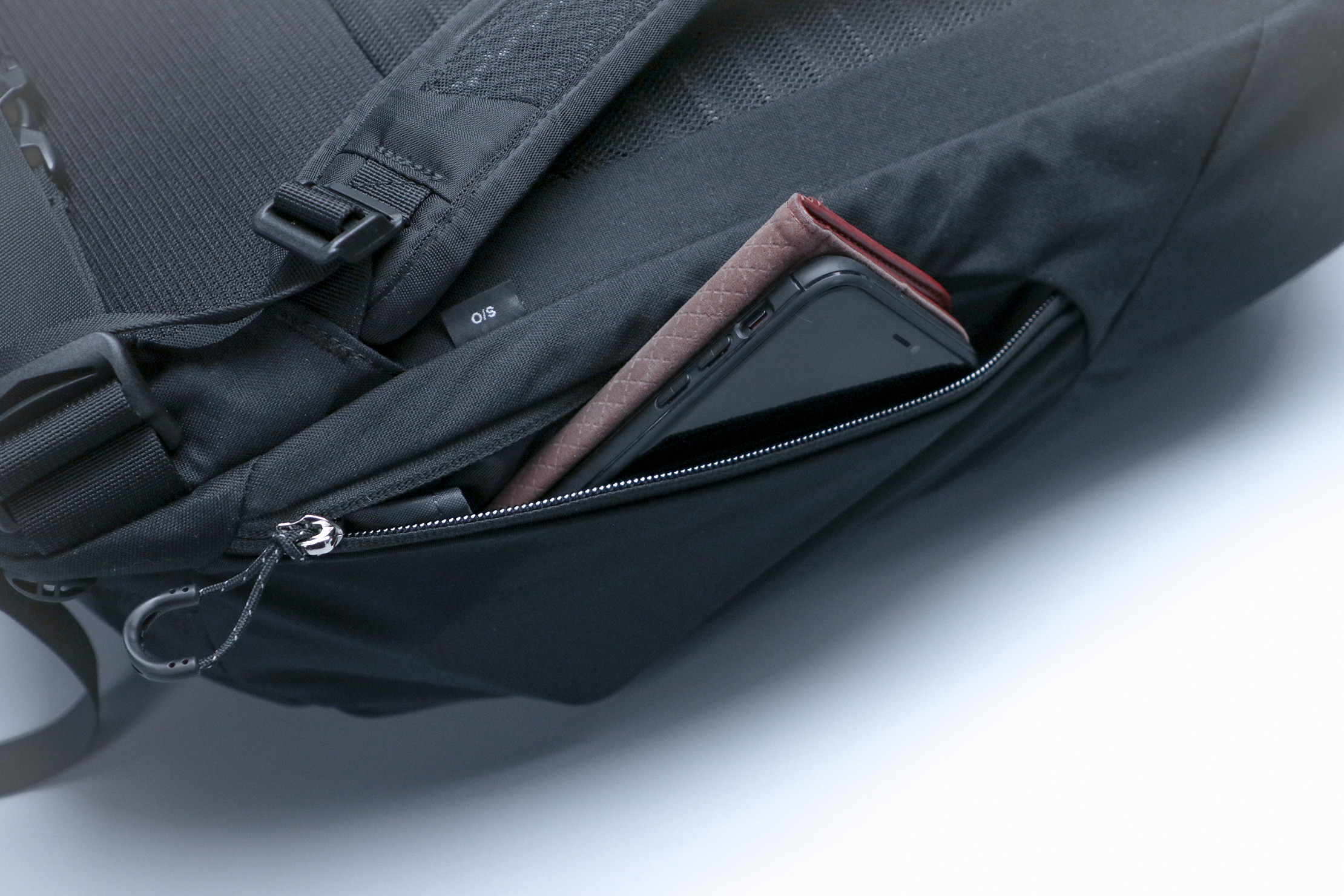 One neat detail we noticed is that this side pocket even has a bit of curved fabric acting as a zipper garage. Instead of having the zipper flap about in the wind, this small shroud keeps it sheltered from the elements. If we had to point out just one detail about the METRON that demonstrates Osprey's commitment to the streamlined design, it'd be this one.
Finally, we reach the main compartment of the METRON. With that many secondary pockets, it's almost hard to believe there's any left of the 26-liter volume for the main compartment. Yet here we are, with more still to offer.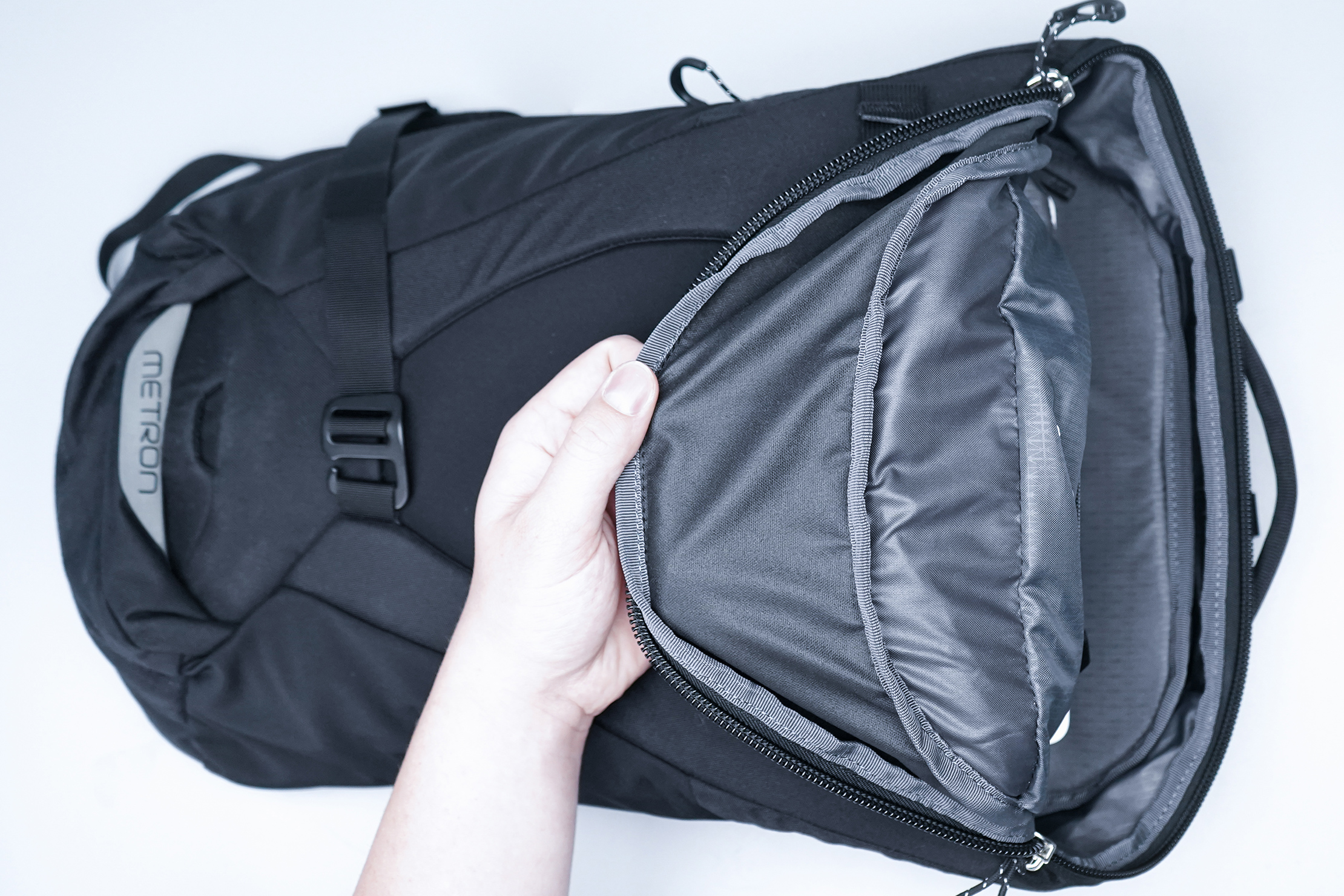 With the straightjacket compression system locked into place, the main compartment's opening is limited to a top-loader configuration. It'll do in a pinch if you really need to get something that's somewhere near the top third of the METRON. It's far from ideal in terms of accessibility, hence the various quick-access compartments scattered across the pack.
Once the straightjacket compression is undone, though, the entire main compartment becomes accessible via a fully-clamshell opening. On the front side is a small hamper for dirty clothes that also pulls double-duty as a shoe compartment. It's a good inclusion if you're the type to take pleasure in switching to a comfy set of flip flops after a long day of biking.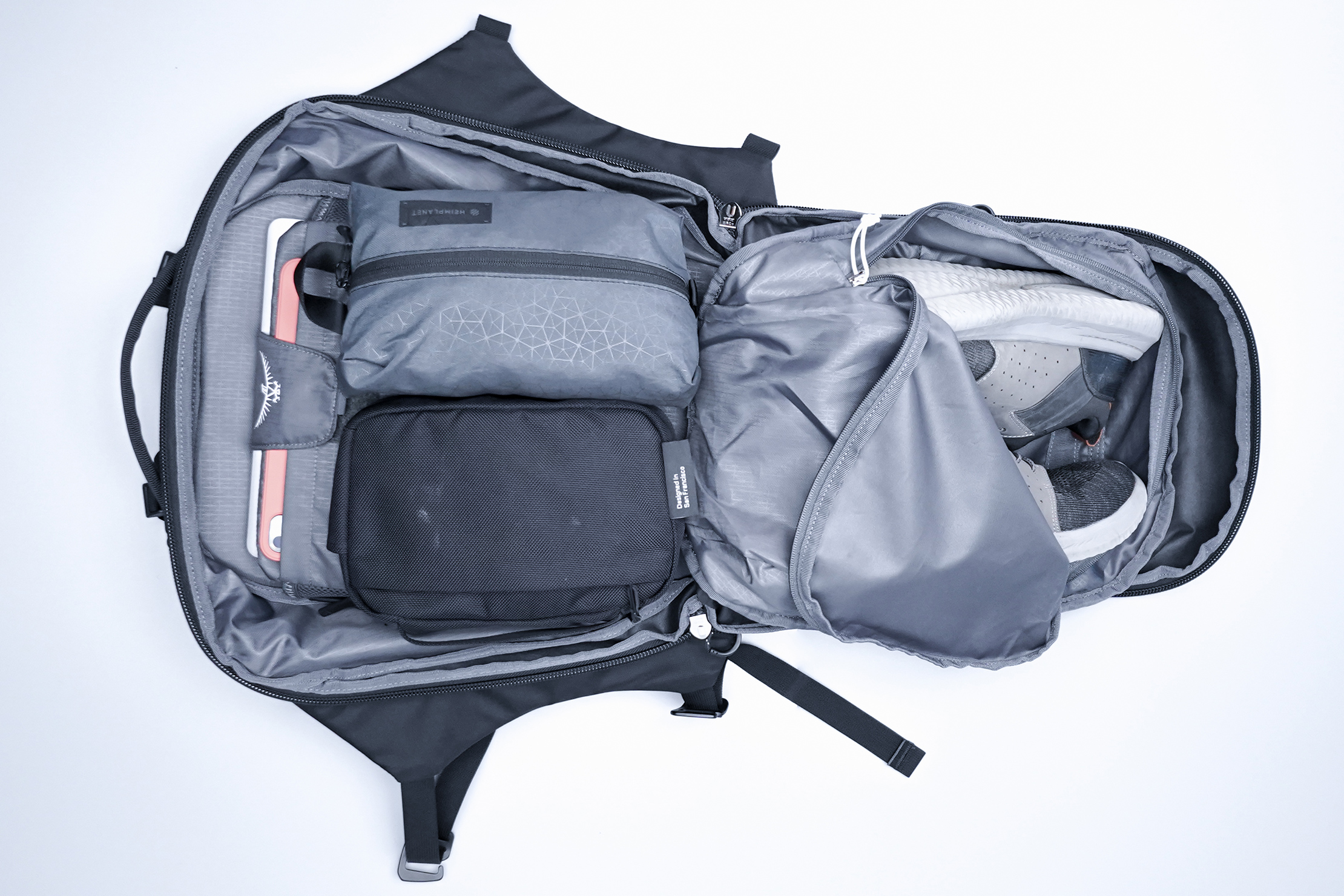 The main compartment itself is spacious, with enough room to add packing cubes for added organization. Packing the space is fairly easy since the walls do stay up on their own, making squeezing clothes inside relatively easy and painless.
There's no separate laptop compartment for the METRON. Instead, it's in the rearmost side of the main compartment. There's a laptop sleeve complete with a false bottom and a velcro tab, and it's able to fit our 15-inch MacBook Pro with some wiggle room to spare. We tried fitting in a newer 16-inch MacBook Pro; it also fits inside and the velcro tab still attaches. However, it's a tight fit and almost an inch of the laptop sticks out of the sleeve which risks damage to that part. In front of the laptop sleeve is a liner pocket for documents or a tablet. It shares the false bottom of the laptop sleeve, though it forgoes front-side padding.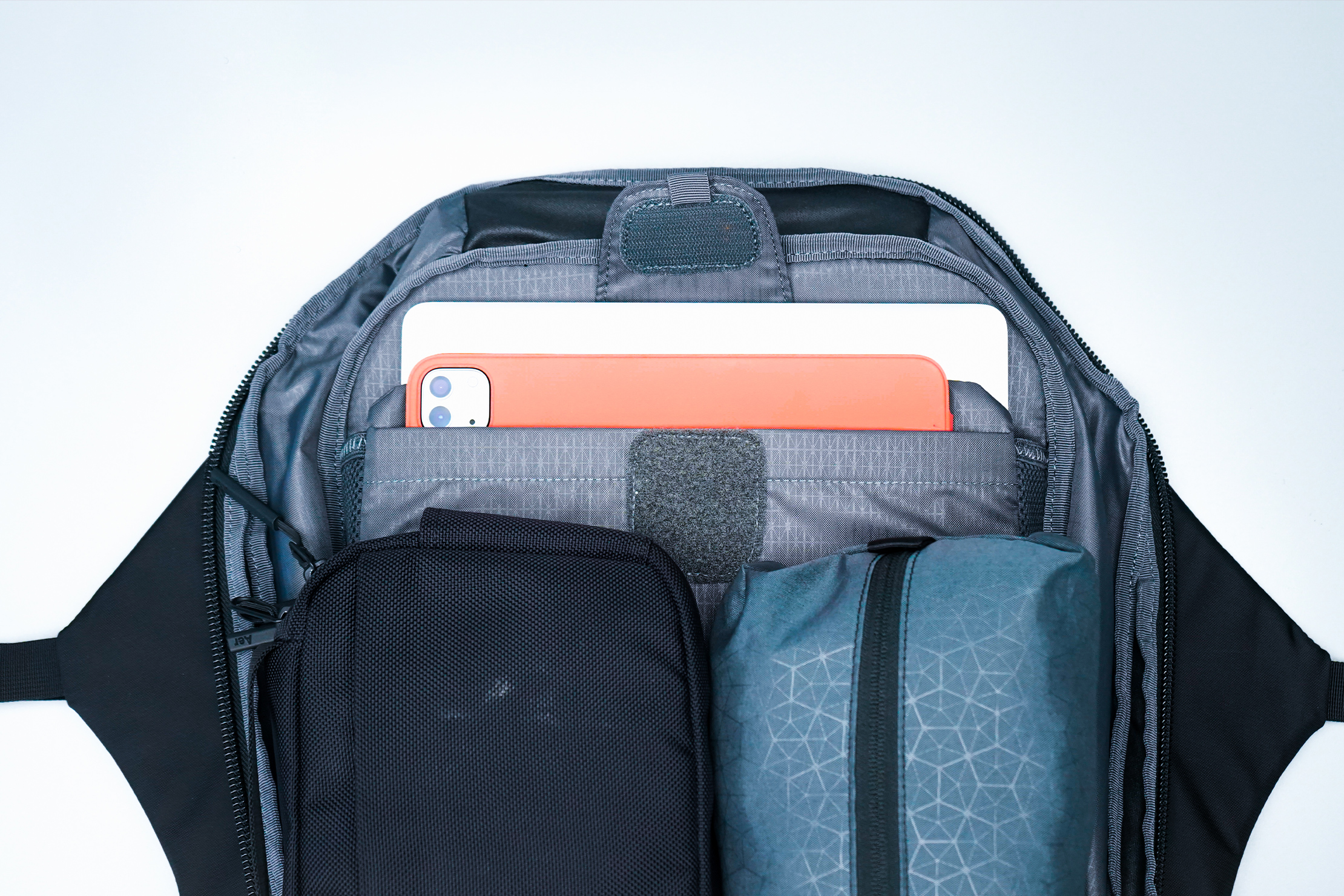 The METRON is packing a ton of features to pique the interest of cycling enthusiasts. Whether it's the big ones like the Lidlock attachment for helmets or small touches that make the METRON a bit more streamlined, it all adds up. Though the lack of strap keepers is a missed opportunity, the METRON is a good choice for those who want to carry gear and clothes with minimal impact on the joys of biking.
Usage Timeline
Initial Usage
Condition: Excellent
Large capacity, but it compresses down really well thanks to the compression straps
The comfortable harness system includes a sternum strap and hip belt suitable for biking
There's a handy U-Lock slot and hidden LidLock helmet attachment at the front
2 Weeks of Use
Condition: Excellent
This is an excellent bag for biking—it has an aerodynamic shape that contours to your body & the features are just right
Helmet holder bungee is surprisingly useful
Digging the interior pocket used for holding dirty clothing or shoes
The waist belt doesn't provide much additional support, but it's rock-solid at holding the bag in place while cycling
We wish there were elastic keepers on the straps to help manage excess strap
Access the Pro Community Discussion
Get your questions about the Osprey METRON answered from our team and the Pro Community right here on the page. Plus, join discussions with other members about gear, guides, and more.
Other Bags & Luggage Reviews