The North Face Base Camp Voyager 32L Review
The North Face Base Camp Voyager 32L is a versatile duffle-backpack combo with upgraded organization, though the bag's overall structure is on the soft side.
Our Verdict
Unlock the Pro Summary
Save time. Get access to brief summaries of our reviews so you can browse and make decisions more efficiently.
Pros
Weather-resistant tarpaulin material
Can be carried backpack-style or duffle-style
Adjustable main compartment divider
Cons
Soft structure doesn't let it excel in either backpack or duffle mode
Shoulder straps hinder main compartment access
Divider's toggles get undone frequently
Recent Pack Hacker Video
Technical Details
Capacity

32l

Weight (lb)

2 lb (0.9 kg)

Denier

300D

Dimensions

22.7 in x 13.8 in x 8.7 in (57.7 x 35.1 x 22.1 cm)

Notable Materials

Recycled Polyester, Tarpaulin, DWR Coating, YKK Zippers

Manufacturing Country

Vietnam

Laptop Compartment Size

15"

Warranty Information
Full Review
Versatility—it's a trait we're fans of here at Pack Hacker because it's the key to condensing functionality into one package. Take a duffle bag, for example. Simply double the shoulder strap, and you get a duffle-backpack combo. It's a good concept and one of the reasons why we gave the likes of the Base Camp Duffel from The North Face praise.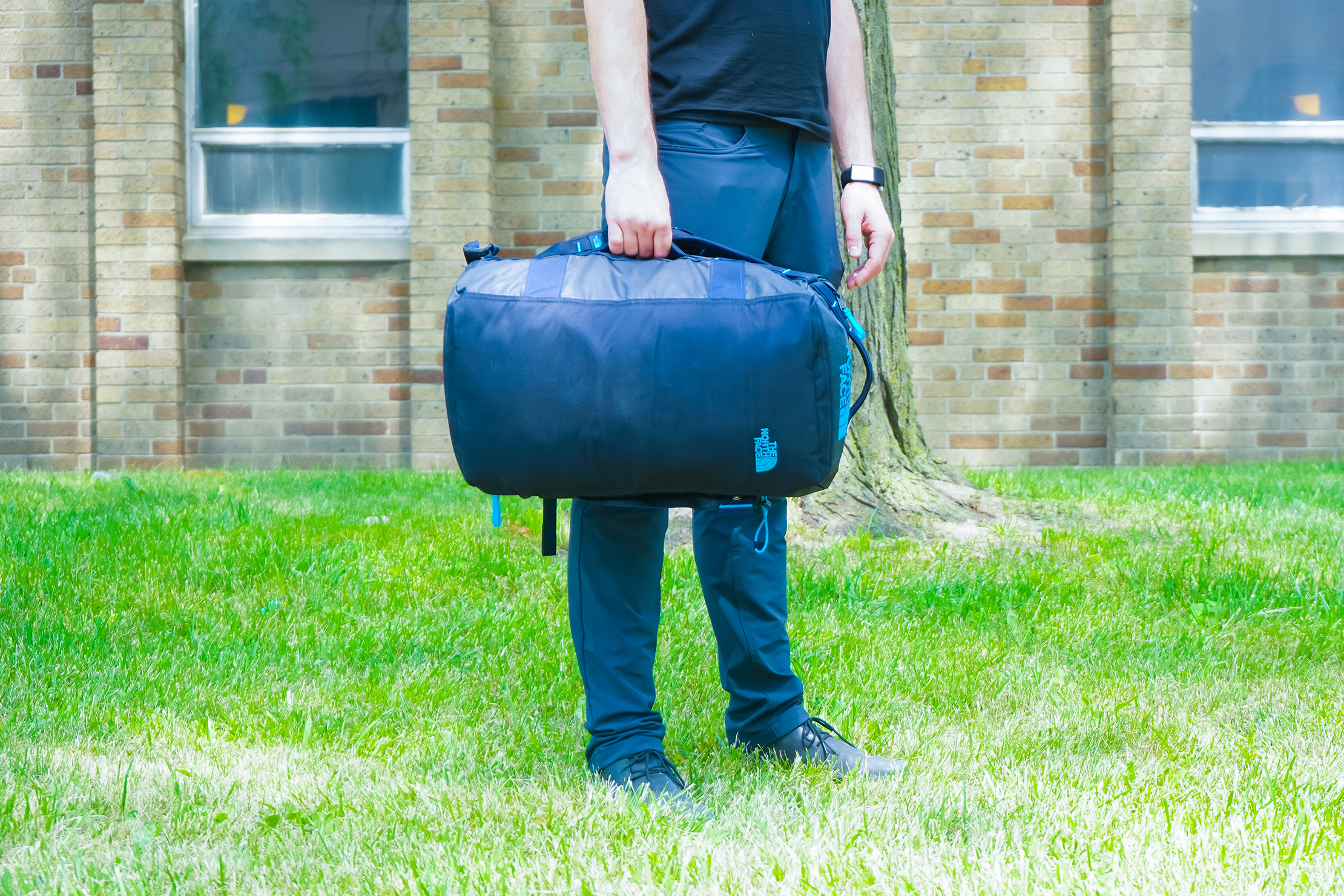 That duffle has its share of imperfections, but the Base Camp Voyager 32L we have in this review rectifies a lot of it. Comfort and organization are up, and there's now even a dedicated laptop compartment. The overall design is more streamlined, though there are still some kinks to smooth out, as you'll see down below.
Materials & Aesthetic
Without the pair of shoulder straps hanging out, the Base Camp Voyager looks like a typical duffle bag. It has a rounded profile and rotund proportions that says "packed and ready to go." The design doesn't stray from what makes a duffle bag a duffle bag despite doubling as a backpack. To cut it short, it's a duffle bag with backpack capabilities.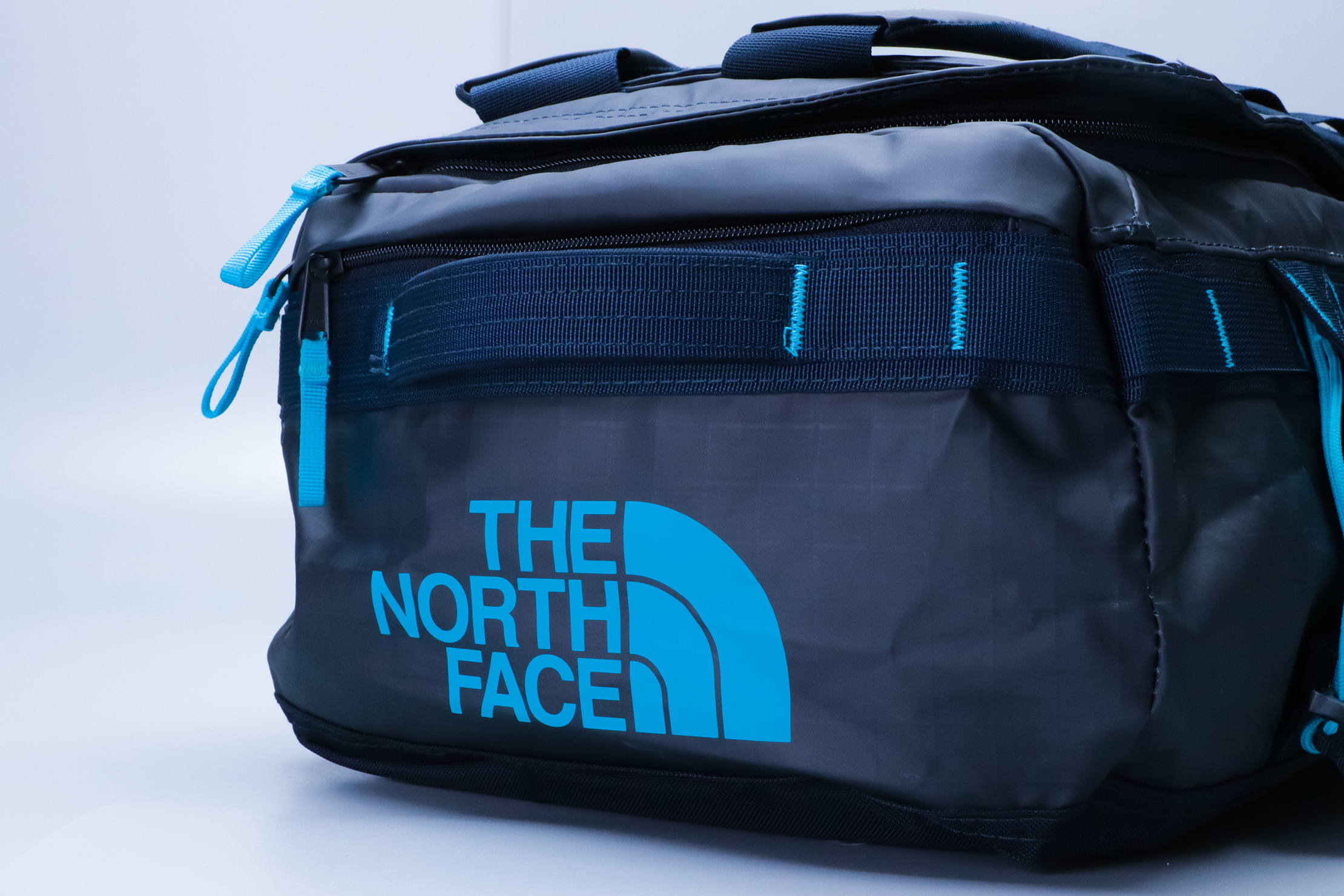 There are three colorways to pick from at the time of writing: TNF Black with White trim, Taupe Green with Sulphur Spring Green trim, and finally Aviator Navy with Meridian Blue trim. The latter is what we have in this review, and it's rather sporty-looking and goes well with the duffle bag aesthetic. Even the branding matches the trim to complete the neon-like color that glows against the dark blue fabric.
Regardless of which colorway you choose, the Base Camp Voyager has a matte-like sheen, which we dig. That sheen is courtesy of a material we're well-acquainted with—tarpaulin. As a material, tarpaulin is a good choice if you want to make a bag weather-resistant; water just beads off like rain on a freshly waxed car. However, in our experience, it does get scuffed more easily than a material like nylon. It's a bit of a trade-off, one which The North Face has thought of.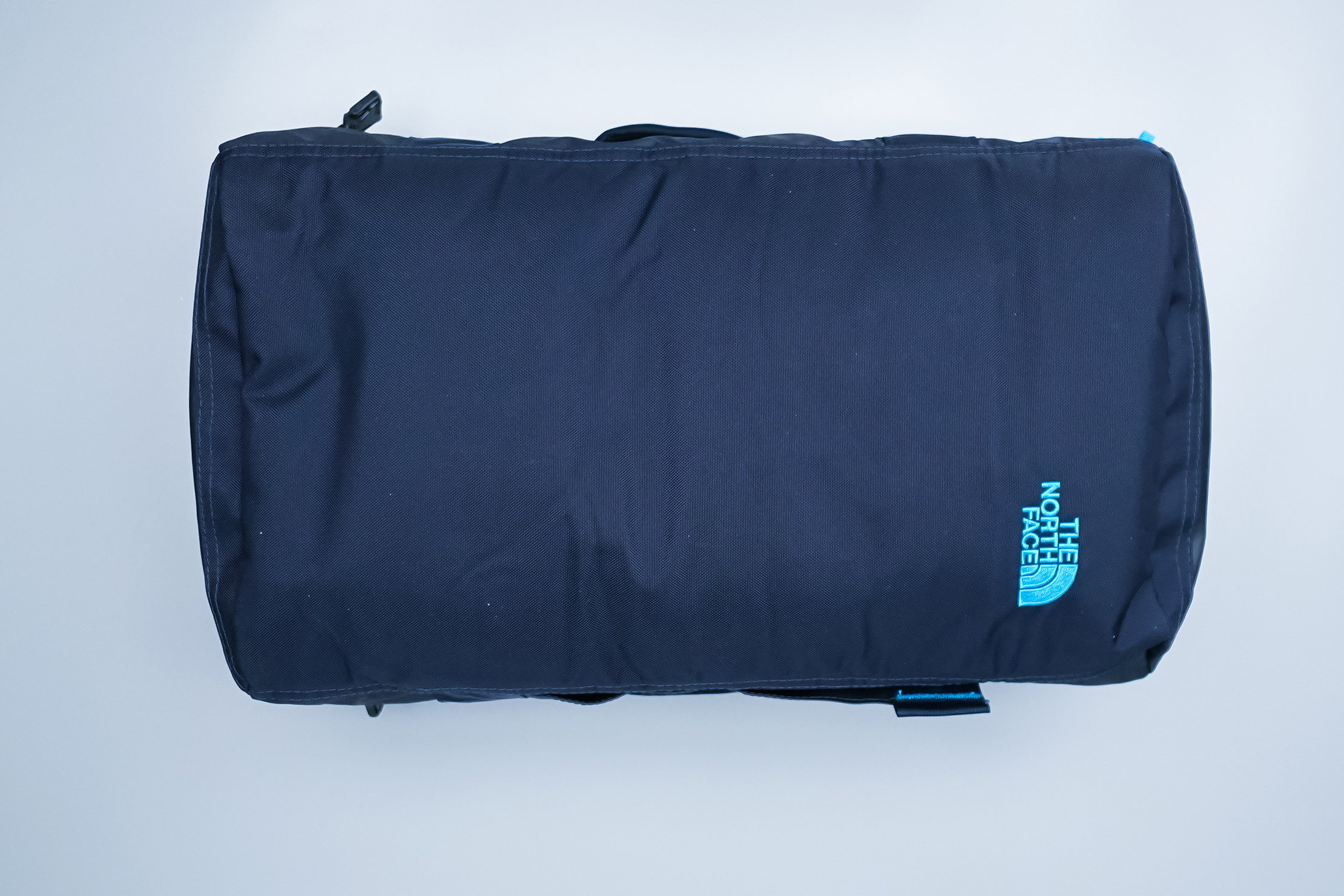 On the bottom side of the Base Camp Voyager is a thicker ballistic weave in lieu of tarpaulin, which dominates the rest of the duffle. That means when you're setting the duffle down on a surface like a floor or pavement, the ballistic fabric makes contact, not the tarpaulin. We're glad to see this kind of design since we've had experience with bags like the WANDRD PRVKE Lite collecting damage over time.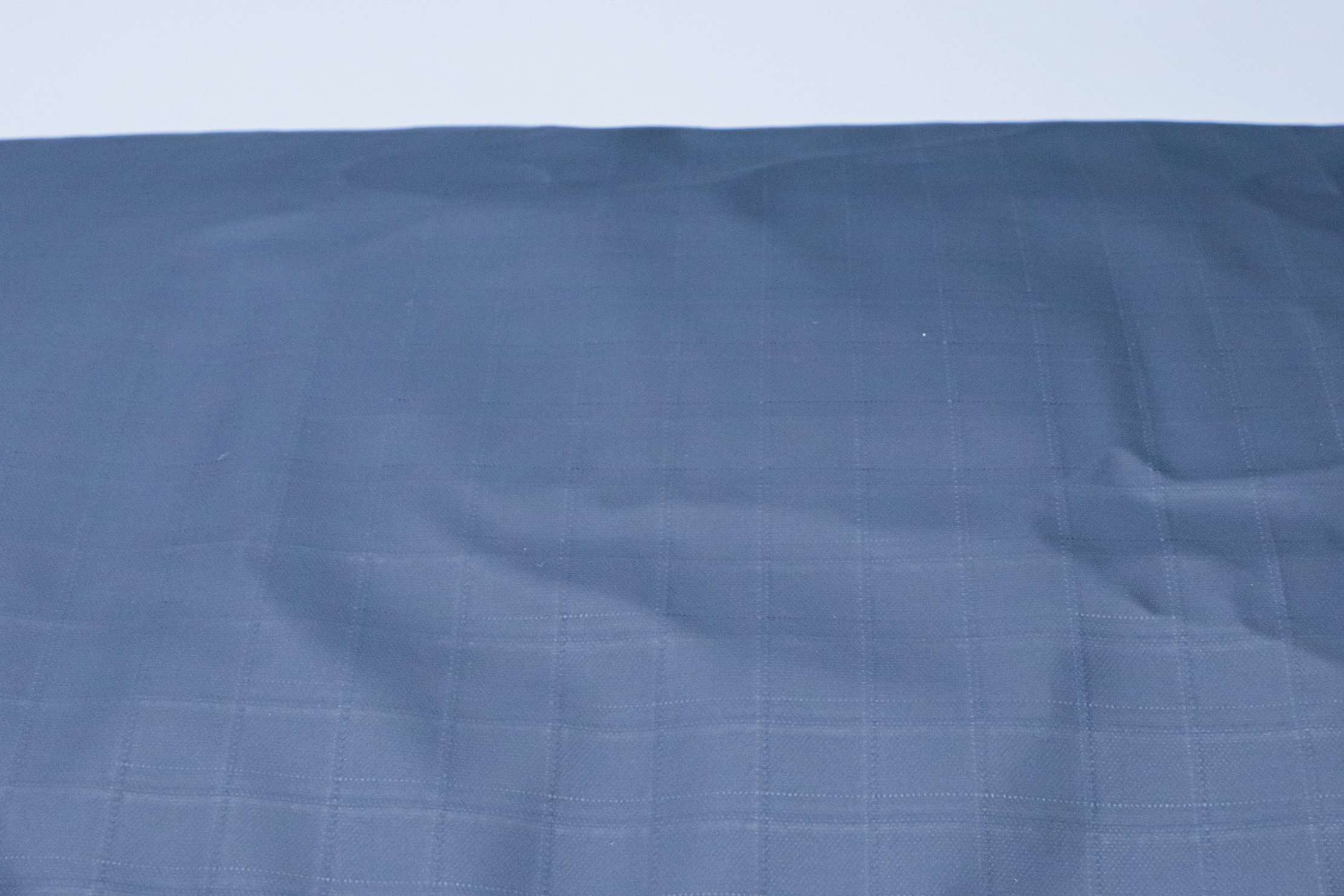 If there was one impression we got from the Base Camp Voyager, it's how robustly built it is courtesy of the tarpaulin, recycled fabric, YKK zippers, and bar-tacked reinforcement. It even has probably one of the beefiest snap fasteners we've seen on a bag, plus a ripstop arrangement embedded in the tarpaulin.
External Components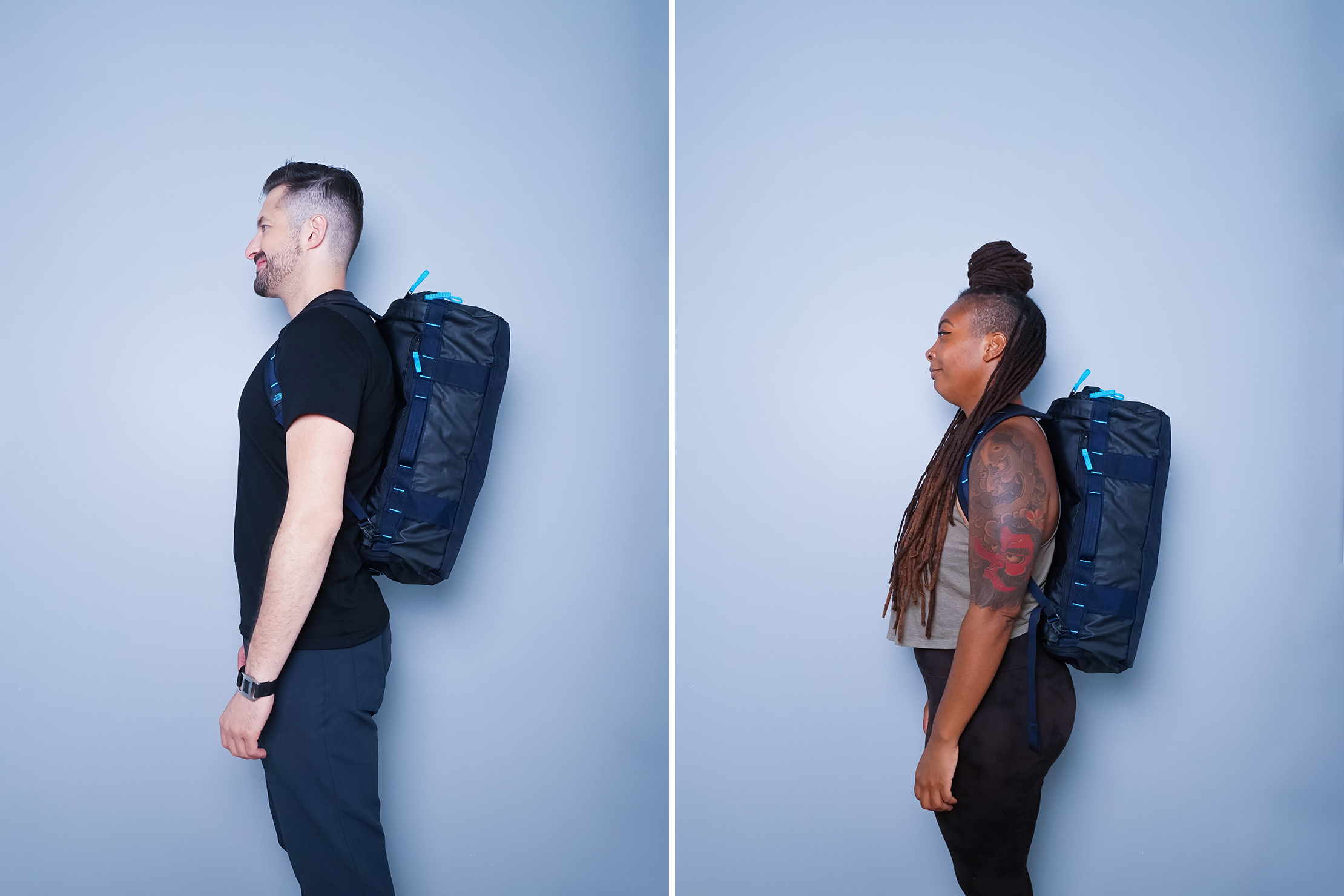 When we first checked out the Base Camp Voyager's bigger predecessor, the Base Camp Duffel, we noted how comfortable the versatile carry is. Whether it's in duffle or backpack mode, the 50-liter capacity is tameable, though those with smaller frames might have trouble.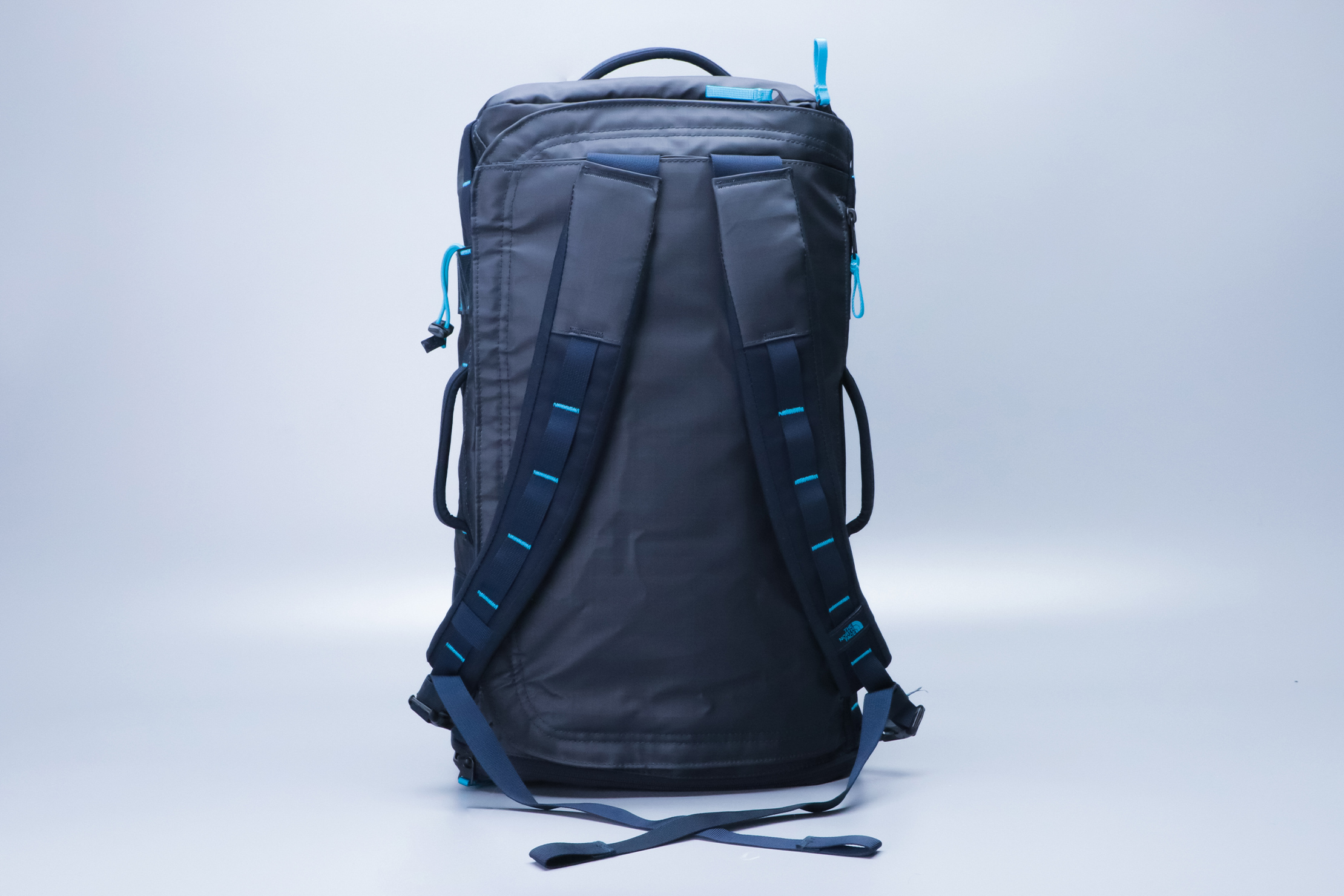 The good news is that the Base Camp Voyager 32L is smaller, so it's much easier to wield, though at the time of writing there are two larger sizes available if you're looking for a similar capacity to the Base Camp Duffel. Moreover, the harness system is more refined. The shoulder straps feature more padding and a slimmer width so they're easier to grab. Each strap has a set of five attachment loops plus an extra one that overlaps the fifth loop for a total of eleven to satisfy even the heaviest of loop users. We even appreciate the bit of tarpaulin covering the top half of the straps to protect them from rain.
Each shoulder strap is fully length adjustable and attachable to either the left or right bottom corner, whichever the user prefers, making it easy to carry the Base Camp Voyager duffle-style. One aspect we found peculiar on the harness system is the strap keepers. Whereas strap keepers on other backpacks slide down to secure loose ends, the ones on the Base Camp Voyager slide up. The result is that there's a lot of slack left if you have the shoulder strap tightened up. Not an overly huge issue unless you find loose straps unsightly.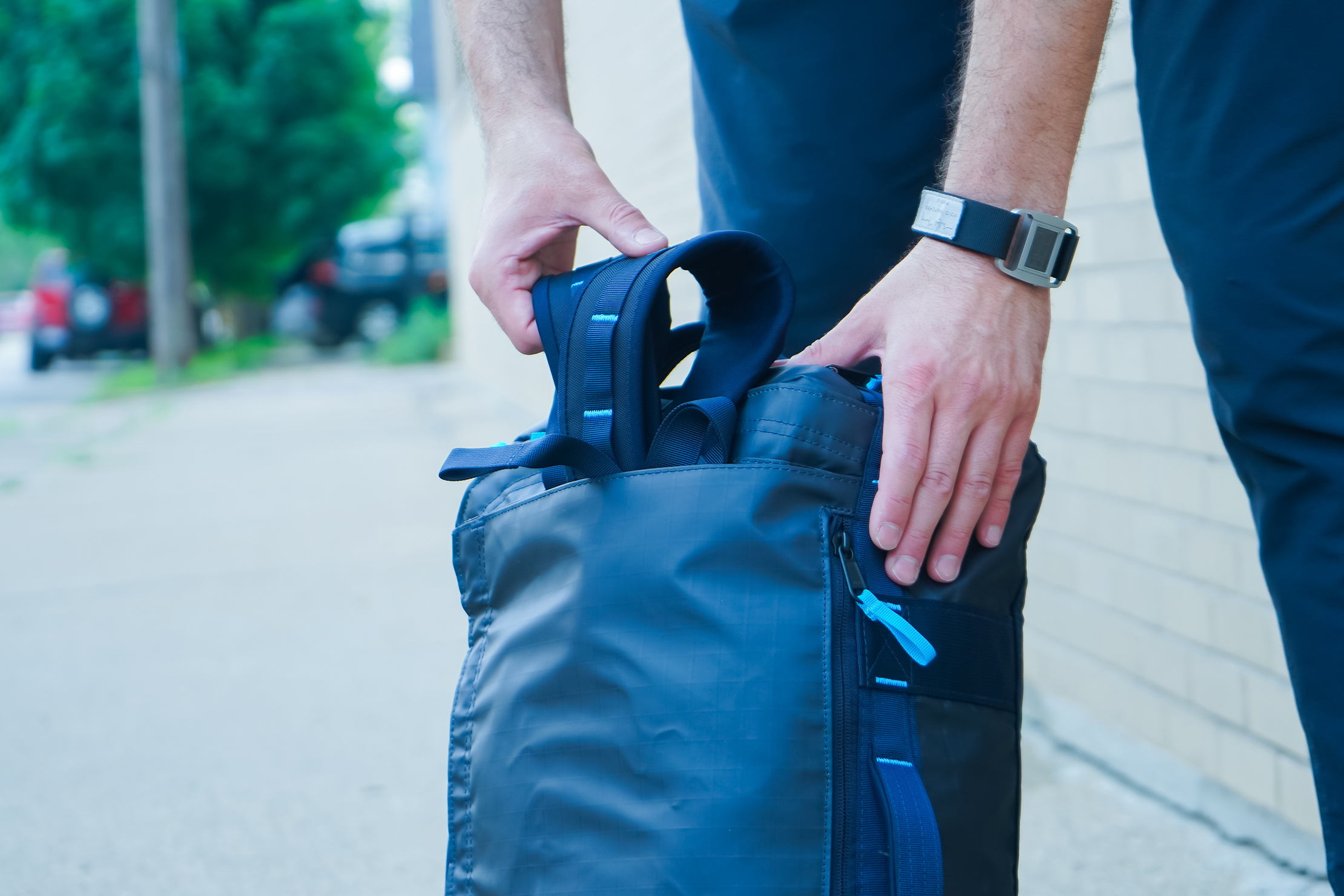 One neat feature the Base Camp Voyager has over the bigger Base Camp Duffel is the ability to stow away the shoulder straps behind the back panel. Both duffles have side handles for hand carrying, but the Base Camp Voyager has a cleaner look without any straps hanging out. Plus, all four handles are comfortably padded, so they're actually viable to use when you're queuing up at the airport. One thing to note is that while the handles are stitched and reinforced with bar tacks, they're biased more towards one side, so there is a bit of a lean going on when you carry it by hand.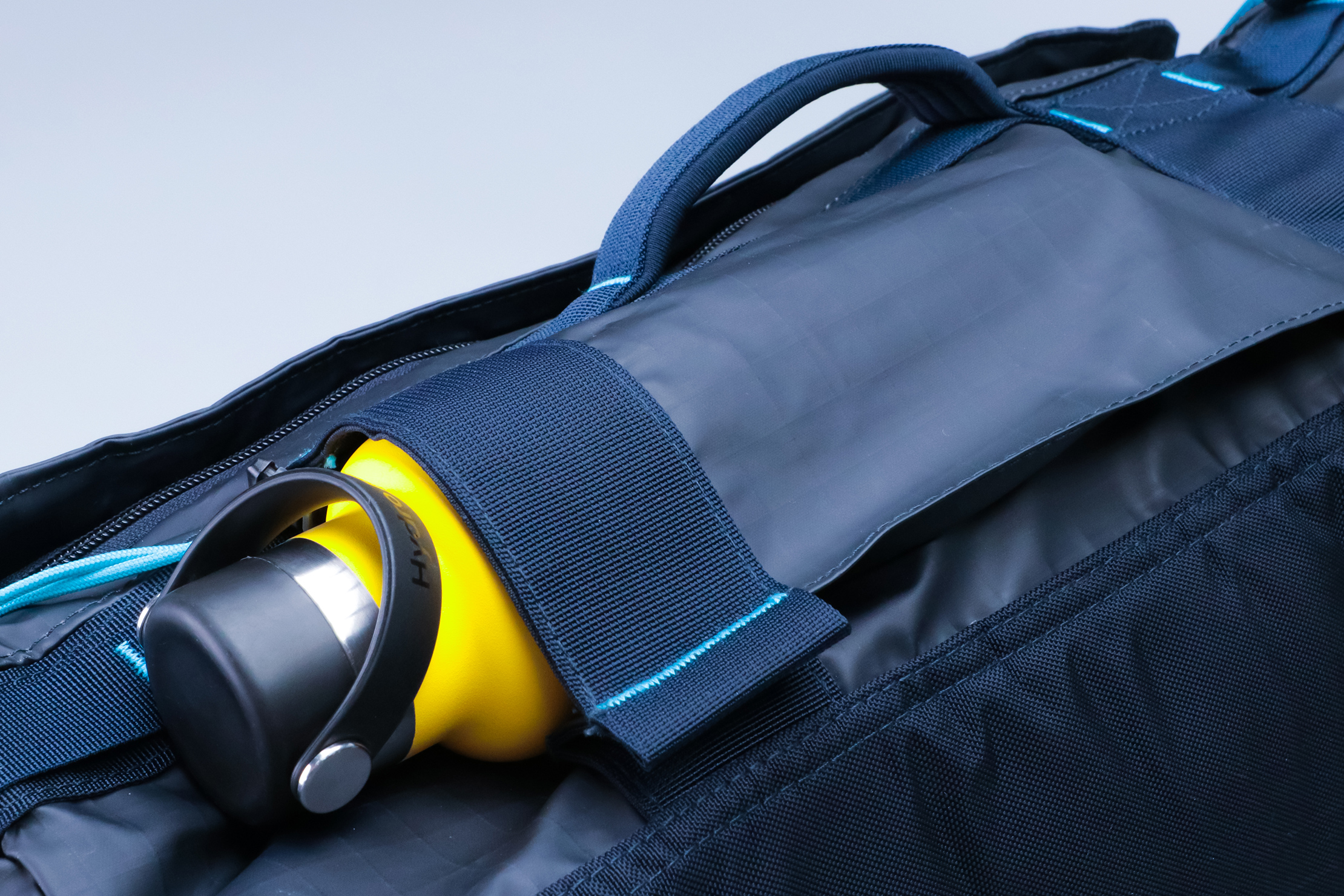 Lastly, the Base Camp Voyager does come with a water bottle pocket on the right side. It's positioned higher than a typical water bottle pocket when it's worn as a backpack, making it a bit easier to reach with your left hand. The tarpaulin doesn't have any elastic inlay; instead, the pocket relies on a chunky snap fastener and braided cord to keep bottles in—and it works even when it's oriented sideways in duffle mode. Our slim 18-ounce YETI Rambler slides in easily, with a fair bit of wiggle room to spare, and we didn't lose it despite the lack of an elastic.
Inside The Duffle
One of the key features of the Base Camp Voyager is its ability to compress into one of its pockets. The pocket in question is the side pocket—that's the bottom one when you have it in backpack mode—and what The North Face did here is rather clever.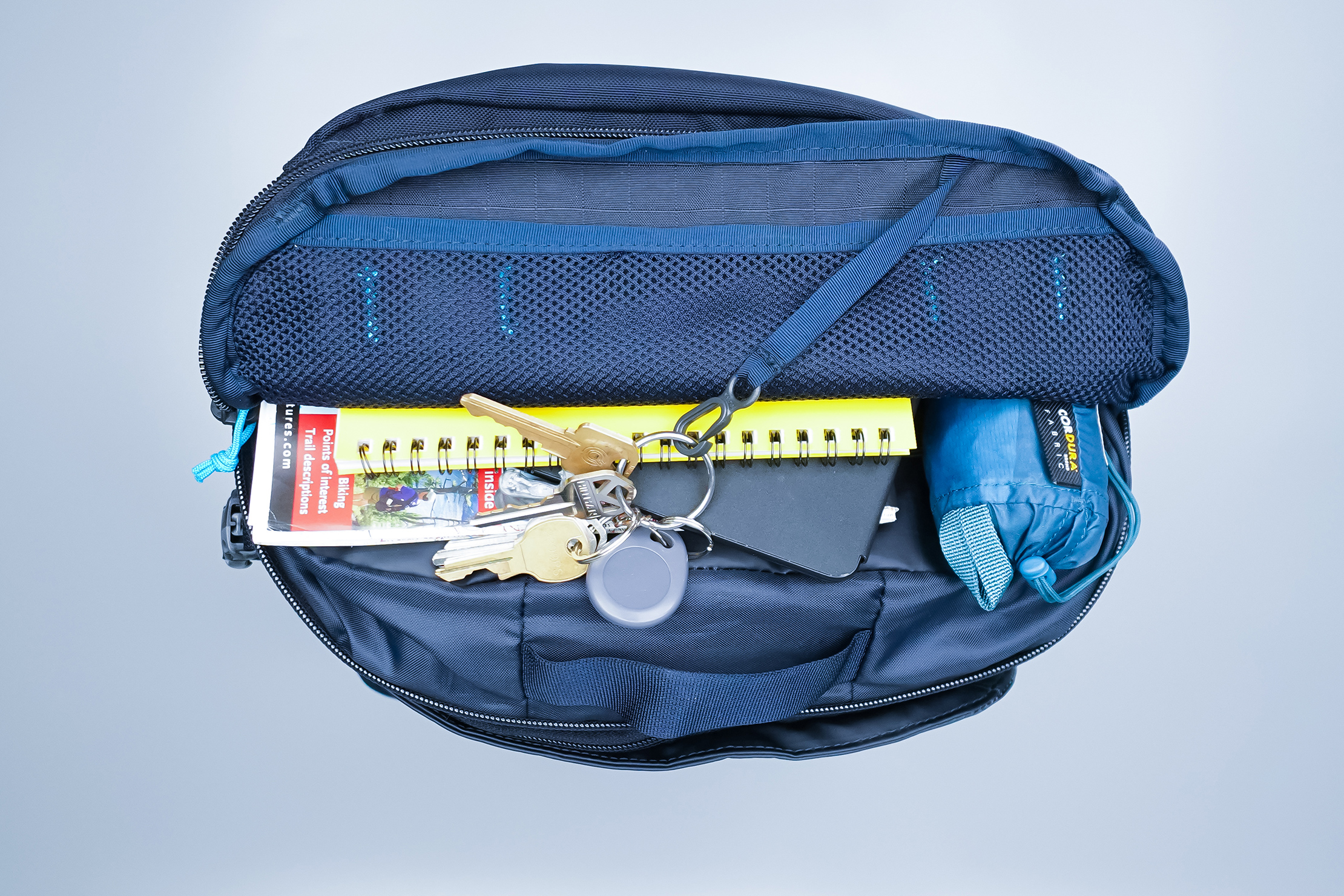 This bottom pocket can act as a shoe compartment in duffle or backpack mode as it's easily accessible with its horseshoe-style opening. Curiously, inside is a mesh pocket and a built-in key clip, so you can also use it as a big quick-grab pocket in duffle mode. In backpack mode, though, the top pocket is more convenient for quick-grab items, so we wish the key clip was attachable to that pocket as well.
Compressing the Base Camp Voyager is rather tricky, primarily because of the tarpaulin material and the sheer size of the bag itself. To do this, you lay the bag flat, fold the edges in, then roll from one end and up to where the bottom pocket is. You then turn the bottom pocket inside out to cover the roll like you would when rolling up a pair of socks.
Squeezing and compressing the Base Camp Voyager takes a substantial effort, and it's definitely not the fastest compressing bag we've come across. But, the result is a compressed bag no bigger than a standard football that has a mesh pocket, a key clip, and a small handle, which is pretty impressive.
There's also a dedicated laptop compartment, though we have our reservations about it. It's the side-opening pocket along the main compartment's flap, and it has a fair amount of padding for protection. The trouble is, this flap also doubles as the Base Camp Voyager's back panel when it's in backpack mode. Unfortunately, the amount of padding is not enough, and it feels like our laptop is acting as the frame sheet and is part of the bag's structure—not ideal since that would make it an exceptionally expensive frame sheet.

Access to the main compartment is also a step up from the Base Camp Duffel. The opening is wider, making packing easier because there's more space exposed and visible. One minor annoyance to access was the right shoulder strap. Since the shoulder straps are mounted on the flap as opposed to along the top edge, the strap gets dragged and caught up on the flap when you fold it open. It's only a minor inconvenience, though, since you can unclip the strap, but it did take some getting used to coming from the Base Camp Duffel, which didn't have this issue.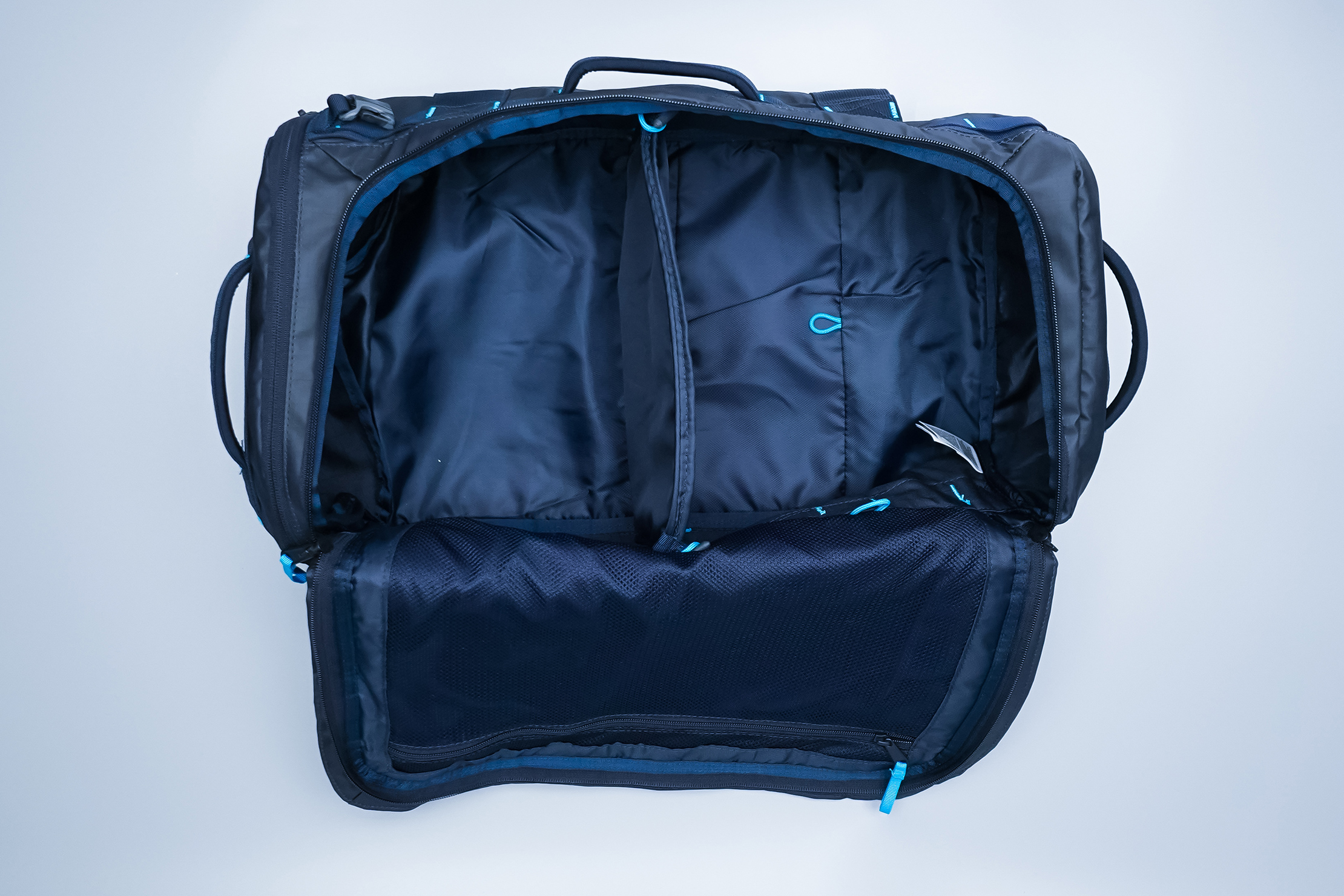 Inside the main compartment, it's as spacious as one would expect from a 32-liter duffle bag. There's a mesh pocket underneath the flap for a pair of gloves, face towels, or small items like tubes of toothpaste, lotion, liquid soap, and other toiletries. Pro-tip: we suggest having a dedicated Dopp kit—such as the Bellroy Dopp Kit—for toiletry items.
Keeping things separate isn't too big a problem inside either. Packing cubes always help organize clothes, but the Base Camp Voyager also comes with its own divider. It attaches via toggles and loops scattered roughly four-inch apart from each other. It works for the most part, though the toggles frequently became undone when we unpacked. It's still handy for a short trip—you can use the divider to separate fresh and unused clothing, progressively adjusting it to one side as you accumulate more laundry.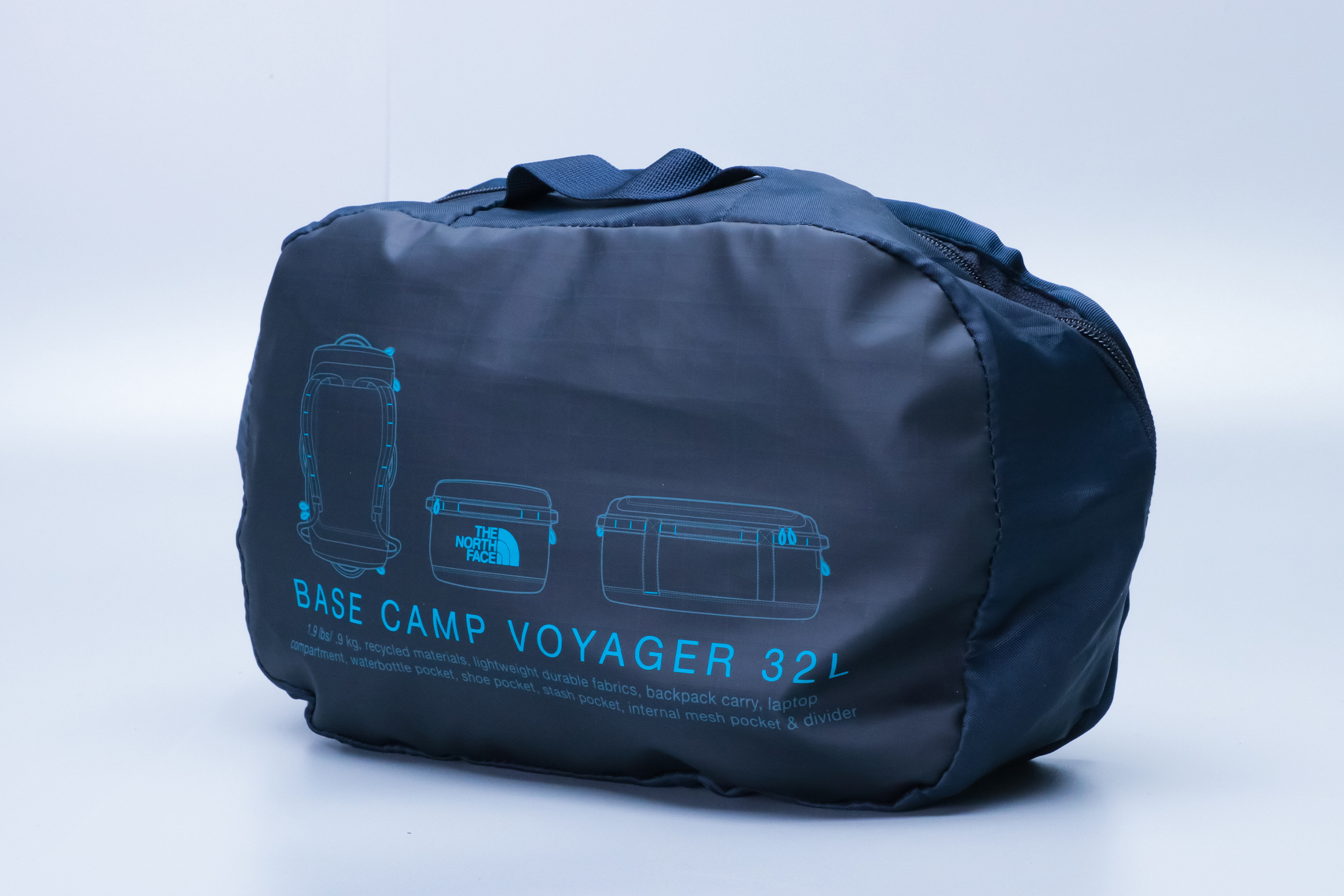 We liked the Base Camp Duffel when we first looked at it, and we think that the Base Camp Voyager is a much more refined duffle bag with its improved features. Yes, the laptop compartment is a bit lacking in terms of protection, but the Base Camp Duffel lacks it altogether. With only a few nitpicks to work out, it's a solid duffle bag you can also use as a backpack.
Usage Timeline
Initial Usage
Condition: Excellent
Can be carried like a duffel or a backpack
The bag itself can pack into its shoe compartment for storage
Has an adjustable divider inside the main compartment
2 Weeks of Use
Condition: Excellent
Enjoying the touches on this pack like the hideable backpack straps & water bottle compartment
Backpack straps can get in the way of access
The interior divider works well when it stays in place—it can become detached easily
We're wary of keeping our laptop in the allotted sleeve—there's just not a ton of protection or structure to the duffel
Access the Pro Community Discussion
Get your questions about the The North Face Base Camp Voyager 32L answered from our team and the Pro Community right here on the page. Plus, join discussions with other members about gear, guides, and more.
Other Bags & Luggage Reviews