WANDRD PRVKE Lite Review
The WANDRD PRVKE Lite packs in most of the features of the full-fledged PRVKE, but space is a bit tight if not properly considered.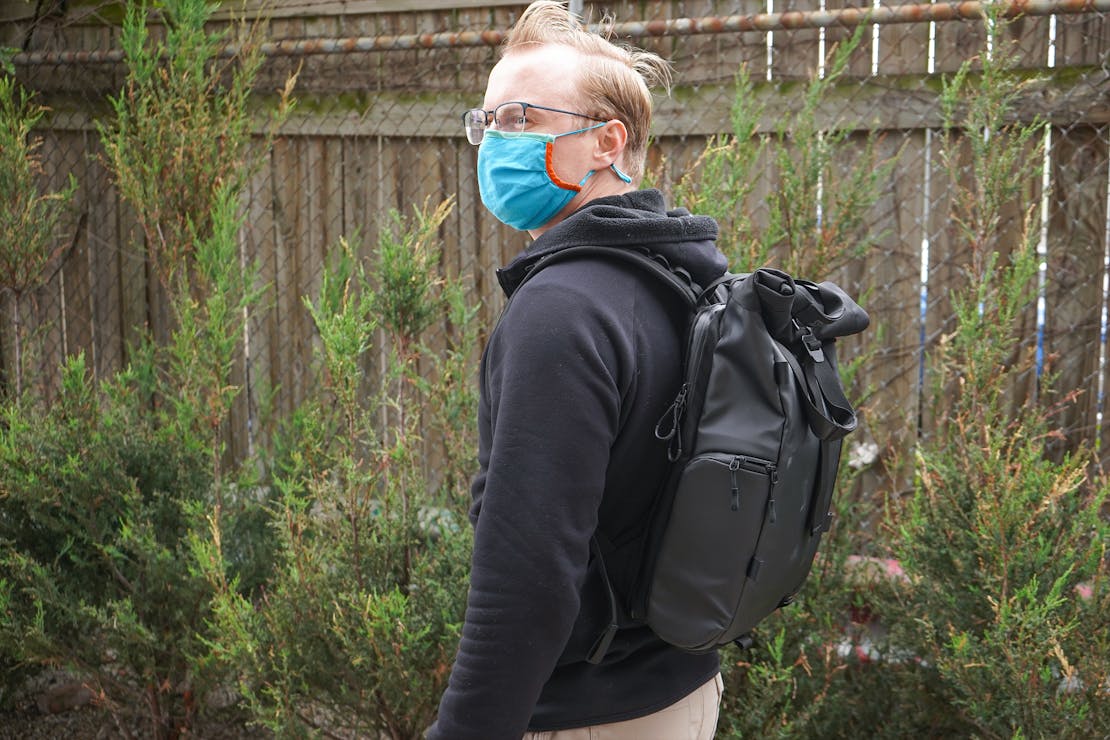 Our Verdict
Unlock the Pro Summary
Save time. Get access to brief summaries of our reviews so you can browse and make decisions more efficiently.
Pros
Plenty of pockets inside for organization
Tarpaulin fends of water effectively
Included dividers are adjustable to fit your gear
Cons
Pockets feel constricted in volume
Tarpaulin material prone to scratches when accessing the camera cube
The built-in camera cube can't be used separately
Recent Pack Hacker Video
Technical Details
Capacity

11l

16L with the rolltop fully-extended

Weight (lb)

2.5 lb (1.1 kg)

Dimensions

16 in x 11 in x 5.5 in (40.6 x 27.9 x 14 cm)

Notable Materials

Tarpaulin, ROBIC®, YKK Zippers, Polyurethane

Manufacturing Country

Vietnam

Laptop Compartment Size

16"

Warranty Information
Full Review
Get up to 15% off WANDRD • Join Pack Hacker Pro
WANDRD's PRVKE lineup is one of the more interesting camera-centric backpacks out there, with its distinct looks and great functionality. We praised the original PRVKE for its convenience, comfort, build quality, and just being an overall good backpack designed with photographers in mind. It's been successful enough to spawn other sizes too, and in this review, we'll be taking a look at the smallest of the PRVKE lineup, the PRVKE Lite.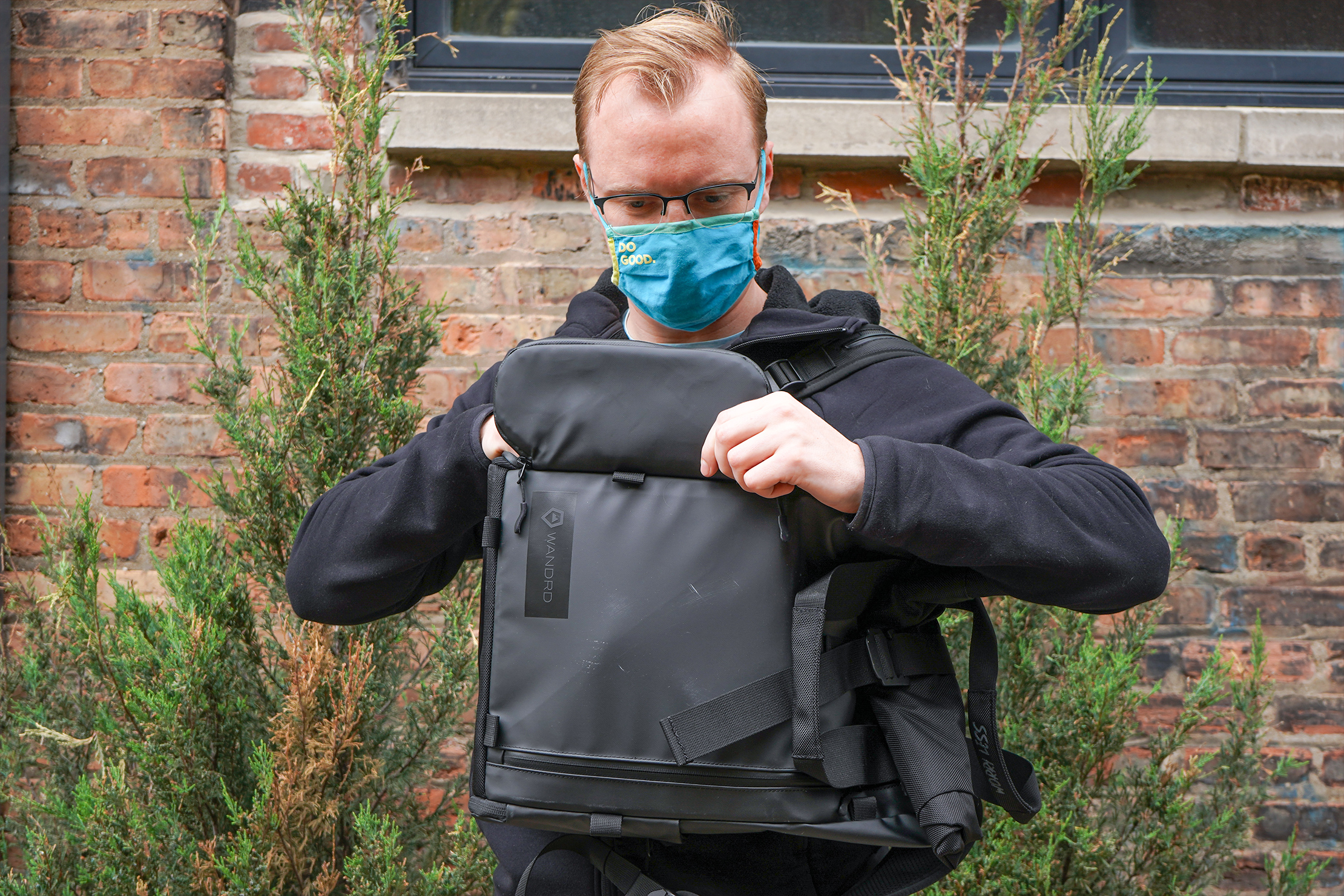 Despite being the spitting image of its bigger siblings—though they all take after the original PRVKE—this one is smaller, standing at just 11 liters (16 with the rolltop fully extended). Though that doesn't necessarily mean an abundance of compromise, there are things to watch out for and things to like. So without further ado, let's see what made the cut in this transition to a smaller size.
Materials & Aesthetic
No matter how you slice it, the PRVKE Lite is basically a smaller version of the standard PRVKE—not that it's a bad thing. We dig WANDRD's styling of the PRVKE lineup. The clean matte black aesthetic of the tarpaulin and squarish profile of the PRVK Lite give it a modern, contemporary look that just fits in well in an urban setting. Yet, it doesn't look cheesy with crazy lines or in-your-face designs. Every detail looks meaningful and purposeful.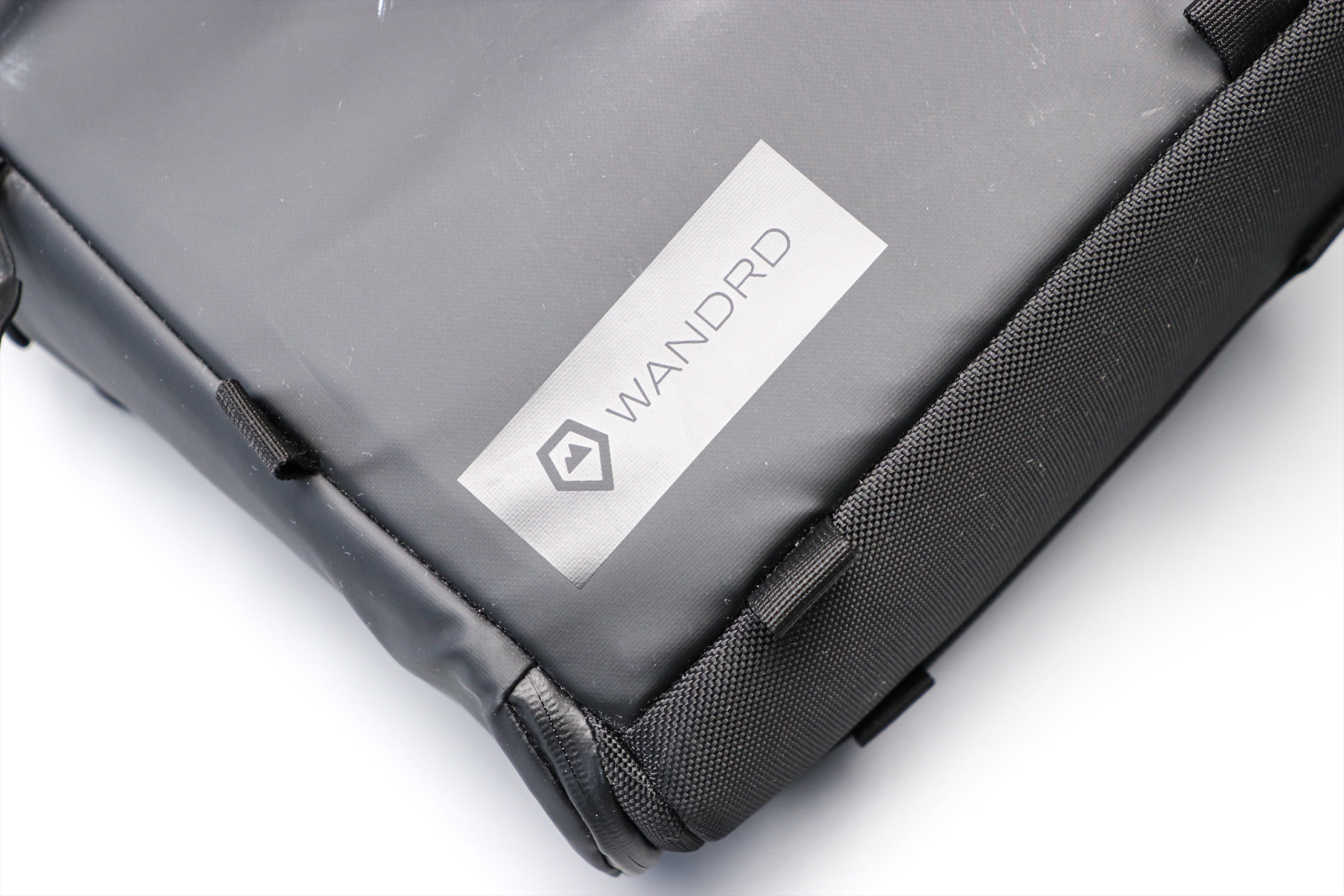 The PRVKE Lite doesn't just come in black. You also get a choice of Wasatch Green, Aegean Blue, and Gobi Tan. Those last two look more like pale versions of blue and tan, in case you were wondering. Regardless of which you choose, they all come with a matte finish courtesy of the water-resistant tarpaulin material. For branding, there's the WANDRD logo on the bottom left that's fairly big but blends well with the fabric, so it's not too noticeable, especially in poorly lit environments.
Aside from tarpaulin, we've got ROBIC nylon thrown into the mix for good measure, as well as the venerable YKK zippers. These are all durable materials, but the tarpaulin is one point of concern in the long term, as you'll see later on. For now, let's move on to the harness system.
External Components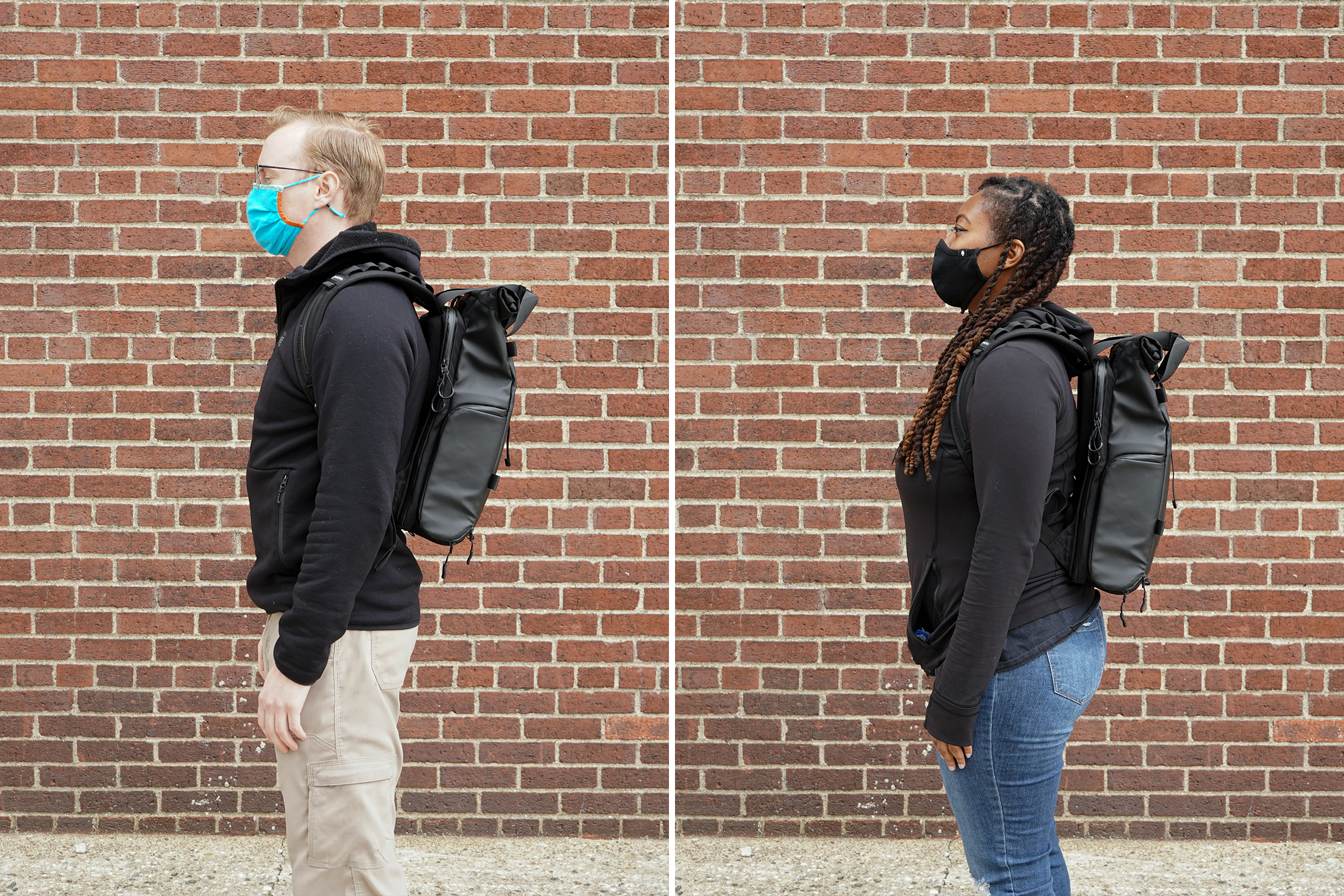 At 11 liters (16 liters with a fully extended rolltop), the PRVKE Lite doesn't necessitate the most robust harness system possible, but what we have here certainly looks the part. The shoulder straps have a wide surface area, good for spreading out the weight on your shoulders. Not a ton of padding, but it's adequate for the given volume.
The top halves of the shoulder straps are arrayed with loops for accessories. There are seven loops on each side, totaling fourteen in case you need that many mounting points for something like a Gossamer Gear Shoulder Strap Pocket. On the bottom halves is the rail system for the sternum strap. Unfortunately, the sternum straps weren't as secure as we thought they were, and we lost one-half of it during testing. Fortunately, thanks to the relatively small size of the PRVKE Lite, a sternum strap isn't a must-have.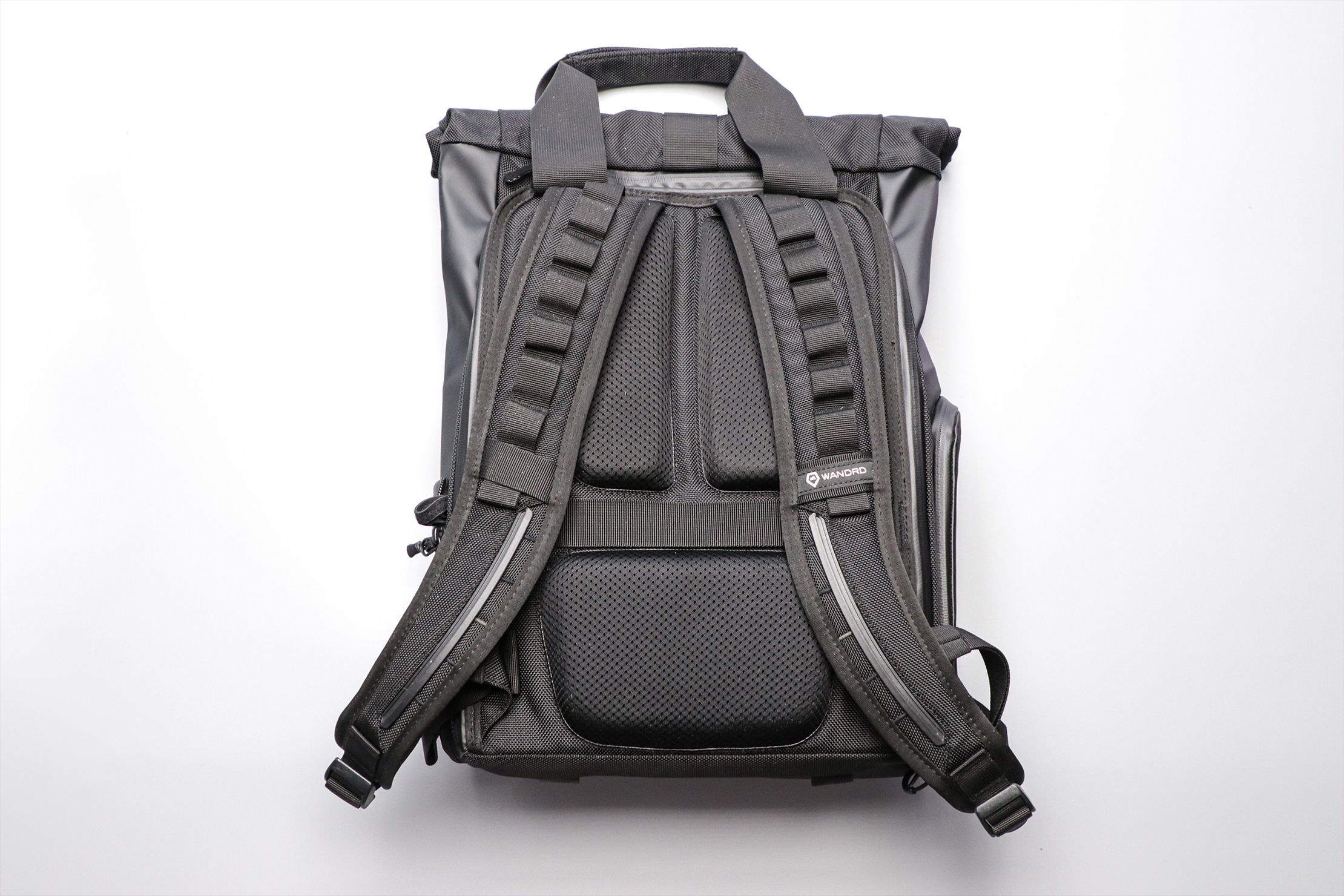 Whereas the shoulder straps don't feature too much padding, the back panel is generously well-padded, and you can see this when you notice how deep the air channels are. Combined with the shoulder straps, the overall carrying feel of the PRVKE Lite is pretty good, even with the sternum strap going AWOL.
At the top are twin handles that are also fairly padded for better grip. With the PRVKE Lite's small size, carrying the bag by hand for long periods is more doable than on larger bags, so we're glad WANDRD retained these nice handles. These handles also have built-in magnets to keep them together. It's a small touch, but it helps keep a cleaner aesthetic and aids in ease of use.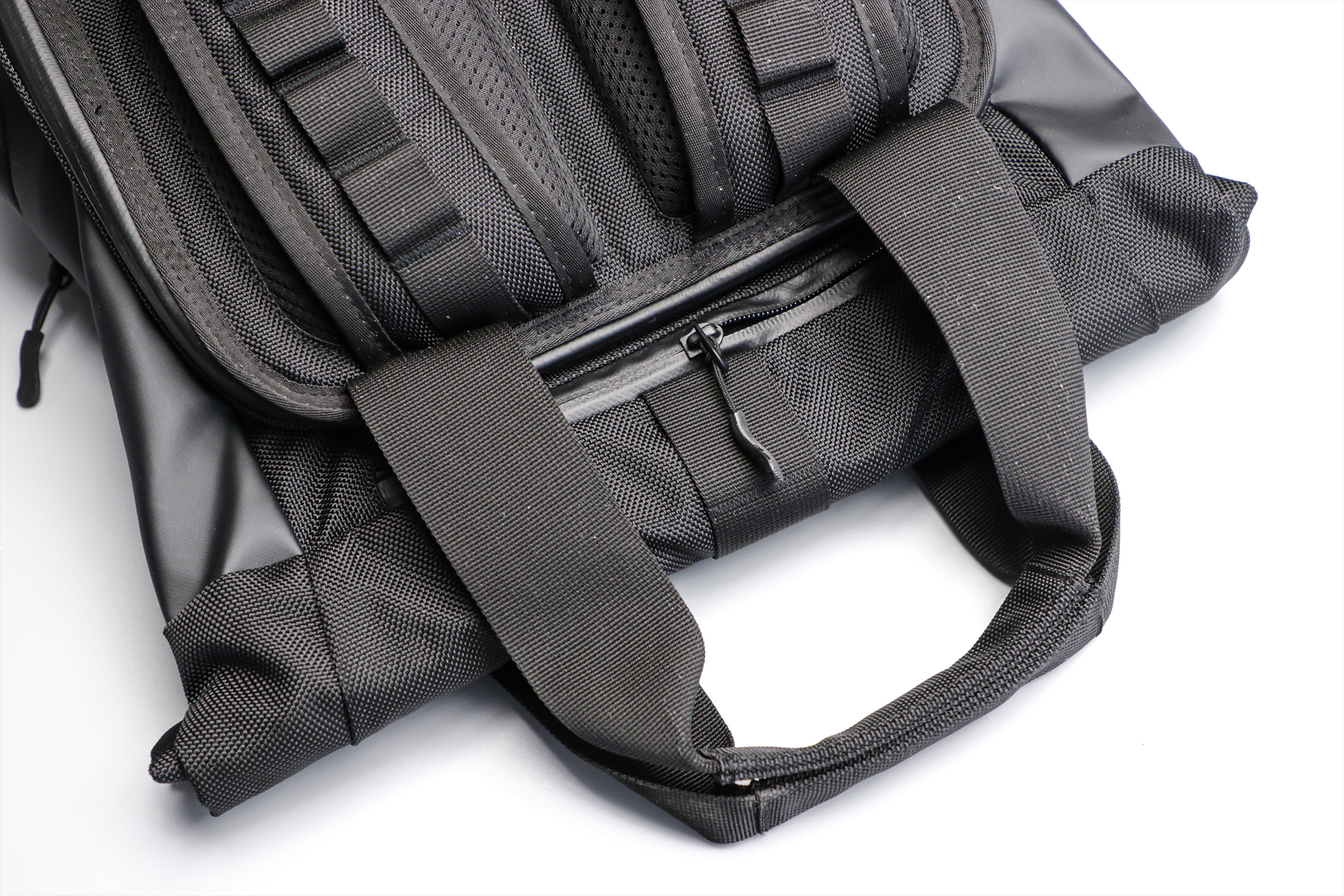 You also get a small water bottle/compact tripod pocket on the right side. It doesn't stick out since it folds flat and zips up against the main body. Unzip, and it reveals an elastic gusset that gives it enough volume to fit an 18-ounce bottle of the aforementioned compact tripod. On the left side is a quick-access hatch if you need to get your camera without having to undo the entire clamshell. Just remember to swing the PRVKE Lite to the correct side depending on whether you need to hydrate or snap a photo.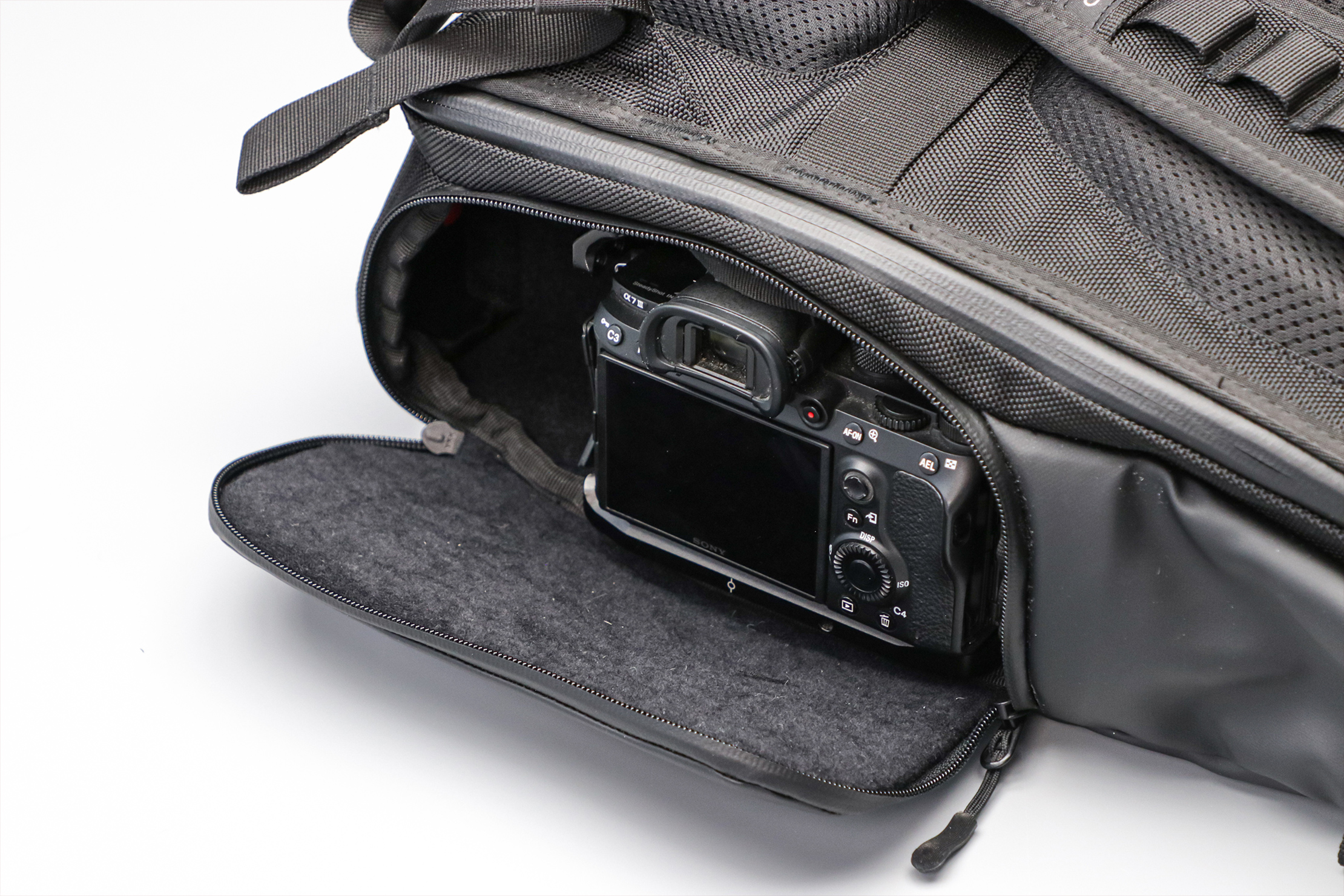 Last but not least are the loops scattered at the front. There are two on each side and two at the bottom for a total of six points for accessorizing. WANDRD has their own accessory straps available as a separate purchase, or you can use your own straps and/or accessories as well.
Inside The Pack
It's not immediately apparent at first glance, but a front compartment spans the PRVKE Lite's facade. It opens from the right side, zipping top to bottom, and it goes fairly deep, almost to the other side of the backpack. However, the built-in camera cube's structure squeezes in too much against the front pocket that it makes accessibility tricky for anything that's placed on the bottom half. You can try your best to put stuff on the top half instead, but things can still slip down towards the bottom half without a proper partition.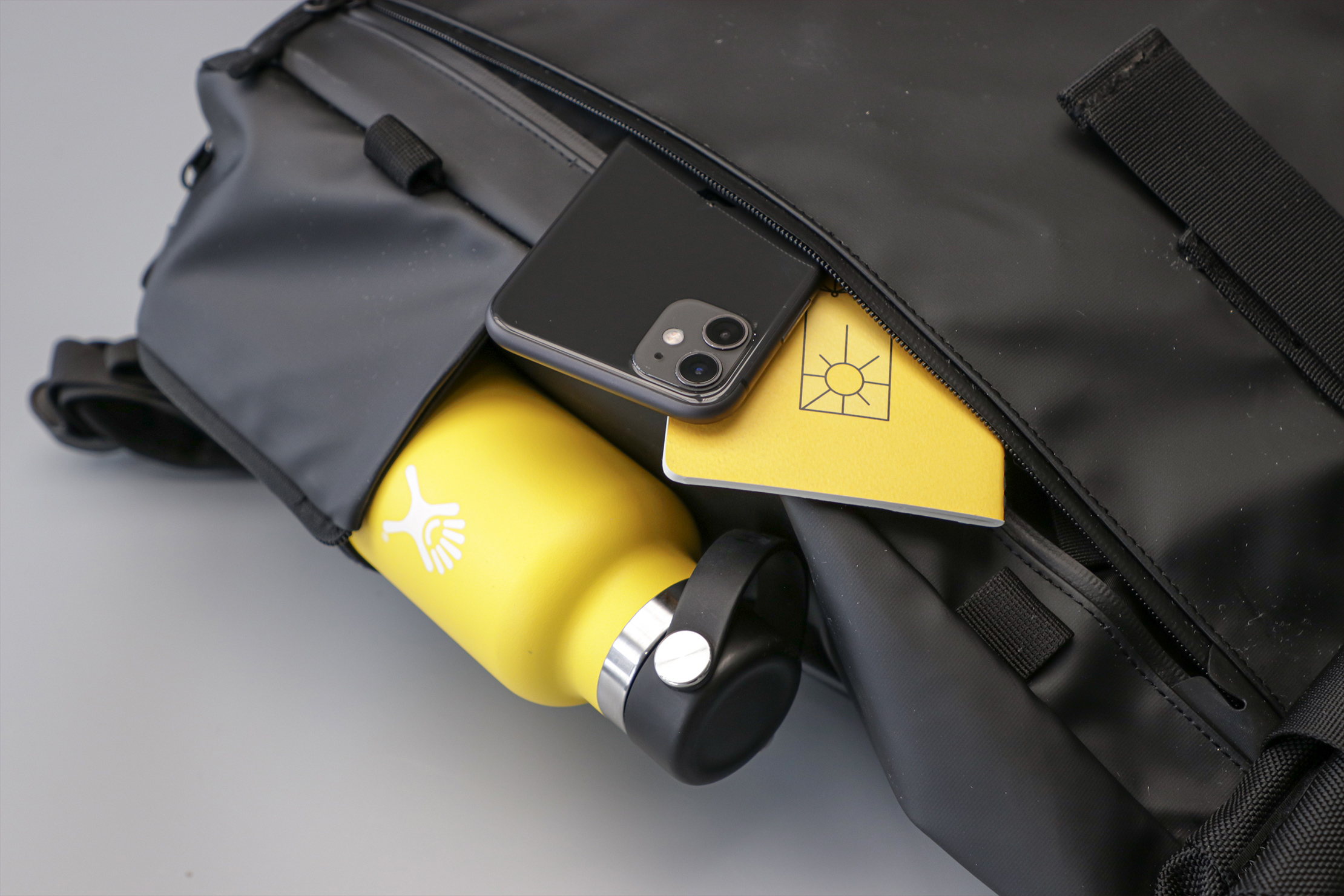 Fortunately, there's a top quick-grab compartment as well for more easily scratched items. The interior fabric is dark but soft, making it ideal for sunglasses, smartphones, or ND filters. It has some volume to it but not a ton, so you'll still need to use the front pocket for more storage. You may want to pick up a pouch to make full use of the front pocket without having to deal with stuff scattering needlessly.
There are two ways to access the main compartment: via the rolltop and through the rear clamshell.

The rolltop is locked down by a robust G-hook attached to an adjustable strap. But the rolltop itself is lined with velcro that catches on as you roll it down. It feels very secure, though it's not the most quickly accessible main compartment, as expected of a rolltop.
If you want much more unrestricted access to the main compartment, you'll want to go through the clamshell. Simply lay down the bag on its belly, preferably on a smooth surface, to avoid scratching the tarpaulin. Tarpaulin is prone to scratches, so having it as a base material for when you're accessing the main compartment isn't ideal. Anyway, once you've laid it down, simply unzip the back panel, and you're greeted with the built-in camera cube and a ton of pockets.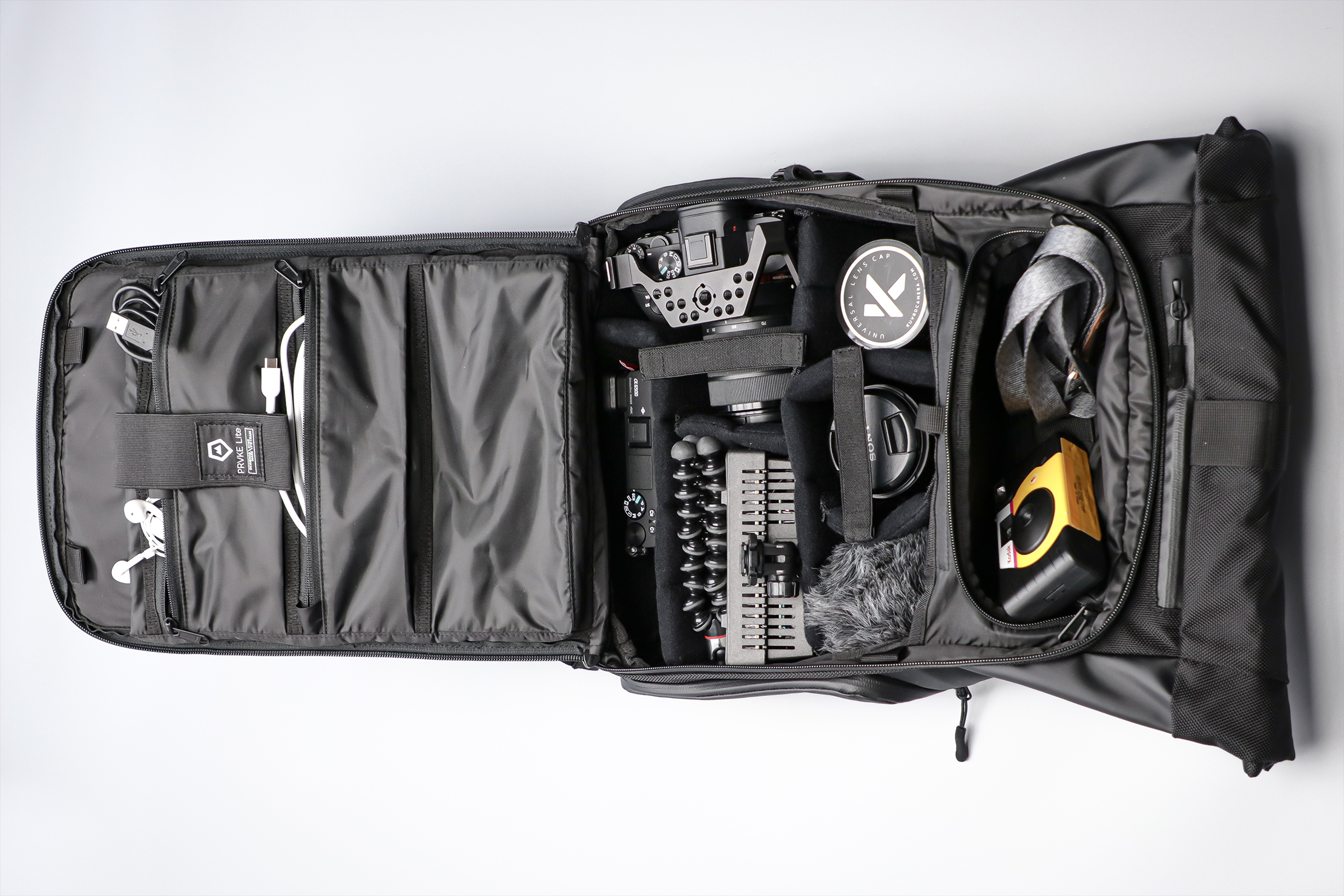 Starting with the back panel-side pockets, you get a laptop sleeve fit for 16-inch laptops or large tablets. Further down are two zippered pockets for some spare camera batteries; even further down than that is one long pocket. This pocket's not very deep, so it's not ideal for chunky laptop chargers. Bulkier items that you don't want in the camera cube area will go on the top shelf above the camera cube.
This top shelf area doesn't have a ton of space, but it's accessible through both the rolltop and the clamshell. You'll have to pack smartly to make full use of this small shelf, but it's good for one or two small packing cubes of clothes—more if you adjust the rolltop.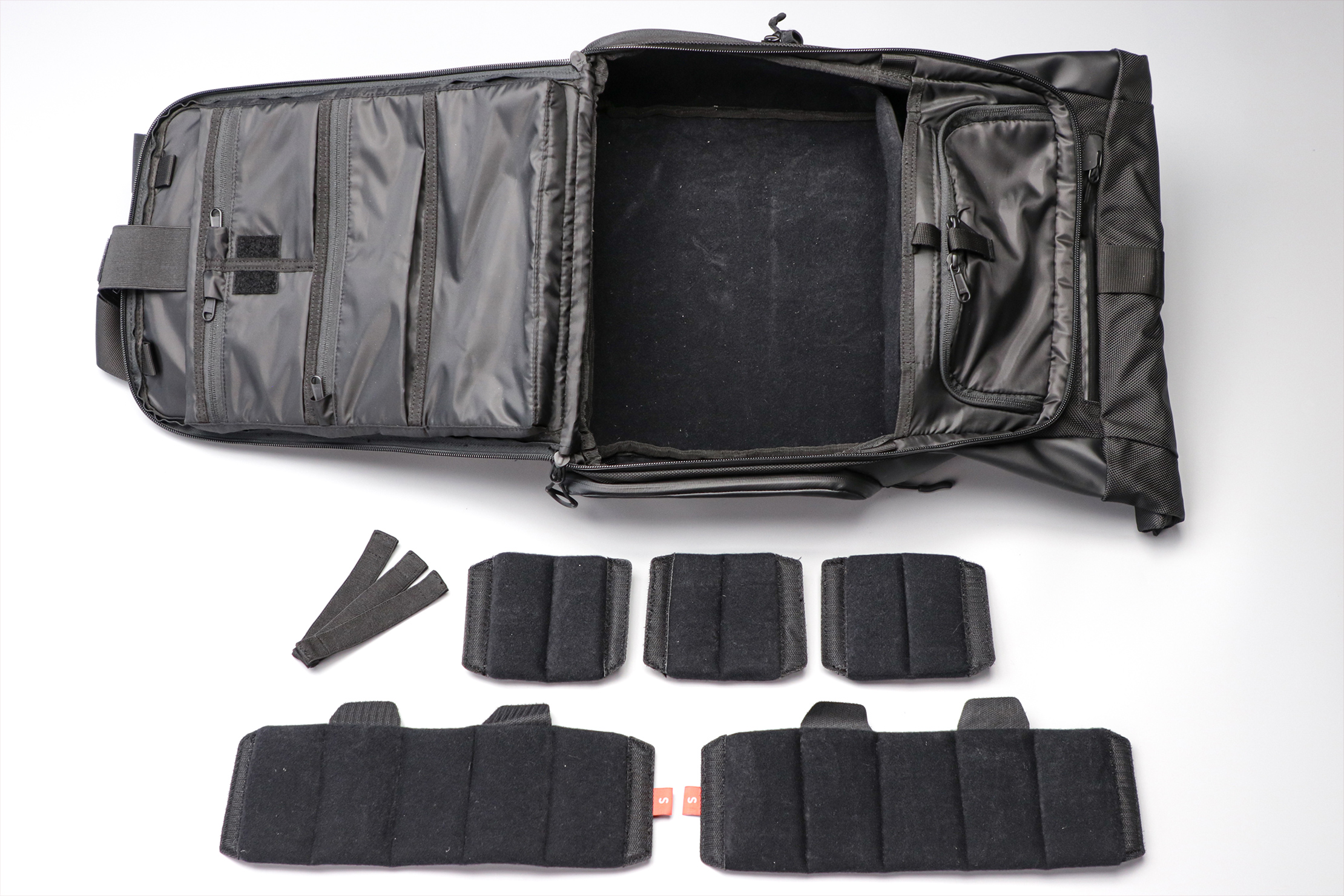 The built-in camera cube has a great deal of adjustability thanks to the velcro-mounted dividers. As you can see above, the dividers come in small and large pieces, plus a few velcro straps that you can bend and position to create your preferred partitions. We liked using the quick-access camera hatch, so we left its partition intact. The dividers themselves feel good and sturdy, like what you'd find on stand-alone camera cubes. One nitpick is that we would have preferred to see a brighter interior fabric to make finding things a bit easier, but considering the wide-open clamshell access, this will do just fine.
If you wish to use the PRVKE Lite as a regular rolltop backpack, you can also take out the partitions entirely and pull down the flap of the top shelf. This makes the main compartment a well-structured single-compartment area for your clothes or whatever you wish to put inside. It's too bad that only the dividers can only come out rather than as a separate mini camera cube. It would have given the PRVKE Lite a great deal of versatility to rival even its bigger siblings in the PRVKE lineup.

The PRVKE lineup is a very compelling option for those looking for a camera-centric bag. The PRVKE Lite boils down to the essentials to meet the smaller size, hence the "Lite" moniker. You still get quick access to your camera, but everything else feels a bit too constricted. You'll have to have an equally simplified setup if you wish to use the PRVKE Lite comfortably as a daily backpack. It won't fit the same stuff as the full-fledged PRVKE, but it can be great for those looking for a bit more focus.
Usage Timeline
Initial Usage
Condition: Excellent
Padded dividers make it ready for carrying camera gear, but they're also removable
Apart from camera gear, there's plenty of pockets for other tech as well
The tarpaulin material beads off water as expected and it adds to the aesthetic
2 Weeks of Use
Condition: Excellent
This is a simple version of the original PRVKE. It loses the removable camera cube in favor of a built-in one. We were able to take out the dividers to make one large compartment, but the dividers can't be used separately like with the larger PRVKE camera cube. There are also fewer pockets, and we could barely fit our 16″ MacBook inside. It's still a great camera backpack if you have a smaller camera and laptop set-up, but we're really missing some of the added features of the larger PRVKE bags.
Access the Pro Community Discussion
Get your questions about the WANDRD PRVKE Lite answered from our team and the Pro Community right here on the page. Plus, join discussions with other members about gear, guides, and more.
Other Bags & Luggage Reviews