Gossamer Gear Shoulder Strap Pocket Review
The Gossamer Gear Shoulder Strap Pocket is a clever way to add a convenient quick-access pocket to your backpack, but the velcro straps can be a bit loose.
Our Verdict
Unlock the Pro Summary
Save time. Get access to brief summaries of our reviews so you can browse and make decisions more efficiently.
Pros
Easy way to add a quick-access pocket
Good structure for added protection
Velcro straps fit even wide shoulder straps
Cons
Velcro straps can snag on mesh and loose thread
Can slide down if not mounted to a D-ring
It takes some time to get used to the extra bulk
Recent Pack Hacker Video
Technical Details
Weight (oz)

1.75 oz (49.6 g)

large size

Dimensions

7 in x 3.75 in x 1.5 in (17.8 x 9.5 x 3.8 cm)

large size

Notable Materials

ROBIC®, YKK Zippers

Manufacturing Country

Vietnam

Warranty Information
Full Review
We're always on the lookout for clever ways to make stuff more functional. Take the humble shoulder straps, for example. They're the bread and butter of any backpack, and you might find arrays of loops, D-rings, and a sternum strap. But what if it had pockets?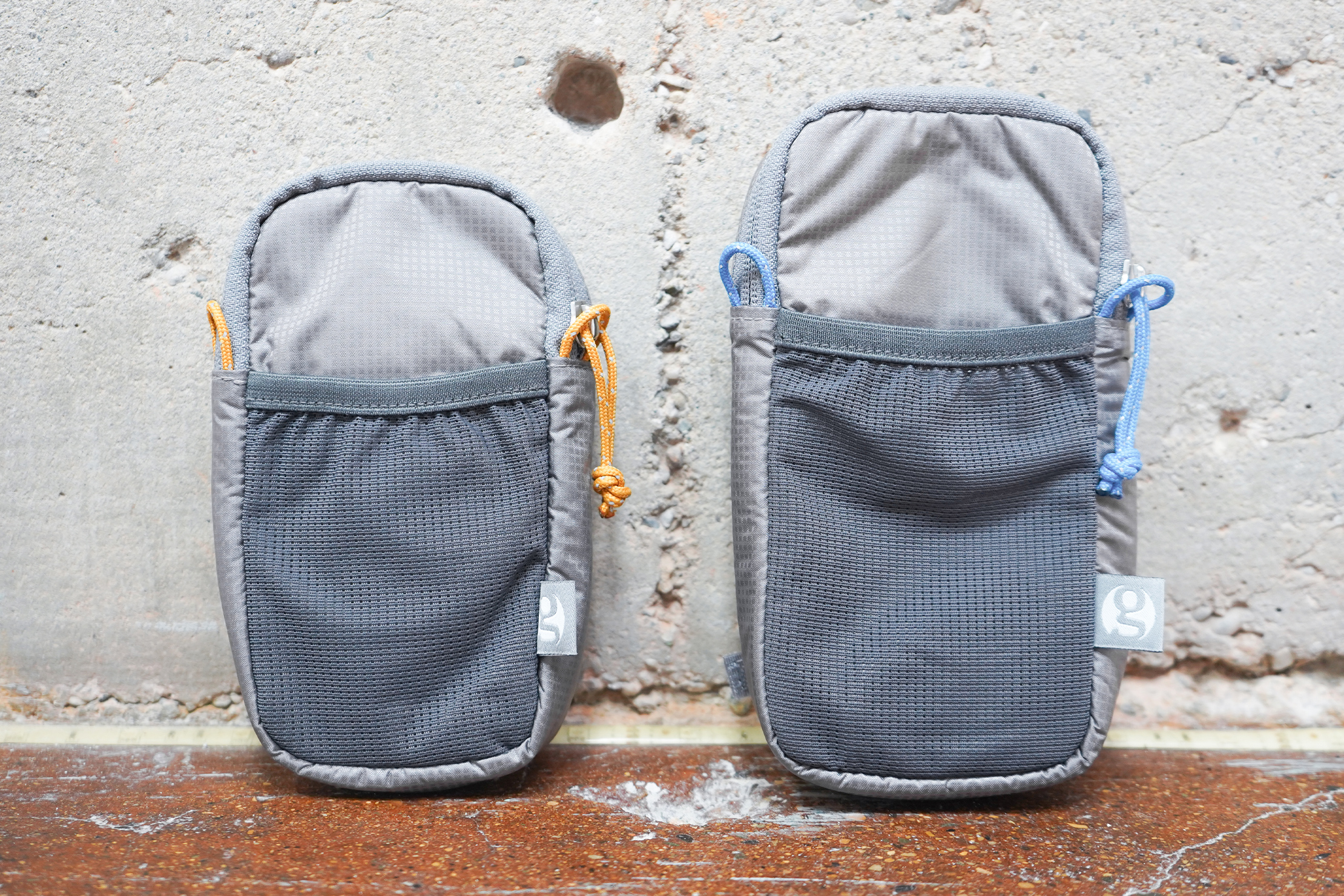 It's not a new concept per se, and you'll find tons of bags with pockets on their straps. Nonetheless, it's a desirable feature that you might want to consider if your current backpack doesn't have one. In this review, we'll be taking a look at Gossamer Gear's Shoulder Strap Pocket. It comes in two sizes, either of which is a good way to add a quick-access pocket that doesn't require the whole "swing-your-bag-around" routine. There is a catch or two worth going through since you're adding noticeable bulk in front of you. So without further ado, let's dive in.
Materials & Aesthetic
At first glance, the Shoulder Strap Pocket has a familiar aesthetic. They kind of remind us of side pockets that hopped off a travel backpack to start their own careers. If we held them up next to the extensive collection of bags and travel gear we have, we're pretty sure we can find their lookalikes. That's a good thing, and it means that these add-ons should be easy to match to your existing gear, especially if shades of gray are your thing.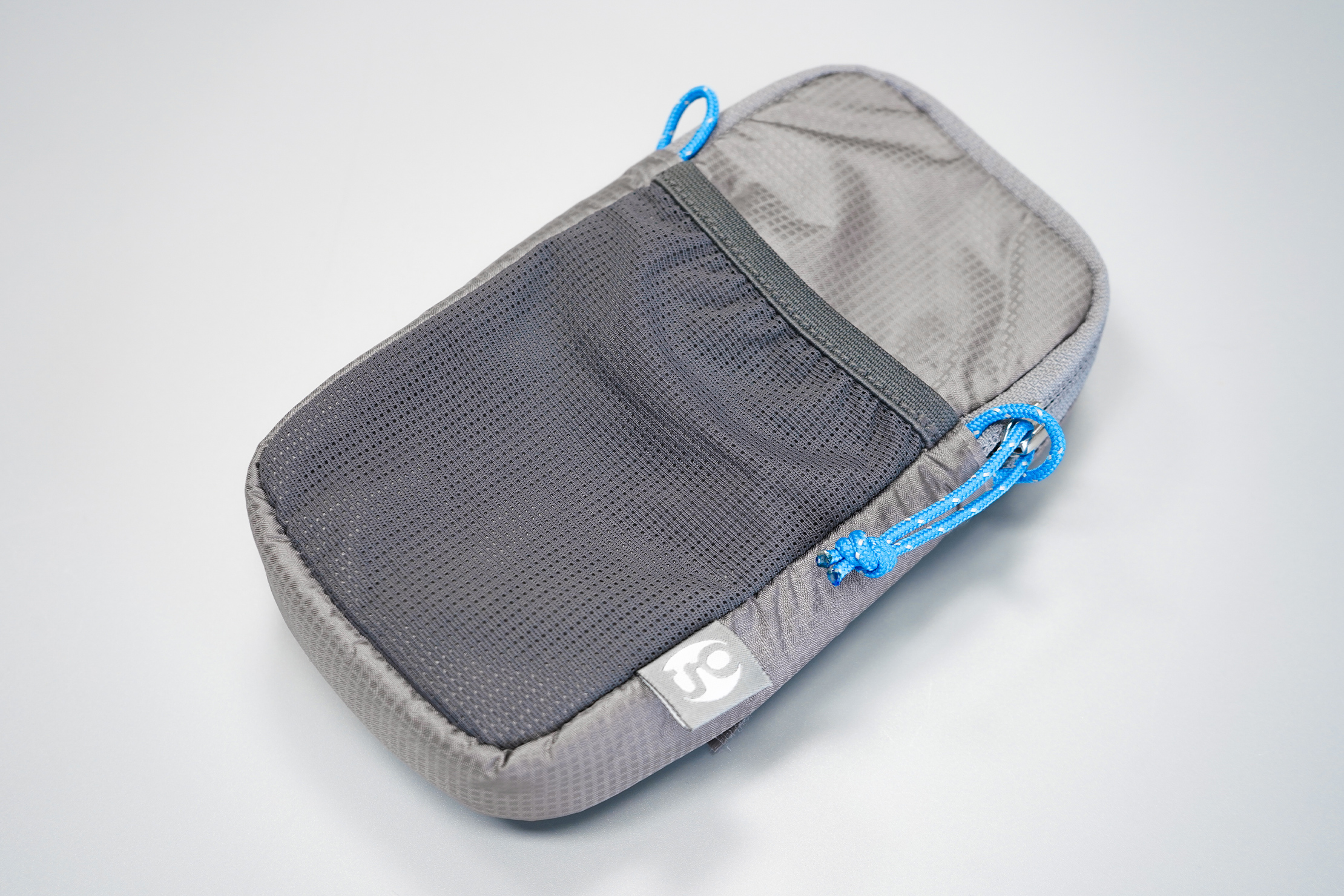 Interestingly, the large and medium variants are differentiated by their zipper pulls' colors; the large having a blue paracord, while the medium has an orange one. They're fairly loose and easy to replace if you wish to use shorter zipper pulls. Whichever way you go, you can trust the YKK zippers to take care of the business of zipping and unzipping.
There's nothing too distracting about the design, with Gossamer Gear opting for a simple "g" tab for branding at the front. The overall aesthetic is mostly owed to the durable, DWR-coated ROBIC nylon and the stretchy mesh that dominates the front. However, it's worth noting that the large version is quite big, and you might find that it stands out too much, though it's a natural trade-off of the large capacity.
Usage
The Shoulder Strap Pocket has a set of velcro straps at the back, which looks like a mini harness system of its own. You know you're heading deeper into travel gear territory when your accessories feature their own harness system. Anyway, two parallel straps run across the back, while one runs down vertically to provide extra security.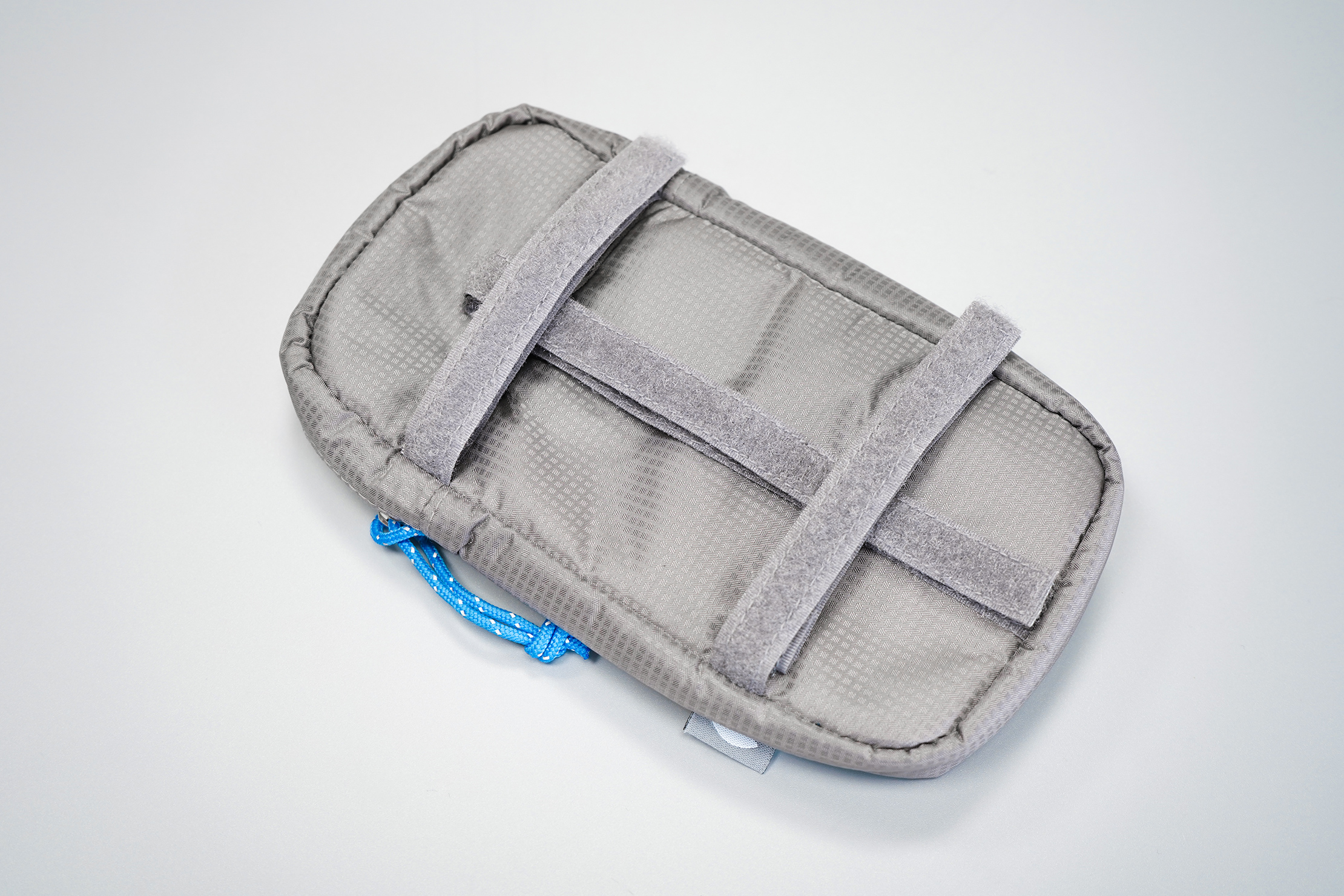 Installation is as straightforward as you'd expect: simply wrap the two horizontal velcro straps around your shoulder strap of choice. Locking them down as tightly as possible is worth the effort if you're not or can't use the vertical velcro strap. This vertical strap hangs onto loops on your shoulder strap—whether it's a D-ring or other attachment points—and will dictate how high or low you can position the pouch. But not every backpack features these extra loops, so having the horizontal straps wrapped tightly is recommended to prevent it from sliding down.
We did notice that on shoulder straps that feature mesh material, the velcro straps can get caught. You'll have to be careful when removing the Shoulder Strap Pockets to avoid messing up the delicate fabric, which is something you definitely don't want.
Once it's on, you've successfully added yet another quick-access pocket to your backpack that doesn't require you to swing the whole thing around. This is super helpful and a great quality-of-life improvement in situations where it's not convenient to swing your backpack around. Scenarios of tightly packed buses, queues, concerts, etc., come to mind, and we're sure everyone's found themselves in a similar predicament.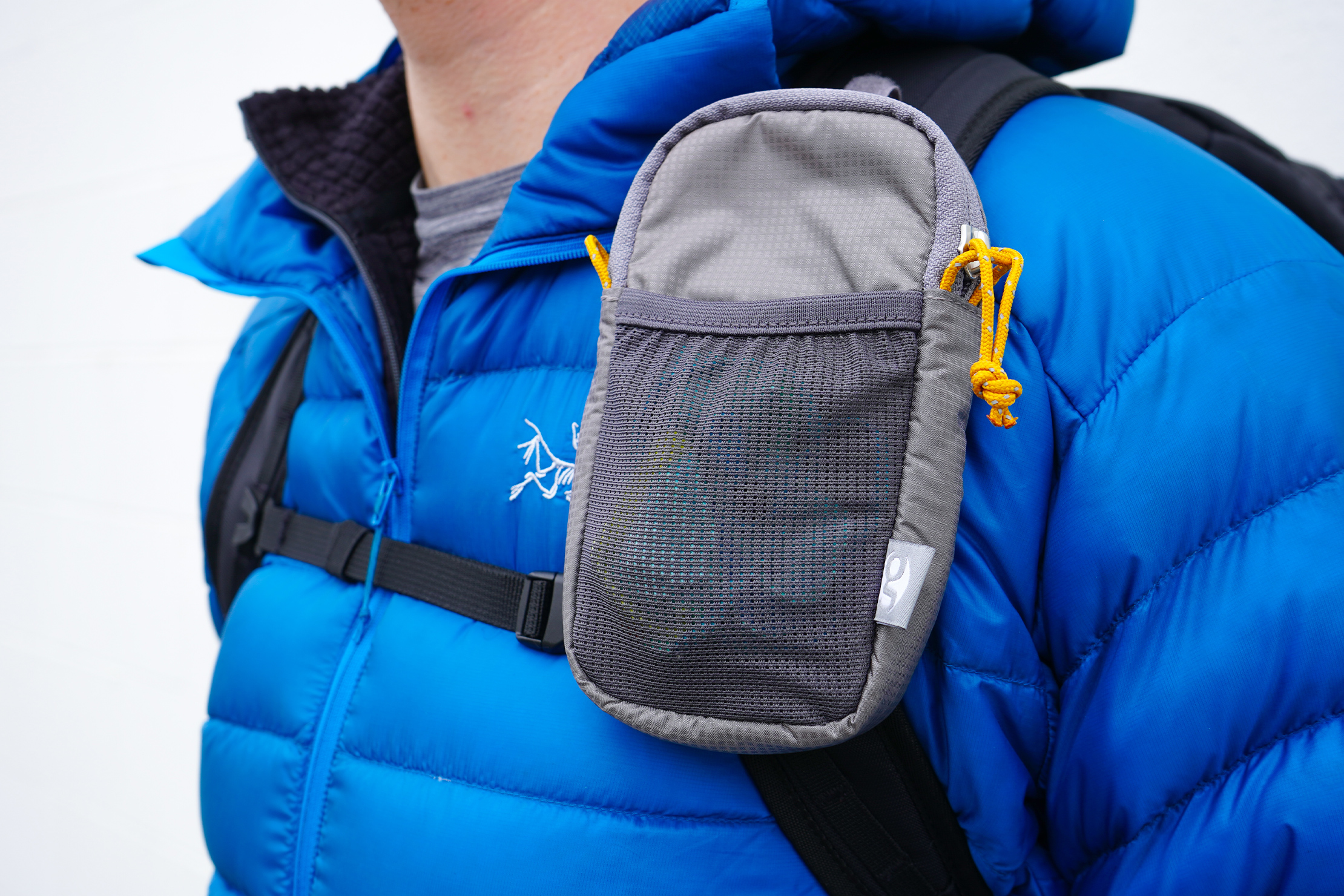 The large Shoulder Strap Pocket version especially goes well with large travel backpacks. We found it to be too large for a daypack and a bit overkill for urban dwellers in general. That said, it's definitely the way to go if you want to fit large smartphones like the Max variants of the iPhone, large capacity power banks, or just a lot of granola bars.
The top opening is sufficiently wide enough that you'll be able to peek into the compartment easily. One small detail you might want to take note of is that the zipper seals right to left. It's a matter of preference, but we opted to keep the rather long zipper pull on the outer edge rather than nearer to our chest to minimize distractions. If distractions aren't a big deal to you, flanking loops are also available on each side of the opening, ready to take on whatever accessories you want to attach to them.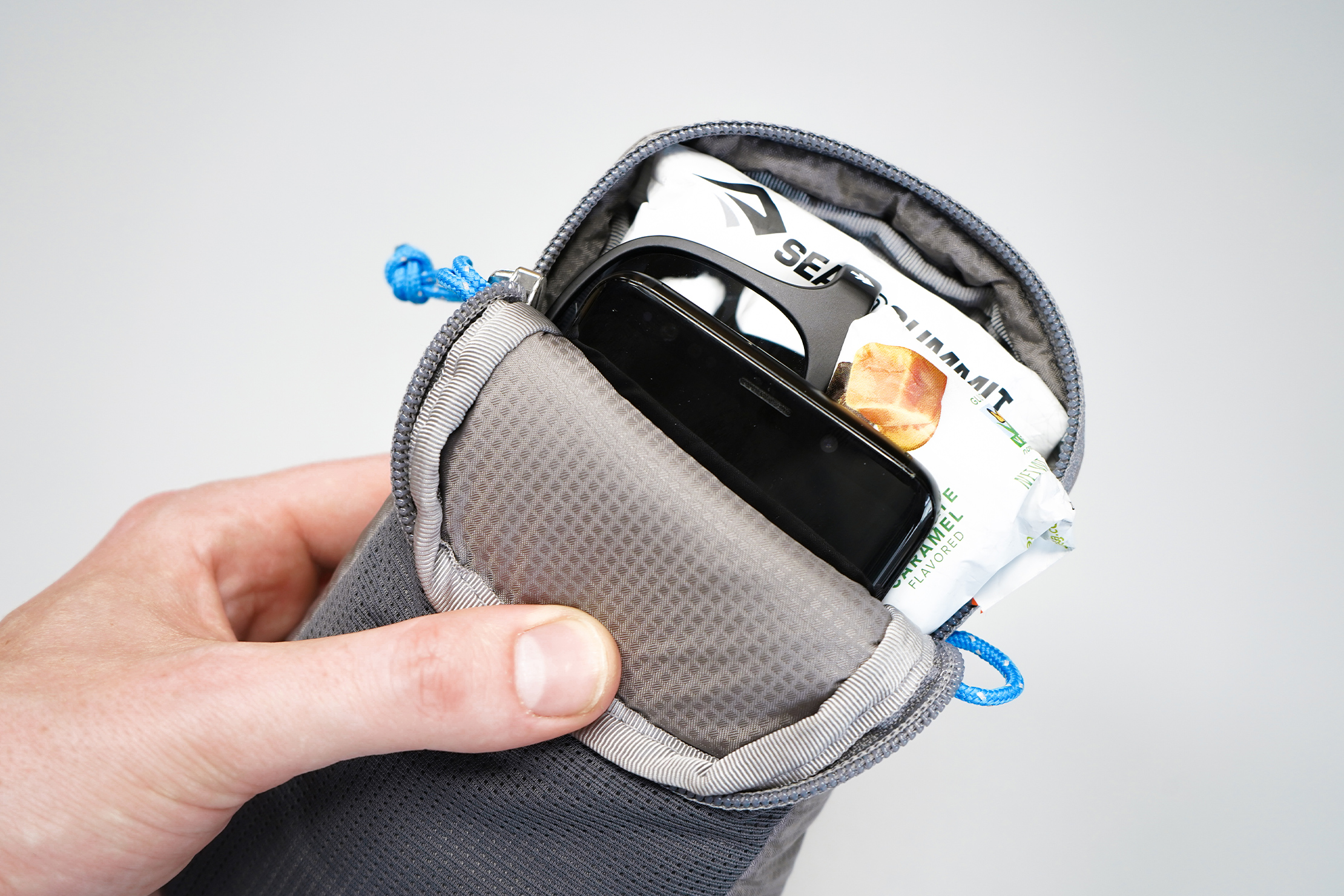 Your mileage may vary depending on your needs, but the medium's volume was more than enough for our heavily-cased Samsung Galaxy S9 or some EDC items like sunglasses, wet wipes, a set of keys, wireless earbuds case, etc. The stretchy mesh pocket also came in handy for our face masks and transit cards, stuff we generally don't want to dig for inside the main compartment.
It's worth mentioning that the structure of these pouches is really good and solid. They have a fair bit of padding and stiffness to them that they should hold up well against accidental bumps. But we did make some observations that kinda tie into these traits and work against them.

First, depending on how heavy you load them up, they can feel a bit bulky. It's a similar sensation to what we felt with the Peak Design Capture Clip, where you have a noticeable load in front of you that's leaning forward. It's not a deal-breaker, but just something that might take some time to get used to. Second, if you don't have an extra loop to attach the vertical strap, there's a tendency for the pouches to slide down. This will depend on how heavily it's packed and how tight the horizontal straps are, so it's something to look out for.
Wrap Up
Accessories that add functionality and greatly improve convenience are always a major win for us, and Gossamer Gear's Shoulder Strap Pocket definitely ticks the right boxes. We're no strangers to backpacks that could use additional organization, to which we'd always recommend using pouches to improve the experience. But even if your backpack isn't lacking in terms of organization, the Shoulder Strap Pocket is great for the quality-of-life improvement it brings.
We do wish the straps are a bit more secure, especially if your shoulder straps don't have extra attachment points for the vertical velcro strap. It would make the extra bulk a bit more manageable, though it's something we can learn to work in exchange for the added convenience of having an easy-to-access front pocket.
Usage Timeline
Initial Usage
Condition: Excellent
Easily attaches to existing shoulder straps
Good size for current 6-inch smartphones
DWR coating adds extra protection
2 Weeks of Use
Condition: Excellent
It took us a little bit to get the pocket situated correctly, but once we did it was great to use. We used the main compartment for our Galaxy S9 phone and the front mesh pocket for our mask. It was really nice not having to take our backpack off whenever we wanted to grab these items. These pockets would really shine in an outdoor setting where you are wearing your backpack for long periods of time, but they performed well in urban settings too.
Access the Pro Community Discussion
Get your questions about the Gossamer Gear Shoulder Strap Pocket answered from our team and the Pro Community right here on the page. Plus, join discussions with other members about gear, guides, and more.
Other Organizers & Pouches Reviews