Peak Design Capture Clip Review
The Peak Design Capture Clip takes some time to get used to, but having your camera easily accessible is a trade-off worth considering.
Our Verdict
Unlock the Pro Summary
Save time. Get access to brief summaries of our reviews so you can browse and make decisions more efficiently.
Pros
Excellent aluminum construction
Keeps your camera near and easy to access
Included plate is compatible with Peak Design's Travel Tripod
Cons
Can take some time to get used to, especially with larger cameras
Knobs' thin edges can be hard to grip
Detaching the camera is a must when putting your bag down
Recent Pack Hacker Video
Technical Details
Notable Materials

Aluminum

Manufacturing Country

China

Warranty Information
Full Review
Get up to 10% off Peak Design • Join Pack Hacker Pro
They say the best camera is the one you have with you. It makes complete sense when you consider that a lot of iconic photographs are candid shots. As such, we like to keep our cameras on straps whenever our inner shutterbug wants to take a stroll. Who knows? There might be an overly cute puppy around the corner doing sick backflips just waiting to be photographed.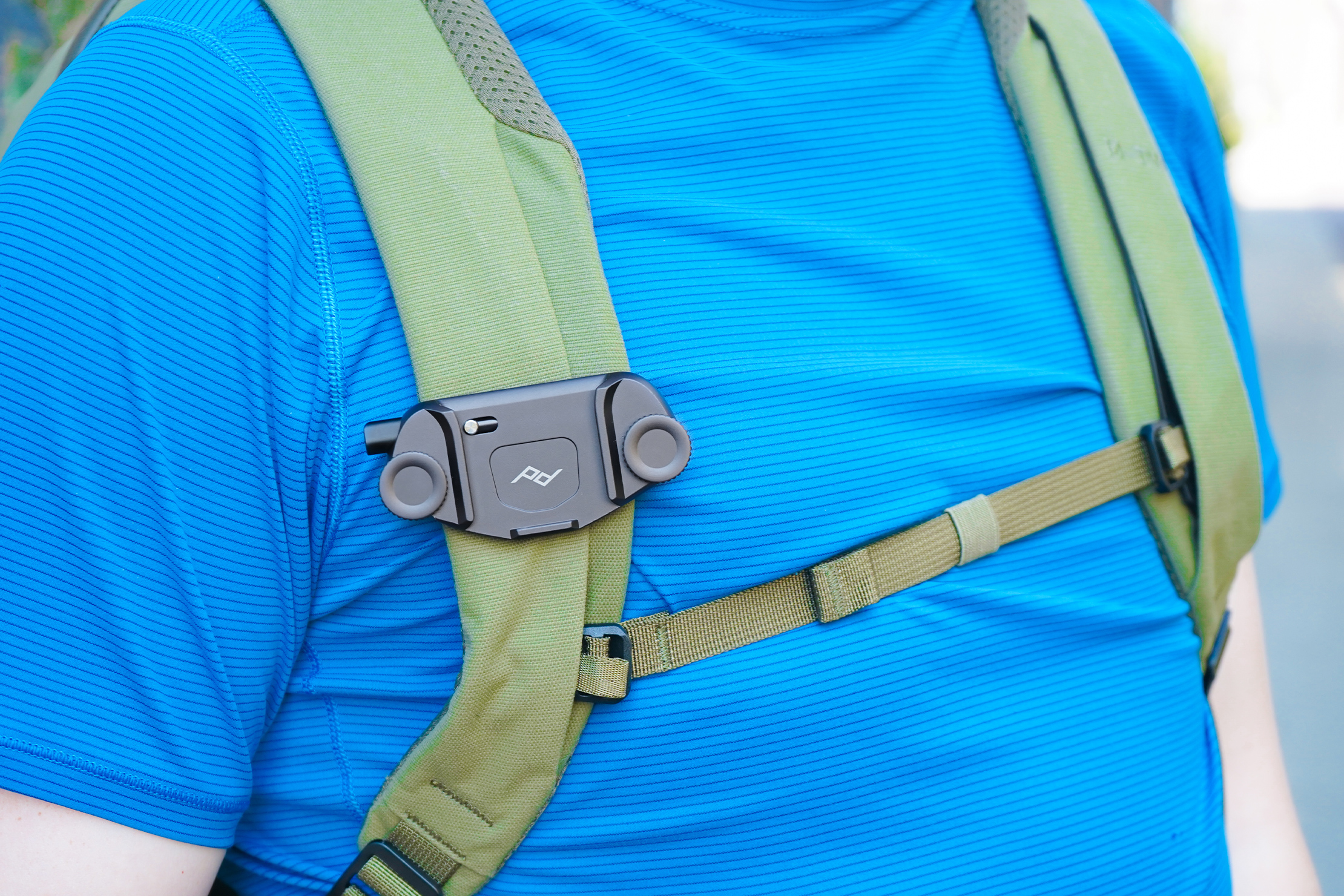 We're not saying Peak Design's Capture Clip will spawn those moments for you, but you'll at least be much more likely to immortalize them. Before you can, it does take some time to get used to, and it's a bit more complicated to use than a strap. Having a camera sticking out of your backpack's shoulder strap does look a little unconventional, but it has merit. We'd be more than happy to share more with you down below.
Materials & Build Quality
Holding the Capture Clip in your hands will give you an appreciation of its metal construction. You'll be entrusting it with your expensive camera, so you'll want to have a good impression of its strength despite the clip's relatively small size. The aluminum assembly and included plate are well-crafted, and twisting them didn't produce any worrying creaks or unnecessary flex.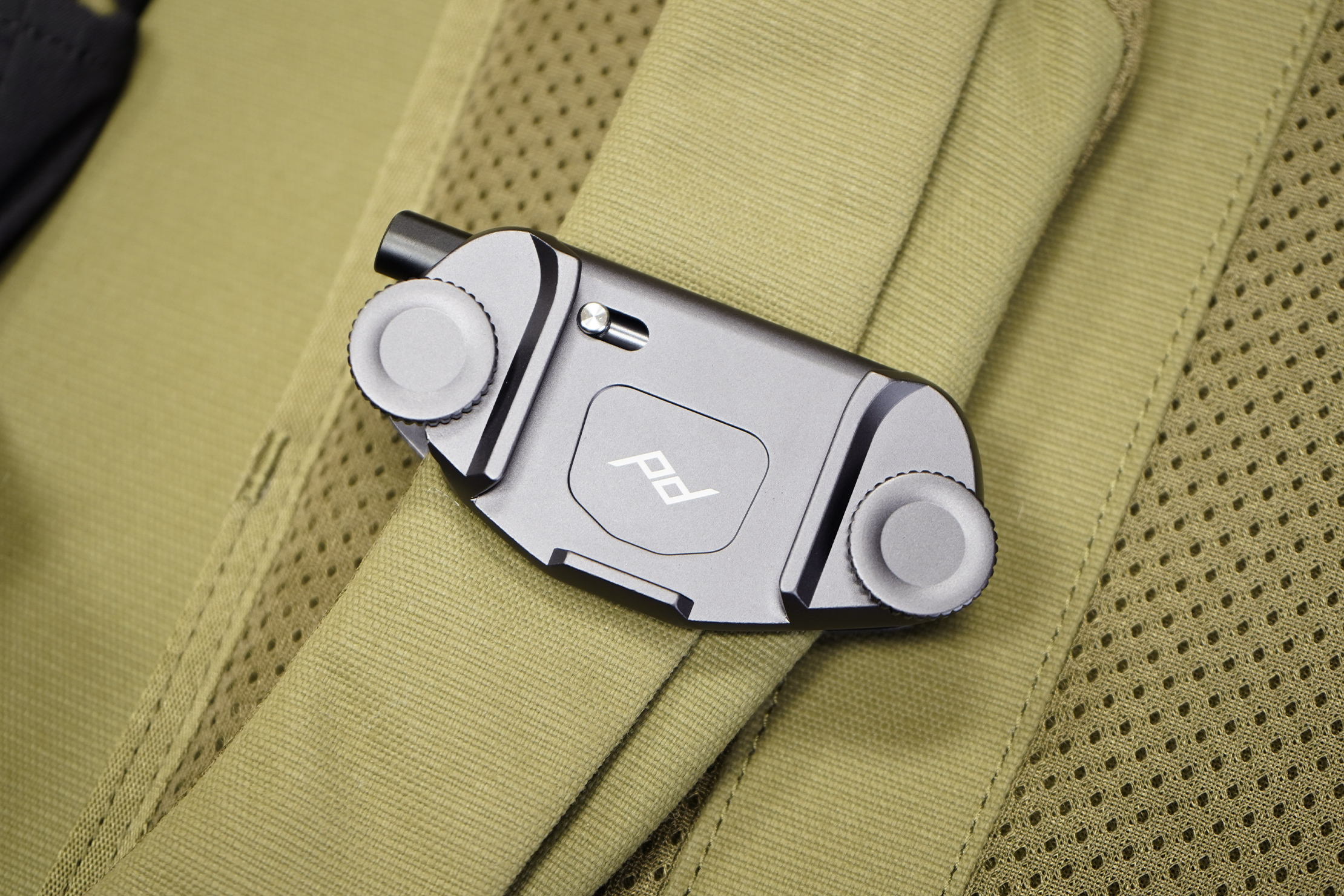 We'll get more into how it opens and setups later down the review, but the mechanisms also benefit from the excellent build quality. The quick-release button, for example, has a good springy feel, and the two knobs also twist without issue.
Although it's understandably not on top of the list for a camera holder like the Capture Clip, we can't forget about looks. Nevertheless, you currently get two choices for color: black—like the one we have here—and silver. Black looks subdued, while silver accentuates the industrial design of the Capture Clip. You won't regret either choice, but since most cameras come in either black and silver, you may want to pick a matching color to keep things uniform.
Usage
Getting the Capture Clip opened is as simple as undoing the left and right knobs (remember, it's righty-tighty and lefty-loosey). After loosening those, the upper layer can now swing upwards.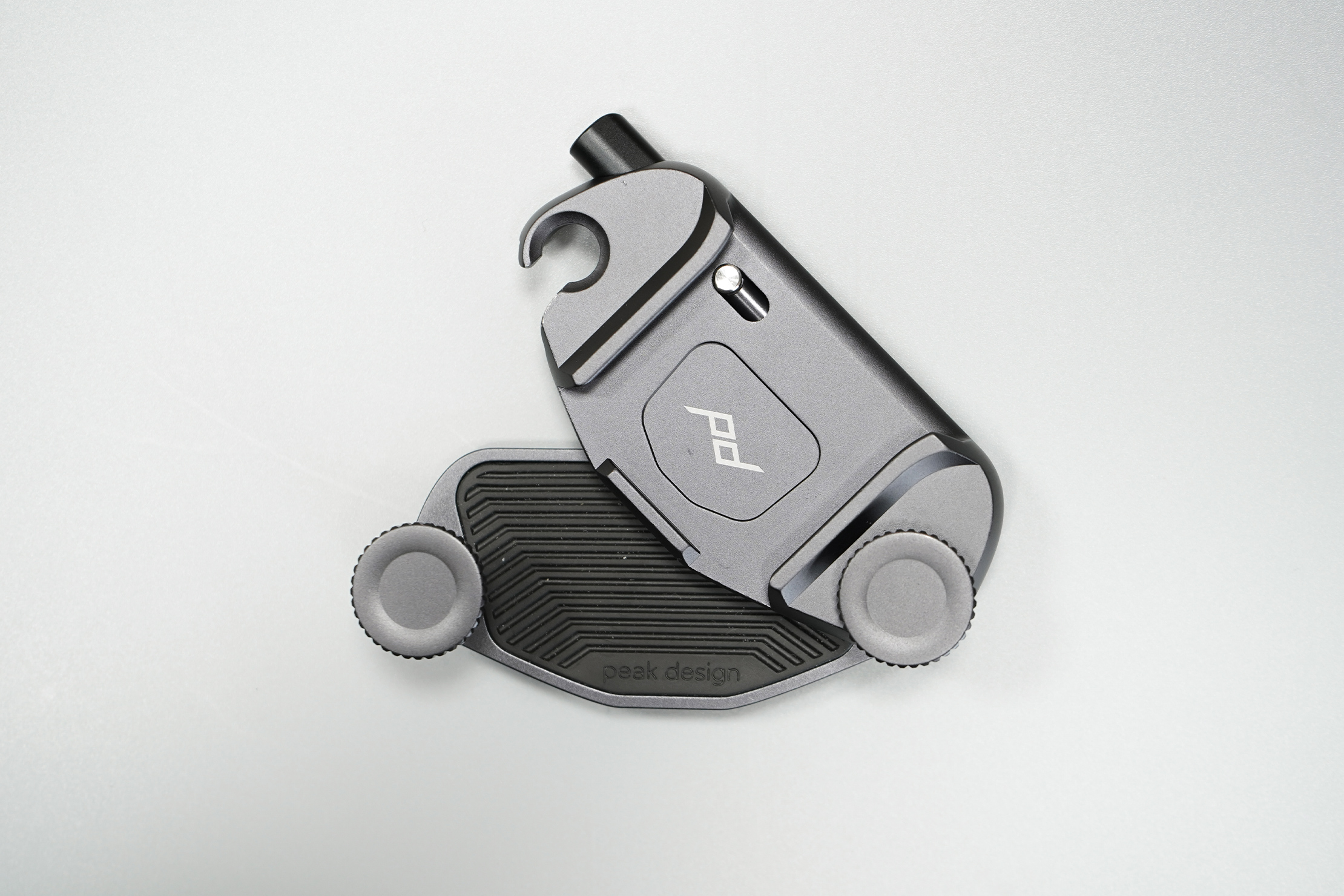 With that done, you can now insert your backpack's shoulder strap between the two halves. Do the previous steps above in reverse to lock it into place, tightening down the knobs as much as you can. We've done this a couple of times while switching backpacks, and we noticed that the knobs have relatively thin edges, so it can be difficult to grip and tighten down. However, if you're a one-backpack kind of person, it shouldn't pose a problem.
Something to consider is the width of your backpack's shoulder strap. In general, daypack shoulder straps should fit without a problem, but travel backpacks' wider and beefier straps might pose a challenge.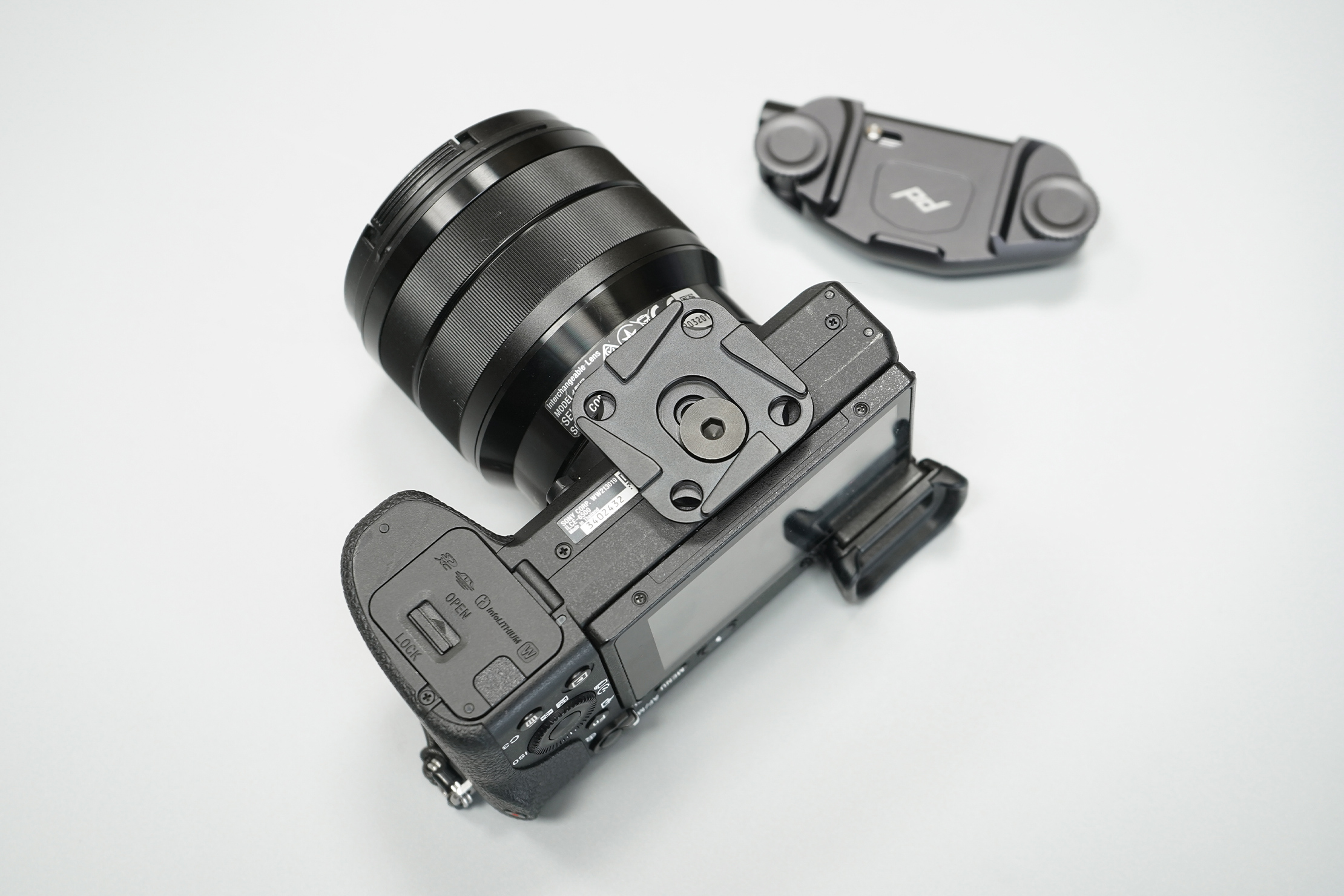 The base plate for your camera attaches in a similar fashion to typical tripod plates, but it needs an Allen key for tightening. Fortunately, they include a free one in along with a small pull-string bag for the Capture Clip. Peak Design uses the same plate on the Capture Clip as the one included on their Travel Tripod, saving you some time if you already happen to own that. After installing the plate on your camera, it's only a matter of simply sliding your camera from the top, and it then automatically locks into place.
Some context: We usually carry our camera gear in either separate bags like camera cubes or dedicated camera bags. If we need quicker access, we also carry a strap around to keep our camera on our person. All of these are the norm for traveling with a large camera, and they all work well.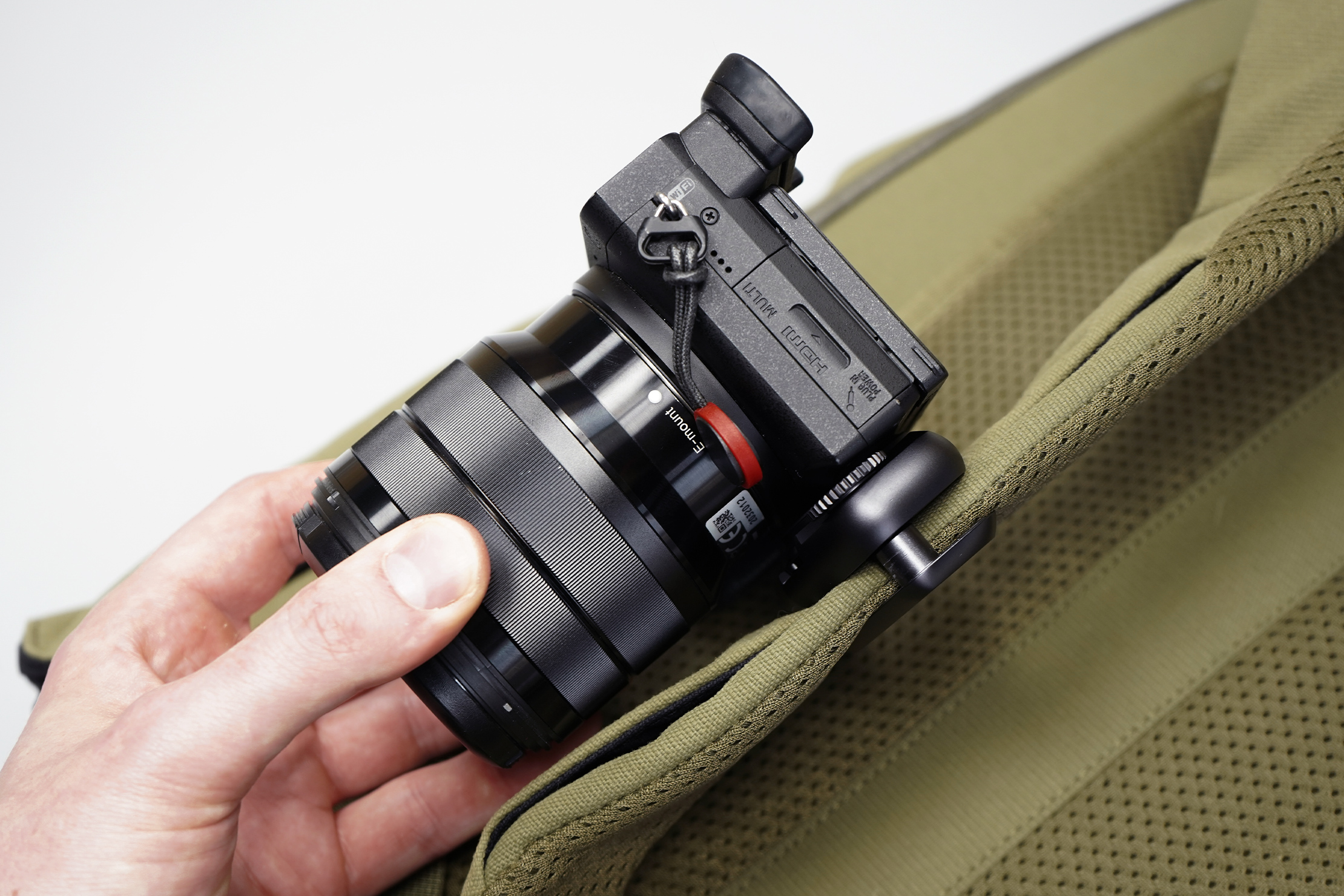 The first time we used the Capture Clip, the experience of having our Sony A6500 front-mounted on our shoulder strap was a weird one—at first. We were conscious of the sensation and weight of a camera hanging off in front of us. Not to mention that we needed to remove our camera whenever we put our bag down, or else we risk the bag falling over camera-first.
It did take us some time to get used to, but the more we used it, the more confident we grew in the Capture Clip. You won't be seeing us doing jump ropes while we have a DSLR strapped on anytime soon, though brisk walks are a cinch to us now.
As we grew more confident with the Capture Clip, we also found ourselves using our cameras a lot more. There's a certain satisfaction to unholstering your camera Indiana Jones-style when you need to capture the moment. Speaking of which, you can also mount it on your belt to capture that cowboy look or wherever your imagination leads you. Though it's not as quick as simply raising your camera as you would with a simpler strap, the Capture Clip is not very far behind in terms of convenience.
Wrap Up
Despite our initial reservations, we thoroughly enjoyed having the Capture Clip on us. Once we got past the getting-to-know part of the experience, we noticed a few key benefits of having our camera mounted this way. First, there's much less sway and shaking compared to camera straps. With a strap, your camera is hanging off you and is free to sway back and forth if you're not careful. Second, it's more convenient to have your camera close and ready like this than having it inside a camera cube.
Granted, it's one button push slower than a simple strap, but it's still very quickly accessible. So if you're willing to try out a new way to keep your camera close for the perfect photo opportunity, Peak Design's Capture Clip is an interesting option to try out.
Usage Timeline
Initial Usage
Condition: Excellent
Clips onto belt or shoulder straps of your bag easily
Convenient for carrying heavy DSLR hands-free
Easy quick release button helps you stay camera-ready and avoid missing the perfect shot
2 Weeks of Use
Condition: Excellent
This takes a little bit to get used to. It's been working well on our backpack strap but it's a little odd having the camera attached to our front. It holds tight and has not moved or slid down the strap at all.
1 Month of Use
Condition: Excellent
The more we use this, the more comfortable we get with it and the more we like it. The quick access to the camera is great and the camera bounces less when we walk around when compared to just having it on a strap. We did have a hard time fitting it on bulkier straps so it works best when used with a daypack sized bag.
Access the Pro Community Discussion
Get your questions about the Peak Design Capture Clip answered from our team and the Pro Community right here on the page. Plus, join discussions with other members about gear, guides, and more.
Other Productivity & Tech Reviews