WANDRD PRVKE Review
Whether you're a professional photographer, videographer, or hobbyist, the WANDRD PRVKE offers a thoughtful option for everyday use or longer trips.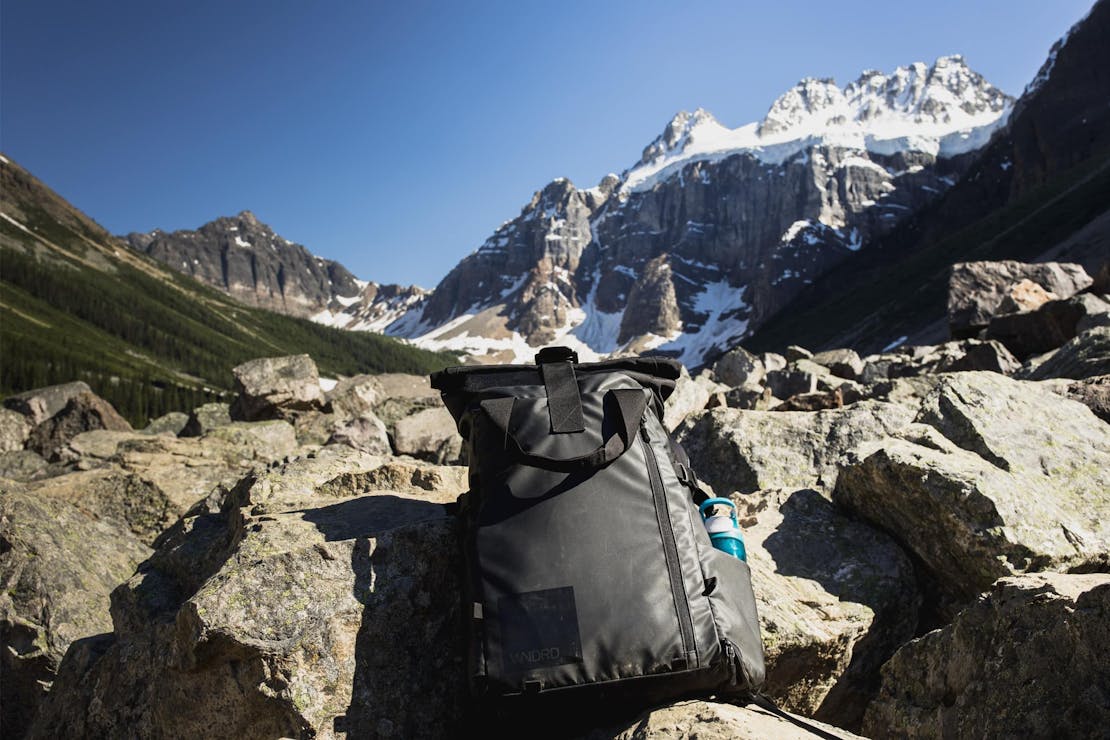 Our Verdict
Unlock the Pro Summary
Save time. Get access to brief summaries of our reviews so you can browse and make decisions more efficiently.
Pros
Not one, not two, but THREE access points!
The camera cube is a good size for a decent kit (think: camera body, two lenses, a durable hard drive and a flash), and having it removable with a little strap can come in handy if you unexpectedly have to check your backpack.
The 31L bag fits comfortably in overhead compartments, and even under the seat on some flights.
Cons
A roll-top bag needs a good cinch strap, and while the design of the cinch strap is ridiculously good looking on the WANDRD PRVKE, it does not stay in place.
The sternum straps don't seem to be designed for folks with broader chests in mind and can pop off unexpectedly.
The water bottle pocket zips up on the side keeping it out of the way, but it would be nice if it was a bit bigger and more durable.
Recent Pack Hacker Video
Technical Details
Capacity

31l

Weight (lb)

3.4 lb (1.5 kg)

Dimensions

12.5 in x 7.5 in x 19 in (31.8 x 19.1 x 48.3 cm)

Notable Materials

Nylon Dobby, YKK Zippers, Tarpaulin

Manufacturing Country

Vietnam

Laptop Compartment Size

15"

Warranty Information
Buying Options

$199.00

$199.00
Full Review
Get up to 15% off WANDRD • Join Pack Hacker Pro
Designed by photographers for photographers, the WANDRD PRVKE is a simple and elegant backpack which has stirred up a lot of attention. It started as a Kickstarter campaign and quickly met its goal. They've since run out of stock a couple of times. It's a well-sought after pack and still stops traffic with curiosity from photographers looking for that right gear bag for a decent price point. We get a lot of questions about it and a lot of photographers want to have a private tour of it. It comes in black, green and blue. The green and blue colors are pretty subtle. WANDRD is currently offering two sizes: 21L and 31L.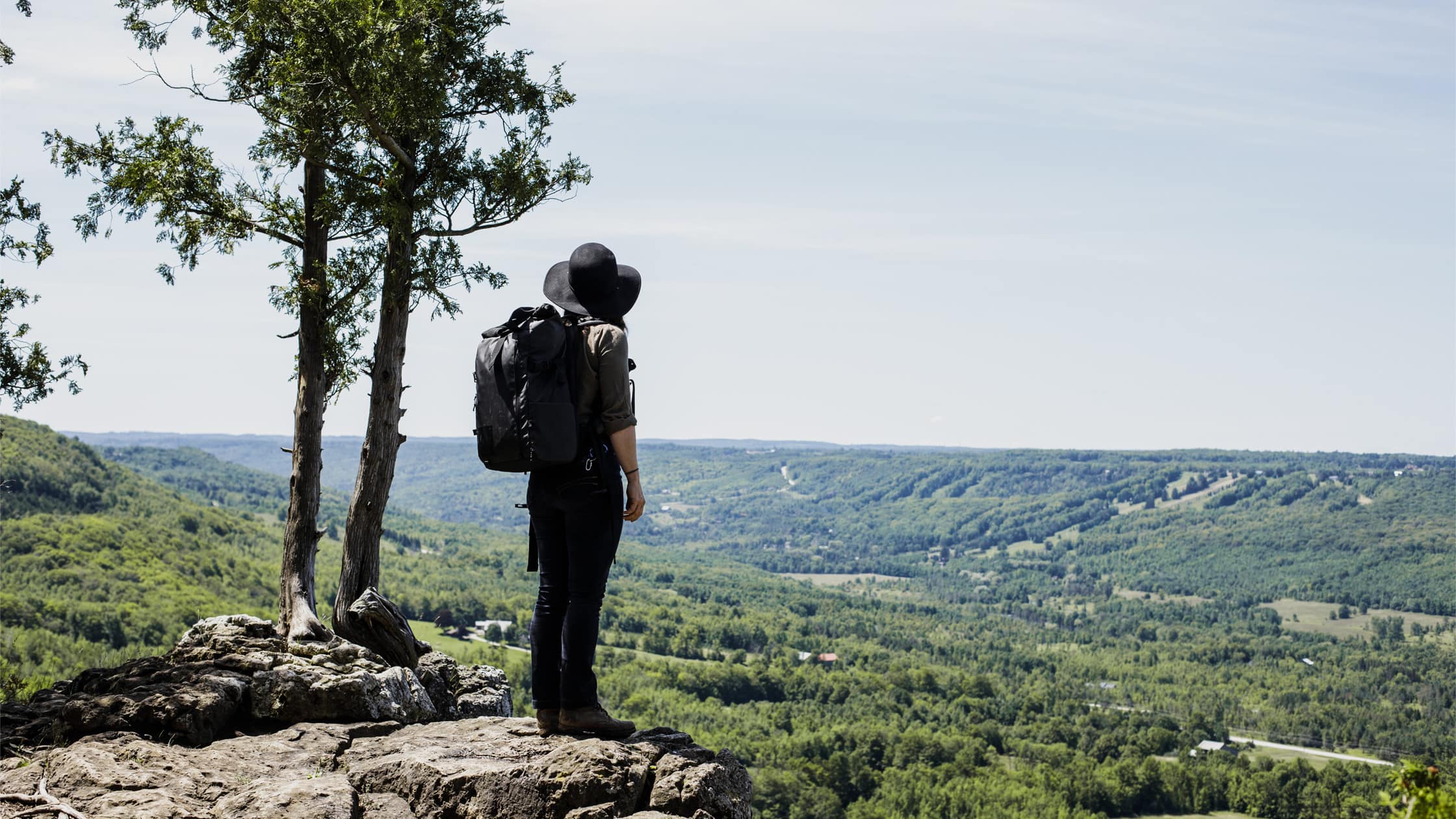 The 31L backpack comes in at 1.5kg empty, 19"Hx12.5"Wx7.5"D. It can carry up to 36L with the roll-top fully extended. For an empty backpack of this size, that's a little on the heavy side, but it makes sense with the amount of padding and structure they've used to give you a sturdy and reliable bag that will keep your travel camera gear nice and safe. It's a little on the boxy side, and tends to dwarf anyone 5'5" or under— so you look a little like a rectangular turtle. For a travel backpack it tucks into the overhead bins with no difficulty. We even managed to place it under the seat on most flights, with room to spare. Well not much, but enough for a deflated travel pillow or something else paper-thin.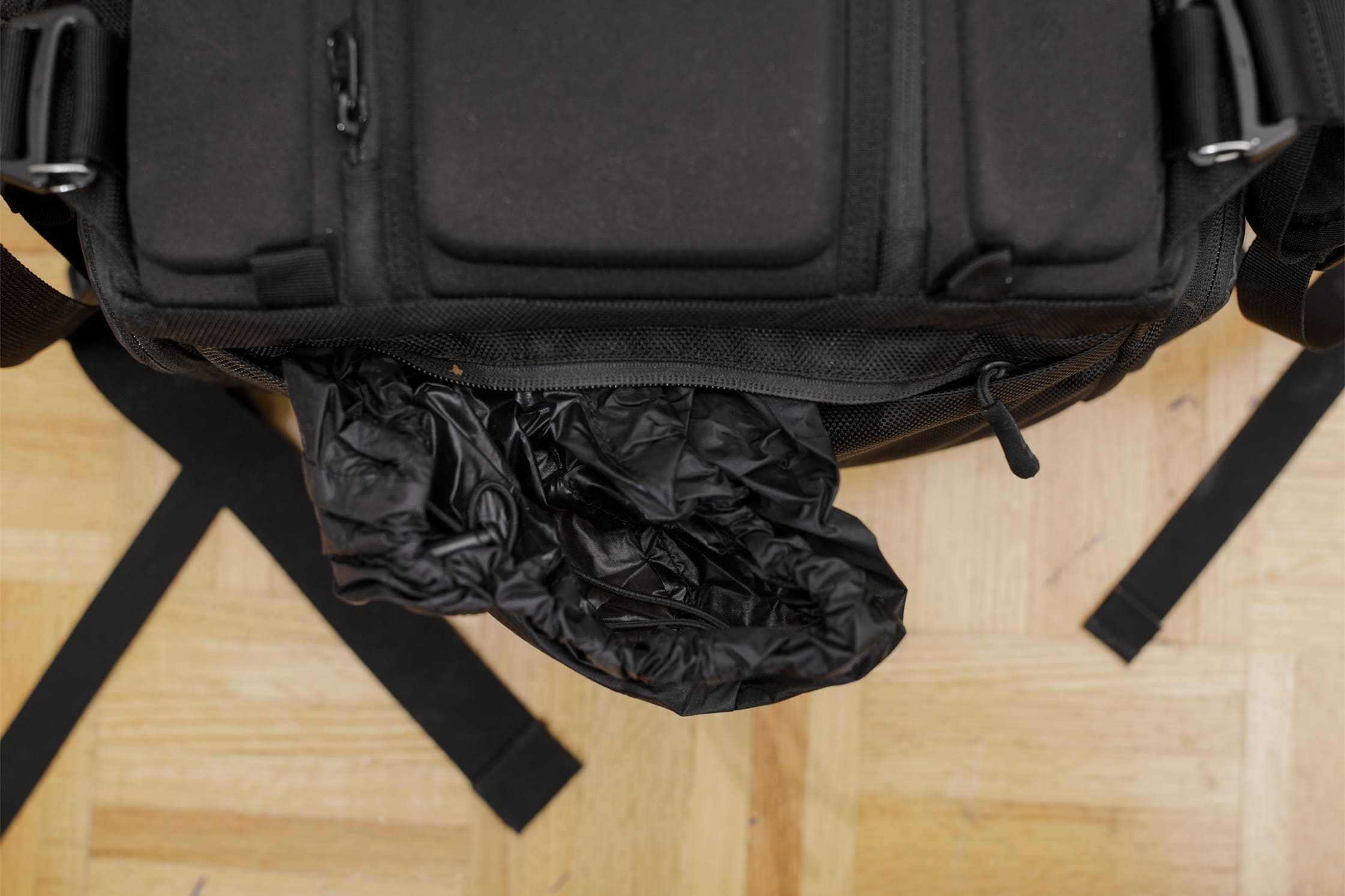 The pack is made from durable tarpaulin and nylon dobby, (nope, not a nylon house elf. Dobby is a type of weaving that gives you a textured pattern, usually checkered). It's not waterproof, but water-resistant. It does a pretty good job of staying dry in a light sprinkling, but we wouldn't trust it in a downpour. Luckily, there's a rainfly tucked away on the underneath of the bag. It attaches pretty quickly and easily and does an excellent job of keeping you from needing a bag of rice or two.
The backpack features a roll-top design and three main access points: the roll-top, side entrance and clamshell back section. The roll-top means this bag is pretty convenient if you end up coming across some tchotchkes you just have to have but didn't budget space for.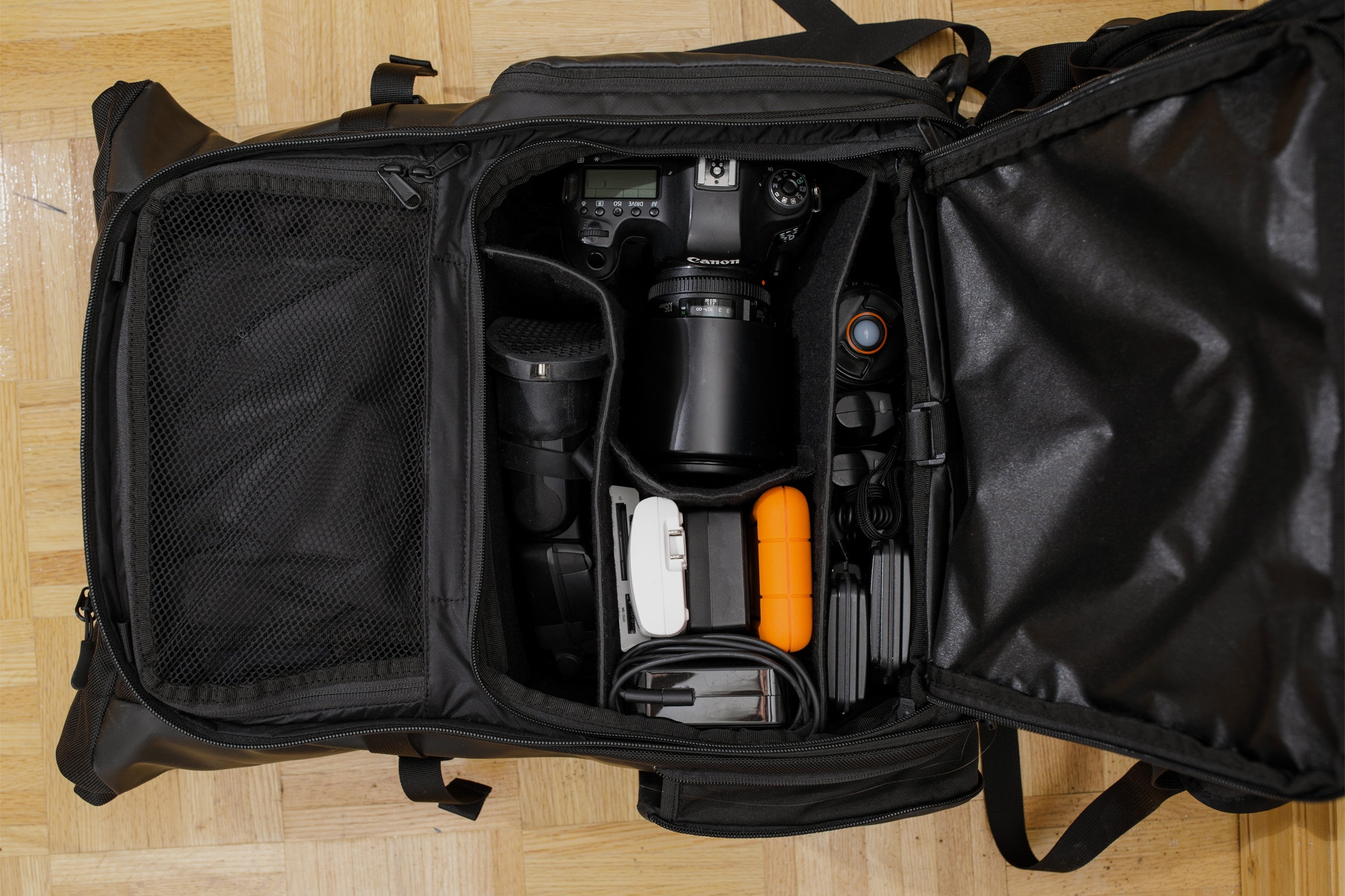 The bag can be organized as one big compartment, or you can separate the top and bottom with the camera cube in place. Whether you have the camera cube in or not, the three access points mean you can get at your belongings easily and without too much digging. We had this setup as a camera bag, so the bottom compartment had the camera cube in it and was accessible through the side, or through the clamshell back. The side entrance means you don't have to put your bag down to grab your camera, a feature that is pretty valuable for travel. The top was used for clothes and could be reached through the roll-top or clamshell.
Roll-top packs can be a bit of a nuisance when you need something and it's tucked at the very bottom, but having the clamshell entrance into the roll-top makes it easy to find just about anything. Even that ugly sweater that should probably stay at the bottom of the pack.
Holding the roll-top in place is a beautiful and simple cinch strap, but it can slide a little and not stay cinched as tightly as intended. A little travel hack we've been using is a bobbypin on the strap once the cinch strap is in the right place. It does the trick and the strap no longer slides, but for a bag of this price, we'd prefer not to have to MacGyver it.
All of the backpacks include a passport pocket which lies securely flush against the wearer's back. This feature is a good one for peace of mind. There are two pockets within the zipped compartment, which lends itself well to other things you'd like to keep safe, like a small wallet. Although we wouldn't recommend loading this up with anything bulkier since it sits against the small of your back.
The back of the pack is padded nicely for comfort. We didn't experience any sore back issues—even when hauling a full camera kit, laptop and month's worth of clothing almost every day for a solid two months, with an average of 12km of walking a day. At one point, the bag weighed in at 32lbs, and while we wouldn't call that a "joy" to carry that much weight, there were no complaints, and it helped kick our butts into shape faster. On the flip side, it does very little for air flow, meaning it's going to get hot. Time to embrace the good ole wet back. Maybe choosing black wasn't the best idea…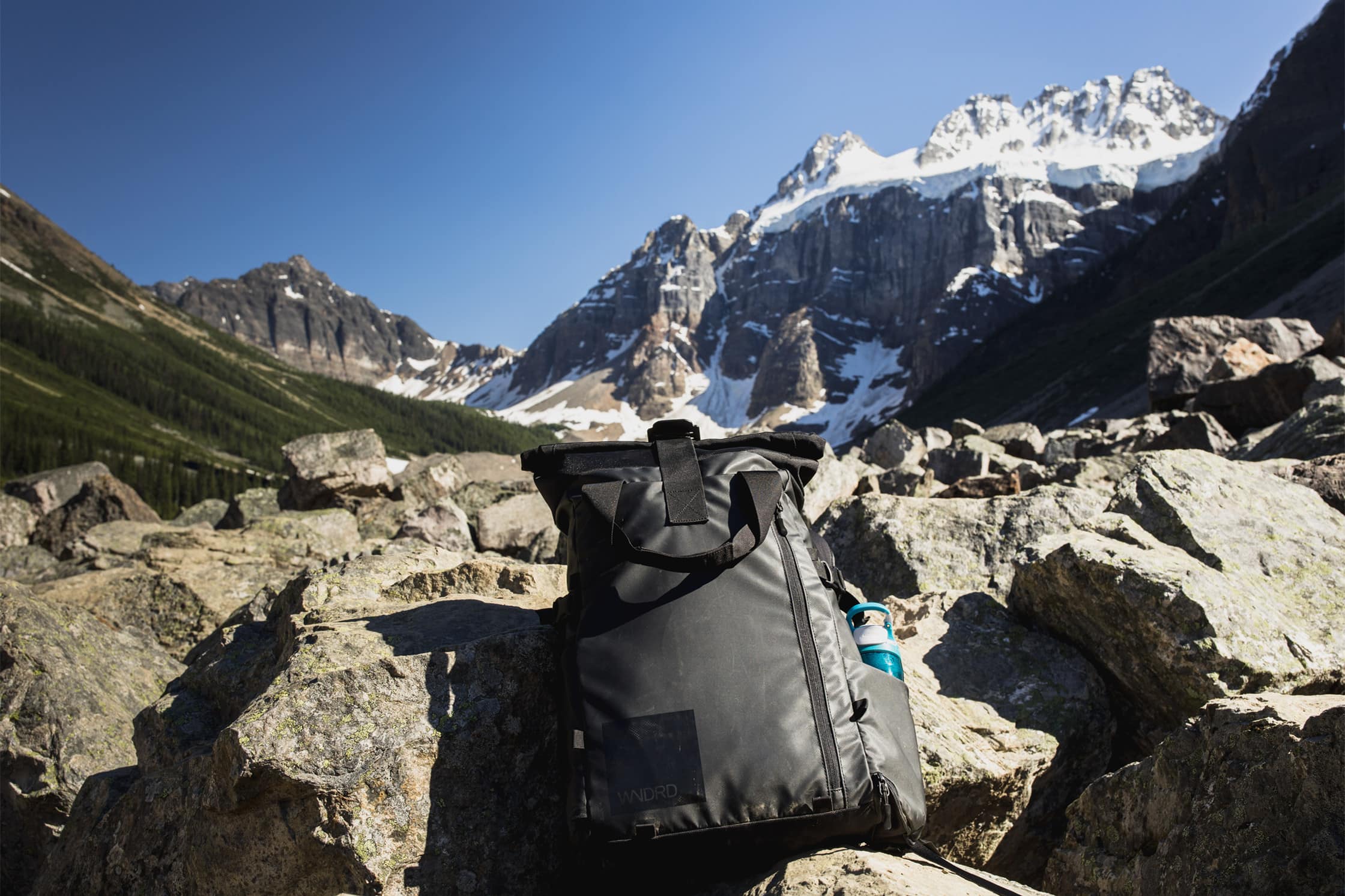 An external side water bottle pocket is expandable and can hold a small tripod or a slim 1L bottle. Anything beyond that and you may need to be a magician to make it happen. The pocket expands using a zipper and the expandable part of the pocket is stretchy and a bit flexible. When attempting to use it to carry a small tripod, as suggested, it did stress the pocket a little too much and the seams started to go. It may work fine for a mini tripod, but it seems a little too small and under-built.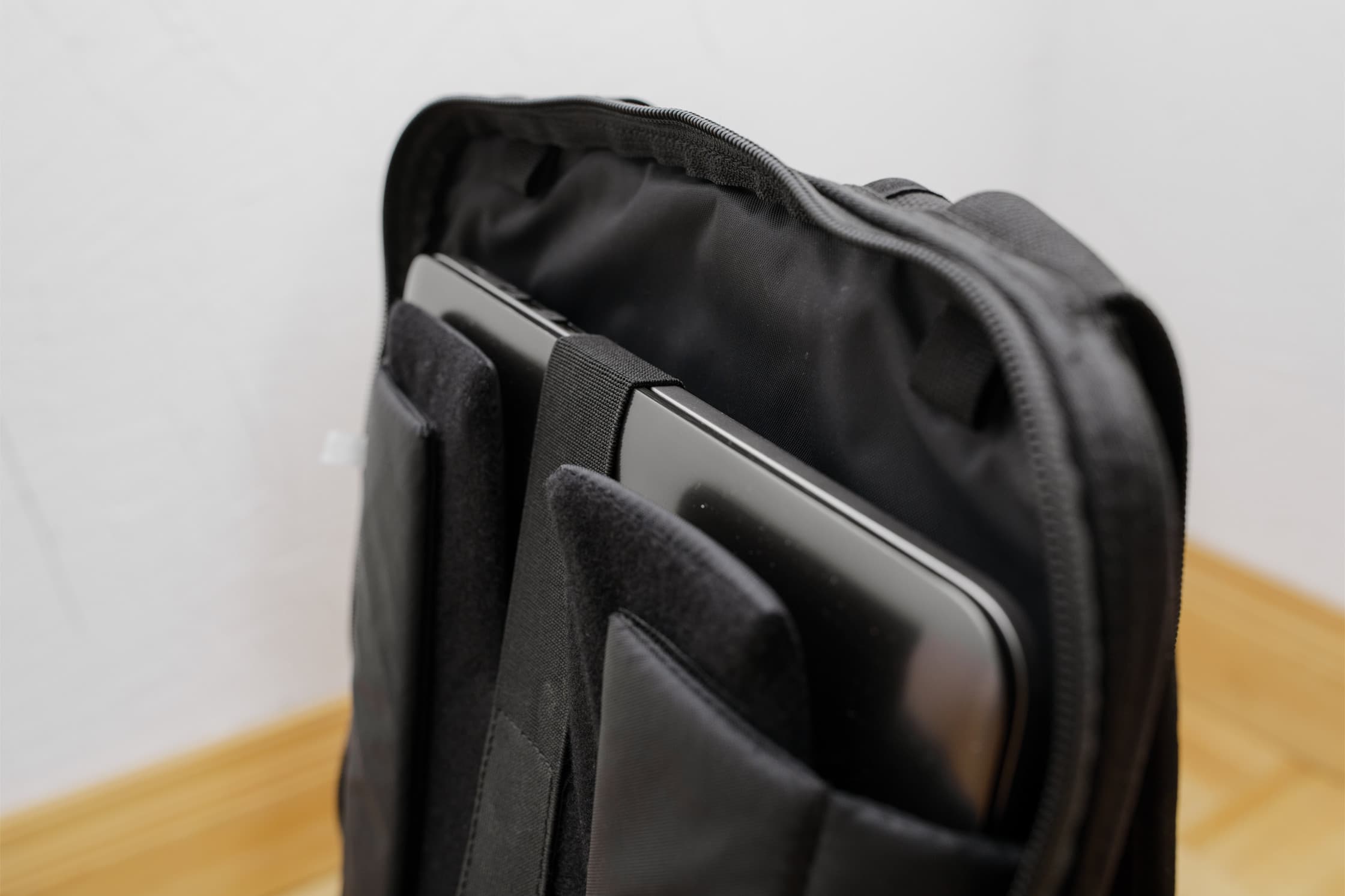 There's a laptop sleeve built into the clamshell, which can comfortably fit a 15.6" ASUS laptop in the 31L pack. The clamshell has a double zipper and can open like a book, which makes a laptop easily accessible for quick entry at security checkpoints. It's so easy, you don't even need to put the bag down to grab it. There's a velcro strap to keep your laptop from flying out when you open 'er up. The laptop sits squarely against your back and is padded heavily on one side and lightly on the other.
There are handles at the top of the bag for another easy way to carry it. Each handle has a magnet in it so they snap together nicely. Clipping the magnets together keeps the handles from sneaking in to hug your spine, which can be a little uncomfortable.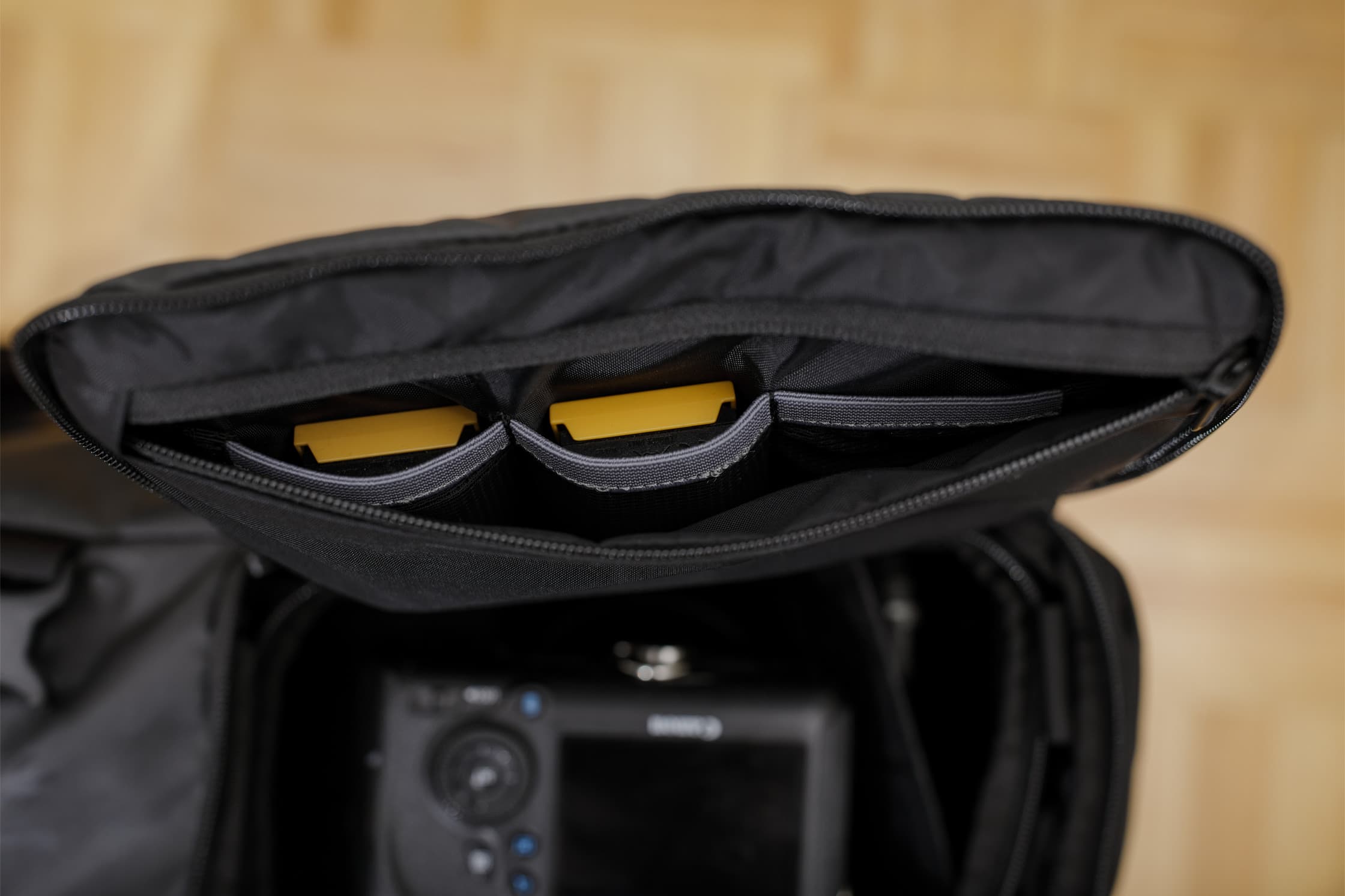 Keeping it nice and simple, there are only four other pockets other than the main compartments. Outside the roll-top there is a small pocket with a clip for your keys. It's lined with a soft material, which is nice for keeping anything that scratches easily—like your sunglasses you've already lost the case for. It's not a huge pocket, but it fits a surprising number of things. There's the passport pocket we've already mentioned, and a zip pocket in the side access with three stretchy little battery pockets. A thoughtful addition for keeping your accessories organized. The last pocket is the front slim pocket, which can keep paperwork, maps or books nice and flat.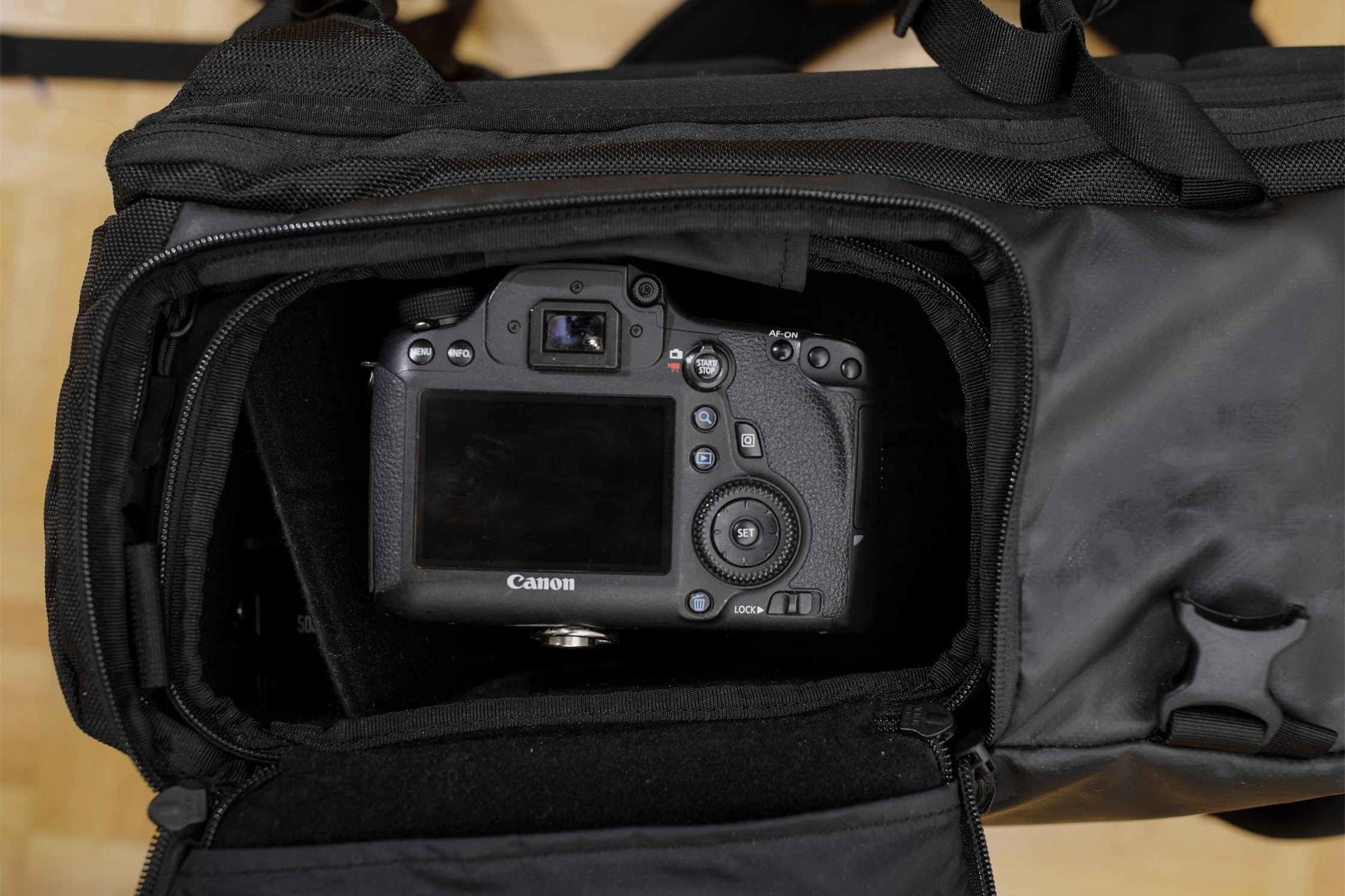 The Photography Bundle includes a number of removable options such as the camera cube, featuring molded and adaptable dividers, a camera sling, external gear straps, and waist and sternum straps.
The camera cube sits in the bottom section of the backpack. It takes a few minutes to get it in place the first time, but it becomes easier the more you do it and WANDRD's got your back by including a very descriptive instruction book. Follow it and you're good to go. The dividers are not padded, but the pack around it is, so it doesn't feel like anything is unprotected. They connect with velcro inside the cube so you can easily adapt it to your kit. The camera cube also comes with a strap and can zip up so it can be a stand alone bag in a pinch —like when there's zero room left in the overhead compartment of your flight. Just pull the camera cube out and tuck it under your seat. Love convenience like that, especially since checking camera gear is a big no-no.
The camera sling* comes with a standard tripod mount which screws into the base of your camera and removable clips to attach it to the outside of the pack. The idea is to have your camera easily accessible and attached without the need for an extra camera strap. Your camera slides along the strap effortlessly when you want to take a picture, and hangs by your side when it's not in use. The sling originally came with no redundancy, which was a concern, but WANDRD has since sent out a redundancy strap with a small locking carabiner. The new redundancy strap does instill a little more faith in the sling strap, but it does seem a little flimsy to be trusting thousands of dollars worth of gear.
*WANDRD has removed the camera sling from their online store. Unsure whether this is a permanent removal or a temporary one while they work on a more durable solution.
The external gear straps can clip onto the bottom of the bag so you can bring a tripod with you. They are adjustable and clip on really easily.
It's a nice touch to have the waist straps removable for the person who doesn't use them often, but for anyone carrying around heavy gear, they are a must. The original waist straps were just nylon dobby (that means textured nylon, remember?), but they have since upgraded to padded ones. Time for an upgrade!
The sternum straps are removable, which may come in handy, but can also become a nuisance when they pop off unexpectedly. The good news is they're fairly easy to pop back on with some patience. But more range in the sternum strap sizing, and non-removable ones would be preferred.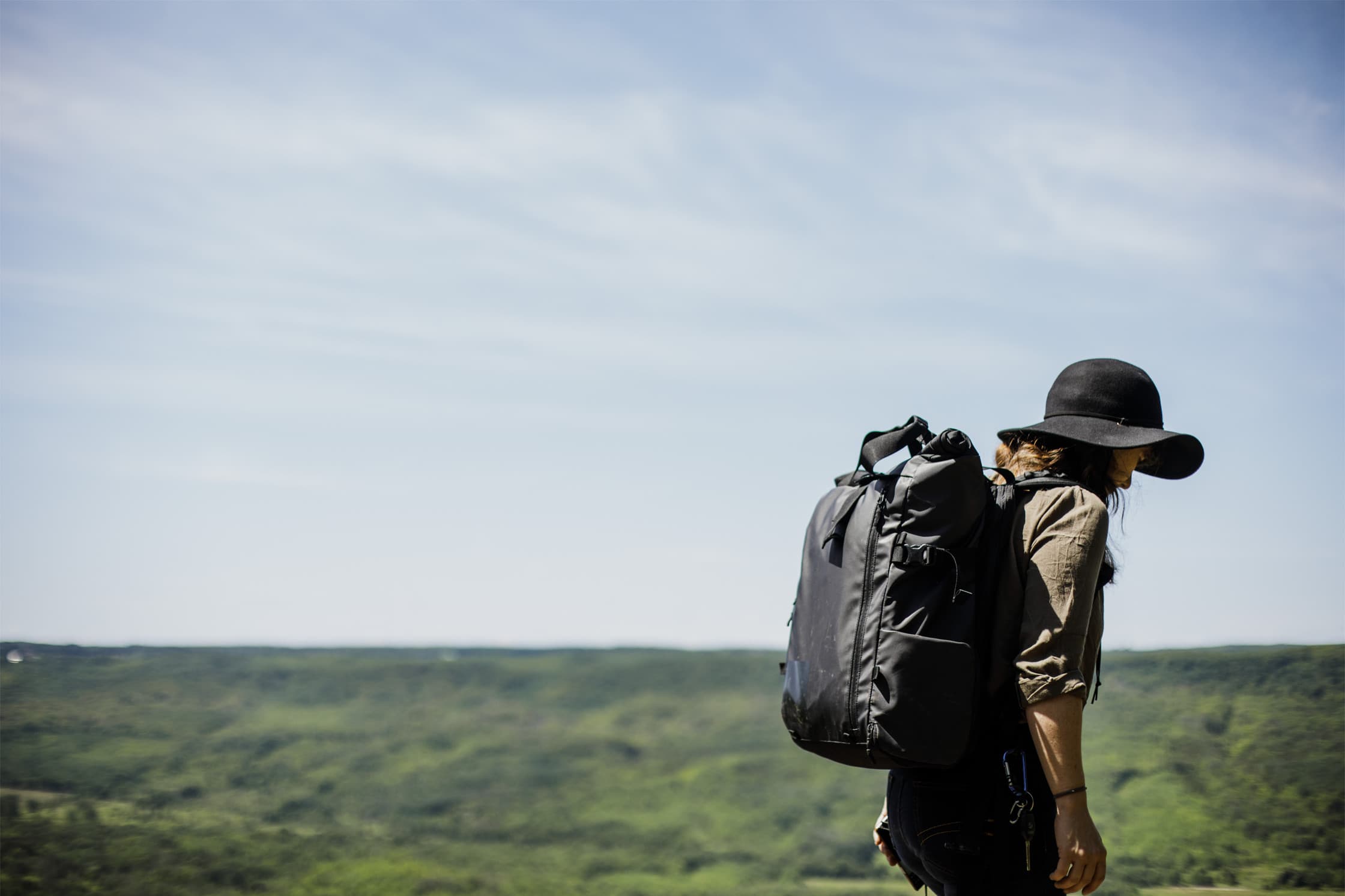 Usage Timeline
Initial Usage
Condition: Excellent
This thing is sturdy, organized and surprisingly comfortable!
3 Months of Use
Condition: Good

The expandable water bottle pocket has started to tear at the seams, but it's still holding.
6 Months of Use
Condition: Good
Expandable water bottle pocket has come apart even more, but it's still holding. Outside of the bag is starting to show some wear.
Access the Pro Community Discussion
Get your questions about the WANDRD PRVKE answered from our team and the Pro Community right here on the page. Plus, join discussions with other members about gear, guides, and more.
Other Bags & Luggage Reviews