The North Face Base Camp Duffel Review
If you're looking for a duffle to haul your gear while traveling, The North Face Base Camp Duffel is a solid option—but it's not ideal for one-bag travel.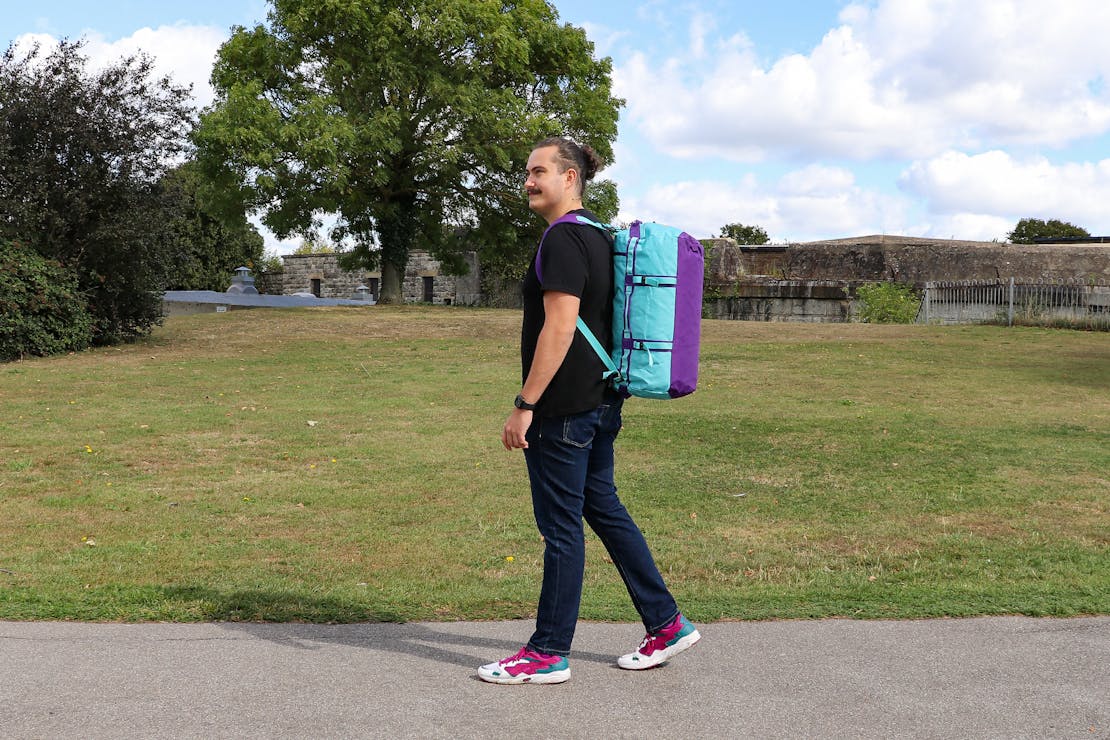 Our Verdict
Unlock the Pro Summary
Save time. Get access to brief summaries of our reviews so you can browse and make decisions more efficiently.
Pros
Available in a large variety of sizes and colorways
Versatile carry (and it's comfortable too!)
Cavernous main compartment holds a lot of gear
Cons
The laminate exterior doesn't feel nice and crinkles easily
Doesn't wear comfortably as a backpack on smaller frames
You'll either love or hate the lack of internal organization
Recent Pack Hacker Video
Technical Details
Capacity

50l

Weight (lb)

2.8 lb (1.3 kg)

Denier

840D

Dimensions

12.8 in x 20.87 in x 12.8 in (32.5 x 53 x 32.5 cm)

Notable Materials

Ballistic Nylon, Thermoplastic Elastomer (TPE)

Manufacturing Country

Vietnam

Warranty Information
Buying Options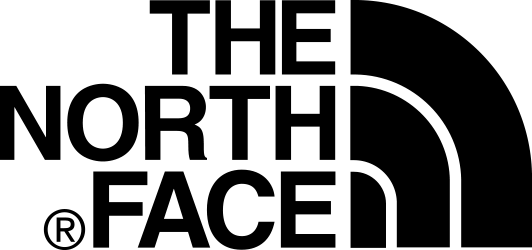 $129.00

$129.00
Full Review
If you're planning to travel the world while living out of a single backpack then The North Face Base Camp Duffel—a backpack/duffle hybrid—is not the bag for you. But if you're looking for a solid duffle to haul your stuff while traveling, then the North Face Camp Duffel may be your perfect bag.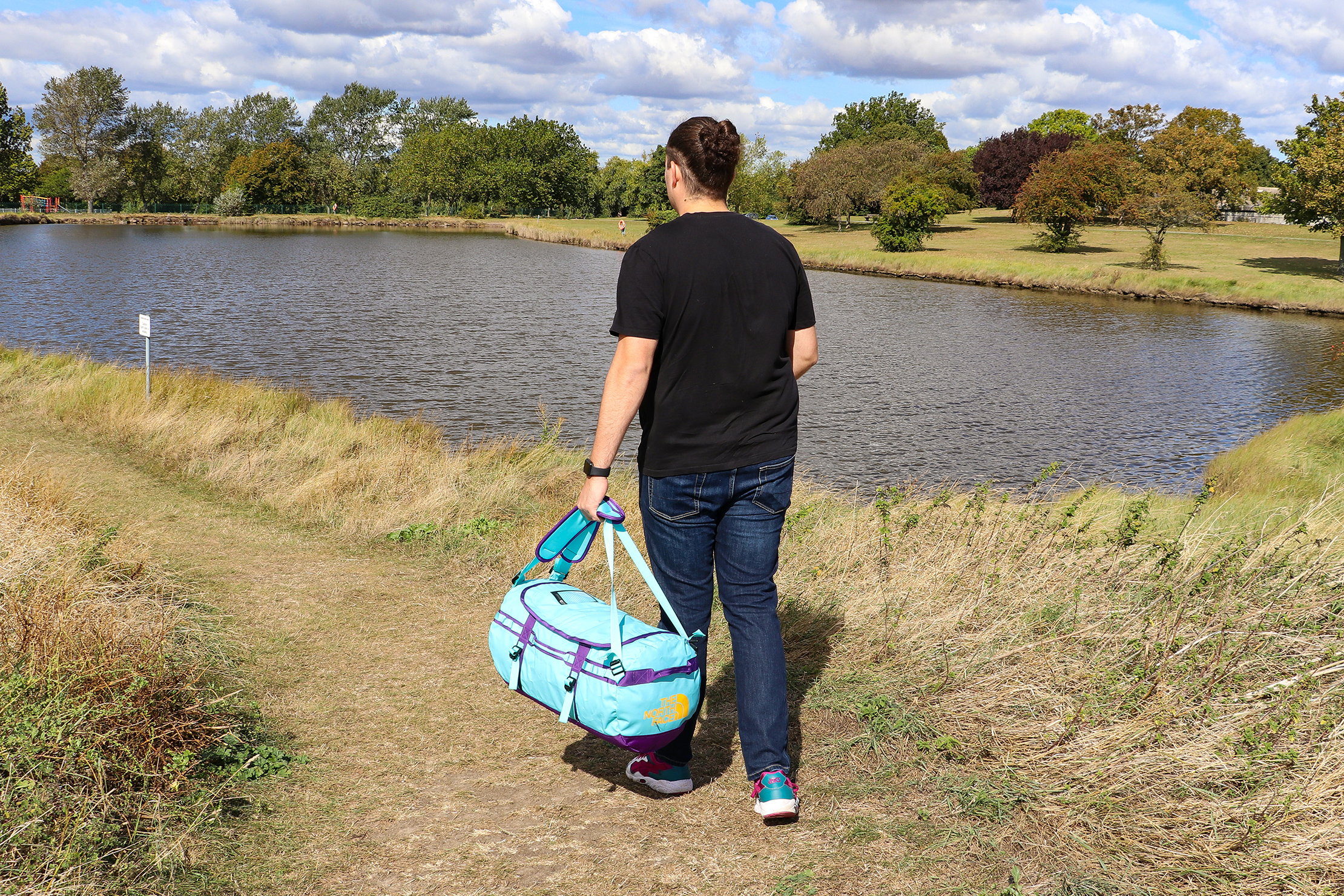 That's because this duffle is a gear-hauler. It doesn't feature anything fancy—you won't find a robust harness system or smart internal organization here. And, while you may be able to get away with using it as a carry-on bag—particularly if you're charming or sneaky—you're probably better off checking it. Especially if you opt for one of the larger sizes.
We've been testing the small, though with an internal capacity of 50L "small" is kind of a misnomer. It's also available in sizes XS to XXL. We've taken it with us on trips to the U.K. and Miami (hence the retro art nouveau colorway we've been rocking) and have used it as checked luggage on a transatlantic flight.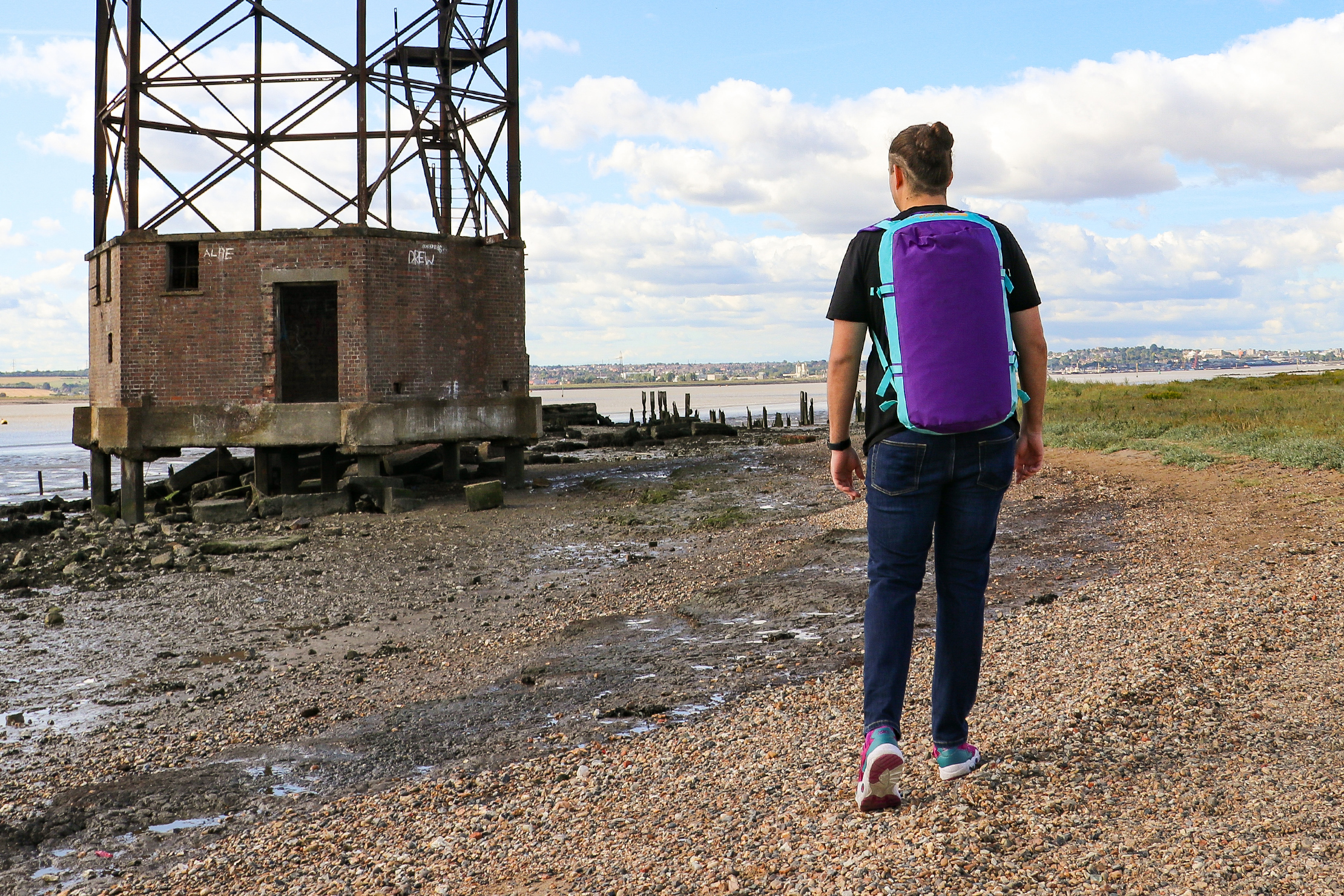 Before we jump into the review, we want to reiterate that this duffle isn't trying to be the perfect one-bag backpack, and we're not going to judge it by those standards. So, how has it held up as a gear hauler? Read on to find out.
Materials & Aesthetic
We've already mentioned that the North Face Base Camp Duffel is available in a ton of different sizes, but it's also available in a wide range of colorways. The colorways are updated regularly, so the groovy blue/purple colorway we've been testing is no longer available in the small size. But, no fear, you'll likely be able to find a colorway that speaks to your soul. They even have a black-on-black colorway that's more typical Pack Hacker (*collective sigh of relief*).
Beyond color, we're pretty big fans of how the North Face Base Camp Duffel looks. It's not our usual style but we've been digging it, especially when it's fully packed. With this thing strapped to your back, or dangling from your hands, you look (and feel) like you're about to embark on an adventure.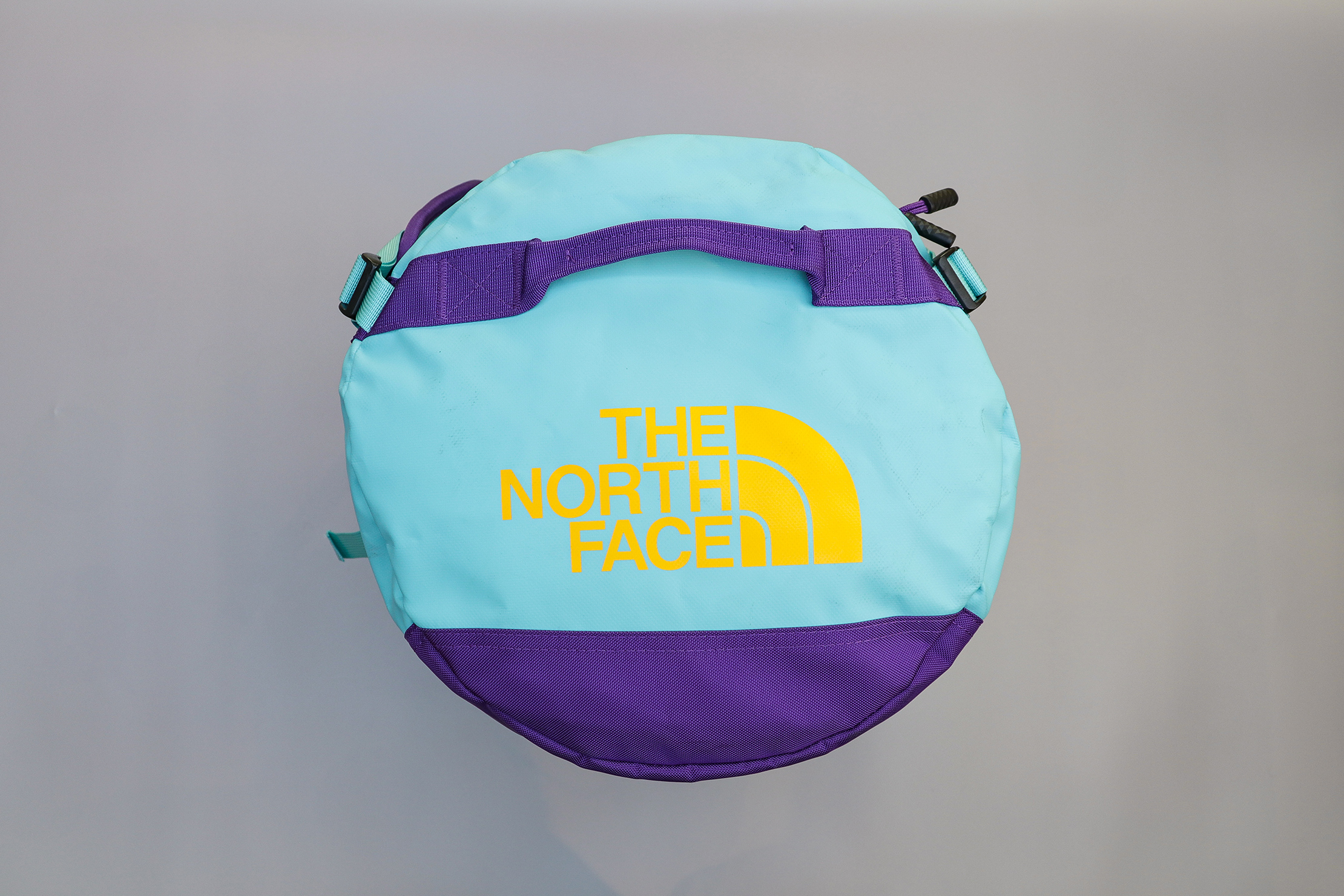 There's no hiding that this duffle is from the world-renowned brand, The North Face. You'll find their logo on the top and bottom of the bag, as well as on the backpack straps. We're usually fans of minimal branding, but the team is split here at Pack Hack HQ—some of us are digging the massive logos, especially in this yellow color that pops against the electric blue exterior.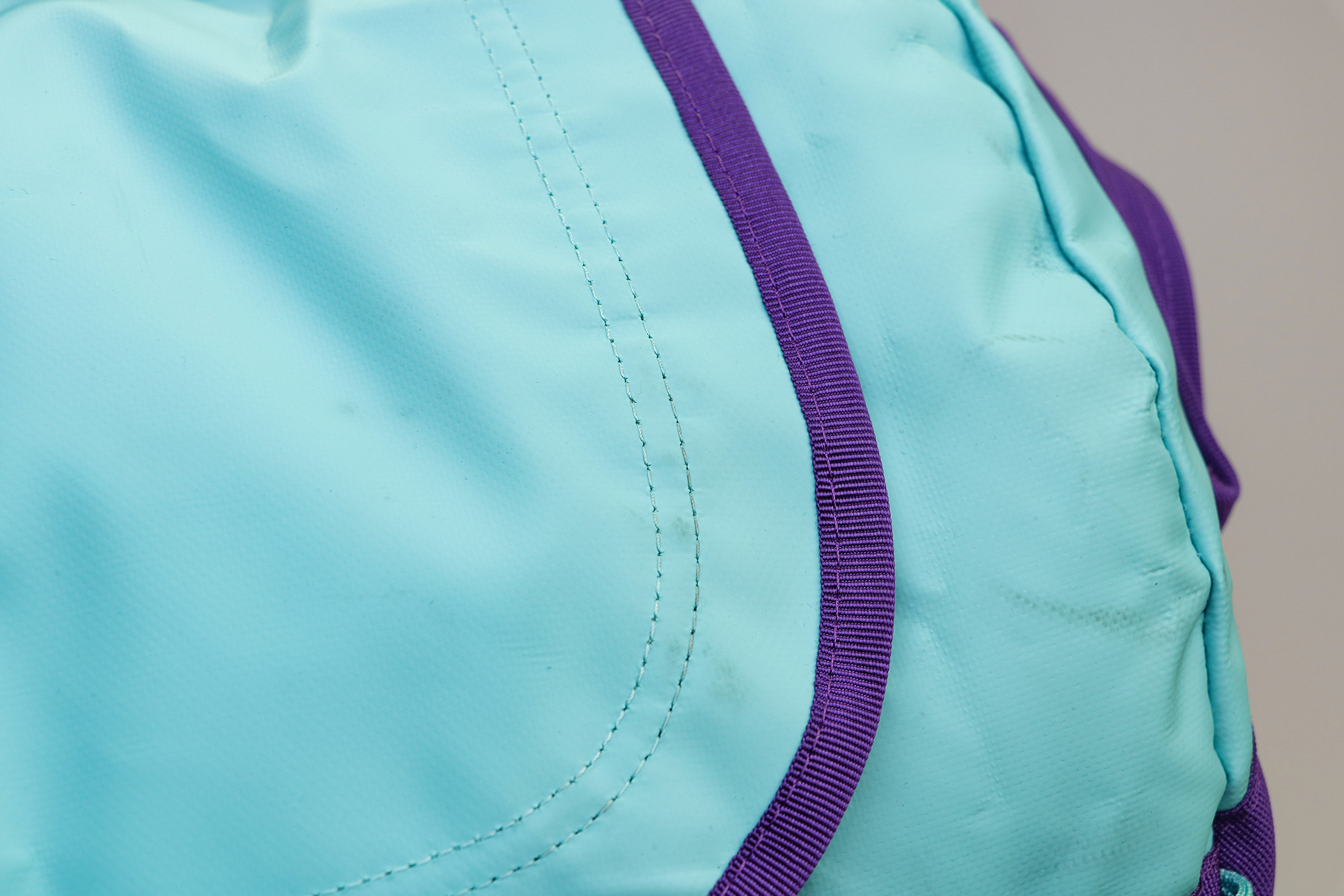 Looks aside, let's check out the materials. The main material is a 1000D Phthalate-Free TPE Fabric Laminate (in human-speak: a blend of synthetic materials that combine to make one tough fabric). We're not huge fans of how it feels—think crinkly plastic—but it's both weather-resistant and durable to date, which are fair trade-offs.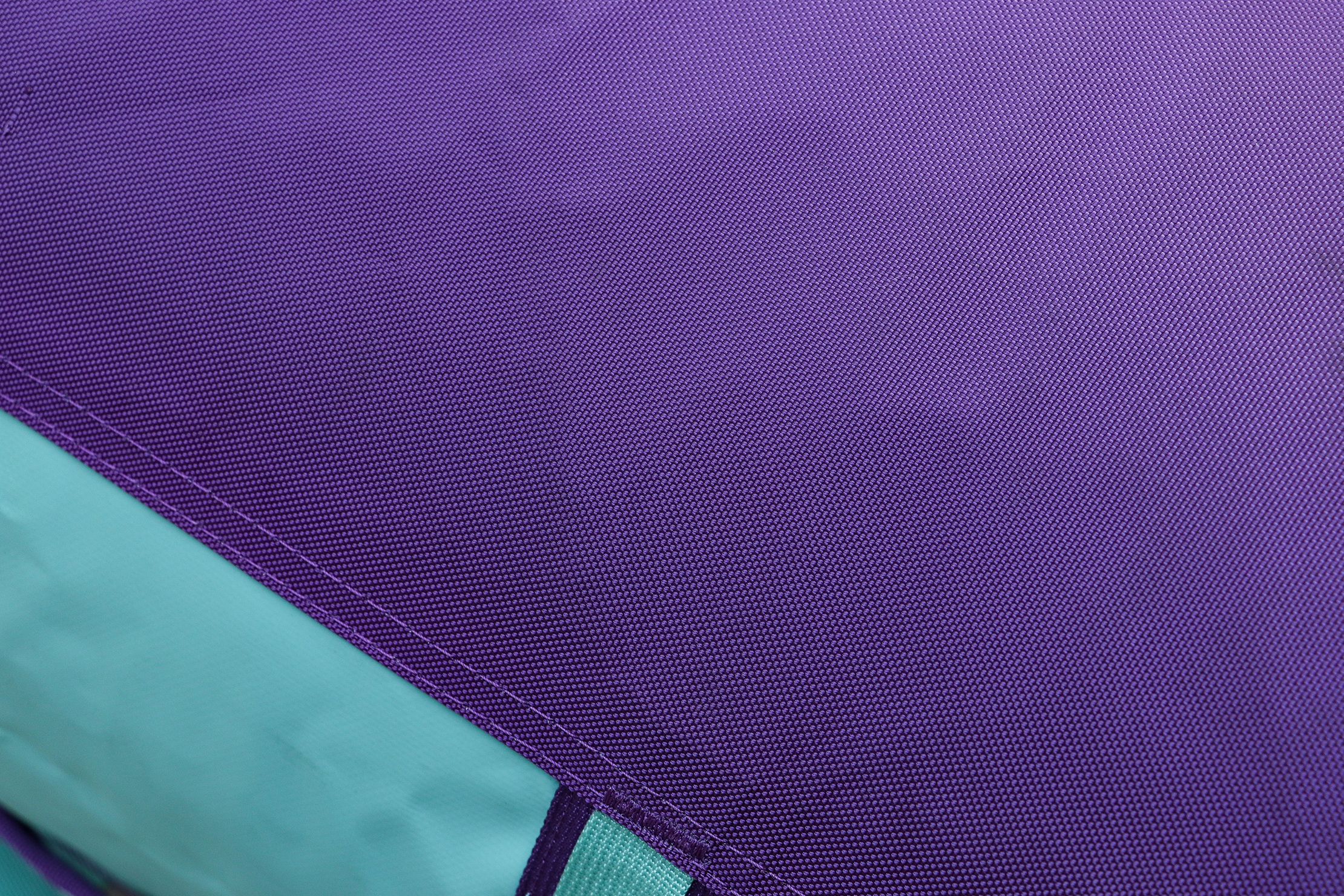 The bottom is made of an 840D Jr. Ballistic Nylon. Ballistic Nylon is renowned for its strength—it was originally created for military body armor after all—but we've found a nick on the bottom that looks worrisome. It doesn't bode well for the future, especially since the bottom gets roughed up the most.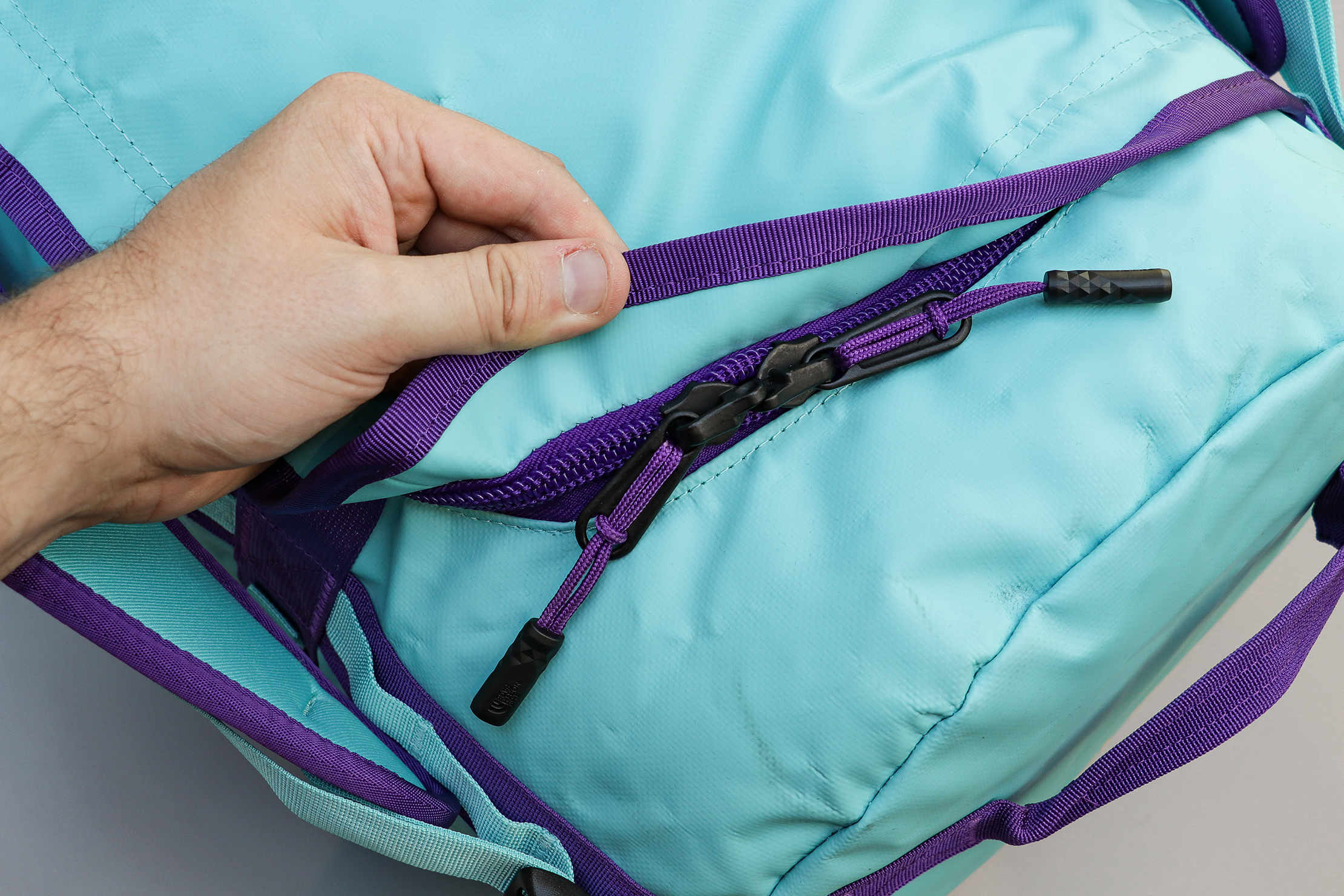 Chunky YKK zippers are used throughout this bag. They're durable and smooth to work with sleek pull cords. The buckles and attachment points all seem durable and solid too.
External Components
While The North Face Base Camp Duffel looks more duffle than backpack, it's technically a hybrid of the two. Meaning you can carry it in multiple ways.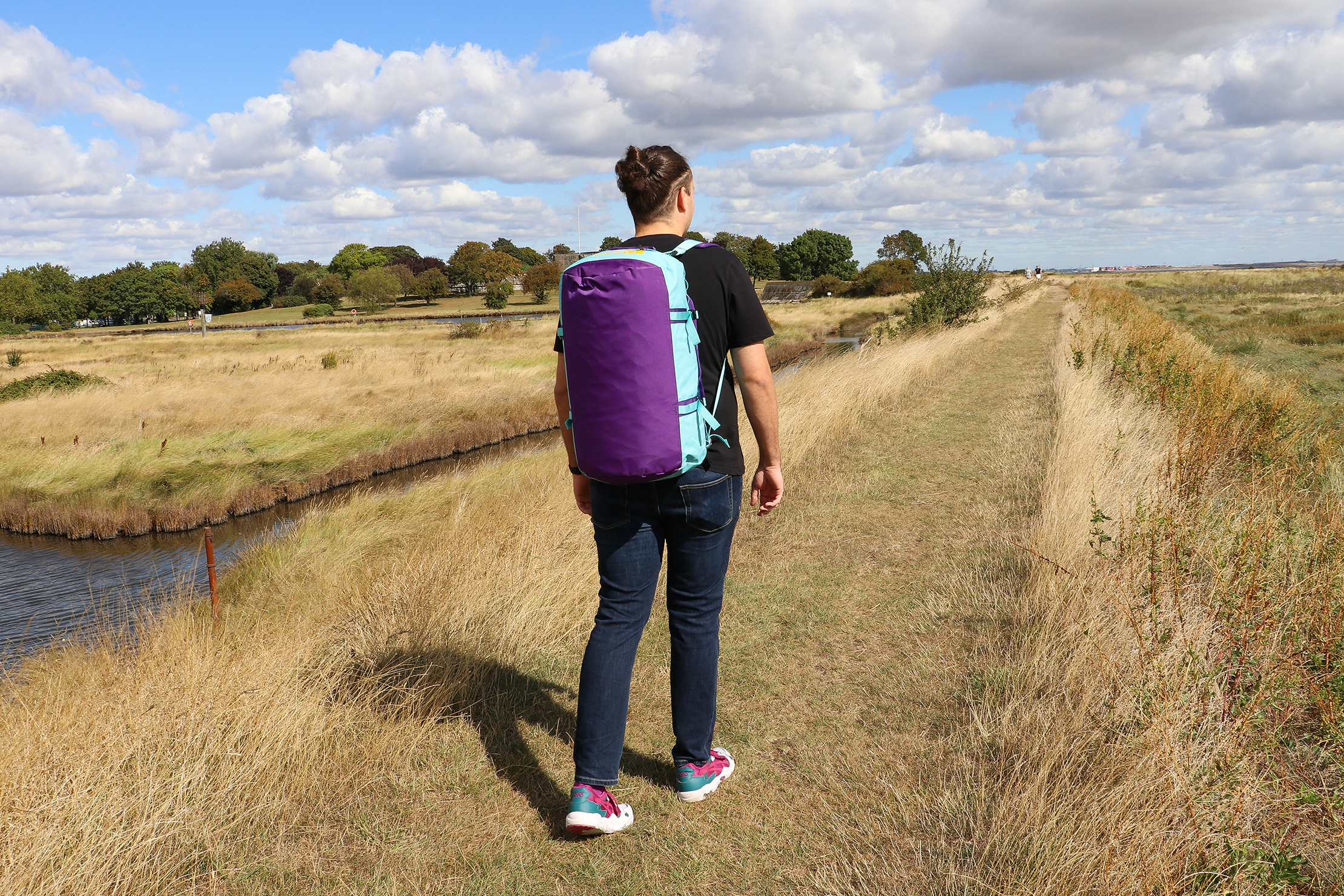 Let's start with the backpack straps. As far as first impressions go, this one was an epic fail. At first glance, the straps looked too simple to be comfortable. Turns out, we were wrong (a first, right?) and this pack delivers a fairly comfortable carry. The straps are a thin, dense mesh and contour to the body.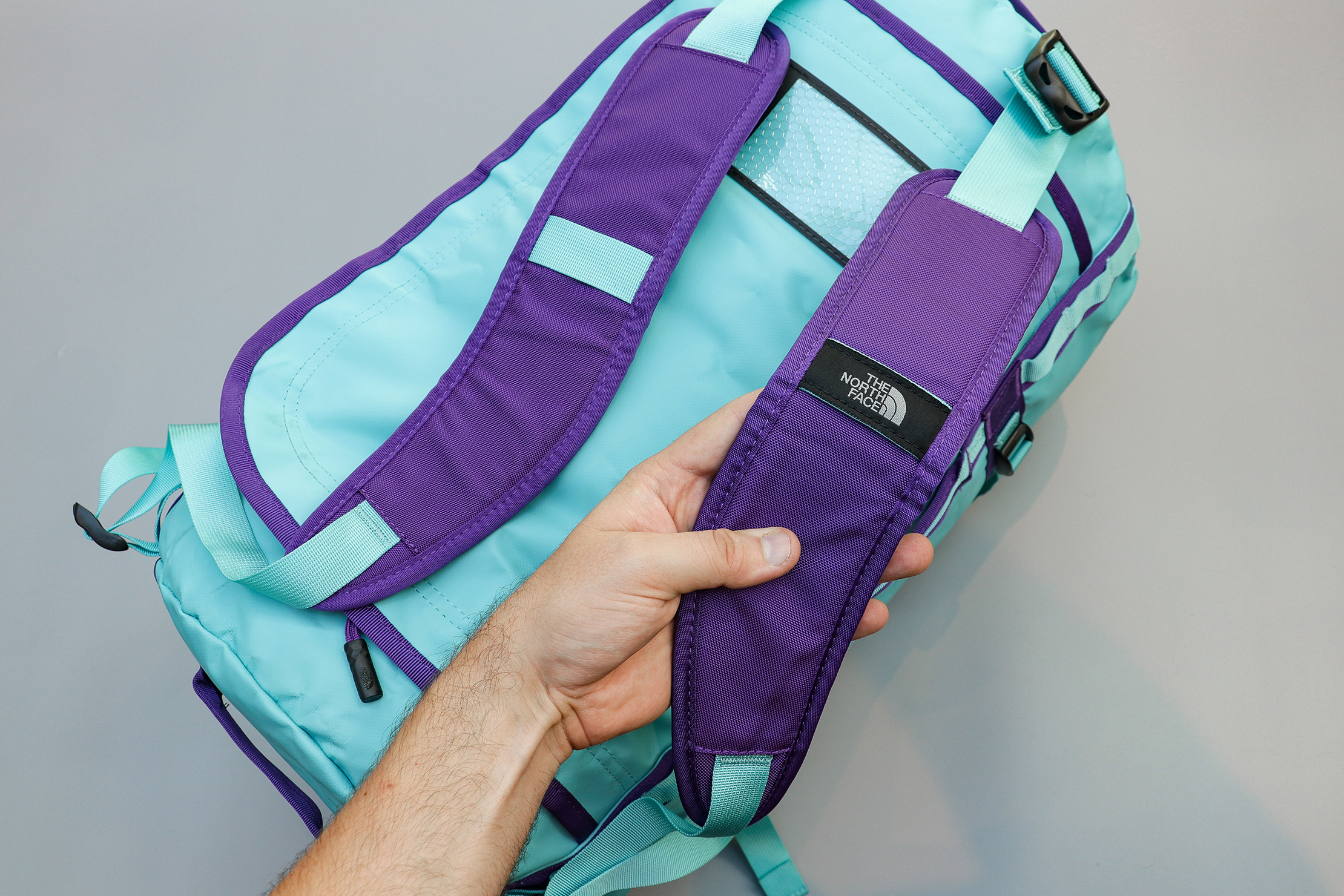 Now, when we say comfortable we mean comfortable for what this bag is—essentially a 50L barrel hanging off of your back. It's not going to compete with any proper harness system. There's no hip belt or sternum strap. Because of this, and its overall size, backpack mode will jibe better with bigger frames.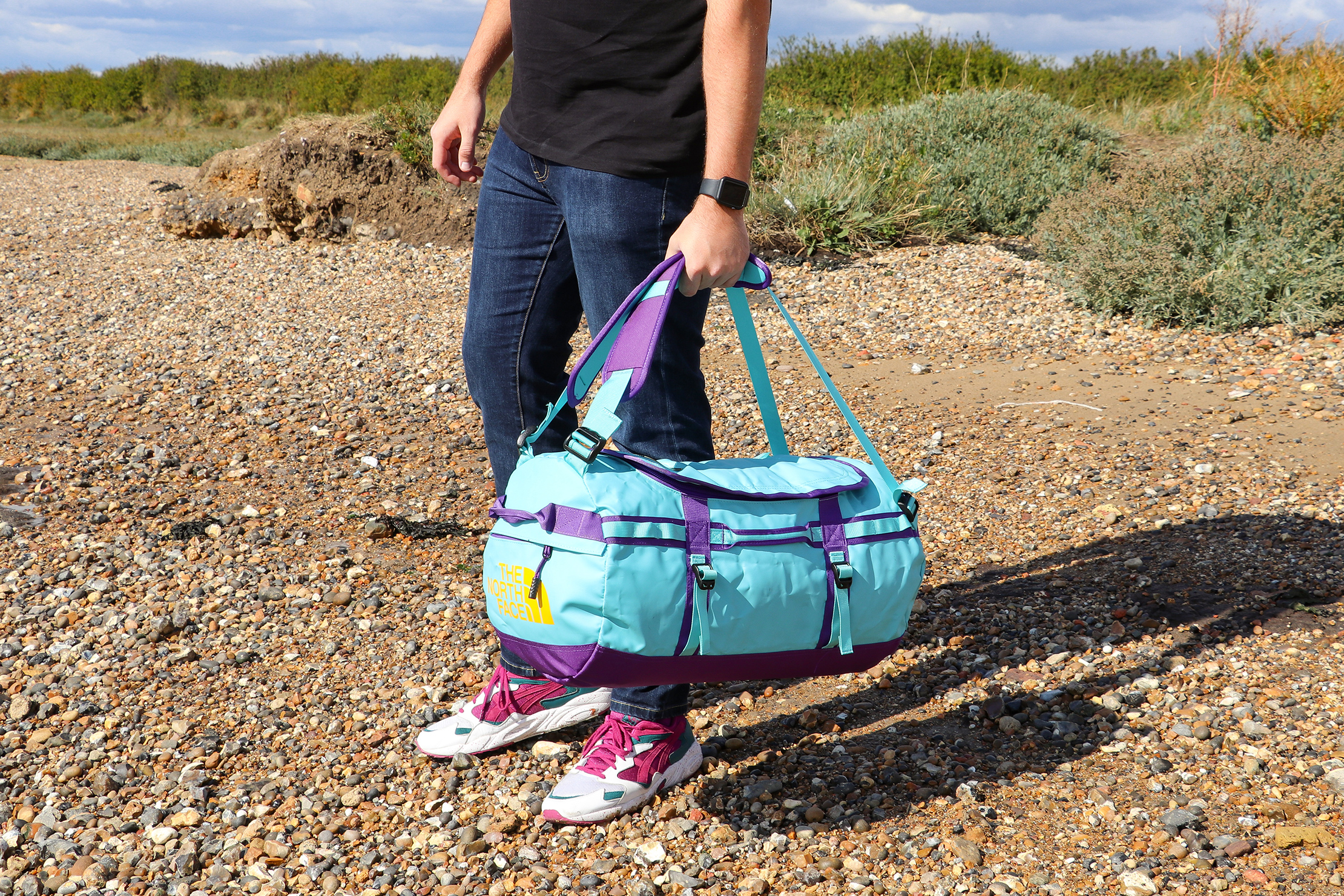 Of course, you can also carry this thing as a duffle. Although, we should note there is no "messenger bag" or one shoulder style of carry on this bag. The backpack straps double as duffle-style handles, which work decently enough. At capacity this thing is heavy—trekking it around while holding these handles will only be so comfortable. (On the larger sizes, there are additional duffle-style carrying handles to help you manage the weight.)
If you want to go full-duffle-mode, you can remove the backpack straps and use one of the four quick-grab side handles to carry the bag. A word of warning: it's time-consuming to take the straps off and put them back on. So don't go trying to take them off while at the check-in counter…unless you want to hear increasingly aggressive sighs from those in line behind you.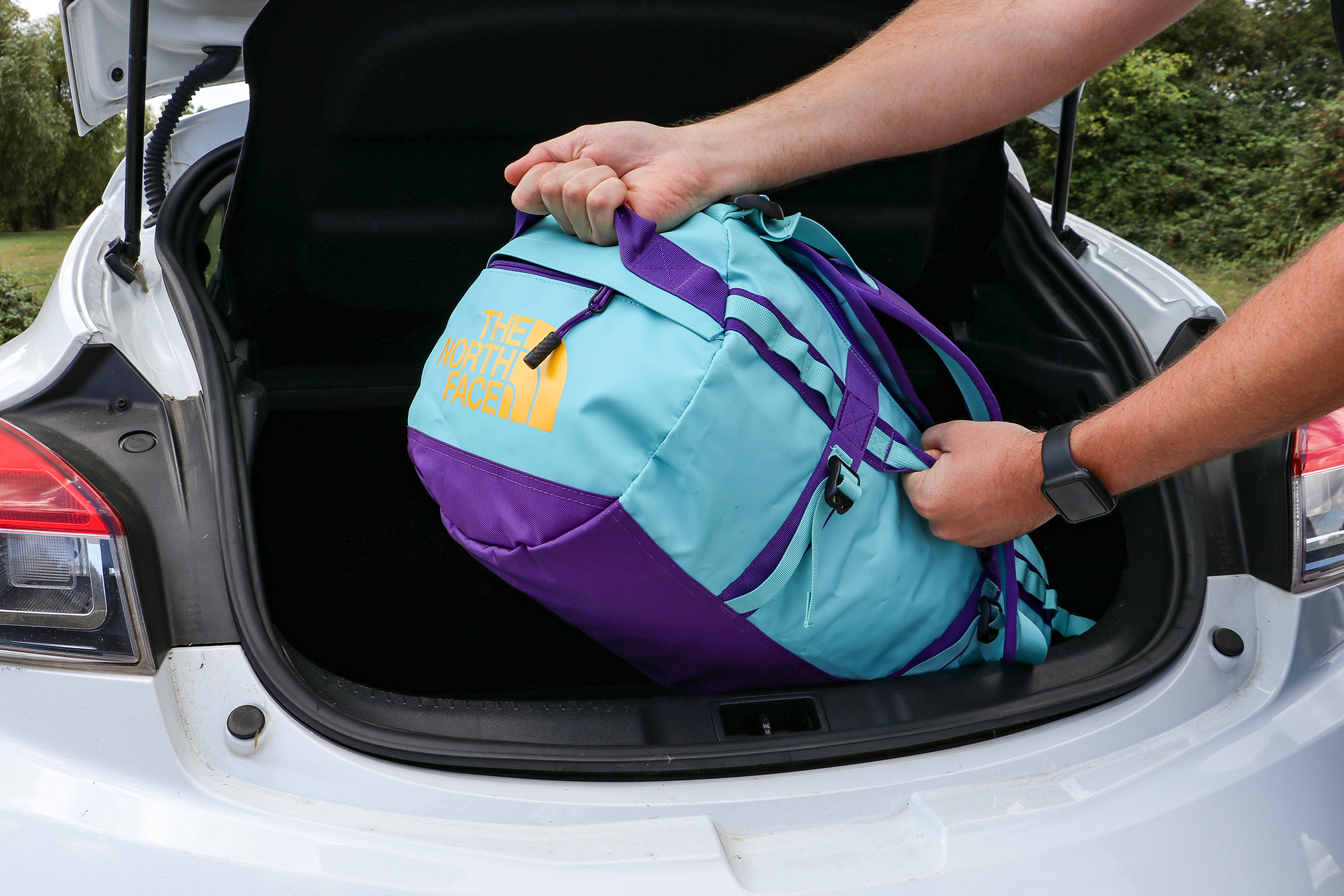 The side handles are nothing special, but they're great for lifting the bag, hauling it, tossing it into the trunk of your car, or into the overhead bin if you're charismatic enough to convince airline staff to let you bring it aboard.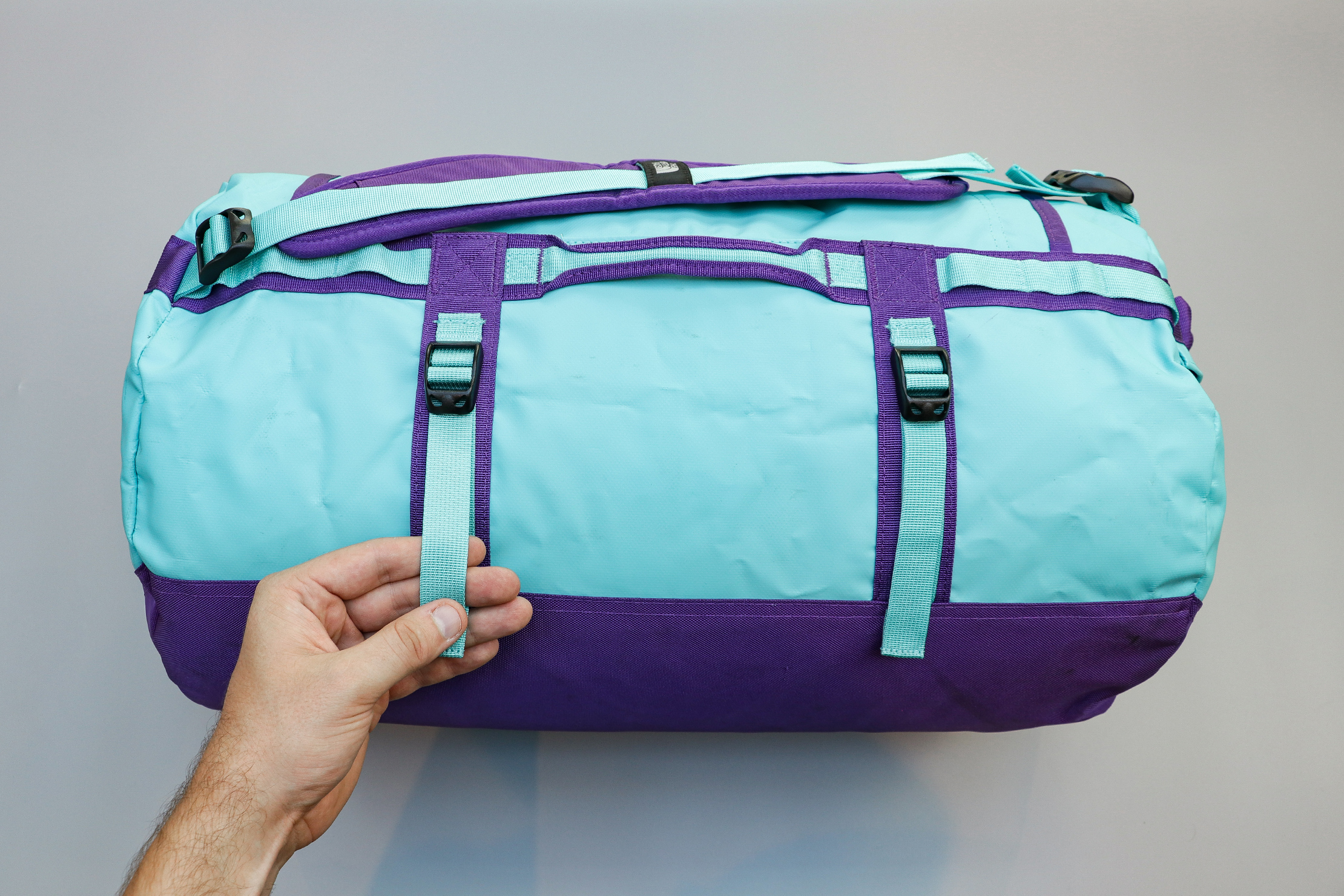 You'll also find four compression straps around the sides to (you guessed it) compress this bag when you're not carrying a lot of stuff. As there are no strap keepers, we've found the straps can dangle, looking too messy for our tastes. Strap keepers on the compression straps here would be a nice touch.
Lastly, there's a water-resistant ID pocket on top. It's a great spot to tuck a card with your phone number scrawled on it just in case your bag goes missing in transit.
Inside The Pack
As we mentioned at the beginning of this review, this duffle isn't designed for one-bag travel. So it doesn't have much organization—you won't find a laptop compartment or any water bottle pockets.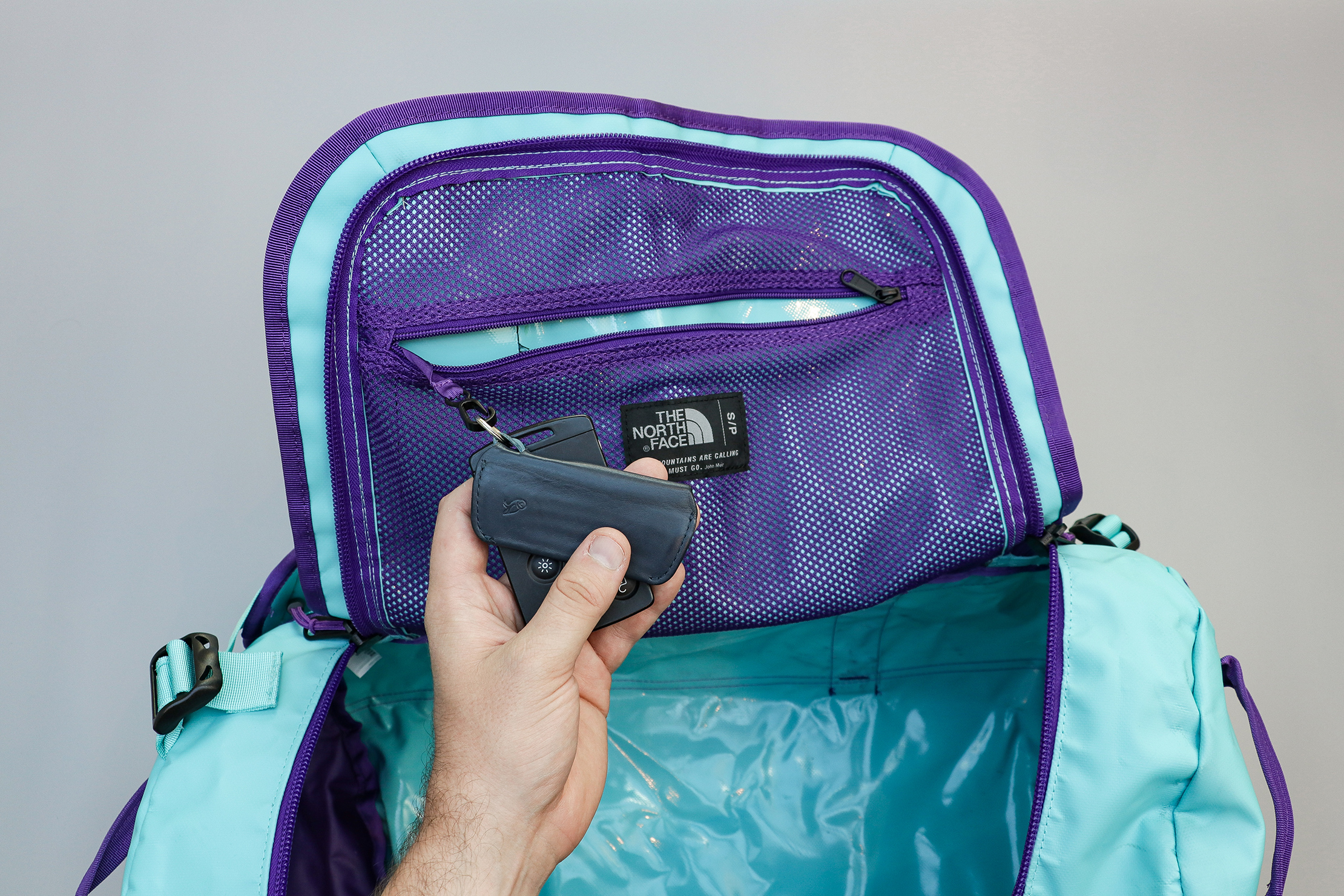 When you unzip the large D-shape opening, you'll be greeted with a cavernous bucket. Well, you'll also find a mesh pocket on the lid, but that's it as far as the organization goes. The mesh pocket contains a key clip, though we're not exactly sure why it's there. It's definitely not a good spot for your keys unless you won't need to access them frequently.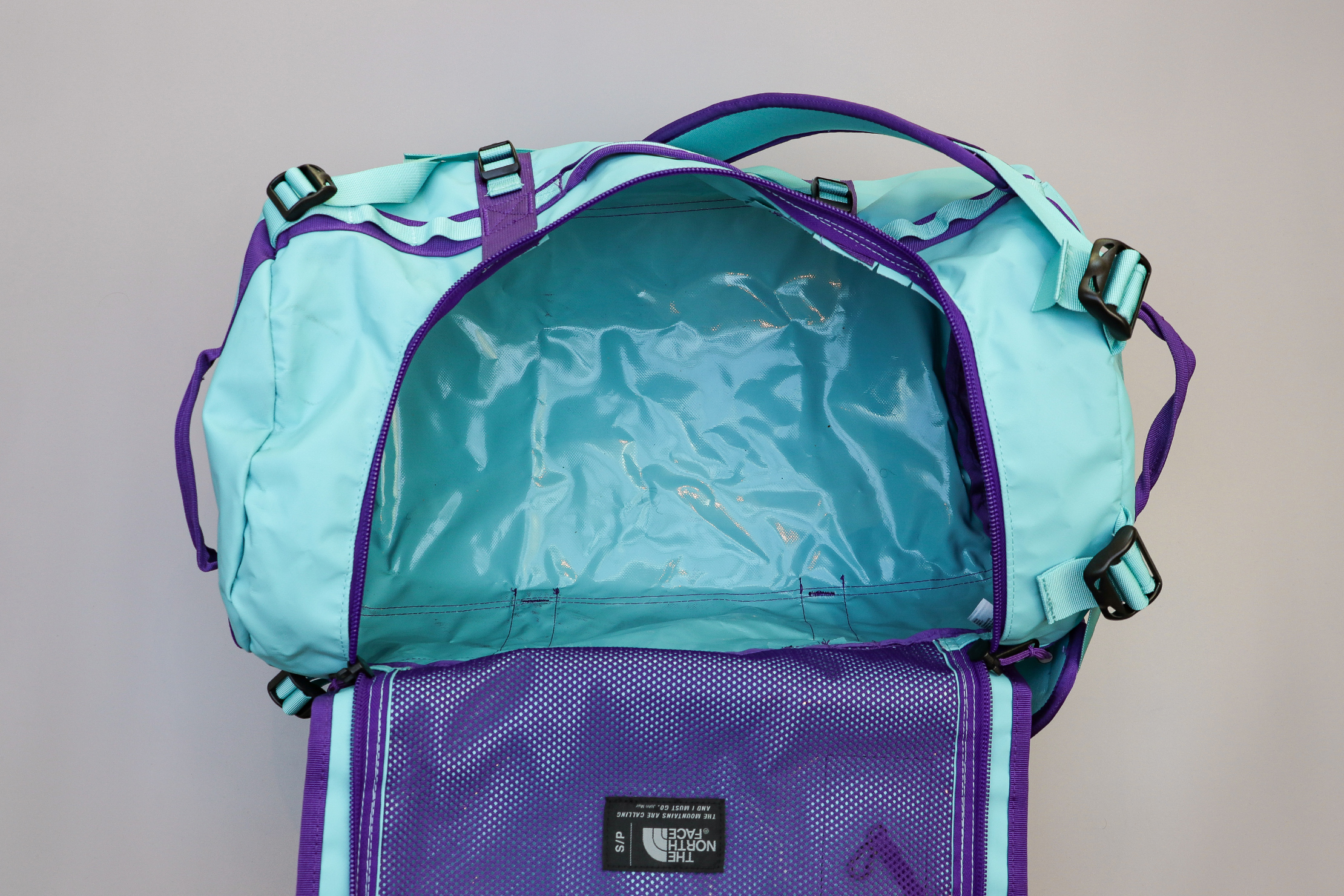 Anyway, the main space is quite versatile because it's large. You can cram a good amount of gear inside. The North Face says this bag is ideal for weekend excursions, but we've found it has enough room to hold all the stuff you'll need for a much longer trip.
The lack of internal organization works for us but could be annoying for some. If you like having a place for everything, this is not the bag for you. That said, you can create your own organizational system with packing cubes and accessory pouches, which works well for us.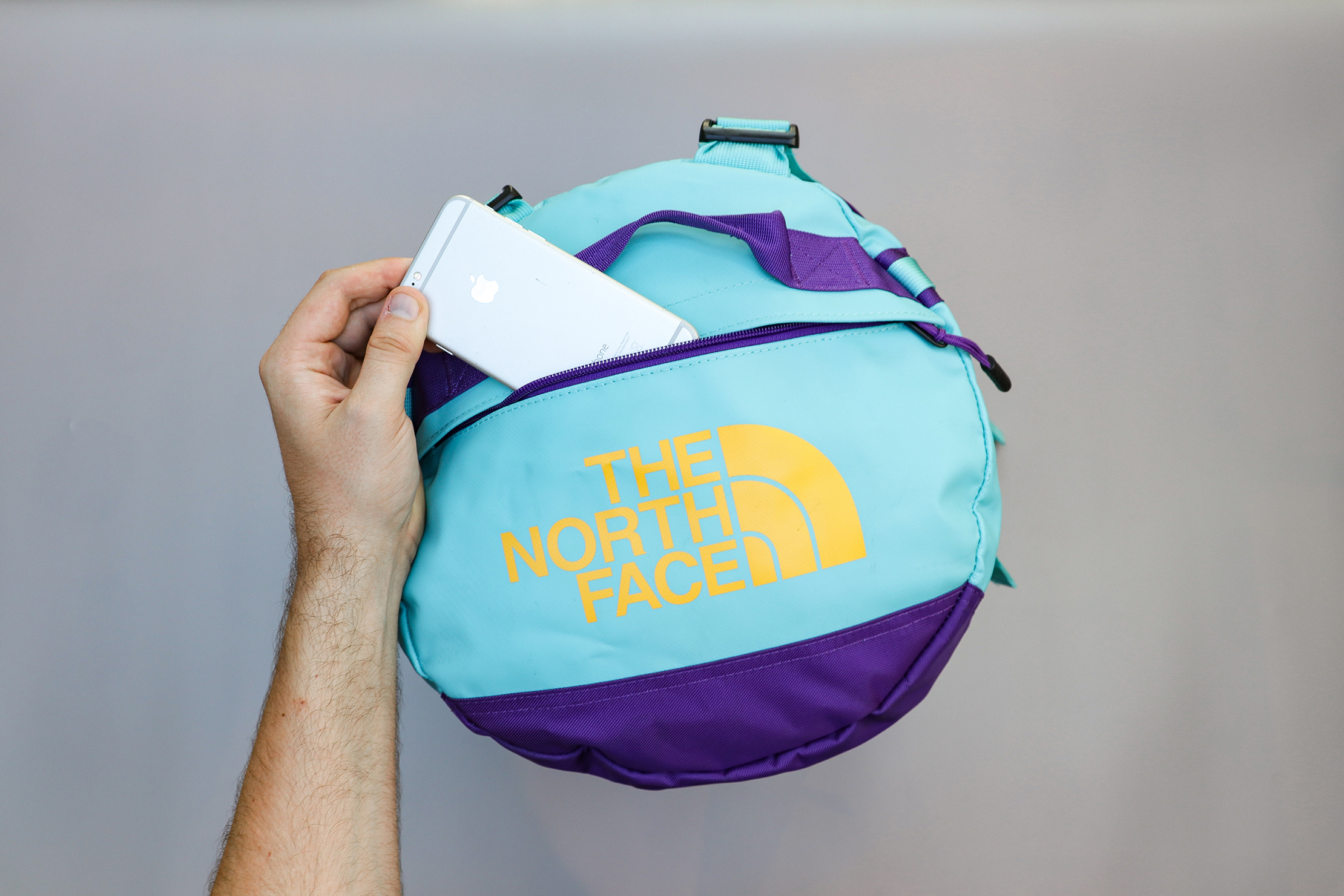 There's one external pocket that comes in handy for quick-grab items like phones, wallets, snacks, etc. And when you wear this duffle as a backpack, this pocket sits on top so it's easy to access.
Durability & Testing
We've been testing The North Face Base Camp Duffel in the small size for two weeks in Detroit, Miami, the U.K., and on a transatlantic flight as checked luggage.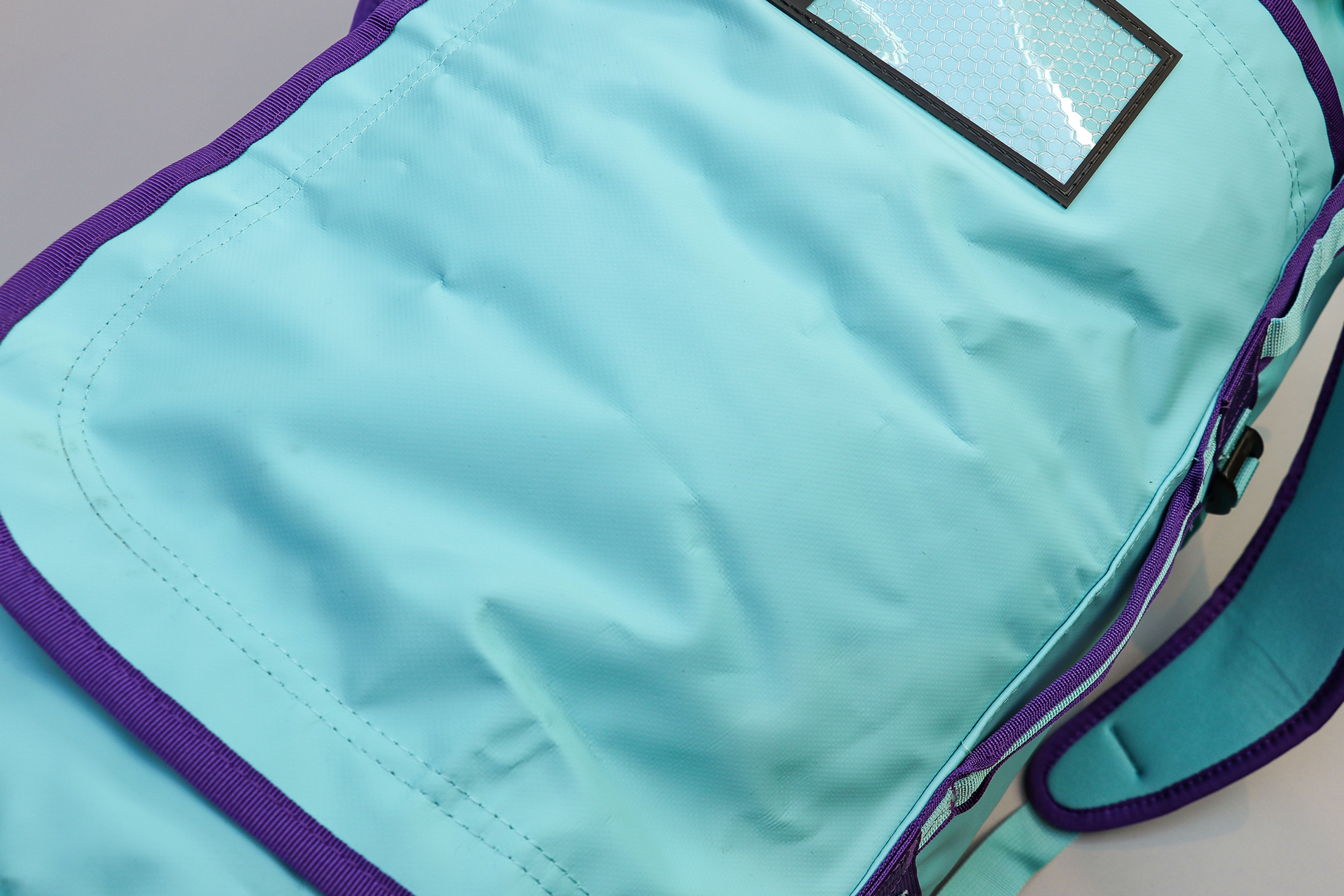 From a durability perspective, it's holding up okay, but we're not fans of the creases in the laminate or the nick in the ballistic nylon. That said, the Base Camp Duffel has a solid name and reputation so we're hoping these small issues aren't indicative for what's to come. And, luckily, we don't have any major issues to report at this point.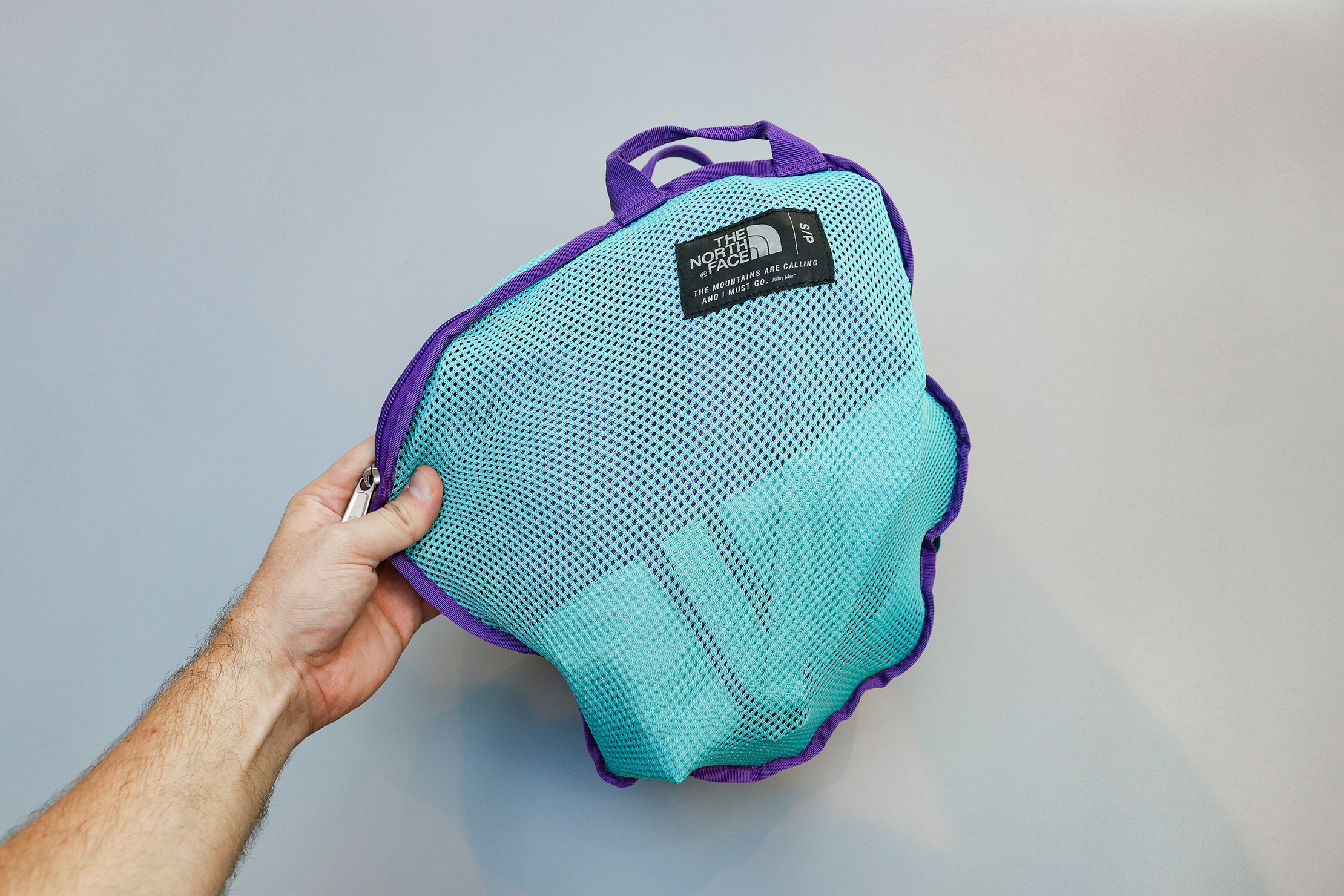 This duffle also comes with a stuff sack. We haven't used it much, but it's there if you want to pack the duffle inside an even larger bag or for storing it during long stints at Airbnbs or home.
As we mentioned earlier, this duffle excels at being a gear hauler or checked luggage. It's not great for one-bag travel—which is fine since it's not supposed to be—but we've found it works really well in conjunction with a packable daypack.
So, even though it's not the type of bag we usually test—in style, use-case, or colorway—we've been enjoying our time with it.
Usage Timeline
Initial Usage
Condition: Excellent
This pack comes in some very snazzy color combinations
Interested to see how comfortable this pack is to carry as a duffle (and as a backpack)
There isn't much internal organization or a laptop sleeve, so we are curious to find the right use case for this pack
2 Weeks of Use
Condition: Good
We've spotted a small nick in the ballistic nylon after a transatlantic flight.
Access the Pro Community Discussion
Get your questions about the The North Face Base Camp Duffel answered from our team and the Pro Community right here on the page. Plus, join discussions with other members about gear, guides, and more.
Other Bags & Luggage Reviews