Osprey Arcane Brief Review
We're digging the Osprey Arcane Brief's minimal, subdued look and ample organization—but we haven't found it very comfortable when fully packed.
Our Verdict
Unlock the Pro Summary
Save time. Get access to brief summaries of our reviews so you can browse and make decisions more efficiently.
Pros
Nice level of organization
Densely padded shoulder strap
Urban, subdued look
Cons
Not very comfortable when fully packed
Capacity is a little tight in the main compartment
No false bottom in laptop compartment
Recent Pack Hacker Video
Technical Details
Capacity

20l

Weight (lb)

1.45 lb (0.7 kg)

Denier

500D

Dimensions

10.63 in x 16.14 in x 4.19 in (27 x 41 x 10.6 cm)

Notable Materials

Recycled Nylon, Packcloth, Aluminum, YKK Zippers

Manufacturing Country

Vietnam

Laptop Compartment Size

16"

Warranty Information
Buying Options

$63.50
Full Review
We're no strangers to Osprey and their durable, efficient, and often vibrantly-colored bags. But if you are, the Osprey Arcane Brief is a solid choice to get you up to speed.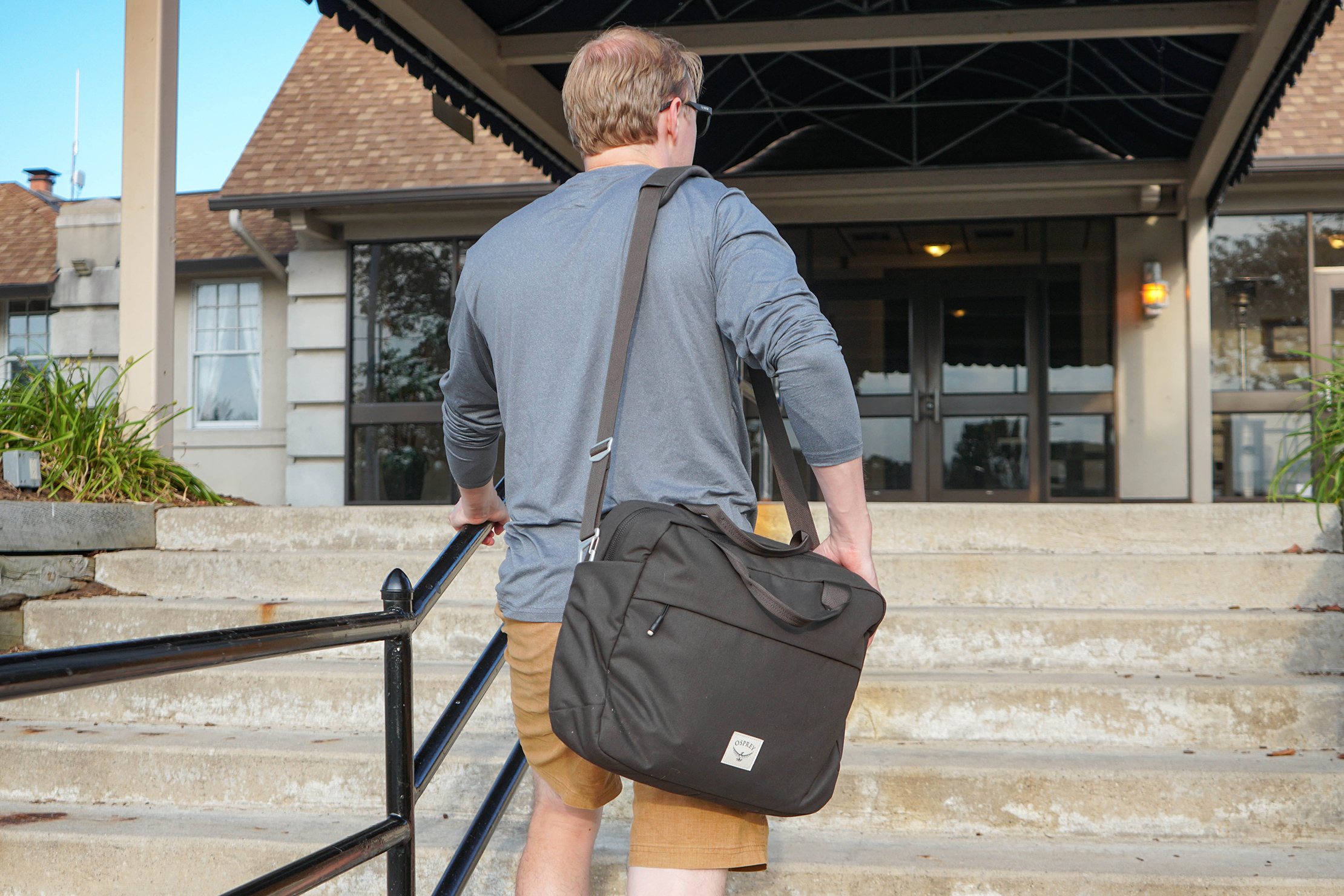 Part of the Arcane line, this bag features a more urban, modern look than some of Osprey's other gear—which, if you prefer a bag that blends in with the crowd as we do, you'll appreciate. And at 20L, it has just enough room for all of your daily essentials. If you're digging the look and material of this bag, but prefer a different style of carry, check out our reviews of the Arcane Tote Pack and Arcane Day Pack from the same line.
We have two weeks of testing down—so let's jump in.
Materials & Aesthetic
Like we said earlier, this bag has a much more low-profile look than some other Osprey gear we've tested, which typically has a more outdoorsy vibe. This one is more urban—it has that classic messenger bag look that's casual enough for exploring the city, while still sophisticated enough to wear to the office.
At the time of this review, the Osprey Arcane Brief is available in three different colorways: Stonewash Black, Stargazer Blue, and the Haybale Green colorway we've been testing. Again, these aren't the bright, vibrant colors you've seen on some of Osprey's other products, but that doesn't bother us—we like the subdued, almost heritage aesthetic that the Haybale Green colorway offers.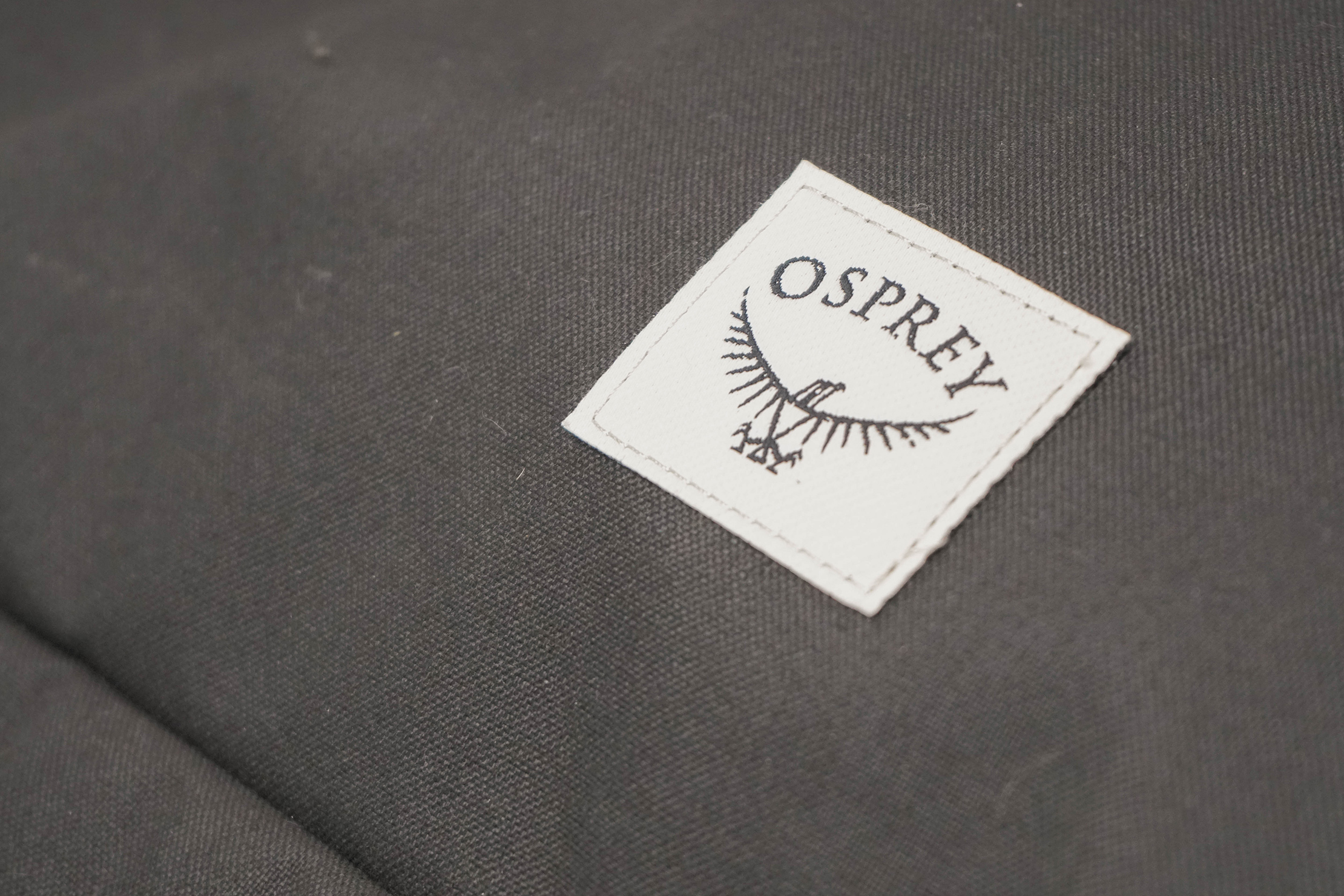 You'll see a couple of Osprey logos on here, including a tag on the bottom-front of the bag, on the shoulder strap, and the inside. Most of them are black-on-white so they're not the most subtle, but they're few and far in between, which we appreciate—this way, the bag retains a clean, streamlined look.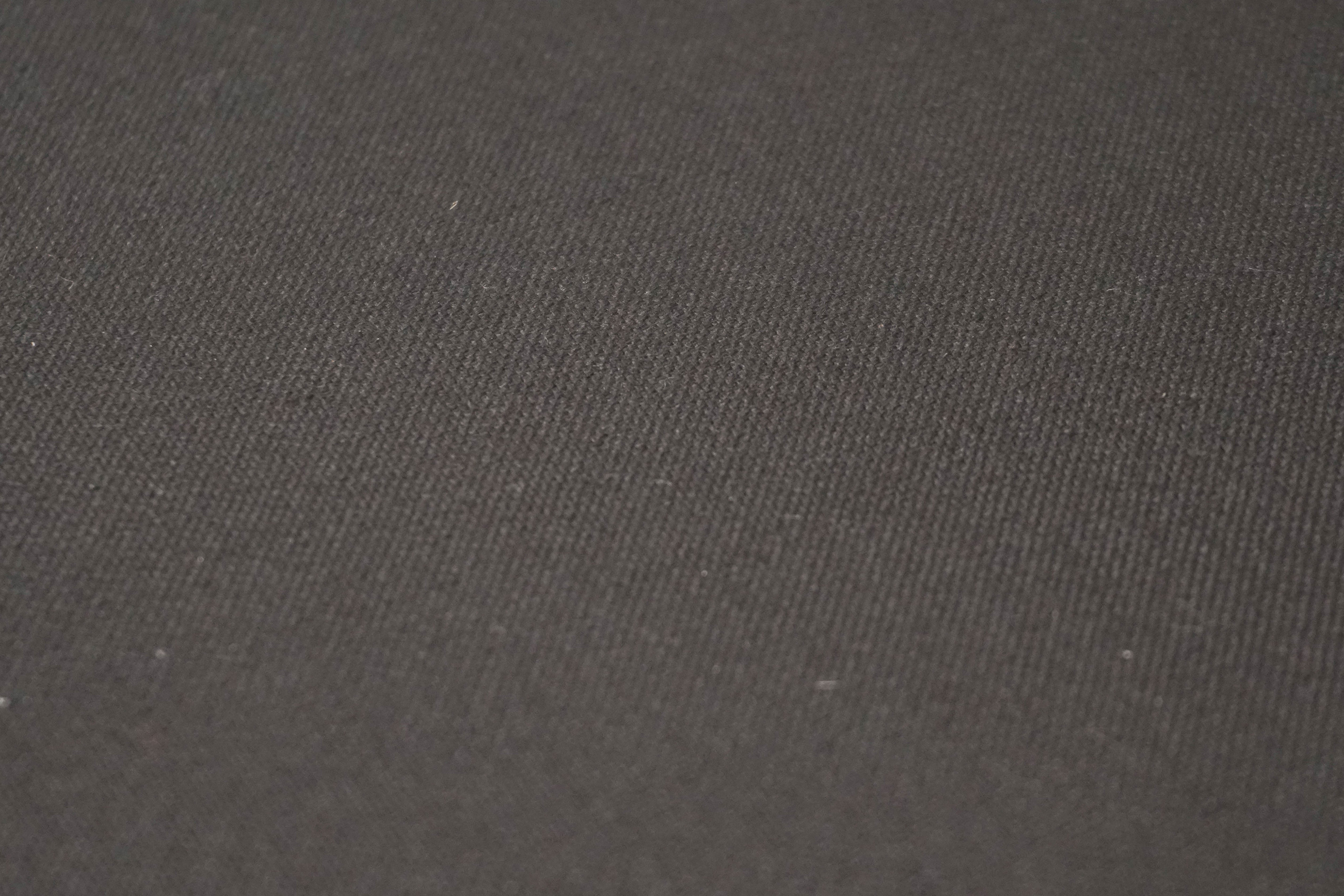 Let's look at this bag's material. It's made with 500D recycled polyester packcloth, with a DWR coating for added durability and water resistance. We haven't exactly dunked this thing in a tub of water or anything, but you'll be fine in some light, rainy weather. And we haven't sustained any scratches or scuffs as of yet, which is a good sign.
What we do have, though, is some hair and dust from testing, as this material is more prone to picking up debris than other fabrics we've tested. So it may need some attention after a few wears.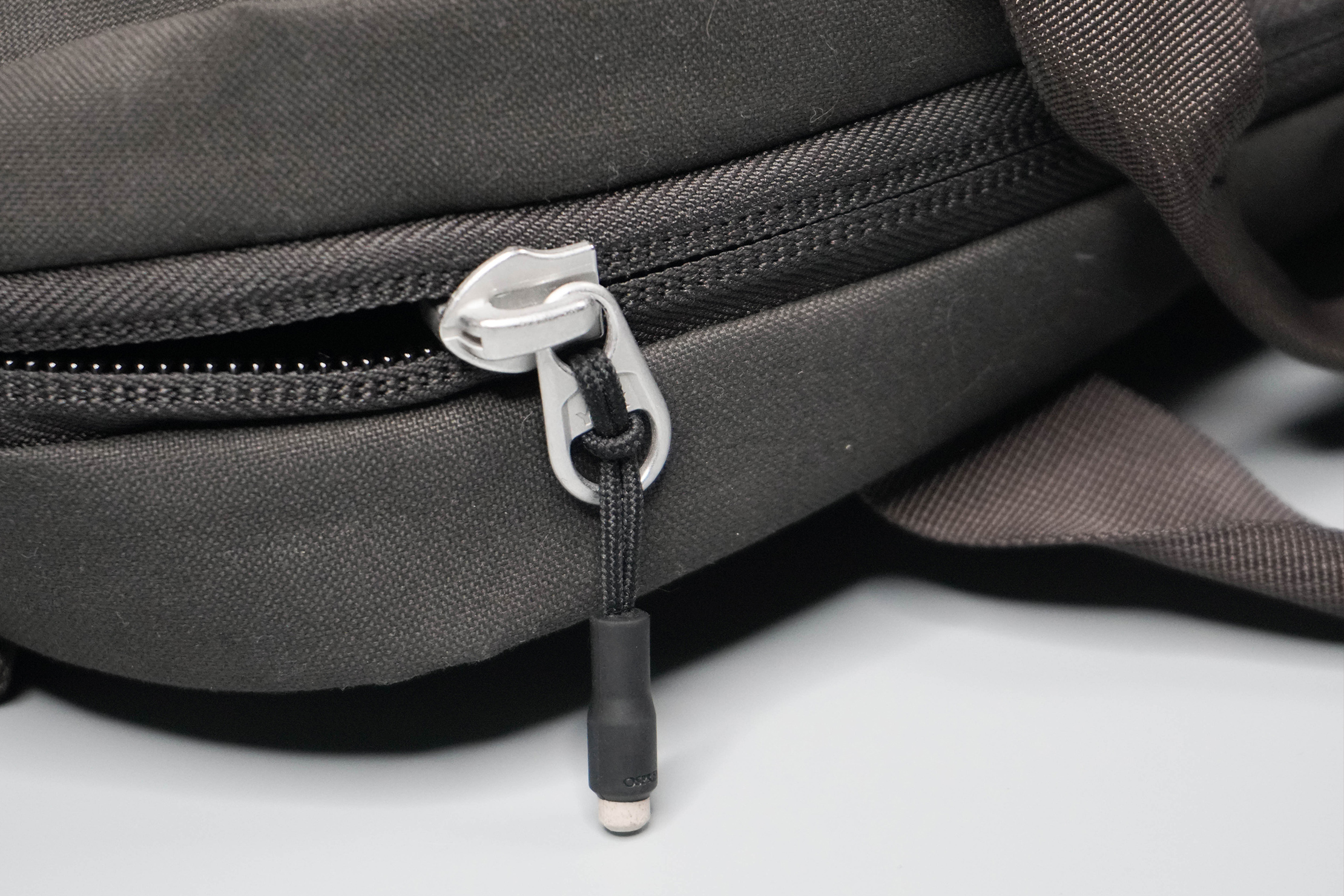 You also have some YKK zippers here, which we've had plenty of positive experiences with. And we can add this bag to the list, as everything has been working smoothly so far in testing.
And to round out materials, you'll find some aluminum hardware on this as well. We're happy to report that everything is working as it should be, so no issues there.
External Components
You can carry the Osprey Arcane Brief crossbody, over one shoulder, or even briefcase-style, depending on your use-case. And we've found all three to be relatively comfortable (as long as the bag's not fully packed), so you really can't go wrong.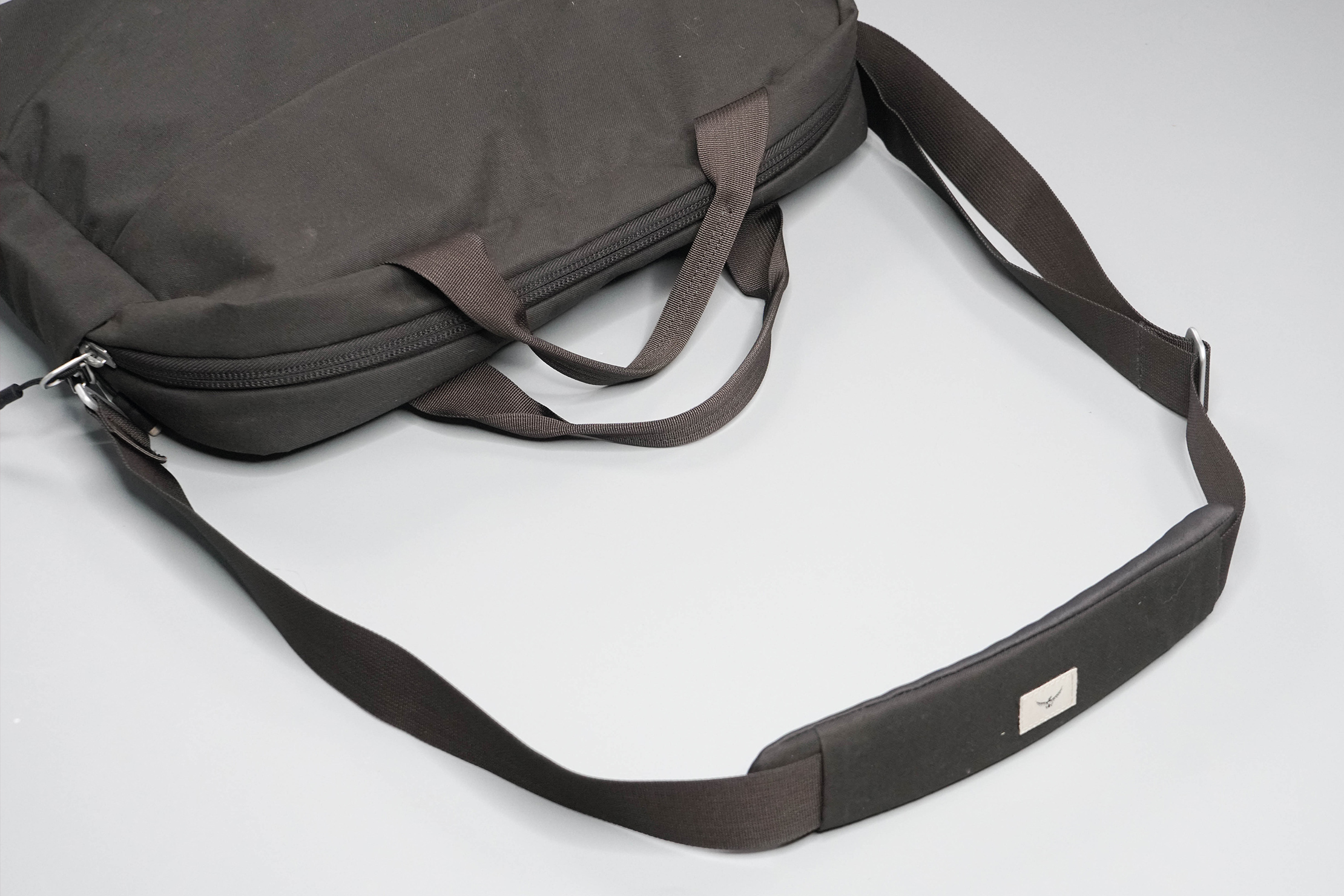 There's a nylon shoulder strap that can be adjusted via aluminum hardware at one end. It also keeps excess strap managed, so we're getting the #DangleFreeExperience that we always appreciate. You also have a densely padded cushion that can slide up and down the strap to wherever you find most comfortable. This cushion is pretty flexible, too. So whether you have this thing over one shoulder, or you're carrying crossbody, it contours to the shoulder nicely.
The strap itself is attached to the bag by large aluminum G-hooks, which fully close, meaning they feel more secure compared to a hook with no closure. This also allows you to remove the strap if you opt to carry the bag by its top handles, so it's out of the way.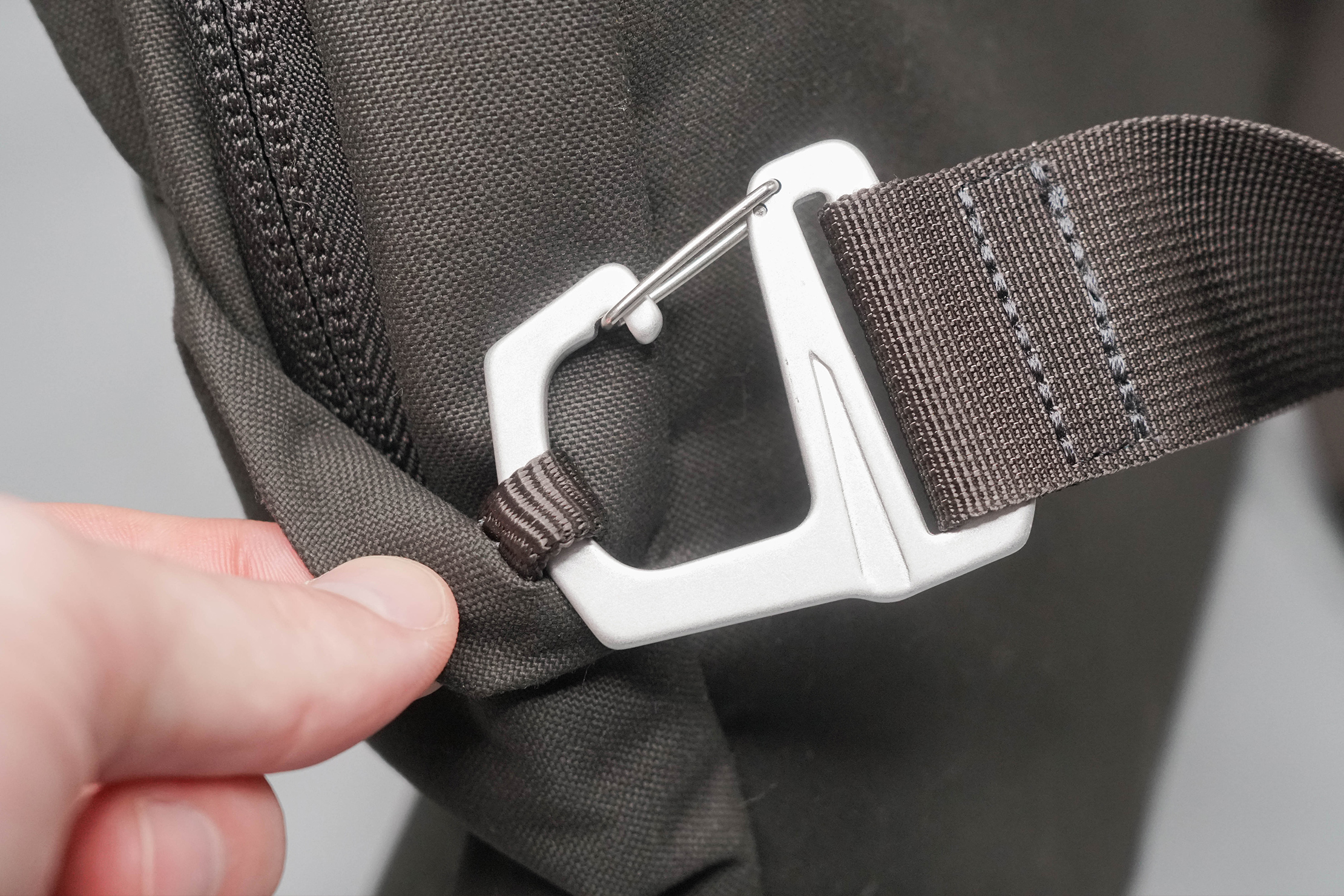 There's a fabric welt that sits overtop of these hooks, to promote a clean look. However, the loops that the hooks go through are sewn fairly high up on the inside of these welts. Because of where they're positioned, when you're wearing the shoulder strap, the hooks pull the loop upward (especially when the bag is fully packed out). As a result, the hooks are no longer covered by the welt, which defeats the purpose of keeping the bag more streamlined. This would be less of a problem if the loops were positioned lower on the welts, or were attached to the actual body of the bag.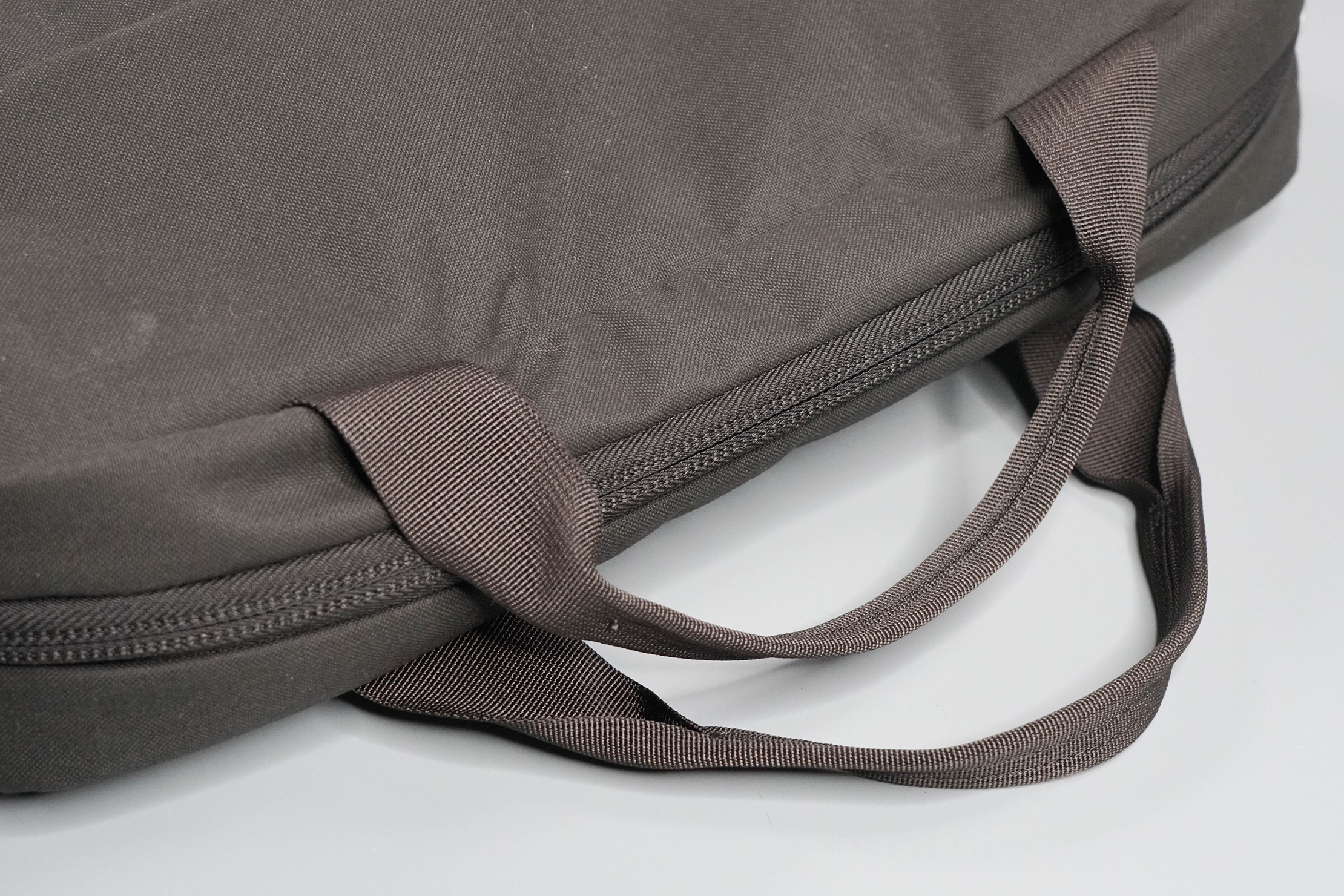 You have two handles at the top of the bag that can be used to carry it briefcase-style, for if you're ever walking into a meeting or just want a more professional look. They're both essentially just some folded nylon webbing, and there's not much padding to them, but they're comfortable enough as long as you don't have this thing packed out too heavy. Fill this thing to the brim, and they're not so comfortable—especially on longer wears.
Inside The Bag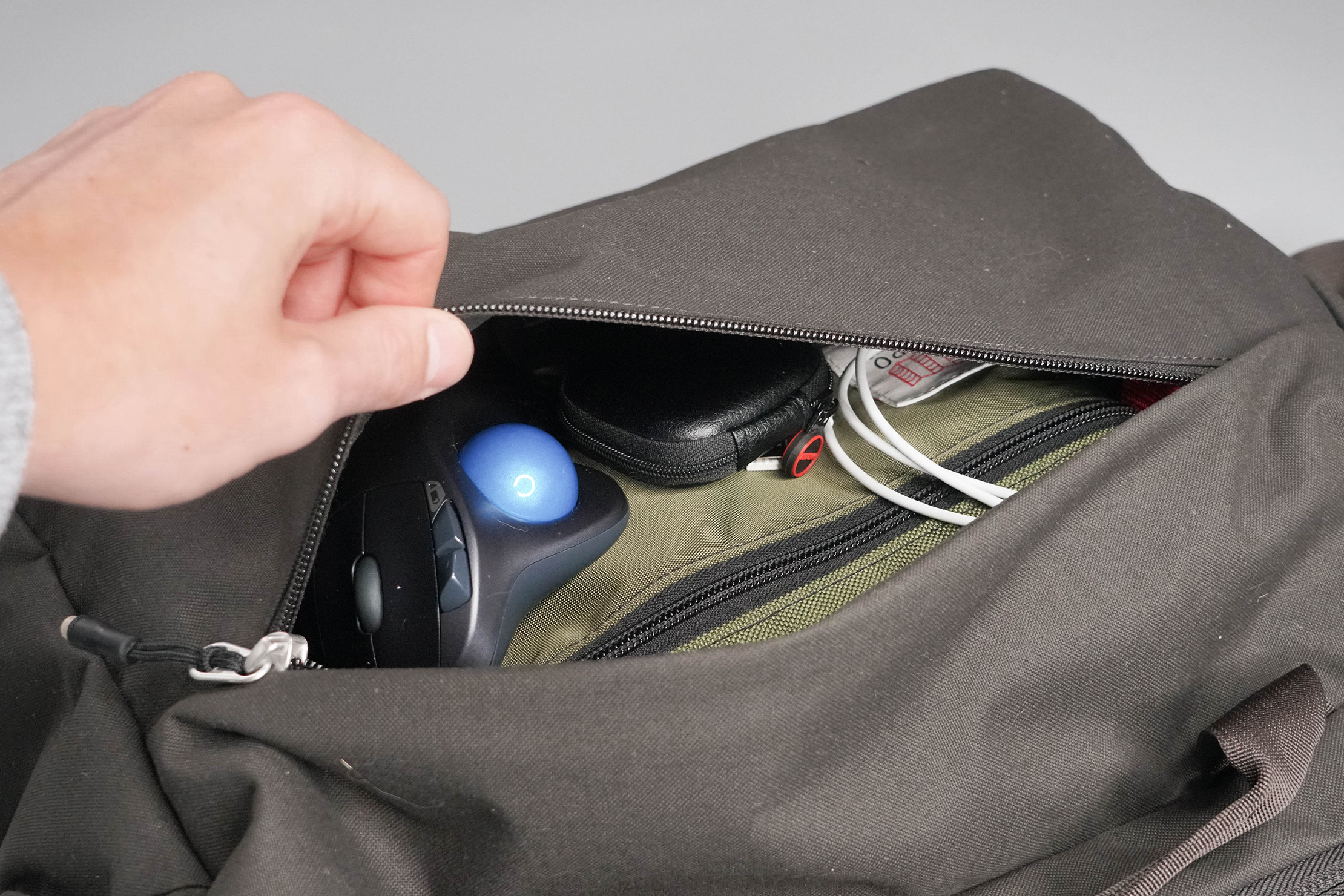 The front pocket on this thing has quite a bit of dimension to it—and it's independent of the main compartment, meaning whatever you throw in here won't borrow any space from the rest of the bag. There's no organization inside, so we're been using it as a dump pocket for some gear like our Fulton & Roark Solid Cologne, a handy multi-tool, and a pouch for smaller tech accessories. Of course, you can always add more pouches to create some more organization that works for your gear.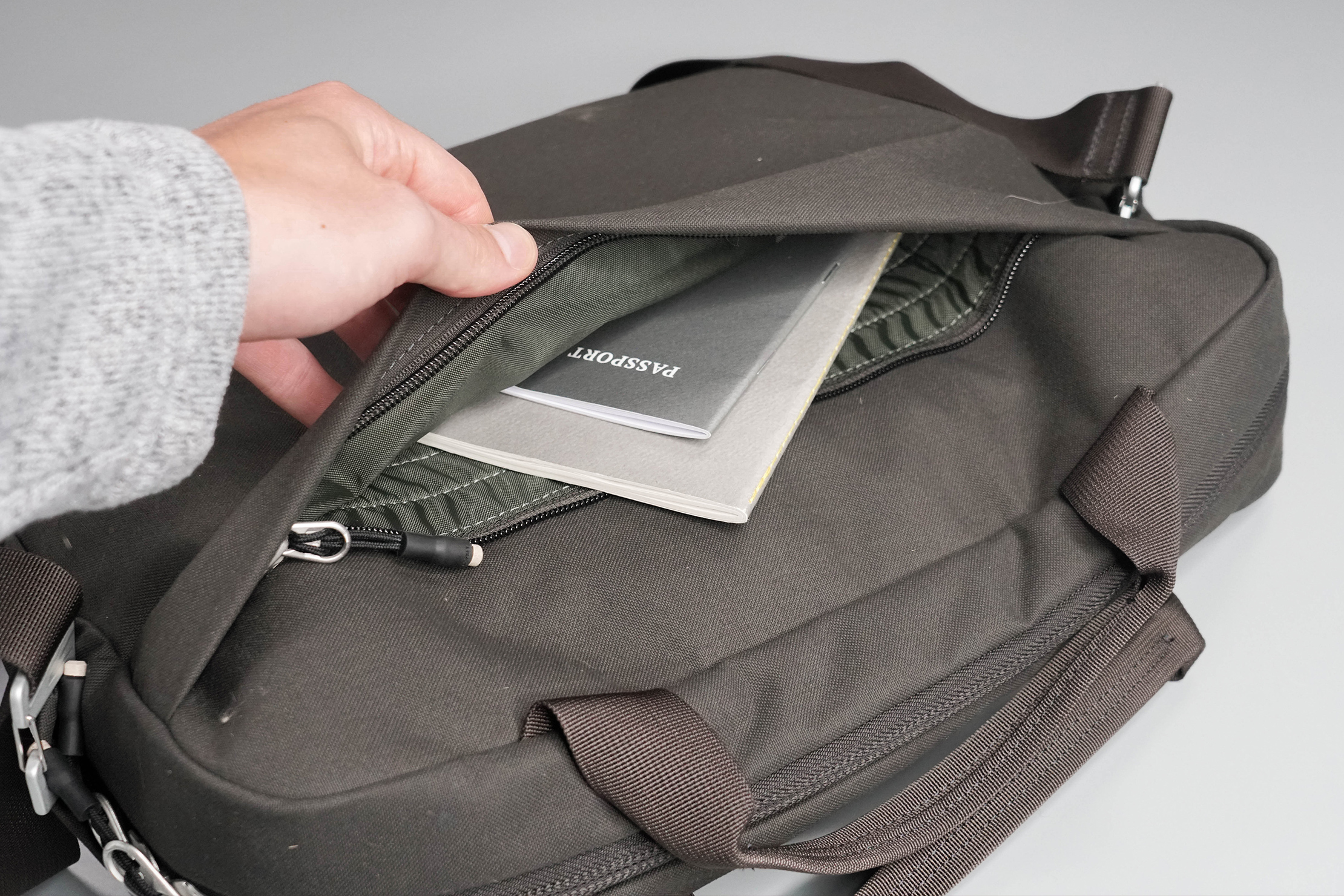 You have another similar zippered pocket on the back panel. We haven't used it too much during testing, but it works best for flatter items (like documents or your passport). You can also use it as another quick-grab pocket for something like your wallet if desired, but you don't want to put anything too bulky in here. This pocket is against your back or side (depending on how you carry it) and it won't be quite as comfy if you have gear poking into you while wearing.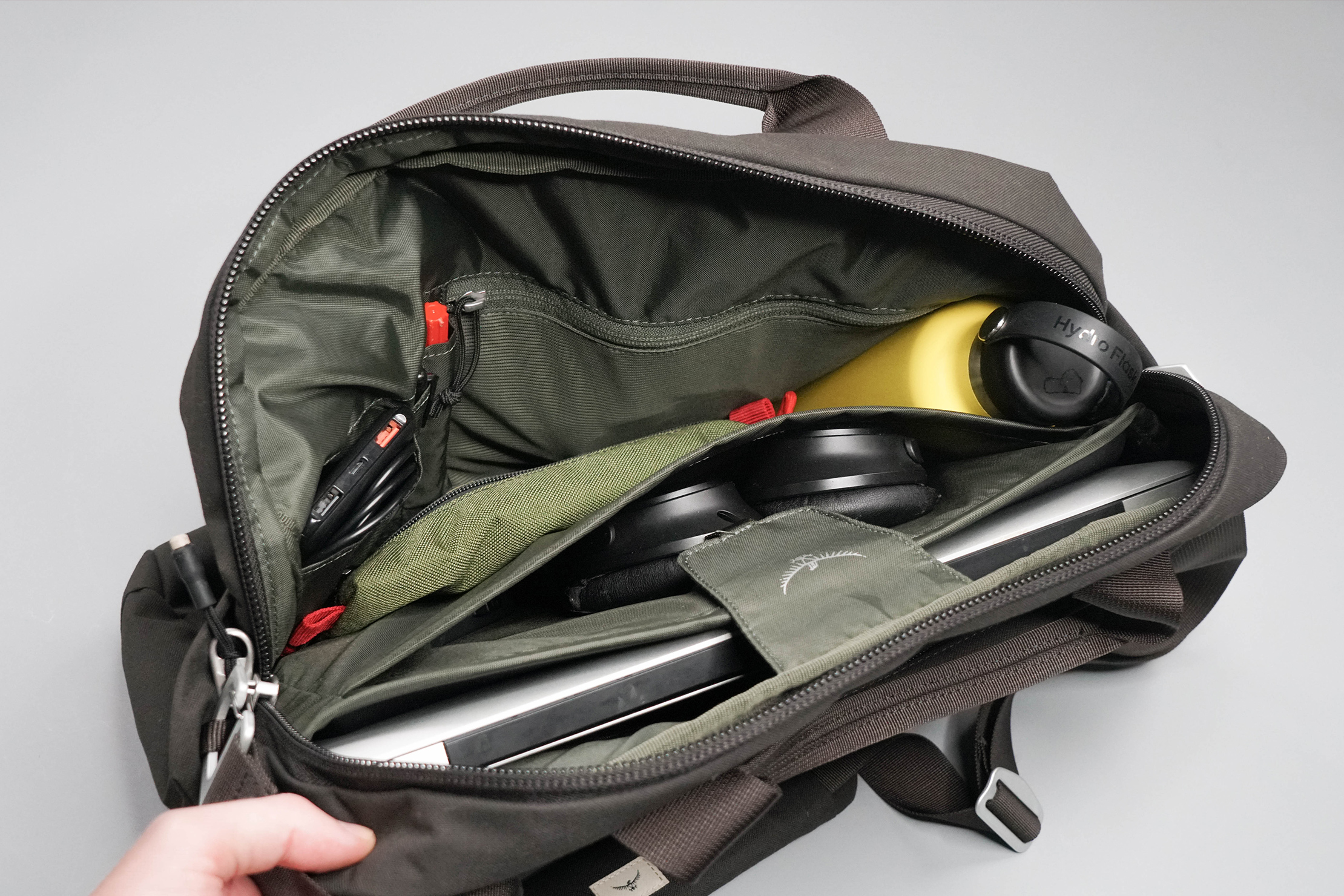 And finally, there's the main compartment. When you open it up, you'll notice there's some nice segmentation inside to keep your gear organized, as well as some free space in the middle. And at 20L, it has enough room for your everyday essentials (at least, it does for us). That said, you don't want to pack this thing too full as it can get bulky (and, again, uncomfortable to carry).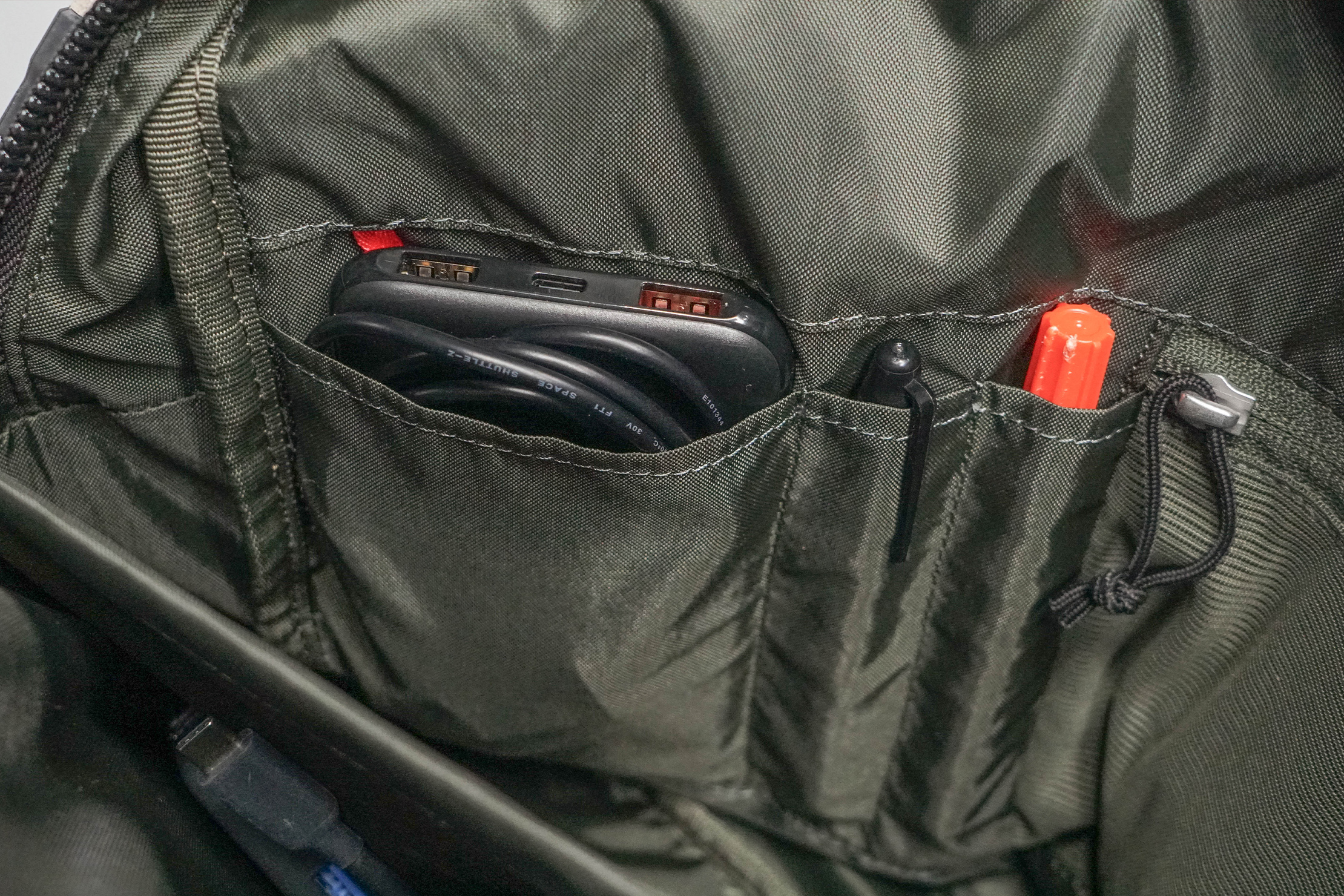 Against one wall is a sleeve that we've found fits both a phone and charger nicely. It also houses a plastic key clip that doesn't feel the most durable but can get the job done of keeping your keys in one spot.
You also have two pens sleeves that we've been using for a sharpie and Tide To-Go stick. These sleeves are pretty tall, so if you're keeping smaller pens, pencils, or styluses (styli?), they can slip to the bottom and be tough to grab. A simple remedy is if the pen, for example, has a clip on the outside, to slip it onto the outside of the pocket—that way it's not sinking any further.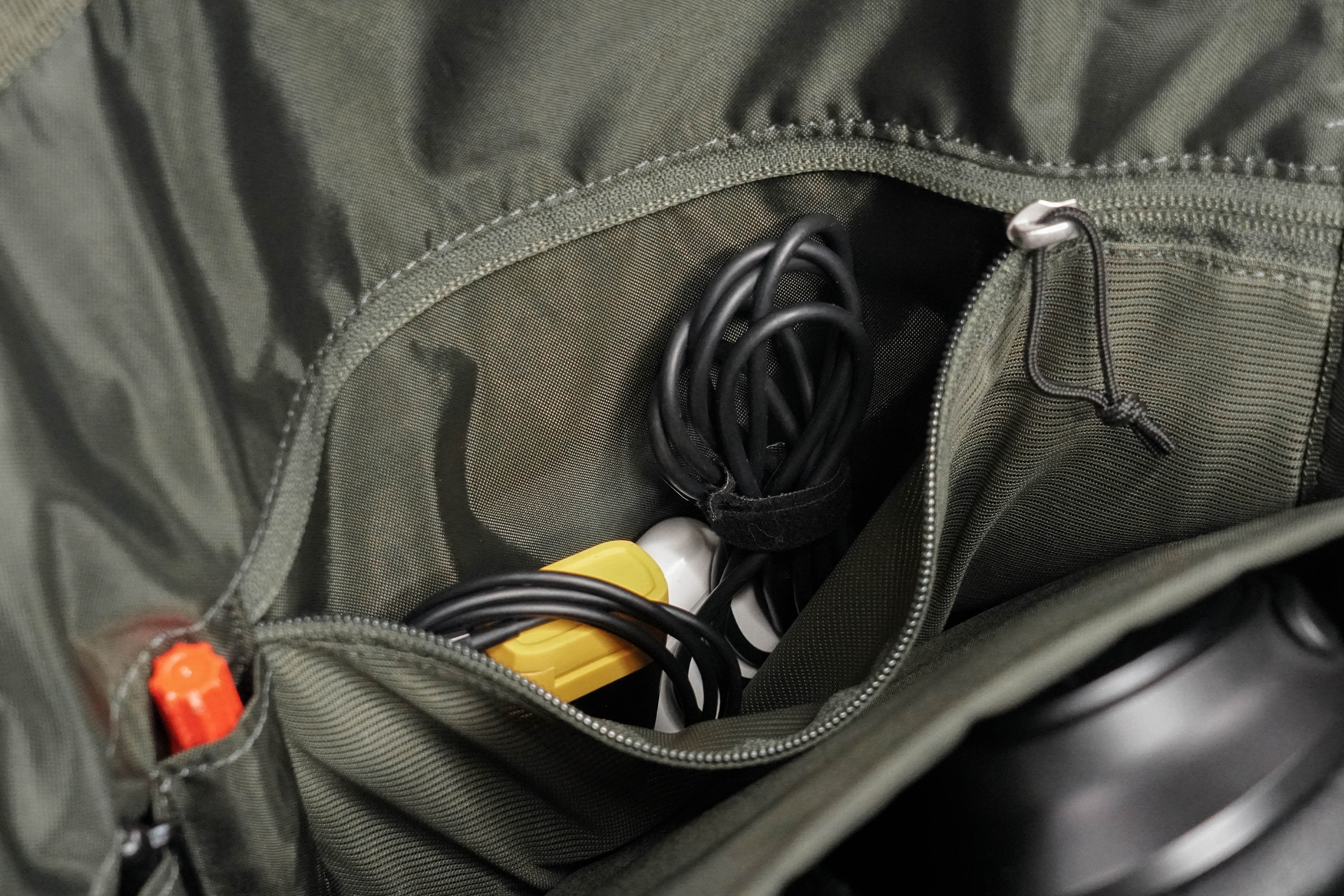 Also along this wall is a medium-sized mesh zippered pouch where we've been keeping some tech accessories—AirPods and a charger, an extra mouse battery, and the like. We've also tried keeping a (computer) mouse inside here along with some bulkier items, but we've found it takes away a lot of space from the rest of the compartment—so this pocket works best if not fully packed out.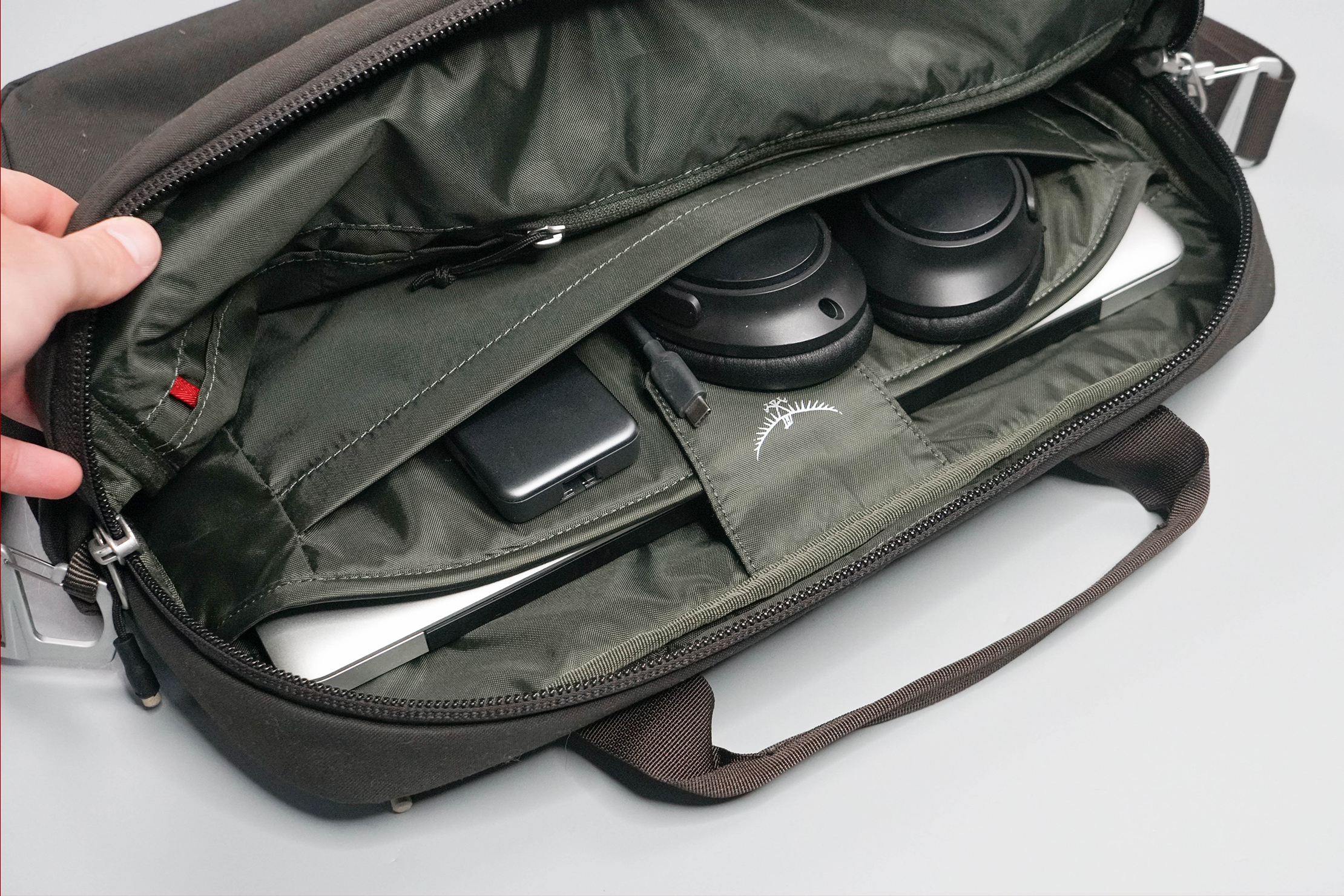 On the other side of the bag, in front of the laptop compartment, is a much larger sleeve. It's a great place to stash a larger pair of headphones, adaptors, and any other bigger, flatter items you may have. But, similar to the zippered pouch, it can take space away from the rest of the compartment if packed with anything too bulky.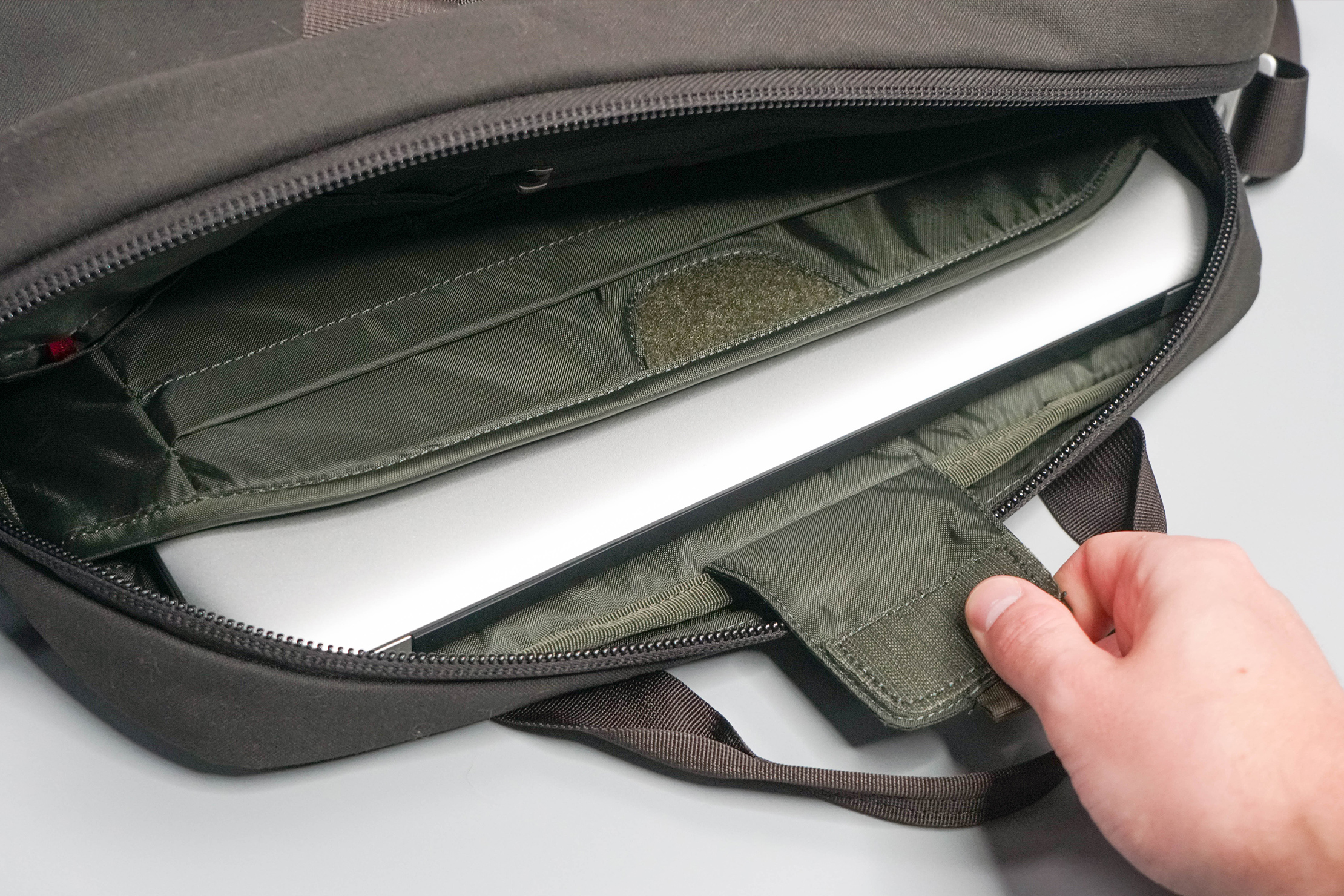 And last (but certainly not least), there's the laptop compartment which is secured by a velcro flap. There's not a ton of padding in here, but you do have nice and soft neoprene-like material against one side to protect your tech from scratches. And we've been able to fit a 16" laptop in here no problem.
Something you'll want to note is that there's no false bottom in this compartment. Meaning, you don't have that added protection when you're setting the bag down, or when it's getting jostled around (or accidentally dropped).
Then you're left with some free space in the middle. It's not a ton of room, but enough to store a light jacket, umbrella, or even a water bottle (since there's nowhere to put it on the outside of the bag). Pretty much whatever other gear you carry that doesn't fit into the organization pockets. But again, keep in mind that if you pack this thing too full, it's not going to be the most comfortable to carry.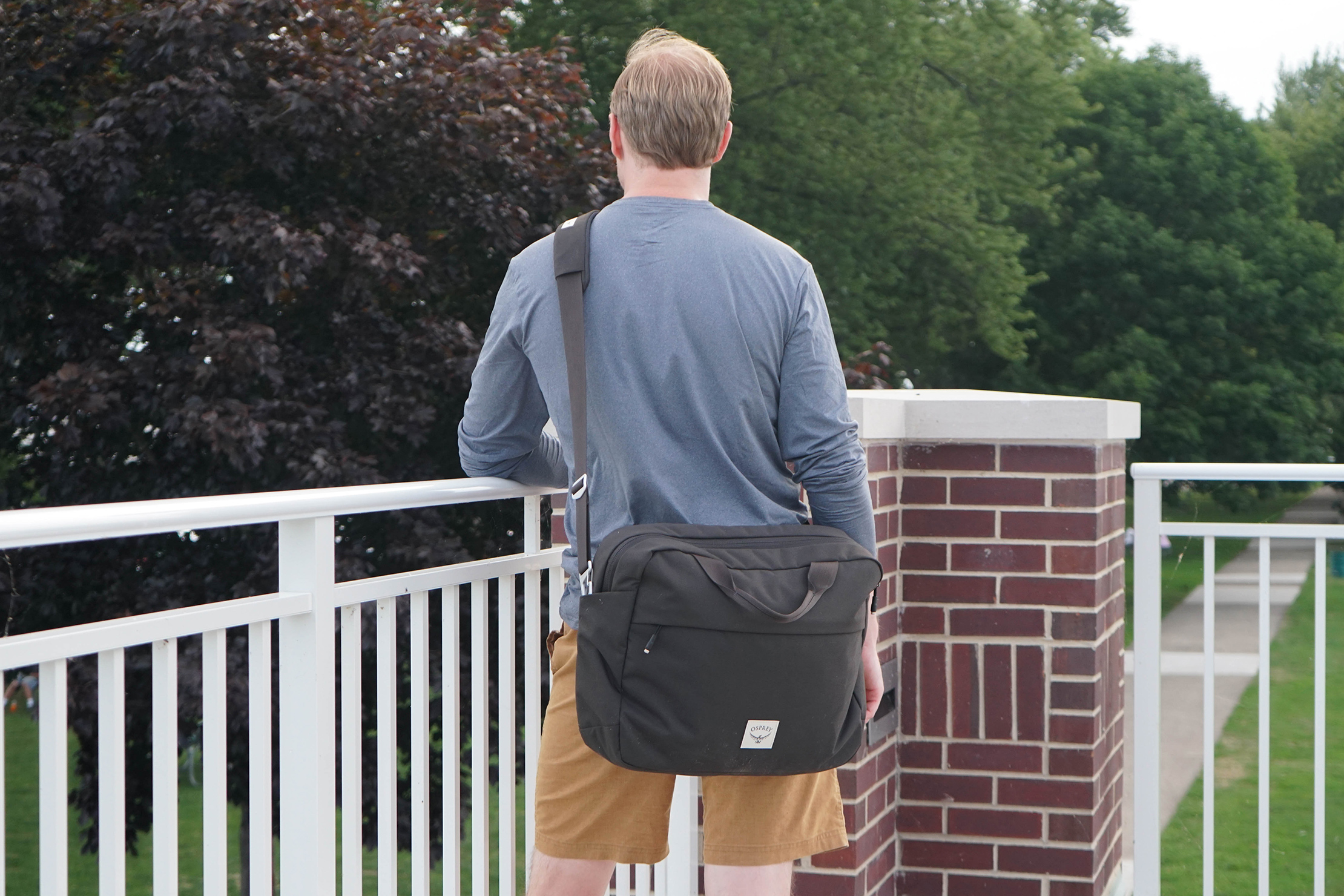 Other than the fluff that the material picks up, durability-wise, everything is holding up nicely. Nothing new to report.
Usage Timeline
Initial Usage
Condition: Excellent
Minimalist style designed for holding your EDC and tech gear, and not much else
The shoulder strap is well padded and comfortable to use
Modern, urban, and simple, looking at it, you wouldn't know it was Osprey without the logo
2 Weeks of Use
Condition: Excellent
It's been working great for EDC carry, but it can struggle if you try to load it up with too much gear
Access the Pro Community Discussion
Get your questions about the Osprey Arcane Brief answered from our team and the Pro Community right here on the page. Plus, join discussions with other members about gear, guides, and more.
Other Bags & Luggage Reviews