Patagonia Black Hole Duffel Bag 40L Review
The Patagonia Black Hole Duffel Bag 40L has great materials and ample space. We just wish the backpack carry was better optimized.
Our Verdict
Unlock the Pro Summary
Save time. Get access to brief summaries of our reviews so you can browse and make decisions more efficiently.
Pros
Made with recycled materials and a focus on sustainability
Rectangular shape maximizes interior volume (great for packing cubes)
Duffle packs into itself for easy, clean storage
Cons
Duffle handles interfere with the backpack straps (and there's no way to stow them)
Backpack strap adjuster and excess strap can get in the way
Bag doesn't perform well when not fully loaded
Recent Pack Hacker Video
Technical Details
Capacity

40l

Weight (lb)

2.05 lb (0.9 kg)

Denier

900D

Dimensions

21 in x 13.7 in x 10.6 in (53.3 x 34.8 x 26.9 cm)

Notable Materials

Recycled Polyester, Ripstop Polyester, Thermoplastic Polyurethane (TPU), Polyurethane, DWR Coating, YKK Zippers, Duraflex Hardware, Recycled Nylon

Manufacturing Country

Vietnam

Warranty Information
Full Review
Plenty of space and simple organization make the Patagonia Black Hole Duffel Bag 40L a solid choice for those looking to use a duffle bag for travel.
Made with recycled materials, this carry-on-friendly duffle bag from Patagonia is described by the California-based brand as being "perfect for small loads and long weekends." And we've been using it for just that—putting the Patagonia Black Hole Duffel Bag 40L to the test for three weeks across Detroit, Michigan and San Francisco, California.
While we've been testing the 40L version, this duffle is also available in 55L, 70L, and 100L at the time of this review.
Let's check it out.
Materials & Aesthetic
The main fabric of the Patagonia Black Hole Duffel Bag 40L is a TPU-coated 900D polyester. And, you'll find nylon webbing on areas like the daisy chain and grab handles on the sides.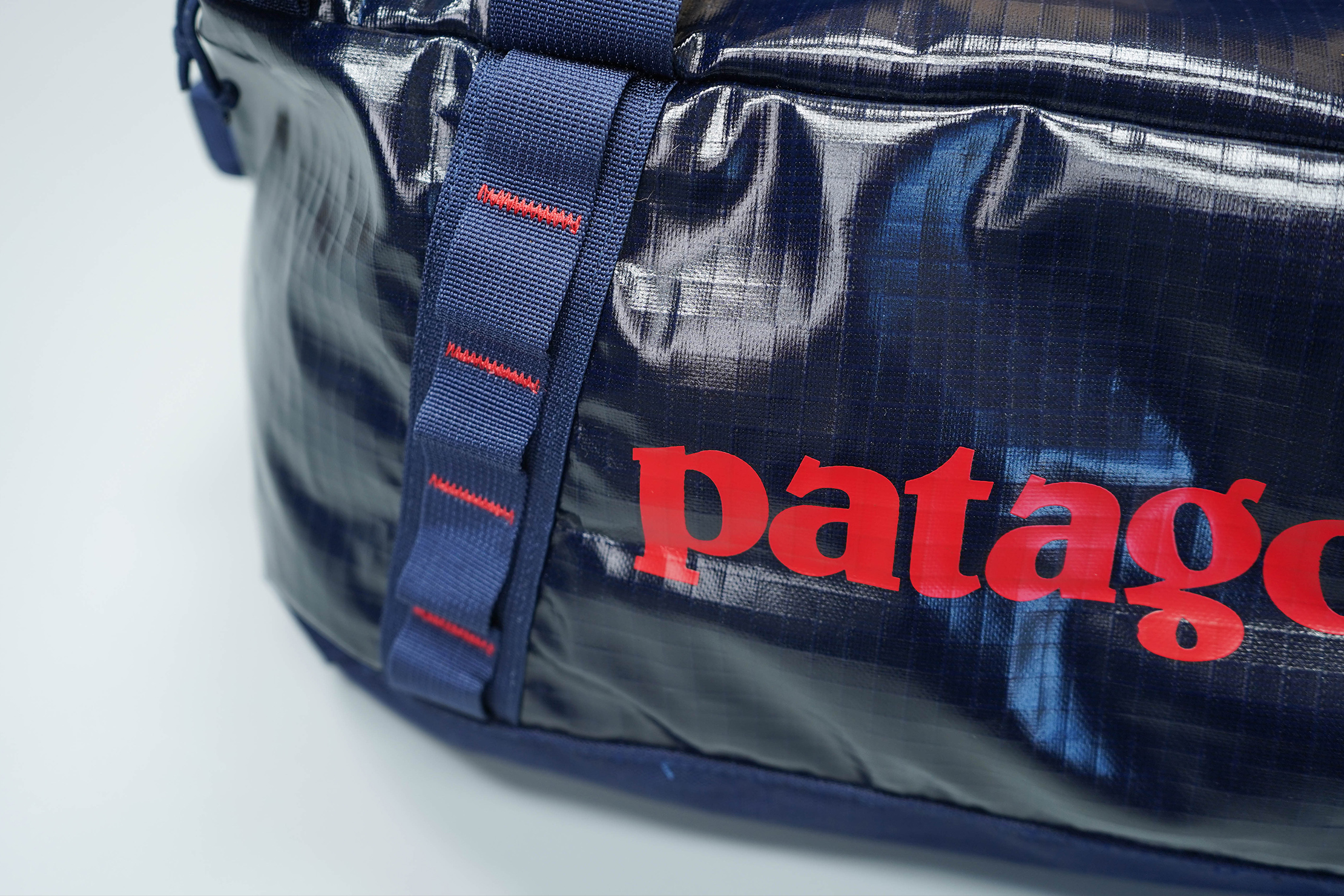 The polyester exterior, polyester interior lining, and the nylon on this duffle bag is 100% bluesign®-approved recycled material.
And the same goes for nearly the entire Patagonia Black Hole line, which is great to see. We like that the folks at Patagonia are keeping a close eye on sustainability and always pushing their products to be more eco-groovy. They're pretty much an industry trendsetter at this point. They also have a Worn Wear program where you can repair your damaged gear to extend its life, exchange your old gear for new gear, sell your old gear, or buy used Patagonia gear. Pretty cool, right?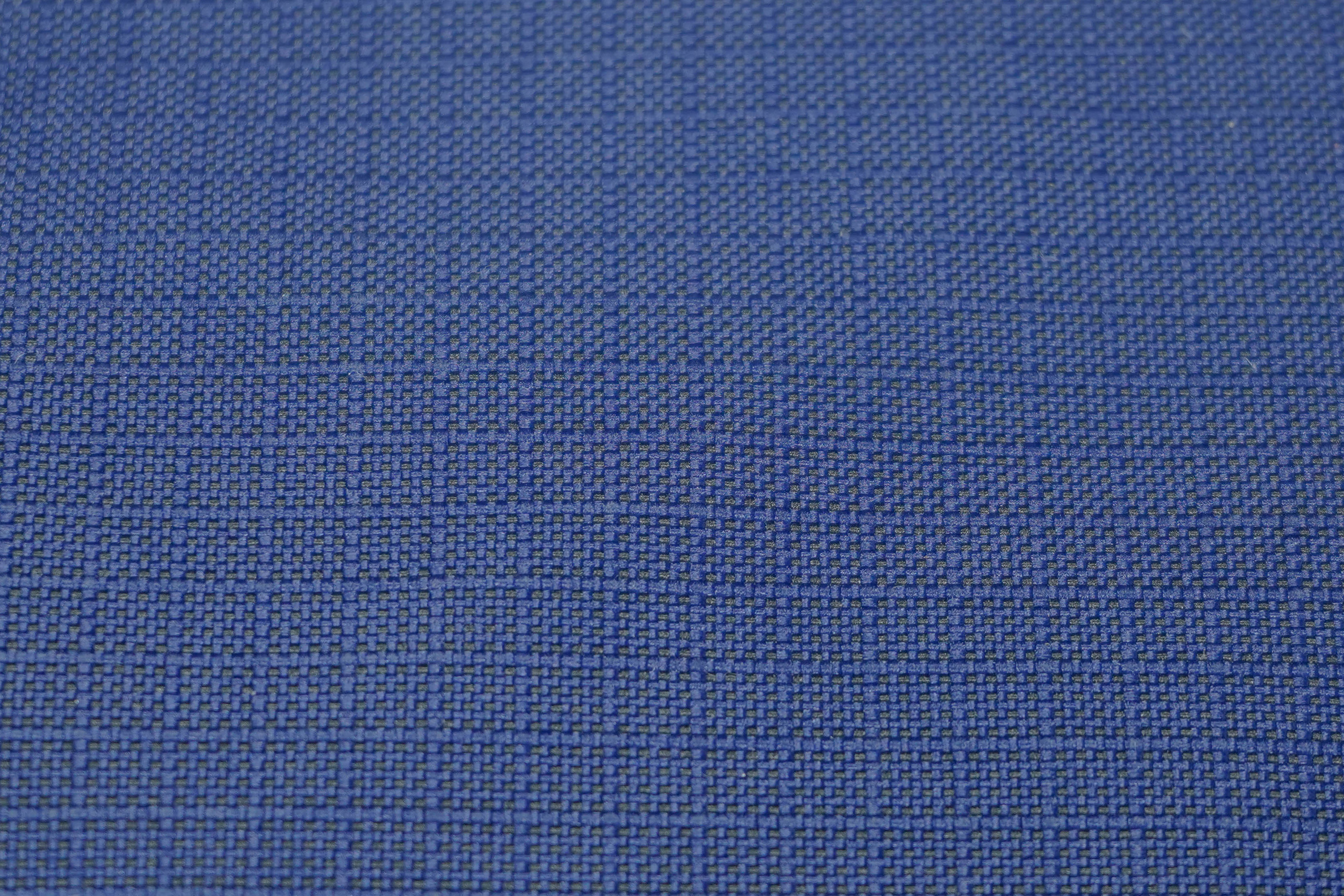 At the time of this review, the Patagonia Black Hole Duffel comes in five different colorways. We deviated from our usual black and went with the Classic Navy for our testing purposes But this bag does come in Black—as well as Cobalt Blue, Deep Plum, and Hammonds Gold. Patagonia updates its colorways all the time, so other choices may be available by the time you're reading this review.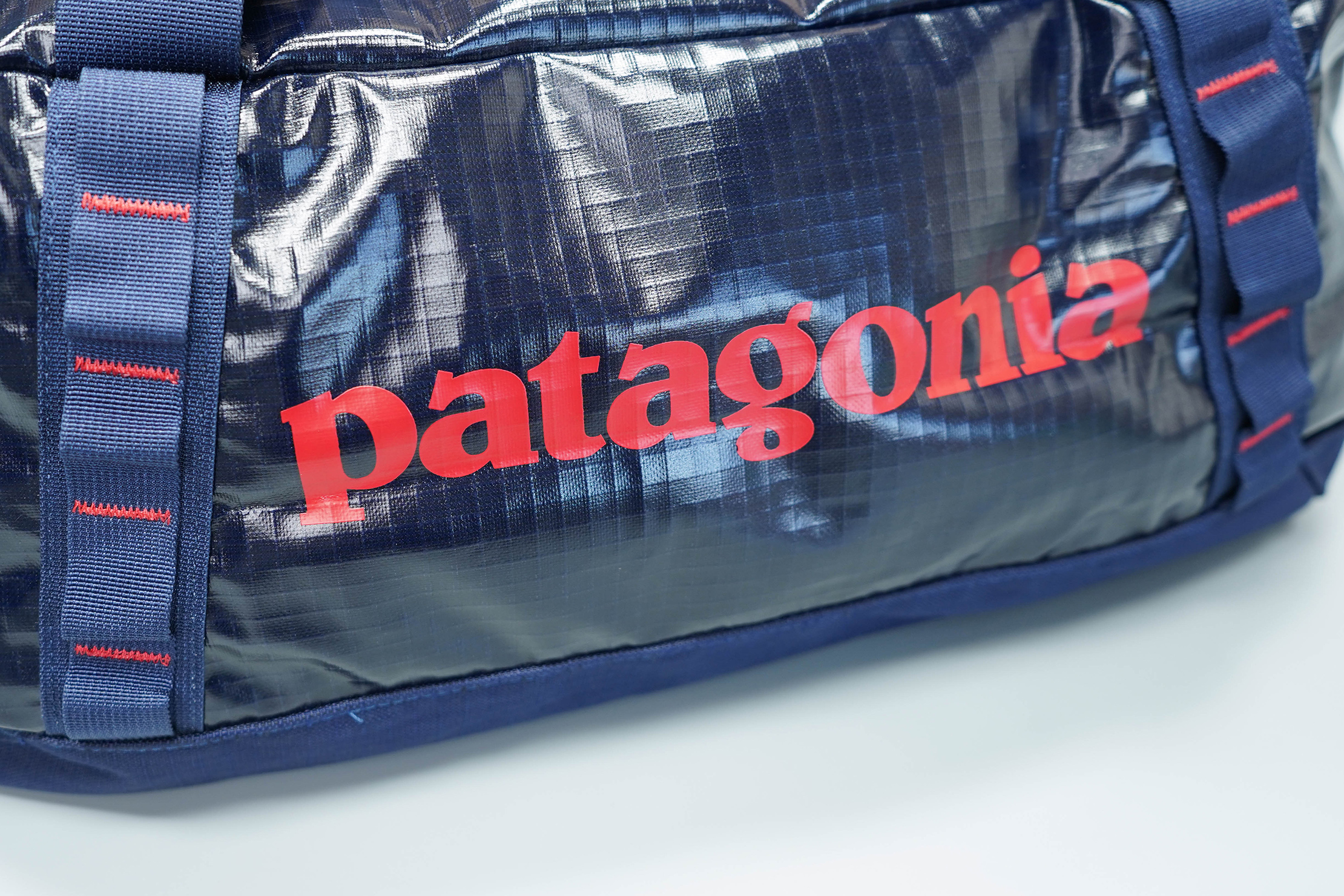 All of the colorways for this bag look decently sporty, in our opinion. Each has that giant Patagonia logo on the sides, which will leave no confusion that you have a Patagonia bag. That doesn't seem to bother our Instagram audience too much as 55% are digging the looks of this duffle. (Make sure to check out our Instagram to take part in future polls.)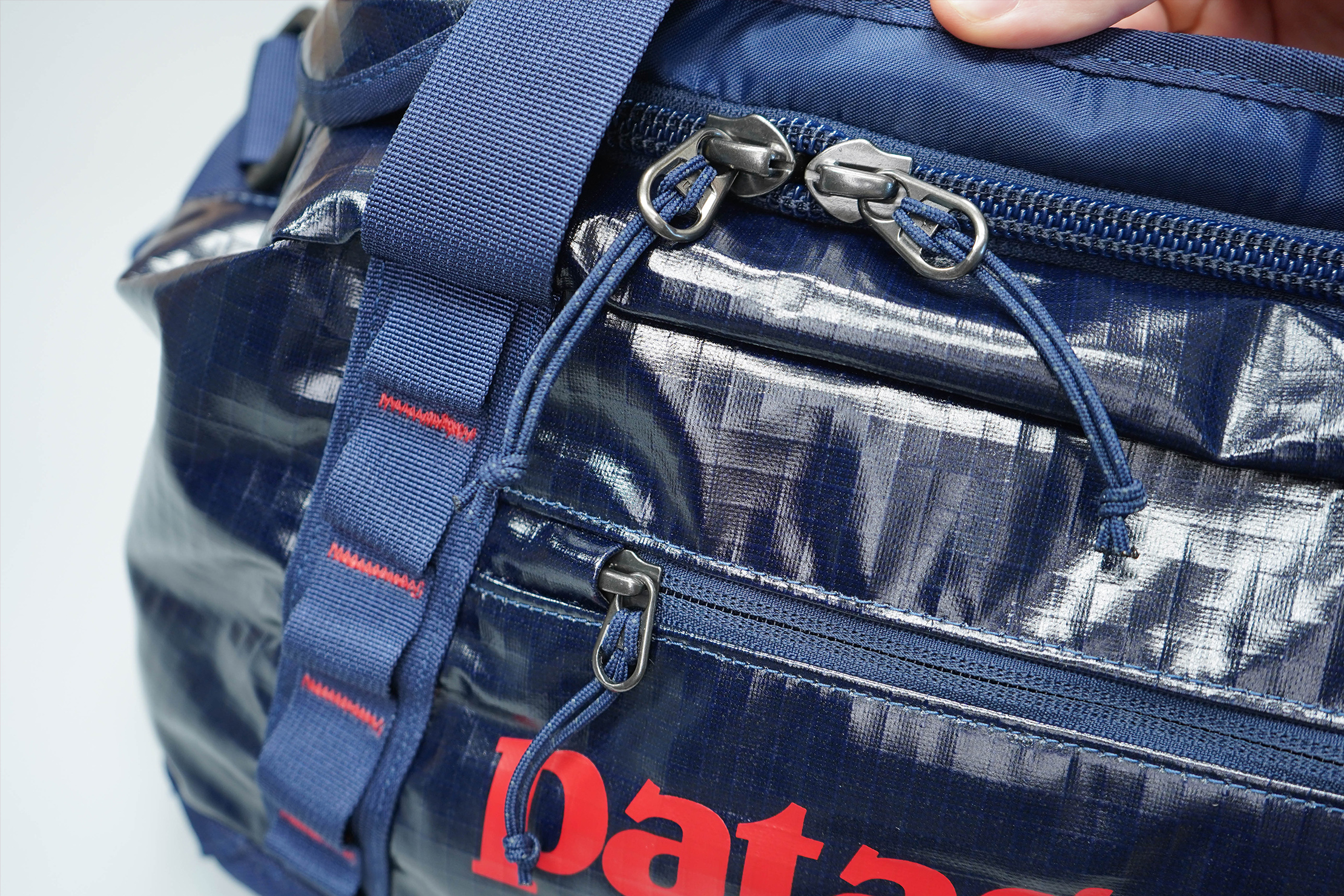 Wrapping up the rest of the materials, you've got durable YKK zippers on the main compartment and the side pockets, and Duraflex buckles used to attach the backpack straps to the bag.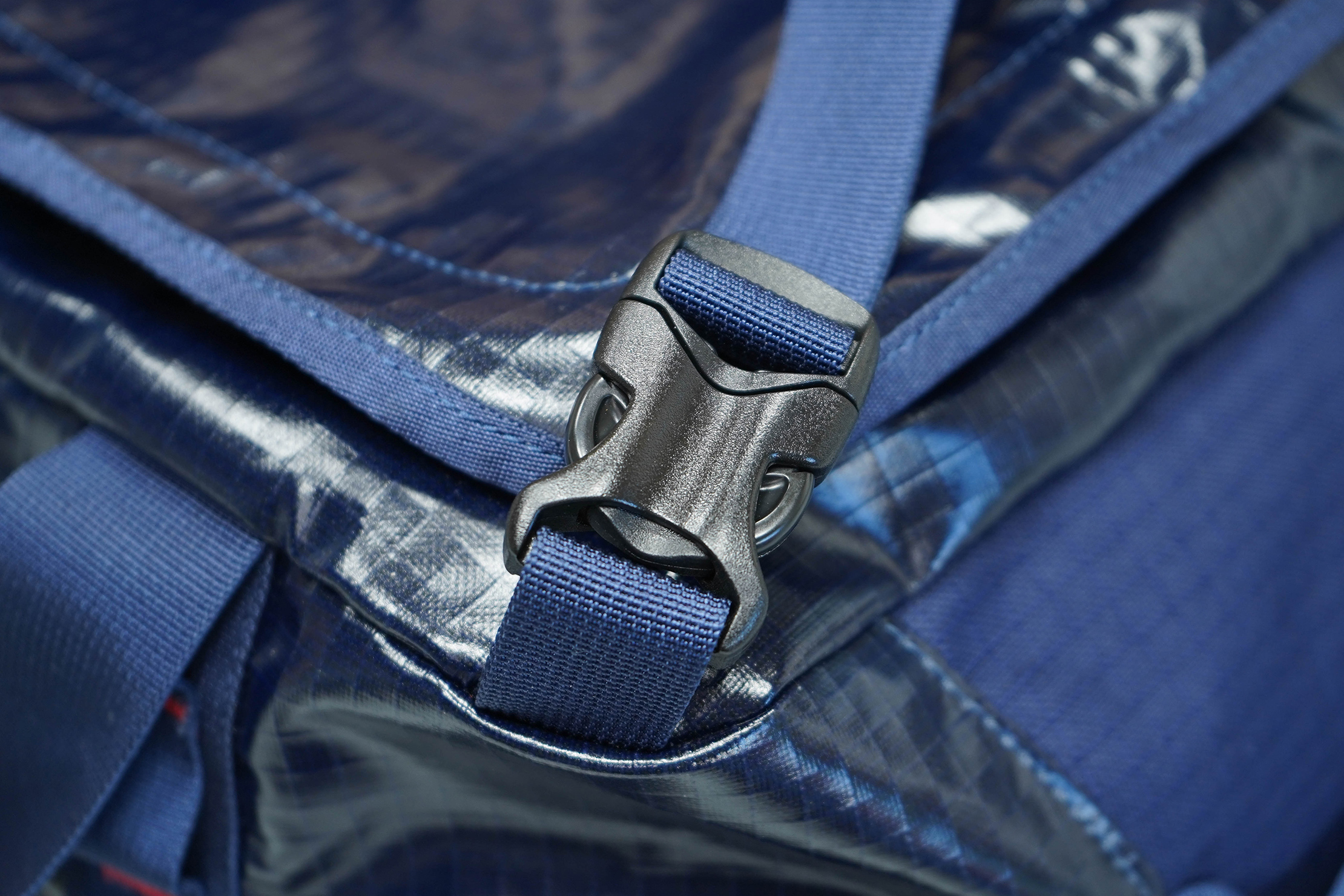 Exterior Components
Okay, so. Patagonia claims there are two different ways to carry the Black Hole Duffel Bag 40L—but we've found three.
First off, you can carry it by the buttonable handles on each side of the top of the bag. The carry handles are made from that nylon webbing we mentioned earlier, while the fastener that buttons them together is made from the same ripstop polyester found on the rest of the bag.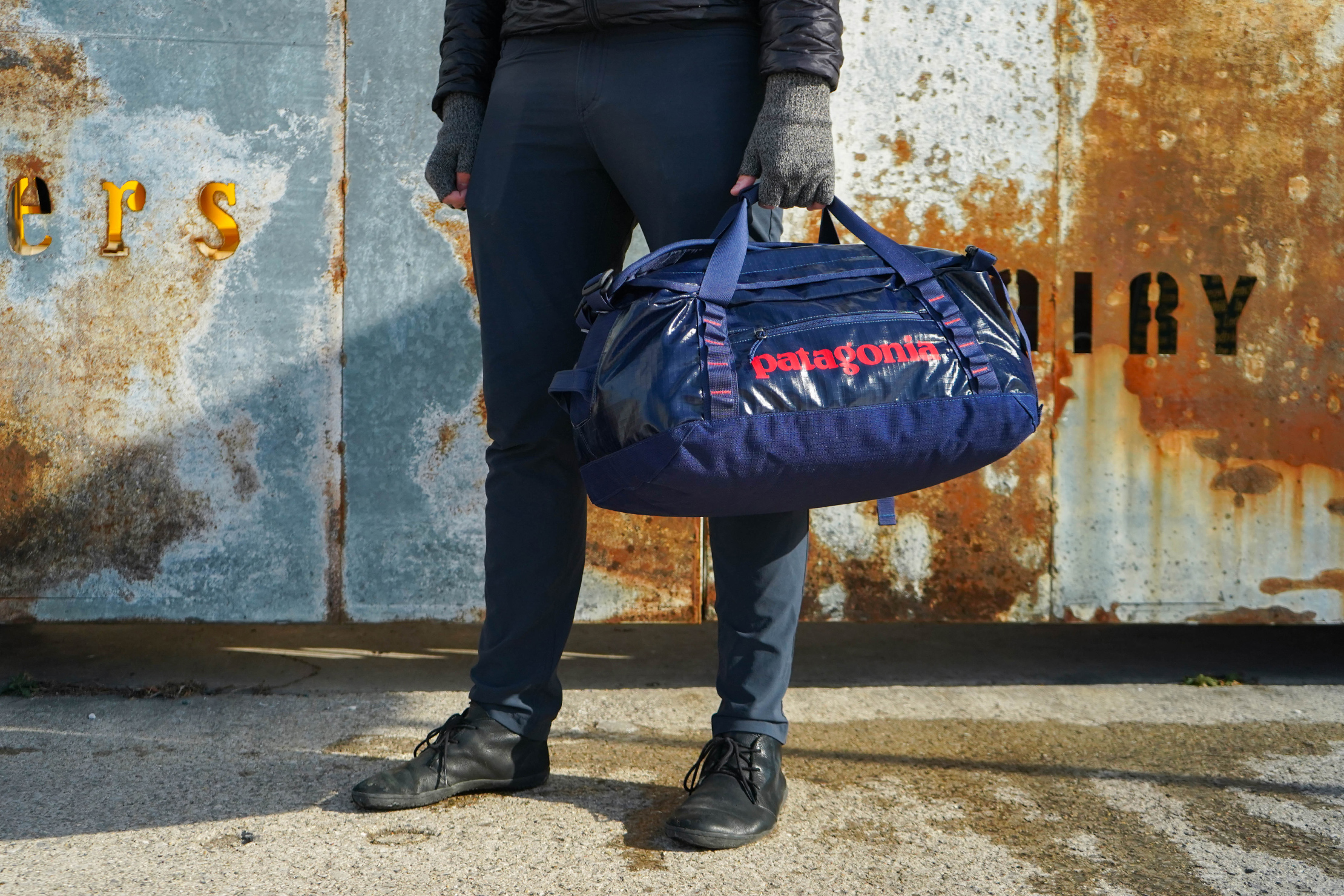 There is no padding on the fastener, but it does a good job of holding together and staying put. On some other duffles we've tested, we've found that the fasteners can be a little bit finicky and come unbuttoned when you fully pack out the bag with gear. Fortunately, this is not the case with the Patagonia Black Hole Duffel.

If you keep the handles buttoned together, you'll likely have to unzip them to access the main compartment of the bag—especially if you want to open it way up. Generally, we think that carrying it by the handles is the best way to carry this specific bag, so we found ourselves buttoning and unbuttoning the handles quite a bit.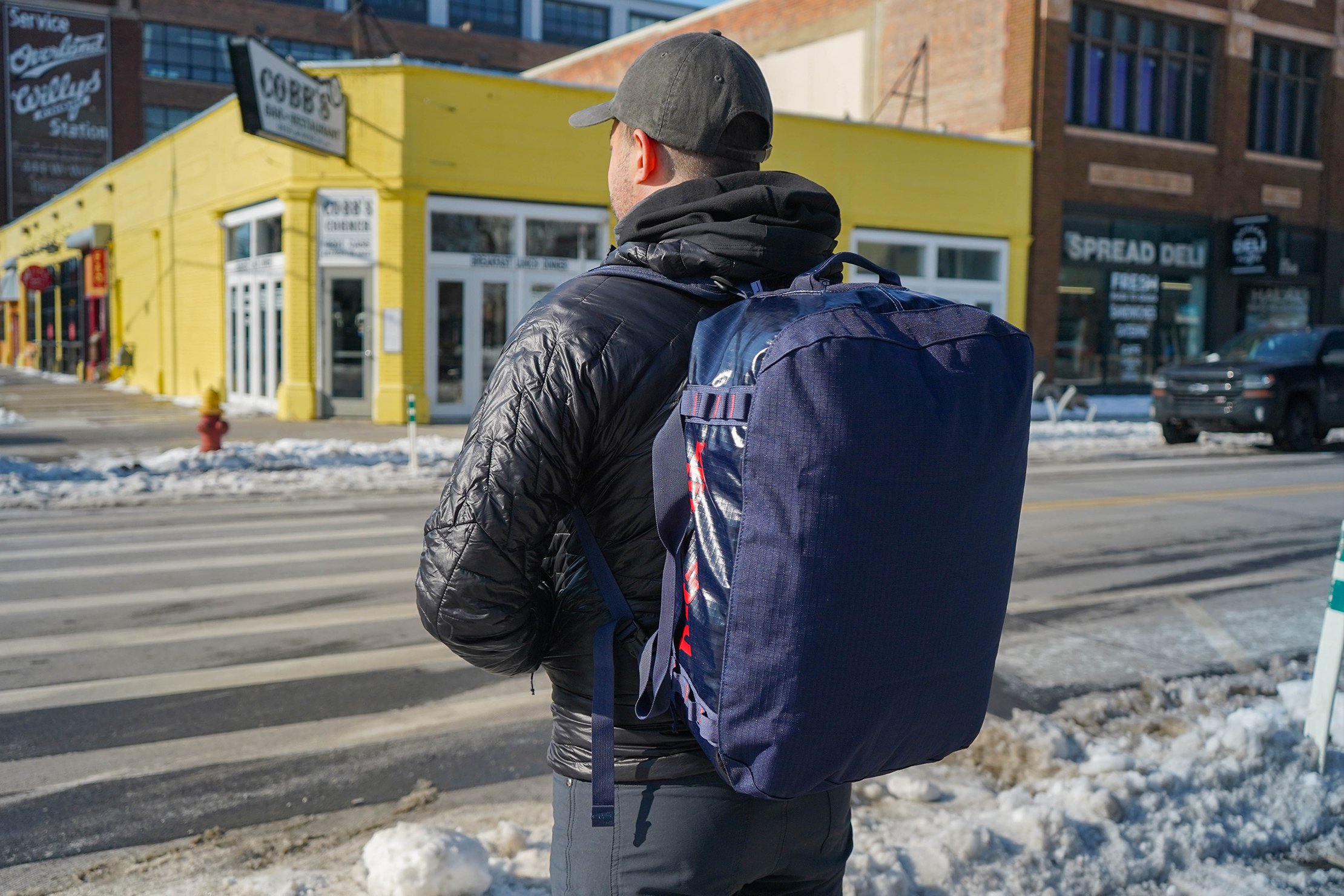 The Black Hole Duffel Bag 40L can also be carried in backpack mode, using the included backpack straps.
A quick note before we dive in: If you want to keep the backpack straps attached and still use the handles, we've found that you can sort of tuck the shoulder straps underneath the handles (laying it flat against the top of the bag). This works pretty well at keeping things tidy. Also, if you're checking this bag for a flight, you may want to remove the backpack straps so they don't get caught on things—the bag is definitely cleaner without them.
The shoulder straps attach and detach via D-rings at the top and the Duraflex buckles at the bottom of the bag. At first, this attachment system seemed a little bit precarious. In testing, however, we got used to it and more comfortable with the idea—plus, the D-rings are not very offensive when they're just hanging off the bag without the backpack straps.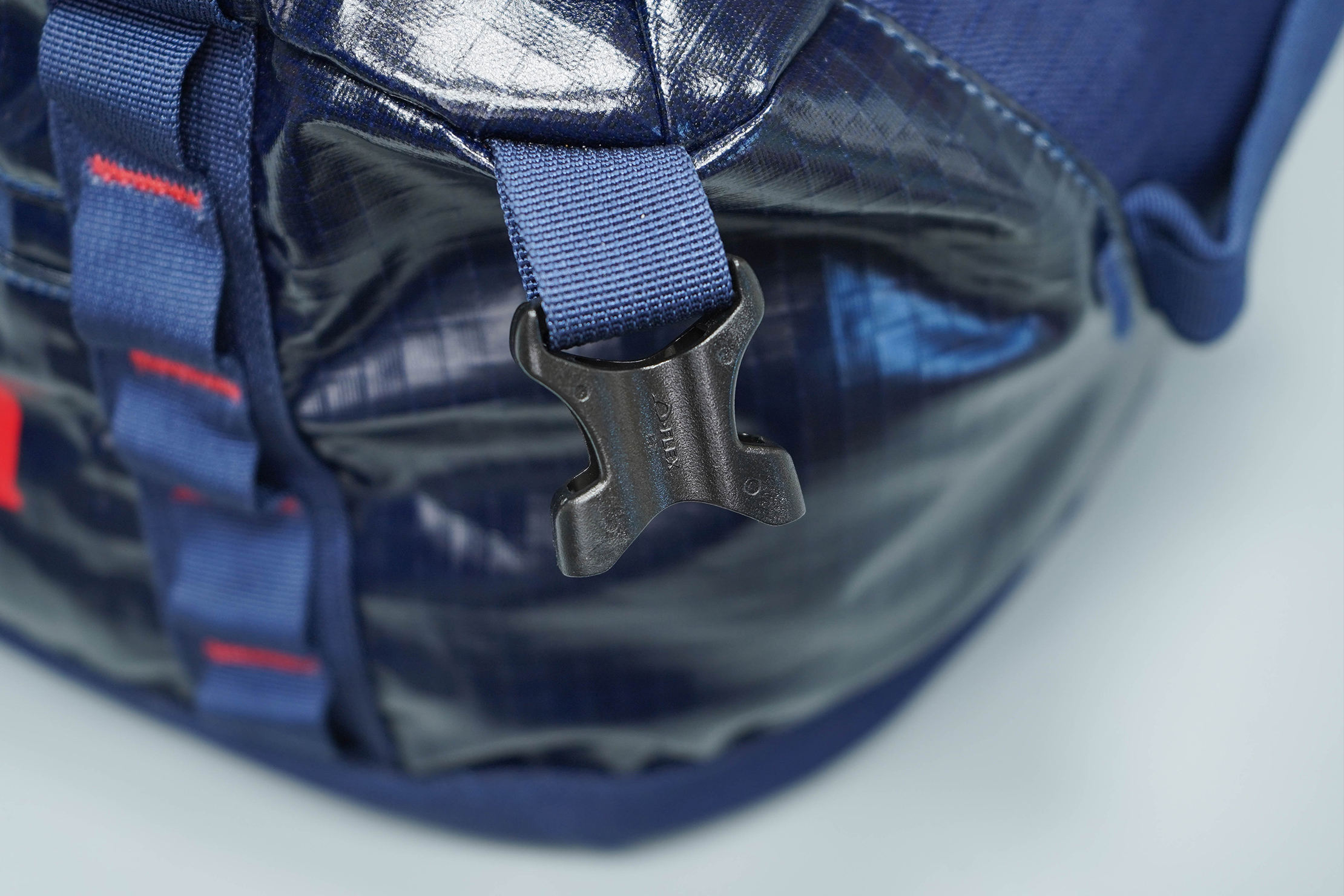 The buckles at the bottom of the Black Hole Duffel Bag 40L, on the other hand, stick out quite a bit. We like how other bags, like the Tom Bihn Aeronaut, have handled this. On the Aeronaut, the buckle kind of tucks into the fabric and gets it out of the way, giving it a much cleaner look.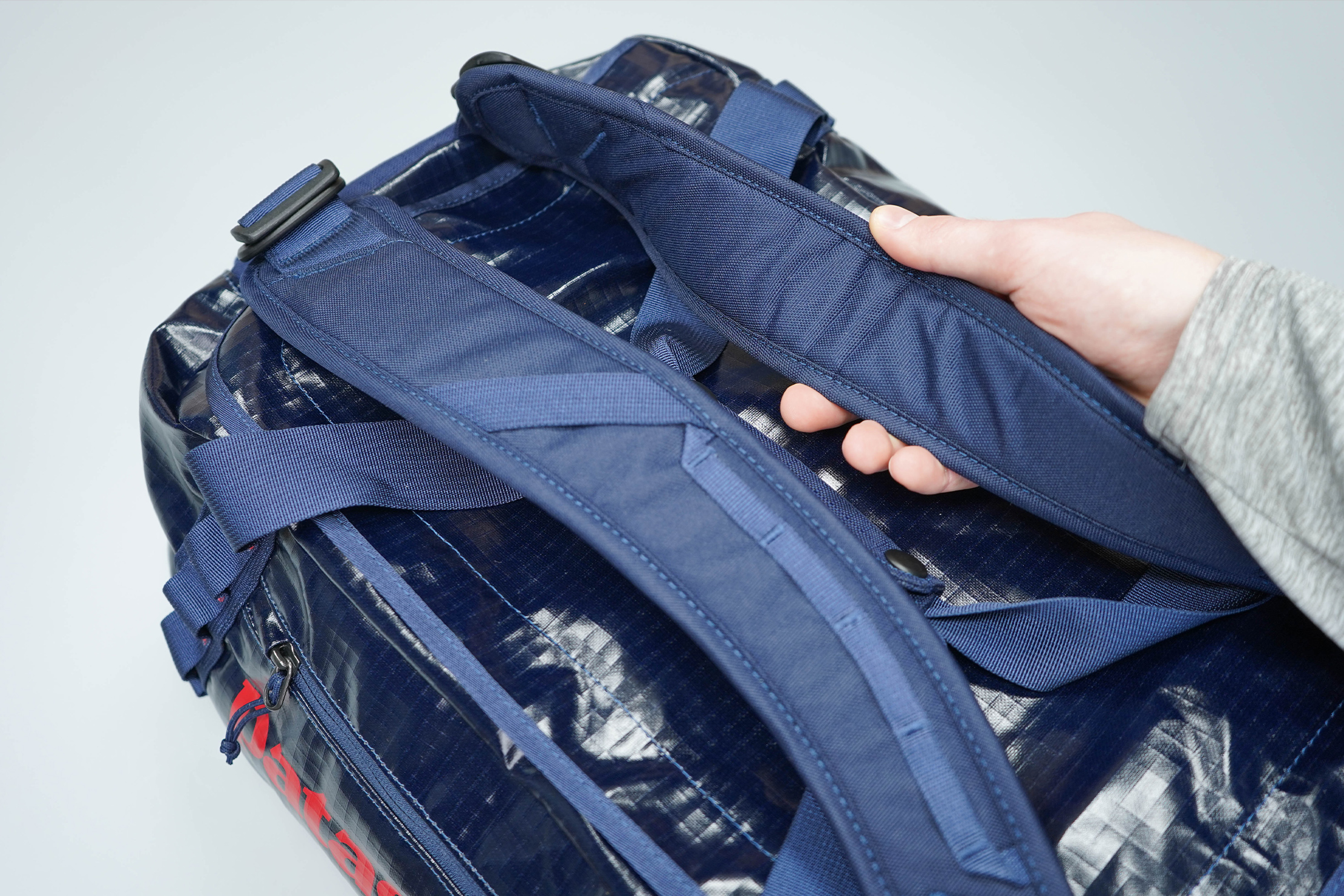 The straps themselves are a little bit on the thinner side—though we still think they're a great choice for this duffle bag. Although thin, the foam is dense which helps promote a comfortable carry.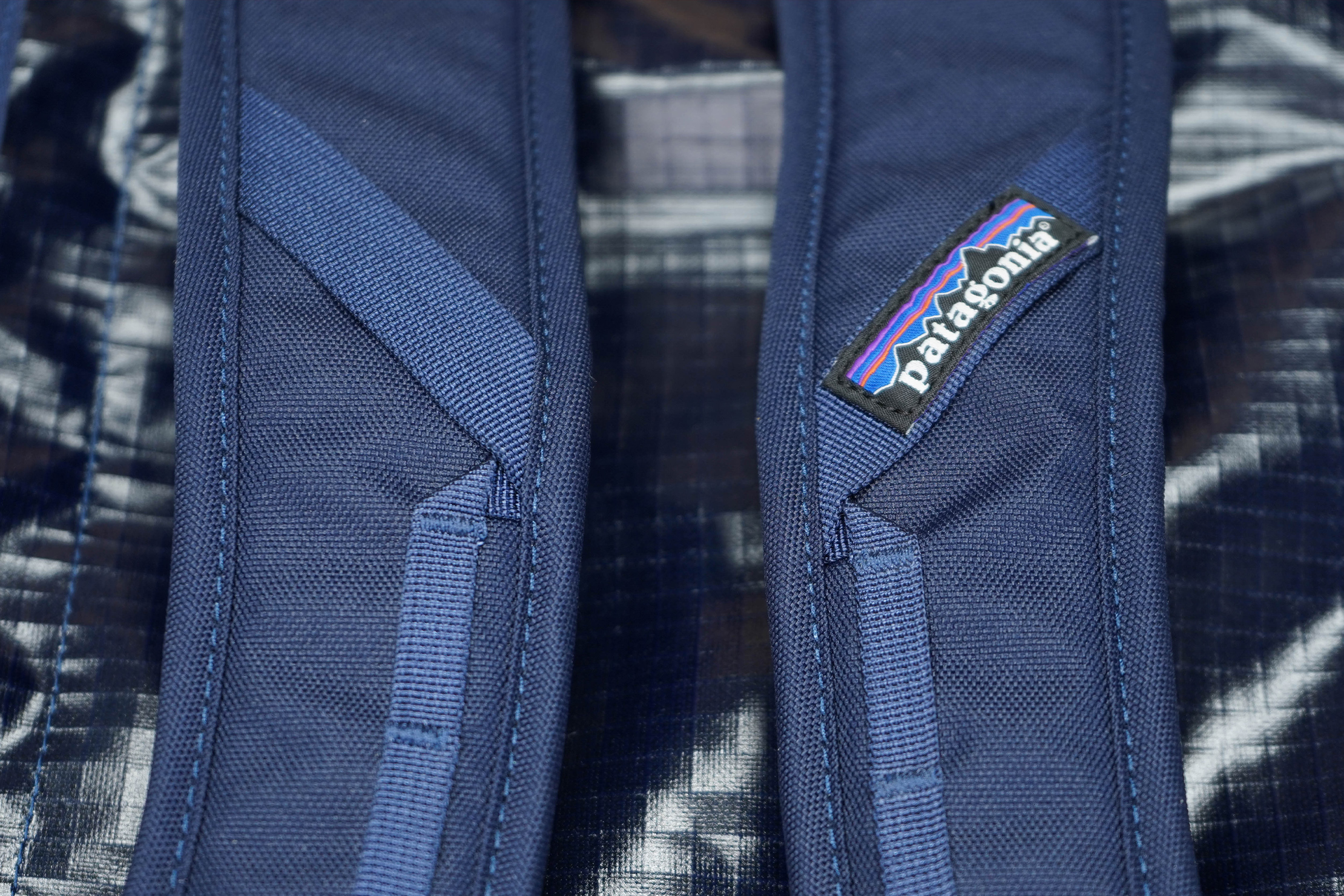 Curving down the front of the strap, there's a daisy chain you can use to attach a sternum strap if you'd like or any other accessories you want close access to at the front of your body.
The strap adjusters at the bottom of the shoulder straps seem kind of backward. Instead of pulling them down and towards your back like you'd typically adjust a backpack, these Patagonia straps need to be pulled up/out towards your chest. This style of adjustment is pretty similar to the Patagonia Black Hole MLC, which we've reviewed previously.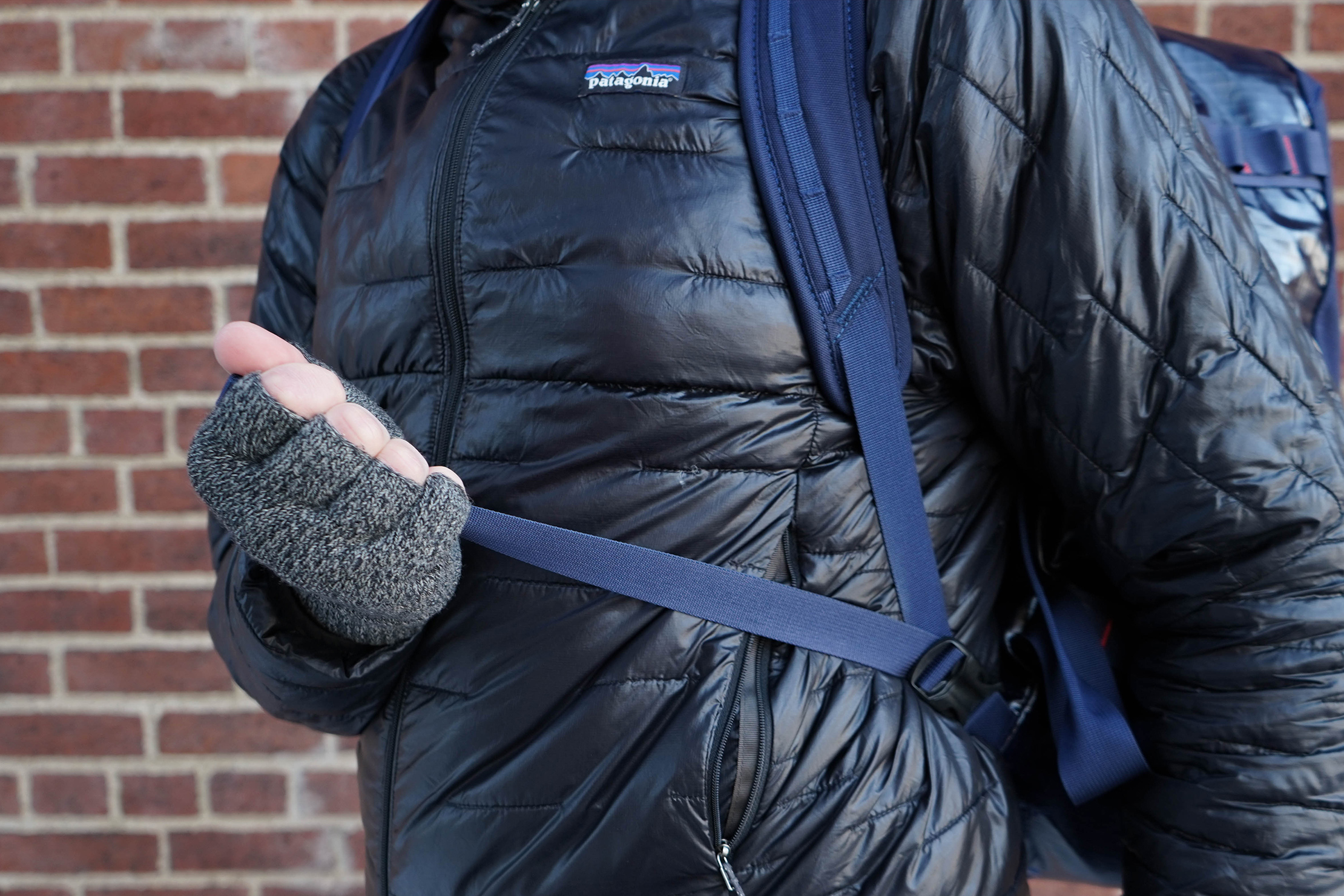 Pulling this way makes the straps feel a little more in the way than what we've seen with other bags—especially since there are no elastic keepers to help manage that excess strap. We understand that this is a byproduct of how the bag is designed and how these straps come off, but we've had a better experience with other duffle backpack hybrids in terms of the straps and how they are managed at the bottom.
One last note about backpack mode: When you put your arms through the shoulder straps to carry backpack-style, it's very easy to put your hand/arm through the carry handles. We've gotten caught in the handles pretty much every time we've worn the bag backpack-style. It gets pretty old, pretty quick.
We've tried buttoning these handles behind our back, but with a heavy load, it kind of sticks into your back—yeah, not very comfortable. We've also experimented with attaching a carabiner to the side PALS-like webbing. It works but it's not the cleanest way to deal with the handles—we would've liked Patagonia to figure out a fix for this.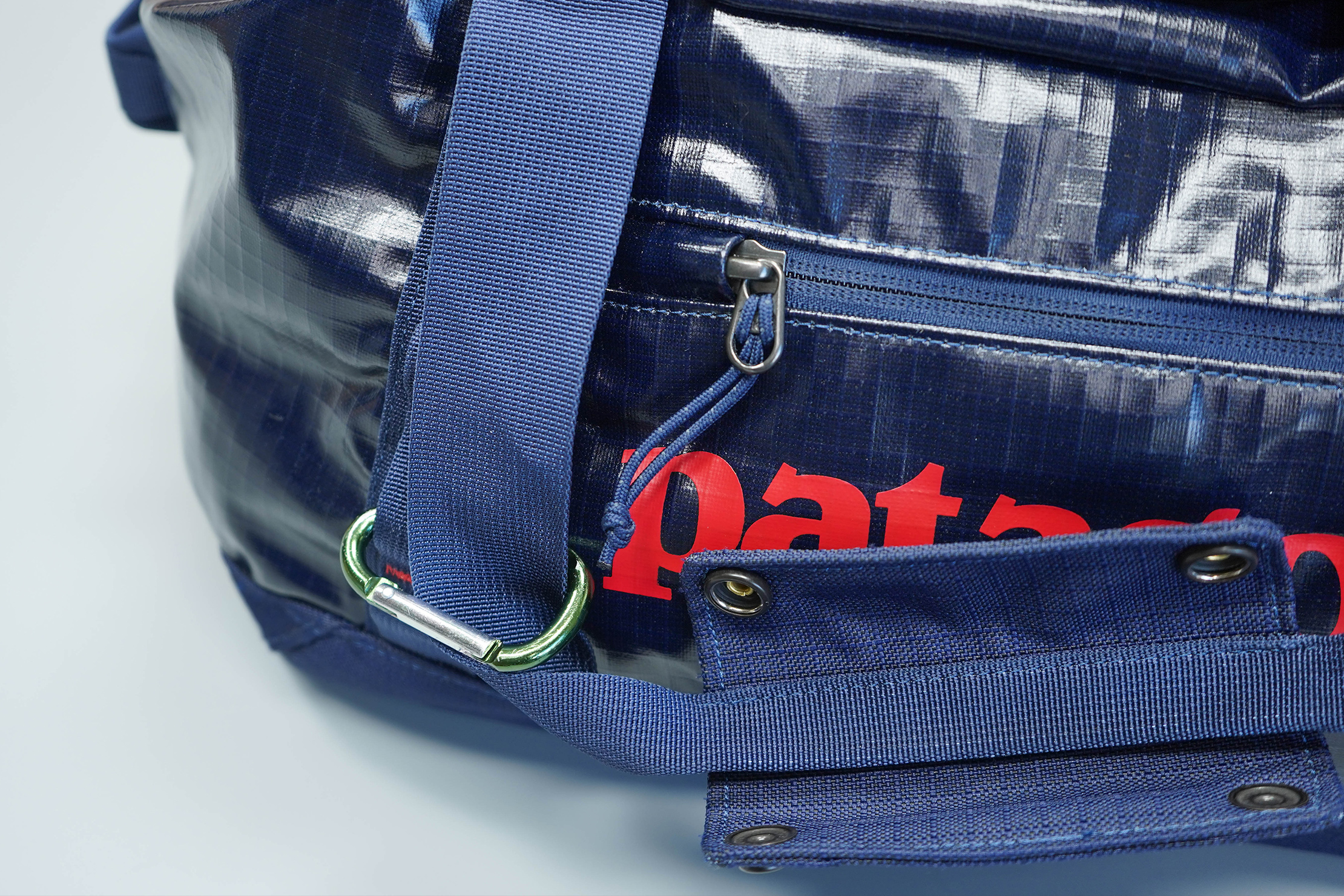 Overall, this bag isn't super comfortable to carry in backpack mode—but most duffle backpack hybrids are not, anyway. And it's definitely less comfortable than carrying a dedicated backpack. That said, it sort of depends on how you pack out this thing (don't worry, we'll cover that later).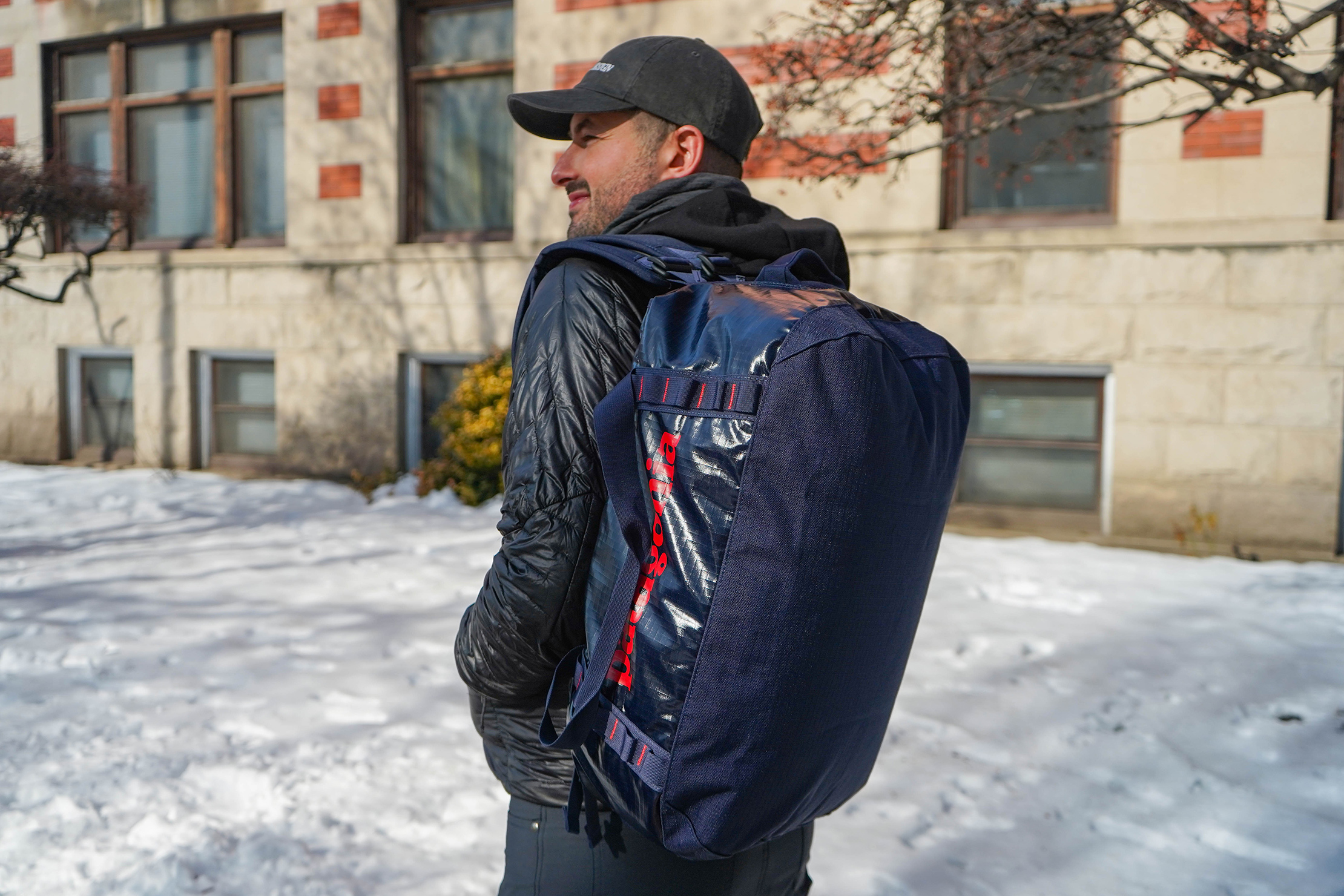 Next up, the third way we've found to carry the Patagonia Black Hole Duffel Bag 40L is on one shoulder. You simply clump up the two backpack straps (or remove one if you're feeling crazy) and sling it over one shoulder. It's kind of a mix between traditional duffle-style shoulder carry and too-cool-for-school backpack carry. Now, this is not the most comfortable way to carry this duffle, but it gets closer to that crossbody shoulder strap carry you'll find on most Classic Duffles.
Wrapping up the rest of the exterior components on this duffle bag, you have a hauler handle on each side of the bag, which is great for grabbing onto and carting the bag around—especially when it's open—or pulling out of an overhead bin. These handles are simple, folded nylon webbing, and they're decently comfortable to grab despite not being super-padded (similar to the carry handles at the top). In the larger sizes, some foam padding would be nice, but it's not a huge deal.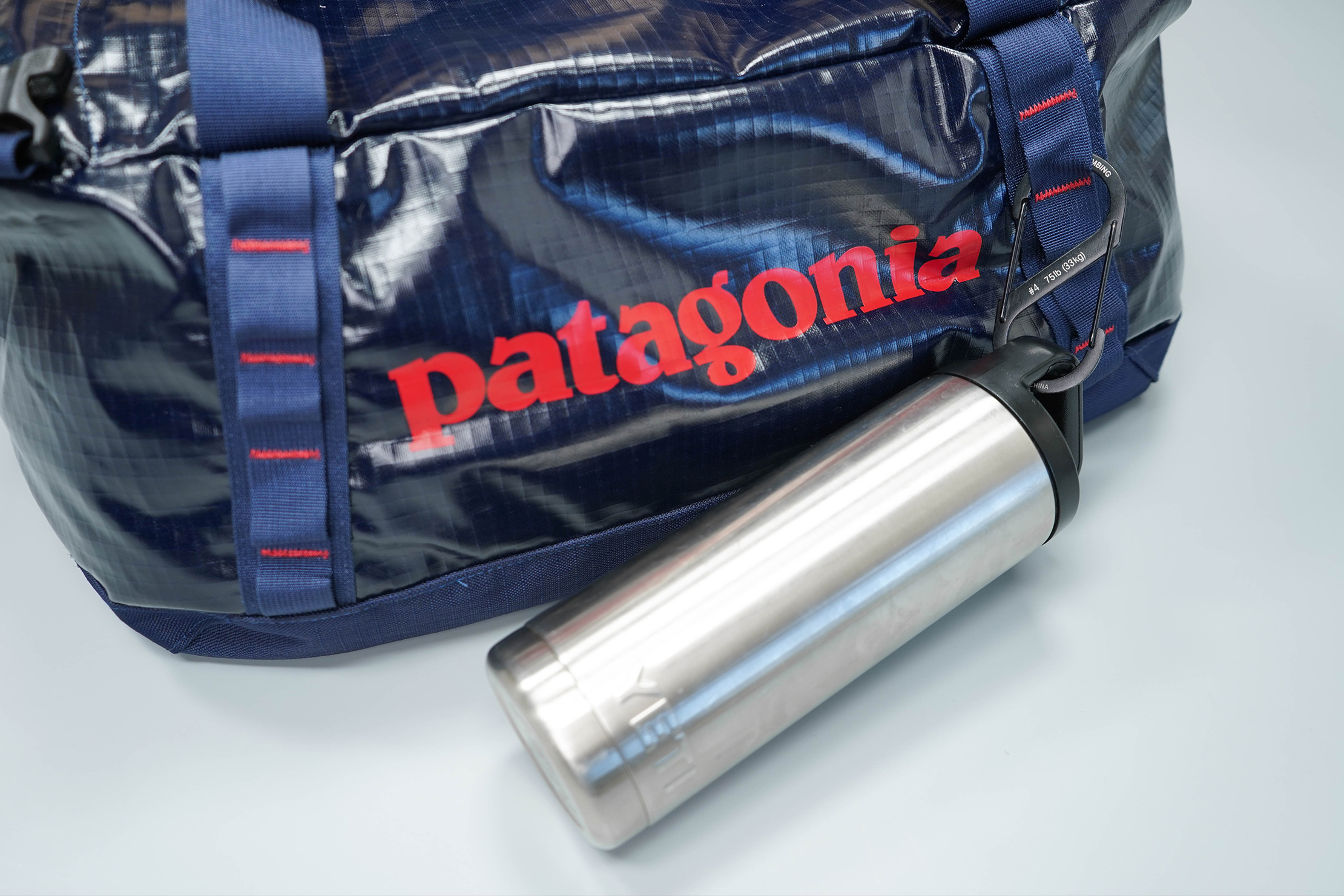 Finally, you'll find two rows of PALS-like webbing on each side of the Black Hole Duffel Bag 40L. This is where we've been attaching those carry handles to get them out of the way in backpack mode. You can also attach any other additional accessories you'd like here, too—maybe a MOLLE accessory, a water bottle via carabiner, pretty much anything with a clip. The sky's the limit.
Inside the Pack
Let's start with the front pocket, shall we? It acts as your quick-grab pocket and opens right up to stow smaller items or empty your pockets into when going through airport security. The thin paracord pull on the zipper, paired with the sturdy YKK #8 zipper, feels nice in the hand and it's easy to operate. Plus, there's a zipper garage that will help deter water from entering this pocket when it's fully zipped. This pocket is accessible from the exterior and the interior of the bag, which is a handy feature.
You'll also find a plastic key clip inside—it's nothing too special, but it's a good place to stash your keys.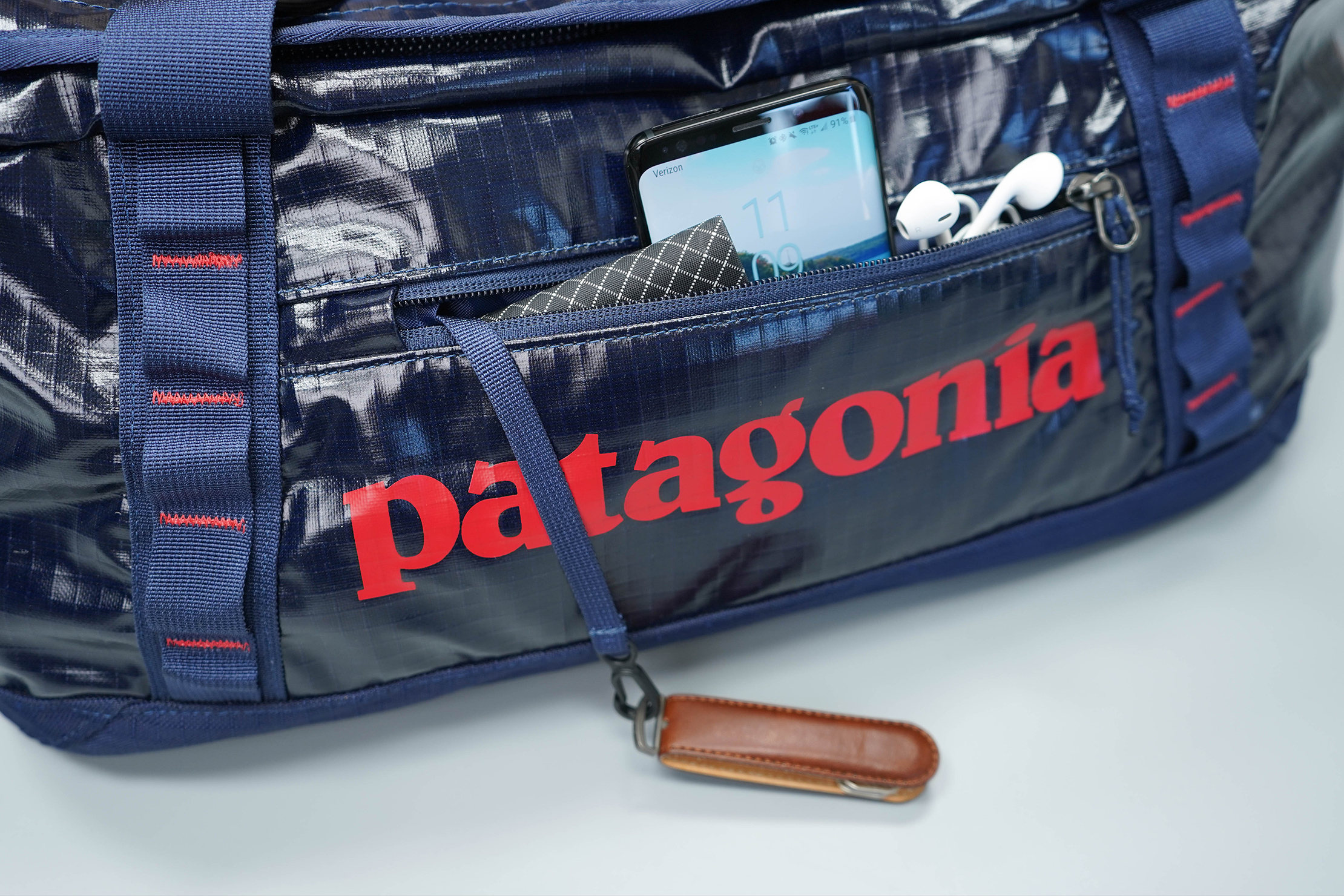 This pocket also acts as a stuff-sack for you to pack the Black Hole Duffel into. When we received the bag, it came perfectly compressed inside of this pocket. Unfortunately, though, we haven't been able to get it back (neatly, anyway) ever since. And we had a bit of an issue figuring out which side of the pocket to pack it into/out of.
Pro Tip: Look for the double zipper (the one that has a pull on both sides). That's how you'll know the right opening to pack it into. It can get a bit confusing if you're not paying close attention (it did for us, anyway).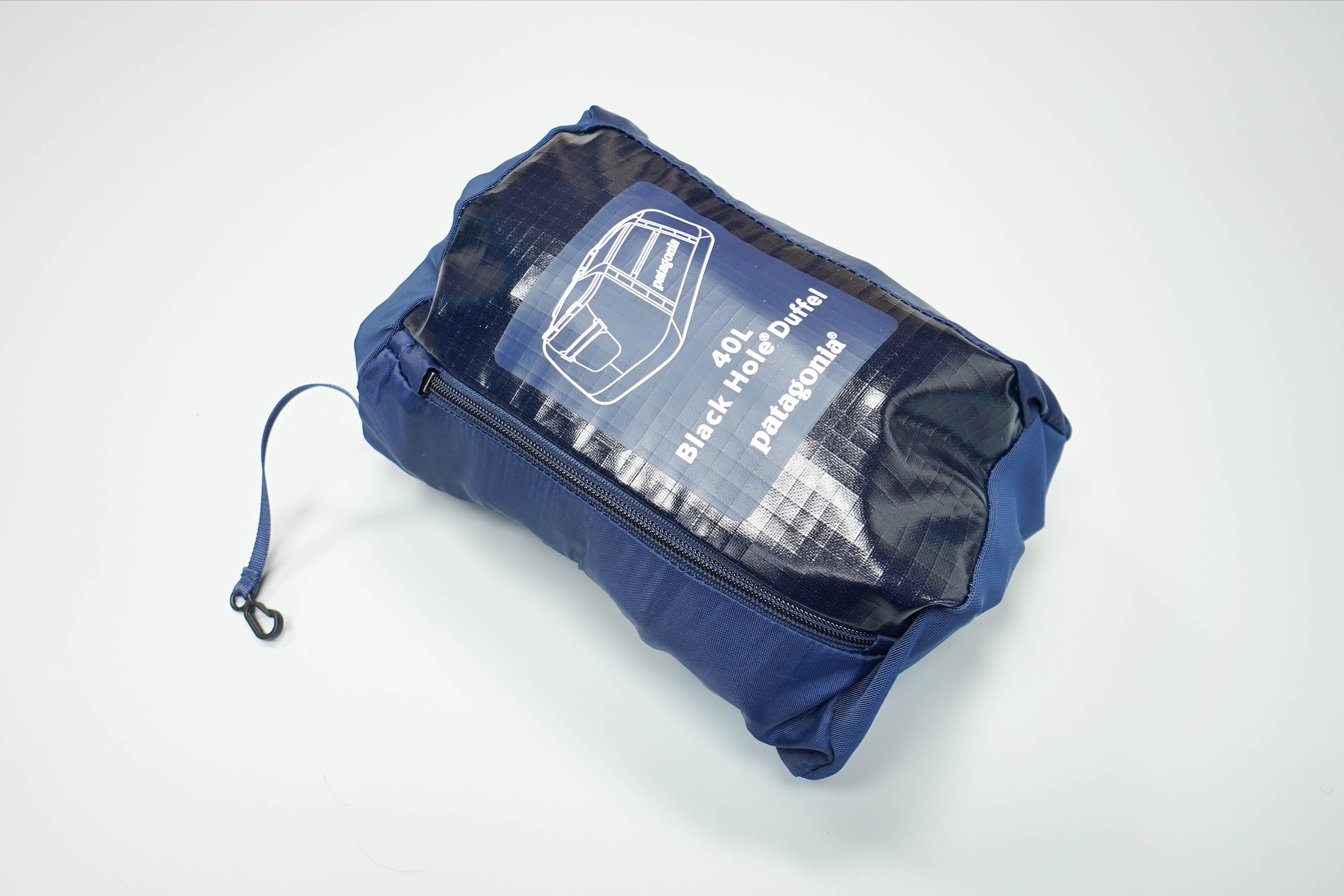 Now, we wouldn't consider this bag packable. The fabric is a bit rigid and it can be hard to fit it all in that zippered pocket. We're also not quite sure why you'd want to pack it—it's a pretty big package. If you're packing it into another bag, it'd have to be a massive duffle (like 100L?). If you're doing any type of one bag travel, that seems like overkill. Plus, you can find packable duffle bags (like the Osprey Ultralight Stuff Duffel) that are designed specifically to compress small and pack into other bags, which would be a much better option.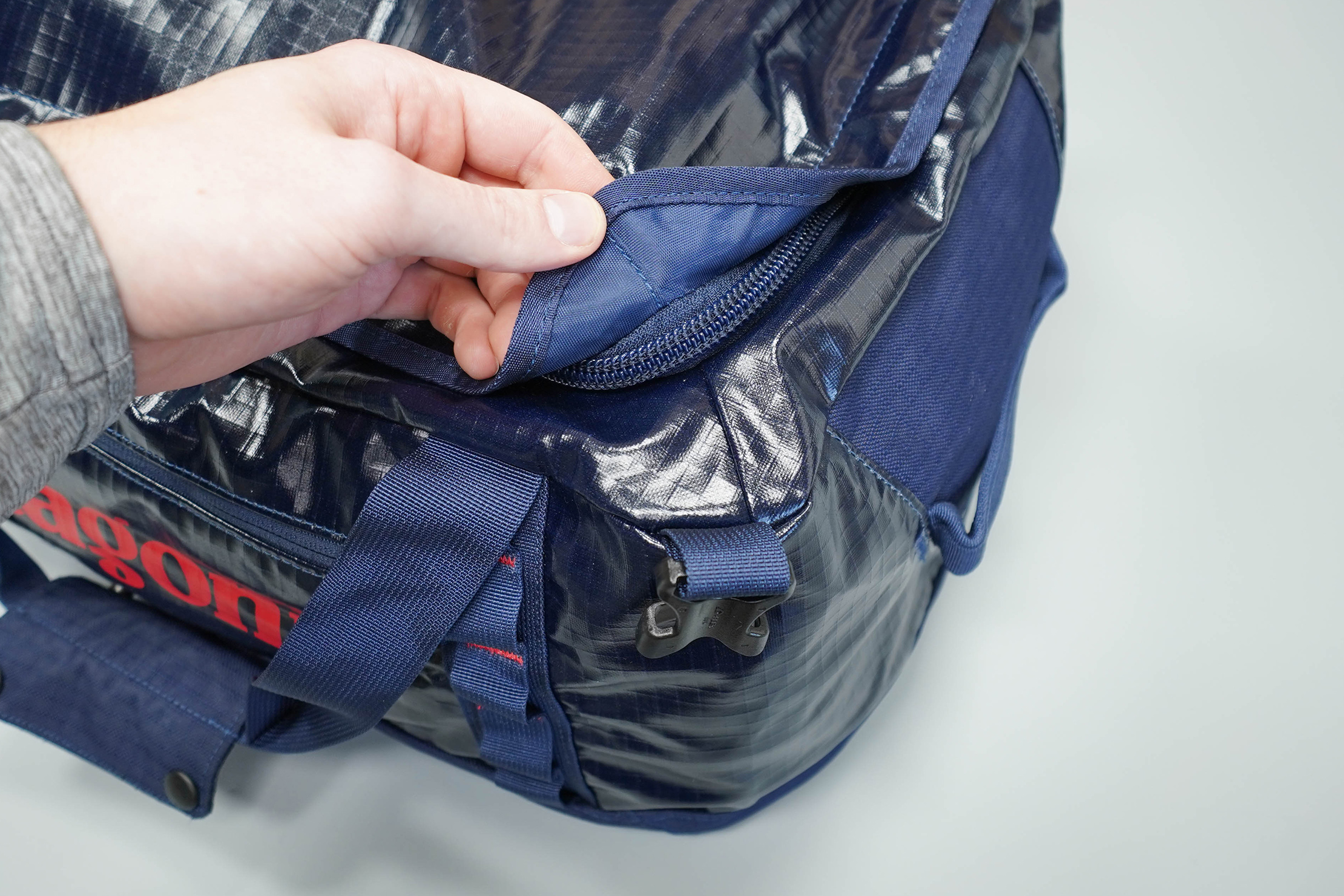 The main compartment of the bag opens up horseshoe-style with a #10 YKK zipper. The zipper is protected by a TPU-coated storm flap for additional weather resistance.
When you open up this bag, you start to get the idea of why it's called the Black Hole Duffel. There's a ton of room on the interior to jam in packing cubes, compression sacks, loose clothing, and other gear you want to keep inside. We wish the interior liner on the Classic Navy colorway offered a little more pop so you could see darker colored gear and what's going on inside of the bag more easily.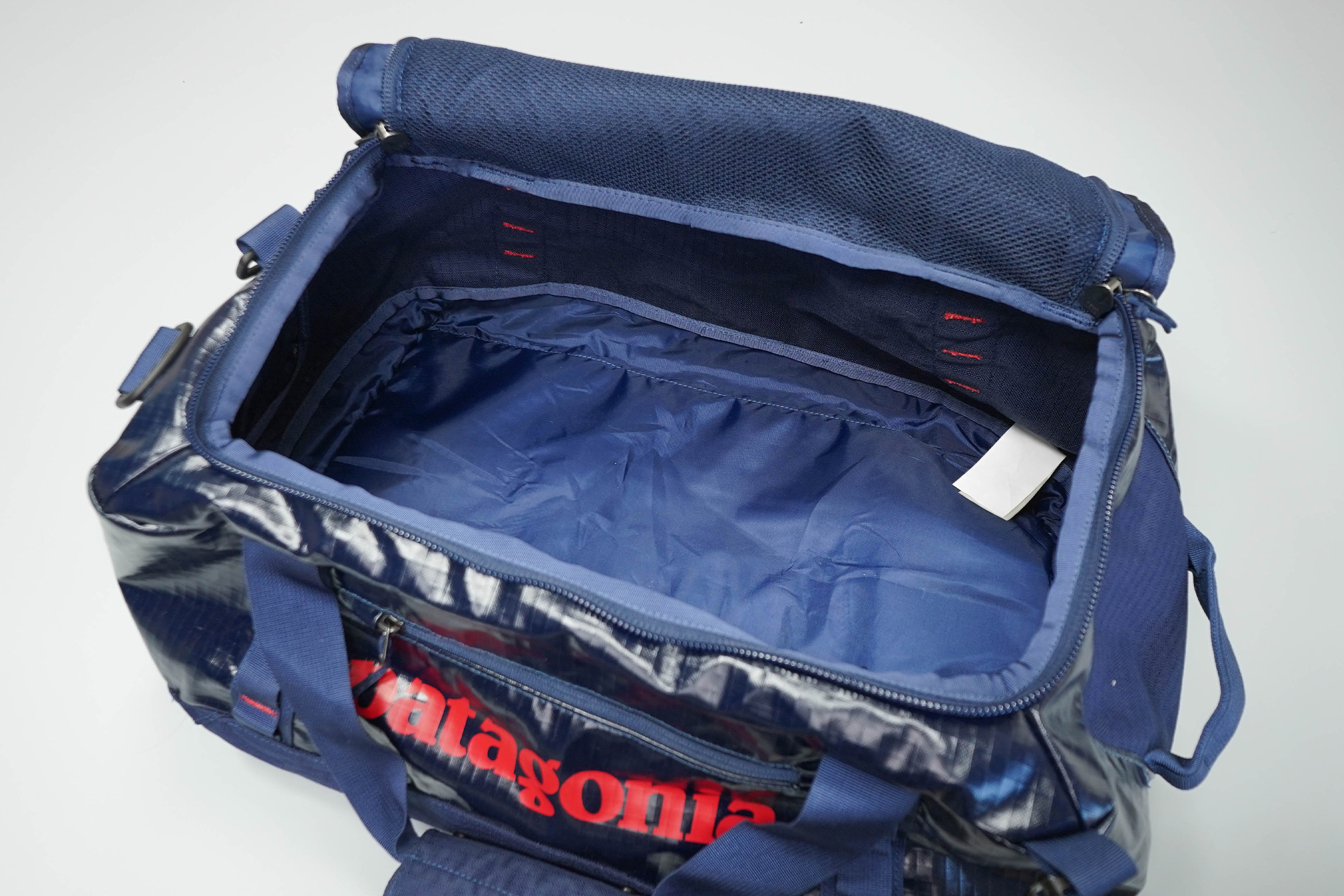 The rectangular shape on this duffle allows you to maximize the space inside—plus, it allows for easy stacking if you have more than one. The padded bottom of the bag gives it a little bit of extra protection, which makes total sense considering this is typically how you're going to set the bag down. (And let's face it, you're probably not going to do so gently.)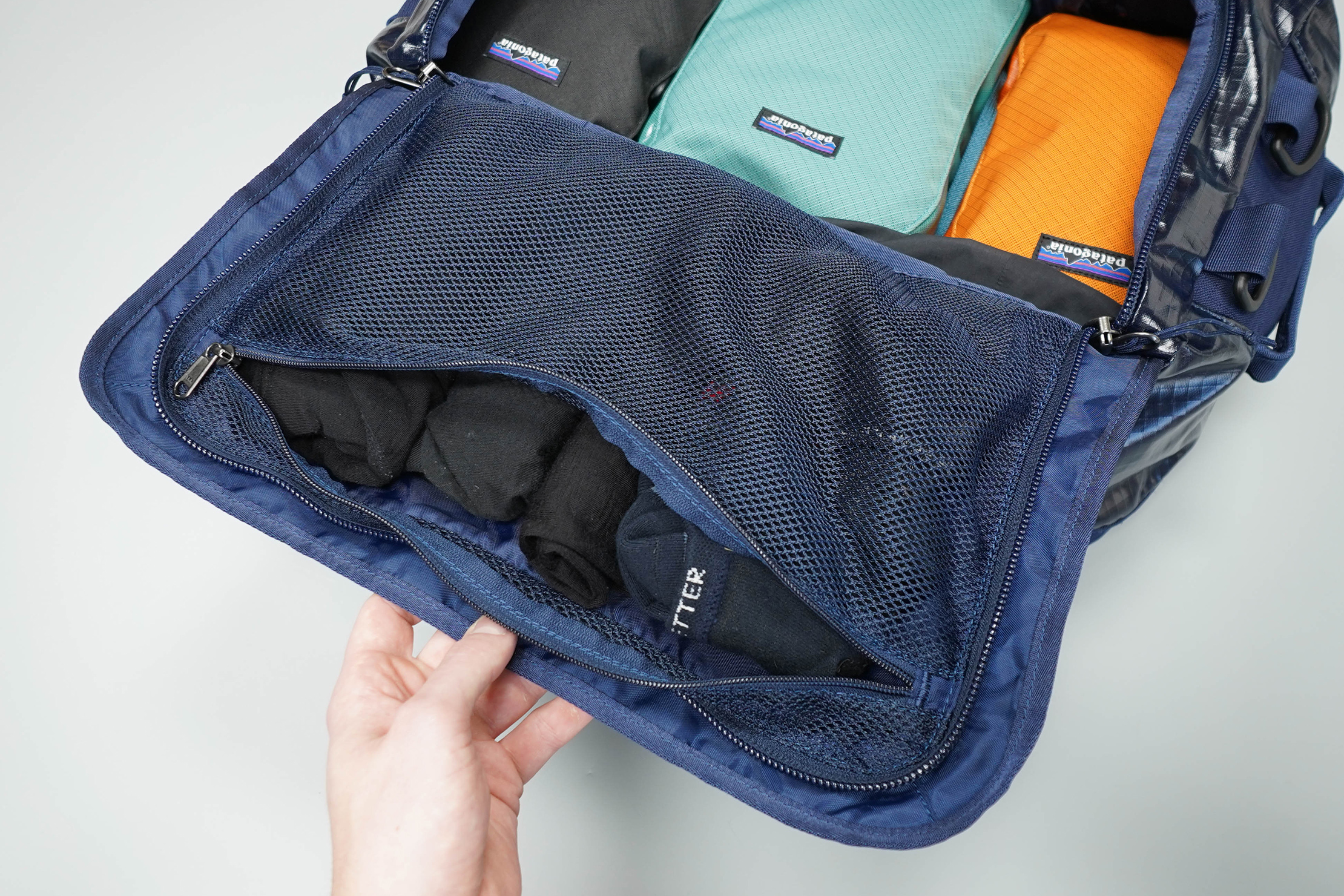 Meanwhile, the top flap of the Patagonia Black Hole Duffel Bag 40L offers an additional zippered mesh compartment that's ideal for things like socks and underwear, or anything softer and flatter. Remember: whatever you put inside of this mesh pocket is going to be directly against your back if you're wearing this bag in backpack mode. It's definitely something you'll want to keep in mind.
While previous and larger versions of the Black Hole bags offer two separate mesh pockets on this top flap, the 40L version we've been testing at the time of this review, has one big mesh pocket.
Durability & Testing
Two members of the Pack Hacker team have been testing the Patagonia Black Hole Duffel Bag 40L for a combined three weeks across Detroit, Michigan and San Francisco, California.
On the road, it's a great travel companion—especially if packed out correctly. During our testing, we've found the best carry experience, for both duffle and backpack modes, when you completely fill it up out with clothes and/or packing cubes. Plus, it's a popular bag, so we saw plenty of other travelers using these in the wild. It feels like we're part of a club.

We've also taken this duffle to the grocery store, filling it up with all our…groceries. It's safe to say this is not really the best bag for that job. There's very little structure to the bag (even though the fabric is more rigid than some other duffles we've tested) so carrying it when it's full of apples, oranges, cartons of milk, etc. doesn't work so well. It sort of creases and flops all over the place. You probably won't use this as a grocery bag, but hey—we like to be thorough and test bags in different contexts.
Despite taking it on two plane rides, we're happy to report that we haven't noticed any durability issues. We usually get a lot of scratches on TPU and tarpaulin-like material like this, however, we haven't run into that on the Black Hole Duffel so far.
Usage Timeline
Initial Usage
Condition: Excellent
Made of durable and water-resistant materials
Shoulder straps are completely detachable and are very easy to reattach
Compresses down into its own side pocket, but the stiff material makes it difficult to do so
2 Weeks of Use
Condition: Excellent
The backpack shoulder straps are more comfortable than we thought—although the duffle carry handles get in the way. We've gotten caught in them quite a few times. Also, happy to report that there are no noticeable scratches on the TPU material.
Access the Pro Community Discussion
Get your questions about the Patagonia Black Hole Duffel Bag 40L answered from our team and the Pro Community right here on the page. Plus, join discussions with other members about gear, guides, and more.
Other Bags & Luggage Reviews