Patagonia Black Hole MLC Review
The Patagonia Black Hole MLC 45L is a classic travel bag that takes your carry-on capacity to the max, but it's not the most comfortable option out there.
Our Verdict
Unlock the Pro Summary
Save time. Get access to brief summaries of our reviews so you can browse and make decisions more efficiently.
Pros
Comfortable, ergonomic straps
Nice organization options in front pocket
Max Volume Carry On for a lot of airlines
Cons
Very little bag structure
TPU material scuffs and scratches easily, affecting weather resistance
Not comfortable in backpack, messenger mode, or briefcase mode
Recent Pack Hacker Video
Technical Details
Capacity

45l

Weight (lb)

3.32 lb (1.5 kg)

Denier

450D

Dimensions

22.75 in x 18 in x 6.75 in (57.8 x 45.7 x 17.1 cm)

Notable Materials

Polyester, Ripstop, Thermoplastic Polyurethane (TPU), DWR Coating, Duraflex Hardware, YKK Zippers

Manufacturing Country

Vietnam

Laptop Compartment Size

17"

Warranty Information
Full Review
They say you can't beat an original. Or can you? The Patagonia Black Hole MLC 45 Liter was one of the first bags on the market to encourage one-bag carry-on travel. Now that the concept has become an entire movement, does this classic live up to the legend and outshine its modern successors? You guessed it—you're about to find out.


First things first, the MLC in this pack's name stands for Maximum Legal Carry-On. It's designed to be one of the largest bags that you can take with you on a flight—a concept that works a bit better on U.S. airlines that allow for larger bags and not quite as well in Europe and Asia.
Since it's made by outdoor gear and clothing manufacturer Patagonia, the Black Hole MLC 45 Liter—part of an entire Black Hole bag series—comes with plenty of brand recognition. We were excited to see how it would stack up compared to other one-bag carry-ons, so let's get started.


Materials & Aesthetic
The primary material used on this bag is a 100% post-consumer recycled ripstop polyester with TPU laminate and DWR coating for added weather resistance. We like that Patagonia has moved to 100% recycled material, and the TPU coating gives it a bit of a rubbery and tarp-like feel. It feels like it would repel water quite well.


At the time of this review, the Black Hole MLC 45 Liter carry-on is available at on Patagonia's website in three different colors: Black, Hammonds Gold, and Sage Khaki. Although we're testing the Hex Grey, this color is no longer on their site—but keep an eye out, since Patagonia is always playing with different colors and styles.
While we're on the topic of colorways, the other Black Hole products in the line—like the packing cubes or the smaller duffel—come in a variety of colors and they're pretty much always changing, so we suspect Patagonia will roll this out in more colors as time goes on.
From a branding perspective, there's really no mistaking that you're wearing a Patagonia bag when you have this thing on. There's a pretty large Patagonia logo that runs vertically down the front of the pack and another standard logo on the wearer's left shoulder strap.


While we like the size and placement of the shoulder strap logo, the front logo is a bit large and sort of "screams" at you. In our testing, we didn't receive many positive compliments on the look.


Wrapping up the materials on the Black Hole MLC 45 Liter, there's some Duraflex hardware on the sternum strap and where the straps attach to the bag, as well as the strap adjusters.
There are also some Japanese YKK zippers throughout—including a huge #10 YKK zipper for the main closure of the bag, which we really like. If there were a beefy zipper fan club, we'd be card-carrying members. Maybe we should start one… #beefyzipperfanclub, anyone?


Exterior Components
The harness system on the Black Hole MLC 45 Liter features some pretty comfortable straps, and they have a bit of a curve to help with ergonomics and fit your body better.


Below the two nylon loops, the sternum strap has a thin MOLLE-like webbing where it attaches with plastic hardware. Typically, we like to have sternum straps that attach more permanently with a buckle or something of that nature, but these plastic clips have done pretty well so far in testing.


One funky thing we've noticed on the Black Hole MLC 45L is that the strap adjusters at the bottom are reversed. Rather than pulling the straps down and towards your back to tighten them up, you'll need to pull them up towards your chest instead. Although it's different than what we're used to, it's not a problem.


That being said, the one downside of this reverse system is that if you use the elastic keepers to manage some of the excess straps, the rest of the strap may flap around near your chest and get in the way. Also, the entire bottom, including the clips on the side, has a tendency to stick into your back and hips a bit—especially when the bag isn't fully loaded, which can be annoying.
Since the Black Hole MLC 45 can be used in duffel or messenger bag mode, you should know that the straps are easy to unclip and stow away quickly.


We've found this bag to be pretty blocky in messenger mode, though, mainly due to its large size. The other challenge is that it'll look and feel like a large rectangle on your side when it's full, and when it's empty, it'll contour to your body and look just as weird as it carries. Overall, not the best carrying experience—but your mileage may vary.


Keep in mind that the harness system has no frame sheet on the back to give the bag additional structure. Unless you're carrying a laptop inside, you may miss that extra structure. Although we totally understand why duffel-backpack hybrids are designed this way, we'd love to have seen just a bit of structure added in this case.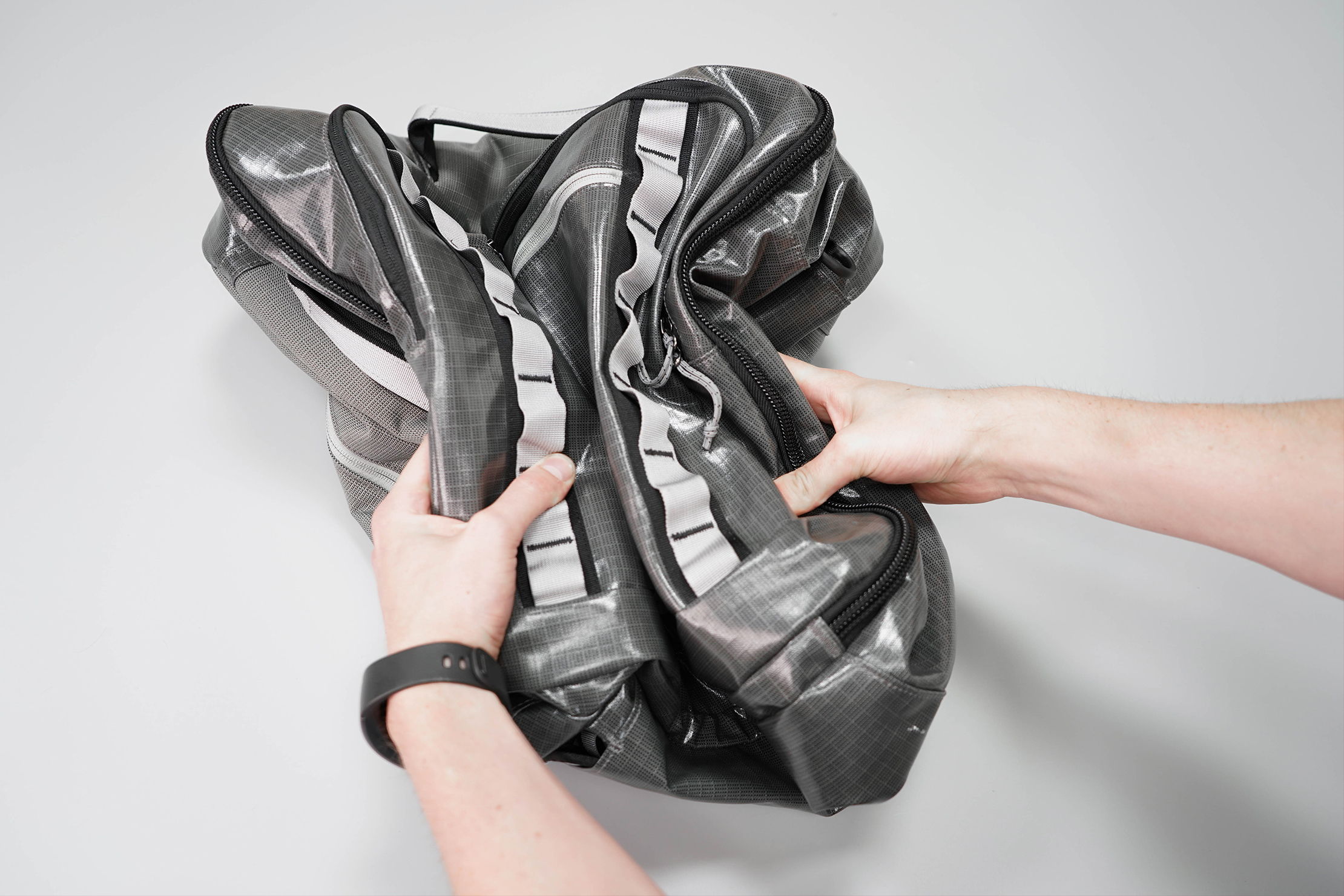 Wrapping up the back panel, there is a luggage passthrough here which can also be used as a quick-drop pocket close to your body when you're wearing the pack in messenger style mode. If you plan to use the Black Hole MLC 45L with a rolling piece of luggage, you'll want to make sure your rolling bag is large enough to support an unstructured pack of this size.


There are two handles found at the top of the bag and one at the wearer's right-hand side. We'll take a handle any day, and it makes traveling with these bags a lot better. If you want an example of a company that does side handles really well, we'd recommend checking out the Evergoods CTB 40—a pack that has aluminum stays on the side for support and structure when the bag is being carried by the low-profile side handle. We think Patagonia could probably learn a thing or two from Evergoods on that front.


When it comes to the side pocket on the Patagonia Black Hole MLC 45L, looks can be deceiving. We initially thought this pocket was for a water bottle, but it's actually for a quick-access luggage tag. We would've liked a water bottle pocket, but with this style of bag, we get it. We're not quite sure whether anyone who finds the bag will know to look for it there—and with that in mind, we'd rather see this space used for another side handle.


Finally, a row of MOLLE-like military webbing can be found on the top and bottom front of the bag. The way Patagonia sewed this on looks more like tiny loops rather than going flat across, but they still work for attaching accessories or a carabiner if needed.


Inside the Pack
Diving right into the Patagonia Black Hole MLC 45 Liter, the front has a small vertical zippered pocket that's ideal for quickly storing things like your wallet, keys or phone while you're at the airport.


Directly behind that pocket is a large compartment with access to a bunch of different organization options inside: three equally-sized liner pockets on the flap that go down about the entirety of the bag, two mesh pockets, a padded pocket, a smaller liner pocket and three places for pens, pencils, and styluses. There's no shortage of organization in this front flap!


The rest of the compartment features a generous space for a jacket or anything else you might want to shove in quickly, plus two Velcro liner pockets that go down the entirety of the bag when it's sideways. The Velcro strips are small, so it can be tough to quickly match the hook side with the loop side if you're in a hurry, depending on how the liner has shifted around.


Overall, we dig all the organization going on in this pocket. We just wish it zipped down a little bit further so that we could get better access to the organizational pieces inside.
Moving on to the back of the bag, a pretty large opening is provided for laptops—going down vertically if you're in backpack mode or horizontally in messenger mode—and there's padding on the front and back (but still nothing to provide that structure we mentioned earlier). In fact, a lot of the stiffness of the bag will come directly from your laptop. The laptop compartment does have a false bottom to help protect it from unexpected drops, which is always a plus.


Opening up the main compartment of the Black Hole MLC 45L, you're greeted with that huge #10 YKK zipper, which will provide some additional durability. On the right-hand side, you'll find a giant bucket with a mesh zipper on the top which can be loaded up with clothes, sweatshirts, and more—though we'd recommend using packing cubes to help provide some structure here (to keep things in the same visual family, consider the Patagonia Black Hole packing cubes).
The top flap, although shallow, offers some additional organization as well. The two mesh divider pockets on the front are useful for socks, underwear or other small and flat items. Behind that, another large pocket goes across the entirety of the top flap and is also good for flatter items.
Durability & Testing
Now let's take a look at how well this sizable carry-on bag holds up. At the time of this review, we've been testing the Patagonia Black Hole MLC 45L for about one month in Detroit, Michigan.


On the durability end, there are a couple of small things to point out. We have some loose threads on the small front pocket, and we also noticed that some of the TPU on the outside has started to scratch in a couple of areas.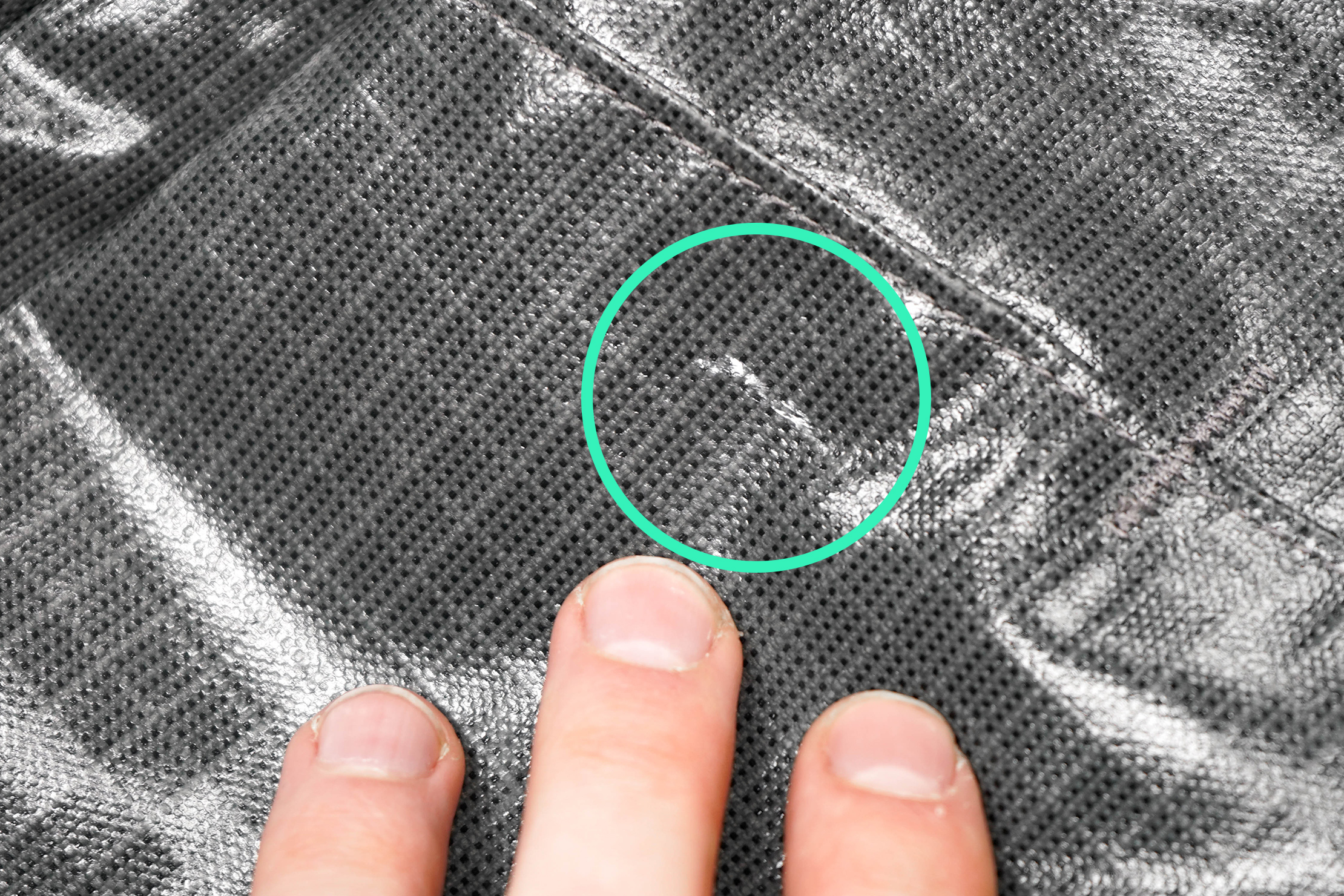 We've seen this on a lot of other bags with this material, so you can expect that as a pattern whenever you're dealing with TPU coating. Over time and with further scratches, this will affect weather resistance—so it's something to keep in mind if you expect to be hard on the bag. Of course, for aesthetic purposes alone, we'd rather not have any scratches or other issues on a bag so early on in our testing. Especially for a bag with this price point.


While out and about with the Black Hole MLC 45L, we have to say this thing is a real beast. As we noted earlier, you do need to create your own structure with this bag. This can be done with packing cubes and items inside, but if it's not full, we've found the carry to be highly affected. While loaded up with clothing and other travel items, the structure felt good. But if you're packing items of varying sizes and shapes, you won't be as fortunate—the carry can feel floppy and generally uncomfortable.


We tried out all the different carry modes with this pack–duffel, backpack, and messenger—and unfortunately couldn't find the comfort we were looking for. We've found that's often the case when a bag tries to be all types of styles in one, and it's especially prevalent because of this bag's larger size and rectangular shape. Ultimately, for air travel, you may be better off checking this bag (or getting a larger, 50- or 60-liter duffel) and bringing a smaller carry-on item onto the plane.
We love the idea behind the Black Hole MLC 45L—and we're totally on board with maximizing carry-on space—but the functionality of this bag means you may end up wanting to check it anyway.
Usage Timeline
Initial Usage
Condition: Excellent
We're liking the optimal size and shape for the largest carry-on for some airlines.
The shoulder strap adjustments happen at the bottom of the bag rather than the bottom of the padded strap – this is pretty unique.
The bag is quite floppy and not very structured – curious to see how this holds up fully packed.
The handles on the sides are not reinforced and the bag loses it's shape easily even when picking it up empty.
1 Month of Use
Condition: Good
The handles on the sides are not reinforced and the bag loses its shape easily even when picking it up empty.
Access the Pro Community Discussion
Get your questions about the Patagonia Black Hole MLC answered from our team and the Pro Community right here on the page. Plus, join discussions with other members about gear, guides, and more.
Other Bags & Luggage Reviews