TOM BIHN Aeronaut 45 Review
The Tom Bihn Aeronaut 45 is a workhorse maximum sized carry-on bag that offers multiple carry options—we just wish they were better optimized.
Our Verdict
Unlock the Pro Summary
Save time. Get access to brief summaries of our reviews so you can browse and make decisions more efficiently.
Pros
Durable materials and high-quality construction
Simple and versatile organization, especially the adjustable pocket capacity
Clever design and integration with other Tom Bihn products
Cons
The bag can buckle in backpack mode if not fully packed
Zippers are stiff and tough to use, especially around the rounded corners
Carry modes are not optimized, especially the backpack straps (they can dig in)
Recent Pack Hacker Video
Technical Details
Capacity

45l

Weight (lb)

3.06 lb (1.4 kg)

Denier

1050D

Dimensions

14 in x 21.9 in x 9.1 in (35.6 x 55.6 x 23.1 cm)

Notable Materials

Ballistic Nylon, Ripstop Nylon, YKK Zippers, Duraflex Hardware, Woojin Hardware

Manufacturing Country

United States

Warranty Information
Full Review
Is it a duffle, a briefcase, or a backpack? The Tom Bihn Aeronaut 45 can't decide—so it toes the line between all three.
Made by the reputable Seattle-based brand also known for its Synapse 25 and Synik 30, the Aeronaut 45 is Tom Bihn's version of a maximum legal carry-on sized bag. It's a big, durable, workhorse that boasts versatility from trail to train station and beyond.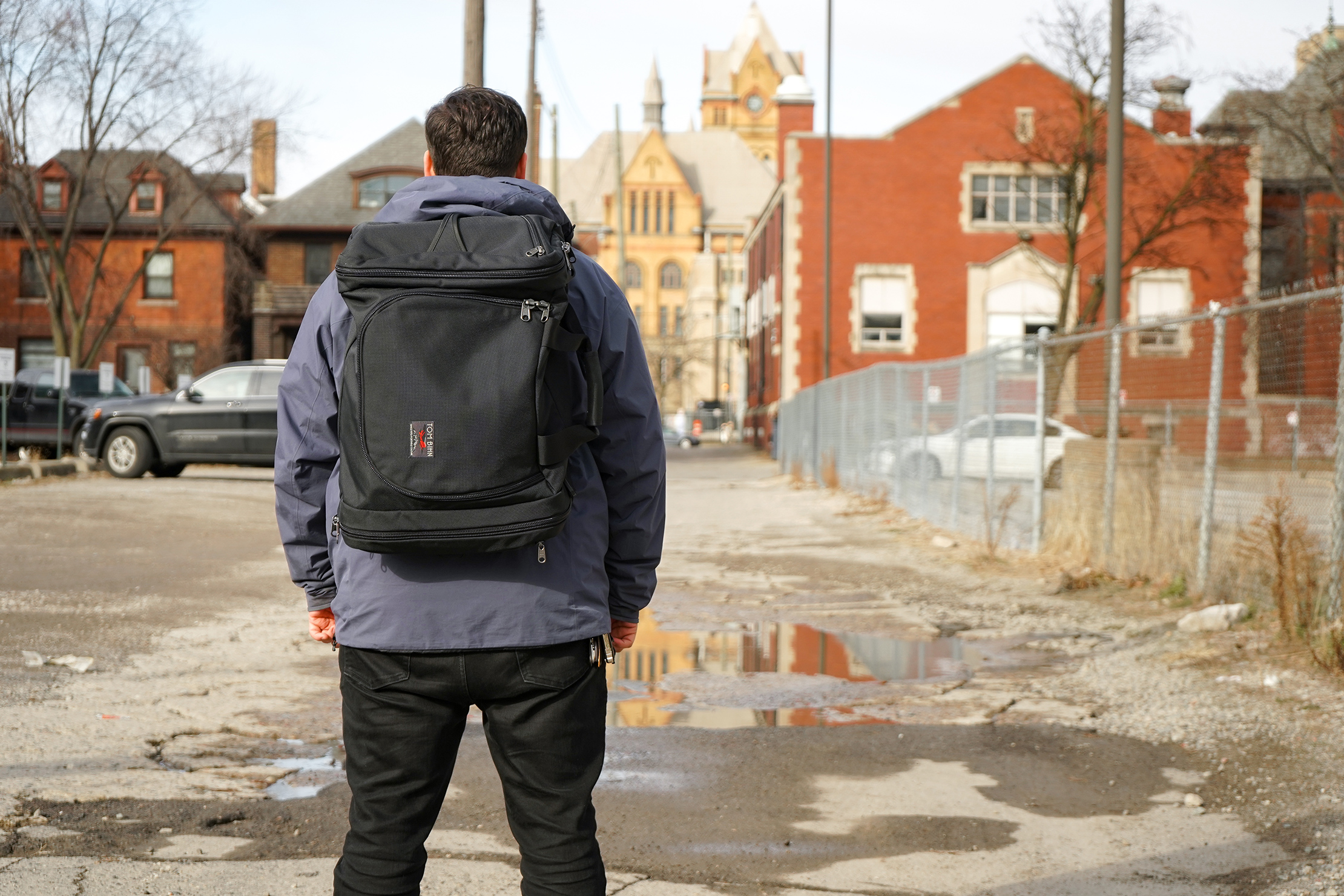 We've been testing the Tom Bihn Aeronaut 45 for the last three weeks around Detroit, Michigan and on a weekend getaway to Northern Michigan.
So, without further ado, let's get into the details.
Materials & Aesthetic
First, the Aeronaut 45 has a boxy rectangular shape—which maximizes carry capacity through and through. Whether or not you like this shape, however, is up to you. As always, we polled our Instagram audience and the majority are not digging it's aesthetic. But remember: beauty is in the eye of the beholder.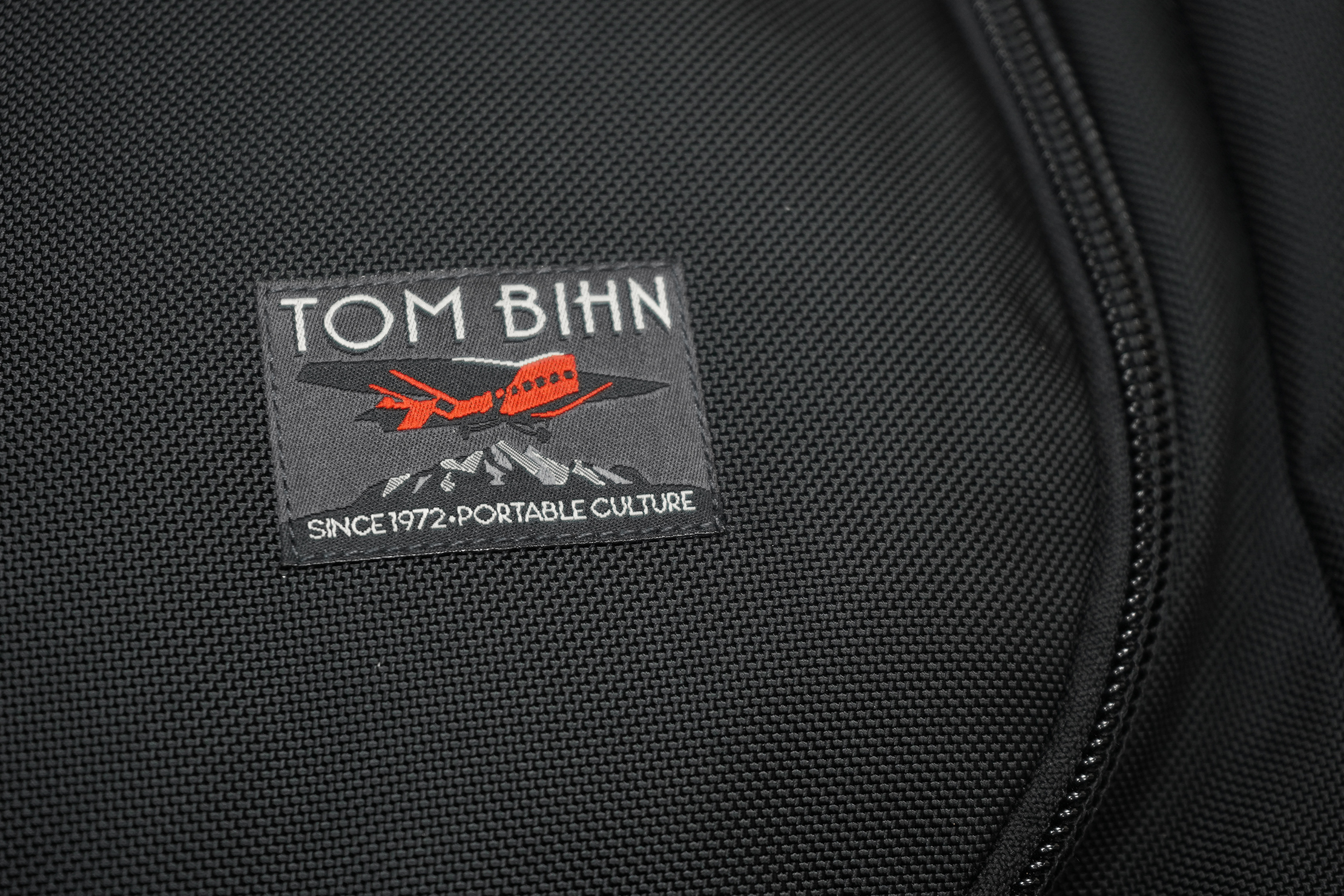 From a branding perspective, you'll notice a decently large Tom Bihn logo on the front of this bag—the flap of the main compartment—but that's about it. We like that the folks Tom Bihn keep it minimal with branding.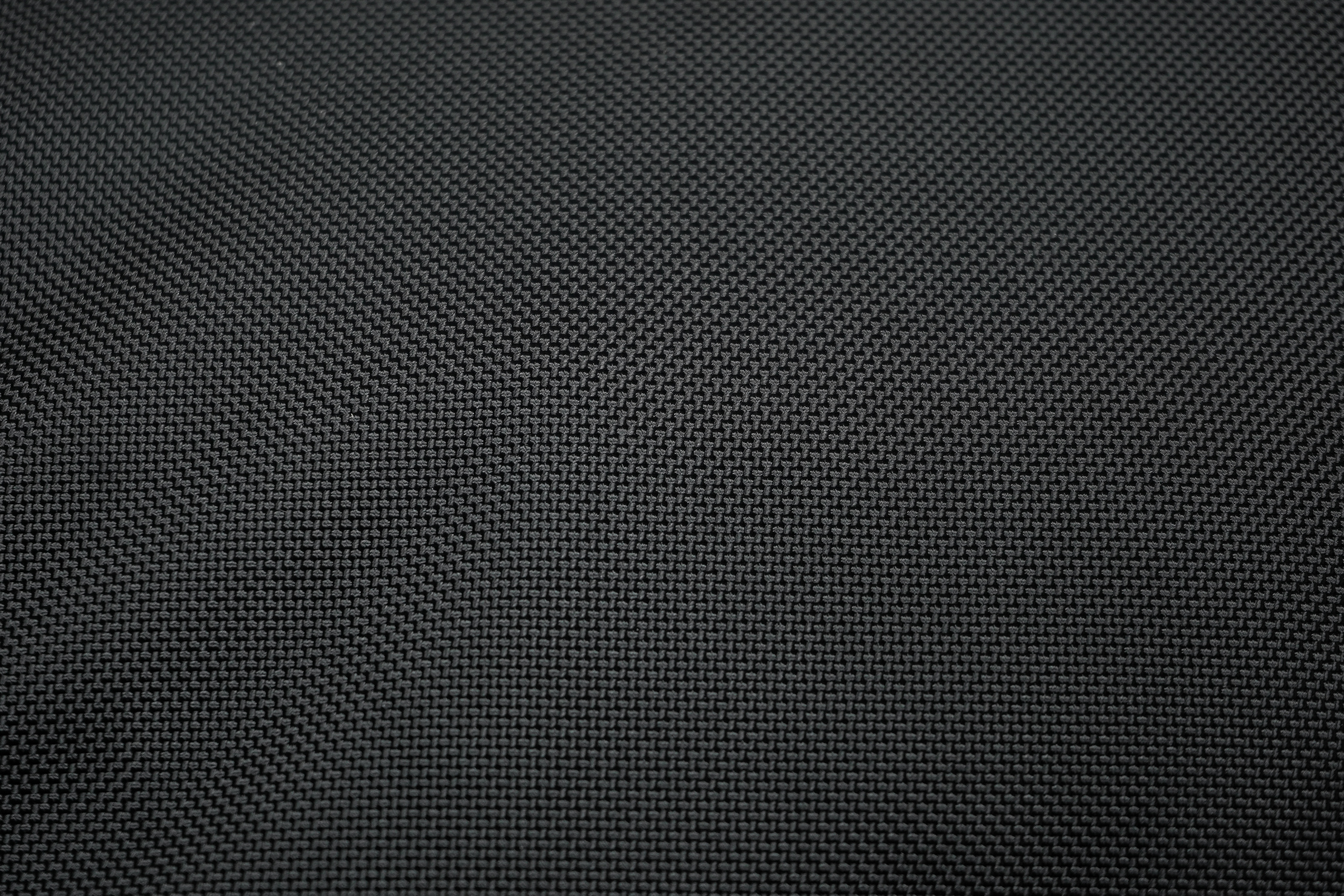 They also use excellent materials on their bags—and the Aeronaut is no exception. The pack we've been reviewing features black 1050D ballistic nylon on the exterior with blue (actually, it's called "island") 200D halcyon on the interior. At the time of this review, you can get this bag in a ton of different color and material combinations—so you should be able to find one that speaks to you.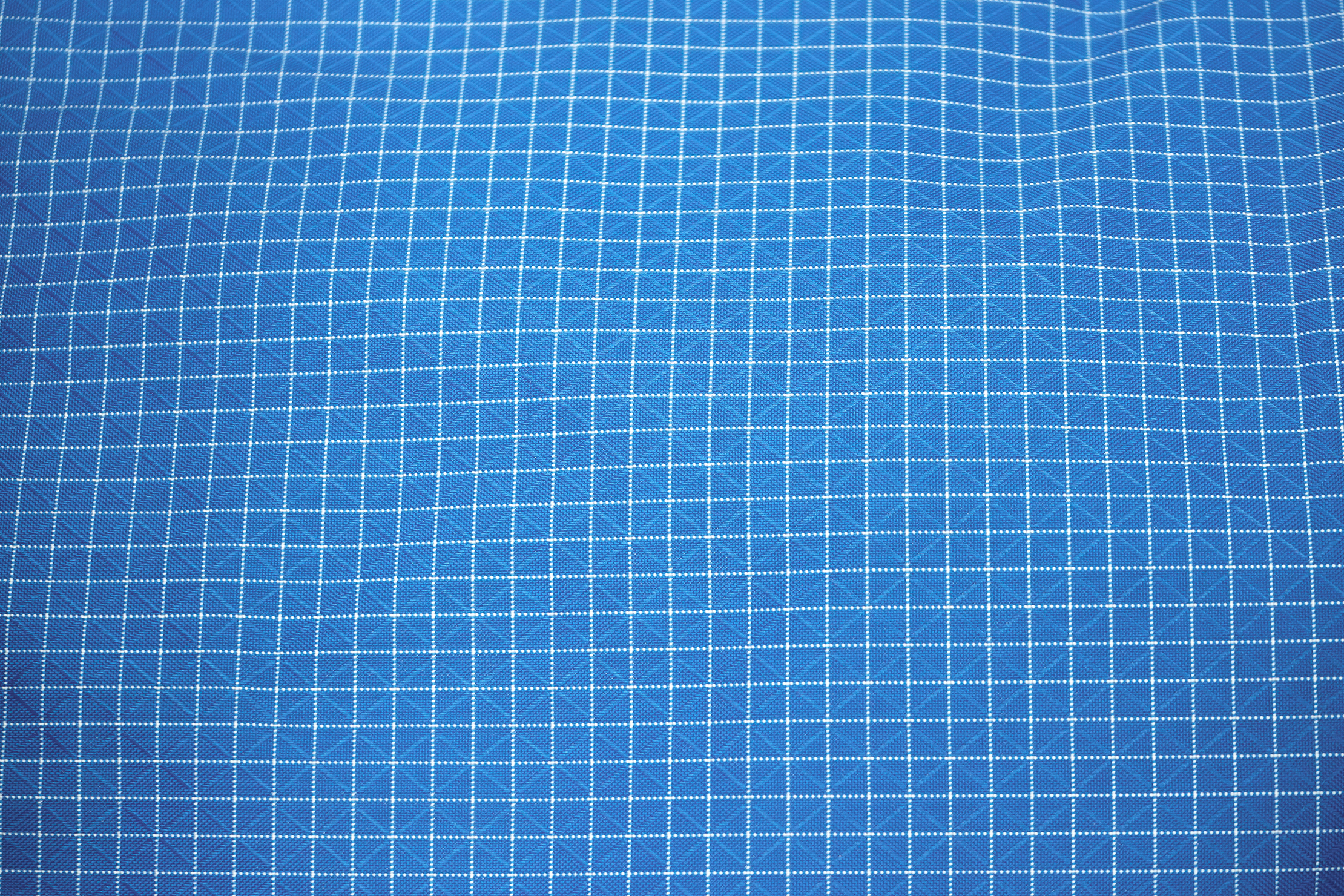 This bag features durable, beefy YKK Aquaguard zippers throughout, which help with weather resistance.
Plus, Duraflex, Nexus, and Woojin plastic buckles and components are used in areas like the sternum strap, the shoulder strap attachment buckles, and rings for the messenger strap to attach to on the exterior of the bag. There's also dense foam used in areas like the back panel and shoulder straps.
Exterior Components
There are three main ways to carry the Tom Bihn Aeronaut 45: briefcase-style, duffle or messenger-style, and backpack-style.
First, you have pretty big handles on the top—or side, depending on what mode you're in—for carrying this thing in briefcase mode. We like that these handles pretty much stay buttoned together at all times—you don't need to unbutton them to get access to a zipper.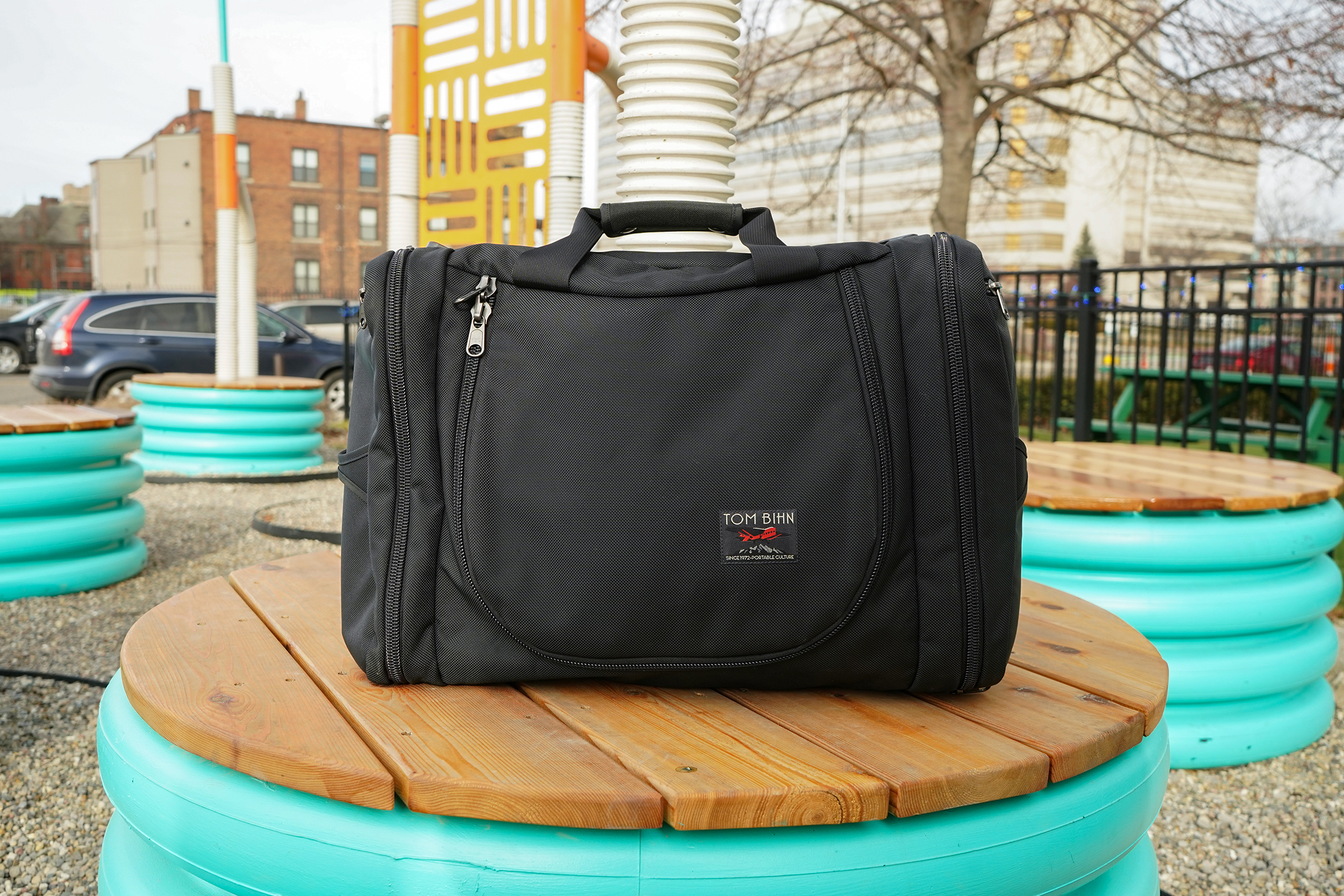 The thinner profile on the Aeronaut 45 allows it to stay nice and close to your body. But, keep in mind that 45 liters of stuff can get heavy quick—especially if you pack out the entirety of the bag. We think this mode of carry is a bit better suited for the 30L version of the Aeronaut rather than this larger, 45L version.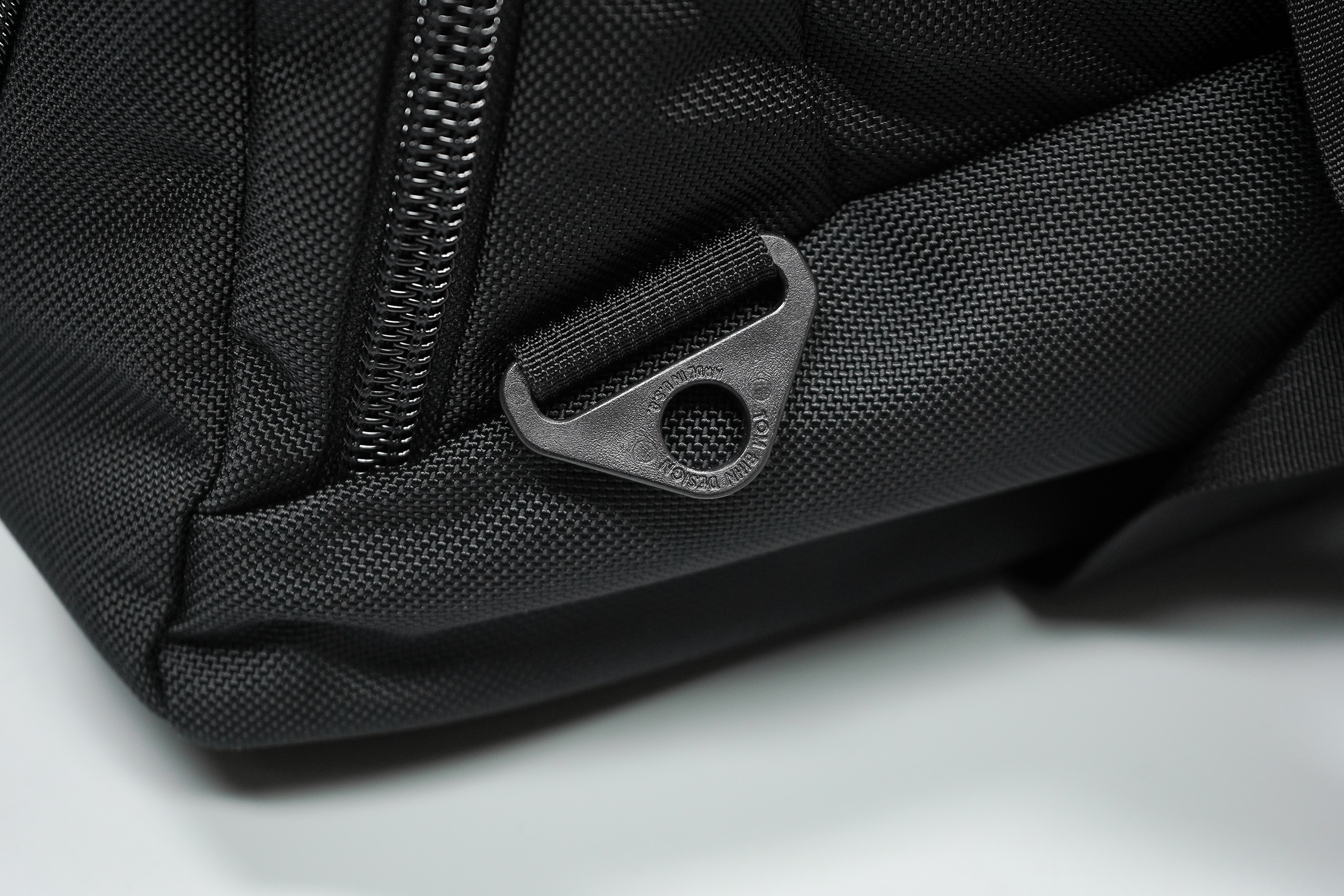 Next up, duffle or messenger mode. You'll find attachment points on the top of the Aeronaut so you can attach a strap—like Tom Bihn's Absolute Shoulder Strap—and wear this bag over one shoulder or crossbody. Again, we think that this mode of carry is better in the 30L version because it's a little bit smaller, but the option is there if you'd like to use it.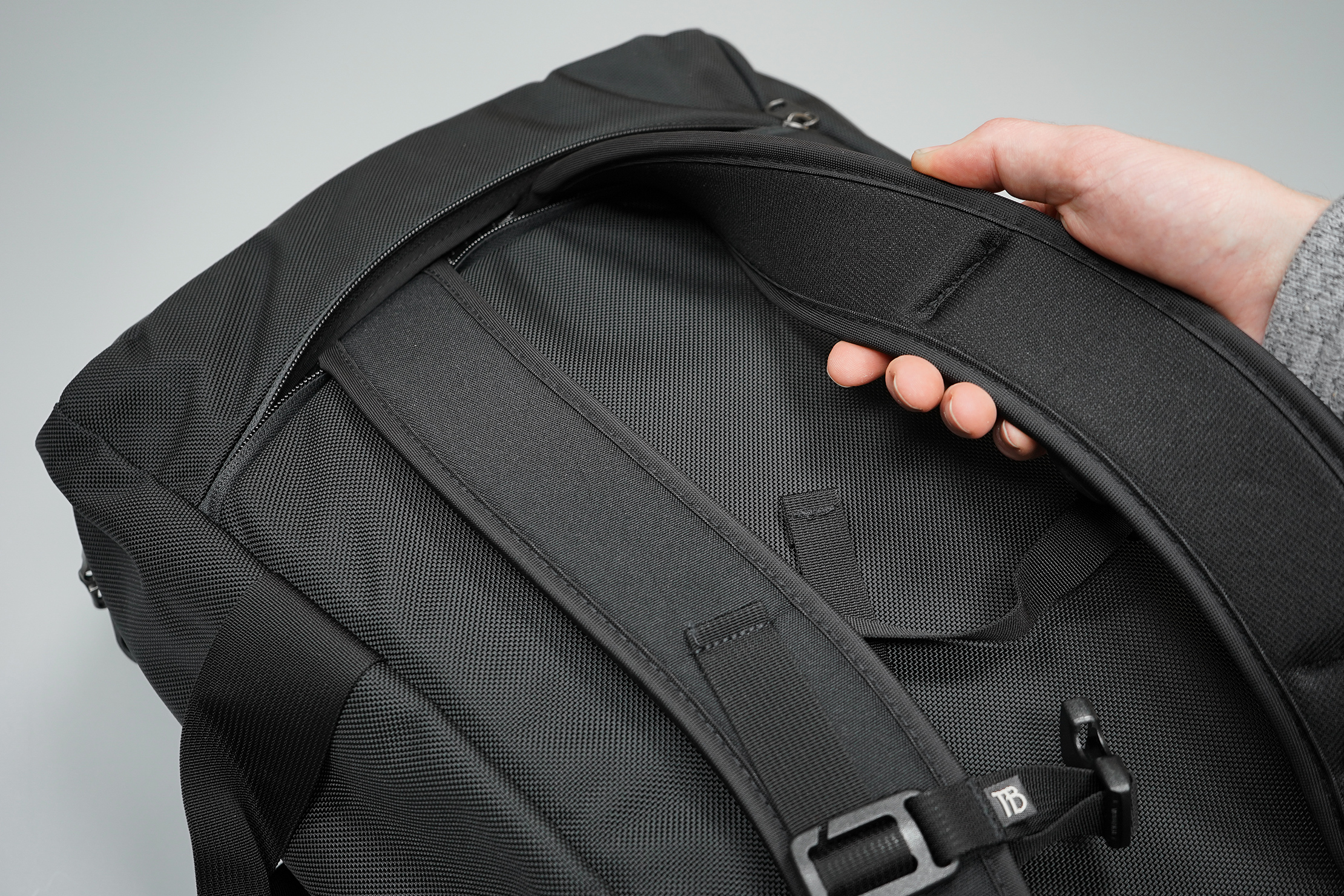 The last style of carry is backpack mode, which is how we've been using this bag the most. Starting with the backpack harness system, Tom Bihn uses high-density straps that are pretty comfortable for how thin they are.
Moving down, the Aeronaut 45 has a pretty permanently attached sternum strap—which is nice, so you won't lose it. Plus, it's fully adjustable. With a bag of this size, having a sternum strap is great and makes it a little more comfortable to wear.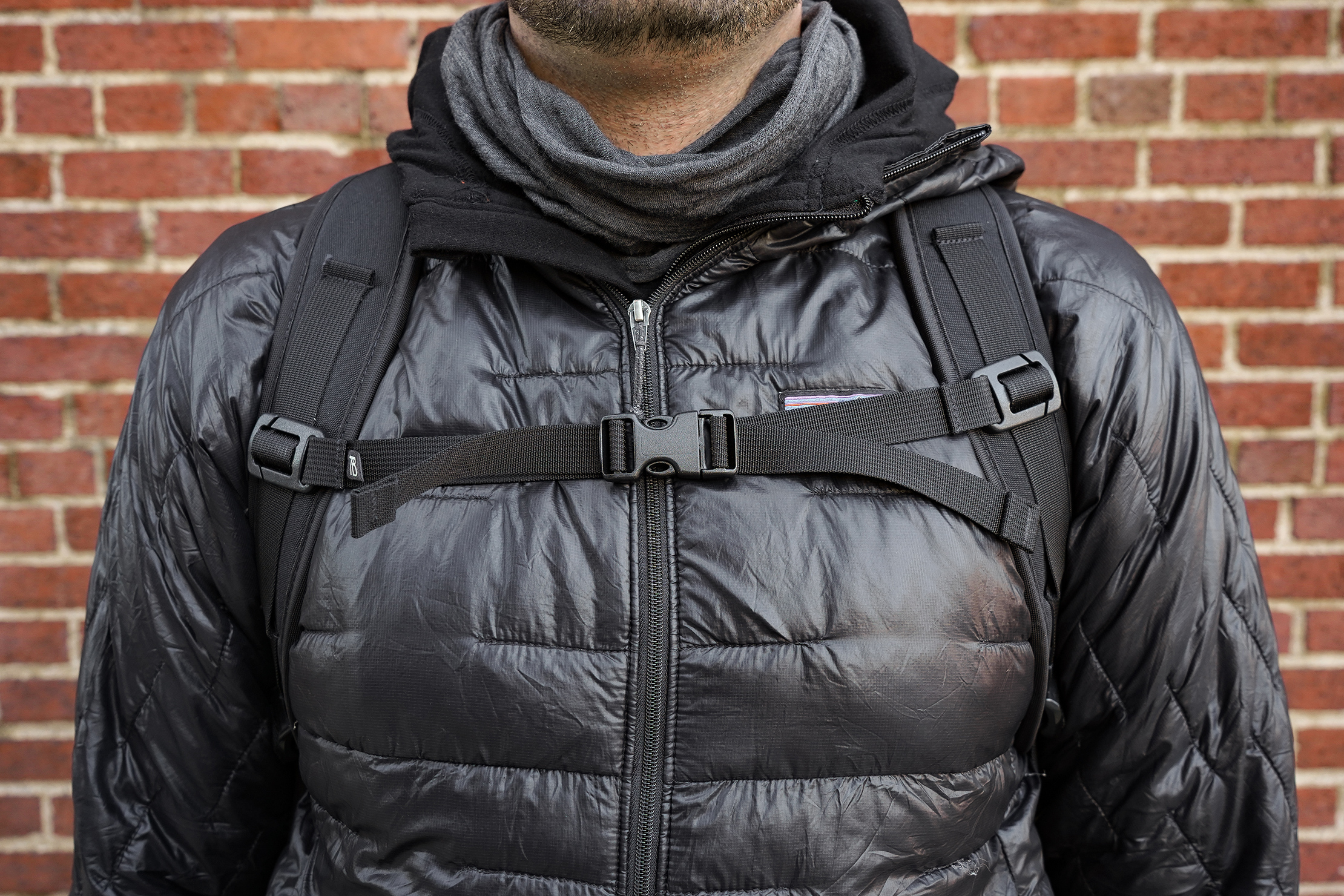 The shoulder straps clip in toward the bottom of the bag. We dig that the buckles kind of disappear into the fabric of the bag when not in use. They stay out of the way and keep a low profile for when the bag is carried in duffle and briefcase mode.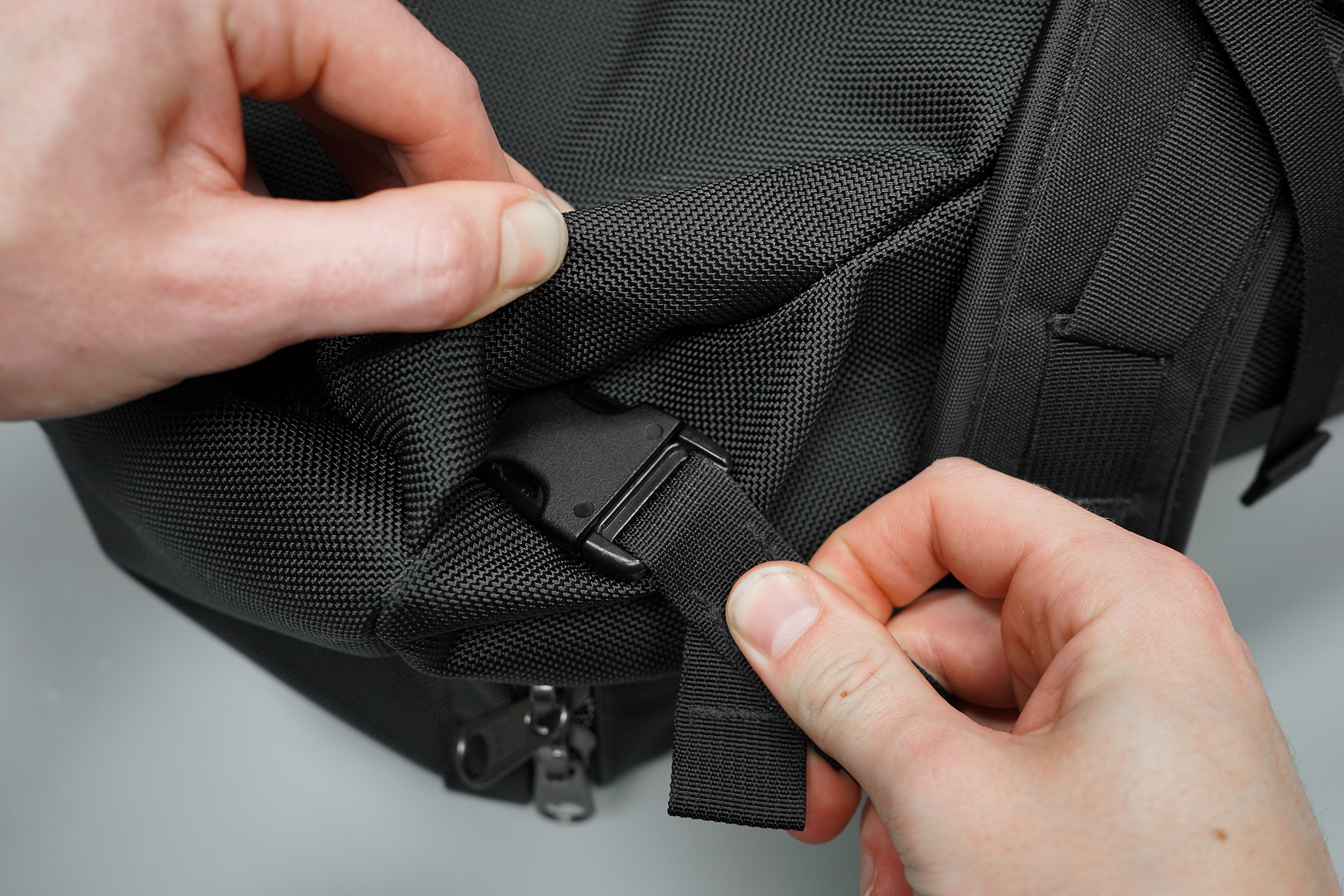 The whole backpack strap system is stowable, as well. When you unbuckle the straps, they easily stuff into the curved zipper compartment at the top of the bag and hide away until you need them. There's also a small handle that stows away with the backpack straps. You can use it to hang up the bag (better find a strong hook if this thing is full) or to grab and pick up the bag. We prefer to use a different grab handle, but we'll get into that a bit later in the review.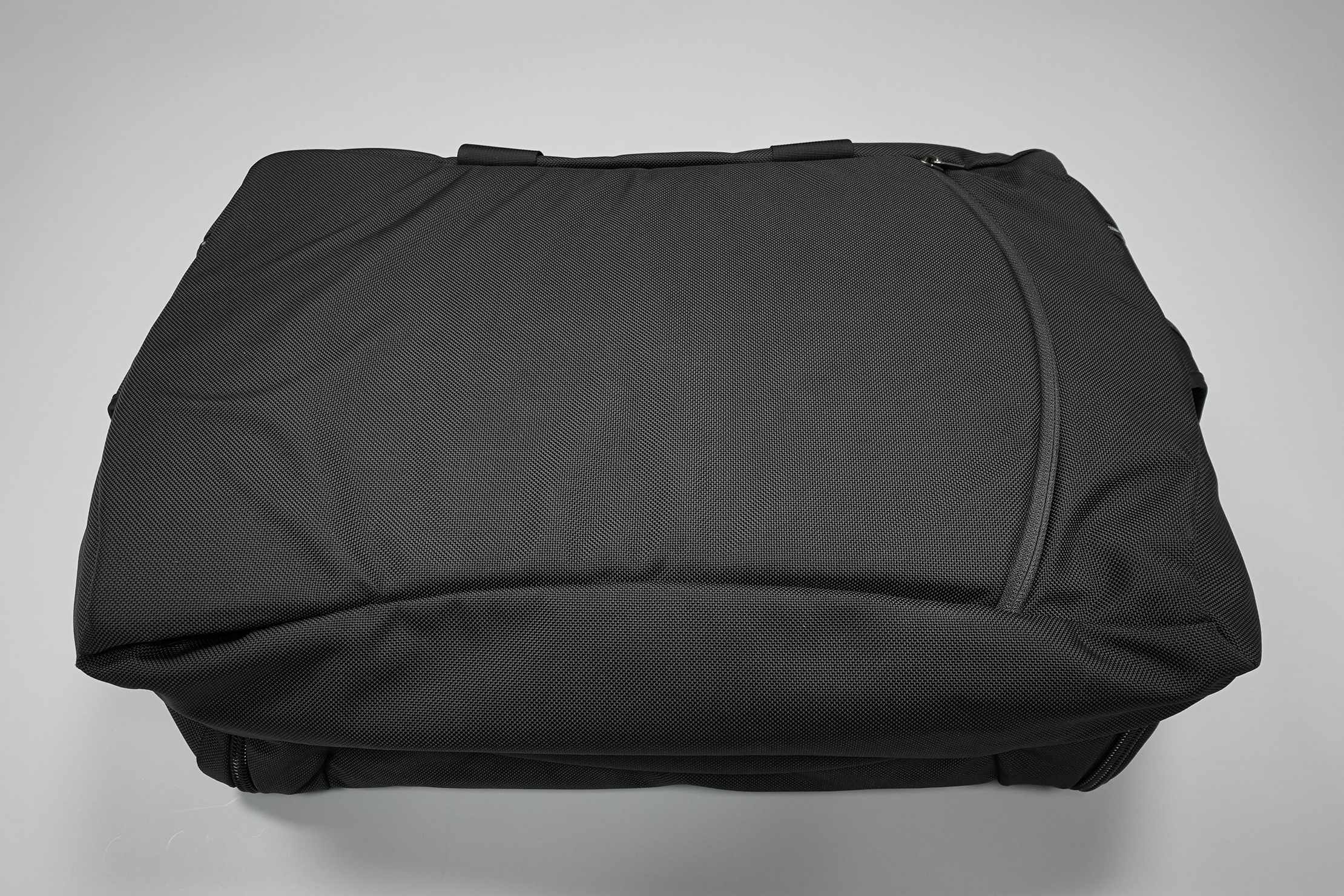 The back panel of the Tom Bihn Aeronaut 45 offers some pretty dense padding, as well. It's denser than the shoulder straps, which is great because it'll shield anything from poking into your back when you're wearing the bag. But there's no mesh or built-in air channels for breathability—it's just that ballistic nylon material that we see on the rest of the bag.
Overall, we feel like this harness system is so-so, especially for a three-way hybrid bag. We appreciate the thinner profile of the Tom Bihn Aeronaut 45—it's helpful in both messenger mode and backpack mode. While bulkier bags can stick out off of your back, this one's a bit easier to travel with. But it tends to carry a bit saggy. Most of our specific qualms with the Aeronaut stem from the different modes of carry. For instance, the backpack straps are anchored close together which means you can feel them digging into your neck—especially when the bag is fully loaded-out with heavy gear. We did, anyway.
Also, unlike the Tom Bihn Synik which features an edgeless strap design (it's really comfortable and ultra-streamlined), the Aeronaut 45 has an edge on its straps. This probably adds to the feeling of it digging into our neck and traps.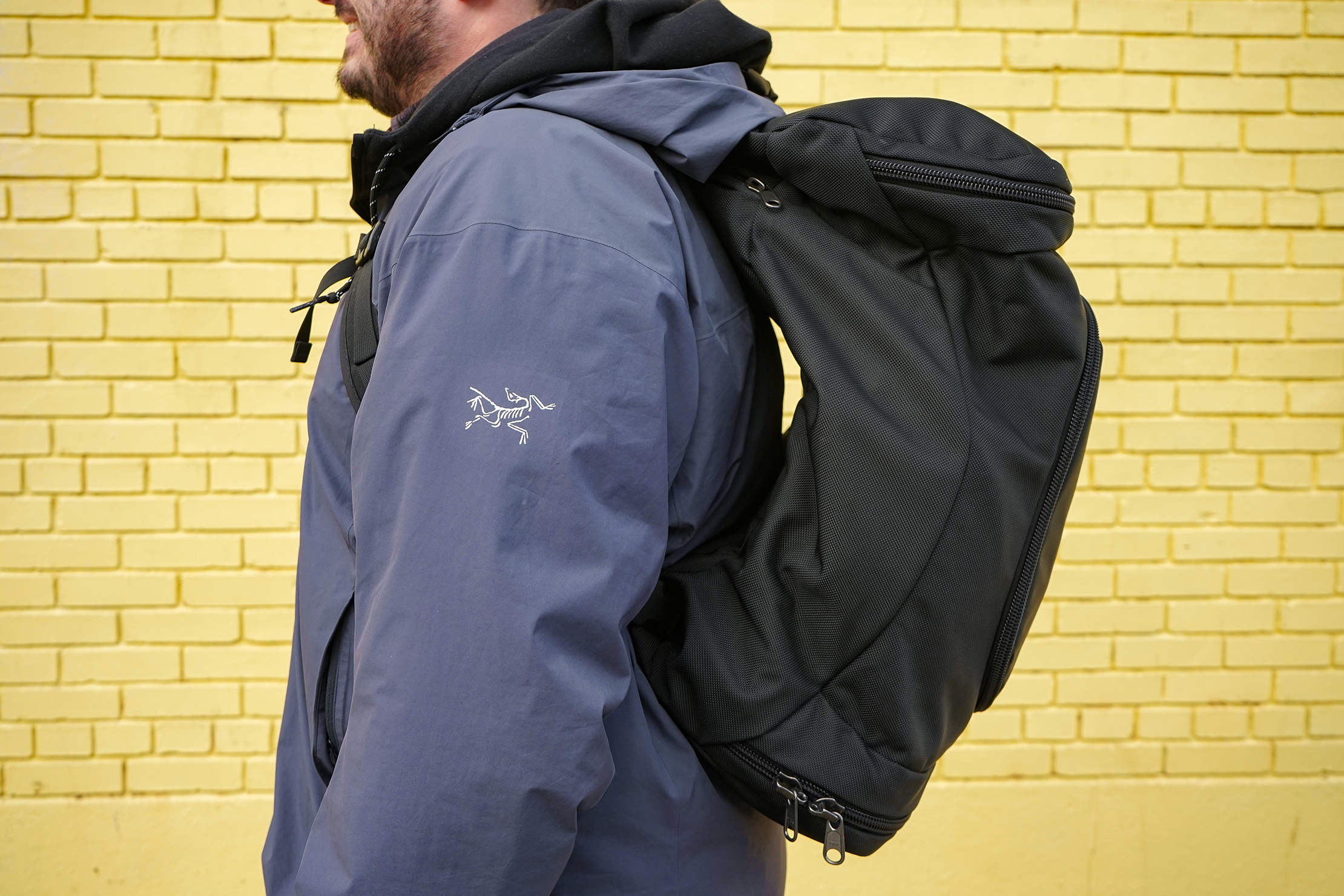 Additionally, if the Aeronaut isn't fully packed out, it can sort of buckle. It's like the shoulder straps pull up the bottom of the bag while the top sags over. Yeah, it's as awkward as it sounds. This problem could be fixed with a frame sheet, which this bag does not have. But, good news, you can pick one up separately from Tom Bihn. A stiffer frame sheet will help this pack keep it's shape when not fully loaded, but, let's be real—if you're looking for a bag this size, you probably plan on filling it up and using every inch of space. And, more good news, we've found this issue to happen less when the bag is fully packed.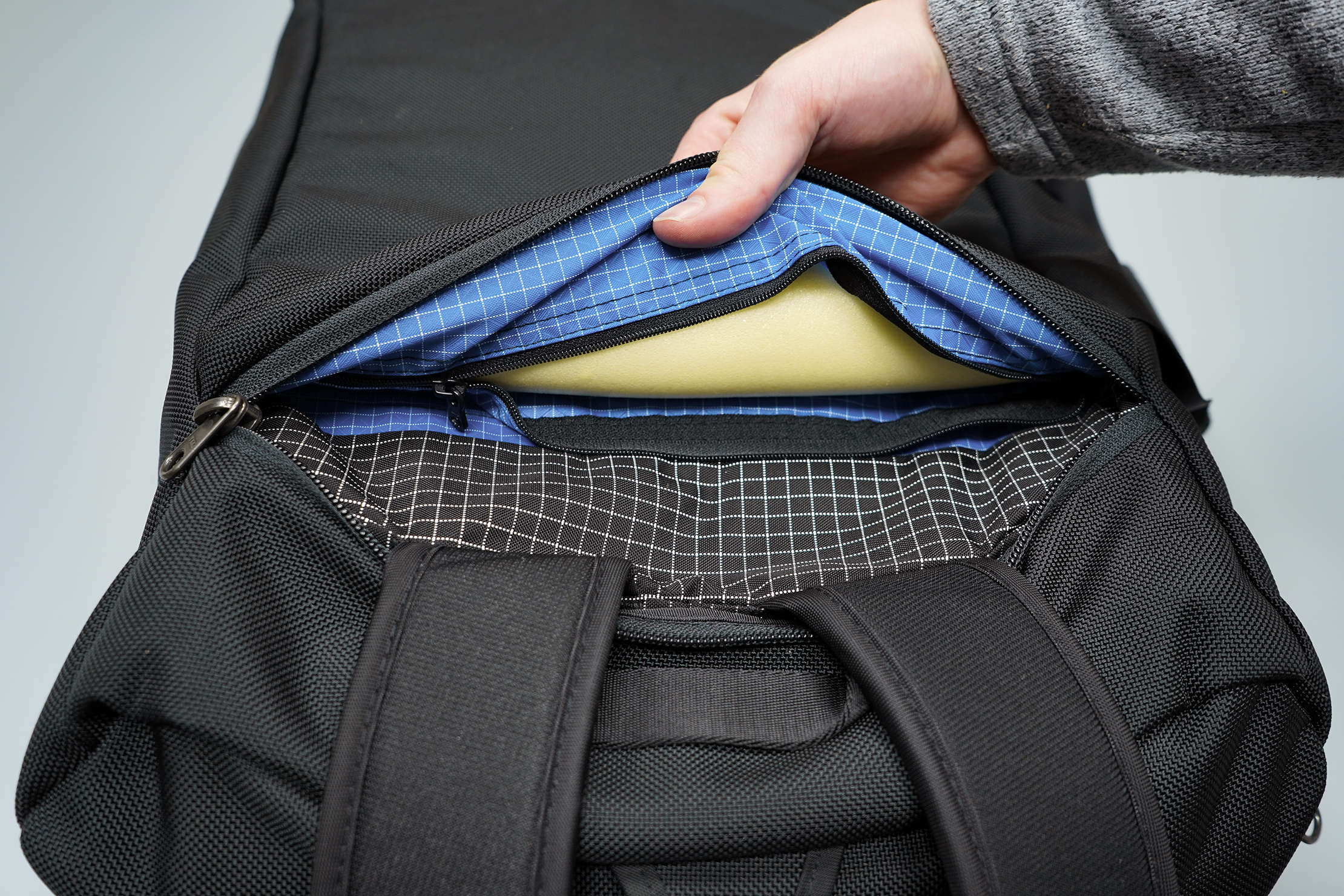 The Tom Bihn Aeronaut 45 does not come with a hip belt. This isn't surprising for a hybrid bag of this nature, however, you can pick up an optional padded hip belt from Tom Bihn designed specifically for the Aeronaut. We really appreciate this option—especially for a bag of this size. And, in true Tom Bihn fashion, it's clever and thoughtfully designed.
Lastly, we've got two grab handles on the top and bottom or the sides of the bag—depending on how you're carrying it. These are excellent for pulling the bag from the overhead compartment in an airplane or from the trunk of a car. And, in backpack mode, the top handle is easier to grab than the stowable one we mentioned earlier. We dig the positioning, angle, and grabability of these handles.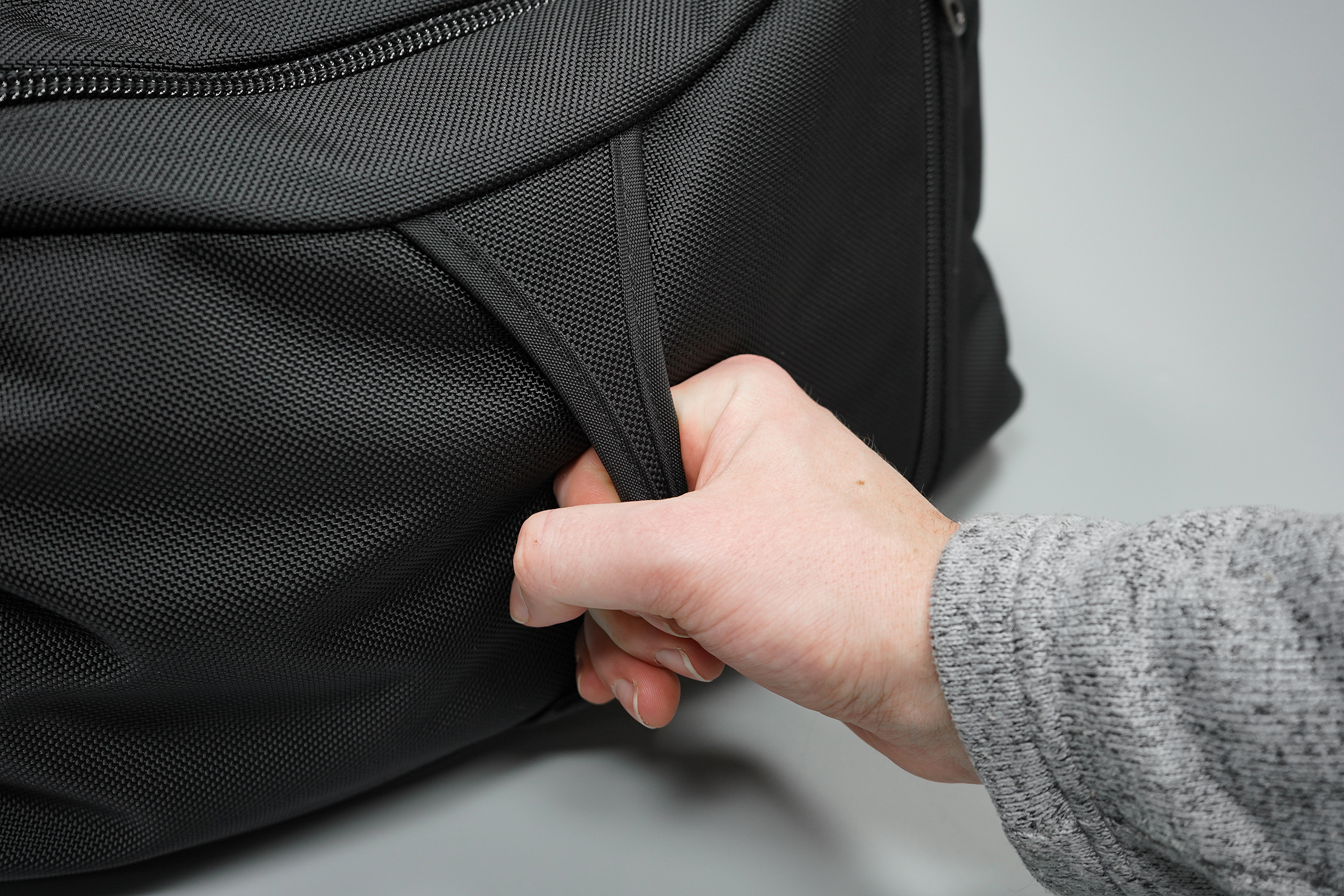 Inside the Pack
Let's take a look at what's going on with the interior of the Tom Bihn Aeronaut 45. It's simple, but there are some useful features we're digging.
The side diagonal pockets are good for items you'd like quick access to, although we've found it best to use this space for larger items. If you toss your wallet in here, it'll end up at the bottom of the pocket. That's not a bad thing, per se, but a bunch of smaller items inside this pocket could make everything a little harder to access.
On the other hand, we found that this pocket was great for something like a water bottle. Just note that whatever you put in here can cut into the pocket behind it.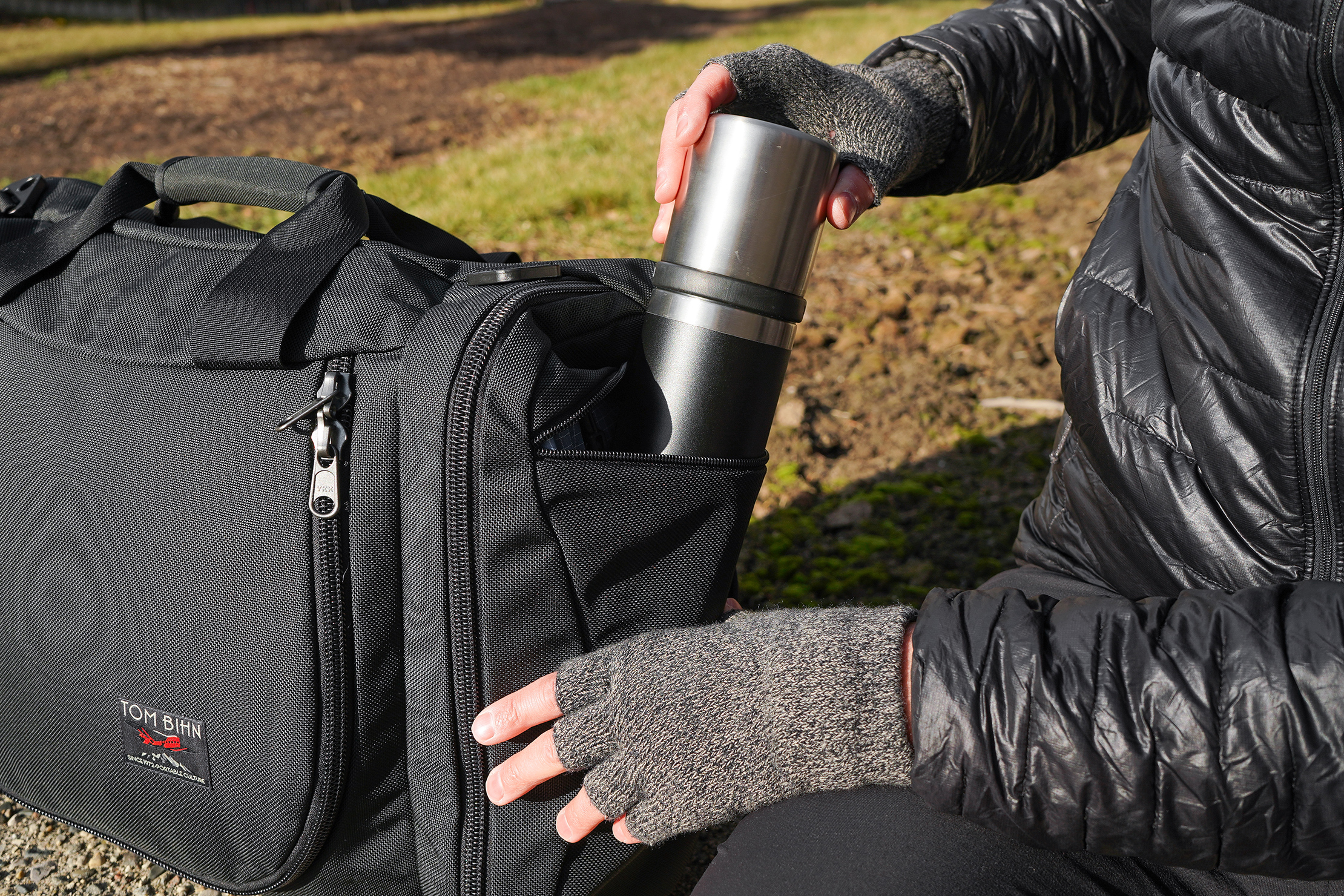 Speaking of, behind each of these diagonal zippered pockets are two larger horseshoe zip pockets. When you're using the Aeronaut in duffle or briefcase mode, these pockets are on either side of the bag. In backpack mode, they're on the top and bottom. When testing this bag in backpack mode, we like to have our tech gear, keyboard and laptop stand in the top pocket. And extra shoes, a Dopp kit, and/or a water bottle in the bottom. These pockets offer ample space and we're using them a lot more than we originally expected.
There's also an O-ring on the inside, which is great for adding additional pieces from the Tom Bihn ecosystem. You can attach your keys with a simple keychain or you can attach other organizer pouches, like the Tom Bihn 3D organizer cube (which we found to be a great Dopp kit) or any of the small zippered pouches that Tom Bihn has to offer. There are a ton of Tom Bihn pouches and accessories, so be sure to check out our reviews.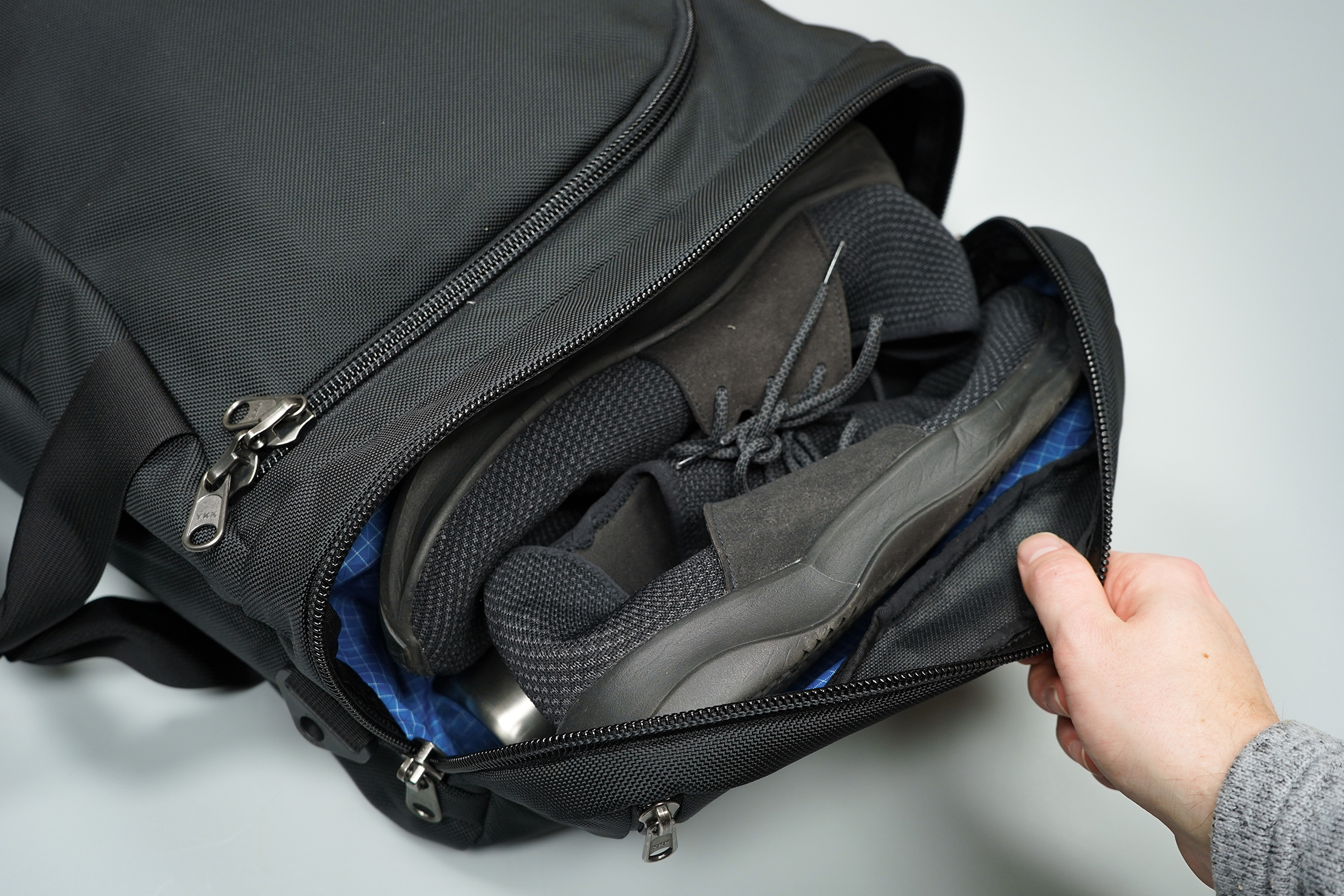 Moving on to the main compartment of the Tom Bihn Aeronaut 45. One of the first things you'll notice is the stickiness of the zippers. We've discussed zipper stickiness on other Tom Bihn bags in the past, but it seems more pronounced on the Aeronaut 45 than on other bags we've tested (like the Synapse 25 and the Synik 30).
The zippers are weather-resistant, which usually makes them tougher, but we think this problem is worse on the Aeronaut because it's a duffle. A backpack is easier to grab and rip open the zipper. On a large duffle like the Aeronaut, you have less to help you get the zipper around the curve.
These zippers may break in overtime, but at the time of this review—three weeks in—they are still quite stiff. We highly recommend adding Tom Bihn zipper pulls, as it just makes everything easier to grab and unzip.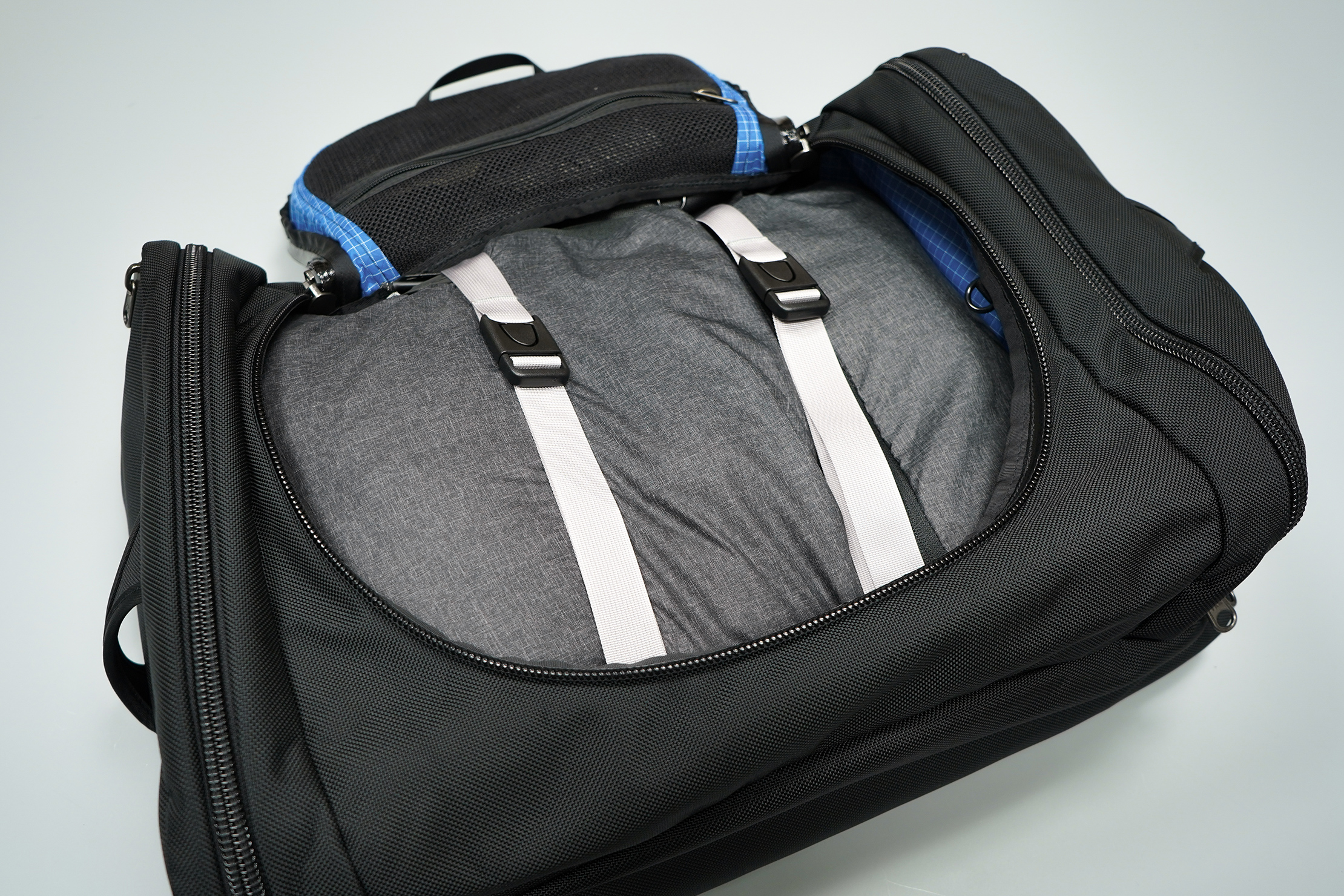 Now, when you get the Aeronaut 45 open, you're basically greeted with a giant tub on the inside—but there are a couple of tricky features going on.
There are some tabs at the bottom that can hold two compression straps to keep your clothes and gear secure. There's no dedicated laptop compartment in this bag, but you can use these attachment points to add in the Tom Bihn Cache. This isn't the greatest option, but it works (yeah, we've been testing it). And we do like that Tom Bihn offers so much customizability with their ecosystem—if you want to buy into an ecosystem, Tom Bihn is a solid choice.

Additionally, if you want to keep your laptop protected but you're not looking to spend the extra money, you could put a layer of packing cubes or clothing at the bottom of the bag, put your laptop in and then add another layer of clothing or packing cubes at the top for additional protection. Like a laptop safety sandwich.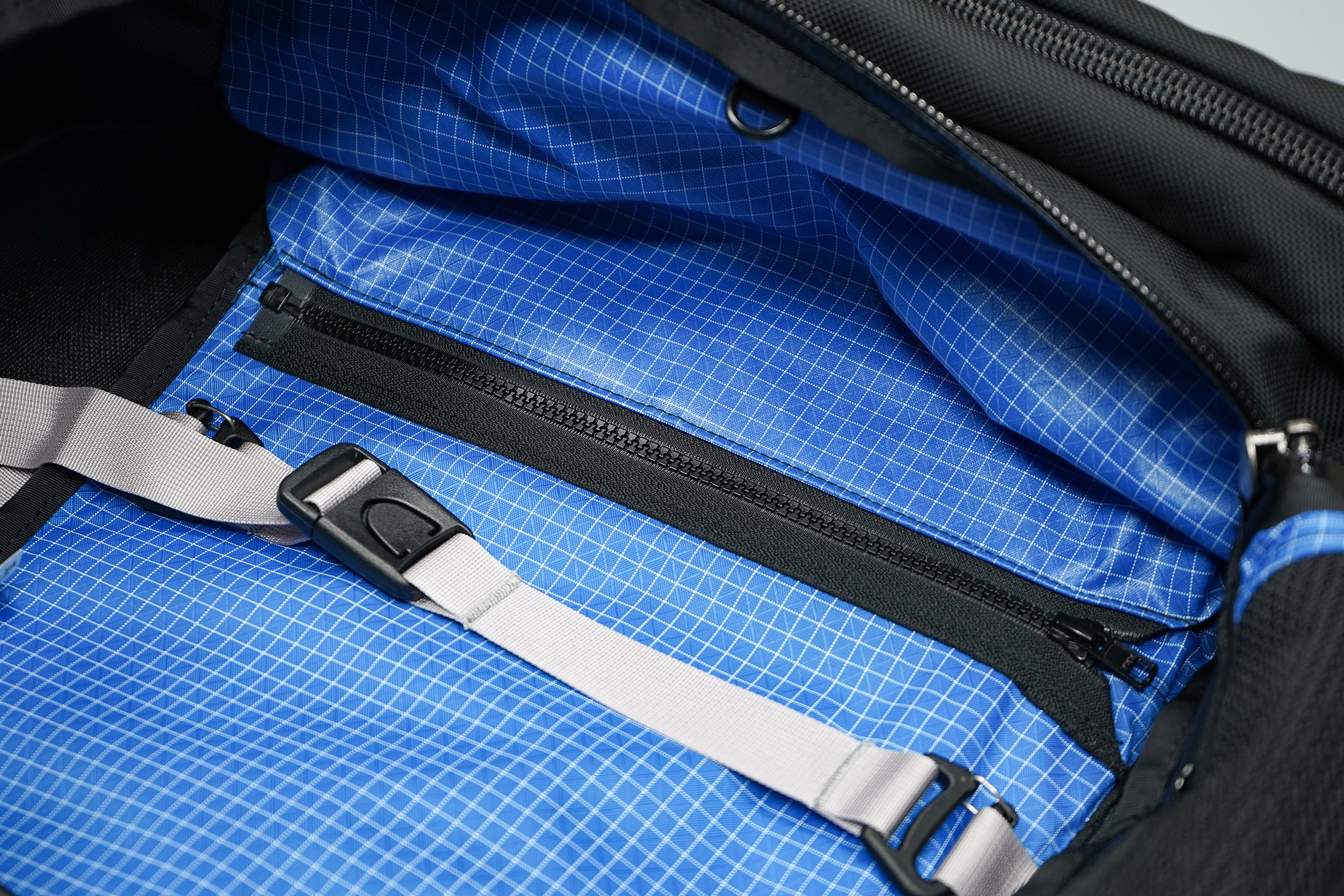 Along the bottom, or back panel, of the Aeronaut 45, you'll find two zippers—one on each side. These are what define the insides of those side zippered pockets we mentioned earlier. If you unzip them, you can push the liner to the side and have even more space in the main compartment. We like how the thinking and design really come together on features like this for the Aeronaut. These smart little touches really make it stand out as a duffle.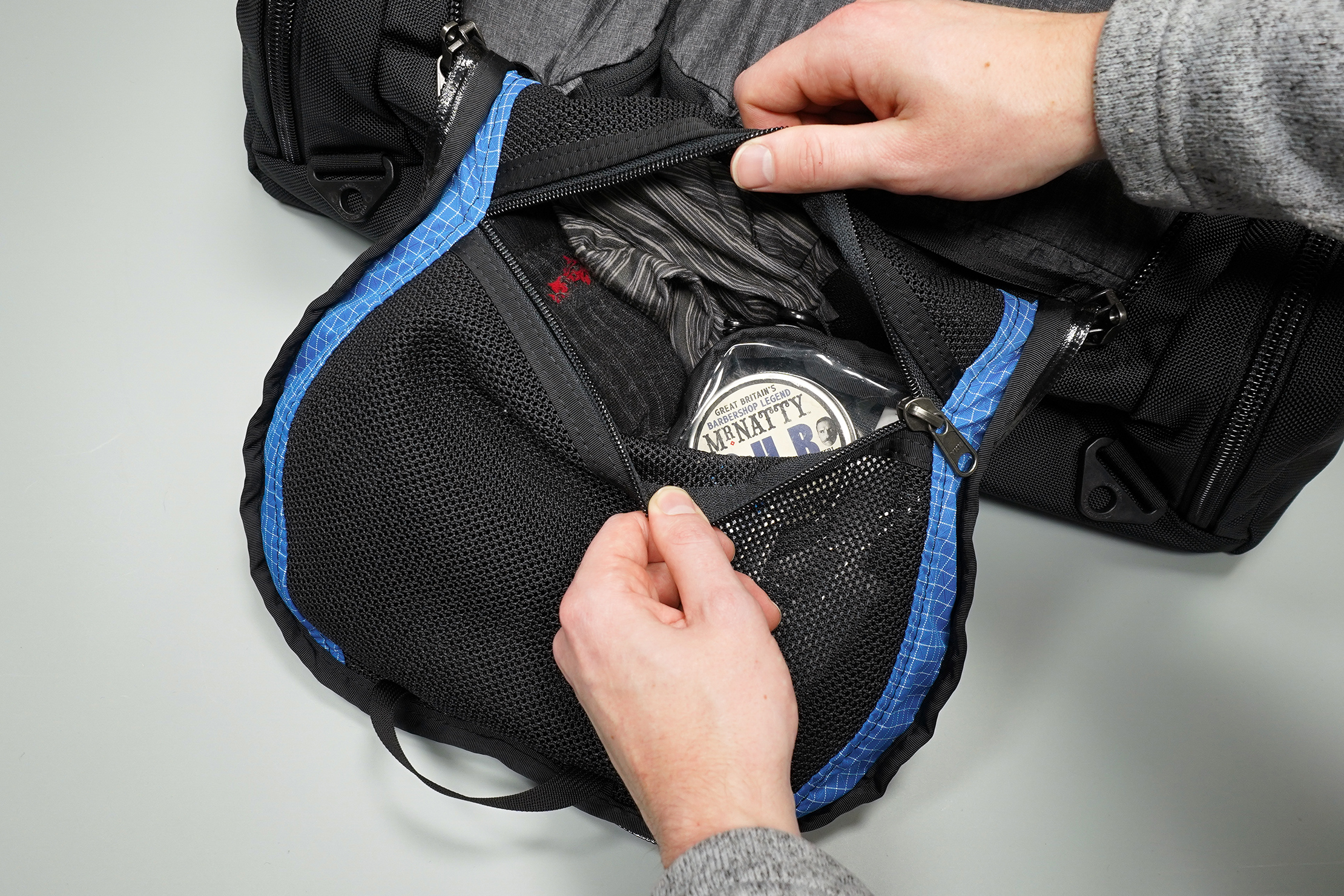 On the top flap of the main compartment, there's a mesh pocket that works well for socks, underwear, a Dopp kit, or any small bits you want to keep organized instead of floating around in the main capacity of the bag.
There's a handle above the mesh pocket and, opposite of that, another handle is sort of tucked away inside of the bag. Together, these create a great way to transport the bag while it's open. It might sound small, but this feature comes in handy.

Lastly, there are four O-rings inside the main compartment of the Tom Bihn Aeronaut 45. Two are right under the mesh pocket and two are on the sides. Again, these are great for attaching those additional accessories we mentioned earlier.
Durability & Testing
At the time of this review, we've been testing the Tom Bihn Aeronaut 45 for just over three weeks in Detroit, Michigan—loading it up to capacity to practice our trip (one of our favorite travel tips). So far, it's held up nicely.
The organization of the Aeronaut 45 has been really great to use. Better than we thought, actually. We tend to use pouches and packing cubes pretty often, so we like having the large main capacity plus the side pockets for additional organization.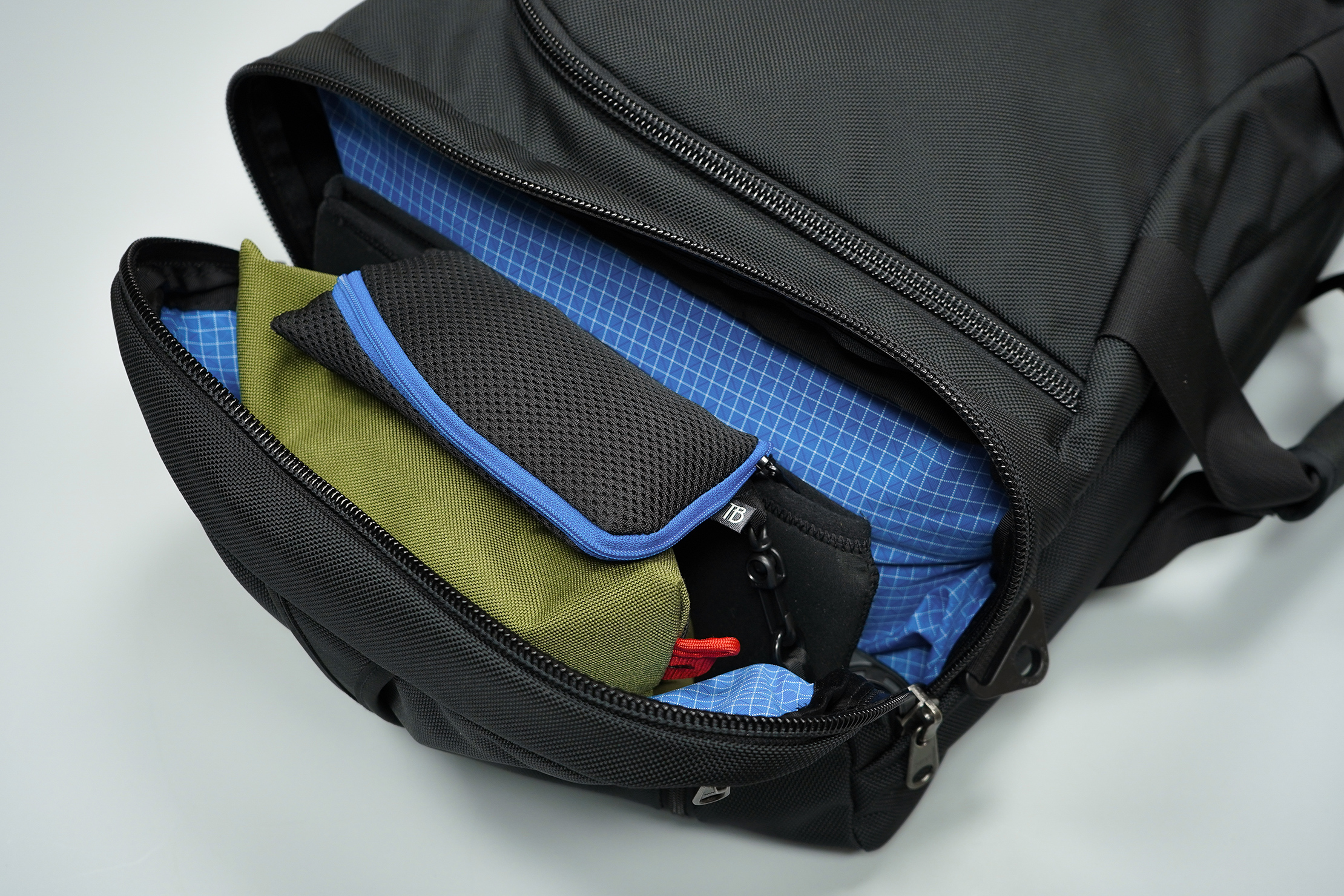 We're not super fond of this bag in backpack mode (for the reasons we mentioned earlier) and the briefcase and duffle modes aren't necessarily ideal either. Especially for a 45L pack. It's pretty big. If you're on the fence between a 45L and 30L Aeronaut, you might want to go with the 30L.
That said, we've still had a pretty good experience with this bag. We like that it's a durable workhorse with some smart organizational features, to boot.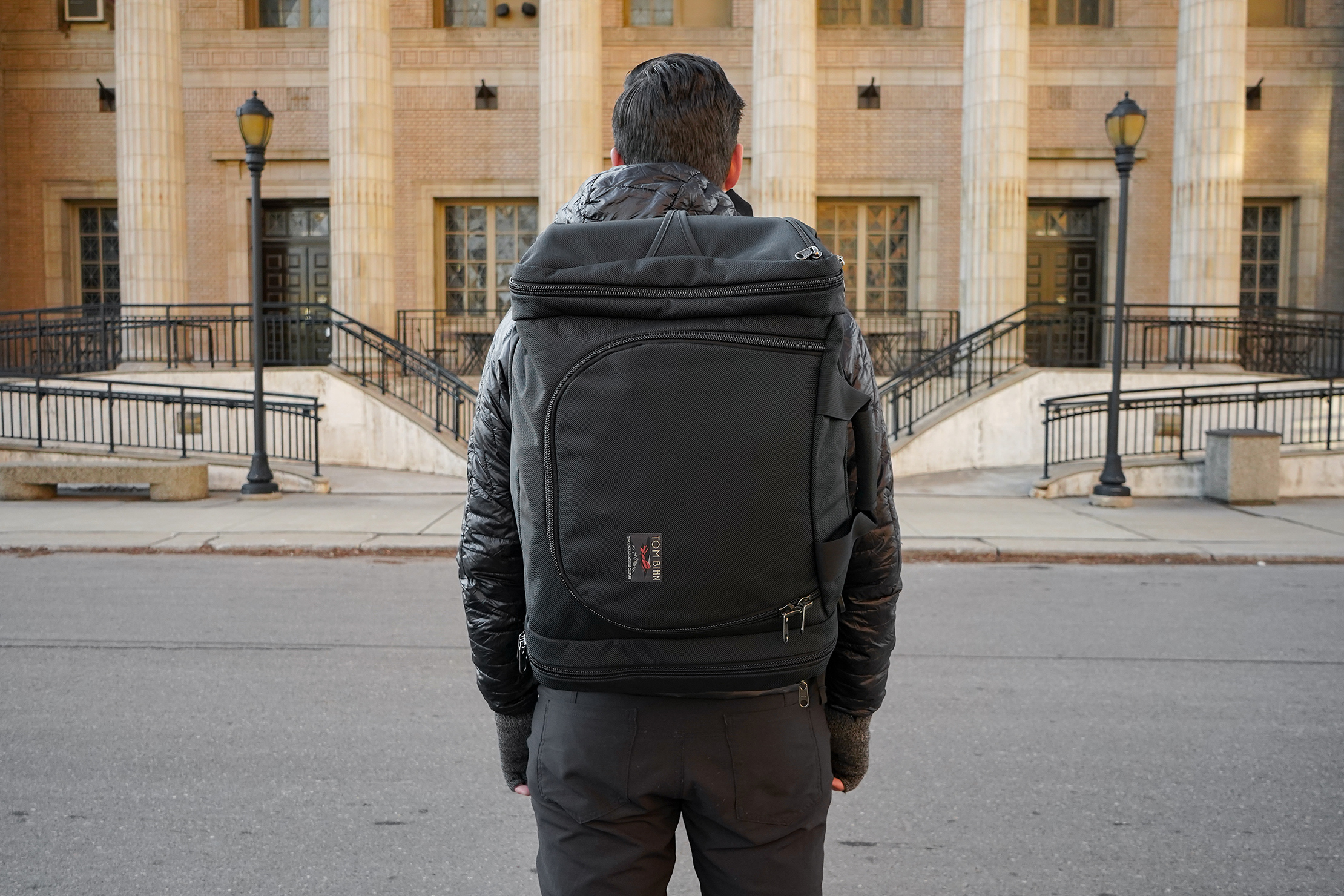 Usage Timeline
Initial Usage
Condition: Excellent
Can be carried as a backpack or duffel (shoulder strap sold separately)
Good amount of organization for a duffel, we really like the adjustable side pockets
Makes of some heavy-duty materials
2 Weeks of Use
Condition: Excellent
There's more organization than we thought and being able to customize the bag with other accessories on the Tom Bihn ecosystem is great. But it's not ideal for carrying a laptop.
1 Month of Use
Condition: Excellent
Backpack mode is proving to be less than ideal. You'll notice the shoulder straps digging into your neck, plus, the bag can buckle if not packed full.
Access the Pro Community Discussion
Get your questions about the TOM BIHN Aeronaut 45 answered from our team and the Pro Community right here on the page. Plus, join discussions with other members about gear, guides, and more.
Other Bags & Luggage Reviews