TOM BIHN Synik 30 Review
The Tom Bihn Synik took a great travel bag (the Synapse) and made it even better—with top-notch organization, an ergonomic design, and added customization.
Our Verdict
Unlock the Pro Summary
Save time. Get access to brief summaries of our reviews so you can browse and make decisions more efficiently.
Pros
Lots of organization going on throughout the pack
The ergonomic, intuitive design feels great to use
Awesome options for customization and additional accessories
Cons
The round size doesn't allow for complete space optimization for carry-on travel
The interior stretch divider pocket is a bit cumbersome
No elastic keepers to help manage the excess straps on the bag
Recent Pack Hacker Video
Technical Details
Capacity

30l

Weight (lb)

3.01 lb (1.4 kg)

525d Ballistic/200d Halcyon Lining with Frame

Dimensions

20 in x 13.4 in x 8.0 in (50.8 x 34 x 20.3 cm)

Depth range: 8.0" – 10.8" a note on depth from Tom Bihn

Notable Materials

EVA Foam, Ballistic Nylon, Ripstop Nylon, YKK Zippers, Duraflex Hardware, Woojin Hardware

Manufacturing Country

United States

Laptop Compartment Size

15"

Warranty Information
Full Review
If organization and comfort matter more to you than fully optimizing every inch of your carry-on allowance, the Tom Bihn Synik might be for you. This 30-liter travel backpack is the next iteration of the original Tom Bihn Synapse. Today, we're reviewing the 30-liter Synik, but Tom Bihn also has this pack available in a 22-liter version.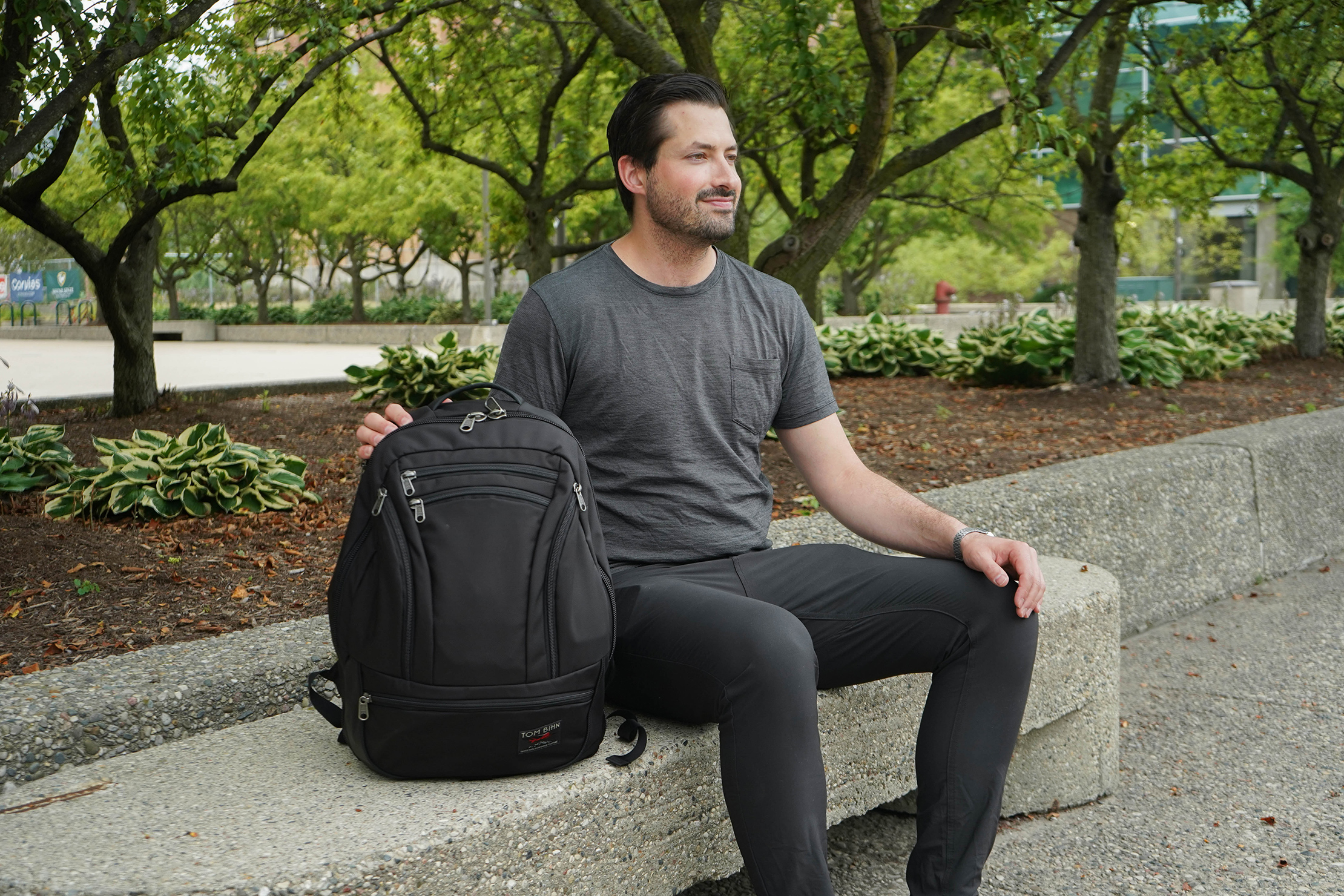 Fun fact before we get started: the name Synik comes from a little joke over at Tom Bihn, a Seattle-based company that's been making travel and laptop bags since 1972(!). There's a guy there named Nik—the brand's COO, a designer, and programmer—and there's a joke that his name has to be in every product he produces. When he created a wallet in 2018, it was called the Nik's Min|imalist Wallet. Since the Synik 30 is the next version of the Synapse, you basically take the "Syn" from that bag's name and add "Nik"—and there you have it: Synik.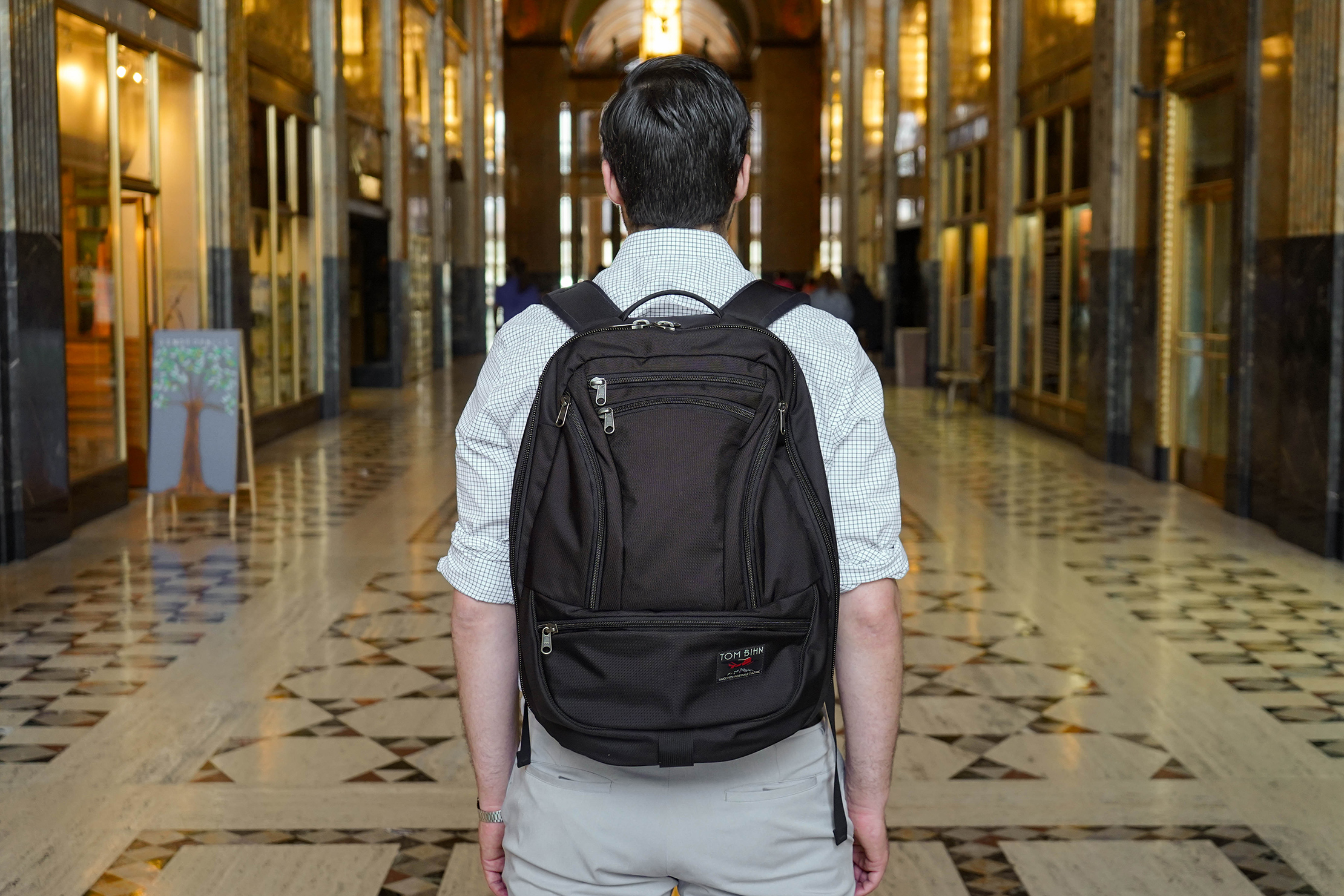 We love that Tom Bihn is a relatively "underground" company that makes all its products right here in the USA. If you've heard of the brand, you're likely a fan or you're just really into bags—and from our experience, this is the sort of brand people are super excited to talk about when you ask or comment on their gear at the airport. They've got a great community of gear nuts, and that's not something we can say about every brand we test.
We've been testing the Synik 30 for the past three weeks in Detroit, Michigan, and Minneapolis, Minnesota. Let's see how it fared.
Materials & Aesthetic
Overall, the Synik looks very similar to the Synapse—so similar, in fact, that Tom Bihn actually moved its logo down to the bottom right of the bag instead of the top middle where it has been in the past. This may be slightly unnerving for Tom Bihn fans, but we have to say we prefer the logo on the bottom right—it's just a little less obvious this way.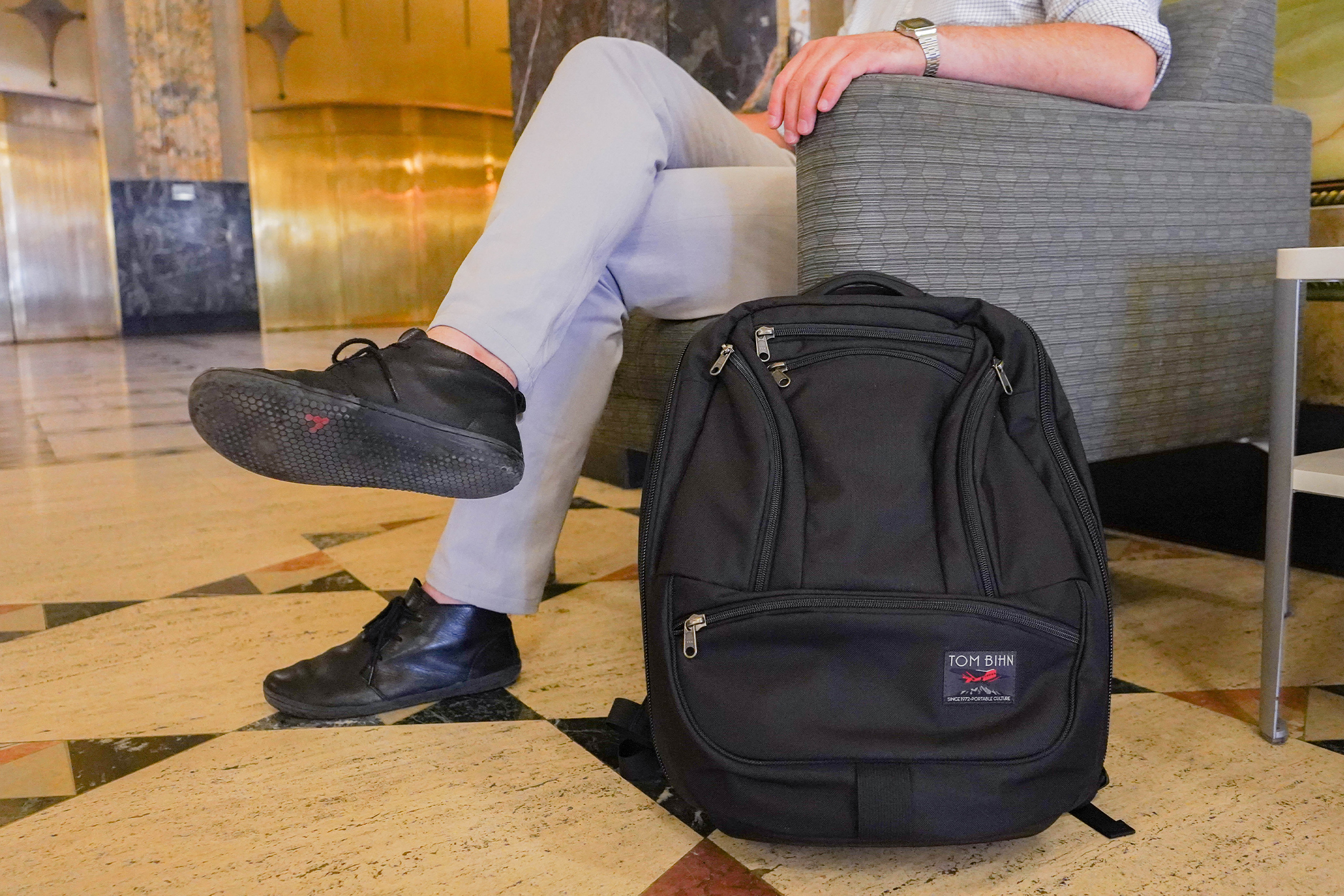 As always, we polled our Instagram audience to see what they thought of the aesthetic of this bag. They weren't huge fans, and we have to say, it's not exactly a bag built for style. It is, however, built for comfort and organization (which we can get behind).
From a travel perspective, the overall look of this bag is a bit round or oval-shaped. When we think of "optimized carry-on travel," our minds go to more rectangular bags, which can be jammed with more packing cubes and maximize space more than a circular bag like this one.
That said, the shape of the Tom Bihn Synik 30 creates an ergonomic carry and a great design despite sacrificing a bit of space inside. We've been pleasantly surprised with how much the Synik 30 holds, including in the outside pockets (looks can be deceiving on these—once you get inside, you'll find they hold more than you think). The bag also kind of shifts and forms based on the amount of gear inside.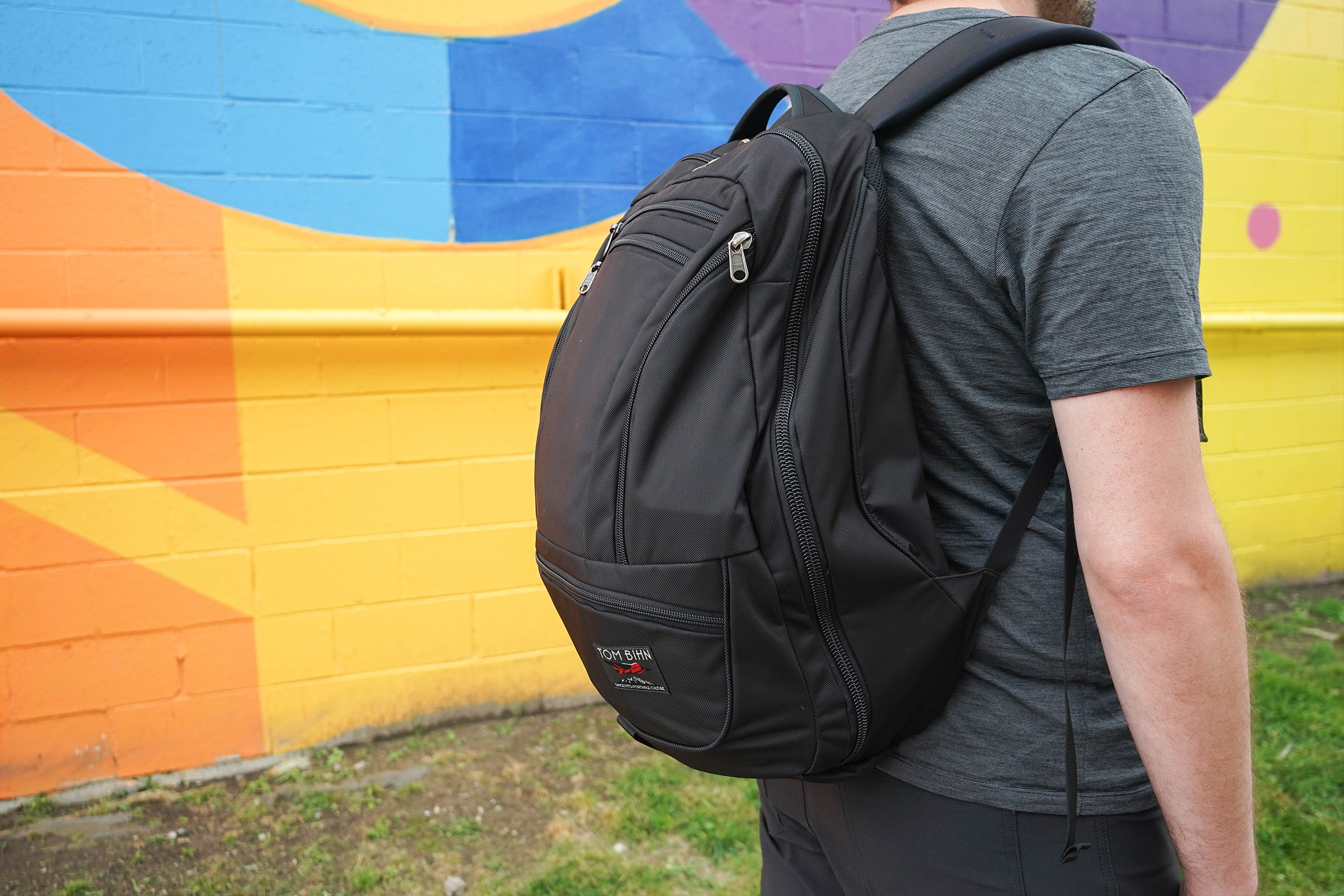 The main fabric on our Synik 30 is a 525D ballistic nylon, and the interior is a 200D halcyon. Tom Bihn has many different fabric type and color combinations to their products though, so be sure to check things out on their site.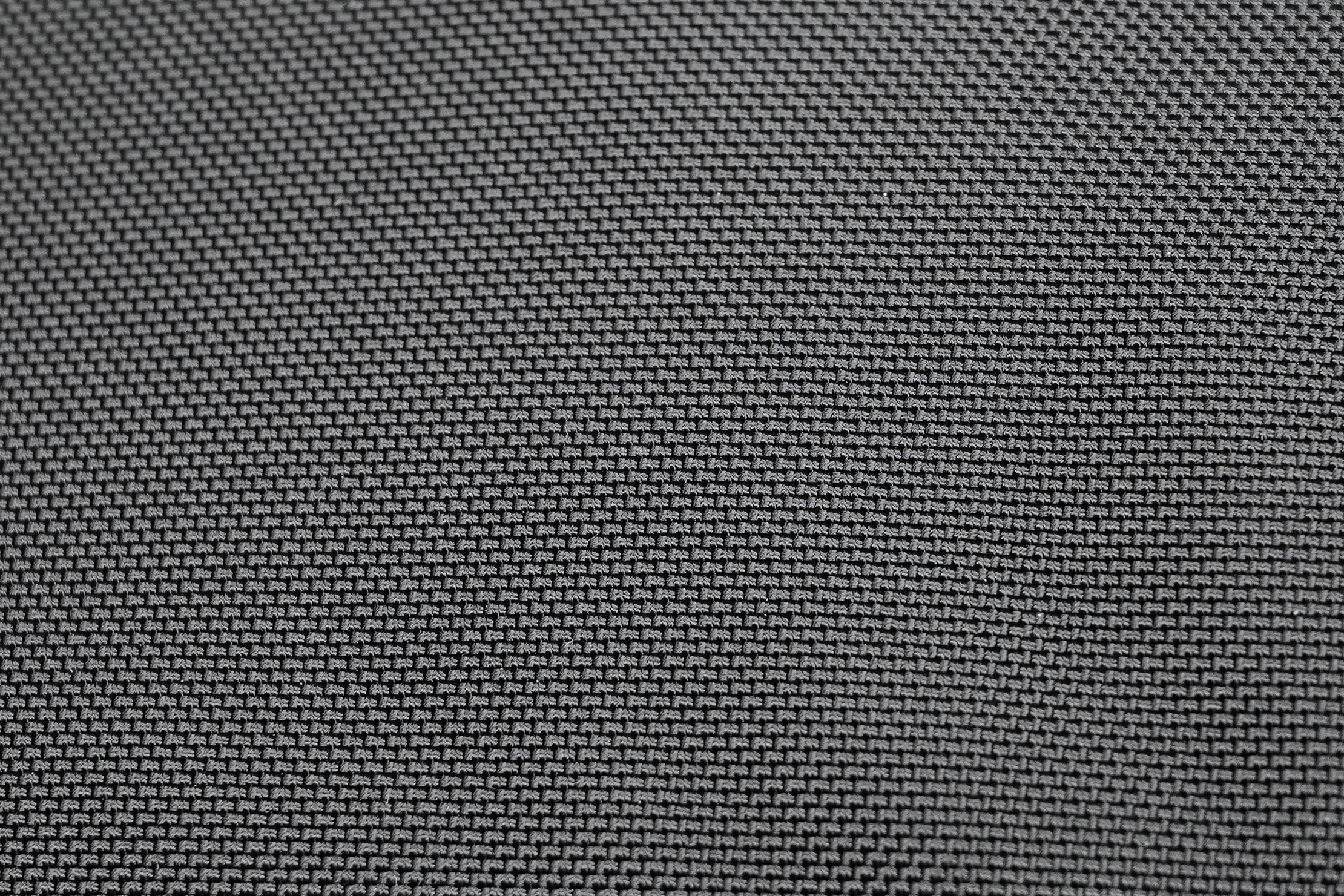 We love the durability on the interior liner—if you do get a small rip, the ripstop lines will prevent it from getting larger. Generally speaking, interior liners can be a bit fragile, so it's nice to see that extra durability here.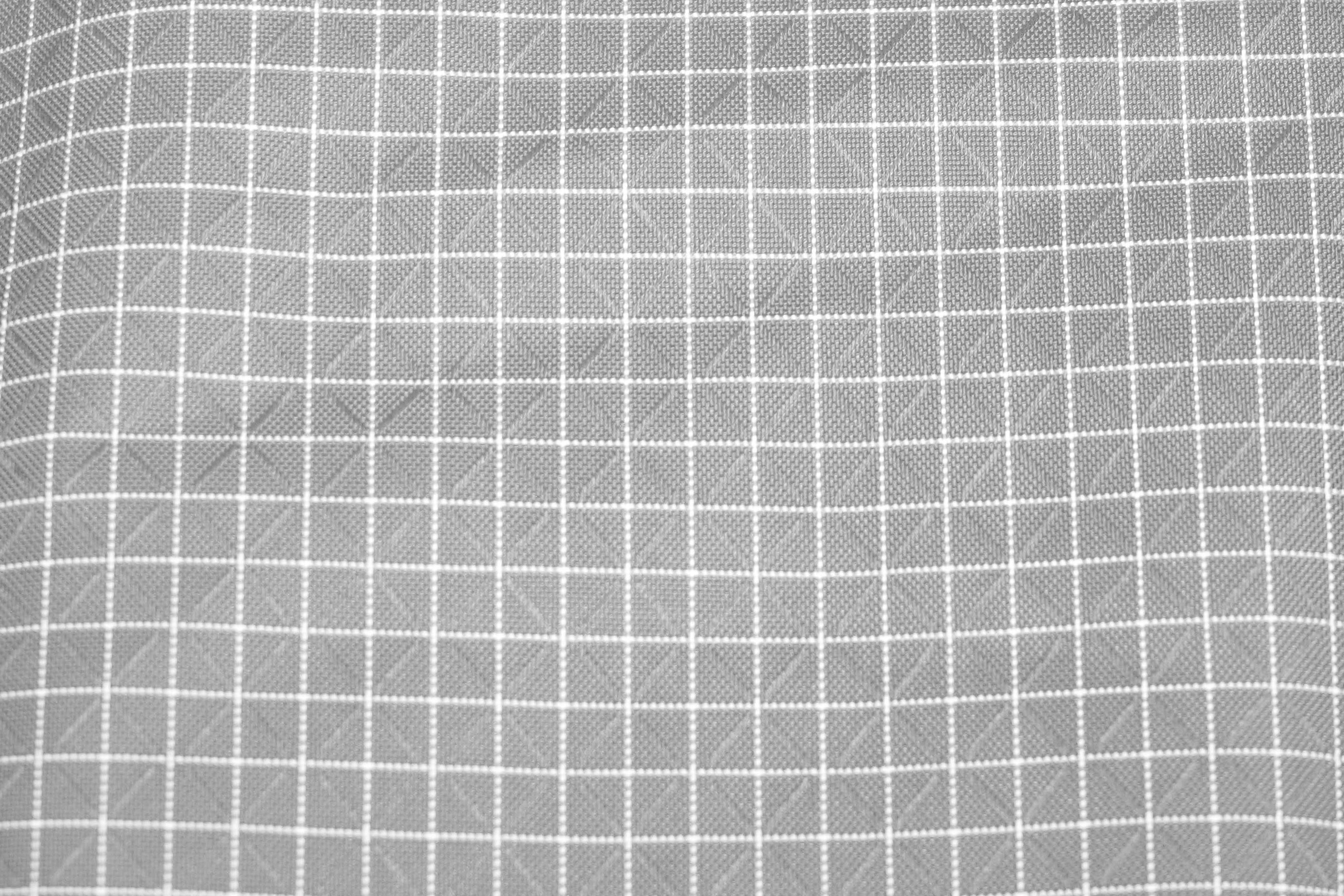 Although we've been testing the black version, Tom Bihn always offers its bags in a wide range of colorways—which include different exterior and interior colors—and the Synik is no exception. If you go with a brighter interior liner, visibility should be high when contrasted with darker gear, which is always nice. The interior lining is also a bit softer and more rubbery to the touch when compared to the "swishier" ripstop nylon we usually see—another strong point for this bag.
Wrapping up the rest of the notable materials on the Tom Bihn Synik 30, its shoulder straps have an EV50 half-inch padding and they're super comfortable, dense, and thick.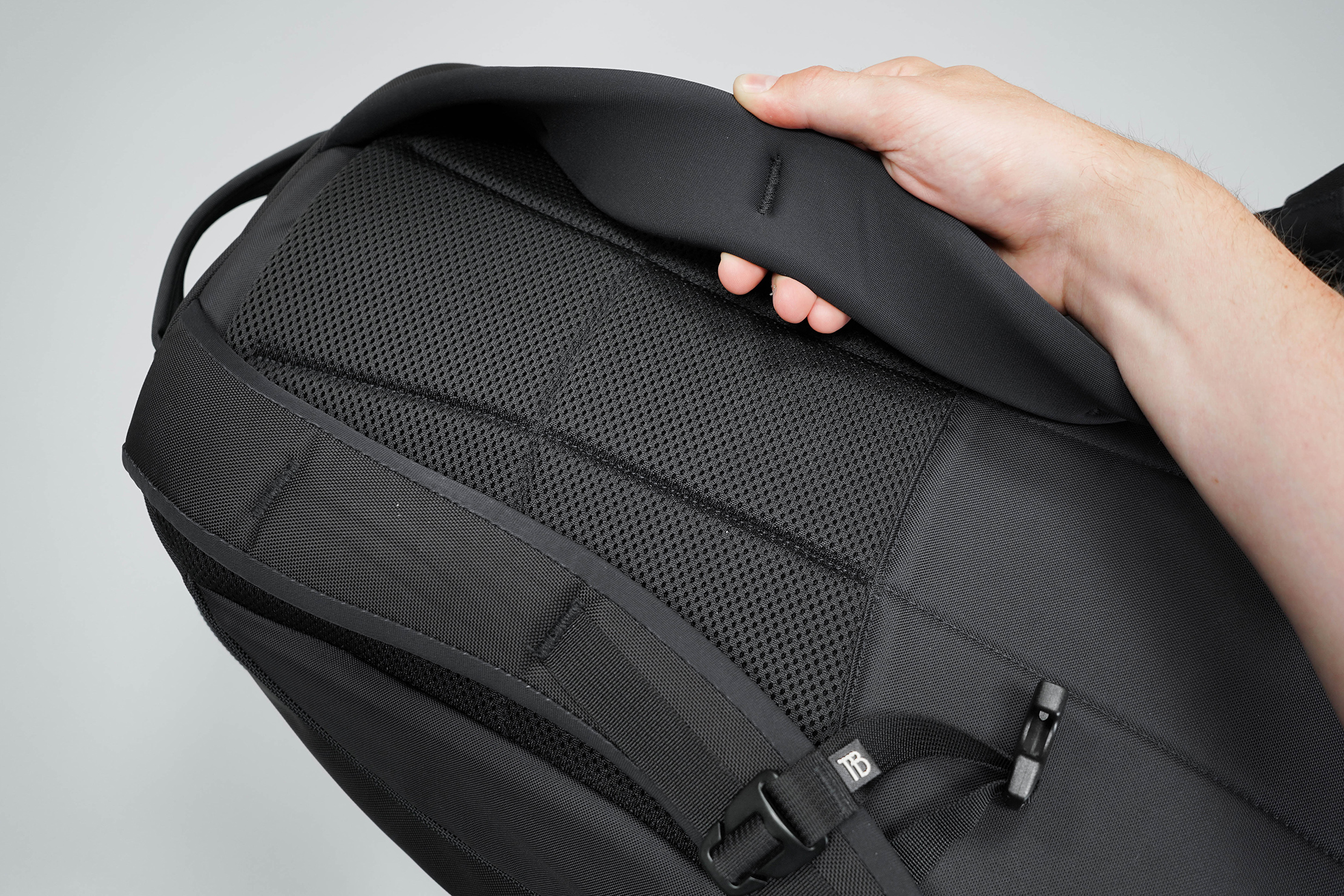 Duraflex, Nexus, and Woojin hardware is used throughout the Synik, which are all dependable hardware brands. And lastly, there are some beefy YKK AquaGuard zippers all around the bag which add some additional protection from the elements—the main one being a large #10 zip, while the rest (six in total) are all #8.
External Components
As we mentioned above, the harness system on the Tom Bihn Synik 30 features EV50 half-inch foam padding. These shoulder straps are actually some of the most comfortable we've tested to date, especially for a bag of this size (which is not something we say lightly). Some might say this is a little overkill for a pack of this size, but if you're carrying a bunch of heavy camera and tech gear you really can't go wrong. And who's going to complain about more comfort? (Not us.)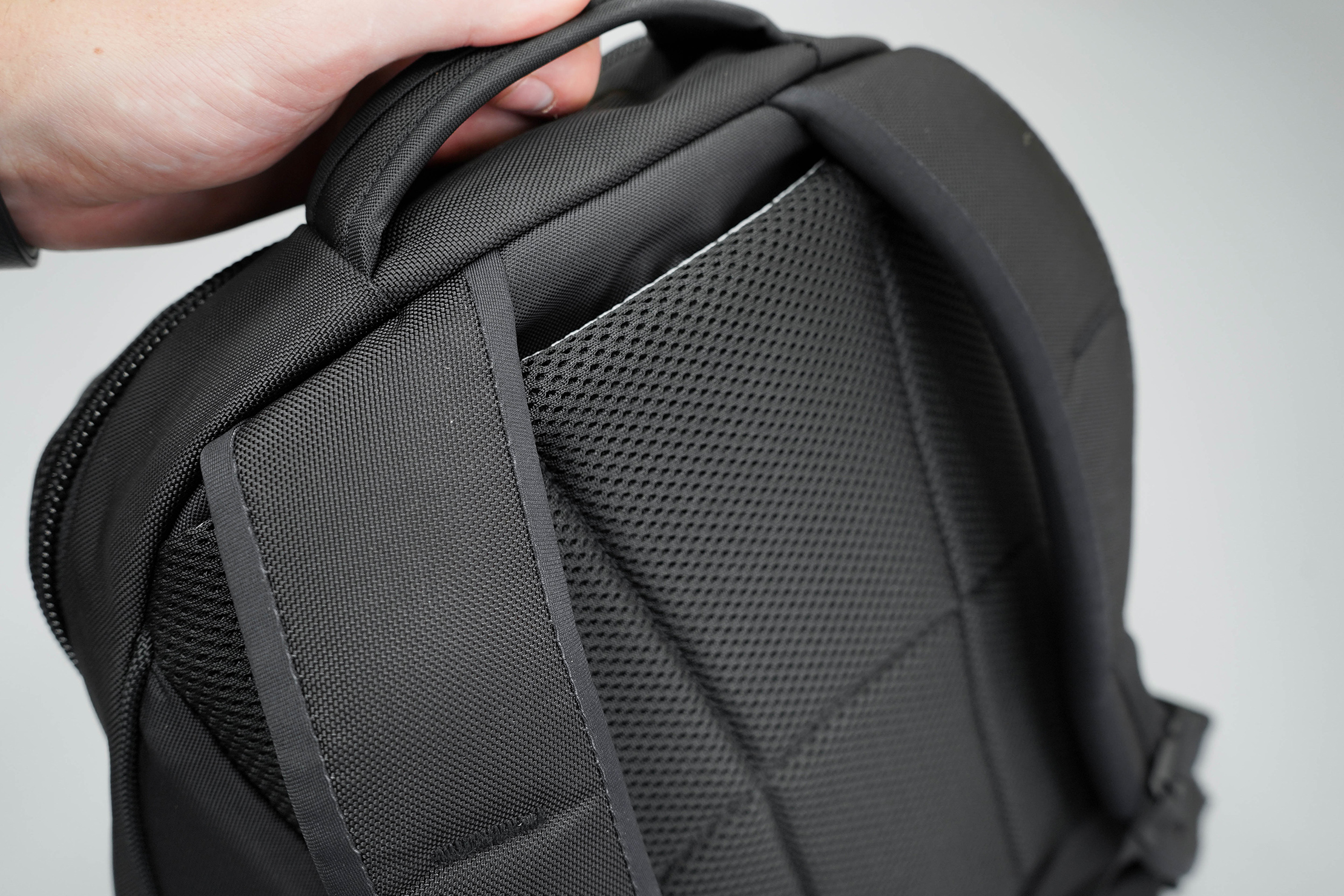 One thing to note is that there are no load-lifters at the top of this bag. These are often helpful as they'll pull the pack a bit closer to your upper back to prevent sag, but they're not entirely necessary on the Synik due to its size and shape. Since it's a bit more ergonomic, we don't think you need those load-lifters at the top.
Moving down the straps, we really love the sternum strap on this bag, which is semi-permanently anchored. A lot of bags we review do this halfway, which makes it possible to lose a sternum strap—far too possible if you ask us, considering how many we've lost—so we love that the Synik's strap is securely fastened.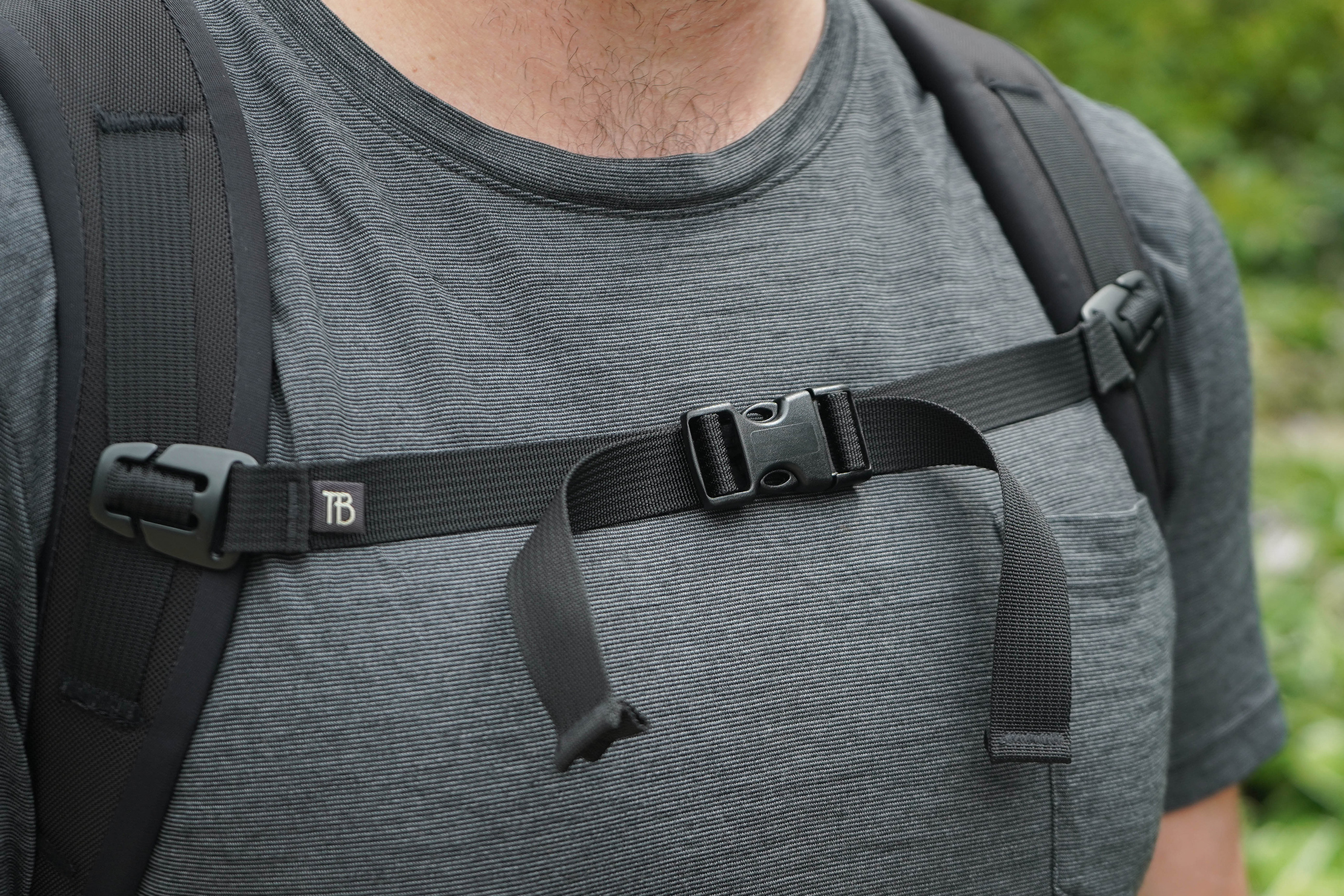 The shoulder straps themselves are pretty standard and easy to adjust. As mentioned earlier, we do wish there were elastic keepers to help manage the excess strap and give it a cleaner look.
At the bottom of the Synik 30, there are two loop attachment points on the inside of the straps that can be used for either a waist belt or a hip belt. Tom Bihn has a ton of options for this, so be sure to check those out if it's something you think you'll need. We appreciate the amount of customization you have with this bag—it's almost like no two Syniks will be the same, which is neat.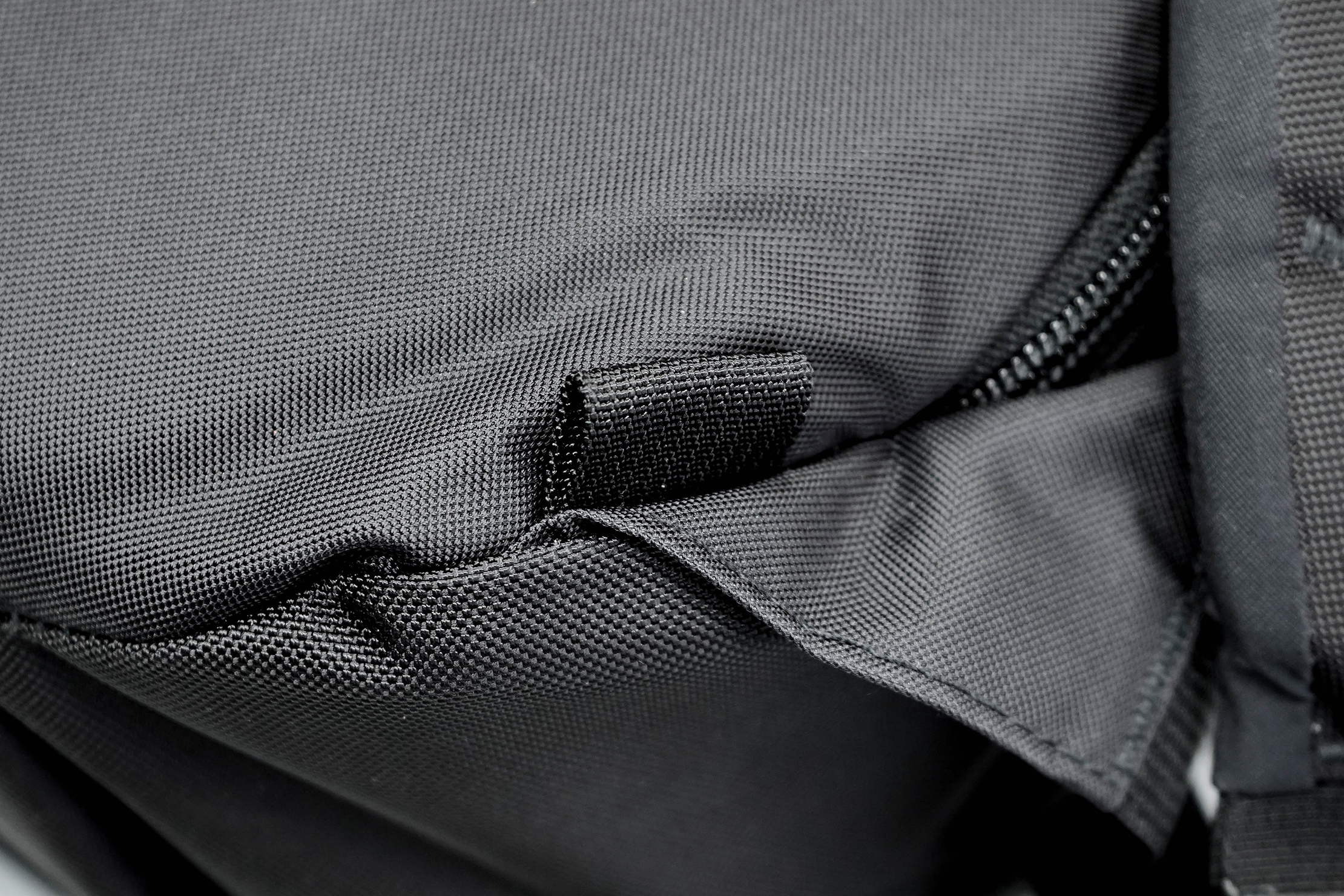 The padding on the back of this bag is also quite comfortable (big surprise). There's some air mesh at the top, plus a lower denier nylon at the bottom.
Next up, we have a frame sheet that sits between the back panel and the main compartment of the bag. This is a significant improvement on the Synapse, which used to have the frame sheet on the inside. This frame sheet adds some structure and helps the bag stand up on its own—as any good frame sheet should!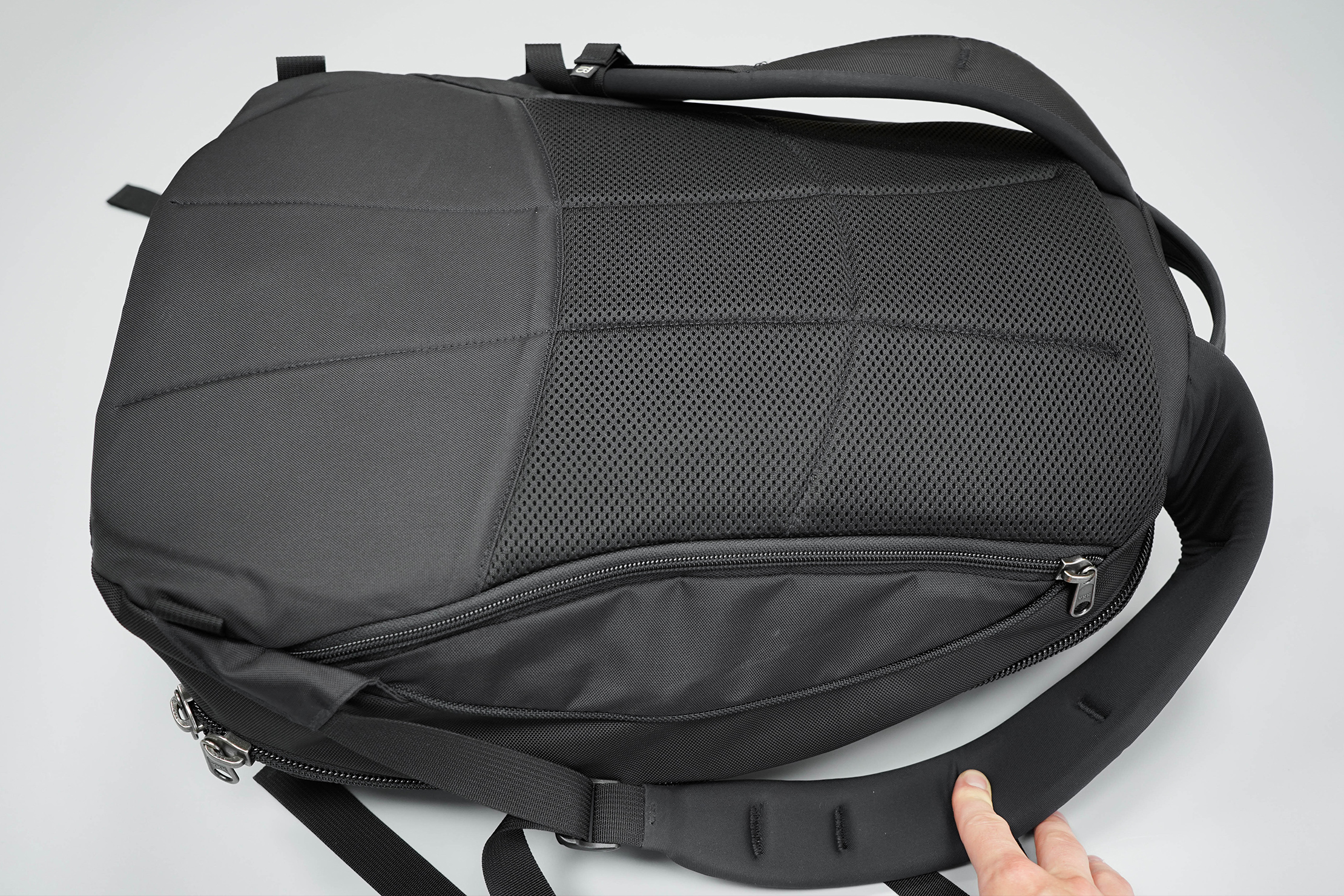 Our tester on this pack is about 6' 2" with a 19.25" torso, and he did notice the bottom of the frame sheet getting stuck between his belt and pants on occasion. It only happened a couple of times, but it's something to keep in mind if you're taller and you will be using the frame sheet.

We think the top handle on this bag is a great feature and a nice improvement compared to the brand's previous bags. Tom Bihn started with a pretty standard nylon strap made with the same material you see on the straps, and in its next iteration folded that strap material in half and sewed it to add some padding. Now there is some quarter-inch-thick padding on the sides, sandwiched in between two pieces of ballistic nylon. This is a major improvement and goes to show that Tom Bihn is constantly iterating and working to make its packs better—something we love to see here at Pack Hacker.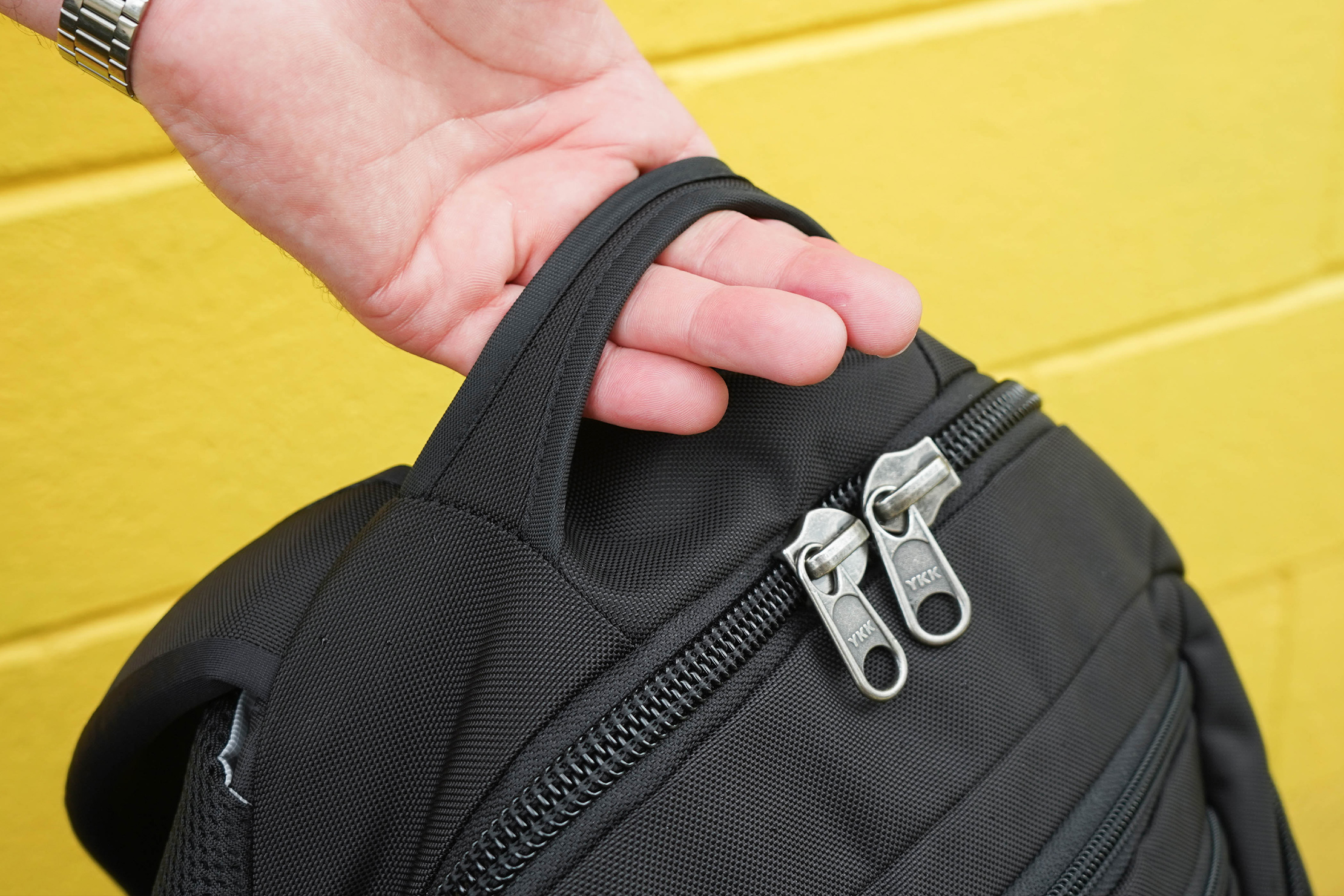 Finally, the bottom of the Synik has an additional attachment point for a Guardian Light which is sold separately (ideal for cyclists), or you could get away with attaching other accessories here as well. Another bonus of this loop at the bottom is that it makes a great handle to pull the bag in and out from under an airplane seat. With the wedge shape of the bag, it's generally much easier to put it under your airplane seat with the loop facing you.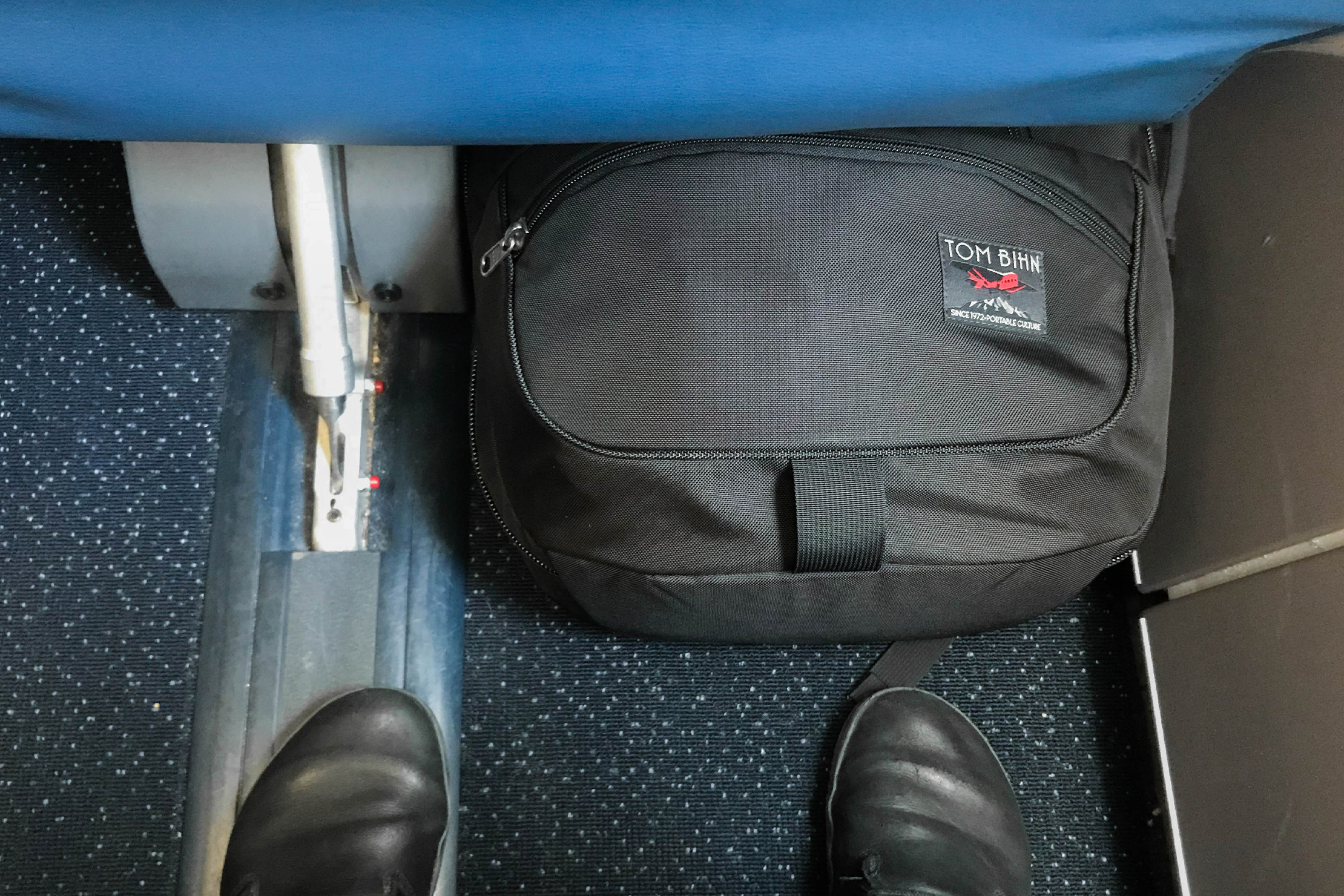 Inside The Pack
Interior organization is clearly one of the Synik 30's strong suits. Starting with the quick-access pocket on the top, there are about eight inches of vertical space here—which we think is the perfect size for a quick-grab pocket. This is great if you're going through the airport and need a place to store your belongings after you empty your pockets.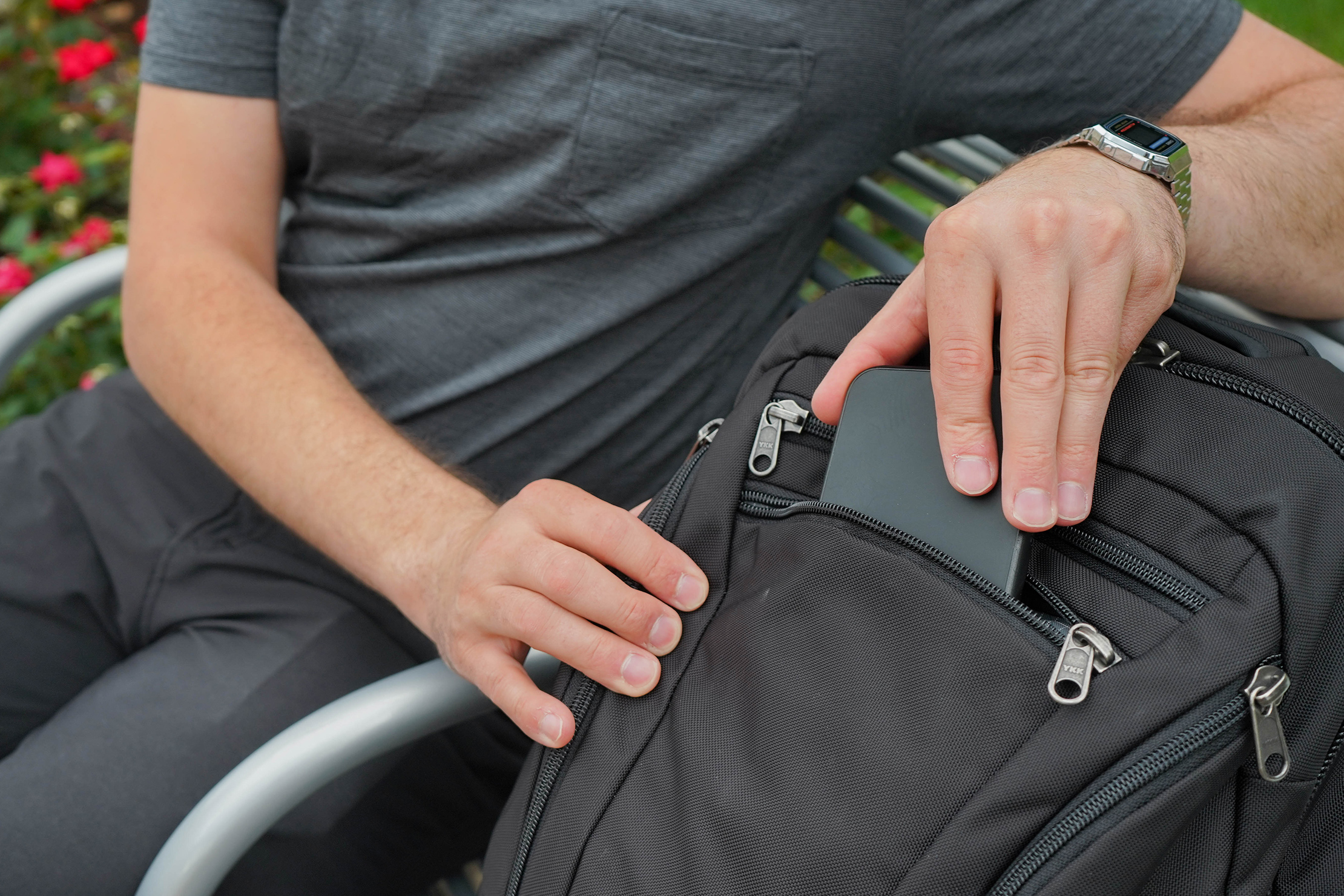 There is an O-ring at the top and elsewhere throughout the Synik to attach accessories, such as Tom Bihn's smaller organizer pouches. We've found it convenient to attach those organizers to the front pocket O-rings, letting them hang out of the bag while we're using them.
There are a total of 11 O-rings across the pack: one in the water bottle pocket, one in the small middle pocket, one in the left pocket, one in the right pocket, three in the bottom pocket, and four in the main compartment.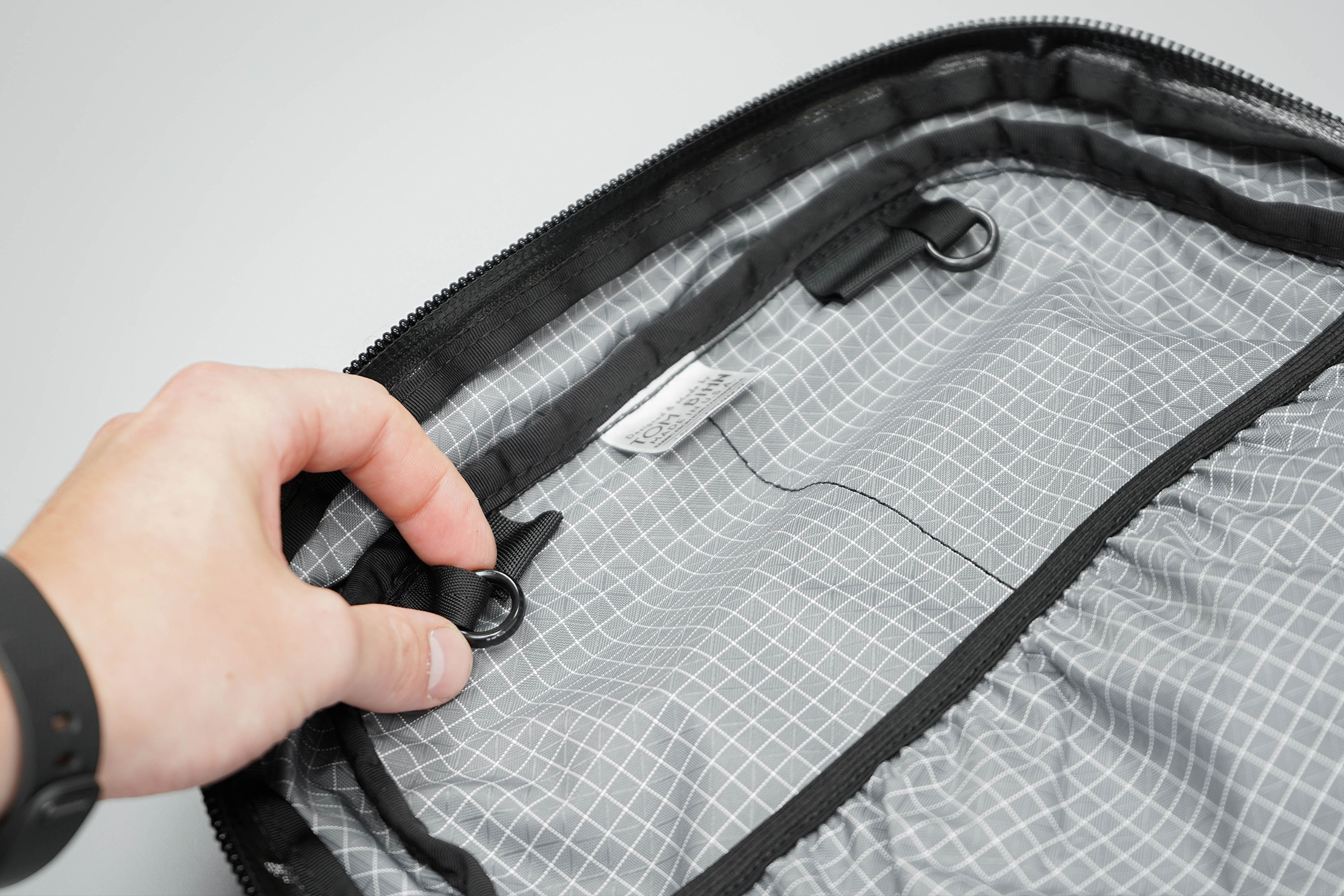 As we mentioned in the materials section, the zippers on the quick-grab pockets are all #8 YKK AquaGuard zippers. The AquaGuard protection does help keep moisture out, but it can make the zipper a little bit more stiff, especially while initially breaking in the pack.
In our testing, for example, we found ourselves running through the airport holding onto the bag with one hand—and it was difficult to zip and unzip the small quick-grab pocket quickly from that position. It's much easier to set the bag down, grab the fabric on the sides and then zip or unzip.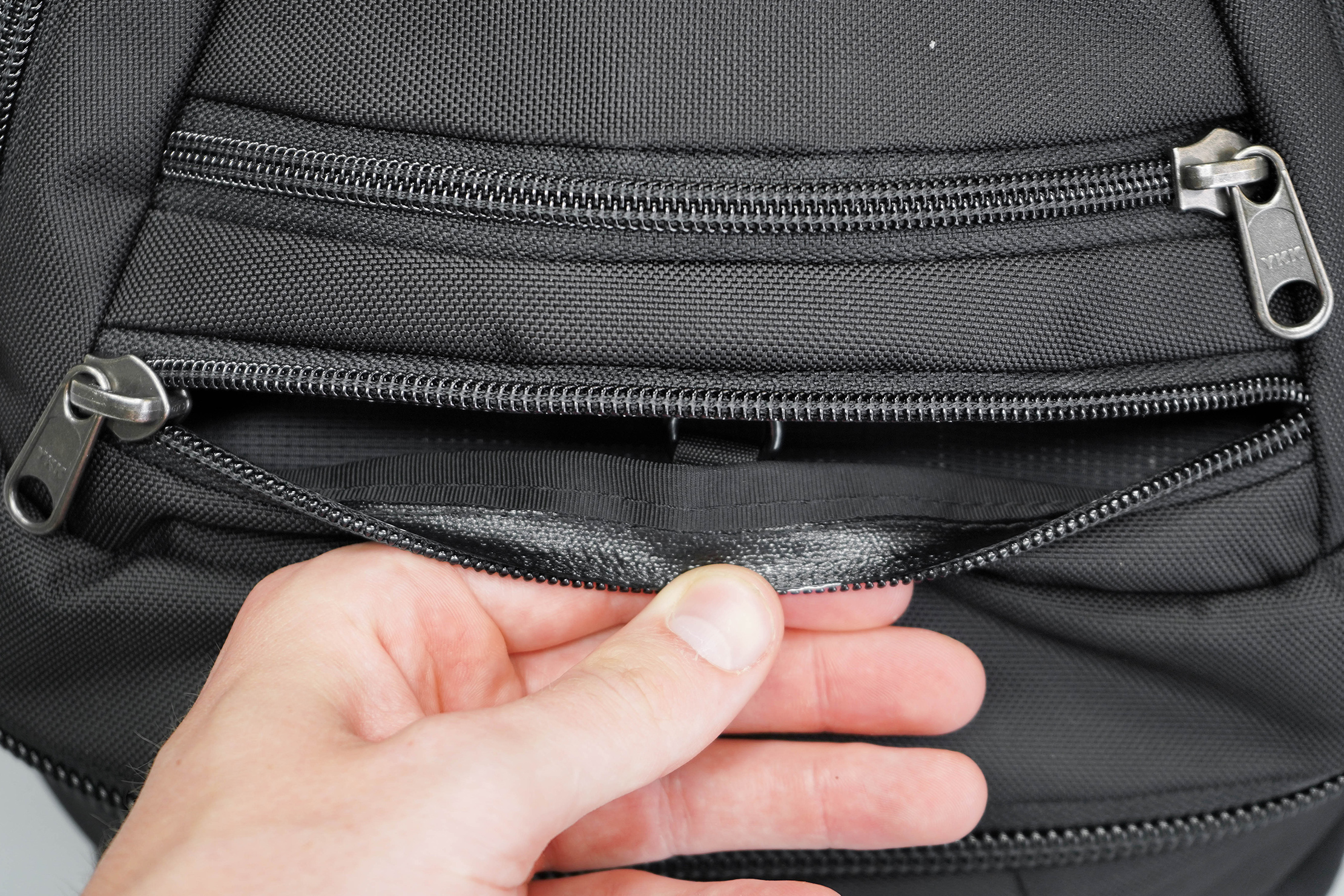 Just to illustrate how hard this zipper was to zip compared to others we've tested, consider the Mystery Ranch Zoid Cell we just got in the mail. This bag has a super-smooth zip—one of the smoothest we've seen. The Synik's zippers should break in with time, so this is just a minor note to keep in mind.
Directly behind the quick-access pocket, you'll find a centered, mesh-lined water bottle pocket. We like that this pocket is centered to evenly distribute the (heavy) weight of a large water bottle—a feature we rarely see. The stretchy mesh on the interior walls helps accommodate more substantial bottles or makes the side pockets a little larger if you want to stretch them in.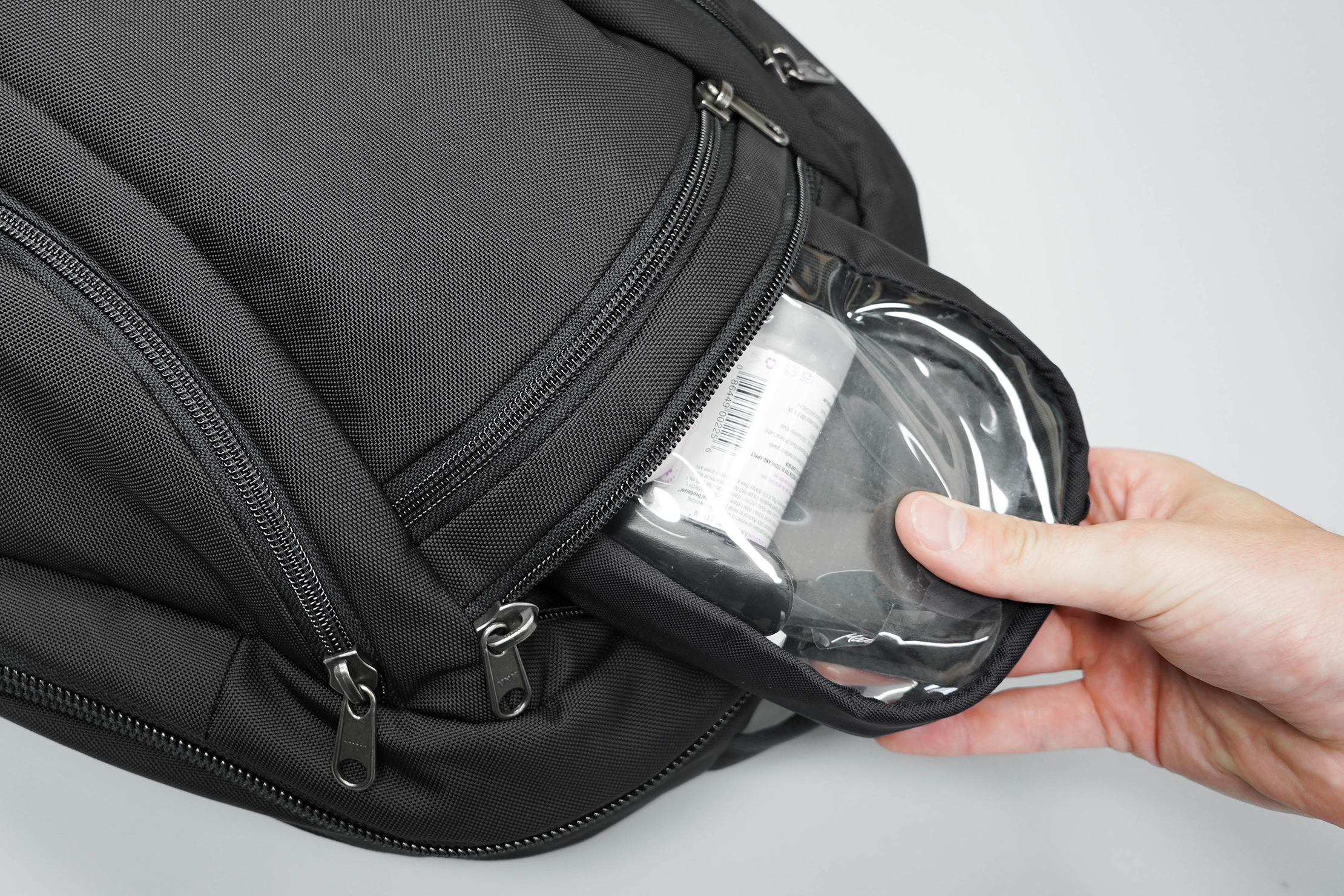 If water isn't your thing, this pocket is also a great place to store the clear-windowed 3D organizer pouch from Tom Bihn—which we've been using as a toiletry bag. It's an ideal place for it, too, since you can quickly and easily take it out at airport security if necessary.
Moving on to the Synik's two side pockets, these are nice and easy to access. Simply swing the bag around the front of your body and then open them up to get a great look inside while you're still half-wearing the bag. Both of these side pockets are a lot larger than meets the eye, too, so the interior of this pocket is pretty large despite the small appearance of the zipper.
Once you get into the interior of the pocket, there's a lot more room than you'd expect. The right pocket features a single liner pocket with a wide, open space (we've been using it for keys and sunglasses), while the left-hand side offers the same liner pocket but with three dividers for things like pens, pencils, styluses and travel sporks.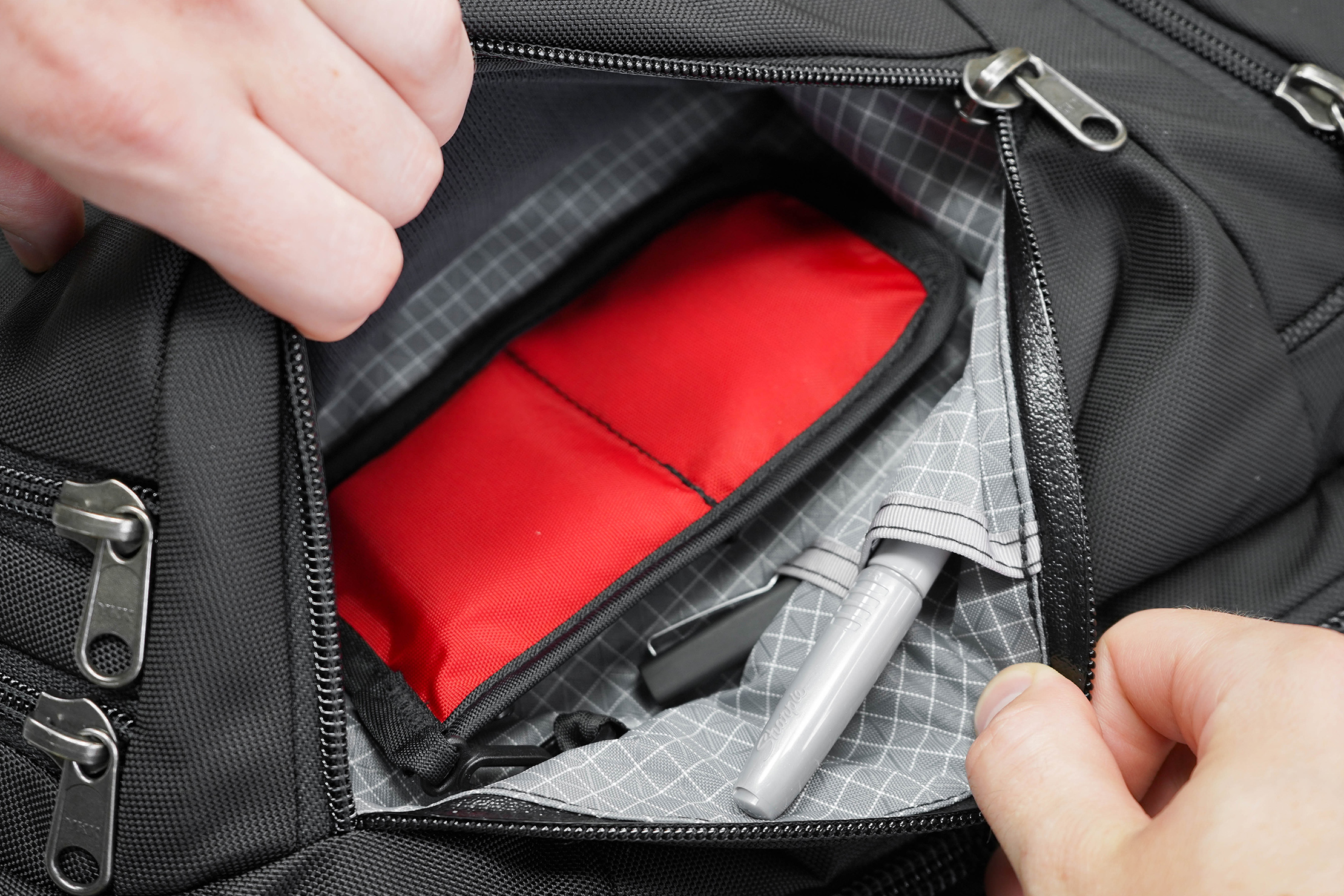 Each one of these pockets features an O-ring, as well. The right-hand side is excellent for keys—it has a keychain—and the left-hand side has one of Tom Bihn's small clear organizer window pouches.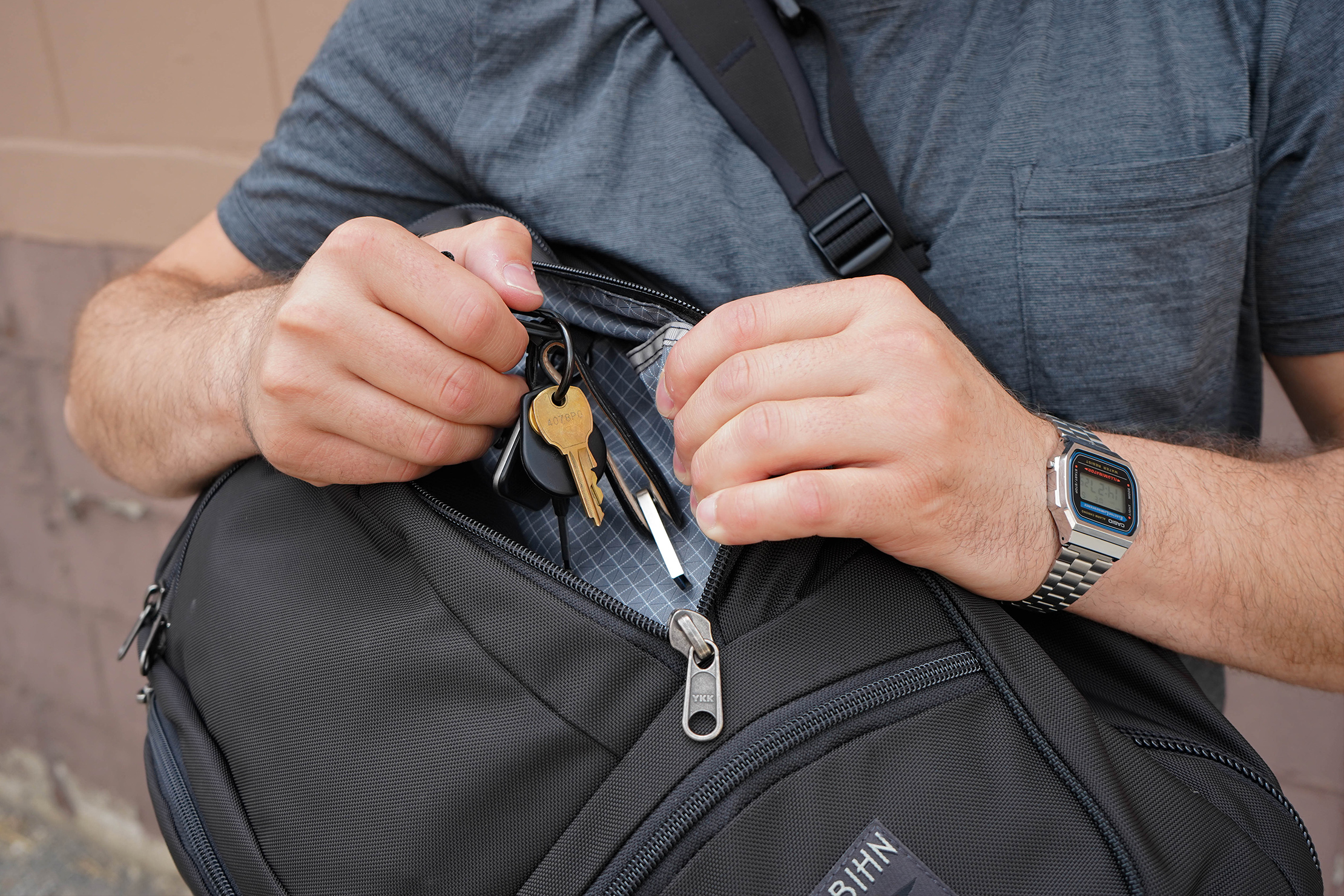 The bottom pocket on the Tom Bihn Synik 30 offers a generous amount of space. In our testing, this has become our dedicated tech pocket. You can easily stuff a MacBook Pro charger in here, although a Side Winder makes things a lot more manageable.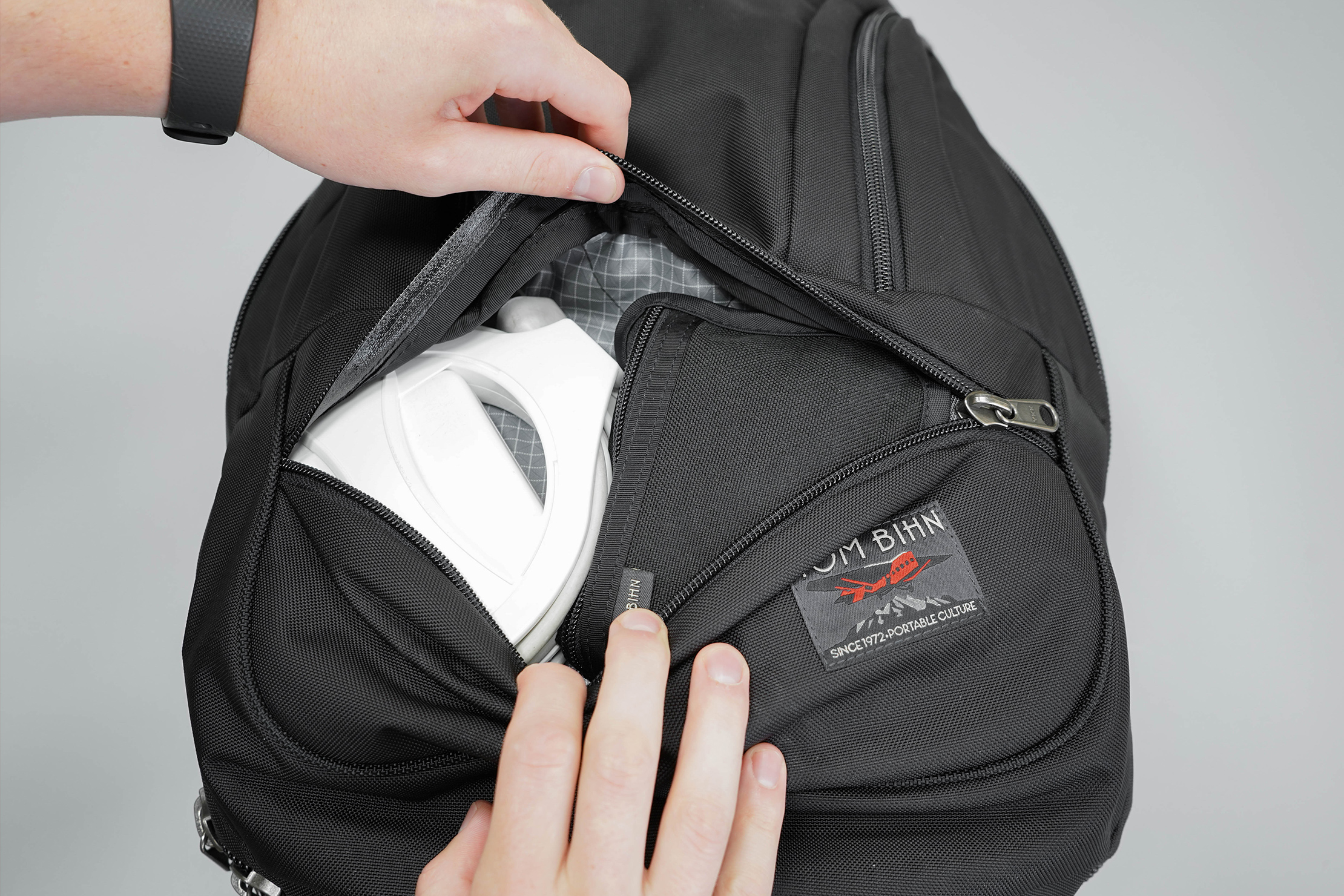 There are also three O-rings found at the bottom, which are great for using those smaller pouches—they allow you to organize things and hang them outside of the bag when you need access to them. In addition to the charger we mentioned above, we've been tossing two small pouches full of tech gear here.
We've even found that the Roost Laptop Stand fits in the Synik 30 horizontally, although it does make the bag look a bit oddly-shaped. Still, it's an indicator as to how much space is actually inside of this pocket compared to the smaller zipper. There's a ton of room outside of the width of the zipper.
Saving the best compartment for last, let's check out the main clamshell. Why is this the best part of the bag, you ask? Well, if you're a fan of the Synapse, you'll know it has a horseshoe zip, which makes it tricky to see exactly what is going on inside the bag. The Synik opens up fully clamshell-style, which has no downsides but makes the bag much more convenient to access and easier to see into.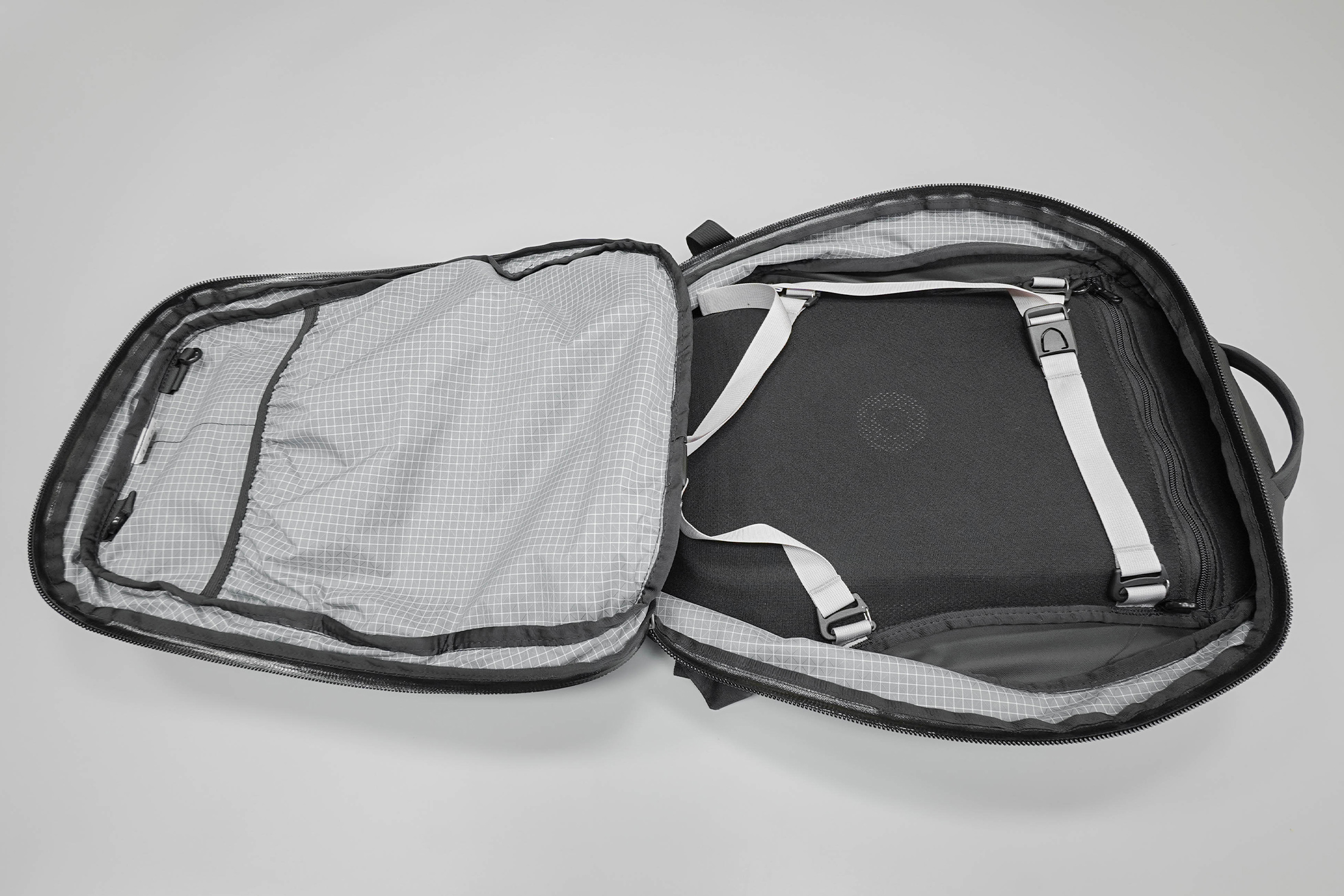 Inside this compartment, there are O-rings and nylon loops located at the top, on the front flap, and there's a padded bottom on the exterior right where the two zippers end. There are also some removable compression straps with push-button buckles on the interior, and you'll find two O-rings near the top compartment of the straps, as well.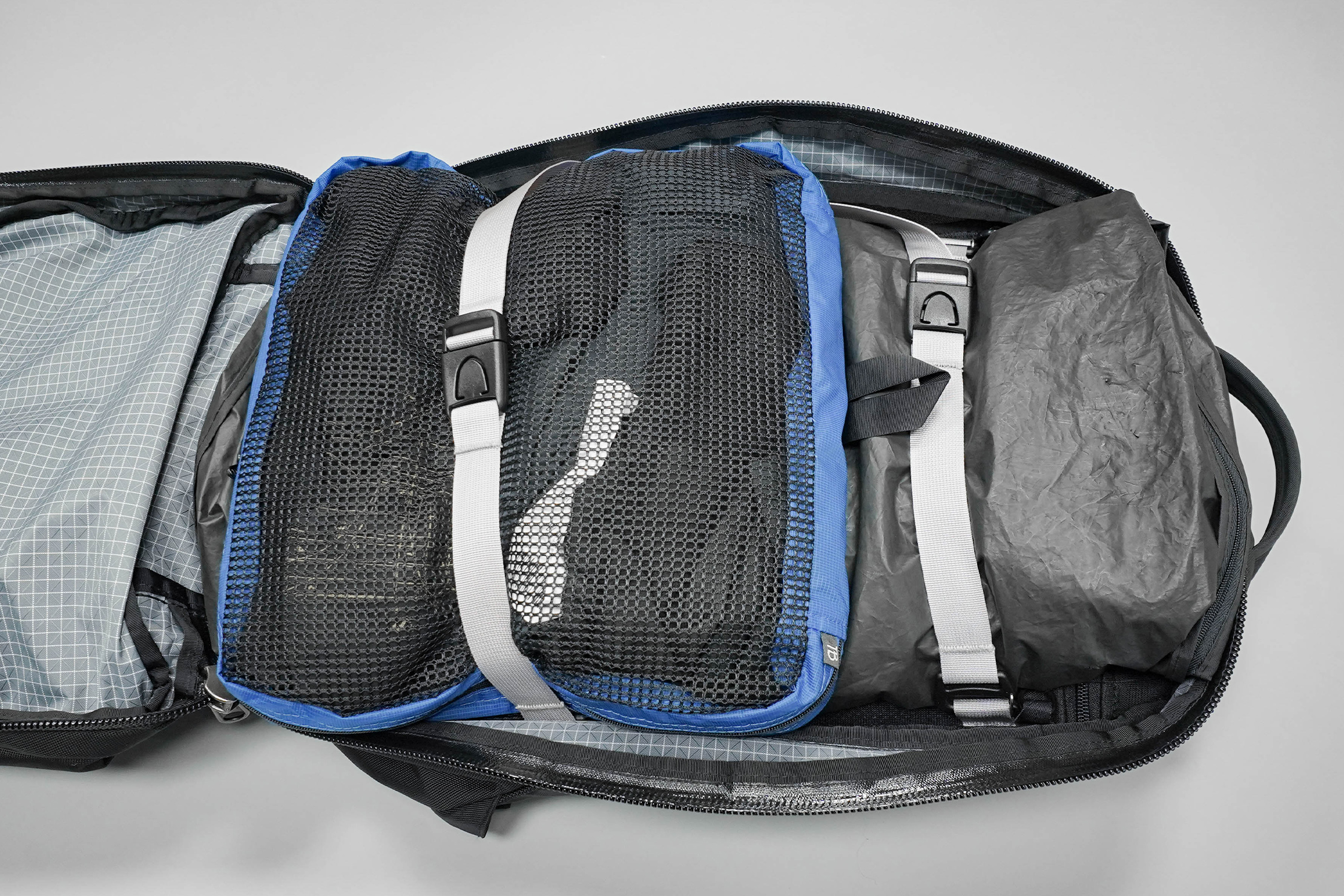 Moving on to the laptop compartment, we've once again found another improvement on the Synik compared to the Synapse. The Synapse had a laptop cache concept that was, quite frankly, better in thinking than it was in practice. With the laptop compartment on the Synik, they've made it a little bit more integrated. The laptop area is accessible from the interior, so there's a zipper towards the top that's easily accessible. This is great if you're pulling the bag from under your airplane seat, especially if you're in a middle seat and you're a bit constrained. Pull the bag out, fold the top part of the fabric down slightly, and then slide the laptop out of the top.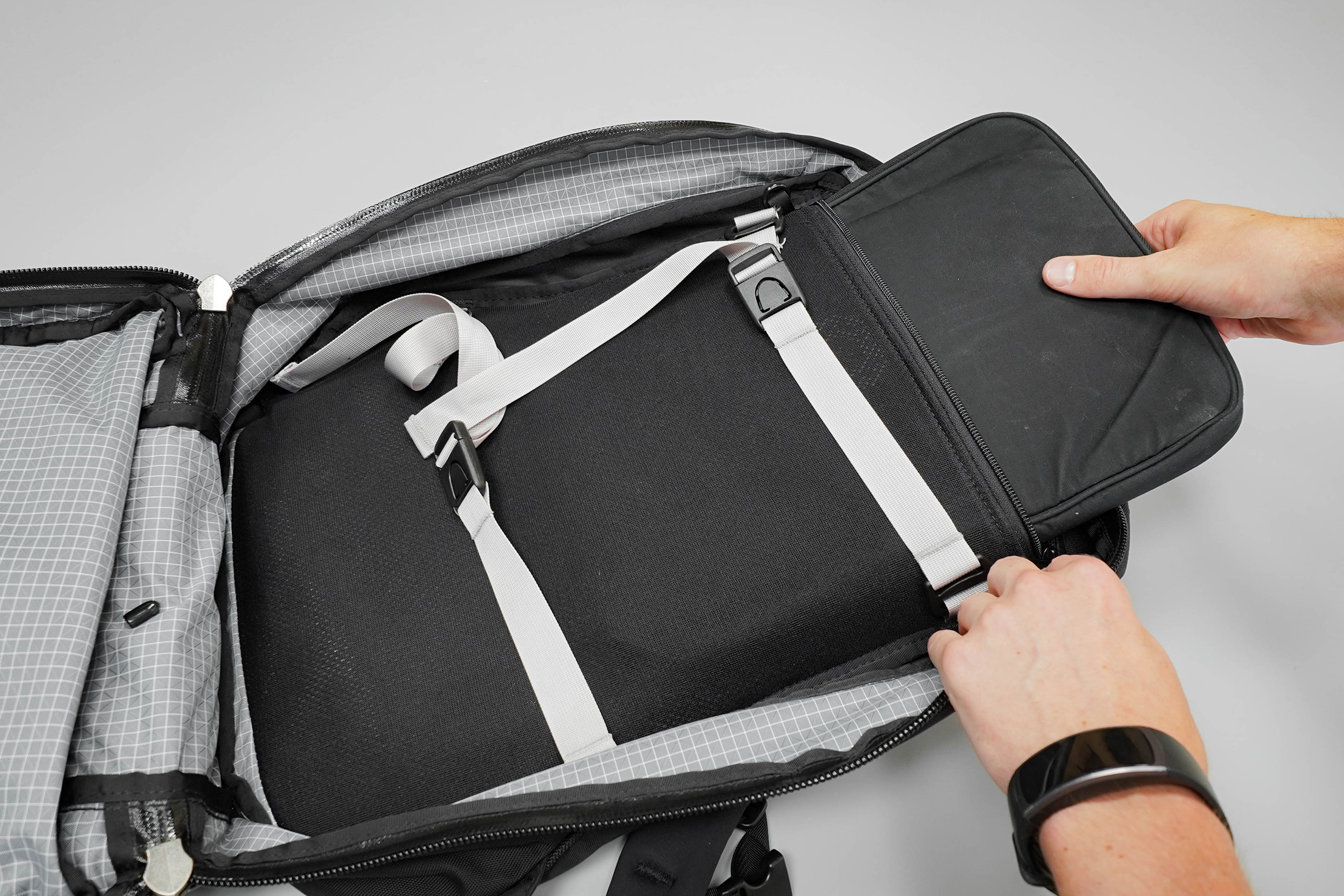 You can also access your laptop via a dedicated side-access zipper, which is great. A 15-inch MacBook Pro goes in and out of here very smoothly, and the entire pocket is lined with a lightly-padded mesh material. There's no doubt about it—this is a much better system than the laptop cache we've seen in the past.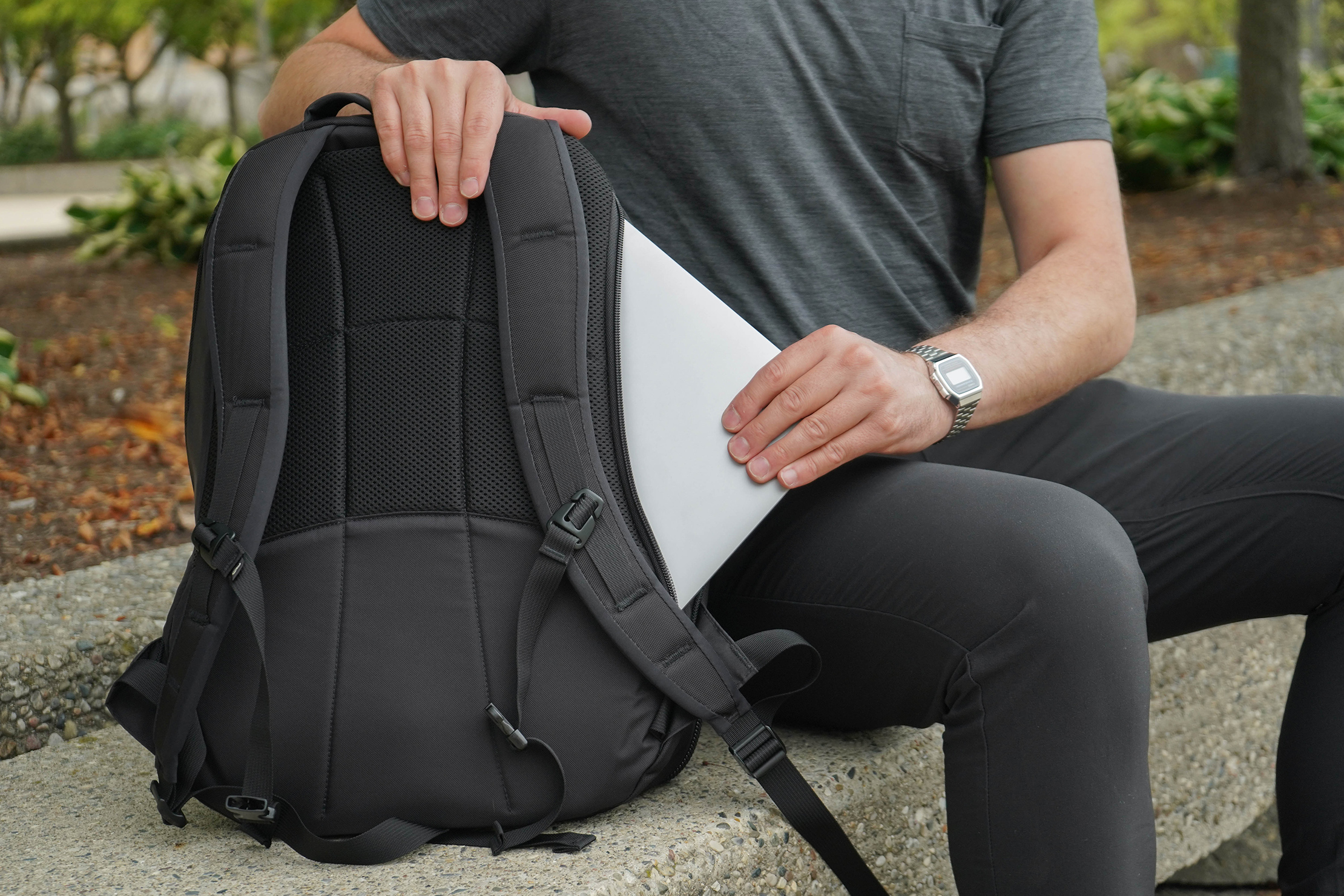 Durability & Testing
At the time of this review, we've been testing the Tom Bihn Synik 30 for three weeks in Detroit, Michigan and Minneapolis, Minnesota—which includes two domestic flights.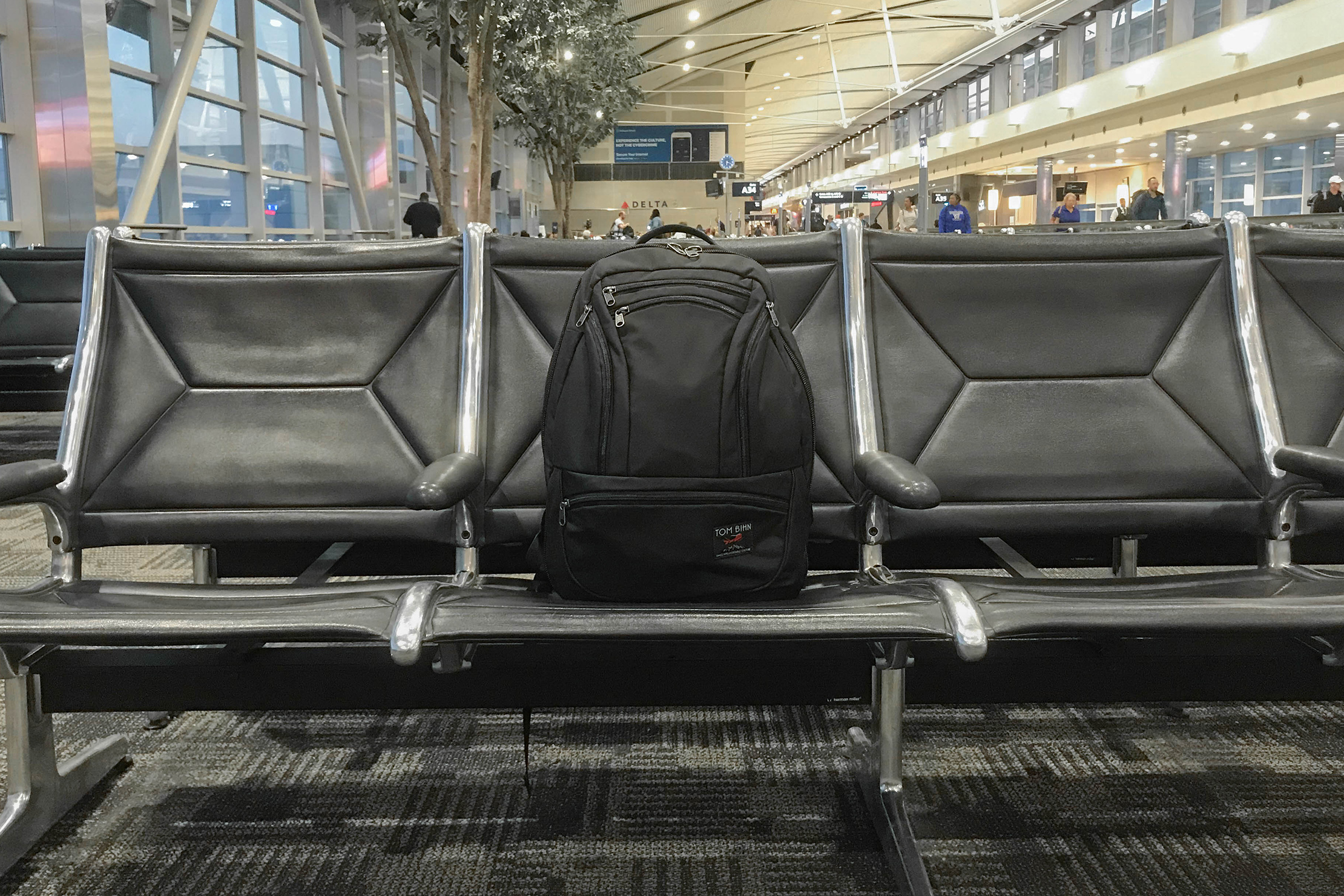 The main compartment was filled with a suit—which was folded twice in a garment bag—at the bottom for a wedding. We used the top compression strap to tighten it down and keep everything nice and secure.
Below that, we used a Tom Bihn Tri-Star Packing Cube filled with other clothing needed for the trip. This is a great packing cube for bags like the Synapse and Synik because it is slightly thinner than other packing cubes.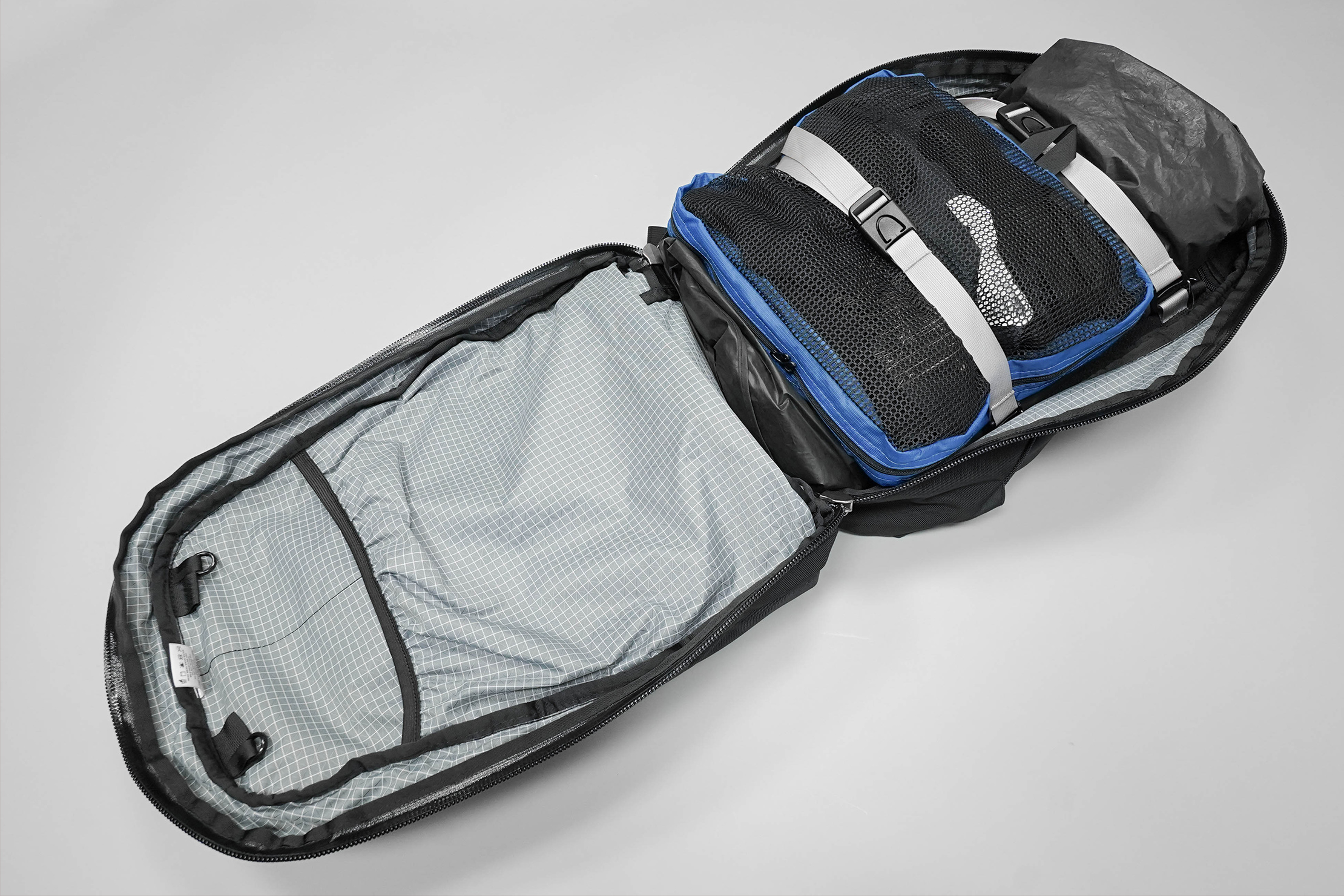 Once you get inside the main compartment, thinner is typically better so you can hold more items inside. The bottom compression strap was then used to hold that Tri-Star Packing Cube and suit together.
We tossed a keyboard and laptop stand into the Synik's front mesh stretch pocket on the interior, which we think is a little bit awkward to use. There was still plenty of room inside the main compartment, especially towards the top where the packing cube ends.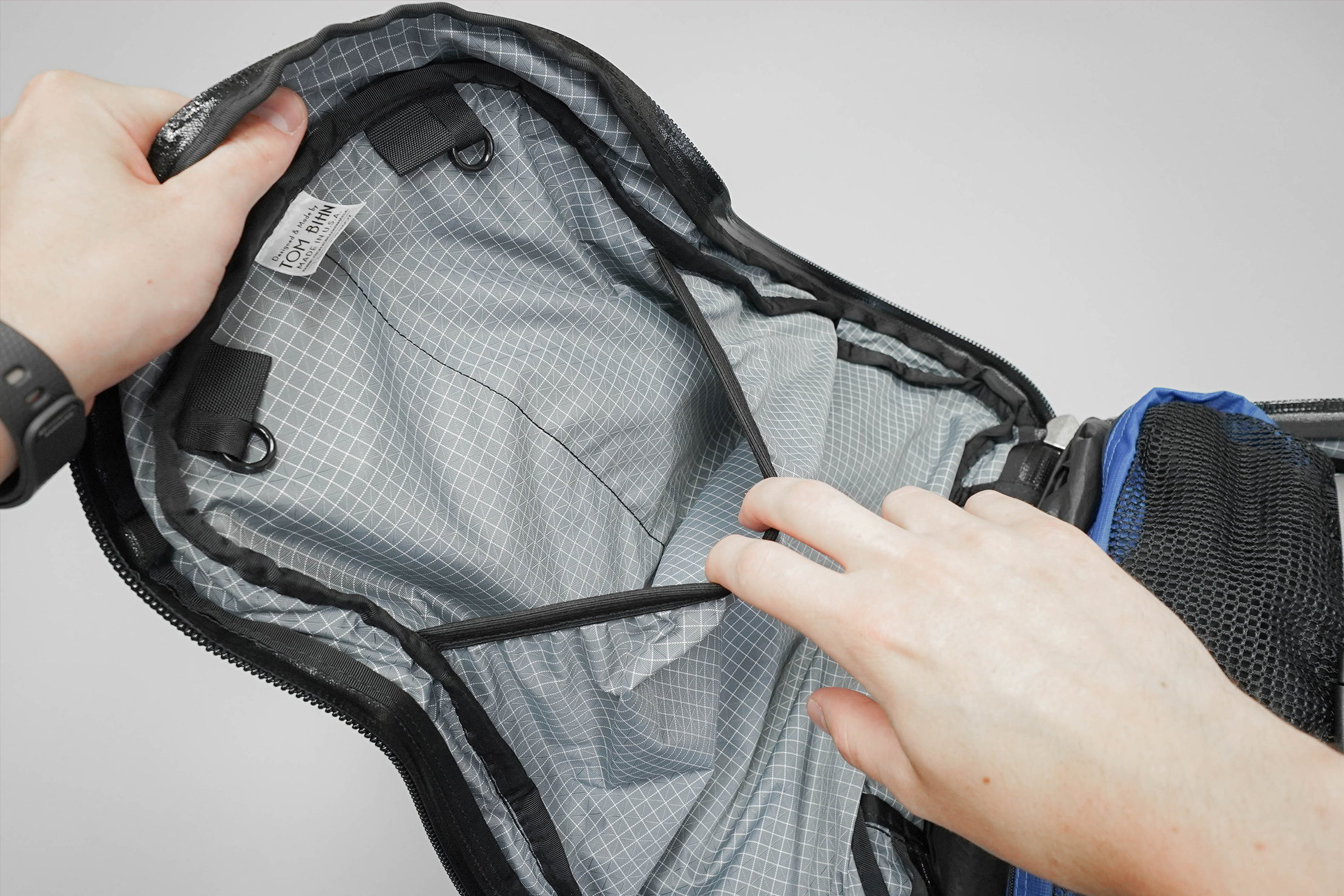 We've had no durability issues so far, and time will tell if anything does happen—as always, we'll keep you posted as we continue testing it. That said, we're not expecting to have many issues with the Synik, considering we haven't had any problems with the Synapse, and the two bags are quite similar.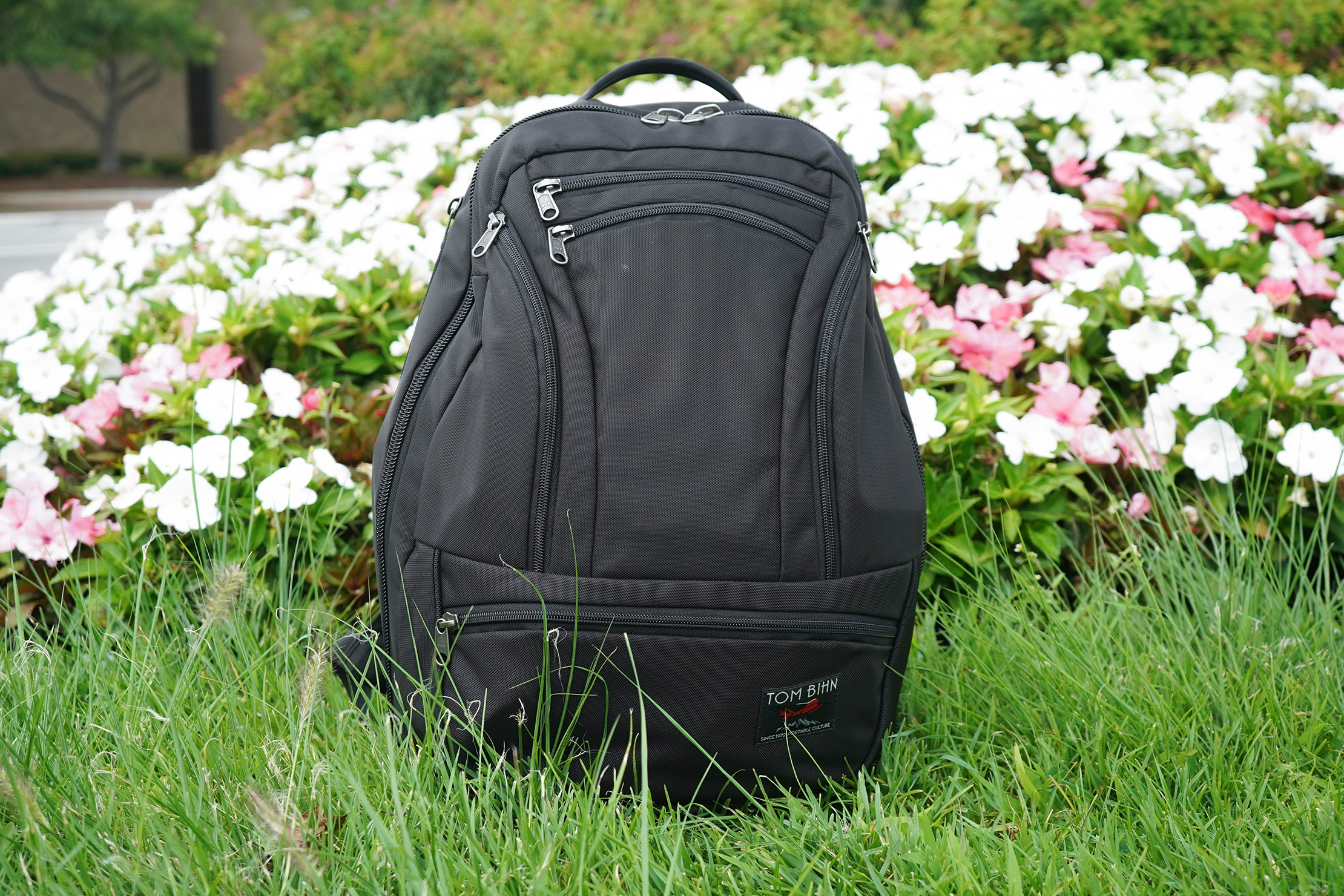 One final thing we should mention—and one that will make you feel a bit more comfortable about investing in this thing—is that all Tom Bihn bags are handmade in the USA. The folks at Tom Bihn take a lot of pride in their craft and they make high-quality gear. Plus, you'll have a great warranty to back it up if anything does go wrong—and from our experience, they honor it well. For any product defects, they'll repair it for free—and for anything else, they'll fix it at a reasonable cost.
Usage Timeline
Initial Usage
Condition: Excellent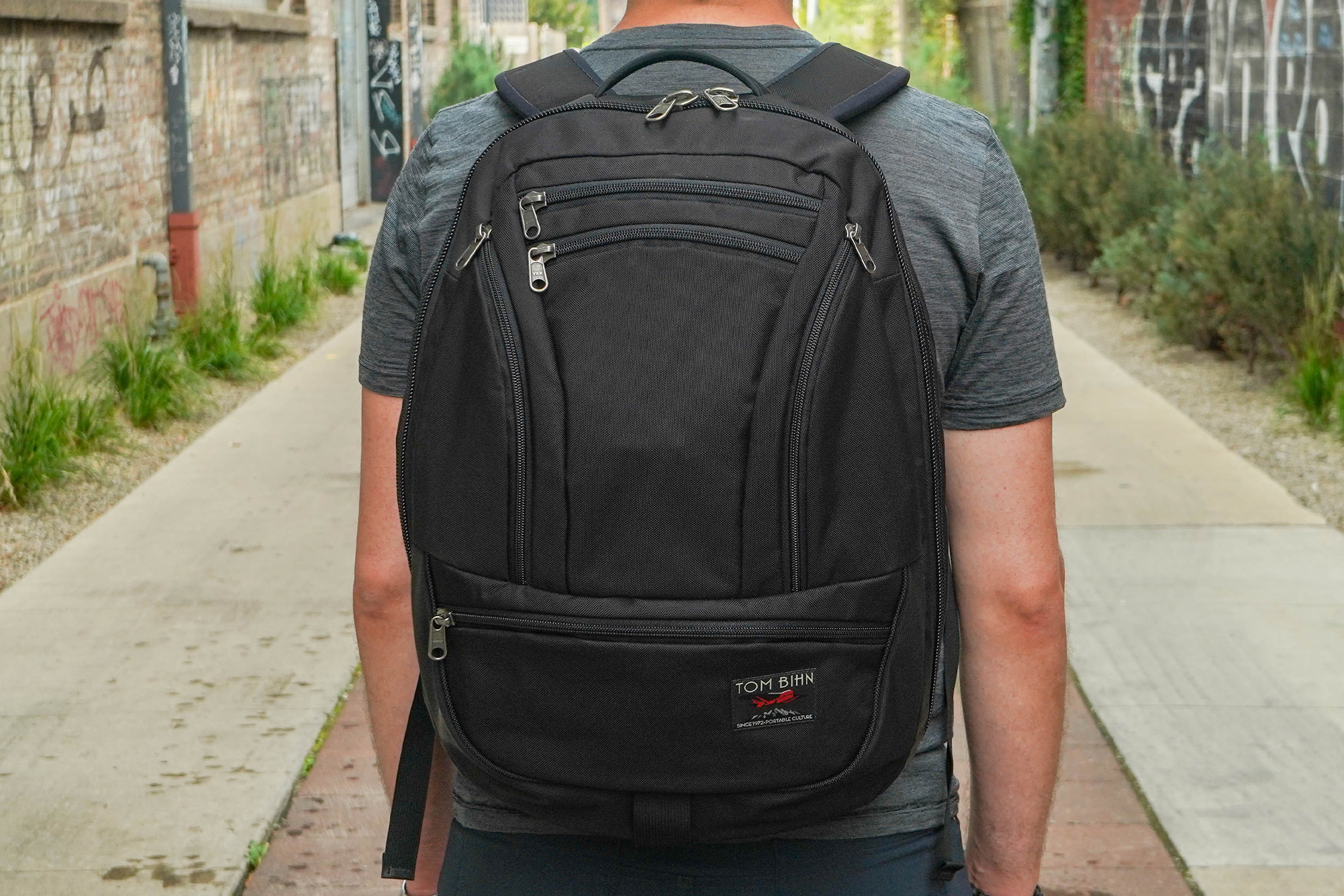 Tons of great organization on this bag
Added O-rings in almost in almost every pocket to add in Tom Bihn pouches and accessories
Densely padded shoulder straps
Padded laptop compartment can be accessed from either the top or side of the bag
2 Weeks of Use
Condition: Excellent
The front stretch pocket is slightly awkward to use, but the densely-padded shoulder straps are among the most comfortable we've tested.
1 Month of Use
Condition: Excellent
No durability issues, holding up well and should continue to do so.
Access the Pro Community Discussion
Get your questions about the TOM BIHN Synik 30 answered from our team and the Pro Community right here on the page. Plus, join discussions with other members about gear, guides, and more.
Other Bags & Luggage Reviews