Fuse Side Winder MacBook Charger Winder Review
Although using the Fuse Reel Side Winder isn't the most pleasant experience, it's the best way to keep your MacBook charger safe and tidy when you travel.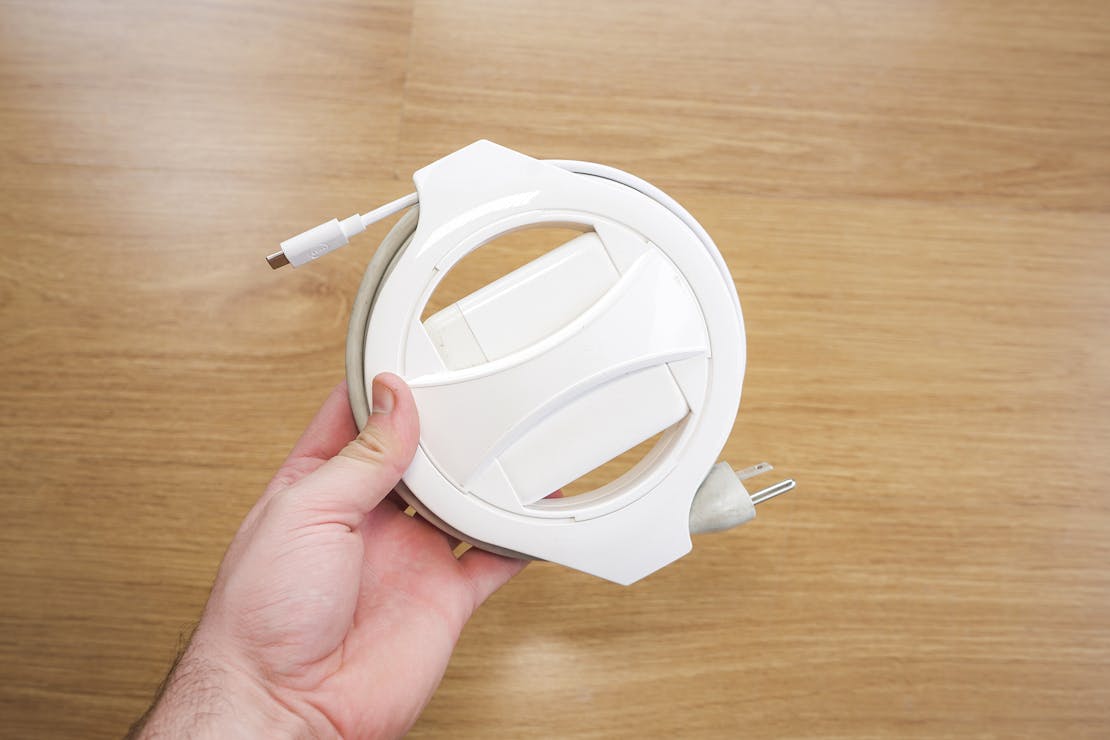 Our Verdict
Unlock the Pro Summary
Save time. Get access to brief summaries of our reviews so you can browse and make decisions more efficiently.
Pros
Keeps your MacBook charger tidy and safe
Slick styling
The power brick fits nicely inside the winder
Cons
More often than not, the charger winds up unevenly
Sometimes winding and unwinding the charger is difficult (it gets sticky)
It can get scratched and dinged up pretty easily
Recent Pack Hacker Video
Technical Details
Dimensions

5.5 in x 7 in x 1.12 in (14 x 17.8 x 2.8 cm)

Warranty Information
Full Review
Traveling with a MacBook Pro charger can be a task. It's bulky, difficult to pack, and shoving it into the bottom of your backpack with a bunch of jumbled cables isn't ideal.
Enter the Fuse Side Winder—a wheel that keeps your MacBook charger nice and tidy. Fuse launched a successful Kickstarter in 2017 for the Side Winder, raising more money than their goal (by a lot), and shipped out their first orders in the spring of 2018.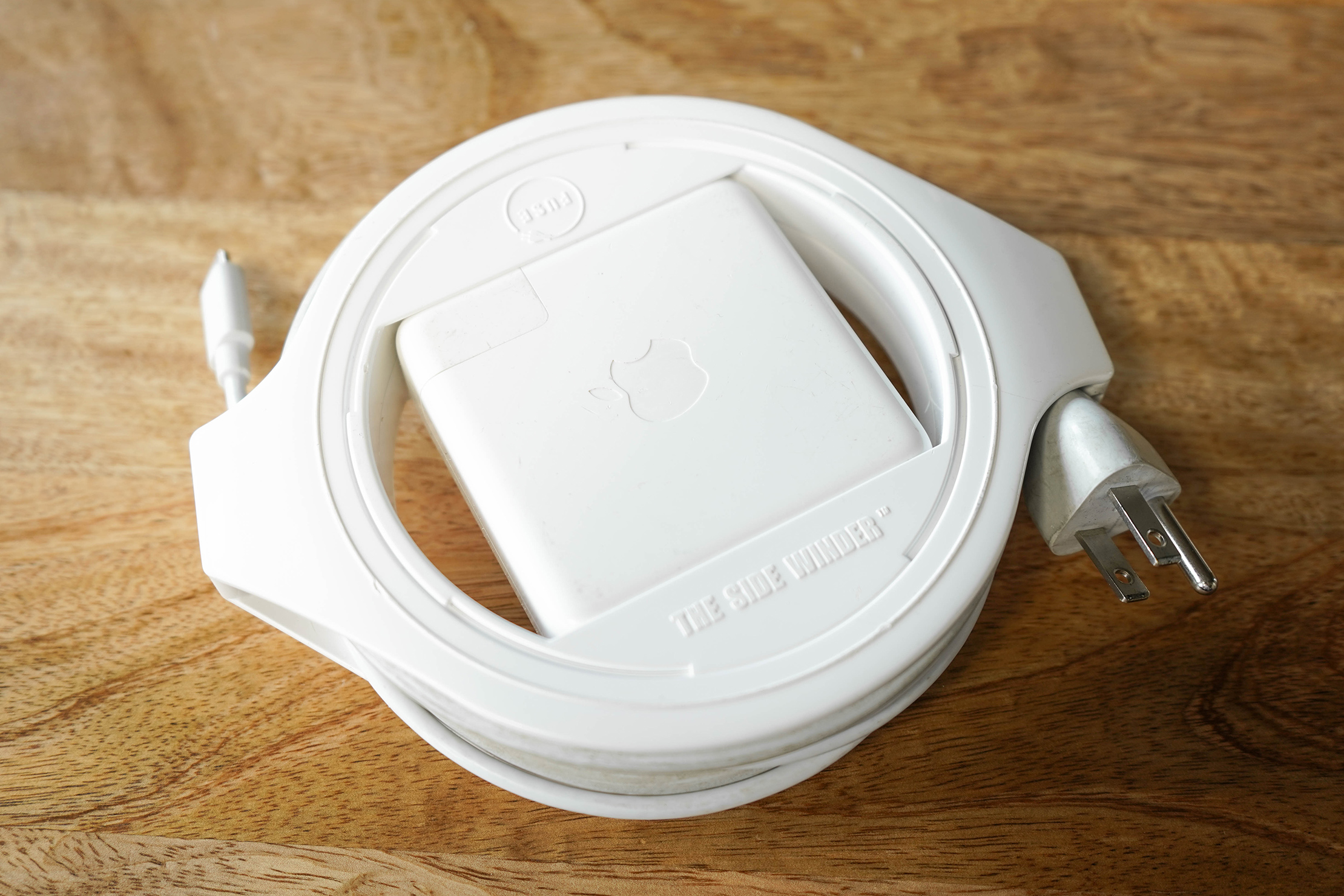 At first glance, the Side Winder seems like it would add more bulk to your pack, but it actually saves space compared to letting your charger go wild. The whole package sits in pockets better and, by containing the cords, it reduces the amount of volume the charger takes up. We've been testing the Fuse Reel Side Winder for six months now and have been really enjoying this convenience factor… Almost enough to ignore our other issues (almost).
So let's get right into it.
Features & Usage
There are two versions of the Side Winder: The MagSafe and the USB-C. The MagSafe is compatible for Apple's MagSafe chargers and the USB-C version works with Apple's USB-C chargers (who would've guessed?). Both only work if you have the additional extension cable.
We've been testing the USB-C version, which is what we're going to focus on in this review. This version comes with a USB-C cord that's specially designed to roll up nicely inside the winder (you can't successfully use the Side Winder without this included cable). Fuse also offers inserts to put into the wheel for various sized chargers—so make sure you choose the right size for your charger.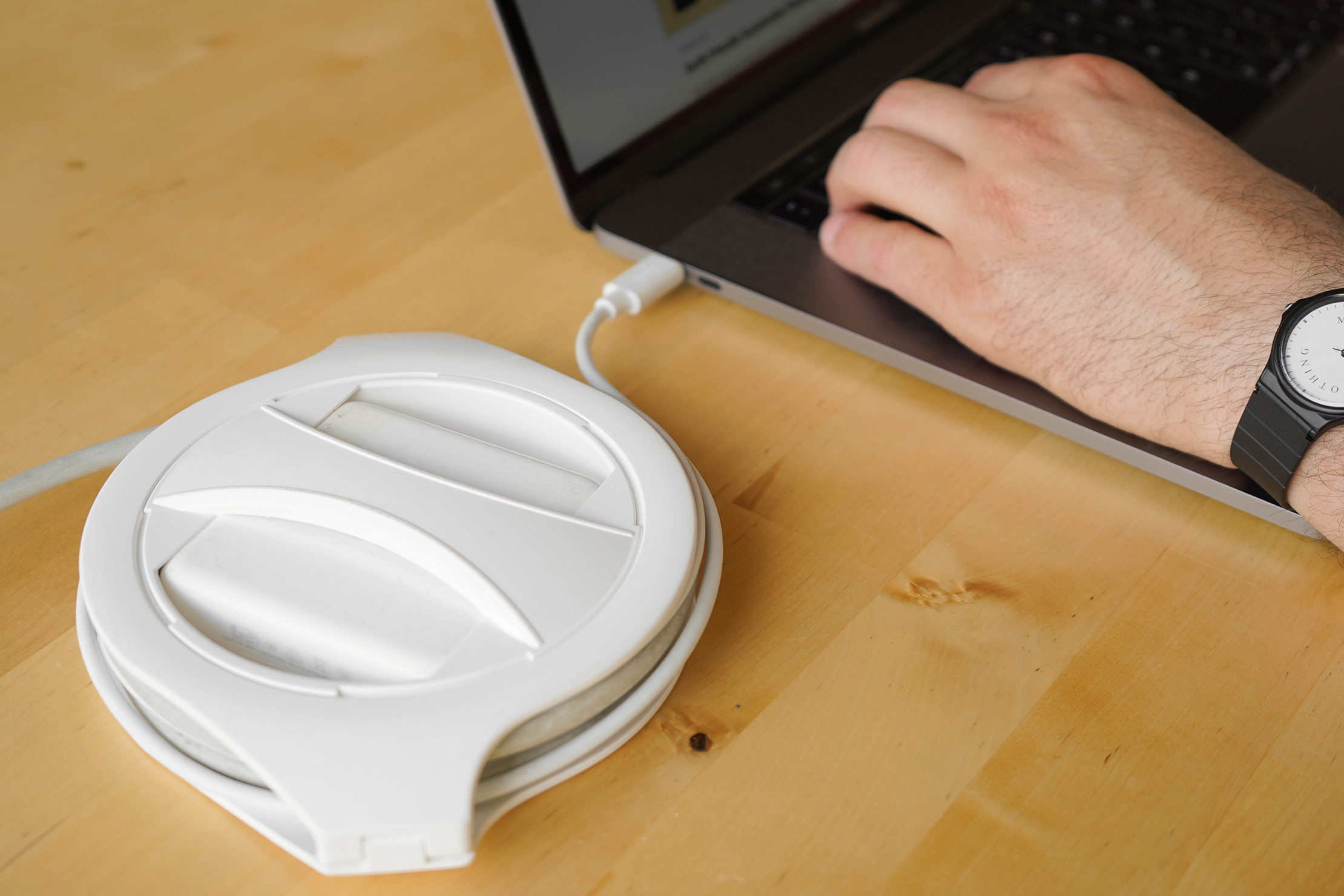 The Side Winder is available in two colorways: white and black. We went with white, which screams "Apple" to us, although both colors have been purposefully designed to mimic Apple's sleek styling.
Like we already mentioned, the best part of the Side Winder is how it keeps your charger organized. But it also keeps it safe. If not stored correctly, a MacBook charger can crease or bend awkwardly—leading to fraying and, eventually, causing the charger to break entirely. By keeping the charger neatly rolled up, there is less of a chance of causing damage.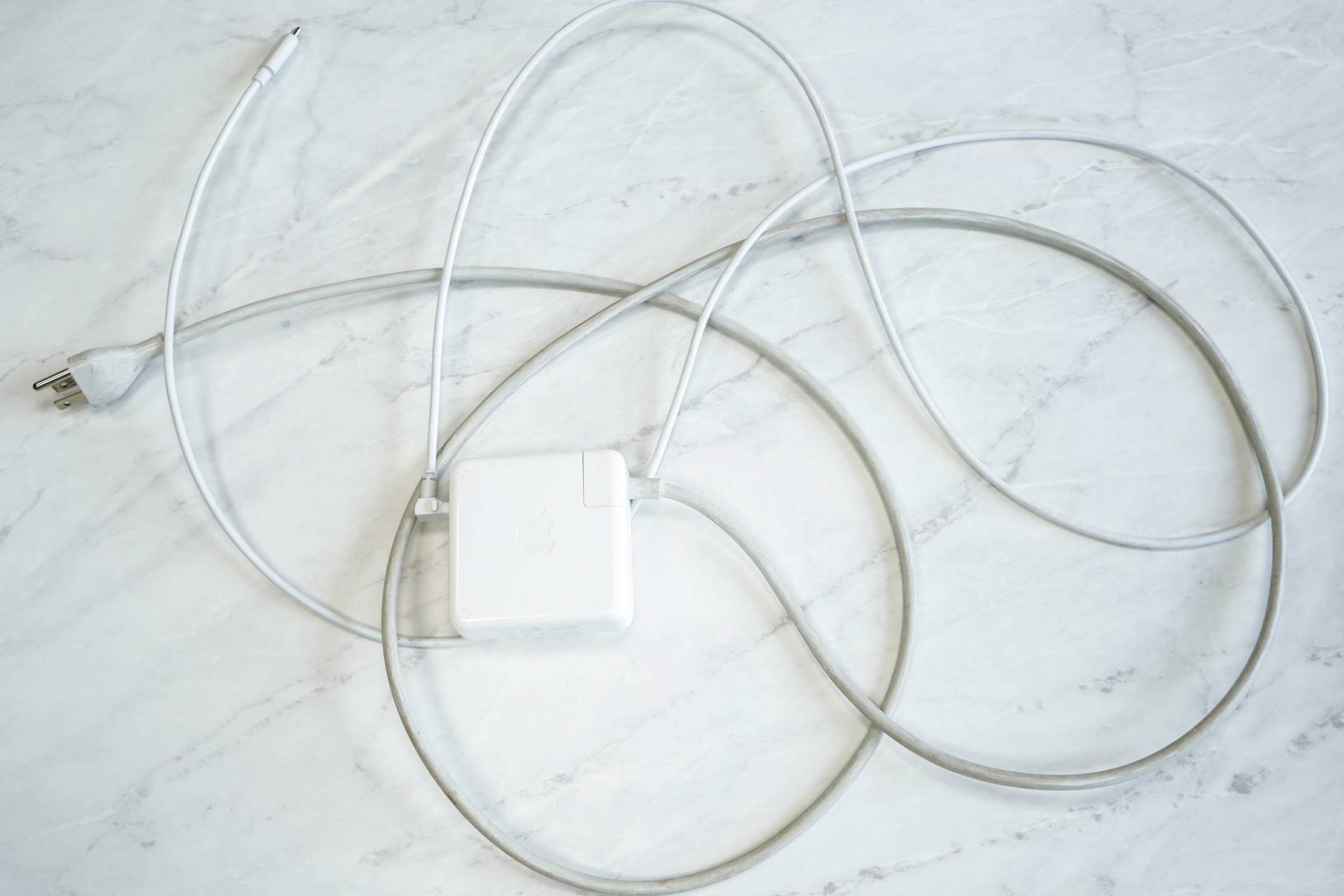 And the Side Winder works in a pretty straightforward manner.
All you have to do is pop the Power Brick inside of the wheel, close it—listen for an audible "click" to ensure it's closed—and start rolling. The Power Brick fits nicely inside, and it's also bizarrely satisfying to close the wheel around the brick, as it snaps together with magnets.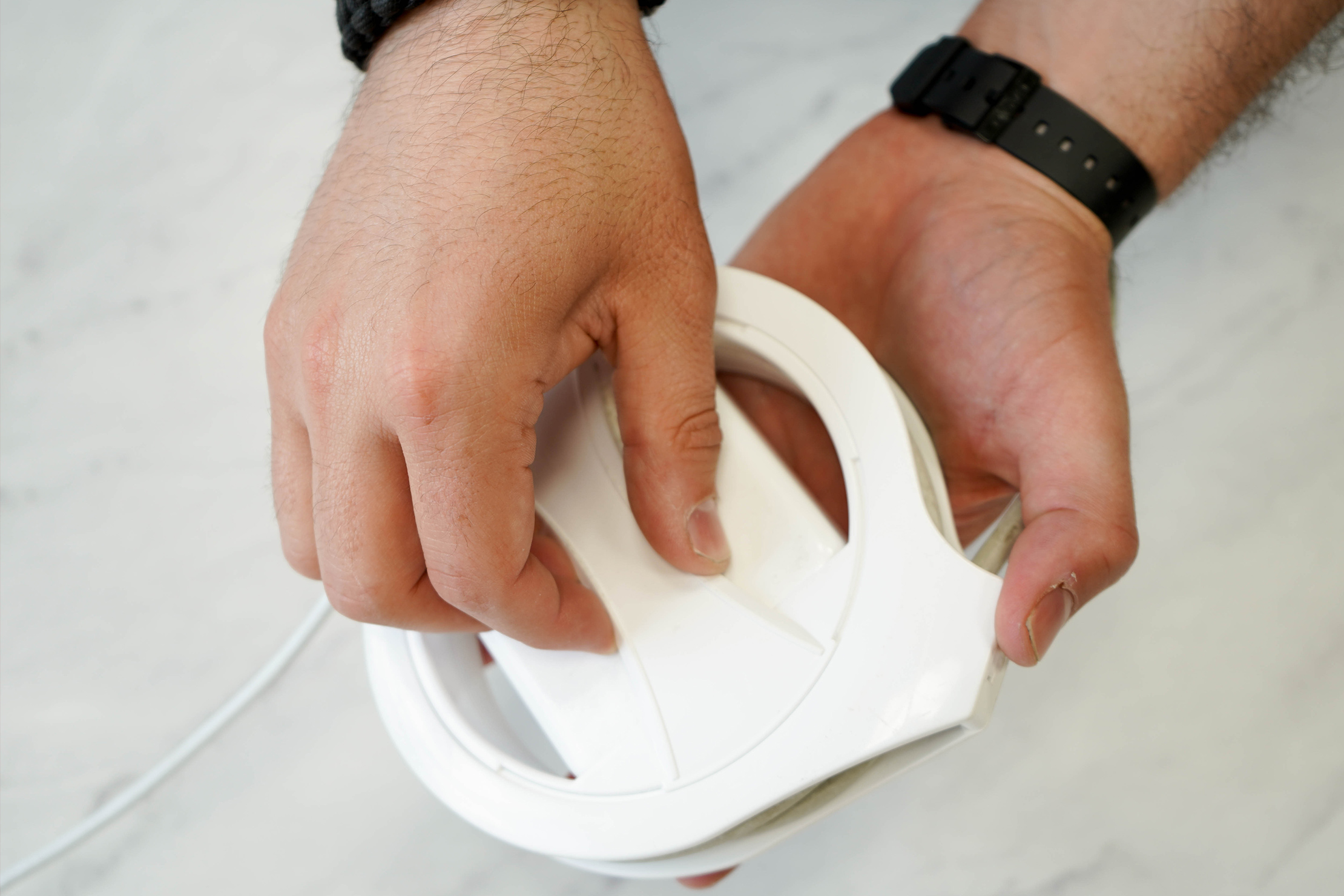 Now, Fuse claims you can wind up your charger in 6 seconds. We've found that to be true on some occasions, although the winding process often feels a bit sticky. It just takes some time and power to wind it all up nicely.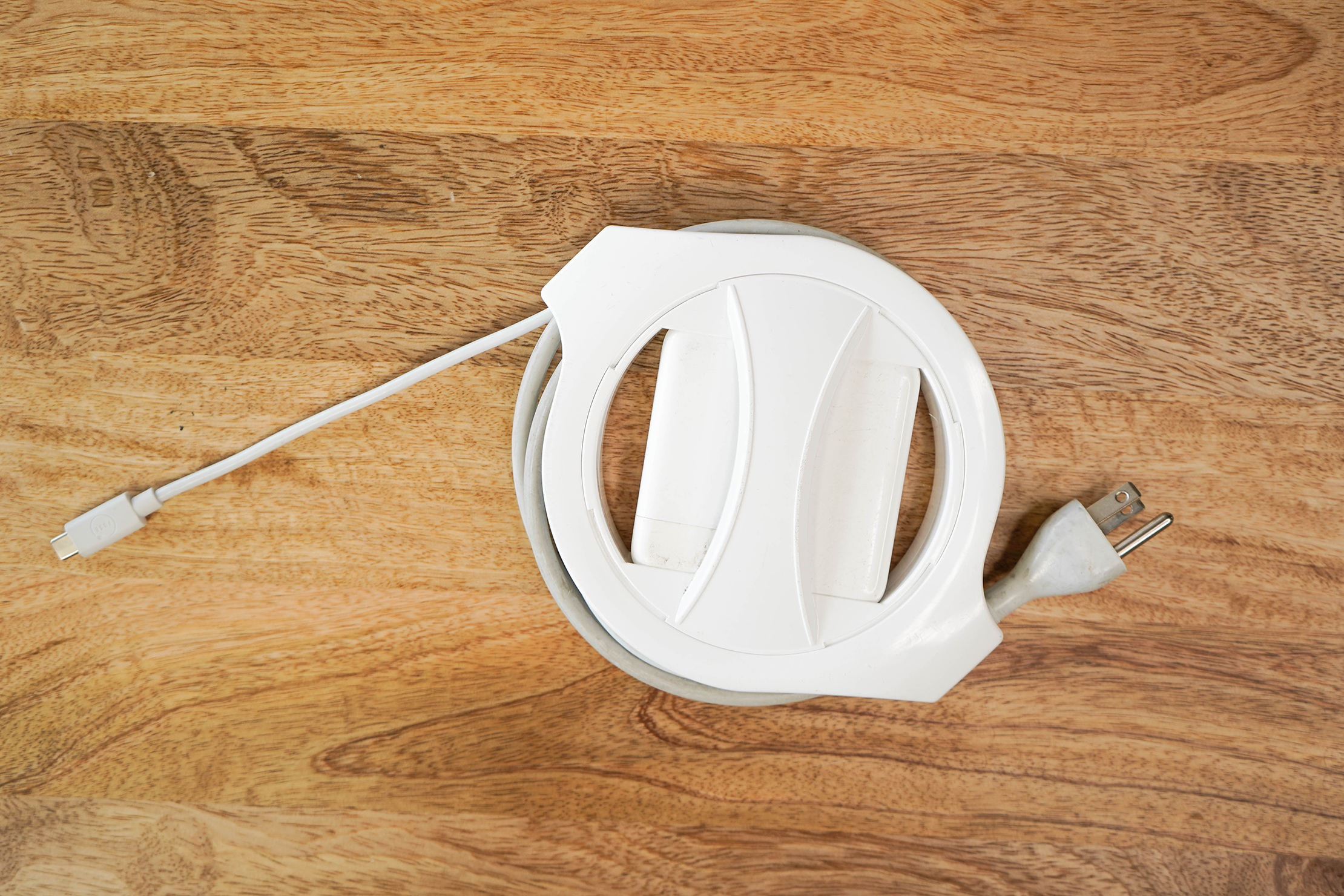 Additionally, the cords seem to wind unevenly more often than not. One side will have a little extra wire hanging out, while the other sits tightly against wheel. Most of the time, it's okay to just let it hang like this, but on occasion it'll be so uneven you'll have to take the time to open the wheel and fix it.
To unwind, pull on the cord. Sounds simple, right? Well, not always. Like we mentioned above, the wheel can get really sticky and sometimes unspooling the cord takes both time and muscle. But you don't want to tug too hard! Not only could that do some damage, but it can cause quite the mess. On a couple of occasions, after pulling a little too hard, the clasp has come undone, making the wheel pop open, and when the wheel pops open, the cords spring out and…well, it's not pretty. So, heed our warning and be careful.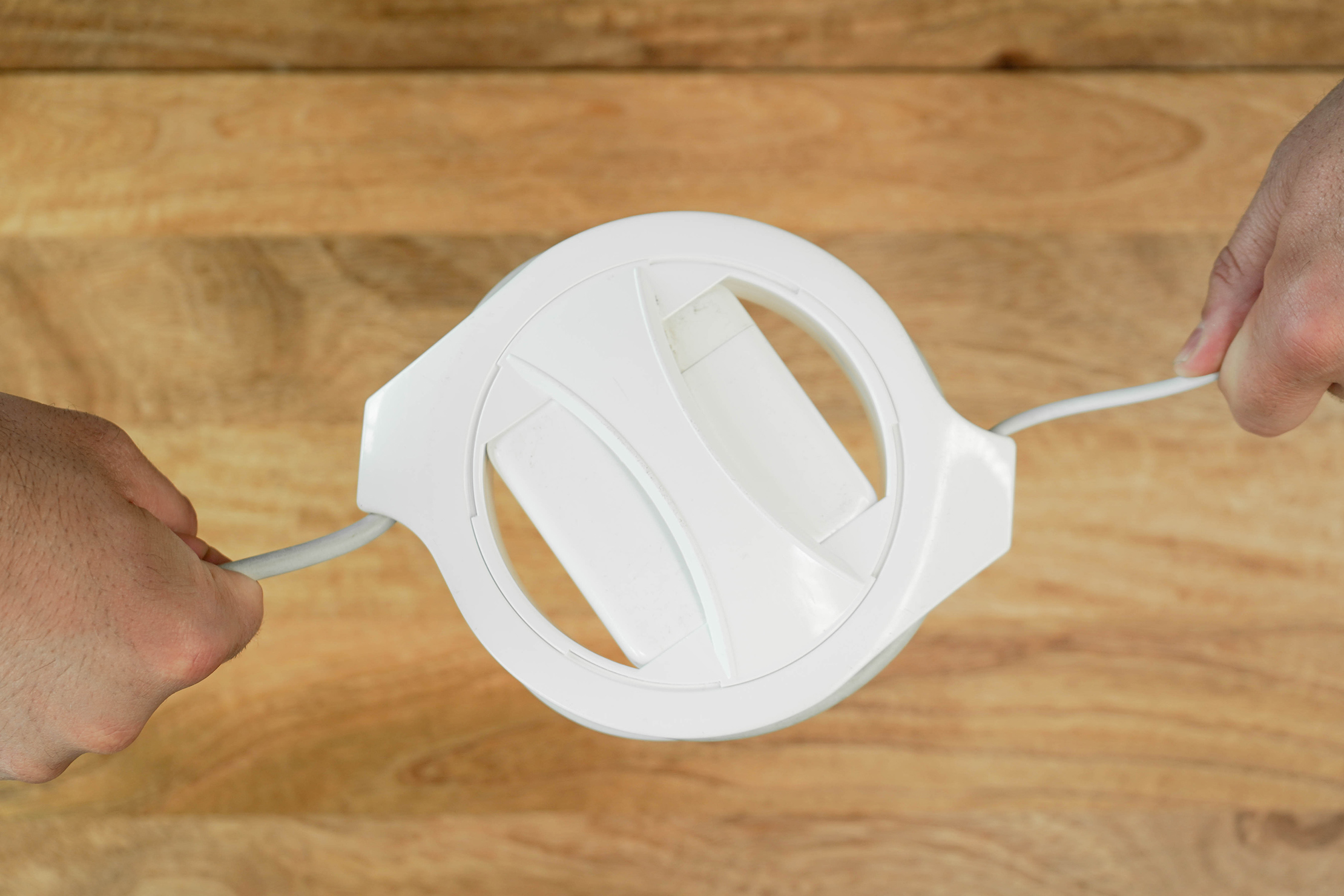 If your charger is really stuck, Fuse recommends opening the wheel and starting the entire winding process over again. And we're going to agree with them on this one, however inconvenient it may be.
Also, something to note, you can't unwind the charger using the winder, you can only do it by pulling the cord. But you'd probably figure this out on your own pretty quickly as it simply doesn't work.
We really love how the Side Winder allows you to keep your charger tidy no matter how far or close you're sitting to an outlet—just unwind it enough to plug in. Then, if you move closer to an outlet, you can easily wind in the excess cord with just a twist of your fingers.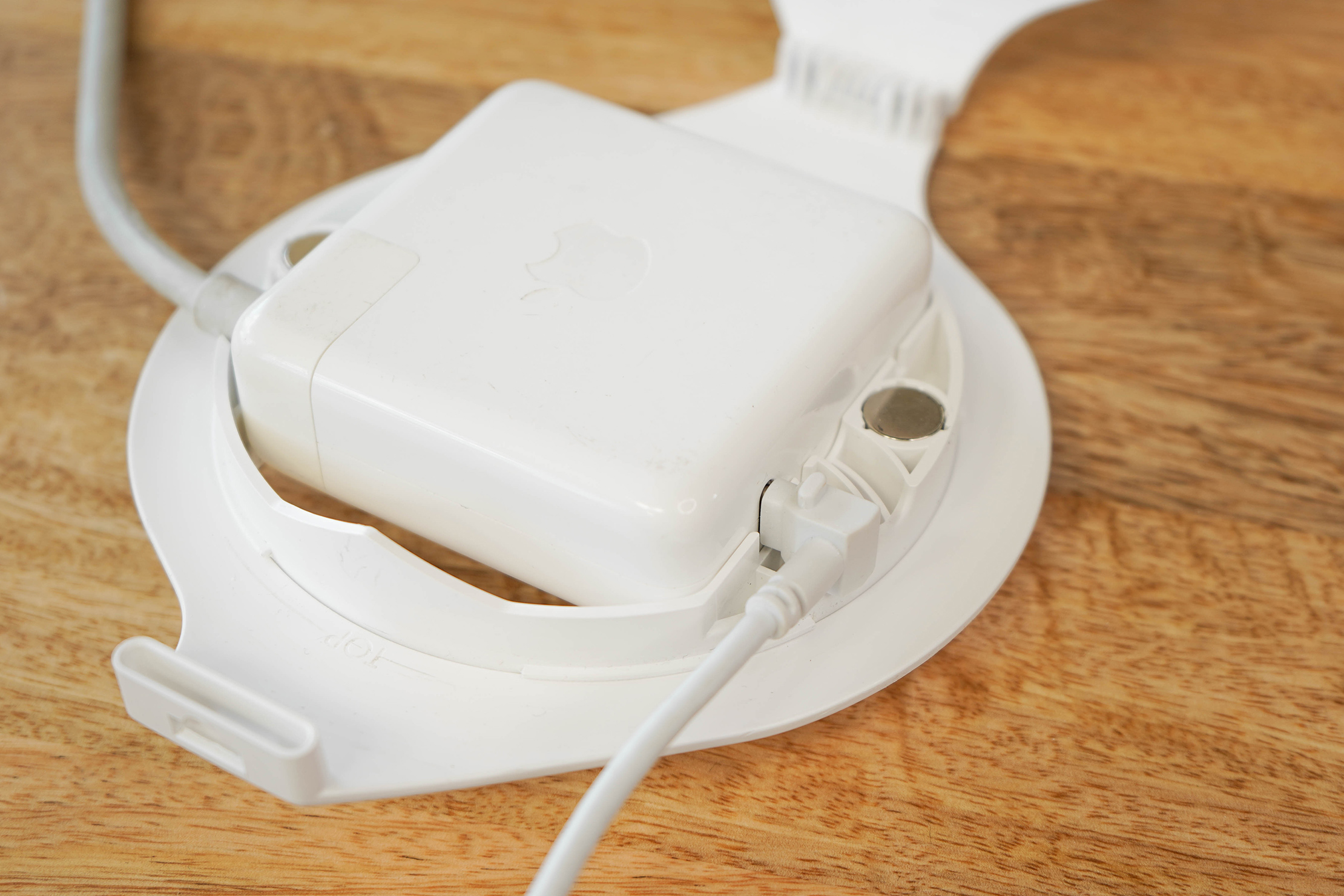 Now, let's talk about the included USB-C cable. You can't use this Side Winder without it. The USB-C cable runs parallel to the side of the power brick so it's able to wind up easily. Apple's USB-C cable won't fit here.
We've heard others say that this cable isn't built to last which, by extension, means the entire product isn't built to last. We haven't had any issues, but we'll keep an eye on it. You can always check out the Usage Timeline below for updates.
Durability & Testing

The Side Winder itself hasn't had any major durability issues, but after six months of use it's a bit dinged up and scratched. As we mentioned earlier, Fuse does offer it in a black colorway as well, which will likely show less dirt.
We've also noticed it's gotten sticker and harder to use over time. We're hoping this trend doesn't continue, otherwise it'll be too sticky to use in the near future.
Usage Timeline
Initial Usage
Condition: Excellent
Great concept and makes your charger a lot easier to travel with
Relatively simple setup, but it takes some effort.
Doesn't roll up as smoothly as we'd like.
1 Month of Use
Condition: Excellent
Loving how convenient this thing is to use, although winding it up is more difficult than we'd like.
2 Months of Use
Condition: Good
Have had some trouble unwinding the cord. If you tug too hard, the whole thing will pop open, and the cord will become a mess.
3 Months of Use
Condition: Good
Starting to look a little beaten up. But nothing more than superficial.
6 Months of Use
Condition: Good
Heard reports of the USB-C cable failing on some people, but we've had no issues.
Access the Pro Community Discussion
Get your questions about the Fuse Side Winder MacBook Charger Winder answered from our team and the Pro Community right here on the page. Plus, join discussions with other members about gear, guides, and more.
Other Productivity & Tech Reviews