TOM BIHN Padded Organizer Pouch Review
The Tom Bihn Padded Organizer Pouches will both protect and organize your stuff, although they will take up extra space in your bag.
Our Verdict
Unlock the Pro Summary
Save time. Get access to brief summaries of our reviews so you can browse and make decisions more efficiently.
Pros
YKK Snap Hook allows you to easily hook the pouch to your bag
Padding offers great protection for more delicate items
Multiple sizes are great for a wide variety of gear
Cons
Takes up more space than a non-padded pouch
Small interior capacity (compared to similarly-sized pouches)
Snap Hook may be too small to fit on thicker straps and loops
Recent Pack Hacker Video
Technical Details
Weight (oz)

1.6 oz (45.4 g)

Dimensions

5 in x 7 in x .5 in (12.7 x 17.8 x 1.3 cm)

Small Size

Notable Materials

Taslan, YKK Zippers

Manufacturing Country

United States

Warranty Information
Full Review
Tom Bihn has approximately one gazillion pouches available to keep your gear organized on the go. Okay, not really, but at the time of this review they do have ten varieties of pouches, including their Snake Charmer Pouch, which easily has the best name out of the bunch.
Today, however, we're looking at the more aptly-named Padded Organizer Pouches. As the name suggests, these pouches are padded, which allows you to carry more delicate items without worrying about how they'll fare in-transit.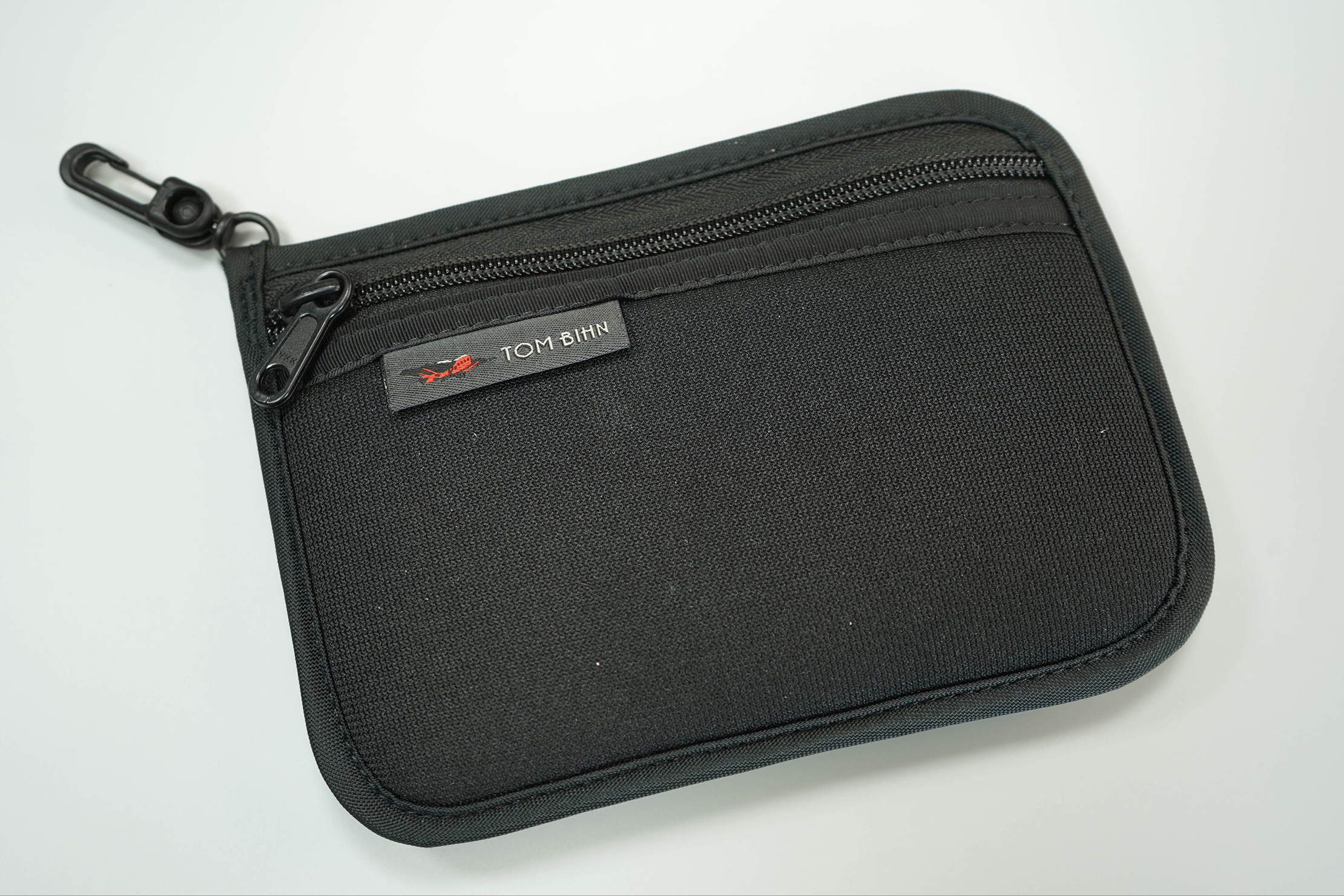 Before we dive into the details, we should note that the Tom Bihn pouches are all (partially) assembled using the leftover fabric from the company's larger bags. Fabric waste is a hot topic these days, and we're always glad when a company addresses it.
With that out of the way, let's take a look at these padded organizers.
Materials & Aesthetic
With finished seams and rounded corners, the Tom Bihn Padded Organizer Pouches look a little more polished than some other organizers on the market. They're also noticeably thicker. But they're still simple pouches—they don't have anything too fancy going on, which is a major plus in our book.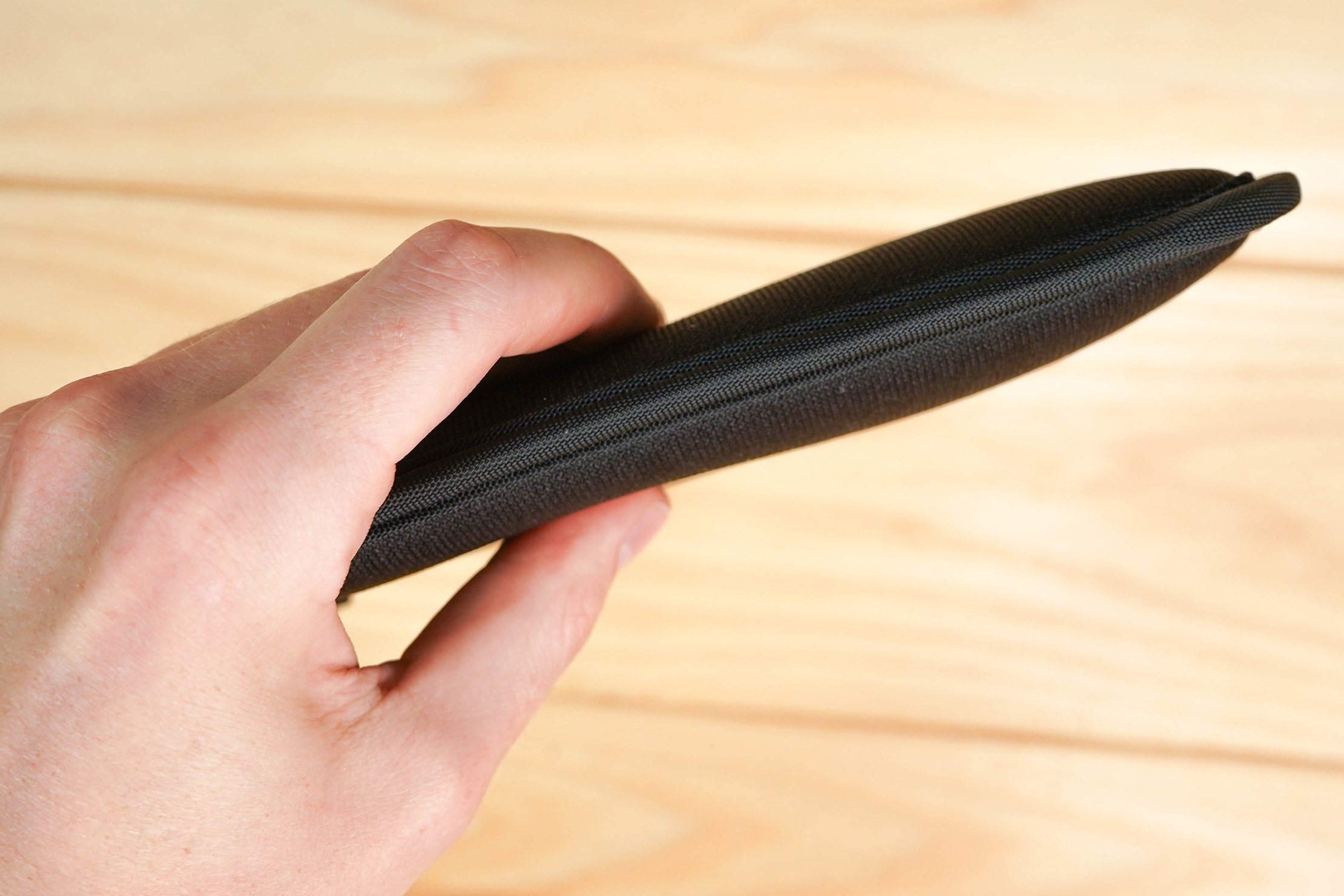 At the time of this review, these pouches are only available in the black colorway that we've been testing, which isn't ideal if you're looking to color code your organization. But, as we mentioned above, Tom Bihn offers a ton of pouches in various styles, most of which come in multiple colors. So you can still color code to your heart's content if you mix and match styles.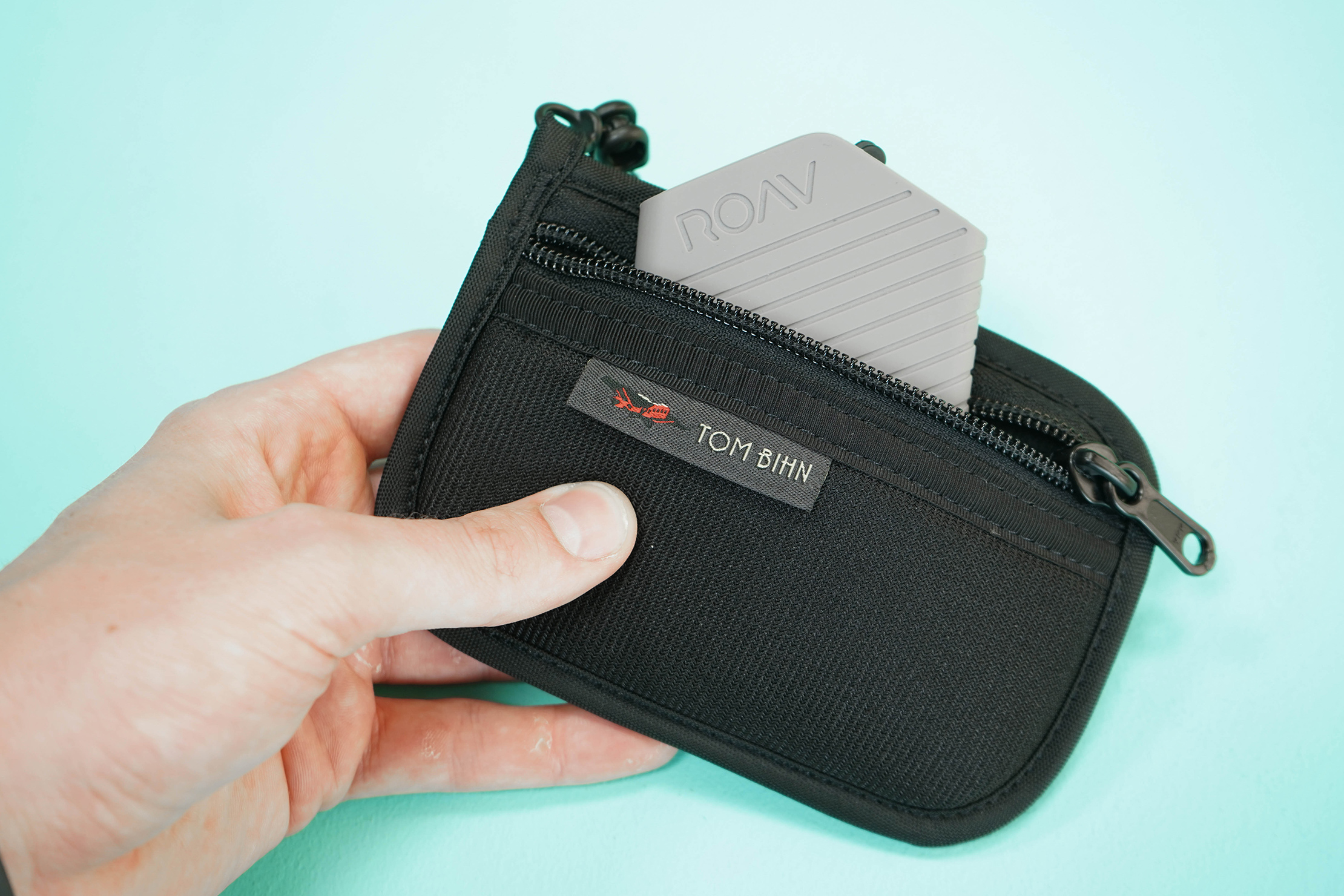 There are four sizes: micro, mini, small, and medium, which offer an excellent variety for different use-cases. The micro works well for SIM or SD cards; the mini holds foldable sunglasses like the ROAV Franklins, the small works for smaller smartphones and the medium fits a smaller tablet nicely.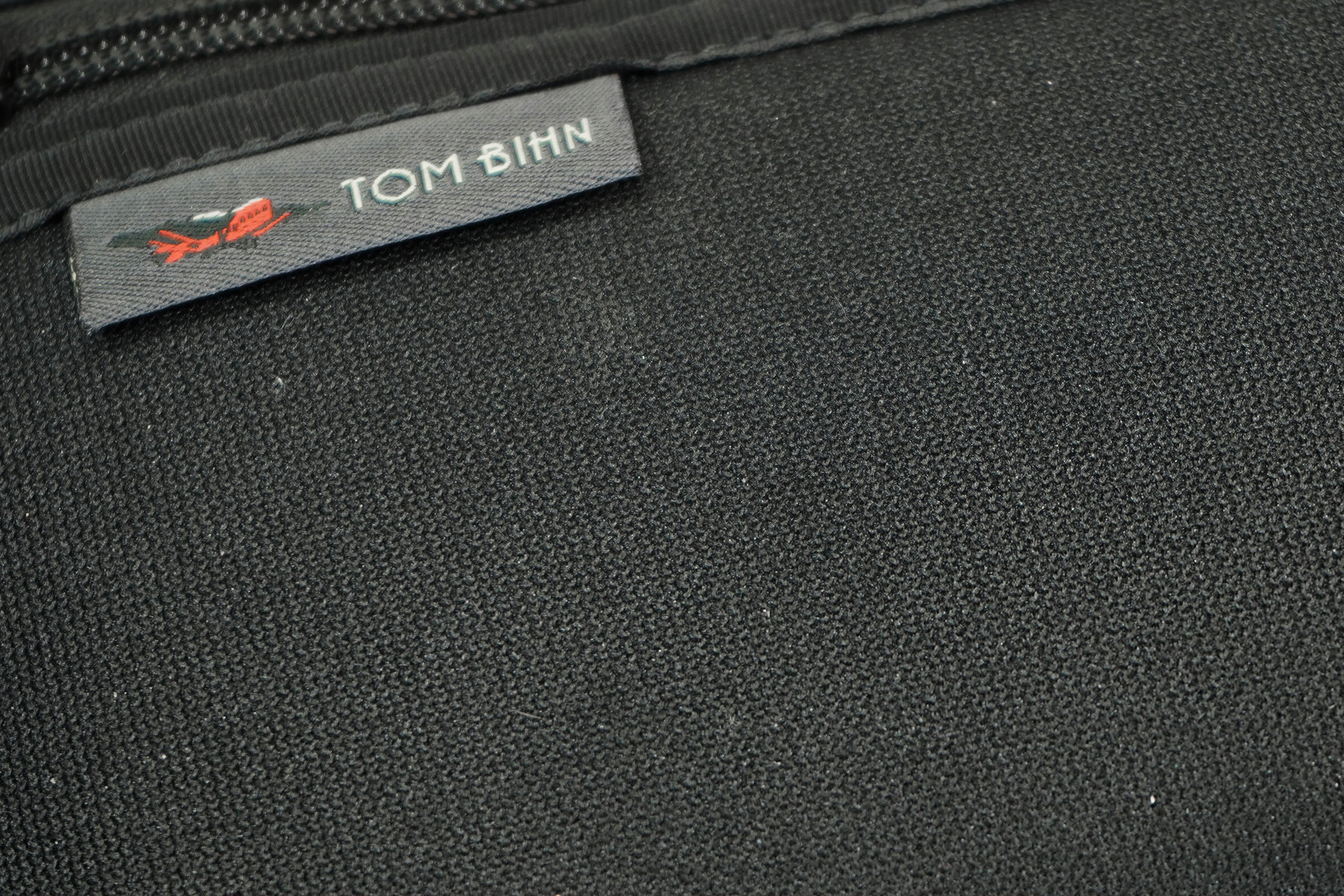 The most notable material is the ¼'' thick foam padding, which will keep your delicate items protected without adding too much bulk. The exterior is Taslan nylon, which is a fabric designed to mimic the feel of cotton but with more weather resistance (right up our alley). And finally, the interior is a brushed tricot polyester, which has a nice, soft quality about it.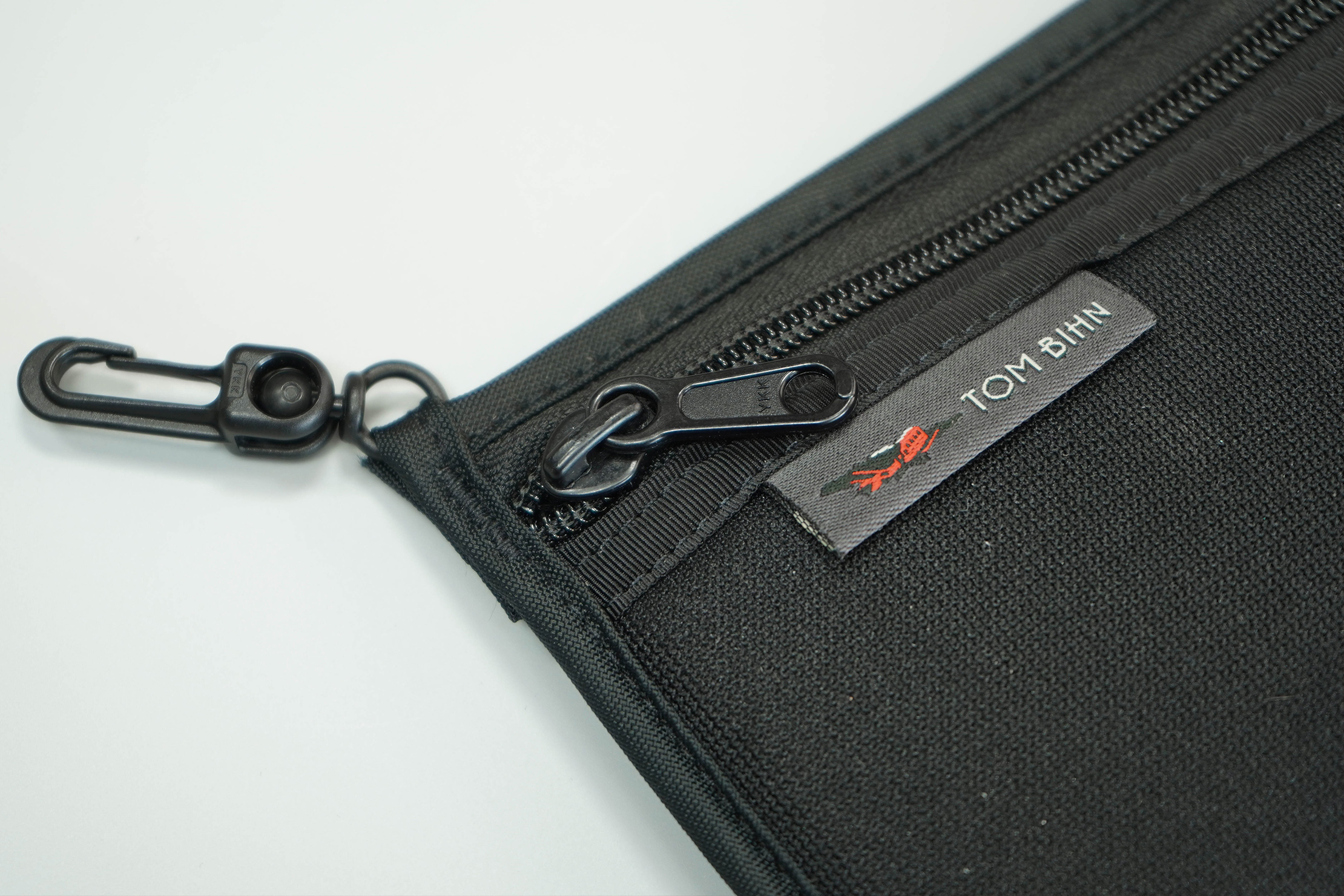 The main zipper is a #5 YKK coil zipper with a plastic slider. Tom Bihn claims this zipper is less likely to damage whatever is inside the pouch and we haven't had a reason to say otherwise (yet). Lastly, there's the YKK 360° Snap Hook. YKK is known for their durable products, so this snap hook should last you a while.
Features & Usage
Obviously, the best feature of these pouches is how they've been designed to protect your stuff. You don't have to worry about more delicate items incurring damage or getting scratched up by rougher items (like keys) as you travel.
We already mentioned a few ideas for what to keep inside these pouches, but you can be as creative as you want. Other things you may want to protect include computer mice, really fancy pens, headphones, expensive sporks, rings and bracelets, seashells—seriously, there are no rules.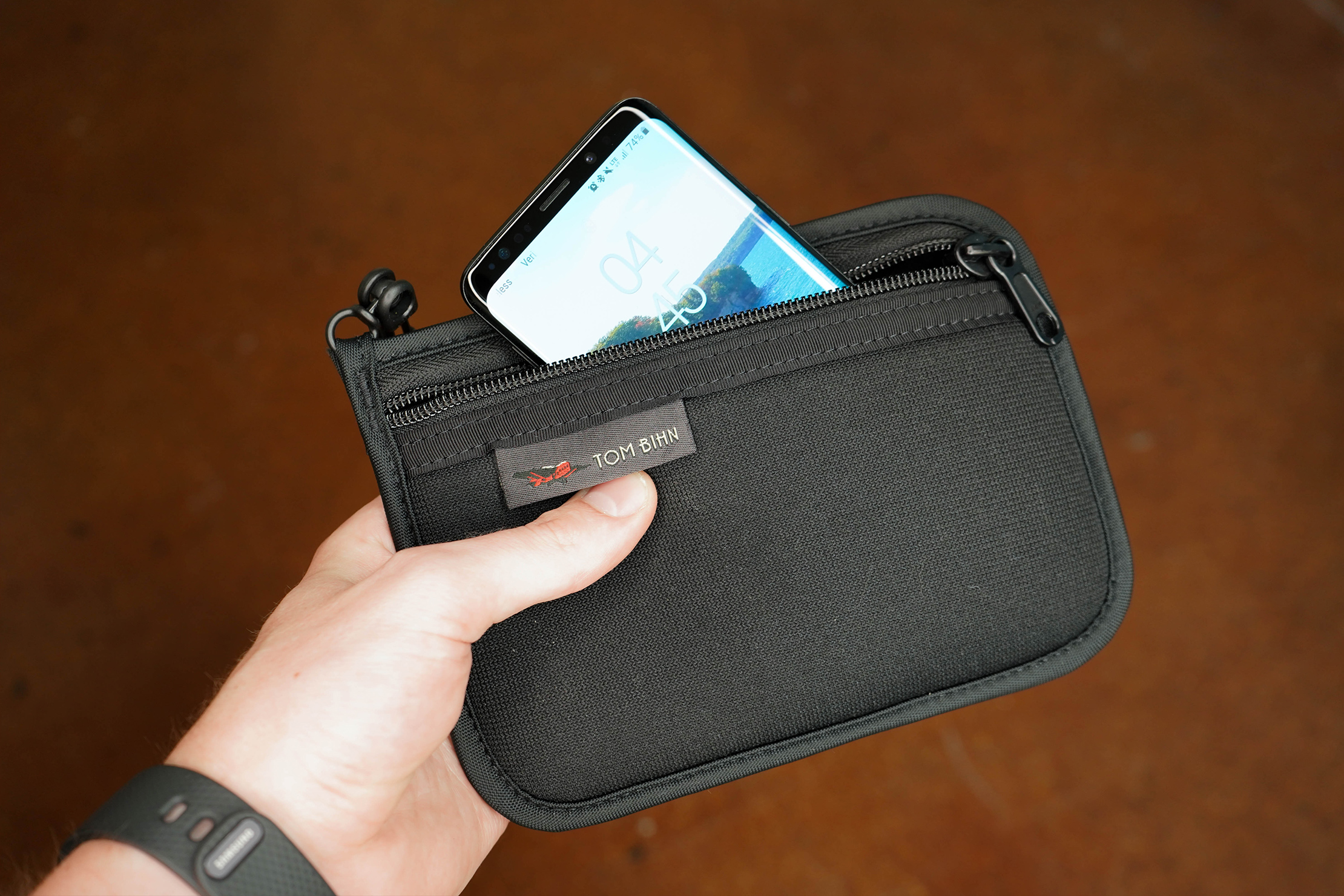 Now, because these pouches are padded, they'll take up a little more room in your pack. They also don't have a huge internal capacity. That's the tradeoff: less space for more protection. Additionally, the rounded corners seem to reduce the volume of the interior compared to a square pouch. Due to this limited space, if you've stuffed the pouches to the brim, it can be hard to access what's inside without dumping all the contents. Definitely not ideal, but again—tradeoffs and stuff.
We've found using these pouches with other organizers—either from Tom Bihn or elsewhere—is a better system than using the padded pouches only. After all, not everything you own warrants such protection (probably).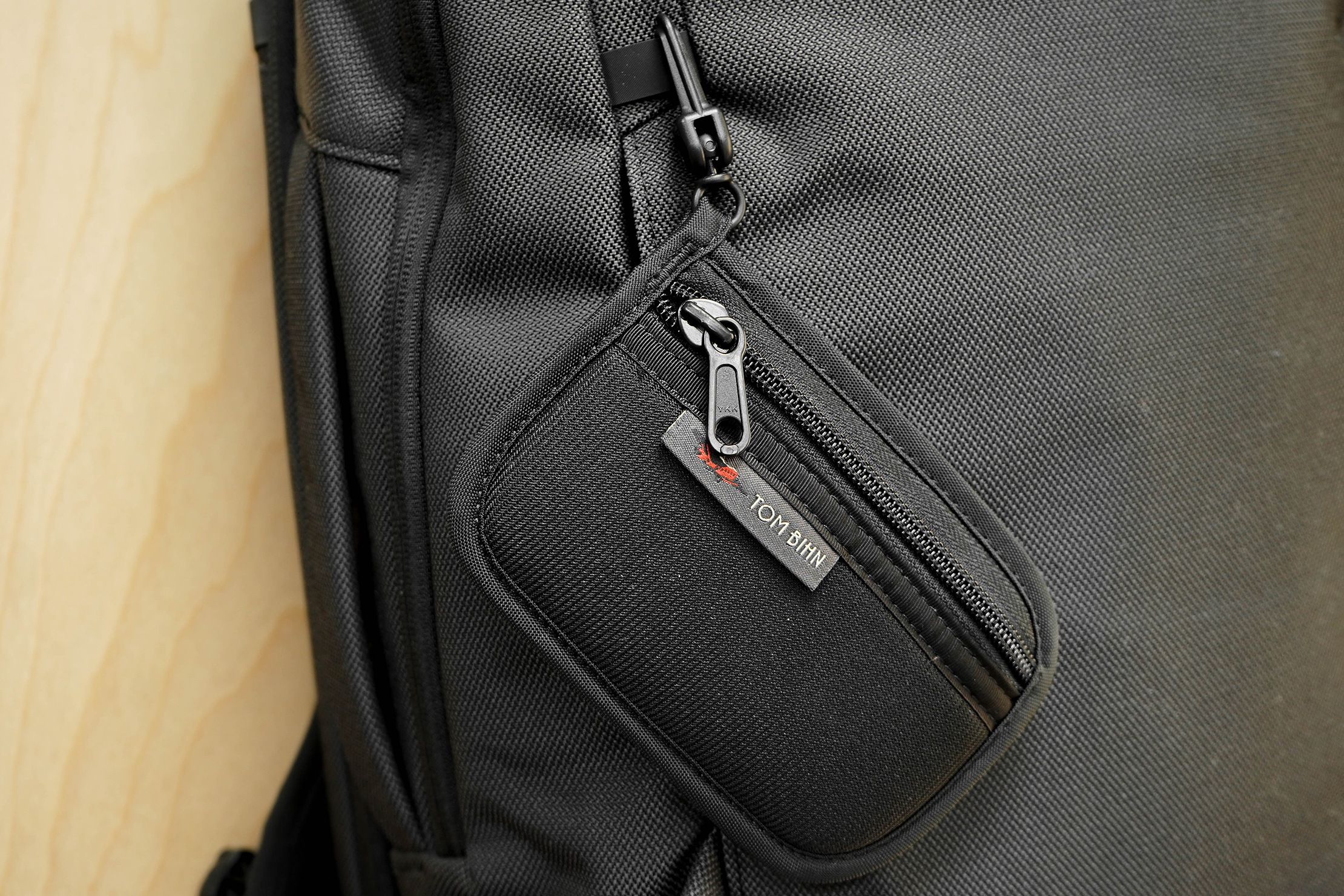 Another great feature is the 360° Snap Hook, which is specifically designed to work on all Tom Bihn bags, like their Synapse. You can attach the hook to the O-rings inside the Synapse to create your own meticulous organizational system. And the 360° nature of the hook makes getting to your stuff inside of the pouches super easy, which is a nice touch.
You can also hook the pouches to other backpacks—or to your belt loops if you've really got style—but they don't work super well. The opening of the Snap Hook is decently small and won't fit on thicker straps or loops.
Durability & Usage
We've been testing the Tom Bihn Padded Organizer Pouches for two weeks around Detroit, Michigan and on a trip to Santa Fe, New Mexico. They're still looking and feeling brand new: there's no pilling or loose stitching to be found. Plus, the foam padding has held up nicely, retaining all of its cushioning, and offers the same amount of protection as it did when it was new (always a concern when padding is involved).
We've tested the pouches with various travel backpacks and have found they can take up a decent amount of space, even making pockets stick out more than we would've liked. That said, they've been protecting our fragile items (like jewelry and headphones) nicely, which is frankly more important.
Usage Timeline
Initial Usage
Condition: Excellent
Soft and padded interior make it great for electronics and other delicate items
YKK snaphook rotates smoothly in all directions
2 Weeks of Use
Condition: Excellent
Access the Pro Community Discussion
Get your questions about the TOM BIHN Padded Organizer Pouch answered from our team and the Pro Community right here on the page. Plus, join discussions with other members about gear, guides, and more.
Other Organizers & Pouches Reviews