Aer Gym Duffel 3 Review
Organized compartments in the Aer Gym Duffel 3 keep your gym gear and daily essentials separated nicely. If only the quick grab pocket was in a better spot.
Our Verdict
Unlock the Pro Summary
Save time. Get access to brief summaries of our reviews so you can browse and make decisions more efficiently.
Pros
Compartments separate gym clothes and tech gear nicely
Outer and internal water bottle pockets allow you to carry two drinks at once
Mesh ventilation helps air out funky exercise gear
Cons
Quick grab pocket on back of the bag is hard to access while wearing
Shoe compartment eats into main compartment space
Zippers can get sticky on corners of duffel
Recent Pack Hacker Video
Technical Details
Capacity

24.1l

Weight (lb)

2.9 lb (1.3 kg)

Denier

1680D

Dimensions

11.5 in x 17 in x 9 in (29.2 x 43.2 x 22.9 cm)

Notable Materials

CORDURA® Ballistic Nylon, YKK Zippers, Duraflex Hardware

Manufacturing Country

China

Laptop Compartment Size

16"

Warranty Information
Buying Options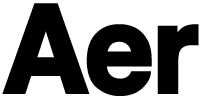 $169.00

$169.00
Full Review
Get up to 10% off Aer • Join Pack Hacker Pro
The Aer Gym Duffel 3 has your back from work to the gym to a help-me-lose-my-quarantine-weight support group. It's the type of bag that says "this wearer means business" when you show up to the yoga studio with it over your shoulder. Even if you haven't exercised in months, it's a good choice for a quick weekend trip on a Friday after work.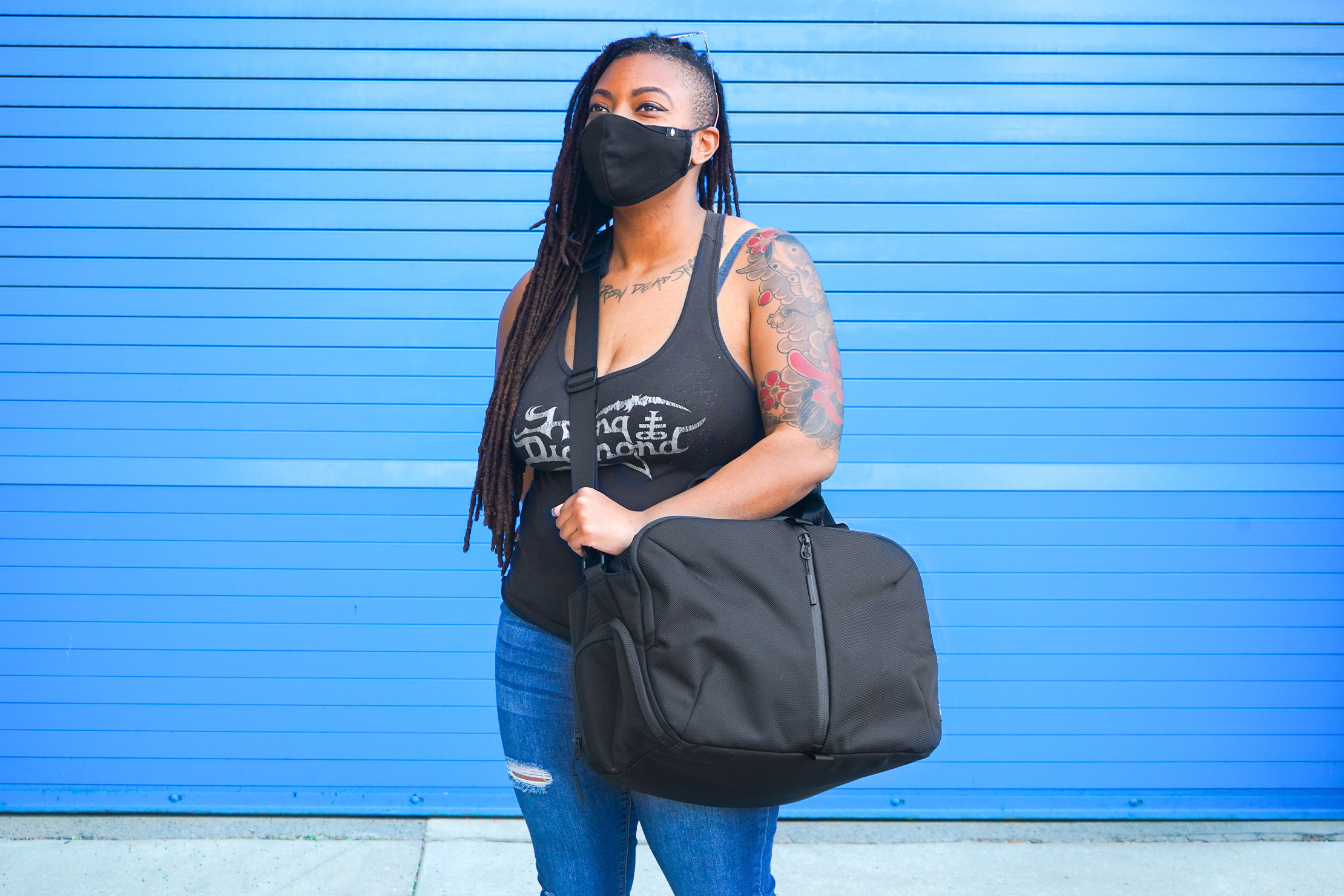 With a ton of segmented compartments, there's ample room to keep your exercise gear and tech separate. Although the sheer number of pockets can make it easy to forget where you've packed something. And the quick grab pocket being on the back of the bag isn't as convenient as we'd like. Whether you're hyped up on energy drinks to get your swole on or just make it through the day, this bag has something for you. Let's get down to the nitty-gritty, starting with the materials.
Materials & Aesthetic
Sleek is a word we use a lot, but if you looked it up in the dictionary, there'd be a picture of the Aer Gym Duffel 3. At the time of this review, it's available in either gray or black, but we chose black because that's how we roll at Pack Hacker. The gray version also uses different materials, so we won't be focusing on that one in this review.
The primary material of the black Aer Gym Duffel 3 is a thick 1680D Cordura ballistic nylon. It's built to last through all the abuse you can throw it. So no worries if you're used to chucking your bag in the backseat of your car or tossing it on rough gym floors. It can take it. Beefy YKK #10 reverse coil zippers keep all your stuff protected. As with most YKK zips as big as the #10, they can get sticky, especially when going around corners. It's nothing you can't handle, though.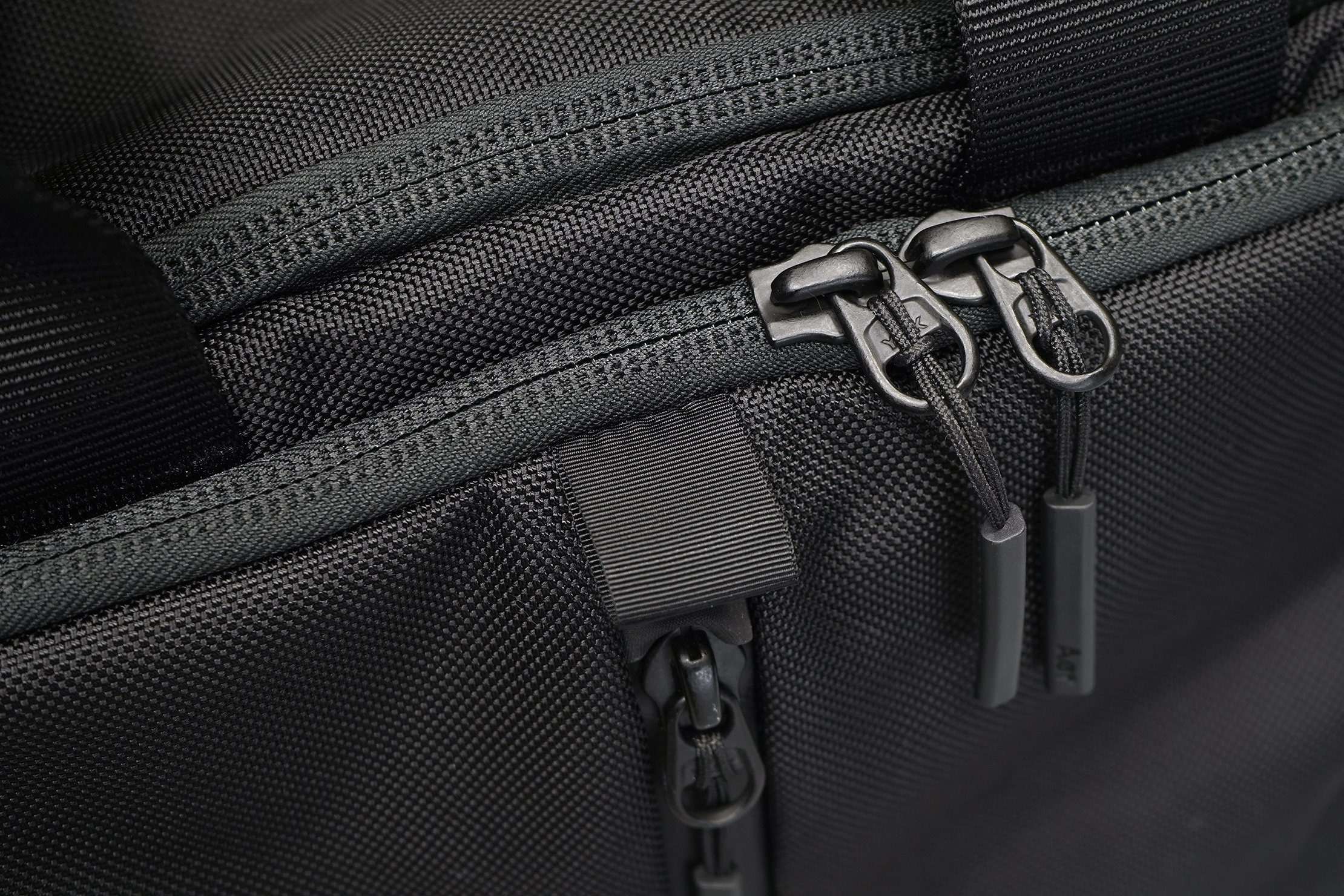 The front pocket zipper uses YKK Aquaguard for water protection, so it can be an excellent place to stow tech items you don't want to get wet. On the back quick grab pocket, there's a less beefy YKK #5. If years of going to the gym have taught us anything, it's that less beefy doesn't mean weaker for the use case, so don't get the wrong idea.
This bag takes the lowkey black-on-black aesthetic to the max. Even the snaps on the carry handle padding are "invisible," meaning they're covered by black fabric, so you don't see them unless they're unsnapped. The only thing on the exterior that isn't black is the silver clip on the Duraflex hardware on the crossbody strap, which is removable.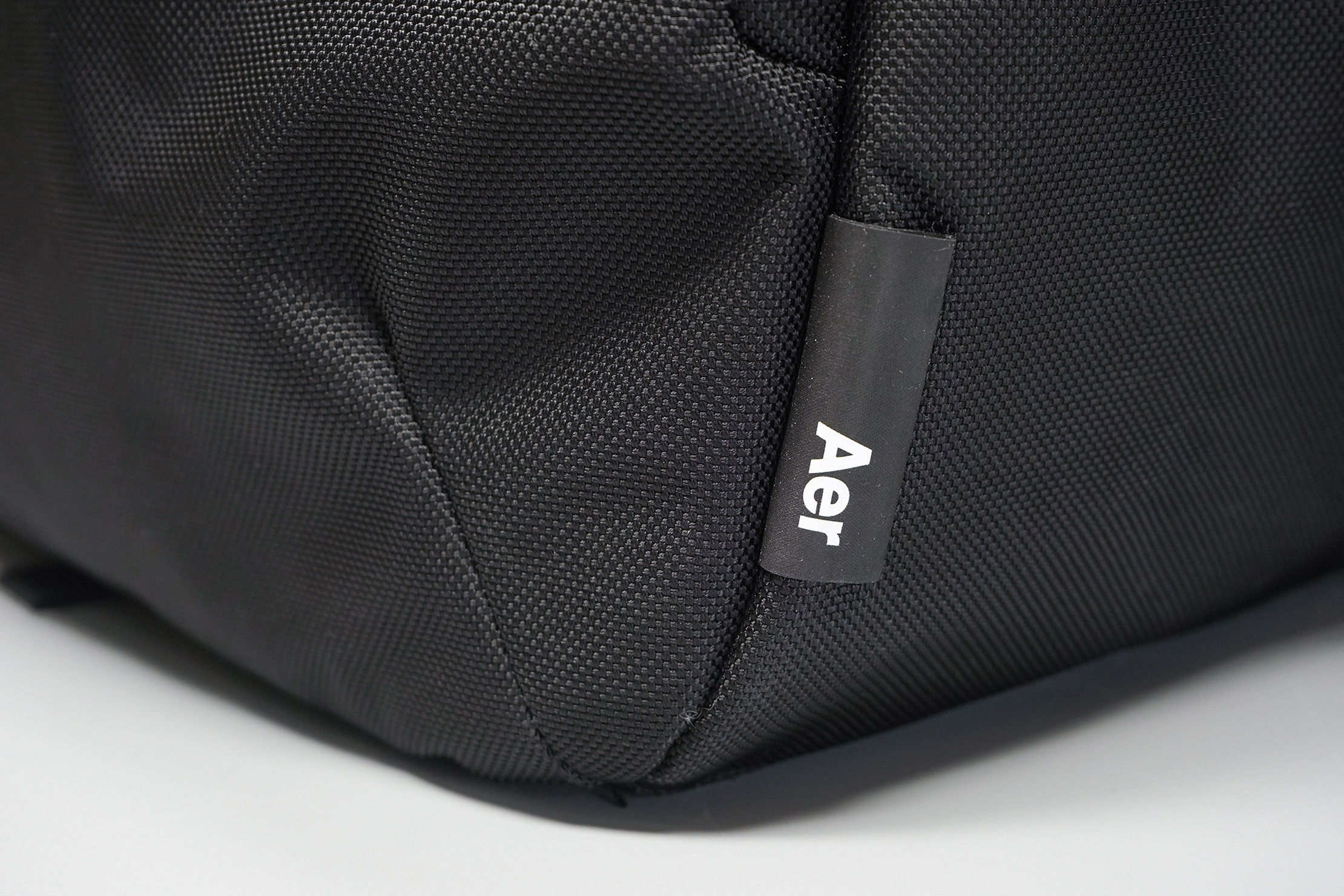 Hypalon zipper garages and Aer tags kick up the style a few notches too. When used sparingly, Hypalon is one of those materials that says, "I'm chill af, look how stylish I am." It's like the sunglasses emoji in fabric form. The zipper pulls also have Aer branded on them and they're pretty long and jingly. This wasn't too bad for us, but just something to note if noisy zipper pulls bother you.
External Components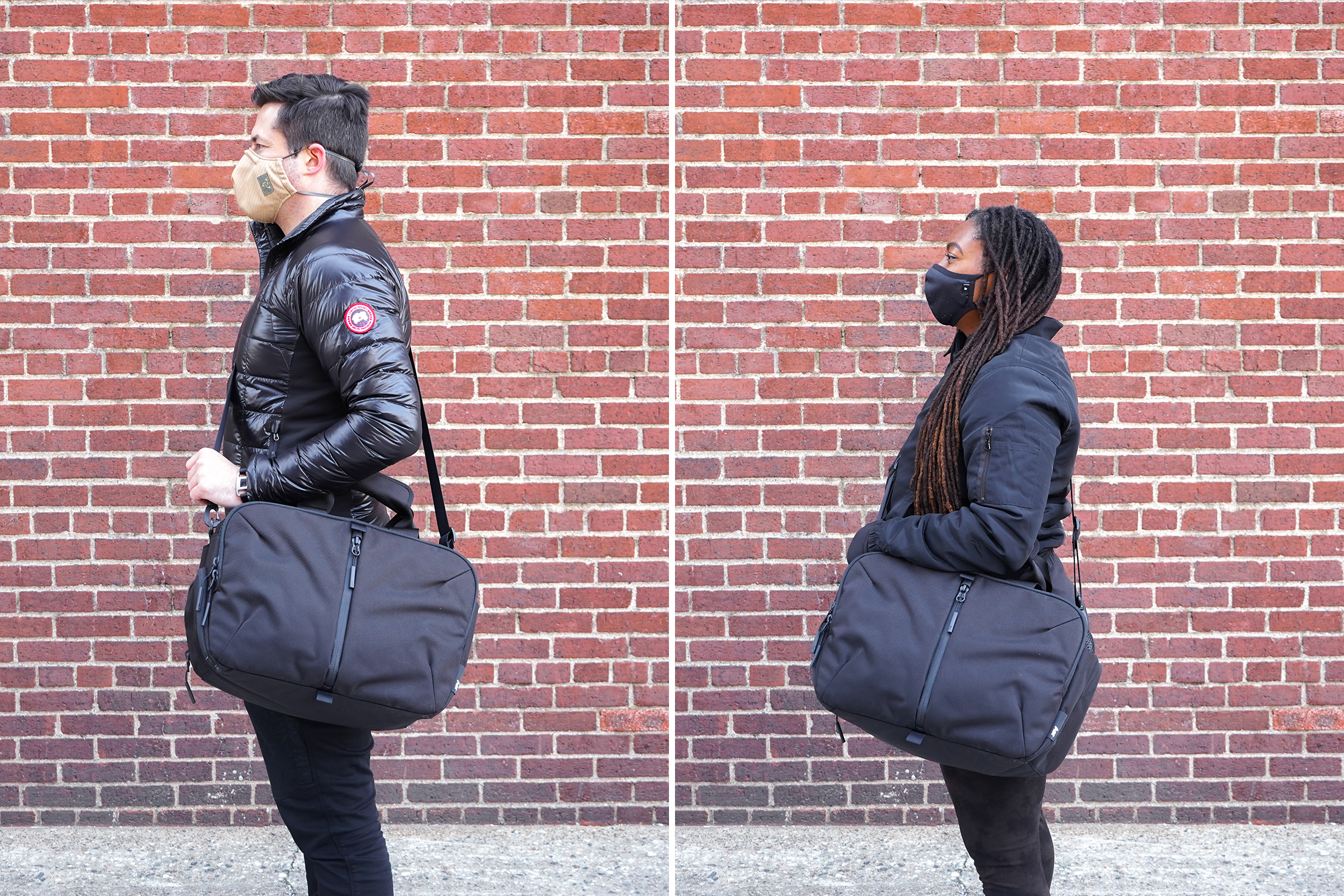 As you'd expect from a duffle bag, you can carry the Aer Gym Duffel 3 either by the handles or across the body. No surprises there. The handles have a nice amount of padding, so carrying it from your car to the gym won't be a problem. For longer distances, though, definitely wear it across the body as the strap has even more padding and a breathable mesh panel. There's also a thick nylon passthrough for a rolling suitcase on the back. You know, in case you are so dedicated to the fit life that you need to take your gym bag on a longer trip. Make those gains. We ain't mad at you.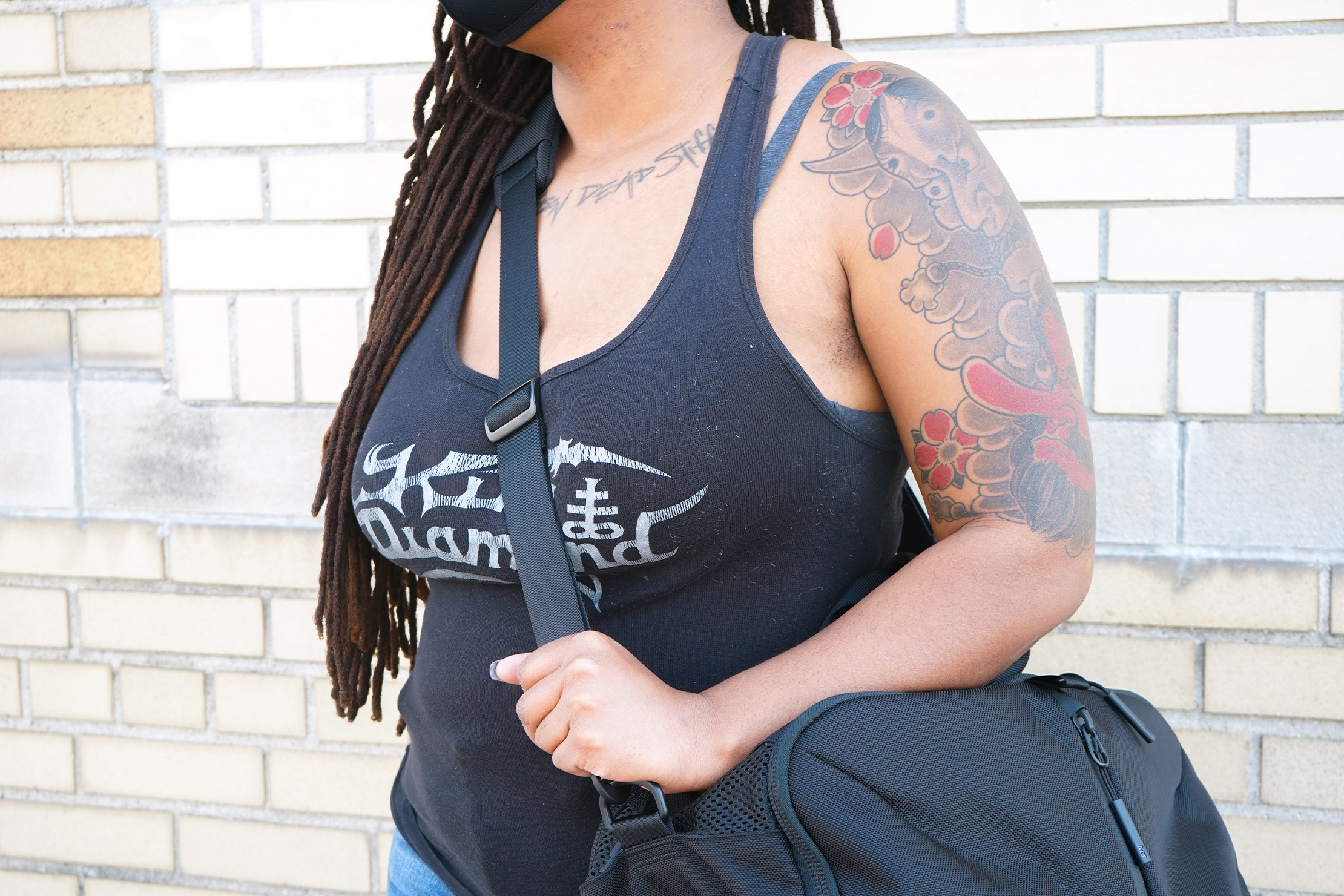 Any time you're using a duffel to hold sweaty gym or yoga clothes, there's bound to be some funk. We like funky music, not smells, so we appreciate the mesh ventilation on both sides of this bag. It helps air everything out, so things don't get too stinky. Good for the days when the yoga teacher decides to turn your relaxing class into a cardio workout.
On one side of the bag is a shoe compartment with three ventilation holes punched into a strip of Hypalon. We didn't notice that much of a difference in whether our shoes smelled or not, to be honest, but maybe that means we didn't exercise hard enough after all.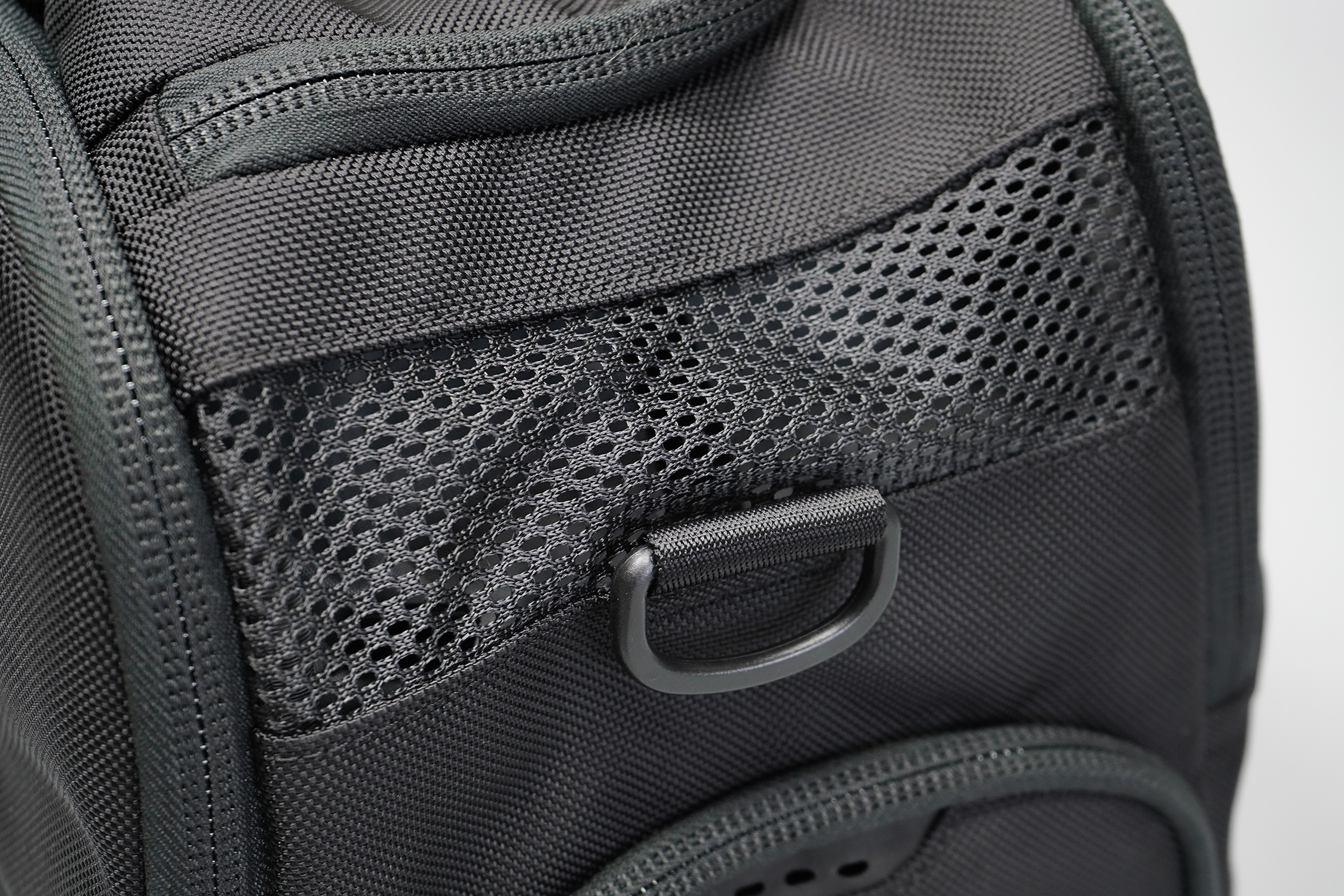 The pocket with a vertical zipper stretching across the bag's front didn't do much for us. It is spacious, but it feels a bit strange putting your items off to either side, so they aren't in front of the zipper. The actual admin pocket, which has a ton of excellent organization, is behind this. The first few days we used this bag, we thought, "what's up with this weird vertical pocket, and why isn't there any organization for smaller items?" Then we finally realized there was another zipper behind it. Hallelujah.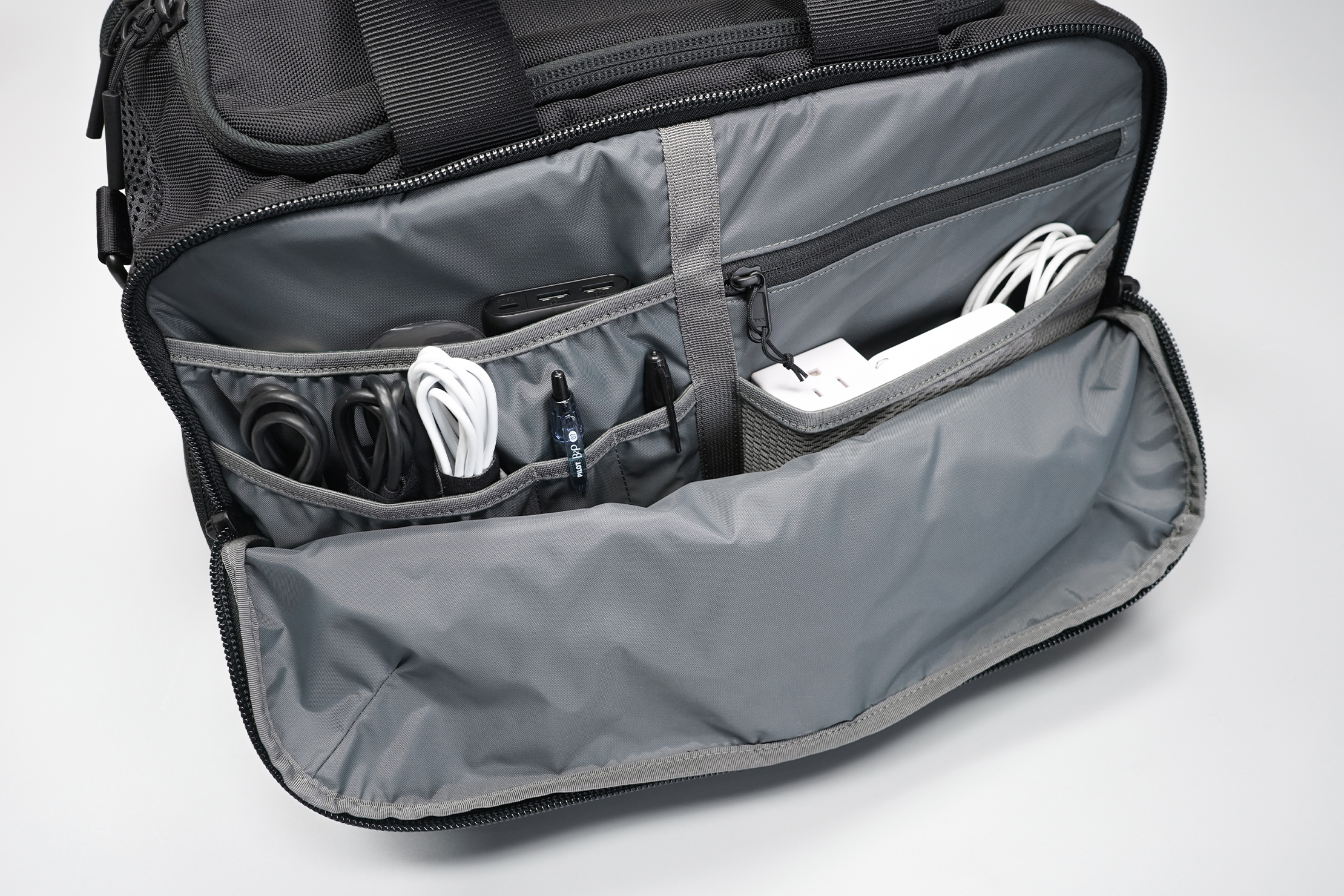 We really dig this pocket. It's got a ton of slots for your small tech, pens, and notebooks. We put our Jaybird Vistas, mouse, notebook, cables, and a few snacks in here with more than enough space for everything. The admin pocket is so spacious that it doesn't eat up space from those outer vertical pockets. This is where the bag really shined as it kept our tech and workout gear separate. Business in the front, party in the back style. Except the party is a sweaty round of burpees until failure.
Speaking of pockets that we dig, check out the water bottle pockets on this baby. That's not a typo. There are two of them. Oh, you thought there was just one? Think again. There's a water bottle pocket on the outside and inside, but we'll get to the internal one in a minute. The external water bottle pocket is nice and wide, so it can fit your biggest coffee thermos. A short strip of elastic keeps it close to the bag when not in use and allows it to expand to whatever size you need. If you have a big chunky wallet, it'll fit nicely in here too. Now, let's open it up so we can talk about the internal water bottle pocket.
Inside The Pack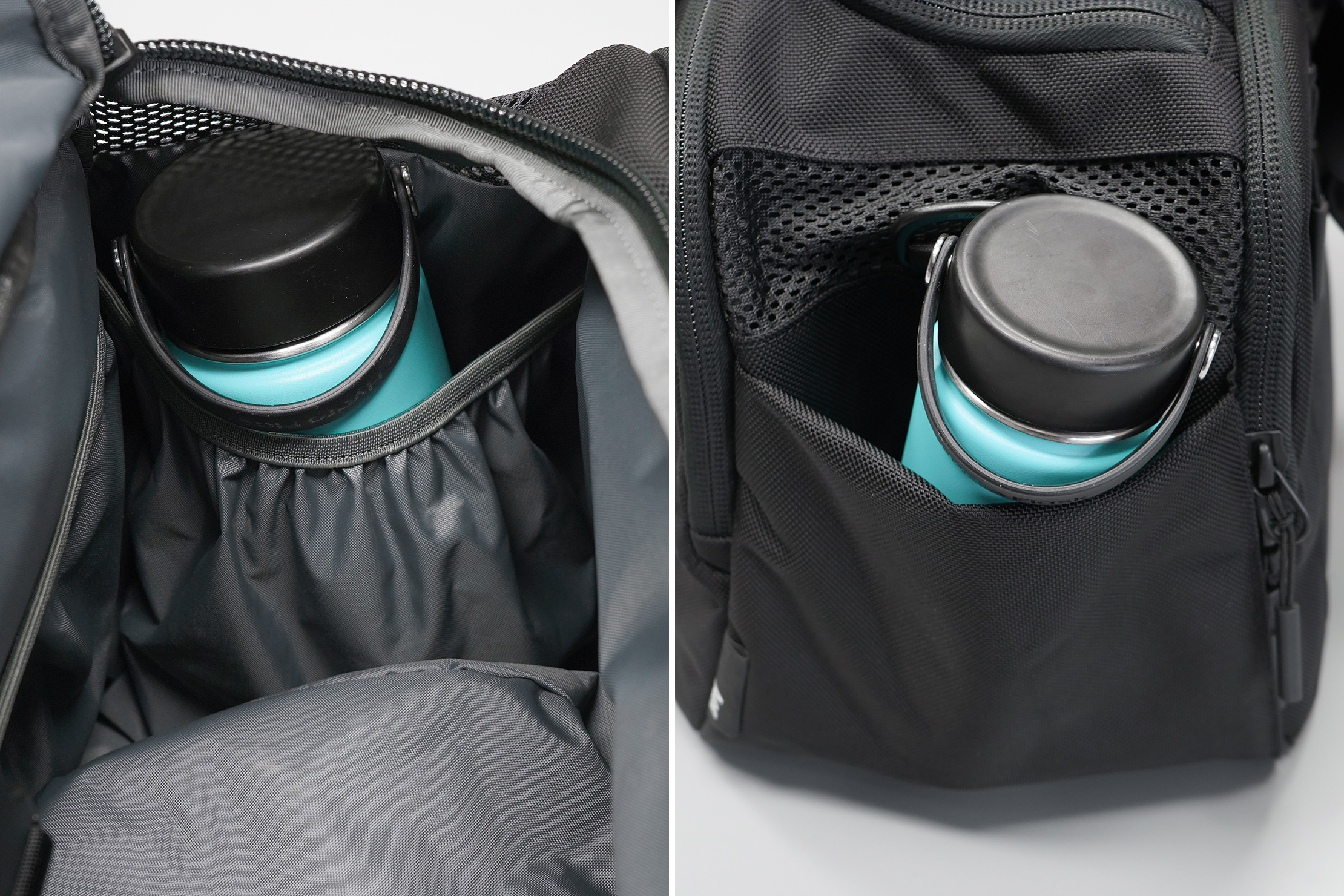 This inner water bottle pocket in the main compartment is for heavy drinkers. We're not talking about alcohol, we're talking about the folks who need coffee, water, and a protein shake to make it through the day. We like to stick our coffee or water on the outside and put our blender bottle on the inside. That way, we can mix up a protein shake after working out. As long as your tub of protein isn't on the large side, it'll fit in the main compartment, too. If you're the type of person who needs to carry pre-workout, creatine, protein, and BCAAs, well, then it'll be a tight squeeze. Getting back to that internal water bottle pocket, we like how you can use it and the outer one simultaneously without either being tight. That's where that elastic strip on the outside works its magic.
We can't say the same about the shoe compartment. It does eat up space inside the main compartment of the bag, but not any more than other shoe compartments we've seen. It's what you'd expect from a compartment that's hollow enough to fit a pair of men's size 13 shoes. We could still get a yoga block, a change of clothes, and our incredibly healthy lunch inside with a pair of women's size 9 shoes, though.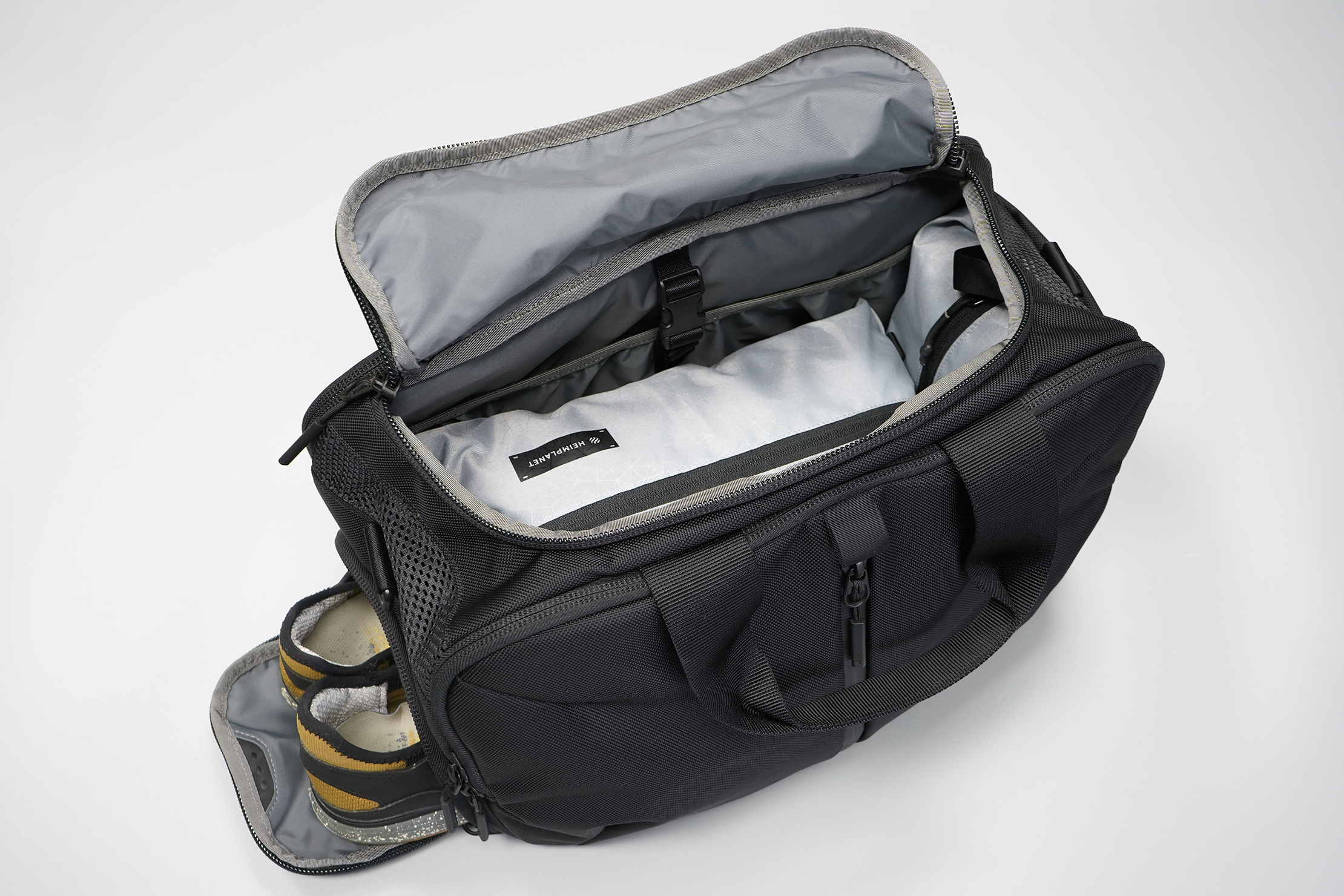 Now that we're in this roomy main compartment, you'll notice the pocket along one side with buckle closure. Any extra workout gear like elastic bands, yoga socks, or jump ropes can go in here. We're not sure what purpose the little buckle has, but maybe you like to be gentle with your exercise accessories, and you want to make sure they're extra protected? It kinda feels like buckling the seatbelt over a child's car seat. The elastic on this pocket keeps the opening nice and close to the body of the bag already. It makes us wonder why not just put a zipper on here instead of a buckle if the goal is to keep it closed.
On the other side of the main compartment is the laptop compartment. It has a soft lining and thick padding to keep your laptop protected against any drops. It'll fit up to a 16" and has space for a keyboard and laptop stand too. Again, we can't say enough how nice it is to have your computer and tech in the outer pockets while your gym gear is isolated inside. For busy folks like us who are going from the coffee shop to work, to the gym, and then on a weekend escape, this separation is essential. This bag allows all these things to coexist while not getting in the way of each other, and that's just beautiful.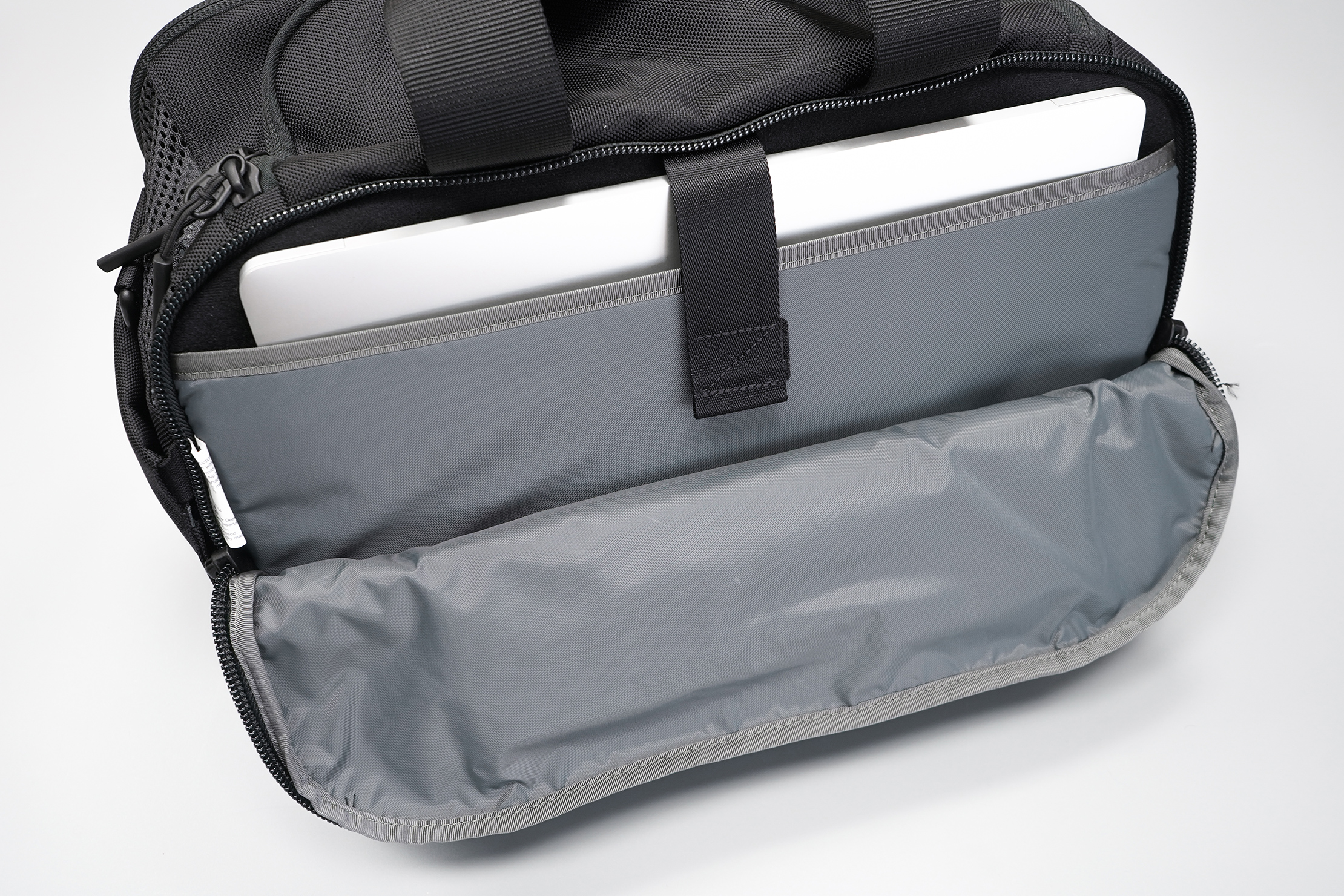 At the back of the bag, just behind the laptop compartment, is one last pocket. This is also where the rolling luggage passthrough we mentioned earlier is. It's a little weird that Aer considers this as the quick grab pocket. Being on the back of the bag, it's not always the smoothest to access since it's up against your body when you wear it. Not the most convenient for items that you want to grab quickly. That said, it is pretty spacious. Most of the time, we ended up just sticking random extra bits in here, like fliers from the gym trainer trying to get us to sign up for personal training. Listen, we know we're out of shape, and we're working on that—no need to rub it in.
Usage Timeline
Initial Usage
Condition: Excellent
Tons of organization, pockets, and compartments
Ventilated shoe compartment prevents odor build-up
Well-structured and easy to pack
2 Weeks of Use
Condition: Excellent
Nice padding on the shoulder strap makes it comfortable to carry
Really digging how the internal and external water bottle pockets don't compete for space
Nice organization and segmented pockets keep exercise gear and tech separate
Access the Pro Community Discussion
Get your questions about the Aer Gym Duffel 3 answered from our team and the Pro Community right here on the page. Plus, join discussions with other members about gear, guides, and more.
Other Bags & Luggage Reviews