Mission Workshop Transit Duffle Review
Although we'd prefer more laptop protection, we're digging the Mission Workshop Transit Duffle's versatility, convenient level of organization, and ample space.
Our Verdict
Unlock the Pro Summary
Save time. Get access to brief summaries of our reviews so you can browse and make decisions more efficiently.
Pros
Tons of space
Great level of organization for a duffle
Well-structured with durable, water-resistant materials
Cons
No padding on the shoulder strap, can get uncomfortable after a while
Not a very significant false bottom in the laptop compartment
Internal fabric is crinkly/noisy
Recent Pack Hacker Video
Technical Details
Capacity

31l

Weight (lb)

3.3 lb (1.5 kg)

Denier

500D

Dimensions

12.5 in x 18 in x 9.25 in (31.8 x 45.7 x 23.5 cm)

Notable Materials

CORDURA®, Nylon, Thermoplastic Polyurethane (TPU), YKK Zippers

Manufacturing Country

United States

Laptop Compartment Size

15"

Warranty Information
Full Review
The Transit Duffle isn't the first Mission Workshop bag we've ever tested, and we're confident it won't be our last, considering its durable construction, ample space, and convenient functionality.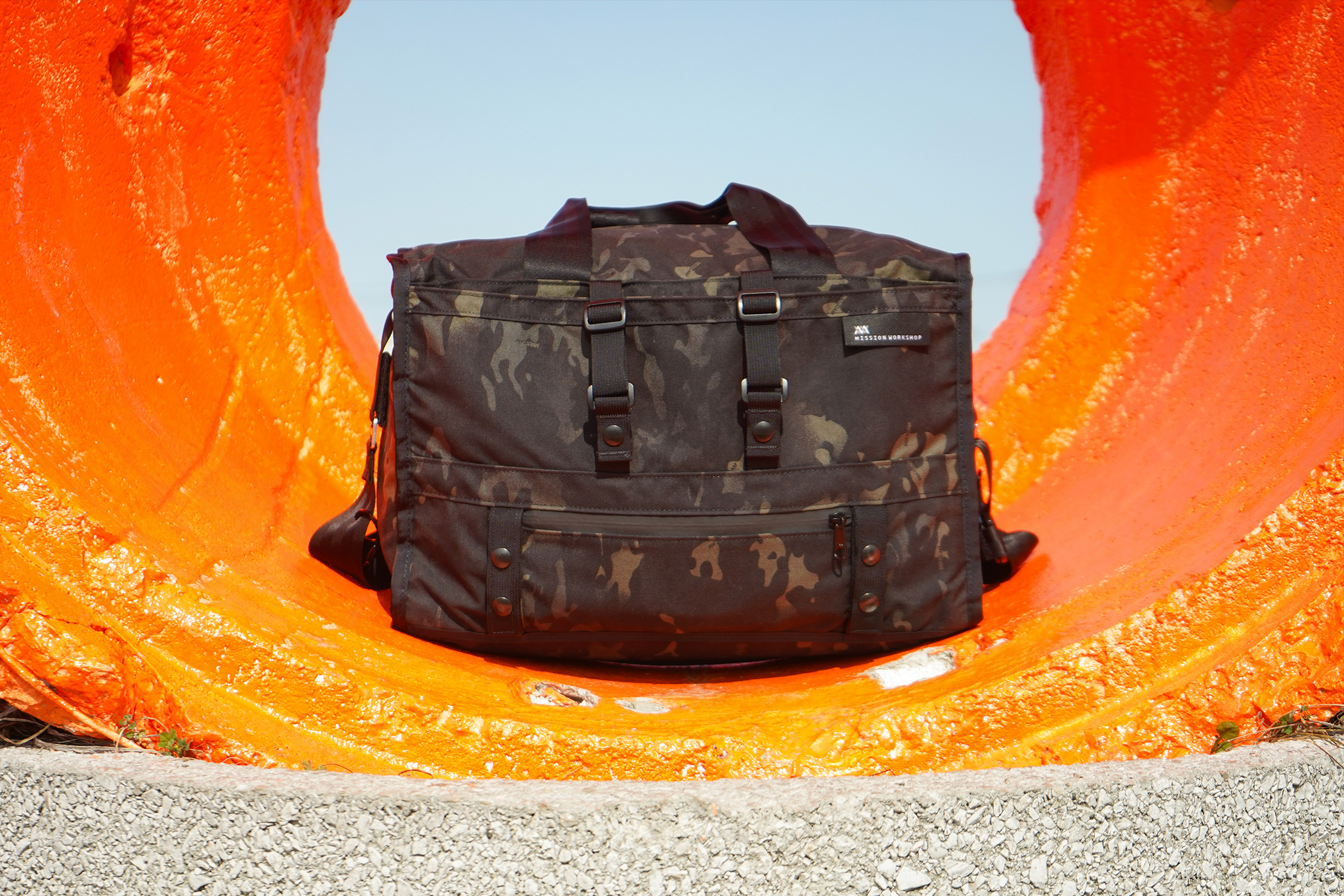 You can take this bag a lot of places, whether on foot or a cross-country road trip. It's well-structured, so it keeps its shape even when empty, and well-organized (for a duffle, anyway) so you can categorize your different types of gear.
We took this thing on a road trip from Michigan to Minnesota, in addition to all the testing we've done around Detroit. This last month has flown by, and we're on a mission to tell you what we think. Let's get to it!
Materials & Aesthetic
Our Instagram poll reported a 56% approval rating among our followers of this bag's aesthetic. It has a more technical look to it, which you may or may not be a fan of depending on your preferred style. Plus, the MultiCam Black colorway could have something to do with it. It's also pretty bulky & boxy, but the trade-off there is you're getting a ton of space for your stuff.
If you're trying to stay stealthy, the MultiCam Black colorway we've been testing will do the trick. As for your other options, you can also pick up this duffle in Olive, Brown (both with wax canvas), as well as Gray and classic Black at the time of this review. Any of these colorways offer a more tactical, subdued vibe that fits in with the duffle's overall aesthetic and use case.

Mission Workshop opted for a more subtle approach to branding with this bag, as the only logo you'll find stretches along a black tag on the duffle's front. It blends in nicely on the MultiCam Black colorway, and we've appreciated the kind of authority it brings to a hardwearing bag like this one.
Material-wise, this duffle is made with a 500D CORDURA nylon fabric on the outside and a 140/70 nylon with a TPU coating on the inside. What that means in terms of your gear is that it's well-protected by a durable, water-resistant construction. Our only note about this fabric—the interior material, specifically—is that it's pretty crinkly and loud when we're shuffling gear in and out. It's more of a minor nuisance for us than anything else, but your mileage may vary.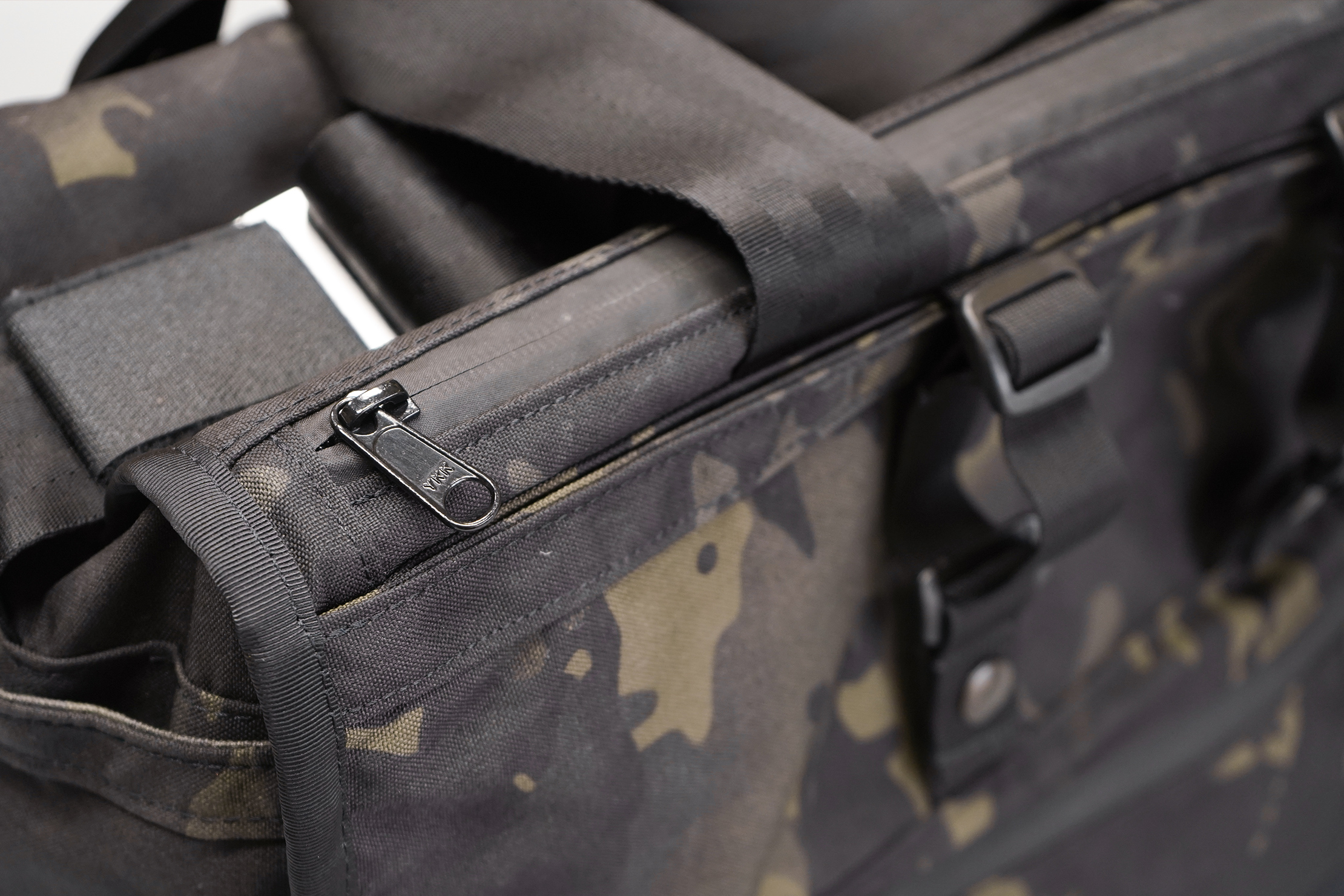 The Transit Duffle's zippers are courtesy of YKK, a brand whose products we've tested many times over the years. We're happy to report that, per usual, these zippers have been working well throughout this last month, and we don't expect issues anytime soon.
Lastly, the metal hardware on this bag has been holding up well during testing. They feel nice and sturdy in hand, and we haven't experienced any issues with chipping or breaking thus far. Plus, they reinforce the duffle's high-quality vibe, and we dig it.
External Components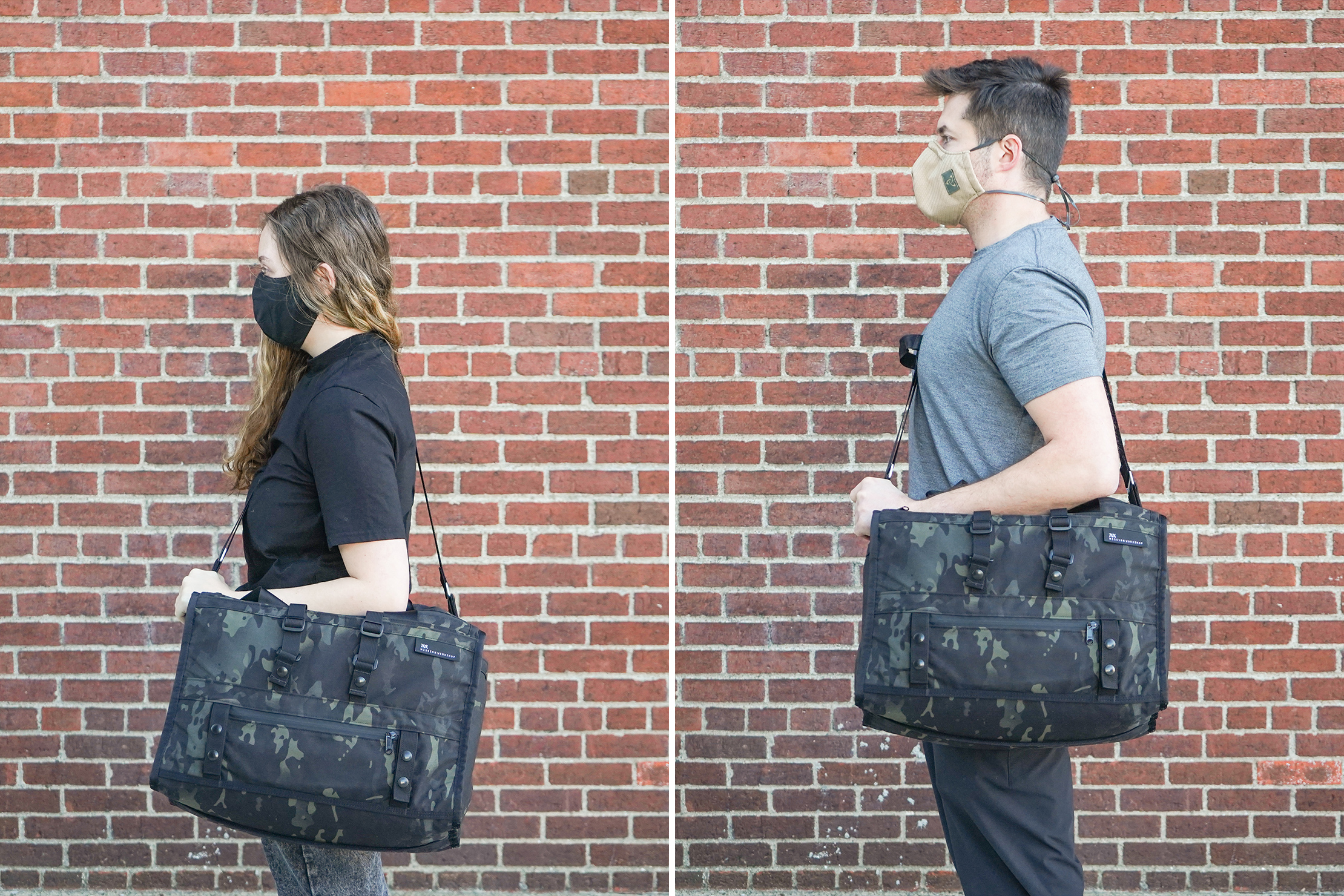 You can carry the Transit Duffle by its shoulder strap, whether you're slinging it crossbody or just over one shoulder. It's made with a seat belt-like material that's smooth in hand, but it's not padded, so it's not the most comfortable when you're taking advantage of this duffle's full 31L capacity.
We will say that, per usual, Mission Workshop does a great job on this bag with managing excess strap. There's an adjuster with a handle you can move up and down to either tighten or loosen this strap to wherever it offers the most support and feels most comfortable. Dangling, be gone.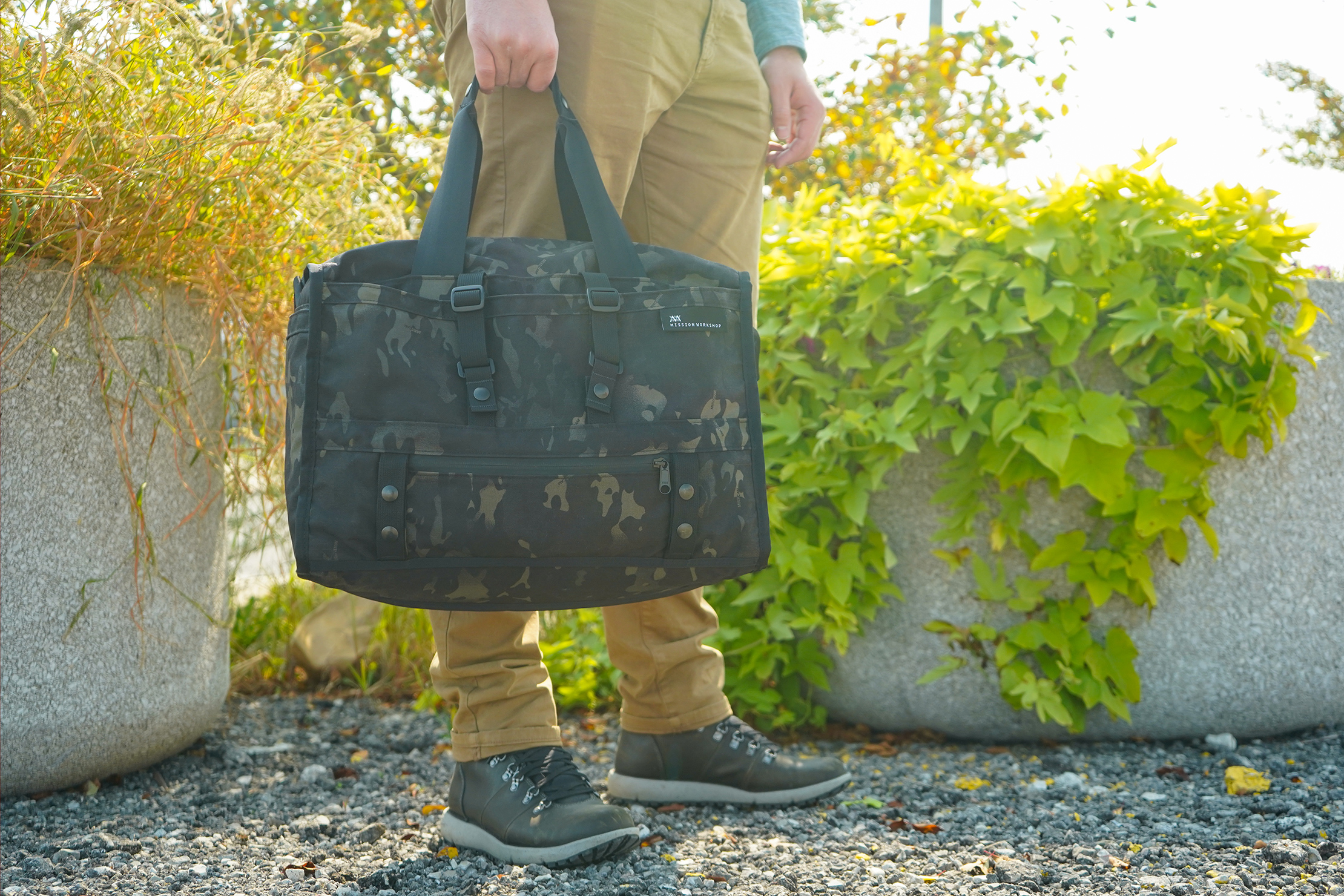 Now, this bag is first and foremost a duffle. That said, Mission Workshop does sell a separate harness system you can purchase if you're looking to wear this thing as a pack. You can detach the original shoulder strap from the velcro on the sides and clip the new straps to the metal hardware to the bag's two opposite corners.
Like we touch on in our duffle bag guide, with this harness system attached, this thing becomes what we call a buffle: a duffle-backpack hybrid. It's a unique and versatile setup, but typically when a bag tries to be two things at once, it lacks somewhere.
That somewhere is often the comfortability of the carry, which is why we haven't sprung for the sold-separately backpack straps for backpack-mode during our testing ourselves—we have reservations about how comfortable this giant box would be on our back. Of course, your mileage may vary, and it is an option for you to explore.
You also have two handles at the top (made with that same smooth seatbelt-like material as the shoulder strap) that connect via snap fasteners. We appreciate this method over velcro as we've found it stays far more secure when we're carrying bags this way—that, and we're not huge fans of velcro in general, as it can cheapen the feel of a bag.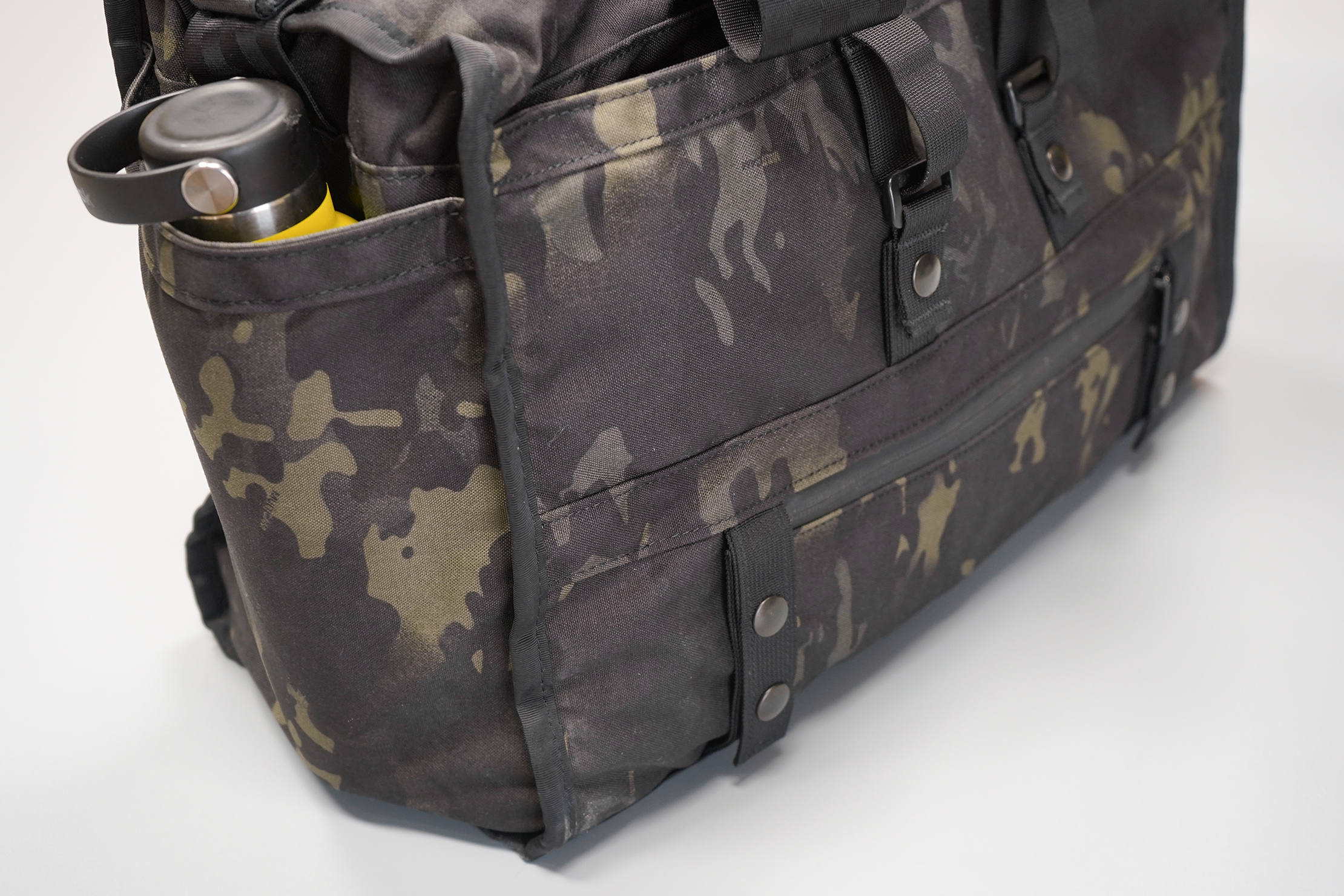 If you're wondering what the straps toward the bottom of the front and back of the bag are, they're intended for securing this duffle to your bike. We're not surprised by this integration as Mission Workshop has some roots in cycling, and it shows in their gear. These straps can be secured to your bike rack, so you can ride all around with this thing in tow. It's a thoughtful and handy addition on the brand's part (especially for all you cyclists out there).
The last thing we'll cover in this section is the duffle's two side pockets. We've been using one to stash a taller but decently-sized water bottle (the YETI Rambler 18oz Bottle, for reference) so that we don't have to store it all the way inside the bag. Then, on the other side of the duffle is an identical pocket that you can use for another water bottle or anything else you want to keep close by—snacks, an umbrella, an extra pair of gloves, and the like.
Inside The Duffle
At 31L, you have plenty of room for larger hauls of gear, including several external pockets to keep the stuff you're constantly grabbing handy. The first ones we'll mention are the two large pockets along the front and back of the duffle. They lie flat when empty and don't look like they can hold much when you're looking at them head-on. However, we've been able to fit a pair of hefty Danner Vertigo 917 Boots inside no problem.
They also come with lash straps that secure with snap fasteners to the front of the pocket so you can keep certain items from bobbing in an out. Depending on how large it is, you could also use them to secure a yoga mat, tripod, or even a light jacket if you don't want them taking up room inside the main compartment (or if they don't fit).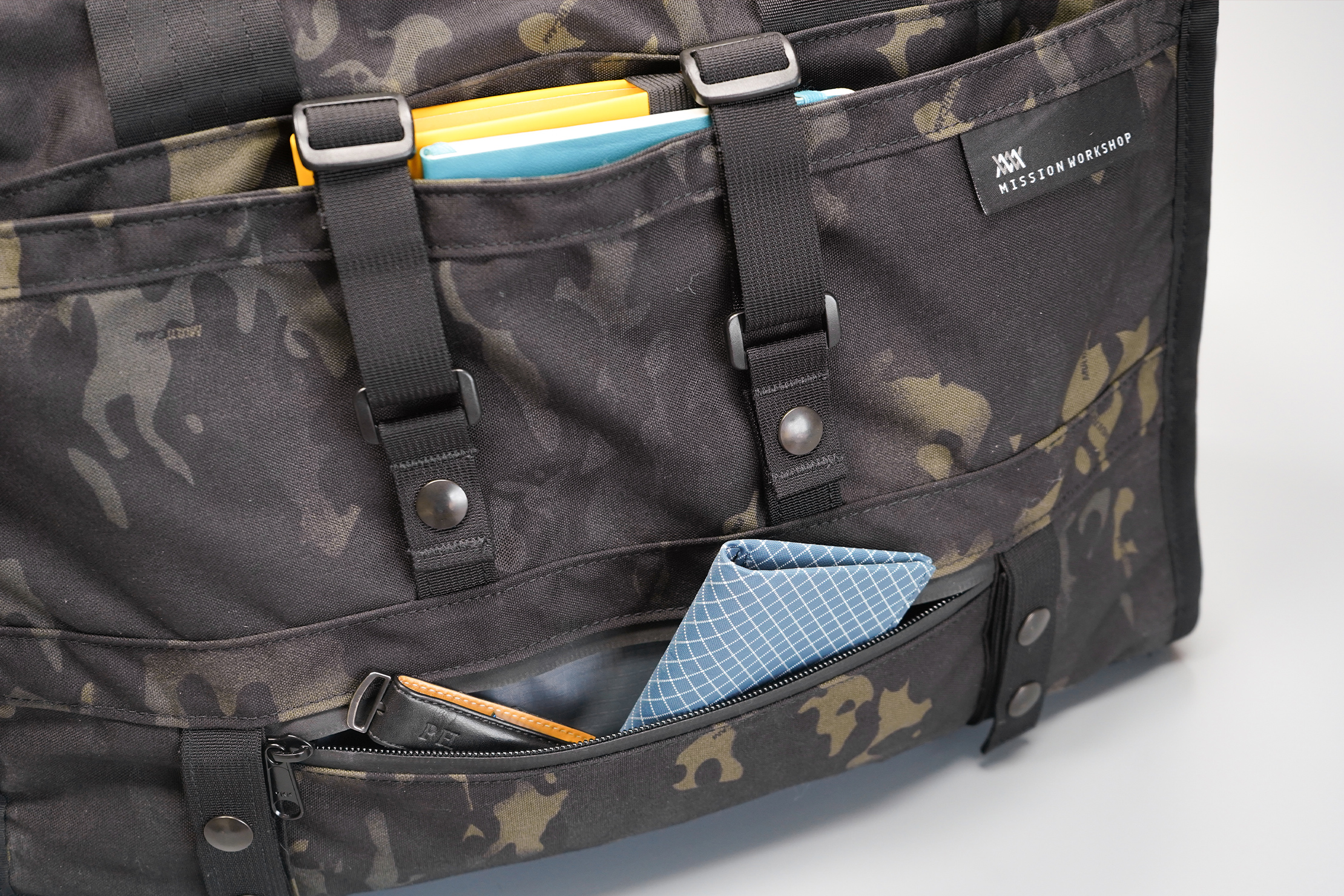 If you're opting to keep bulkier items in one (like we did with the boots), then you have all the space inside this pocket to fill with other frequently-used items. One thing to remember about both of these pockets is that when the main compartment is full, it'll eat up space in these sleeves, which might affect what you're able to pack in each one.
Also, below the larger pockets are smaller, zippered pockets on both the front and back of the bag. These are a great place to keep your more valuable quick-grab items, like your wallet, phone, or keys, as they're the only pockets on this thing with any closure. If you keep these items in the other external pockets, you run the risk of them falling out and getting lost or damaged.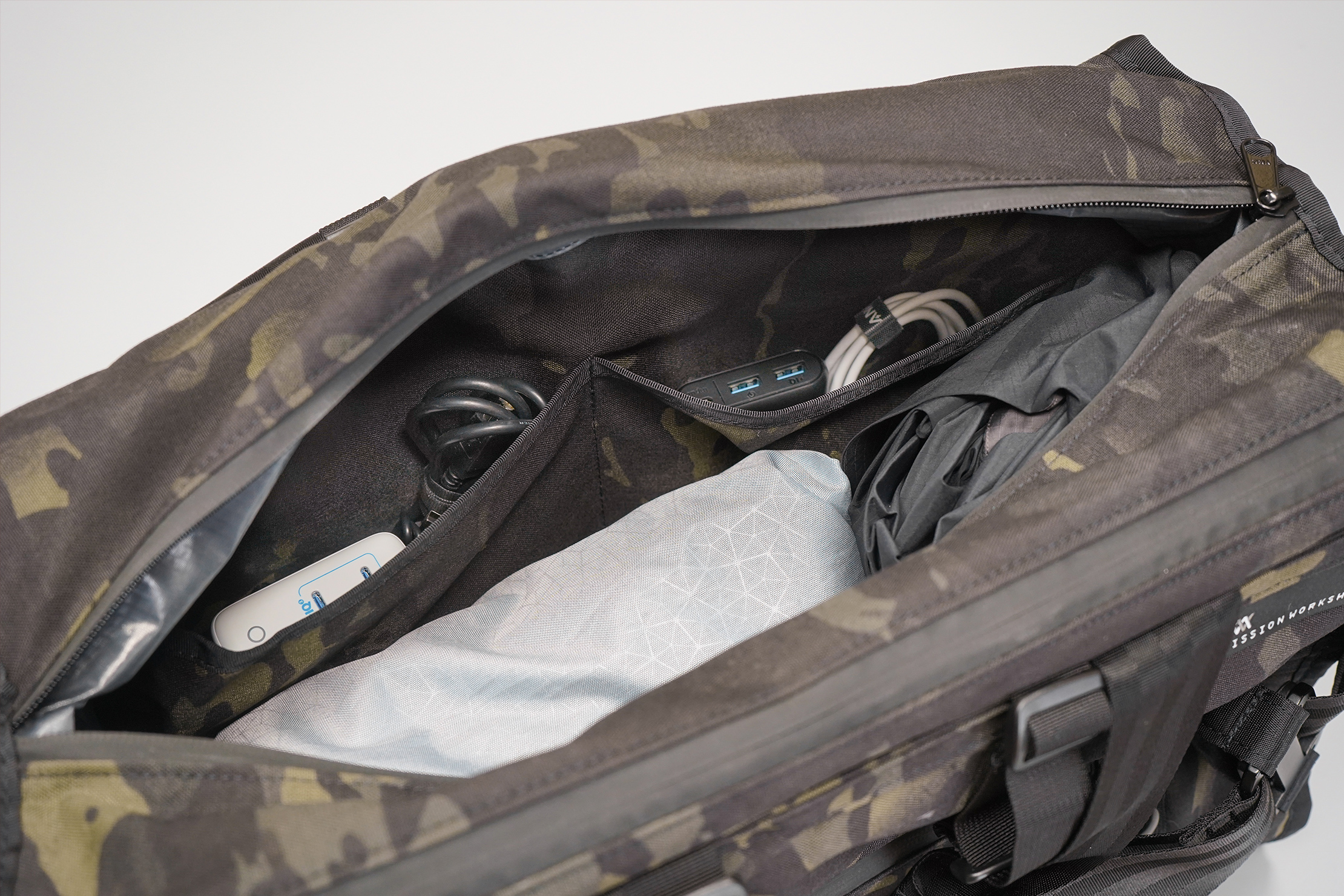 Like the outside of the bag, the inside of this compartment has four pockets—two on each side—to help compartmentalize your gear. You can use them to stash cables, chargers, a mouse, and other tech accessories if you'd like, or toiletries and personal care items if you're planning on taking this thing somewhere overnight.
Besides these pockets, though, you have a ton of room to pack out with your bulkier stuff. For our purposes, we've been throwing in a packable jacket, a few packing cubes, and an extra hoody to add more segmentation and to keep us warm when the weather chills.
This duffle keeps its structure well, too, so you can set it down at your side and easily reach in and out to grab your stuff. This is always a convenient functionality, especially when we're getting work done, as it prevents us from having to constantly zip and unzip.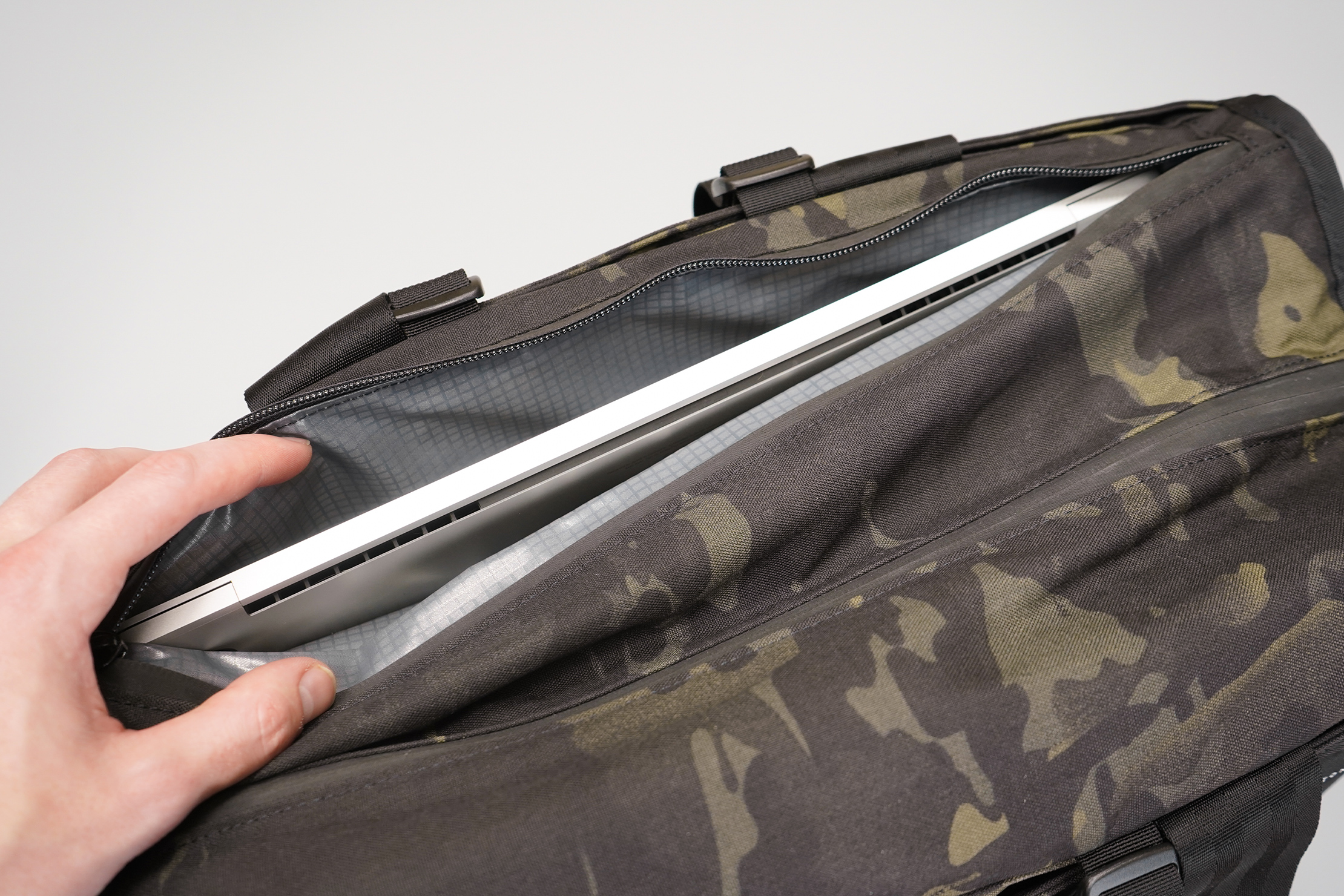 Then, behind this main compartment is a separate compartment that can hold up to a 15″ laptop inside. It has a decent level of padding to cushion your tech when it's getting jostled around, but we wish it has a more significant false bottom. It's there, so you're getting some protection when you drop the bag, but you may feel more comfortable keeping your laptop in a protective sleeve just in case.
Usage Timeline
Initial Usage
Condition: Excellent
Interior fabric is waterproof but a little crinkly and noisy
We really dig the Mission Workshop quick-adjusting shoulder strap
Laptop sleeve has nice padding for added protection
2 Weeks of Use
Condition: Excellent
We wish the laptop compartment had a more pronounced false bottom
The soft seatbelt-like strap and handles feel great in the hand and we like the snap fasteners for keeping the handle managed
Although this bag can integrate with a sold-separately harness system, we don't think this is the ideal way to carry it unless you really want backpack functionality—it operates much better as a duffle
The fabric is a little crinkly due to the interior TPU-coated nylon liner, but it offers great weather resistance
1 Month of Use
Condition: Excellent
We appreciate how this bag has been holding its shape, even while empty
The interior pockets come in handy to divide gear, but we found ourselves chucking in packing cubes, a jacket, and a hoodie most of the time
This is a great bag to use on a road trip—we were able to stuff a big pair of Danner Vertigo 917 Boots in the side pocket and the interior compartment still had ample space

Access the Pro Community Discussion
Get your questions about the Mission Workshop Transit Duffle answered from our team and the Pro Community right here on the page. Plus, join discussions with other members about gear, guides, and more.
Other Bags & Luggage Reviews