Sometime back in January of 2016, I decided to leave my job with Apple and take a dive into the unknown — explore the world while working remotely.
Below is everything I'm currently traveling with, and basically everything I own (besides a storage locker in Minneapolis that holds my other possessions). Generally, it feels freeing and good to have next to nothing. Adding the constraint of a 40L backpack has made it even more challenging when deciding what to bring, and what to cut.
Everything on this list is TSA compliant, and I can fit this bag underneath the seat in front of me on the airplane. This allows for relaxed, fluid travel, with no need to race other passengers to the overhead bins. When arriving at a new city, I'm not forced to lug a giant roller bag to the hotel immediately as well—I can start doing whatever, right then and there, backpack in hand.
Some of this stuff is a bit pricey, but I'm apt to spend more on something I have less of. Paying for quality is worth it.
BUCKLE UP, THIS IS A LONG ONE—onto nearly 100 items. Oh, and if you're more of a spreadsheet person, you can take a look here.
Pack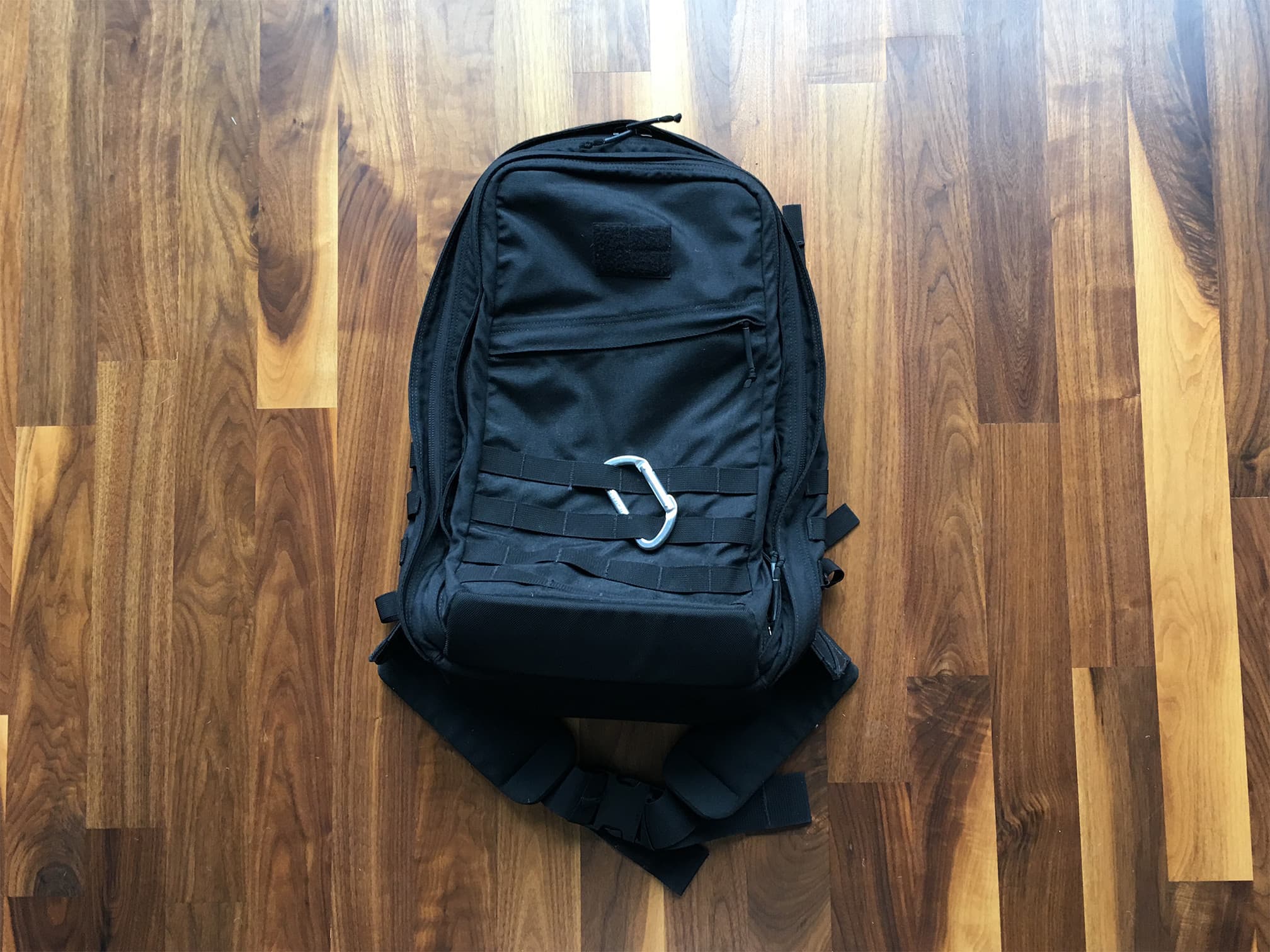 GORUCK GR2: This is where everything started. After looking at loads of packs, I ultimately decided on the GoRuck GR2 for it's durability and aesthetic. I don't love the weight, but doubt this thing will ever break (will update if it does). My favorite part about this pack is the separate laptop compartment located closest to your back. It's super padded & protected, and makes for quick access when it's time to sling pixels. I also appreciate that it isn't bright orange with a bunch of useless pockets. Would try a Minaal if I wanted something a bit lighter. "I don't live in my home, my home lives on my back."
Clothing
Most of the stuff listed here is wool or synthetic, and wide in style variety for different contexts—good anywhere from:
Staying cool on a blistering beach in Ko Samet.
Keeping a low-key, muted, kinda grungy profile to get into Berlin's best clubs (including Berghain 🏢).
Looking semi-fancy for a tasting menu meal in Paris.
Weather-wise, this combination of clothing works well down to about 25° fahrenheit. Anything colder, and I probably won't travel there. I've had enough Minnesota winters to last a lifetime.
Tee Shirts & Tank

Outlier Ultrafine Merino T-Shirt (left): My favorite of the bunch. This thing fits so well, and hardly ever needs to be washed due to the merino wool material. Thinking of grabbing another.
Woolly Short Sleeve Ultralight V-Neck (middle): Thinner than the Outlier. Good for warmer weather. Not 100% on the color but the lighter color is better when it's very hot/sunny out.
Icebreaker Men's Anatomica Tank Top (right): Good for showing off the guns, especially if you're huge like me from typing on the computer and moving a mouse around a lot.
Sweaters

Woolly Long Sleeve V-Neck (left): Basically the long sleeve version of the Woolly shirt above. A little thicker though.
Ministry of Supply Mercury Sweater (right): This thing looks pretty good, but requires a more frequent wash than the rest of the shirts in the bunch. If I was going to ditch a shirt, it'd be this one, although it helps keep a polished look.
Oxford

Wool & Prince Button Up: This thing is great and very versatile style-wise. Holds up well without frequent washing. The collar is a bit stiff right out of the box, but one wash fixed that.
Hoodie

Icebreaker Shifter Long Sleeve Zip Hood: That's way too many words for what this thing is—a hoodie—but the quality and fit of this thing makes up for the uptight naming of it. Highly recommended.
Jackets

Patagonia Alpine Houdini Jacket (left): Does a great job at blocking the rain. The draw-string on the hood keeps it in place in windy conditions. Both jackets compress into themselves and make for easy packing and transport.
Patagonia Nano Puff Jacket (right): The weight to warmth ratio with this thing is magical. It's extremely thin and light. The synthetic material inside the nano-puffs are more durable than actual down as well, meaning, if it gets wet, it's not a huge issue. This jacket alone is good for about to 40° fahrenheit and above weather. Also doubles as a pillow when compressed (although it's little stiff).
Pants

Outlier Slim Dungarees: Incredible fabric. Good cut & look. These are comfortable to wear, and still work for "fancier" events. Thanks to the NanoSphere® treatment, these dry quickly, and spills roll right off the fabric (although rain will drench them— they're not "waterproof"). They're also longer in length, which works well for a tall person like me. These would probably be my go-to pants even if I wasn't on the road.
Shorts

Outlier New Way Shorts (left): Maybe a tad short if you're a taller dude, but overall awesome. Outlier continues to be my favorite brand for clothing due to the look and function of it. These shorts also double as swim trunks, and some of tdrawstring construction lends itself to faster dry times, and an internal draw string keeps these things intact when hitting the waves. On the outside, they look and feel like ordinary shorts.
Billabong Crossfire X Submersible Short (right): Another shorts / swim trunks combo. Much cheaper than the outliers, and still do a good job. It's a little harder to pass them off as "shorts" due to the swim-suit looking aesthetic and the "swishier" material that trunks usually have.
Underwear & Socks

Woolx Merino Wool Boxer Brief: Comfortable and able to be worn a couple times before washing (shh — don't tell anyone) thanks to antimicrobial wool.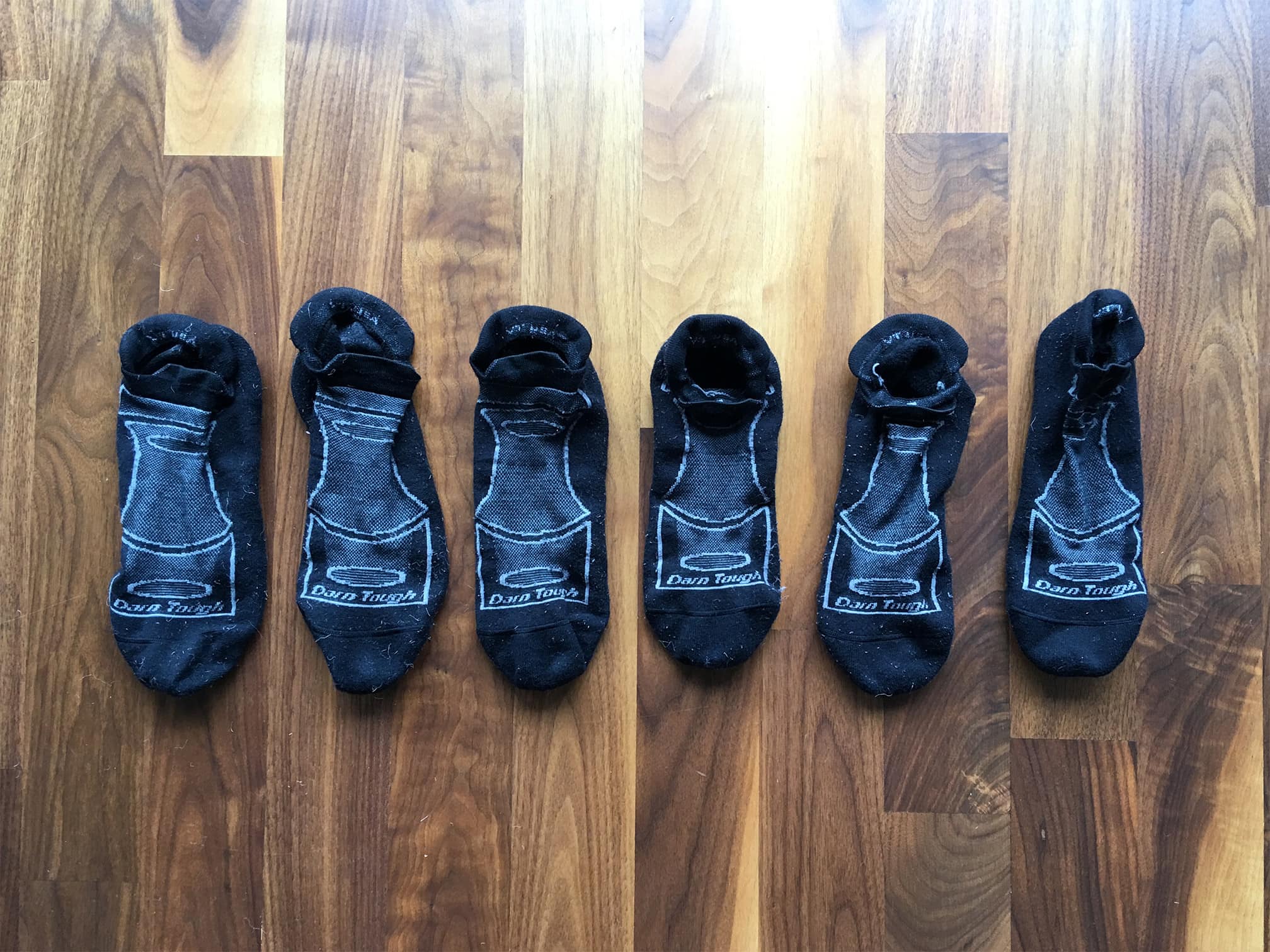 Darn Tough Socks: Wicking and cushiony — even with no traveling, I think I'd switch to these due to durability and again, the ability to wear a couple times between washes.
Shoes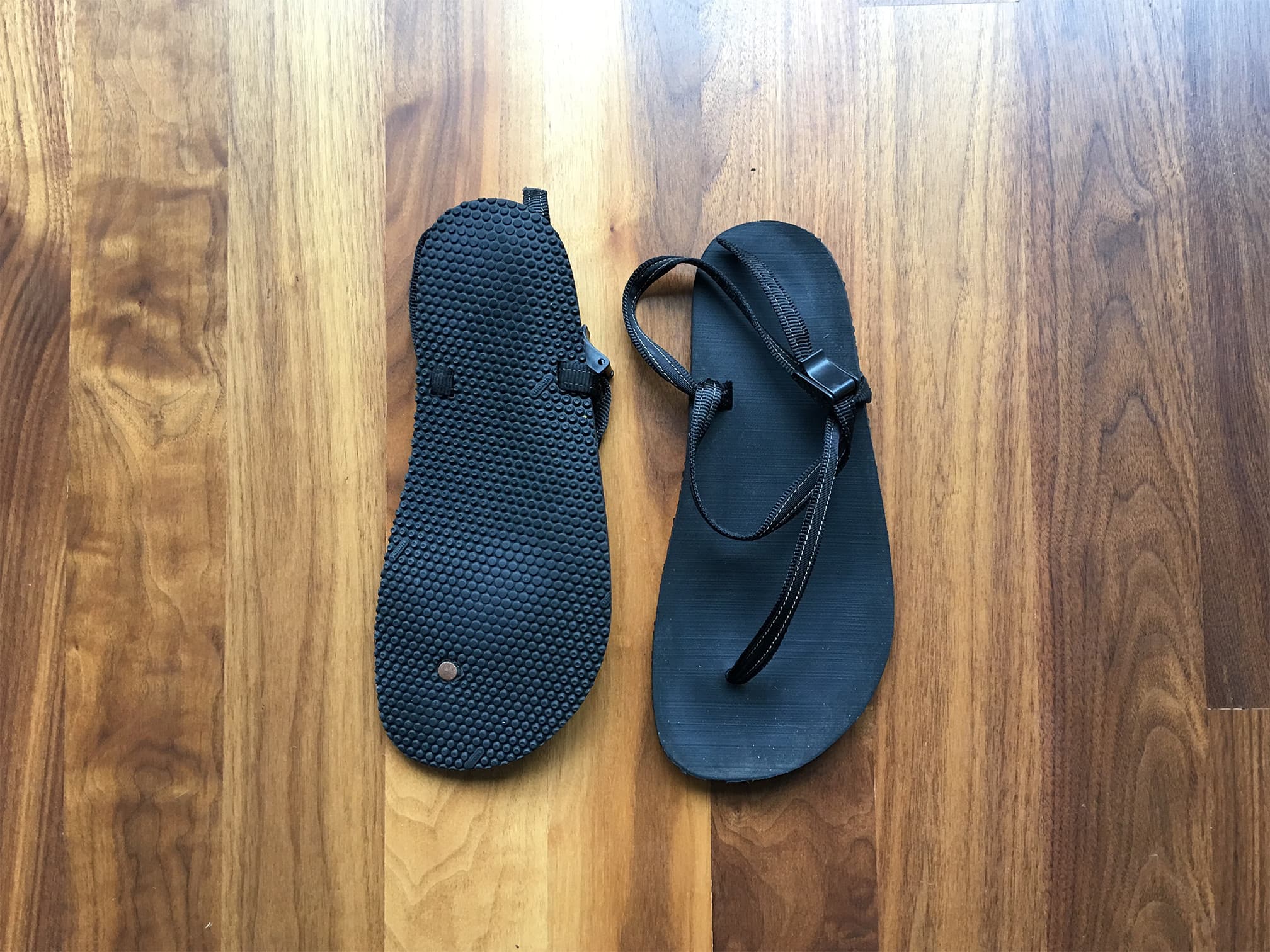 Earthrunner Elemental Sandals: These things are amazing. Super comfortable, and the strap system basically glues these to your feet circumventing the annoying slapping sound flip-flops can make. These are also my running shoes. I used to go straight barefoot, but decided it's probably better to not get a rusty nail stuck in my foot while traveling. We'll see how they hold up durability-wise. So far, so good.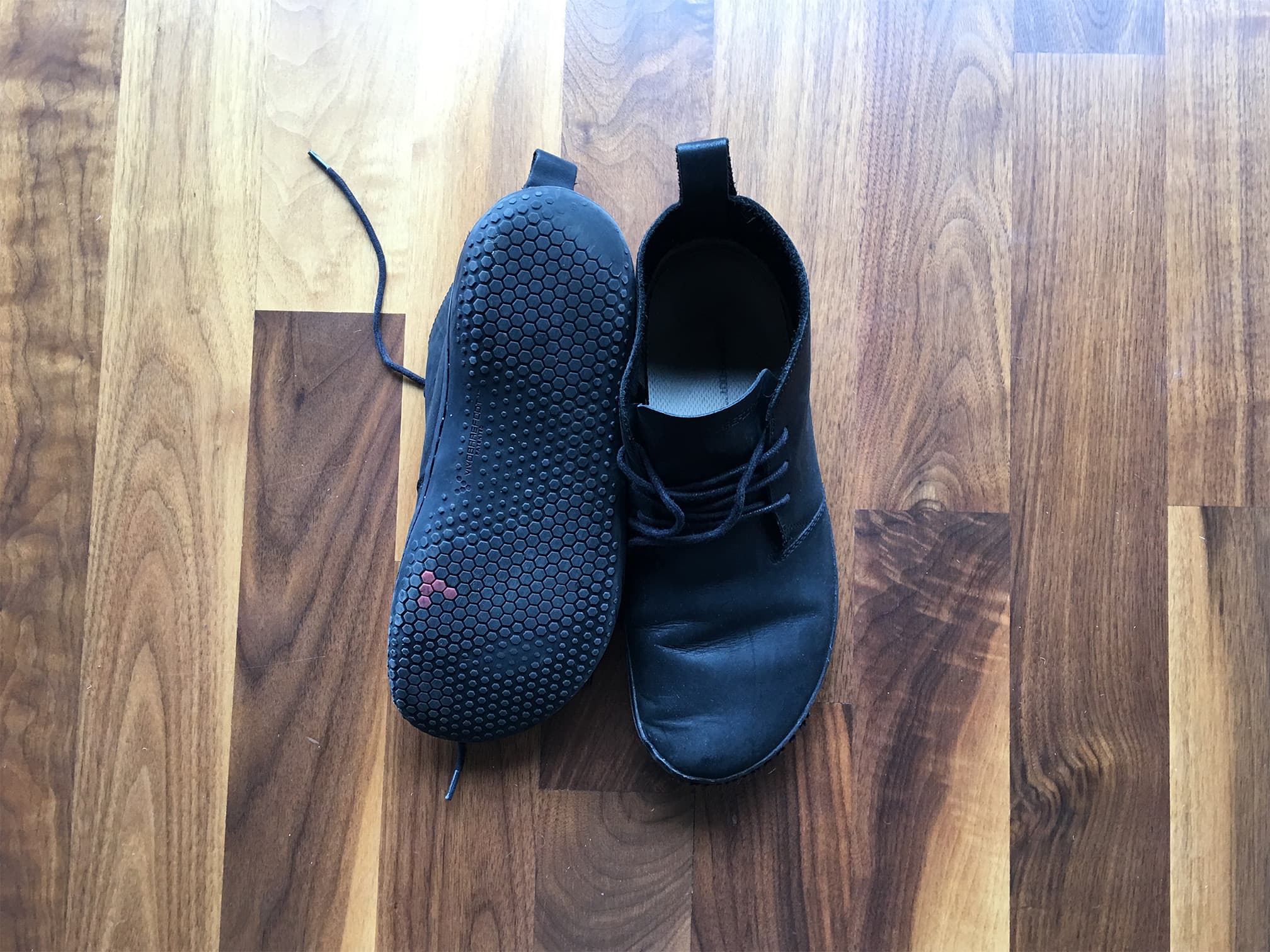 Vivobarefoot Men's Walking Shoe: The idea of these are great. Minimalistic, light-weight, and versatile. Good for wearing while walking around exploring, and can also pass as something "fancier" if you're sneaky (short of a pair of wing tipped loafers, of course). The one problem I have is sizing. A 42 is too small, and a 43 is too large for me personally.
Warm Gear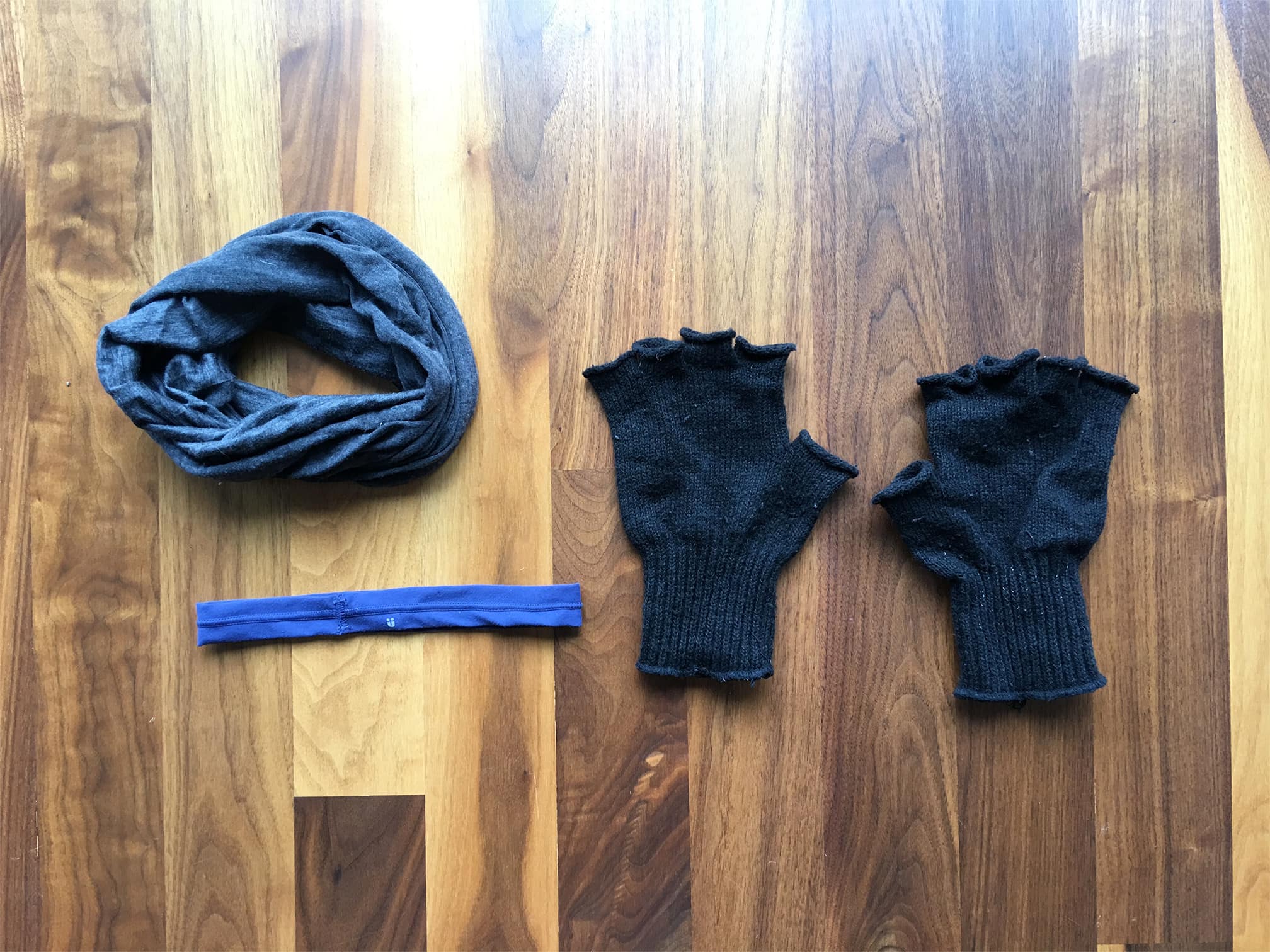 Wool Buff (top left): This thing can be twisted and folded around into a bunch of different functions. I mostly use it as a scarf, but sometimes twist it into a beanie for colder weather.
Headband (bottom left): This thing does a great job of keeping gorgeous locks out of your face if you're out for a run.
Wool Gloves (right): These are good for use outside, or in an overly air conditioned coffee shop/co-working space. They also make you look like kind of a psycho if you're wearing them with only a tee shirt just to keep your hands warm. Works for me. YMMV.
Hat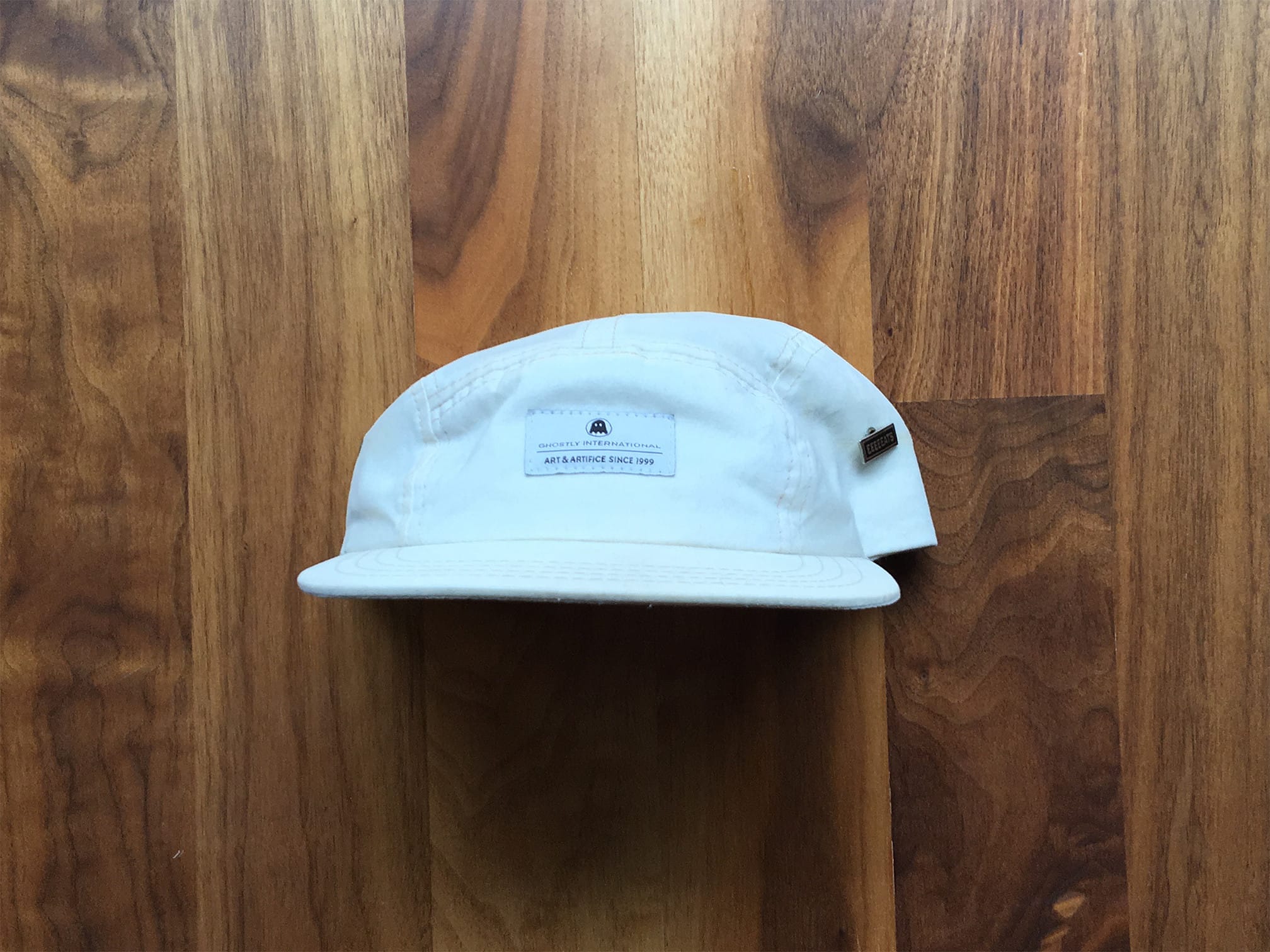 Accessories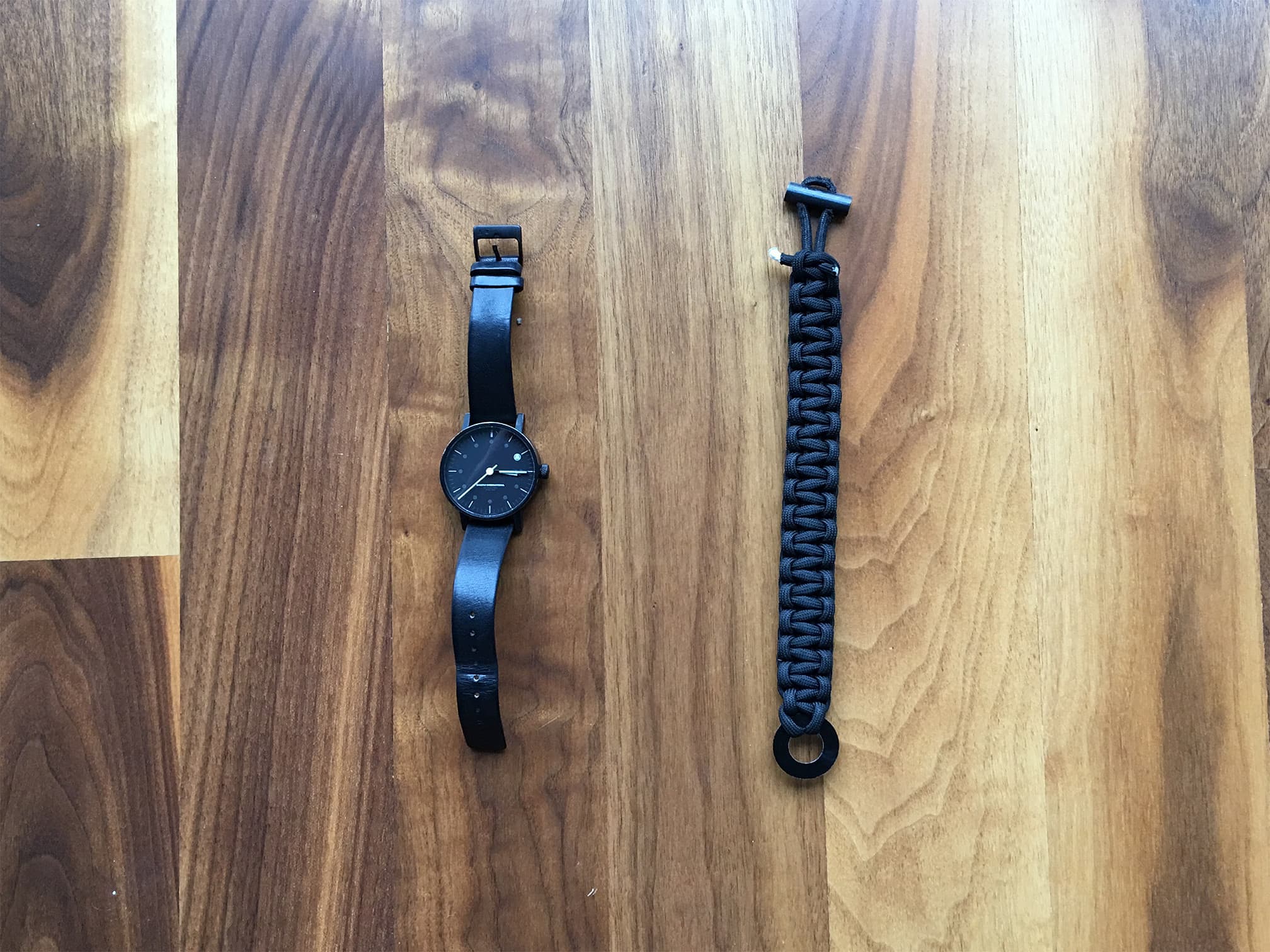 Void Watch: Simple, clean design. Japanese-made. Thinking about getting a watch that supports two timezones and that I don't have to charge often (sorry Apple Watch). Suggestions welcome.
Bomber Paracord Bracelet: A paracord and a fire starter (flint) all in one? And it's TSA Compliant? This thing is probably overkill for the type of travel I'm doing, but I still like to think it impresses people.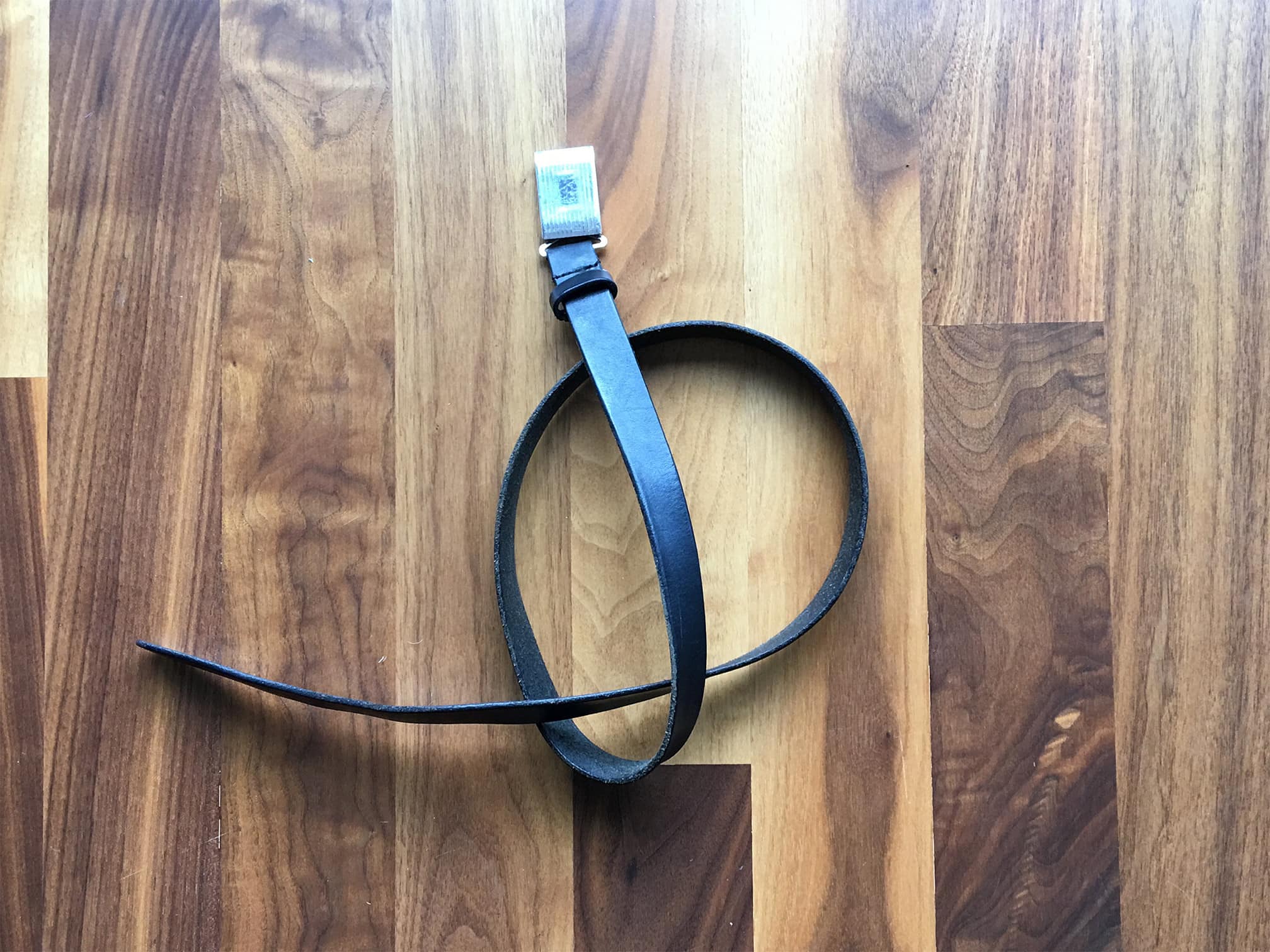 J. Crew Belt: This thing is incredibly durable, and has been used by me everyday for years. Still intact, and looking good.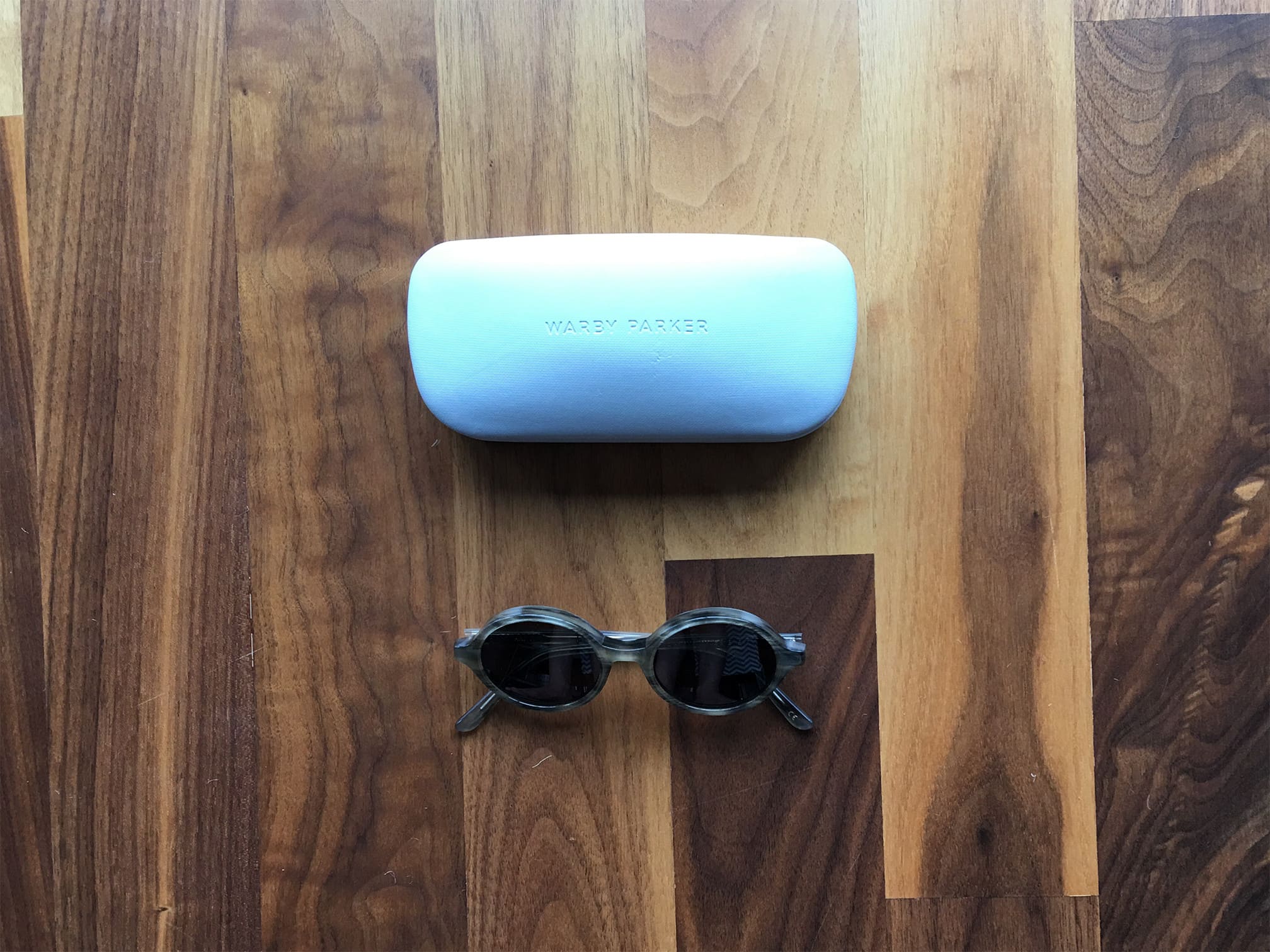 Han Kjøbenhavn Doc Sunglasses: Purchased these following a hot tip from Katherine Lewin. These are inside of a deceiving Warby Parker Case (the hard case is pretty rad). For what these are, they take up quite a bit of room in my bag. Have looked at some foldable glasses, but they're not quite as aesthetically pleasing. Not in the slightest.
Tech
The thing I love about all this is that it's possible to work from virtually anywhere with an internet connection. Right now, I'm sitting in a coffee shop called #HASHTAG in Berlin, tomorrow I may be working from inside of a train, the next day, a beach. The possibilities are endless.
Laptop

MacBook Pro: The item that makes this lifestyle possible. Fully maxed out because let's face it, at least half of the day is spent on this. No time for slowness.
Surge Protector: There are various opinions online about whether or not you need one of these. I'm kinda paranoid, so I use one. Plus, there's a USB port which replaces the little iPhone charging brick (although it charges a bit slower). Although small, every little bit of space saved is worth it.
"To save pounds, cut ounces."
E-Reader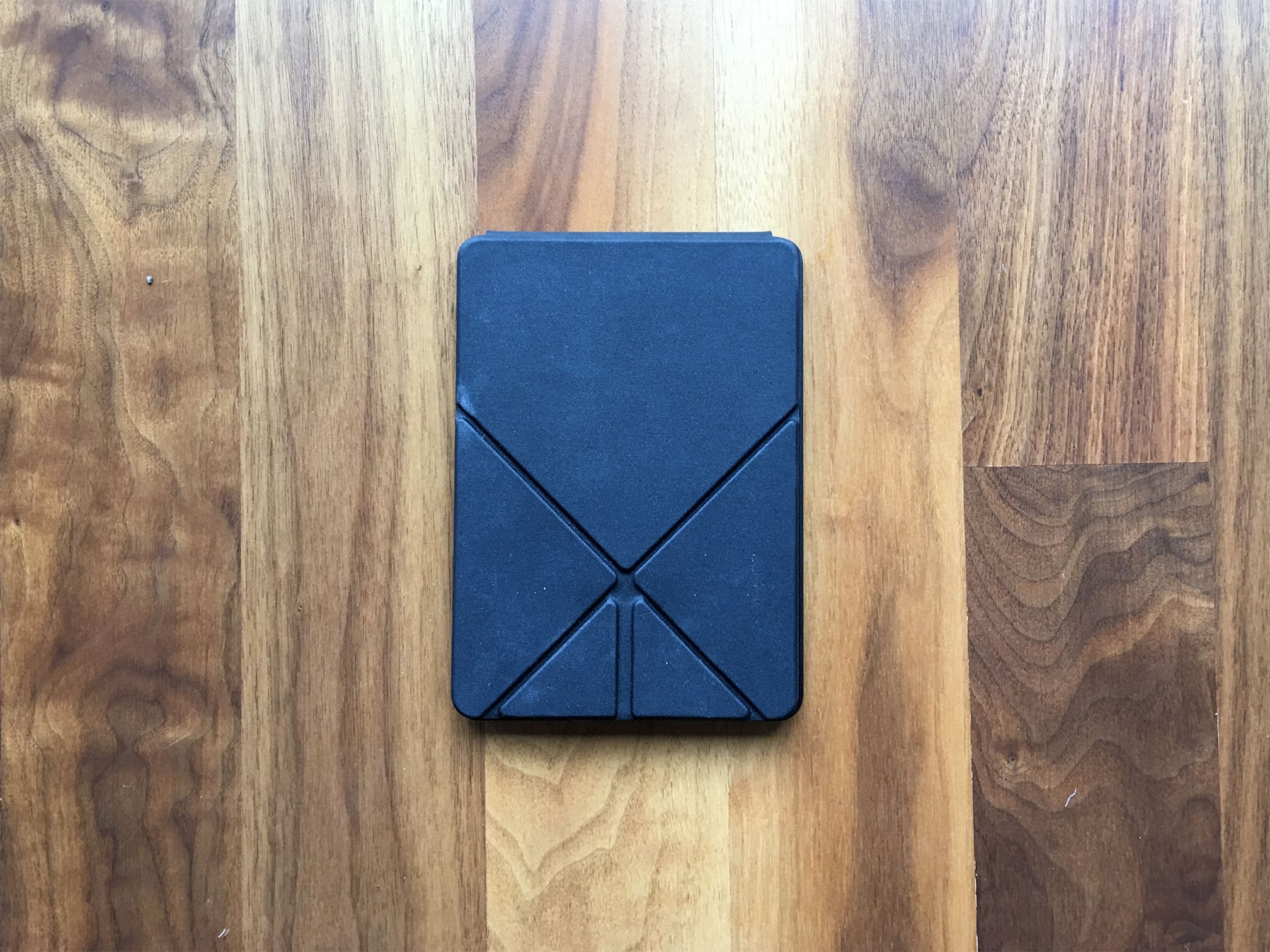 Amazon Kindle Voyage with Origami Case: The next-best replacement for physical books. The size and shape is nice, although I miss physical, paper books — especially seeing how they're typeset and consuming full-page graphics and illustrations.
Accessories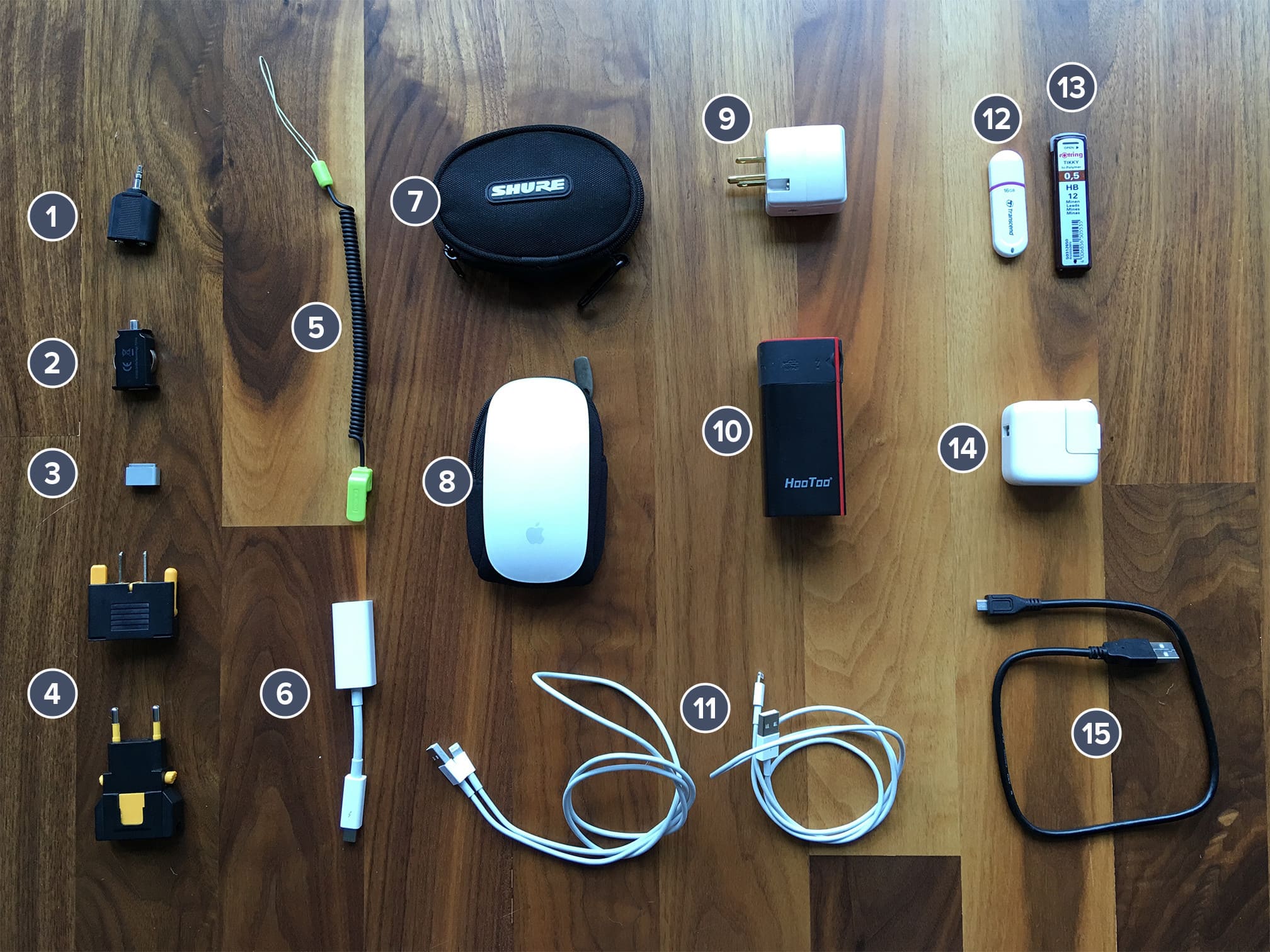 iPhone 6s Plus (not pictured, because it was needed to take photos of all this stuff!)
Toiletries

Fjallraven Gear Bag: Perfect size to fit all of these toiletries. Also has a nifty strap to hang on towel hooks & the like.
Deodorant: Yep, deodorant.
GoToob Travel Bottles: Fill these up with whatever you want. I've got Dr. Bronner's Castile soap (a little of this goes a long way), Face Lotion, and Sunscreen.
Toothpaste: Getting it as close to a 3 ounce tube as possible is good so you're still within the TSA liquid budget.
Nylon Travel Toothbrush and some floss: The size of the toothbrush is nice and compact, although the bristles are a little stiff.
Comb: Keep the hair in check.
WAHL Compact Travel Trimmer: The smallest trimmer I've been able to find. Works pretty well, although I find myself changing the battery about every 8th use.
Swiss Army Nail Clippers With File: Probably the worlds smallest nail clippers, also, the main event of this article. If you're still reading — you've made it to the best part. Congrats! Really love this thing though, and it brings me a lot of personal satisfaction to optimize for the smallest item and weight.
Tweezerman Moustache Scissors: Works well for grooming a beard / trimming a moustache. With the pointed blades, I'm surprised TSA hasn't taken these away from me yet.
Mr. Natty Dub Hair Pomade: Hair product of choice. Good hold, smells good.
Schick ST2 Disposable Razor: Since it's hard to travel with a safety razor (thanks TSA) the next-best space-saver is buying a bunch of disposable razor cartridges. I ripped the handle off of all these and use each 4–5 times before disposing. Works well for me, I keep a groomed beard and shave about once a week.
Nail Clipper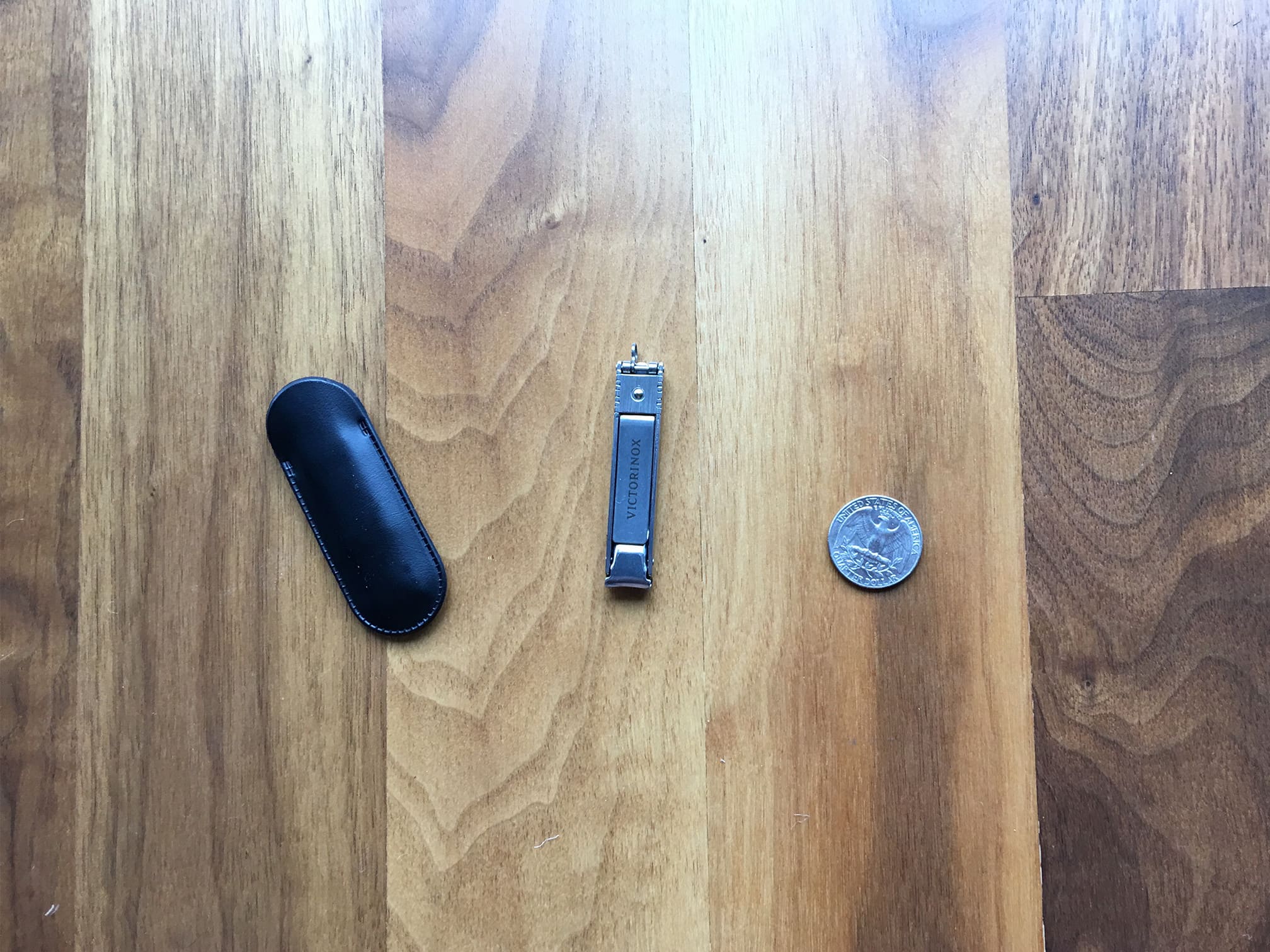 Miscellaneous
Here's the rest of the stuff that didn't really fit into the categories above.
Playing Cards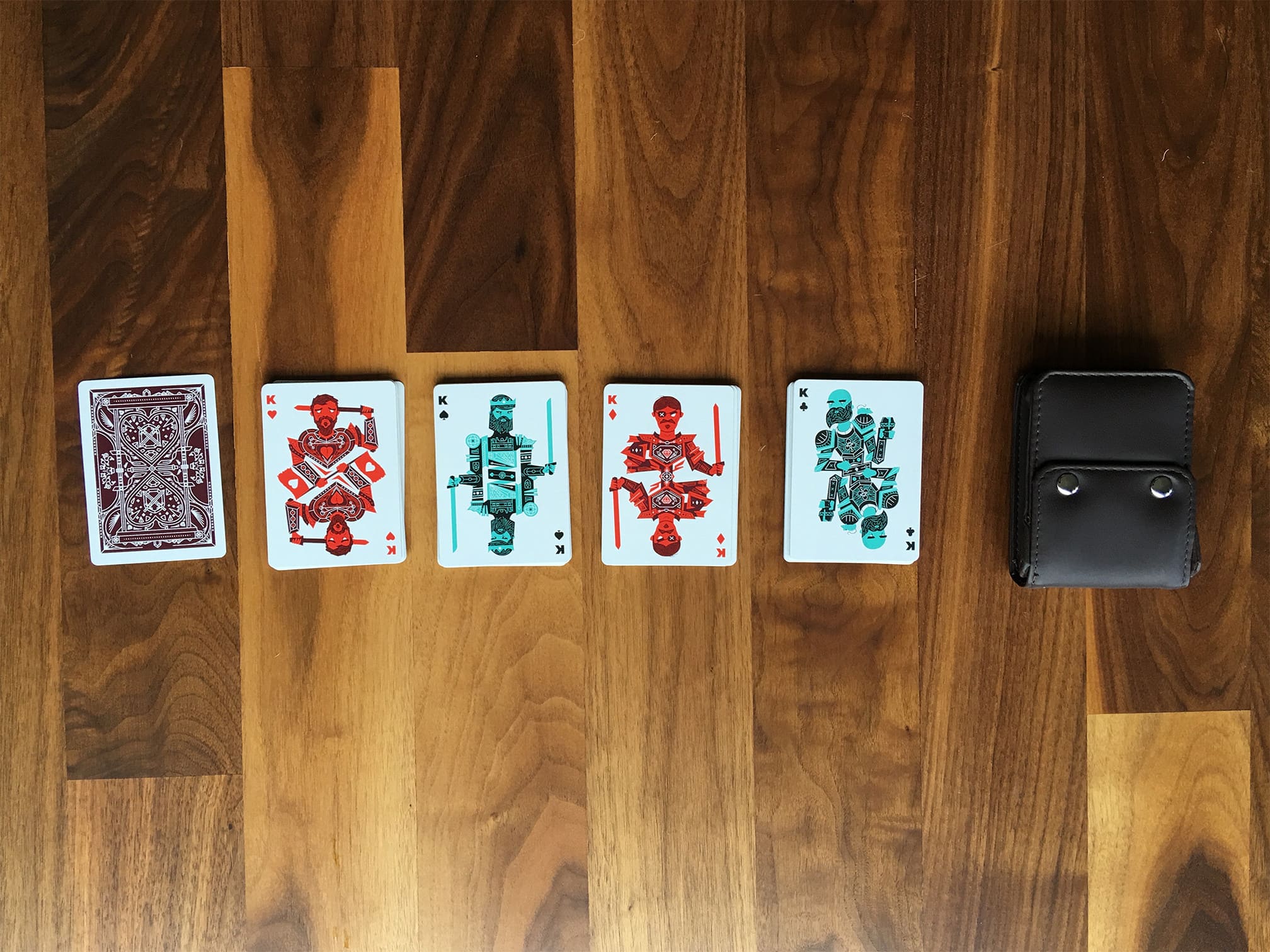 Bloodlines Custom Playing Cards: These are custom playing cards created by my old coworker, friend, and magician Billy French. The detail he put into these things is amazing—each card is unique. Cards are a pretty good way to meet new friends / waste 3 hours playing War.
Wallet & Notebook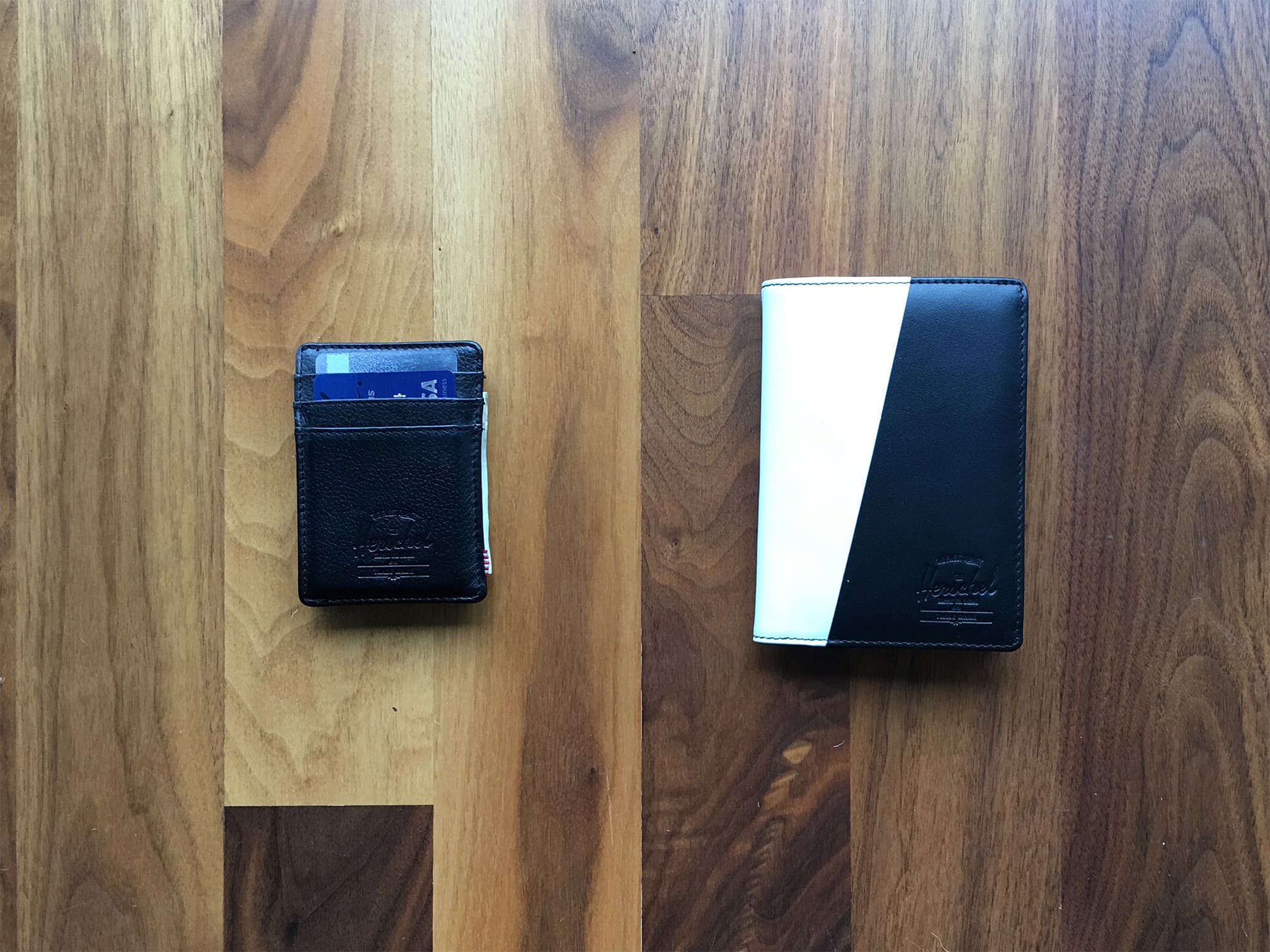 Herschel Supply Raven Leather Wallet: Minimalistic wallet that holds about 8 cards (5 in the card slots, and 3 inside of the wallet). Also, the money clip on the opposite side is good at holding larger, foreign notes as well as USD.
Herschel Supply Raynor Passport Holder: Good at holding passports. I also keep other documents in here (vaccination proof, global entry card, etc.)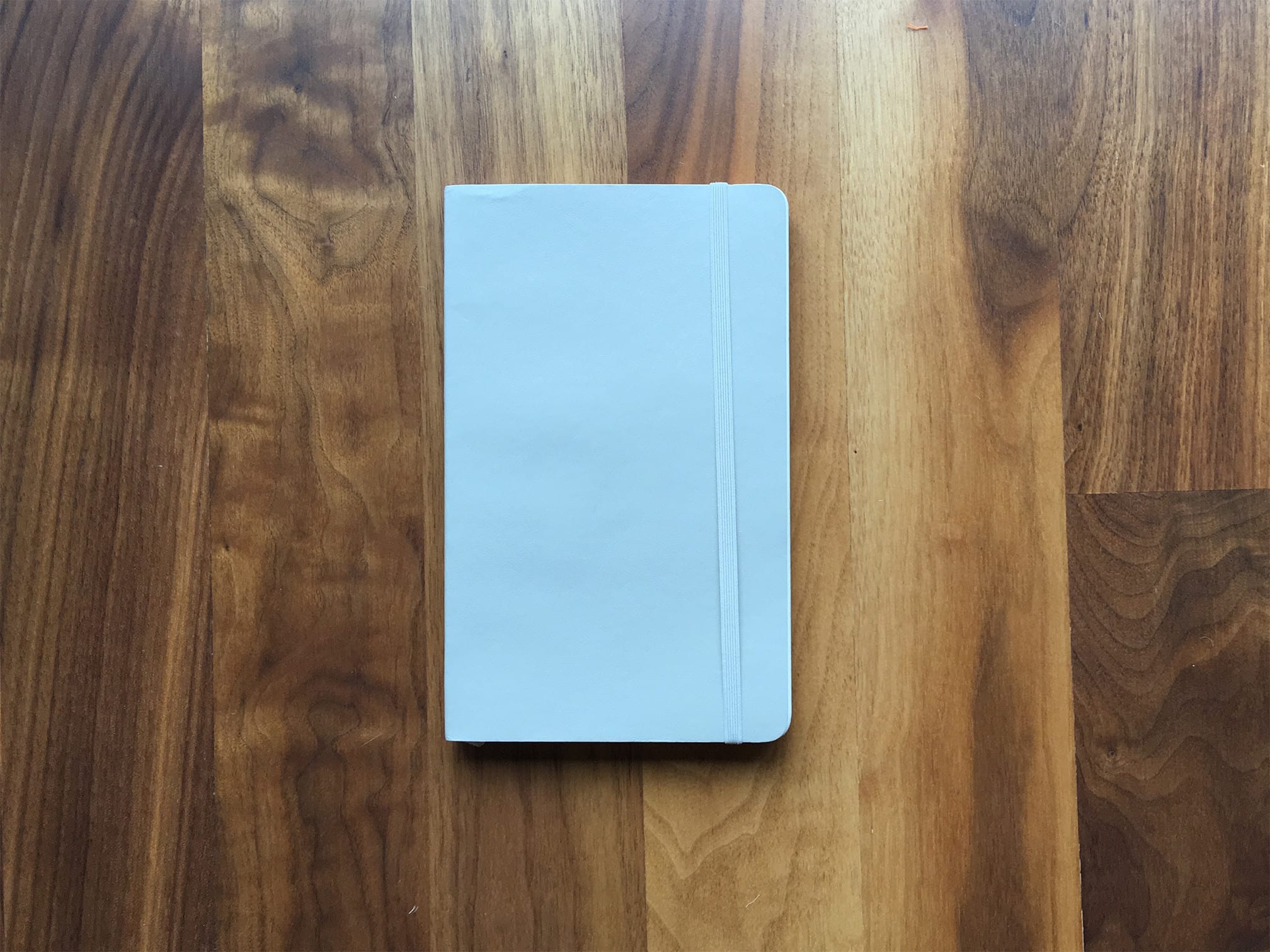 Water Bottle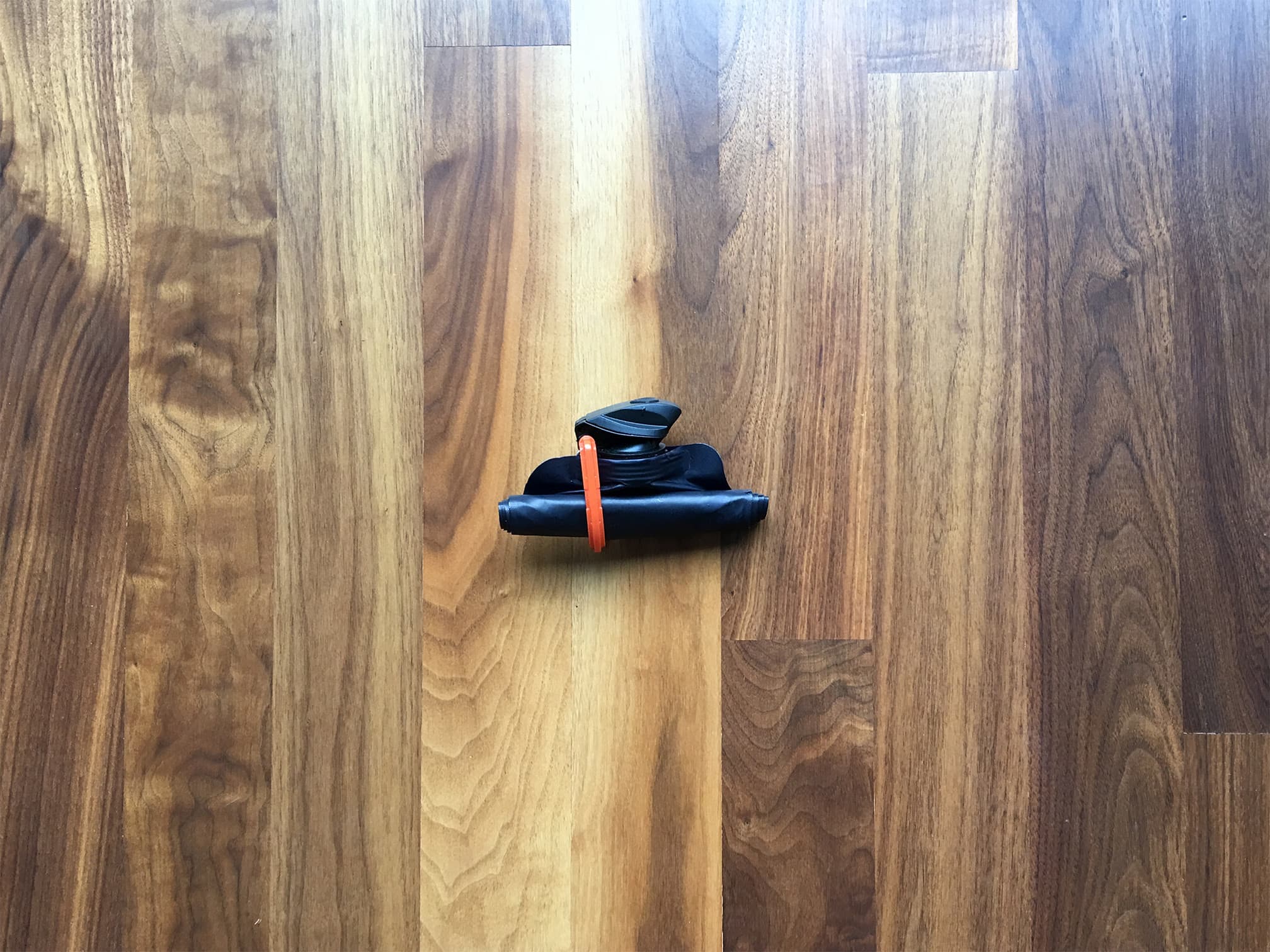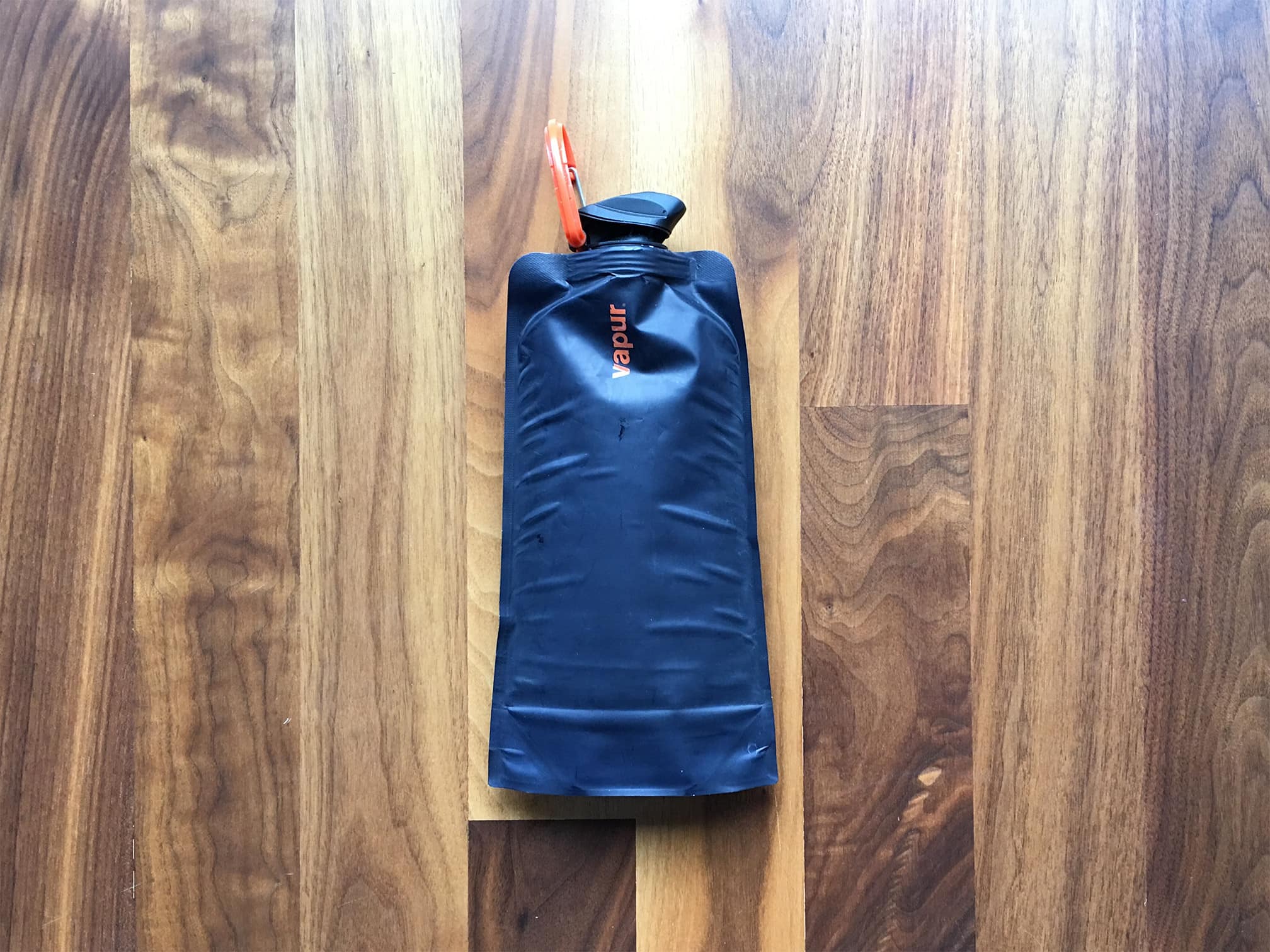 Vapur Eclipse Water Bottle: The best, most space-efficient water bottle I'm aware of. Rolls up nice and small when not in use, and holds 1L when it is in use. Kinda hard to clean.
Tools

Beta-QRv2 Flashlight: This flashlight is small and super bright. The quick-release system on the keychain makes it easy to locate and store. I'll spare you all the technical details (because I'm not really sure what they mean anyways), but there's a ton of info on Jason's website if you'd like to know how he makes such great lights.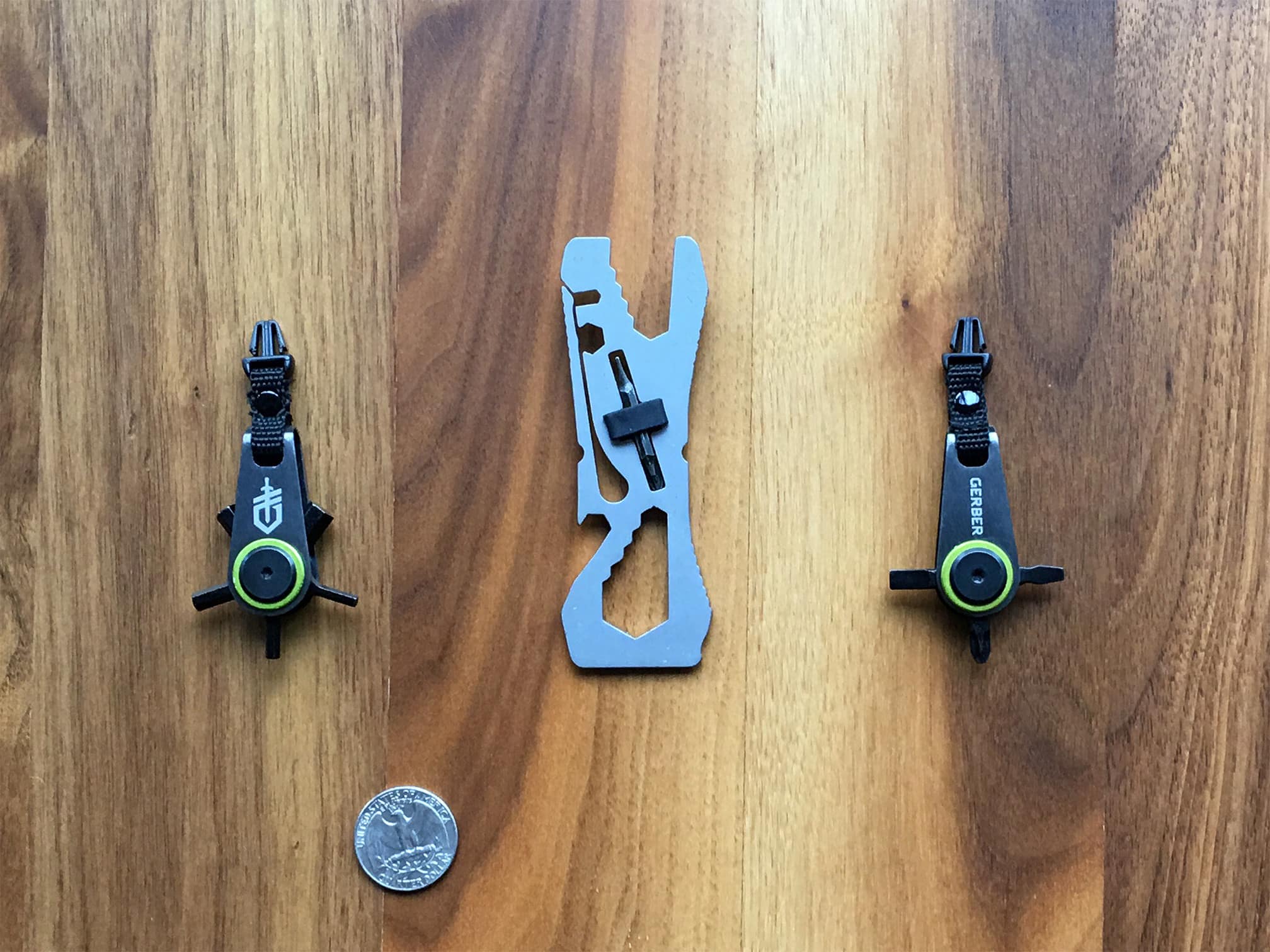 Gerber GDC Zip Hex, Leatherman — Piranha, and Gerber GDC Zip Driver: I tried a ton of different mini multi-tools, and found this combination to be the best for fixing things like uneven tables at coffee shops and loose chairs in hotel rooms. Shouldn't need it for much more. You can get a pretty good amount of torque with the mini gerber drivers in comparison to other mini multi-tools, and the Piranha has a ton of different tools in one. Even though they're TSA compliant, I imagine I'll get these taken away by some cowboy TSA person.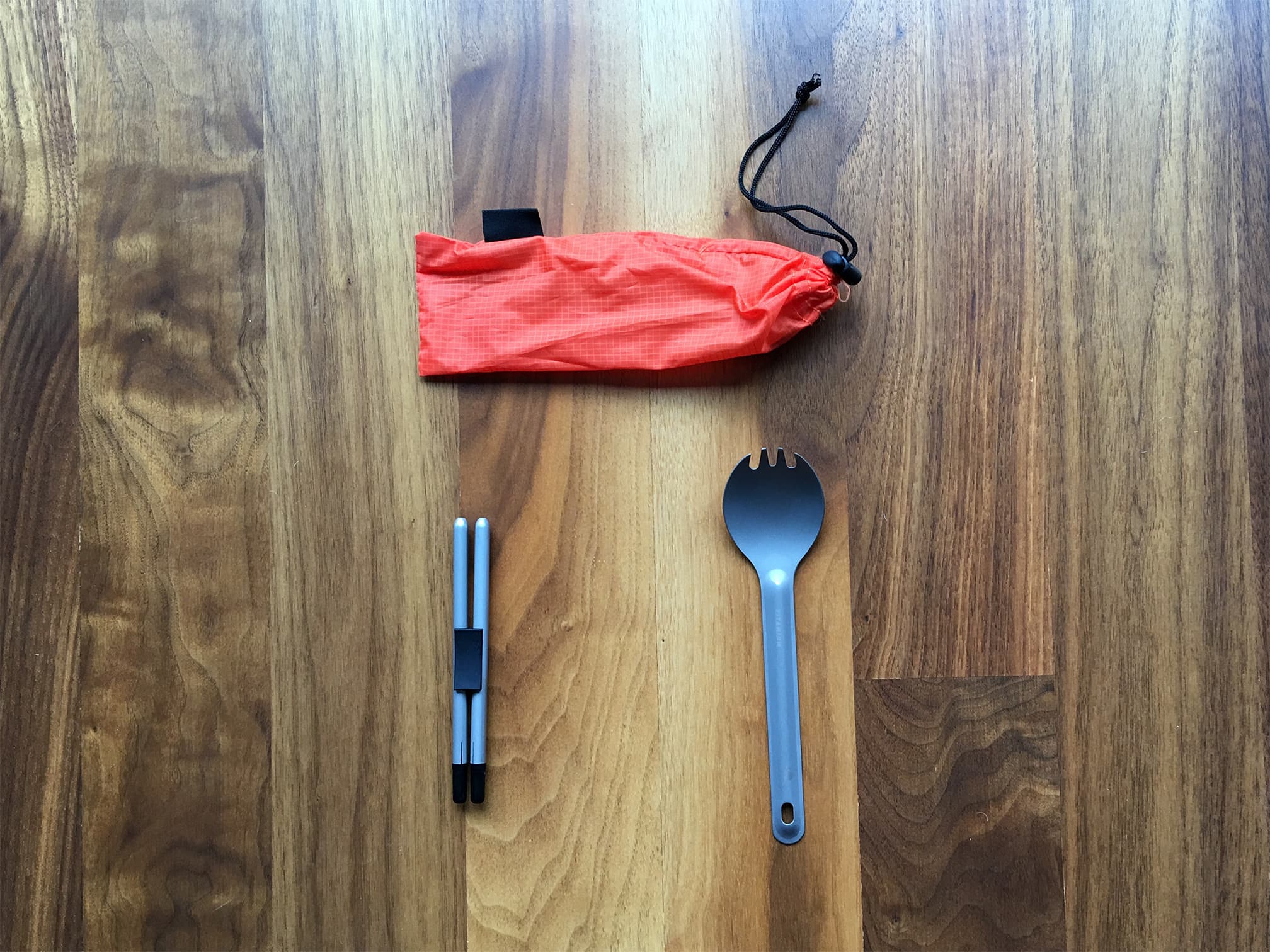 Collapsible Compact Chopsticks and TOAKS Titanium Ultralight Spork: Since I have such a high dedication to #EEEEEATS, these things come in handy. Either when you're terrified of the health code at a certain restaurant or want to travel around eating gloms of peanut butter—I've used these things quite a bit actually. Also convenient when take-out forgets to include utensils.
ZZZZZ Gear

Howard Leight Laser Lite Foam Earplugs and a Sleeping Mask: These earplugs are soft, can stay in for long periods of time without any irritation, block a ton of sound, and are beautiful (ok, maybe not beautiful, but they work). The sleeping mask is something I got from a Delta flight. It's great to bust out this little kit and fall asleep virtually anywhere.
Towels

Packtowl Personal and small towel from REI: Towel and washcloth combo — these are good for Airbnb's that don't provide towels, hostels and the beach. They both dry extremely quickly.
First Aid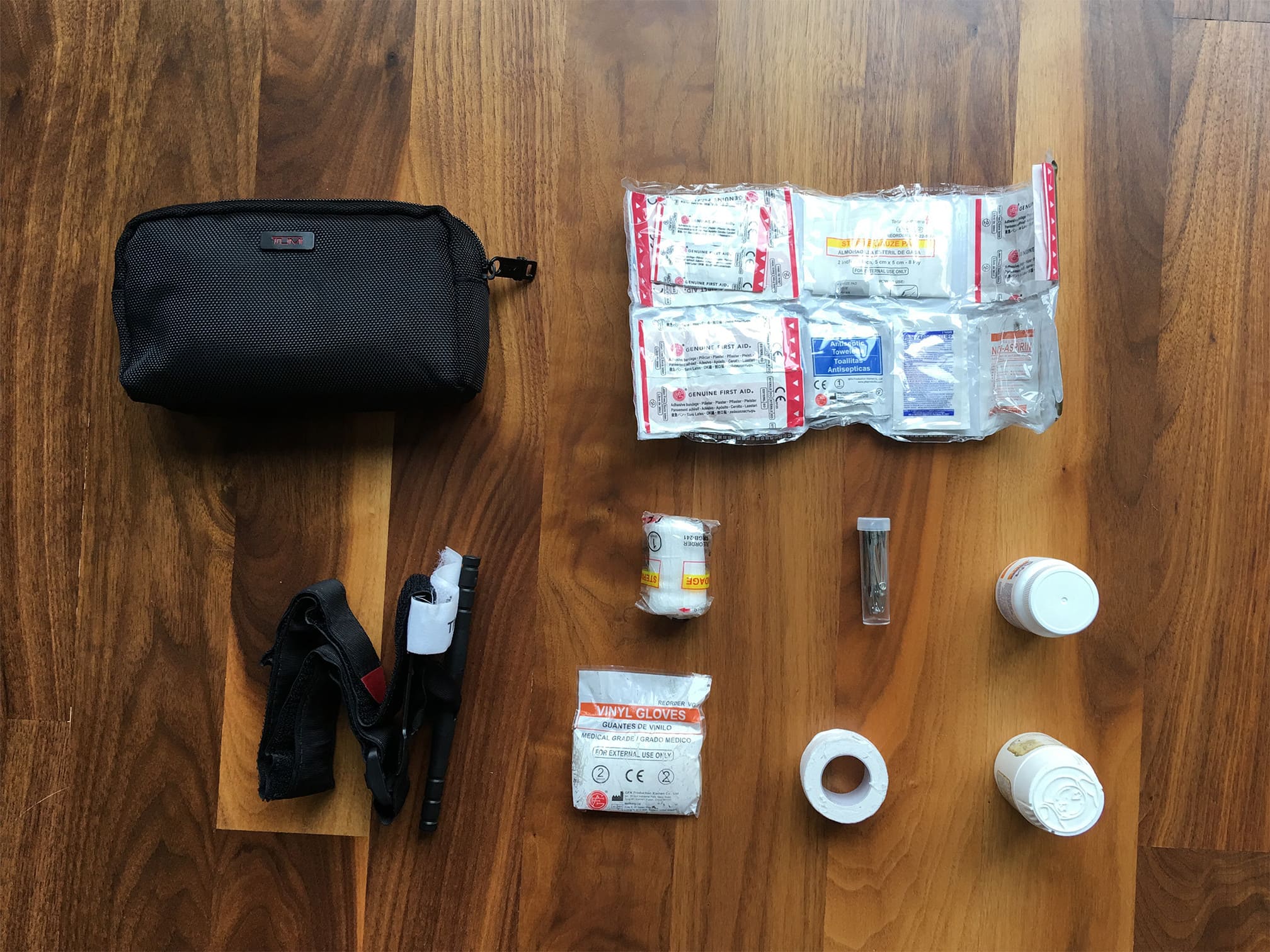 First Aid Kit: Better safe than sorry. I've got the full kit from this VSSL First Aid Kit (ditched the package because it was too heavy, although it looks awesome), malaria pills, antibiotics, and a tourniquet given to me by a U.S. Army field medic I sat next to on a plane once. Haven't had much use for any of this yet, but it'll be good, and potentially life-saving to have when needed.
Compression and organization items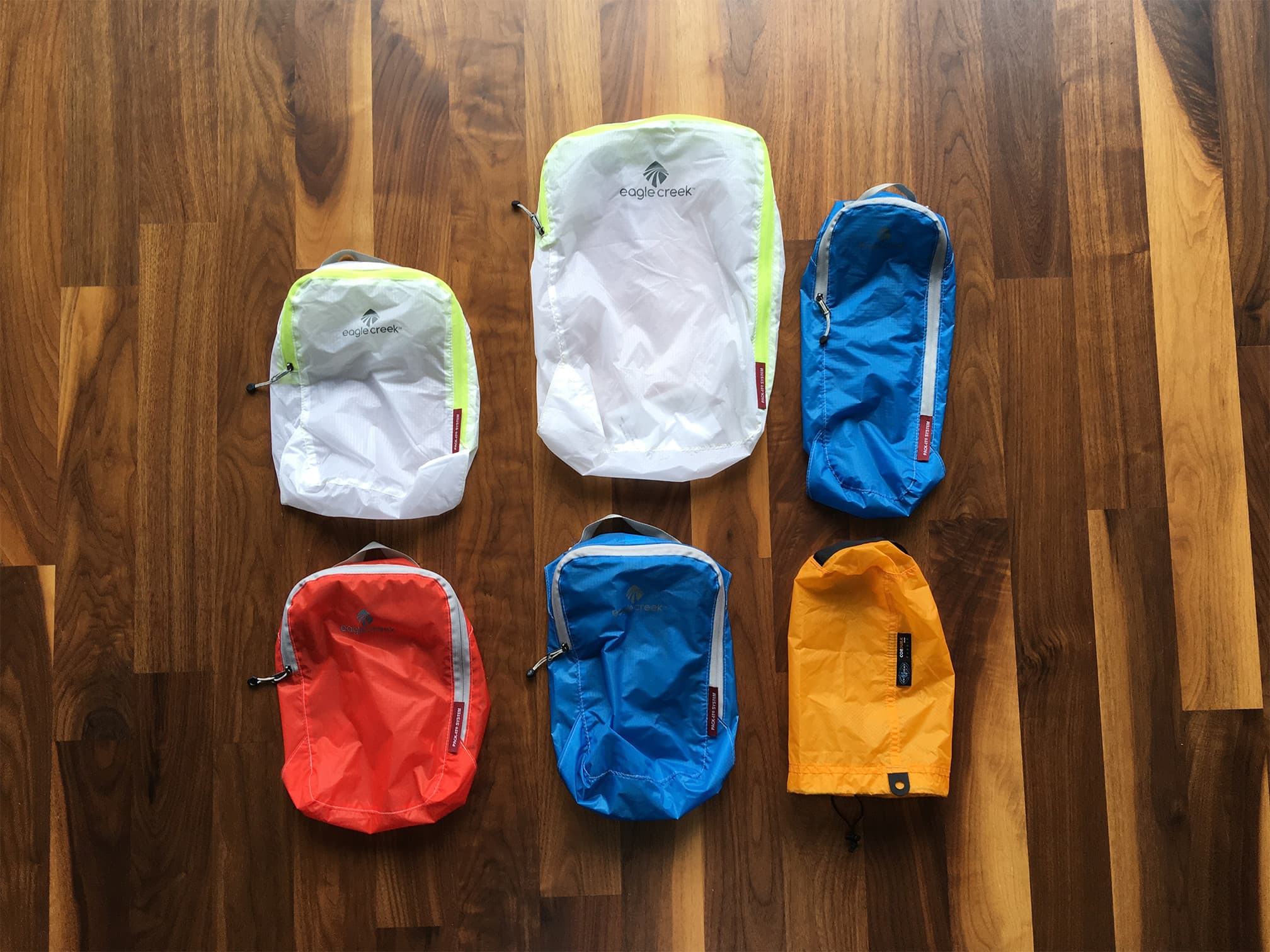 Eagle Creek Pack-It Specter Cubes: These weigh next to nothing and do a good job at minor compression and bag organization. Pants and shorts in the large bag, and the rest of the clothing in the others.
Sea to Summit Compression Dry Sack (the orange one): Same idea as the others, but this has a draw string to really compress things down. I keep my hoodie, buff, and gloves in here packed up tight.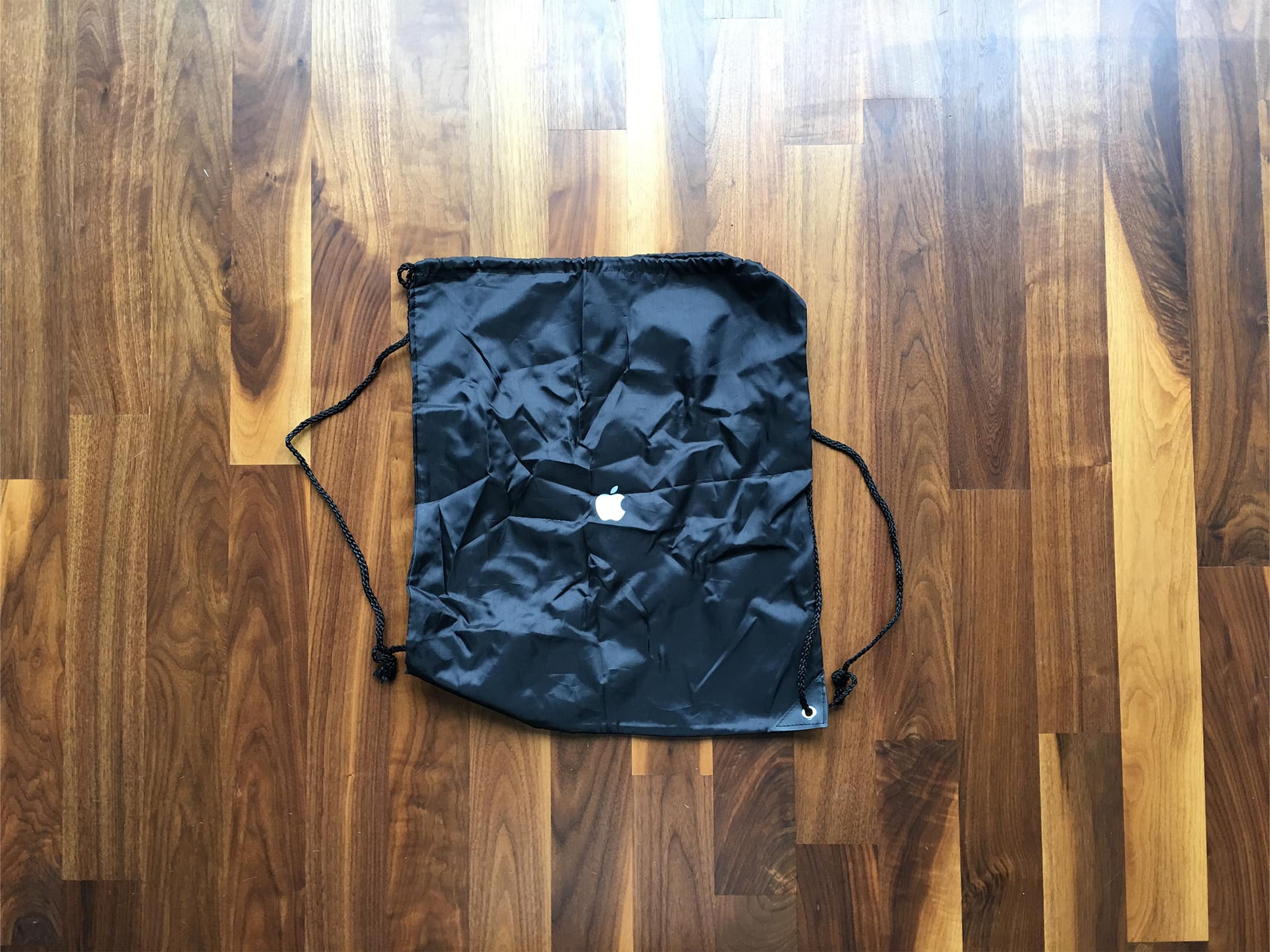 Apple Bag: NBD. Just a smaller day bag I use for bringing my laptop and snacks to the coffee shop. Assuming it'll fall apart at some point.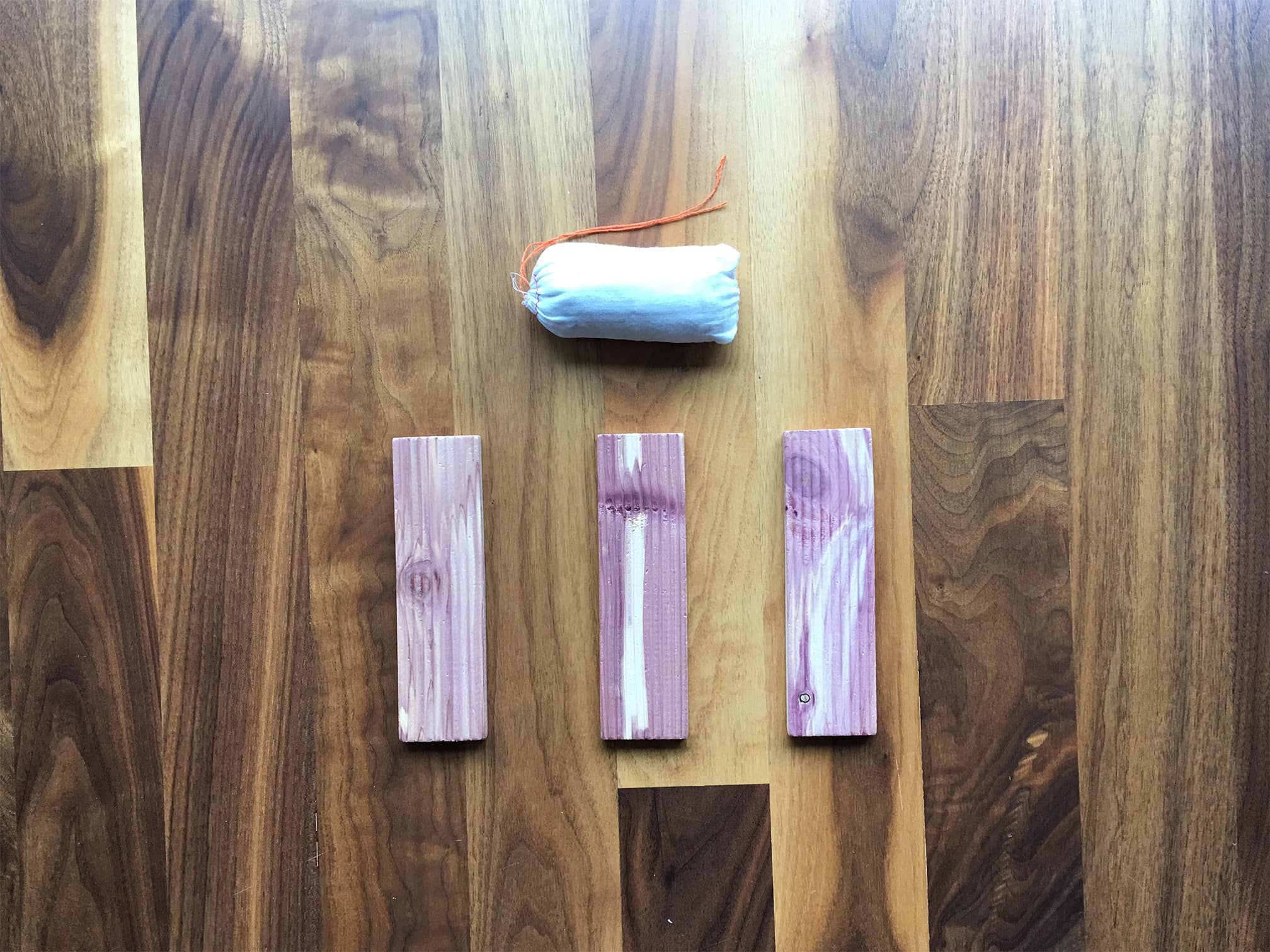 Cedar Chips: I think old people use these in closets to keep away bugs and make their stuff smell nice. Old people are right — these really work. I stick one of these in each eagle creek bag to keep clothing fresh.
Sentimental Items

Fortune: Opened a fortune cookie about 6 months before my trip, and thought it was fitting for the time and place. I ended up starting the Eat Pray Love tour (but mostly eat) on June 16th, so not quite June 1, but I'll call it a win.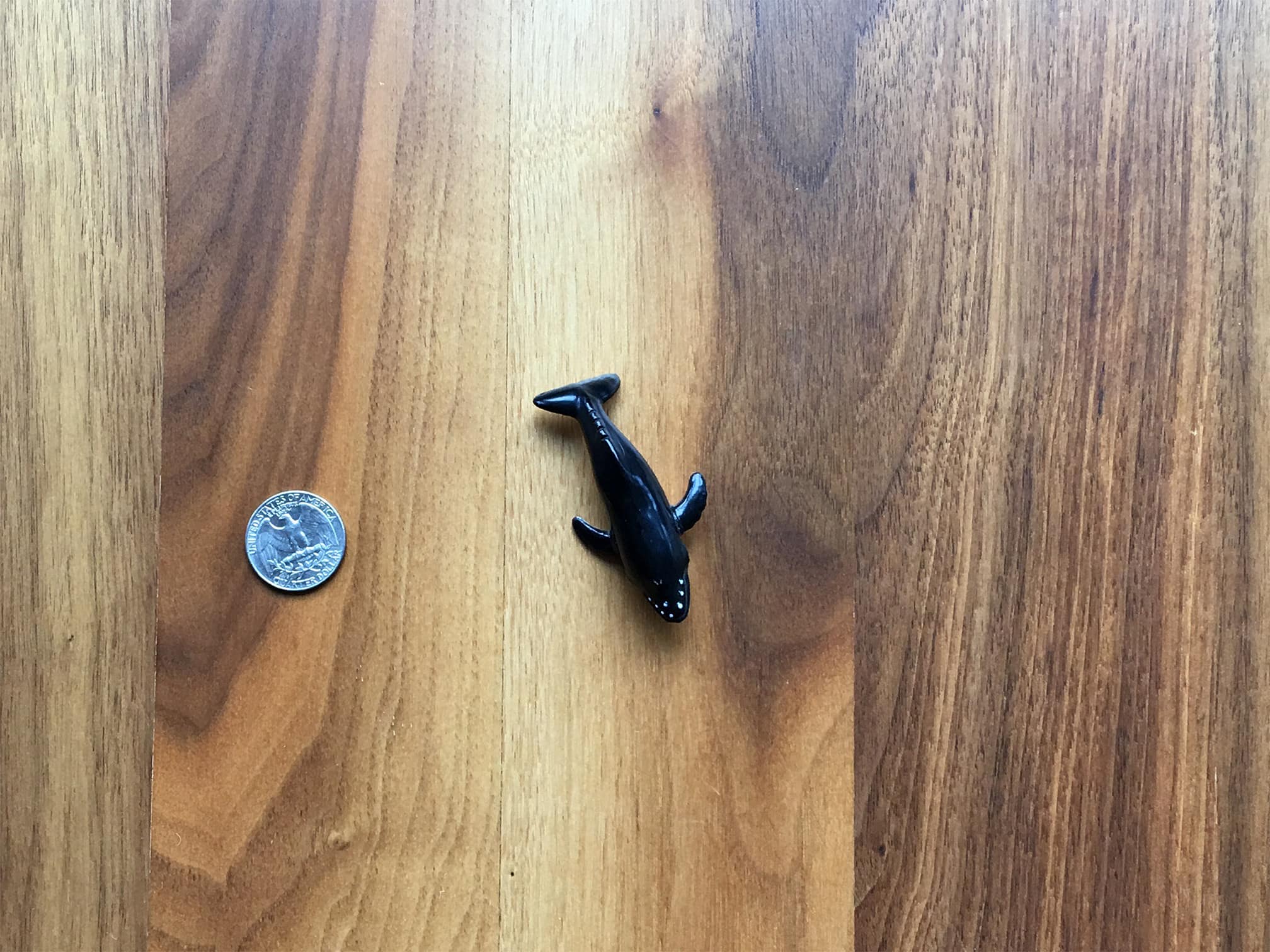 Whale Figurine: Gotta carry some stuff with no function, right? I have this little whale figurine that I carry as a reminder that not everything needs a functional purpose. The Whale is one of my nicknames given to me from an agency I worked at called space150 and is a good reminder of my roots as a designer.
Putting it all together

And there you have it. My entire load-out for traveling the world in one pack. Here's everything in spreadsheet format if that's your thing.
Super thanks to Tynan, James Clear, Everyday Carry, Carryology, and Legal Nomads for inspiration on the gear—check out the linked articles for more info on one bag travel.