Earth Runners Elemental Sandals Review
A minimalistic sandal that sticks to your feet well, you can run in them—the Earth Runners Elemental Sandals are a good compact footwear option for travel.
Our Verdict
Unlock the Pro Summary
Save time. Get access to brief summaries of our reviews so you can browse and make decisions more efficiently.
Pros
A packer's dream: extremely thin, lightweight, and flexible.
The sandals are so form fitting, it feels like it's not even there. Especially after breaking them in.
They're multifunctional, great for running or hitting the beach.
Cons
It's a little slower to put on and take off than most sandals.
Under rainy conditions, the feet tend to slip around a little inside the sandal. However, the bottom tread has great traction.
Recent Pack Hacker Video
Technical Details
Weight (oz)

10.97 oz (311 g)

For men's size 10.5

Notable Materials

Nylon, Copper, Vibram Rubber

Manufacturing Country

United States

Warranty Information
Full Review
Get up to 10% off Earth Runners • Join Pack Hacker Pro
There's always been something incredibly freeing about going barefoot. Perhaps because it reminds us of the beach, or being a kid, or simply being off the clock. Whatever it is, we fully embraced it with the Elemental Earth Runners.
These minimalist running sandals feel as though you are wearing nothing while still protecting everything. The duo-system straps and 8mm sole offers more security than what first meets the eye. Once strapped in, the sole becomes one with your foot. There's absolutely no slipping or slapping around in your step, so you can walk safely and naturally.
It is, however, worth noting that minimalism is definitely a point of preference. The lightweight design is ideal for packing situations, but it's important to understand that the unique construction realigns how your foot strikes the ground. Most shoe designs have a heavy heel that forces you to land heel first and roll into the toes. But with something like the Earth Runner sandals, you don't feel the presence of the heavy heel and land on your forefoot as you inherently would when barefoot. This takes some easing into to avoid any alignment injuries, but once adjusted it works wonders.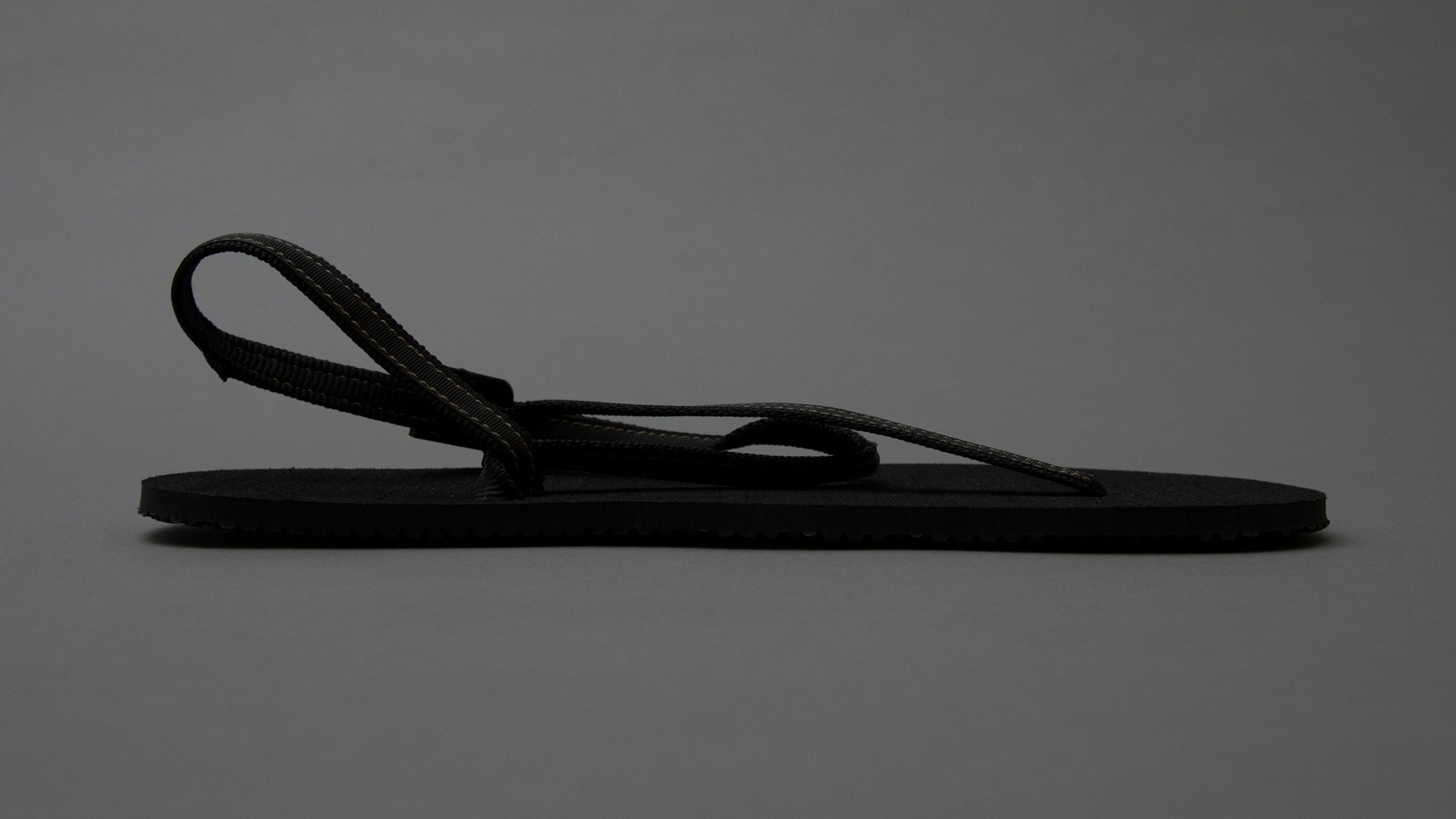 Okay now back to the Elemental Earth Runner sandals. You can wear them for more than just running. We've worn them hiking, to the beach, and just strolling around town on a hot day. While they are multifunctional, they are not multi-fashionable. It's a lot of foot and not a lot of style. You can customize them to just about any strap color and sole combination you'd like, but they're still going to be geared towards the active outdoors.
The process of taking these on and off is a little slower and meticulous compared to most sandals you are used to. But like they say, all good things are worth the wait. The straps look rather simple and straightforward when all laced up, but it's a pretty complicated process to get there. You have to lace them through the soles and around your ankle just right. They also suggest cutting off any excess strap and burning the edge. Luckily, we didn't have to deal with that. If you get stuck when strapping up your first pair, don't panic. They have some step-by-step videos on their site that will get you through it.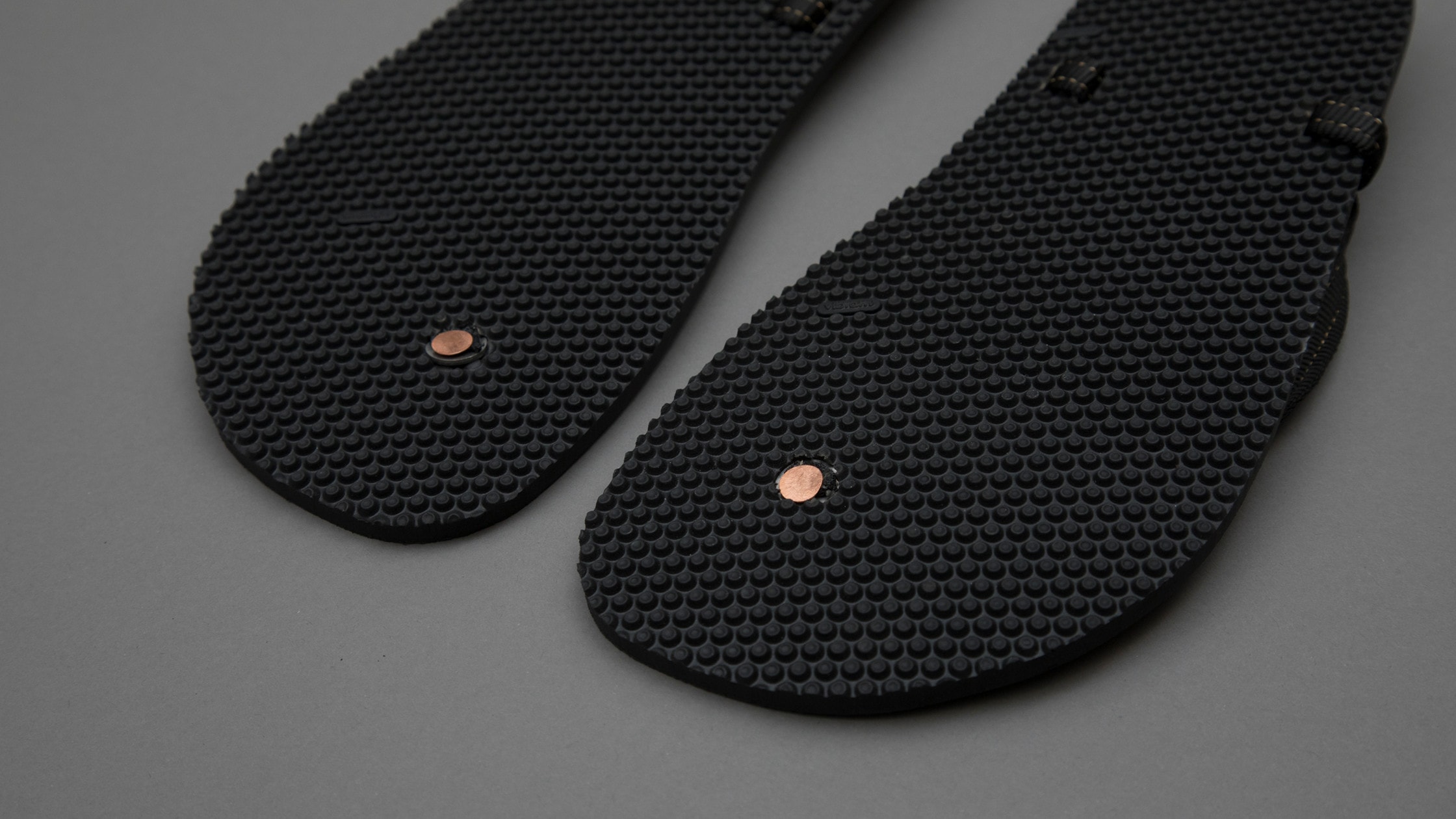 There are a couple other bonuses to this product that we found less compelling, but some of you may dig. One of them is the copper plug. It binds the lacing through the sole and is supposed to "ground" you with the earth. We're not entirely sure about feeling connected with Mother Nature through a copper plug, but we do know that they're vegan!
Usage Timeline
Initial Usage
Condition: Excellent
The initial presentation wasn't exactly love at first sight. It doesn't come in a traditional shoe box, and the straps were long and confusing. But once properly strapped in, we were hooked.
3 Months of Use
Condition: Excellent
They've worn in nicely. So much so that it's hard to tell they're on sometimes.
6 Months of Use
Condition: Good
The straps aren't as nice as they used to be. They seem to tangle more. But overall still impressed.
1 Year of Use
Condition: Fine

Most of the traction has worn off the bottom and the straps are in rough shape. But surprisingly, nothing has broken yet.
Access the Pro Community Discussion
Get your questions about the Earth Runners Elemental Sandals answered from our team and the Pro Community right here on the page. Plus, join discussions with other members about gear, guides, and more.
Other Clothing & Accessories Reviews