WAHL Compact Travel Trimmer Review
A hair trimmer that gives you 8-10 shaves per AA battery, the WAHL Compact Travel Trimmer is a great way to groom hair or a beard on the road.
Our Verdict
Unlock the Pro Summary
Save time. Get access to brief summaries of our reviews so you can browse and make decisions more efficiently.
Pros
Trimmer uses easy to find AA batteries no matter what country you're in.
The trimmer is very small, yet still feels good & ergonomic in your hand.
Cons
Sometimes/rarely it can get bumped turn on in your bag accidentally. Remove the battery if you're paranoid.
It won't last forever (but we still think it's worth the price, and there's a 2 year warranty in case anything goes wrong).
Guide combs can sometimes fall off in your bag (although they never come off during operation).
Recent Pack Hacker Video
Technical Details
Weight (oz)

3.3 oz (93.6 g)

With the AA battery inside.

Dimensions

4 in x 2 in x 1 in (10.2 x 5.1 x 2.5 cm)

Manufacturing Country

China

Warranty Information
Full Review
No one wants to look like a grizzly bear when they travel (or maybe you do). And no one wants to lug around a massive hair trimmer with charging cords either (or maybe … you do). We don't like to do any of that. So, we've found a little trimmer that's surprisingly powerful for the size that it is, and it runs with a singular AA battery (easy to find this in most parts of the world).
The Compact Travel Trimmer by WAHL is one of the smallest, most convenient hair groomers we've been able to find. It weighs 3.3 ounces (94 grams) with one AA battery inside, and the entire kit with all the accessories weighs 4 ounces (113 grams).
When using this trimmer, the first thing to get used to is the size—these clippers are more narrow than others on the market, which is great for travel, but it just takes a couple more passes with the trimmer to get the job done, especially if you've got some thick hair.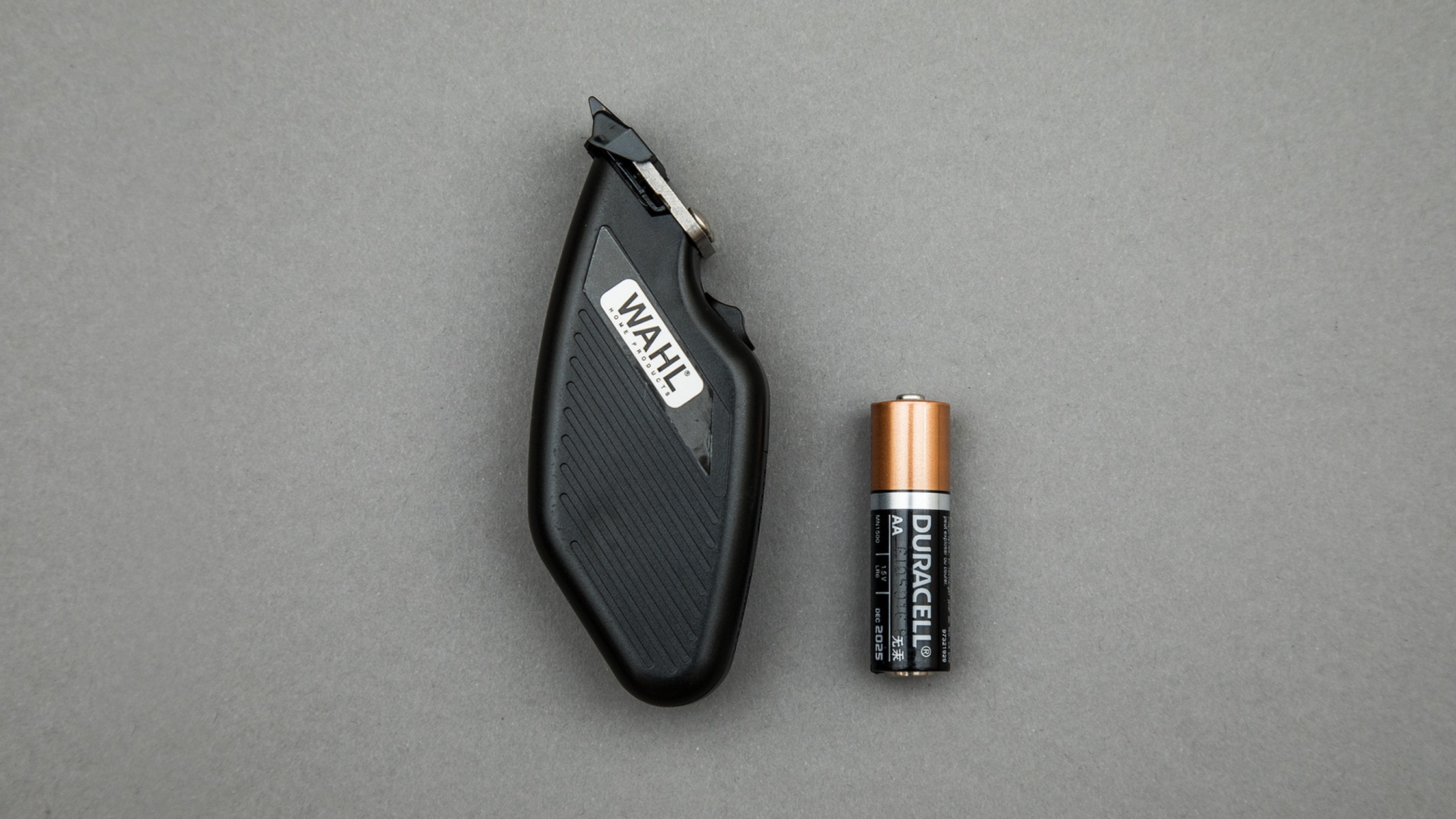 We've found that a single AA battery will last 8 to 10 trims, but make sure you've got a couple extra batteries with you so you're not left with scruffy hair and no way to trim it.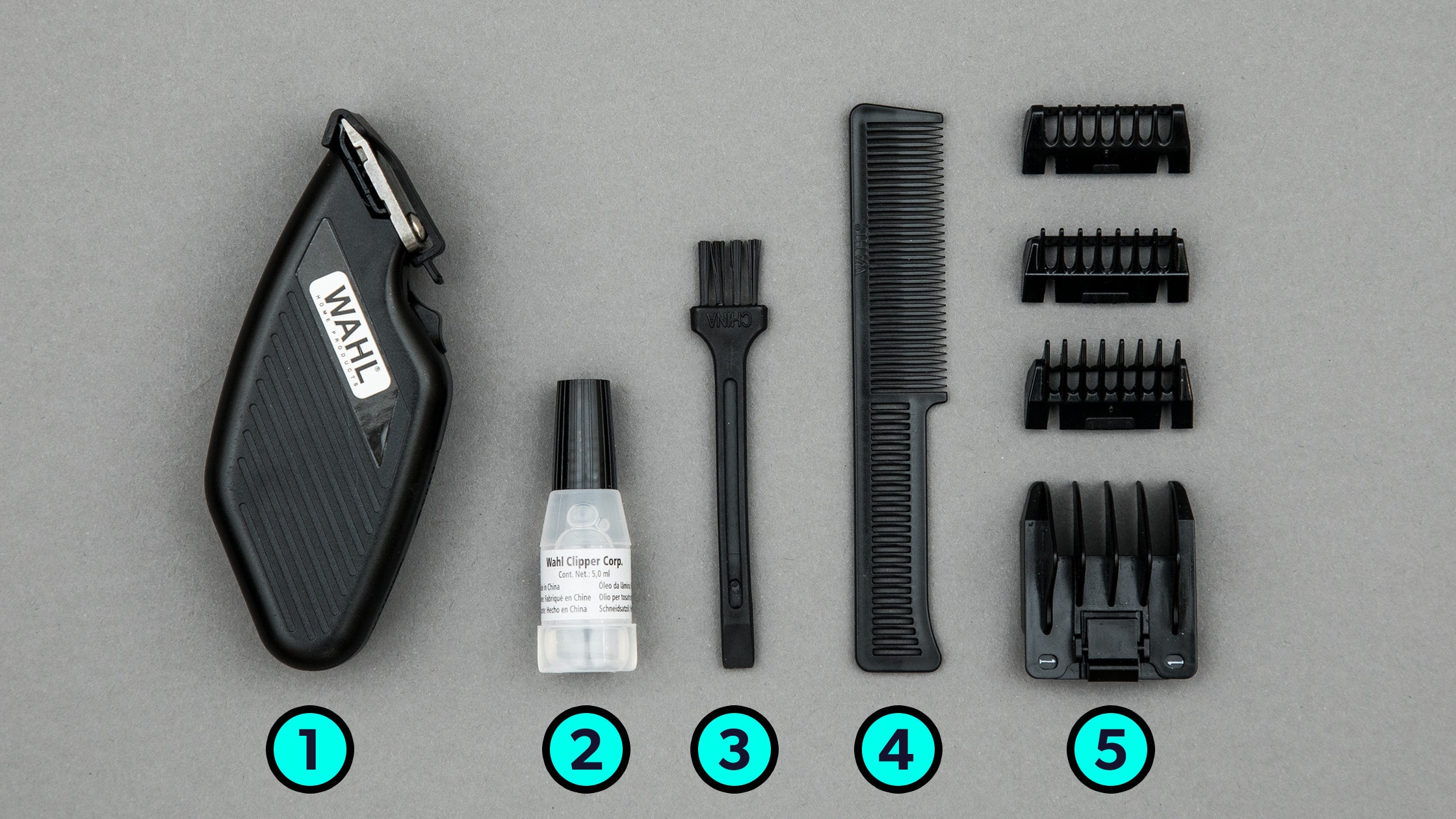 In the box, you'll get:
The Compact Travel Trimmer (with a blade protector)
Blade oil
Cleaning brush
Beard comb
Four different sized blade guards
You can get away with only taking along one desired blade guard on a trip and leave the rest of the accessories at home to save space and weight. Do a little experimentation and see what size works for you & your sweet locks.
Here's the comparison in size with an ordinary Gillette Fusion Razor—similar in comparison, the WAHL travel trimmer is even shorter.

It's important to note that this thing isn't waterproof. It's not going to fry if you get a drop of water on it, but don't bring it into the shower or run it under the faucet.

Usage Timeline
Initial Usage
Condition: Excellent
Fresh and shiny out of the box.
3 Months of Use
Condition: Excellent
Functioning flawlessly. Used about 25 times in three months.
6 Months of Use
Condition: Good
Starting to show some small rust spots on the head of the trimmer.

1 Year of Use
Condition: Mediocre
At this point, the trimmer has been used about 100 times. It's starting to slow down a bit and doesn't operate as fast as it used to.
Access the Pro Community Discussion
Get your questions about the WAHL Compact Travel Trimmer answered from our team and the Pro Community right here on the page. Plus, join discussions with other members about gear, guides, and more.
Other Toiletries & Personal Care Reviews