Fjallraven Gear Bag Review
The Fjallraven Gear Bag is crafted from quality materials and has organization that's easy to use when you need it and stays out of the way when you don't.
Our Verdict
Unlock the Pro Summary
Save time. Get access to brief summaries of our reviews so you can browse and make decisions more efficiently.
Pros
Materials and hardware are durable and easy to use
Internal organization stays out of the way
Has a subtle look and design for any setting
Cons
Not a ton of organization considering its size
Only one zipper on the main compartment, so access is limited
Isn't well suited for bulky or oddly shaped items
Recent Pack Hacker Video
Technical Details
Capacity

2l

Weight (oz)

3.53 oz (100.1 g)

Dimensions

5.51 in x 7.87 in x 2.76 in (14 x 20 x 7 cm)

Notable Materials

G-1000, Polyester, Cotton, YKK Zippers

Manufacturing Country

Vietnam

Warranty Information
Full Review
Fjallraven describes their Gear Bag as a pouch that can do everything—from carrying toiletries to electronics. In the past, not exclusive to Fjallraven, we've found that gear that's made to do a lot of different things typically can do many tasks well but isn't great at anything. We're curious to see how the features on the Gear Bag work and whether this is the case. Let's dive in!
External Components
This pouch is crafted from a staple in Fjallraven's repertoire—1000 HeavyDuty Eco. This blend is crafted from 65% polyester and 35% cotton, yielding a sturdy material that feels comfortable to hold onto. It does pretty well protecting against water, but you can increase its water resistance using Fjallraven's Greenland Wax. They state that this will also help protect from the wind—so if your gear is scared of windy days or farts, you may find the wax helpful.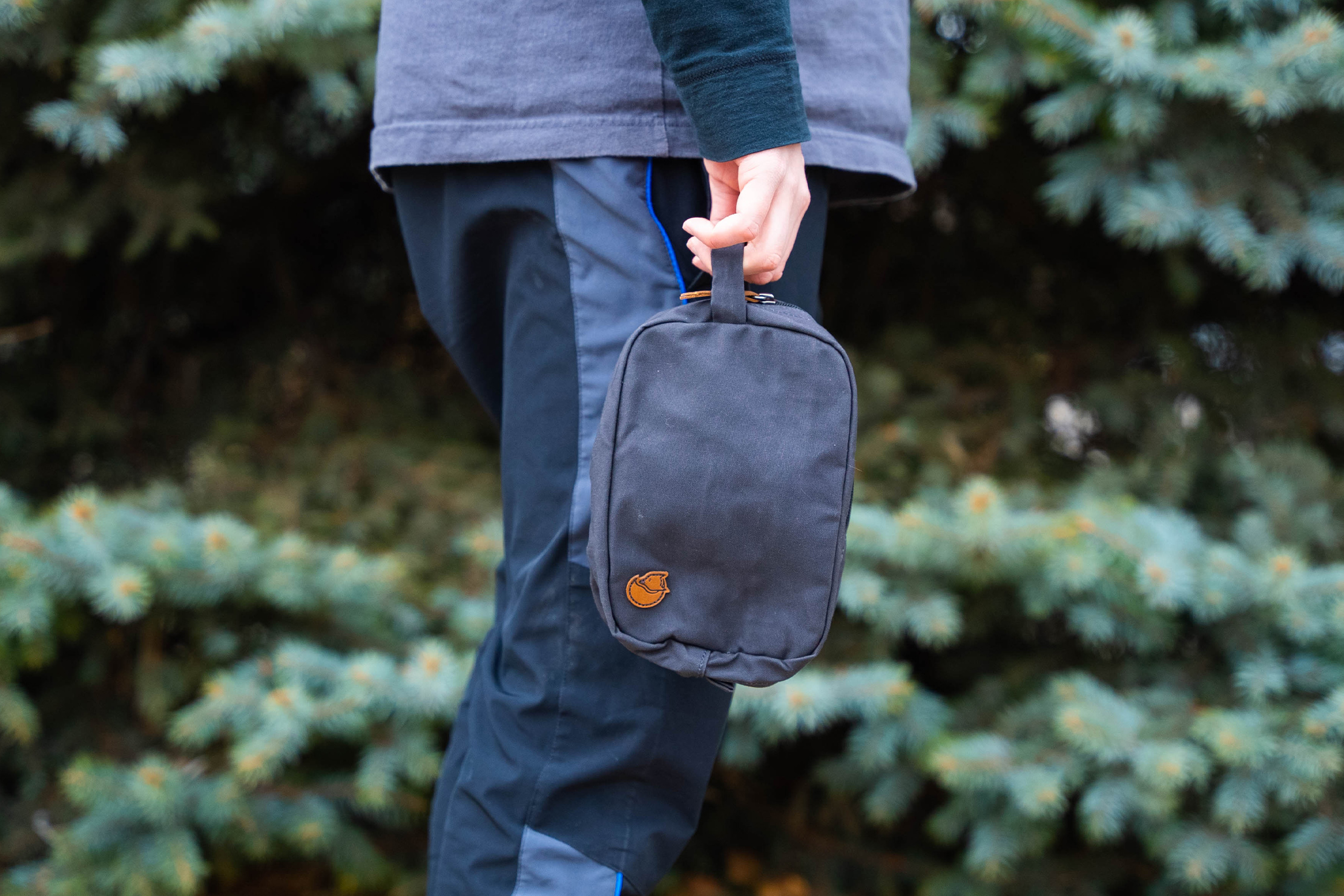 All the colorways at the time of writing are earthy and feel natural. We dig these color options because they go with the most basic colors and aren't too overstated.
There's a Fjallraven logo on the front side that's stitched on. It's crafted from leather, which looks professional and adds to the outdoors-turned-fancy look this bag employs around the edges. On the backside, 'G-1000' is stitched into the face. This looks technical and is oddly satisfying. Plus, if you want to tell someone about how great the materials are but can't remember what they're called, this is a constant reminder!
Regarding usage, Fjallraven wants you to use this thing for just about anything. Their site says it works well as a medium-large toiletry bag, for storing small repair equipment, wax for skis, or electronic accessories. The world is your oyster!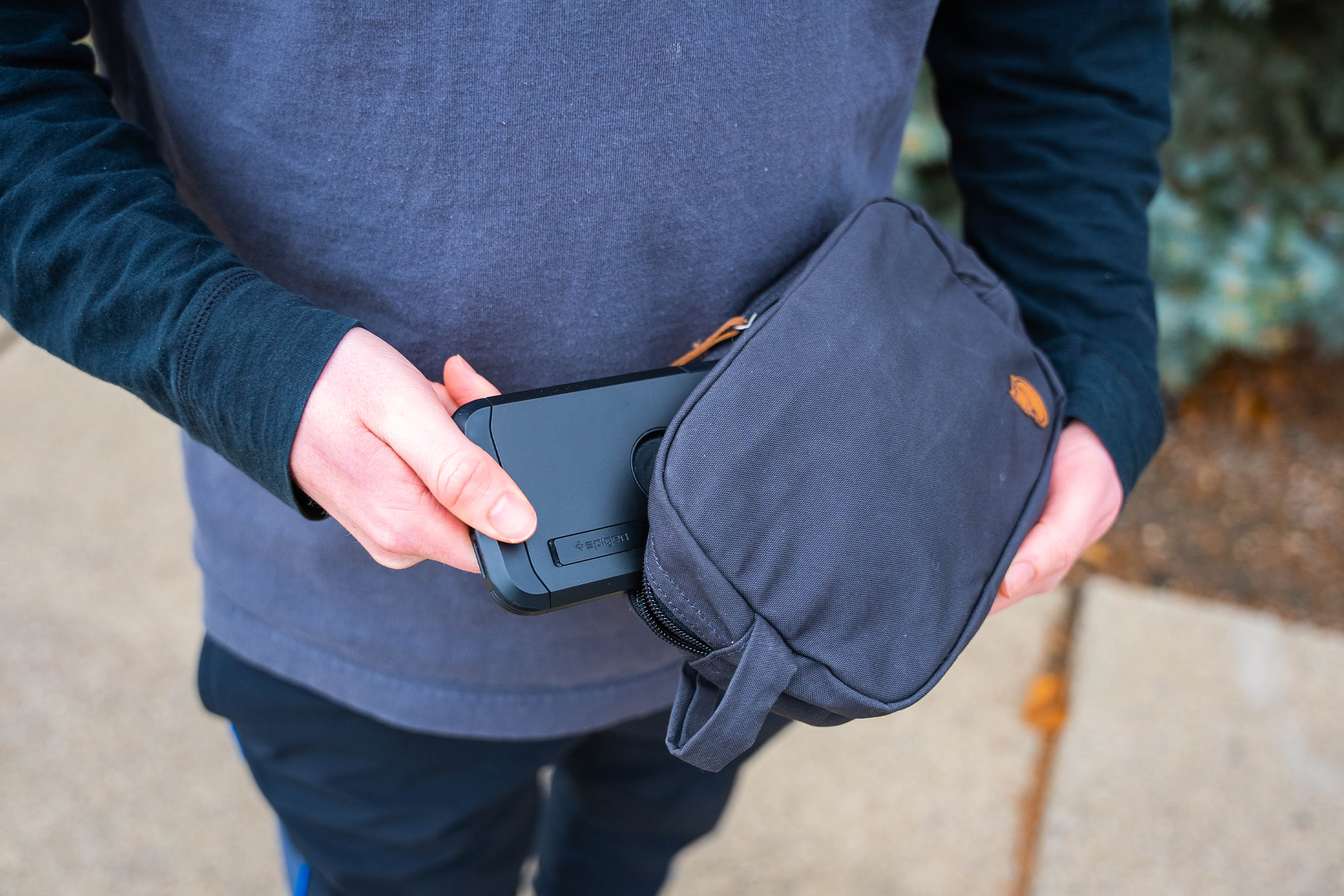 A large loop on the left side is perfect for hanging the pouch from various things. If you're using it as a toiletry bag, you can use this to hang it in the bathroom. If you're staying in the hostel, you can place your essential gear inside and hang it near where you're sleeping or under your pillow. The way the loop is situated, if you try to open the zipper while it's hung, your gear might come crashing out.
There's a smaller loop opposite that works well for a carabiner. This enables you to elevate it inside your daypack or travel backpack and ensure it stays on one side or the other in your sling. It's quite small, so a carabiner with a larger arm may not squeeze through.
Both loops, large and small, can be used to help open the zipper. We don't have any issues opening and closing it, but there are plenty of ways it can be helpful for those who do.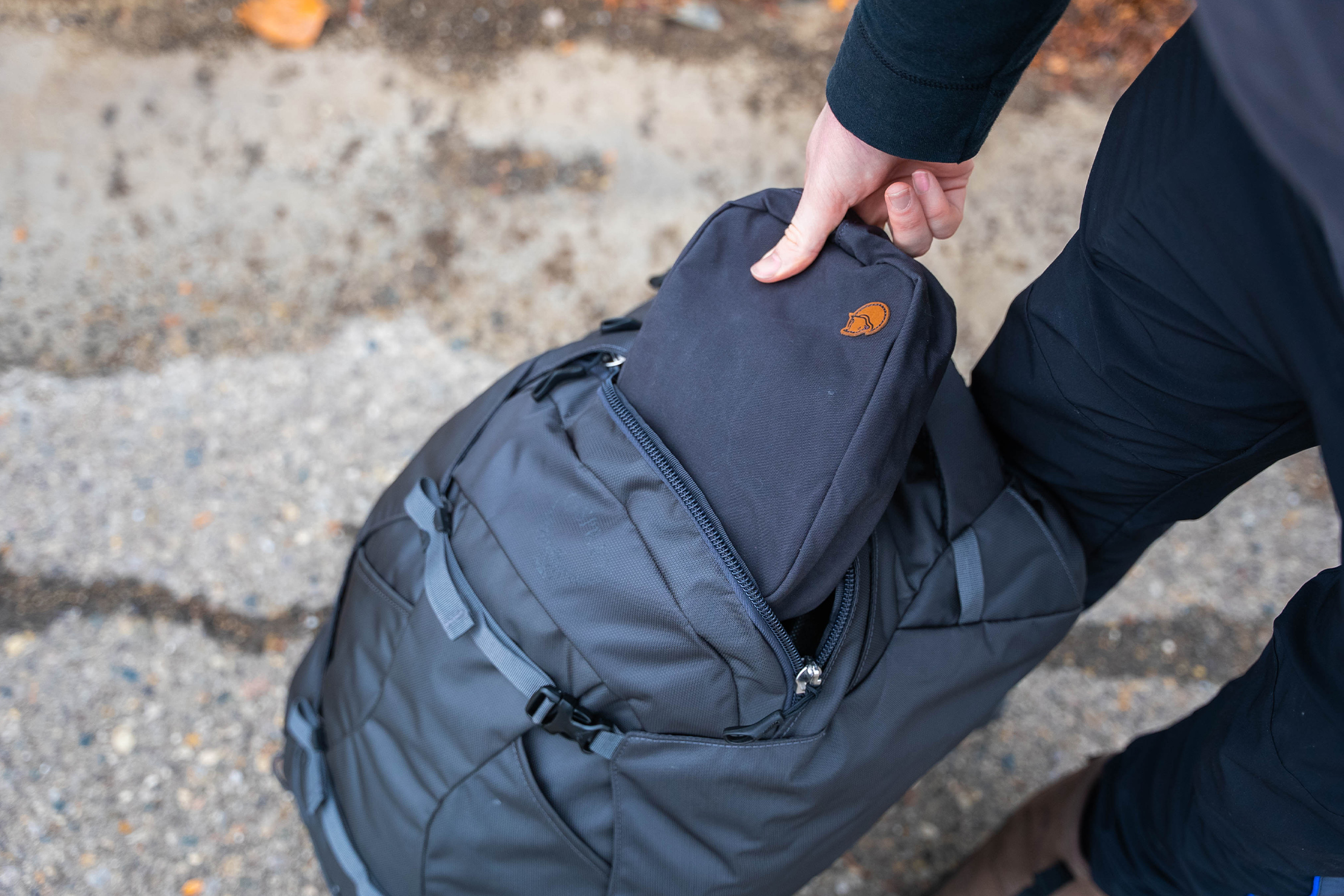 Speaking of zippers, we've got YKK models throughout this bag. They're smooth to operate and show no signs of wearing. The pull on the exterior zipper is leather with stitching down the center. The leather looks nice and feels good to hold, and the stitching enables you to get a good grip still when the leather is wet.
There's just one zipper, so your options are limited regarding which side you can leave the zipper on and crafty opening methods. We don't miss the extra zipper, though.
Inside The Pouch
The organization inside the Fjallraven Gear Bag is simple, but in a good way.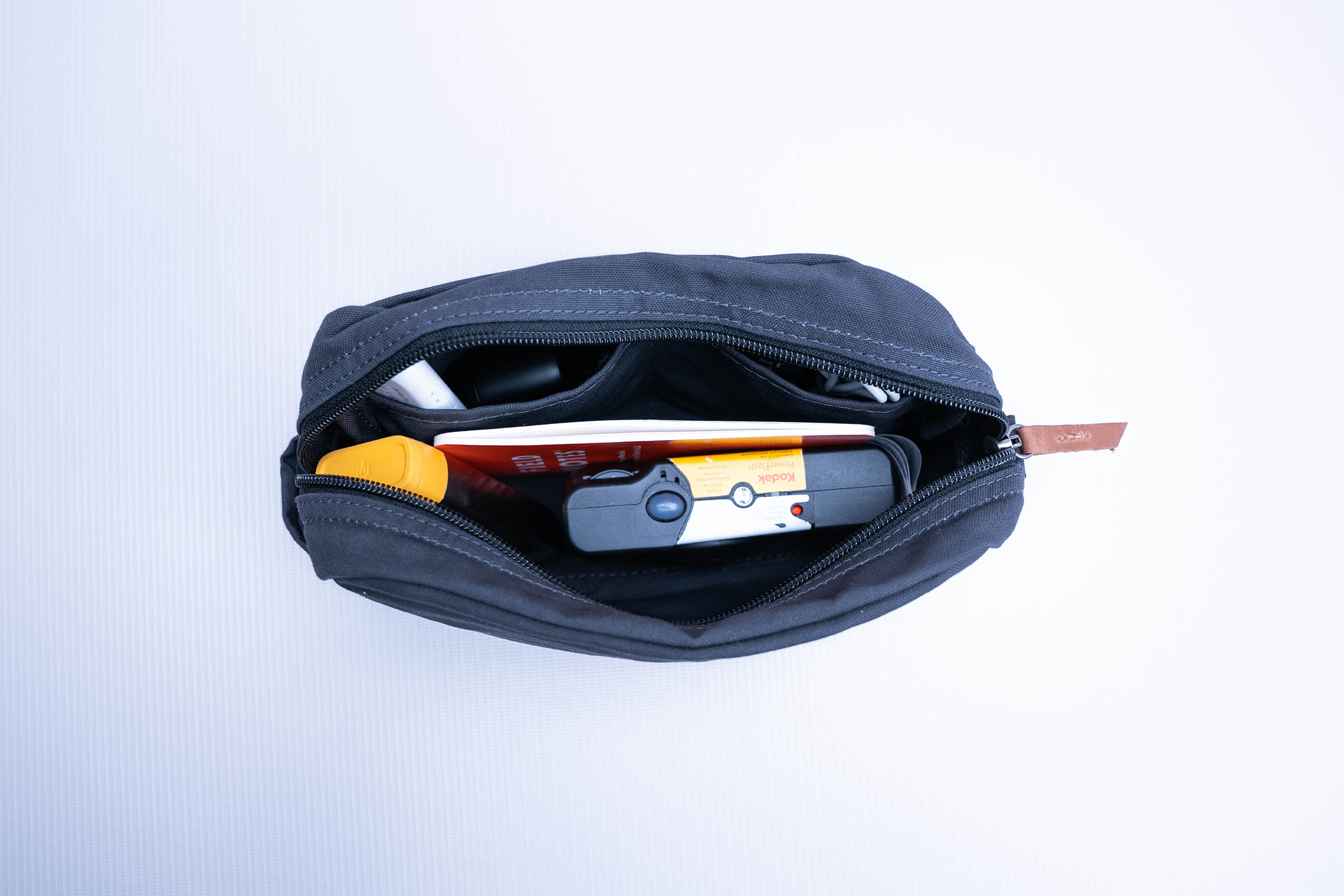 There's a small zippered compartment on one of the long sides of the rectangle. This is a nice inclusion because it enables you to lock down the important gear you want to keep track of. This isn't a vast pouch, but it's still easy to lose small items like dongles, and an extra layer of protection for documents is ideal.
Across from that, there are two liner pockets. They're crafted from the primary pack material, so they don't stretch. It's easy to stow small electronics, a wallet, or other little gear inside without too much fuss. They're pretty tight, so most items have enough coverage from the material not to slide out, even if the road gets bumpy.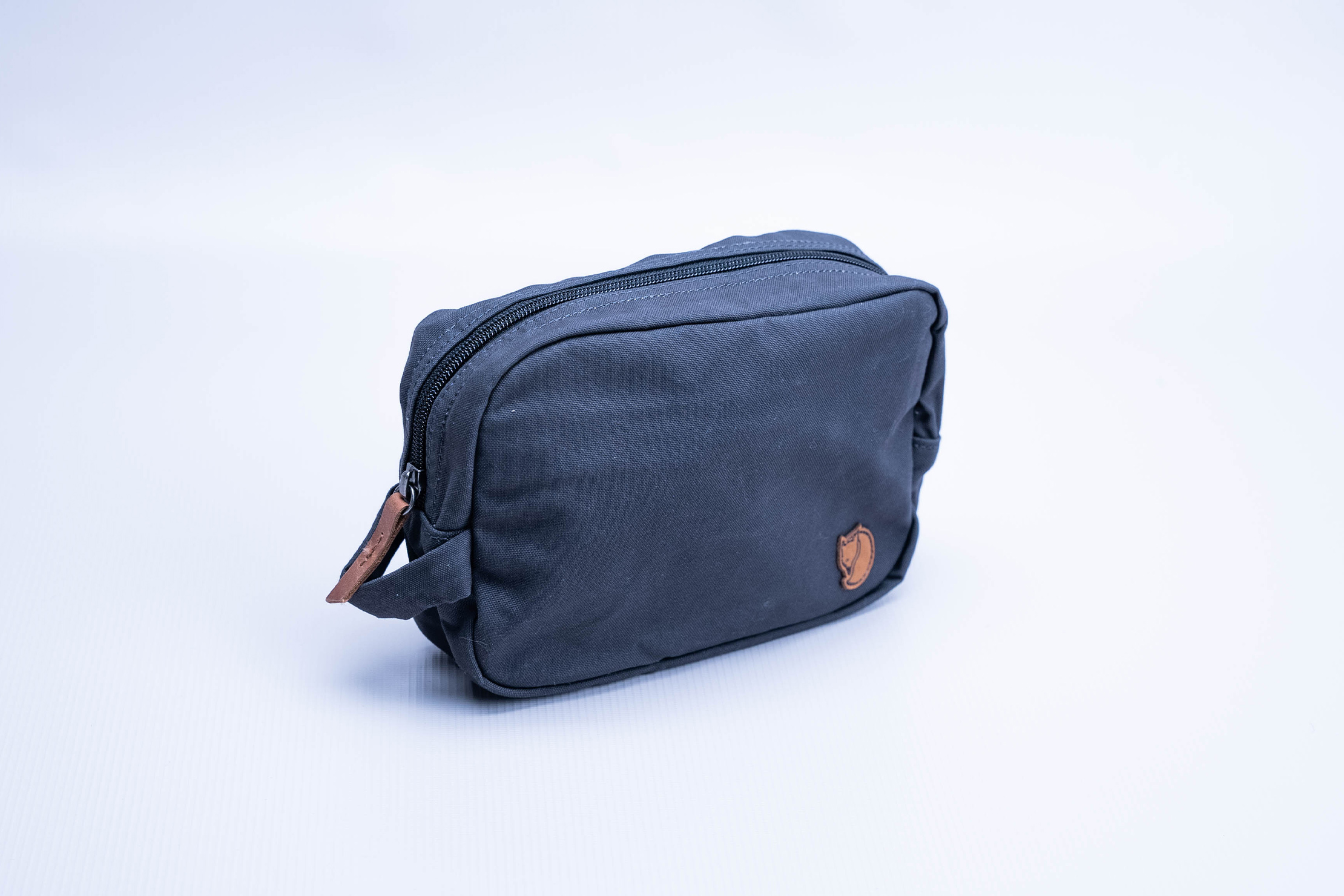 The rest of the space is free real estate; There's quite a bit of room between the two sides, so you can stow a lot of gear here. A compact camera fits in nicely and can fit a smaller Bluetooth speaker.
Depending on what you have packed in the pouch and where, most of the time, it stand up on its own. The pouch will tend to topple over if heavier items are piled up on one side or near the top. This isn't the biggest deal, but organizing your gear, so it stands on its own can save space on your desk or at the local coffee shop table.
Whether using this pouch for travel or everyday carry, you can fit a surprising amount of gear inside. The internal organization doesn't get in your way if you don't want to use it and isn't fussy if you do. The main compartment is better suited for flat items, and oblong-shaped gear can poke out, making the pouch look like a mystery Christmas present your 7-year-old cousin returned with after an extended trip to the kitchen.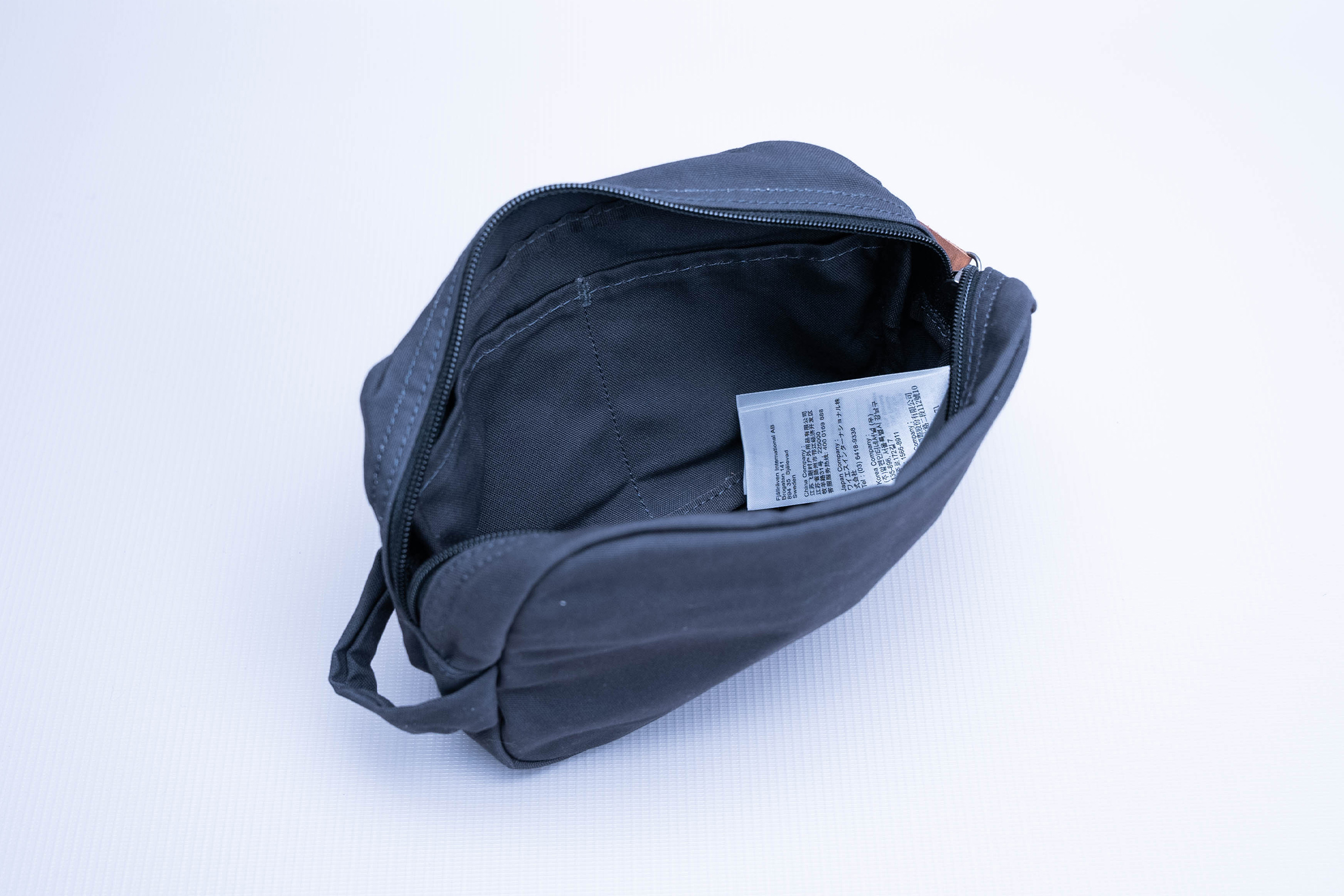 The pouch's slim profile makes it an easy include for traveling. It's quite thin, so you can fit it inside most packs without any issues. If you already own Fjallraven gear, it will fit in with the look and style you're used to. If you don't, the colorways and design choices match well with a lot of things. Just don't take it out in the wind (or fart on it)!
Usage Timeline
Initial Usage
Condition: Excellent
Double-waxed G-1000 HeavyDuty Eco looks professional and feels durable
Leather zipper pulls are sturdy and easy to grasp
The organization is simple but looks effective
2 Weeks of Use
Condition: Excellent
Materials show no signs of wear and continue to block dirt and water
No issues with zippers or hanging loops
Main compartment is easy to access
Access the Pro Community Discussion
Get your questions about the Fjallraven Gear Bag answered from our team and the Pro Community right here on the page. Plus, join discussions with other members about gear, guides, and more.
Other Organizers & Pouches Reviews