Vapur Eclipse Water Bottle Review
The Vapur Eclipse is an ultra compressible water bottle that is optimized for travel. If you can get past some awkward drinking maneuvers and a lack of insulation, this just might be one of the best travel water bottles on the market.
Our Verdict
Unlock the Pro Summary
Save time. Get access to brief summaries of our reviews so you can browse and make decisions more efficiently.
Pros
Folds up or lays flat for optimal packing
Versatile, self-compressing carabiner clip
Strong and durable material
Cons
No insulation
Less rigid bottle can make for awkward drinking
Matte coating chips off with usage
Recent Pack Hacker Video
Technical Details
Capacity

1l

Also available in 0.7L

Weight (oz)

1.59 oz (45.1 g)

Dimensions

11.5 in x 5.75 in (29.2 x 14.6 cm)

Also available as 10in x 5in

Notable Materials

Polyethylene, Nylon

Manufacturing Country

China

Warranty Information
Buying Options

$11.99
$9.99
Full Review
Get up to 30% off Vapur • Join Pack Hacker Pro
The Vapur Eclipse Water Bottle is great for what it is—an ultra compressible water bottle that is optimized for travel. It just may be the water bottle of our dreams.
Not that we dream about travel water bottles… That'd be weird. We definitely do not do that, just to be clear.
We have, however, been testing this Vapur Eclipse Water Bottle for over a year, and we've been thoroughly enjoying it. Let's dive into the review.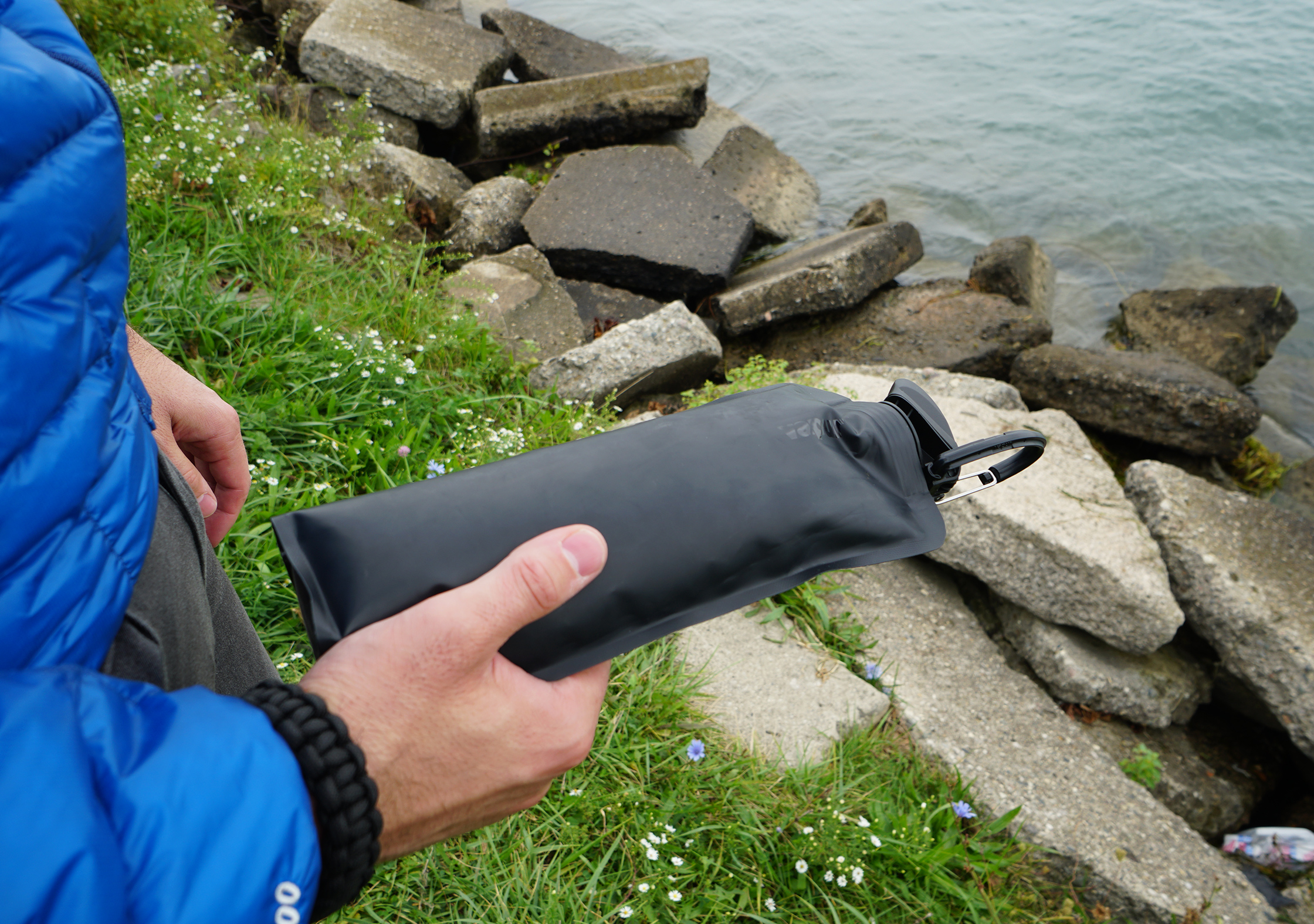 The Eclipse version of Vapur's water bottles all come with a matte finish, and there are a ton of different colors and style choices available. We personally dig the matte look, but we should note that it can start to chip off over time through heavy usage. We have the Night Blue version—which features an orange carabiner clip—and the Blackout version, which is a black bottle with black branding and a black carabiner clip. (Could there be a more "Pack Hacker-esque" water bottle?!)
From a branding perspective, regardless of what color or style you choose you're going to get one Vapur logo. Nothing crazy, and we like that. As far as materials go, these are made with a BPA-free polyethylene and nylon that's welded at the edges to hold it together. And while the Eclipse comes in two different sizes—one-liter and 0.7 liters—they're both basically the same size when compressed. The majority of the space is taken up by the carabiner and the cap with just a little bit of extra fabric that's rolled up.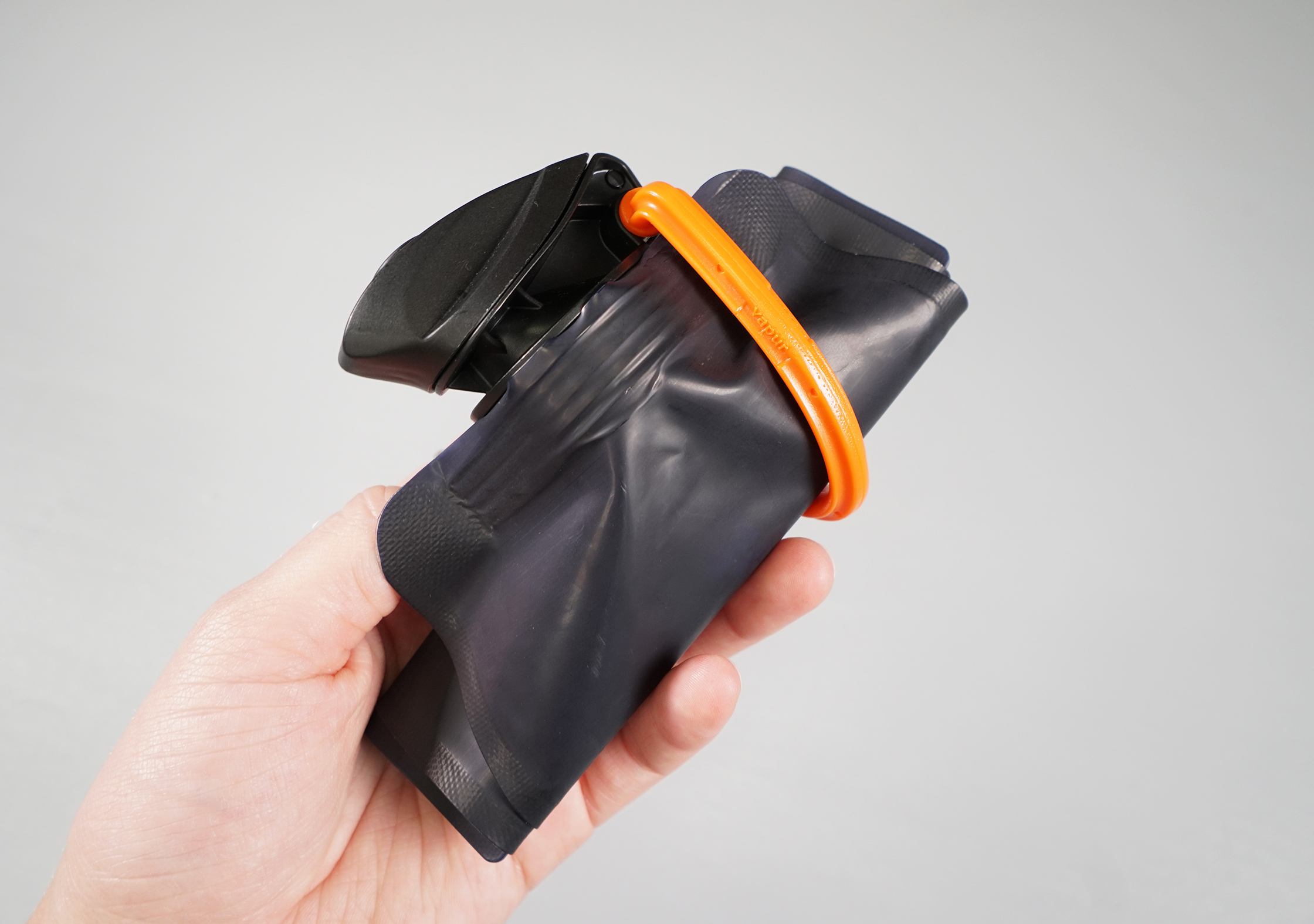 And if you're getting confused about how you might "roll up" a water bottle—don't. Compressing these bad boys is a total breeze. All you need to do is…
Make sure it's empty (Pro tip—you're welcome)
Open up the flap on the cap
Roll it up
Use the carabiner clip to hold the rolled material in place
Voila! Easy as pie.
In addition to being easy as pie to roll up, this thing compresses into virtually nothing. We reviewed the Nomader Collapsible Bottle a while back and we can definitively say that the Eclipse looks minuscule in comparison to it. (When it's all packed up, at least.)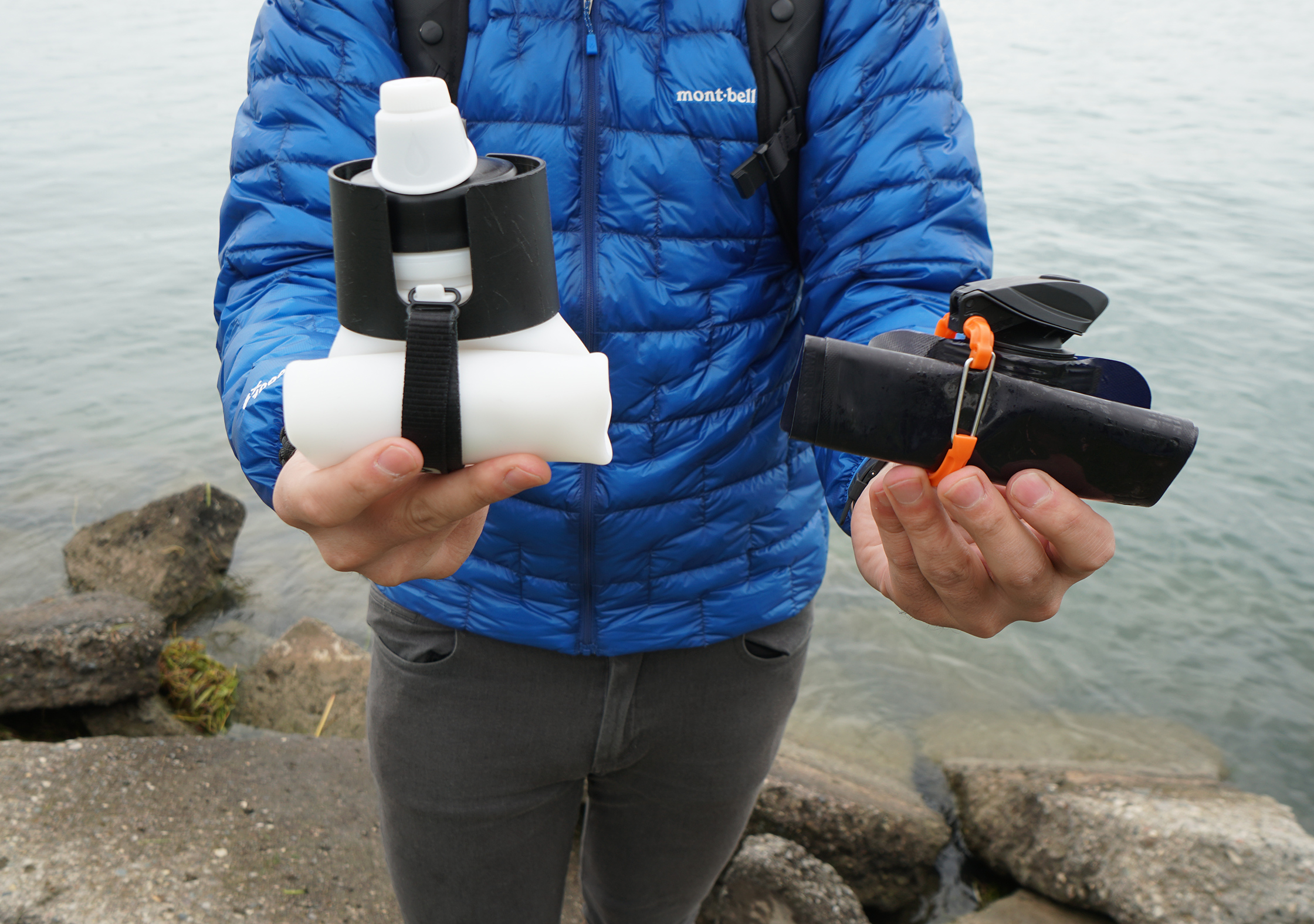 This is where Vapur really shines. The ability to hold up to a liter of water with barely any footprint in your bag is a godsend for one bag travelers or anyone looking to keep their pack light and compact.
It's also perfect for taking an empty water bottle through security without taking up extra space in your carry-on. Just pop through security and fill this up on the other side. Not only do you avoid having to take out a small loan to buy a disposable water bottle from one of those airport kiosks, but you're also being environmentally friendly! It's a win-win-win.
Aaaand here's where the wins end. (Sorry—we've got to be honest about this stuff. It's kind of our job.)
With that major compressibility comes a few drawbacks. First of all, there is zero insulation—which we do understand and think is worth compromising for collapsibility just to be clear. You can definitely throw some ice cubes in here or put in the freezer (filled or not) to keep things a bit chillier, but the temperature will rise pretty quickly either way. Fair warning: if you do decide to put this in the freezer with water to create one big ice cube, please don't fill it up all the way. Water does expand. #Science.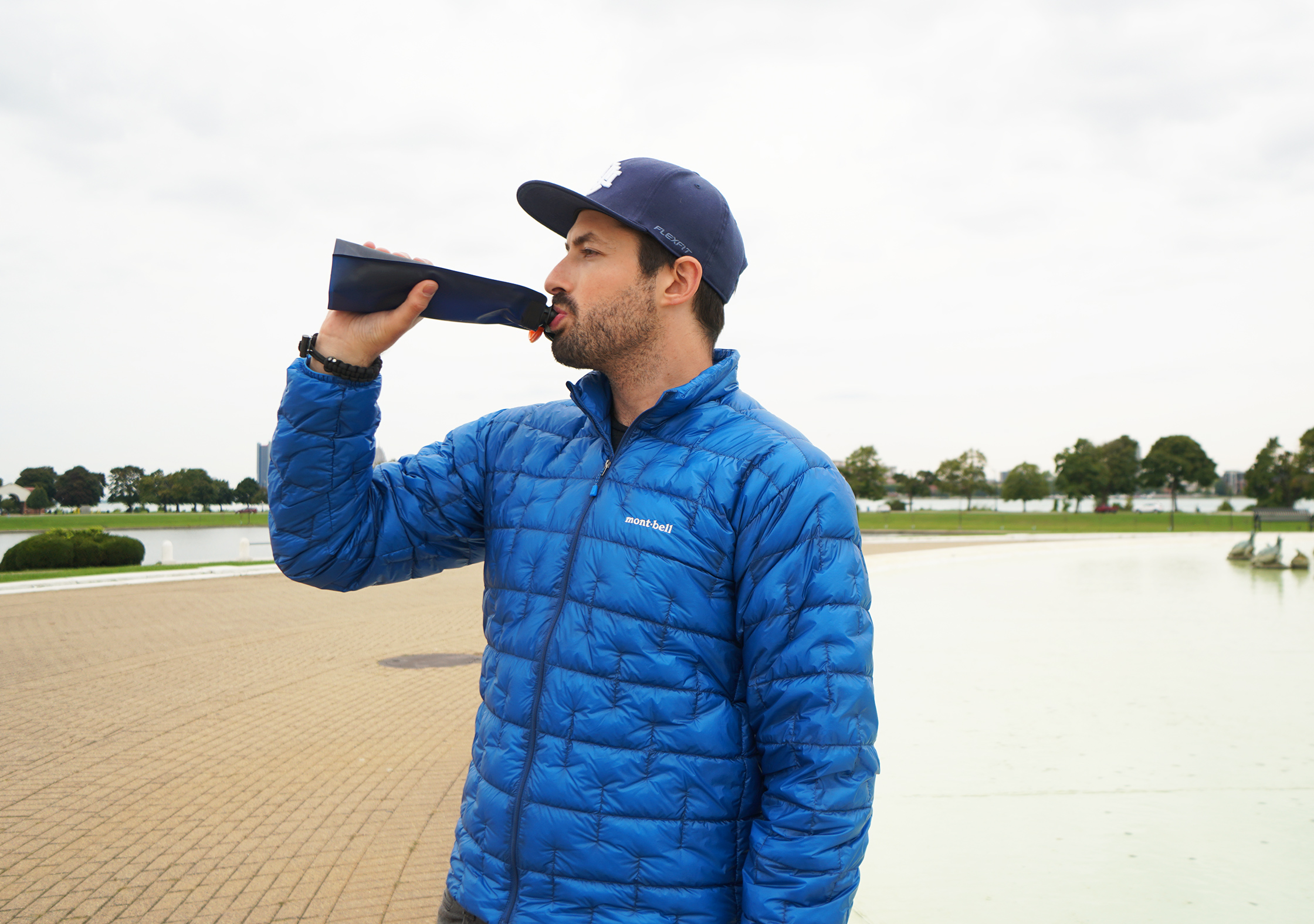 We've noticed that your water will get pretty warm in this, especially if you're rocking a dark color and you've got it out in the sun. If you are looking for an insulated bottle, you might want to check out the YETI Rambler or Hydro Flask Wide Mouth Bottle, but they're going to be metal and non-compressible. That is, of course, the trade-off. Our team is pretty divided on how important cool water is—so we'll let you decide on this.
The other slight drawback is that it can be awkward to drink out of this thing due to all that flexibility. This is especially apparent when the bottle is less than half full, as you've got it kind of flopping around in your hand as you try to tilt it up and… You get the idea—it's a little wonky. Is this a dealbreaker? For us, no. We'll gladly take some awkward water consumption if it means a bunch of saved weight and space.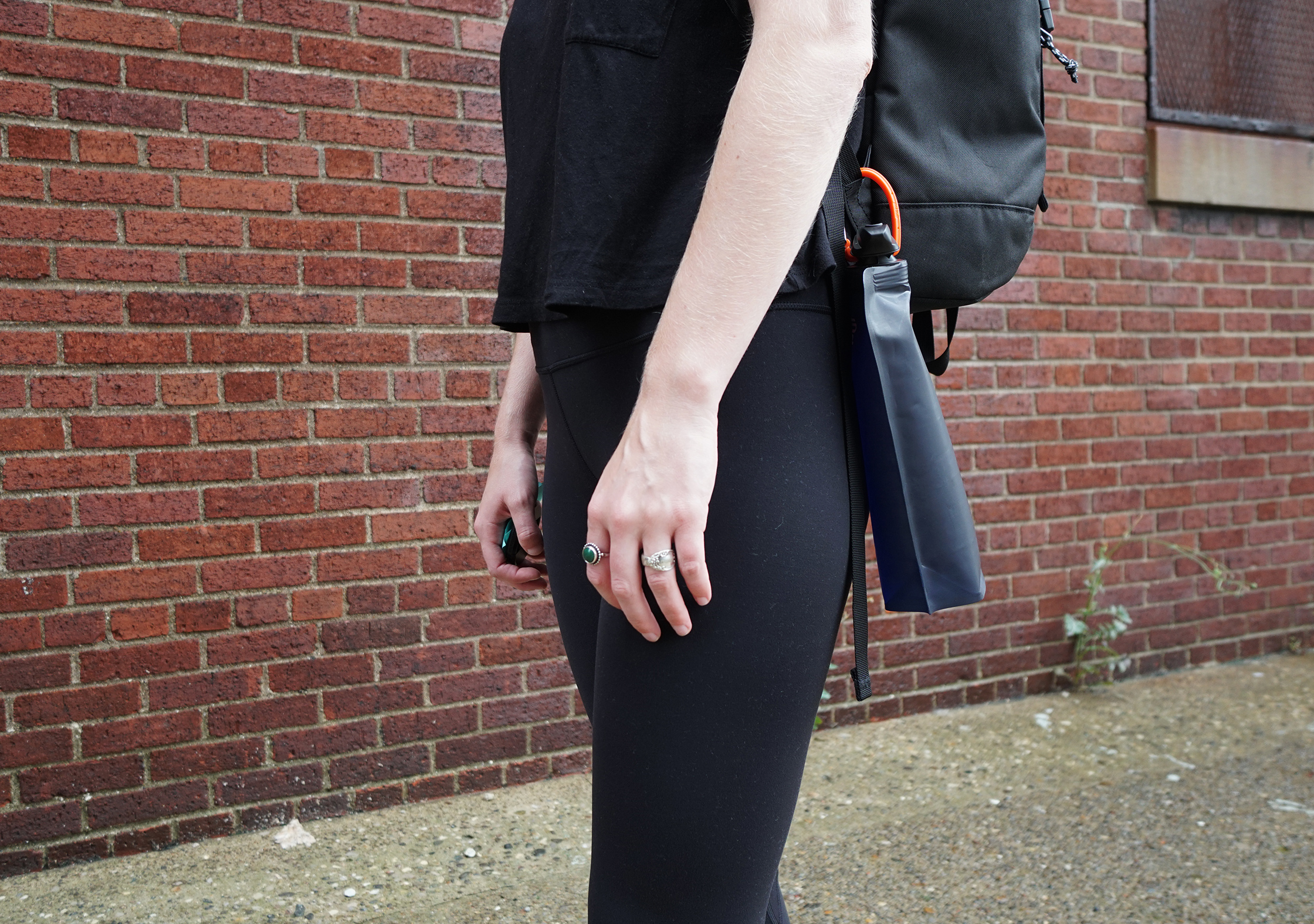 Back to things we like! Another bonus of the Eclipse is the carabiner clip that you can hang off of backpacks, or anything really. We particularly like this because even if your bag doesn't have a water bottle compartment, you can clip it to a shoulder strap and you'll be good to go. (We're looking at you, Patagonia Arbor Pack.) Depending on where you have this clipped and the size of the bottle it can be a little awkward—it might flail around a little bit—but it's still a great feature to have.
Vapur's newest innovation is offering a filter straw for their bottles. This clips into the cap, allowing you to fill up the bottle with "dirty" water, and have it filter the water as you drink. We've found this to be just "okay" in practice—mainly because a LifeStraw is a lot better in terms of flavor. The Vapur filter will filter all of the bacteria and whatnot, but it won't change the flavor, which isn't ideal.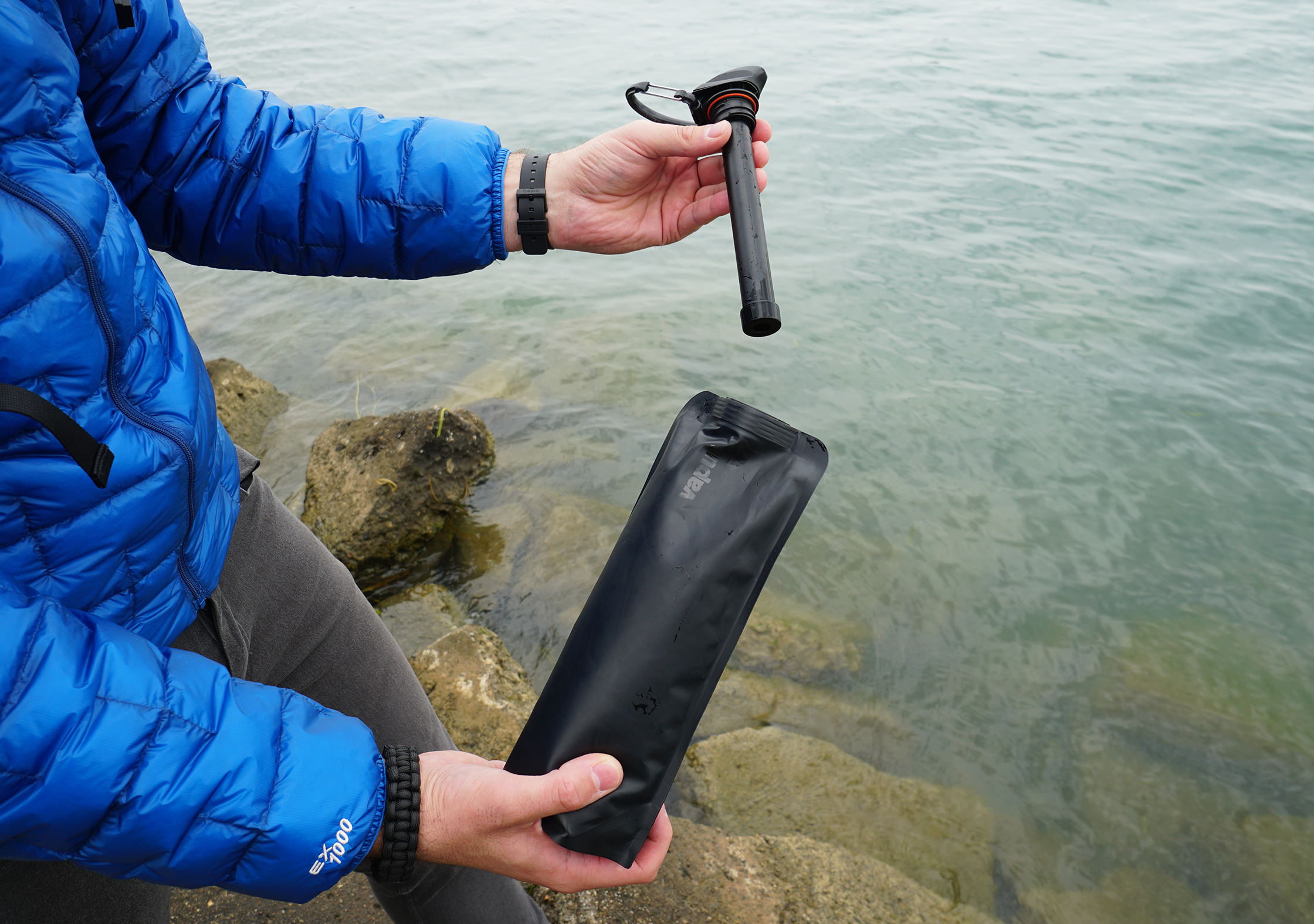 The other drawback is that it can be a tad difficult to suck the water out when you're using that built-in straw. And lastly, with that filter in place you lose just about everything that you want with a compressible water. You can't compress it, it's a lot harder to stow away in your bag—you get the idea.
If this is really important to you, it could be worth getting. You can always store it in a separate part of your bag and only attach it when necessary. But in our testing, we never really had a need for it.
If you have a dishwasher, cleaning this bottle is pretty damn simple—you can just pop it in and you're good to go. If you don't have a dishwasher (ie; you're traveling) it's still pretty damn simple. We've just been filling it up with warm soapy water, letting it soak a while, and then giving it a good rinse. (A really good rinse… You don't want to be drinking soapy water.)
We should also note that if you are using this for travel you really should be cleaning it on a regular basis. If you're hopping from country to country, you're picking up tons of bacteria from each water source along your travels. Not a good scenario. Clean your bottle. (And yourself, but that goes without saying. Right?)
Durability & Testing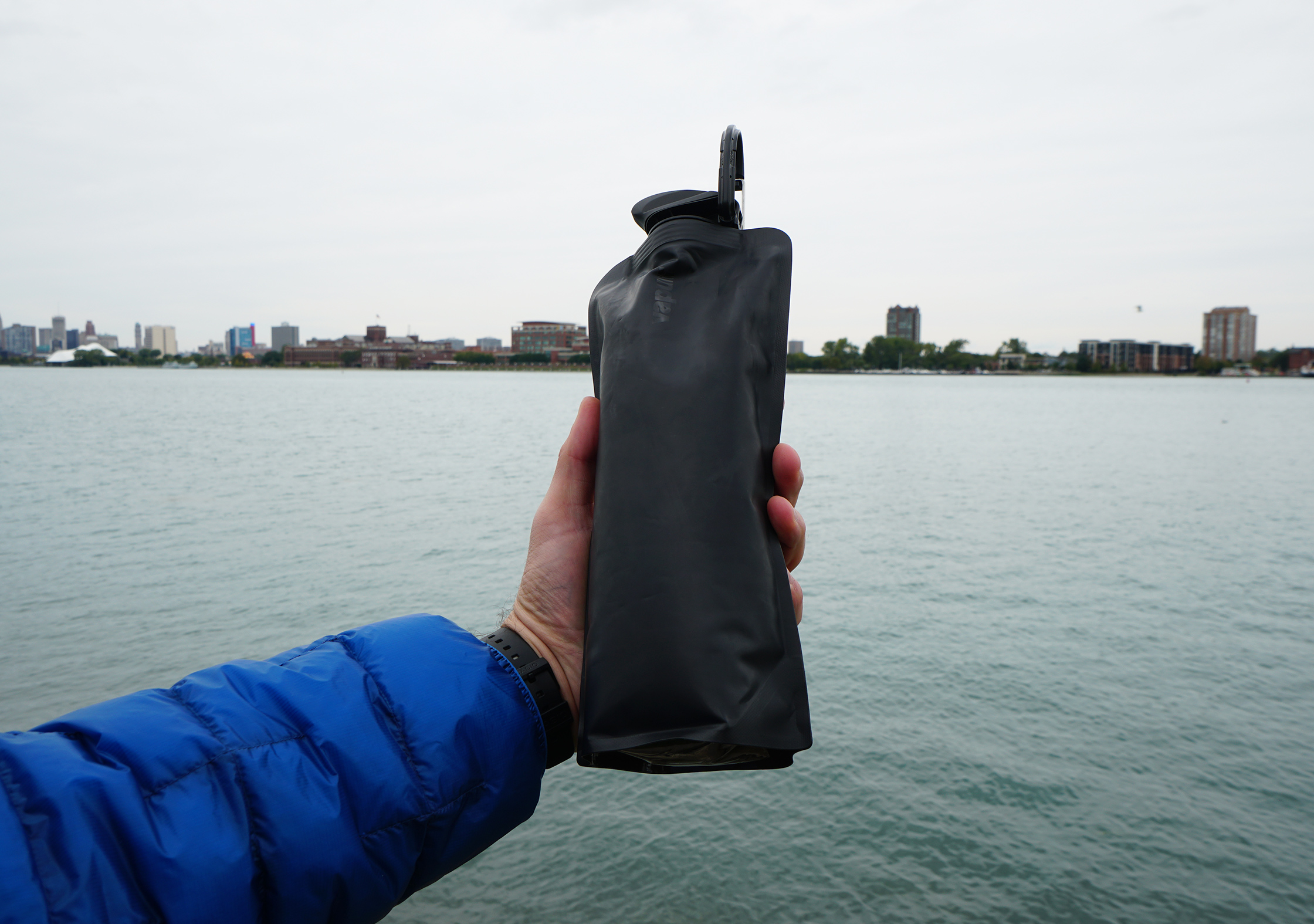 At the time of this review, we've been testing the one-liter Night Blue version of the Vapur Eclipse compressible water bottle for over a year. We also have the one-liter Blackout version with the filter and the 0.7 liter Night Blue version, but those haven't been through quite as much as the one-liter above.
So far, this bottle has held up with no leaks or functionality issues. It does have a lot of aesthetic dings and scratches, and the matte coating has pretty much been scraped entirely off. However, it's still working like a charm—even though it might not look the greatest.
Usage Timeline
Initial Usage
Condition: Excellent
Really liking the compressibility and minimal branding! Works well.
1 Month of Use
Condition: Excellent
Working like a charm, been using this for a lot of traveling.
2 Months of Use
Condition: Good
Starting to see some chips in the matte finish, but still functioning perfectly.
3 Months of Use
Condition: Good
Getting used to the awkward drinking maneuvers.
6 Months of Use
Condition: Good
Still loving the compressibility. Lots of chips, scratches, and dings in the finish but still working well.


9 Months of Use
Condition: Good
The matte finish is nearly gone, but it still works and is still just as compressible.
1 Year of Use
Condition: Good
The matte finish is pretty much all chipped off. Still works though!
1.5 Years of Use
Condition: Good
2 Years of Use
Condition: Good
The Vapur Eclipse Water Bottle continues to be our go-to pick when packing space and weight is limited.
Access the Pro Community Discussion
Get your questions about the Vapur Eclipse Water Bottle answered from our team and the Pro Community right here on the page. Plus, join discussions with other members about gear, guides, and more.
Other Miscellaneous Reviews