Billabong Crossfire X Submersible Shorts Review
Billabong Crossfire X Shorts—AKA, submersible shorts—are stylish and functional, but it'll be hard to replace your entire shorts collection with them.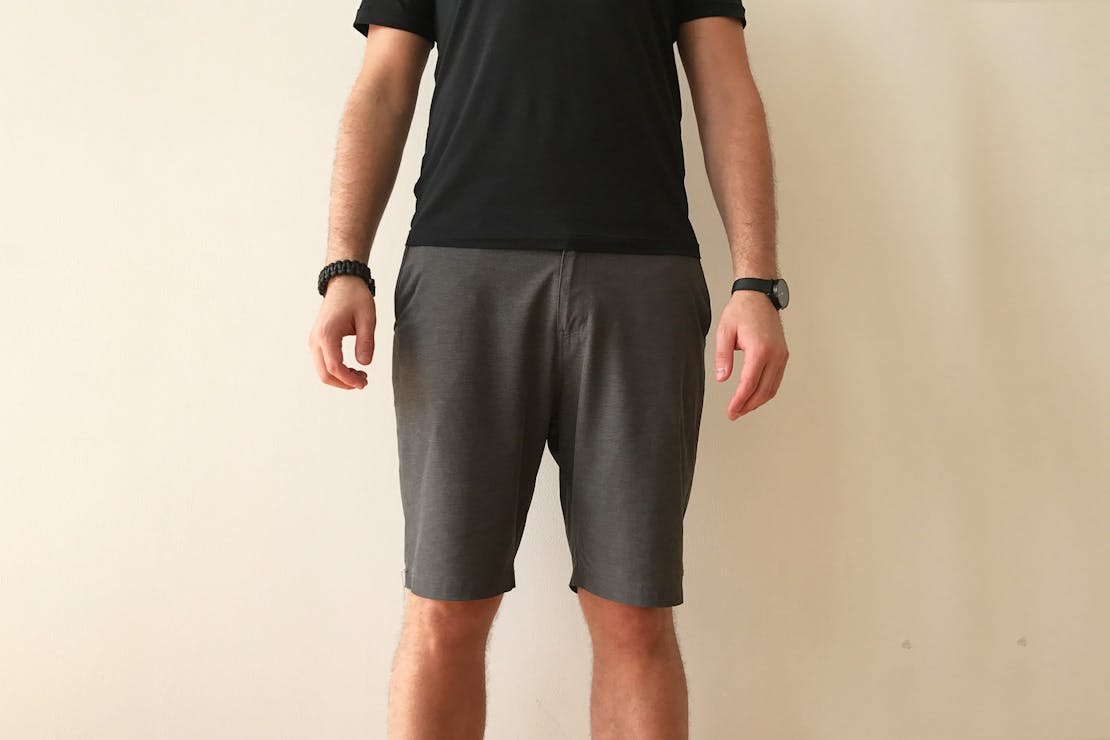 Our Verdict
Unlock the Pro Summary
Save time. Get access to brief summaries of our reviews so you can browse and make decisions more efficiently.
Pros
Nice look—doesn't look like traditional board shorts.
Quick drying.
Zippered back pocket.
Cons
Won't really fly as regular shorts.
Can get smelly quickly.
Medium swishy-sounding when walking.
Recent Pack Hacker Video
Technical Details
Notable Materials

Polyester, Cotton, Elastane

Manufacturing Country

China

Warranty Information
Full Review
If you think "Billabong Crossfire X Submersible Shorts" sound like some badass shorts designed for Navy Seals—well, you're right. The name does sound like that. They are, however, swim trunks. We know, very disappointing… But it's not all bad. And Navy Seals swim and stuff, right? So it sort of works.
The Billabong Crossfire X Submersible Shorts are a submersible hybrid short/boardshort. Basically, they're boardshorts that also look like regular shorts—no weird graphics or patterns, and they have a regular button instead of a drawstring and velcro. They're styled like a pair of chino shorts, and they have belt loops, which isn't very common with boardshorts. That being said, you're not gonna fool too many people. These wouldn't fly at a nice restaurant, for example (but who wears shorts to a nice restaurant anyways?).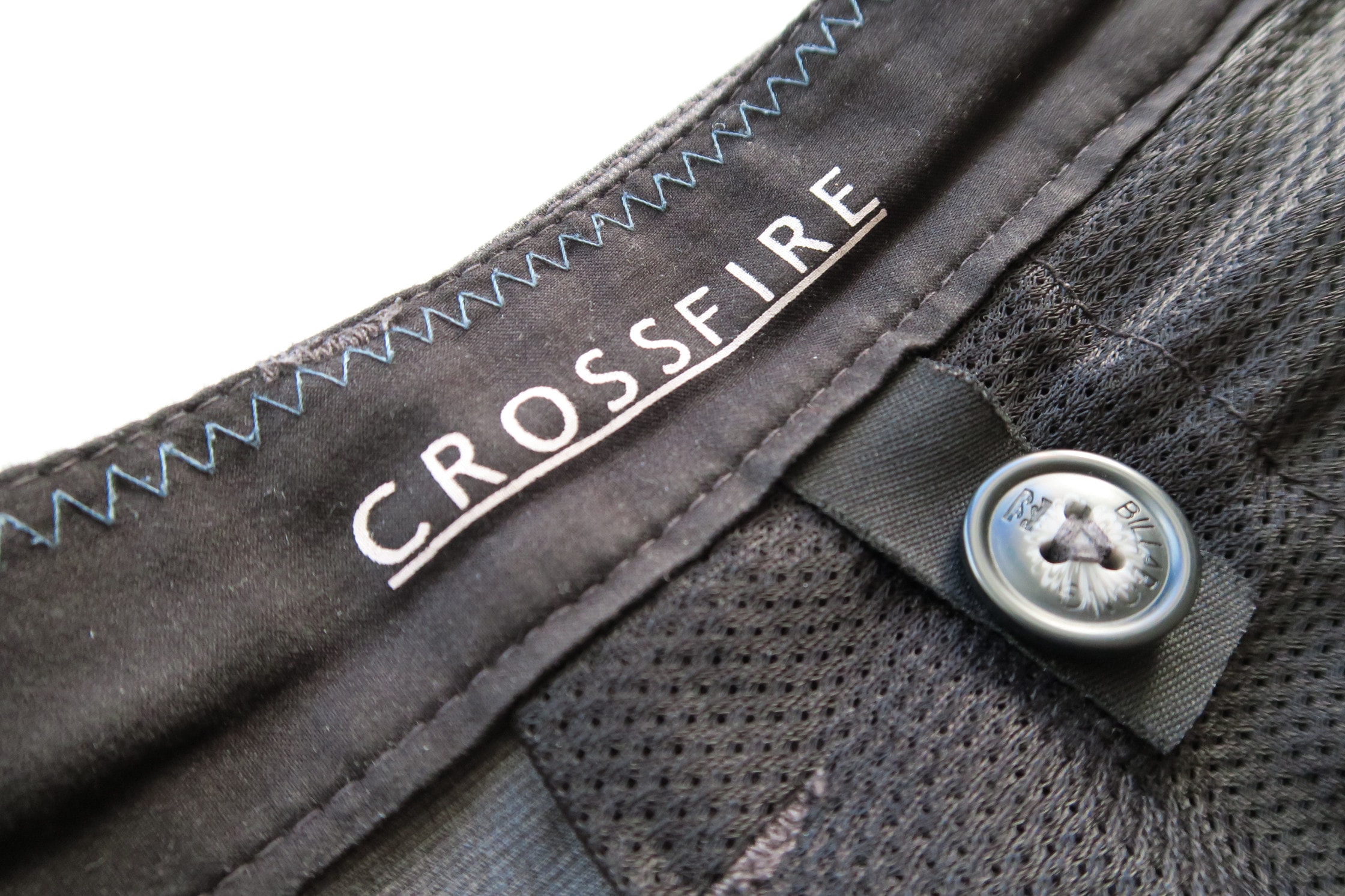 The shorts are comfortable, and they do function well as "hybrid" shorts. They dry pretty fast, so you can easily go swimming and then keep them on for the rest of the day. The material is flexible and stretchy—and they make a moderate amount of swishy-sounding noise when you walk. This sort of throws off the whole "regular shorts" claim.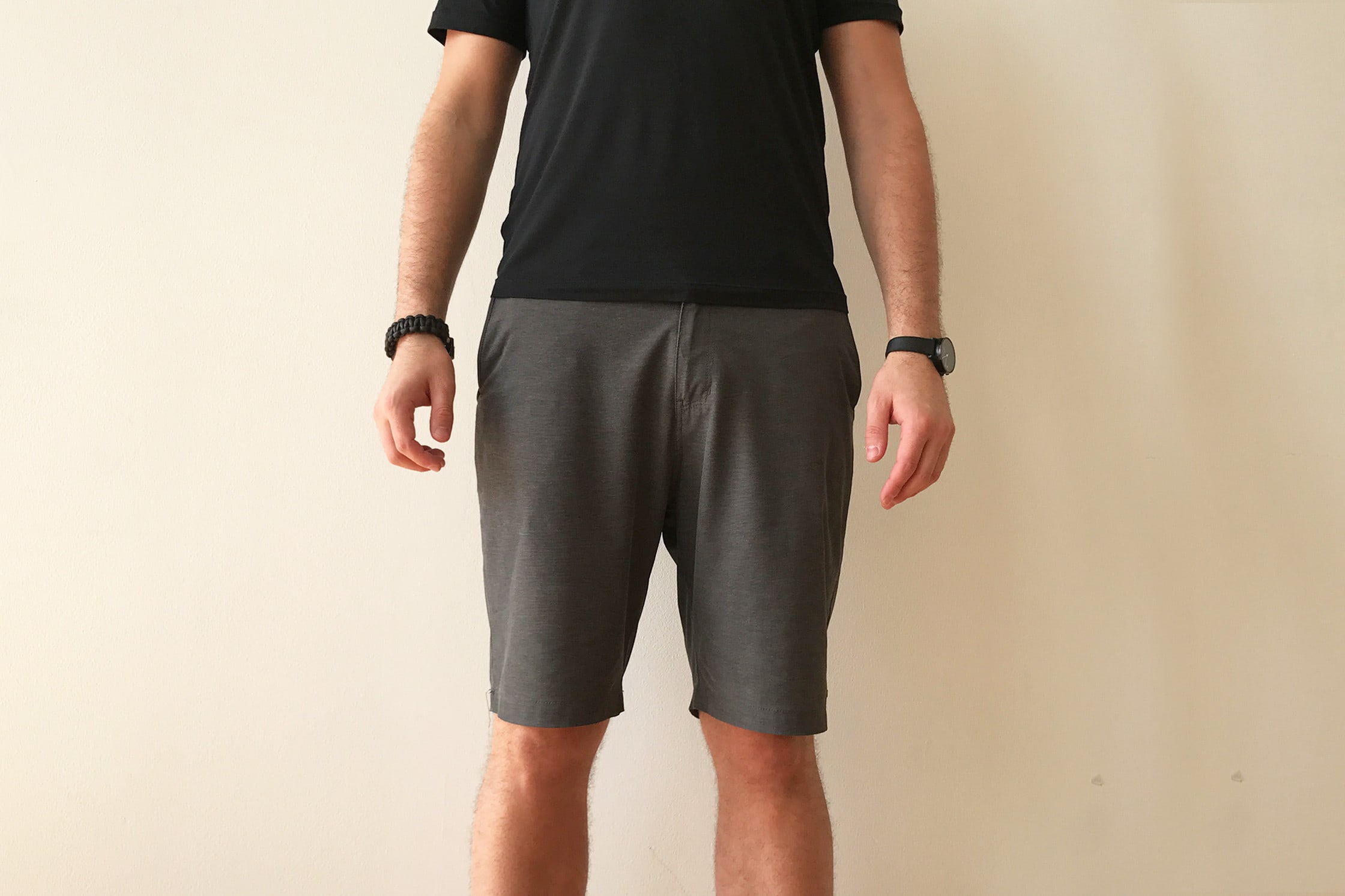 In addition to swimming and general use, we've worn these for working out and they function pretty well. Although they will hold a smell after a few uses, so beware. This isn't the best for traveling, but the plus side is that you can just hop in the shower or hop in a pool to wash them off.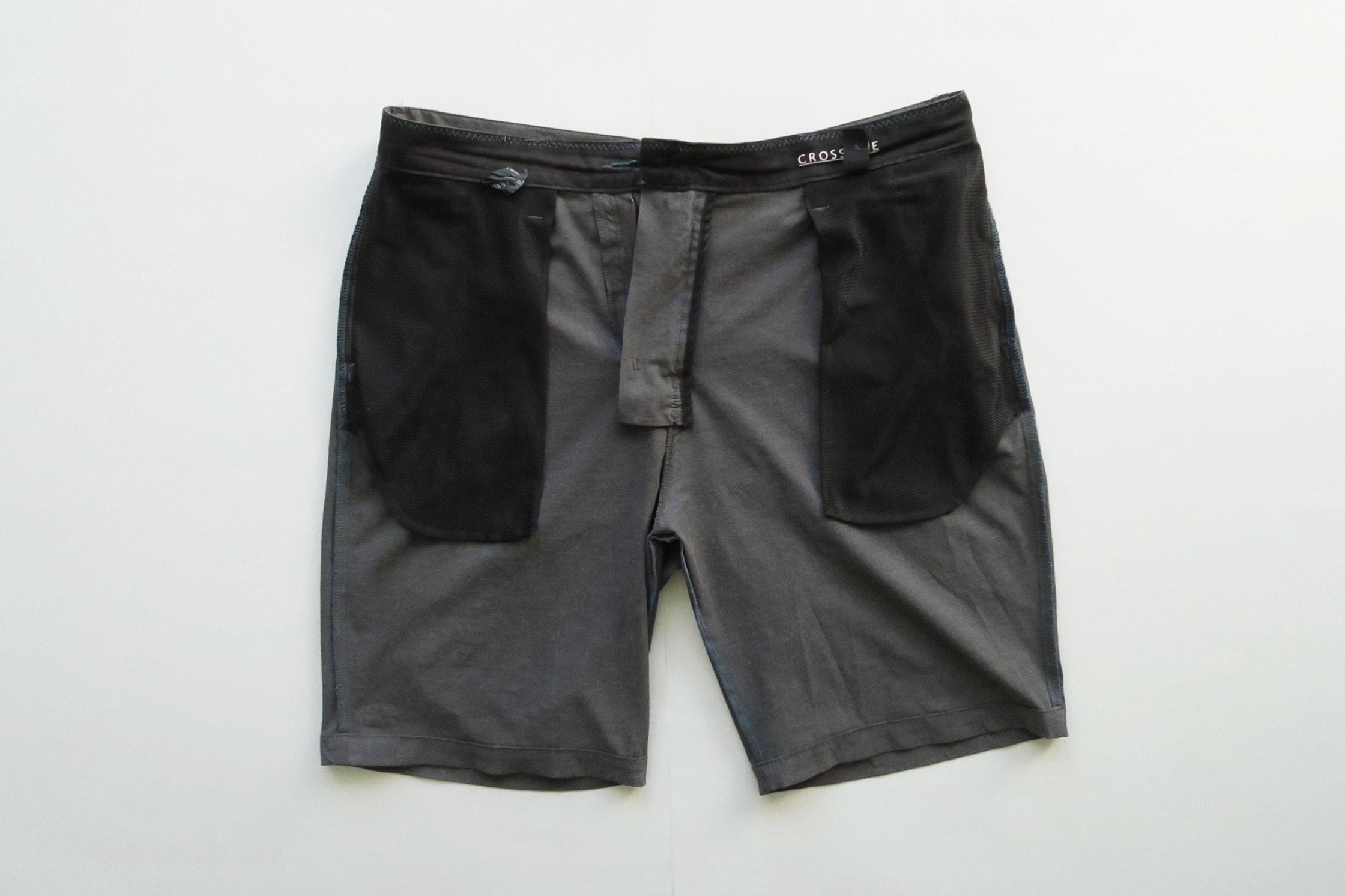 There are two pockets on the side and two in the back—all of which are mesh-lined on the inside. The two side pockets are pretty average depth, which does make them feel more like regular shorts when you are wearing them.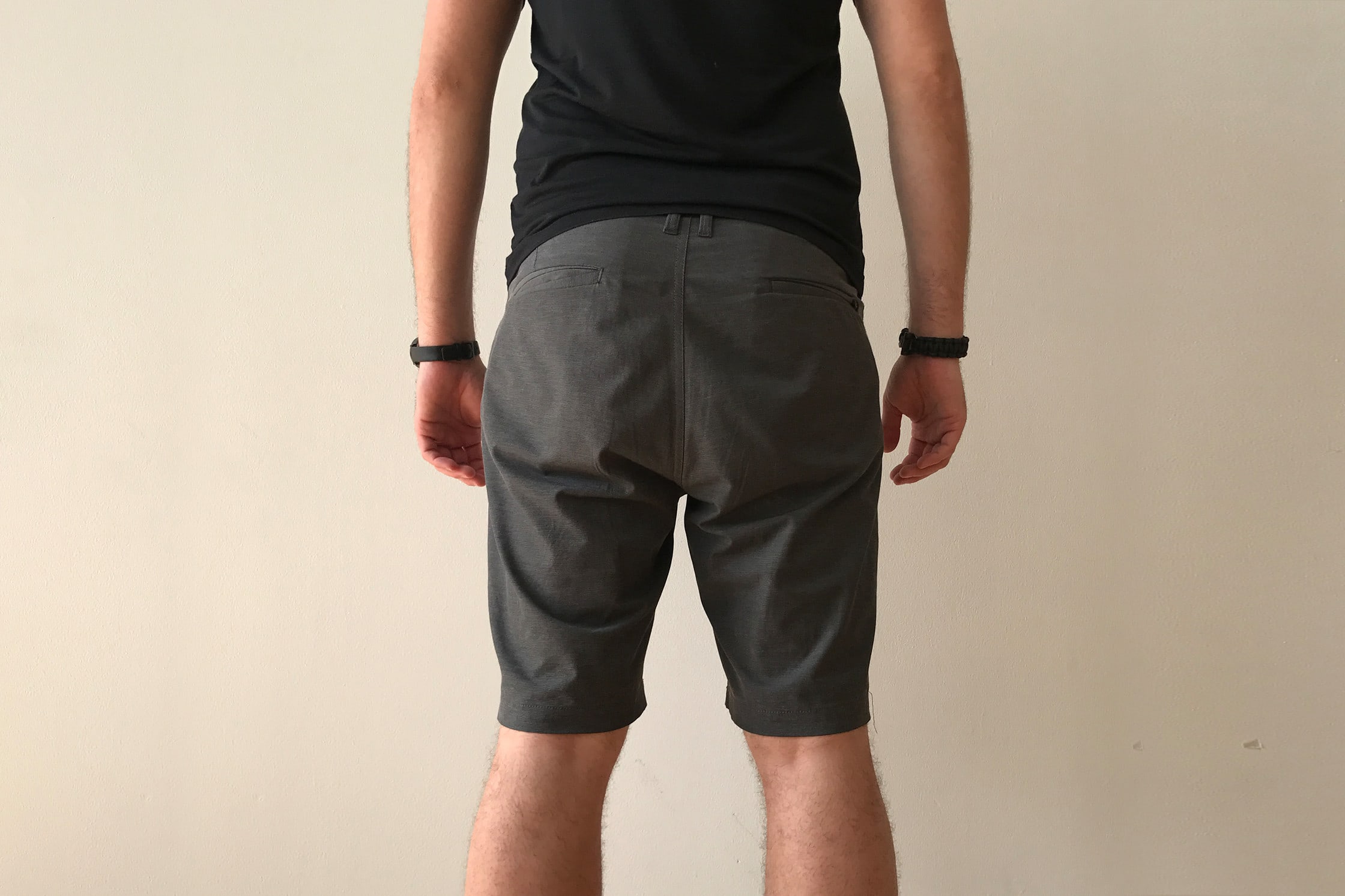 The back right pocket has a zipper on it, which we really like. It's a nice theft deterrent for traveling or walking around a city—you can throw stuff in there and not have to worry about pickpockets. And it's great for swimming—whatever you keep in the pocket will stay with you. Just make sure it's zipped up. Oh, and you might want to make sure that everything in there is waterproof.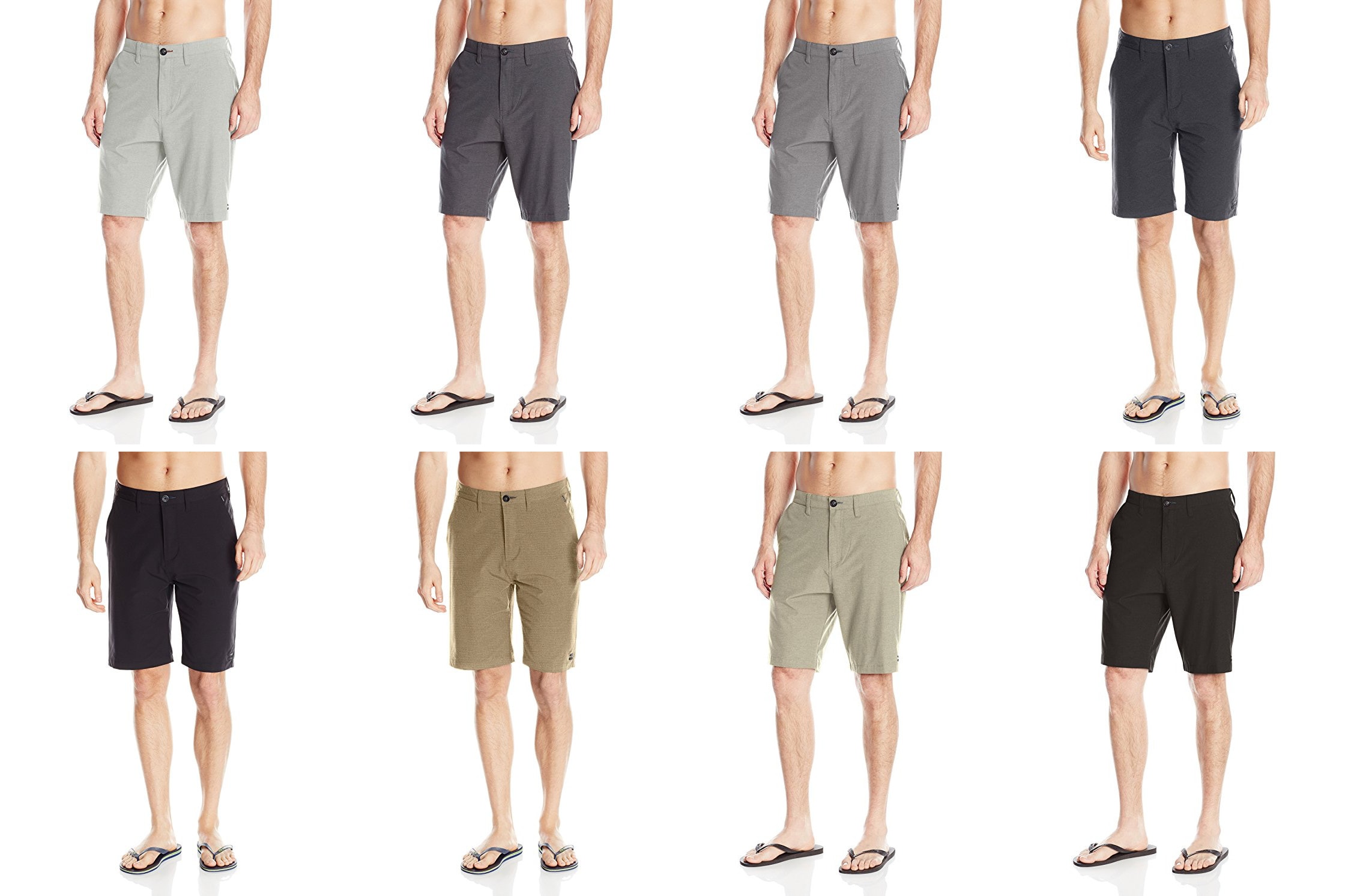 These shorts come in a TON of colors, which is awesome. In this review, we're testing the "Charcoal" color. If you find yourself on the beach and in the water a lot—a "water-junkie," so to speak—you may want to invest in a few different colors. No one will know that you're wearing board shorts all the time! Just kidding. Most people will know.
At the time of this review, these shorts are listed for $54.95. Pretty reasonable price, and we think it is a good value, considering how long they've lasted.
Usage Timeline
Initial Usage
Condition: Excellent
Good—got that fresh polyester smell, right out of the box!
3 Months of Use
Condition: Excellent
Going strong, no new developments.
6 Months of Use
Condition: Excellent
Not much has changed, still nice and stretchy.
9 Months of Use
Condition: Good

Some of the cloth on one of the belt loops has begun to fray—no biggie, just clipped it off.
1 Year of Use
Condition: Good
Surprisingly, the original button is still in place! It's pretty strongly secured, and there is a backup button sewn inside the shorts. Been through a lot of wear and tear, a little thread is coming off the bottom of the shorts.
1.5 Years of Use
Condition: Fine

Thread is starting to come off. The billabong rubber logo on the bottom has also finally peeled off—very sad day.
Access the Pro Community Discussion
Get your questions about the Billabong Crossfire X Submersible Shorts answered from our team and the Pro Community right here on the page. Plus, join discussions with other members about gear, guides, and more.
Other Clothing & Accessories Reviews