Woolx The Dailys Boxer Briefs Review
The Dailys by Woolx are one of the most comfortable pairs of merino wool boxer briefs around, with a bunch of benefits—and unfortunately, a few negatives.
Our Verdict
Unlock the Pro Summary
Save time. Get access to brief summaries of our reviews so you can browse and make decisions more efficiently.
Pros
Merino wool is magical and these are super soft and comfortable
No bunching and a really great fit
Great customer service
Cons
Pricey
Durability isn't really there for the price
Based on the reviews we've seen—somewhat high return rates and off-the-line faulty products
Recent Pack Hacker Video
Technical Details
Notable Materials

Merino Wool

Manufacturing Country

China

Warranty Information
Full Review
Yep, the time has come. It's time to get down to the nitty gritty and review something that you truly, without a doubt, need. Underwear. But here at Pack Hacker, we're not going to settle for just any underwear…are these the best boxer briefs for travel? Let's find out.
We've been testing out "The Dailys" from Woolx, and they are not your average pair of boxer briefs. They're made from merino wool—along with just about everything else made by Woolx. Why would anyone want a pair of wool boxer briefs? Well, if you've followed some of our older reviews you'll know this is not your average fabric—it's actually sort of a "magical" material.
We're not going to get into the science behind it, but the most important thing is that it keeps you warm when it's cold, and cool when it's hot—and it does this better than pretty much any material out there. One feature we really love is that merino wool seems to be immune to odors (it's antimicrobial). You can go for a while without washing these, which is great for traveling—or if you just hate doing laundry. Oh, and it's also really comfortable.
As for these boxer briefs, they are made of really thin merino wool. They feel like the softest boxer briefs you've ever worn, and we've also found that they don't bunch up a lot when you're wearing them. Bunching up is often a problem with wool undergarments—more so than their cotton counterparts—so we were pleasantly surprised by this.
They've got a nice "structure" when you wear them, if that makes sense. The Elastic waistband on the top is pretty solid and they kind of conform to your body, giving a great fit. They come in a bunch of different colors, too—you can really add some flair to your underwear drawer.
We're happy to report that they are definitely not scratchy. Again, most people assume wool = scratchy. With merino wool, that really isn't the case—especially because these are pretty thin. Did we mention how soft they are? They're really soft.
Now, all this comfort does apparently come at a price—literally, these things are $33 a pop. That wouldn't be so bad if they lasted forever, but unfortunately, that is not the case. They'll last for about 6-9 months of decently heavy wear, which is a little disappointing. We've traveled with four pairs of these and used them exclusively for about 1.5 years. They were all basically shredded after nine months—arguably still wearable, but your mom would have a fit if she knew. All in all, they've broken completely after about 75 wears. That's a cost-per-wear of about 44 cents, which is pretty darn high.
We weren't too thrilled to discover this because these briefs are one of the most comfortable pairs we've tested to date. The one silver lining is that Woolx's customer service is superb. After ordering a pair on Amazon, we found a hole after just four wears—clearly a defective pair. We shot them an email and they had a replacement sent out that day, free of charge. So that was nice, and judging by some of their Amazon reviews we are not the only ones to get this treatment. If you're not satisfied with one of their products, let them know and they will likely do just about anything to remedy the situation.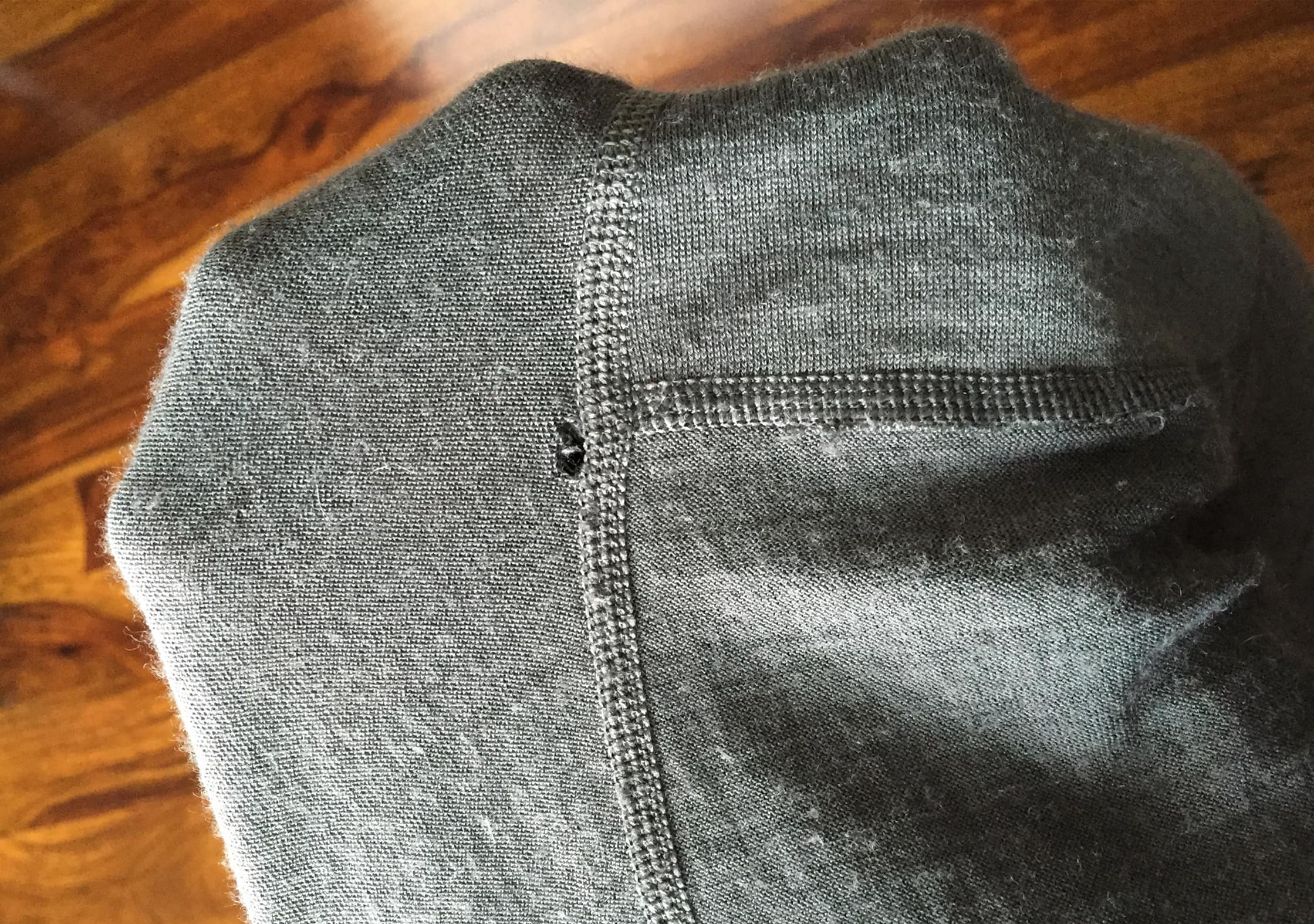 All in all, these are a great pair of briefs. If you've never tried a pair of merino wool boxer briefs before, we highly recommend it—and these would be a good place to start.
Oh, PSA: Do not wash these (or any wool products) with any form of heat! Don't dry them in a conventional dryer either. Wash with cold water (hand wash in the sink is probably your best bet) and air-dry. But with any merino wool product, you won't have to wash it nearly as much as your other clothes. You can wear these things for a week or more without washing—just don't tell anyone.
We understand when you're on the road, you may have no option but to improvise when it comes to soap—but we've found both Grangers and Kookaburra washes to work best for care. For other versions of soap, check out our Lush Shampoo bar review.
Usage Timeline
Initial Usage
Condition: Excellent
Soft, comfortable, fits well. Three out of four were perfect, one was faulty—got a quick replacement.
3 Months of Use
Condition: Excellent
Working like champs. Only been washed a few times… shh…
6 Months of Use
Condition: Fine
Starting to fray around the inner thigh area. One pair has started to split apart at the waistband where the wool material begins.
9 Months of Use
Condition: Dead
Shredded. Just f*cking shredded. Technically still wearable, but just… no.
Access the Pro Community Discussion
Get your questions about the Woolx The Dailys Boxer Briefs answered from our team and the Pro Community right here on the page. Plus, join discussions with other members about gear, guides, and more.
Other Clothing & Accessories Reviews