Peak Design Everyday Backpack Zip 15L (V2) Review
The Peak Design Everyday Backpack Zip 15L is sleek and quality—as we've come to expect from the brand—but the features aren't as cohesive as we'd like.
Our Verdict
Unlock the Pro Summary
Save time. Get access to brief summaries of our reviews so you can browse and make decisions more efficiently.
Pros
Made of quality, durable, bluesign® approved materials
UltraZip is smooth to use—even around curves
Highly customizable
Cons
Accessing the main compartment may take some time to get used to
Laptop sleeve can be difficult to use when the pack is full
Water bottle pockets can be difficult to use when the pack is full
Recent Pack Hacker Video
Technical Details
Capacity

15l

Weight (lb)

2.51 lb (1.1 kg)

Without dividers

Denier

400D

Dimensions

16.5 in x 10.2 in x 7.87 in (41.9 x 25.9 x 20 cm)

Notable Materials

Recycled Nylon, DWR Coating, Polyester, Polyethylene, Polyurethane, YKK Zippers, Aluminum, Leather, Zoom Zippers, Hypalon®

Manufacturing Country

Vietnam

Laptop Compartment Size

13"

Warranty Information
Full Review
Get up to 10% off Peak Design • Join Pack Hacker Pro
Although Peak Design advertises the Everyday Backpack Zip 15L as a simpler alternative to the Everyday Backpack (V2), there is still a lot going on. If you're the type of person who likes features on features on features then grab a beverage of your choice, settle in, and read on to uncover everything about the newest member of Peak Design's Everyday line.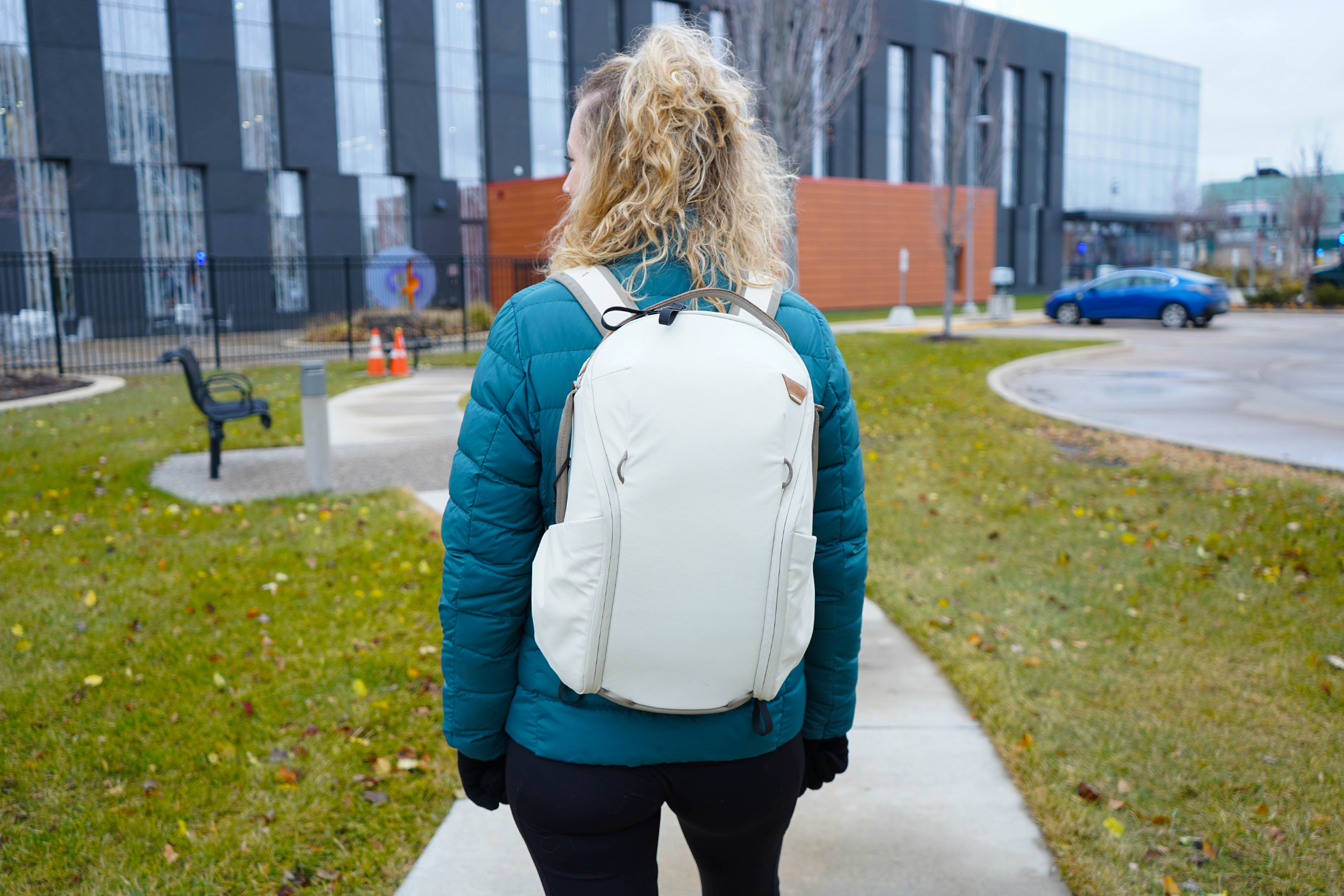 If you're the type of person who could have the phrase Simple is Superior tattooed on your body, you probably want to check out a different pack. But feel free to read on anyway—we've got a lot to cover.
So without further ado, let's jump on in.
Materials & Aesthetic
The Peak Design Everyday Backpack Zip comes in both a 20L and 15L version. We've been testing the 15L version, although (obviously) both packs have a lot of similar things going on. The 20L one is just 5L bigger.
Beauty is always in the eye of the beholder, but overall we have (mostly) nice things to say about the simple, urban aesthetic of the Everyday Backpack Zip.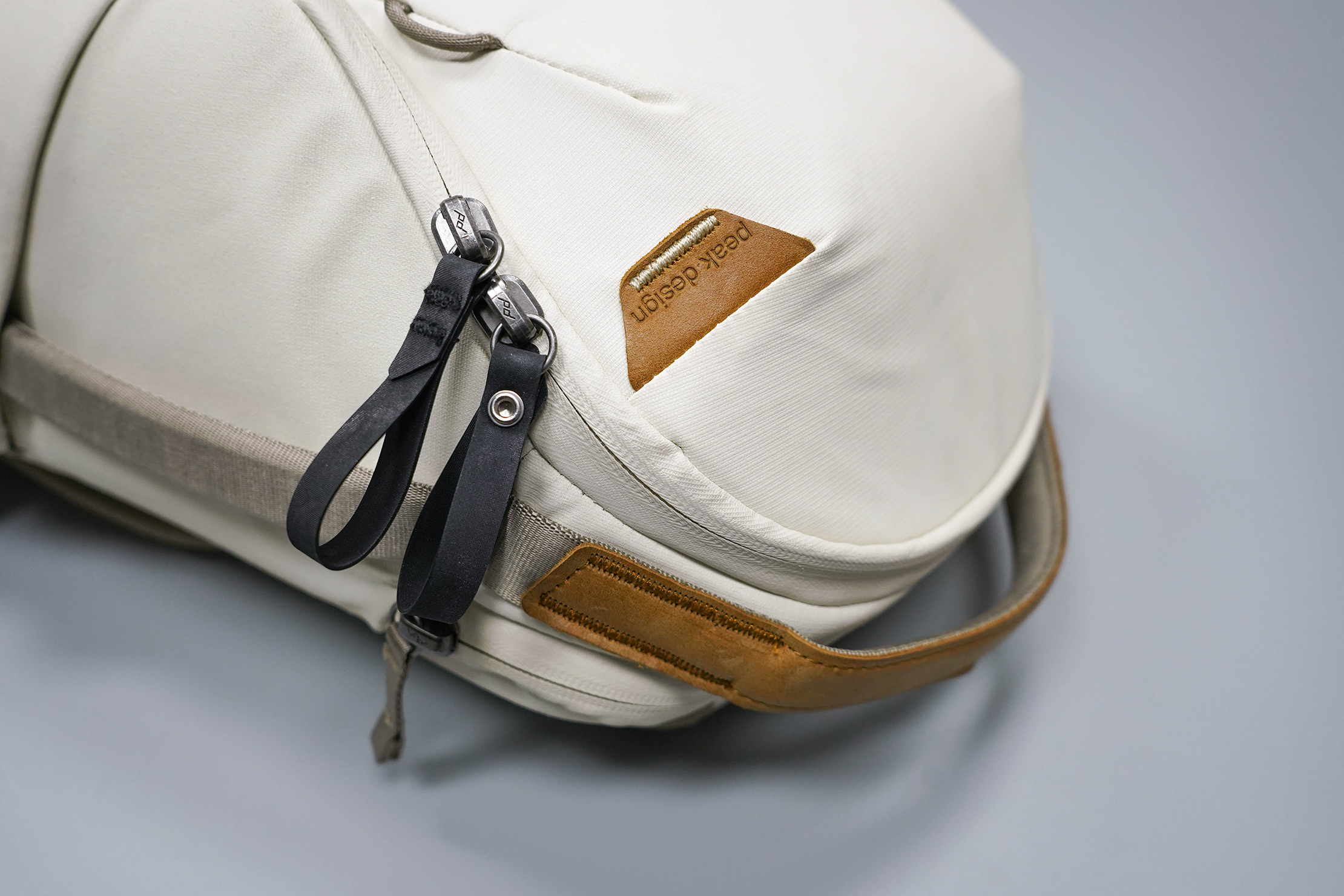 At the time of this review, the pack is available in four sleek colorways: Black, Ash, Midnight, and Bone. We've been testing arguably the most creepily named of the bunch, Bone. While we're digging the modern, almost sci-fi vibe of this colorway, we're not sure owning a white backpack is a very good idea. We'll talk about this later in the review, but we've already noticed a handful of marks and scuffs after only a few weeks of testing. Suffice to say, we're a little concerned about how it'll look after a few years.
One other small nitpick we have is that, on the Bone colorway, the black zipper pulls don't match the white fabric and subdued brown and gray accents. It looks a little…odd. That said, we've never had a problem finding the zippers, which we suppose could be considered a plus.
Alright, let's move on to the materials. The exterior of the pack is made from 100% recycled 400D nylon canvas, which is then DWR impregnated and double PU-coated.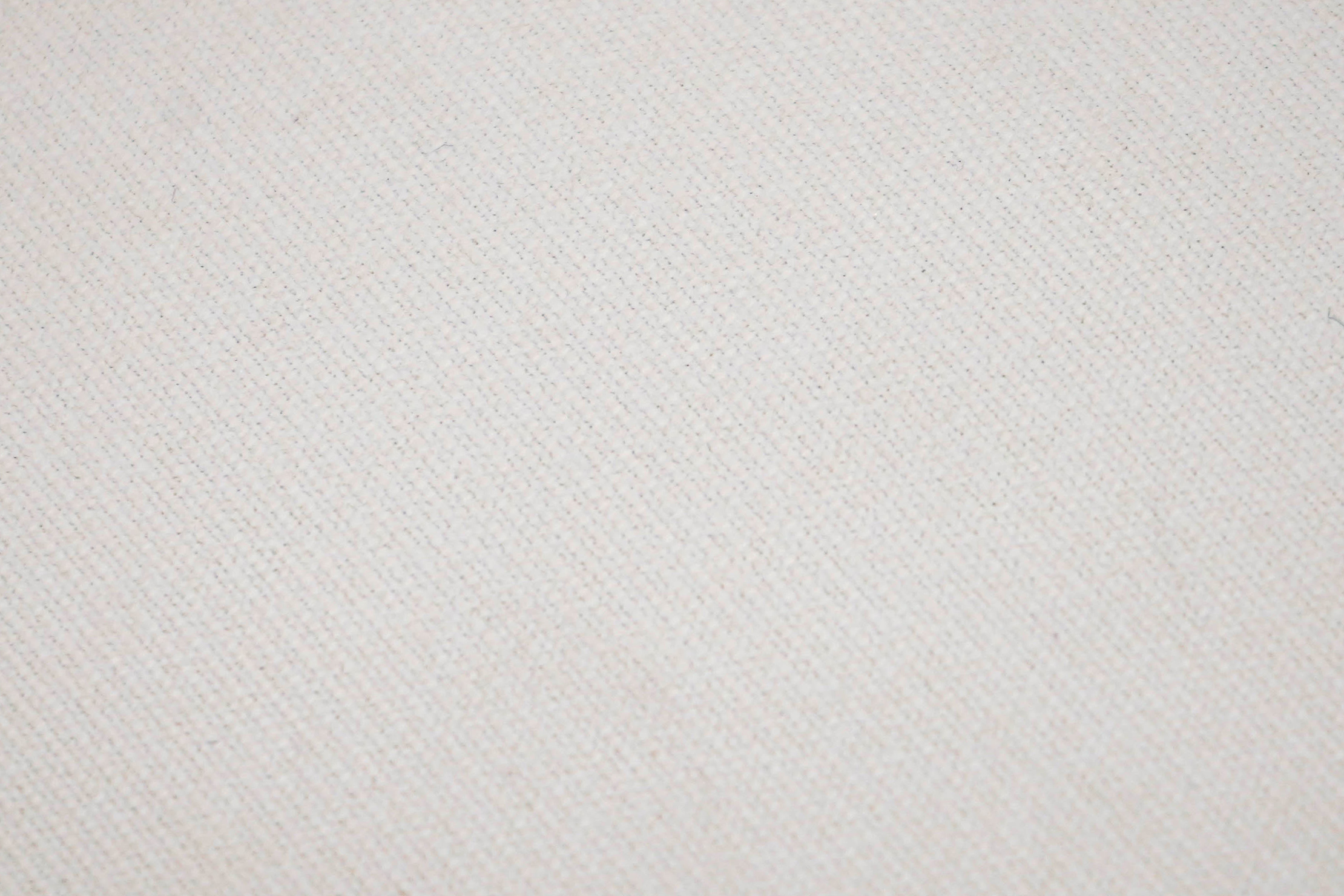 For those of you who zoned out for the duration of that sentence, all you need to know is that the pack is made of durable, quality, weather-resistant materials. The fabric is also bluesign® approved (except for the black colorway), which aligns with Peak Design's new environmental initiatives, and is something we always like to see.
Overall, the pack has a smooth, almost rubbery feel that's pleasant to touch. We should note that there are leather accents on this pack (except on the black colorway), making it not suitable for vegans or others avoiding animal products.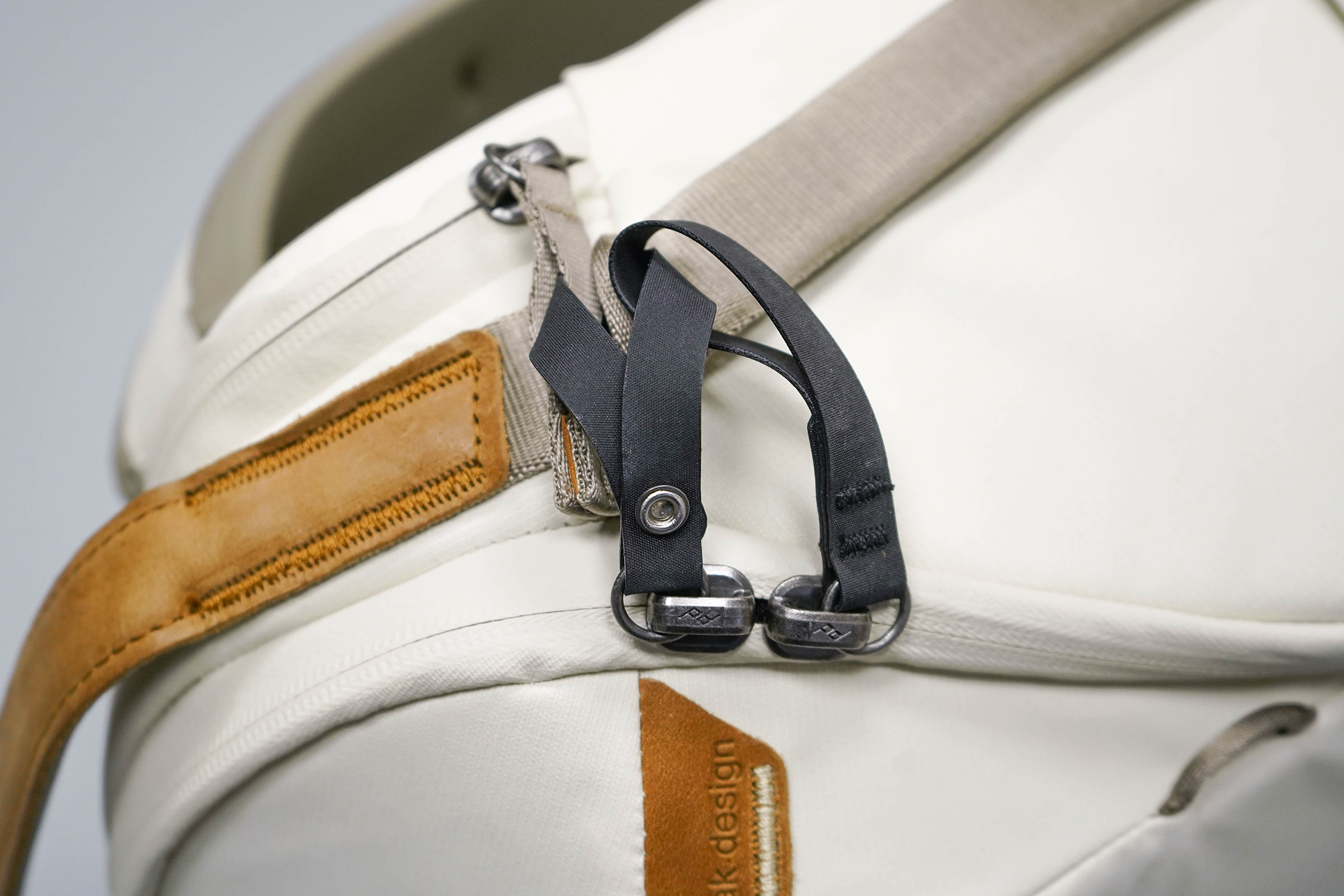 The folks at Peak Design have worked closely with Zoom Zippers to create the proprietary UltraZip. We've really been digging these zippers. They're super smooth to use, gliding along the curves of the pack—which is not something we can say about every pack. In fact, it's pretty rare, so our hats off to the people at Peak Design.
We've been putting the zippers to the test—stuffing this pack to capacity—and so far they've been holding up really well.
All of the hardware is made out of anodized aluminum and glass-reinforced nylon, which feels premium.
External Components
The exterior of the Peak Design Everyday Backpack Zip looks deceptively simple—there's actually quite a bit going on.
Let's start with the harness system. We're digging the shoulder straps, which are Peak Design's signature rotating straps. If you're not familiar, they're essentially just normal straps, but connected by a metal rivet at the top, allowing you to easily swing the pack around your body and access the compartments. It's a simple, yet innovative design that we find works really well in testing.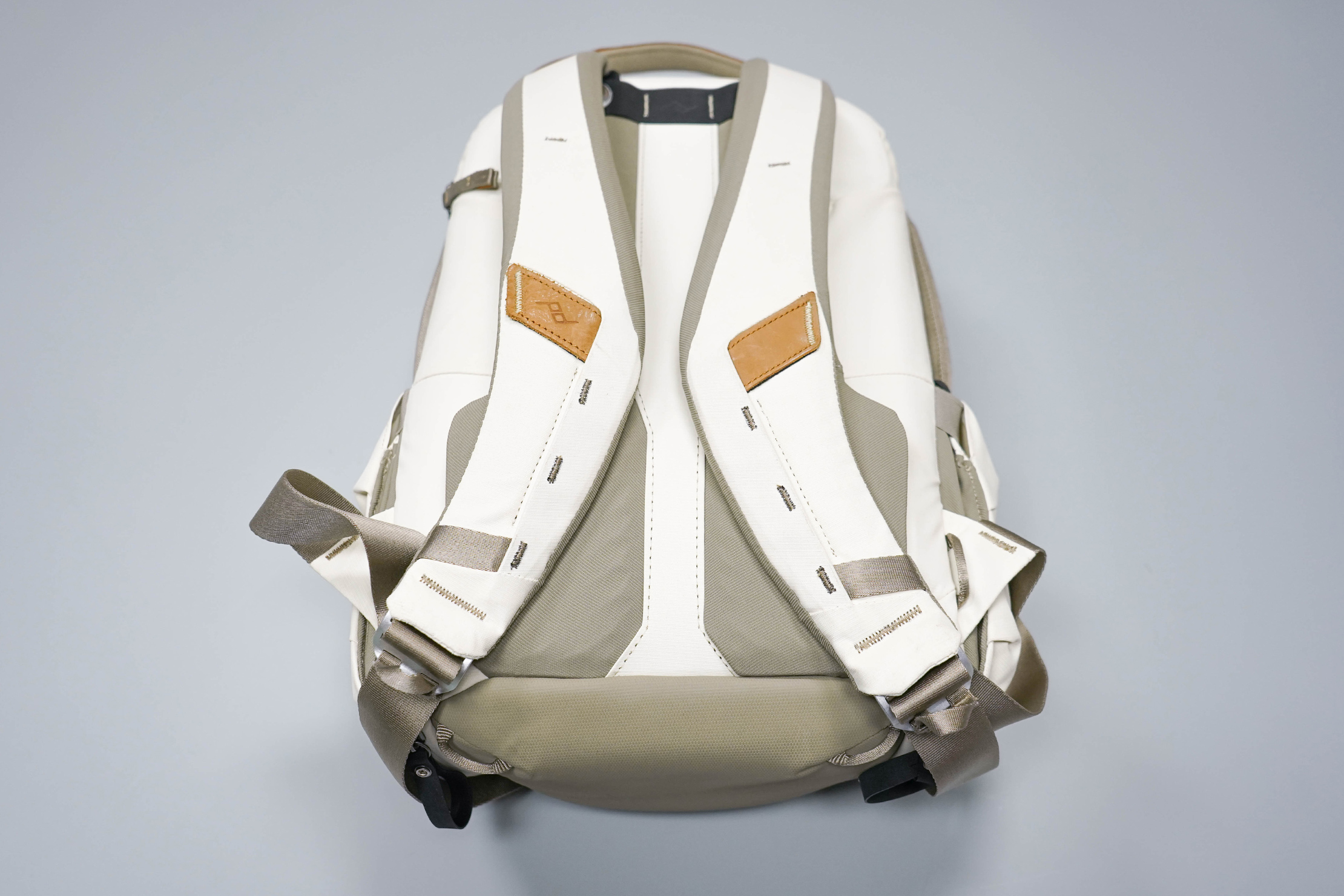 The straps are made of a spongey, dense foam that's comfortable even when the pack is fully weighed down. However, they take some time to break in. When we first started testing the Everyday Backpack Zip, the straps dug into the chest. Yeah, not good. But, we're happy to report, they've softened up within two weeks.
Now, we did notice that the straps feel short on the 15L version of this bag. If you have broader shoulders or a larger frame, you may want to check out the Everyday Backpack Zip 20L.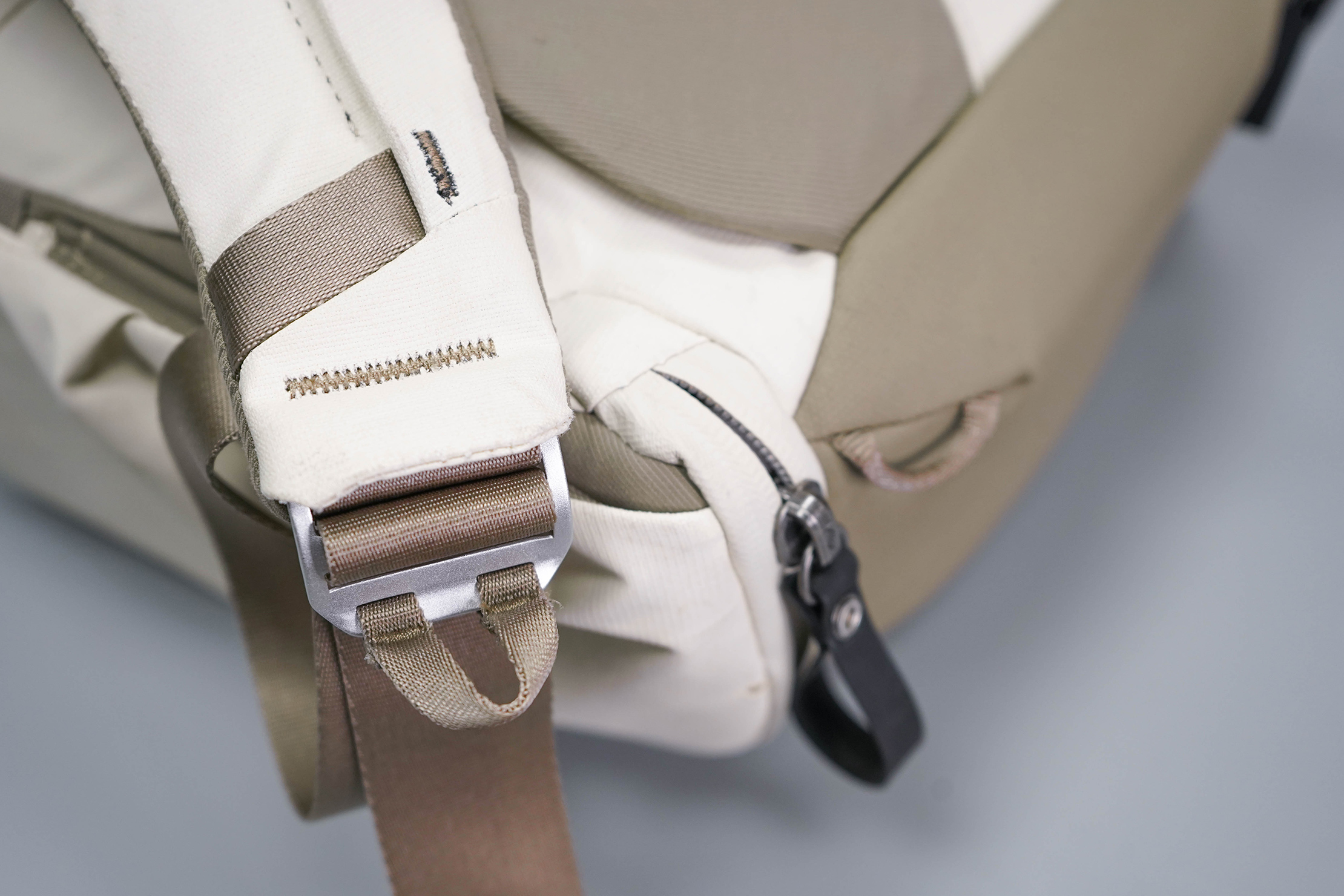 The removable sternum strap works well for a pack of this size, though it's not elasticated. You can feel its quality, especially in the metal hardware that easily hooks onto the pack. And it's a secure fit. So secure that it can be tough to remove the strap (until you get the hang of it) if you're looking to adjust its height.
We appreciate that there's a luggage pass-through to make air travel even easier. We would've loved an option to stow the shoulder straps here—you can sort of tuck them in, but the keyword there is sort of. (And, yes, we know that's actually two words, but the point stands.) The straps also don't have that magnetic feature that you'll see on other Peak Design bags.
In this luggage pass-through, there's also a velcro attachment point for a hip belt. While we don't think you'll need a hip belt on a bag this small, it's there if you want to use it and stays out of the way if you don't.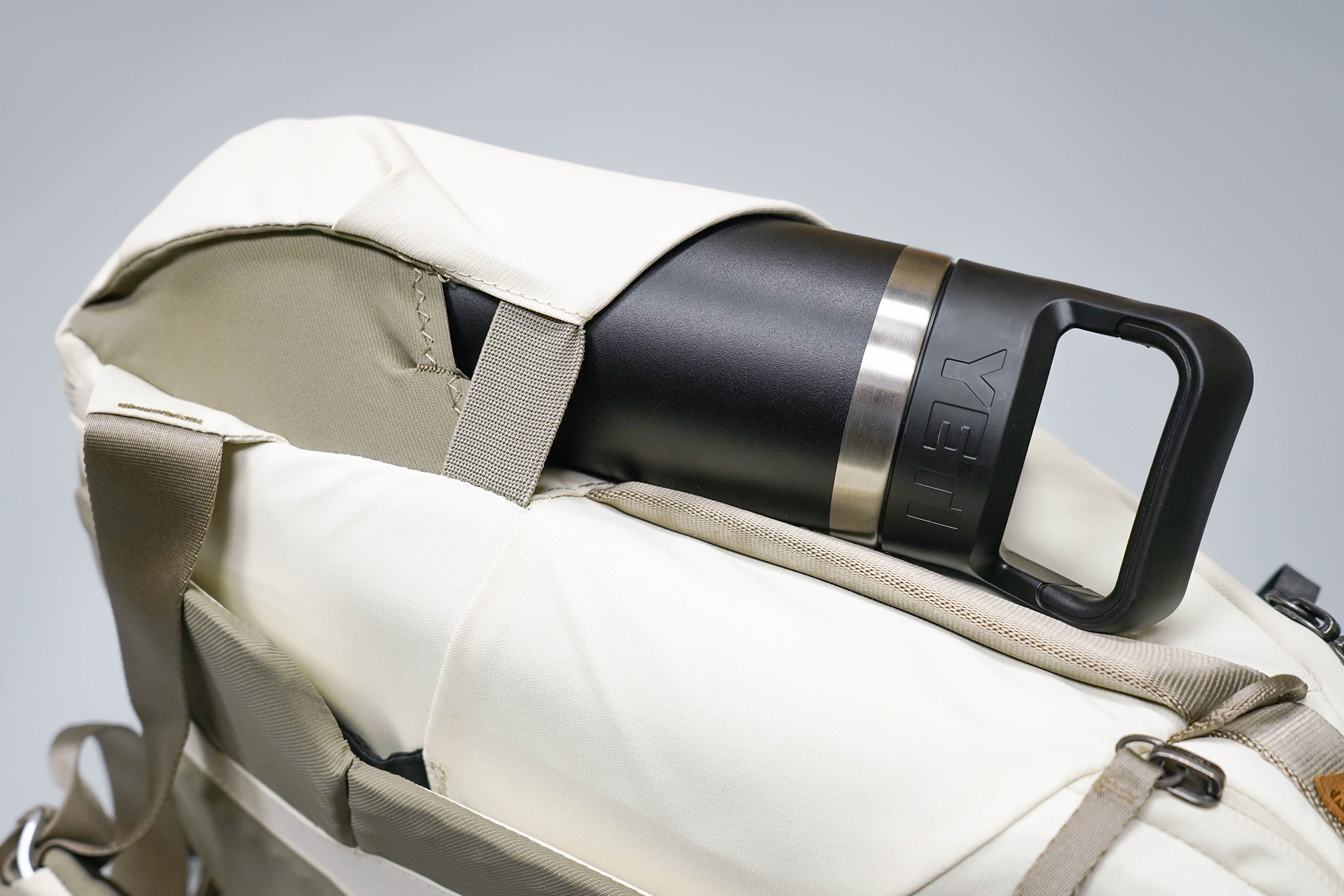 We like the two external water bottle pockets…as long as the bag isn't fully packed. As soon as the pack is full, it becomes difficult to squeeze a water bottle inside of them. (We've been testing it with the 18oz Yeti Rambler, for reference.) This is something to be aware of—either pack less stuff or drink from smaller water bottles.
The Everyday Backpack Zip also comes with a key tether, which we've attached to the exterior of the pack and tucked into one of the water bottle pockets. It comes in handy for accessing your keys quickly.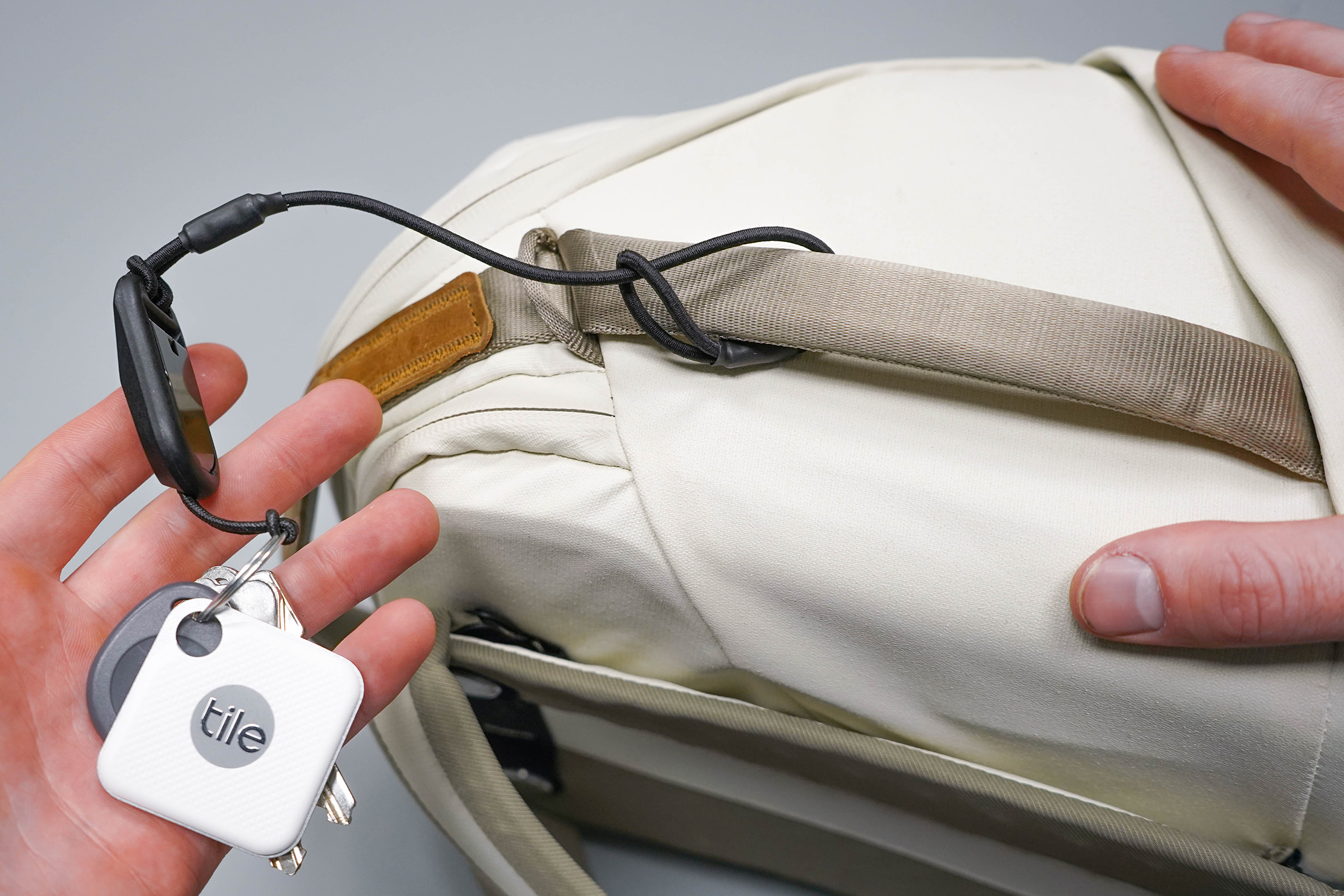 Up next, there are three grab handles on this pack, which we love. You can feel the quality here, particularly on the top handle, which is thick and hardy. You can use the handle to carry the pack, or hang it up and keep it from touching grody floors (something particularly handy with a white pack). The other two are also padded, but better suited for handling this pack when throwing it into an overhead bin on a flight or just moving it around in your daily life.
Finally, there are a number of different attachment points where you can connect the two cord hooks that come with the pack. You can attach these cords in any number of ways—the possibilities are endless. Well, nearly endless. You can use these cords to externally carry a jacket, tripod, or other things of that sort.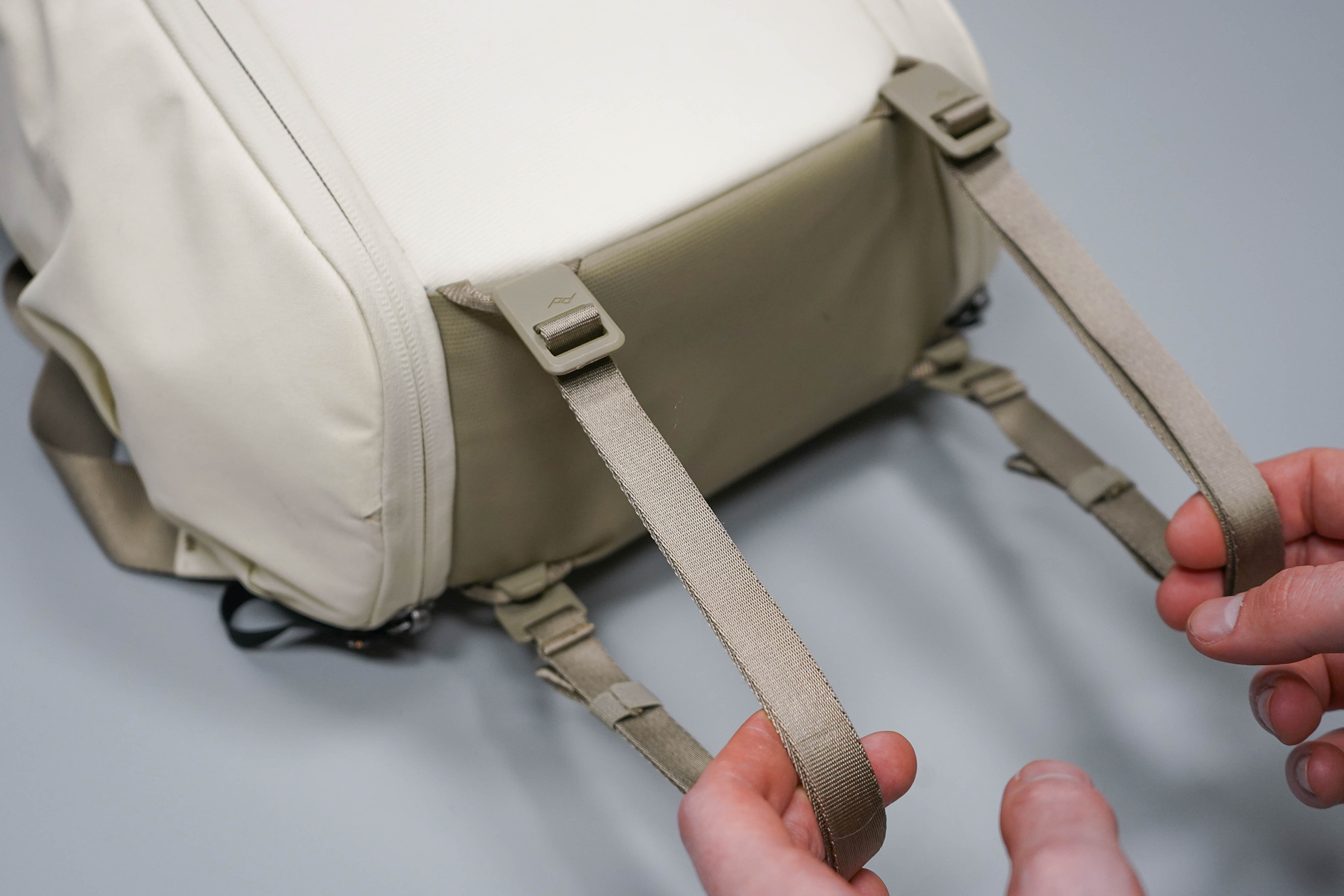 Inside the Pack
When you fully unzip the pack, it looks like a baby changing mat. We're not saying this is a bad thing—it's just an observation. Anyway. We like that you can fully open the main compartment. Like, totally fillet this thing open. You likely won't need to use this feature much, especially since a 15L pack only holds so much stuff, but it's helpful when it comes to setting up the shelves.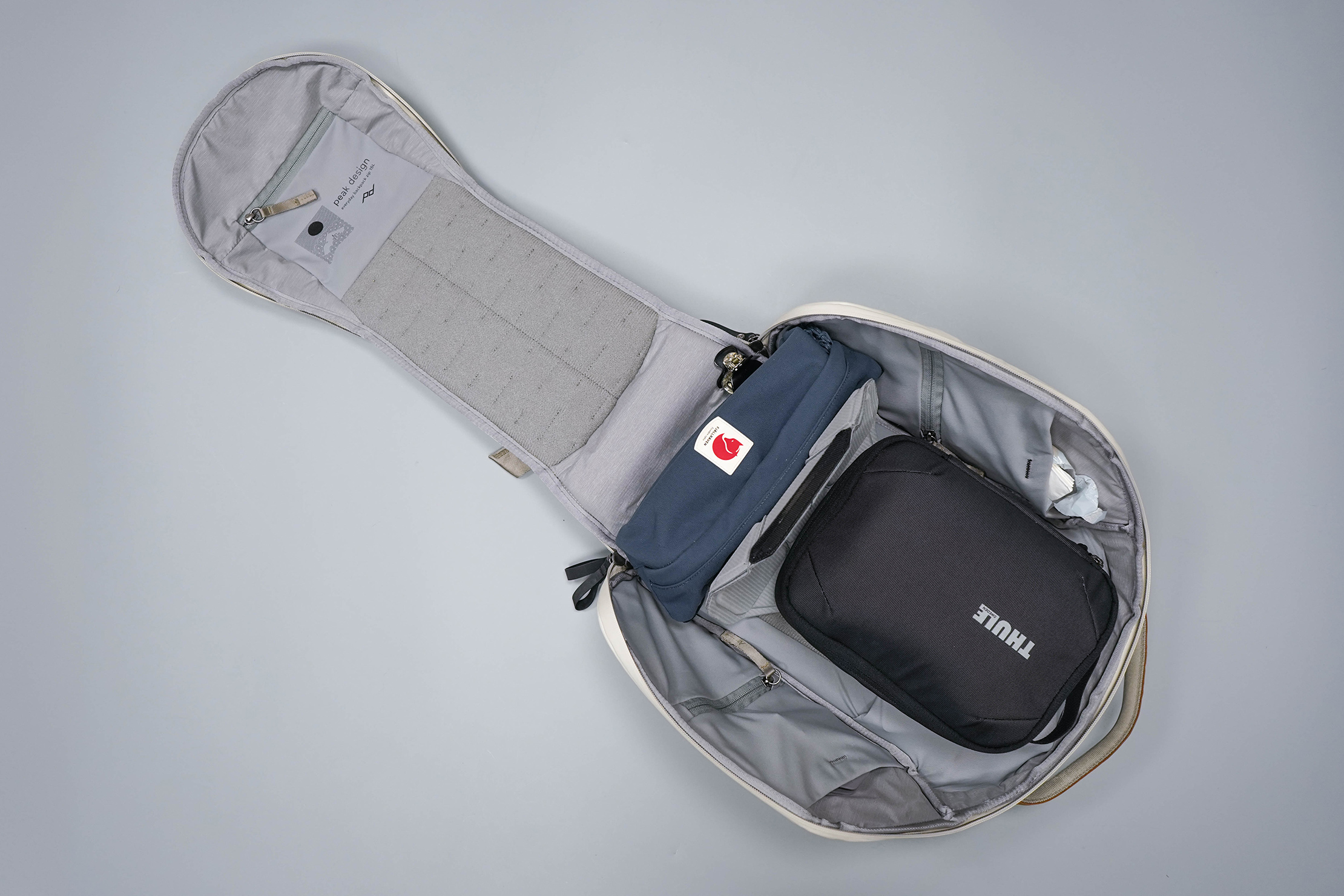 Speaking of shelves. If you're familiar with Peak Design, you probably know exactly what we're talking about. If not, we'll catch you up. Essentially, there are two big ole sheets of velcro on the interior of the main compartment as well as two FlexFold dividers. You can place the dividers on the velcro any which way to build shelves or cubbies for camera equipment or whatever else. You can also take the dividers out of the pack completely if you don't want and/or need them.
We've loved these shelves as it allows us to pack snacks without worrying about said snacks getting crushed. (If you've ever eaten a sad, smushed-up granola bar that oozes chocolate all over your hands on a flight, you know how big of a deal that is.) Plus, it allows you to separate out your stuff for primo organization.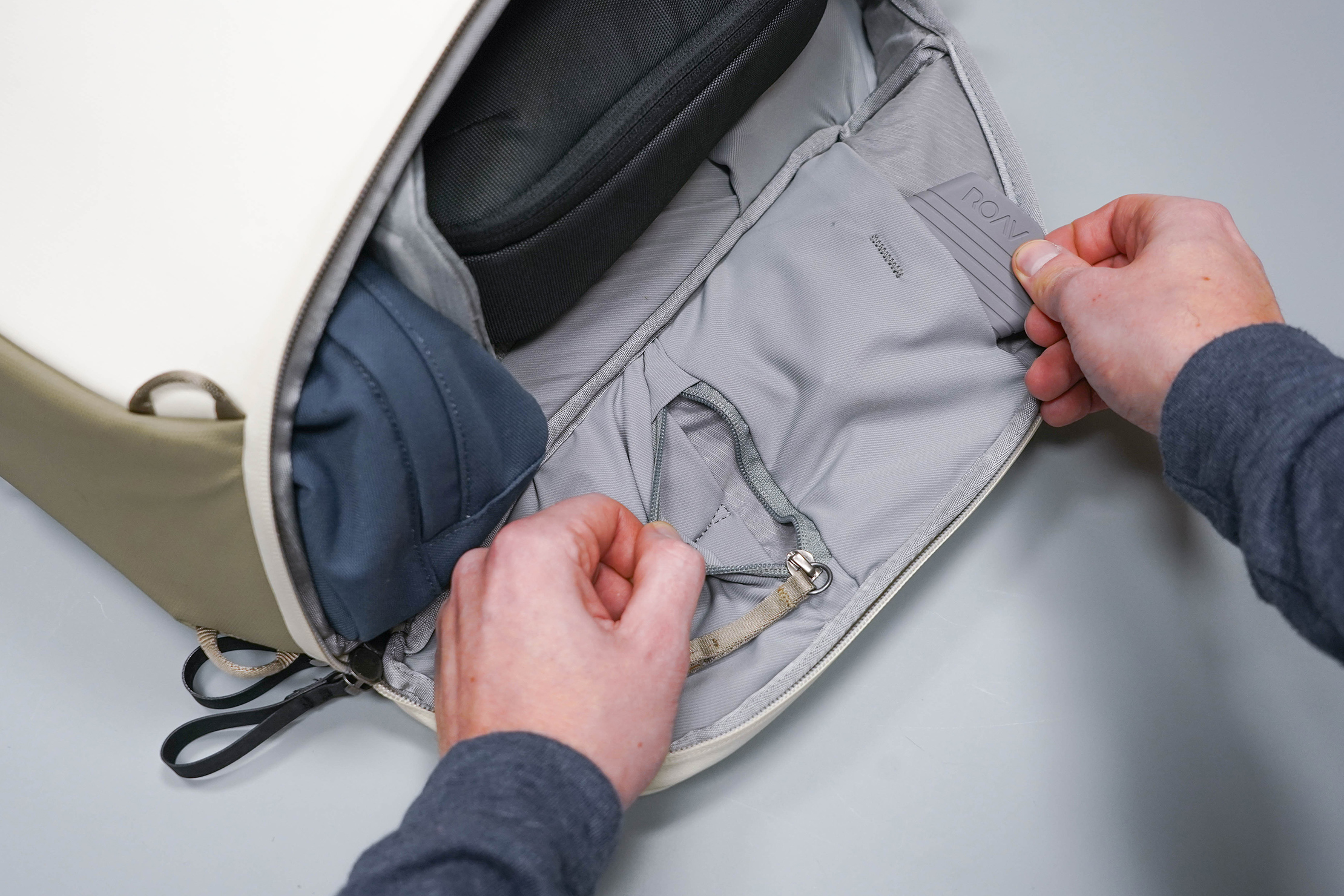 Additionally, there are five interior pockets—two on each side flap and one on the front panel. The pocket layout on each side panel is the same. On the top, you'll find the stretchy pockets, which are super easy to access from the top of the pack. We've tossed our ROAV sunglasses, as well as lip balm, a hair clip, and all the stuff we want to be able to grab at a moment's notice in these pockets. These pockets close with a magnet, which is pretty nifty, although not 100% secure.
The bottom pockets are both zippered and are less easy to access. As they have further organization inside of them, they're a great spot for SD cards or things of that nature. That said, the openings are quite small, so it can be tricky to grab any items that fall to the bottom of the pocket, especially if you have larger hands. So be careful. This is probably not the best spot for your collection of tiny figurines.
All four pockets stay out of your way when you don't need them, which is exactly what we like to see with interior organization.
The fifth interior pocket is a quick-grab one on the top of the pack's front panel that's made of stretchy material. It's roomy and easy to get in and out of, so a better spot for the aforementioned tiny figurine collection. Or, you know, your wallet.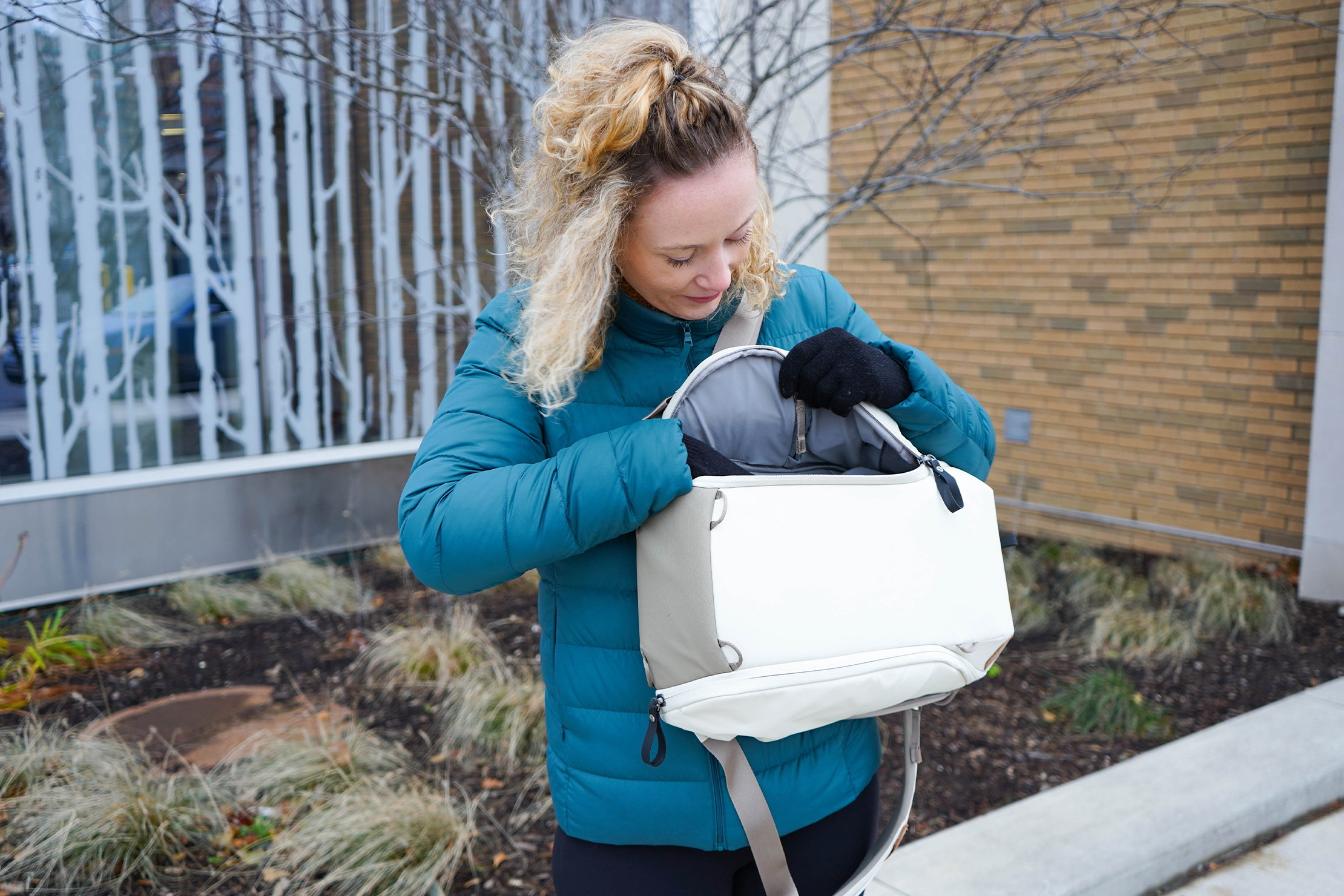 Okay, let's talk about the way you access the main compartment. To be blunt, it takes some time to get used to. Basically, you'll have three main access points: one on each side and one on the top. You can also fully unzip it. Now, these access points are created by strategically zipping or unzipping the four (yeah, four) zippers that all rest on a single, 270-degree track.
Say you want to access the left side of the pack, you'll position the farthest right most zipper all the way to the right, while having the other three zippers at the top. If you want to close the left side, simply slide the left zipper all the way to the left. If you want to open the top, unzip the two middle zippers partially toward the left and the right. (May we suggest watching our Quick Hit video if you need a visual.)
You can also partially zip or unzip the zippers for more or less access.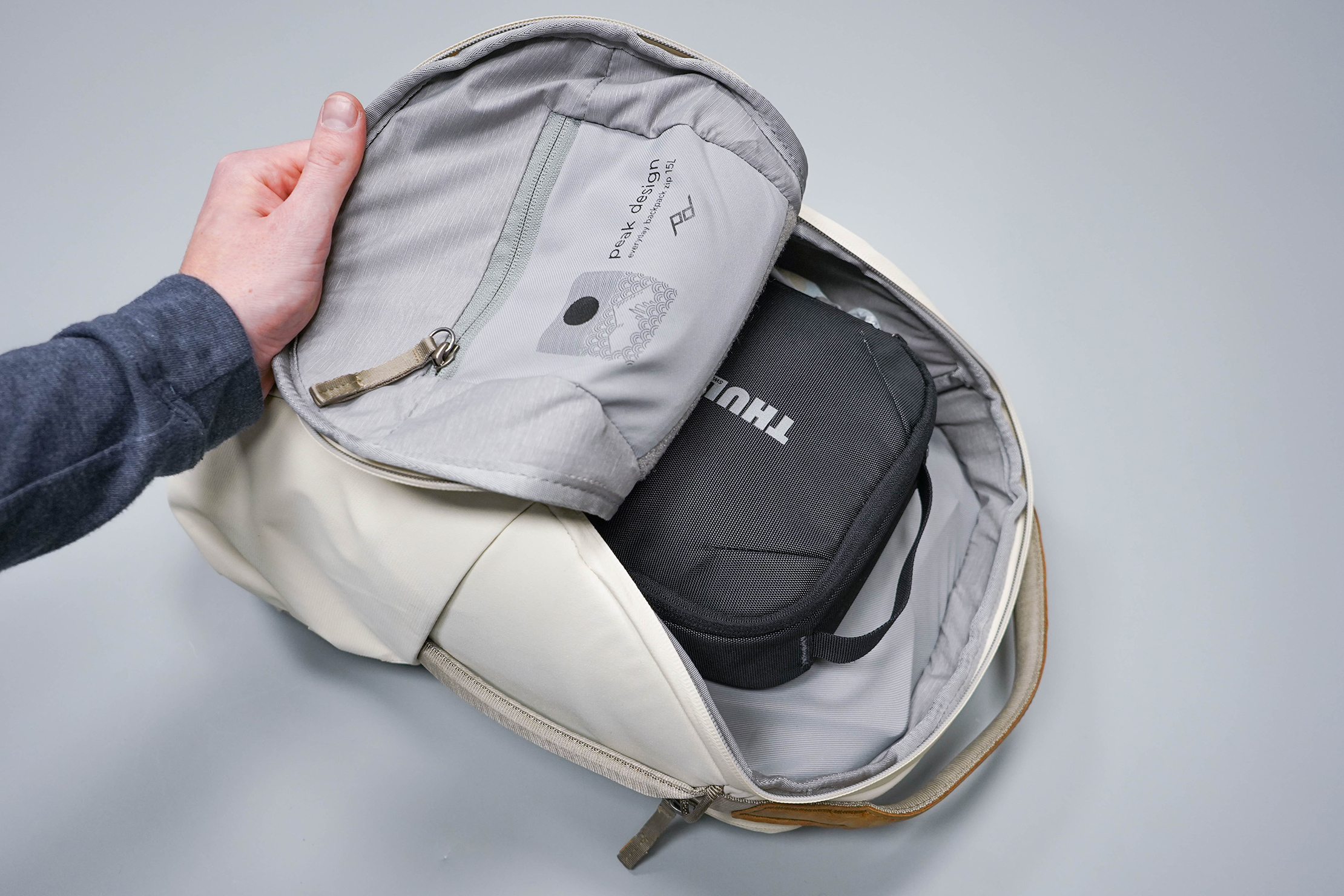 While, yes, it can be a little intimidating at first, it allows you to come up with a custom system that will work best for you and your use-case. There is no one size fits all. Plus, the zipper system makes it super easy to access your stuff when you sling the pack forward off of your back.
We should note that it's easy to leave small gaps along the zipper track, so you need to ensure everything is fully zipped if you don't want to risk your smaller items falling out.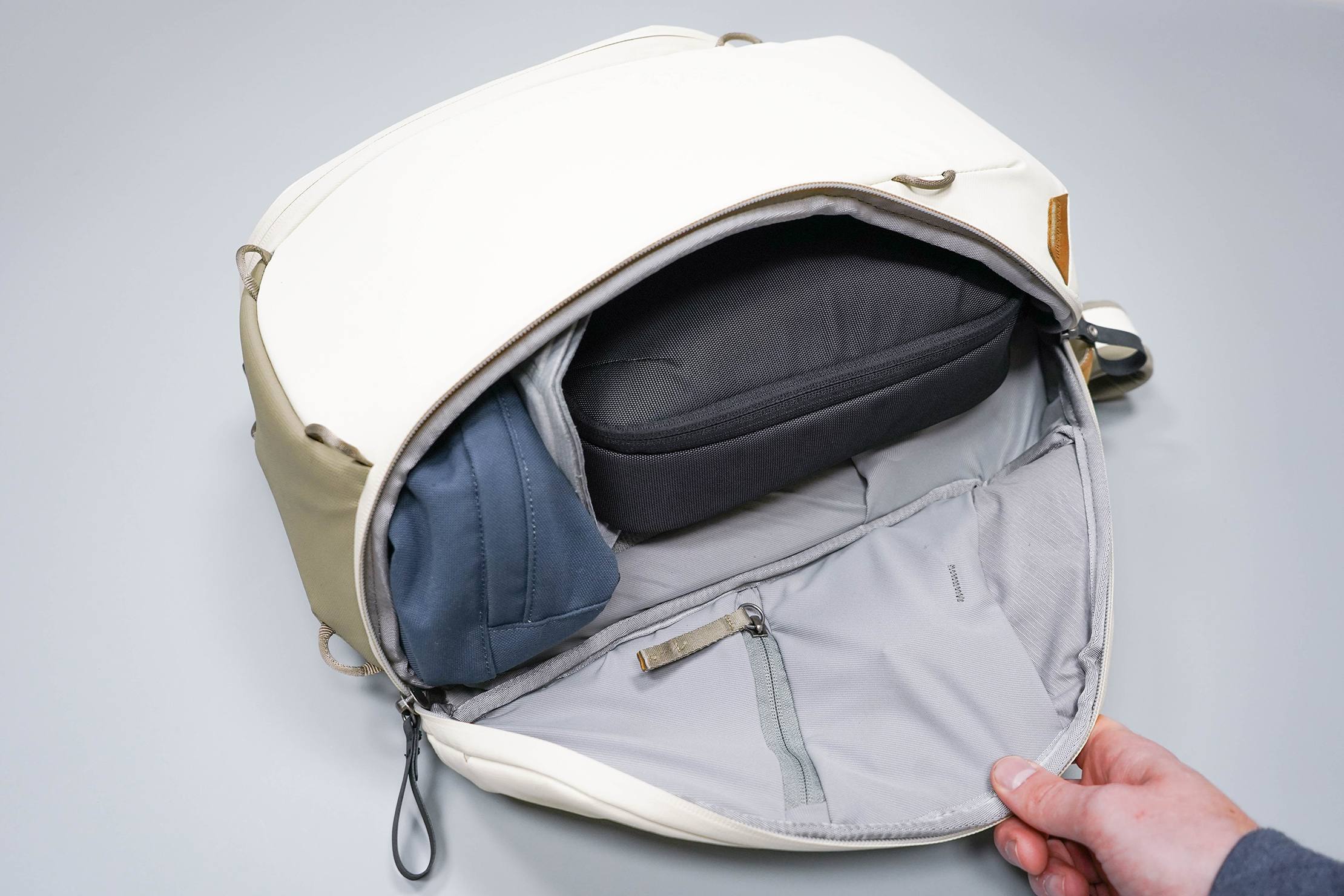 Now, while we like the innovation here, we're not sure that this style of access is really necessary for a 15L pack. You can't carry that much stuff, so we hardly ever used the side access. Plus, the custom organization and various access points mean that you can't throw your stuff in your bag and go. You have to carefully pack it and come up with your own system.
If you're planning to use this pack as a camera bag, you may feel differently—actually, you'll probably really dig it. So we suggest considering your use-case to decide if this is too much or just right.
Whew, that was a lot. For those of you who need a small break, maybe refill that beverage, stretch your legs, now would be a good time. Ready? Okay, back to the review.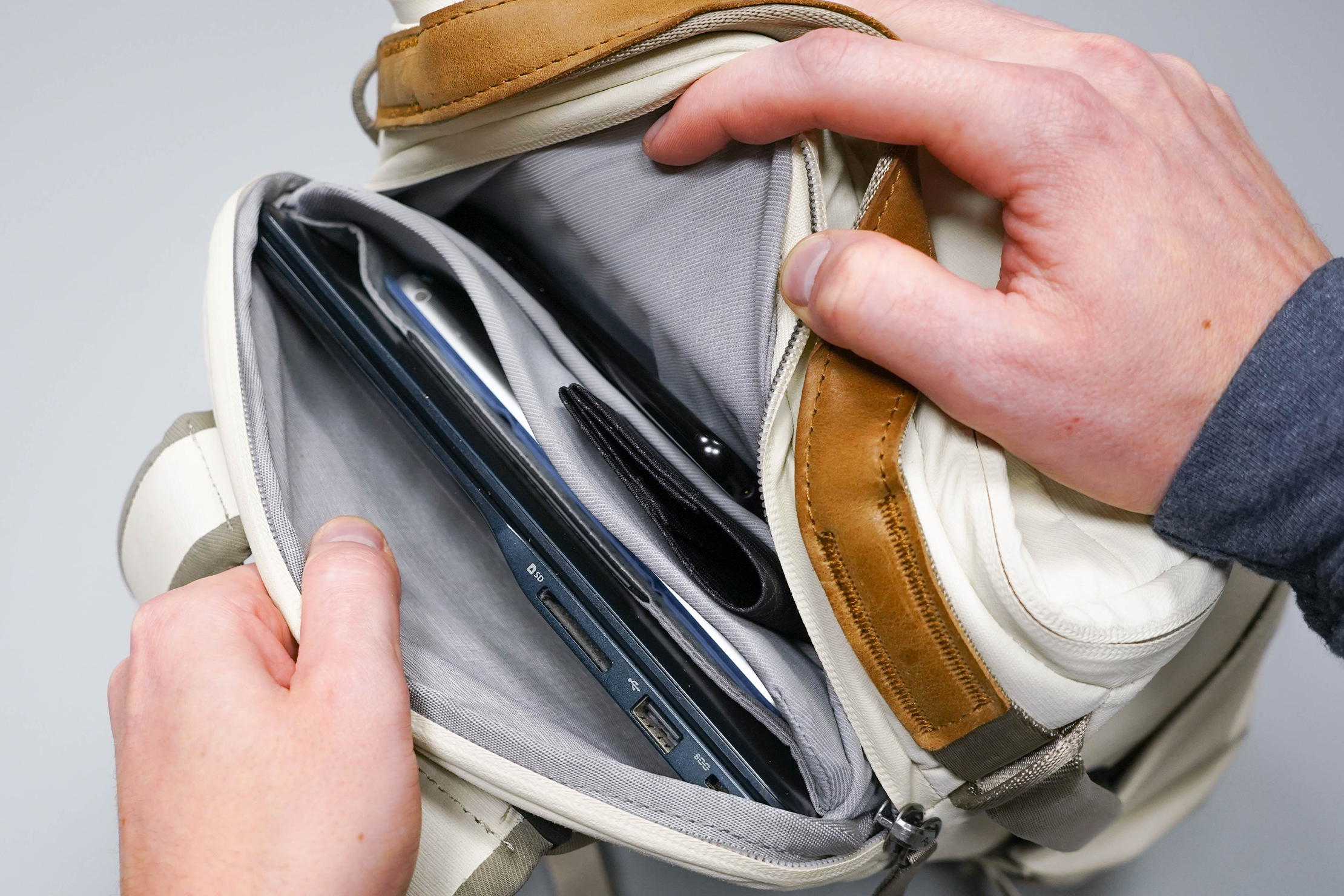 There is a second compartment on the Peak Design Everyday Backpack Zip 15L—the laptop compartment, which holds up to a 13'' laptop. If you have a 15″ laptop, the 20L version has got you covered. Like with the water bottle pockets, it's difficult to fit a laptop inside the sleeve when the main compartment is fully packed and it's a slow process to slide it in and out—not great for airport security or, to be frank, daily life.
And, while there's also a spot for a tablet, it's very difficult to fit both a computer and a tablet inside when the main compartment is full, even without cases on them. It's definitely frustrating.
There's also a great quick-access pocket in this laptop compartment. It's made of stretchy material that's basically folded over and attached to the laptop sleeve divider—so it expands when you pull the divider toward you. There are two small liner pockets and space for larger tech accessories like a laptop charger. But again, it's tricky to actually use. You can't get to it when the pack is stuffed full. We like the concept of this pocket—it's well designed—we just wish it was better to use in practice.
Durability & Testing
We've been testing the Peak Design Everyday Backpack Zip 15L (V2) for about three weeks around Detroit, Michigan. And, after using it nearly daily, we've decided that there's just too much going on for a bag of this size. For a pack from Peak Design, we expected all the features would be more streamlined or cohesive. Which is a compliment as we expect a lot from the folks over there.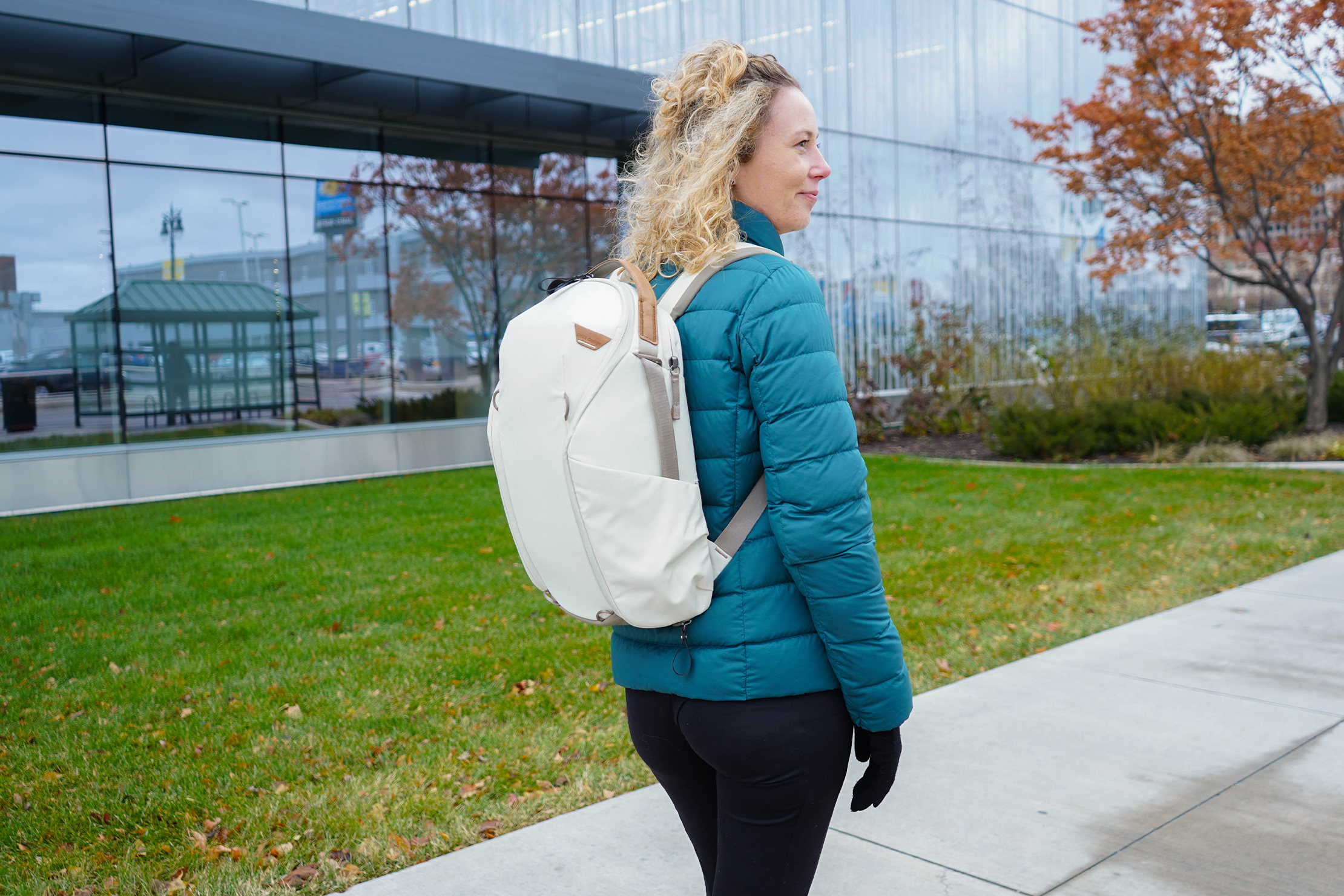 We found the fact that both the laptop compartment and the water bottle holders become difficult to use when the main compartment is fully packed out—which is most of the time as it's a small pack—to be extremely frustrating. Especially as we almost never travel without a laptop these days. And the organization and multiple access points is just…a lot.
If you're looking for a 15L pack that's highly customizable or a smaller bag to keep your camera kit and tech accessories in a tight package, then these downsides may be worth it for you. Otherwise, you may consider going for the 20L pack or the Everyday Backpack (V2).
We mentioned earlier that white—Bone—is a risky choice for a backpack. Unless you enjoy spending your days cleaning fabric and only travel to clean places, we don't suggest it. We've already noticed numerous marks all over the pack, especially in highly used areas (like beneath the straps, by the water bottle pockets, next to the zipper, etc.). You can wipe off some of the smaller marks, but the bigger ones are there to stay. We only expect that it'll continue to get worse.
That said, the quality of the pack is still impeccable. You can tell it's made of quality, durable materials that should last a long time. The only durability issues we've seen are superficial.
Usage Timeline
Initial Usage
Condition: Excellent
We like the smaller 15L option for a more compact package
Organization is very streamlined and descrete
Same great camera bag style interior as the Peak Design Everyday Backpack
2 Weeks of Use
Condition: Excellent

We've already started to notice a few small marks. Nothing bad yet—a few we've been able to wipe off—but it's concerning as we only started testing a few weeks ago.
Access the Pro Community Discussion
Get your questions about the Peak Design Everyday Backpack Zip 15L (V2) answered from our team and the Pro Community right here on the page. Plus, join discussions with other members about gear, guides, and more.
Other Bags & Luggage Reviews