Fjallraven Kanken Card Wallet Review
The Fjallraven Kanken Card Wallet is a minimalist wallet that holds more than it looks like it would—we just wish it didn't collect dust so easily.
Our Verdict
Unlock the Pro Summary
Save time. Get access to brief summaries of our reviews so you can browse and make decisions more efficiently.
Pros
Small form factor
Great interior organization, including a zippered pocket for coins
Clamshell-style opening
Cons
Picks up dirt and fluff easily
Loose threads on the logo tag
Interior card pockets aren't staggered, so the front one completely covers the back one
Recent Pack Hacker Video
Technical Details
Weight (oz)

1.9 oz (53.9 g)

Dimensions

2.95 in x 4.33 in x .787 in (7.5 x 11 x 2 cm)

Notable Materials

G-1000, Polyester, Cotton, YKK Zippers

Manufacturing Country

Vietnam

Warranty Information
Full Review
If you're looking for a simple wallet that's not too minimalistic then the Fjallraven Kanken Card Wallet should be on your radar.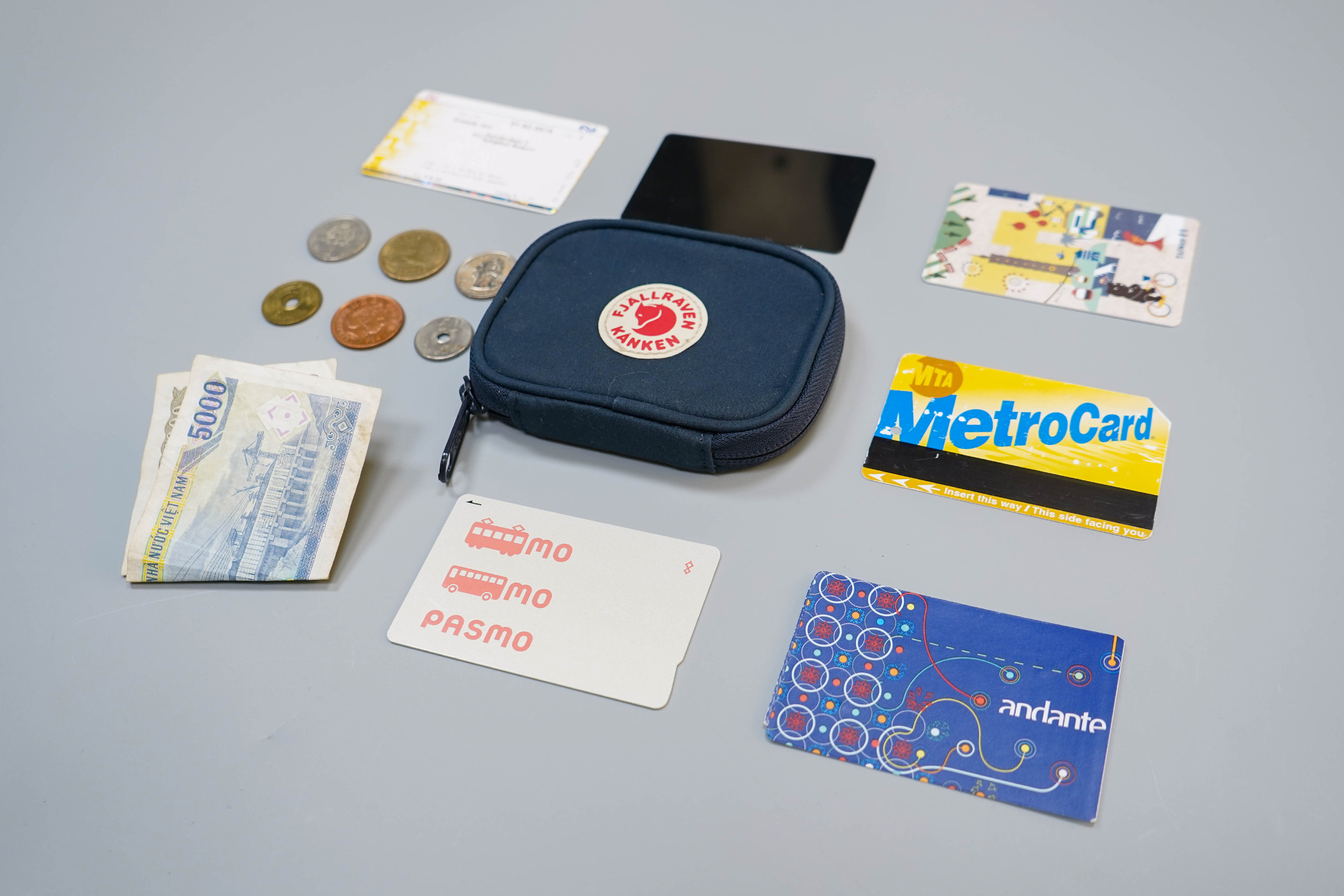 It's small enough to fit in most pants pockets—minus skinny jeans, of course—and the quick-grab pockets of most sling bags and backpacks. Plus, it holds folded cash, coins, and numerous cards.
So let's take a closer look.
Materials & Aesthetic
There's something about the aesthetic of the Kanken Card Wallet that's just so dang cute. Perhaps it's because all tiny things are universally adorable or because of the charming Fjallraven Arctic Fox that's the star of the show.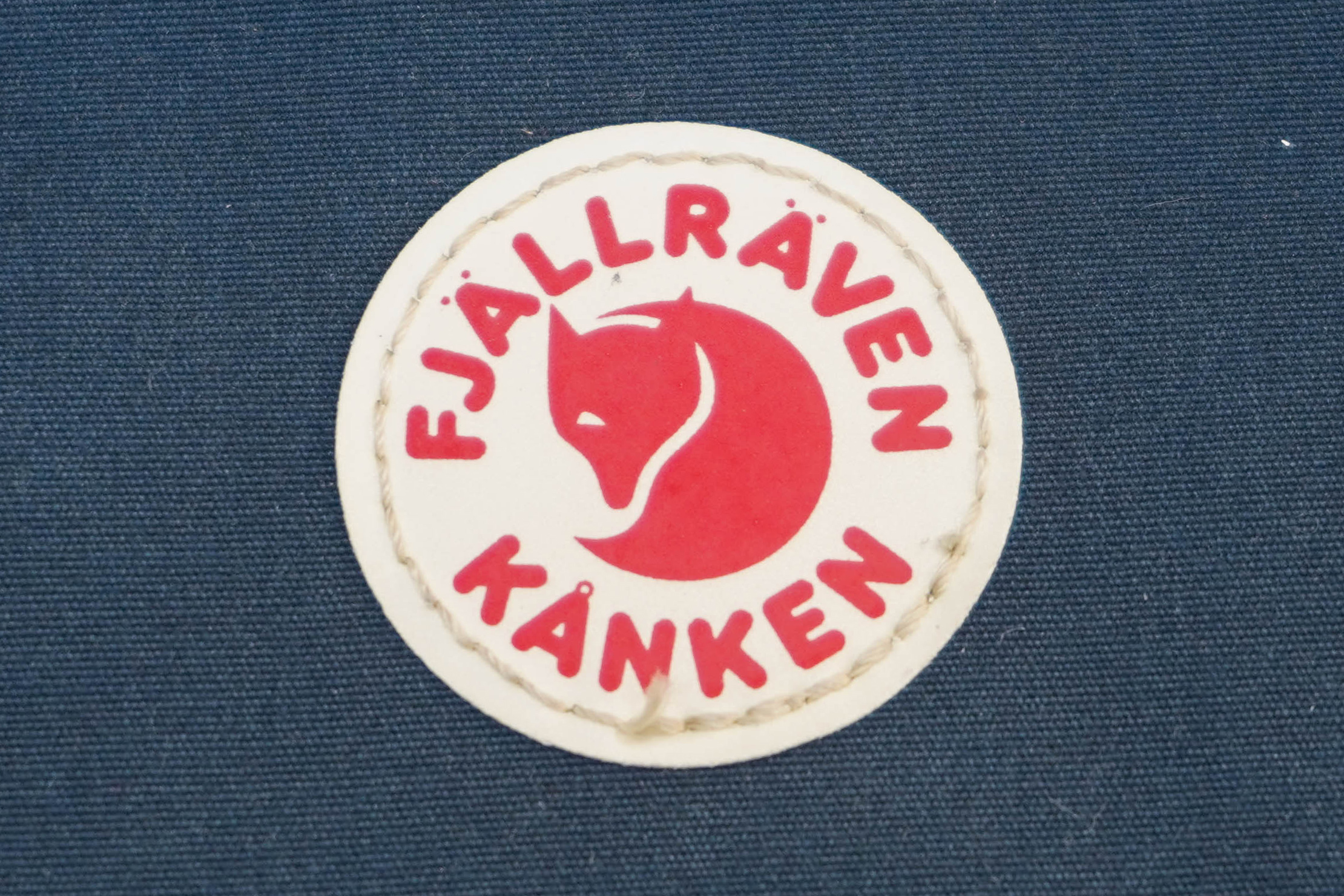 Seriously, the logo dominates the design. We like it because, as aforementioned, we're fans of the arctic fox, but big logos may not be everyone's cup of tea. You'll also find Fjallraven branding on the zippers and the Swedish flag on the back. There's no chance you'll forget where you bought this wallet—for better or worse.
At the time of this review, you can pick it up in nine colorways, including some fun colors that aren't as earthy as Fjallraven's usual offerings (pink and yellow, to be specific).
Now, we want to clarify that while this wallet is small, it's still bulky. There's a stiff rim lining around the edges of it, which makes the wallet thicker than you might expect. To put that in perspective, it's bigger than an Altoids tin, but not as big as two put together. While the thick rim means this wallet isn't as slim as it could be, it does help it keep its shape.
The Kanken Card Wallet is made from the same G-1000 Heavy Duty Eco S Fjallraven uses on its larger bags, which is a blend of recycled polyester and organic cotton (hence the "Eco"). If you're interested in nerding-out about this fabric, check out our review of the Fjallraven Travel Pack where we discuss this stuff at length.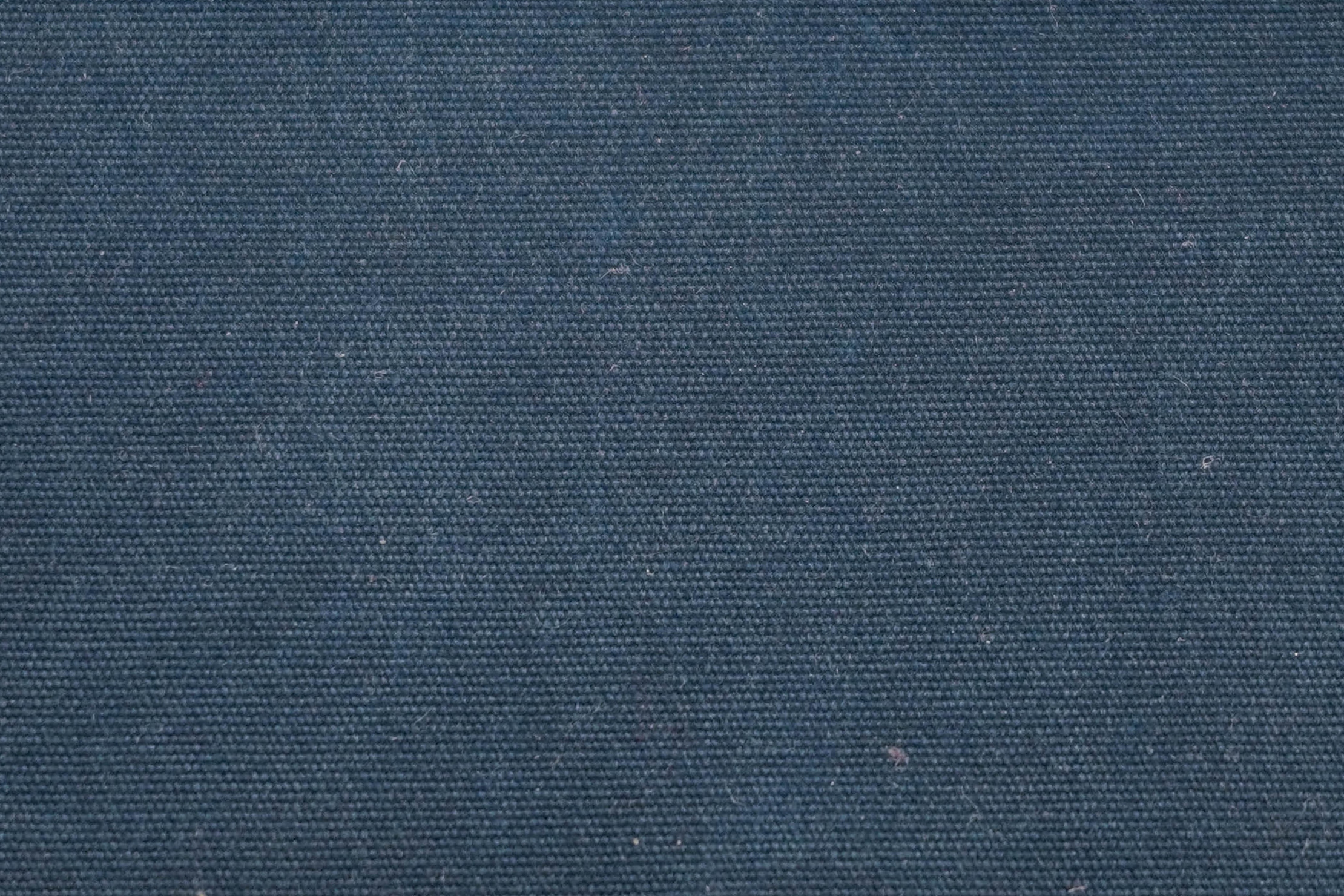 If you're not as obsessed with fabrics as we are, then all you need to know is that the Fjallraven G-1000 Heavy Duty Eco fabric is durable and weather-resistant. The wallet has already been treated with the Fjallraven Greenland Wax, but you can rub more into the canvas to increase its longevity and weather-resistance. Now, whether or not your wallet needs that much weather-proofing depends on your travel style.
The zippers are from YKK, which means you're not likely to experience any problems. We've found the exterior zipper to be exceptionally smooth, even around corners.
Inside the Wallet
The Kanken Card Wallet opens all the way around in a clamshell-style design, so you have easy access to every pocket inside the main compartment. You can also partially unzip the wallet to quickly grab your cards or cash.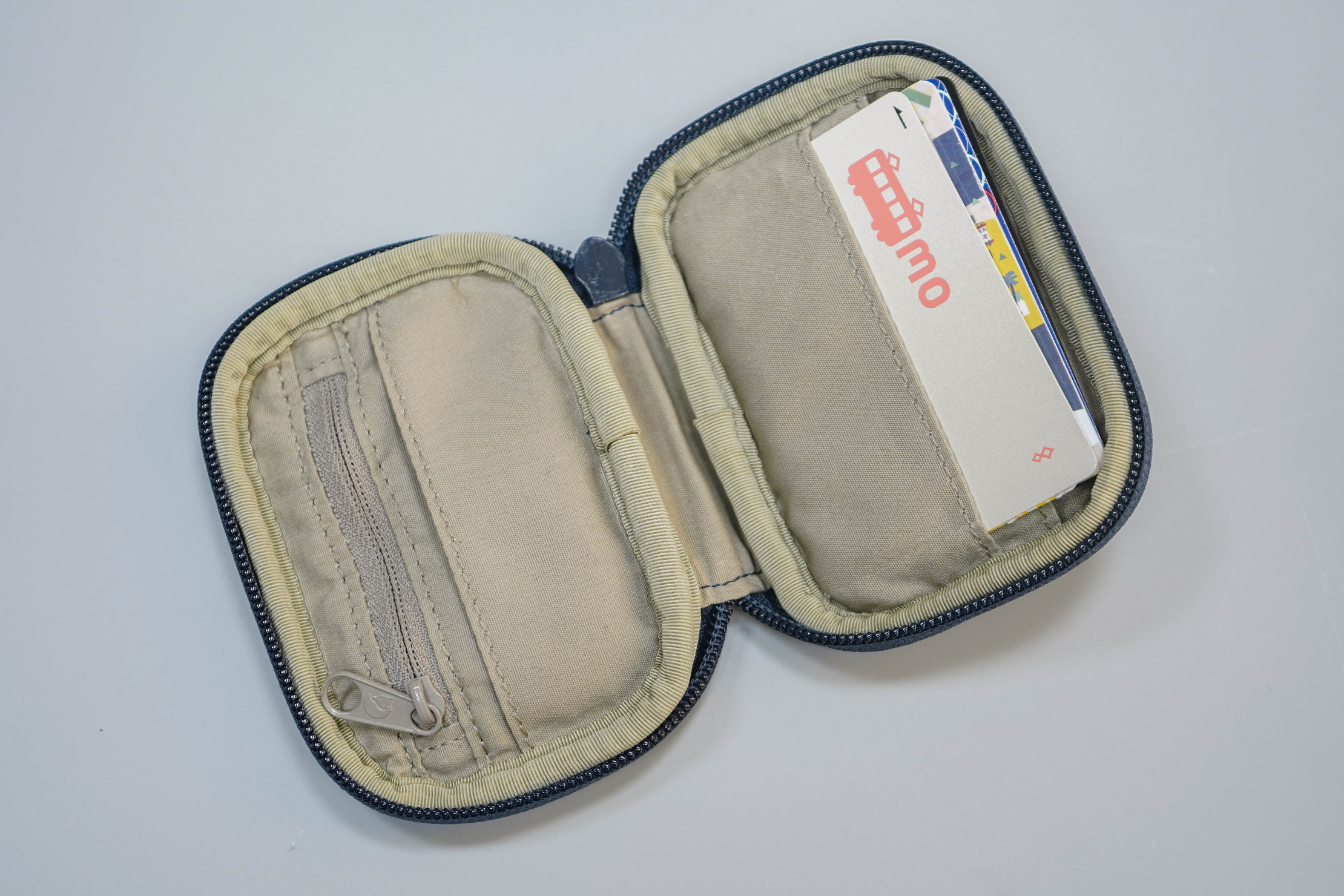 Once you get inside, you'll see that a surprising amount is going on for such a small form factor.
On one side, there are two card sleeves, which are both super spacious. You can fit a lot of cards inside of either pocket.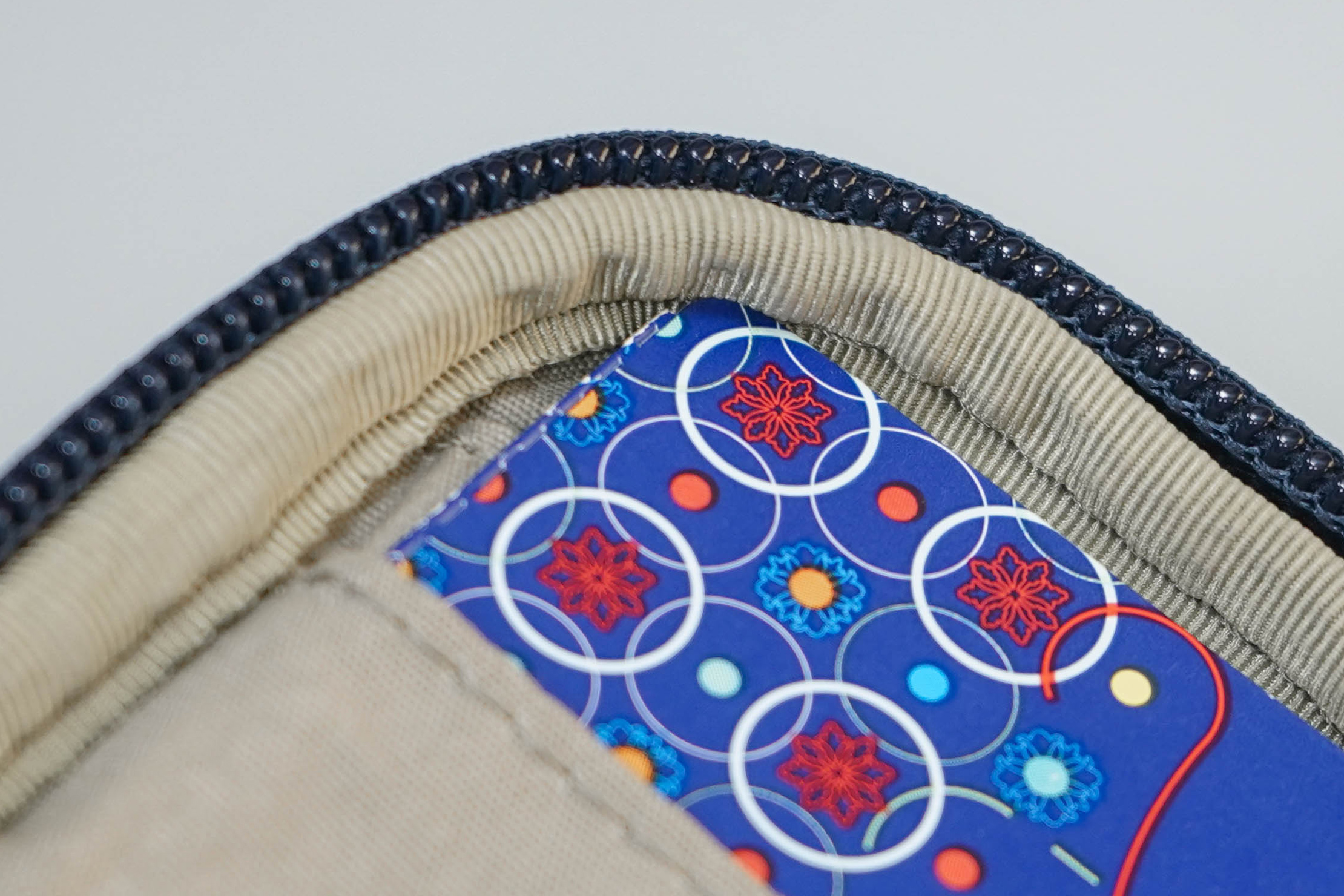 The thick border of the wallet—which we mentioned earlier—means that it can be difficult to smoothly slide your cards out of the back pocket. At the same time, it ensures that your cards aren't going to fall out when you open the wallet up. So, while it may be annoying when you're trying to whip out your credit card as fast as possible, we're happy that it's been designed this way.
The pockets are designed in such a way that the cards in the front pocket will completely cover the ones in the back pocket. We would've loved if these pockets were staggered, so you could see what you've got in both at the same time. But it's also not a big deal—we simply store the cards we use less often in the back.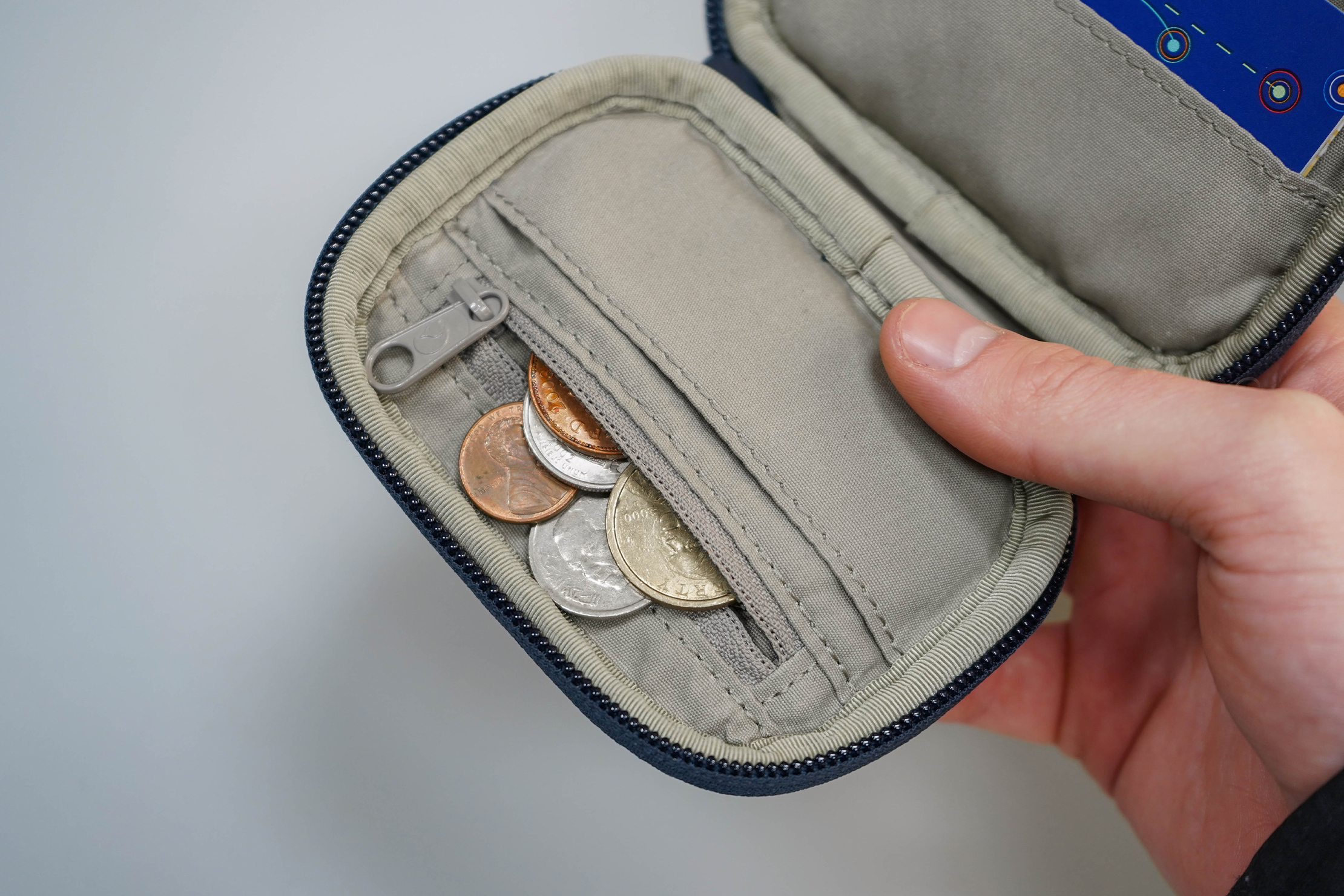 On the opposite side of the wallet, you'll find a zippered pocket. A number of minimalist wallets don't include a spot for coins, so we appreciate that this is here. Sure, coins aren't that important to always have on hand, but we like to be prepared. You never know when you'll be craving a gum-ball. Or you know, travel to a country where coins are a more common currency.
Beneath the zippered pocket, there's a smaller pocket that works great for folded up cash. You can also fit cards here, but they'll cover the zipper, so it's not ideal. Plus, something's satisfying about organizing your wallet with cards on one side and cash and coins on the other—it's just so tidy.
And there's a good amount of room in the middle—especially if you don't carry dozens of cards with you—that we've used for receipts.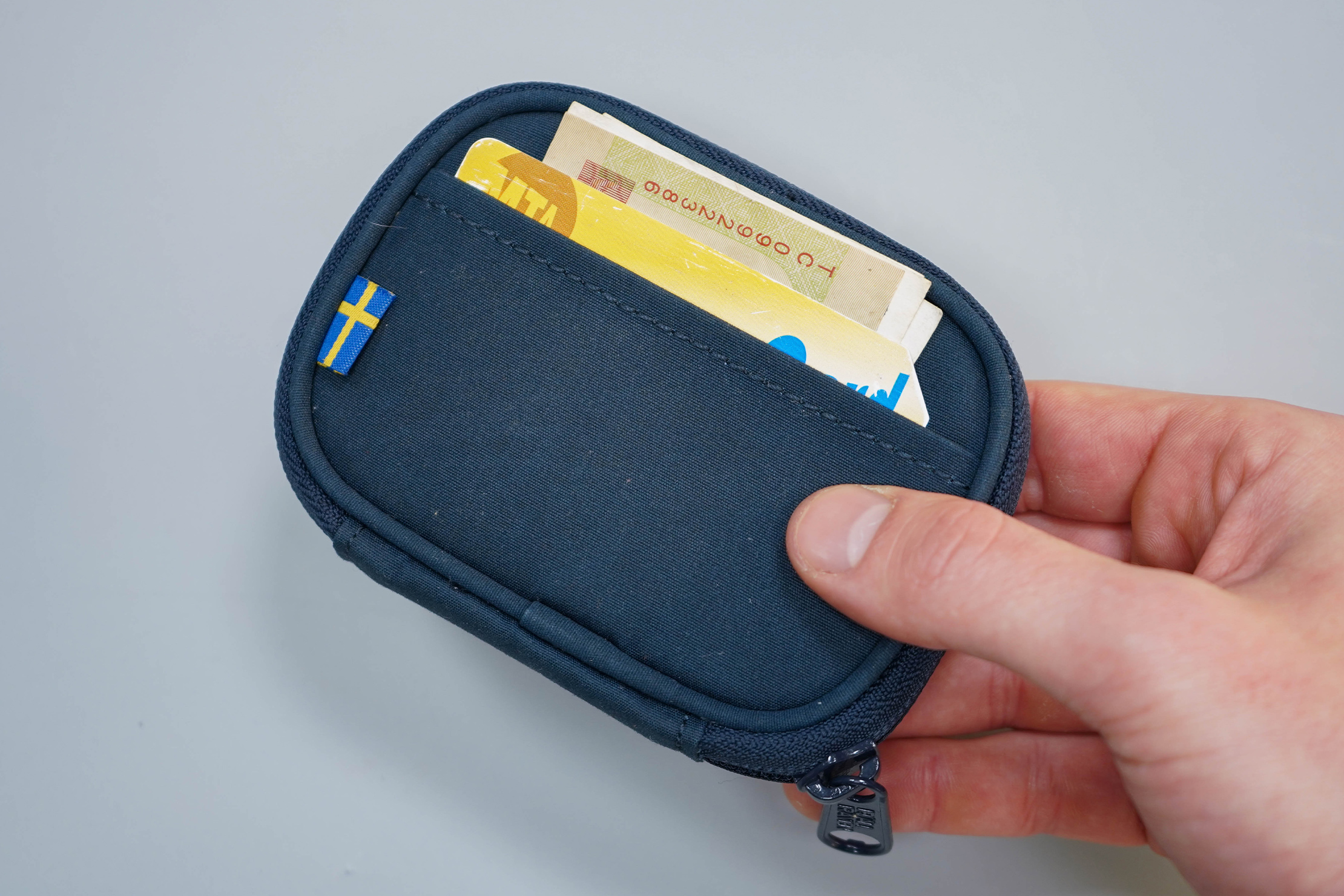 There's one more small compartment on the back of the Kanken Card Wallet, which we love. It's a great spot for the things you access most frequently. If you're one of those cash is king types—which, good for you—you can put cash here. If you take the bus to work, you can put your bus card here. If you're a pet lover, you can put a folded-up picture of a dog here. Whatever makes sense for you.
Durability & Testing
We've been testing the Fjallraven Kanken Card Wallet for nearly a month in Detroit, Michigan. Overall, we've been digging it. It's minimalistic without sacrificing function. We can slide it into a quick-grab pocket on a sling, but still carry all of our cards, cash, and coins.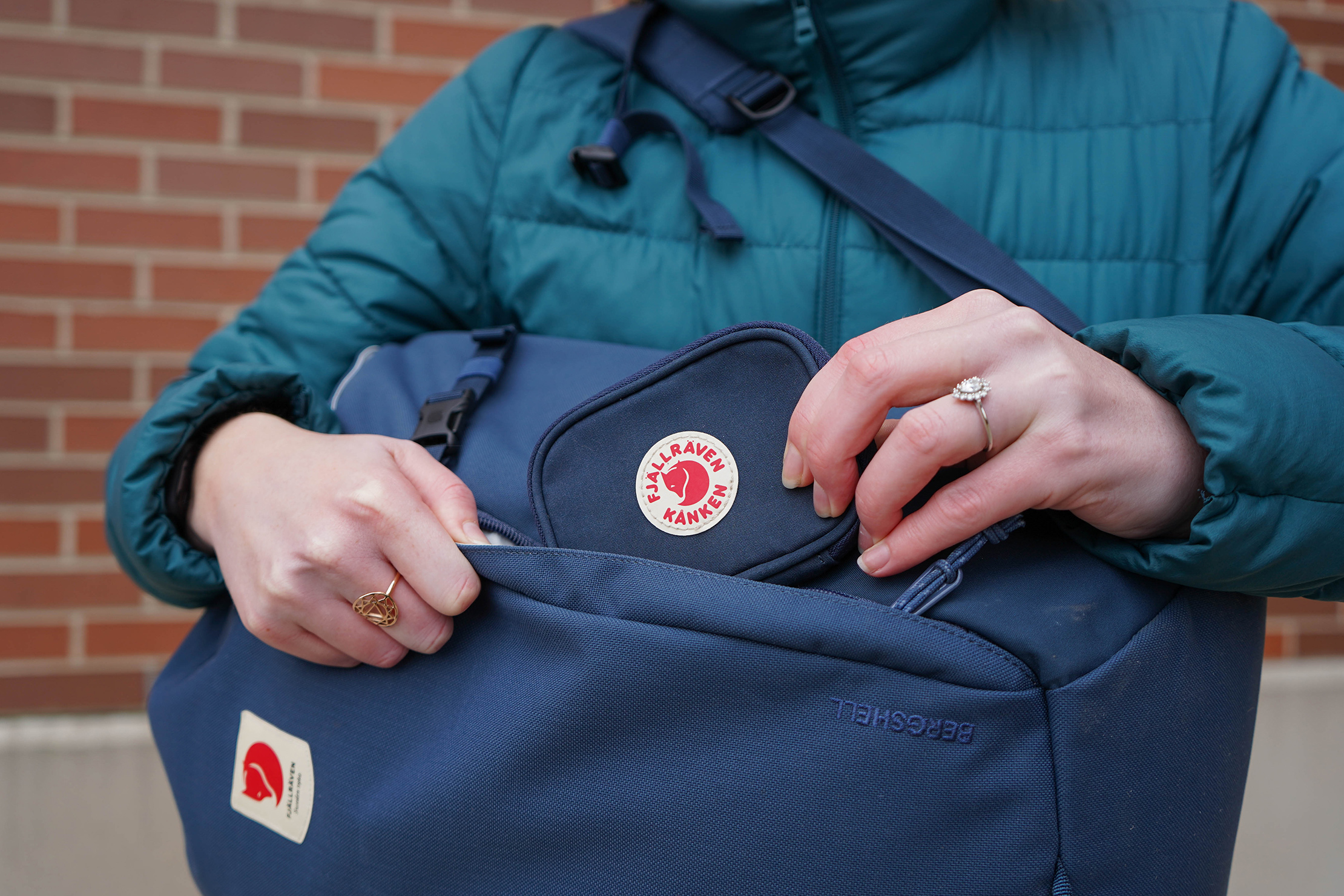 The exterior fabric readily picks up dirt and fluff. We've noticed this with the other Fjallraven products, particularly on the darker colorways. We haven't noticed it as much with this wallet—maybe because it has a smaller surface area—but it's still a problem.
Plus, the fabric easily gets marks and scratches. Most of the time, you can take a wet cloth to the fabric to eliminate said marks, but taking the time to do that can be a pain. Luckily, the marks aren't too noticeable if you're not looking for them.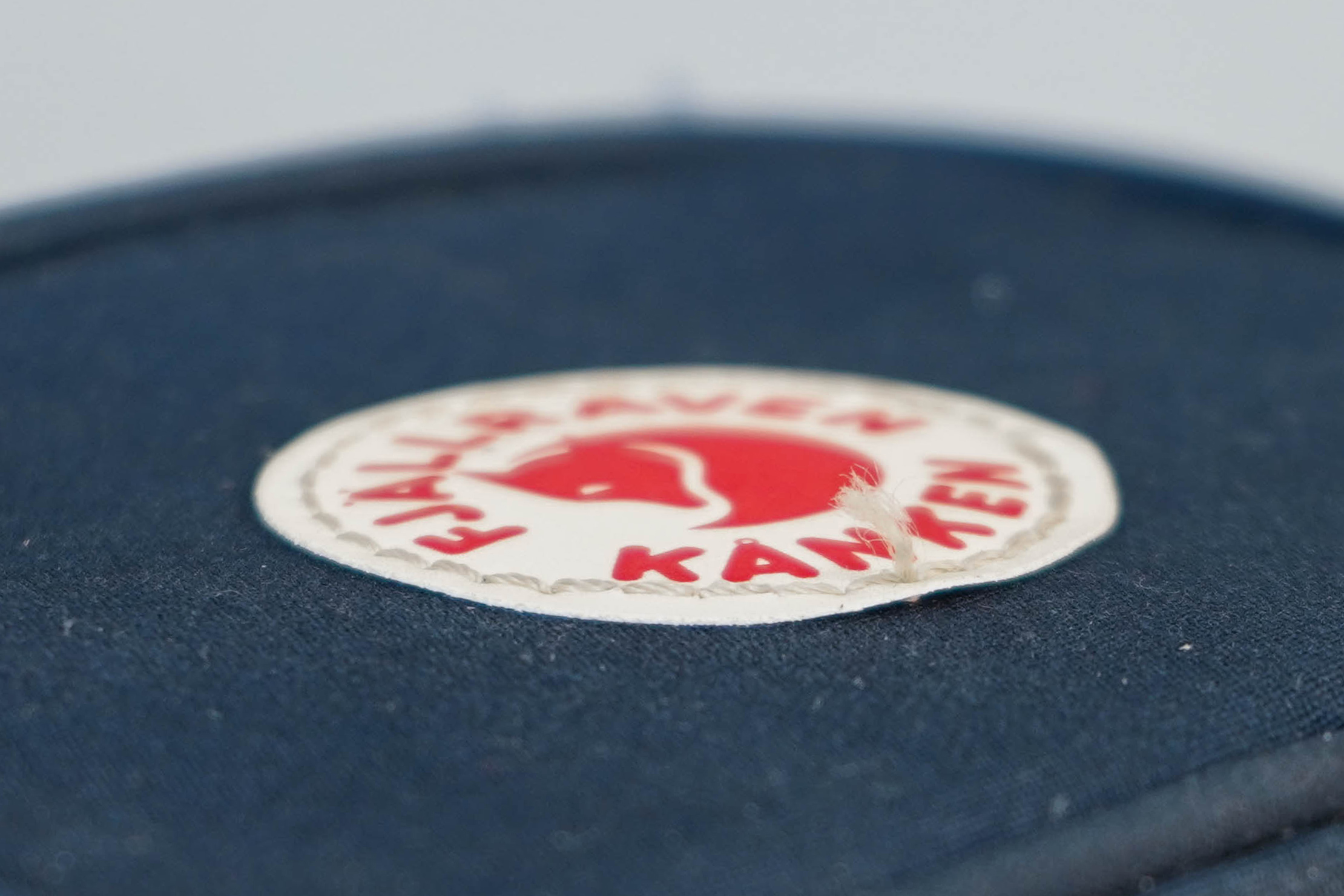 But our biggest grievance is how many loose threads there are on the logo tag. As we mentioned at the beginning of this review, the logo tag is the star of the show. When it looks worn, so does the rest of the wallet. Not good after only a month of use.
Beyond aesthetic blemishes, we have nothing else to report. Structurally speaking, the card wallet has been holding up really well.
Usage Timeline
Initial Usage
Condition: Excellent
Zippered pocket is a great place to securely store coins and smaller items (like SIM cards)
Main zipper is smooth and the clamshell opening provides easy access
Card sleeves feel loose with one card inside—nothing has fallen out yet, but we're keeping an eye on it
2 Weeks of Use
Condition: Good
As per usual with G-1000 fabric, this wallet readily picks up fluff. Not as much as with larger bags, but it's still noticeable.
1 Month of Use
Condition: Good
A few loose threads on the logo tag are already making this wallet look a little worn. Pretty disappointing, though it's only an aesthetic blemish.
Access the Pro Community Discussion
Get your questions about the Fjallraven Kanken Card Wallet answered from our team and the Pro Community right here on the page. Plus, join discussions with other members about gear, guides, and more.
Other Organizers & Pouches Reviews