Peak Design Everyday Backpack Zip 20L (V2) Review
The Peak Design Everyday Backpack Zip 20L is a solid pack with intuitive design and great access—but we wish the laptop compartment had more room.
Our Verdict
Unlock the Pro Summary
Save time. Get access to brief summaries of our reviews so you can browse and make decisions more efficiently.
Pros
Versatile bag for camera gear, everyday carry, and short trips
Intuitive design that allows great access to all areas of the bag
The bag keeps its shape, even when empty
Cons
FlexFold dividers are already showing wear and tear
Laptop and quick-grab pockets are hard to access when the bag is full
Sternum strap is difficult to remove and adjust
Recent Pack Hacker Video
Technical Details
Capacity

20l

Weight (lb)

2.91 lb (1.3 kg)

Without dividers

Denier

400D

Dimensions

18.5 in x 11.4 in x 6.3 in (47 x 29 x 16 cm)

Notable Materials

Recycled Nylon, Polyester, Polyethylene, Polyurethane, YKK Zippers, Aluminum, DWR Coating, Leather, Zoom Zippers, Hypalon®

Manufacturing Country

Vietnam

Laptop Compartment Size

15"

Warranty Information
Full Review
Get up to 10% off Peak Design • Join Pack Hacker Pro
Can a photography bag moonlight as an everyday carry or one-bag travel backpack? At 20L, it's a tall order. But the Peak Design Everyday Backpack Zip 20L is looking to do just that.
A new edition to Peak Design's refreshed Everyday Line V2, the Everyday Backpack Zip is advertised as a pared-down version of the Everyday Backpack V2—but it still has plenty of innovations and thoughtful design features we've come to expect from the brand.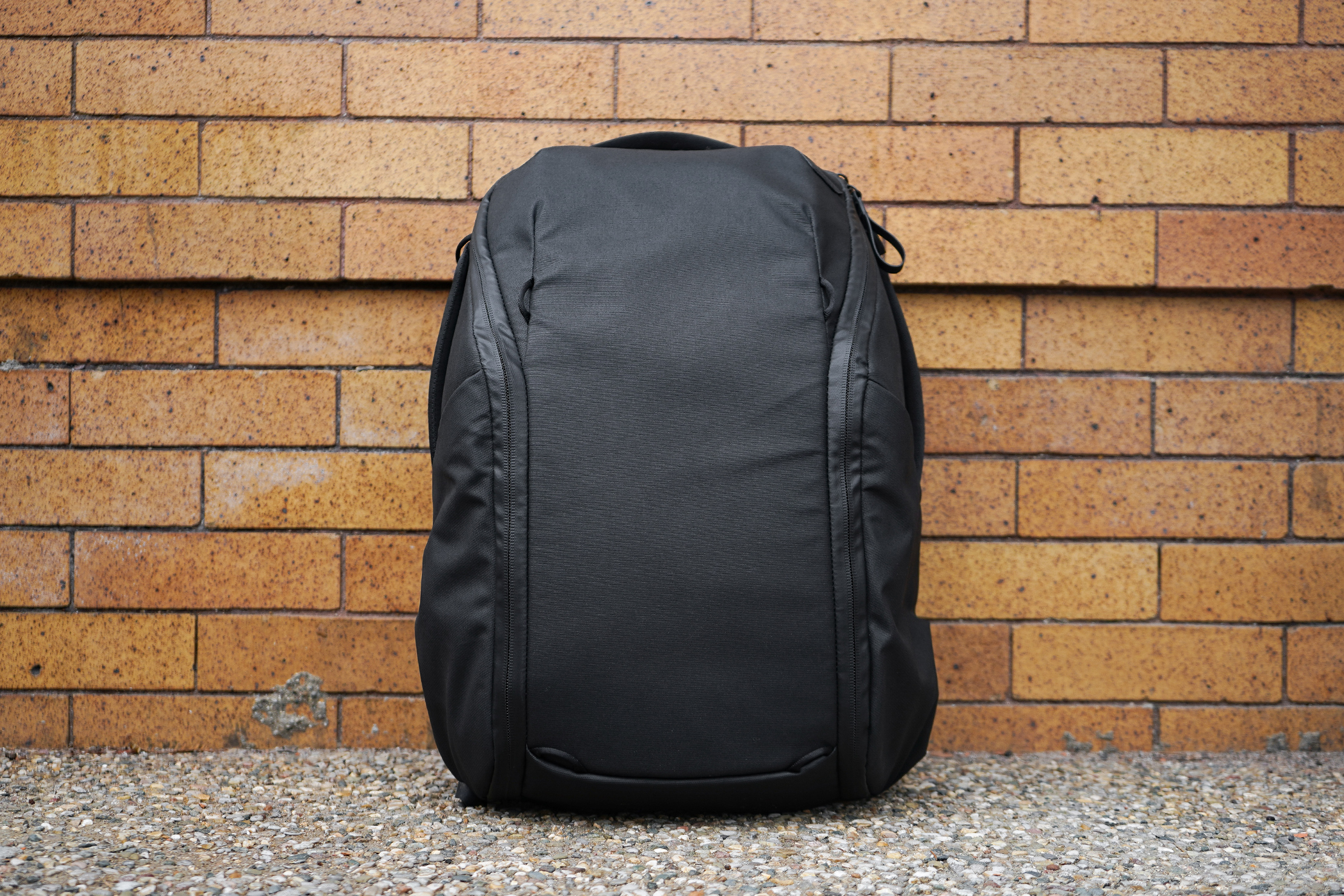 There is also a 15L version of the Everyday Backpack Zip, which we've reviewed in full. The two are similar, but 15L is smaller (obviously) and less cohesive overall. But let's not get ahead of ourselves.
In this review, we're going to focus on the Everyday Backpack Zip 20L which we've been testing for the last month in Detroit, Michigan and Portland, Oregon as a camera bag, EDC bag, and minimal one-bag travel backpack—loading it up with clothes and a bunch of camera gear.
So, does this bag deliver? Read on to find out.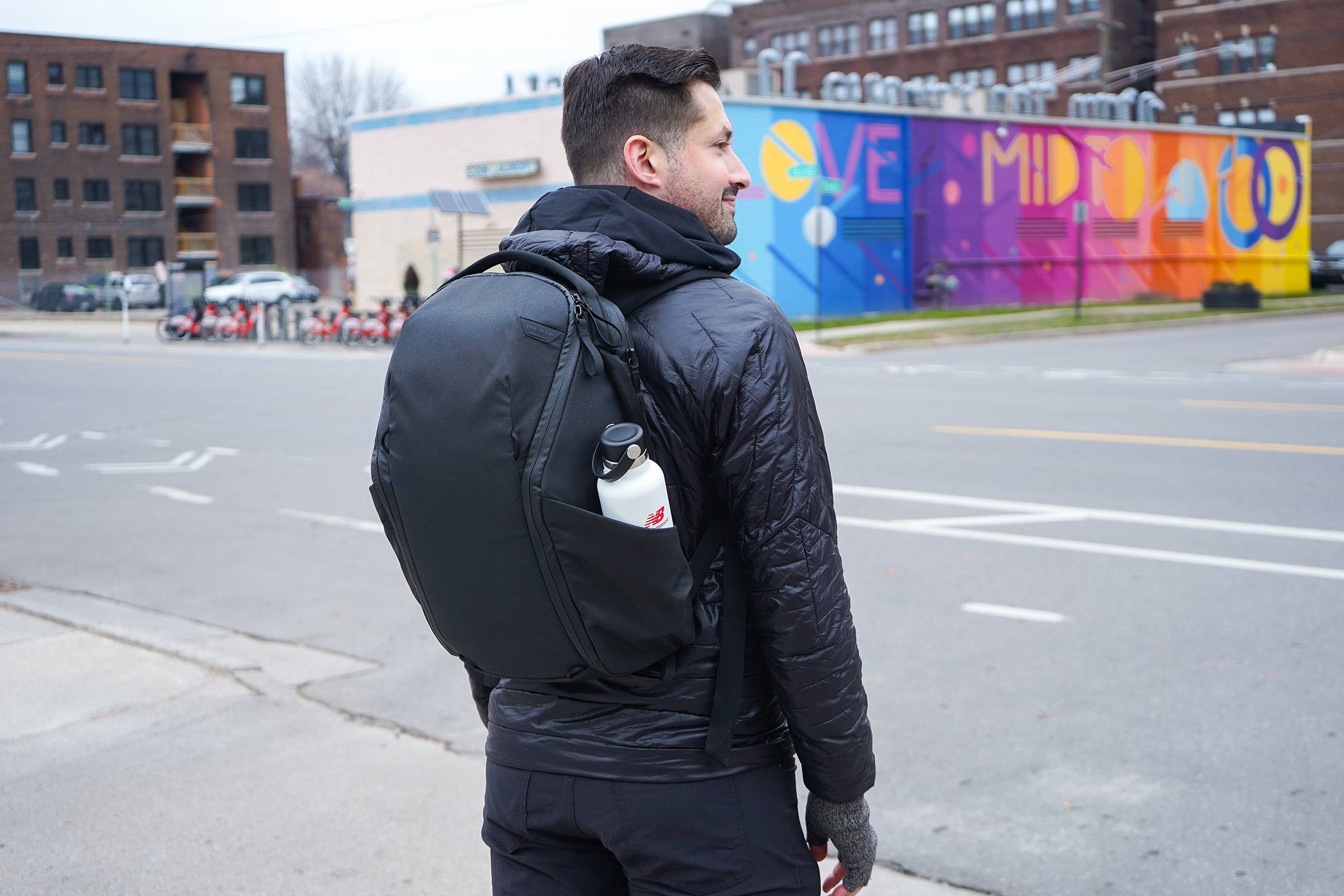 Materials & Aesthetic
The main material of the Peak Design Everyday Backpack Zip 20L is a 400D Double Poly-Coated DWR Impregnated Nylon Canvas. Okay, that's a ton of words, but just know that this material is solid. The DWR coating on the Everyday Backpack Zip 20L gives it a slightly rubbery feel and helps with weather-resistance, and we like how it feels in the hand.

After a month of testing, it's generally holding up well without too many aesthetic dings or blemishes. On the 15L version we've been testing in the Bone colorway, we have noticed more areas of wear and tear—check out our full review on the 15L for more details.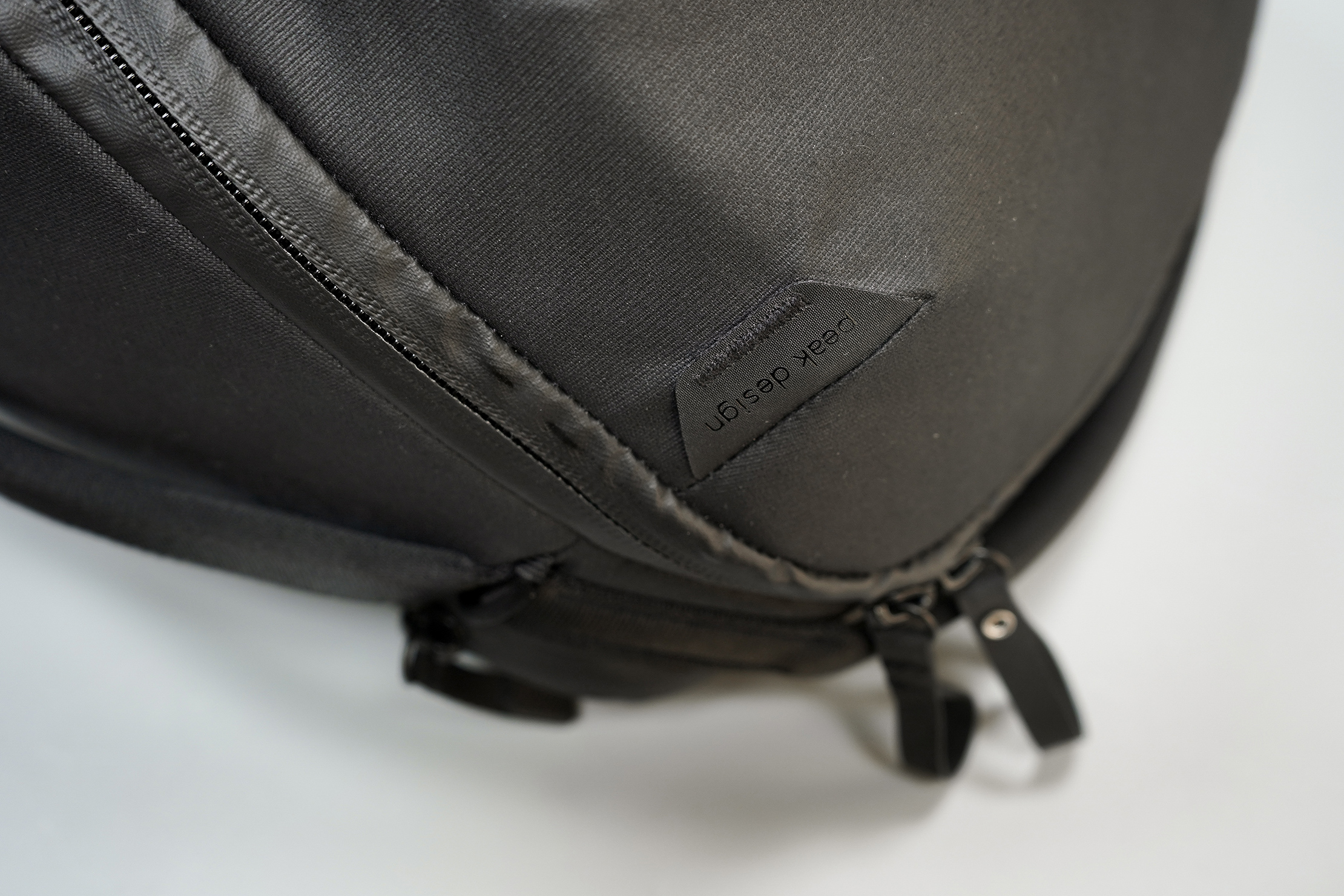 At the time of this review, the Peak Design Everyday Backpack Zip 20L comes in three different colorways: Black (the color we've been testing), Ash, and Midnight. All of these colorways are made with recycled materials, but the Ash and Midnight versions are also 100% bluesign®-approved.
The branding is super subdued on the Black colorway. You'll find black-on-black logos on some of the hypalon accents around the bag.
Overall, this bag has a slightly more technical and minimal aesthetic. As always, we decided to poll our Instagram audience to see if they're digging its look—and about 75% gave this bag a thumbs up. Make sure to give us a follow if you want to take part in future polls.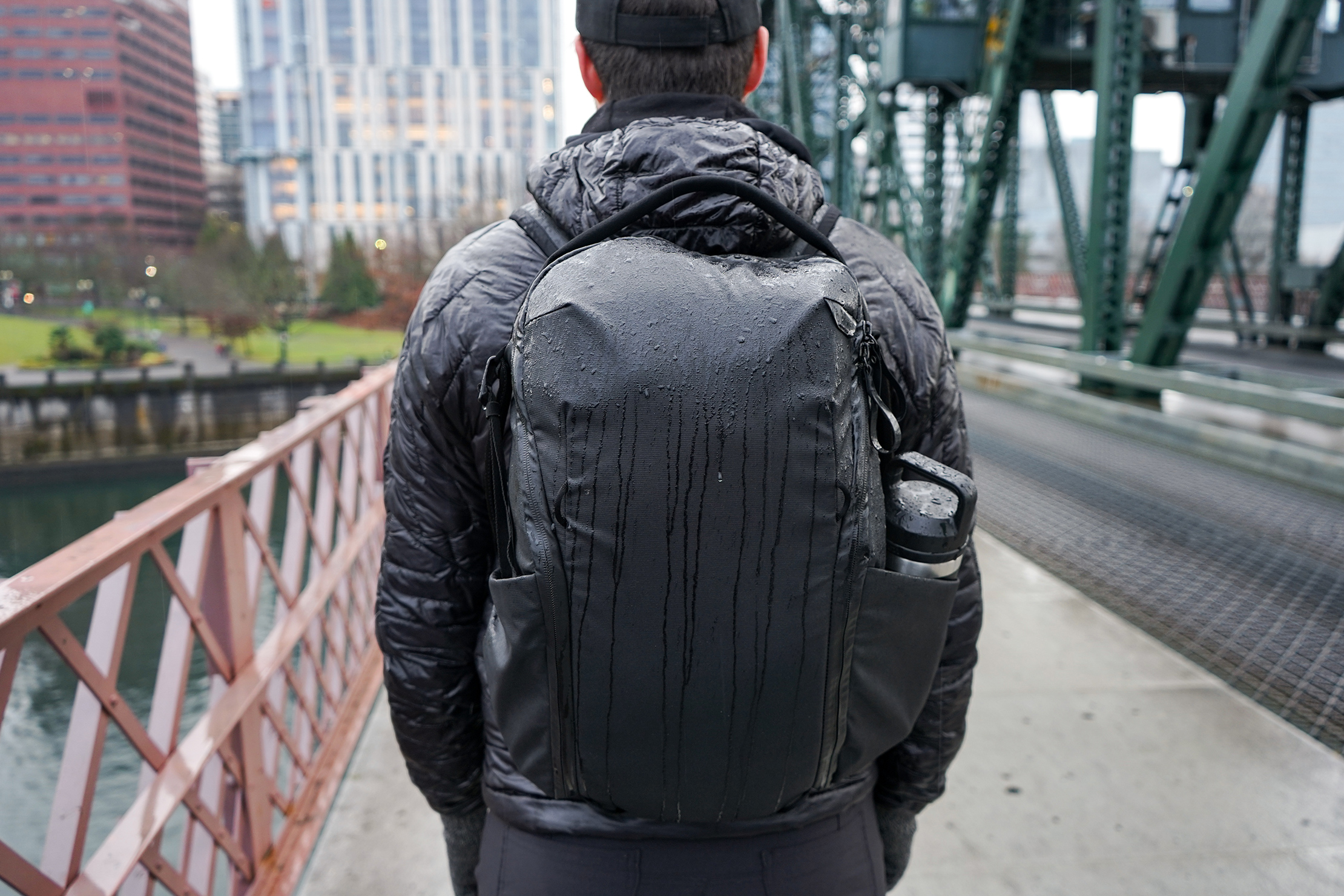 Wrapping up the rest of the materials, the Peak Design Everyday Backpack Zip 20L has aluminum hardware on the strap adjusters and sternum strap, and hypalon for the zipper pulls and small accents. On the other colorways, however, these details will be leather—which we think looks pretty nice.
The zippers on the outside of this bag are Peak Design's UltraZips—a proprietary zipper developed in partnership with Zoom Zippers. These zippers have been pretty smooth to use so far, but there is some permanent crinkling that's been developing on the corners of the zipper track with prolonged use. The interior part of this bag uses YKK zippers (basically it's Zoom Zippers on the outside, YKK on the inside).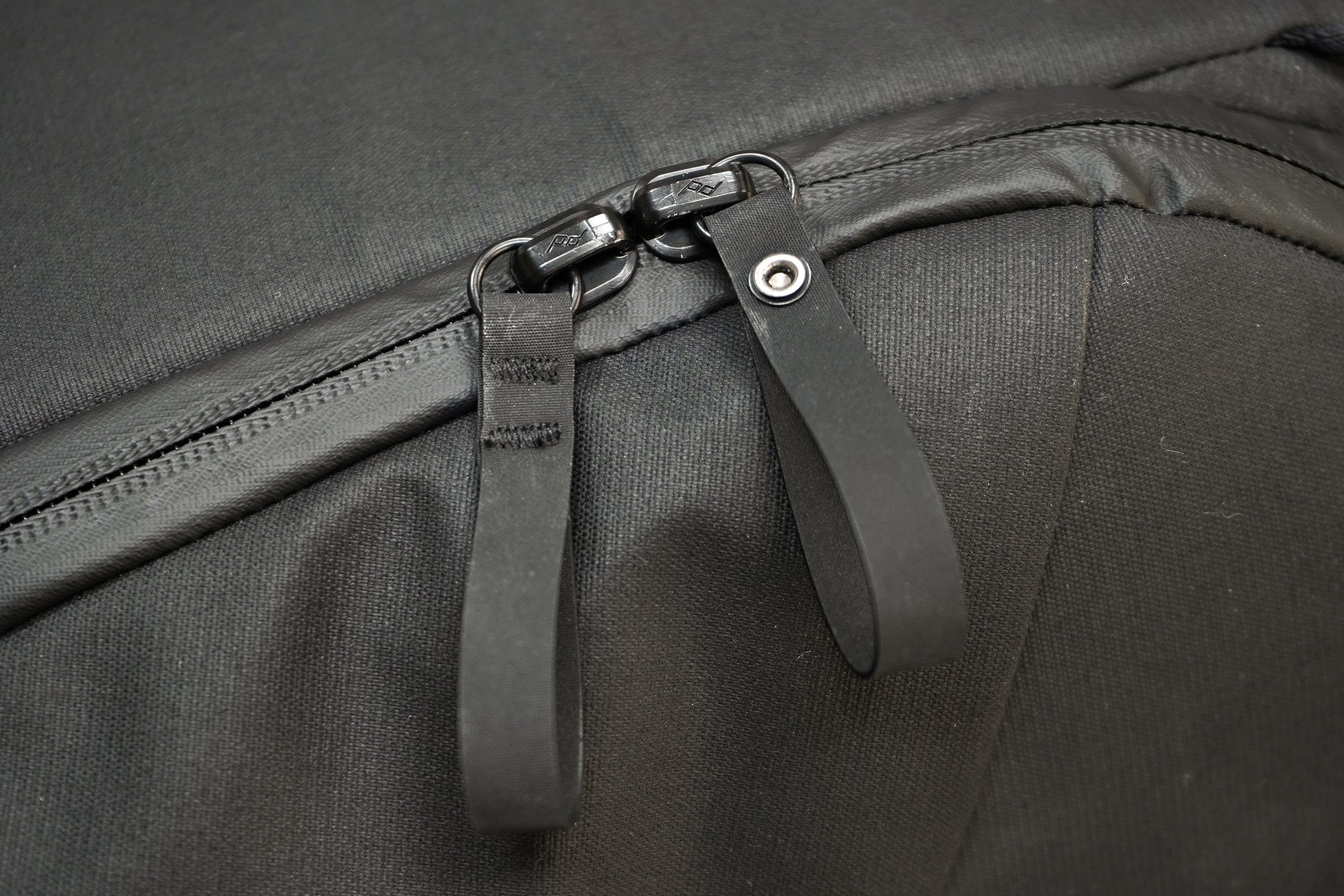 Finally, you'll find polyester, polyethylene, and polyurethane in other areas of the pack.
Exterior Components
Due to the structured nature of the Peak Design Everyday Backpack Zip 20L, it almost feels like a brick when you're carrying it—or that's how we've been describing it around Pack Hacker HQ, anyway. Because it is such a stiff and structured bag, there's not a ton of contour on the back panel.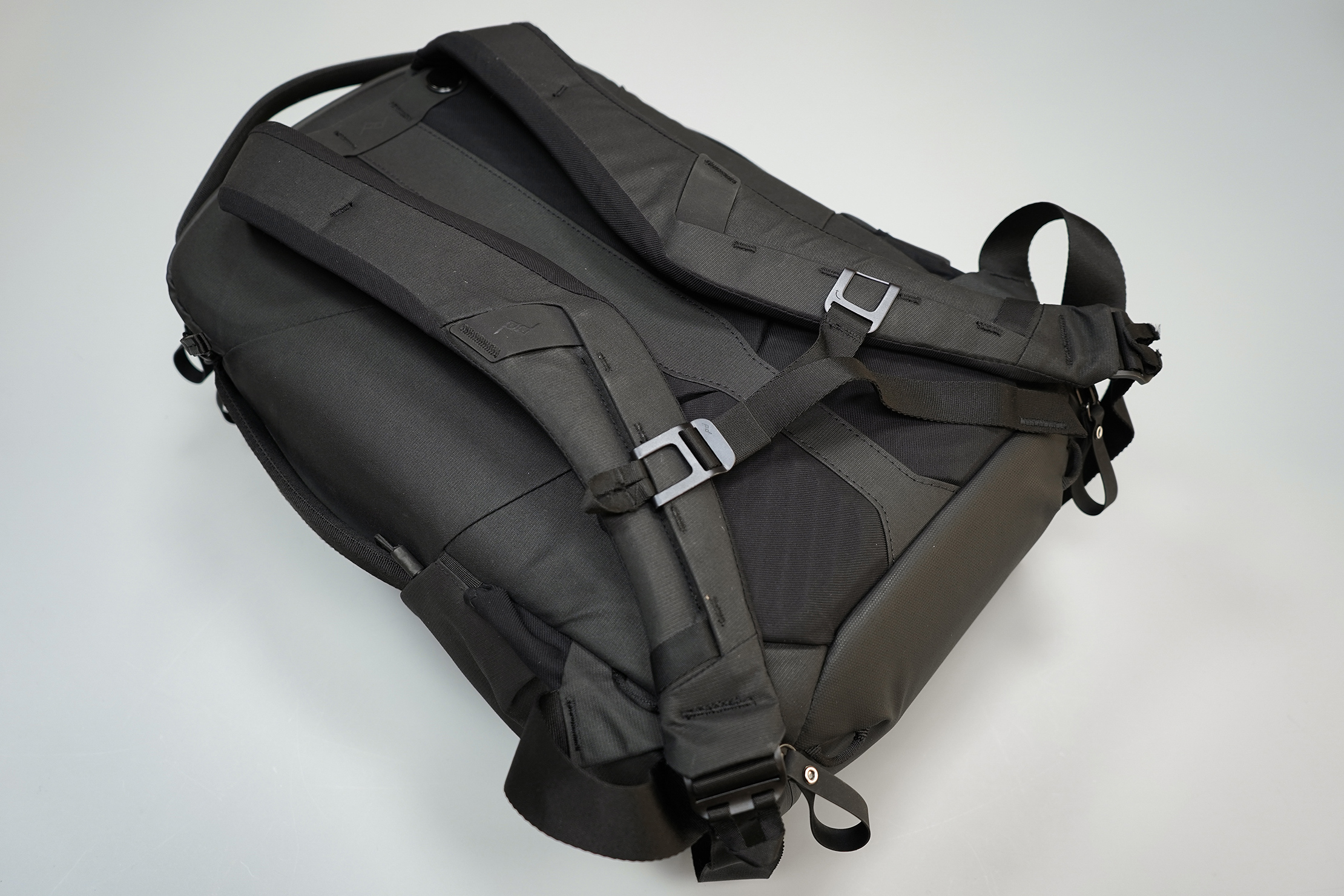 Although it is a little bit stiffer and has that brick-like feel, the harness system does really well for a bag of this size—it's pretty comfortable. The shoulder straps are densely padded and covered in some stretchy, mesh-like material that helps with ventilation.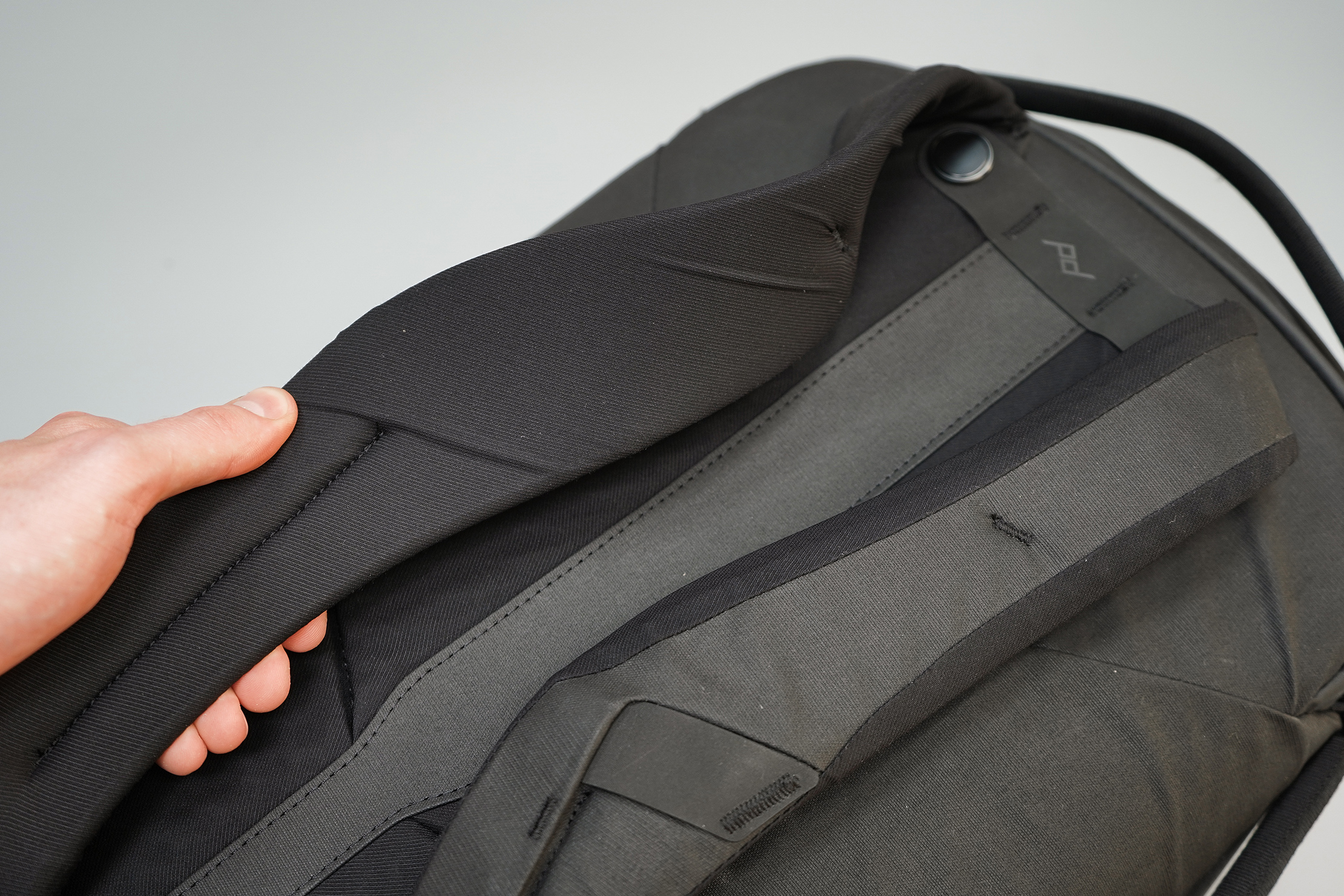 The tops of the shoulder straps are attached in a way that let them swivel and rotate, moving with your body. The magic of this really comes into play when accessing the bag—which we'll cover soon.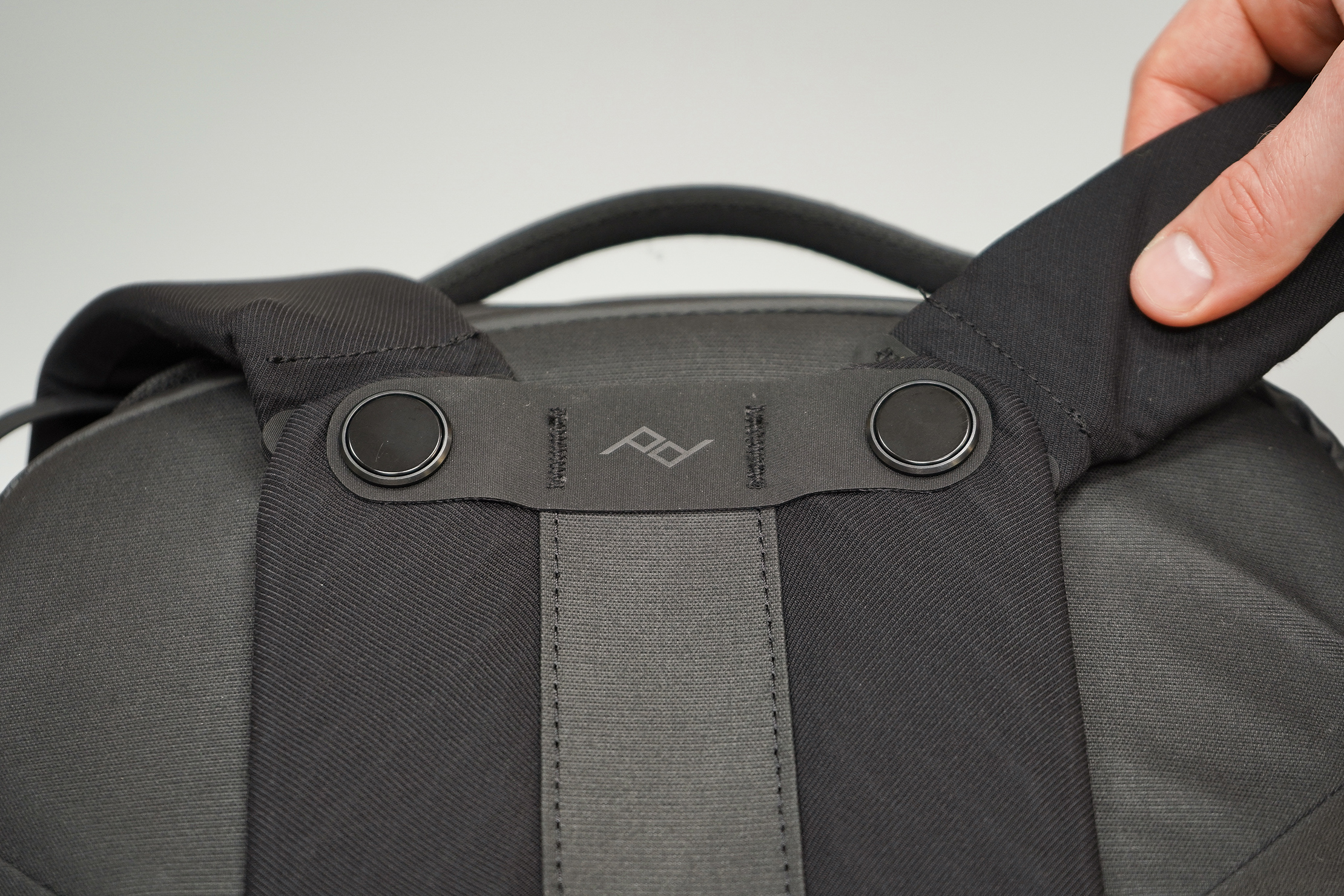 On the front of each shoulder strap, you'll find a black hypalon loop—one has that Peak Design logo we mentioned earlier—and a nylon webbing loop towards the bottom of the strap. These are great for attaching additional accessories. Plus, right above the hypalon is a great place to pop the Peak Design capture clip (if you're using one).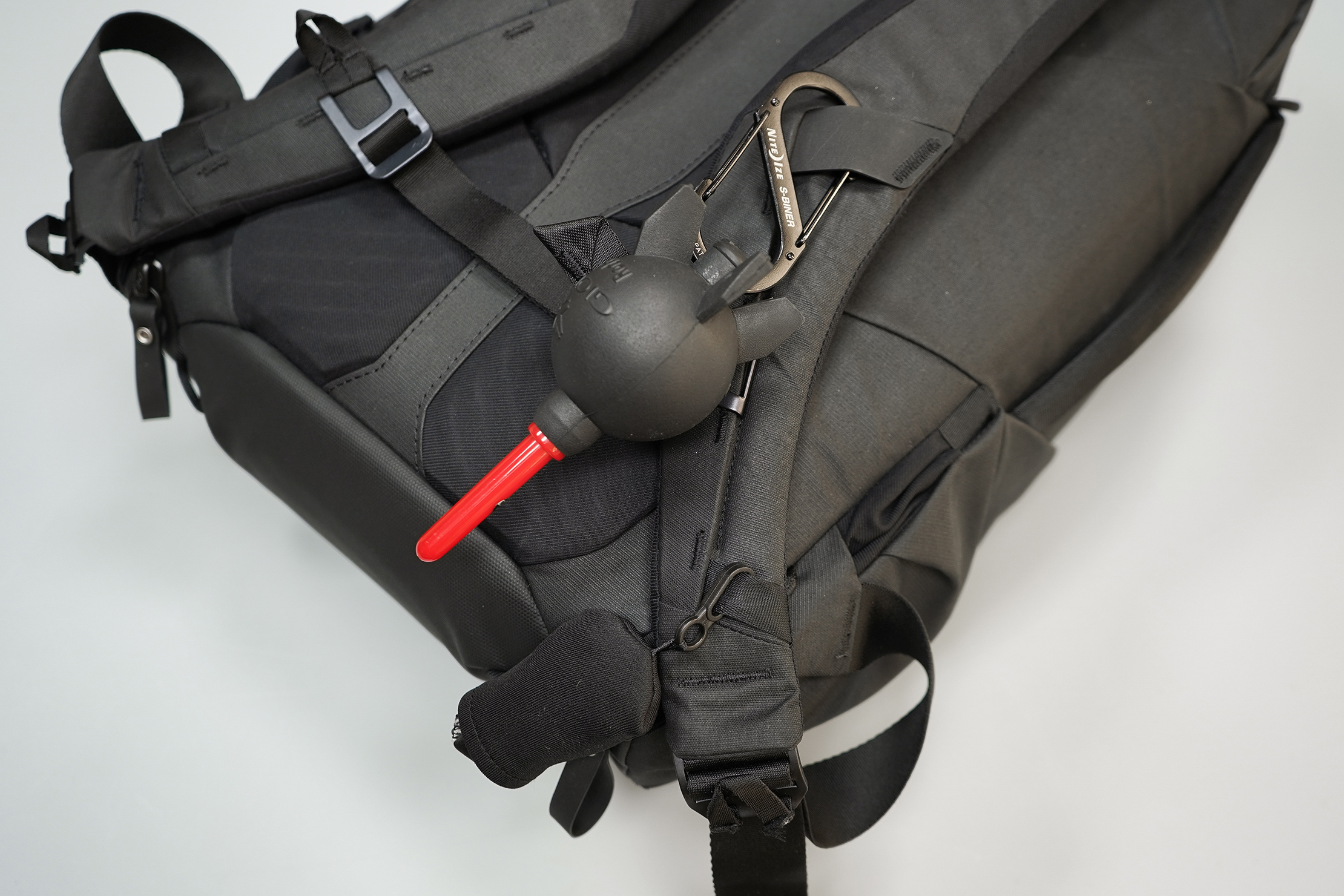 The sternum strap is in between those loops—and we have to say, we're not the biggest fans. As we've covered in other Peak Design reviews recently, it certainly looks beautiful but we have found it slower and more complicated to use compared to other sternum straps on the market—especially those that use a simple Duraflex buckle.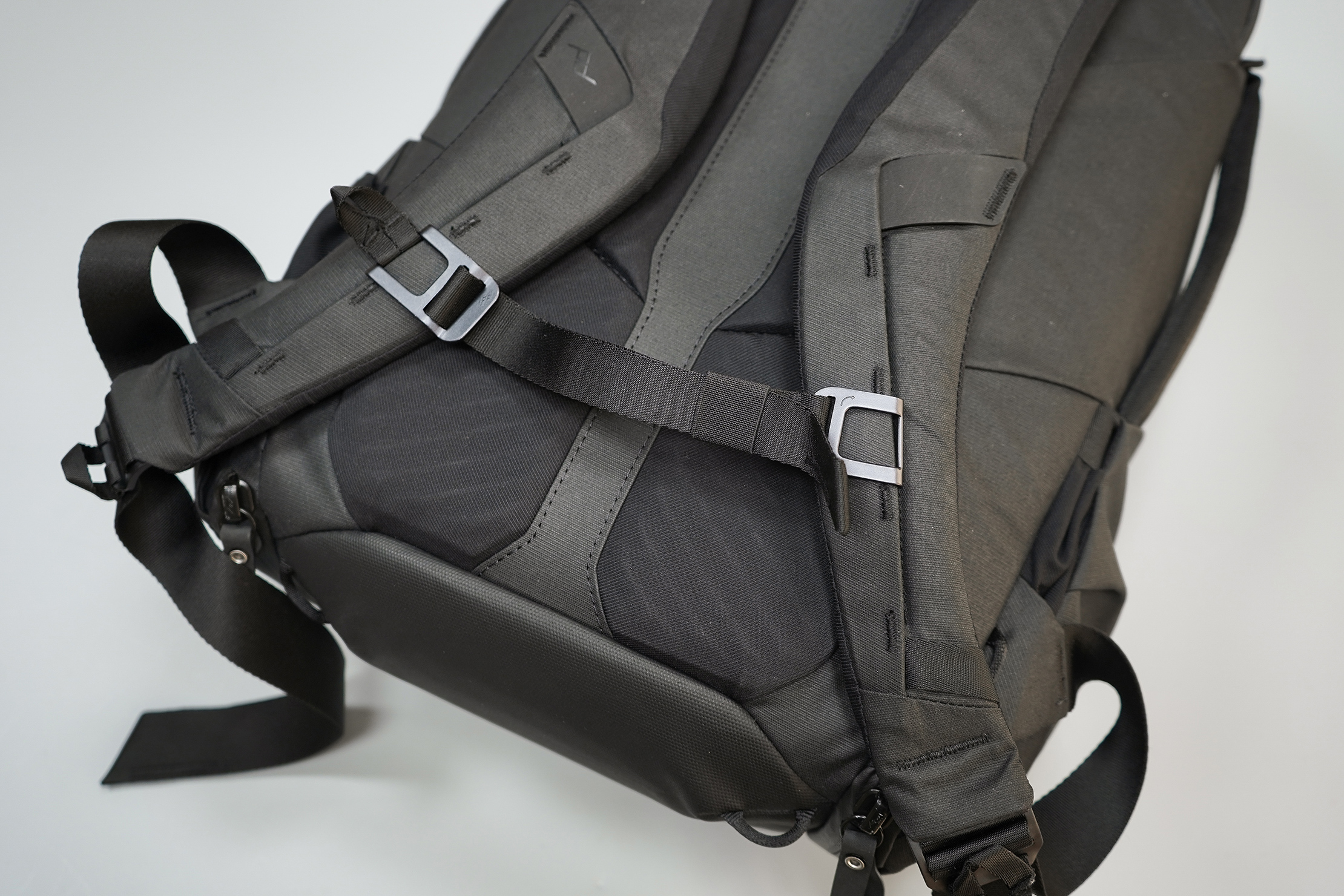 The side without the nylon pull-tab is designed to be a semi-permanent attachment, securing at least a little bit tighter than the other side. In all the samples we've received from Peak Design, we've found this to be a big variable. Some come off quite easily, while others—like this one—are so tight that it takes a full minute to take the thing off. And that's if you don't give up first. We've had a couple of other folks comment and drop us notes with similar experiences, as well.
This issue is a bit of a Catch 22: Either you get a sternum strap that is too tight and difficult to adjust or one that's easy to adjust, but loose enough that you risk losing it. Over our years of testing bags, we have lost a lot of sternum straps that haven't been permanently attached—so it's definitely a concern. On a positive note, you can attach the looser side of the sternum strap to the top hypalon loop to keep it out of the way while not in use.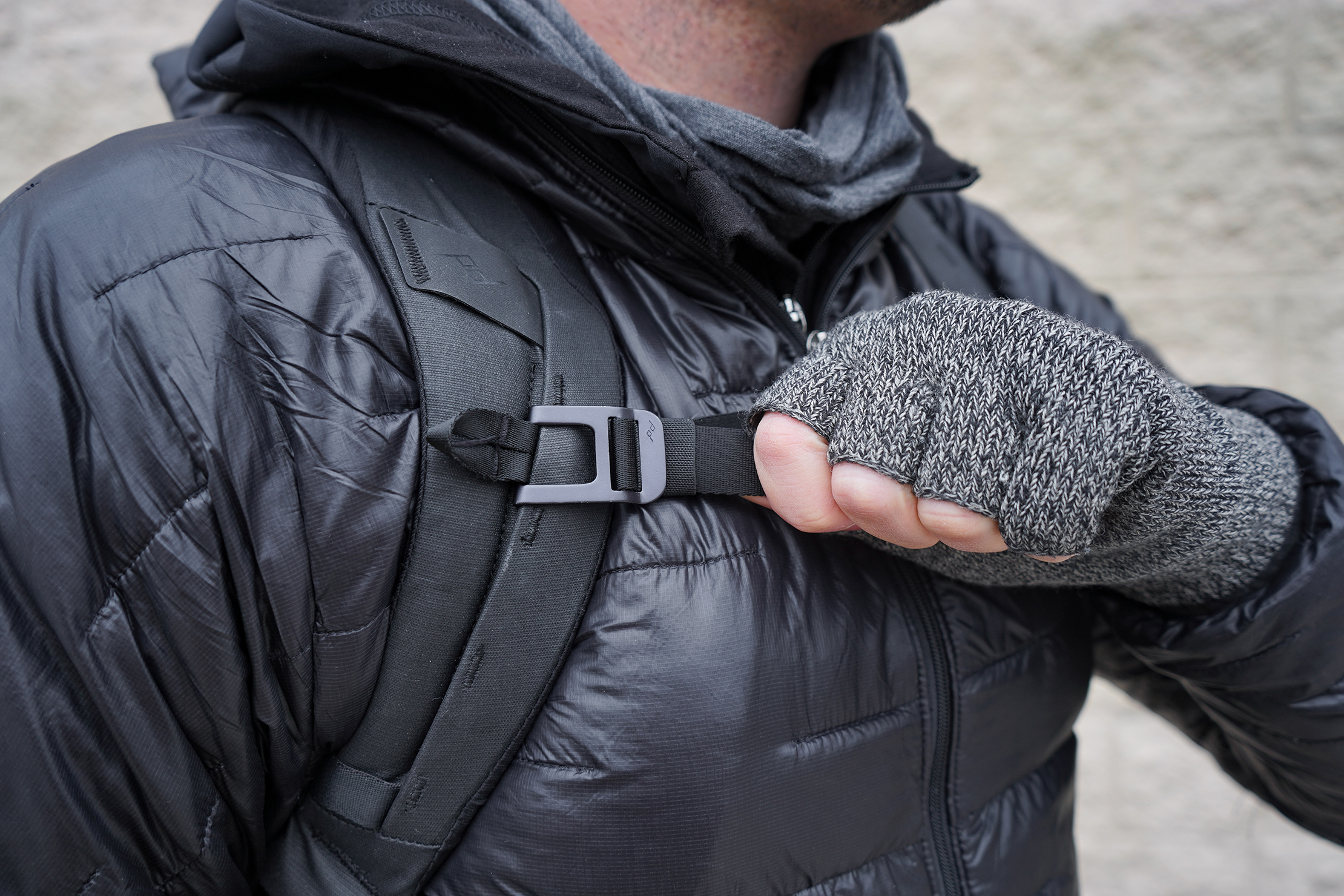 One small detail we want to mention about the Everyday Backpack Zip 20L compared to the ordinary Everyday Backpack: the Everyday Backpack has magnets where you can crisscross the straps and kind of fasten them down. This feature does not exist in the Everyday Backpack Zip. We think it's fine, but there are a ton of little details that ultimately dictate the increase in price on the regular Everyday Backpack (V2) versus the Zip version.
Okay, moving on down to the aluminum hardware. We love how easily this adjusts—it just glides. We appreciate how Peak Design handles the strap adjustments on this bag and across the Everyday Line V2. (We've grown to love the strap adjustment in the Everyday Sling 3L (V2) we've been testing for over a month now.)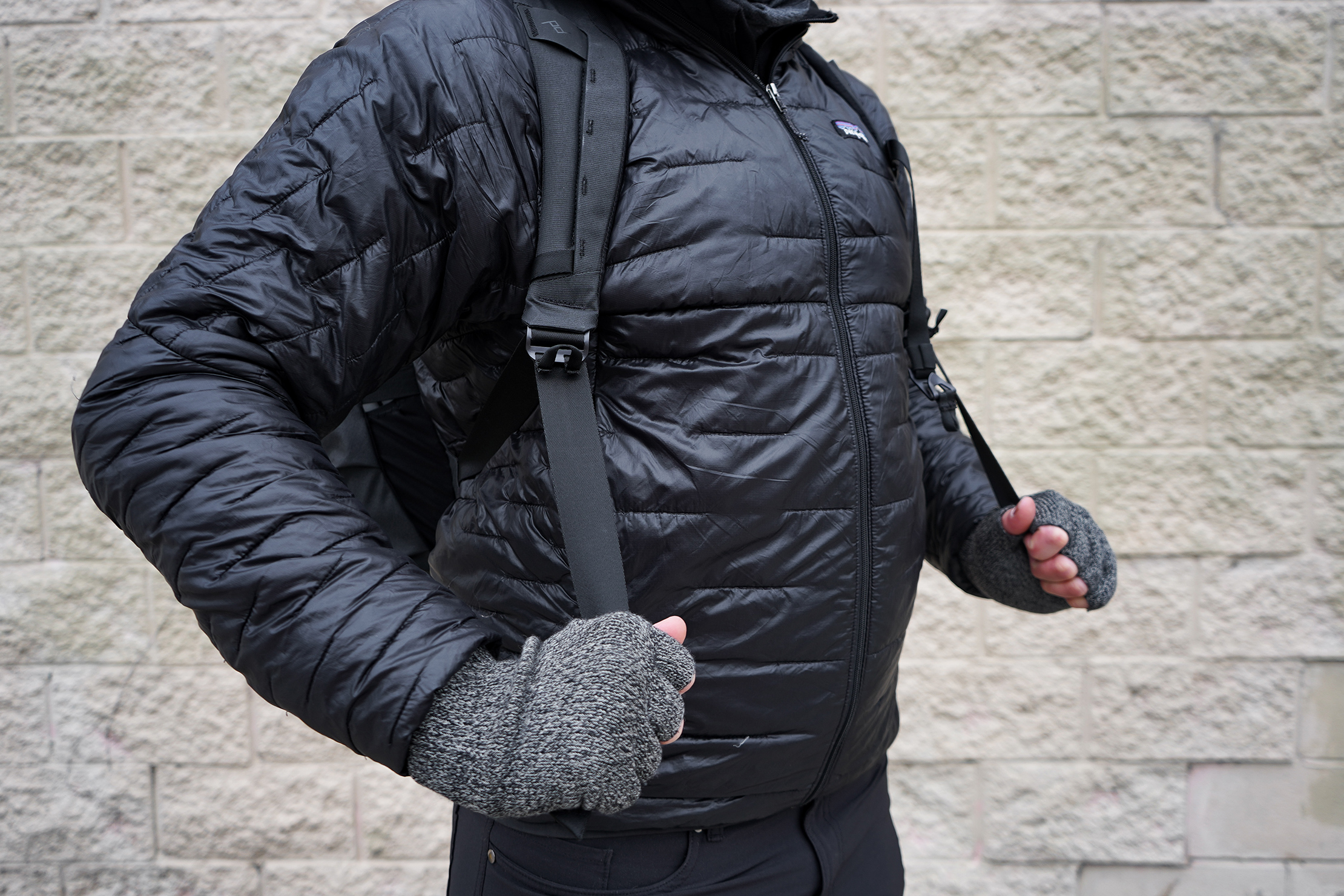 The back panel on the Peak Design Everyday Backpack Zip 20L has some solid foam, along with a bit of texture and mesh to help with airflow and help prevent that dreaded swamp back (though, as we always say, sometimes that's pretty much unavoidable). Behind the back panel is a magnetized luggage pass-through—we appreciate the nice, clean use of a magnet here.
Towards the bottom, there's an additional pass-through for a hip belt attachment. Do you really need a hip belt for a 20L bag, you might ask? Well, probably not, generally speaking. But if you're hauling around a ton of very heavy camera gear and lenses, you might get some benefit out of it.
Overall, the harness system is comfortable—even when we had this thing fully loaded with clothing and camera gear for our three-day trip to Portland.
Another quick note, which we mentioned in our review of the 15L version of this bag, is that we've generally found the 20L Zip to be more comfortable than the 15L in terms of its harness system and carry (especially on larger frames). It's something to keep in mind if you're debating between the two, but your mileage may vary.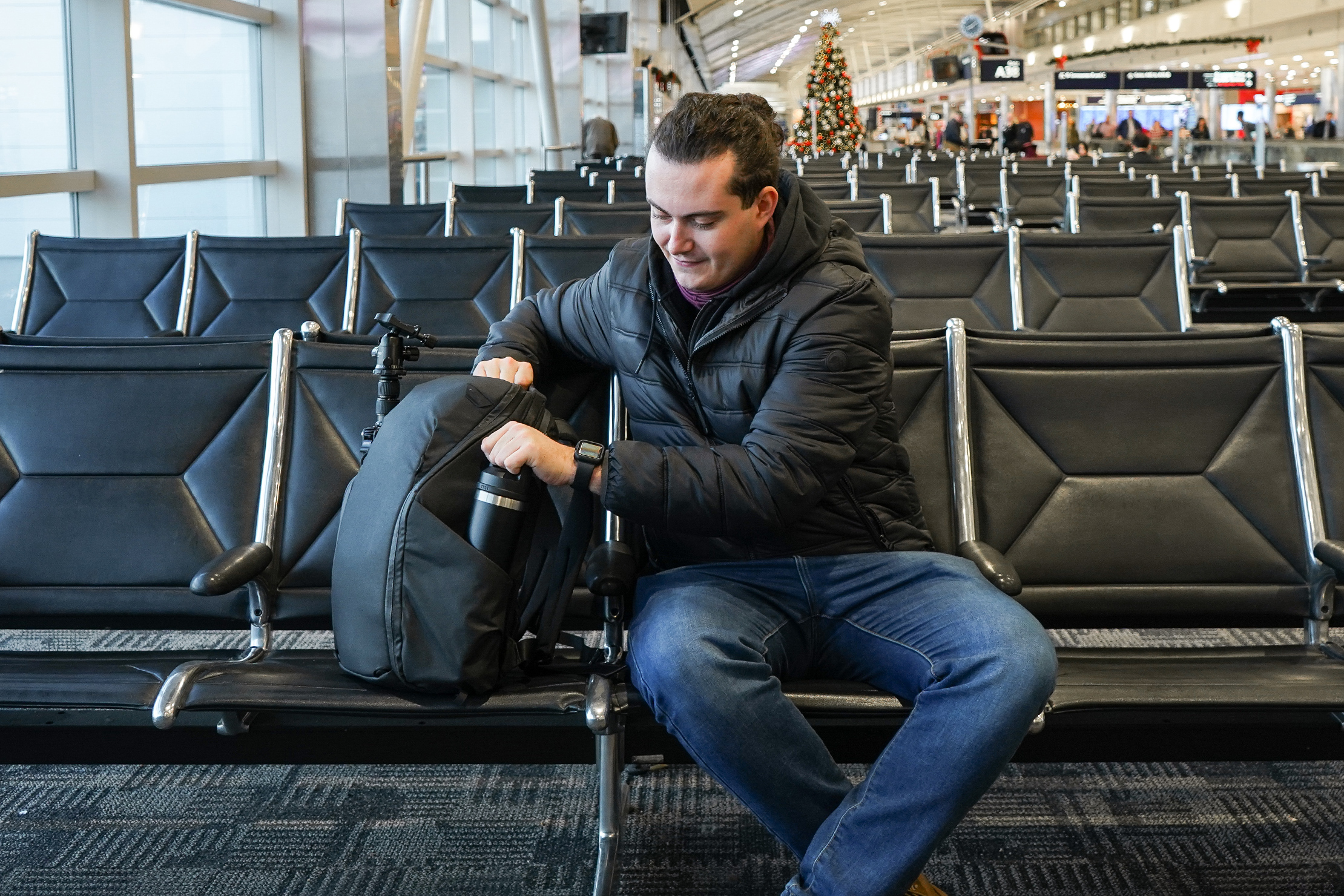 The water bottle pockets on each side of the Everyday Backpack Zip 20L are symmetrical in access angle and positioning on the bag. The pockets are made with the same 400D material used on the rest of the bag, but you'll find some stretchy mesh-like material toward the back and reinforced elastic webbing at the top. This allows the pockets to really stretch out based on what you want to fit inside. And a magnet helps these pockets lie flat when not in use (win-win).
During our testing, we've had a travel tripod on the side of the Zip that was accessed less frequently, and a water bottle on the other side. This is also a handy place to stow the key leash that Peak Design includes with this bag.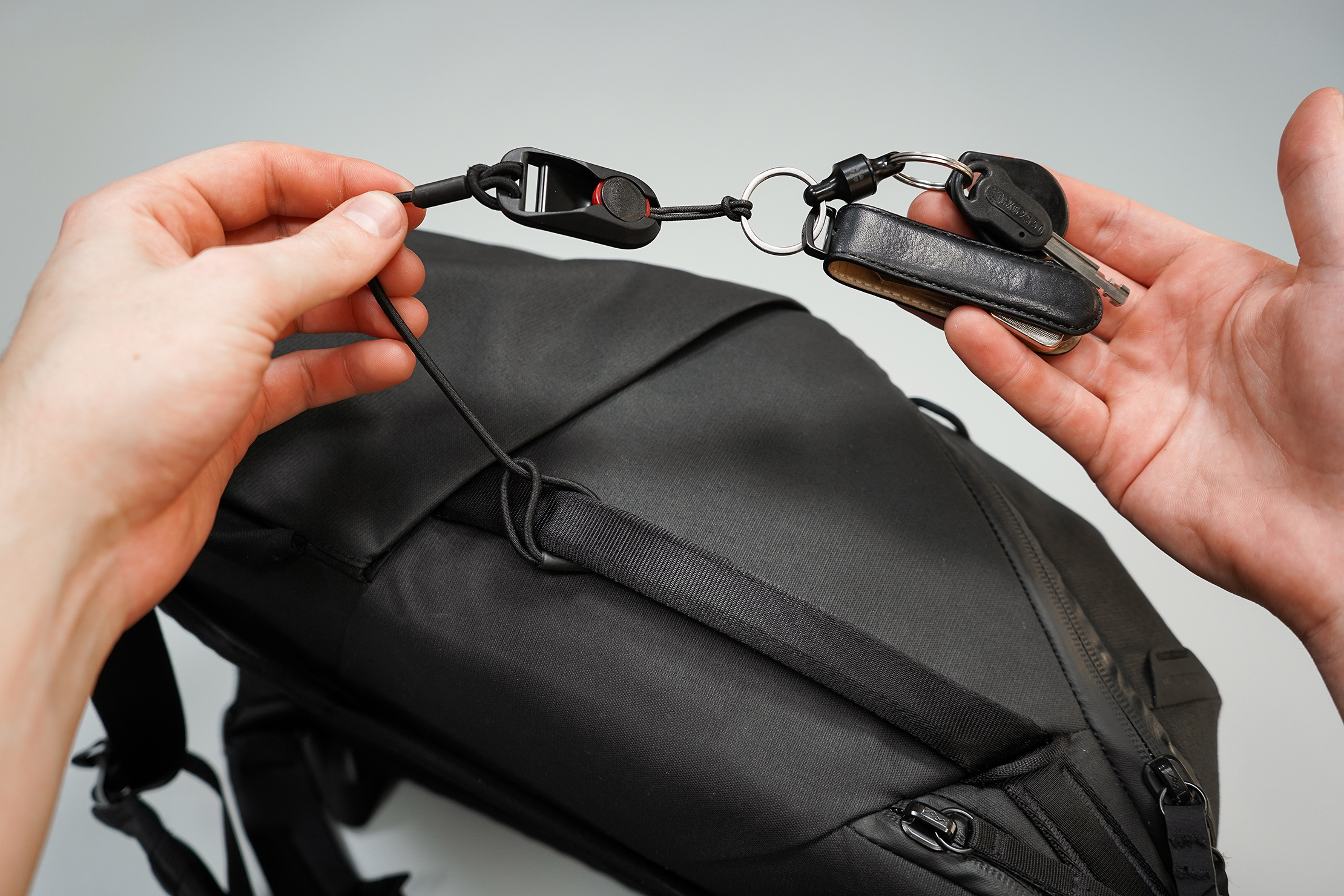 Generally, we like the water bottle pockets on the 20L more than the 15L (are you sensing a theme?). Since this bag is a little bit larger, the water bottle pockets are larger, as well. And they stretch out to accommodate even bigger items.
Now, keep in mind that depending on the bulkiness of the items you put on the side, it will cut into the bag's interior capacity. This can be problematic because there's so much organization on the side flaps of the bag.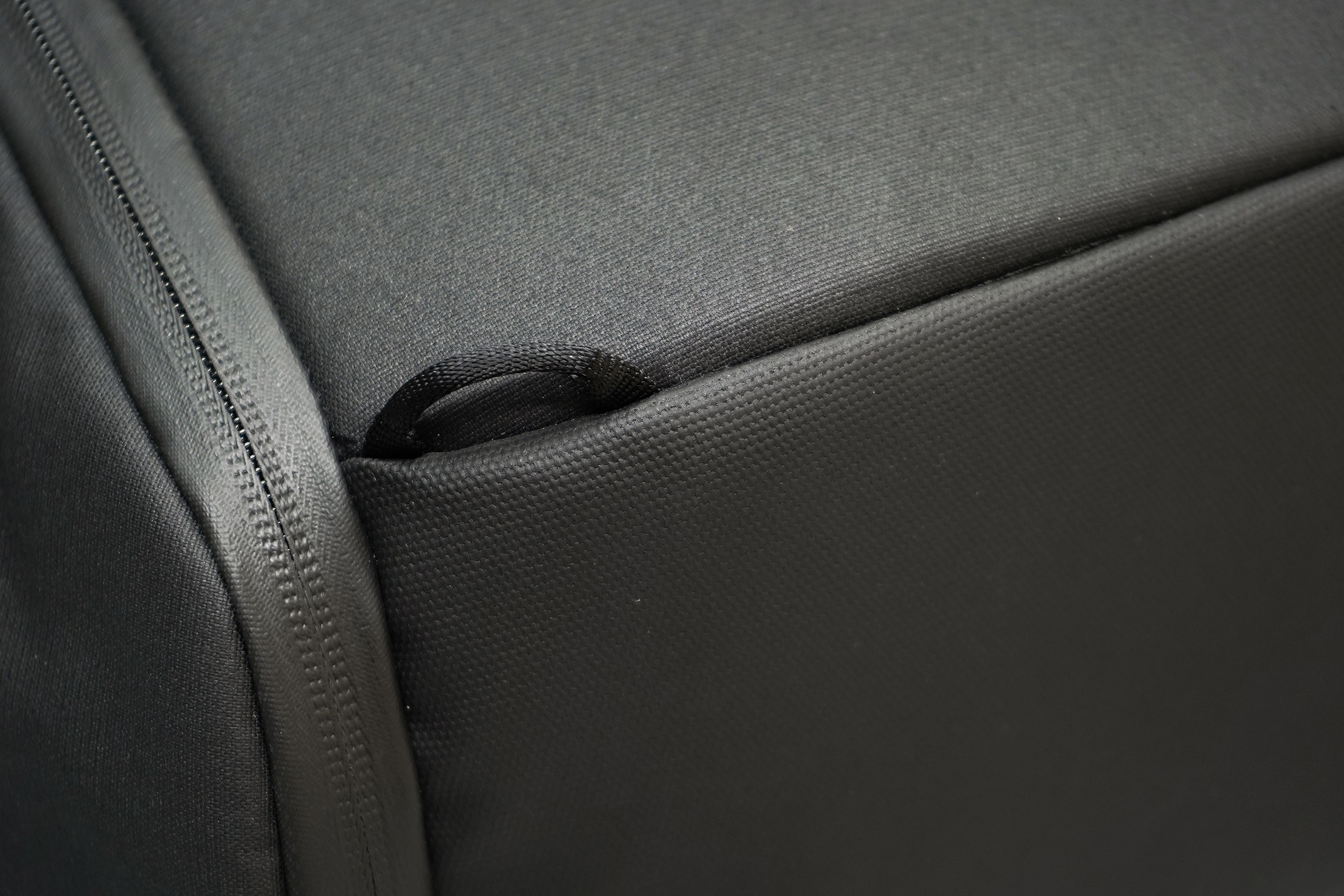 There are several lash loops around outside of the Everyday Backpack Zip 20L where you can connect the two cord hooks that come with the pack. Use them to attach things like a jacket, tripod, yoga mat, pretty much anything you can think of. We've used one of these on the side to further secure our tripod.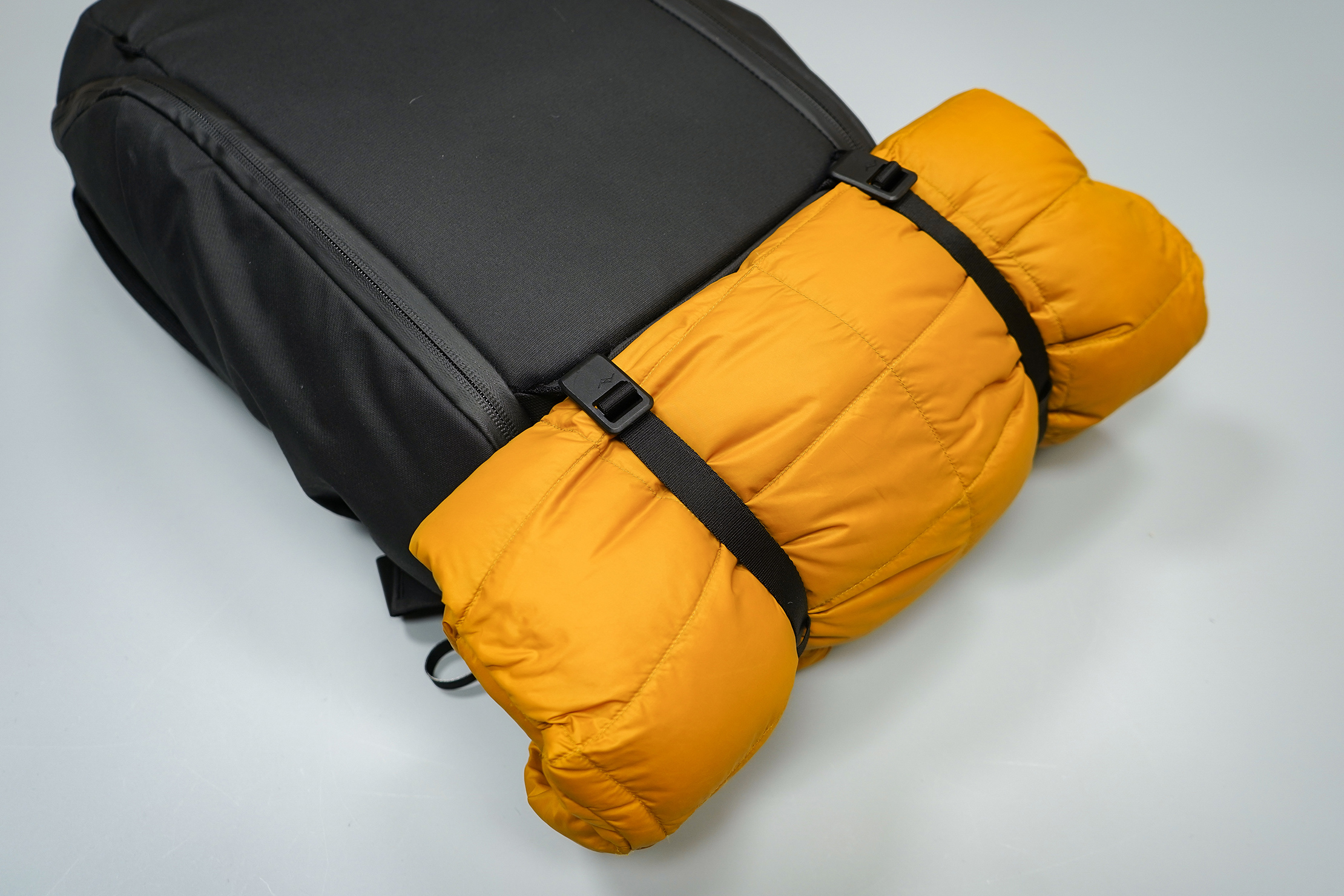 There are three grab handles on the outside of the Everyday Backpack Zip 20L: one at the top, and two on the sides. Just remember that depending on what you put in the side pockets, it could obstruct access to the handles. With the tripod in there, we couldn't really use that side handle.
Lastly, the fabric on the bottom of the bag seems to be a little bit different—more reinforced—compared to the rest of the material in the bag. We dig this. The bottoms of bags always see a lot of abuse.
Inside the Pack
We've made it to the inside of the Peak Design Everyday Backpack Zip 20L. Let's begin with the laptop compartment, shall we?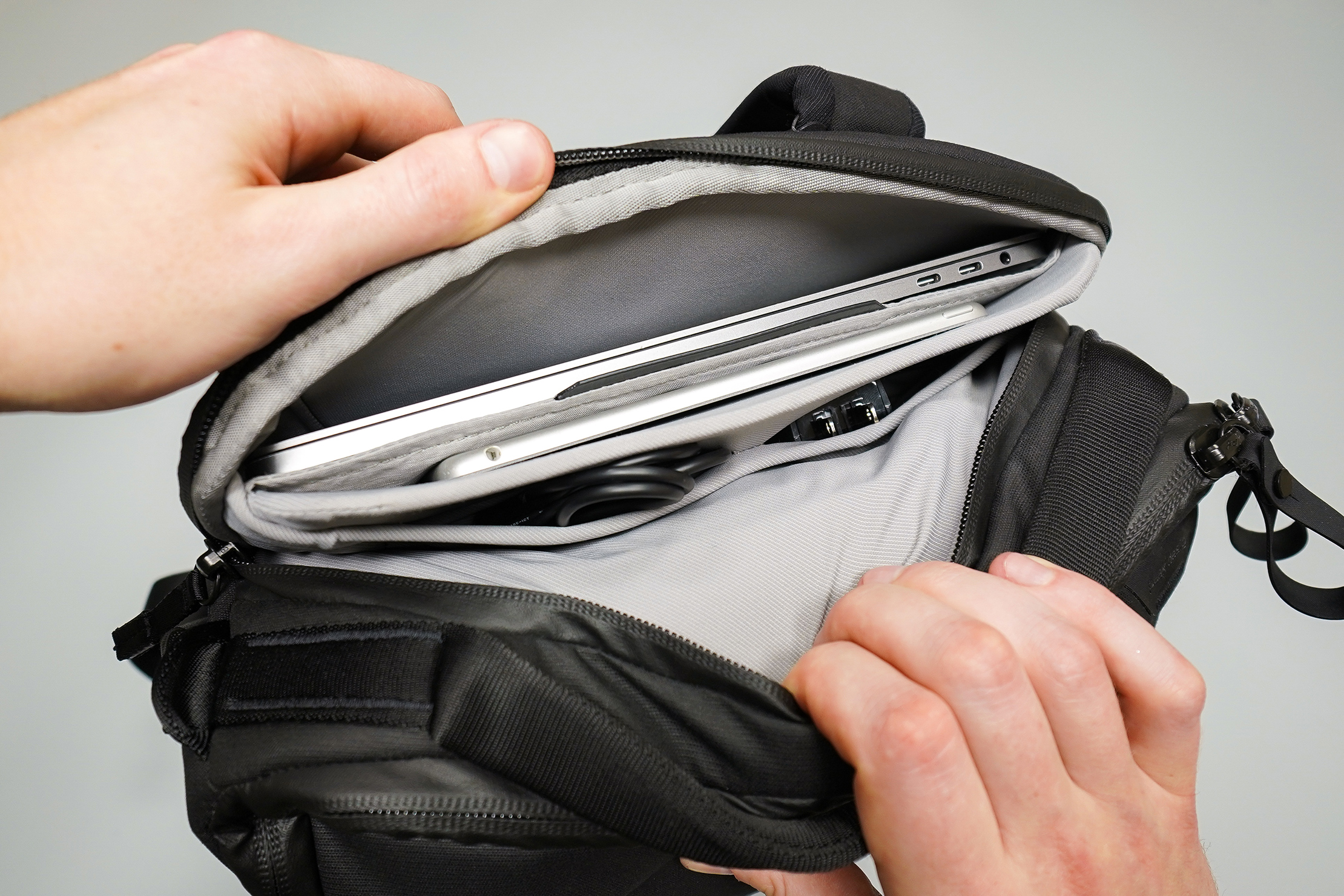 The laptop compartment opens up in a small horseshoe fashion. At the very back is an adjustable laptop sleeve with a false bottom—think laptop hammock—which can fit 13- and 15-inch laptops. It's a little bit complicated to set up at first (there's a lot of velcro going on) but once it's set you're good to go.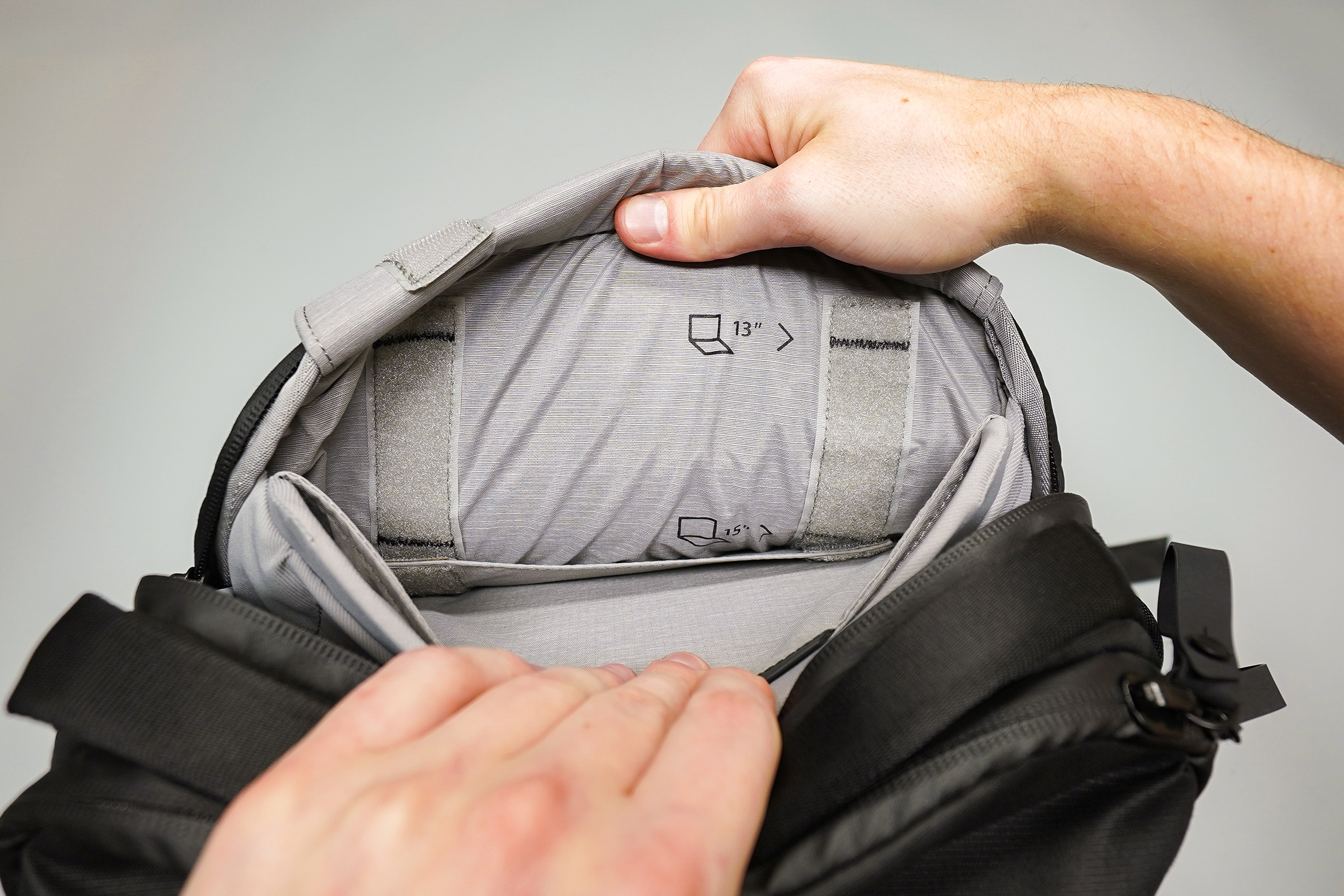 Keep in mind that if the bag is completely jammed full, like it was on our trip, it can be hard to slide the laptop in and out of this pocket. And since laptops are more rectangular and the bag is curved, we found the corners of your laptop can get caught on the gusseted fabric around the interior of these curves as you're trying to pull it out. This was more pronounced on the 15L version while using a 13-inch MacBook Air than it was on the 20L version with a 15-inch MacBook Pro. It's not really a deal-breaker, but it's worth mentioning.
Also, we found it hard to fit a laptop with a case on it inside of this bag. We think that's okay in this case because the bag itself is quite padded, and the false bottom can also help protect the laptop from unexpected drops.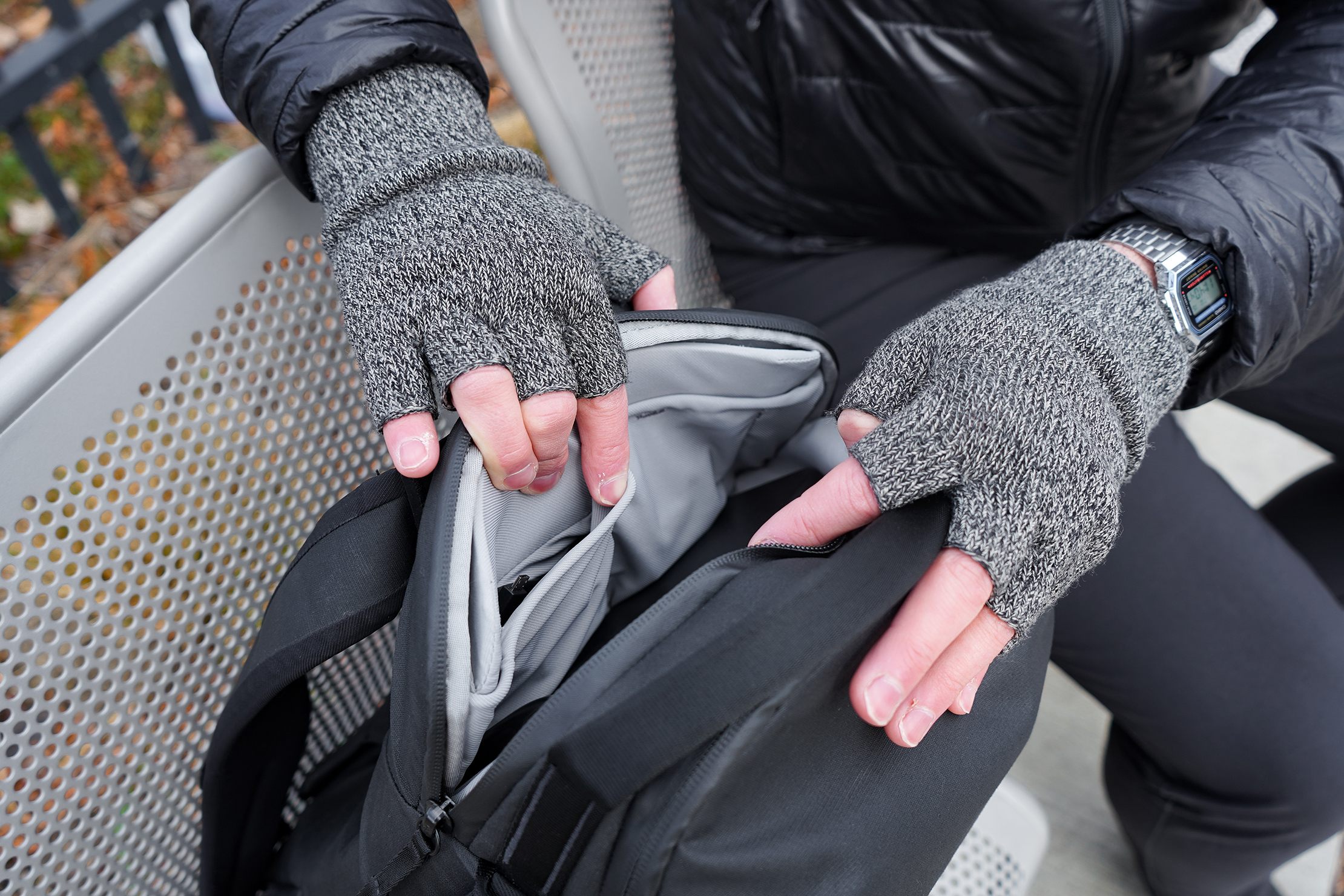 In front of the laptop sleeve is a document or tablet sleeve that closes with a magnet at the top—the folks at Peak Design really love their magnets. In front of that, you'll find a large, stretchy mesh drop-pocket with two divider pockets inside, as well. We like the way this pocket is designed, and it's a great spot to store your tech essentials. But it's not liter-independent. Anything you store in the main compartment of the bag can eat into the stretchy mesh part and make this tech pocket harder to access.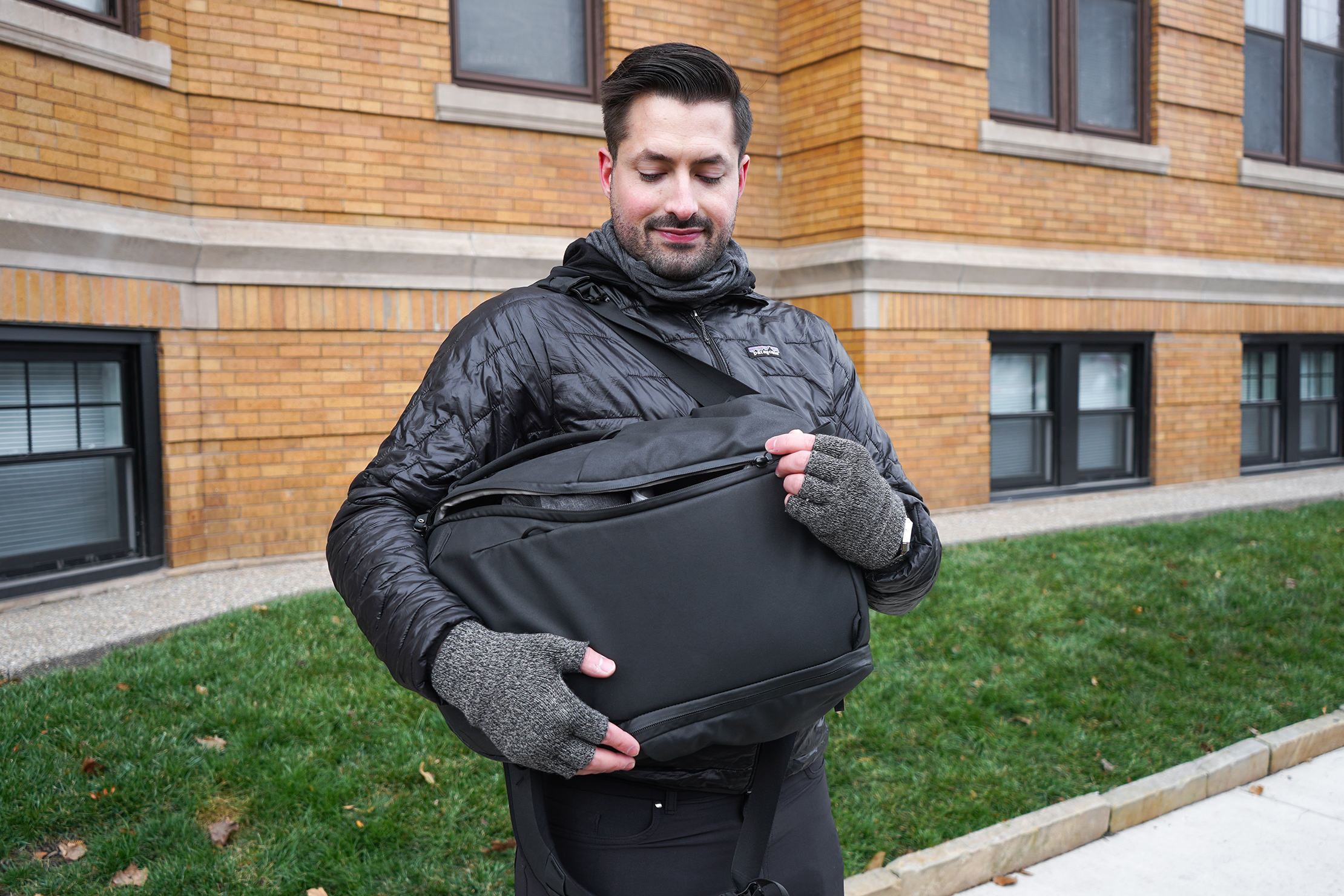 Alright folks, on to the main event, the moment you've been waiting for—the main compartment. A single zipper coil curves around the entirety of the front of the bag with four (yeah, four) separate UltraZips. Really, it's where the Everyday Backpack Zip gets its name.
Where you open the zippers and how far you open them definitely depends on the gear that you want to organize and where you place the FlexFold dividers inside. Our favorite positioning for the zippers is having two at the top for access to the main compartment, and leaving the other two at each bottom side of the bag for quick side access.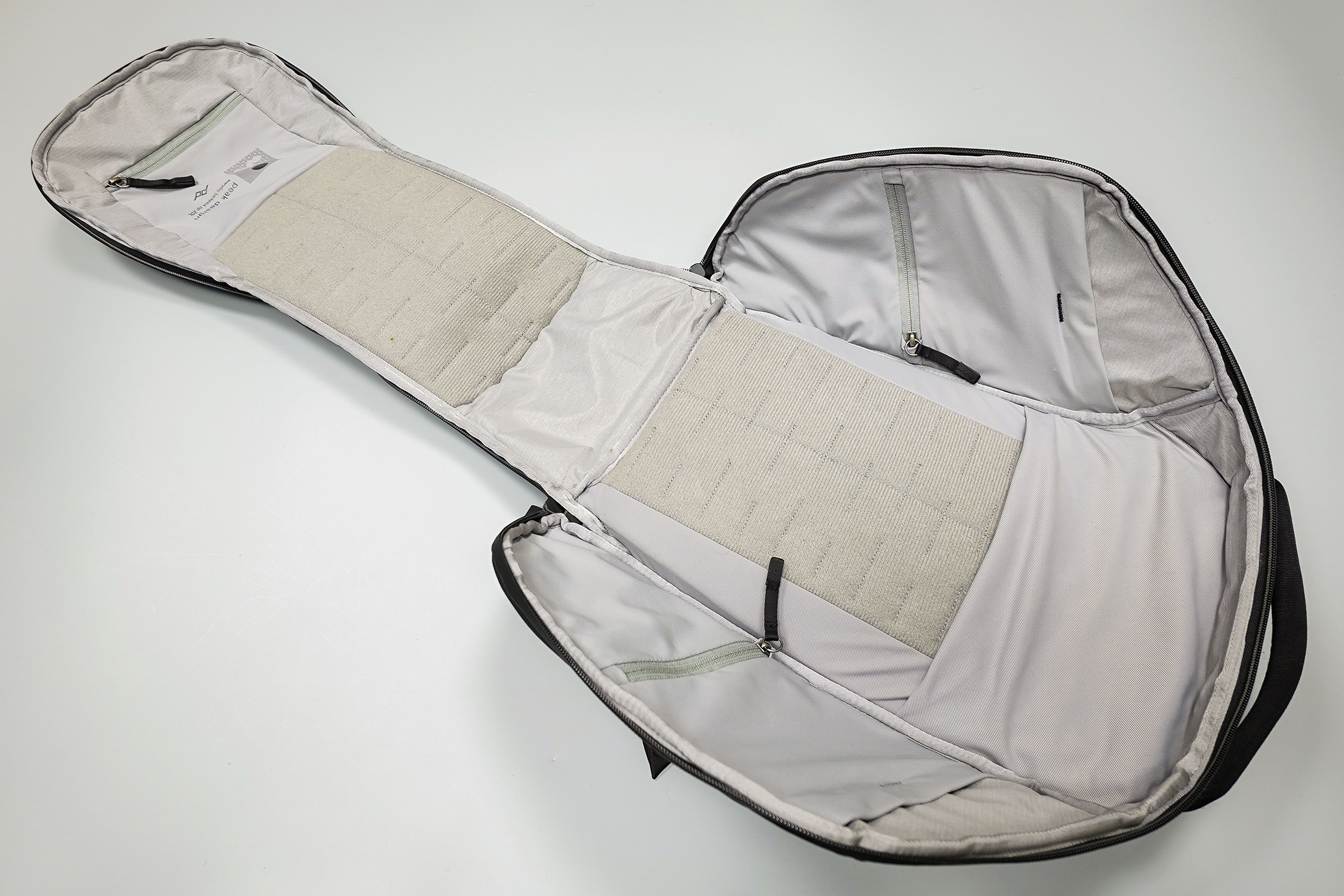 The bag was never really designed to be open fully, and if you do open it fully without attaching the FlexFold dividers, it kind of looks like a baby changing mat.
We generally like this design, but it has also made us slightly wary at times. For example, if you swing the bag around and pull the side zipper flap open quickly, there's a chance the zip could open a little further towards the top of the bag than expected. A pack like the Boundary Supply Errant has a buttoned piece of webbing that can be used as a zipper stop on the side, despite the zipper going full length. It would be interesting to see that concept in action here.
It's really not a deal-breaker at all—it's just something that we've been noticing as we've been testing the bag. And, if you're carrying expensive camera gear, you want to know that nothing will fall out when you're digging around in the pack. We feel a little bit more secure with the Everyday Backpack 30L (V2) that has a defined stop point for the zipper.

All in all, the Peak Design Everyday Backpack Zip 20L is a great bag to quickly swing around from your back, open up, and get access to everything inside. It takes some getting used to, but once you get your system down it is a breeze and joy to use.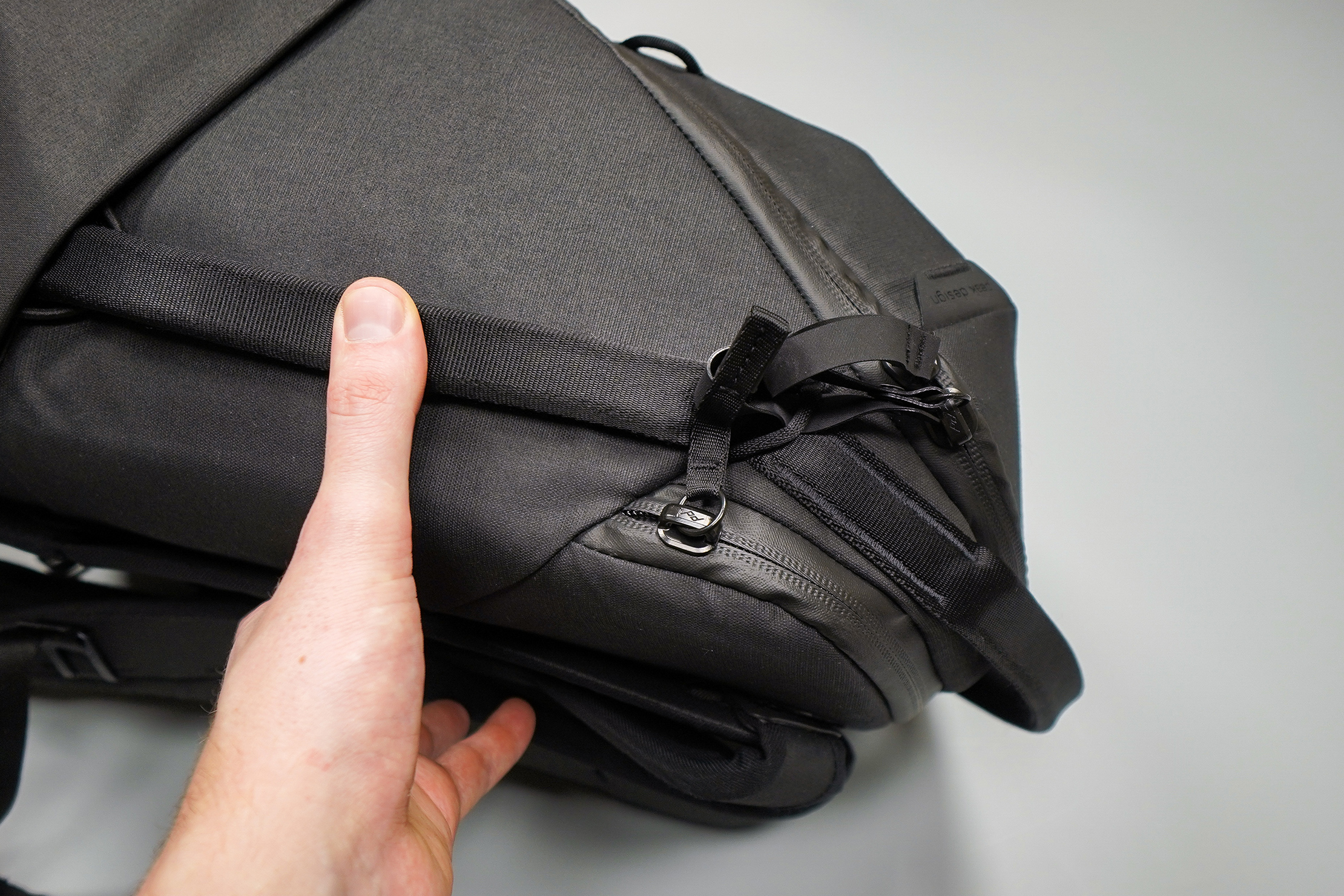 All external zippers on the Everyday Backpack Zip can be attached to lash points on the handles to add a bit of a theft deterrent to the bag and keep it a little more secure. We found fastening the two main opening zippers and threading them through the laptop zipper and handle tend to secure the bag pretty well.
That said, remember: bag features like this are simply a deterrent. At the end of the day, a thief can still grab your entire bag and run away with it, or cut it open, and get access to anything they want inside. These features will just help prevent someone from quickly unzipping your bag and grabbing something.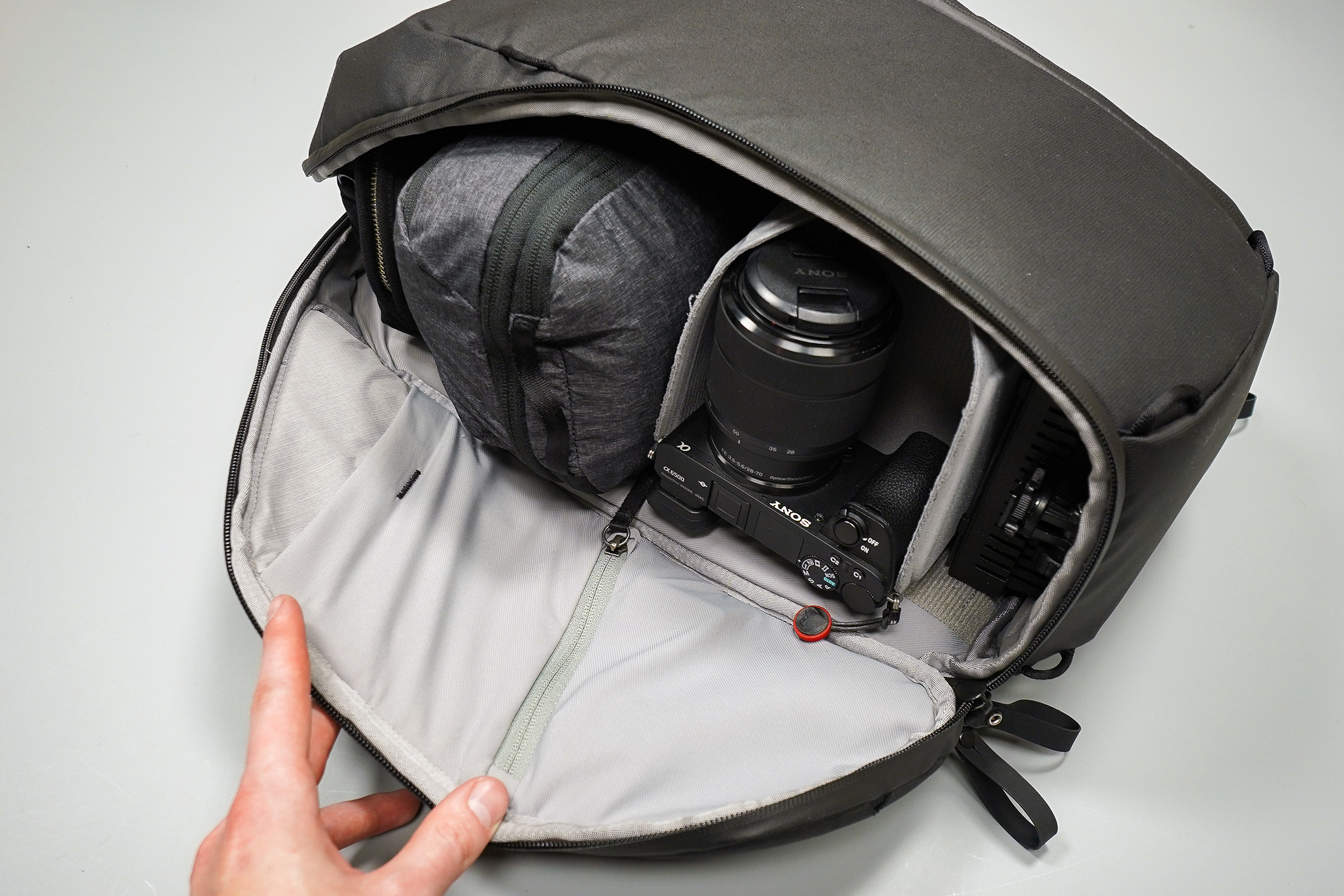 Perhaps the best way to talk about the internal organization and capacity of the Peak Design Everyday Backpack Zip 20L is to walk you through how we typically organize the bag.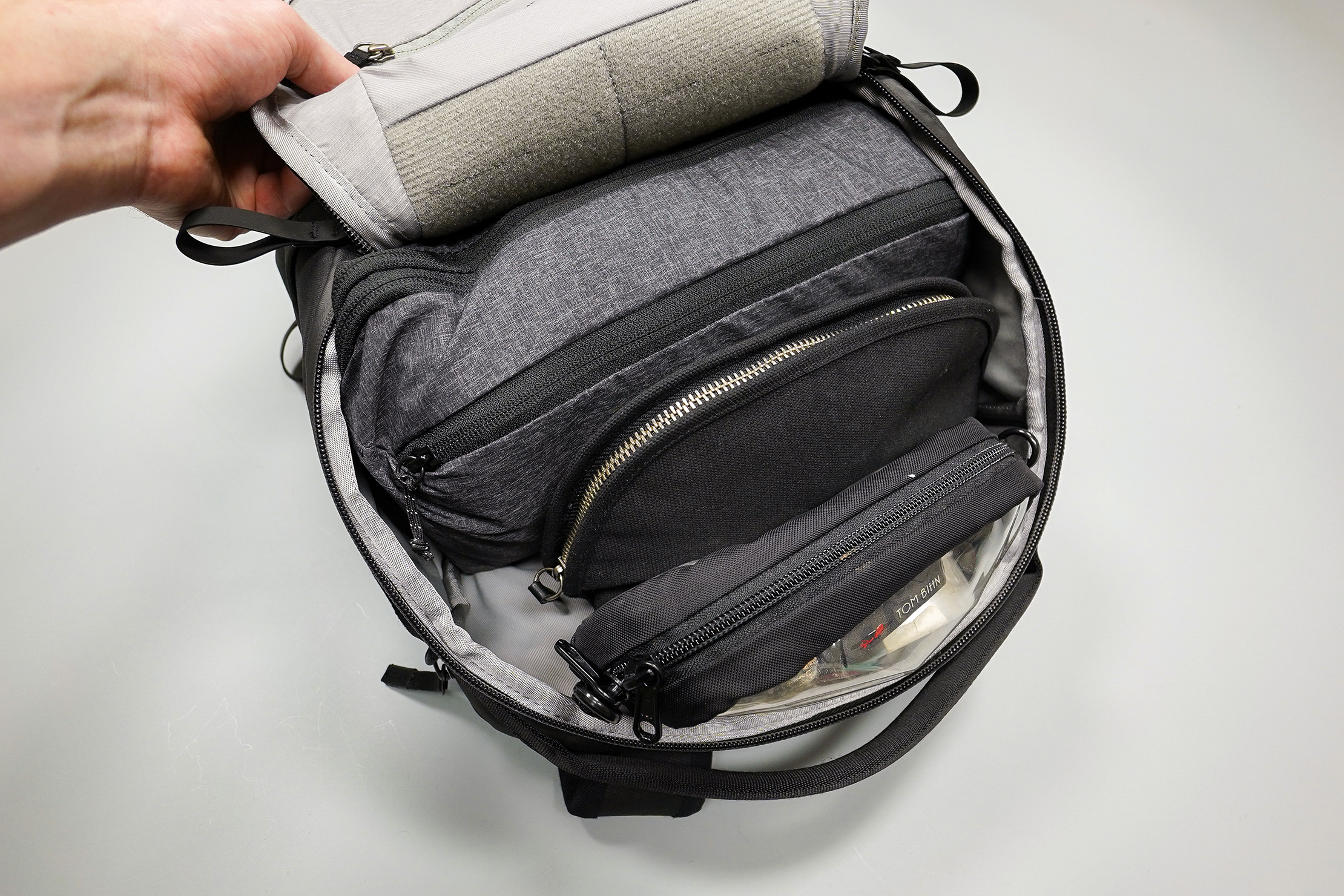 At the top of the main compartment, we've been keeping space for everyday items by creating a shelf with one of the included FlexFold dividers. This gives us some open space for things like a small-sized Peak Design packing cube full of clothing, a toiletry kit, and a tech pouch.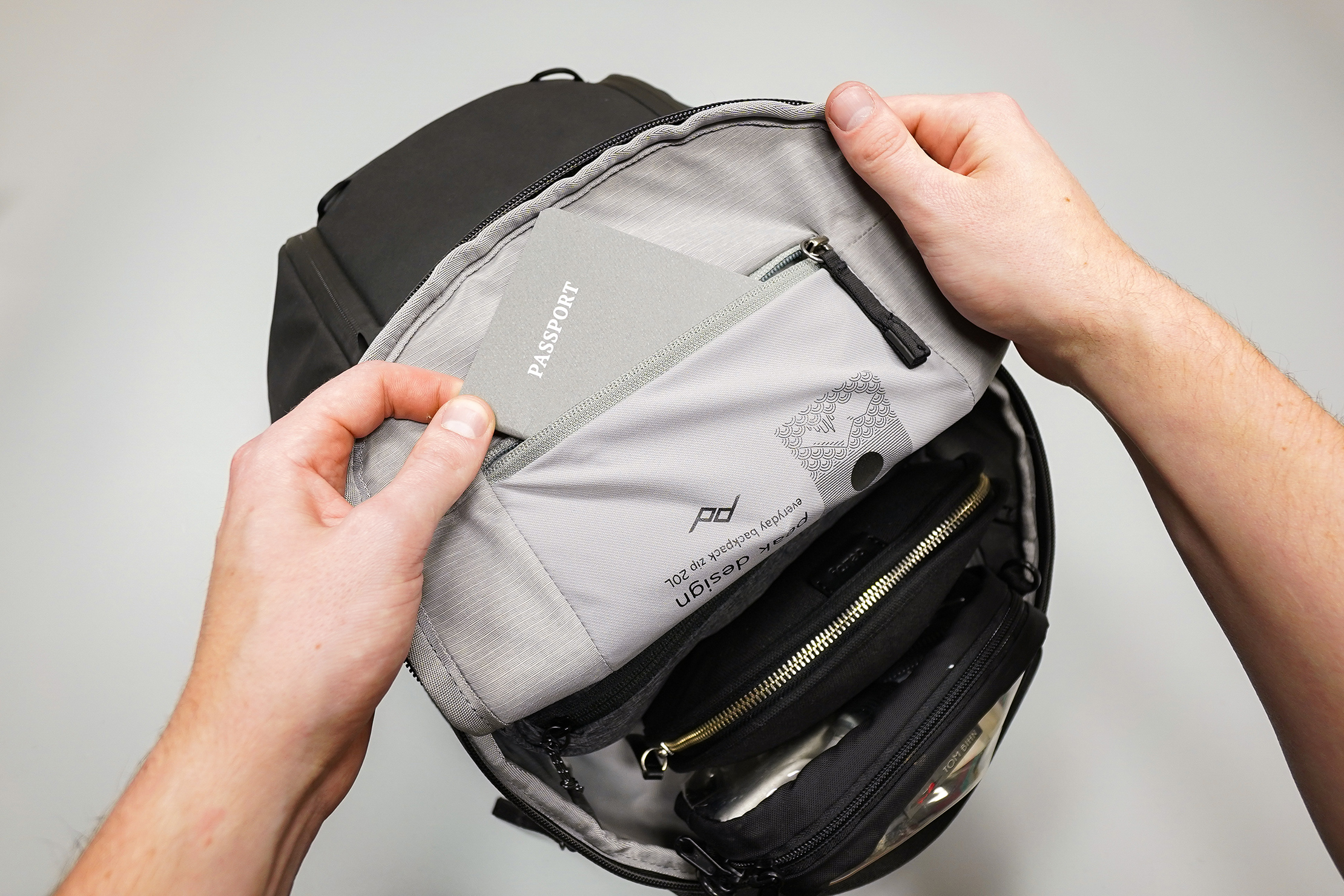 On the top flap, there's also a small zipper pocket with that stretchy mesh material that's ideal for holding things you want to keep more secure, like a passport.
In the middle, we've customized and tailored the FlexFold dividers to hold the two cameras that we've been traveling with—the Sony A6500 with a 10–18mm lens and the Sony A73 with a 28–70mm lens. We didn't like the camera at the very bottom of the bag, so we chose to suspend it a little bit inside of the pack.
We left extra accessories that we wanted quick access to on the bottom—like small LED lights and additional camera batteries.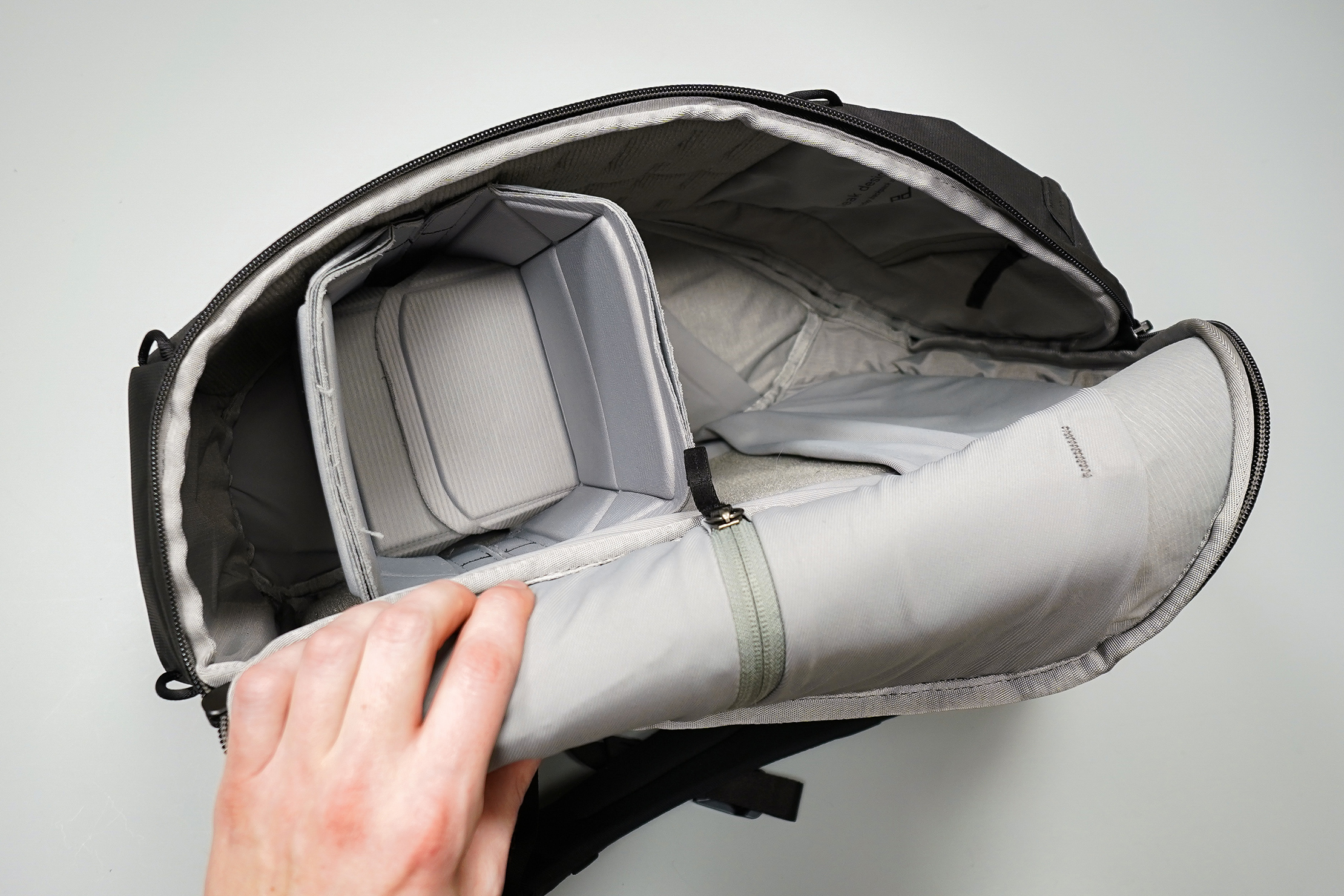 Moving on, you'll find pockets on the wings or side flaps—the part the Everyday Backpack Zip you open when you're accessing it from the side. Both wings have a magnetic pocket on top and a zippered pocket on bottom that has two liner pockets inside. The two magnetic pockets can also be accessed from the top of the bag (where we kept the packing cube, tech pouch, and Dopp kit) which is handy.
There is one small difference between the left and right side flaps—the magnetic pocket on the left side (when looking at the front of the backpack) has black stitching while the right side has gray stitching. This can help create a mental model of charged and dead batteries or what type of gear you have stored in the zipper pockets below. That might not be useful for everyone, but we dig it. It's the little things, you know?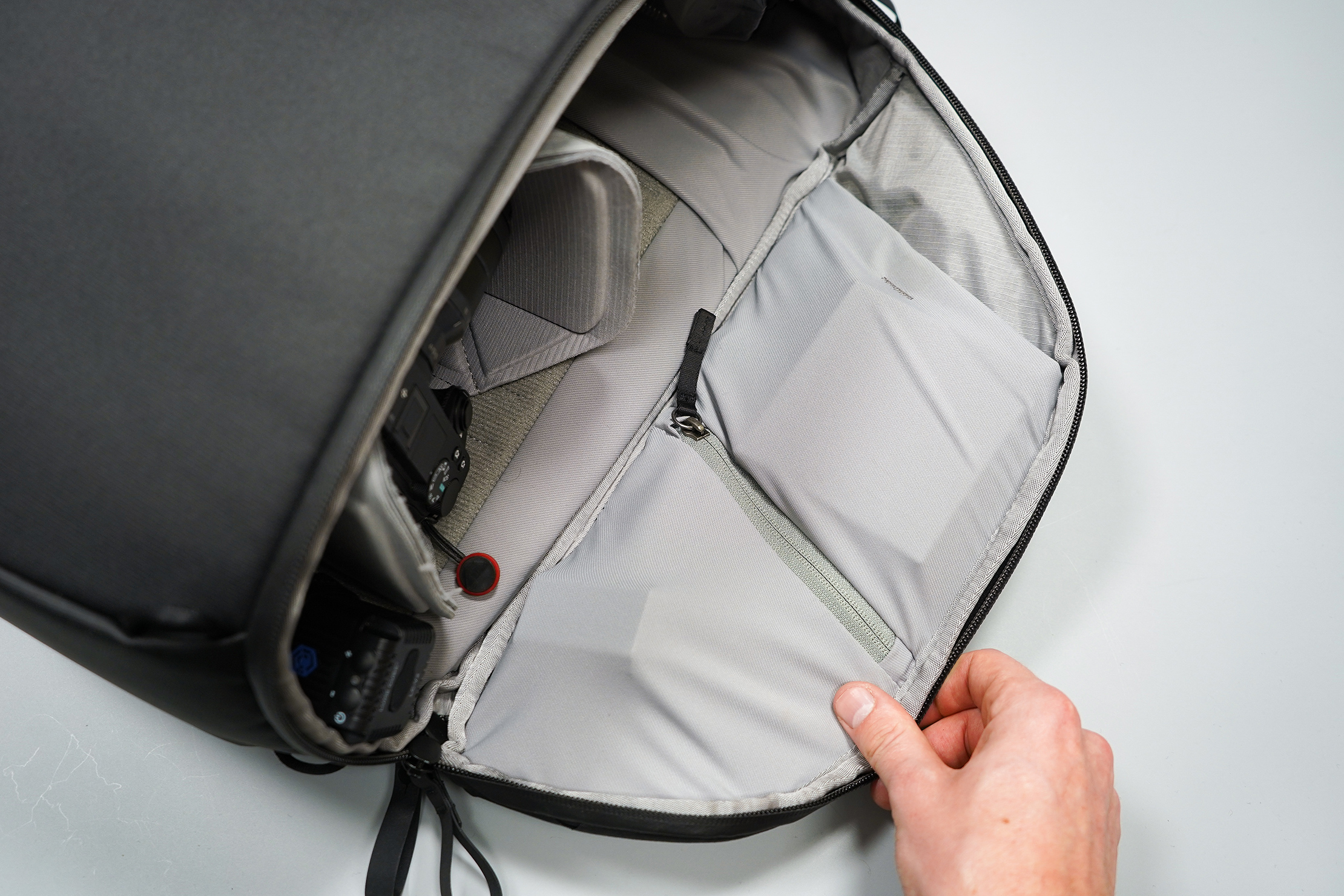 We generally like the side pockets on the Everyday Backpack Zip 20L, however, some people in our community brought up a couple of interesting points with the first version of the standard Everyday Backpack. On V1 of the Everyday Backpack, there is a complete zipper closure on each flap. People like this for two reasons: For starters, if heavier items get jostled around the bag, they just fall to the bottom of that zippered compartment versus falling out of the pocket into the main capacity of the bag. Some people also took advantage of that zippered side area to fit larger items like a big HDMI cable that wouldn't otherwise fit inside of the smaller pockets.
Durability & Testing
We've been testing the Peak Design Everyday Backpack Zip 20L for one month in Detroit, Michigan. Including using it as a one-bag travel backpack for that three-day trip to Portland we mentioned earlier—stuffing this thing full with travel gear, two cameras, lights, and a tripod.
Generally, the Everyday Backpack Zip 20L is best used if you don't fully jam it out as much as we did. The bag's laptop compartment is eaten into when the main capacity is stuffed. And the water bottle pockets on the side are easier to use if you don't have it fully jam-packed.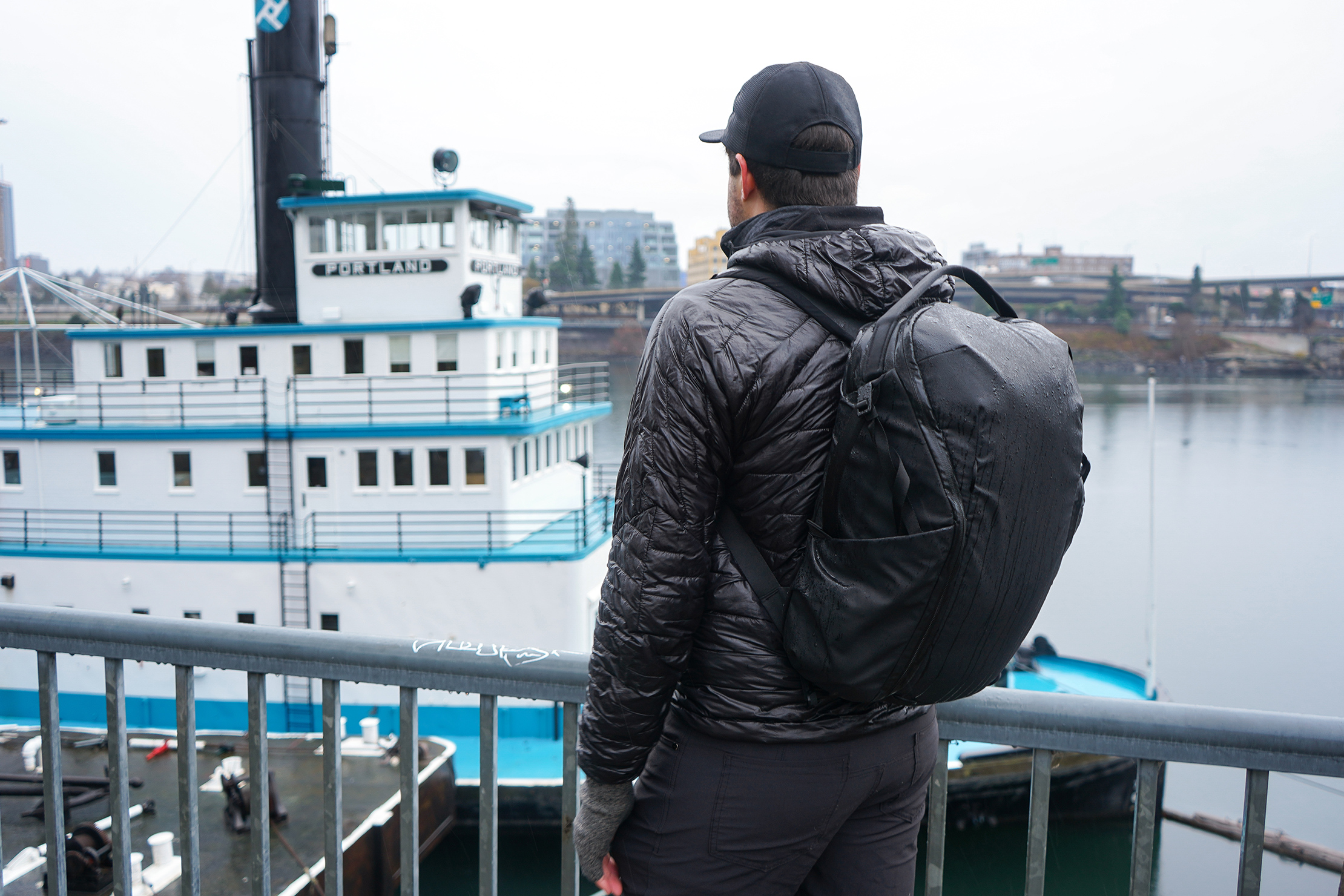 Also, we've found that all of the features and the design of the Everyday Backpack Zip feel a lot more cohesive in the 20L version than in the 15L version. And although this bag is advertised as a pared-down version of the Everyday Backpack 30L and 20L (V2), with fewer features, it definitely has some innovative thinking of its own.
Finally, we should mention that the FlexFold dividers are getting chewed up quite quickly. There are a lot of loose threads on the edges and there's a permanent dent from where we had our camera for the Portland trip that happened just over a couple of days. For the price of this bag, we expect more from Peak Design in terms of durability—the quality of these dividers doesn't really match the rest of the bag. We've had the same issue inside the 3L Everyday Sling that we've been testing, too.
Usage Timeline
Initial Usage
Condition: Excellent
Zip access allows this bag to open all the way up for easy access to everything
Same great camera bag interior as the Peak Design Everyday Backpack
False-bottom laptop compartment can be adjusted for 13″ or 15″ laptops
2 Weeks of Use
Condition: Excellent
Digging the adjustable false-bottom laptop compartment, but it can be hard to access quickly
Having some issues removing and adjusting the sternum strap
1 Month of Use
Condition: Excellent
Intuitive design with a ton of great access, but we're surprised to see the FlexFold dividers are showing wear and tear already.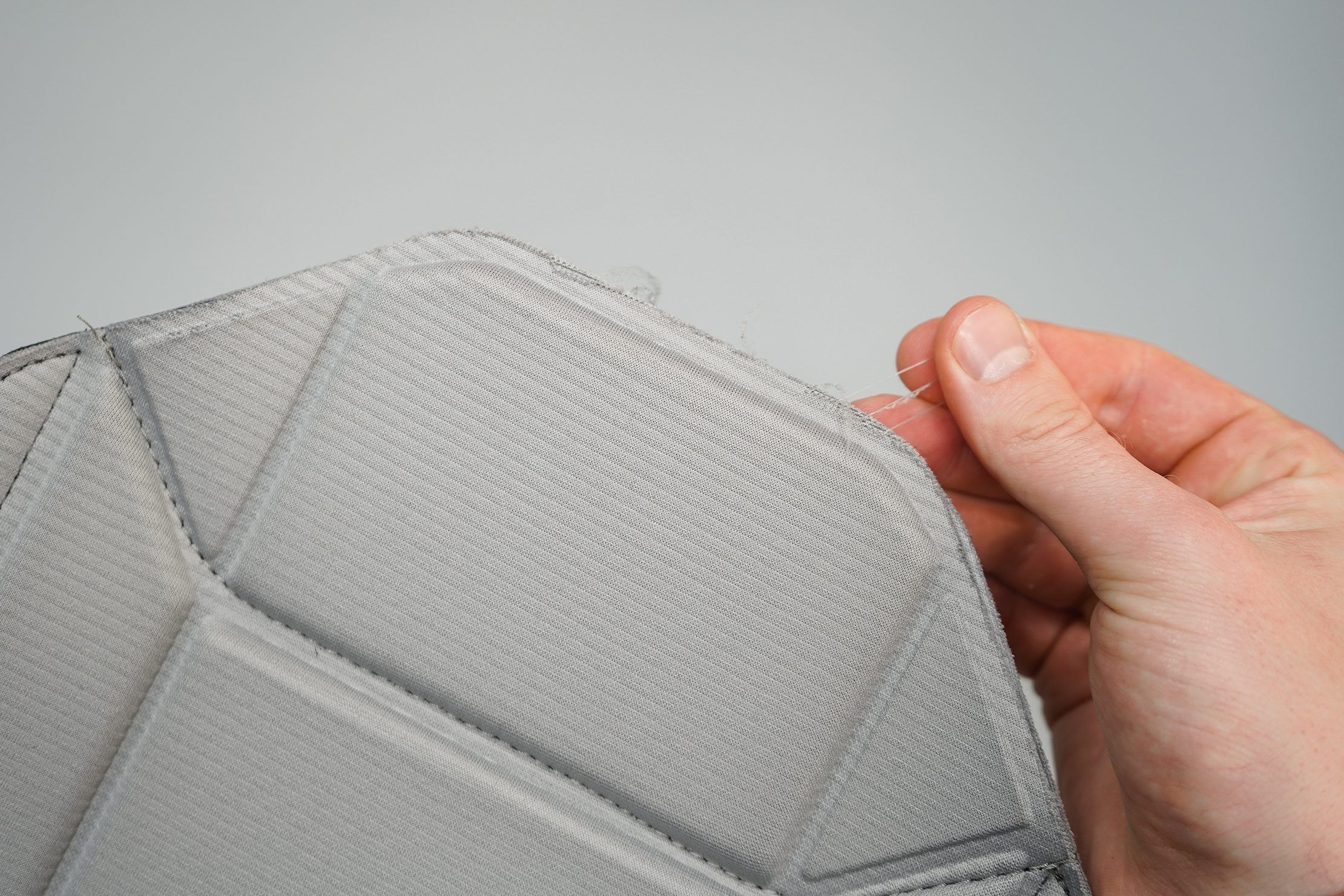 Access the Pro Community Discussion
Get your questions about the Peak Design Everyday Backpack Zip 20L (V2) answered from our team and the Pro Community right here on the page. Plus, join discussions with other members about gear, guides, and more.
Other Bags & Luggage Reviews