Boundary Supply The Errant Pack Review
With plenty of smart organization, the Boundary Supply Errant is versatile, durable, and offers a great bang for your buck. What else is there to say?
Our Verdict
Unlock the Pro Summary
Save time. Get access to brief summaries of our reviews so you can browse and make decisions more efficiently.
Pros
Lots of functionality with a sleek and minimal look
Thoughtful organization
Great materials used throughout
Cons
Top access isn't fast
Sternum strap can disengage without warning
Velcro pocket on the harness system isn't that useful
Recent Pack Hacker Video
Technical Details
Capacity

24l

Denier

500D

Weight (lb)

2.9 lb (1.3 kg)

Dimensions

19 in x 12 in x 7 in (48.3 x 30.5 x 17.8 cm)

Notable Materials

DWR Coating, Hypalon®, YKK Zippers, Fidlock Hardware, Woojin Hardware, Kodra Nylon, Nywool, LFT Foam

Manufacturing Country

Indonesia

Laptop Compartment Size

15"

Warranty Information
Buying Options

$239.00

$219.00
Full Review
In this review, we're going to be taking a look at the Boundary Supply Errant—a 24 liter backpack that boasts some great functionality in a slick and minimal form factor.
According to Google, "errant" has two definitions. The first is "traveling in search of adventure," and the second is "erring or straying from the proper course or standards." We think both of these definitions fit the Errant backpack quite well, depending on what aspects of the bag you're talking about.
On one hand, it's designed for minimal one bag travel. On the other hand, it does stray a bit from the norm and what we've seen on other packs. We've been really pleased with some of these unique features, while some have left us a bit disappointed.
Curious to see what we're talking about? Keep reading to find out everything you could ever want to know—and maybe even some stuff you didn't want to know—about this pack.
Material & Aesthetic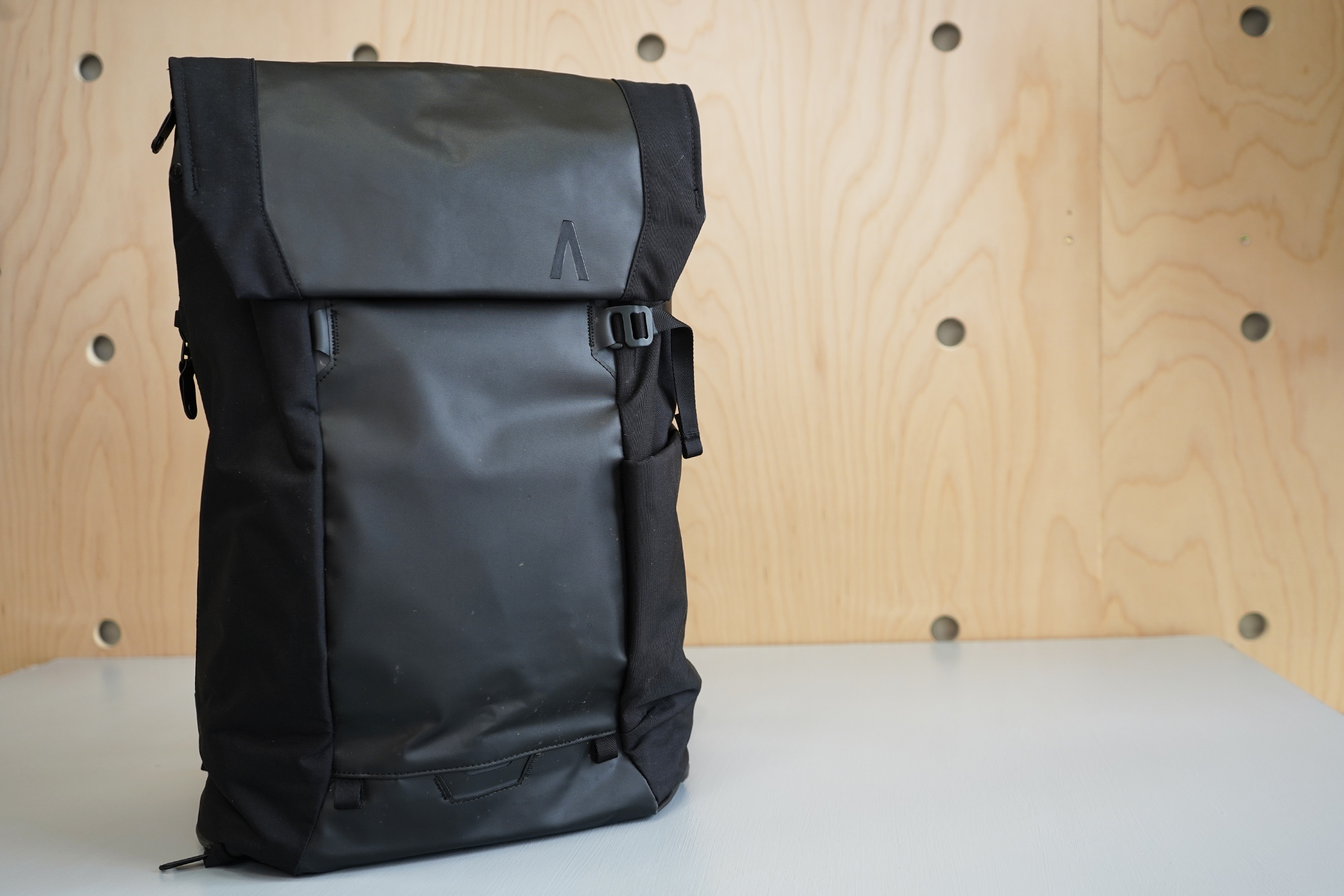 Aesthetically speaking, we think the Errant gives off a slick and minimalistic look. It's got a bunch of functionality, but you wouldn't realize it at first glance because everything is nicely hidden away.
And when we say it looks good, we can actually back it up with data! In our Instagram aesthetic poll, 69% of our audience liked the look of this bag—which is quite a bit higher than most of our polls. So, it would appear this bag appeals to most people. We certainly dig the look.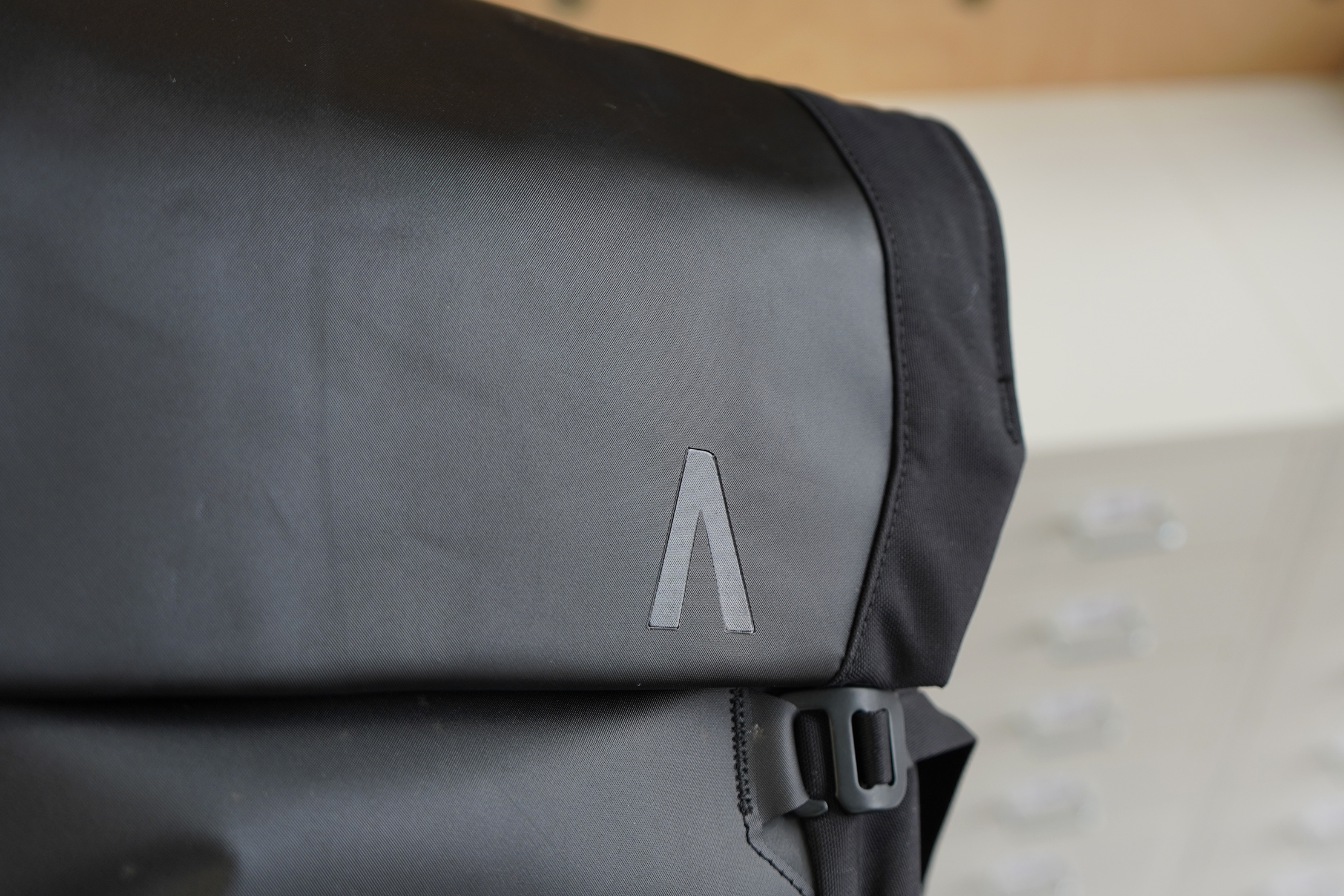 The branding on this pack also contributes to the minimalistic look. Overall, the logos are all quite subdued—they're black on black and you'll find them on the back of the pack, the straps, and the back panel.
As far as colorways, at the time of this review, the Errant is available in three different colors: hymassa tan, obsidian black, and slate blue. We should note that Boundary Supply does seem to be having some production issues, especially with the slate blue.
From what we can gather, these issues are mainly delays in production and lapses in communication. We've only been able to infer this through comments around the internet though, so we can't verify it ourselves. We can say that we saw some similar issues with their first product launched on Kickstarter. Your mileage may vary.
There are a ton of different materials on this pack, so we're going to keep it simple and give you a quick run-down:
The main fabric is a 500D Duramax Kodra, which is basically just a type of nylon.
The shiny, rubbery parts are hypalon, which is water resistant and similar to tarpaulin but with a nicer feel.
The whole pack has a coating of DWR for additional weather resistance.
The zippers are water-resistant YKKs, and a lot of them have their own zipper garages or they're covered with different flaps to help with even more weather resistance and security.
There are magnetic fidlocks around the bag that are super satisfying to open and close.
The harness system has some dense LOFT foam on the back panel and shoulder straps.
There is some Woojin plastic hardware on the sternum strap as well as a couple other places on the pack.
Overall, we're pretty impressed with the materials on this pack. There are some solid choices all around, and everything comes together nicely. We're also a bit surprised to see such a plethora of high-quality materials at a pretty damn low price point.
External Components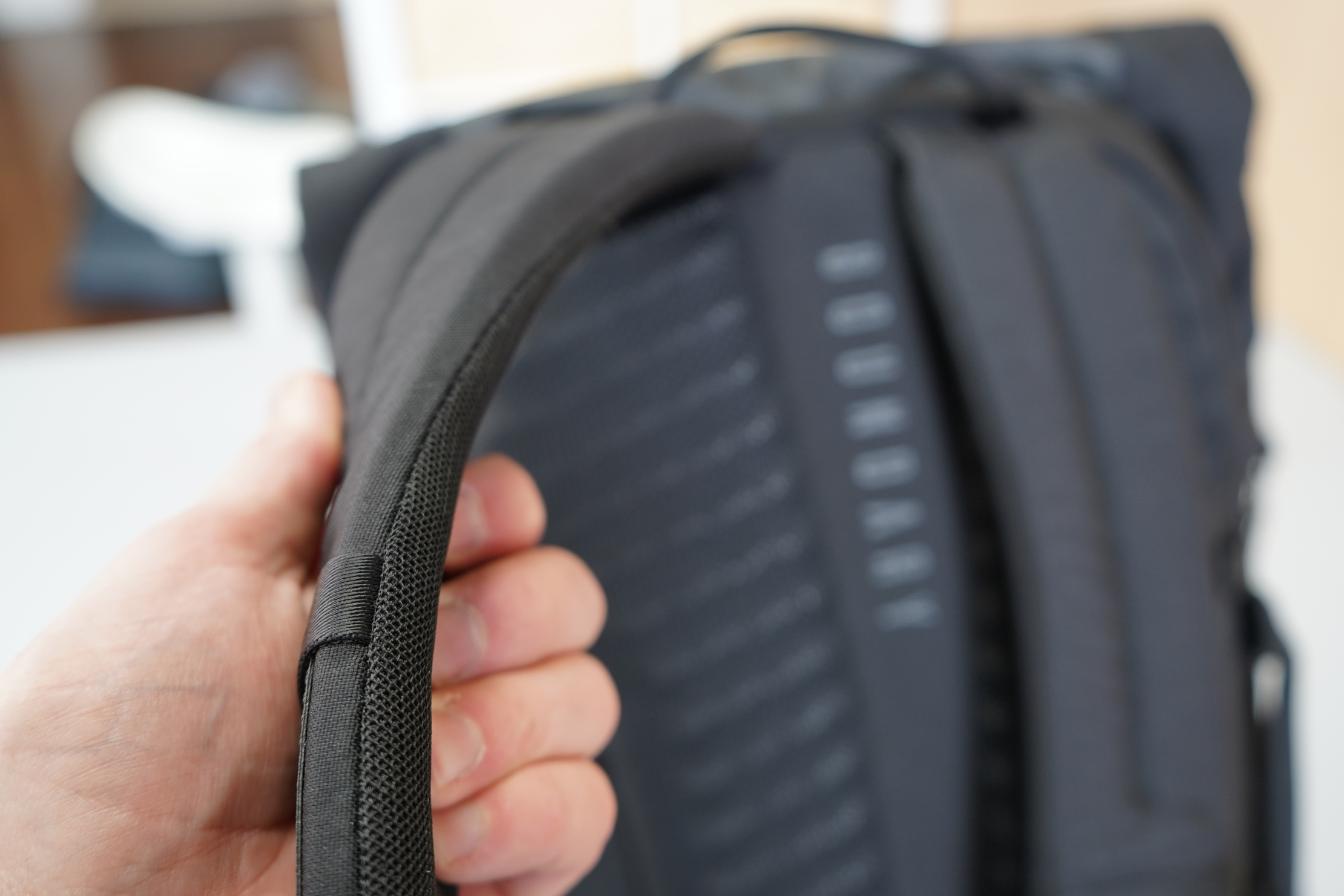 Let's kick off the external components with the harness system. The straps are thick and dense enough for a comfortable carry. And just as a note, we did notice they felt a bit too dense in the beginning, but as we've been using the pack and breaking them in they've gotten more comfortable.
There are two nylon loops on the straps that can be used to attach additional accessories, including some from Boundary Supply. You'll also find the sternum strap attachment system, which isn't exactly ideal. It has fallen out a few times—including once without our intervention—while we've been using the pack…
This is, surprisingly, something we've seen on a lot of other packs. The whole "removable sternum strap" thing is a great idea in theory, but it only works if the sternum strap actually stays in place once you've attached it. Unfortunately, we don't have much confidence in this particular sternum strap and we'd recommend either taking it off entirely or making a note to buckle it at all times so that it isn't as likely to fall out. On the flip side, the magnetic fidlocks used for the buckles on the sternum strap have been a breeze to use.

The shoulder straps are also adjustable at the bottom, and they've got some plastic strap-keepers to hold any excess straps nicely in place. One super tiny gripe is that the shoulder strap adjustment straps don't move very smoothly through the buckles. It's really not a big deal, but we thought we'd point it out.
There are two nylon loops on each side that hold the optional waist belt, and we really love that Boundary has chosen to include two on each side, as it lets you adjust the waist belt based on your torso length. This is something that a lot of other bag companies could learn from, as it helps to create a more versatile carry depending on your body type.
That being said, the waist belt itself is pretty minimal and it doesn't distribute a ton of weight. You don't necessarily need it for a pack of this size, so we're not terribly worried about this. It does still help keep the pack closer to your back, which is good, but not much else.
Wrapping up the harness system, the LFT foam on the back panel is thick and comfortable. It has a ridged design as well as some mesh that helps with airflow and avoiding that dreaded back sweat.
There is also a small lash strap on the back panel that you can use to keep the shoulder straps close to the pack and prevent them from moving. It also works as a luggage pass-through, if that's your thing.
At the top of the bag, there is a sewn sewn nylon loop that is just padded enough to provide a comfortable carry—great for hanging the bag up or grabbing it quickly. We like how it's got a really slim profile.
The rest of the components on the exterior of this bag are well-designed and we like the smart thinking going on. Here's another quick run-down:
There is a simple water bottle pocket on the side with some gusseted fabric.
Above that, there is a simple lash strap that is great for securing tripods or other larger items.
There is a small handle on one side of the back panel for a "briefcase carry." This works, but it's a bit smaller than we'd like and, because it's on the back side, it doesn't provide a very balanced carry.
There are also some convenient lash loops all over the exterior of the pack that let you strap on all kinds of gear.
Inside the Pack
Although you can't tell from the outside, there is a whole lot going on inside this pack.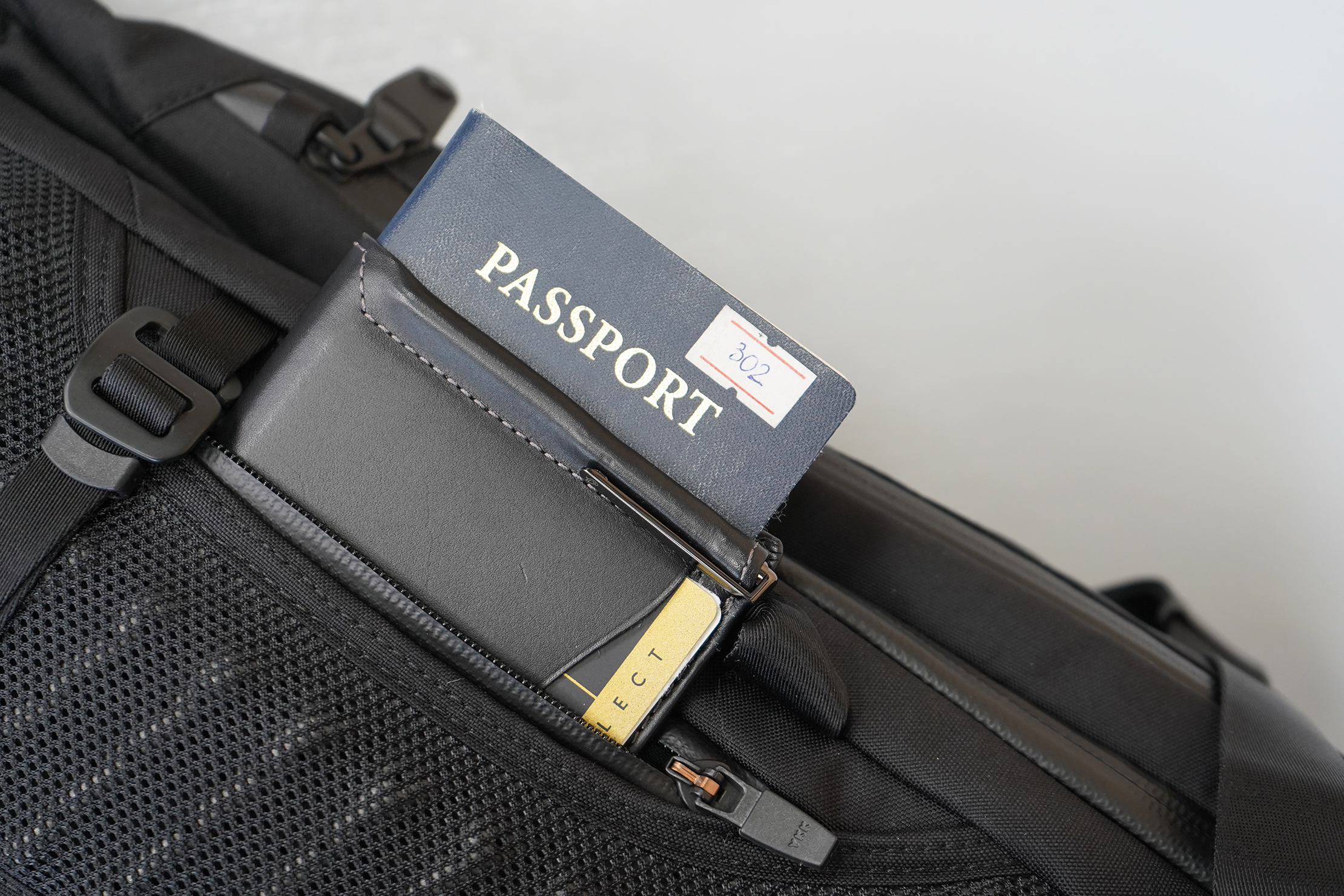 We'll start with the two security pockets on the back panel, near the side handle we discussed above. You'll find a weather-resistant YKK zipper here that opens up into a small compartment. This is great for passports or other small, flat items.
Opposite of that there is a similar pocket with a Velcro opening. Both of these have the nylon liner that is seen throughout the interior of this pack. Personally, we've been liking the zippered more than the Velcro side, as the Velcro opening doesn't feel very secure.
On the side opposite the water bottle compartment, there is a giant pocket that Boundary Supply has dubbed "the commuter pocket." Overall, this pocket is really handy, well-designed and easy to access—we love what's going on here. It's great for keys and other quick grab items you might want to throw in and have access to in public transit, as you're popping around a new city, or as you're going through security at the airport.
At the bottom of the bag there is a separate pocket and compartment for holding dirty clothing or shoes. This pocket has some handy and well-placed zipper garages to help with additional weather resistance, which we like.

On the front of the pack there is one quick-grab pocket underneath the magnetic closure of the top flap, which is nice to have. This pocket is lined with "nywool," which is a little bit softer than the straight up nylon liner seen in other areas of the pack. We like tossing sunglasses or items with screens in here, because you know they're not going to get scratched up. The flap also provides some additional security and weather resistance for this pocket, which is an added bonus.
Moving onto that top flap, it closes with two different magnetic areas. To be honest, we think this works a little better in concept than in actual use. It can be hard to close these fully, especially if that small quick-grab pocket is unzipped.
Under the top flap, there is a zipper that lets you open up the bag for a traditional top-down access. Overall, we think this access point isn't the greatest since it takes a long time to actually get to that zipper and open it up.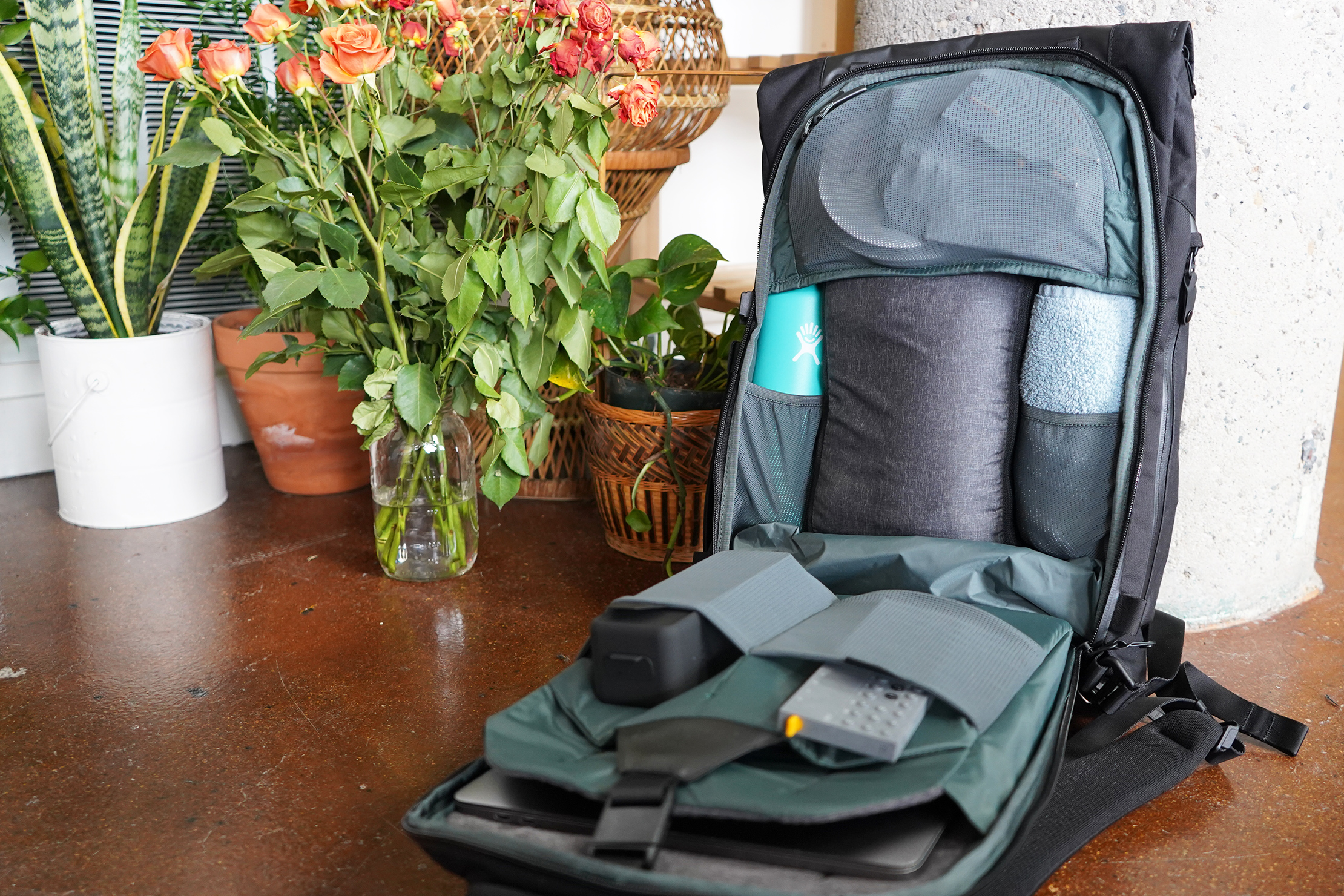 The second point of access is the clamshell compartment in the back and, quite the opposite of the top-down approach, we've found this to be a really excellent setup. It's especially convenient for accessing your tablets and laptop quickly, and it's just a quicker, easier access point to get to all the contents of the bag.
Although the zip fully opens with the clamshell style, there is a plastic fidlock that's in the way. So just a note: you can open the clamshell about a quarter of the way with that in place, and then undo it to open the compartment fully.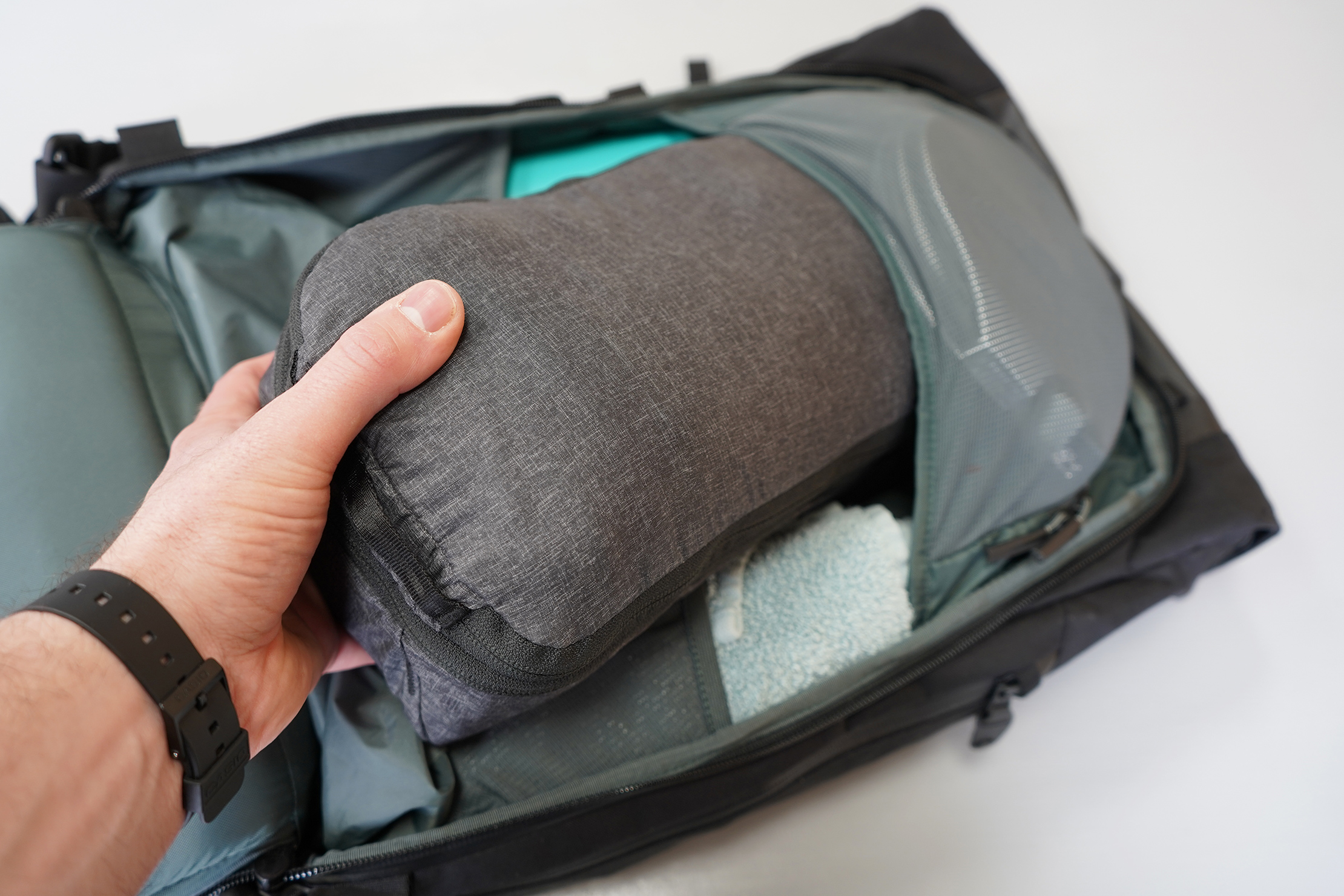 When opening the clamshell fully, you're greeted with an entire bucket—and there's actually a lot of smart thinking going on here. On each side there are nylon stretch pockets which are good for holding water bottles, rolled up towels or larger items.
Within the main liter space, there are some eyelets, lash straps, magnetic attachment points, and a Velcro sleeve. All of these fastening points are designed to seamlessly integrate with Boundary's other products—the Boundary MK-2 Camera Case and the CB-1 Photo Insert.
We really like Boundary Supply's thinking with this area of the pack. They've really thought through all of the details, and this design allows you to take a modular approach to what you carry, giving you some customization to get everything perfectly situated depending on your unique situation.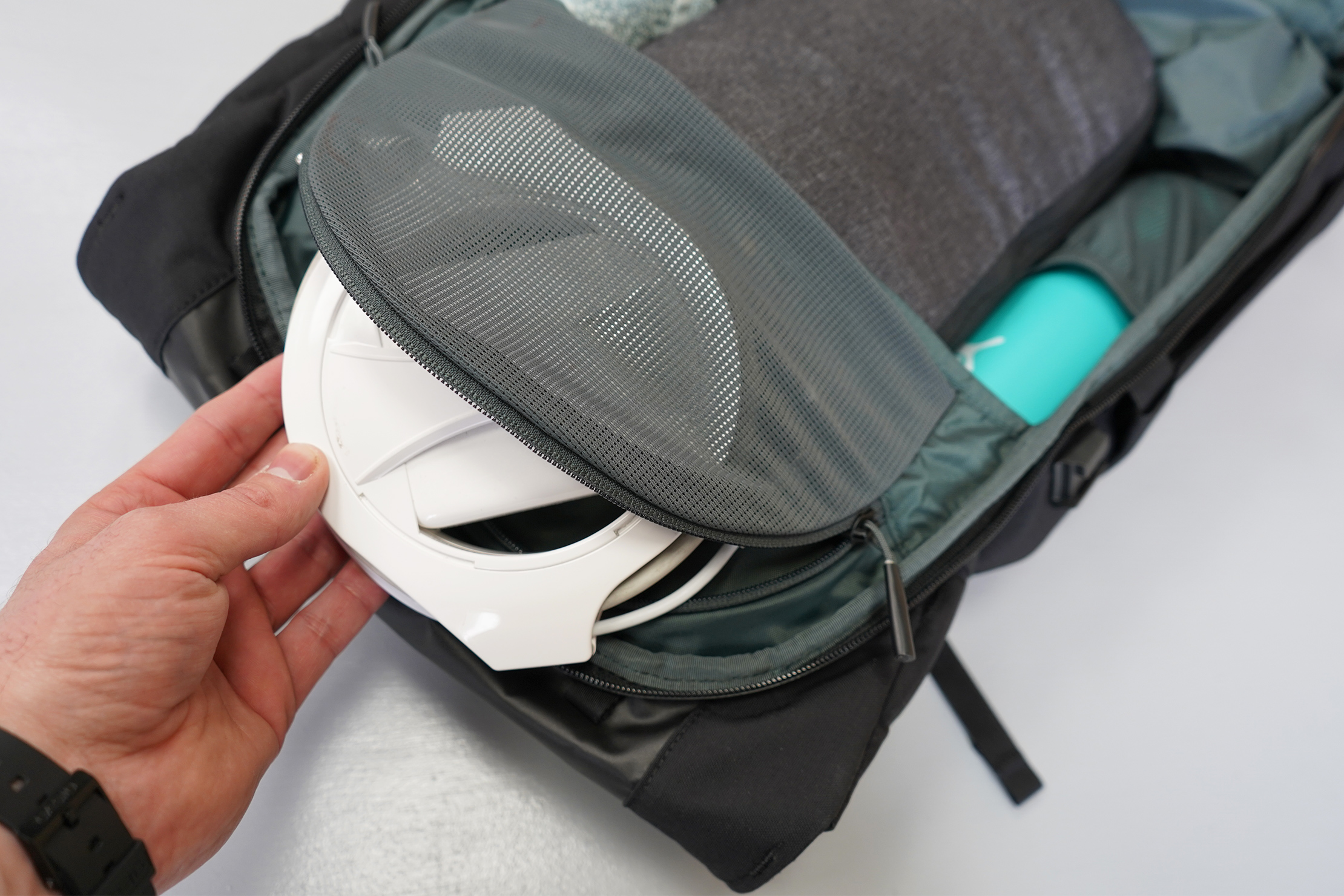 Above the main liter compartment there is a floating mesh compartment in the shape of a half-circle. This is great for dumping tech items—like a mouse, charging cables, or additional hard-to-tame wires. This pocket can be accessed easily by unzipping the clamshell halfway, allowing you to access all the gear in here as well as your laptop and tablet.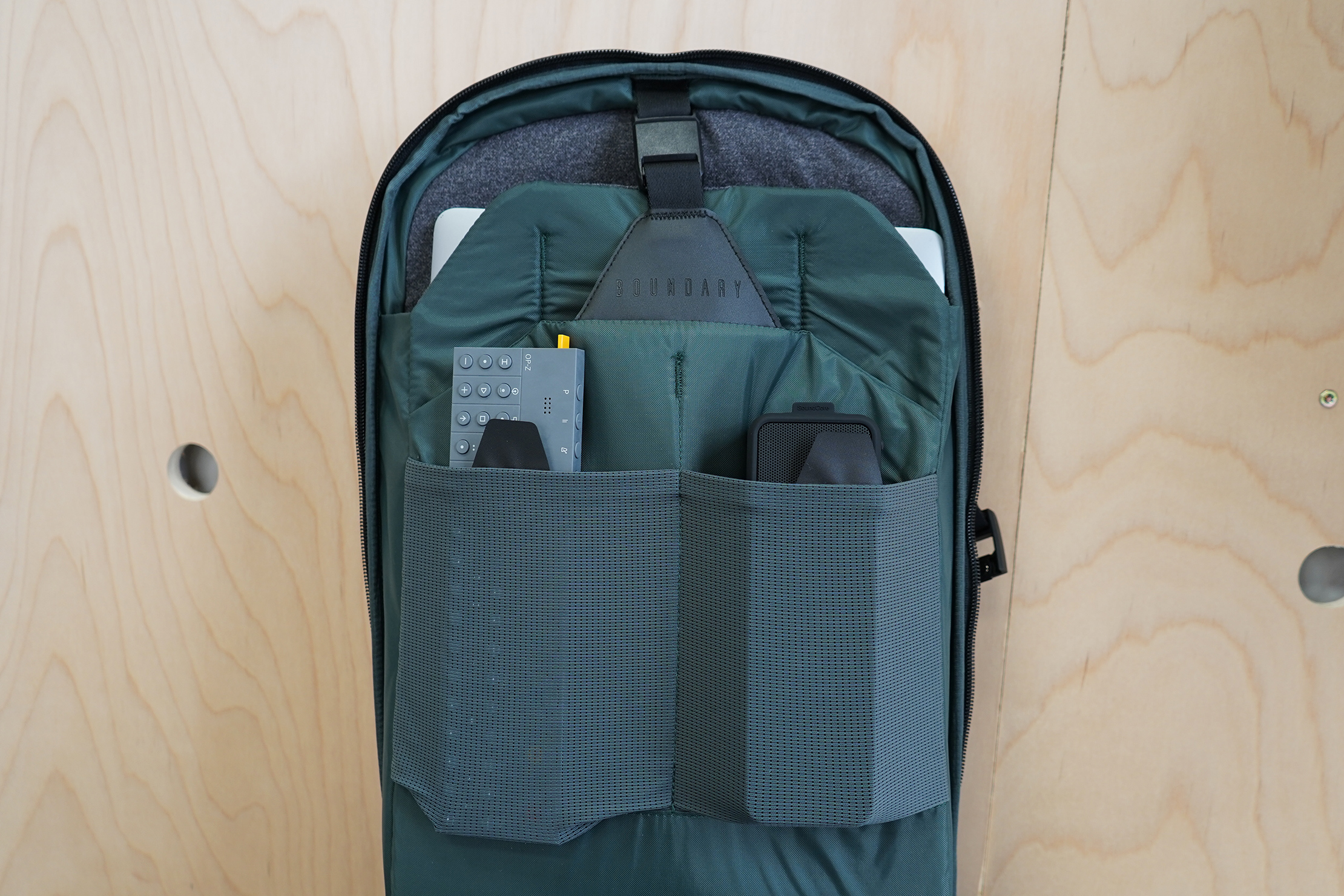 And now it's time to check out the super duper mega laptop sleeve and tablet area. Starting at the bottom, there are two stretchy and meshy pockets that are gusseted to allow for bulkier items. The elastic band on top also keeps larger items secure within these pockets, and the hypalon pull-tabs allow you to access everything easily.
Above that is Boundary Supply's secure double magnetic closure for your laptop and tablet. We kind of have mixed feelings about this system. On one hand, it feels a bit like overkill. On the other hand, it's nice to have the additional security for your laptop if something were to happen—like if the bag were to get jostled around or fall off a table. With this system, everything is going to stay locked in nicely, but it does make it a bit harder to access your laptop quickly.
Both of these pockets are suspended with a false bottom, meaning your laptop or tablet isn't going to slam into the ground if you drop the bag. There's a little bit of padding and a little bit of dead space between those dedicated compartments and the bottom of the bag itself.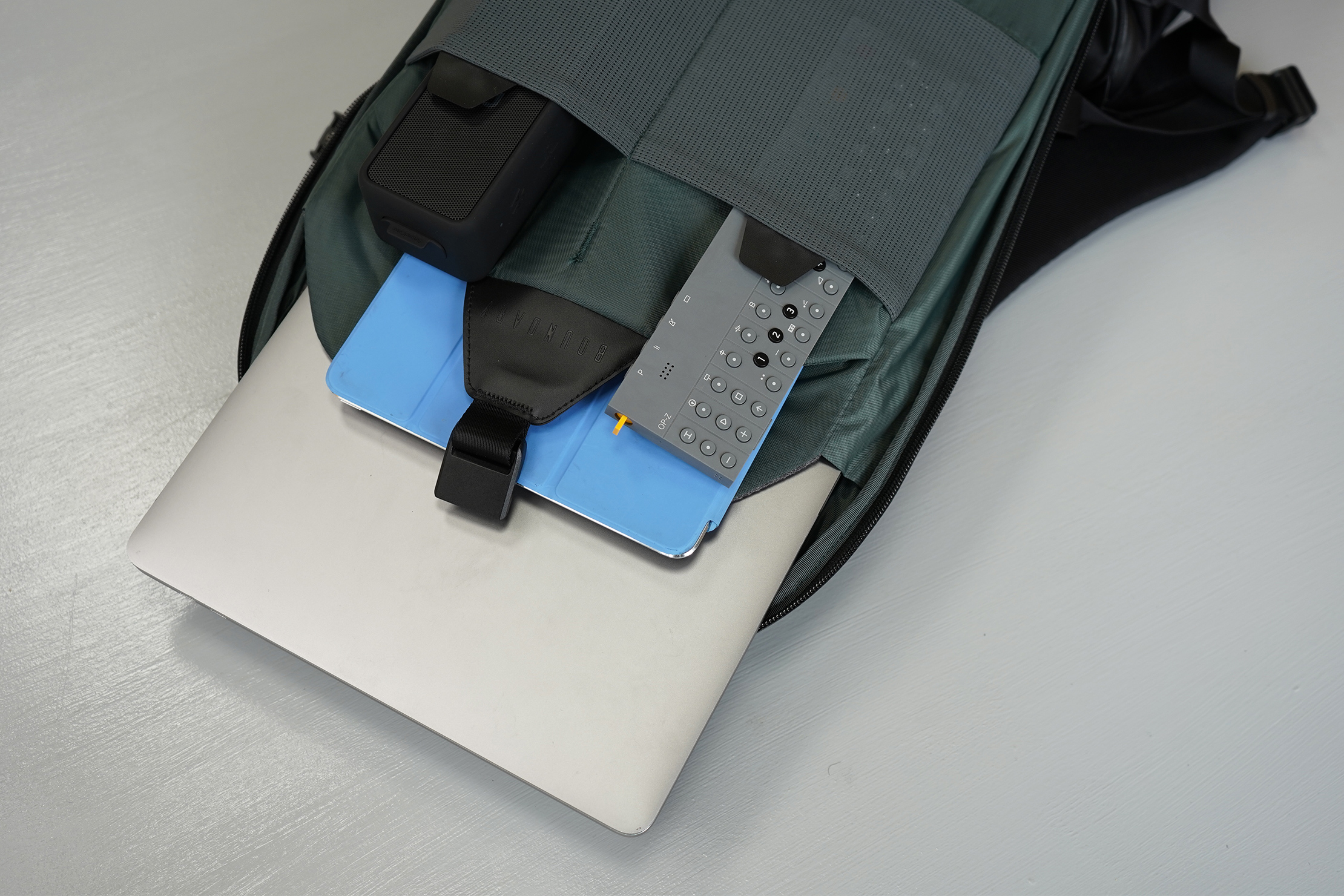 The tablet pocket is lined with the nylon liner you'll find on the rest of the pack, but the laptop compartment features the nywool material which is a bit softer to the touch and won't scratch up your gear.
And lastly, that whole closure system offers some ample padding on both the inside and outside—meaning your gear will be protected and the back panel is still nice and comfortable when you're wearing the pack.
Durability & Testing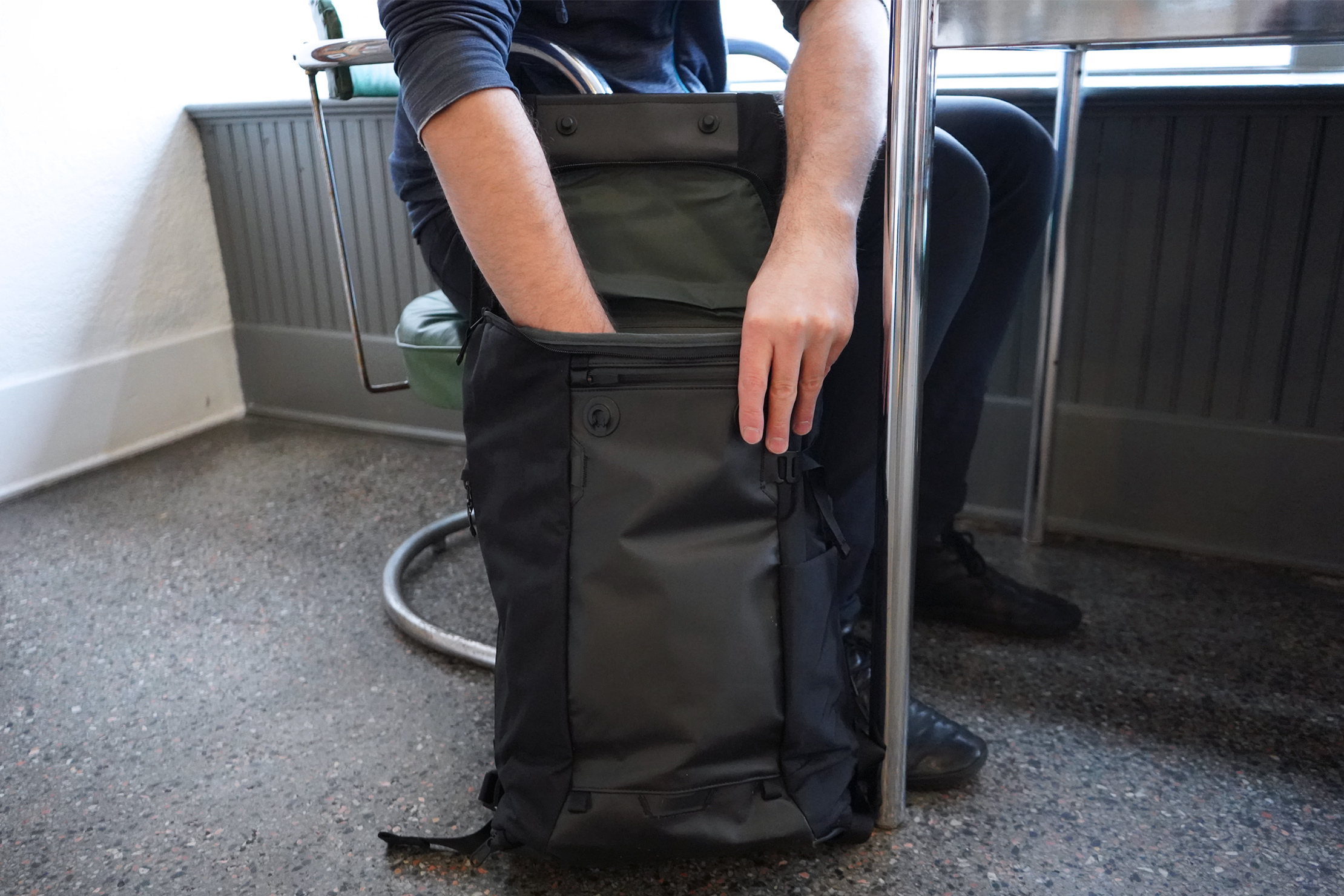 At the time of this review, we've been testing the Boundary Supply Errant for two weeks. We've also had the opportunity to test their first bag, the Prima System Modular Travel Backpack. That pack is pretty similar in function and carry, although there's quite a bit more options specifically for camera gear.
There is a lot of organization going on with this pack, and we think most of the systems are solid—especially that mesh pocket for tech, which is great for just dumping gear in and keeping it separate from the rest of your pack. The organization on this pack works well in practice, which is something we don't find ourselves saying too often.
In our two weeks of testing, the only major disappointment has been the sternum strap—which has fallen off once without any prompting whatsoever. That's a bit scary. We've also had some mud and salt stain the exterior of the pack from biking around in the Detroit winter, but that's generally to be expected.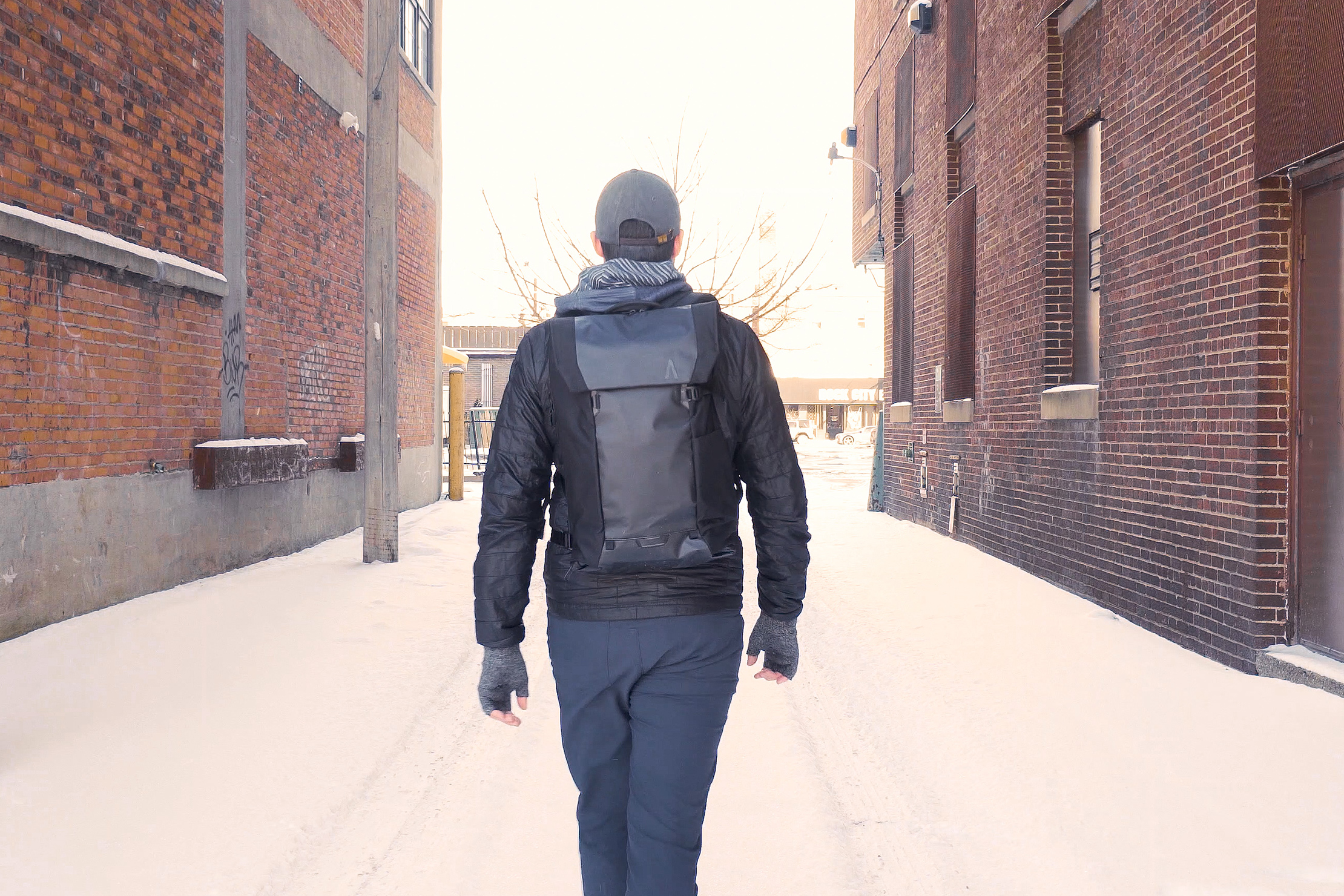 Other than those couple minor gripes, this pack has held up well during our testing and we don't have many concerns about the overall durability.
Usage Timeline
Initial Usage
Condition: Excellent
Loving the look of this pack! Seems like a really great value, excited to test it out.
2 Weeks of Use
Condition: Excellent
The main liter capacity feels small when we load it up, and the top lid closure is a bit tricky. But other than that, it's a solid pack.
Access the Pro Community Discussion
Get your questions about the Boundary Supply The Errant Pack answered from our team and the Pro Community right here on the page. Plus, join discussions with other members about gear, guides, and more.
Other Bags & Luggage Reviews