Peak Design Everyday Sling 3L (V2) Review
A sleek, innovative sling bag that's ideal for photographers and videographers, the Peak Design Everyday Sling 3L (V2) improves on the original.
Our Verdict
Unlock the Pro Summary
Save time. Get access to brief summaries of our reviews so you can browse and make decisions more efficiently.
Pros
Customizable
The quick-release adjuster is amazing
Sleek, compact design
Cons
Doesn't sit flat against your body when fully packed
Front compartment can look bulky when full
Fraying on the divider after only two weeks of testing
Recent Pack Hacker Video
Technical Details
100 %
Carry-on Compliance
Capacity

3l

Weight (lb)

.99 lb (0.4 kg)

Without dividers

Denier

400D

Dimensions

7.48 in x 11.8 in x 4.72 in (19 x 30 x 12 cm)

Notable Materials

Recycled Nylon, DWR Coating, Polyester, Polyurethane, Polyethylene, YKK Zippers, Aluminum, Leather, Zoom Zippers, Hypalon®

Manufacturing Country

Vietnam

Warranty Information
Full Review
Get up to 10% off Peak Design • Join Pack Hacker Pro
We use a lot of camera gear here at Pack Hacker, so if something makes it into our daily kit (or travel photography kit) then you know that item has to be good.
Enter the Peak Design Everyday Sling 3L (V2).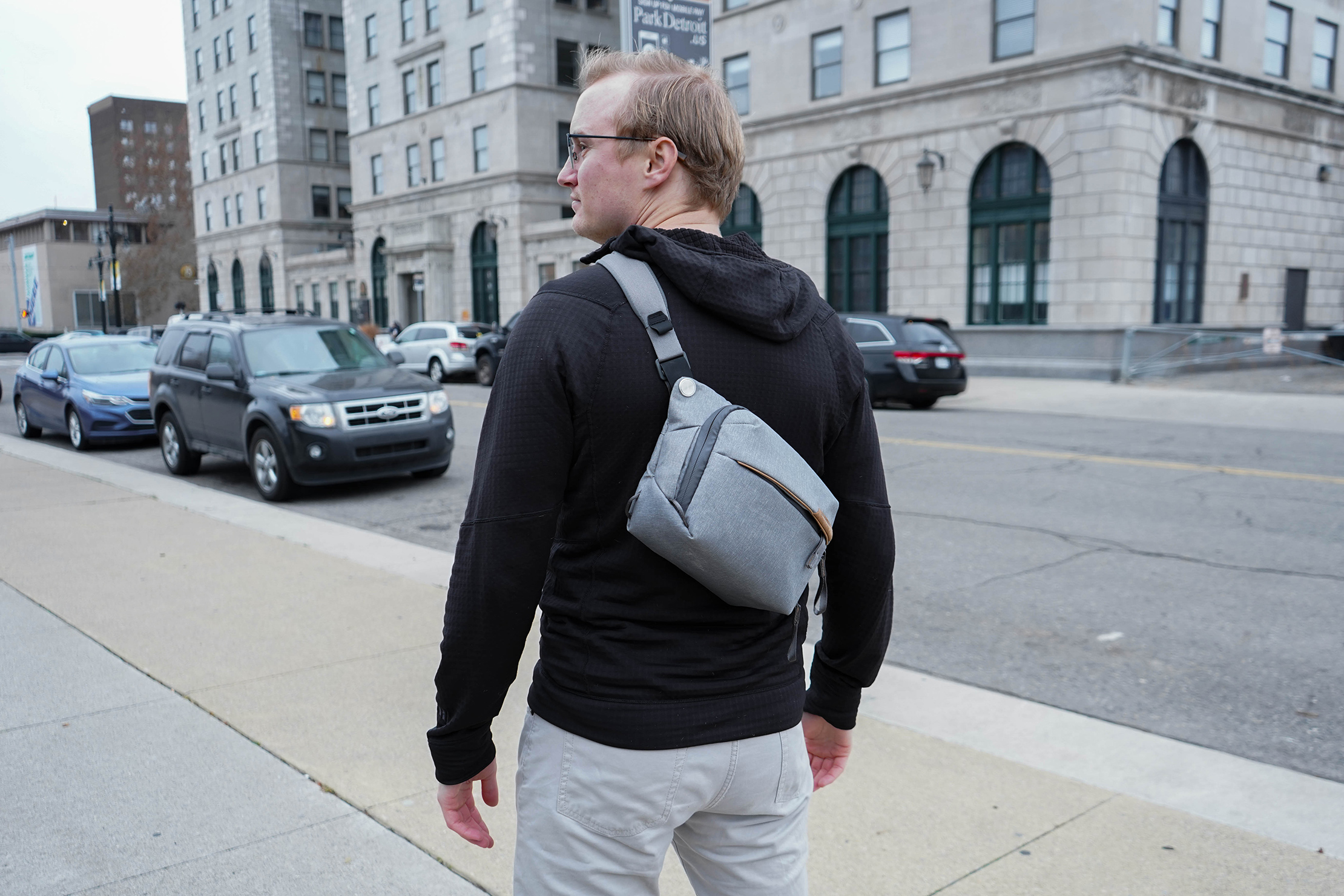 We've been testing this sling bag every day for the past two weeks and have been enjoying every second of it. It's the updated version of Peak Design's Everyday Sling—hence the V2 in its name.
This version has everything we love about the original design, plus a few new updates that make it even better.
Before we begin, we should note one of the major updates is the sling's size. The older version had a capacity of either 5L or 10L, while the newer one is available in 3L, 6L, and 10L. We'll be focusing on the 3L version in this review. If you're interested in one of the larger sizes, make sure to check out our video where we discuss all three slings.
One more note—this sling has been designed for holding camera equipment and that's where it shines. We'd suggest opting for another sling bag if you're looking for something to carry the essentials.
So, without further ado, let's check out the Peak Design Everyday Sling 3L (V2).
Materials & Aesthetic
The thing with slings is usually you either love 'em or you hate 'em. (Obviously, we're usually in the love 'em camp.) While the Peak Design Everyday Sling shares some resemblance to slings' controversial cousin, the waist pack, it has a more urban, sleek aesthetic. So, even if you're not usually a sling person, you may dig this one.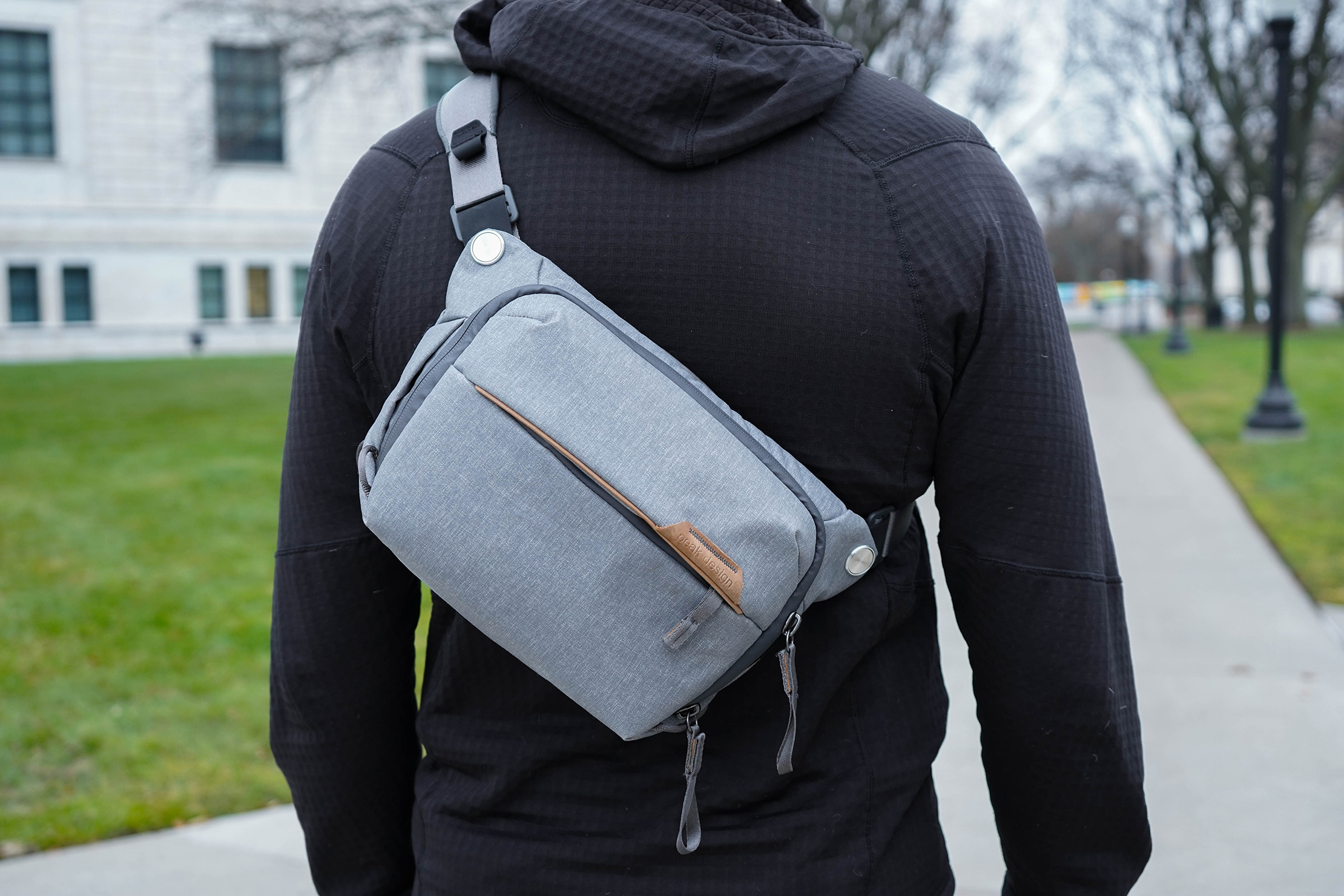 At the time of this review, all three sizes are available in Ash and Black colorways. You can also pick up the 6L in the colorway Midnight, which is a dark blue.
We've been testing the Ash colorway and are digging how the brown leather accents up the sophisticated factor. It's a little larger than you may expect from a 3L sling, but it's still nice and compact. Overall, it looks premium.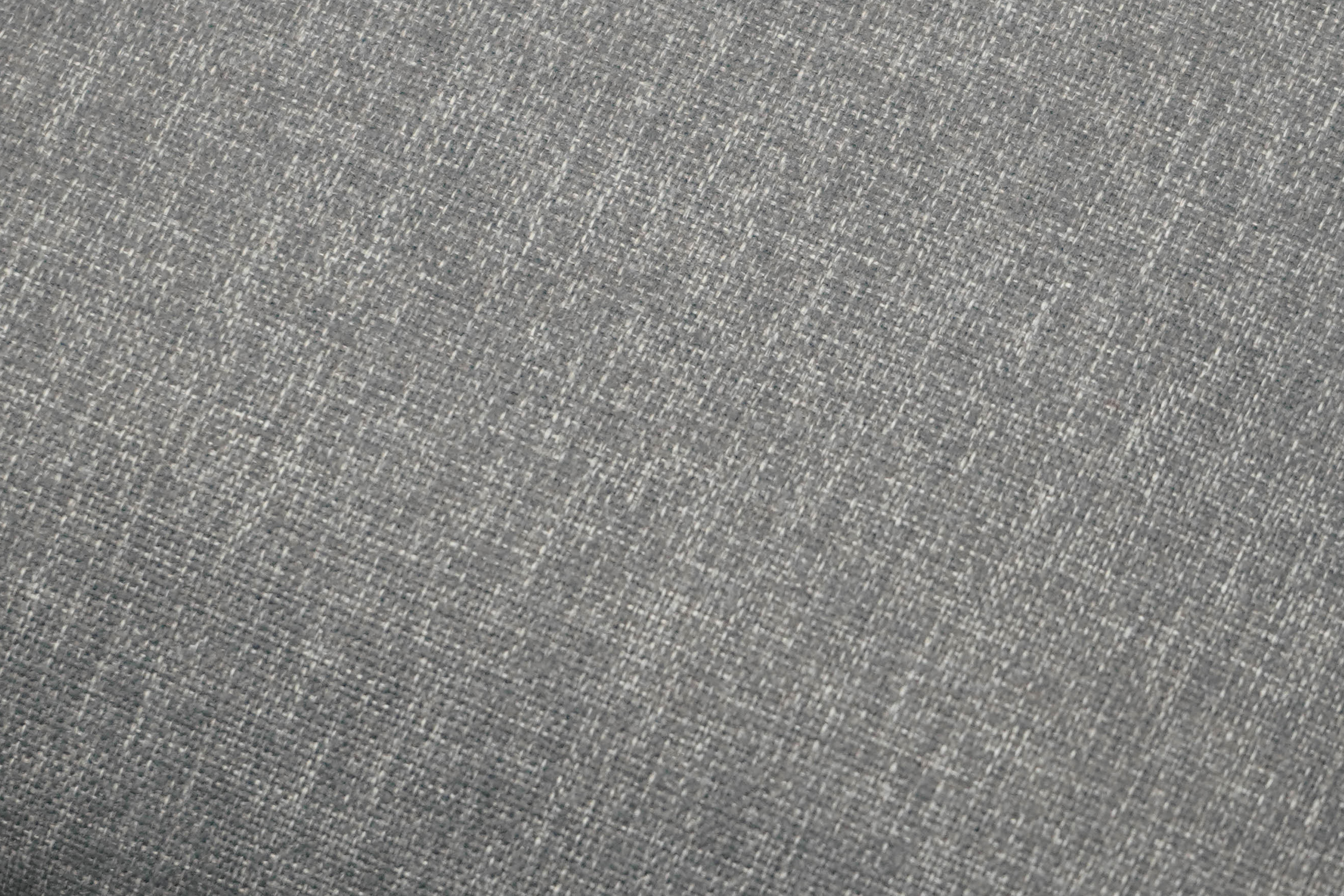 It also feels premium. The Everyday Sling V2 is made from 100% recycled 400D double poly-coated and DWR-impregnated nylon canvas. In case you don't speak fabric engineer, what that means is the sling is made from strong, durable materials that have been finished with a weather-resistant coating. While we don't suggest taking the Everyday Sling scuba-diving, it should keep your stuff protected in inclement weather.
Also, the Ash and Midnight colorways are made with materials that are bluesign® approved, which we certainly appreciate.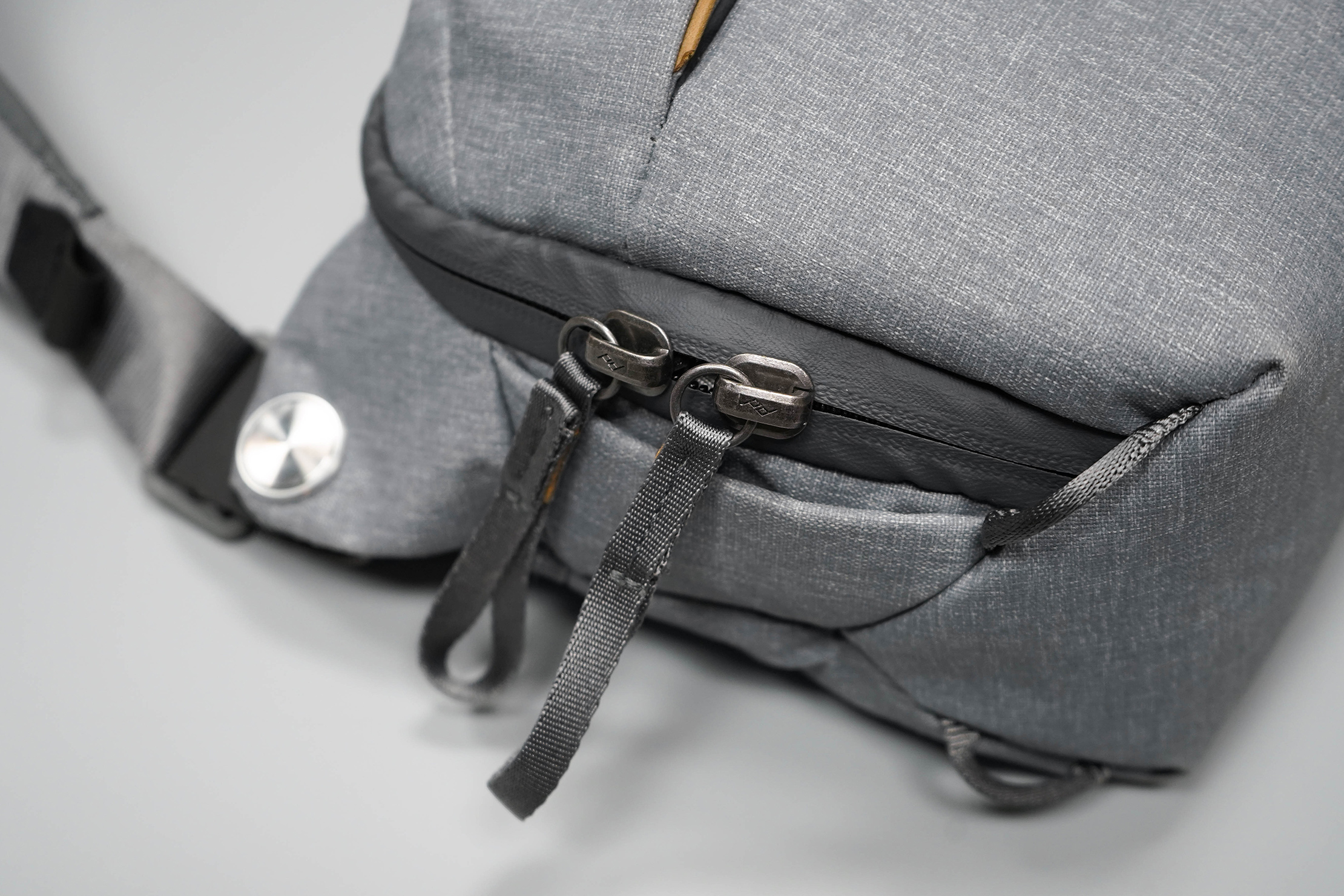 We're digging the UltraZip zippers on this sling, which were born out of a collaboration between Peak Design and Zoom Zippers and are new to this version. We go into further detail about the UltraZips in our hands-on look of the Everyday Line V2, so if you're looking for more zipper talk head on over there. Otherwise, we'll just say that the zippers are exceptionally smooth and, so far, have been holding up well against daily use.
External Components
As per usual with Peak Design, there is more than meets the eye as far as external components go.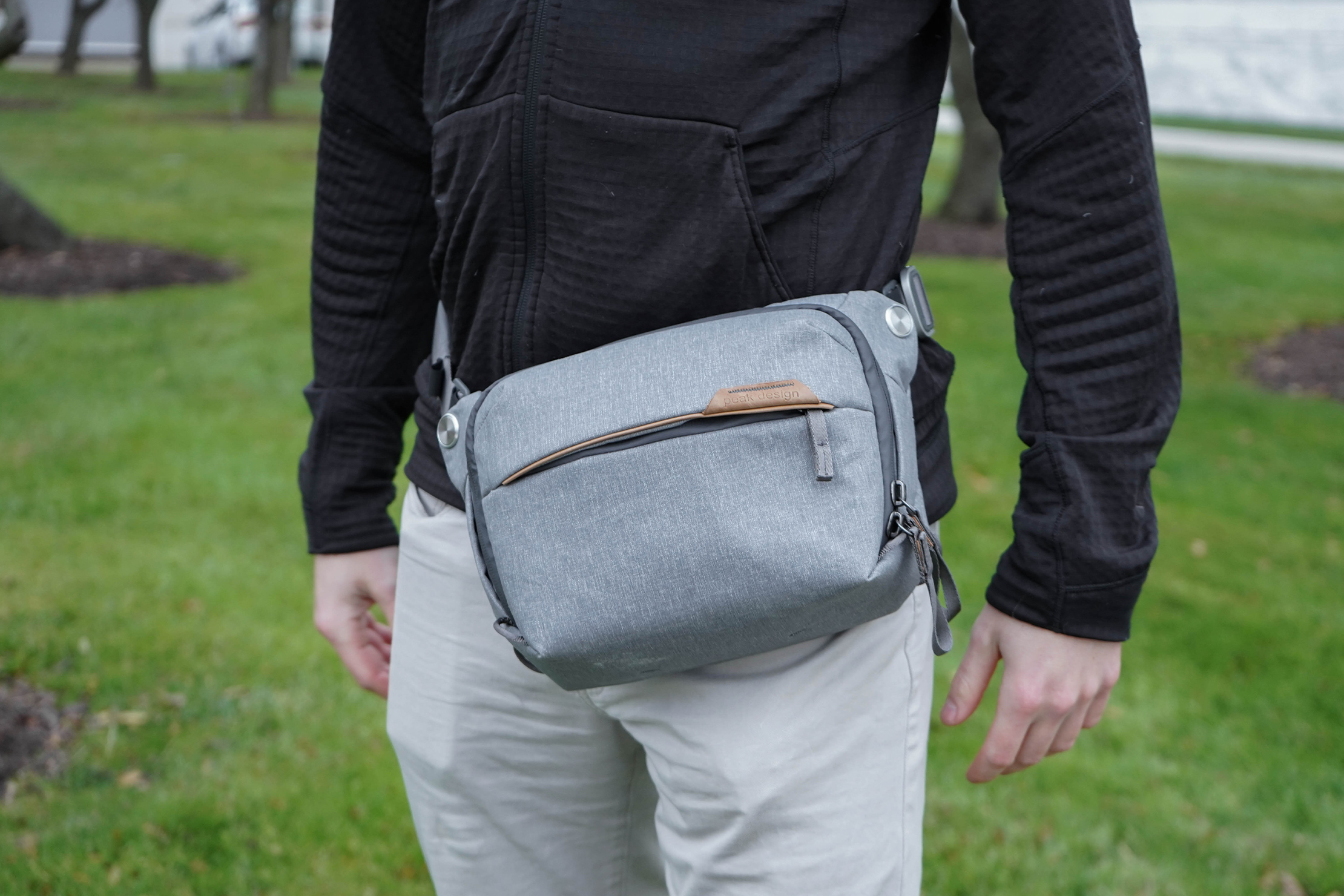 The swivel strap is nothing new, but for those of you who have yet to experience it, be prepared to have your minds blown. Not only does the swivel strap make accessing your stuff super easy, but it also makes the strap more comfortable to wear for long periods of time as it moves with your body. Additionally, the strap is thick and padded, so it wears well. We've tested this sling during long days shooting b-roll and it's never become uncomfortable. That's high praise right there.
Plus, it can be worn slung around the hips waist pack-style, so you can give your shoulders a break if need be. (Or you can always wear it around the hips as a fashion statement—you do you.)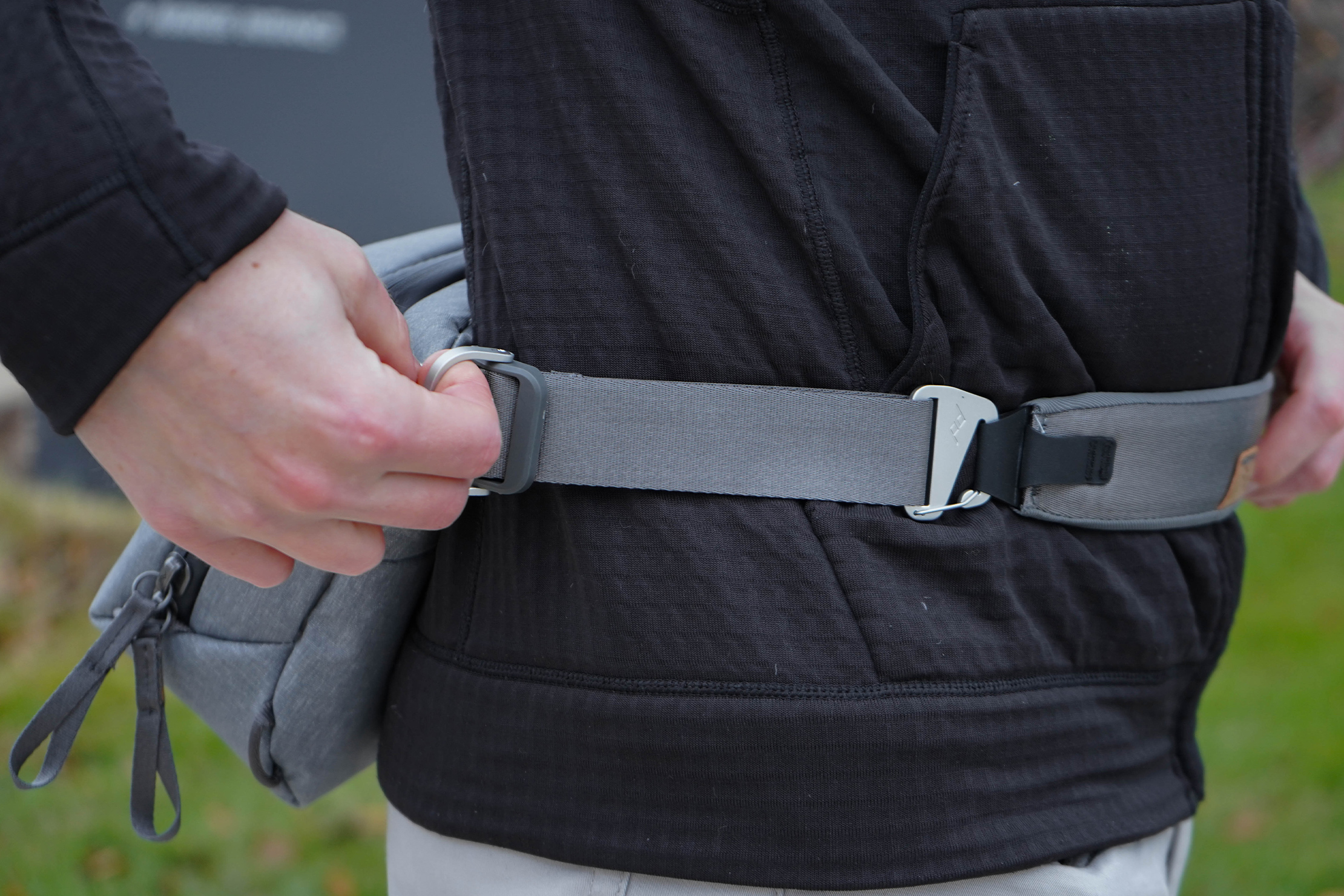 The quick-release adjuster is a game-changer. We are obsessed. You can easily—and we mean easily—adjust it to fit across your chest, back, or around your waist. You can also use it to loosen up the strap for an easier time slinging it forward to access your gear. And you can shove any excess strap into a small compartment purposely built for an excellent #DangleFreeExperience.
The strap also has some additional adjusters so you can ensure that it fits your body properly. And the strap unclips—so if you're having a really good hair day or wearing bulky clothes you don't have to worry about lifting the strap over your head. You can simply unhook it.
We could wax poetic about how amazing the strap is all day long, but, alas, we have a lot more to talk about.
The back panel doesn't have anything particularly special going on, but it still wears comfortably. That said, the more you pack the bag out, the rounder it gets. Which means it's not going to lay flat against your chest or back. We've never been bothered by this, but it's worth pointing out.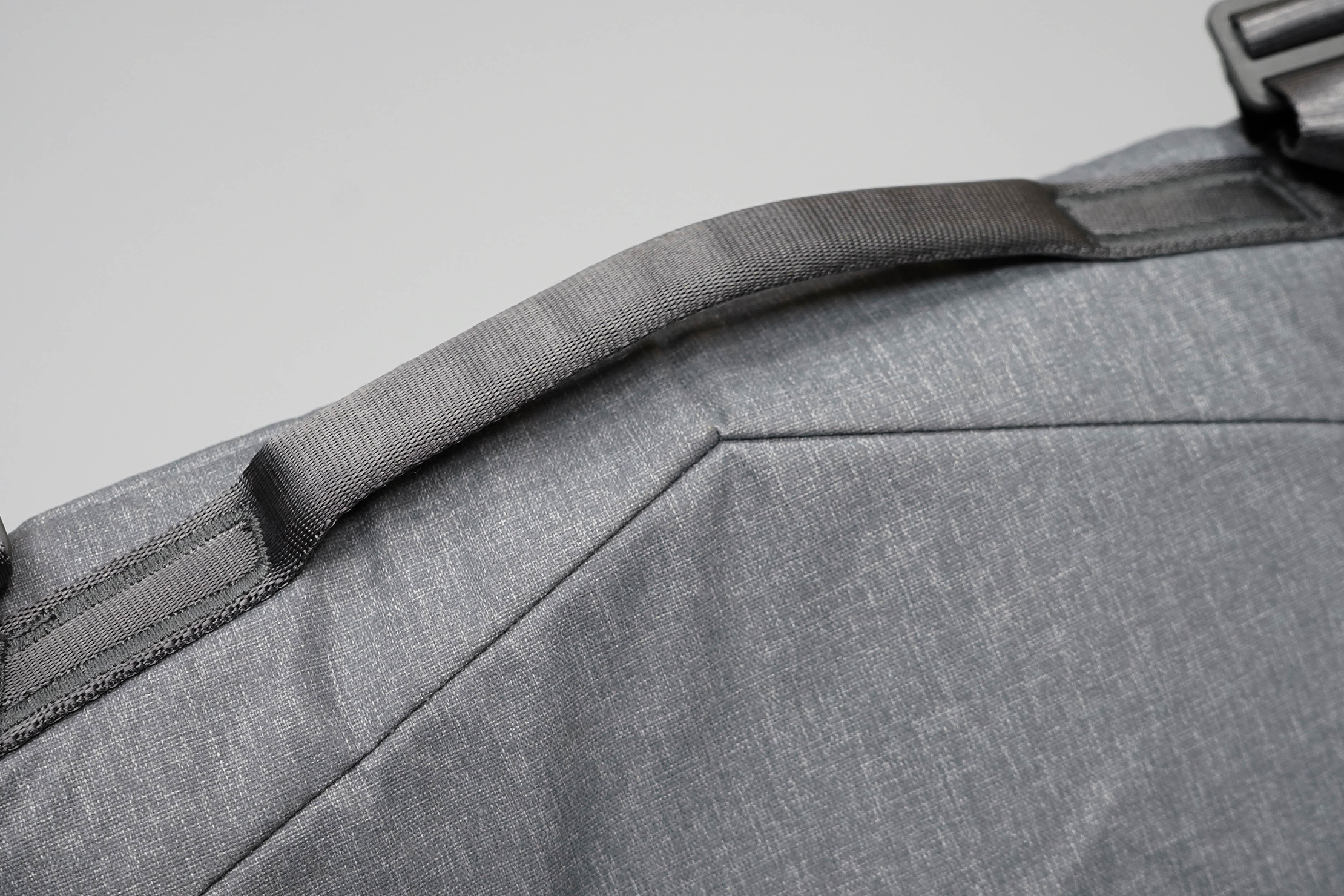 Additionally, there are two thick side handles. We haven't used them much, but you could attach a carabiner or the Peak Design Capture Clip here if you'd like. There's also a top handle that feels high-quality and works well for handling the sling or hanging it up.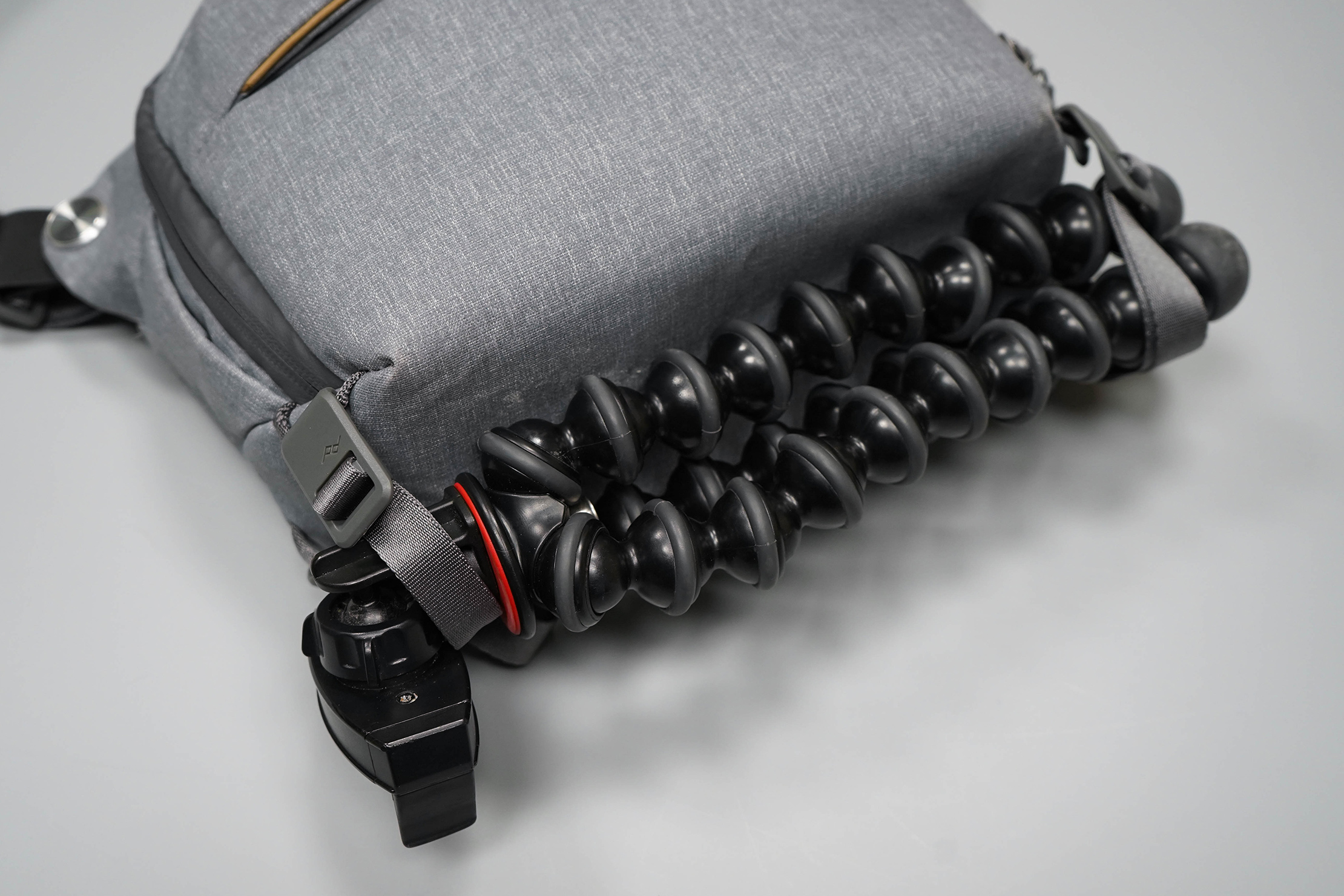 Finally, the sling comes with two Cord Hook external carry straps. They're basically lash straps that you can attach to the bottom of the sling to carry your gear externally. In theory, you could carry whatever you want here, but it's designed specifically to hold a tripod. While it's not the most graceful way to carry a tripod—especially as the tripod sticks out on the 3L size—it gets the job done. This is a great addition—you can tell the folks at Peak Design spent some time thinking about what photographers and videographers actually need.
Inside the Sling Bag
For the overall footprint of this sling, inside feels a little tight when you open it up. But we've found the capacity and internal organization of the 3L Everyday Sling are perfect for a one camera, two (small) lenses shooting setup. (If you're not sure which sling to get, or you're curious about the other two sizes, check out our Quick Hit video that explains the differences.)

Let's start with the exterior pocket. It's similar to the one on the first iteration, only it sits marginally higher on the bag, giving you some more space to play with. We've used it for our ND filter, extra cords, batteries, things of that nature. You could also put your phone, wallet, and keys here. This pocket bulges out a bit when full, but it's not a big deal—just something we wanted to point out.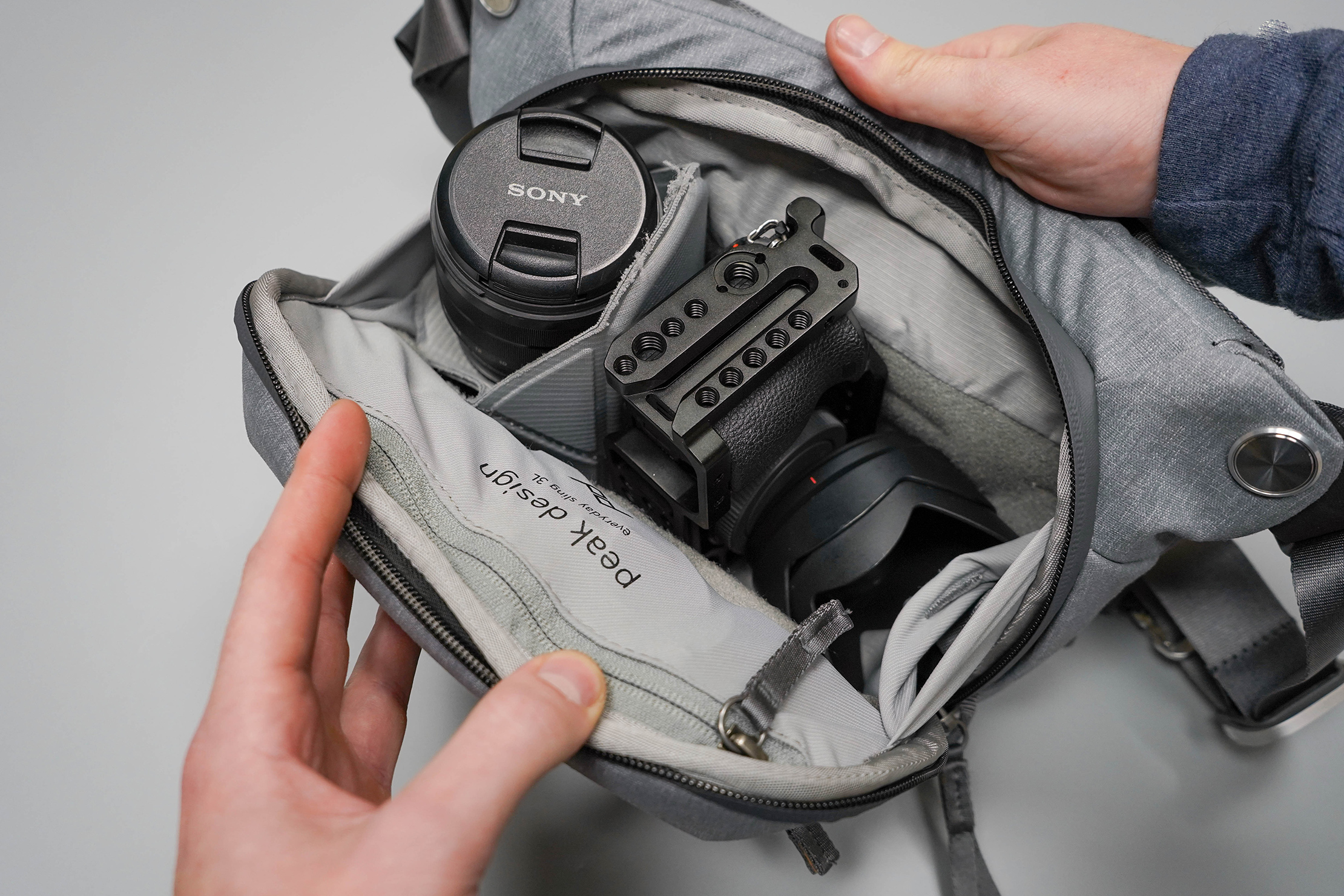 Opening up the main compartment, you'll see a similar layout to the old Peak Design Everyday Sling. It's highly customizable, meaning you can embrace your inner organization nerd and devise whatever configuration works best for you. You can use the included Flexfold divider as a divider, or origami it into various shapes to support your cameras, lenses, and accessories.
We've used this space to hold our Sony A7-III with a 28-70 mm lens attached to it, a 10-18 mm lens, as well as a Lume Cube, and charger.

If you're not a photographer but are still drawn to this sling, you can use the Flexfold divider to organize your daily essentials or take it out of the main compartment completely, opening it up to hold a wide variety of things.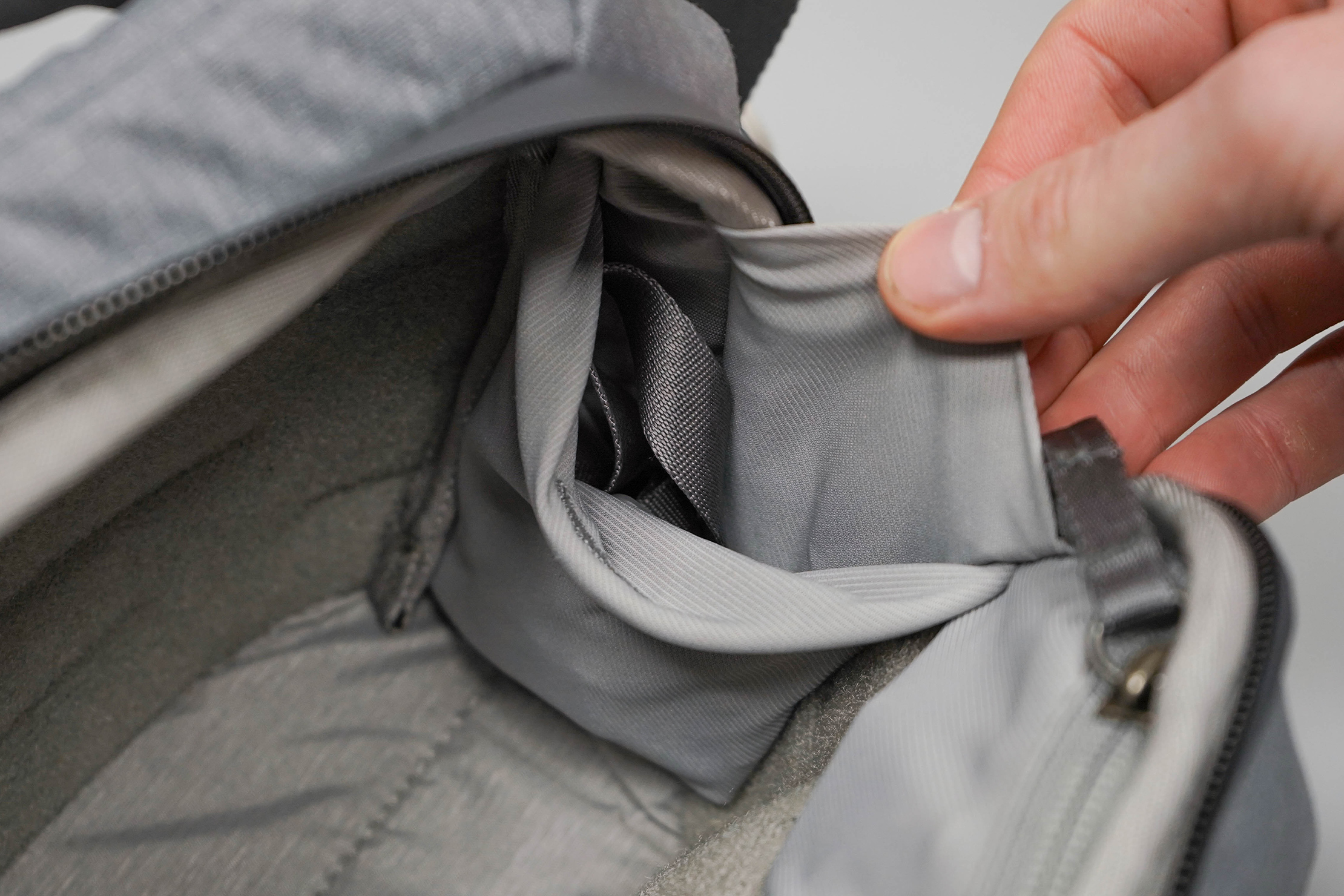 There are flexible pouches on either side of the compartment. We've found that this is a great spot to store the external carry straps that we mentioned earlier, as we'll have them whenever we need them, but they stay out of our way.
On the top of the compartment, there's a quick-grab pocket with a ton of further organization inside. The small slots are perfectly designed for camera accessories: an extra battery, USB charger, SD card reader, and an SD card case. There's also a little extra room for whatever else you have in your setup.

The 6L and 10L slings have an additional back pocket to hold a tablet or small laptop respectively.
Durability & Testing
As we mentioned earlier, we've been testing the Peak Design Everyday Sling 3L (V2) for the past two weeks in Detroit, Michigan. And, in that time, it's become one of our favorite photo/video travel accessories to date—which is certainly saying something. It's comfortable to carry, holds all the camera equipment we use daily, looks sleek, and has been built to last if not forever, quite a long time. Plus, its customizable interior organization allows us to configure a setup that works best for our, well, setup.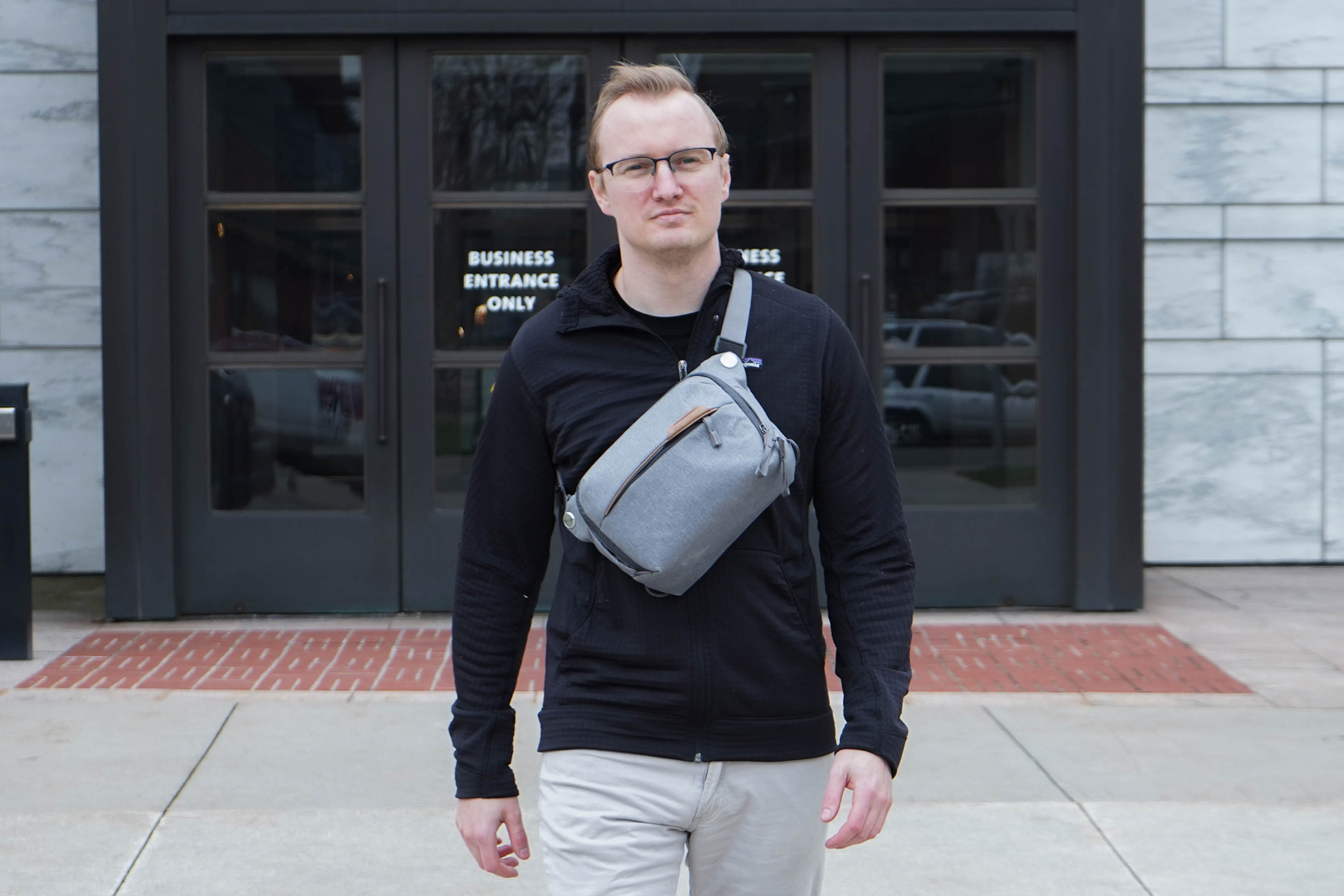 Of course, it's also been built to protect all of your expensive equipment. The structure of the sling, as well as the padding, soft interior fabric, and weather-resistance all add to our peace of mind. They also contribute to the larger footprint we talked about earlier.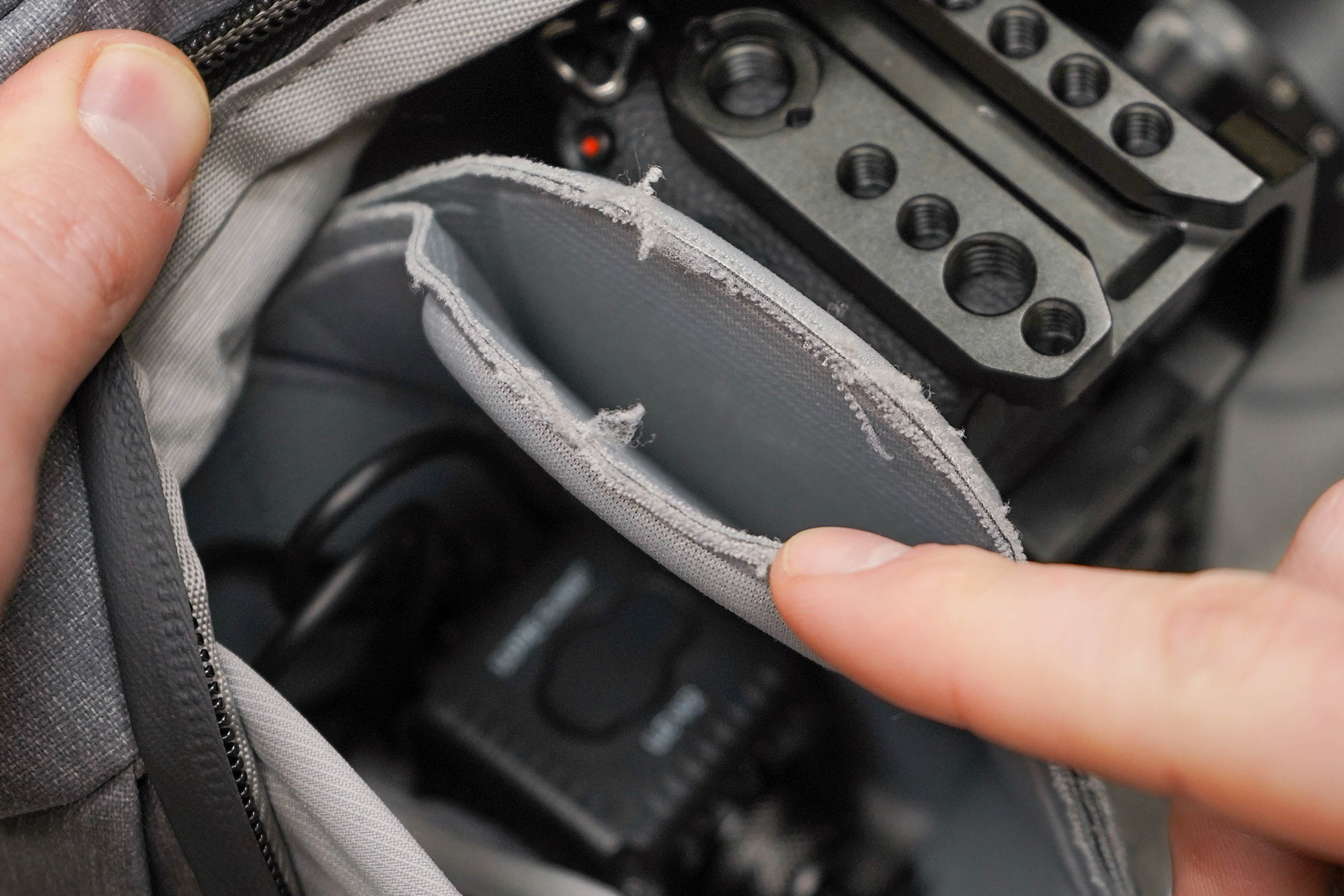 While we haven't noticed anything major durability-wise, we've spotted a few loose threads along the edge of the Flexfold divider. This spot gets a lot of love, but it's not good to see wear and tear after such a short time. We're not overly concerned about this development yet, but it's worth pointing out—and we'll make sure to keep you updated in our Usage Timeline below. Everything else is looking great.
Usage Timeline
Initial Usage
Condition: Excellent
Smallest size of the Peak Design Everyday Sling but still a little bigger than we expected
Perfect size for a "one camera and one lens" shooting setup, plus some accessories
Same great feel and quality as the Peak Design Everyday Sling 5L but in a smaller package
2 Weeks of Use
Condition: Excellent
A little bit of fraying on the edge of the divider.
Access the Pro Community Discussion
Get your questions about the Peak Design Everyday Sling 3L (V2) answered from our team and the Pro Community right here on the page. Plus, join discussions with other members about gear, guides, and more.
Other Bags & Luggage Reviews