Bellroy Key Cover Plus Review
The Bellroy Key Cover is a sleek organizer that stops your keys from jingling and damaging delicate items, though leather isn't the best travel fabric.
Our Verdict
Unlock the Pro Summary
Save time. Get access to brief summaries of our reviews so you can browse and make decisions more efficiently.
Pros
Professional aesthetic
Top-notch craftsmanship
Keeps your keys secure
Cons
Leather isn't as durable and water-resistant as some synthetic fabrics
Too many keys will make it cumbersome
Have to hold the key through the case while using it
Recent Pack Hacker Video
Technical Details
Dimensions

3.6 in x 1.65 in (9.1 x 4.2 cm)

Notable Materials

Leather

Manufacturing Country

India

Warranty Information
Full Review
If you've grown tired of your keys scratching your phone and other valuables, jingling wildly in your pocket, or if you want to feel sophisticated—you may want to consider investing in a key organizer like the Bellroy Key Cover Plus.
A key organizer does exactly what it sounds like: it organizes your keys. In the case of the Bellroy Key Cover, it holds your keys in a leather bifold sheath-like case. To access a key, all you need to do is swing it out of the case like a tool on a Swiss Army Knife.

There are two versions of the Bellroy Key Cover—the Key Cover Regular and the Key Cover Plus. Besides a few dollars, the only difference is the Plus has an extra spot to connect your keys and, as a result, can hold 4 to 8 keys compared to the Regular's 2 to 4. We've been testing the Key Cover Plus, although we don't have a ton of keys to carry around and have never come close to the eight key limit. We imagine at that point, the cover may feel a little overloaded.
With that, let's check out the rest of the details.
Materials & Aesthetic
We think the Bellroy Key Cover Plus is one of the more professional-looking key organizers on the market. And that may come down to the material: the entire cover is crafted of leather and lacks any of the oversized metallic detailing you'll find on other organizers.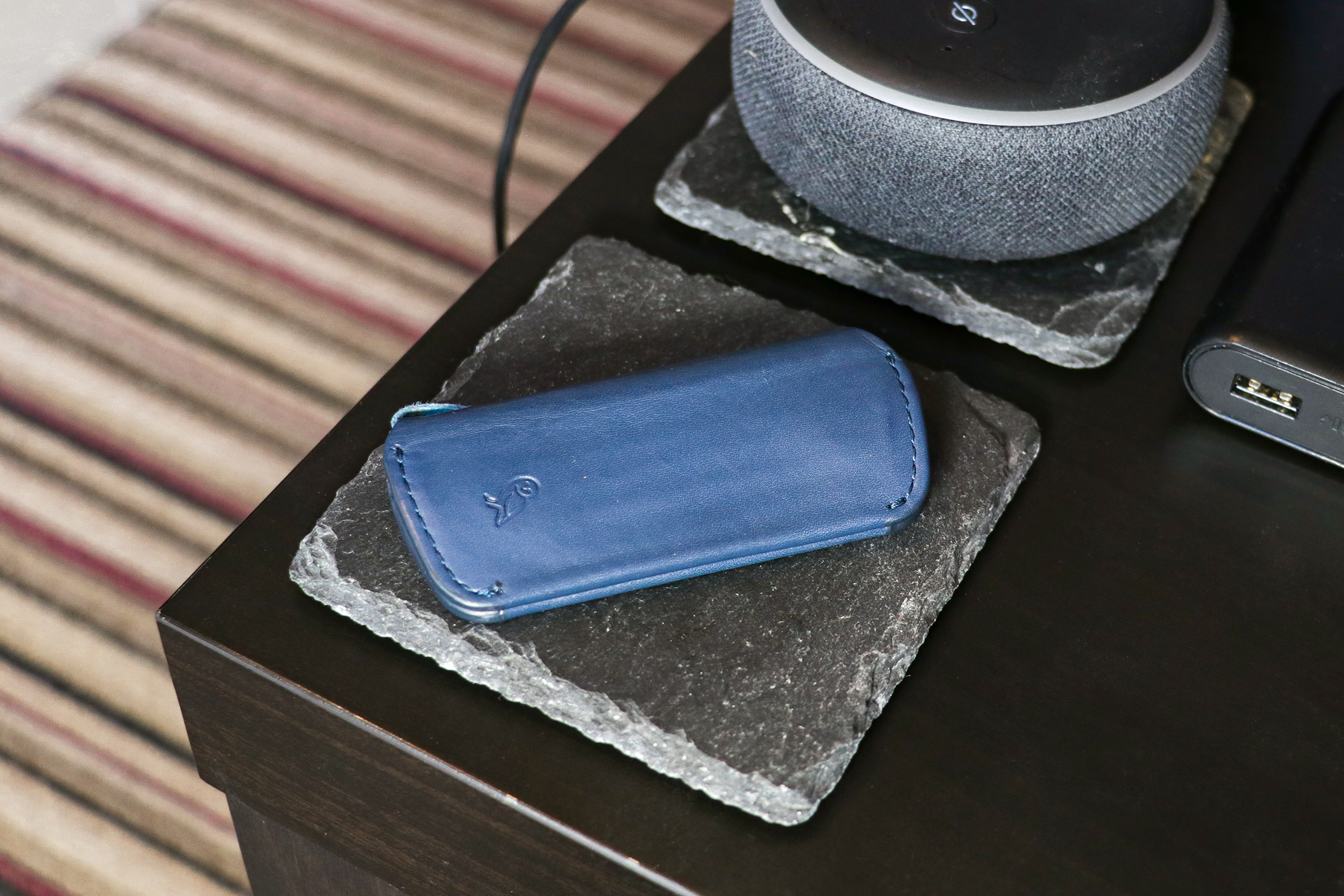 We've always been fans of Bellroy's leather because its soft, holds up well, and is ethically-sourced. After nearly a year of consistent use, the leather on their key cover looks a little used in that standard leathery way. But to us, that just makes it all the more refined.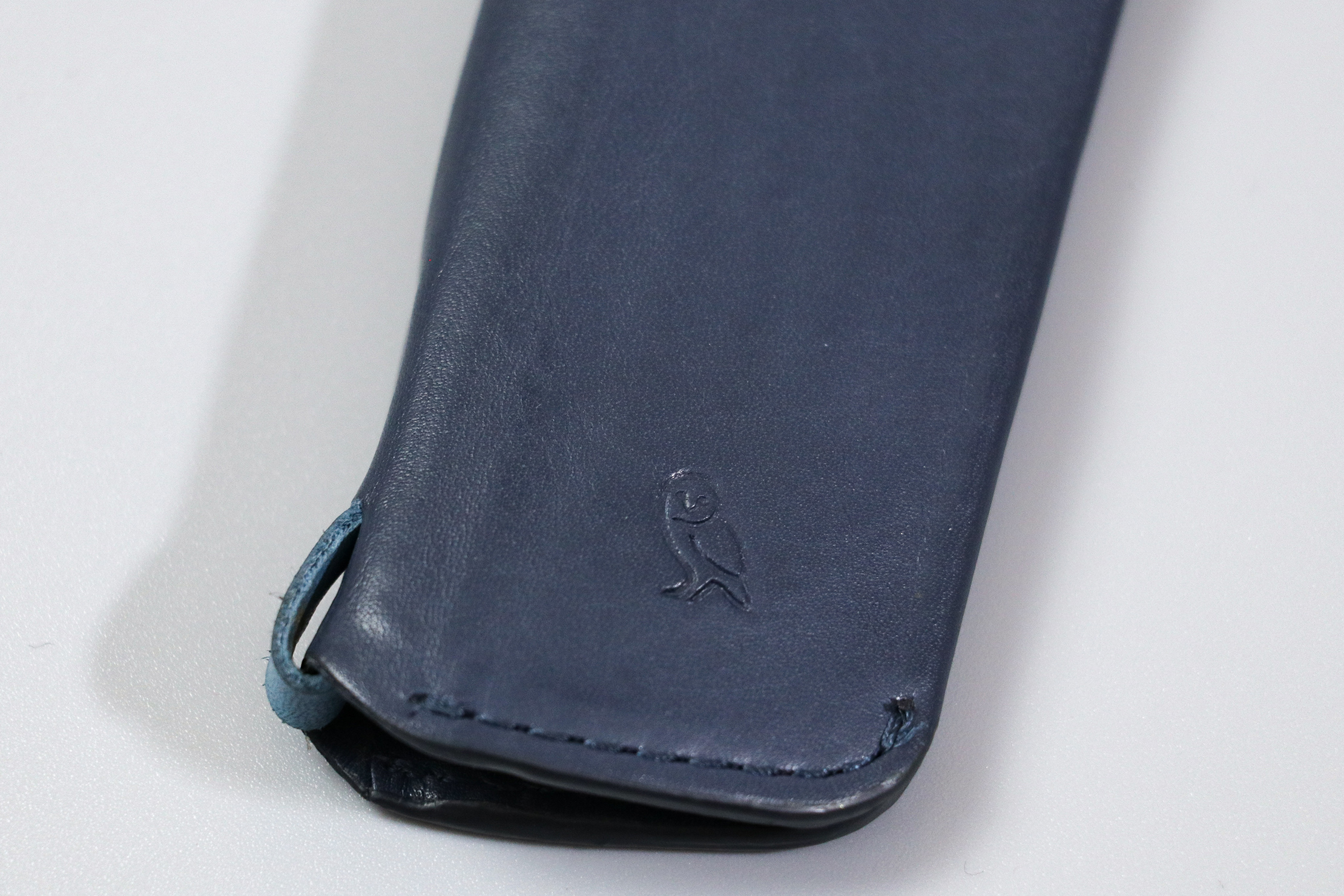 Leather isn't always the best fabric to travel with since it's not as durable or weather-resistant as some synthetics. If you know that'll be an issue for you—or if you try to avoid animal products in general—there are some other key organizers available, like the Orbitkey "active" Organiser.
There's also a wide variety of colors available, including a bright red that may detract from that professional aesthetic we mentioned above. But it will make your keys super easy to spot on the bottom of your bag.
How It Works
Let's take a look at how this thing works. First off, the cover shuts with two magnets placed on either side of the interior. We've found this to be secure and convenient for opening and closing the case.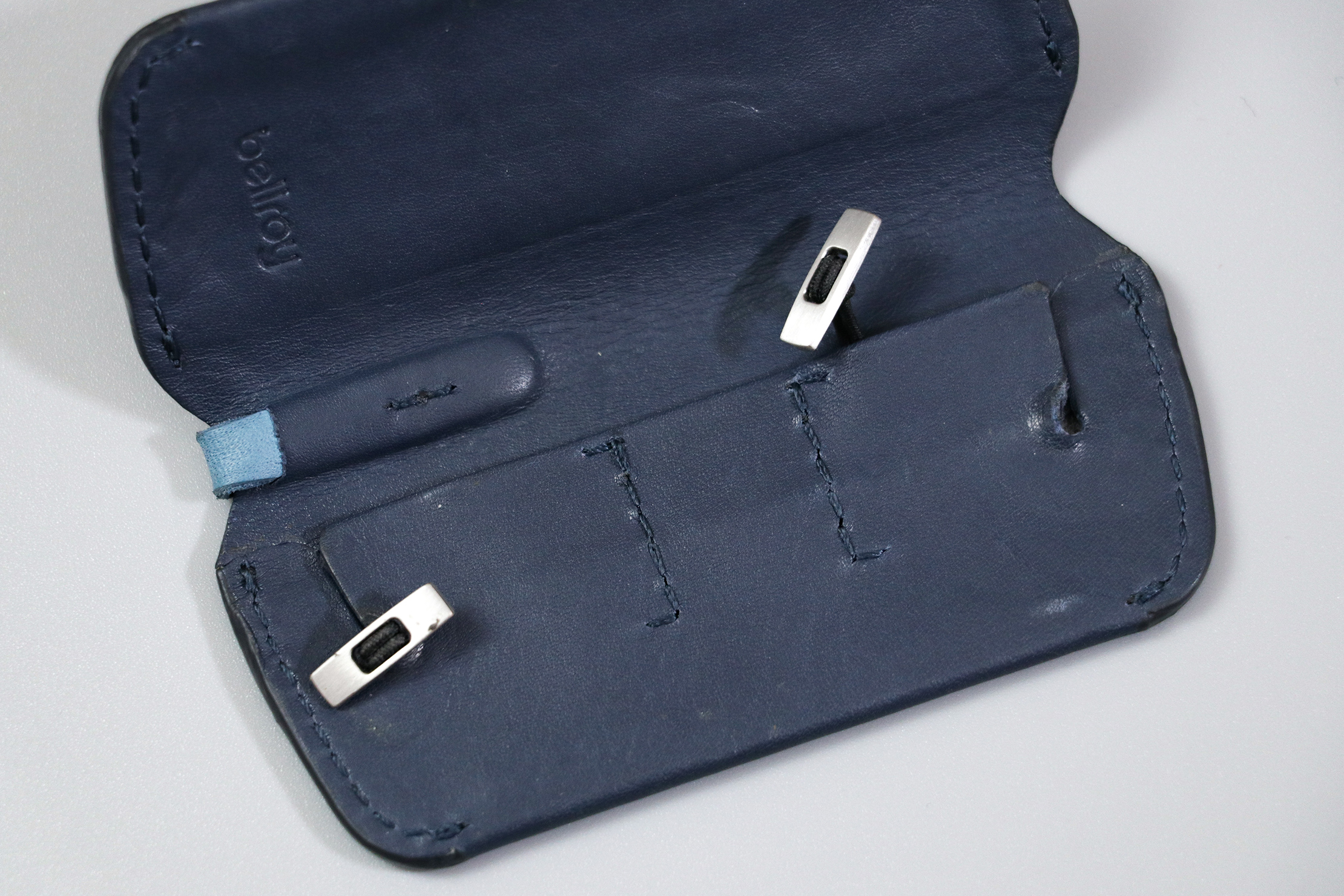 The keys attach to the cover with a small metal toggle that sits on the end of an elastic keeper. To secure your key to the cover, simply thread it through the toggle. Bellroy also includes a larger attachment to attach any keys that have a bigger hole, which is a really nice touch, though we've never needed to use it ourselves. We're also happy to report we've never had any keys fall off the toggle and have been impressed with how easy it is to both attach and detach a key (so much so you can almost do it with one hand).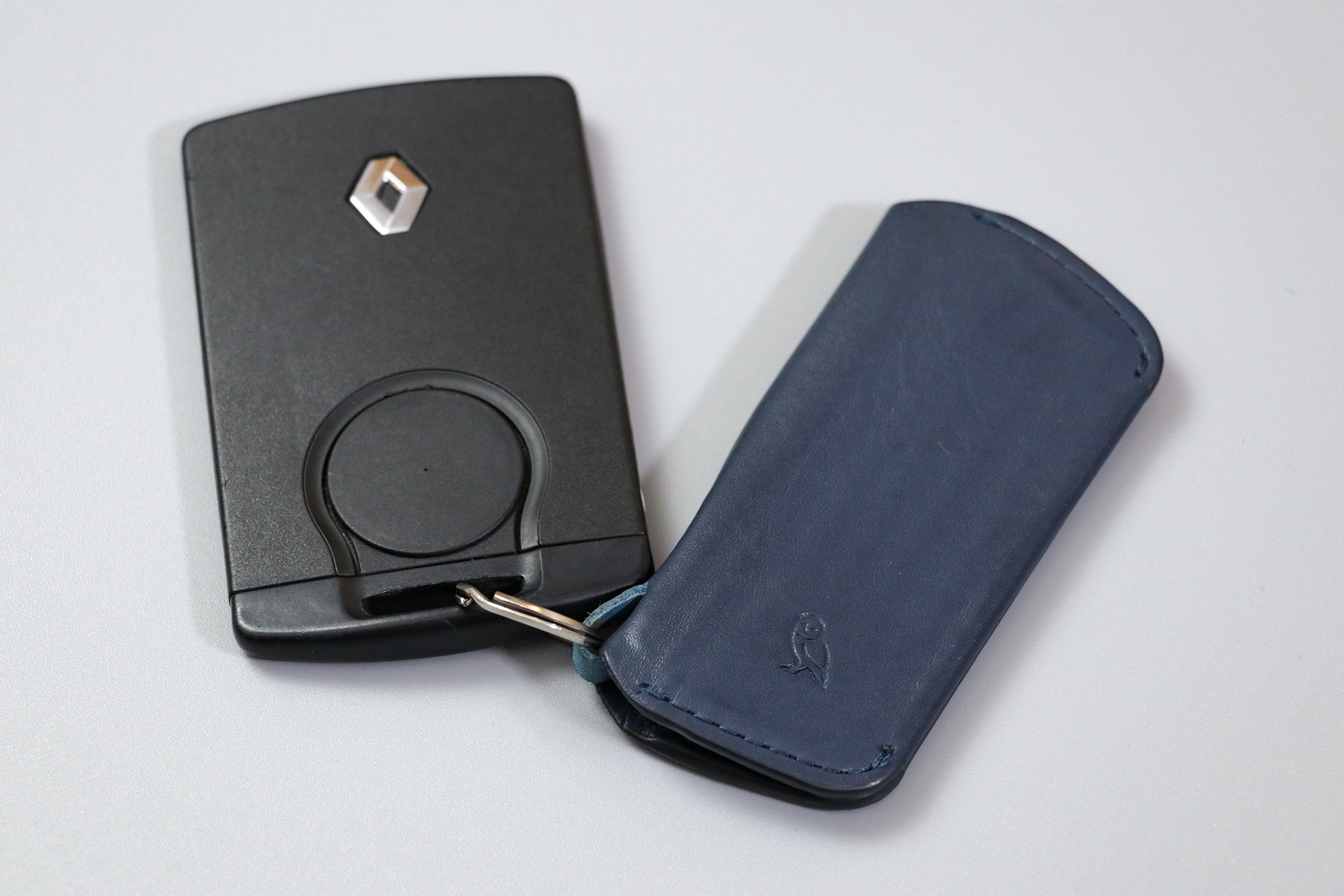 The cover won't fit any bulky keys (like car keys), but you can affix them to the leather loop on the exterior of the cover. That's what we've done and it's been a great system so far.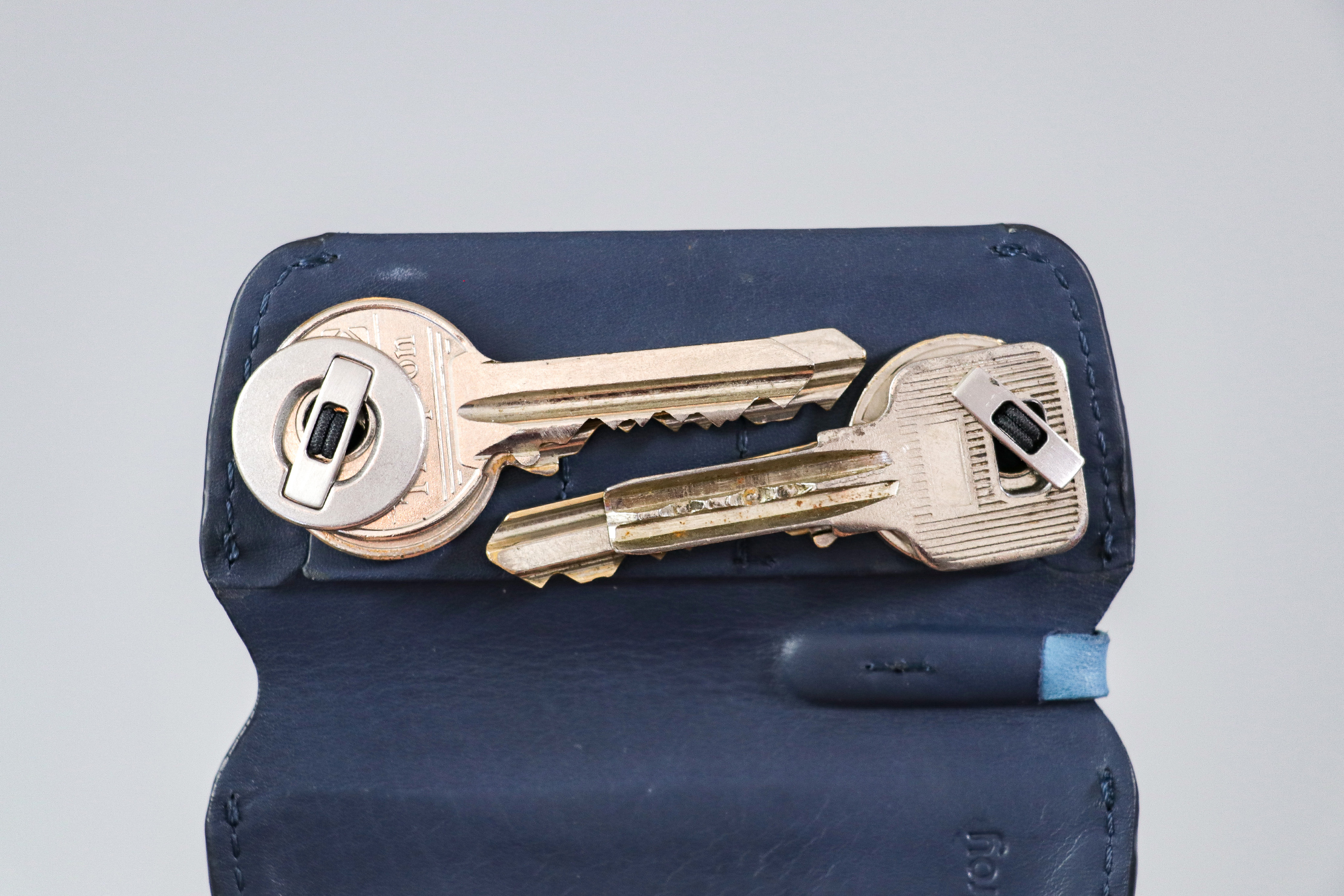 The elastic keepers have a nice flex to them, making it even easier to attach or detach your keys or slide them out for use. Because the entire cover is made of leather and it doesn't have the same kind of structure other organizers have, you do have to hold the key though the leather while using it. We don't think this is a big deal—we got used to it pretty quickly—but it's worth pointing out.
Durability & Testing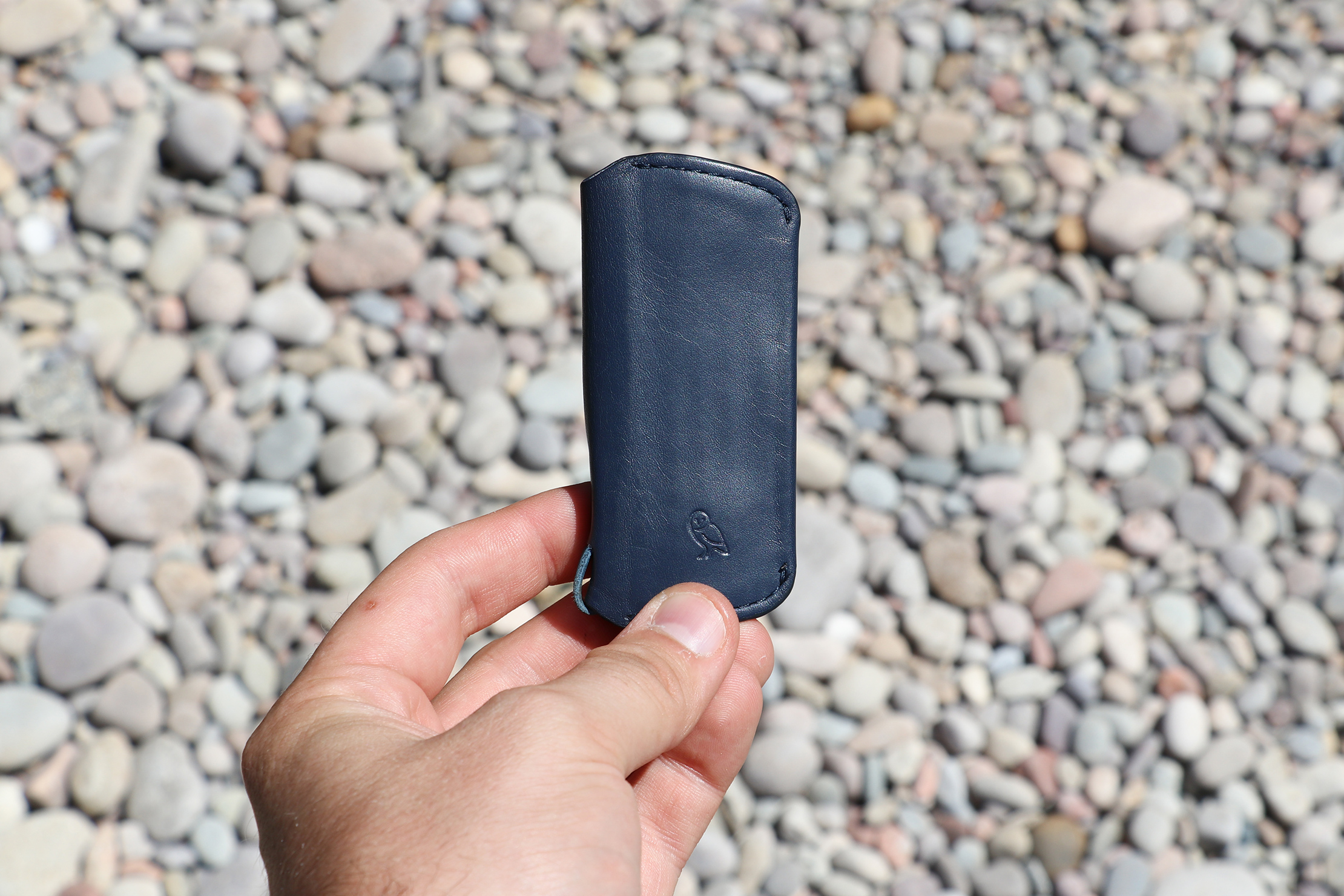 We've been testing the Bellroy Key Cover Plus for nearly a year now and have been really enjoying it. We're a fan of the all-leather aesthetic, especially now that it's worn in, and think it elevates the classiness of our entire look.
Besides that typical leather-ware, we haven't noticed any signs of use. No marks, scratches, or loose-threads to speak of. That's pretty impressive for a year!
Usage Timeline
Initial Usage
Condition: Excellent
The leather feels great.
Sleeker looking than most key organizers.
1 Month of Use
Condition: Excellent
2 Months of Use
Condition: Excellent
Everything is still all good.
3 Months of Use
Condition: Good
The leather has started to wear in, but in a good way.
6 Months of Use
Condition: Good
Really loving this thing. Still no durability issues to report.
9 Months of Use
Condition: Good
The leather is really soft, even more so than a year ago, which is exactly what we like to see.
Access the Pro Community Discussion
Get your questions about the Bellroy Key Cover Plus answered from our team and the Pro Community right here on the page. Plus, join discussions with other members about gear, guides, and more.
Other Organizers & Pouches Reviews